It Happened in January
The following article by Charles Hartley originally appeared in The Pioneer News on 28 Jan 2019. It is archived here for your reading enjoyment.
---
We will be looking back 25, 50, 75, and 100 years to see what was being printed in The Pioneer News in 1994, 1969, 1944, and 1919 in the month of January.
1994 - 25 Years Ago.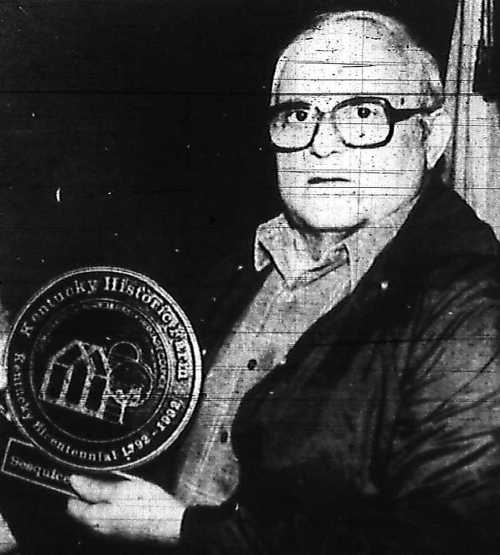 Robert Holsclaw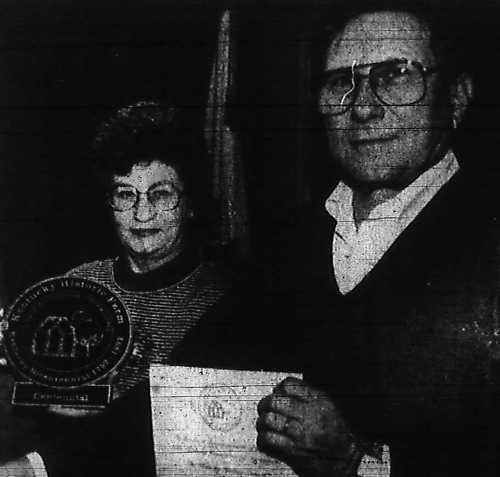 John & Vivian Maraman
John Roberts wrote several interesting articles on some of Bullitt County's farm families. He interviewed Lloyd and Catherine Metcalfe about their western Bullitt County farm, and learned that the couple had managed the farm that once belonged to her father, Howard Hardin, despite both working elsewhere; he worked at Kosmos Cement County, and she taught school in Jefferson County.
Robert and Roger Holsclaw were partners in their Zoneton farm where they raised beef cattle along with enough hay and alfalfa to feed them. Robert said the farm had been in the family for 158 years.
Shirley and Nell Hall's farm off Highway 44 was once over 400 acres, but had shrunk to a bit more than 100 acres when the article was written. It had been in the family for more than a century. They enjoyed tending to their beef cattle, but Shirley indicated that that year would be the last for the tobacco crop.
The Maraman farm had been in the family for 109 years. John Maraman, the latest Maraman to farm the land, said, "We were once surrounded by dairy farms and now we're enclosed by houses." John and his wife Vivian continued to work the farm that was established by his grandmother in 1884.
Allen Maricle earned the 49th District seat in the General Assembly by defeating Fred Friske. He was to replace John Harper who was elected Bullitt County Judge/Executive.
Lois Simmons of Pleasant Grove reported that Mr. and Mrs. Don Hill and family, Mr. and Mrs. Gordon Proctor, Mr. and Mrs. Randolph H. Settles and baby, and Mr. and Mrs. Paul Korfhage spent Christmas with Ella Proctor.
Carl Curtsinger wrote about Sonny Gollar and his antique steam engines. Gollar frequently put on antique engine shows at his Mt. Washington home, and liked to take his steam engine to places like the Lebanon Junction Old Fashion Days.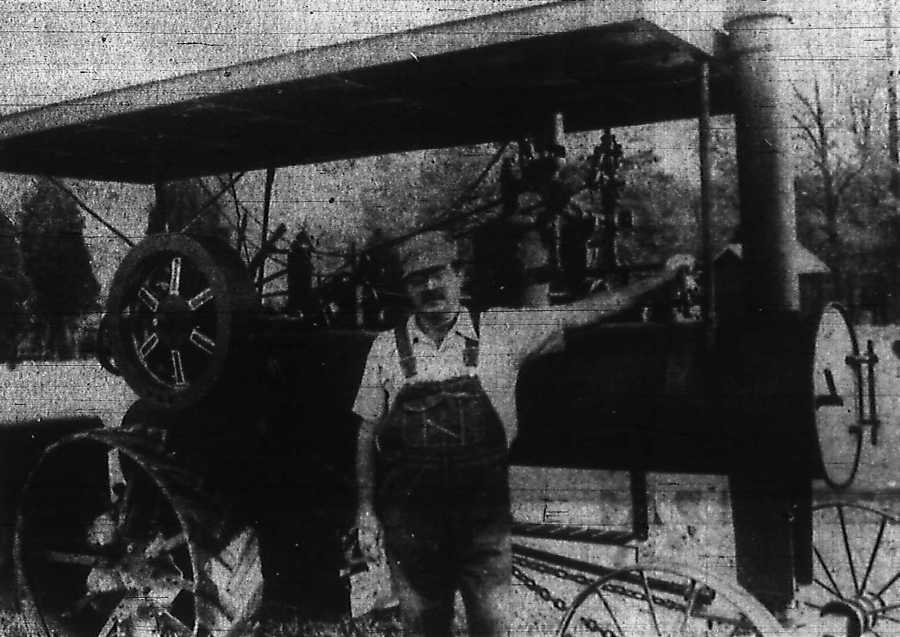 Sonny Gollar and his steam engine
A poster contest at Brooks Elementary netted four students awards from the businesses at Hillview Plaza. The winners were Jennifer Collins, Jenny Weedman, Lindsey Seeders, and Amanda Brown.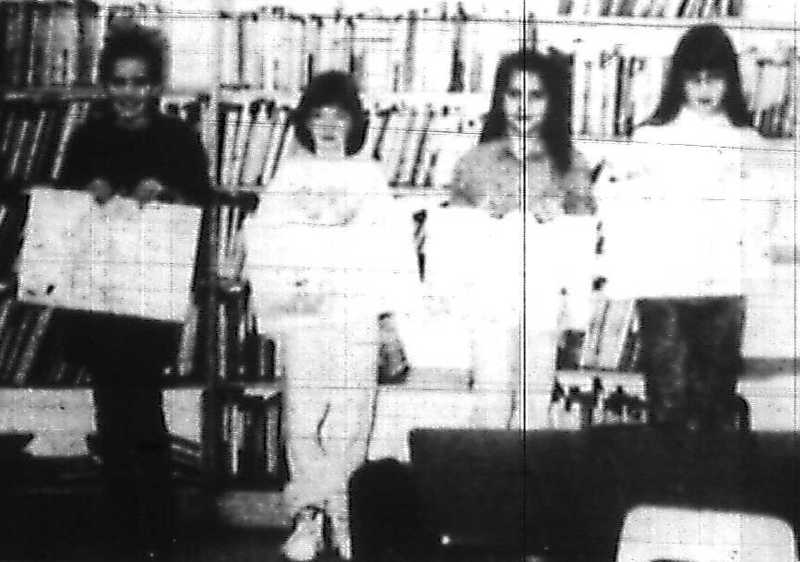 Poster Contest Winners
John Roberts wrote about Katina Chesser who was home for Christmas from the West Point Military Academy. A side note here: Katina was one of my students, and I always admired her focus and dedication. I was not the least bit surprised when she ended up at the Academy.
Estelle Biery, Ed to those who know her, retired from the Lebanon Junction fire department after eleven years in the department. Not only was she the only female member of the department, she was also the first woman guard at Brown-Forman and the first to drive a cab in Cincinnati. She was a certified E.M.T., and a substitute bus driver for the school system.
Lea Ann Breeden and Jason Chandler, of Bullitt East, were named the Best Youth Advocate Team at the Kentucky Youth Assembly winter convention in Frankfort.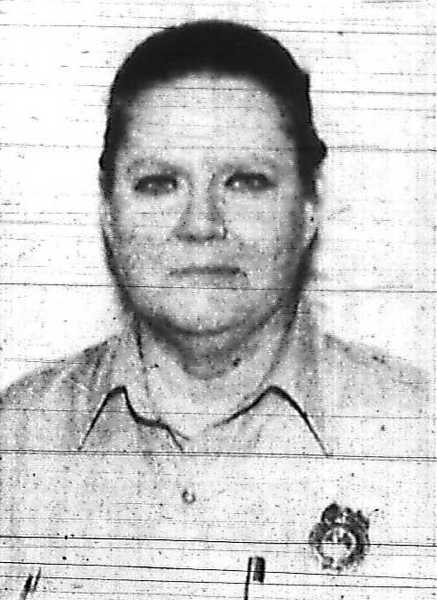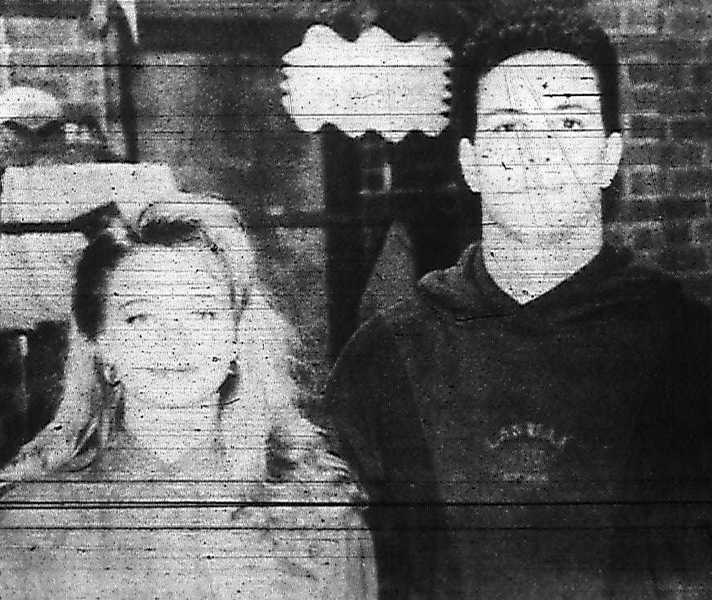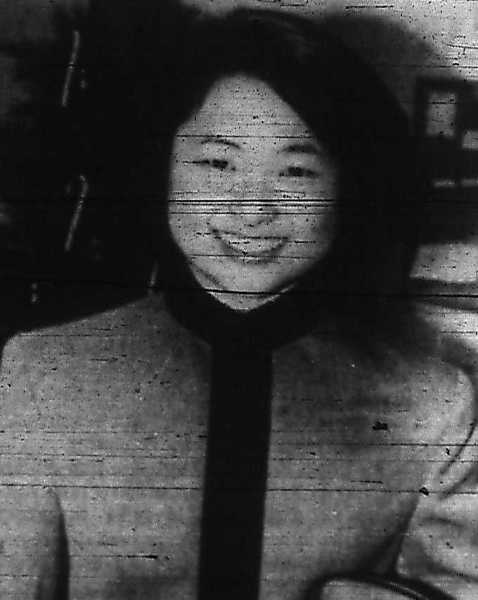 Estelle | Lea Ann and Jason | Katina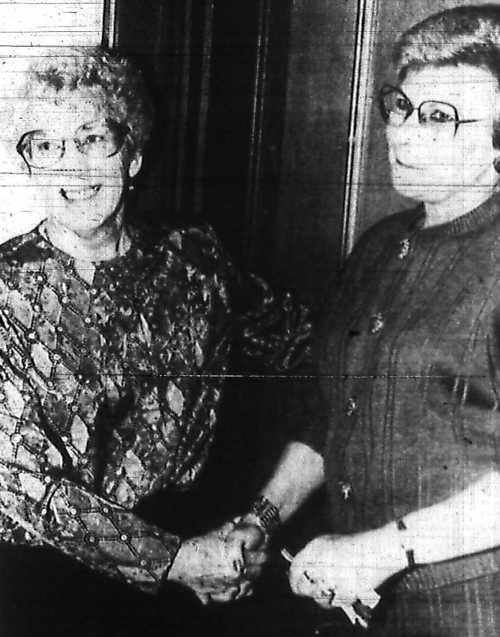 Jean Hatzell gives keys
to Doris Cornell.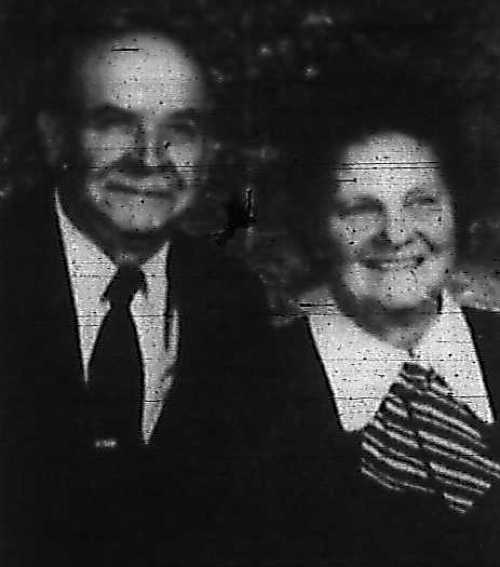 James and Beulah Vincent
Jean Hatzell retired as Circuit Court Clerk after twelve years on the job. It was doubly bittersweet, as her husband, J. P. "Jippy" Hatzell had recently died.
James and Beulah Vincent celebrated their 60th wedding anniversary. James Vincent and Beulah Warden were married on January 14, 1934, and had lived in the Cedar Grove community for 58 years. Their four daughters, Shirley Milam, Norma Jackson, Carolyn Penick, and Karen Stidham helped them celebrate.
And, after freezing rain hit the region, a record 15.9 inch snowfall blanketed Bullitt County, followed by a record 22 below zero temperature, paralyzing the county, and leading Bullitt Central to become a shelter for stranded motorists.
1969 - 50 Years Ago.
H. C. "Doc" Firkins was appointed Chief Deputy Coroner by Coroner Walter "Pee Wee" Keith following the death of Luther VanVactor of Lebanon Junction. He is pictured below, being sworn in by County Judge Neil Farris.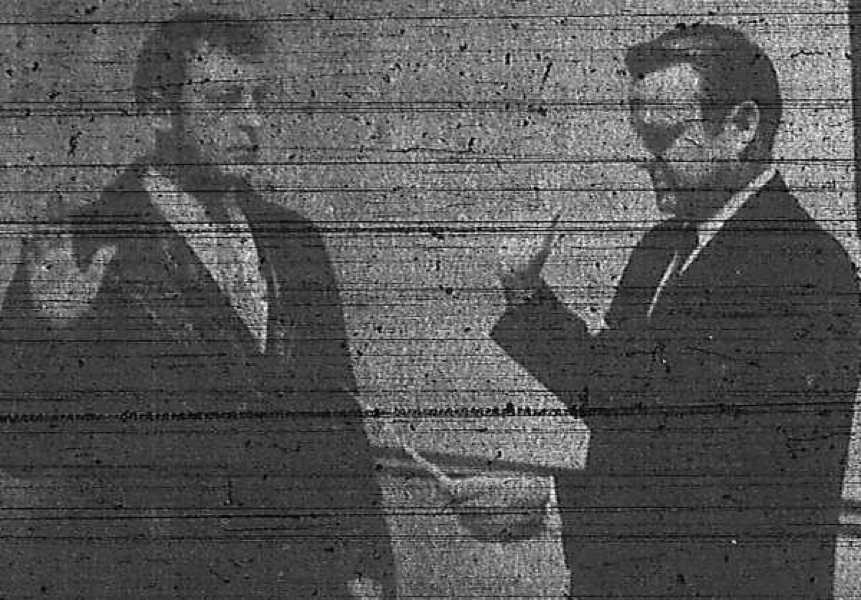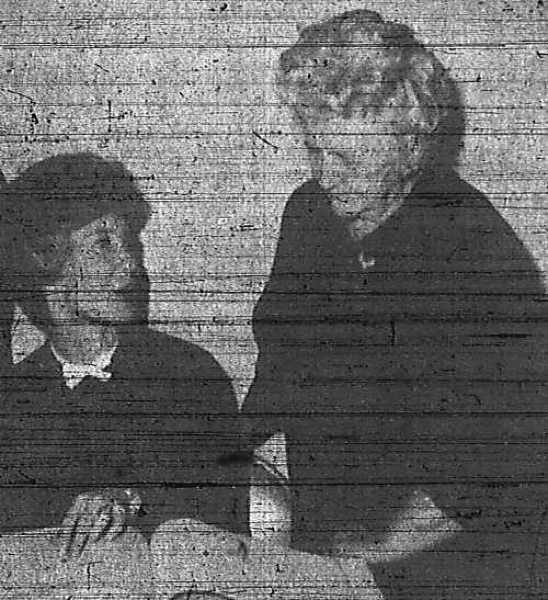 Mrs. Nancy Strange, Circuit Court Clerk for Bullitt County, is pictured above in Mumfordville, helping to train Hart County's newly appointed clerk, Mrs. Freda Rife. The paper indicated that this was a task Mrs. Strange was frequently called upon to do because of her vast experience and helpful spirit.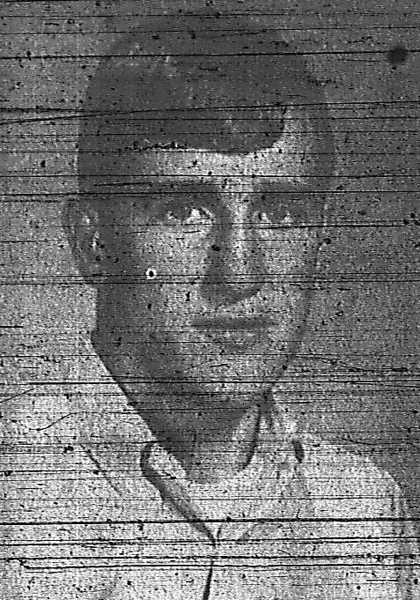 Barry Watson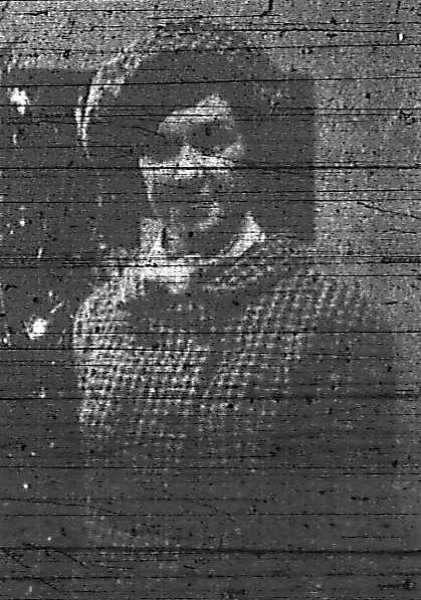 Lois Barker
S.H.S. baseball coach, C. H. Skelton announced the establishment of a Memorial Scholarship in the memory of Barry Watson who was killed in an automobile accident. Watson, son of Mrs. and Mrs. Sam Watson, had been a member of the team for three years.
In the Hebron Newsletter we learned that Mrs. David James gave an organ recital as part of Hebron's Christmas Eve Candle Light Service.
In Cedar Grove news, Mrs. Annie Bolton, Mrs. Ella Bell and Mrs. Agnes Webb attended the Golden Anniversary of Mr. and Mrs. Leo Kufman in Jefferson County; and Miss Juanita Stansbury of Cox's Creek spent Christmas with her aunt and uncle, Mr. and Mrs. Charles Livers.
Miss Lois Barker was pictured with an article announcing her assignment to the Bullitt County Extension Office in Shepherdsville.
Coach Charles Coy's Lebanon Junction Bobcats won the fifth annual Christmas tournament at the school, defeating Cox's Creek 40-26.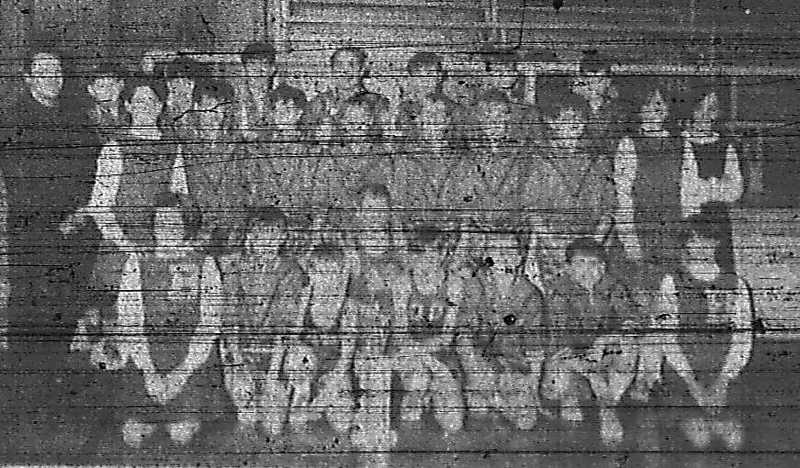 The team was pictured in the paper as follows: left to right, first row - Cheerleader Carla Hoagland, Carlie Rogers, Ricky McCubbins, Moachy Wise, Bobby Bryan, Mark Hardy, Mike Crady, and Cheerleader Sheryl Crawe; second row - Cheerleader Mary Bowman, Johnny Wise, Marty Comley, Terry Clase, Corky Overfelt, Terry Overfelt, Curt Firkins, Cheerleader Elaine Masterson, Cheerleading Sponsor Roberta Bowman; third row - Coach Charles Coy, Billy Hardy, Tommy Freeman, David Clayton, Randy Adams, Craig Bradbury, Ricky Ryan, and Alan Bryan.
Bradbury, Clayton, and Adams made the all-tournament team.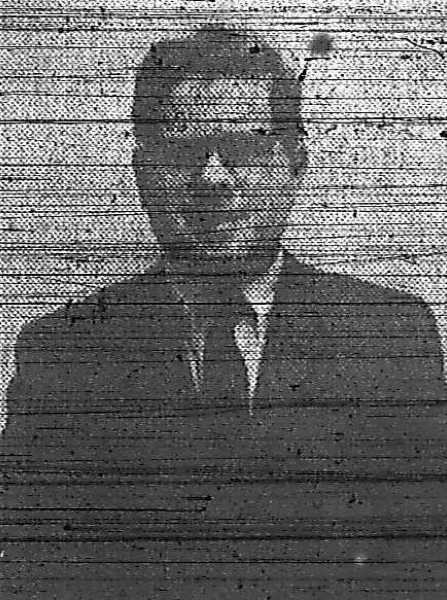 J. Chester Porter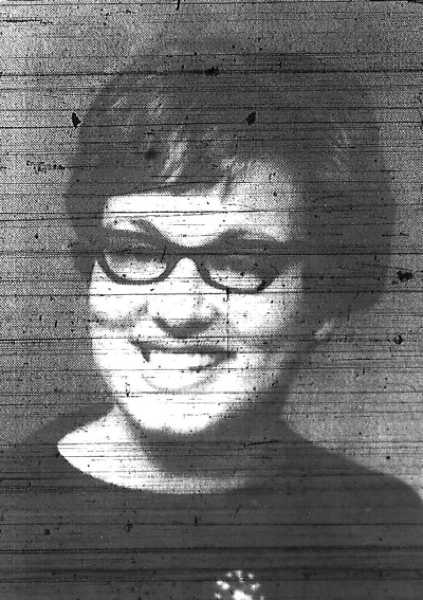 Linda Howlett Belcher
Mr. and Mrs. William Snellen of Clermont celebrated their 50th Wedding Anniversary.
J. Chester Porter of Mt. Washington was named Outstanding Young Man of the Year by the Bullitt County Junior Chamber of Commerce. Porter and his wife, the former Betty Wolford, were graduates of Campbellsville College, and Porter was a member of the law firm of Givhan and Porter.
There was a mighty cute picture of Linda Howlett in the announcement of her marriage to Larry Belcher.
Mrs. Nancy Strange presented Mrs. Helen Underwood with a certificate making her a Kentucky Colonel. This was in recognition of Mrs. Underwood's service to the community and to her students at Shepherdsville High School.
In Mt. Washington news, Mrs. Alberta Troutman, Mrs. Ann Waller, Mrs. Opal Allen, and Lunette Landis attended the Gospel Singers program at the Memorial Auditorium in Louisville.
Five Bullitt Countians were named to leadership posts in the Heart Fund Drive. They included Mrs. J. W. Hardaway, Mrs. Vernon Troutman, Mrs. Ruby Neal, Mrs. James T. Sweat, and Mrs. Ralph Henderson.
The Bullitt County 4-H Council presented "Friends of 4-H" awards to Bill Hardy, Ben McAdams, Mrs. Lester Rinkel, Roger Alford, and Vernon Mothershead.
And the first snow of 1969 could be blamed on Kevin Mooney, age 5, who when asked in Sunday School to pray, offered this prayer, "Dear God, please send us snow!" He got his wish.
1944 - 75 Years Ago.
Schools were having a hard time finding teachers as their pay scale was so much lower than the wages being paid by defense and industrial plants. Mrs. May Frances Jones, a fifth grade teacher at Shepherdsville was leaving to be with her husband who was stationed near Chicago; and Miss Doris Beard, the teacher at Brooks had resigned to return to college as she had been teaching on an emergency certificate.
This meant that Brooks joined Mt. Olivet, Sunny Side, Mt. Elmira, and Cedar Glades as a closed school due to a lack of teachers.
A column on the front page was filled with death notices including that of Frank Maris of Lebanon Junction who had died on Christmas day in his 80th year; Lydia Wells Mumford of Bardstown Junction who died at the age of 79; Mrs. Allie B. Thompson, age 64, of Lebanon Junction; John D. Harned, a well-known Bullitt County farmer, who had recently purchased the Wathen farm at Bardstown Junction after having to sell his farm to the army; and Sam Peacock, age 39, was killed on Christmas day by a hit and run driver in Louisville.
Another death reported was that of May Hays Collings, 85, of Louisville. She was a daughter of the late James Hays of the Hays Flats near Belmont. She was survived by her husband, John H. Collings, and their son Ben Collings.
The paper reported that Major Edgar B. "Dooley" Stansbury, son of Mr. and Mrs. Stansbury of Bardstown Junction, was chief of the physical fitness program of the Army Air Force.
The paper continued to get notes of appreciation from servicemen who were happy to get copies of their hometown newspaper. These included PFC Edwin L. Ratliff, Willie Samuels, PFC Hansford Milligan, Pvt. Wesley C. Ryan, William N. Jackson, Jr., S2C Raymond Hornbeck, Cpl. Wallace E. Owens. Pvt. J. R. Dawson, T-5 Johnny E. Richardson, Cpl. Joseph W. Sullivan, and Pvt. Colonel Jackson.
Mrs. S. B. Simmons advertised that the farm known as "Paroquet Springs Tenant house and outbuildings" was for rent on a cash basis.
The paper reported on the death of William Heffley, a well-known farmer living on Salt River below Shepherdsville. Mr. Heffley was born near Belmont.
Mike Smith, one of the survivors of the 1917 Shepherdsville train wreck, died at his home in Shepherdsville. He had been employed by Mr. and Mrs. G. S. Patterson for many years.
There was a mainly Mattingly and Ridgway gathering at Cupio as Mr. and Mrs. Elmer Ridgway hosted Mr. and Mrs. Robert Mattingly, Mr. and Mrs. Raymond Mattingly, Jo Ann Mattingly, Miss Eunice Ridgway, Mr. Harry Bishop, Mr. Edgar Monroe, Mr. and Mrs. Howard Samuels, amd Mr. and Mrs. Charles Ridgway and children.
In the Salt River community, Mrs. Ben Crenshaw, and Mrs. Wilma Hatfield and son were Sunday afternoon guests of Mrs. James Shepherd.
Ben Frank Robards was elected president of the Farm Bureau for 1944. Other elected officers included Robert Henderson as vice-president; and the following directors: S. N. Brooks, Russell Jenkins, Roy Applegate, Howard Hardin, Leonard Daugherty, S. O. Armstrong, J. W. Stark, Lee Masden, Hobart Roby, L. M. Masden, Stanley Lee, Ack H. Harned, Hilary Hardy, and Earl Dacon.
And Mrs. Lounetta Williams was reappointed as secretary-treasurer for the Bullitt County Farm Bureau.
1919 - 100 Years Ago.
T. C. Carroll, the popular County Attorney of Bullitt County, arrived at the Court House to take charge of his duties Dec. 26th.
Tot has been drawing contracts and doing other legal work for the Government in Washington D.C., and before the Commanding Officer knew he was a lawyer, they had him hauling cinders with a mule and dump cart.
In Mt. Washington, G. P. Wiggington moved to his home across the street from the M. E. Church, recently purchased from Mr. Tom Rogers. Mr. and Mrs. Rogers bought the house opposite from Oscar Porter.
Geo. W. Maraman, Shepherdsville, was looking for a good housekeeper, and would pay good wages.
Alex Smith, son of Dr. David Smith, was married to the only daughter of Mr. and Mrs. Ed Funk, of Highland Park.
Nick Hall and family moved from Bell's Mill to their farm purchased from Walter Armstrong, known as the Troutwine farm.
Miss Mabel Funk, twin sister of Miss Mattie May Funk and one of Cupio's finest young ladies was quietly married in Louisville to Mr. Lawrence Jones, a prominent young merchant of West Point.
Hugo Crenshaw wrote home from France to Miss Mollie Roby about the death of their friend, Horrie Thompson. In his letter he said, "The telegram was true that his folks received. He was instantly killed in action in that big drive on the Hindenburg Line, September 29th, with a piece of shrapnel from a big shell and was buried near Belliscourt, a little French village.
"I, with all the rest, sure hated to give him up for he was missed by his many friends in this company. He was one of the two Kentucky boys that gave their lives for the Country in this company.
"I was wounded on the same day that Horrie was killed, by being hit with a piece of shrapnel in the foot, but stayed with the Company all day and night, after I was hit and my foot got so sore, I had to go to the hospital, but I am back with the Company now. I would like to have been there to spend Xmas with you all, but I don't think it will be very long until I will get to come home and then I will tell you all the news. So, I will close for this time, hoping to hear from you again soon."
And on a lighter note, on January 31st, the editor wrote, "The Louisville High School Team which defeated our boys in the last game will be in here Feb. 1st at 8 o'clock and if you have any interest in our school or a particle of county pride, you will surely bring your whole family to see the game.
"The following old 'country Jakes' will play and will do their best to bring victory to Bullitt County and show the City boys that we are on the map.
"Floyd Weller, from Glenn Ella with his Charlie Chaplain mustache, Roger Wiggington of Hebron with his smiling face and courage to win, Thomas Trunnell of Bardstown Junction, the player who never gives up, Samuel Ridgway of Shepherdsville, the deliberate old war horse who never gets excited, and Little Woodford of Bardstown Junction, whose speed cannot be followed with the naked eye. Come on out, Grandpa, and encourage the boys."
---
Copyright 2019 by Charles Hartley, Shepherdsville KY. All rights are reserved. No part of the content of this page may be included in any format in any place without the written permission of the copyright holder.
---