It Happened in February
The following article by Charles Hartley originally appeared in The Pioneer News on 26 Feb 2018. It is archived here for your reading enjoyment.
---
We will be looking back 25, 50, 75, and 100 years to see what was being printed in The Pioneer News in 1993, 1968, 1943, and 1918 in the month of February.
1993 - 25 Years Ago.
Two Bullitt County students at Morehead University had leading roles in a performance of the Elizabethan classic "Volpone." They were Larry W. Coy, Jr., son of Larry and Thelma Coy, and Derek Scott Mudd, son of David and Marilyn Mudd of Lebanon Junction.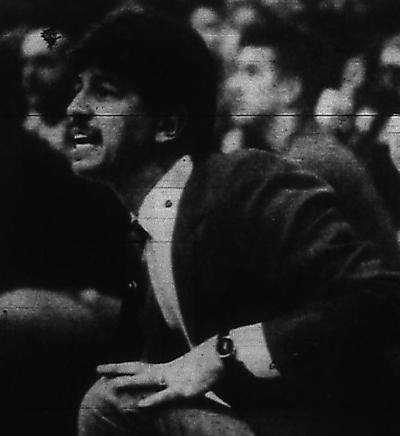 Bob Blackburn
Patrick Piazza was promoted to plant manager of the Hubers plant of Kentucky Solite.
Hillview Mayor Richard Terry, Council Member Bud Eadens, Police Chief Jim Perry, City Clerk Blenda Weber, and Bud White of the Chamber of Commerce were present for the official ribbon cutting for the opening of the Waffle House at Brooks. Bet they ate too!

Andrea Franklin
Bob Blackburn, Bullitt East basketball coach had his team undefeated in district play following an 82-69 victory over Bullitt Central. East scoring was led by Kerry Hollifield's 30, and Mike Sims' 15 points. Jimmy Westwood led Central with 24 points.
Meanwhile, the Lady Cougars pulled off an upset of the Lady Chargers, winning 44-43 before a home crowd. They were led by Tonya Rhoades' 14 points, and Andrea Franklin's 10. Monica Reed led East with 11 points.
Three days later, poor free throw shooting cost Central in a 62-61 loss to Nelson County. The Lady Cougars did shoot well from the field, with Andrea Franklin leading the way with 29 points.
Old Mill Elementary students participated in Geography Bee competitions by classrooms with the following classroom winners: Holly Hensley, Jacob Lynch, Jake Mayfield, Matthew Smith, Casey Whitley, Chad Thompson, Jason Cope, Matt Thompson, Jamie Sacra, Josh Lewis, Hannah Cunningham, Eric Porter, Alan Sharp, Jason Mersmann, Kristin Hardesty, and Gabe Hodges. Gabe was the school winner, and Kristin came in second.
A Golden Anniversary party was held for Jim and Myrtle Holthouser by their daughter and son-in-law, Donna and Keith Smith. There were actually two parties, as the second one was held at the Country Music Barn the next evening, organized by C. R. Wilson.
A bunch of people showed up to wish Paralee Armstrong a happy 84th birthday according to Lois Simmons of Pleasant Grove.
Lois also mentioned that Ethel Proctor, Elaine Wilson, J. B. and Juanita Proctor helped Fern Lloyd get her groceries in, as Fern was not feeling well.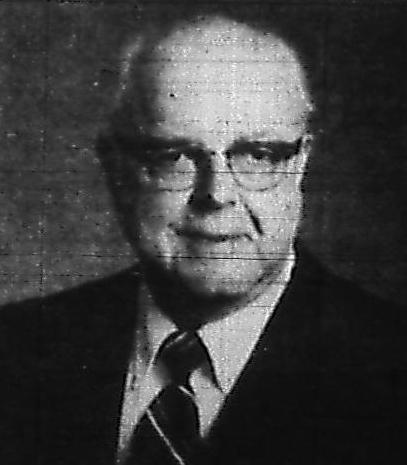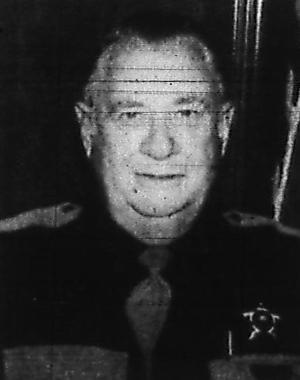 Adrian Jones / Shot Dooley
Out at Nichols School, the honor roll included Kevin Duvall, a fifth graders with all A's, and the following students on the A-B honor roll: Ellie Allgeier, Roseanna Heath, Adam Mitchell, Greg Perkins, Joshua Embry, Justin Perkins, Michael Adams, and Adam Jeffries.
Lloyd "Shot" Dooley and Adrain Jones were among the politicians throwing their hats in the ring for another go-around. Dooley wanted to be sheriff again, and Jones was trying for the Shepherdsville mayor's seat one more time.
Susan Spalding, social worker for the Day Treatment Center, was named School Social Worker of the Year by her peers in the Kentucky Association of School Social Work.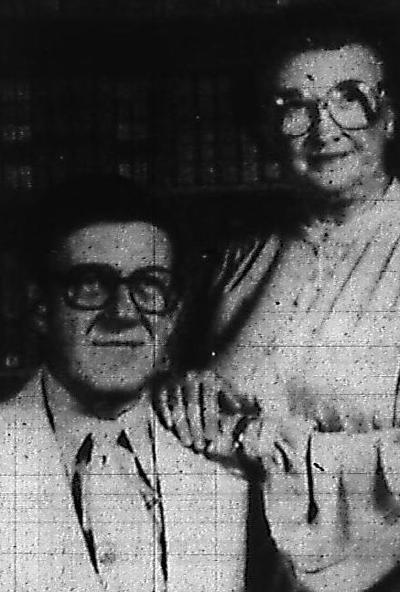 Stanford and Myrtle Harris
The University of Kentucky Dean's List included the following Bullitt County students: Kelley Lynn Coy, Jason Lee Giardina, Raymond A. Hodges, Kimberly Renee Kelly, Micheline E. Schott, and James Darrell Vincent.
Stanford and Myrtle Ruth (Stansbury) Harris celebrated their 50th wedding anniversary with a reception hosted by their daughter, Donna Stout.
And just imagine a chance meeting between two first-cousins who hadn't seen each other in over fifty years. That's what happened when Cecilia Jaudon and her husband Robert stopped in at the Pioneer Village Community Center to ask where they could get their car registered, since they had just moved here from Florida.
At the same time, Lucille Simmons arrived there to give Carmine Bertolo a ride home.
Lucille and Cecilia stuck up a conversation, and soon discovered their relationship. They had both attended the same school in Bowling Green, and Lucille's mother and Cecilia's father were brother and sister. Imagine that!
1968 - 50 Years Ago.
The local Jaycee chapter held an open house along with a mock trial to let the public know what the organization was all about.
Presiding at the trial was County Judge Neil Farris. The attorneys were Tom Pack and C. J. Crume. Members of the jury were Louis Brosick, Terry Atherton, Terry Edwards, Norman McAdams, Bruce Carter, Jim Kirk, Jim Hatley, and Rev. Bob Lamson.
The witnesses included Sam Hardy, Daryl Lee, Jim Bunce, Fred Duke, Bernie Wiley, Carl Payne, C. L. Lane, Moise Napier, and Wendell Harvey.
Gladys Sprinkle, writing from Mt. Washington, described the wedding of Miss Alice Carol Hall to Elden Duvall of Charlestown, Indiana. Miss Hall was the daughter of Mr. and Mrs. Jean Hall of Mt. Washington. Rev. Wendall Romans, pastor of the First Baptist Church, performed the ceremony.
She also reported that Coyla Clark and her sister, Mrs. Elma Anderson were visiting with their parents, Mr. and Mrs. Milton Clark in Mt. Washington.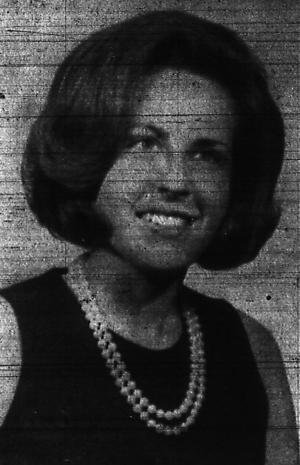 Betty Gayle Gaines
And did you know that Mr. and Mrs. Paul Alvin Roby hosted a rook party with Mrs. Alberta Troutman, Mr. and Mrs. J. M. Stout, Mr. and Mrs. Rudy Neal, Mrs. Ruth Drake, Mrs. Ann Waller, Mr. and Mrs. Norman Bridwell, and Mrs. Eva May Graham as guests?
From the Hebron newsletter, we learn that Sam Gentry had celebrated his 93rd birthday; that John and Mary Harper had spent a weekend at French Lick; and that Mr. and Mrs. George Z. Wigginton and Mr. and Mrs. Edward Earl Wigginton attended the wedding of Carl Troutman and Patricia Ashby at the Bullitt Lick Baptist Church.
The engagement of Betty Gayle Gaines to David Burks Williams was announced in the paper. A June wedding was planned.
In Wilson Creek news, we read that Larry Coleman and Miss Gloria Waters were home from E.K.U. for the weekend; and that Mr. and Mrs. Frank Stopher of Lebanon Junction had a baby daughter they named Pamela Michele.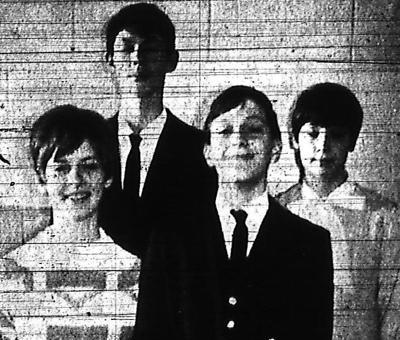 Speech Champs
Four speech contest champions were pictured in the paper. They included Pamela Simcoe, Charles Bowman, Jerry Price, and Melinda Rogers.
At the S.H.S. basketball homecoming game, Carol Korfhage was reigning queen. Chuck Heath was crown-bearer, and Beth Korfhage was flower girl. The attendants included Sheila Troutman, Paula Harbin, Diana Goff, Desie Deschand, and Rita Stallings.
The Roby P.T.A. observed Founders Day, led by their co-presidents, Rev. Joseph James of Hebron Presbyterian Church, and his wife Roberta. They and their two sons came to Hebron in October 1962.
Charles Bowman, Leeland Stevenson, and Gerald Fulkerson of the Shepherdsville F.F.A Chapter were identified as candidates for the Kentucky State Farmer Degree.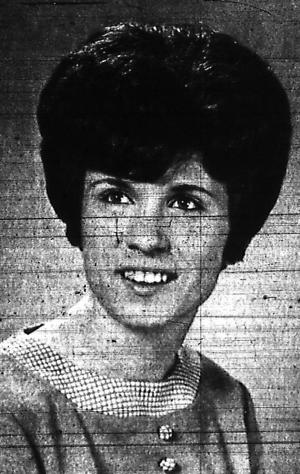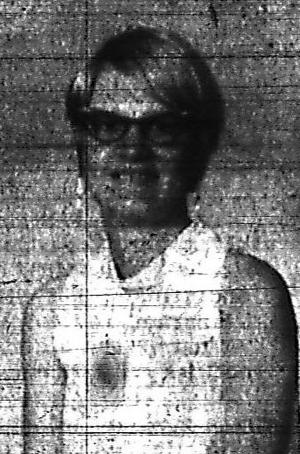 Donna Ray Maraman / Rhonda Hoagland
The engagement of Donna Ray Maraman to Richard Wayne Davis was announced by her parents, Mr. and Mrs. Charles B. Maraman. The wedding was to be in March at the Cedar Grove Baptist Church.
Rhonda Hoagland, daughter of Mr. and Mrs. Fred Hoagland, Sr., of Shepherdsville, had a perfect 4.0 standing for the fall semester at Campbellsville College.
At the Nichols P.T.A. meeting, Mrs. Arthea Ridgeway presented Ron Weimer with a lifetime membership in the organization.
And a special Court of Honor was held at the Hebron Presbyterian Church where Richard Sansbury, Barry Watson, and Rick Adams were presented with their Eagle badges, the highest rank available in Scouting. A high honor, indeed!
1943 - 75 Years Ago.
Unfortunately, the microfilm for February 1943 is unavailable; however, we had more news from January than we could include last month, so here is some additional January news.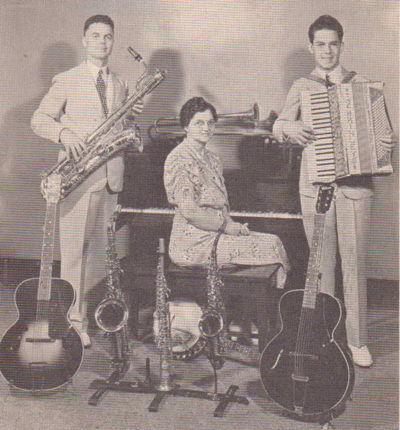 McKinley Family
Dr. S. H. Ridgway, who was in a Louisville infirmary, was some better. And Mrs. Clarence Dawson was on the sick list.
The paper printed a number of letters from local boys who were elsewhere in the military. Among these were Dexter R. Hatfield, Arthur Waters, James Jupin, and Evan McKinley. Evan shared part of his journey overseas this way: "We left Frisco on an unidentified date, traveled an unidentified course, arriving at an unidentified port at an unidentified time. Outside of this there is very little to say about the trip over."
Evan was the son of Rev. Henry Evan McKinley, Sr. who had pastored the First Baptist Church of Shepherdsville in the 1930's. Evan would go on to reach the rank of Staff Sergeant of the Army Air Corps.
Of the others, Dexter Ray Hatfield returned from the war and later worked at the Beam Distillery as a truck driver. He lived 93 years, passing in 2011.
If my research is correct, Arthur Bryant Waters, Jr. had left the service by June and was working as a laborer for the railroad when he was struck by a train and killed.
James Jupin had enlisted in July, and would serve until discharged in October 1945. He was living in Louisville when he died in 1972.
Billy B. Kidwell, husband of LaVerne Kidwell of Lebanon Junction, graduated from the Aviation Machinist's Mates School at the Naval base at Pensacola.
In Mt. Washington news, Mr. and Mrs. E. O. Carrithers bought Burt Rouse's house on the Jackson Highway; Grigsby McFarland remodeled a restaurant into a dwelling and rented it to Mrs. C. C. Coggins; and John F. McClure died at his home after a lingering illness.
In the personals column we learned that Bruce Hamilton visited his parents, Mr. and Mrs. Henry Hamilton; that Sgt. Gregory O'Bryan was home on leave visiting his mother, Mrs. Lena O'Bryan; that Otto McGlasson, son of Melissa McGlasson, had completed his early military training; and that Mrs. Carl Beam and sons of Clermont were guests of Mrs. Chester Hill.
Mrs. Wilma Hatfield and son were present at a dinner given to honor two local boys, PFC Henry B. Manakee and Cpl. Silvester A. Crenshaw.
Mrs. Rice Dawson spent a day with her sister, Mrs. Ora L. Roby.
T. C. Carroll, local chairman of the U.S.O. Commission, encouraged folks to donate books "that you like yourself" to be shared with the boys overseas.
J. D. Spann of Route 3, Shepherdsville, advertised to trade a team of small mules for a mare or horse about 16 hands high.
In Wilson Creek news, we learned that Mr. and Mrs. John Masden moved to their farm on the Creek; that Miss Virginia Milligan was a guest of the Walls sisters; that Howard Masden was home on furlough from the navy; that Private Leo Wall was stationed at Fort Benning, Georgia; and that a farewell party was given at Emmett Hornbeck's for Raymond Hornbeck who left for service in the navy.
And Miss Billy Roy Maraman of Shepherdsville entered the service of the W.A.A.C. and was stationed at Daytona Beach, Florida.
1918 - 100 Years Ago.
The following boys played for Shepherdsville in a basketball game against St. X of Louisville: C. F. Troutman, Samuel Ridgway, Forrest Wolford, Roger Wigginton, Muir Funk, and Thomas Trunnell.
Much of the front page of the February 1st edition of the paper was dedicated to issues involving food rationing, brought on by our participation in the war effort.
The Hebron correspondent had numerous bits of news to share. Sam Williams was quite ill; Mr. Robards was worse than before; but Mrs. B. B. Johnson was getting better. Burke Williams was at the bedside of his father, S. B. Williams. The remains of Mrs. Martha Parrish were buried at Hebron; Rev. Combs preached the graveside sermon. The children of Will Becker and Floyd Jenkins had the measles, no small thing in those days.
A large crowd attended the funeral of Julian Bell, the first Bullitt County boy to lose his life because of the war.
The Belmont correspondent reported that Miss Frannie Compton spent several days with her sister, Mrs. Palmer Hodges near Hebron; that James Engle was improving after a serious attack of pneumonia; that Misses Hays and Jeffries, teachers at Belmont, had faced the blizzard and not missed school a day; and the Belmont community was shocked at the death of Mrs. Tillie Murray of Hebron, who had lived in Belmont for a number of years.
The Mt. Washington correspondent wrote that Everett Armstrong captured 136 catfish when he cut the ice on his pond so his stock could get water.
In the school news column, we learned that Howard Roby, a former teacher of Bullitt County, had been out west for several years, working as a surveyor. He was home for a time, visiting with his parents, Mr. and Mrs. Levy Roby of Belmont.
Professor J. H. Sanders announced that the Shepherdsville Normal class would begin on February 25th. How many of you know what a "Normal Class" was?
Lula Ashby, who graduated from S.H.S. in 1917, took a position as bookkeeper for G. W. Maraman & Sons.
James Cochran, father of Professor T. E. Cochran, died suddenly at his home near Zoneton.
Also, W. Blair Robards of Hebron died following severe problems with asthma and lung trouble. He left a wife to cherish his memory, the former Bettie Williams, and one brother, John D. Robards.
The Cedar Grove correspondent shared that C. E. Crenshaw had made a four horse sleigh and was hauling from Shepherdsville daily. Sleigh riding was the thing to do; just as Elbert Lutes and his family.
W. N. Simmons advertised that he had lost a Black Poland and China male hog weighing about 200 lbs. It had one white ear.
The Salt River correspondent shared that Howard Maraman was slowly improving. Howard was severely injured in the December 20, 1917 train wreck in Shepherdsville. A number of relatives and friends paid him visits; most went away disheartened at his condition.
Edward Owen sold a pair of three year old mules to Herman Williams for $285.
And John Peacock put a new phone in his home on the short line running into the Mt. Washington exchange. Anybody know his ring?
---
Copyright 2018 by Charles Hartley, Shepherdsville KY. All rights are reserved. No part of the content of this page may be included in any format in any place without the written permission of the copyright holder.
---