It Happened in February
We will be looking back 20, 40, 60, 80, and 100 years to see what was being printed in The Pioneer News in 2002, 1982, 1962, 1942 and 1922 in the month of February.
2002 - 20 Years Ago.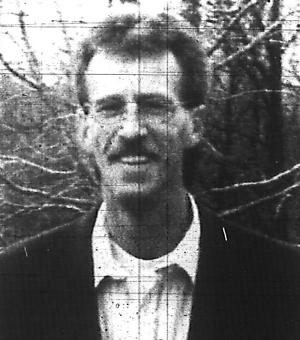 Dale Saltsman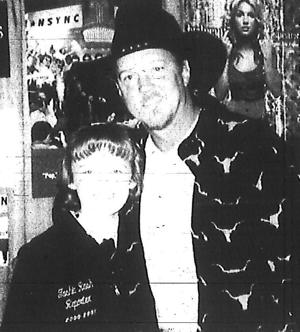 Tashia Rash & Trace Adkins
Dale Saltsman was appointed to the Board of Education, filling the position vacated with the death of Donna Sweat.
Local FFA members from Bullitt Central including Kyle Skidmore, Tashia Rash, Penny Bullock, Tami Ison, Jason Stinson, Crystal Whiteside, Aaron Culver, Tommy Wietecha, Josh Beahl, Melissa Mirzaian, Kerry Lavely, Kelly Staley, Benji Smith, Beth Thompson, (Advisor) Michael Peake and Beve Smith attended the National FFA Convention in Louisville. The paper printed a picture of Tashia Rash with country music star Trace Adkins.
The YMCA hosted a weight lifting competition and some of the winners were as follows. In the men's 50 and over class, Bruce Capps lifted 325 pounds. In the 45-50 age group, Dan Tomlinson lifted 300 pounds and Bryan Patton hefted 285. Mark Watson at 335 pounds and Keith Griffie with 300 led the 30-45 age group. The 20-30 age group was split by body weight, and Ronnie Winter led the over 200 class with a lift of 450 pounds followed by Norm Kulmer with 385, while Robert Patton lifted 360 in the under 200 group. Not to be left out, Agnes Kulmer lifted 170, Felicia Reynolds 120, and Brenna Tomlinson 100. In the teenage group, Chris Ashby lifted 225, and Phillip Whalen 160 pounds.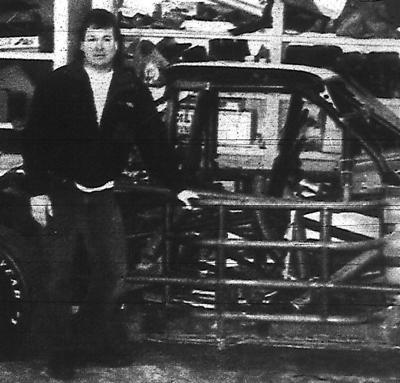 Wayne Edwards
Wayne Edwards of Shepherdsville was pictured standing in front of one of his racing frames in preparation to compete in the Goody's Dash Series. The paper reported that Wayne had five top-10 finishes the previous season.
The North Bullitt Lady Eagles earned an important victory over Bullitt East 75-52 behind Lauryn Hatchett's 22 points, 19 by Janna Funyak, and 11 from Melanie Keith. The Lady Chargers were led in scoring Lea Warren with 11.
In a game against Wayne County, Bullitt Central was led by Todd Spencer with 27 and Chad Stivers with 21 in a close loss 65-73.
In the middle school Governor's Cup district competition, Tyler Hall of Mt. Washington Middle placed first in mathematics and in science; his teammate Jodi Brashear was first in English composition; Hebron Middle's Tara Luster led the scoring in social studies; Brittany Bush of Bullitt Lick was tops in language arts; and Patrick Buley of Mt. Washington led all scorers in general knowledge. The Mt. Washington team also won the quick recall tournament and placed first overall in the day's events.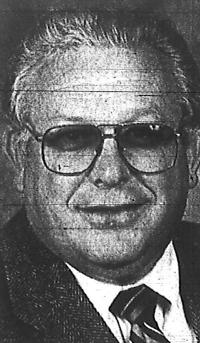 Larry Belcher
In the high school Governor's Cup competition, Bullitt Central placed first overall. Josh Powell placed first in social studies and general knowledge. Beth Runion took first in language arts and English composition, and the BC quick recall team of Dylan French, Josh Powell, Levi Freeman, Beth Runion, John DeFerraro, Greg Holt, Whitney Theis, Tony Pepper, and Harlen Compton won their competition. Other first place winners were John Wigginton of Bullitt East in science, and his teammate Siles Adkins in mathematics.
And Bullitt County found itself split into four legislative districts following the redistricting wars in Frankfort. As a result, Representative Larry Belcher of the 49th District opted to try a run for the Kentucky Senate.
1982 - 40 Years Ago.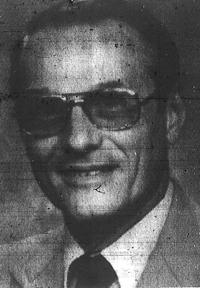 Shearman Taylor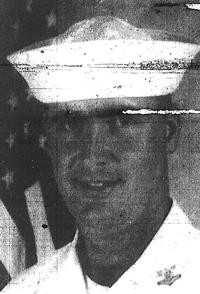 Greg Armstrong
Shearman Taylor of Shepherdsville was the featured speaker at a meeting of the Kentucky Academy of Trial Attorneys. He spoke on forensic photography.
Elizabeth Worley of Lebanon Junction wrote about the Math Bowl team from St. Benedict's that would be competing at Elizabethtown. Members included Cheryl Newton, Laura McQuire, Tish Sweat, Todd Hines, Bruce Bunch, and Missy Tinnell.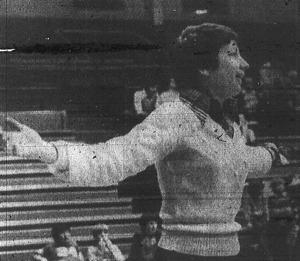 Mary Ann Elam
Clara Simmons of Pleasant Grove wrote that Cliffa Foster hurt her foot playing ball at Murray. (I don't imagine that slowed Cliffa down much.) Clara also wrote that Alvine and Beulah Foster called on Mrs. Maggie Proctor, bringing her some pecans from Arkansas.
Navy Seaman Greg Armstrong, son of Rev. and Mrs. Ray Armstrong, received a commendation for outstanding performance of duty, and got his picture in the paper.
Bullitt Central Lady Cougars Coach Mary Ann Elam was pictured with arms outstretched is disbelief at an official's call.
Those who remember that Windstream's name was Allied Telephone Company may also remember when Jan Teensma, newly appointed company vice president announced that name, a change from the name of Echo Telephone Company.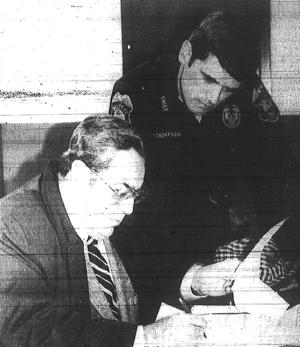 Thompson and Hall
In the Hebron News column we read that the Hebron Women of the Church met with Mrs. Arlene Anderson for their Valentine and Secret Pal revealing party.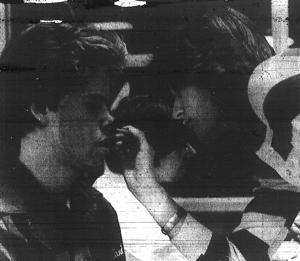 Face Painting
Oretha Ridgway of Nichols wrote that Kelly Thompson celebrated his 6th birthday at the home of his grandparents, Mr. and Mrs. Daniel Thompson. Also at the party were Roger Thompson, Carnell Logsdon, Viola Logsdon, Patsy Larimore, and Adrian Larimore.
New County Police Chief Danny Thompson was pictured looking over investigation work being done by County Detective Trent Hall.
Beth McClure of the Bullitt Central Art Club was pictured putting the finishing touches on the face of David Westwood before a basketball game. The Art Club painted faces and Cougar paws to show school spirit.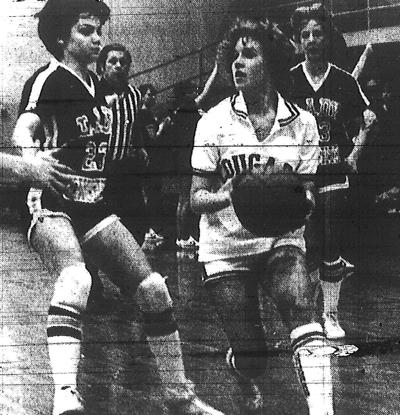 Christy Cruise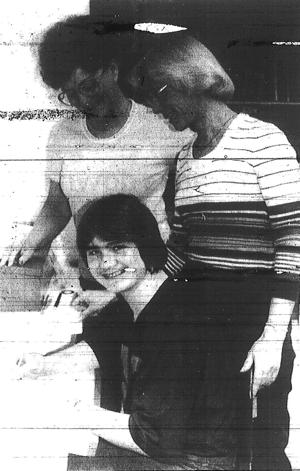 Jimmy Gibson
Christy Cruise was pictured trying to drive around a Marion County basketball player.
Laura Troutman, a 1980 Bullitt Central graduate and daughter of Mr. and Mrs. J. E. Troutman of Shepherdsville, received a full R.O.T.C. scholarship at Eastern Kentucky University.
Bullitt Lick Middle School teacher Ruby Hogg arranged for her student Jimmy Gibson to visit the Pioneer News office regarding his interest in commercial arts. He was pictured there along with Job Shop Manager Patsy O'Bannon and Judy Corum from advertising.
Jeanette Glass of the Cedar Grove community wrote that Robert Wilkins and Jennifer Lynn Brock placed first and second in the Cedar Grove school spelling bee.
Staff Sergeant Glenn Napier, son of W. A. and Aletha Napier of Shepherdsville, and Sabrina Ann Smith of California were married in San Diego where Glenn was stationed. I'm happy to say, Glenn earned his Eagle Scout rank as a member of Troop 5 in Shepherdsville.
Scotty McGaha of Brooks was pictured with Louisville Mayor Harvey Sloane at a dance that Scotty emceed at DeSales High School.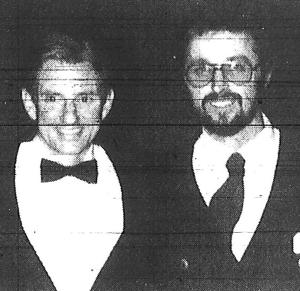 Mayor Sloane & Scotty McGaha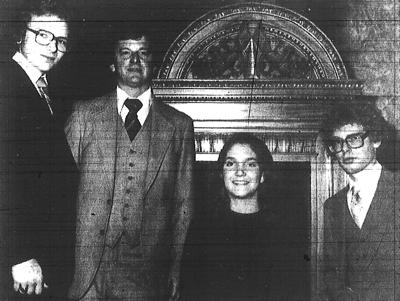 Essay Winners
Harry Hunt of Bullitt Central, Donna Ricketts of North Bullitt, and James Simms of Bullitt East were pictured with State Representative Frank Smith following their wins in the Bullitt County Young Democrats essay contest.
And Bill Hardy served as Bullitt County's 1982 Heart Fund Chairman, another of his community service efforts.
1962 - 60 Years Ago.
Ray Foster scored 29 points to lead the Mt. Washington Generals over Bloomfield to win the Salt River Valley Conference Tourney.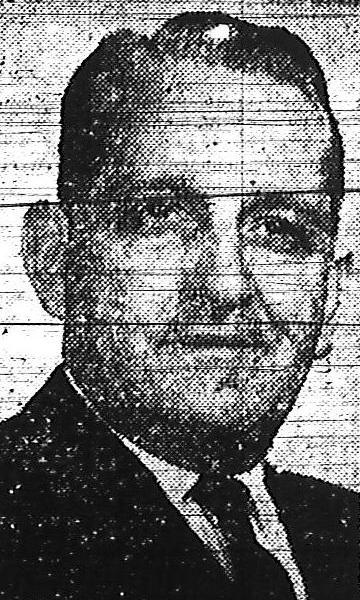 Rep. Leo Bleemel
Dr. M. J. Cundiff, a Shepherdsville dentist, was elected to the Bullitt County Board of Education to fill the unexpired term of the late Ray Bush.
Rep. Leo A. Bleemel was pictured in the paper as he began his second term in the Kentucky House of Representatives.
Mrs. Lewis Hatfield was elected president of the Bullitt County Council of the P.T.A. Mrs. Harold Jenkins of Lebanon Junction was elected as the first vice-president.
In Cedar Grove community news, Mrs. W. C. Lanham reported that Pvt. Charles P. Raymond was home on leave visiting his mother, Mrs. Rose Raymond.
In the Personal Notes column we learned that Mrs. Noble Porter fell and broke her hip; that Mrs. Harry Farmer fell and injured her spine; that Mrs. Margaret Ridgway fell at home and injured her face and knees; and that Mrs. Ben Hardy broke her arm when she fell at home. (As I get older, I better understand the dangers of falling.)
The Bardstown Junction correspondent reported that Walter Cundiff was home from the hospital and doing well; and that Callie Bowman had a cataract removed from one eye. She also reported that Mrs. Dee Bergen spent a day with Mrs. Inez Williams.
Did you know you could get two bunches of green onions for 19 cents at Harold Hardy's Shepherdsville supermarket?
The Hebron correspondent, Mrs. Ida Holsclaw, billed as "The World's Oldest Newspaper Correspondent," reported that her grandson, Roger Holsclaw paid her a Sunday visit, and also subscribed to The Pioneer-News. (Sounds like a good idea!)
In advertisements, we see that Elmer Cundiff would sand your floors to make old ones look like new; and that J. W. Hatfield would either hang your paper or paint your walls, just as you like.
Mrs. R. L. Stallings of Pleasant Grove wrote that Mrs. Bud Owens took her Sunday School class skating on Saturday night. Bet they went to Brad's place.
Mrs. W. A. Hessey of Mt. Washington wrote about the celebration of Mr. Almer Barnes' 100th birthday. He was the oldest son of Timoleon and Elizabeth (Hall) Barnes, and was married to Lulu Grigsby who had died years earlier. Mr. Barnes was past president of The Peoples Bank of Mt. Washington, and the only living charter member of its board of directors.
Mrs. Alberta Black of Brooks welcomed Mr. and Mrs. Bud Skeito and family into the community. She also wrote that twin calves had been born at his place.
Billy Howard Smith passed the Kentucky Pharmacy Board Examination in January and was employed at the Louisville Apothecary on Preston Street.
Among the many pastors listed in the church listings were Ray Armstrong at Immanuel Baptist, Smiley Johnson at Hebron Presbyterian, and Bruce Hartsell at Shepherdsville First Baptist.
Mrs. Garnett Shuffett became president of the Roby P.T.A. when Mrs. Bailey moved away.
And Miss Patricia Ann Miller of Nashville was married to Ronald Masden of Shepherdsville, son of Mr. and Mrs. Woodrow Masden.
1942 - 80 Years Ago.
The winner of the Grade School Spelling Bee held at the Shepherdsville School was Mary Lucy Marr of Lebanon Junction, a seventh grade student in Miss Elizabeth Russell's class. Placing second was Leola Armstrong of the Pleasant Grove School, and eighth grader in Mrs. Virginia Shelburne's class. In third and fourth places were Polly Anna Bealmer of Shepherdsville and Christine Armstrong of Beech Grove.
Other participants included Charles Applegate (Nichols), Pearl McElvain (Mt. Olivet), marie Ferguson (Sunny Side), Doris Jean Quick (Brooks), Trulaverne Cook (Mt. Washington), Betty Jean Conch (Cedar Glades), Norman Hines (Cedar Grove), Juanita Robison (Clermont), Audrey Sherrard (Pitts Point), Kathryn Long (Cane Run), June Harned (Belmont), and Mary Ratliff (Woodsdale).
Myrtle Hessey of Mt. Washington won the high school division of the spelling contest. Placing second was Dorothy Larkin of Lebanon Junction.
In the writing contests, the high school section was won by Jean Bradbury of Shepherdsville, with Betty Jean Crenshaw of Mt. Washington placing second. The grade school winner was June Harned of Belmont, daughter of Mr. and Mrs. Ack Hill Harned. Placing second and third were Janetta Quick of Brooks, and Wilda Lois Hall of Pleasant Grove.
Registrations for the war draft were held in the following locations, and operated by those named below. Nichols School: Junia Mae Kneisler, Lorene Pierce; Cedar Grove School: Pearl Hall, Ruby C. Napier; Clermont School: Catherine Applegate; Zoneton Miller's Store: Louise Bischoff, Mary F. Jones; Lebanon Junction former voting place: Augusta Dawson, Zardetti Dawson, Naomi Perkins, Loraine Doutaz; Salt River Oak Grove School House: Beulah Tinius, Cora Ney Hardy; Brooks School: Pauline Williams, Gaynell Manuel; Solitude Bowman's Store: Louella McFarland, Frances Simpson; Beech Grove School: Frances Hayes; Belmont School: Mary B. Hill, Evelyn Masden; Church at Gospel Kingdom Campground: Delbert Wagoner; Shepherdsville Court House Local Board Office: Layne Wigginton, Nancye Masden, Ida Lee Sellers, Jessie Basham, Carolyn Muir; and Mt. Washington School: Kathleen Barker, Myrtle Stansbury, Myrtle Shake, Martha Weller, Ann Jones, Thelma Markham.
The paper later reported that about 550 men from 20 to 40 years of age had registered on one day.
The Needmore Road correspondent reported that Elber Bass and and wife had moved to the Kirby Grant farm. Also, Brother Ben Sietz, Mr. and Mrs. Louis Whitledge, Mabel and Inez Whitledge, Ella Proctor and J. B. Close were Sunday guests at the home of Mr. and Mrs. Ronald Jones.
In the Personals column we read that Rev. C. H. Skelton was in Shepherdsville on Saturday; that Mr. and Mrs. Ora L. Roby had rooms with Mr. and Mrs. Robert Hardy, Sr.; and that Mr. and Mrs. Newt Pearl had moved to the Swann property which they had purchased.
Out at Hebron, Mrs. J. R. Holsclaw rented her farm for a term of years to Walter Crumbacker.
The folks at Barrallton welcomed Mr. and Mrs. Robert Hardesty to the community. The Hardestys were one of those displaced by the expansion of Fort Knox.
Everett Pardue and wife moved from Park City to Lebanon Junction and took rooms with Mrs. A. H. Snellen. Mr. Pardue worked for the railroad as a signal maintainer.
And local farmers were being encouraged to take good care of their burlap bags, and the supply of burlap from India was dwindling, and the military needed most of what was available.
1922 - 100 Years Ago.
The paper contained numerous death notices and reports of illness. One example stated, "Phillip, little son of Mr. and Mrs. Genus Crenshaw, died of pneumonia following influenza and measles. He was buried here last Saturday at a brief funeral by Rev. E. D. Ryan."
As we make our way through the current pandemic, remembering that the effects of the 1918 Spanish Flu pandemic lingered into the early 1920s should give us pause, and encourage us to do whatever we can to hasten its end.
We read the obituary of Clara Hughes Newman, wife of John Newman of near Bardstown Junction. She had moved here from England about 30 years earlier and reared a fine family seven children that included the late Elizabeth Chapeze, wife of Ben Chapeze, and Arthur Newman who would die in 1929, leaving his wife Thelma, and two daughters Sarah and Clara.
The Fiscal Court met and let the poor farm to Charles Harris for a year. He was to receive his and his family's board and $300 per year to take care of the paupers.
In the latest diploma examination, 35 of 41 students passed, led by Mildred Beeler of Lebanon Junction and Hazel Funk of Cupio. They will be entering high school in the fall.
Out at Belmont, "the many friends of Gilbert Bradbury, Tad Murray, Lee Logsdon and Clyde Elmer Roby were glad to hear of their good luck in passing to High School."
Mack Jones, Jr., better known as Jack Jones, was giving up delivering the Louisville newspapers as delivering the papers made him tired, and didn't pay enough to buy a pair of second handed brass toed shoes.
In the Personals column, the editor wrote, "Gussie Swearingen, the elongated clerk at Troutman Bros. Store, works in the day time like a house afire, but at night he becomes a regular parlor ornament. Just as soon as the somber shadows of night close about him, he changes clothes and goes to see his best girl."
George Bowman sold his store at Salt River to Mr. and Mrs. Len Daugherty, who were planning to continue running it as a general store.
Following the holidays, a number of Bullitt County young people were heading off to college, including G. L. Bridwell, Elizabeth Cash, Mary Weller, Mable Snellen, Neva Magruder, Estelle Landers, Willie Mae Ridgway and several others who entered school at Bowling Green.
The Hebron correspondent wrote, "Miss Elizabeth Bailey deserves the prize for regular attendance at S.S. She has not missed a day in almost nine years. She attends Hebron and at Christmas was presented a pin in recognition of 8 years attendance."
And she also wrote, "Mrs. J. C. Gardner has a very attractive new residence with modern improvements, electic lights, etc, but to us who have spent so many happy hours in the old home with the Summers family, it seems tragic to see it abandoned with all its hallowed memories."
---