It Happened in February
The text below is taken from parts of four articles that originally appeared in The Pioneer News in March and April of 2021. It is archived here for your reading enjoyment.
---
We will be looking back 20, 45, 75, and 90 years to see what was being printed in The Pioneer News in 2001, 1976, 1946 and 1931 in the month of February.
2001 - 20 Years Ago.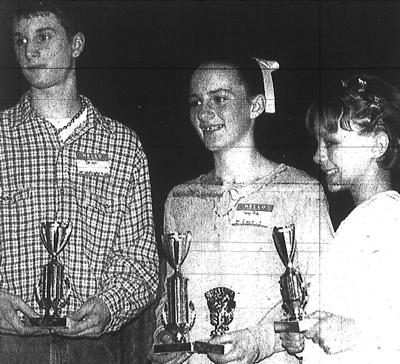 Brian, Haylea, and Bethany
The county spelling bee reached the tenth round before third place finisher, Bethany Simpson representing Pleasant Grove was eliminated. Then the remaining two contestants spelled their way through 18 more rounds before Brian Brashear of Mt. Washington Middle stumbled over the word "maimed," opening the door for the eventual winner, Haylea Sweat of St. Aloysius.
Kari Stewart of Bullitt East, Trina Henn of Hebron Middle, and Linda Bendorf of Mt. Washington Elementary were chosen as Bullitt County Teachers of the Year.
The North Bullitt Lady Eagles Dance Team won two events in the 2001 JamFest competition. Members included Rachel Wesley, Jillian Martin, Kristen Meredith, Jennifer Collins, Jasamine Curtis, Brianne Broderick, Alex Dixon, Danielle Fuchs, Ashlea Lewis, and Cassie Guenthner. Their coaches were Lori Bruner and Laura Heun.
Mt. Washington Middle School claimed the district Governor's Cup in academic competition. Their team members included the winning quick recall team of Sam Burress, Brian Brashear, Corey Warford, Patrick Buley, A. J. Woodworth, and Josh Capito; Stephanie Martin (1st in Composition), Tyler Hall (1st in science), Ben Porter (3rd in General Knowledge), Brooke Raymer (3rd in Language Arts), Virginia Stanley (5th in Language Arts), Stephanie Crigler, Robbie Smith (2nd in Mathematics), Andrew Darbo (5th in Mathematics), Nick Wells, Jodi Brashear, Alex Wimsatt (2nd in Composition), and Elizabeth Weekman.

Mt. Washington Academic Team
In the high school district academic competition, Bullitt Central's quick recall team placed first. Team members included Jason Thompson, Fred Paul, Dylan French, Lee Woods, Ian Akridge, Josh Powell, John DeFerraro, Greg Holt, Dylan Matlow, Beth Runion, and Dustin Jones. French and Runion also took the top two spots in the English composition category. In written assessment categories, Ryan Szrama of North Bullitt won in mathematics, Jason Thompson took the honor in language arts; Fred Paul won in both social studies and science, and Lee Woods captured first place in general knowledge.

Bullitt Central Academic Team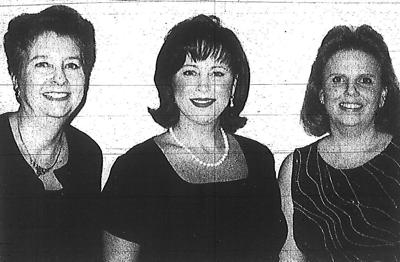 Carolyn, Cheryl, Sarah
Carolyn Sander and Sarah McDade were pictured with WAVE-3 anchor Cheryl Case at the Valentine Gala hosted by the Red Cross.
Whitney Wurzel of Bullitt Central, Leah Ferguson of North Bullitt, and Kristin Hardesty of Bullitt East joined Judge/Executive Kenneth Rigdon as he signed a proclamation saluting the FBLA chapters in Bullitt County.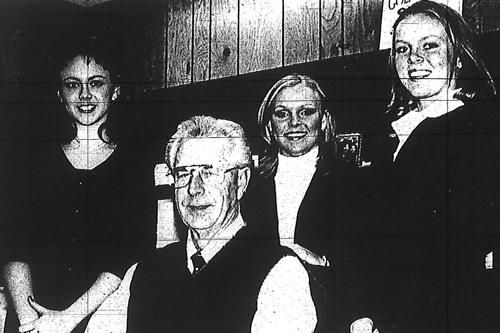 FBLA Proclamation
Washington County came to town undefeated, but that ended when Bullitt Central won 67-52 with Jason Rheaume scoring 17 and Todd Spencer adding 14, and Justin Saunders 11.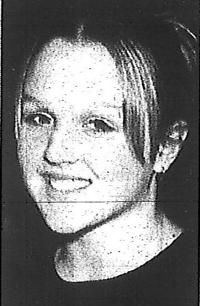 Brittany
Bullitt Central's Brittany Hartnett participated in a Shakespeare Competition, reciting one of the Bard's sonnets. She was building on her experience which included playing Alice in "Alice in Wonderland," and Shelby in "Steel Magnolias."
The Raptors took home the regular season championship in the Parks and Recreation 11-12 boys' basketball league. Team members included John Maulden, Kyle Nunn, Alex Young, Josh Heath, Michael Fitzner, Alan Beeler, Alex Buckner, Kyle Ramsey, and Josh Muir. Their coaches were Kenderick Heath and Bill Fitzner.
Ron Lasley of Shepherdsville carried the label of "The Faster Pastor" due to his exploits on the race track as well as his duties as pastor of an Okolona church. He finished in the top five in 14 of 16 races in his Ford Ranger, including a win and nine second place finishes.
Jami Wiedmar and Nathan Miles were crowned homecoming queen and king at Bullitt East.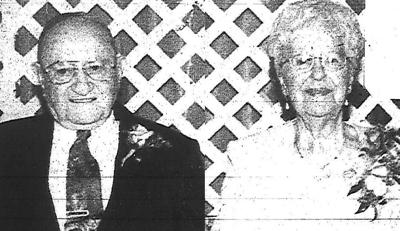 Morace & Eudora
Julia Sander, daughter of Hans and Carolyn Sander of the Nichols community, and a 1996 honors graduate of Bullitt Central, graduated summa cum laude from the University of Kentucky.
And Morace Burns and Eudora Evans eloped in 1931, and 70 years later they were still celebrating wedding anniversaries. They were students at Shepherdsville High School when they first met. As a side note, Morace and his brother Horace played basketball at S.H.S. and, as we've related before, at a school reunion Morace related that when he got in foul trouble, he and Horace would switch jerseys so he could continue to play.
1976 - 45 Years Ago.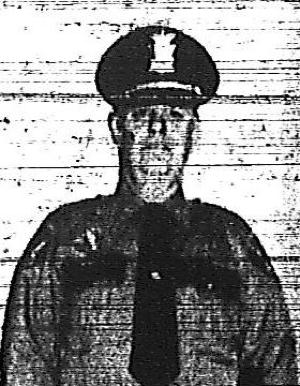 Chief Eadens
Major Herbert "Bud" Eadens of the Hillview Police Department was promoted to the rank of Colonel and Chief of the department.
Blane Skaggs joined Kenny's Texaco as a mechanic with 18 years experience. The business was located on Highway 44 next to the interstate.
In girls' basketball, the Freshman Rams defeated the Generals 28-25 led by Sharon Whitley's 17 points; and the 7th and 8th graders won 15-13 behind Cliffa Foster's 9 points.
In boys' basketball the Shepherdsville Rams clinched the Bullitt-Nelson Conference Championship with a 9-0 record in conference play by defeating Bloomfield 44-26 behind Steve Brown's 18 points. They then won the conference tournament, defeating Mt. Washington in the final game 53-37, capping a fine season for Coach Bob Carpenter's team.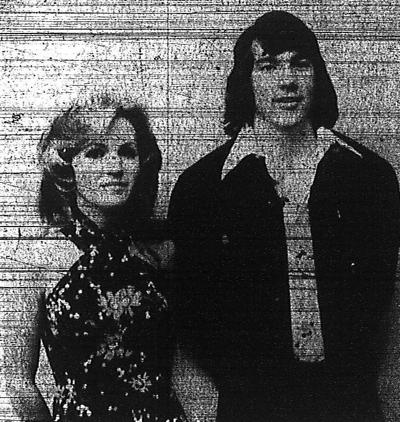 Randall Hunt and Jo Anne Kearney were elected King and Queen at Bullitt Central's homecoming game. First runner-ups were Leland Graham and Nancy Crenshaw, and second runner-ups were Steve Mingus and Ann Huber. The flower girl was Kim Hardy and the crown bearer was David Smith. The queen was crowned by Rachael Korfhage, 1975 Homecoming Queen, who was escorted by Bill Moore.
Officers and members of the new Fair Board were named at a meeting held for that purpose. They included Ted Korfhage as chairman, James Roe as Co-Chairman, Louise Bischoff as Secretary, and Harold Trammell as Treasurer. Board members included Nancy Whitley, Linda Gousha, John Cornett, Bob Harned, Nick Junker, Mike Thornsberry, Kenneth Gibson, June Dawson, Adrain Larimore, and Gail Korfhage.
Frank Smith replaced Charles Long as volunteer chairman of the local Red Cross chapter.
The "new" Mt. Washington Elementary School opened its doors in February when grades 1-4 moved into the building. Its principal and assistant principal were Cecil Mattingly and Sue Powell.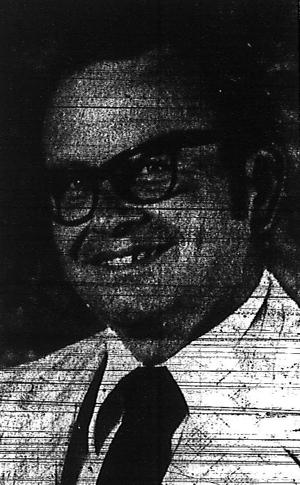 Henry Powell
The article stated that "Mt. Washington Schools have come a long way since the two room school building which stood where the Mt. Washington PCA Building now stands."
Henry Powell announced that he was running for president of the Kentucky Education Association.
Barbara Elliott's Bullitt Central Speech Team placed first in the Lincoln Speech Tournament at LaRue County. Those with 1st place results included Katrina Sweazy, Lisa Smith, Donna Jo Crank, and Dinah Pike. Others who placed in various categories included Becky Hunt, Clara Lewis, Jackie Barbour, Elisa Deason, and Debbie Browning.
Mrs. Miriam Bradbury entertained the Ruth Class and the Golden Circle of Belmont Baptist Church. Part of the activity was a good-natured roast of the Golden Circle teacher, Vanita Jenkins by her classmates including Pat Maraman, Bonnie Waters, Bonnie Ricketts, Bernida Owens, Dorothy Laytart, Carolyn Heffley, Joyce Coffey, Molly Jewel, Bonnie Ratcliff, Barbara Etherton, Jan Samuels, Anita Lucas, Lavada Glitner, Mary Coakley, and Judy Scrogham.
Among the messages in the Vine Hill Church news was a "thank you" from Maudie Shelton and Mae Tinnell to the neighbors who gave lovely flowers to their sister, Edith Hibbs, who passed away in February.
Mrs. Oretha Ridgway of the Nichols community wrote that Roger Miracle and Kevin Webb, students at Nichols Elementary, participated in the county 4-H Achievement program. She also wrote that Lawrence Knott, son of Mr. and Mrs. Lewis Knott, performed with the All-State Chorus for the second year in a row.
The Hebron correspondent wrote that Mrs. Ann H. Quick was a luncheon guest of Mr. and Mrs. Robert Ball. She also reminded her readers about the first aid course being taught at the Hebron Church.
Betty Price of Lebanon Junction, wrote that Theresa Ballew, Robin Sullivan, Becky Price, and Ricky Hughes had participated in the Mason-Dixon Games at Louisville.
And as nearly always, there were numerous obituaries in the paper. One in particular that caught my eye was that of Richard Lee, husband of Alma (Fischer) Lee, and father of Belinda and Carol Lee. After Richard's death, Alma was a good neighbor of ours for a number of years.
1946 - 75 Years Ago.
The annual Red Cross drive was headed up by Lindsay Ridgway who was assisted by Ella Hardy, Eugenia Stansbury and a committee that included H. H. Combs, C. A. Masden, R. M. Hardy, T. C. Carroll, Ora L. Roby, J. E. Chappell, Clara Simmons, Irene Carroll, Mary Collings, Conrad Maraman, Ethel Newman, Mrs. E. T. McAfee, Roy Stallings, Mary Priest Combs, J. E. Fisher, Mrs. John Hoagland Jr., and Gertrude Masden.
Buford Tinnell of Chapeze was married to Bettie Jean Waters of Belmont by her pastor Rev. Douglas of the Belmont Baptist Church. Bettie Jean was a daughter of Mr. and Mrs. Waverly Waters. Buford was the only son of Mr. and Mrs. Squire Tinnell. Members of the wedding party included Willie Frank Masden, Mary Blanche Hill, Otha Quick, Charlene Waters, Loretta Tinnell, Waneita Waters, Charles McCubbins, Leonard Waters, Waverly Waters Jr., Jannet Fay Masden, Delores Bradbury, Lillian Wineholder, and Mrs. Douglas.
Grover Maraman was killed in an accident while moving a calf to his farm near Salt River. He was the second son of Charles and Sus Henderson Maraman to die in an accident, with his brother David having died in the 1917 train wreck at Shepherdsville. Another family tragedy occurred in 1940 when Grover's son Bobby had been killed on the railroad bridge by a freight train.
On a happier note, Charles and Eva Lee Fearnbach were the proud parents of a son, Charles Darwin Fearnbach Jr.
A fire discovered in the kitchen of Frank Jones' home soon consumed the entire house. Mr. Jones, who was bedfast, was carried to safety by friends.
In Mt. Washington news, Prof. W. H. McFarland, recently released from the army, and Mrs. McFarland were overnight guests of Lindsay Jones. Also, Mrs. Anderson and Miss Inez Lloyd chaperoned the local school's four cheerleaders on a trip to Willisburg. The four girls included Lois Jean McAfee, Evelyn Porter, Verneasa Troutman, and Garreta Smith.
Harold Hardy announced that J. E. Chappell Jr. joined the staff of the Robert Hardy & Son Funeral Directors.
Lt. Col. Edgar Stansbury, who was expected to be discharged soon, joined the faculty of Western Teachers College as the head of the physical education department. The son of Emmett Stansbury and brother of Mrs. Christine Cruise and Mrs. Stanford Harris, he graduated from Shepherdsville High School in 1926.
The Shepherdsville Rams won the Salt River Valley Conference basketball tournament, defeating Taylorsville in the final game 38-32, held on the Rams' home court before a capacity crowd. It was a physical game, with referees Charlie Vettiner and Paul York calling 37 personal fouls including five each on the Rams' Captain Arthur Moody, and both James Brewer and Charles Henry of the Taylorsville team. Moody and Ray Cunningham led the Rams' scoring with 15 and 10 points respectively. Among the other players mentioned by name in the article was Walter Franke, the tall center for the Rams who used his height to gather rebounds and block shots.
The paper reported that Jimmy Cruise was in California and would begin harness racing there in April. He was described as "one of the best drivers in the nation."
John Warden of Belmont lost an eye when a piece of metal he was striking with a chisel broke off and struck him in the eye.
P. H. Croan resigned as Shepherdsville town marshall to devote his time to the maintenance of the local water works. He was replaced by W. A. Gentry.
Hazel DeMarsh was elected president of the Nichols 4-H Club. Laverne Haycraft was vice president, Emily Thompson became secretary, and Shirley Huff was the club's reporter.
And Roy Maraman, local merchant and undertaker, who lived at the south end of the Salt River bridge, was approached one evening by an excited man who wanted to hire Roy's ambulance to rush his expectant wife to the infirmary. Roy rushed the woman into the ambulance and started across the bridge into Shepherdsville. However when he pulled off the north end of the bridge, he heard the baby crying, and the mother saying, "It's all over!" He stopped the vehicle and Dr. McCubbins was summoned to take over.
1931 - 90 Years Ago.
A February school column shared the names of county spelling bee winners from 1924 through 1930. Here they are: 1924 - Ailene Maraman, Shepherdsville School; 1925 - Martha Weller, Glenn Ella School; 1926 - Virginia Eldridge, Mt. Washington School; 1927 - Margaret Newman, Harned School; 1928 - Elizabeth Sanders, Shepherdsville School; 1929 - Margaret Newman, Harned School; and 1930 - Norman French, Culver Springs School, the first boy to win the honor.
Pat Cruise and Christine Stansbury were married in the Hardy Cruise home by Rev. R. B. Cundiff of Bardstown Junction. Pat was employed as Bullitt County's tax commissioner; Christine was one of the county's school teachers, and a daughter of Emmett and Mabel Katie (Bell) Stansbury.
Christine's cousin, Clarence Stansbury married Eugenia Masden at the home of her parents, Mr. and Mrs. O. H. Masden. Rev. Cundiff also performed this marriage. Clarence's youngest sister, Lounetta would later marry William Williams.
And a tragedy occurred at Solitude when Henry Satterly and John Pugh drowned in a creek near the James Crenshaw place where they had attended a sale of the place on Friday, February 13th. The newspaper detailed it this way:
"The rains a few days ago had started the streams to running and Friday morning after the crowd had crossed to attend the sale, the hardest rain in the last 12 months fell, causing the stream to get out of the bank or about 10 feet deep.
"After the sale, Jack Crenshaw had ferried about fifteen persons across; he got tired and turned the boat over to Gabe McCormick.
"The swift current carried the skiff slightly below the landing place. One of the occupants stood and grabbed a tree limb. This tilted the boat at such an angle that the current struck and overturned it.
"Satterly grabbed the belt on the sheepskin coat of McCormick, who was wearing rubber boots. McCormick was pulled under the water several times and was swept 200 feet downstream, before he was able to free himself of Satterly. He then managed to discard his boots and was carried 300 feet farther downstream before he got to shore.
"John Robinson, 22, managed to swim to shore. Ernest Satterly, 22, was washed 200 feet before he grabbed a willow tree and was pulled out.
"Mitchell and Pugh held to the overturned skiff. Those on the shore followed them. Robinson sought to overtake the drifting boat at a bend but it passed ahead of him. A mile from the scene of the mishap, the skiff lodged against two willow trees, fifteen feet from the shore.
"Weak from exhaustion and exposure, Pugh released his hold on the skiff and sank. The throng of men on the opposite side were unable to aid him.
"Mitchell also was so weak that he could not hold a rope thrown to him. He too would have sunk but for the fact that he was jammed between a tree and the lodged boat. Discarding his clothes, Fred Bowman, 18, of Solitude, plunged into the water from an upstream angle so that the current would not carry him past Mitchell. The stream was 120 feet wide at the point. Bowman swam to Mitchell and tied a rope around him. Men ashore pulled Mitchell in. He was barely able to speak and was rushed to the McCormick house and put to bed."
On Sunday, Ed Jackson found John Pugh's body on a sand bar downstream, and two boys found Henry Satterly a short time later.
Mitchell was recovering at his home near Mitchell Hill. Fred Bowman, who rescued Mitchell, was actually just 16. He was a son of Henry and Bertha Bowman.
---
Copyright 2021 by Charles Hartley, Shepherdsville KY. All rights are reserved. No part of the content of this page may be included in any format in any place without the written permission of the copyright holder.
---