It Happened in February
The following article by Charles Hartley originally appeared in The Pioneer News on 4 Mar 2019. It is archived here for your reading enjoyment.
---
We will be looking back 25, 50, 75, and 100 years to see what was being printed in The Pioneer News in 1994, 1969, 1944, and 1919 in the month of February.
1994 - 25 Years Ago.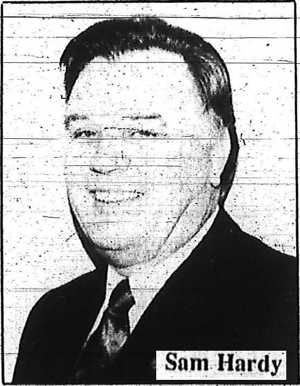 Sam Hardy threw his hat in the 49th District ring once again. A 1954 graduate of S.H.S., and a 30-year member of the Shepherdsville Lions Club, Hardy was willing to serve in Frankfort if selected.
Lois Simmons, the Pleasant Grove correspondent, reported several folks with illness or injuries, including J. B. Proctor who was just home from the hospital, James W. Robinson who broke his wrist, and Norma Jean Gentry who broke an ankle.
Louise Bischoff of Hebron reported that Charlie Clemons had a great loss to his greenhouse due to the snow. She also expressed sympathy to the family of Mrs. Shuffett who had passed away. Mrs. Shuffett, along with her husband, had operated a drug store in Shepherdsville for many years.
Les and Bridget Hodge, retired owners of Les' Food Mart, celebrated their 50th wedding anniversary. Also celebrating a Golden Anniversary were Hubert and Ree Braswell, Leroy and Evelyn Moore, and Matt and Allene Colvin of Brooks.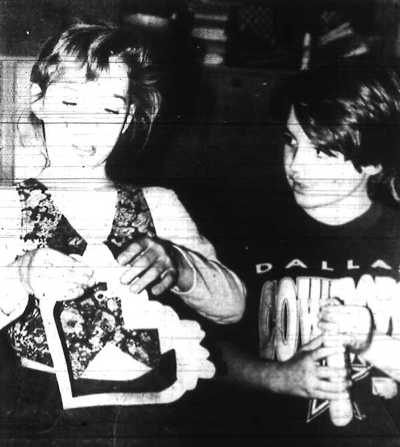 Tara and Steven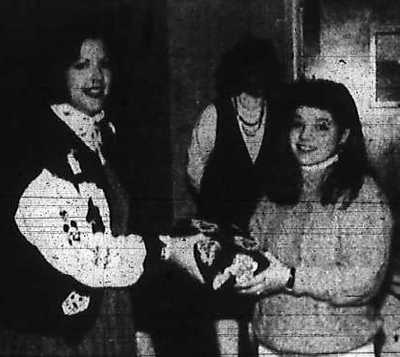 Barb and Lori
Tara Jennette King and Steven Murphy were pictured in the paper as they prepared valentine decorations at Brooks Elementary. Others in Lea Glauber and Becky McKinney's class who worked on the decorations included Briana Broderick, Patrick Garrett, Gregory Dedic, Fred Newman, Amber Mink, Brandon Whitlock, Paul Barber, Rachel Brabbin, Kirsh Boone, Troy Greenwell, Travis King, Bobby Mayre, Jennifer Neal, Ritchie Turner and Miranda Dillander.
Mike Farner, sports editor for The Pioneer News, received awards from the Kentucky Press Association for two of his articles. Also receiving awards were John Roberts for a picture essay, and Carl Curtsinger and Tom Barr for general news stories.
Barb Plenge of the Bullitt County Woman's Club was pictured presenting an award to Lori Reading at the Christmas party the club held at Riverview High School. Lori had completed her course work, and would graduate in the spring.
Jason Tolle of Bullitt Central took first place in the triple jump at the Mason-Dixon Games, shattering his own school record.
Wayne Browning and Carl Strickland were busy tearing down structures along First Street in Shepherdsville along what would later become a park along the riverside.
In an academic competition between Mt. Washington and Hebron Middle Schools, Michael Firesheets of Hebron placed first in science written assessment; Melanie Arnold of Mt. Washington led in language arts, and her teammate Josh Phelps taking first in social studies. Mt. Washington's Brandon Barnes was first in math, and Gabe Hodges was the leader in general knowledge. Hebron took honors in quick recall.
Rene Youngblood and Cody Cadreau were named king and queen of the Nichols Elementary Valentine Dance.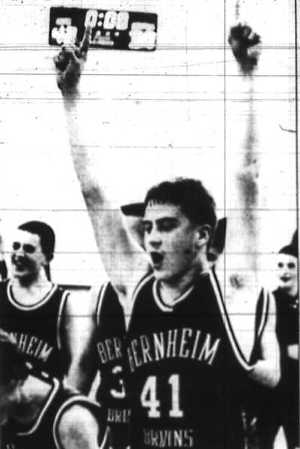 Mike Cook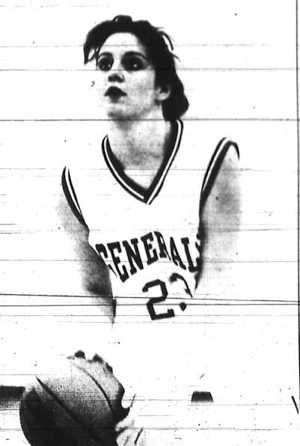 Elizabeth Bass
The Bullitt East Chargers presented Coach Bob Blackburn with his 100th victory as they defeated Bullitt Central 63-53. Ryan Edmonds led East scoring with 17, while Jason Warner totaled 23 for the Cougars.
In its first year of existence, Bernheim Middle School captured the boys' basketball crown for Bullitt County. Leading the Bruins in scoring were Mike Cook with 12 and Scott Etherton with 11 in their 42-37 win over Bullitt Lick in the championship game. Josh Payne of Bullitt Lick led all scorers with 21 points.
In the girls' competition, Mt. Washington defeated Bernheim 38-20 to take the title. The Generals were led by Elizabeth Bass with 11 and Erika Smith with 10. Stephanie Crable of Bernheim led all scorers with 16 points.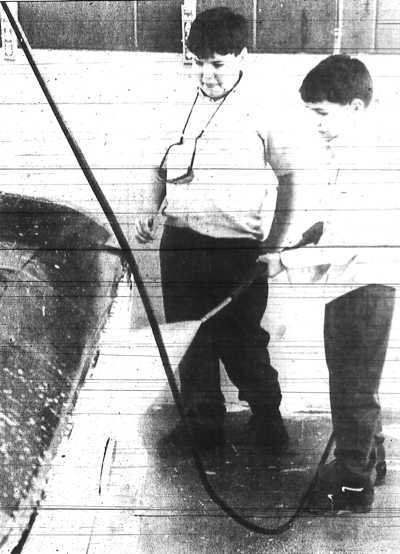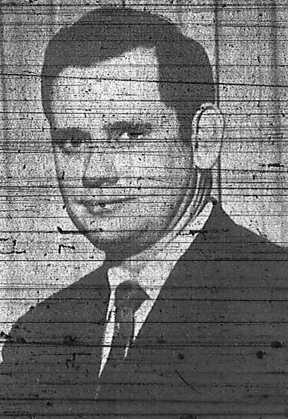 Tom Waller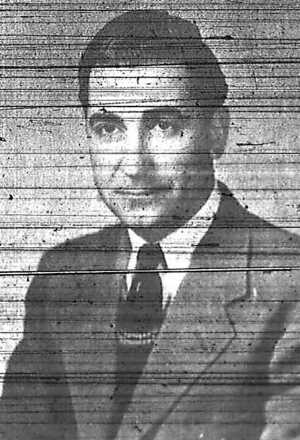 Pee Wee Keith
In the paper's Pioneer Poll, six were asked if wearing a seat belt should be mandatory in Kentucky. All six agreed including Mandy Bibee, Natalie Ferguson, and Michelle Thompson of Bullitt Central, Tonya Shelton and Heather Miller of Bullitt East, and Leo Oliver, police chief in Mt. Washington.
And Joey and Jeremy Downard were pictured washing the grime off their father's truck at a local car wash. Good job guys!
1969 - 50 Years Ago.
Thomas Lee Waller announced his candidacy for county attorney, launching a career of service to Bullitt County. He had practiced law here for five years as a member of the law firm of Taylor, Pike, and Waller.
The Shepherdsville High School "High Q" team of T. Diemer, Dan Rhea, Mike Cowan, Sammy Hardy, and Captain Elise Givhan was pictured on the front page following their victories over Old Kentucky Home and Flaget High Schools. The team coach was Bob Strohman.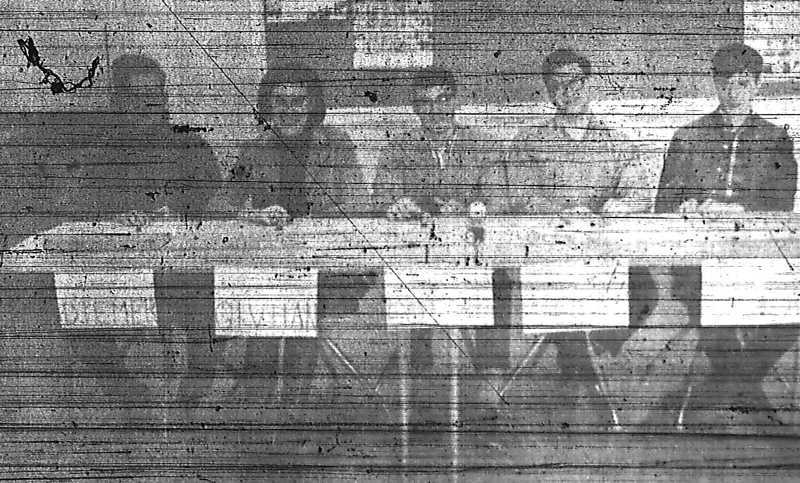 The team was again pictured on the front page of a later paper after they had defeated Bishop David High School to retire undefeated.
Walter "Pee Wee" Keith, a local barber, announced his candidacy in a run to be Property Valuation Administrator.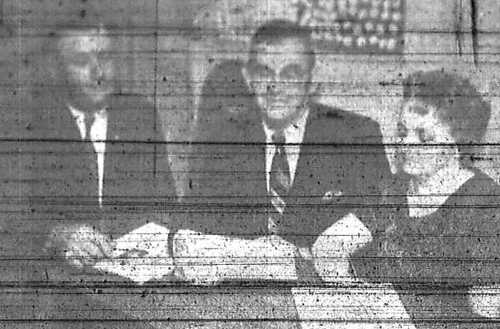 Extension Officers
The Hebron correspondent expressed sympathy to the family of Hubert Wigginton of Mt. Washington who had passed recently. He was for many years the manager of a Mt. Washington grocery store.
The Cedar Grove correspondent reported that Wesley Thomas, son of Rev. and Mrs. Bill Thomas, pastor of the Cedar Grove Baptist Church, was in Veteran's Hospital with maleria, following his return from Vietnam.
The Bullitt County Extension Council elected the following officers: President M. L. Majors, Vice President William Steedley, and Secretary-Treasurer Mrs. Burks Williams, Jr.
I wonder if some of Ms. Casey's Roby Elementary 7th grade homeroom students remember performing the play "Take Care Anne"? Those who participated included Anita Wilson, Jeanie Hogg, Louise Anderson, Barbara Lockwood, Kathy Yaeger, Sandy Cookley, Donna Lee, Terry Hadley, Phillip Keith, Terry Overfelt, David Smith, and Ken Carver.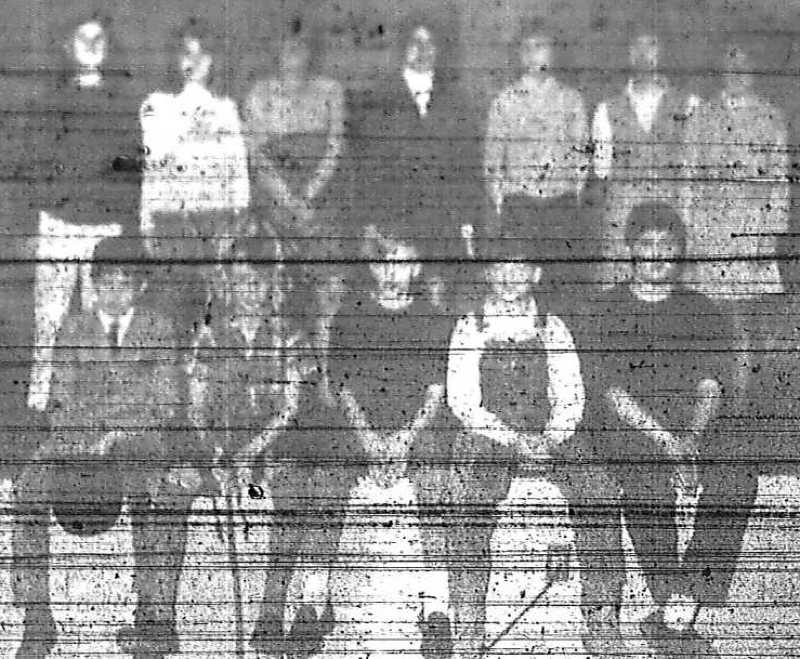 Ms. Casey's Homeroom Students
And maybe Mrs. McNellis' students remember performing "Snow White and Friends." Participating were Glenda Davis, Kathy Shepherd, Lorna Pieller, Judith Vanhoozer, Judy Osborne, Debbie Underwood, Wenette Meyers, Dina Hawkins, Donna Franklin, Susan Hardy, Cathy Jo Meredith, Debbie Samuels, Connie Skidmore, Lou Ann Crume, Nancy Owen, Kevin Cundiff, Don Cundiff, Billy Sims, Dennis Combest, Gregg Smothers, Ronnie Howlett, Norman Bradley, and Rodney Troutman.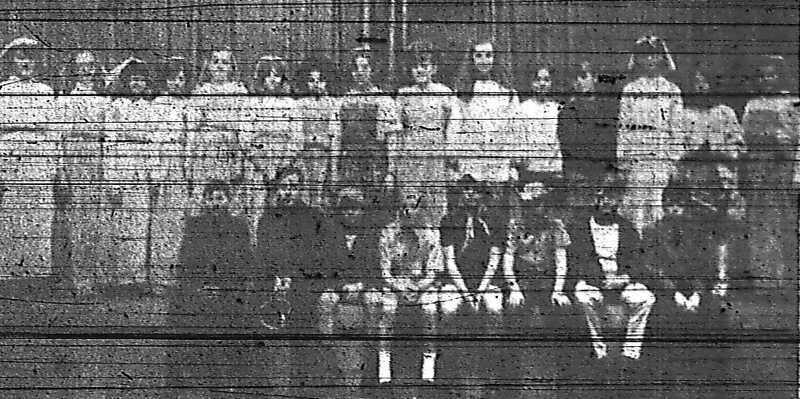 Mrs. McNellis' Homeroom Students
County Judge Neil Farris presented Mrs. M. J. Cundiff with his proclamation of the February P.T.A. Week. Mrs. Cundiff was president of the Bullitt County P.T.A. Council.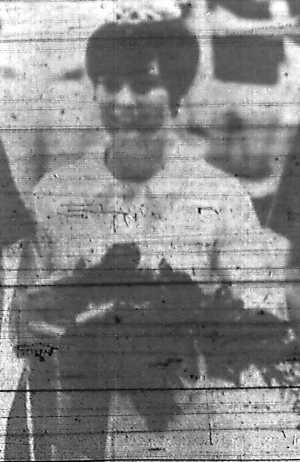 Brenda Heath
Sue Powell, local educator, was named chairman of the 1969 Easter Seal Campaign for Bullitt County.
The S.H.S. Rams celebrated their basketball homecoming by defeating Eminence 68-55. James "Buttons" Masden led their scoring with 20 points. Steve Coulter added 16 and Larry Hodge scored 12 in the victory. At halftime, Brenda Heath was crowned homecoming queen. Her attendants were Patsy Osborne, Linda Deats, Linda Lawson, and Nelly Deschand.
In Conservation News, Ray Becknell reported that William Loyall, B. M. Bennett, Preston Vaughn, and Sam Wells had plans to install tile drainage systems.
In the Personals column we learned that Mrs. Beulah Lee Fontaine visited Mr. and Mrs. Jeffie Lee over a weekend; that Freda Staley of West Point visited Mr. and Mrs. William Snellen of Clermont, and that a surprise birthday dinner was given in honor of Mrs. Salley Ramsey by her daughter, Mrs. Amy Addison and her granddaughter Mrs. Danny Fischer.
And The Hebron Presbyterian Kindergarten was collecting green stamps for their program. Did you contribute yours?
1944 - 75 Years Ago.
Mr. and Mrs. Bert Hall celebrated their Golden Wedding Anniversary.
The newspaper listed those servicemen from Bullitt County who had died while serving. They included Jarrett Thurman Moore, Robert Able, Charles R. Lee, Charles Montgomery, Willard F. Wright, Luke Briscoe, and Clyde York.
T-5 Millard Proctor, a graduate of Mt. Washington High School, was declared as missing in action in the Asian theater. He was a son of Mr. and Mrs. Harley Proctor.
Dr. George B. Hill, a prominent physician in the Mt. Washington area, attended a family reunion in Cumberland County.
The Valley View correspondent reported that T-1 Ralph Schrogan had returned from overseas after seeing action in North Africa and Italy as a part of Patton's corps.
A number of death notices appeared in the paper this month. Among them was Bemis Masden, age 80, who spent most of his life farming near the Rolling Fork River before the government took his farm for Camp Knox, died at his Louisville home. He was a brother of the late J. Mack Masden. He left to mourn his loss his widow, Mrs. Matila Henderson Masden, sons Elzie, Henry, Willie, John, Roy and Howard, and daughters Myra (Raney), Angie (Dawson), Birdie (Hamilton), Thelma (Jones), and Garnett.
In the Personals column, we learned that Mr. and Mrs. John Boes had taken an apartment in the home of Mrs. Clara Deacon. Mr. Boes, who used to run a local grocery, had just returned home from the hospital. Also, C. E. Rodgers and wife received word that their son Marion "Buster" Rodgers had arrived in the North Pacific area, and had seen his brother Albert who had been overseas for two years.
R. E. Brown's cow "Bonnie" gave birth to twins on President Roosevelt's birthday. Brown named them "Franklin" and "Eleanor."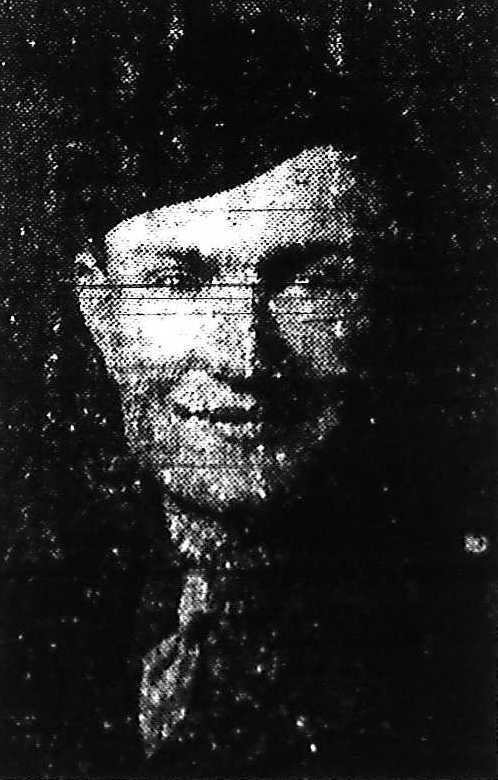 Sgt. Chales Barbie Lee
Servicemen continued to write their thanks to the newspaper for news from home. They included Samuel T. Harrison, Sgt. John R. Cruise, 2nd Lt. Bernadeen Wheatley, Pvt. Gordon R. Armstrong, PFC Arthur H. Waters, T-4 Ereel E. Gentry, T-Cpl Marvin K. Shelton, and T-Sgt Cecil Cox.
The family of Sgt. Charles Barbie Lee were happy to hear that he had landed in Australia. Lee, who had been in the army for two years, was married to Essie Mae Hawkins.
And a surprise birthday party was given Miss Frances Cruise by family and neighbors. Attending were Mr. and Mrs. Bill Williams, Mrs. Ella Hardy, Mr. and Mrs. Ralph Henderson, Mrs. Wilma Hatfield, Mrs. John B. Cruise, Mr. and Mrs. C. W. Stansbury, Ophelia Masden, Eloise and Jimmie Hardy, Mr. and Mrs. Pat Cruise and children, Frances Trunnell, Richard Wathen, Mr. and Mrs. Lee Pennington, Mr. and Mrs. Emmett Coakley, Mr. and Mrs. Bill Dawson and daughter, Mr. and Mrs. J. W. Brown, Mr. and Mrs. John Sloan, Mr. and Mrs. Welker, Mr. and Mrs. Charles Bullock and children, Mrs. Ack Hill Harned, Betty Ann and Sue Charles Wigginton, Jimmie Cruise, and Mr. and Mrs. Hardy Cruise. Quite a party!
1919 - 100 Years Ago.
One hundred years ago there were one and two room schools scattered all over Bullitt County. In February 1919, the County School Board met at the Court House and appointed trustees for the rural schools. Those appointed included J. L. Tierney (Highland), C. E. Funk (Mt. Olive), Bart King (Corinth), J. E. Chappell (Chappells), J. M. Barrall (Sunnyside), Edd Rodgers (Shades), Owen Shepherd (Woodlawn), T. L. Mattingly (Licks), Sex Barger (Pleasant Hill), W. J. Shaw (Woodsdale), P. H. Croan (Beech Grove), W. J. Leslie (Hays), Charles Newman (Zion), O. H. Harned (Cane Run), Claud Hill (Culver), O. H. Masden (Oak Grove), A. F. Armstrong (Needmore), E. Z. Wiggington (Hebron), J. E. Quick (Brooks), N. H. Miller (Beech Grove), L. I. Owens (Green Briar), J. T. Harris (Sugar Valley), W. E. Fiddler (Edgewood), Frank Jones (Shepherdsville Colored), Will Dugan (Mt. Washington Colored), Edd Swearingen (Bowman Valley), and Will Hill (Lebanon Junction Colored).
The following trustees were elected by the voters at the regular elections: W. B. Nichols (Nichols), Jasper Foster (Mt. Elmira), Chas. Long (Mt. Washington), James Tinnell (Whitfield), John Raymond (Cedar Glade), George Herps (Cedar Grove), A. V. Greenwell (Victory), J. R. Clark (Hobbs), Geo. Taylor (Clermont), H. M. Trunnell (Glenn Ella), A. C. Viers (Pitts Point), S. H. Ricketts (Harned), and R. A. Masden (Mt. Carmel).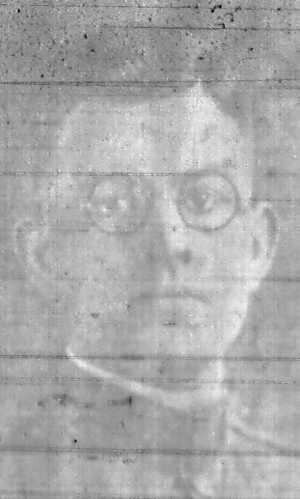 Sgt. Wallace Smith
Edgar Vennie Meunier was a corporal in the Pioneer Infantry, and he wrote to his friend John Greenwell about his company's 200 mile march from France to the Rhine River in Germany, and the sights he had seen along the way.
Disease continued to strike servicemen as the parents of Sergeant Wallace Smith were informed that he had died in France of meningitis.
The paper reported, "We have been informed that the land adjoining Camp Knox will be taken over and that all the residents in about five miles of West Point will have to move. They will take about 6,800 acres of land in Bullitt County, most of it will be good river bottom land."
J. E. Chappell was one of many who would be advertising that, due to having to sell his farm to the government, he was selling his livestock and farming implements at auction.
Theodore Colvin of Knob Creek, near Barrallton, got a good price for his tobacco, averaging 59 cents a pound.
Out at Hebron, Walter Armstrong bought fifteen fat cattle at the Ben Bealmear sale. The editor reported that a son, Gabe Bealmear had purchased the family farm.
Also from Hebron, we learned that Roy Stallings was back from the army and returning to his job as mail carrier. His wife had carried the mail in his absence.
Miss Edith Hancock entertained the high school teachers and their escorts at a party. She and Miss Irene Moredock entertained the group as Miss Moredock sang and Miss Hancock played the piano. Others present included Misses Irene Crutcher, Henel Burkholder, Zora Raymond, Sara Williams, Bertie Manor, and Mrs. S. E. Hancock, along with Messrs Henry Maraman, Harry Combs, Bud Combs, Guy Stansbury, T. C. Carroll, and J. R. Zimmerman.
And Grace McAllister of Bardstown Junction reported losing the family's automobile license plate somewhere between there and Shepherdsville. Anybody seen it?
---
Copyright 2019 by Charles Hartley, Shepherdsville KY. All rights are reserved. No part of the content of this page may be included in any format in any place without the written permission of the copyright holder.
---