It Happened in December
The following article by Charles Hartley originally appeared in The Pioneer News on 31 Dec 2018. It is archived here for your reading enjoyment.
---
We will be looking back 25, 50, 75, and 100 years to see what was being printed in The Pioneer News in 1993, 1968, 1943, and 1918 in the month of December.
1993 - 25 Years Ago.
Tabitha Gibson led B.C. scoring with 26 as the Lady Cougars defeated Spencer County 60-42. Tonya Rhoades contributed 18, most from outside range with a trio of 3-pointers.
Debbie Murrill was pictured leading a great group of Nichols Elementary students in their annual Thanksgiving program for parents and grandparents.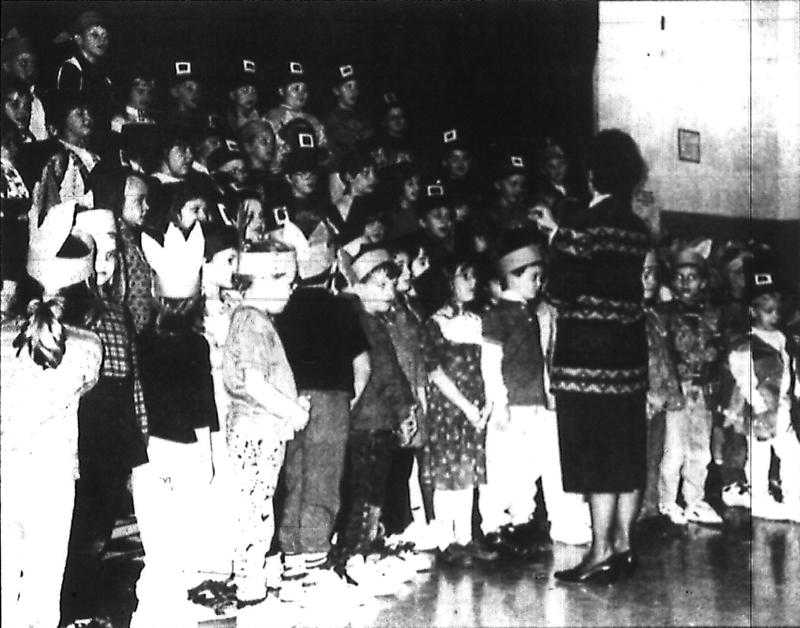 Also out Nichols way, June Dawson's home was the scene of a fine Thanksgiving feast enjoyed by her mother, Oretha Ridgway, and Dwight, Lyndia, Tony and Jamie Dent and his friend Cheryl; Craig and his fiancee, Glenda, her son, Shannon; Clayton, Marlene, Andrew and Leslie and Clarence Dawson.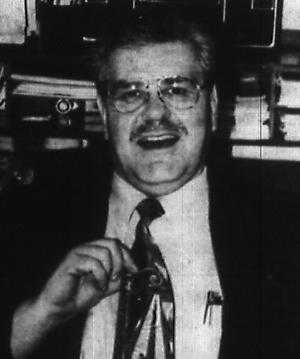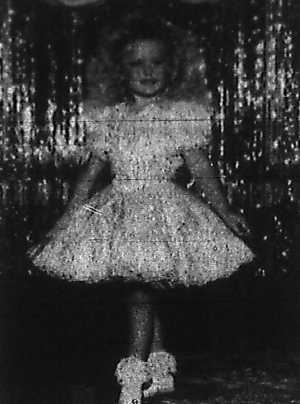 Ralph and Margie Geary celebrated their 50th wedding anniversary at the Pioneer Village Community Center with family and friends. Also, Aenon and Christine (White) Thomas celebrated their 50th two days before Christmas.
I'm pretty sure Bryan Bates would rather have had a win against Meade County than scoring 40 points in the game, but the Cougars fell 99-85 in the contest.
Glenn Gray was sporting his Micky Mouse tie at Bullitt Lick Middle School's celebration of the 65 year old mouse.
Little Danielle Dafler was successful in several contests nationally, and won $3000 for her efforts.
The Bullitt County Kiwanis Club installed new officers including Jackie Dant, president; Richard Allison, vice-president; Margaret Hamilton, secretary; and Morris Proffitt, treasurer.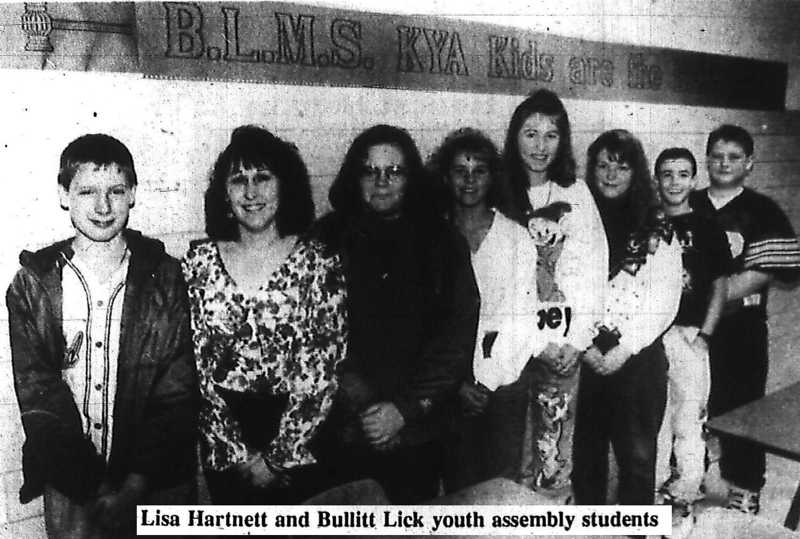 Anthony Smith, Kelly Humphrey, Jessica Wilkins, Ryan Moore, Charlie Price, Amy MacGeorge, and Christy Ballard were members of the Bullitt Lick Middle School young assembly team who managed to get their bill passed at the state assembly. The team was sponsored by Lisa Hartnett.
Tom Pack was pictured with other gentlemen looking over memorabilia at the 200th birthday celebration for the city of Shepherdsville.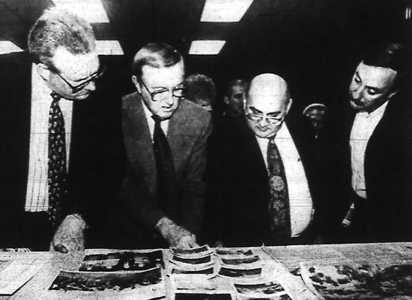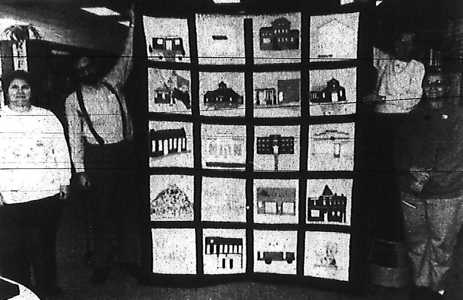 A handmade quilt made by Doris VanVactor and Renee Wallace, with June Muir, Mike Jackson, Robbie Taylor, and Jamie Nolthey contributing, was auctioned off in Lebanon Junction to help support the Lebanon Junction story hour children.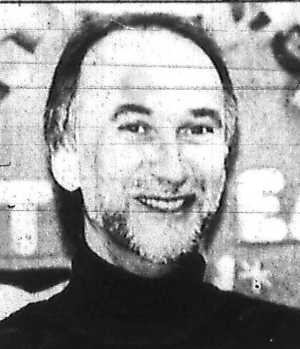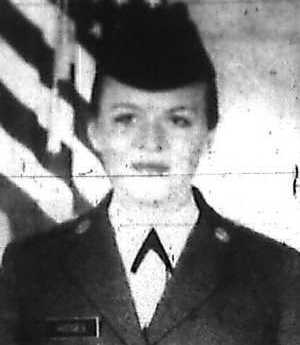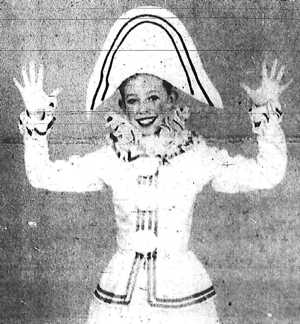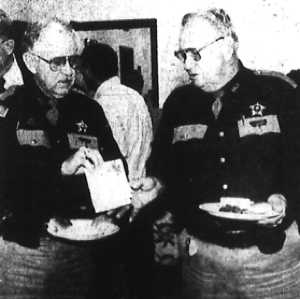 Janice Stewart was sworn in as the newest member of the Bullitt County School Board to the applause of Superintendent George Valentine, and board members John Hardwick, Layne Abell, Mike Argenbright, and Joe Eames.
Dennis Shaffner was happy to design a Christmas ornament that was to hang on the White House Christmas tree.
Amanda Jessie was happy to participate as one of the actors in the Louisville Ballet's production of The Nutcracker.
Rhonda Keith was sworn in by Glenn Armstrong as the newest Bullitt County Property Valuation Administrator.
Stacey Hodges was pleased to have her parents, Raymond and Kathy Hodges, and her grandmothers, Lavon Yaeger and Margaret Hodges present as she graduated from basic training in preparation for attending AIT classes as a lab tech.
And Deputy Melvin Davis joined Sheriff Shot Dooley in filling their plates at the annual Christmas luncheon at the County Clerk's office.
1968 - 50 Years Ago.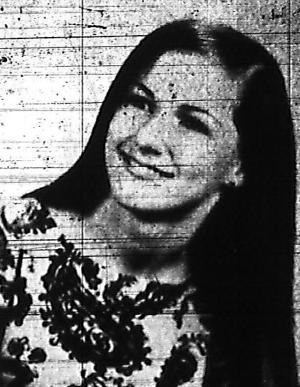 Brenda Stottman
The Shepherdsville High School FHA members braved the cool weather to decorate the Court House Christmas tree. Those participating included Debbie Myer, Sharon Fischer, Jennifer Masden, Norma Crenshaw, June Crenshaw, Vickie Craddock, Debbie Roark, Engenia Sheldon, Beulah Swearengen, Lynn Hobbs, Linda Hobbs, Linda Miller, Sherry Hardesty, Kaye Crenshaw, and Doris Irvin. They were supervised by Mrs. Roberta Crafton and Mrs. Helen Underwood.
Jack and Dorothea Stottman were proud of their daughter Brenda as she participated in the Junior Miss Pageant.
Elise Givhan's campaign for the state vice-presidency of the National Beta Club was a success thanks to the help she received from her campaign supporters including Dale Anderson, Janet Stivers, Pauline Daugherty, Sheryl Cundiff, Barbara Rummage, Wayne Fernback, Bill Magruder, Rita Wilson, Kathy Armstrong, Pat Smith, Pam Simcoe, Mary Ann Hamilton, Mike Robey, Mike Cowan, Dan Rhea, Becky Steedley, Theresa Sweat, Gerald Mills, Roy Welch, Jackie Wade, Marcia Leffler, Carolyn Jackson, Debbie Lee, Brenda Snellen, John Ice, Mike Phillips, and Brenda Heath.
C. E. Roby joined his father's insurance agency after completing his state insurance examination. Clyde, his father, had started the agency in 1936.
The Hebron correspondent reported that Hebron Presbyterian Church members were pleased with their new electric organ bought with gifts of love and sacrifice. She also wrote that Mrs. Dorothy Crumbacker and Mrs. Sara Crumbacker hosted an open house for Mr. and Mrs. J. A. Crumbacker in their new home on Crumbacker Lane.
Tom Givhan replaced the retiring J. D. "Jiggs" Buckman as County Party Chairman of the local Democratic Party. Nina Mooney succeeded Nancy Strange as party secretary, and the executive committee included Neil Farris, William Hayden, Joyce Trammell, Carolyn Beam, and J. Chester Porter.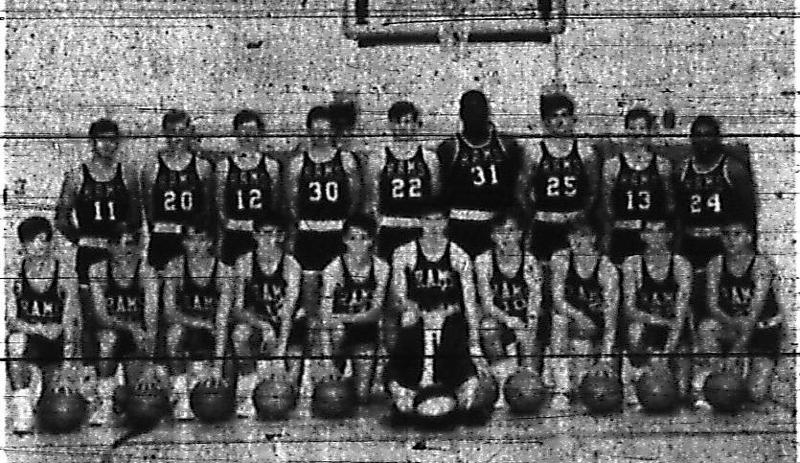 The S.H.S. basketball team was pictured in the paper. Unfortunately, the image was small, and the microfilm was dark and grainy. On the back row were Scotty Morrison, Randall McClearn, Bob Richardson, John Price, Steve Coulter, James Masden, Terry Willis, Mike Robey, and Gary Roberts. The front row included Eric Cundiff, Ricky Cople. Steve Hartlage, Terry Larimore, Donny Perry, Kirk Gillenwater, Larry Hodge, Tim Crumbacker, Dale Farris, and Roger Dawson.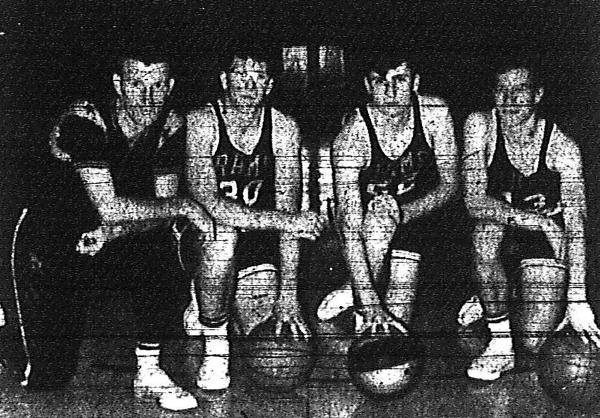 Pictured separately were Coach Collins with his senior players: John Price, Steve Coulter, and Mike Robey.
Gladys Sprinkle of Mt. Washington reported that Mr. and Mrs. Vernon Mothershead hosted a Thanksgiving dinner for family including her mother Mayme Harris.
And, Arson Moore, former county judge, and Mrs. Moore hosted a number of guests including Mr. and Mrs. Albert Rose, Jerry, Benny, Scott, David and the twins Terry and Perry; Mr. and Mrs. Sterling Morgan, Brad and Stacy; Mr. and Mrs. Curtiss Moore, Kim and Stephanie; Mrs. Paula Foster, Donna and Karen.
1943 - 75 Years Ago.
The Shepherdsville High School basketball team defeated Mt. Washington 66-17, and Taylorsville 31-24. Dawson, Hardy, and Armstrong led the Rams' scoring.
In Mt. Washington news, Jean Hall, who was at camp in Illinois, was visited by his wife and family, and got to see his son Bobby Jean for the first time.
Also in that column we learned that T. H. Parrish, W. S. Rouse, and Leo Harris shared the same natal day.
In Belmont news, we learned that Miss Willa Mae Bradbury and little Sydney Ray Meyers spent a Sunday with Mr. and Mrs. W. A. Bradbury and family. Also the Baptist Church filled the pantry of Rev. and Mrs. Smith following the Thanksgiving service, and also collected a worthy offering for the Baptist Orphan's Homes.
Also, David Shepherd and Claud and Everett Brooks learned it was not profitable to visit McDaniel's Service Station when it wasn't open.
However, they did enjoy a bit of freedom, along with Howard Bell and Calvin Biven when the group of them left Vern Jones' stone cottage before their time was up. Bell and Biven didn't stay away very long.
The paper reported on the death of William E. "Billy" Ashby who grew up in the western part of the county, and was postmaster at Shepherdsville for a while. According to the paper, Billy had been a good orchardist, a good mechanic, a good farmer, a merchant at Cupio, as well as postmaster. He had married Dora Skinner in 1894, and she and their two children, Lula and Charles survived him.
The Lebanon Junction correspondent reported that "it seems like old times in school since Mrs. O. E. Lawrence is teaching school for us again. She is substituting for awhile." She also reported that Corporal Warren Boulware had written to his grandmother, Kate Haley, that he had married the girl friend he brought by a few weeks earlier. Seems that was quite a bit of that going on in those days.
It seems that the paper encouraged young servicemen to write upon getting the paper by printing as many of their letters as possible. They included Fred Hoagland, Vernie Druin, A. T. Raymond, Otto McGlasson, Chester Heffley, Royce S. Crenshaw, Charles T. VanVactor, J. R. McCord, G. R. Armstrong, Clarence R. Lee, Floyd A. Alcorn, and Mark B. Rhea.
The following were school winners in the Spelling Bee contest: Virginia Mae Stevens, Nichols; Margie Ferguson, Brooks; D. J. Rummage, Mt. Washington; Betty Burns, Beech Grove; Lorraine McCubbins, Cane Run; June Bradbury, Belmont; Catherine Mae Ashe, Woodsdale; Mary Lee Brooks, Shepherdsville; Naomi Fields, Lebanon Junction; John Hoskins, Pleasant Grove; and Fay Lee Williams, Bowman's Valley. John Hoskins of Pleasant Grove was the county winner.
In Wilson Creek news, we read that R. T. Milligan had returned home after spending 19 days in the hospital following an operation. At home he was visited by Mrs. Marvin Masden and G. E. Masden along with little Frances Jones. We also learned that Private Emmitt Quinn Harned was home on a furlough.
In the Personals column we learned that Mrs. Sylvia Barrall spent a Sunday with Mrs. Josie Zimmerman, and that Miss Dorothy Jean Harris spent a Monday night with Miss Mary Shelton.
And T-5 Carl R. Light's picture was in the paper as he had been awarded a Silver Star for gallantry in action as he risked his life under enemy fire to extinguish a fire in the command half-track in Tunisia.
1918 - 100 Years Ago.
The December news included the usual Letters to Santa, and an assortment of local news such as a report that a group of teachers had met at Leaches on a Saturday. They included Alleen Swearingen, Edyth Clark, Neva Magruder, Hallie Magruder, Elizabeth Weller and Ora L. Roby.
In other news, Arthur Newman took a truck load of very fine porkers to the city and brought back the price of a small farm. Arthur was one of the best young farmers in the county, keeping the best of stock and getting top prices for all that he sold.
Miss Gussie Quick and brother, Fred, had as their guests on a Sunday, Misses Willie Chickering, Christina Skinner, Minerva Pendleton, Lula Ashby and Margaret Hardesty, Messrs Robert Hardesty, Maurice Ridgway, Charles Ashby, Earl Armstrong, Russ Hedgepath and Rev. Hilery Burns.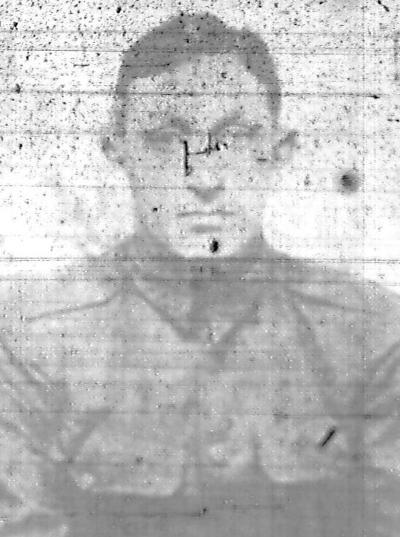 John Lewis Wade
And the BYPU Program participants included Miss Martha Hornbeck, Margaret Sanders, Samuel Ridgway, Mayme Stephens, Thelma Daugherty, Blanch Howlett, Mrs. Glenn, Margaret Foster, Dorothy Samuels, and Lena Patterson.
But many social gatherings and functions were being postponed or cancelled because of the influenza epidemic sweeping the nation.
In Cupio news, Mrs. Ambrose Skinner received a letter from her son, Julius, who was in France, saying he was on a rest just back from a fight.
And Mr. and Mrs. William Wade had been officially notified that their son, John Lewis Wade, was seriously wounded in battle in France in October, and was then in a hospital in England.
The editor wrote the following: "The doctors inform us that there are about one thousand cases of influenza in the county, one tenth of the entire population. More than fifty deaths have resulted and the end is not yet in sight. So far as we have heard, Bullitt's loss on the fields of battle is not so great point of numbers - eight killed - while the number of boys who died of disease is about four - 12 in all. We have lost just four times as many here at home through the ravages of influenza as we lost on the battlefield and in the camp."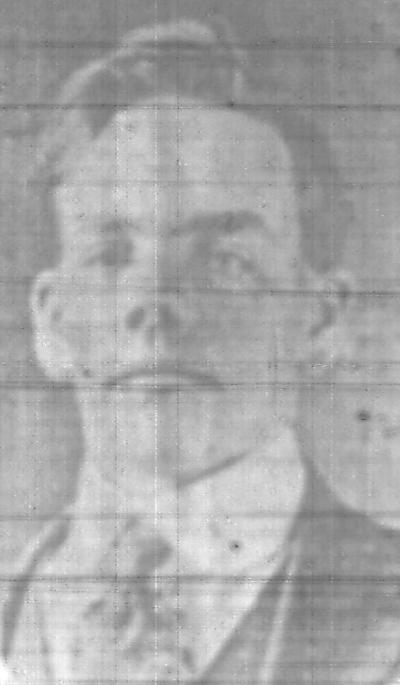 Elmer F. Monroe
This continued to be the case, as the Board of Health closed all the schools, churches, and other meeting places in an attempt to slow down the spread of the disease. The papers during the month were filled with the names of those who had died, many of whom lost their lives to the flu.
Names of the dead that we gleaned from the paper included William Dawson, a farmer near Solitude, Horrie Columbus Thompson, who died in France; Lou Pearl Hibbs, stricken with flu in England; Bruce Bridwell, died of flu at Paris Island; Nora Thompson, wife of Elmer Thompson; Blanche Younger Armstrong, flu; Hazel Katherine Raney, infant daughter of E. D. Raney, flu; Elmer F. Monroe, from wounds suffered in October; Prudence Parris, flu; Mr. and Mrs. Everett Armstrong of near Mt. Washington, flu; Whitson Dillander, flu; Ben Bealmear; Mrs. Joseph Detritch; Rueben Hoagland Armstrong, four year old son of Mr. and Mrs. Albert Armstrong, flu; Claudie Anderson Snawder, aged 19 years, flu; B. Hamlet Croan, flu; Mrs. Jennie Patterson Brown; Curtis Wise of Lebanon Junction, Ky., killed in battle; Mrs. William Ladisaw, flu; and Herbert Gentry, flu. There were likely others as well.
For a second year in a row, Christmas would be a heartbreaking time for so many families.
---
Copyright 2018 by Charles Hartley, Shepherdsville KY. All rights are reserved. No part of the content of this page may be included in any format in any place without the written permission of the copyright holder.
---