It Happened in December
The following article by Charles Hartley originally appeared in The Pioneer News on 26 December 2016. It is archived here for your reading enjoyment.
---
We will look back 25, 50, 75, 99, and this month only, 131 years to capture glimpses of what was happening in Bullitt County in each of these years. Today we will focus on the month of December.
1991 - 25 Years Ago.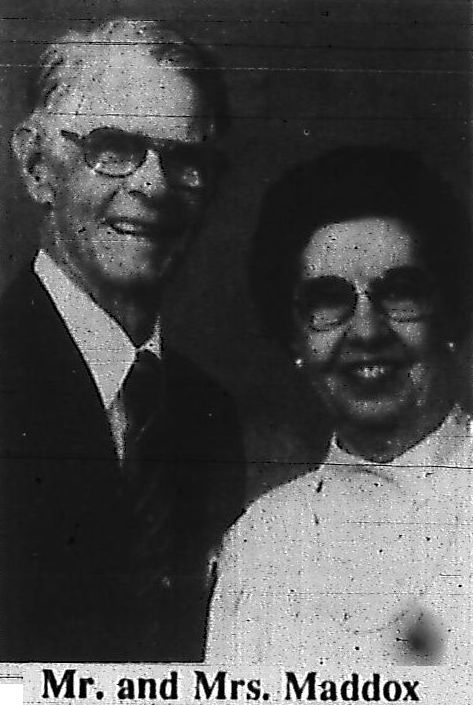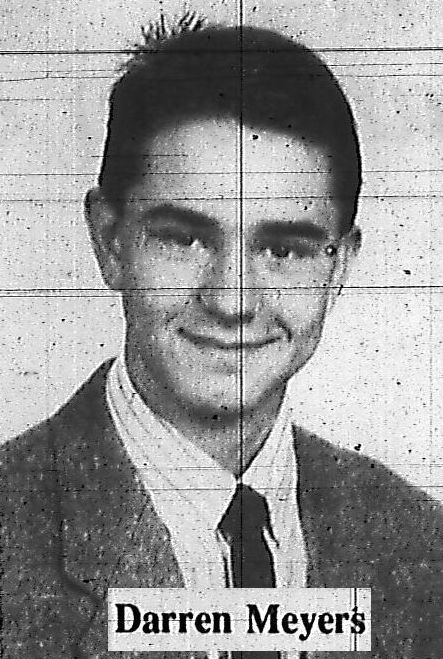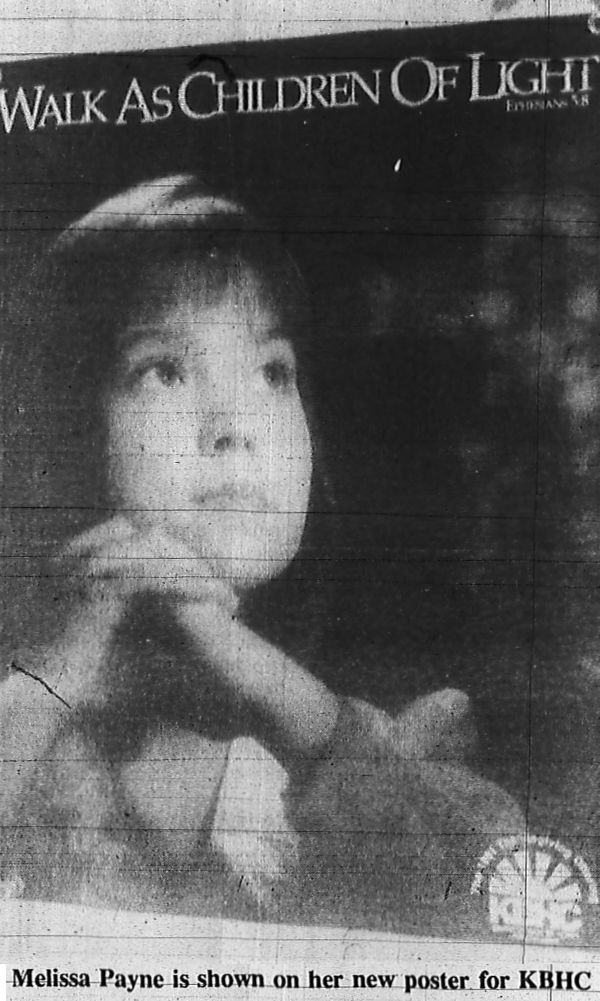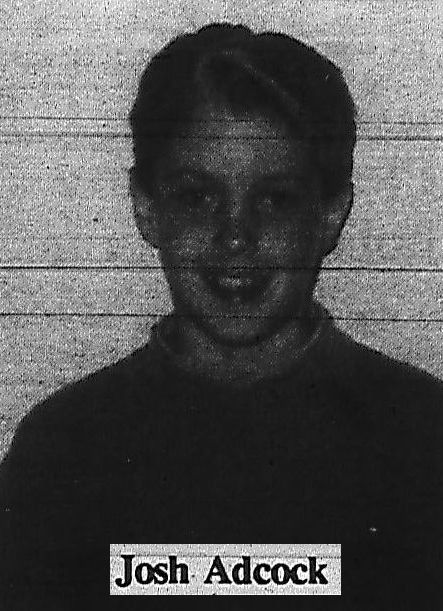 Jean C. and Anna Joyce (Jasper) Hall celebrated their 50th wedding anniversary. Also celebrating their golden anniversary were George C. and Mary Herman (Rouse) Maddox.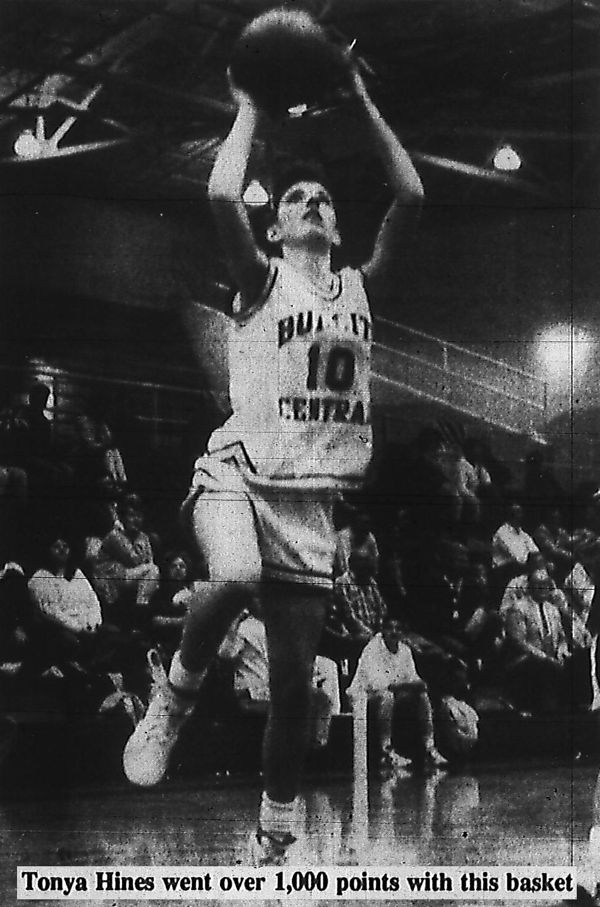 In the basketball matchup between Bullitt East Lady Chargers and Bullitt Central Lady Cougars, Becky McKinley of BE scored 32 points, and Tonya Hines of BC totaled 30, but the Lady Cougars managed a three point victory in overtime, winning 72-69.
Central followed that win with a lopsided 60-30 victory over North Bullitt. In that game, Hines scored 26, and Cora Conn registered 19 for the Lady Eagles.
B.C.'s boys defeated North 93-70 with Jerome Hoosier scoring 28, and John Holt 20. Jeff Larison tallied 20 for North.
Central beat East 77-75. Clifton Whitmer scored 21, John Holt 20, and Jerome Hoosier 18 for the Cougars. Tim Mason tallied 25 for the Chargers.
Darren Meyers, an alumnus of St. Aloysius School, played a couple of roles in the Stage One: The Louisville Children's Theatre production of Kringle's Window.
Ten-year-old Melissa Payne, daughter of Mike and Janice Payne, and a student at St. Aloysius, was chosen to appear on a poster to promote awareness for the Kentucky Baptist Homes for Children.
Josh Adcock, a sixth grader at Mt. Washington, was a winner in the Science: Making Contact in My Life essay contest.
Brittney Gabrysh was pictured on Santa's lap at Shepherdsville Square. John Roberts took the photo.
Ten-year-old Amanda Jill Jessie of Shepherdsville garnered a role in the Louisville Ballet production of The Nutcracker.
April Clark, Nathan Houtchins, Brandy Cannon, Geoff Brown, Robert Cook, and Angela Dukes of North Bullitt High School were part of a group of students studying Latin via the KET Star Channel.
Junior Beta Club sponsor Carmella Esarey reported that the Shepherdsville Middle School Jr. Beta Club collected over 200 cans of food to be distributed by the Bullitt County Fellowship of Concern.
The 1991 All-Bullitt County Football Squad included Bo McCubbins, Jason Dierson, Greg Walker, Clifton Whitmer, Kerry Martin, and Mike Waters of Bullitt Central; Gary Mudd, Troy Wood, Andy Pruitt, Ted Dixon, John Deering, Keith Brogan, Jeff Matheny, Doug Graham, Steve Miles, and Kenny Hughes of Bullitt East; and Terry Wise, Kevin McCubbin, Ryland Hoke, Adam Mendoza, Larry Crisp, Carl Phillips, and Scott Martin of North Bullitt.
And the Hebron/Zoneton correspondent wished Juanita Frick a happy retirement from the phone company. She also reported that Jane Ann, Steven and Shawn McCubbins spent several days at Niagara Falls.
1966 - 50 Years Ago.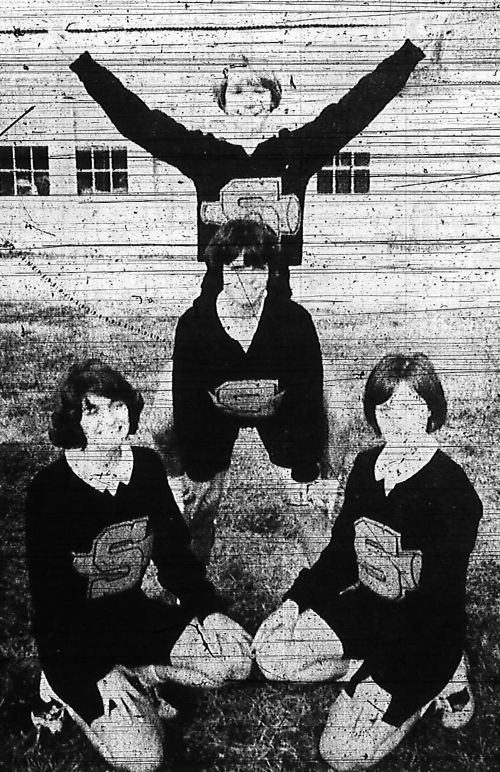 Cheerleaders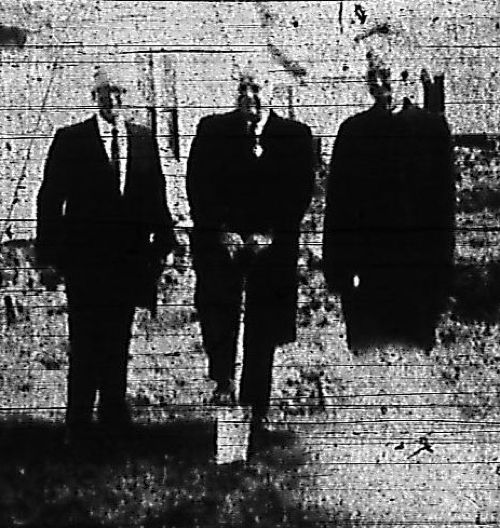 First Baptist Dedication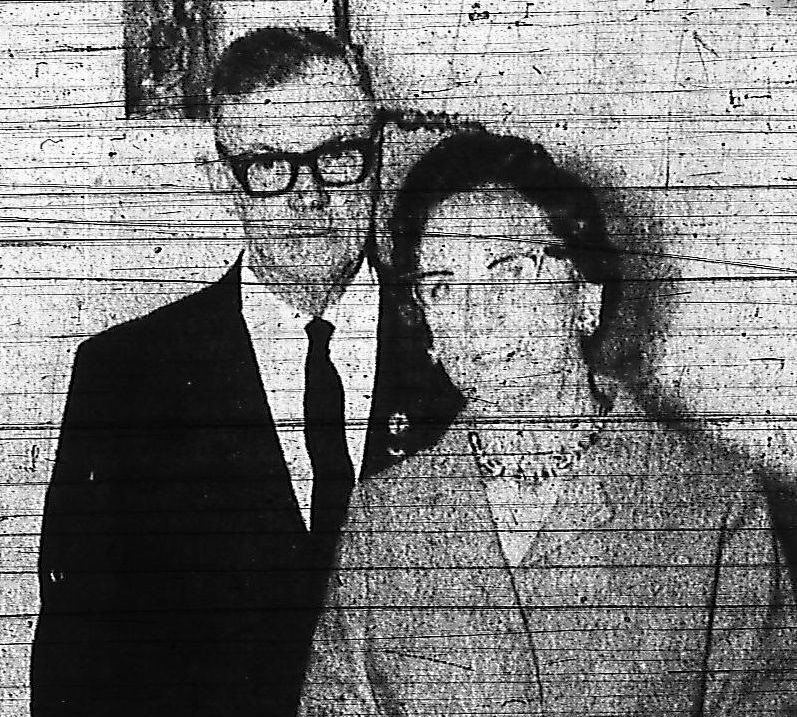 The Proctors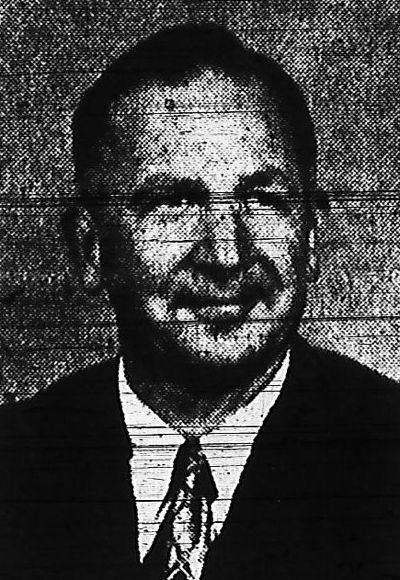 Cleo Skelton
William Becknell, Jr. was a member of the "new image" Kentucky Wildcat Marching Band.
Cheryl Haven, daughter of Mr. and Mrs. Leonard Haven was queen of the Overdale Elementary School Fall Festival, and Doug Meyer, son of Mr. and Mrs. John Meyer was king.
Catherine Weller resigned as Bullitt County Treasurer, a position she held for fifteen years. Fiscal Court hired Mrs. Alvin Deacon to fill the position.
The Shepherdsville High School J-V cheerleaders held a bake sale to raise funds to purchase uniforms. Members of the squad included Sheri Mullins, Sylvia Pennington, Peggy Crenshaw, and Nancy Farris.
The Shepherdsville FFA contest winners included Bennie Keith, Charles Tracy, Tommy Blatz, Lester Rinkel, Gerald Fulkerson, and Daryl Bowman.
Gladys Sprinkle of Mt. Washington provided a late report on Thanksgiving happenings. Mr. and Mrs. Leo Blemmel hosted a dinner at the Wildwood Country Club for their daughter and family, Bonnie, Bill, Wayne, and Denise Breeden. Mr. and Mrs. Tony Drake, David, Susan Lynn, Carolyn, and Cathy were guests of their grandparents, Mr. and Mrs. Goodloe Bass.
The Shepherdsville Rams basketball team began their season without a home court after fire had destroyed their gym earlier in the year. Team players included David Cundiff, Gary Rupp, Andy Dawson, Steve Roby, Charley Pepper, Ray Hammond, Steve Coulter, Mike Kenny, John Price, Mike Roby, Kenny Lee, Sam Hardy, Gene Eaves, Albert Goldsmith, Scotty Morrison, and Terry Willis.
In their first game, a loss to Eminence, Dawson scored 17 and Cundiff added 12 points and 15 rebounds.
Shepherdsville First Baptist broke ground for their new auditorium. Susan Hardy was the youngest person participating in the ceremony. Also present were Miss Mary Holloway Miller, Miss Alice Hardesty, and Miss Margaret Foster, three ladies who were present in 1910 when the then-present auditorium was dedicated. Also present were Dr. Bruce Hartsell, pastor of the church, Evan Patterson, deacon chairman, Dr. M. J. Cundiff, trustee, and Headie Lee, deacon vice chair, who gave the benediction.
Anyone remember shopping in Adrian Jones' "Bargain Shop" located on what was then Beech Street, behind the old post office building in Shepherdsville?
Harley and Maggie (Stallings) Proctor celebrated their 50th wedding anniversary.
Dr. B. C. Moser was elected president-elect of the Third District Kentucky Association of Chiropractors.
Cleo Skelton, an English teacher at S.H.S., received his doctorate degree in Recreation and Education at Indiana University.
Sandra Rinkel of S.H.S. won the county level Soil and Water Conservation essay contest.
And James "Bud" Hardy, president of the Shepherdsville Lions Club, led the club's efforts to provide Christmas baskets for 60 needy families.
1941 - 75 Years Ago.
Mrs. Marie Maraman and Mrs. Ella Hardy were among members of the Bullitt County Woman's Club involved in the outdoor Christmas decorations contest in the Shepherdsville area.
Ike Durham, a graduate of Lebanon Junction High School, was sent for army training.
Mr. and Mrs. Herman Rouse of Mt. Washington announced the engagement of their daughter Mary to George Maddox, son of Mrs. Mamie Maddox. And Mrs. Russell Hill and son were guests of Mrs. E. F. Pound.
Also in Mt. Washington, Roy Tinsley and family took rooms in the hotel building until their new home at the edge of town on the Shepherdsville Road was completed. R. L. Grigsby and family moved into the Tinsley home.
The Hebron correspondent reported on the wedding of Floyd Tinnell of Taylorsville and Miss Mildred Crumbacker, daughter of Mr. and Mrs. D. J. Crumbacker. Ushers were William Crumbacker and Mr. J. A. Tinnell. Bridesmaids were Bettie Crumbacker and Sarah Jean. Little Mary Emma Brooks was flower girl.
She also reported that Charles Wilson Brooks had built a cottage on the ground bought from O. P. Brooks. Also, W. B. Miller sold his place on Cedar Creek and purchased the old Crumbacker home and store.
In the personals column we learned that Miss Mary Hardaway entertained several for dinner including Mary Green Hardaway, Mary P. Roby, Hester Belle Hardaway, Ida Carroll, and Blanche Howlett.
Also, Mr. and Mrs. Gus Hardin and Mrs. Pate Jones of Cox Creek spent a day in Shepherdsville. And, Miss Lois Wandy Hardy and Mrs. Sue McKelvey moved to the Katherine Rennison cottage.
The Valley View correspondent reported that D. V. Nutt helped Hoke Harris add a room to his house; that Raymon Calvert's new home on the Jackson Highway was underway; that Mr. and Mrs. Marvin Crenshaw named their baby daughter Janice Lois; and that Walter Breeden was not suffering as much from the pain in his eye.
In Shepherdsville, at Hardy's Cash Market, you could buy a 24 ounce jar of peanut butter for 23 cents, and a pork loin roast at 22 cents a pound.

The Pioneer News
, December 12, 1941
With war declared, the paper reported that 17-25 year old young men could enroll at Shepherdsville High School in a metal-working class, including welding, to prepare them for National Defense industrial employment.
The paper reported that Robert Jones was hit by the fast train at the L. & N. bridge in Shepherdsville. He was on duty watching the bridge when the accident happened. His injury was not considered serious.
And the Salt River correspondent reported that Calvin Boyd had been appointed as one of the guards on the railroad bridge. She also stated, "We are looking pretty blue on account of this terrible war."
1917 - 99 Years Ago.
Rev. Herbert Haywood of the Shepherdsville Baptist Church performed the wedding ceremony for Michael J. Smith and Clara Carpenter early Thanksgiving morning at the church. Rev. Haywood wrote the wedding announcement for the first December paper.
A. E. Funk, Jr., son of Judge Funk, was commissioned a second lieutenant following his training at Fort Benjamin Harrison near Indianapolis.
Mrs. Bess Maraman was in charge of a musical entertainment at the Masonic Temple for the benefit of St. Aloysius of which Father Bertello was pastor. Due to the severe snow storm, it had to be postponed to a later date.
In the personals column we learned that Will Nusz sold a mule to Clarence Dawson; Miss Viva Roby of the Leaches district spent a day in Shepherdsville; that Will Carrithers of Mt. Washington was in town for a day; and that J. Weatherford, who had been the telegraph operator at Bardstown Junction for more than a year, was transferred to Shepherdsville to work the second shift. He was also a jeweler, and moved his business to Shepherdsville.
We also learned that C. P. Bradbury bought the W. T. Lee farm. Bradbury was Lee's son-in-law.
J. R. Cunningham was ordained at the Hebron church by Dr. Charles Hemphill, president of the Presbyterian Seminary.
The Hebron correspondent reported that Miss Nadine Melton spent the holiday with Miss Stanley Wise at Stithton in Hardin County; that Dr. C. L. Cooper had a new Ford car; that Sam Gentry had moved to the farm of Mrs. Kate Scott; and that Gober Cochran had moved to Shepherdsville to work for O. A. Lutes.
Sam Fox was still busy painting, this time the roof of the new school house in Mt. Washington.
They were drilling for oil on James Miller's place down at Bullitt's Lick.
Miss Bertha Trunnell, teacher at Beech Grove, near Zoneton, was called to her Aunt Frona James' bedside in Leaches.
The December 14th issue of The Pioneer-News reported that the worst snow storm in Kentucky's recorded history had dumped 17 inches on snow on the area, and the temperature had dropped to 14 below for a time. Winds of 40 mph had drifted the snow in places to a depth of from 5 to 15 feet.
And on the evening of December 20th, the worst train wreck in Kentucky's history occurred at Shepherdsville when the express train crashed into the rear of the local accommodation train, smashing two passenger cars, and ultimately taking the lives of 49 people.
1885 - 131 Years Ago.
We managed to find a single issue on microfilm for The Bullitt Pioneer, dated December 3rd, 1885. It was very hard to read, but here is some of what we found.
Some of the public officials included J. F. Combs, Circuit Court Clerk, who lived in Shepherdsville; E. W. Hall, Master Commissioner, also Shepherdsville; H. C. Bowman, Jailer, Shepherdsville; William Dawson Jr., Sheriff, who lived in Cane Springs; J. H. Rogers, Deputy Sheriff, Zoneton; W. F Parrish, Deputy Sheriff, Mt. Washington; James F. Smith, County Court Judge, Shepherdsville; F. W. Hall, County Court Clerk, Shepherdsville; and Charles Carroll, County Attorney, Shepherdsville.
The County Magistrates were W. H. Ellaby, Mt. Washington; O. H. Bolton, Leaches; A. F. Brooks, Shepherdsville; and J. H. Hoskins, Pine Tavern.
In the Bardstown Junction news column, we learned that James Lee and Emma Carpenter were married at the bride's parent's home by Rev. S. L. Lee of Louisville; that Wathen Hays of Louisville spent a weekend with his grandfather, W. H. Hays; that John Barbour of Louisville was in the community on a hunting trip; and Mrs. H. L. Mooney had returned from a trip to visit her daughter in Nelsonville.
In Lebanon Junction news, Ben Anderson, son of Burch Anderson, was sick. Earl Johnson, son of Dr. Johnson, visited his father. And H. C. Cockerell, who had attended a commercial school in Louisville, said he planned to start a newspaper at Greensburg in January.
The Mt. Washington news correspondent wrote that J. B. Wootten and Smith Harris were building a veranda for Dr. Hobbs; that Mrs. Alive Harris and little girl were visiting her mother, Mrs. Eliza Beauchamp in Chaplin; and that C. J. Barnes and wife spent a week with her sister, Mrs. John Reed of Wilsonville.
And J. L. O'Brian advertised that he was opening a new store on the north corner of the public square in Shepherdsville. He would sell dry goods and fresh groceries.
And among other things, we found that, in an interesting advertisement, Troutman Bros. & Co. of Shepherdsville posted that a member of their firm had been accused of being an "offensive partisan" by the Postmaster General, and that the post office had been removed from their store. However, they would still continue to sell stamps and postcards.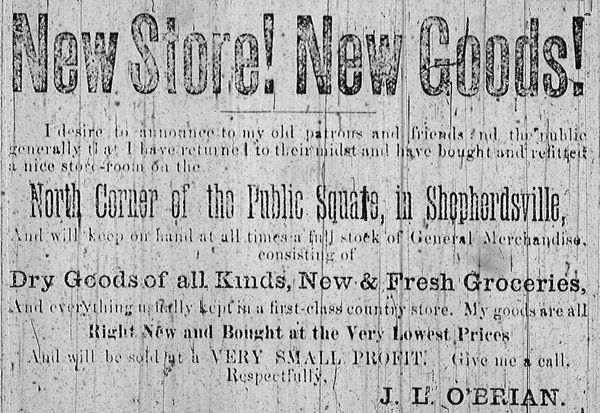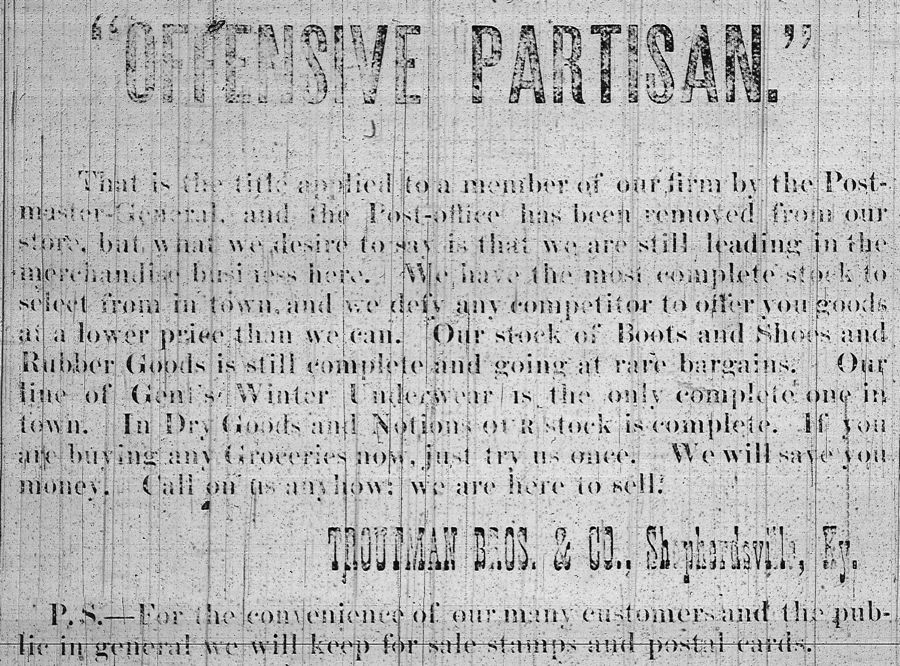 ---
Copyright 2016 by Charles Hartley, Shepherdsville KY. All rights are reserved. No part of the content of this page may be included in any format in any place without the written permission of the copyright holder.
---