It Happened in December
We will be looking back 20, 45, 75, and 90 years to see what was being printed in The Pioneer News in 2001, 1976, 1946, and 1931 in the month of December.
2001 - 20 Years Ago.
Charlie and Wanda Stanley were pictured on Santa's lap during the Mt. Washington Elementary holiday festival.
Sandy McAtee, Lori Fortune and Terry Troutman, employees at the Bullitt County Welcome Center on I-65, were honored as "Ambassadors of Goodwill" in a ceremony led by Ann Latta of the Kentucky Tourism Cabinet and Bob Stewart, state commissioner of the department of travel.
Eddie Dawson opened his "Grand-ma's RV Camping" location just west of I-65. He and his wife and some grandkids were pictured at the site.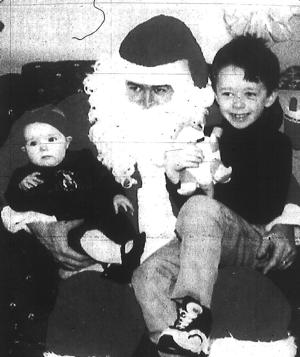 Charlie & Wanda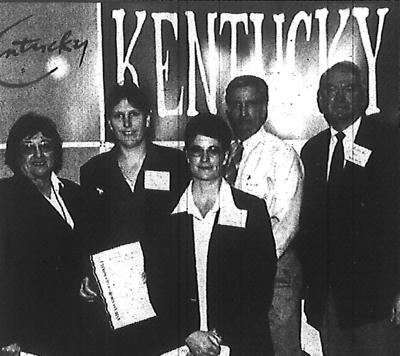 I-65 Ambassadors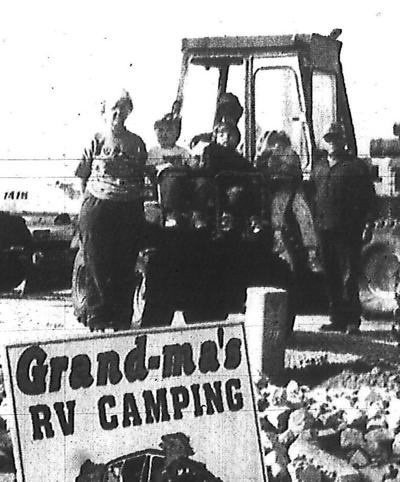 Grandma's RV Camping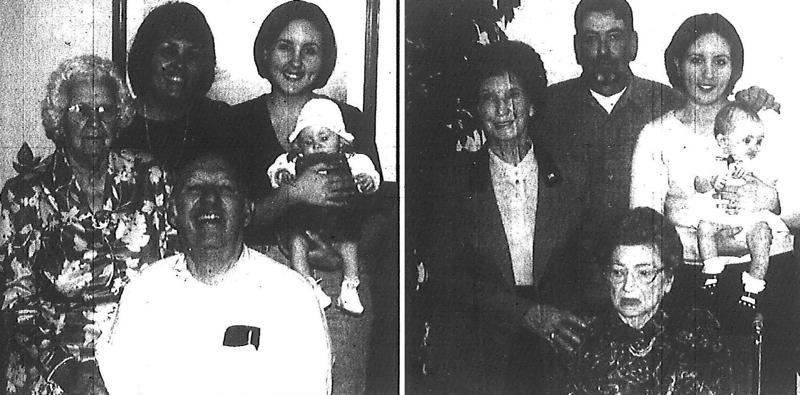 Lindsay and Ashton Hartlage were in two "Five Generation" pictures. She joined with Emma Lee Armstrong, Becky Travis, and Dub Armstrong; in the other with Galvin Travis, Francis Burkhead, and Sis Travis.
In the first matchup of the season, Bullitt East took two basketball games from North Bullitt. On the boys' side, Travis Kotheimer's 18 points led the Chargers to a 63-47 victory. He was joined in double-figure scoring by John Stover with 12 and Bryan Krugman with 10 points. Adam Schott with 14 and Nick Valadez with 11 led the Eagles' scoring.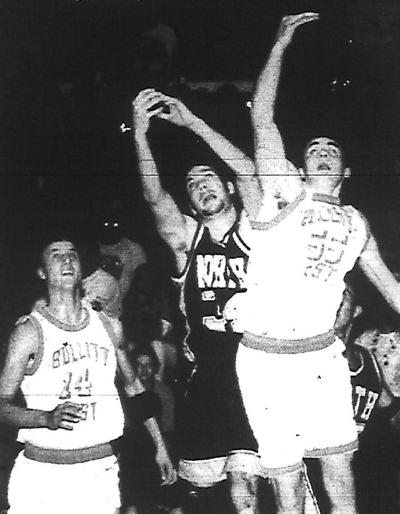 Stover, Krugman, and Valadez
Bell and Hatchett
The Lady Chargers completed the sweep with a 59-48 victory, led in scoring by Lea Warren, Amanda Dixon, and Natalie Biesel, each with 12 points. Lauryn Hatchett led all scorers with 20 points for North Bullitt, while Janna Funyak contributed 11 to the Lady Eagle cause.
Meanwhile, Bullitt Central traveled to Taylorsville where they split two games. The boys pulled out a 60-59 victory with a last second three-pointer from the corner by Chad Stivers who finished the game with 14 points. Cougar scoring was led by Justin Saunders with 17, while Todd Spencer added 14.
In the second game Spencer County won with a score of 53-42. Krista Yocum led the Lady Cougars with 10 points. Also contributing to B.C.'s effort were Tiffany Allen and Ashley Reynolds with 9 points each, and Angela Clayton with 7.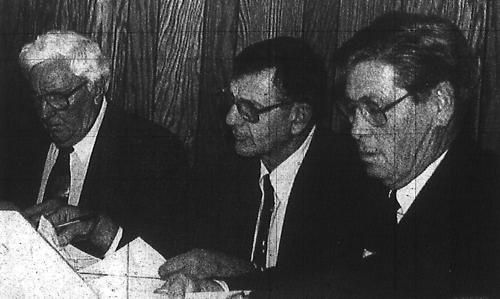 Bullitt County magistrates Bill Couch, Butch Sweat, and R. L. "Rip" Carter were pictured together in an article about the death of Couch that included tributes from many who had served in government with Couch.
The 2001 Coaches' All-Bullitt County Football Team was announced. The offense included Robbie Cope, Justin Odle, Derek Cruise, Joe Cissell, Willie Kelty, and Andy Coleman of North Bullitt; and Matt Clemens, Rickey Dorsey, Justin Lowe, Josh Meurer, Josh Wyrick (offensive player of the year), Landon Collins and Matt McIntyre of Bullitt East.
The defense included John Kirk of Bullitt Central; B. J. Ritter, Justin Lowe, Josh Meurer, and Matt McIntyre of Bullitt East; and Matt Moakler, Daniel Lister, Derek Cruise, Nick Valadez (defensive player of the year), Josh Foster, Brandon Ray, Joe Cissell, Damon Kinney and Timmy Johnson of North Bullitt.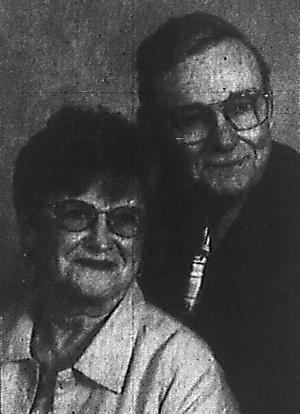 Bob and Diane Buky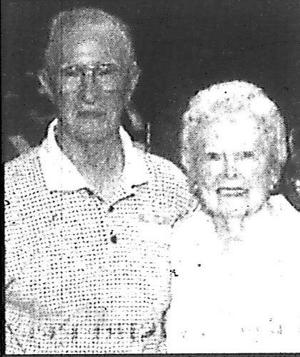 Marion and Rebecca Kihnley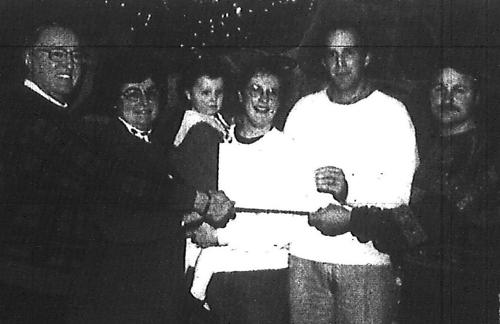 Community Donation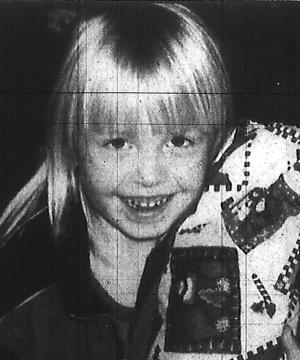 Courtney Tinnell
Two Mt. Washington couples celebrated special wedding anniversaries in December. First were Bob and Diane Buky who celebrated 50 years, followed by Marion and Rebecca (Newman) Kihnley who celebrated their 60th wedding anniversary.
Shepherdsville Mayor Joe Sohm, PVA Rhonda Keith, and Peoples Bank President Bill Hardy presented a check for over ten thousand dollars to Pat and Chris Docter which represented various efforts to help them as they rebuilt their business following a fire.
And Courtney Tinnell was all smiles as she received a gift at the annual Evangel South Community Church stocking giveaway at Paroquet Springs.
1976 - 45 Years Ago.
Ted Korfhage represented the Southern States Cooperative's members at the annual stockholders' meeting in Richmond, Virginia. Also attending were Michael Ross and Lloy Vannarsdall representing the local store.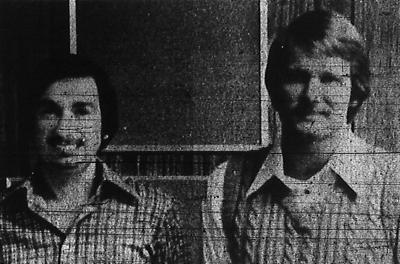 Carpenter & Mineer
Bill Miller of Shepherdsville and Donnie McHargue of Lebanon Junction were elected to offices in the Alpha Gamma Rho fraternity at the University of Kentucky.
Jon E. Rickert of Elizabethtown was elected to the Bernheim Forest Board of Trustees. Mr. Rickert had been active as a volunteer leader of nature programs at the forest.
In a series of articles about coaches, Buford Williams and Mary Ann Elam were introduced as the new coaches of Bullitt Central's girls' basketball program. Other coaches mentioned included Bob Carpenter and Robb Mineer who were coaching the Shepherdsville Rams' boys' team; Barbara Firkins and Betty Hartley led the girls' team; Jo Ann Price leading the Mt. Washington Generals' girls' team; and Kenny Waddell, head coach of the Lebanon Junction Bulldog's team.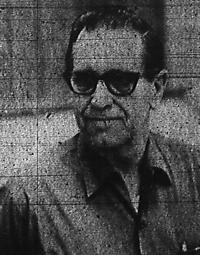 Jerry Bridwell
Charles Long announced the appointment of Jerry Bridwell as the county Emergency Welfare Coordinator. Bridwell, a native of the county, had a long history of community involvement.
In the Nichols community, Clarance Dawson's family served a Christmas buffet to their guests; Santa Claus visited the local school and was treated to a meal by the lunchroom staff; Bill Carpenter called on Mr. and Mrs. Arthur Stivers; and sympathy was expressed to Willie Ray and J. T. Carpenter in the death of their mother, Mrs. Fern Carpenter.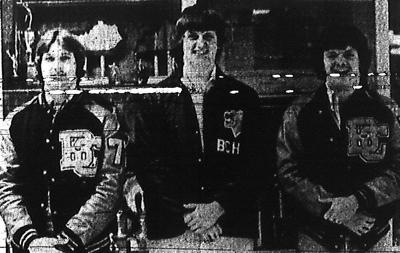 Sanders, Cruise, & Dobson
At Lebanon Junction, a number of local boys were home on leave including Tony Troutman, David Clayton, Ricky McCubbins, Allen Bryan and Rick Murley. Also, winners of the $10 gift certificates at the Key Market were Chris Sweat, Bridgett Etherton, Tom Masden, Ricky Simmons, and Kay Beam.
Georgetown College awarded football scholarships to three members of the District Champion Bullitt Central Cougars: Tim Sanders, Tim Cruise, and Ted Dobson. Of these, Ted Dobson and Tim Sanders joined Chuck Baker, Rich Dietrich as honorable mention to the all-state football team.
In local politics, Sidney Griffin and Eddie Dawson both announced as candidates for jailer.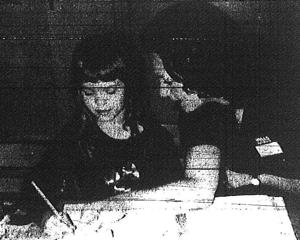 Charlotte Ashby
The Hebron correspondent wrote, "Thanks to the kindness of Mrs. Maurine Fisher, we enjoyed the morning service at Hebron Presbyterian when they presented the Cantata 'Shepherds, Rejoice.' A lovely and inspirational service. Dr. Harold Nebelaick will be their guest minister next Sunday."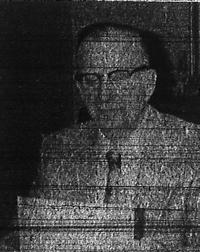 Vernon Mothershead
She also wrote that the Hebron women of the church met with Mrs. Hilda Adams.
Charlotte Ashby was pictured helping a Nichols Elementary student as a volunteer at the school. She and her husband Billy were the parents of John and Ricky, students at the school.
Vernon Mothershead retired as Executive Vice President of The Peoples Bank of Mt. Washington after a career of nearly fifty years at the bank.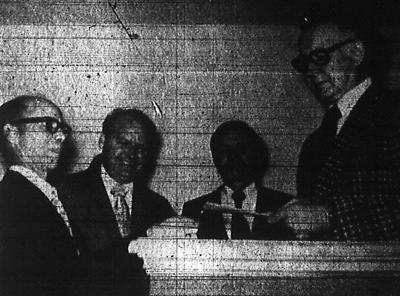 Note Burning
Bill Mattingly, Wavy Mayes, James Land, and Rev. Bob Crady were pictured at the note-burning service at Bardstown Junction Baptist Church.
Bill Robey was re-elected chairman of the Democratic Party Executive Committee which included the following members: Florence Ryan, Nancy Strange, J. Chester Porter, Arson Moore, Donna Sweat, Eric Farris, Tim Bradshaw, James Gordon, Bernice Greenwell, Sandra Johnson, and James Roe.
The Bullitt County School Food Services employees met for their annual Christmas dinner with their elected officers, President Barbara Thixton, President-Elect Ethel Armstrong, Secretary Rosemary Jones, Treasurer Louise Madden, Parliamentarian Carolyn Kearney, and Helen Underwood, the director and consultant.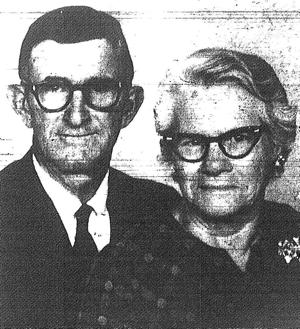 Allard & Paralee Armstrong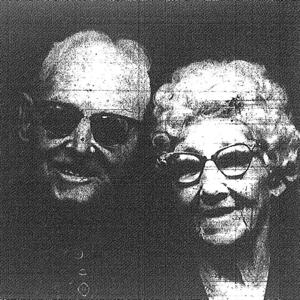 Mr. and Mrs. Basil Scott, Sr.
Allard and Paralee Armstrong celebrated their Golden Wedding Anniversary; and Mr. and Mrs. Basil Scott, Sr. celebrated 65 years of wedded bliss.
And Harold Winston Hardy was entering his 20th year of service with the American Cancer Society.
1946 - 75 Years Ago.
The Bullitt County Farm Bureau had a membership of 380 families according to its president, Russell Jenkins. Bureau directors included Robert Henderson, Roy Applegate, A. H. Harned, S. O. Armstrong, Henry Kneisler, Lee Masden, J. W. Stark, Tom Huffman, S. N. Brooks, Ben Frank Robards, Leonard Daugherty, Hilary Hardy, O. H. Masden and Mr. Jenkins.
Harold Guthrie Snellen Jr. was born in early December to Harold and Martha Isabelle Snellen.
Robert Ridgway of Cupio died in his 80th year. The paper described Bob as "clever, jolly, accommodating, good farmer, lodge leader, and long considered Cupio and Knob Creek's leading citizen." He was the son of the late Captain James W. Ridgway, and was survived by his widow, Lizzie (Welsh) Ridgway, a daughter, Mrs. Gilbert Daugherty, three sons, Gussie, Walter, and Maurice, and two brothers, Lindsay and Thomas Ridgway.
Johnny Reading and Noah Reed had to abandon their 1938 Hudson at a private railroad crossing one night when they missed the crossing and the wheels were lodged in the rails. Before they could get help to move it, a southbound freight tree did it for them. The demolished vehicle was pushed a fair distance down the tracks.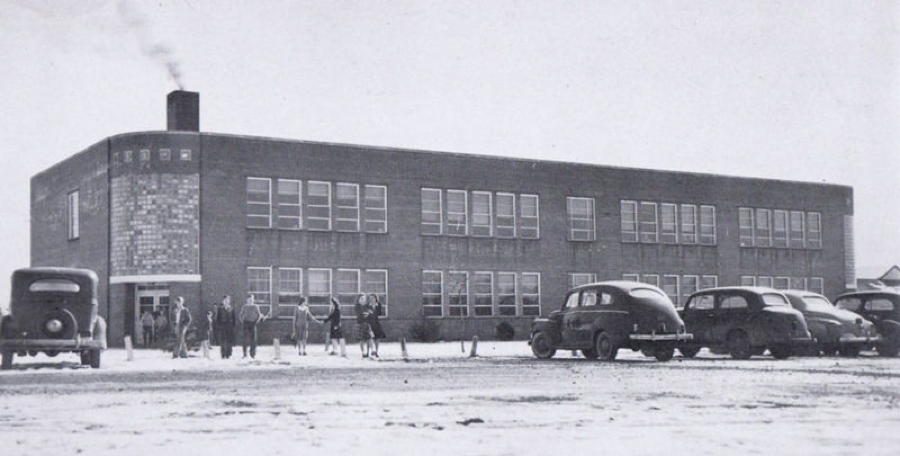 Shepherdsville High School, 1945
F. J. Sanders wrote a front page plea for the community to consider the need to expand the size of the Shepherdsville School.
Bertha Cundiff (nee McClure) died at St. Joseph's Hospital in Louisville. Besides her husband Elmer Cundiff and son Leland Cundiff, she was survived by three sisters, Maude Shelton, Martha Hatter, and Mrs. Walter Cundiff, and a brother, John McClure.
The first Future Homemakers of America chapter in Bullitt County was started on December 11th. Their elected officers included President Willa Louise Burns, Vice-President Helen Fields, Secretary Norma Ratliff, Treasurer Joan Wise, Reporter Emma Jean Sadler, Historian Dolores Bradbury, Art Editor Carolyn Smith, and Song Leader Jean Devers. Miss Geraldine Williams was the advisor.
The parents of Emma Mae Fowler of Elizabethtown announced the engagement of their daughter to Joseph Ray Dawson, son of Mr. and Mrs. Horace Dawson of Shepherdsville. The wedding was to take place the day after Christmas.
Johnnie Love and Elizabeth Cook were married in Mt. Washington. After returning from their wedding trip they set up housekeeping at Mt. Washington in an apartment in Mrs. Ida Drake's house.
William T. Ladusaw, seaman second class, son of William E. Ladusaw of Shepherdsville, was initiated into the Royal Order of the Deep aboard his ship as they crossed the equator on a tour of South American ports.
Mrs. Lee Masden of Lebanon Junction was attending a Circle Meeting at her church when she fell and broke her shoulder.
Mrs. Jessie Hill of Lebanon Junction was advertising a four room house for rent. It was located on Highway 61 at the Crooked Creek bridge.
A list of county officers included County Judge C. P. Bradbury, County Attorney Lindsay Ridgway, Clerk Theodore Cook, Jailer Tom Hibbs, Sheriff Hobart Roby, Tax Commissioner Clyde E. Roby, School Superintendent C. V. Foreman, Coroner C. T. Bridwell, and Magistrates Hugh Samuels, C. S. Moore, A. P. Weller, and John I. Samuel.
And the Lockett Auto Paint Shop advertised that it was now located in Mt. Washington. Their telephone number was 2911 if you're looking to get your car painted.
1931 - 90 Years Ago.
Ruby Mann, a 1929 graduate of the Shepherdsville school, married Paul Simpson, and they were to make their home in the Leaches District. Rev. Richard Cundiff performed the ceremony.
Judge Porter met with the State Highway Commission and got them to take over the maintenance of the new stretch of road from town to Bullitt Lick. The two mile stretch had been graded, built and drained using cheap help and prison labor supervised by Herbert W. Lee. It was hoped that the State would be induced to extend the road on through the knobs to West Point.
Out Needmore Road way Mr. and Mrs. Delmer Foster, Corrine Ridgway and Joe Fultz had a candy making at Mr. and Mrs. Harley Proctor's place. And Miss Mable Whitledge was a Sunday guest with Corrine.
The Bernheim Foundation made an expedition to Harlan and brought back a truck load of Rhododendron, laurel, holly, azalea, arbutus, galax, hemlock and magnolia to be transplanted at Bernheim where they were to be protected and allowed to establish themselves. This was an early part of the efforts that have created the fine forest we enjoy today.
Ida Mae Wise, teacher at the Hays School, listed the following honor roll students: Veronica Bohannon (8), Mary Grace Huffman and Margaret Bohannon (6), Corine Huffman, Helen Brashear and James Montgomery (3), and Louise Goff, Juanita Goff, Kathleen Brashear, and John Bohannon, Jr. (1).
Mary Blanche Hill, teacher at Bardstown Junction, also listed her fine group of scholars, including Richard Shaw (8), Evelyn Masden (7), Billy Moser and Elizabeth Showalter (6), Lillian Stovall and Walter Ricketts (4), Altha Perkins and Alma Larkin (3), Dorothy Ricketts, Etta Stansbury and Earl Showalter (2), and Dorothy Larkin (1).
And Pauline Daugherty, the teacher at Culver Springs, reported that Margie Etherton, Mary Ruth Thompson, Doris Beard, Jesse Thompson, Sammie McCubbins and Clifford Lee won prizes for washing their teeth every day for two months.
The school honor roll included Rita Osterholt, Ethel Mae Lee, James Lee, Bernard Moss and Margie Etherton (1), Dorothy Etherton (3). Ruth Roby, Marion Osterholt, and Mary Ruth Thompson (4), Doris Beard (6), Jesse Thompson (7), and W. T. Hill (8).
Samuel Ridgway came from Memphis on an airship to visit his parents Dr. and Mrs. S. H. Ridgway. He said he recognized Shepherdsville from the air by its two bridges and school house, and it took the airship eight minutes to travel from Shepherdsville to Bowman Field in Louisville where it landed.
At Lebanon Junction, a three-act play titled "The Red Headed Step-Child" was sponsored by the school's P.T.A. and coached by Hunter A. Pipes. Acting in the play were Agnes Montgomery as the step-child, and A. J. Beeler, Francis Charlton, Geneva Hamontree, Richard Calvert, Shirley Monroe, Mayetta Johnson, Glenny Berry, Ruth Logsdon, Creighton Hess, Nonearle Bryant, and Helen Pipes.
Maraman's Store advertised fresh pork ribs for 15 cents a pound, and big creamy chocolate drops for just 10 cents a pound.
Down along Wilson Creek, Bud Waters suffered painful bruises on his neck and shoulder when a large tree limb fell on him. Also, Mr. and Mrs. W. A. Harned, Sr. and family moved to their new home on the Boston pike.
Henderson & Hardy in Shepherdsville announced that they had just completed their new store building. Among the specials advertised were a 32 piece dinner set for $3, and shotgun shells for 60 cents a box.
Miss Jennie Carpenter lost her shell rimmed, white gold nose-piece, double lens glasses, and was offering a reward for their return.
The Hebron Graded School girls' basketball team defeated the Okolona team with Dollie Glenn and Thelma Best leading the way. The boys' team narrowly lost 11-10, and were led by Bruce Miller, John Wigginton, and Hal Palmer.
And the paper printed some of the Letters to Santa. Bernie Bleemel wanted a rocking horse; Leroy Sharp wanted a wagon; Margaret Smith asked for a doll, and something for her little brother too; Paul Alvin Roby wanted a guitar; and Aldin Jones wanted an aviation cap, a writing desk, and a printing set.
---
Copyright 2021 by Charles Hartley, Shepherdsville KY. All rights are reserved. No part of the content of this page may be included in any format in any place without the written permission of the copyright holder.
---