It Happened in December
The following article by Charles Hartley originally appeared in The Pioneer News on 28 Dec 2020. It is archived here for your reading enjoyment.
---
We will be looking back 24, 50, 75, and 100 years to see what was being printed in The Pioneer News in 1996, 1970, 1945, and 1920 in the month of December.
1996 - 24 Years Ago.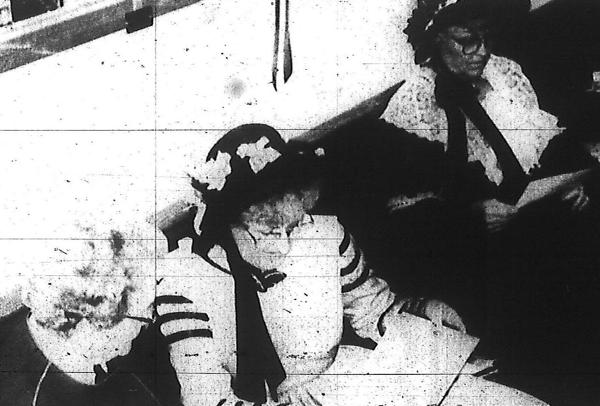 Ladies in Period Costumes
Bullitt County's bicentennial celebration was kicked off with an exhibition at the courthouse led by Bud White, president of the Chamber of Commerce, and Tom Pack, local historian. Also present were descendants of Alexander Scott Bullitt for whom the county is named. They included Porter Watkins, Mrs. Virgil Christian, and Larry Watkins Jr. A number of the ladies of the genealogical society were present in period costumes. And Renee Shaw, a student at the Bullitt County Technical Center, was honored by having her logo selected to go on merchandise.
Sondra Wilkins of the Nichols community wrote her first column, describing how the folks there looked out for one another. She said, "For many years most of the Nichols area has been a generation of families with a lot of land passed down. Our area is very quiet and peaceful."
In a later column, Sondra wrote that Cindy P'Pool "is always there to prepare a meal for families in sorrow and to visit the elderly. We love and appreciate Cindy."
Lois Simmons of the Pleasant Grove community mentioned that Clara Simmons' birthday was December 1st, and she was 96 years old.
The Bullitt County 4-H Council sponsored its annual Communications Festival at Hebron Middle School. In the Speeches category, the various winners included Penny Bullock, Ann Marie Thompson, Josh Foster, Tasha Rash, Robert Favreau, Julie Bischoff, and Melissa Thompson.
The various winners in the Demonstrations category included Crystal Winfrey (Jr Crafts/Hobbies), Amber Squires (Jr Ag Sciences), Julie Bischoff (Sr Horse), Erin Maginnis (Jr Horse), Lauren Scott (Jr Animal Science), Eden Gabbard (Jr Food Prep/Nutrition). Kim Jones (Jr Natural Sciences), Anthony Parker & Adam Pryor (Speciality Acts), Robert Johnson (Jr General), and Heather Cramner (Sr General).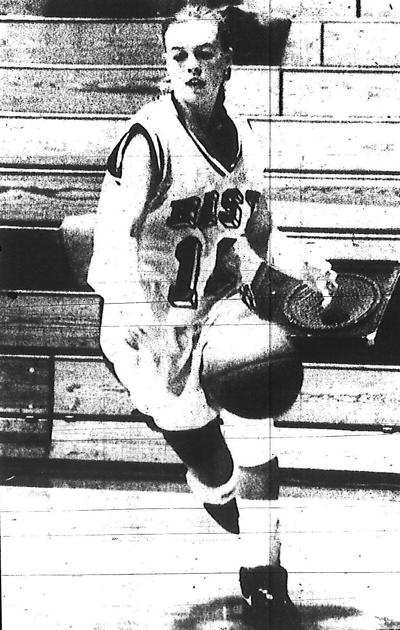 Erika Smith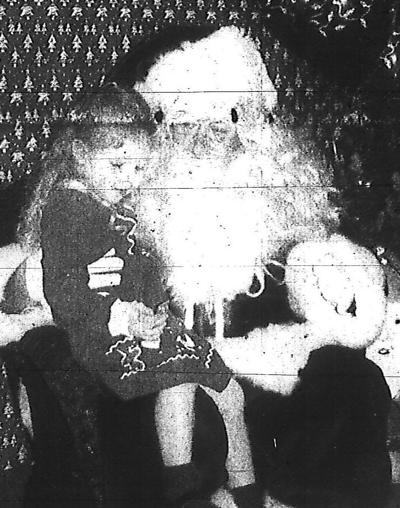 Mary Kate McClure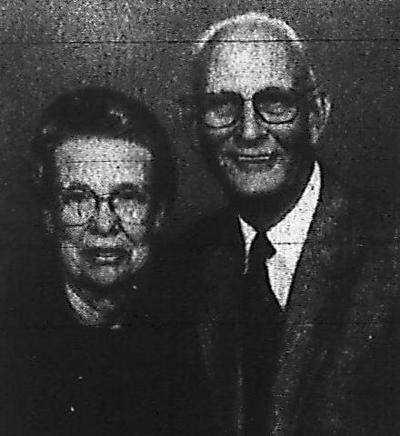 Lloyd & Catherine
In high school basketball, Josh Travis and Jamie Kearney, with 23 and 15 points respectively, led Bullitt Central to a season-opening victory over Meade County 66-61. Meanwhile, Coach Christy Coulter's Lady Cougars defeated Carroll County 72-66 with Stephanie Crable leading the way with 21 points.
The North Bullitt Lady Eagles won their first two games, 87-42 over Highview, and 70-52 over Portland Christian. Scoring was widely shared in both games with Stephanie Burden getting 20 & 14, JoJean Parrish with 15 & 17, Jennifer McMillion with 14 & 13. Others scoring in double figures in one game were Bonnie Phelps and Becky Tuttle.
The North Bullitt Eagles defeated Jeffersontown 79-52 with Kyle Wise scoring 21, Justin Hornback adding 15, and Ricky Spears scoring 12.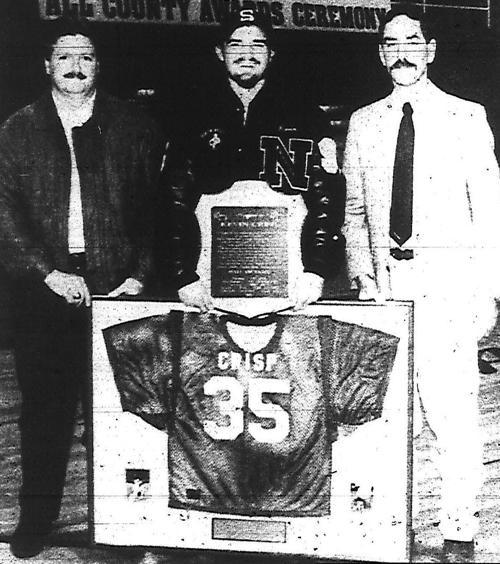 Kevin Crisp with Coaches
The Bullitt East Chargers defeated Valley 70-66, with Brian Miles scoring 21, Johnnie Witham with 19, Michael Newkirk with 13, and Chris Devine dropping in 10 points.
The Lady Chargers easily defeated Spencer County 77-31 with Nickie Randall leading the scoring with 20 points. Erika Smith contributed 16, Lindsey Wegley 12, and Pat Baker 11 to the scoring.
North Bullitt standout Kevin Crisp became the first inductee in the Bullitt County Youth Football Hall of Fame. Before starring for the Eagles, he played for the Overdale Chiefs. He was pictured in the paper along with his youth league coach, Tom Clemens, and North Bullitt head coach Don Biggs.
Mary Kate McClure got to sit on Santa's lap during his visit to St. Aloysius.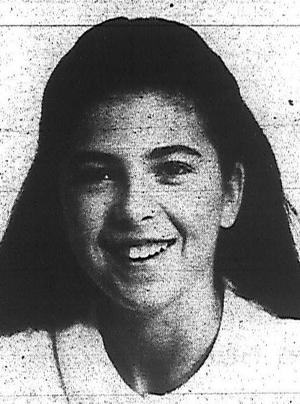 Nancy Gibbs
Nancy Gibbs got to fight with rats during the Louisville Ballet's production of The Nutcracker. Of course the rats were dancers, and Nancy, a seventh grader at Bullitt Lick, was portraying a soldier in the play.
Lloyd Metcalf and Catherine Hardin were married shortly after Christmas in 1946. Fifty years later, they celebrated their Golden Wedding Anniversary.
And the December papers were filled with letters to Santa from the local schools. One in particular that caught my eye was written by Ashley Fryer of St. Aloysius. While she looked forward to presents, her main wish was for her Grandma Doris to get better and recover from her open-heart surgery.
1970 - 50 Years Ago.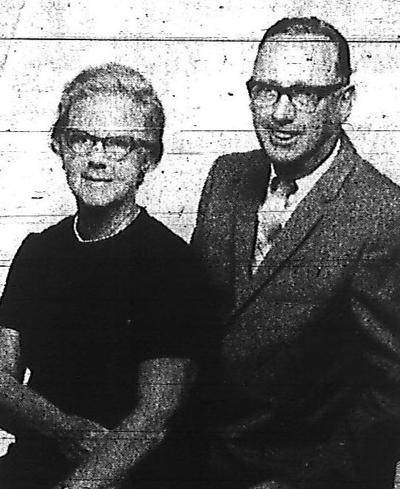 Harry & Lillian
Harry Routon and Lillian Welker were married in December 1920. Fifty years later they celebrated their Golden Wedding Anniversary.
Also celebrating 50 years were Shell Moore and his bride, the former Mary Catherine Raymond. They had lived in Bullitt County all their lives.
The members of the Bullitt County Food Service Association met at the Kings Table where they installed the following officers: President Mary Dell Meyer of Bullitt Central, President-Elect Marcella Fitzgerald from Mt. Washington Elementary and Junior High, Secretary Nellie Nicholson of Lebanon Junction Junior High, and Treasurer Louise Madden of Brooks Elementary.
Cora Ney Hardy, Missionary to Nigeria, home on furlough, was the guest speaker at Bullitt Lick Baptist Church.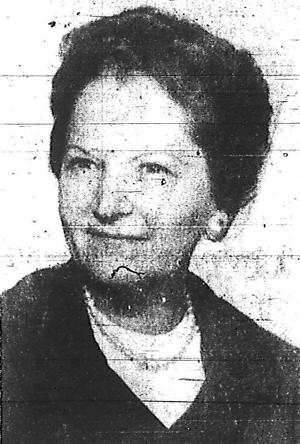 Lucille Warren
Sheriff Leonard Light reported that the county tax bills were in the mail, and that the 2% discount was in effect until the end of December.
Joyce Trammell's 4th grade flutophone band performed at the Brooks P.T.A. meeting, and Mrs. Stallings' class won the attendance count.
Mrs. Lucille Warren, former Bullitt County Home Demonstration Agent, treated the fourth grade classes at Brooks with slides from her recent trip to Hawaii.
Mrs. Ethel Gentry was pleased to celebrate her 80th birthday in late November. Her daughter, Marian Armstrong provided the birthday celebration.
The opening of the Shepherdsville Feed and Supply Store was announced by Manager Edward R. Crigler.
In the Lebanon Junction newsletter we learned that Mr. and Mrs. Jeff Metcalf celebrated their 48th wedding anniversary at the home of their son Stanley. We also learned that baby Stephanie Ann, daughter of Mr. and Mrs. Steven Masden, weighed in at 8 lbs, 13 oz at her birth.
In the Pleasant Grove community, Jack Stallings fell from the tier pole in his tobacco barn, and suffered cuts and a light concussion. The correspondent reported that he came home from the hospital a few days later.
The Hebron correspondent reported that Mrs. Mildred Elder and Mr. William Ferring were united in marriage at Little Flock.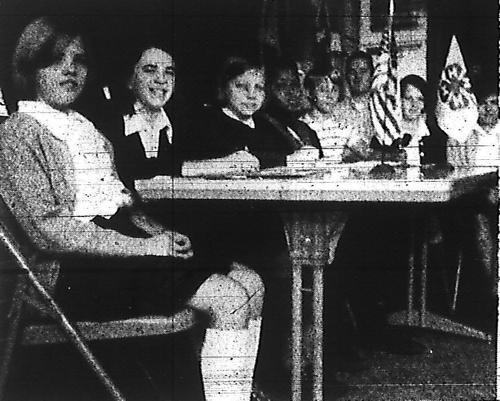 St. Benedict 4-H
Not much got past that correspondent as she reported that Mrs. Ruby Roller entertained her Sunday School class; that Mr. and Mrs. Robert Ball attended a Scout recognition banquet; that Mr. and Mrs. Bernard Bischoff attended the Bullitt County Saddle Club Director's meeting at the home of Norman Stallings; that Little Flock Baptist and Hebron Presbyterian both presented Christmas Cantatas; and that the local high school seniors presented the play, "The Miracle Worker."
Speaking of the Hebron cantata, they also had a live Nativity Scene (a tradition there) as well as a Christmas Eve Candlelight Service.
In Lebanon Junction news, St. Benedict's 4-H officers were pictured in the paper. They included Janice Hefley, song leader; Celia Ryan, treasurer; Terry Phillips, secretary; David Douglas, recreation; Tony Troutman, president; Maureen Bryan, reporter; and Jo Beth Wise, vice-president.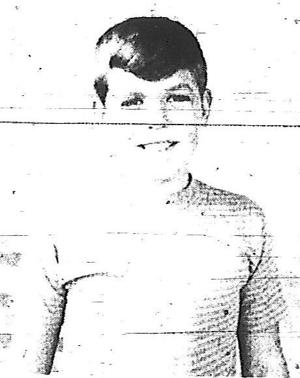 Greg Smith
Gregory Howard Smith, a son of Mr. and Mrs. Billy Howard Smith and a 7th grader at Roby Elementary, won first place in the Bullitt County Conservation Essay contest.
Steve Larimore scored 16 points to lead the Shepherdsville Jr. High 7th and 8th grade basketball team to a 49-15 win over Lebanon Junction. Tony Westwood led the Bulldogs with nine points. The Rams' 9th grade team defeated the Bulldogs 64-42. Leading scorers for the SJHS team were Fred Branson with 16, Clayton Humphrey with 13, and Dave Strawbridge with 12.
And in Lebanon Junction, the North American Benefit Association (N.A.B.A.) Lodge for that community met with 23 members present including Mrs. Ethel McMillen who had been a member for 68 years. Others attending included Audry Shroader, Agneta Crady, Wilma Whitehouse, Eula Haley, Mae Bryant, Lula Belle Sweat, Ada McMillen, Kathryn McMillen, Elsie Duckett, Maggie Roberts, Nona Argenbright, Mary Jewel Chappell, Dorothy Brinner, Ruby White, Blanche Shawley, Ella Blon Bryant, Hattie Tatum, Cordina Leslie, Lee Cox, Carrie Napier, Bessie Streble, and Rhea Crady.
1945 - 75 Years Ago.
Cpl. Charles R. Owen of Shepherdsville decided to re-enlist. He'd been in the army since 1942, and had served as a fright crew member in trips to many parts of the world. His brother, Sgt. Bernard L. Owen was with the infantry in Europe.
Horace and Bess (Henderson) Maraman moved to Louisville to live with their daughter Ailene. Horace was retiring from the Maraman store in Shepherdsville where he had been a merchant for many years.
If you can remember back to the days of World War II, then you likely remember the red and blue tokens used to assist in making rationing more efficient. It seems, according to the paper, that with the war over, the government wanted folks to return all of them for recycling.
Miss June Shane, daughter of Mr. and Mrs. Howard Shane of Lebanon Junction, and J. P. Stark, son of Mr. and Mrs. Wilbur Stark also of Lebanon Junction, were married in November. Miss Geneva Masden was bridesmaid, and Clifford Samuels was best man.
Reason G. Newton, former Lebanon Junction teacher, was hospitalized after returning from overseas. He was being treated for an injury received in action.
Rev. John C. Brinson, pastor of the Shepherdsville Methodist Church, married Miss Eleanor Sheamaker, daughter of Rev. and Mrs. Robert L. Sheamaker of Campbellsville. His father performed the ceremony.
Elmer Ridgway of Stites Station died, leaving his wife Cora (nee Nichols) three daughters, Mrs. Howard Samuels, Miss Eunice Ridgway, and Mrs. Raymond Mattingly; and three sons, James, Charles, and Harry Ridgway.
And Ruby Crenshaw, daughter of the late Charlie and Clara (Samuels) Nichols of Knob Creek, died in early December. She was the wife of Elmer W. Crenshaw, and mother of Mrs. Eloise Crenshaw Hendrickson.
The Brooks schoolhouse burned, a likely case of arson. Details were sketchy.
A boy scout troop was organized in Mt. Washington, led by Clarence Drake. He took the following boys on a camping trip: Tommy Jasper, Tommy Whitt, Jimmy Smith, Junior Donahue, Jimmy and Louis King, and Scotty Drake. Sounds like they had a fine time of it.
Joseph M. Ryan posted a notice that there was to be no hunting on his farm west of the railroad between Huber and Brooks Station.
Nannie Mae Rogers of Shepherdsville must have been a historian. She wrote a several column long article about the county's early history, including information about the early salt works, and the spa at Paroquet Springs.
In the Personals column we learned that Mrs. Ivy T. McBride arrived from Alabama to spend the holiday with her sister, Mrs. Malcolm Harmon; that both Adrian Jones and Mrs. Josie Zimmerman were on the sick list; that little Nancy Woods had the measles; and so had the two daughters of Mrs. Fritz Saddler; and Sgt. Charles Barbie Lee, who recently returned from overseas, spent the weekend at his home.
A basket of beautiful chrysanthemums to honor the memory of Miss Stella Hedges adorned the chancel during the Thanksgiving service at Hebron Presbyterian Church.
And the Hebron correspondent wrote that, thanks to Mrs. Roger Barger, she was able to attend the Bazaar given by the Hebron Church Auxiliary at the home of Mrs. Wakefield. The many articles offered for sale were a delight to her, and $162 was realized from the sale to support the Auxiliary's mission work.
1920 - 100 Years Ago.
We read in the December 3rd paper that County Attorney Carroll, Sheriff Croan and Judge Bradbury held a court of inquiry to determine, if possible, where liquor was being obtained by some of the local boys and young men.
Earl Armstrong, 21-year-old son of Mr. and Mrs. Robert Armstrong was feeding a horse when it kicked him in the abdomen, causing fatal injuries. He had married Miss Christina Skinner two years earlier.
In Mt. Washington the members of the Baptist Church met at the home of Dr. L. S. Settle and proceeded in a body to the parsonage where they pounded their new pastor, Rev. W. B. Coakley and wife with numerous good things, necessary to housekeeping.
The Peoples Bank, at Shepherdsville reported a value of $309,831.56. R. L. Simmons was President; J. L. Williams, Asst. Cashier; and J. W. Hardaway, Notary.
The Lebanon Junction Bank was valued at $266,667.90. R. M. Hocker was President; W. T. Jenkins, Vice President; and W. M. Heizer, Notary.
The Peoples Bank in Mt. Washington was valued at $215,694.03. Bert Hall was President; Stuyler Harris, Vice President; and W. L. McGee, Notary.
The Bullitt County Bank in Shepherdsville had a value of $335,240.08. J. F. Combs was President; and H. H. Combs, cashier.
Charles Skidmore of Barrallton had a yoke of young steers, a good work mule, two work horses, and a good jersey wagon for sale. They could be seen at C. A. Barrall's place.
Judge Magruder, Police Judge of the town of Lebanon Junction assessed some 8 or 10 fines there that year against parents who fail to send their children to school regularly. In one case, one of the delinquents was his own grandson.
With December, the letters to Santa arrived at the paper. I can't begin to mention all of them, but here are some representative ones.
Beulah Barrall wanted a doll with long curly hair; Anna Barrall asked for a doll buggy; Willie James Campbell wanted a little pistol and candy; and Albert Ray Langley asked for a hammer and a whole bushel of nails.
Continuing with the letters, Mabel Maraman of Gap-in-Knob asked for a nice rocking chair; Thomas Preston Joyce wanted a BB gun, a basketball, and a horn; Edith May Browning asked for a doll, some oranges and candy, and a red wagon for her brother Howard.
Mary Ethel Warren urged Santa to not forget her Grandpa and Grandma; while James L. Warren wanted a sleigh, gum boots, and firecrackers.
Nanna Pearl Ferguson, 4-years-old, wanted oranges, nuts, bananas, apples, and lots of good things to eat.
Flora Lee Ferguson, who said she had been sick for a year, wanted a blue sweater trimmed in green.
Ernest Ferguson was ten. He declared that he went to school every day, and asked for a new suit of clothes, along with good things to eat.
Francis Lee Pearl covered all the bases, asking for a BB gun, a basketball and rubber ball, a boy scout suit, A Robinson Crusoe Book, oranges and other fruit, some fire crackers, nuts, roman candles, sky rockets, and popping matches!
Leona Roby, a ten-year-old, instructed Santa to pick up her big dollie from her Aunt's house in Highland Park and deliver it to her.
Martha Elizabeth Burch wanted Santa to bring her presents on Thursday instead of Christmas Eve as she would be in the City that night.
Rena Shaw asked for a coat with fur collar and muffs, a dress, and a dictionary.
A number of Hatfield children made their requests. Kathleen wanted a necklace; Lillian a little piano, Lewis Edward wanted a watch, William Lee a wagon, and Cleo said, "As there are so many of us, I'll not ask for much."
And Jannetta Armstrong said, "I am a little girl with brown eyes and light hair. Please bring me a broom so I can keep the house clean, a ball, and lots of things to eat."
---
Copyright 2020 by Charles Hartley, Shepherdsville KY. All rights are reserved. No part of the content of this page may be included in any format in any place without the written permission of the copyright holder.
---