It Happened in August
The following article by Charles Hartley originally appeared in The Pioneer News on 31 August 2015. It is archived here for your reading enjoyment.
---
We will look back 25, 50, 75 and 99 years to capture glimpses of what was happening in Bullitt County in each of these years. Today we will focus on the month of August.
1990 - 25 Years Ago.
I wonder if Julie Wilkins remembers getting her picture taken while she washed cars during the Bullitt Central Football Boosters car wash?
John Roberts wrote about school board plans to purchase a 20-acre tract off of Audubon Lane for a proposed new middle school to replace the aging Shepherdsville Middle School. Gee, I miss that old school.
Shepherdsville resident Keith Hurt was interviewed about his role as a banjo and guitar player in The Stephen Foster Story in Bardstown. He auditioned for the role on a dare by his wife Sherry.
Matt Glass, a North Bullitt grad, led a cheerleading camp for elementary school girls at Bullitt Central. He was assisted by Central cheerleaders Candi and Terri Beamer, Shellie Fackler, Amanda Johnson, Katherine Zimmer, and Jenny Brewer.
Jennifer Wallace of North Bullitt High School was honored by the Future Business Leaders of America at its national leadership conference in Washington, D.C. when she placed second in the job interview category. Her advisor at North Bullitt was Paula Maddox.
Lois Simmons of Pleasant Grove reported that Mr. and Mrs. Mack McAfee and son John went to the Hodgenville Jamboree. She also reported that Evelyn Gentry said Mr. and Mrs. Warner Baumgardner and all of their children, grandchildren, and great-grandchildren were over to the house during the July 4 holiday. They all went to Shot Dooley's place for a picnic.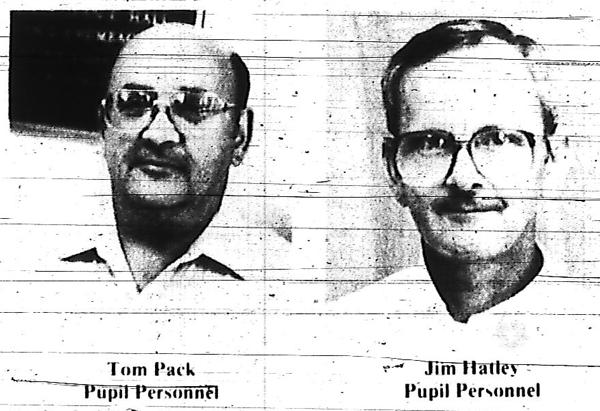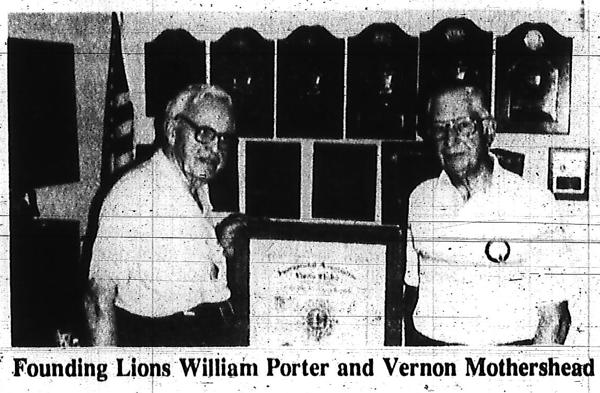 Eric Netherton and Wes Curtsinger were pictured in the paper displaying their award-winning entries summer reading program contest sponsored by the library. The drawings were to be displayed on the library walls.
Members of Boy Scout Troop 333 were pictured helping fix up the Lloyd home in Mt. Washington. The community service project was done by Eric McDonald, Sean McPherson, Jason Owen, Scott Mangum, Kerry Ashby, Gary Coy and Charlie Andrews.
Happy Cahoe was named manager of the Bullitt County branch office of Salt River R.E.C.C., and Lynn Martin was named manager of the member services department.
The paper published pictures of members of the school board staff, and I noticed right in the middle, sandwiched between Landon Perdew and Ray Smith, were the two "pupil personnel" guys, Tom Pack and Jim Hatley. I wonder how many doors they knocked on that year?
Pete Huber of Mt. Washington drove his miniature stallion Gentleman Jim to another victory at the Oldham County Fair.
Bob Bohannon and Dandy were pictured at the Old Settlers Days activities in Corydon, Indiana. For obvious reasons, Dandy was invited to help the Democratic party in the Lanesville parade, but had to decline because of a previous commitment.
And founding Lions William Porter and Vernon Mothershead were pictured at the 42nd anniversary of the Mt. Washington Lions Club.
1965 - 50 Years Ago.
As the 1965-66 school year started, the paper listed the names of all those who would be teaching in Bullitt County. Among those from the Shepherdsville school were Principal Frank Hatfield, Assistant Principal Roger Phelps, Sarah Taylor, Joseph Herde, Harold Grooms, Helen Underwood, Roberta Crafton, Nick Diachenko, Clarence "Tom" Collins, William Knob, Sue Powell, C. H. Skelton, Bertie Smith, Betty Tyler, JoAnn Bealmear, Elizabeth "Betty" Hartley, Charles Hartley, Doris Phelps, Lee Mills, Arlene Romine, George Schellenbarger, Elizabeth "Betty" Larimore, William Henry Powell, Shelby Belcher, Ruby Becknell, Ira C. King, James Land, Thomas Meadows, Malinda Thompson, Thomas Pack, James Hatley, Olen Kerns, Ray Armstrong, Jimmy McFarland, Zardetti Dawson, Augusta Dawson, Norma Wooden, Richard Martin, Ann Whitfield, David Winkenhofer, and Nancy Winkenhofer. Hard to believe its been fifty years.
T. C. "Tot" Carroll was named Lawyer of the Year at the Kentucky Bar Association Convention in Louisville.
Mrs. Charles Wheeler, the Lebanon Junction and Colesburg correspondent, reported that Mr. and Mrs. Joe Mooney and "Master Kevin" visited Mrs. T. D. McAllister on Sunday evening. Also, Mrs. Grace Mooney and Frances McAllister attended a class reunion banquet given by Mr. James Stallings and Mr. Gabe Summers.
About 200 friends attended the reception given in honor of the Reverend and Mrs. Bruce Hartsell in observance of their 20th anniversary with the Shepherdsville First Baptist Church. Among those present were Peggy Troutman, Carolyn Jackson, Rebecca Hartsell, Frank Hatfield, Mrs. Ralph Henderson, and Dr. Bruce Hamilton who were all pictured with the Hartsells.
Johnie and Helen Lee of Shepherdsville celebrated their Golden Wedding Anniversary.
At the County Fair, Barbara Armstrong was crowned "Miss Bullitt County." She was the daughter of Mr. and Mrs. S. O. Armstrong of Mt. Washington. The first runner-up was Linda Payne of Mt. Washington, the second runner-up was Sandy Divine of Shepherdsville, and the third runner-up was Eudora Thompson.
Mrs. Ida Holsclaw of Hebron, "the World's Oldest Newspaper Correspondent," reported that Bernard Bischoff and wife were off attending a horse show in Indiana. She also thanked Joe Creason for recognizing her in his column in the Louisville paper.
The paper wrote that George Wigginton had rented a CESSNA 180 and flown himself and his father George to Daytona Beach for a vacation. They returned with a cooler full of fresh shrimp.
The Wilson Creek correspondent reported that Roscoe Milligan Jr. and wife of Lebanon Junction had returned from a trip through 15 western states. Also, Mrs. Robert Harned was reported somewhat ill.
The Nichols correspondent reported that Lewis Withers had sold his property and moved to the Masonic Home. She also said that Claude Barrall, Mr. and Mrs. Charlie Paulley, Mrs. Jessie Roberts, Marvin Hopewell, Morris Hope, Mrs. JoAnne Davis and Leigh and Timothy Davis all visited with Mrs. Charles Ridgway.
And the Charles G. Bridwell family of Star Route, Shepherdsville was the 1965 Bullitt County winner of the Safe Farm Family Contest, sponsored by the Kentucky Farm Safety Committee.
1940 - 75 Years Ago.
The Hebron correspondent reported that the Intermediate B.Y.P.U. of Little Flock went on a hay ride on Ernest Brooks' truck. They were chaperoned by Mrs. P. S. Holsclaw and Elizabeth Brooks. She also reported that foxes got 38 chickens from Mrs. Homer Jordan.
Mrs. Myrtle Barrall had a farm of 119 acres located seven miles from Shepherdsville for sale. And F. G. Wrocklage at Hubers Station wanted to sell a twelve year old mule and three young goats.
Got a headache? F. E. Patterson would sell you a 100 count bottle of aspirin for 35 cents at his Shepherdsville drug store.
The Victory correspondent reported that Mrs. Fronia Harris and Miss Bertha Trunnell were guests of Mrs. Susie Roby and Leona Robinson. Also, Mr. and Mrs. O. P. Basham were Sunday visitors in the home of her niece, Mrs. Arthur Weller.
The Mt. Washington correspondent reported that Jimmie Lee, three-year-old son of Mr. and Mrs. Maurice McAfee broke the large bone in his left arm in a fall. She also reported that Mr. and Mrs. Vernon Mothershead would soon be occupying their new home on the Shepherdsville Road.
In the Lebanon Junction Notes column, it was reported that Newton Chappell and Sammie Gafford were severely injured when a lumber truck sideswiped the car they were riding in on the way home from work at Fort Knox. The column also reported that Mr. and Mrs. Argenbright and son and Joe O'Mary had returned home from a trip to Virginia Beach and Washington, D.C.
Did you hear "The Bar Nothing Ranch Gang" on radio station WINN in the morning from six to seven o'clock? The band was composed of Bullitt County folks including Norma Lane playing the guitar and singing; Charles and Curtis Hatfield handling the guitar, bass violin, mandolin, and banjo; Huber Lee on the guitar; and Canada Shepherd with his violin.
In the personals column we learned that Florence Edwards of Hodgenville visited Mrs. Thelma Newman and family. Also, Mrs. Sophia Wright of near Shepherdsville was seriously ill; and Judge S. P. Smith of Lebanon Junction was in Louisville recently visiting his daughter Ethel Smith Harned.
The paper reported that Millard J. Cundiff, son of Rev. and Mrs Richard Cundiff, received his degree from Western Teacher's College. Millard was also studying chemistry at the University of Louisville, and hoped to take up more advanced studies. I hear he did quite well.
The Barrallton correspondent reported that Mrs. Mattie Able of that community was an overnight guest of Mrs. Susie Pendleton Jones and Miss Louella Pendleton of Medora. Mr. Henry Pendleton motored Miss Louella and Mrs. Able to the South Jefferson Church to see a film.
Out at Cedar Grove, Miss Mae Bolton and Mrs. Eunice Young visited with John Bolton who seemed to be doing "real poorly."
The news from Pitts Point was that Bobby Delmar and Mildred Crump spent a Sunday with Kenneth and Virginia Harned; and that George Wise, with his rubbing alcohol was a great help to some of the ladies who were slightly injured at the softball games in Shepherdsville.
Did you make it to the fried chicken and country ham supper at St. Benedict's in Lebanon Junction? Or the fish fry sponsored by Woodmen of the World at Clermont? Or how about the ice cream social on the court house lawn sponsored by the Democratic Woman's Club of Bullitt County? Well, surely you made it to the annual fried chicken dinner at the Bullitt County fairgrounds to benefit St. Aloysius Church! No? Well, where were you anyway?
1916 - 99 Years Ago.
Your first question might be, why 99 years and not 100 years? Well, the sad answer is that not all issues of the 1915 paper are available, so we had to settle for the next year.
Irwin Funk, Judge A. E. Funk's son, passed his bar exam and qualified to practice law in Bullitt County. Anyone need a bright young lawyer?
Guy Stansbury of Smithville made the highest score on the recent civil service exam to be a rural mail carrier. The paper said he was likely to get the job. Others who passed the test include Malcolm S. Harmon, Roy Stallings, Geo M. Martin, Leslie D. Herps, and Herbert T. Crenshaw, all of Shepherdsville.
Azariah Menloe Floyd and Nora Belle Woolridge were married down at Lebanon Junction. They planned to honeymoon at Lookout Mountain in Georgia.
Uncle Barley Hall celebrated his 78th birthday, and received about ninety birthday cards.
"Dock" Owen returned home from Bowling Green after being treated there for a dog bite. The dog was said to be rabid.
Out at Cupio, Misses Minnie and Ethel Merker spent a good Sunday with Miss Nettye Mattingly; and Misses Lula Ashby and Minerva Pendleton were guest of their cousin, Miss Christina Skinner.
Mrs. Edyth Brooks spent a Saturday with her parents Mr. and Mrs. J. A. Barrall out at Barrallton. Also Prof. Edward M. Barrall opened the Sunny Side school.
David Smith, the county livestock inspector, called for a mass meeting at the courthouse for the purpose of forming a County Live Stock Sanitary Union to combat hog cholera and other contagious live stock diseases.
Mr. and Mrs. C. A. Long of Mt. Washington motored to High Grove Sunday in their new Cadillac and spent the day with her sister, Mrs. Geneva Jones.
Mrs. Al Snider and son Clarence hosted a surprise birthday party for her daughter, eight-year-old Alberta. Guests present included Mildred McClure, Garnett Smith, Emma Lee, Ella K. Gentry, Susie M. and Lilbern Parrish, Susie L. Swearingen, Levada Stout, and Edna and Naomi Meddis.
A committee was established to arrange for the Gwynn School reunion at Pitts Point. The following subcommittees were named: Program - Ella Sweeney Pope, Chairman, Mary Hornbeck Collings, Birdie Hill Dawson, and Cora Hardy Roby; transportation - J. F. Collings, Chairman, O. P. Means, Lawrence Roby, Clarence Dawson, H. H. Glenn, and Dr. S. H. Ridgway; necrology and roll call - O. W. Pearl, Chairman, Hillary Greenwell, Ben Chapeze, Dr. S. W. Bates, Ella Pope, Kate Chambers, and Ella M. Magruder; general management - Rice Lee, Chairman, C. C. Lee, Price Smith, James Greenwell, Joe Woolridge, John Hill, James. Collings, Lawrence Roby, Charles Dawson, Luther Kelley, John Woolridge, Clarence Holsclaw, Claud Barrall, and Bob Ridgway; and finance - O. W. Pearl, Ora L. Roby, Lindsay Ridgway. J. R. Zimmerman, J. W. Barrall, Ella Hays Magruder, and W. B. Gwynn. A fine collection of folks.
And James Love of Belmont offered a $5 reward for information about the whereabouts of his dog, Hunter. Hunter's half hound with white and yellow spots. Anyone seen him?
---
Copyright 2015 by Charles Hartley, Shepherdsville KY. All rights are reserved. No part of the content of this page may be included in any format in any place without the written permission of the copyright holder.
---