It Happened in August
The following article by Charles Hartley originally appeared in The Pioneer News on 25 Aug 2014. It is archived here for your reading enjoyment.
---
For a bit more than a year I've focused on the same set of years (15, 30, 60, and 90 years ago), and it is time to change. So beginning with today's column, we will look back 10, 20, 40, and 80 years to capture glimpses of what was happening in Bullitt County in each of these years. Today we will focus on the month of August.
2004 - 10 Years Ago.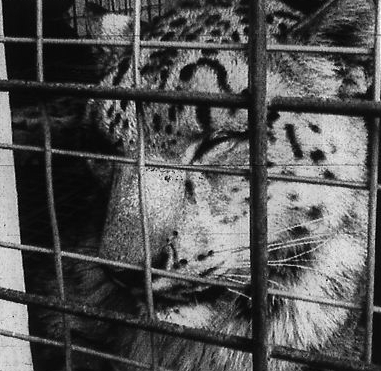 Tim Peveler spent a week hunting for his snow leopard before it was located a few hundred yards from his home in a driveway on Highway 44E.
Remember when the Carroll house stood where the parking lot is today? Fiscal Court was discussing when it would be demolished in their August meeting.
Nathan Willoughby, Kristen Yeager and Matthew Hodge of Bullitt East were excited about joining the Campbellsville University Tiger Marching Band in the fall.
Larry Dattilo and Ronnie Miller were the overall winners in the Salt River Canoe Race. Also, Natalie Hettinger placed first in the kayak race.
Sarah Anderson and Sheridan Hamilton were competing in the World Series for 12 and under girls in Illinois as part of the Prairie Valley fast-pitch softball team.
Mt. Washington resident Dan Baker purchased a South American Macaw at the Exotic Bird Fair at Paroquet Springs Conference Center.
Fred Noe of Beams Distillery was interviewed by the History Channel for a piece on the bourbon industry.
Lanse, Lynsey, Reese, and Trase Milburn; Brett, Brooke, and Tate Hatfield; and Amber Sewell were all pictured in the paper as medal winners in the Bluegrass State Games.
Bullitt Central senior Stacey Harvey, who played the tenor saxophone, was twice honored; first as a member of the all state band, and second to participate in the Governor's School for the Arts.
Amanda Decker, a Hillview resident and Bullitt Central graduate, received a scholarship from the Bullitt County 4-H to help pay for her books as she enrolled at University of Louisville.
Brent Dennison, a Bullitt Central alumni, was selected as BC's new basketball coach.
Kim Jacobs received the James W. Hardaway Memorial Scholarship. She planned to attend Elizabethtown Community College and then Spalding University to major in nursing.
Dub and Alice Armstrong celebrated their 50th wedding anniversary this month; as did Robert and Mary Richardson.
Walter Thomas Knapp, a longtime member of Masonic Lodge 180 in Mt. Washington, was honored by having a new scholarship named in his honor. Knapp, who was approaching his 90th birthday, also received his 50-year pin as a member of the fraternal group.
And Judy Antle caught nearly 17 lbs of Bass including three big ones to take first place in the WFBA tournament. Way to go, Judy!
1994 - 20 Years Ago.
Did you know that Cliftina Weakley of Mt. Washington danced in the streets of Denmark, and also was among dancers who performed for Denmark's Queen?
The paper reported that Fiscal Court would make a grant request to establish the Bullitt Lick Historical Park on a 52 acre site off Blue Lick Road in Shepherdsville. Tourist Coordinator Elaine Wilson outlined the dreams for the park which would include an interpretive center. What happened to those plans?
Kevin Lund, three-year-old son of Karen and Bill Lund, was pictured having a great time hopping around in an Astro Jump at the VBS carnival held at the Shepherdsville Christian Church.
Rhonda Keith, PVA for Bullitt County, was recognized as the Outstanding PVA of the Year for Kentucky.
The Lighthouse Quartet of Little Flock Baptist Church was planning to perform at the Kentucky State Fair. Its members included Herb Hofer, Joe Parrish, Eugene Hogg, and Joe Metcalfe.
Lois Simmons of Pleasant Grove reported that Mr. and Mrs. Bill Etheridge had a picnic at their farm for family and relatives, a large crowd who all enjoyed themselves.
Louise Bischoff, reporting for the Hebron/Zoneton area, congratulated Mr. and Mrs. Adrian Larimore on their 25th wedding anniversary.
Jane Faith of the Knob Creek area reported that the girls at Bernie's Enterprises were happy to have Patti back to work after being off a week with pneumonia. Jane also congratulated Shauntain Bruce for winning $1000 at bingo; and wrote that Jerry Nash was "slightly touched" by lightning while putting up a fence.
Carolyn Sweazy, Darlene Haley, Evelyn Owen, and Virginia Ray all retired from the school system.
Kristi McCauley (Bullitt East), Kristi Hess (North Bullitt), and Chris Tatchell (also NB) took part in the Kentucky Youth Seminar at UK.
Allison Napier got to meet Mickey Mouse when she and the rest of the Studio Elite dancers traveled to Orlando to perform.
There were plenty of artists at work at the Bullitt County Fair including Robena Shepherd, Wanda Wright, Jean Cox, Viola Logsdon, Bernard Bischoff, Mary E. Farmer, Lynda Kindrick, and Jennifer McCawley. Viola was the Grand Champion.
Matthew Sollberger, Zachary Maupin, and Aaron Sollberger were winners in the elementary school bowling league at Mt. Washington. The middle school winners were Dustin Prewitt, Mitchell Riordan, and Justin Patton.
Leo and Ernestine Price celebrated their 50th wedding anniversary this month.
And Nine-year-old Paige Barnsfather earned a gold medal on the balance beam, and six-year-old Curtis Hall grabbed a silver medal in the 50-meter breaststroke at the annual Bluegrass State Games in Lexington. Nice job!
1974 - 40 Years Ago.
Kathy Stallings was selected as the Grand Champion in the Western Division of the Kentucky 4-H Horse Show.
Mrs. Laura Bell celebrated her 84th birthday at the Sun Valley County Club with family and friends.
Gladys Shepherd of Bullitt Lick reported that the R. A. boys had a campout at Ronnie Parker's. The boys had a good time, but Ronnie and Tony Rose, their leaders, didn't get much sleep.
Gladys also reported that Bro. and Mrs. Odell Leigh celebrated their 25th anniversary. She recalled that he had been Bullitt Lick Church's first full time pastor.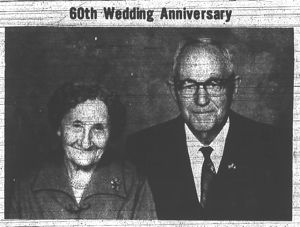 Speaking of anniversaries, Claude and Belle Leath celebrated their 60th wedding anniversary on August 23rd.
Helen Foster must have been trying to be very careful herself after one sister broke a hand and another sister broke a leg in the same week.
The Hebron correspondent reported that Mr. and Mrs. Paul Owen had returned from the East Coast where they took their daughter Marilyn, who left for Germany in service for her country.
J. C. Thompson purchased the Bullitt County Hardware store located next to his grocery on Buckman Street. J. C., who had been manager of Hardy's Supermarket for many years, bought that store five years ago.
Jerry Troutman of Bullitt Central played in the East-West all star basketball game where he played a great floor game, and scored six points.
The Lebanon Junction correspondent mentioned that anyone wanting to join the Boy Scouts should contact Wayne Goodlett.
Five Bullitt County boys, Troy Revellette, Raymond Rummage, Timmy Ellis, Rusty Ament, and Petey Moore, got to spend a week at Trooper Island in Dale Hollow Lake thanks to the State Troopers. I know they had a good time.
Tom Waller was elected president of the Bullitt County Bar Association.
John C. Newcomb signed his first contract with the Gulf Refining Company in 1924, and 50 years later he was honored by the company for his service. Seems like I see that name on gasoline trucks a lot.
Mrs. Mary Whitworth wrote in the Cedar Grove Newsletter, "Men, why not make this agreement with your wife. If she will quit driving from the back seat, you will quit cooking from the dining table." Wonder who that message was for?
1934 - 80 Years Ago.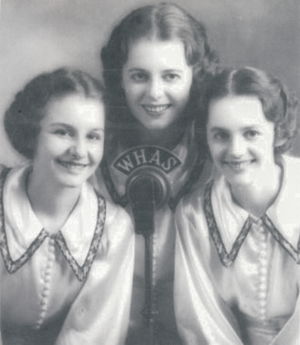 Sanders Sisters
Margaret, Lois, and Elizabeth Sanders, former residents of Shepherdsville, received a contract with WHAS radio to appear daily in a group of popular vocal and piano selections.
William F. Russell had taken over the duties of Superintendent of the Shepherdsville School.
Among those whose deaths were reported this month were Mike Bowman, Jim Henry Wilson, Judson Garr, Vivian Coakley, and Claud Morgan Crist.
Mrs. Minnie Maraman, Charles, Eva, Ida Maraman and Albert McAhron spent a pleasant Sunday with Mr. and Mrs. McKinley York and family.
The paper named the following local officials: J. D. "Jiggs" Buckman, Circuit Clerk; C. P. Bradbury, County Judge; Lindsay Ridgway, County Attorney; Tommy Wilson, County Clerk; Embra Wilson, Jailer; R. E. McAfee, Sheriff; Hillary Hardy and Lee Booth, Deputies; and Robert Armstrong, J. R. Cornell, Amp. Mudd, and John Samuels, Magistrates.
C. M. Ragsdale of Brooks advertised 60 gallon oak barrels for sale at a dollar apiece.
The following school trustees were appointed by the School Board: Charles Edwards, Sunnyside; D. F. Norton, Zoneton; J. E. Fisher, Mt. Washington; Arch Raymond, Cedar Glades; Eugene Jackson, Pleasant Hill; W. C. Lanham, Cedar Grove; J. A. Roby, Victory; W. J. Shaw, Woodsdale; Alex Riley, Hobbs; Rice Dawson, Pitts Point; Roscoe Thurman, Mt. Carmel; Geo. D. Bradbury, Belmont; Chas. F. Roberts, Bowman Valley; J. W. Goldsmith, Mt. Olive; Charles E. Holsclaw, Glen Meadows; J. W. Shepherd, Bullitt Lick; Albert Armstrong, Pleasant Grove; Palmer Hedges, Hebron; Chas. Kneisler, Brooks; S. O. Armstrong, Bethel; Ed Vittitoe, Clermont; Arthur Cundiff, Beech Grove; Albert Mitchell, Hays; Fred Myers, Harned; J. L. Rodgers, Culver Springs; Hallie Lee, Oak Grove; Tom Elzy, Sharps; Garnie Merker, Nichols; C. L. Stansbury, Sugar Valley; and W. T. Armstrong, Bardstown Jct. That's a lot of schools!
Professor George Yates, science teacher at the Shepherdsville School, returned from an East Coast vacation where he did some deep sea fishing and snagged a 75 lb shark.
The Wilson Creek correspondent reported that Marshal Bernard was being rushed to a Louisville hospital in Otha Quick's ambulance when it collided with a truck. He was transferred to a car and rushed on St. Joseph's Infirmary for an appendicitis operation. Bill Masden was injured in the accident.
The Victory correspondent reported that Ola Roby bought a Pontiac car.
Charles Ratliff of Shepherdsville was awarded the contract to operate a school bus over the Huber-Muddy Lane-Hebron-Shepherdsville route. The route will be by way of the Gap in the Knob to Huber Station, thence to Muddy Lane, thence to Preston Street Road, back to Hebron and on to Shepherdsville.
Hmmm... I hear that they're still needing bus drivers; I wonder if Mr. Ratliff is available?
---
Copyright 2014 by Charles Hartley, Shepherdsville KY. All rights are reserved. No part of the content of this page may be included in any format in any place without the written permission of the copyright holder.
---