It Happened in August
The following article by Charles Hartley originally appeared in The Pioneer News on 26 Aug 2019. It is archived here for your reading enjoyment.
---
We will be looking back 24, 50, 75, and 100 years to see what was being printed in The Pioneer News in 1995, 1969, 1944, and 1919 in the month of August.
Some may notice that I've jumped from 1994 to 1995 for this month's column. The reason is that I already covered the last five months of 1994 five years ago. Thought I'd better not repeat myself.
1995 - 24 Years Ago.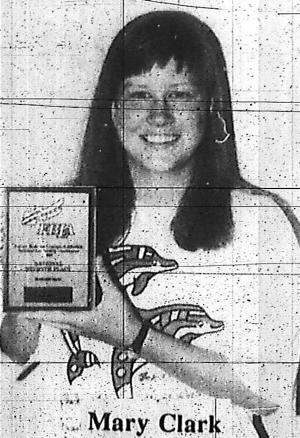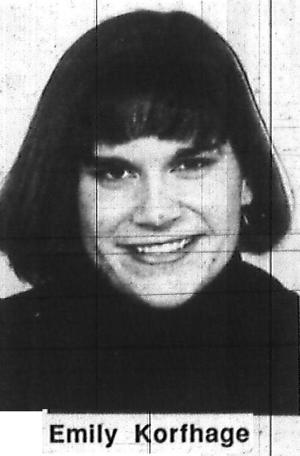 John Roberts wrote a feature on Rolene Wooldridge who owned Forest Hill Livery with her husband John, and who provided carriage rides in Shepherdsville and at Bernheim Forest.
Mary Clark of Bullitt Central, daughter of Eugene and Jean Clark of Shepherdsville, placed seventh in the nation at the Future Business Leaders of America National Leadership Conference in Orlando.
Nicholas Marsh, a magna cum laude graduate of Williams College, received an award for his essay in Afro-American Studies. He had since enrolled at Duke University law school. He was a son of Jim Marsh of Shepherdsville.
Emily Korfhage, daughter of Ted and Gayle Korfhage, and a graduate of Bullitt Central, began attending Transylvania on scholarship. While at Bullitt Central, she was captain of the speech and debate team, and a member of the Governor's Cabinet for the Kentucky Youth Assembly. She was also a Kentucky Governor's Scholar.
Charles and Faye McCubbins of Shepherdsville celebrated their golden wedding anniversary. Their children included Anna June Nix, Venita Nix, Keith McCubbins, Cindy Nation, Buster McCubbins, and Charles "Dickie" McCubbins.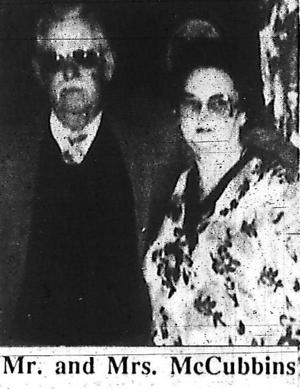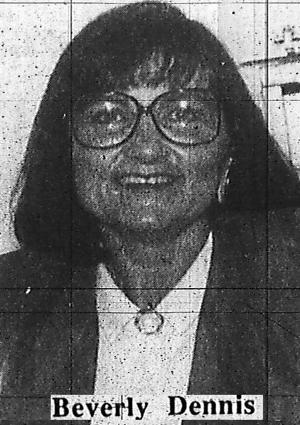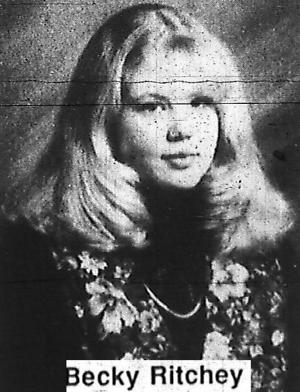 Beverly Dennis was appointed as the new principal at the Bullitt County Technical Center, replacing Jon Zekausky.
Becky Ritchey joined the YMCA Leaders Club in 1991, and was president in 1993-94. She was honored for her work by the YMCA, and was hired as a junior counselor at Camp Piomingo.
The Delaney family brought home 16 medals from the Bluegrass State Games. John and Debbie Delaney each earned five medals, as did their 13-year-old daughter Kristen; and Hollie, a 10-year-old, earned the other one. All of their medals were in canoeing events, something the family enjoyed with yearly trips to Alaska to canoe on rivers there.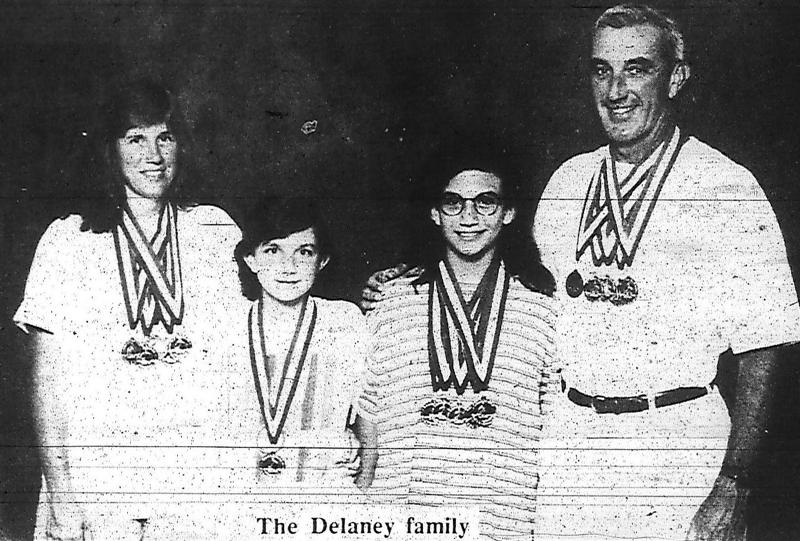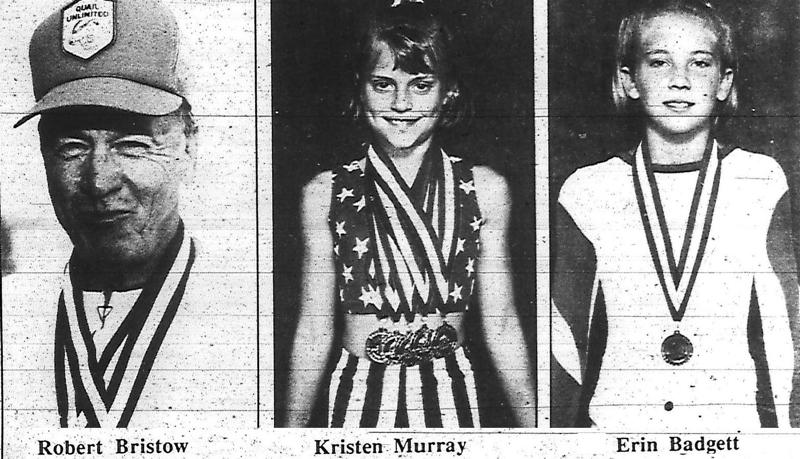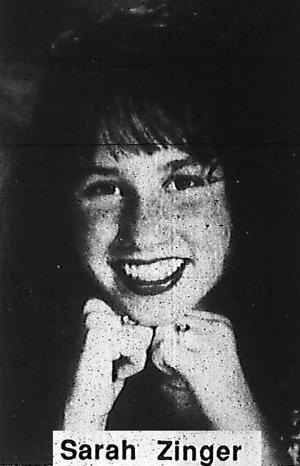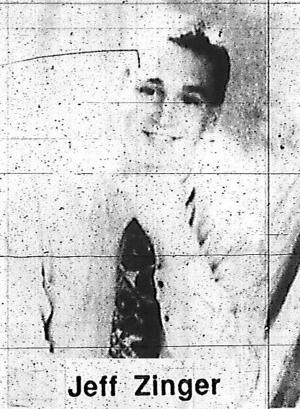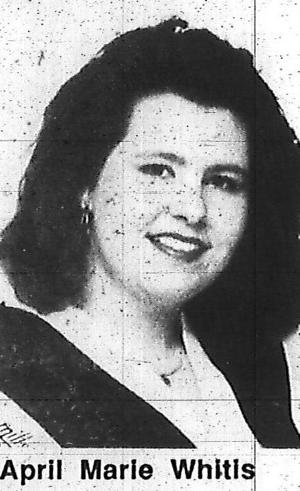 Other medal winners included Kristen Murray of Mt. Washington who won first place in the vault, floor, and all-around events. Other gymnastics medal winners were Paige Barnsfather and Erin Badgett. Additionally, Robert Bristow of Mt. Washington took the gold in the Master's division in Skeet Shooting; Ryan Eatherly of Shepherdsville placed first in the 50 meter backstroke and 100 meter freestyle; Brenda Metcalf of Brooks placed first in women's open table tennis; and Keith Morris of Shepherdsville took a gold in archery.
Sarah and Jeff Zinger, both graduates of North Bullitt High School, were pictured in the paper for receiving school honors. Sarah received the Presidential Scholarship at Spalding University, and Jeff was named to the Dean's List at the University of Kentucky. Their parents were Marcia and Steven Zinger of Hillview.
Also, April Marie Whitis was on the Dean's List at the University of Kentucky.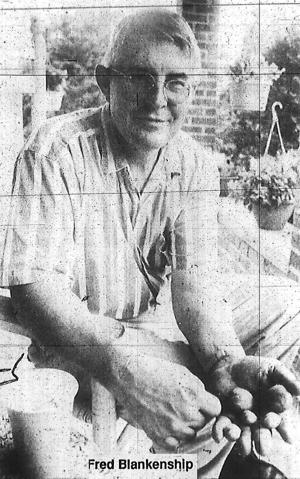 John Clan of ALLTEL and Bill Downs, Randy Nalley, Bobby Hill, Joe Osborne, and John Newton of Salt River RECC were kept busy repairing and replacing power lines and poles following a week of severe thunderstorms.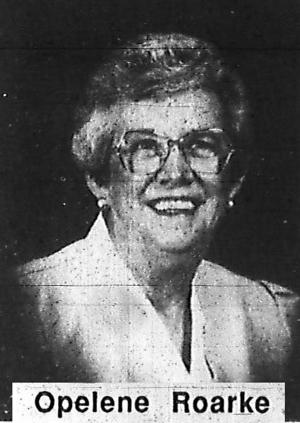 Fred Blankenship enjoyed being an official judge for the nut category at the State Fair. He enjoyed even more growing nut trees and grafting seedlings to get new varieties. His favorite seemed to be the hican, a cross between a hickory and a pecan.
When school started in the Fall, there would be one less "Dude" riding bus 16. Opelene "Dude" Roarke (wonder how she got that nickname) retired after driving school buses for 31 years. Before driving that special education bus for six years, she drove the larger buses in the northern part of the county.
And forgive me as I take a moment to recall the passing of a dear lady, Marjorie Jean Casey, a retired Bullitt County teacher at Roby and Bullitt Lick, and my mother.
1969 - 50 Years Ago.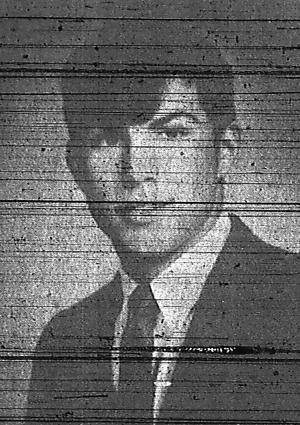 John Ice
John Ice, son of Mr. and Mrs. Jeffie Ice of Lebanon Junction was awarded a scholarship to attend Eastern Kentucky University. He graduated from S.H.S. where he participated in football, track, and baseball.
Gladys Sprinkle of Mt. Washington wrote that a birthday dessert was held to honor Dr. J. F. Furnish and Mr. Charles Lamb on July 26th, an event that is celebrated yearly at one or the other's home.
The Hebron correspondent reported that Mrs. Virginia Shelburne fell down the basement steps, but sustained just bruises. Also, she reported that Becky Becnel had graduated from UK and accepted a good position in Cincinnati; and that J. W. Holsclaw and King Pettit had returned home from Alaska where they attended Baptist churches in both Fairbanks and Anchorage.
Mrs. Lanham of Cedar Grove reported that Mrs. James Foley was injured in a wreck. She also reported that she and Mrs. Bud Hardin, Miss Penny Lanham, and Miss Beverly Avery had traveled to the old fort at Harrodsburg.
Clara Simmons of Pleasant Grove reported that Robin, Gina, and Amy Armstrong spent a weekend with their grandparents, Mr. and Mrs. Wallace Armstrong. She also wrote that Kendall Grant had his tonsils removed; that Mr. and Mrs. J. B. Proctor treated Mr. Albert Armstrong and Mr. and Mrs. Wallace Armstrong to supper at the King's Table; and that Mrs. Madelene Porter and Miss Ella Proctor were vacationing in Washington, D.C.
The annual Samuels Reunion was held at the Triangle Farm of Mr. and Mrs. W. B. Samuels in Lebanon Junction. There were 104 people in attendance.
Vickie Ann Sprinkle, in her School Daze column, reported that Mr. Leon Remington, former assistant principal at Shepherdsville, was the new principal at Mt. Washington; and Mr. Ronald Murphy was the new assistant principal there.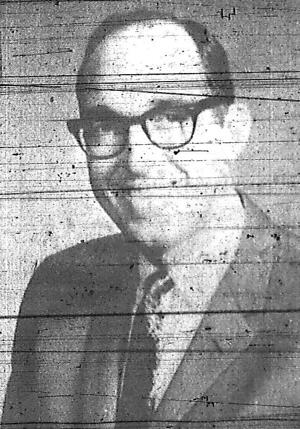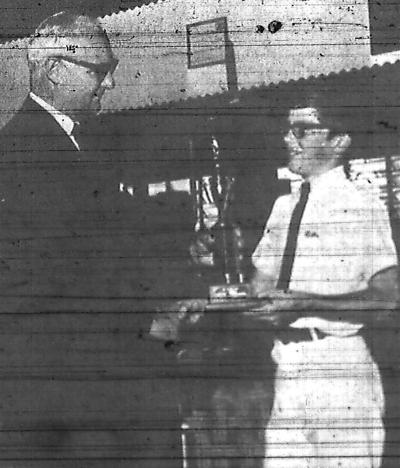 Billy Horrell, Paul Mann, and Billy Miller
Billy B. Horrell completed his doctorate, and was named to the faculty of Kentucky Wesleyan College. He had been connected with Bullitt County Schools for 15 years including seven as principal at Roby Elementary.
Paul Mann was a grand prize winner of the European Holiday drawing sponsored by the Encyclopedia Britannica.
Billy Miller was pictured receiving the 4-H Herdsmanship Trophy from the Kentucky Commissioner of Agriculture.
And as they prepared for the season to begin, the paper carried an article about the S.H.S. football team. Mentioned were linesmen James Masden, Bill Deats, Gary Sadler, Ronnie Price, Gary Roberts, Ricky Simms, Kirk Gillenwater, Donny Perry, and Terry Larimore. The backfield included Larry Hodge, James Snell, David Anderson, Larry Hilton, Eric Cundiff, Tim Crumbacker and Mike Cowan. Others mentioned included Ted Korfhage, Jack Rhea, Pat Magruder, Clinton Sears, Henry Hume, Gary Meyers, and John Cloudy.
1944 - 75 Years Ago.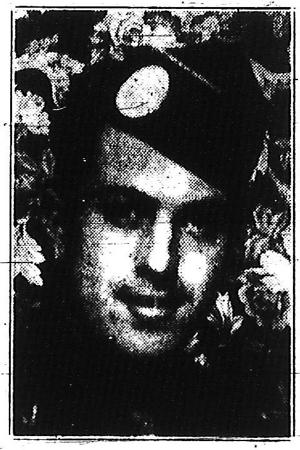 Mack Maraman Jr.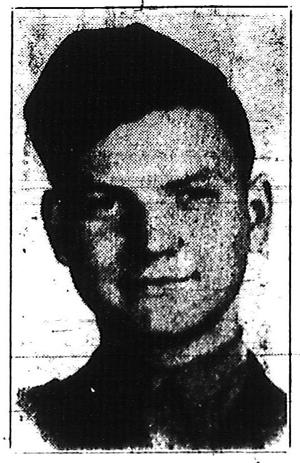 Commie Robison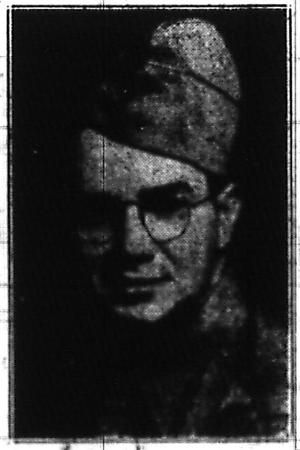 Wilbur Strange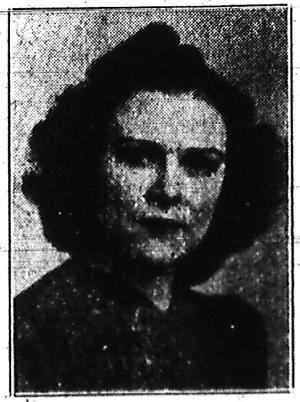 Jean Rouse
In Lebanon Junction news, the Eastern Star Chapter held an anniversary party for its charter members, including Mrs. Mollie Hocker, Mrs. Leona Coleman, Mrs. Ada Carter, and Mrs. Ethel McMillen.
The Mt. Washington correspondent expressed sympathy to Mrs. Annie Talbott of Bardstown in the death of her sister, Miss Jeannette Sutherland who had lived in Mt. Washington for many years.
She also reported that Mrs. Randolph Porter and Doris Ann Pound had both had their tonsils removed, and both were getting back to normal.
The paper reported that PFC Mack H. Maraman was reported missing in action in France. Thankfully, according to later reports, he had been taken captive by the Germans, and was reported as liberated in 1945.
Not as fortunate was PFC Commie L. Robison, son of Mr. and Mrs. Pete Robison of Clermont. He was reported killed in action in June.
In Salt River community news, Mr. and Mrs. Elsie Masden gave a dinner in honor of their two sons who were home from overseas, Capt. Gilbert Masden and S-Sgt. W. B. Masden. The occasion was also the birthday of their son-in-law, Sgt. Kenneth McCubbins.
The paper reported that two of the four sons of Mr. and Mrs. Stonewall Tinnell who were overseas had been wounded in action: PFC Harold R. Tinnell and PFC Chester Tinnell.
The paper continued to be full of war news with the Personals column identifying Pvt. Edgar Karr wounded in the Mediterranean area, and PFC Howard Jackson wounded in France. Also, Miss Florine Carr was accepted in the United States Cadet Nurse Corps. She was a Lebanon Junction High School graduate.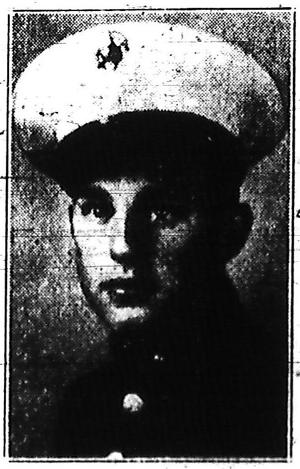 George Edward Bradbury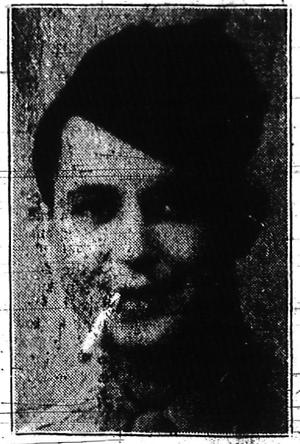 William Hatfield
Election officers for the August primary were announced. With so many young men away at the war, most of these names would be of older men, and women who stepped forward to fill the need. They included W. F. Joyce, Fronia Samuels, Lida Armstrong, and Margaret Foster in the first Shepherdsville district; J. M. Larimore, Mrs. E. G. Quick, Mack Jones, Sr., and Blanche Howlett in the second district; Harvey Owen, J. M. Havey, James L. Beghtol, and Mrs. Lee Hatzell at Brooks; W. P. Foster, Gladys Shepherd, Ed Shepherd, and Essie Holsclaw at Knobs; Albert Abel, Joe Samuels, John Marcum, and Mrs. George Atkisson at Cupio; T. D. McAllister, C. A. Masden, Julius Cundiff, and Mary G. Hardaway in the 6th district at Salt River; German Branham, Mrs. Tom Parrish, John L. Walls, and Margaret Grigsby in the 7th at Mt. Washington; S. B. Owen, S. O. Armstrong, J. B. Proctor, and Mary Fisher in the other Mt. Washington precinct.
Continuing, Mrs. John Oliver, Mrs. George Wigginton, Mrs. Margaret Wigginton, and Mrs. Ella S. Pope served at Zoneton; Tom Close, K. F. Bolton, Elmer Cundiff, and Mrs. John Lane at Cedar Grove; R. J. Clark, Ed R. Ash, Milton Clark, and Mrs. Hyte Rouse at Leaches; Henry Fearnbach, Alex Riley, Mrs. Charles Fearnbach, and Mrs. Charles Robinson at Clermont; Mrs. Winnie Fisel, S. H. Ricketts, Mrs. N. E. McMillen, and Mrs. Christine Boone at the 13th in Lebanon Junction; Andrew Mann, Mrs. Vina Roby, Mrs. Tillie VanFleet, and Mrs. J. W. Stark in the 14th at LJ; Gladys Bradbury, Luke Ryan, George Ashbaugh, and Mary Bradbury at Belmont; and Otto Cundiff, Frank Carpenter, Mrs. Annie Cundiff, and Mrs. Arthur Cundiff at Beech Grove.
The paper shared a photo of PFC George Edward Bradbury who was serving in the South Pacific as a radio operator. In another picture we found PFC William E. "Dude" Hatfield, son of Earl Hatfield of Shepherdsville. He was in the Air Corps Supply Squadron in Italy.
Also pictured was Pvt. Joseph Wilbur Strange who had been wounded in Italy. He was the son of Mrs. Nancy Strange.
And on a happier note, Hyte & Florence Rouse of Cox's Creek announced the engagement of their daughter Jean DeVere Rouse to Kenneth L. Stinnette, a student at the University of Louisville School of Medicine. Dr. and Mrs. Stinnette would spend many years in Bardstown.
1919 - 100 Years Ago.
The newspaper reported that Roy Masden shot at thieves trying to steal his chickens; but the gun report scared his horse which then ran against a fence and broke its neck. Ouch!
The Pleasant Grove correspondent reported that J. B. Proctor had his new truck and was ready to haul live stock or anything that one had to dispose of. He had made several trips to the city already.
She also reported that, during a thunderstorm, lightning struck a tree at the Pleasant Grove school house and knocked Norma Ridgway down.
The Cedar Creek correspondent reported that Misses Ella Mae Parris, Bertha Engel, Ansilee Barger and Francis Parris, and Messrs. Alf Weller, Roy Shaw, George Parris, and Virgil Roby were visitors of Misses Alleen and Texia Swearingen on a Sunday.
Mrs. Elizabeth Parrish lost her black handbag somewhere between Mr. McAfee's and Mr. Barley Hall's place. If you find it, please return it to Barley, Frank Porter, or at Barnes' store.
Albert Snider declined to run for State Representative against Dr. B. F. Shields because he would not run against anyone who had served his country in the war with Germany.
D. M. Kelley, a farmer and merchant of Mt. Eden, sold a fine calf that weighed 180 lbs. At 19-3/4 cents per pound, it brought $34.65. The editor wanted to know if anyone could beat that.
Mrs. Maggie Welch had some used farming implements, a buggy and a cart for sale.
Miss Margaret Hardesty, Robert Hardesty and Charles Daniel, of Shepherdsville, spent the weekend with Miss Nellie May Scott in the Hebron neighborhood.
The following teachers had charge of the Shepherdsville School that year: J. H. Sanders, Supt; Helen Burkholder, Mary Thompson, Pearl Hickerson, Clara Duvall, Nadine Melton and Bertie Monroe.
The paper reported on the death of Mrs. Tom Pauley who died at her Weaver's Run home August 3. She had been confined to bed with cancer for some time. The former Miss Hallie Phelps, she was laid to rest in the Phelps burying ground.
The Circuit Court Grand Jury members included Joe Welch, Alvin Viers, William Lamb, M. H. Braithwaite, Wayne Harris, James Newman, Roy Masden, James Griffin, Ewing Crenshaw, George Miller, Ed Rhea, and Bev Brashear.
The paper reported that Ed Rodgers of near Mt. Eden was about the only one in the county who had any peaches to sell. The ones he brought to town sold at $3.00 a bushel.
The George W. Maraman & Sons store advertised that they would have about 30 Holstein cows to freshen in September. The Maramans combined a fine farm with a good store in town.
The Hebron correspondent reported that J. W. Brooks, Jr. was kicked in the face by a young mule, but not seriously hurt.
We learned in the Personals column that Mrs. S. H. Ridgway, Willie May Ridgway, Samuel Ridgway, Ruth Dodds Smith, Martha Lee, Beulah Lee, Ursa Funk, Margery Walker, Mr. and Mrs. J. E. Chappell and son all spent a weekend at Mammoth Onyx Cave.
J. A. Barrall, who had been in the saw mill business for over 40 years, sold his mill and retired.
And a notice was printed seeking the whereabouts of John W. or Lucy Evelyn Smith, parents of Frank Smith, deceased soldier, who gave his emergency address as Belmont, Kentucky. The editor had written in an earlier paper that no one seemed to know this family.
---
Copyright 2019 by Charles Hartley, Shepherdsville KY. All rights are reserved. No part of the content of this page may be included in any format in any place without the written permission of the copyright holder.
---