It Happened in August
The following article by Charles Hartley originally appeared in The Pioneer News on 27 Aug 2018. It is archived here for your reading enjoyment.
---
We will be looking back 25, 50, 75, and 100 years to see what was being printed in The Pioneer News in 1993, 1968, 1943, and 1918 in the month of August.
1993 - 25 Years Ago.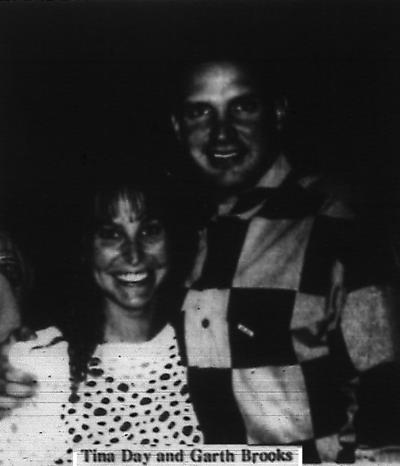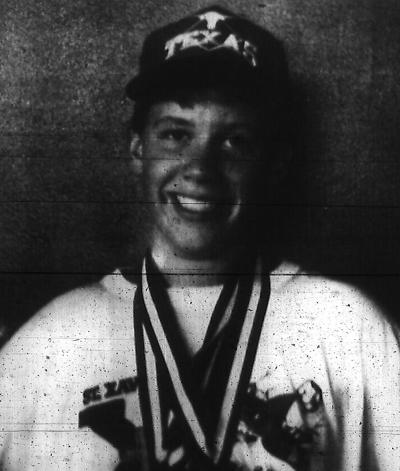 Ryan Eatherly
Tina Day would probably never forget her trip to Nashville when she was photographed with the country music star Garth Brooks.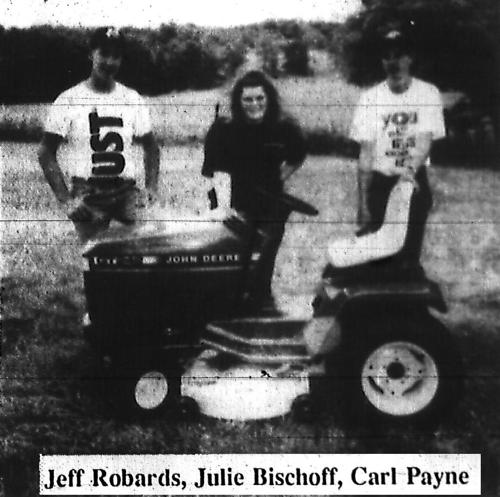 Julie Bischoff, Carl Payne, and Jeff Robards participated in a 4-H Tractor Driving Contest in Henry County. Jeff, a student at North Bullitt, won both senior divisions of the contest, Carl placed third, and Julie placed sixth in the junior compact division.
Ryan Eatherly of Nichols won five medals in the swimming competition of the Bluegrass State Games in Lexington. He took first place in the 50-meter backstoke and freestyle, and the 100-meter freestyle. He also won a silver medal in the 50-meter butterfly, and a bronze when he teamed up with his brother Ryan in the 200-meter medley relay.
Charlotte Goodman won three gold medals in the equestrian events, and the father-son team of William and Michael Whitfill earned three golds in shooting competitions.
Heather Taylor, Cara Cimilluca, Mandy Glass, Dana Davenport, Jennifer Noc, Brandey Israel, Amy Tobbe, Dara Davenport, Noelle Bickel, Sarah Zinger, Beth Leonard, and Helen Glover came home to North Bullitt High as Camp Champs of the Murray State Cheerleading Camp.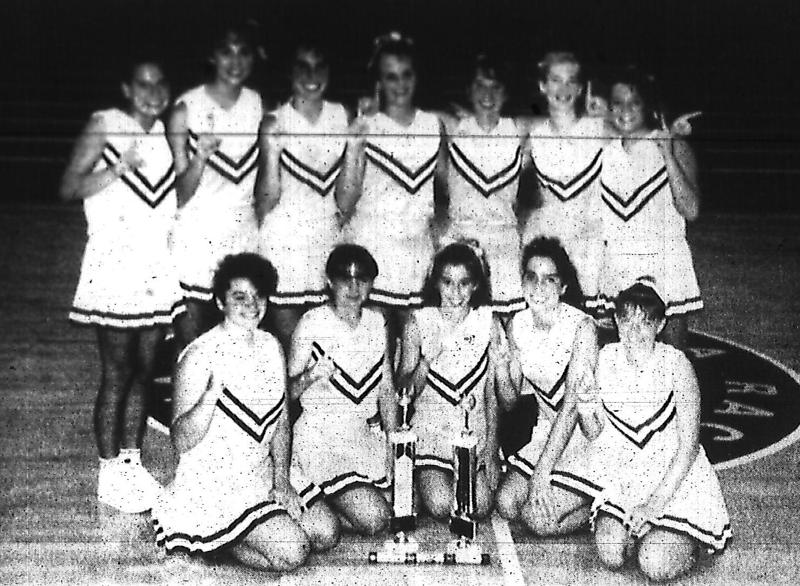 Billy Smith of the People's Bank of Mt. Washington was pictured in the paper after completing his first year of Loans School from the Kentucky Bank Management Institute at WKU.
Linda Farris was one of more than twenty GED recipients at a special graduation ceremony, and was pictured hugging a proud daughter, Mandy.
Keith Heath, son of Albert and Glenda Heath, was named as a Dean's Scholar at the University of Louisville with his 4.0 grade point average. Keith graduated from Bullitt Central in 1991.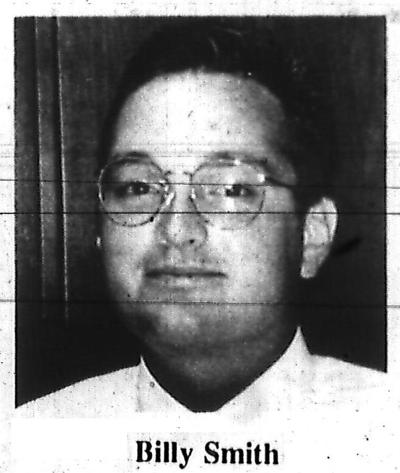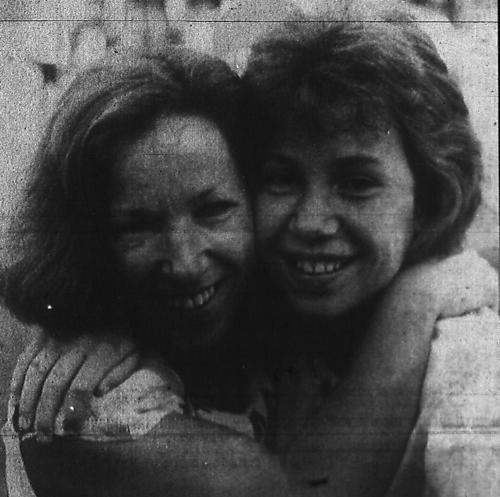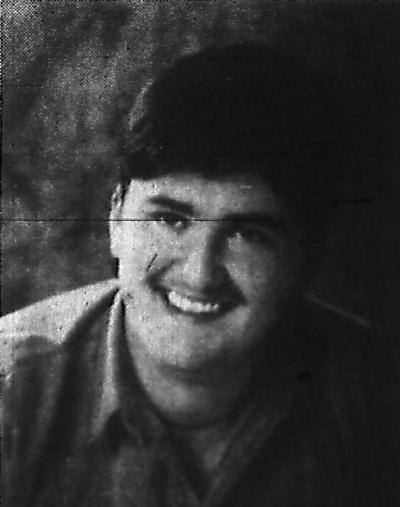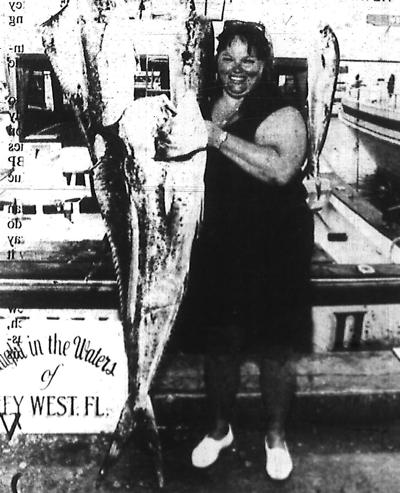 Lois Simmons of Pleasant Grove described the comings and goings of the community, and mentioned that Jack Stallings had been out baling hay in the hot weather. She also mentioned that Clifford and Helen Foster spent some time in Georgia with their daughter Lana and her husband Gregg. Clifford had retired in June.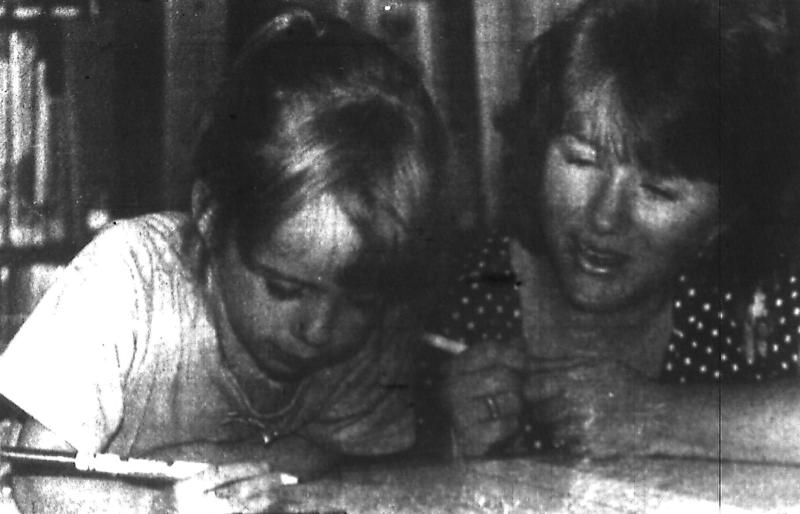 Morgan draws Kermit
Morgan Jury drew Kermit the Frog while her mother Tammy watched during one of the special activities at the local library.
Janet Franklin of Mt. Washington landed a 32 pounder while fishing in the waters surrounding Key West.
Oretha Ridgway of Nichols was happy to report the visits of Pauline Appelhaus and Deanna Sinnett, as well as offering thanks to Darlene Youngblood for sharing vegetables.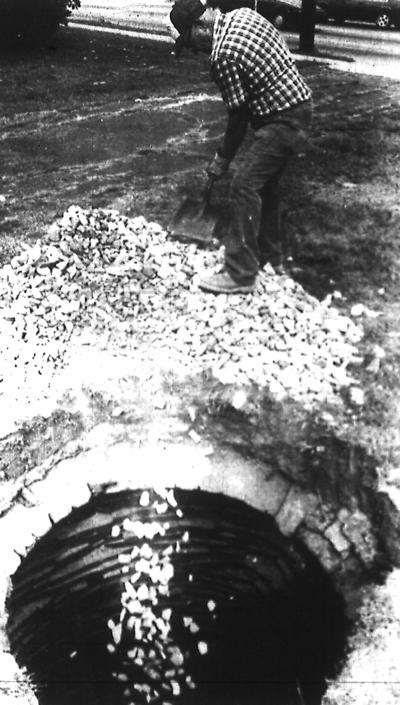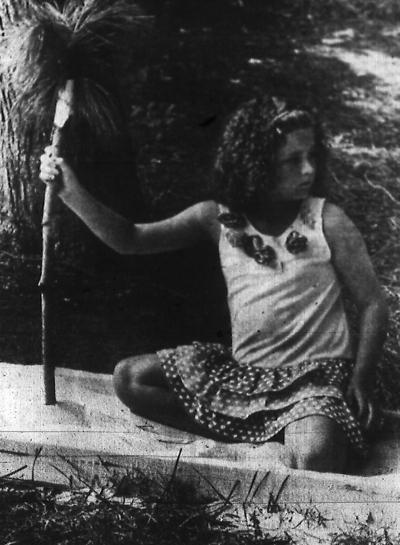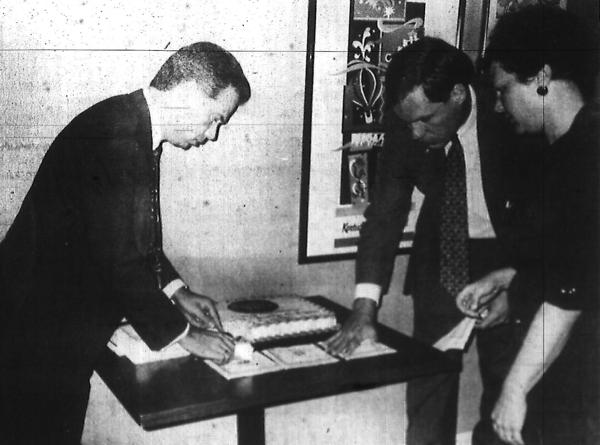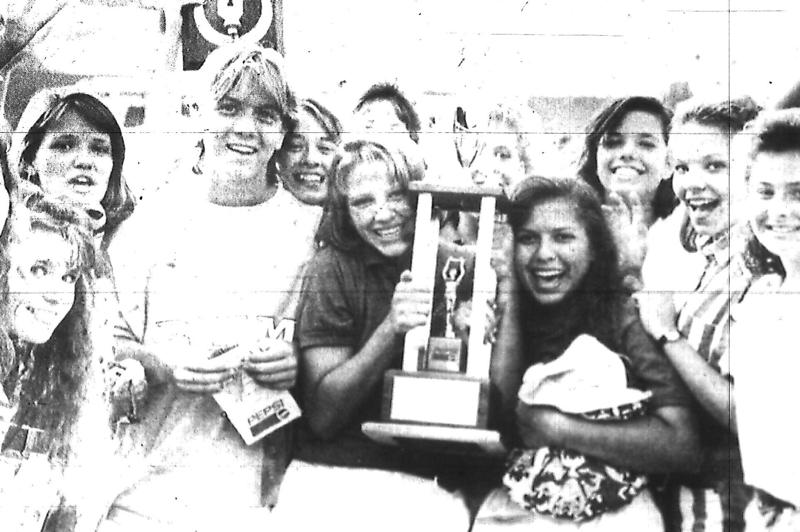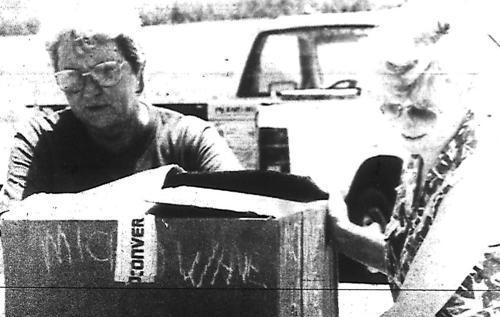 The Kiwanis Club of Bullitt County celebrated their fifth anniversary with a party. The paper pictured former presidents Roy Welch and Lynn Martin helping Margaret Hamilton cut and pass out the cake.
R. L. Farmer was pictured shoveling gravel into a well at the former home of Mrs. Charles Ashby. Roy and Rhonda Welch had purchased the building to turn it into a law office. They filled the well to prevent anyone from falling in it.
Jennifer Bischoff was pictured playing in a recyclable sandbox at Bernheim Forest as part of environmental awareness day.
Bullitt East Marching Band Field Commander Shannon McClain led her squad to bring home top honors at the Kentucky State Fair Marching Band Competition despite not having a director. Director Cathy Ardrey had resigned just prior to the competition and faculty member Jerry Neal volunteered to be the adult sponsor for the band.
Betty Lane and Pamela Cook were pictured helping to move equipment and supplies into the new Bernheim Middle School where Betty was secretary and Pam was guidance counselor. The school site-based council included Principal Joe Mills, teachers Jean Oney, Delores Mudd, and Julia Barker, and parents Paula Blankenship and Val McClearan.
And the Shepherdsville VFD received the Jim Walton Traveling Trophy for attaining the largest percentage increase of Crusade for Children donations for departments raising between ten and fifty thousand dollars for the Crusade. The department increased their collection 176% over the previous year.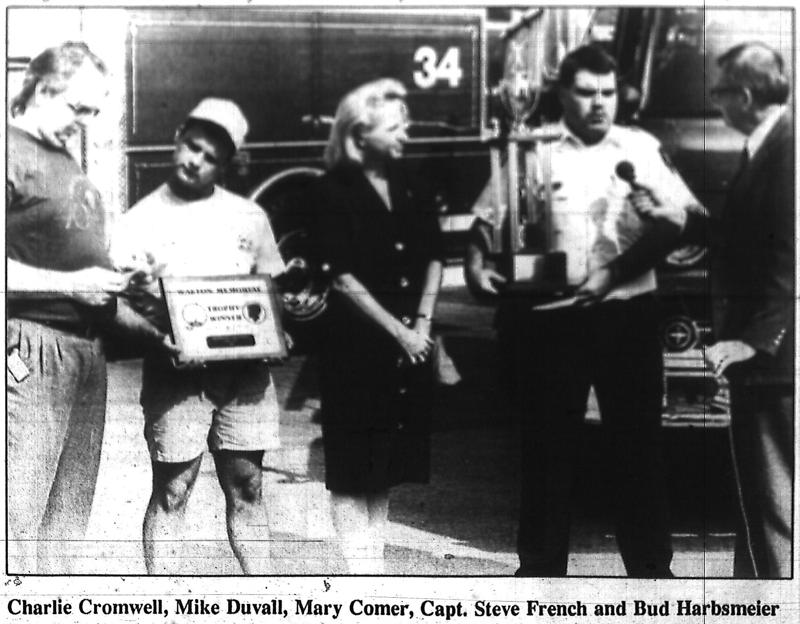 1968 - 50 Years Ago.
Dr. Ronald Masden, a Shepherdsville native, was appointed to the Heart Disease and Stroke Control laboratory of the U.S. Public Health Service in Atlanta, Georgia.
In the Hebron Newsletter we learned that Rev. and Mrs. Joseph James of the Presbyterian Church had returned from a trip through the American West; that Mrs. H. M. Taylor had taken Mrs. Dudley Shelburne, Mrs. Ruby Roller, Mrs. Raymond Hornbeck, and Miss Mary Cynthia Holsclaw to a quarterly W.M.U. meeting in Louisville; and that Mrs. Bernard Bischoff attended a tea given by Mrs. Mary Burke in honor of Mrs. Jane Tucker who was leaving to teach in England.
The writer also told that Mr. and Mrs. R. G. McGruder and sons had returned from a trip to San Antonio, Houston, New Orleans, and Mexico; and that Misses Suzanne and Sally Brooks were visiting relatives in Ohio.
The Wilson Creek correspondent told us that Walter McGruder had a new barn; that Mr. and Mrs. Roscoe Milligan, Jr. had returned from vacationing in Florida; and that Mr. and Mrs. Shirley Milligan and family were vacationing in the Smokies and at Myrtle Beach.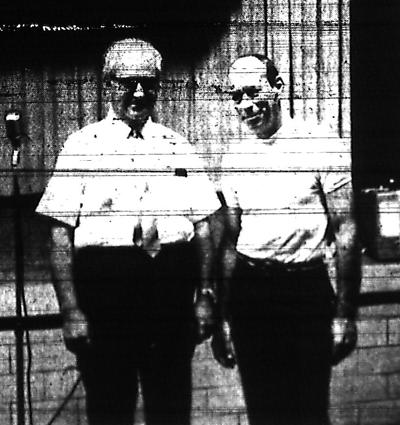 Mr. Masden & Ed Kalley
I wonder how many former Roby Elementary students remember when Ed Kallay of WAVE-TV visited the school during its summer head start and enrichment classes. (I really wonder who remembers Uncle Ed's Saturday TV show, or remembers listening to him call ball games on the radio.)
The paper pictured him along side the school principal, Mr. Woodrow Masden.
Mrs. Lanham out Cedar Grove way shared with us that Mrs. Nettie Jeffries, Mr. and Mrs. Clifford Bell, and Mrs. Annie Bolton spent a day recently with Mr. Tommy Bolton at Fern Creek; that Mrs. Eunice Young and Mrs. Regenia Anderson visited Mrs. Hubert Cox and Mrs. Mae Vincent; and that Mr. and Mrs. Neil Bennett and family of Georgetown were visiting Mrs. Bennett's parents, Mr. and Mrs. Hugo Maraman.
The engagement and forthcoming marriage of Miss Delores Ann Crenshaw to Mr. James C. Mudd, Jr. was announced in the paper.
From the Personals column we learned that Pat Hagan, Judy Troutman, Brenda Goff, and Myria Simpson were vacationing at Daytona Beach; that Matthew Wiley had his tonsils removed; that Mr. and Mrs. Roger Shelburne were vacationing in Michigan; and that Stevie Meredith was rushed to the hospital for an operation for appendicitis.
Also from that column we find that Peggy Troutman, Roy Gene's sister, had returned home from New Orleans where she was attending school; and Air Force Sgt. Tom Shaw was spending a 30-day leave here with his wife Billie Jo and his parents, Mr. and Mrs. J. V. Shaw.
County Home Economics teachers Helen Underwood, Mildred Mindel, and Jane Cowan attended the Kentucky Home Economics Teacher Association meeting where Mrs. Underwood was elected association president for the 68-69 school year.
And A. R. Baugh was honored at Camp Shantituck with an engraved watch on his retirement after fourteen summers at the camp. He and his wife were returning to Alabama to enjoy their retirement years.
1943 - 75 Years Ago.
The following men served on the Circuit Court petit jury: H. P. Hedges, Earl Dacon, O. E. Larance, Wallace Kneisler, Edward McArthur, Howard Stallings, S. O. Armstrong, Lloyd Whitehead, H. S. Beeler, Roy Owen, Johnnie Douglas, W. L. Bass, E. Hoke Harris, Albert Fisher, Tom Adams, Mitch Brown, J. L. Trunnell, and B. W. Oakley.
The Grand Jury members included Mike Brumley, Bert Hall, Ben Miller, C. H. Hall, Lyman Hall, W. C. Morrison, Bert Pope, Henry Bivens, W. T. Simpson, George Maddox, W. A. Bergen, and Harvey Hubbard.
In Needmore Road news, the C. E. Smith family entertained Louise Stalling, Wilda and Mary Carolyn Hall, Trulavern and Elizabeth Cook, Valeta Stalling, Ella Proctor, Gladys Wade, Gordon Proctor, and Mrs. George Clark on a Sunday. Also, Walter Bowman, Clarles Stallings, and Herbert Glenn were guests of Henry Bowman.
The August 6th paper reported that Master Sgt. Henry C. Hamilton had been slightly injured in North Africa. His parents received a letter from him indicating that the injury was to his left shoulder and was not serious.
The August 27th paper reported that Tommy Carroll had just been promoted to Lieutenant in the army, and was spending a few days with his parents, T. C. and Irene Carroll.
Church revival services were a frequent occurrence with the paper reporting services at the Bethel Methodist Church, The Beech Grove Baptist Church, and the Sunnyside Baptist Church, all in the same paper.
In the Valley View Notes we learned that Mrs. Wayne Harris gave a little party for her grandchildren, Glenda, Paul, Jean and Sandra Moore and their young visitor, Miss Wheeler. Also, Corp. George H. Stout was home from Camp Livingston, shaking hands with his old friends; Martha Crenshaw had been on the sick list, but was much improved; Mrs. Lula Glascoe was very happy to receive a letter from PFC Everett Glascoe who was stationed somewhere in England; and Miss Mary Burton Rouse had some teeth extracted.
Pvt. Leslie H. "Bobby" Rice wrote an unusually long and detailed letter about his time in North Africa, after the military loosened restrictions on what the boys could write in their letters home.
Kenneth McCubbins received a Purple Heart after he was wounded in battle. In his letter to his parents, Mr. and Mrs. Roy McCubbins, he wrote, "I got hit by shrapnel from artillery in my left arm, left side, middle finger on right hand and in top of my head." He seemed to be in good spirits, and I'm happy to report that he survived the war and returned home.
And in Mt. Washington news, Frank Parrish and wife of Louisville spent time with his parents, Mr. and Mrs. T. H. Parrish, and while there went fishing and caught a string of bass in R. E. McAfee's lake. Mrs. Parrish caught five of the nine they hooked. Needless to say, they had fried fish for supper.
1918 - 100 Years Ago.
In school news, the paper reported that Professor Charles Daniels, "one of our finest young men and a teacher here for the past few years," had accepted a job in the Fort Pierce, Florida schools. Before leaving, he spent a few days with his sister, Mrs. Vern Jones.
Trustee Bert King had the school house repaired and put in first-class condition at Corinth where Miss Christina Skinner was teaching and where a good school year was in progress.
Miss Bertha Wallace began her school Monday Aug. 5 at Mt. Elmira. Will Becker opened up his school at Edgewood, and Miss Mary Dawson started the Pitts Point school the same Monday.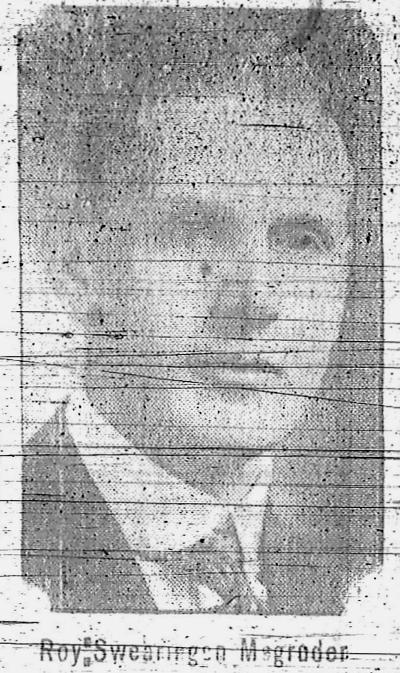 Roy Swearingen Magruder
Miss Bessie Grant received a beautiful silk handkerchief as a souvenir of France from Hugo Crenshaw. She and Miss Myrtle Shaw and several others received letters from him in which he stated he was well and doing fine.
A photo of Roy Swearingen Magruder, son of Mr. and Mrs. S. B. Magruder, of Lebanon Junction, was in the paper. Word had been received of his safe arrival over seas with the 51st Infantry. He enlisted in the early part of May and was in training at Camp Forest, Georgia. After the war, he would later move to Texas and invest in the oil business.
There were a number of letters published in the paper from local soldiers to their friends and loved-ones including one from Horrie Thompson to his wife Violetta. They had been married the previous December while he was stationed at Camp Taylor. Now he was overseas, somewhere in France.
He closed his letter by saying "I want you to take good care of yourself and keep well for there is not a day passes by but what I think of you many times, and may God bless you in many ways until I return to you."
Horrie Columbus Thompson would die on the battlefield in September.
His brother Albert was stationed at Camp Beauregard in Louisiana when he wrote to his mother, Mrs. Lillie Thompson about his experiences on the rifle ranges. He would later be shipped to France as well.
In another letter to the paper, William G. McCormick wrote on behalf of himself and three others, James Hoagland, Herman Skinner, and Vesey Hatfield, all of whom were at Camp Merritt, New Jersey, waiting to be shipped out. The letter described their fine trip from the South to New Jersey and mentioned seeing the White House.
From somewhere in France, Irving D. Snellen wrote his brother, Ira Pleasant Snellen. Among his comments, he said, "I haven't gone over the top, but know how a shell sounds as it goes over my head. I always heard that the first ones that you heard scared you worse than after you get used to them. That might be so, but it was not my experience. I didn't know how to duck the first ones that bursted near me, but soon got in practice, Ha!Ha!"
And John Reuben Settle wrote to his mother, saying "Tomorrow is the Fourth of July, my second Fourth in the Army and though I cannot be with you, I will think of you often tomorrow." He indicated that he was somewhere in France, and described it this way: "France is also a very pretty place, where it has not been torn by the carnage of war and the people are as industrious as the English. The women work as hard as the men on the Rail Road, in the factories, and women and children work on the farms 16 and 12 hours a day and they never say a word for they know they are working for France and they love their country above everything on earth."
War was constantly on the minds of those back home who were receiving these letters.
---
Copyright 2018 by Charles Hartley, Shepherdsville KY. All rights are reserved. No part of the content of this page may be included in any format in any place without the written permission of the copyright holder.
---