It Happened in August
The following article by Charles Hartley originally appeared in The Pioneer News on August 28, 2017. It is archived here for your reading enjoyment.
---
We will be looking back 10, 30, 50, 70, and 90 years to see what was being printed in The Pioneer News in 2007, 1987, 1967, 1947, and 1927 in the month of August.
2007 - 10 Years Ago.
Carol and Laveda Richards celebrated their 50th wedding anniversary. Carol was a school administrator, and they ran a local shoe store for many years.
Chester Tinnell had his picture in the paper as Clermont's oldest living resident. His favorite pastime was tinkering with all sorts of mowers. Chester lived until the second week of June 2011, dying at the age of 86.
Cody Hodge qualified for the bull riding competition of the National Wrangler Junior High Finals Rodeo. He rode his first steer at age 11, and his first bull at 12.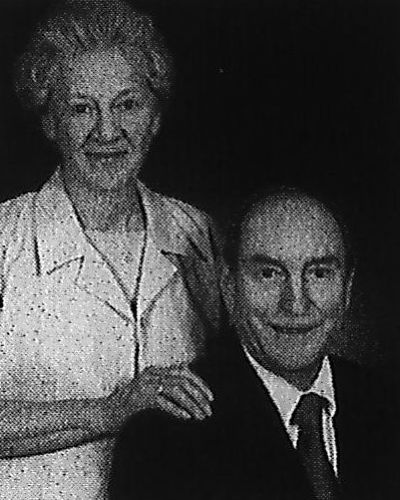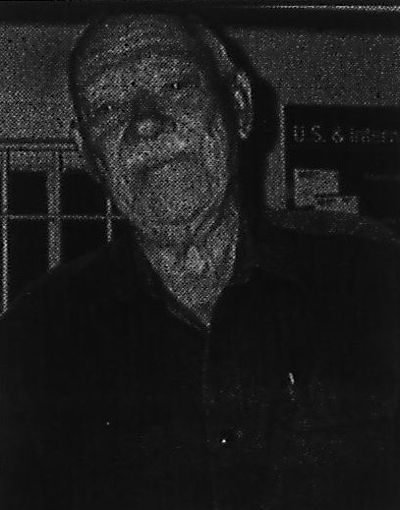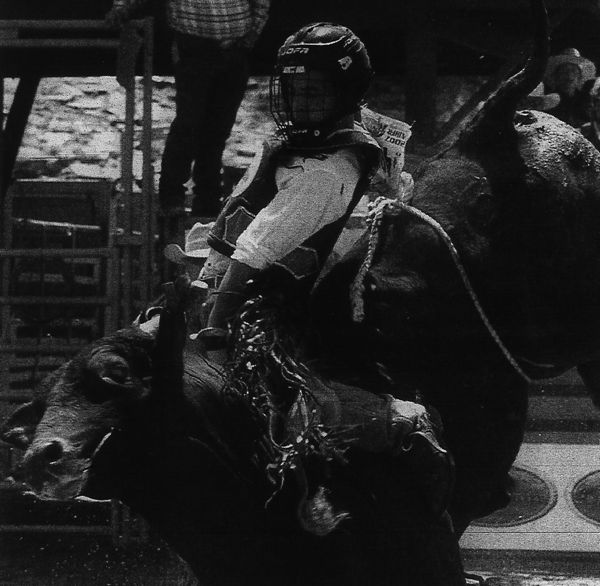 Carol and Leveda Richards, Chester Tinnell, and Cody Hodge
Jammie and Tonya (Squires) Vance, both North Bullitt graduates, were called to the Little Flock Baptist Church where Jammie would pastor the church.
Cathy Roby was pictured with her family as she received a plaque honoring her 31 years of service at the Health Department.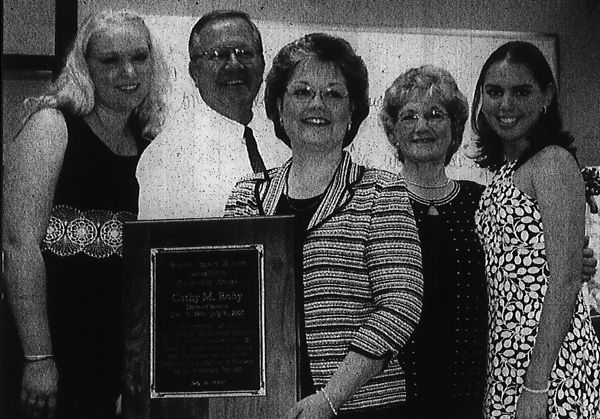 Cathy Roby and Family
Megan Hatter was named coordinator of the Mt. Washington Middle School Youth Service Center.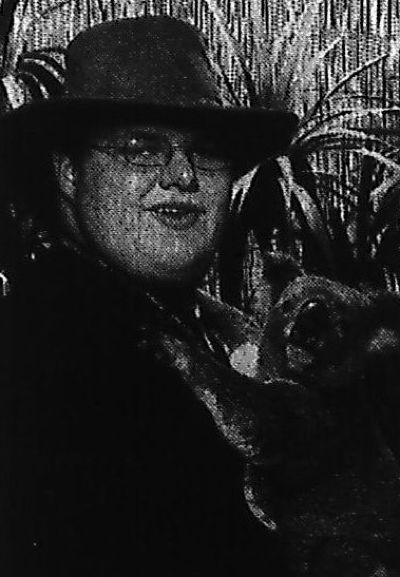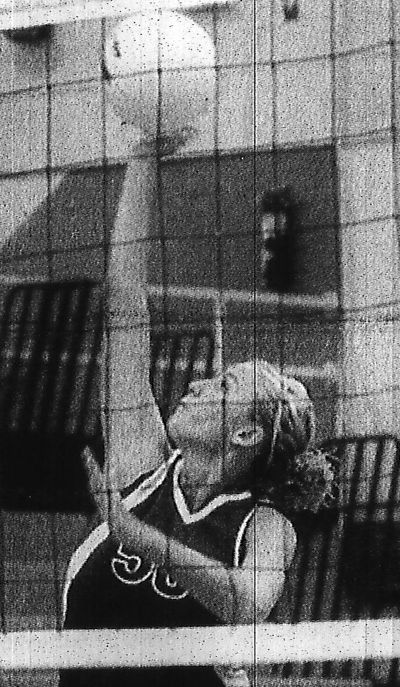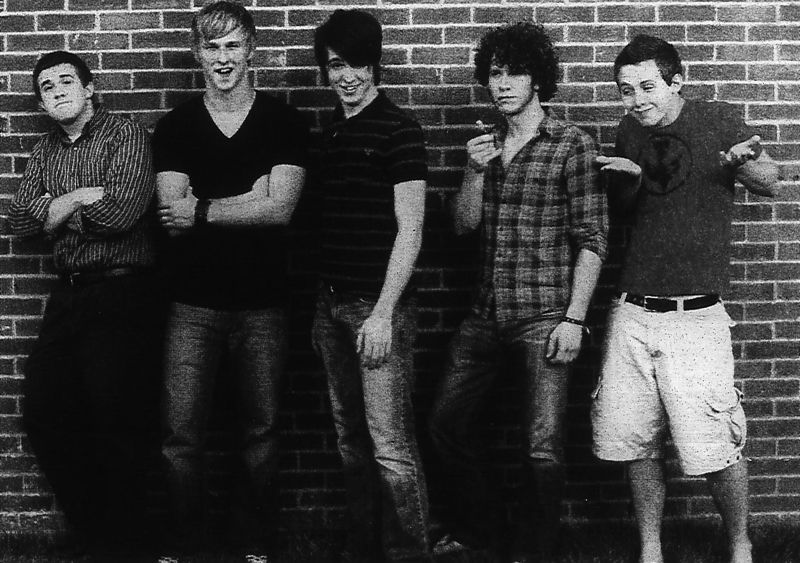 Nicholas Simmons, Amber Cheek, and Wake the Day Band
Nicholas Simmons of Mt. Washington served as a student ambassador to Australia and New Zealand in the People to People Ambassador Program, an organization formed in 1956 by President Eisenhower.
North Bullitt junior Amber Cheek was pictured participating in a volleyball scrimmage at Bullitt Central.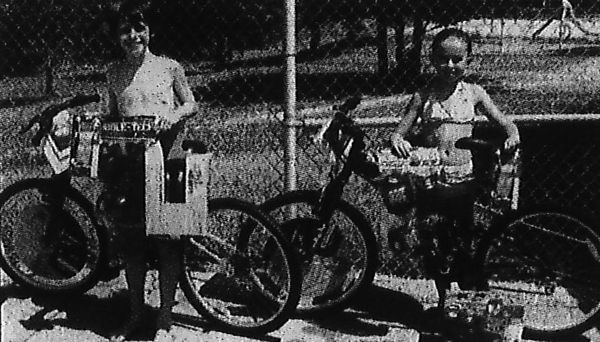 The band, Wake the Day qualified to appear on a spin-off of "American Idol" called "The Next Great American Band." Band members included Andy Myers, Chris Jackson, Tyler Anderson, Jeff Armstrong, and Brian "Buv" Meyers.
Jarred Showalter and Hannah Perdew were the lucky winners of bicycles at the Hillview Community Safety Day Camp program.
Philip McClure became the eighth member of Boy Scout Troop 868 of Shepherdsville to attain the rank of Eagle Scout.
Sarah Schaaf won first place in the costume class for the previous six years at the Bullitt County Fair's miniature horse show.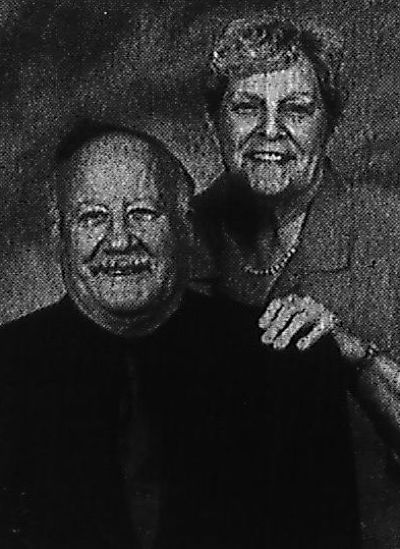 Al and Donna Kikstadt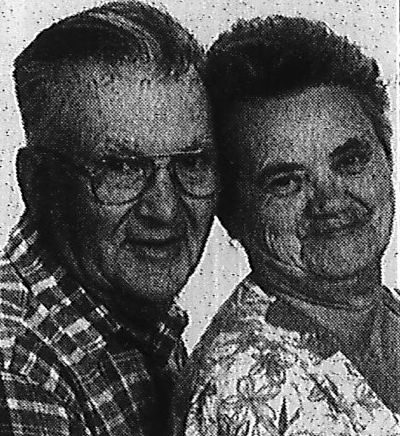 Robert and Delma Weird
Cissy Owen Boone and her husband Tom enjoyed a trip to England and Ireland.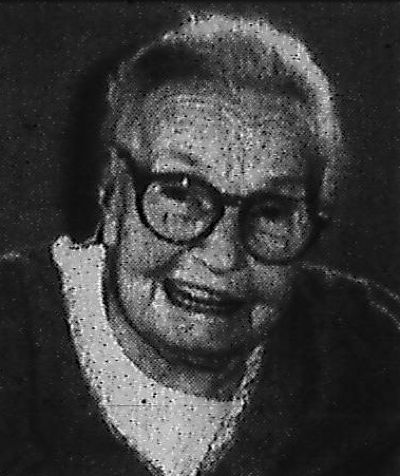 Fannie Huff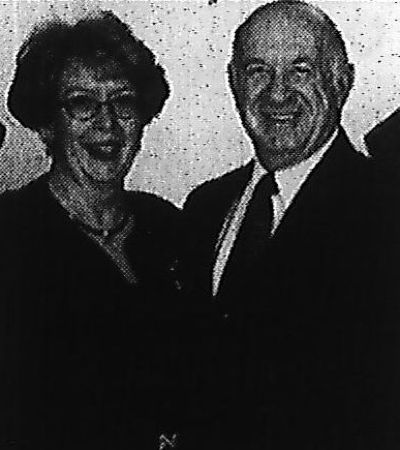 Jan and Marvin Stewart
Al and Donna Kikstadt of Mt. Washington celebrated their 54th wedding anniversary.
Shirley Lakes held her 24th annual summer piano recital with the following performers: Karen Cash, Carly LaGrange, Alanis Morgan, Ben Sneller, Chalan Walton, Camrin Richardson, Kayla Cash, Samantha Morgan, John Marsolek, Kayley Strange, Joye Walton, Charla Brown, Gabrielle Fong, Ryan Parker, Hope Walton, Katie Kiefer, Leanne Dant, Lauren Kemble, Kelly Parker, Ben Kemble, and Kristina Hand.
Fannie Huff celebrated her 104th birthday. She was the mother of Tom and Robert Huff of Shepherdsville, and Dorothy Howell of Louisville. (Fannie lived until February 2009, dying at the age of 105.)
Jan and Marvin Stewart, and Robert and Delma Weird both celebrated their 50th wedding anniversaries.
Rebecca Hart was selected to appear in an issue of Discovery Girls Magazine. She was one of several girls chosen to represent Kentucky in the issue.
And Bullitt Central Cougars won their first football game of the season with a 20-7 victory over Spencer County. Akeem and Jeremy Bennett combined for over 300 rushing yards to lead the Cougars.
1987 - 30 Years Ago.
Carissa Dugan, a freshman at North Bullitt was pictured playing her tenor sax at the school's band camp.
Bullitt Central trumpet players were pictured leading a pack of musicians; while Travis Wright and Todd VonAlmen worked with their drums.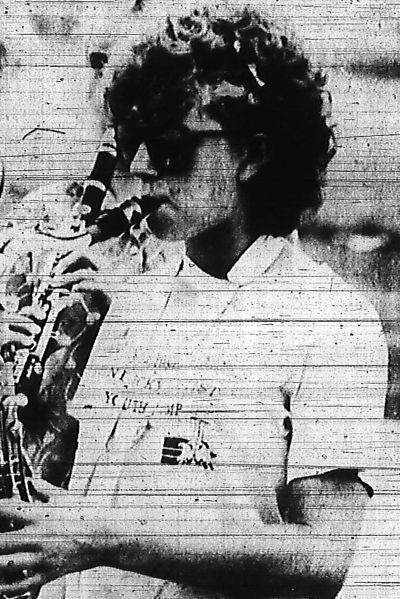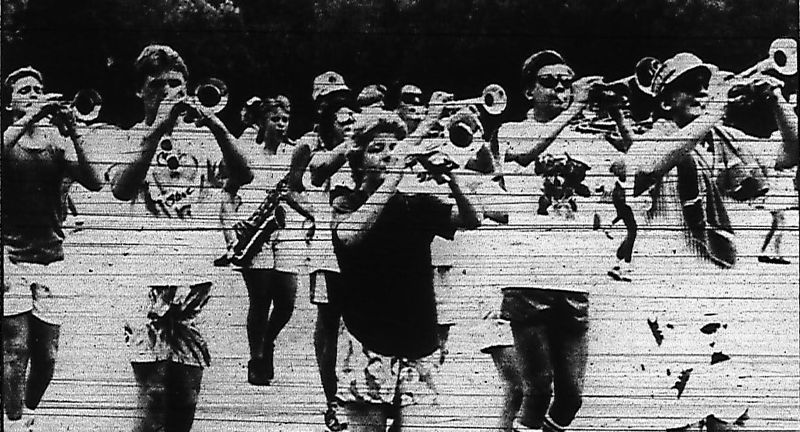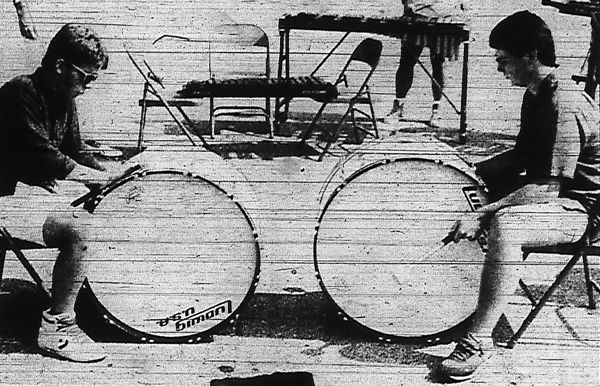 Carissa Dugan, B.C. trumpet players, Travis Wright and Todd VonAlmen
There were two lifeguards on duty at the Mt. Washington pool as Denise Hardin and Carla Coffey were pictured at work.
Odell Clark and Barbie Lee were pictured in the morning sun doing some roof work on the house of Hallie Lee.
George Gabehart, who had been news editor for The Pioneer News for a year, resigned that job to become the managing editor for The Springfield Sun.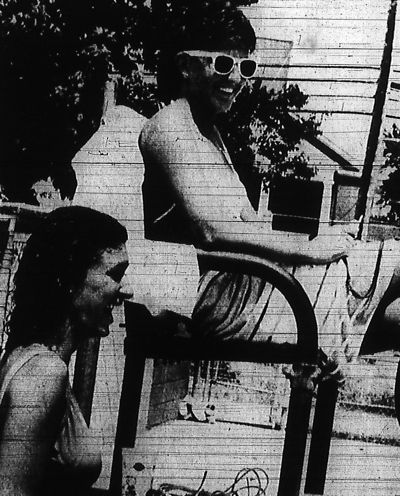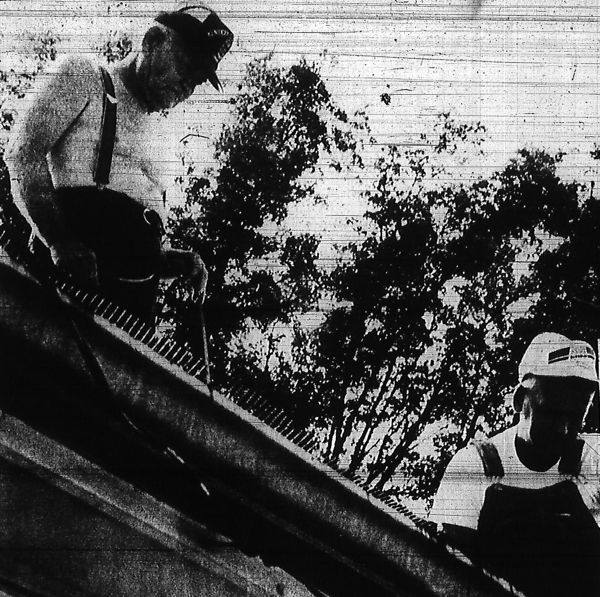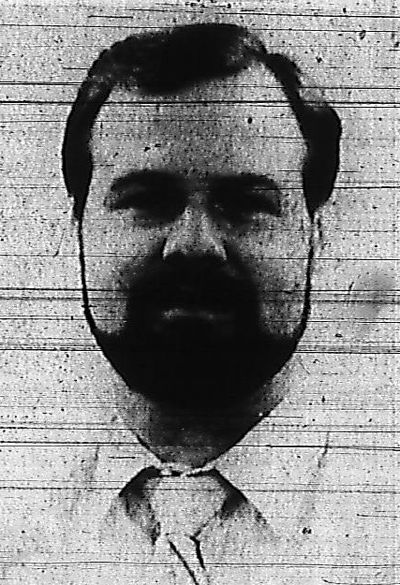 Denise Hardin and Carla Coffey, Odell Clark and Barbie Lee, and George Gabehart
Linda Boley of Cedar Grove wrote that Thelma Thompson was happy to announce that her great grandson, Michael Ray was born to Milton and Sheila West.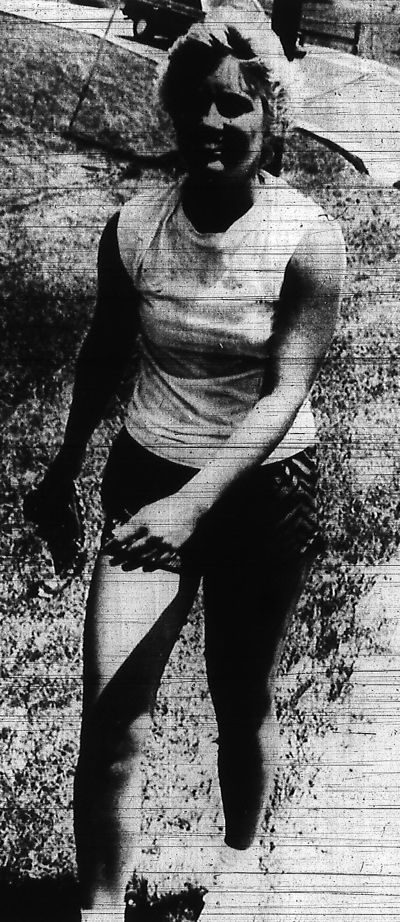 Linda Ritter
Bob and Ginger Carter of Lebanon Junction wished a happy birthday to Adele Shawley, Susie Cave, Aaron Johnson, Jimmy Baker, Chasity Sullivan, and Stella Gray.
Linda Ritter was pictured participating in the Lebanon Junction walk-a-thon. The walkers raised over $3,000.
Lois Simmons reported that Cliffa Ann Foster had been in town from Texas to visit with her parents, Clifford and Helen Foster.
And Oretha Ridgway of Nichols extended birthday wishes to Gertrude Abel, Dewey Foster, L. W. Nichols, Jamie Lee Able, Robin Briggs, Elizabeth Haycraft, Charles Corman, and Roger Thompson.
Steven Steele, a North Bullitt grad, defeated Jeff Klumb, a Bullitt East grad, to take the gold in the men's "B" division finals of the Bluegrass Games tennis tournament.
Also in the Games, Chris Bischoff won the men's 19-29 year old discus title, while bronze medals were awarded to Kenny Allen, Marilyn Allen, and Krissy Dadisman in other events.
Wendy Gunter of Bullitt Central captured the championship of the Owensboro National Bank Classic 18 and under division tennis tournament.
Gwinn Hahn's son Todd had been collecting pocket knives since he was two, according to his parents, and at nine years old, he had an outstanding, award-winning collection. Much of the credit for his interest lay with his grandfather, Bernie Hudson who repaired and built knives.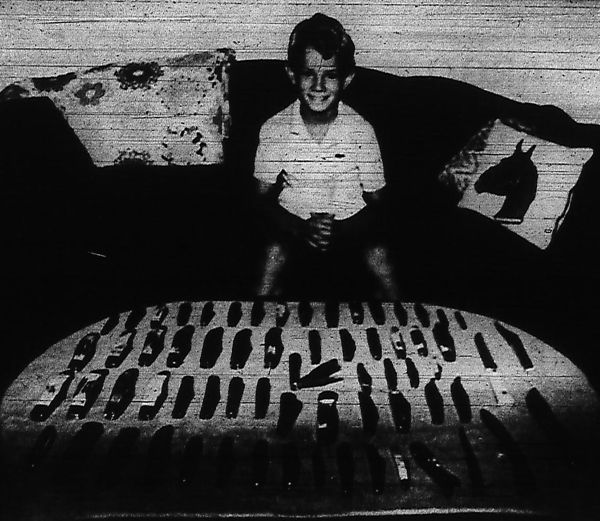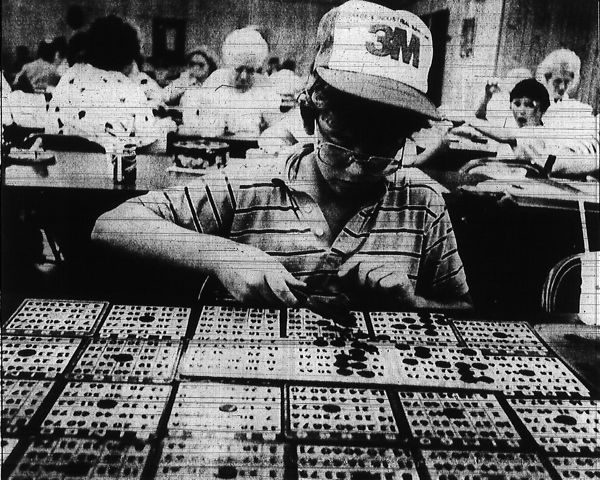 Todd Hawn and Robin Brown
Robin Brown, son of Sheila and Melvin Hodge, was pictured at the VFW Post in Shepherdsville with more than twenty bingo cards in front of him.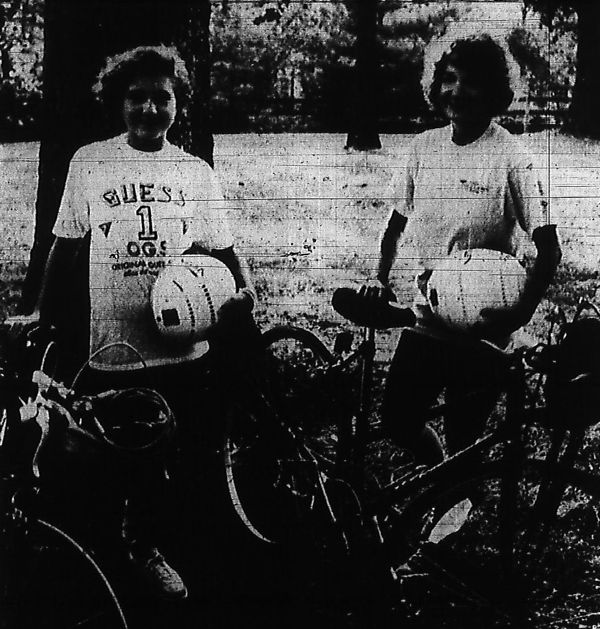 Renee and Ashley Fox
Frank Hatfield, who had recently retired as school superintendent and gone to work as the executive director of the Kentucky Retired Teachers Association, was awarded the Distinguished Service Award by the Kentucky Association of School Administrators.
Governor's Scholars from Bullitt County included Raymond Hodges Jr., Sonja Jackson, James Bickers, Paula Brown, Darlene Hunt, and Angela Smith who attended the program at the University of Kentucky; and Laura Carnes, Cliftina Weakley, Chris Taylor, Jim McCubbin, and Mike Walker who were at Centre College in Danville.
And Renee Fox and her daughter Ashley were scheduled to participate in the 100 mile Wilderness Road Bike Trek to benefit the American Lung Association.
1967 - 50 Years Ago.
Charles Foster, James Perkins, Gary Ruph, Joe Wooldridge, Jack Cook, Gene Depoyser, Perry Cook, Ron Tinnell, Billy Chesser, James Campbell, Tony Blunk, and William Whitesell were pictured with school counselor Charles Myers. These young men were selected to attend the Area Vocational School at Elizabethtown.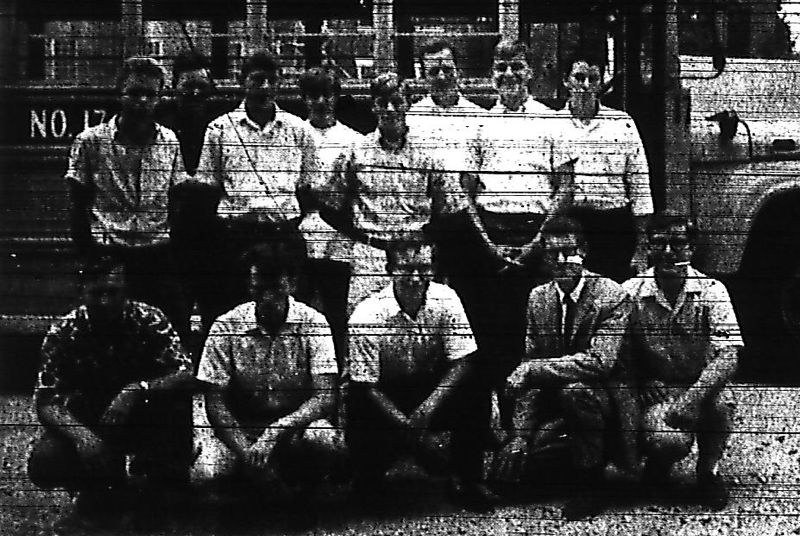 Vocational School Candidates
Mr. and Mrs. Solomon Brooks, Jr., were pleased to announce that their daughter Suzanne had been accepted at David Lipscomb College in Nashville.
In Wilson Creek news, Rev. and Mrs. John W. Owen, Jr. were visiting their son Billy in Virginia; Mr. and Mrs. Clifford Travis had a new baby boy; Mr. and Mrs. Isaac Masden had a new baby girl; and a new fence had been erected around the Mt. Carmel cemetery.
From the Hebron correspondent we learned that Mr. and Mrs. Dudley Shelburne, Miss Elizabeth Gardner, Mr. and Mrs. J. B. Shelburne and children, Mr. and Mrs. Ronald Johnson and son all attended the wedding of Miss Marilyn Rouse and Mr. Don Metcalf in Mt. Washington.
According to the personals column, Mr. and Mrs. J. T. Fowler with Mr. and Mrs. Billy Streble and girls spent a weekend in Nashville. Also Leon Reese had been appointed Lebanon Junction's police chief.
In Mt. Washington news, Michael Overall, son of Mr. and Mrs. Forest Overall, visited his great aunt, Mrs. Royce Swearingen. Forest was an army career man, and he and his family had returned from a stay in Okinawa.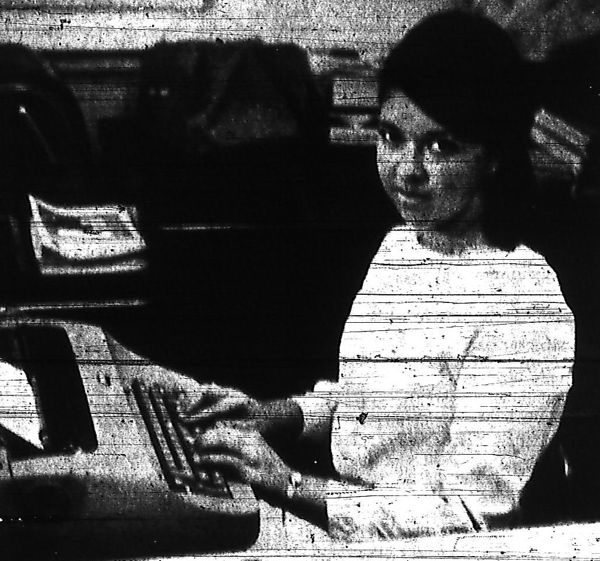 Patricia Hagan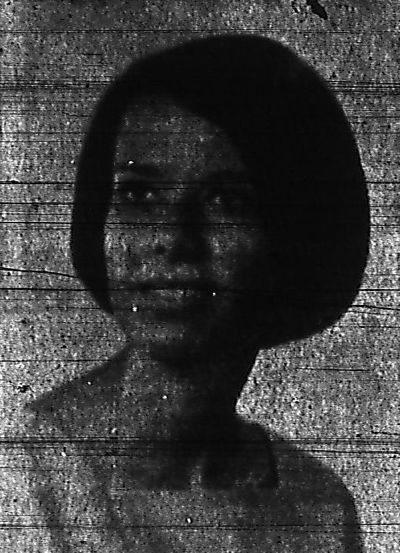 Karen Cundiff
In Cedar Grove news, we read that Mae Vincent spent a week with Mr. and Mrs. Oral Meredith on Bells Mill Road; that Mrs. Gilbert Miller had visited her brother in Georgia; that Mr. and Mrs. Charles Franke of Brandenburg had spent a Sunday with the Dan Franke's; and a welcome was extended to Mr. and Mrs. Livers who had moved into the Clifton Ratliff place.
Patricia Hagan of Shepherdsville, a 1966 Shepherdsville High School graduate, took a job as a secretary for the Bullitt County Agricultural Extension Office. She's the daughter of Fletcher and Evalena Hagan.
Karen Cundiff, daughter of Dr. and Mrs. M. J. Cundiff, was selected as a seminar leader at the State Conference on Juvenile Delinquency at EKU.
Shepherdsville First Baptist dedicated their new sanctuary on August 20th, a date that marked the 22nd year that Rev. Hartsell had been pastor of the church.
Duane Cornell, son of Mr. and Mrs. Frank Cornell of Mt. Washington, earned the rank of Eagle Scout in Troop 333 of Mt. Washington.
Linda Tate earned an award for her yeast rolls in 4-H competition.
Richard Fetty was pictured in his football gear in preparation for the S.H.S. football season.
Mrs. Melissa Ormes of Lebanon Junction would be 100 years old on September 3rd. She resided with her daughter, Mrs. Leona Spillman.
And Rodney Lenahan won the reserve championship in the obedience class of the state 4-H Dog Show at the State Fair. He was pictured with his collie "Lady."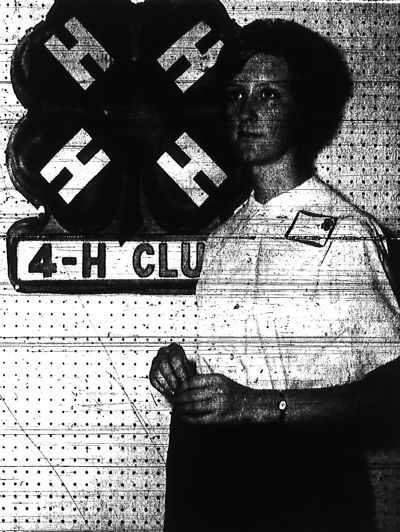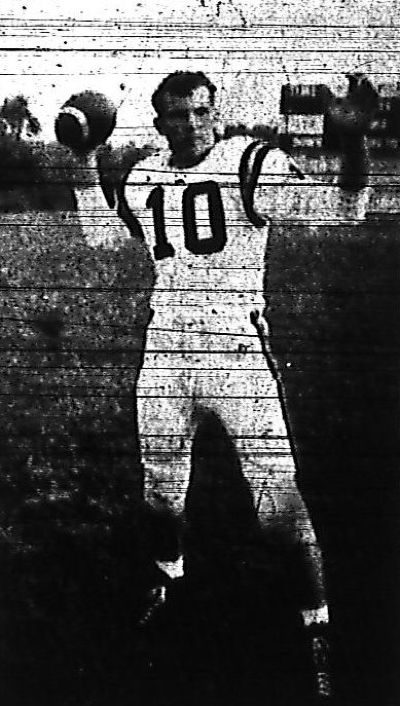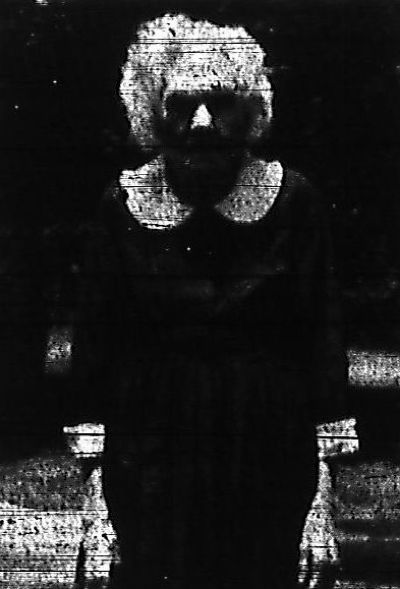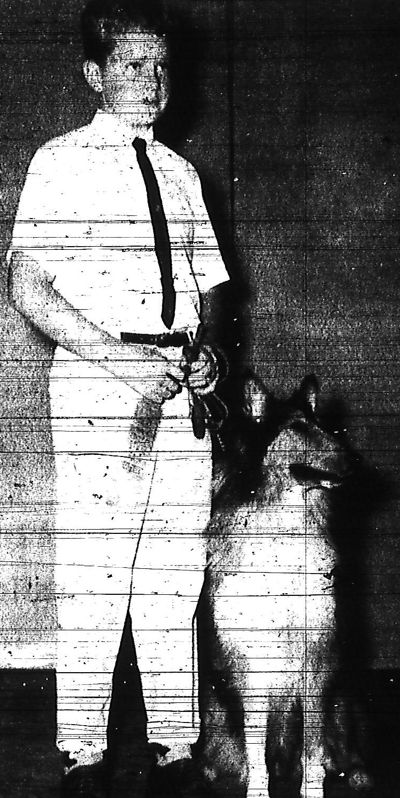 Linda Tate, Richard Fetty, Melissa Ormes, and Rodney Lenahan
1947 - 70 Years Ago.
Boy Scout Troop 208 of Clermont registered the following boys: J. A. Ryan, R. P. Conniff, Bobby Hodge, B. N. Cundiff, E. R. Crigler, J. P. Conniff, D. C. Riley, W. J. Conniff, P. A. Ryan, Joe Mooney, and B. H. Huffman. Cecil Cundiff was their scoutmaster and Prince Ryan Jr. their assistant scoutmaster. Charles Fearnbach was chairman of the troop committee.
R. E. McAfee, Hobert Roby, and Dr. T. P. Sloan met and appointed election officials for the August election. For Shepherdsville precinct #1 the following were appointed: Lida Armstrong, J. H. Boes, W. P. Foster, and Fronie Samuels. Shepherdsville #2 included Mack Jones, Pirkle Minter, Oscar Underwood, and Lillian Stallings. Brooks #3 had J. Havey, S. C. Sanders, James Beghtol, Mrs. Lee Hatzell. Griffin #4 officials were Gladys Shepherd, J. E. Burden, Roy Shepherd, and Mrs. J. E. Burden.
Continuing down the list, at Cupio #5 were appointed Ruf Abel, Charley Ridgway, Archie Whiteman, and Mrs. George Atkinson. At Salt River #6 we found Evelyn Shaw, C. A. Masden, S. B. Foster, and Mrs. Jess Hardaway. At Mt. Washington #7 were German Branham, Leda Barnes, Margaret Grigsby, and Mrs. Pat Daugherty. At Mt. Washington # 8 were B. Owens, S. O. Armstrong, Henry Lutes, and Mary Fisher. Zoneton #9 had W. A. Ladusaw, D. J. Crumbacker, Maud Gentry, and Sue Wigginton.
At Cedar Grove Mrs. Lee Close, K. F. Bolton, Elmer Cundiff, and Edan Lane were appointed. At Leaches #11 it was R. J. Clark, Ed Ash, Jim Bell, and Mrs. H. D. Rouse. At Clermont #12 were Ray Morris, John Shaw, Mrs. Charles Fearnback, and Mrs. Georgia Duvall. Lebanon Junction # 13 had Minnie Fisel, Hansford Ricketts, Mrs. N. E. McMillen, and Christine Boone; and L.J. 314 had Andrew Mann, Vina Roby, Tilli Vanfleet, and Mrs. J. W. Stark.
The last two precincts were Belmont #15 with Fred Goodrich, Mrs. Luke Ryan, George Ashbaugh, and Gladys Bradbury. And Beech Grove #16 had Otto Cundiff, Kathryn Carpenter, Anna Cundiff, and Mayme Cundiff.
In the personals column we learned that Mrs. J. D. Buckman, Jr. and two little daughters returned home after a visit with her parents in Texas; that Cpl. Albert Griffin had returned to Fort Meade after visiting his parents here while on furlough; that Mrs. Frona Harris had been visiting Mrs. Sudie Swearingen; and that Mr. and Mrs. Hugo Maraman and family were the guests of Mr. and Mrs. Tom Lockett of Lebanon.
In Lebanon Junction news, we learned that John Argenbright, a retired conductor for the railroad, was in the hospital; that Mrs. Welch of Boston, the mother of Mrs. Lenn Masden, passed away; and that Miss Mary Grace Ricketts was visiting her relatives in Nelson County near Samuels.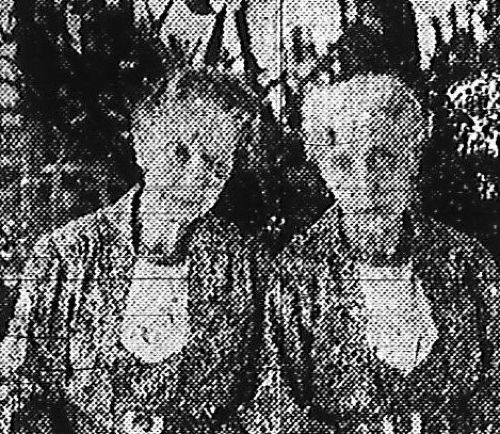 The Hecker Twins
Lightning struck Bert Pope's barn, burning it to the ground. He lost three calves, a cow, and a mare.
The Hecker twins, Barbara and Mary Hecker celebrated their 82nd birthday, and invited their Bullitt County friends to visit them in their new home in Buechel.
Howard Hardin would sell you Elberta peaches; George Stottman had a Jersey bull for sale; Mamie Judd was selling fryers; and Alzo Smith had a 1942 Super Deluxe Ford 2 door with five tires, radio, heater, seat covers and fog lights. He was also selling an ice box.
Jock Robinson bought E. E. Frantz's Shepherdsville drug store. He also bought the Bradbury house at auction.
The Dairy Bar opened in Shepherdsville on August 23rd. On that day the ladies received a rose, the men a cigar, and the kids free ice cream.
And the grand opening of the St. Clair Theater in Lebanon Junction was held on August 22 with the showing of the movie "Vacation in Reno." Popcorn anyone?
1927 - 90 Years Ago.
Miss Mildred Bergen, the teacher at Beech Grove, Mrs. Wise at Zion, and Mrs. Ruby Perry at Oak Grove had ice cream suppers at their schools.
The school at Oak Grove organized a Parent's Club with these officers: President Mrs. Gertie Masden, Vice President Mrs. Minnie Maraman, Treasurer Mrs. Hallie Bergen, and Secretary Mrs. Artha Hatfield. Other members included Ruby Perry, C. A. Masden, Mrs. Anna Underwood, Mrs. Hallie Lee, Mrs. George Osborne, Mrs. Rena Lee, Mrs. Cora Armstrong, Mrs. Bertie Noe, Mrs. Nina Hardy, Mrs. Mollie Devers, Mrs. Lena Best, Mrs. Emma Lee, Mrs. Katie Rogers, Mrs. Ella Maraman, Eva M. Maraman, Cora Ney Hardy, Lillie M. Osborne, Herman and Thurman Armstrong, Edna Armstrong and Loyace Bergen, Cora B. Roby, Ora L. Roby and others not listed.
Mrs. Lena Patterson Nelms of Georgia was in town visiting her grandparents, Colonel and Mrs. Noah Smith. "Lena Pat" was described as "one of the best, most studious, and most popular girls ever raised in Shepherdsville."
At the Mt. Washington P.T.A. meeting, Edgar Fisher was elected president, Mrs. Preston Parrish became vice president, and William Clark was elected the organization's secretary and treasurer.
The Mt. Washington school faculty included Miss Quinn of Georgetown, Mrs. Walter Johnson of Georgetown, Miss Burnell Sweet of Henryville, Miss Virginia Gardner and Miss Mary Ping.
Vernon Dickey had a vacation from the Cyclone Store, but he was busy painting his residence which was one of the prettiest homes in Mt. Washington.
Miss Audra Murel King graduated from Spencerian Business College and went to work at the Mt. Washington People's Bank.
In the personals column we learned that Clarence Dawson's niece, Miss Anna Lee Hill, visited her cousin Miss Lucile Preston in Lexington; that L. M. Barrall of Kansas City had arrived to spend time with his daughter, Mrs. J. R. Zimmerman; and that Miss Lelia Tichenor of Waterford spent a week visiting Miss Bertha Trunnell.
Bill Griffin and Mack Jones advertised that they delivered ice with a smile.
The Hebron correspondent spent much of her column on kind words for the family of Joe Hart Wigginton, son of Judge E. Z. and Bessie Shanklin Wigginton, who died in July.
According to the "On the Mt. Washington Road" column, John Peacock and family spent a day with his daughter, Mrs. Willis Mothershead; Mrs. John Workman was suffering with an abscessed tooth; and Uncle Johnny Owen spent time with his aunt, Mrs. Elgiva Greenwell at Pleasant Hill.
J. C. Thornton of Clermont had a good Ford one-ton truck for sale or trade for a touring car.
The faculty for the Shepherdsville school included Alda Acker, Annie Laura Lawton, Thelma Davis, and Geneva Gibson in the grade school; and Ruth Holeman, Mary J. Brownfield, Virginia Thomas and J. H. Sanders in the high school. Ruth Acker was the instructor in music and expression.
Charles Lee Bradbury, a recent graduate of Georgetown, took a job in the schools at New London, Ohio, as coach and athletic director.
Otto Hoagland and Ernest Funk were given the job of transporting students to the Nichols school. Mr. Funk had the Knob Creek section, and Mr. Hoagland the Weaver's Run section.
And the revival meeting closed at Pleasant Grove with 19 additions to the church. Brother Burns was the preacher.
---
Copyright 2017 by Charles Hartley, Shepherdsville KY. All rights are reserved. No part of the content of this page may be included in any format in any place without the written permission of the copyright holder.
---