It Happened in April
The following article by Charles Hartley originally appeared in The Pioneer News on 25 April 2016. It is archived here for your reading enjoyment.
---
We will look back 25, 50, 75 and 99 years to capture glimpses of what was happening in Bullitt County in each of these years. Today we will focus on the month of April.
1991 - 25 Years Ago.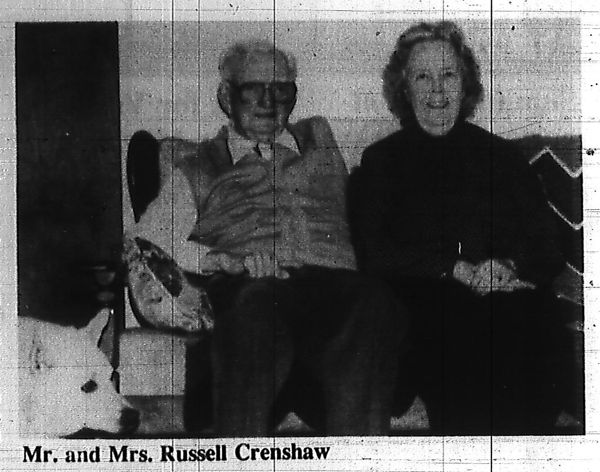 John Roberts wrote a nice piece on Russell and Renea Crenshaw, celebrating their 65th wedding anniversary. Their secret to their many years together? "Down to earth thinking" said Russell. "When you look at one to marry, you must think that you will accept this person until death do you part."
John wrote that "Russell and Renea employed the experience of a valuable upbringing into their work as dairy farmers." They were proud that they had an unblemished record that resulted in always having Grade A inspected milk.
They were also very grateful for good neighbors who made sure to check on them and help provide for their daily needs. Good people, good story.
David A. Pike and Albert "Happy" Cahoe were appointed as members of the Kentucky Private Industry Council by Glenn Armstrong, County Judge Executive. Cahoe managed the Salt River R.E.C.C., and Pike was then President of the Bullitt County Chamber of Commerce.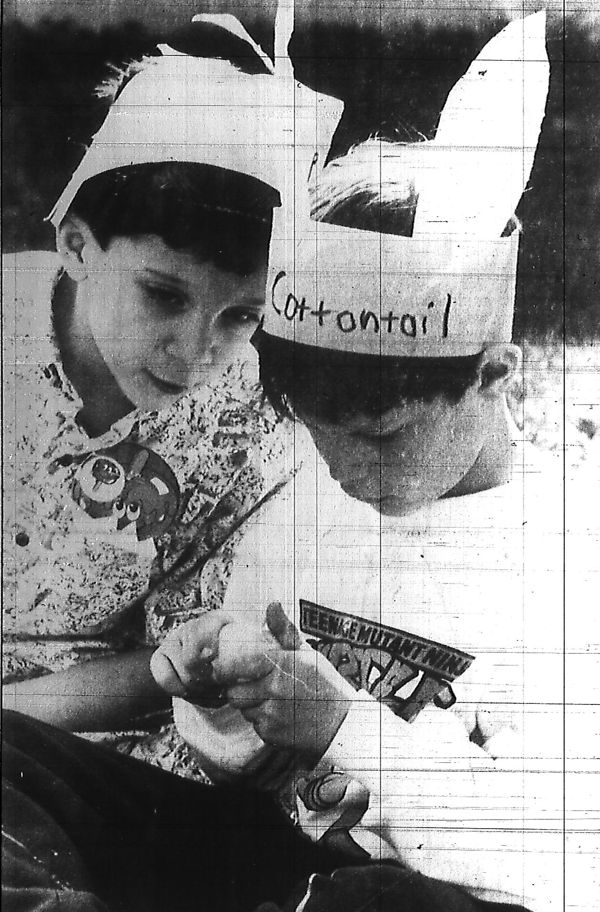 James Redmon and Ryan Cecil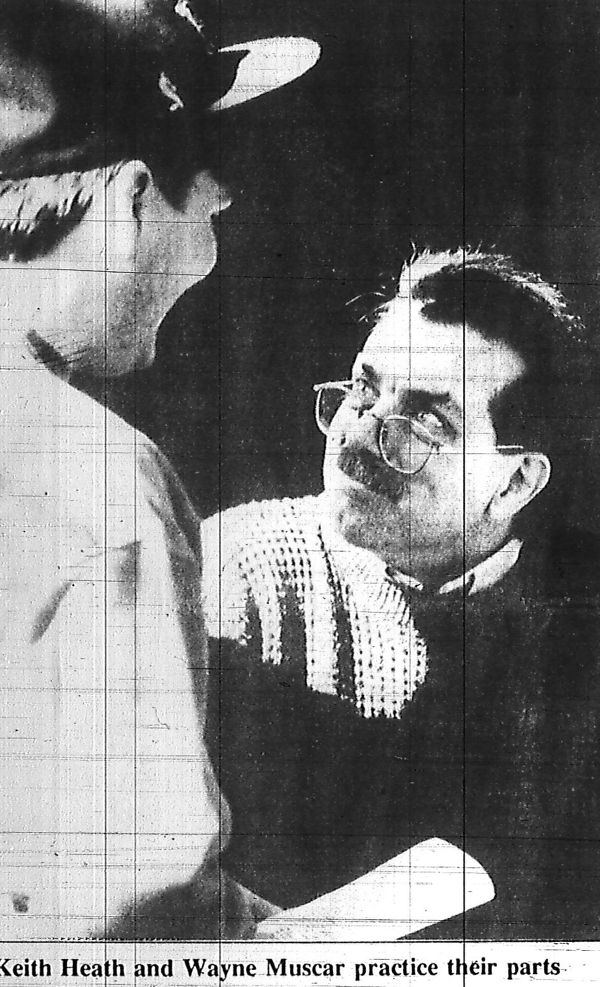 Amy Phillips of Old Mill Elementary was a state winner in the poster contest sponsored by the American Food Service Association.
I wonder if James Redmon and Ryan Cecil remember getting their pictures in the paper during the Easter egg hunt at the YMCA Pre-school program at Pleasant Grove?
Mack and Jewell McAfee had a nice 10 day trip to Florida, and went fishing with their grandson during spring break.
The Hebron correspondent wrote that Mr. and Mrs. John Harper attended the reception held for Charles Hamilton, the new commissioner of agriculture.
The University of Kentucky Dean's List was well populated with Bullitt County students. Making the list were Laura Boone of Lebanon Junction, Gary Bradbury of Shepherdsville, Stephanie Jarvis of Mt. Washington, James Ragg of LJ, and Jennifer Lynn Stein of Shepherdsville.
Keith Heath and Wayne Muscar were pictured rehearsing for the Bullitt Council for the Arts' production of "I Remember Mama."
After looking at several candidates, and narrowing the field down to three, the County School Board selected George Valentine as the new School Superintendent, a position he had been holding as interim.
And the Young Author winners were announced. Damon Shaw of Old Mill placed first in the elementary division, with Marty Schreiner of Mt. Washington second, and Josh Bard of Brooks third.
The middle school winners were Donald Sullenger (HMS) first, Karl Gummersheimer (SMS) second, and Jenny Lynn Leslie (BLMS) third.
Grade level winners were Ashley Waddell (Kindergarten, Old Mill), Mary Snider (1st grade, Old Mill), Kyle Hatfield (2nd grade, Overdale), Patrick Abell (3rd grade, Mt. Washington), Brittany Meiser (4th grade, Overdale), Dennis Waddell (5th grade, Old Mill), Tabitha Dever (6th grade, Shepherdsville Middle), Lee Remington (7th grade, Mt. Washington Middle), and Jason Chandler (8th grade, Mt. Washington Middle). Always proud of young writers!
1966 - 50 Years Ago.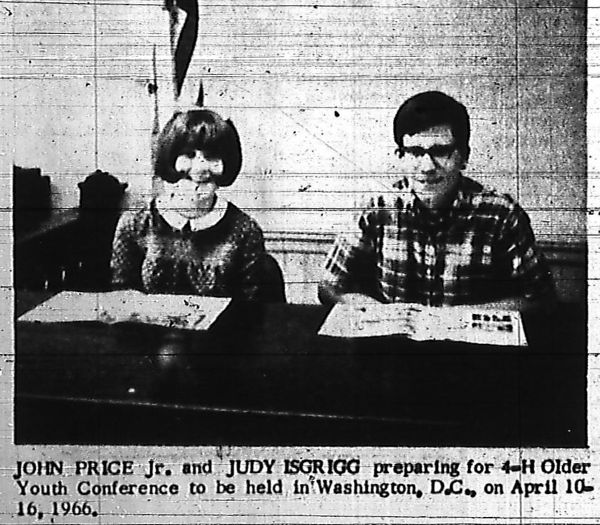 Judy Isgrigg and John Price Jr. were delegates to the 4-H conference in Washington, D.C.
Jimmy Hardy served as master of ceremonies at the annual Cancer Dinner. Victor Scholis was the guest speaker.
Neil Brooks Williams was home following surgery for an appendectomy.
The paper reported that Mikel Carrier of Shepherdsville was a fireman aboard the USS Sheldrake, an oceanographic survey ship.
Pleasant Grove Baptist Church held a revival with Pastor Jim Spaulding bringing the messages and Waldo Gentry leading the music.
Mrs. W. C. Lanham of Cedar Grove reported that Mr. and Mrs. Hubert Binder of Louisville had purchased the Sam Greenwell farm.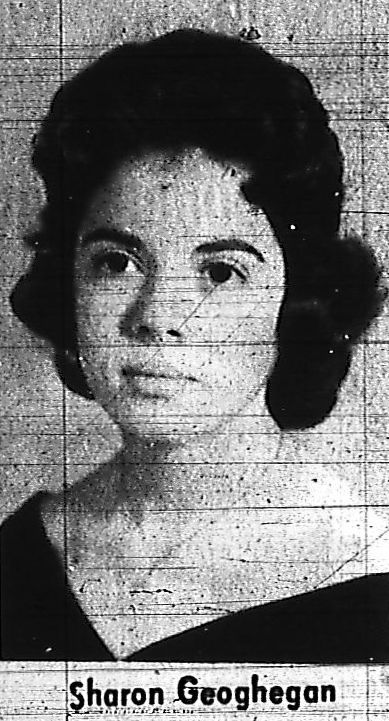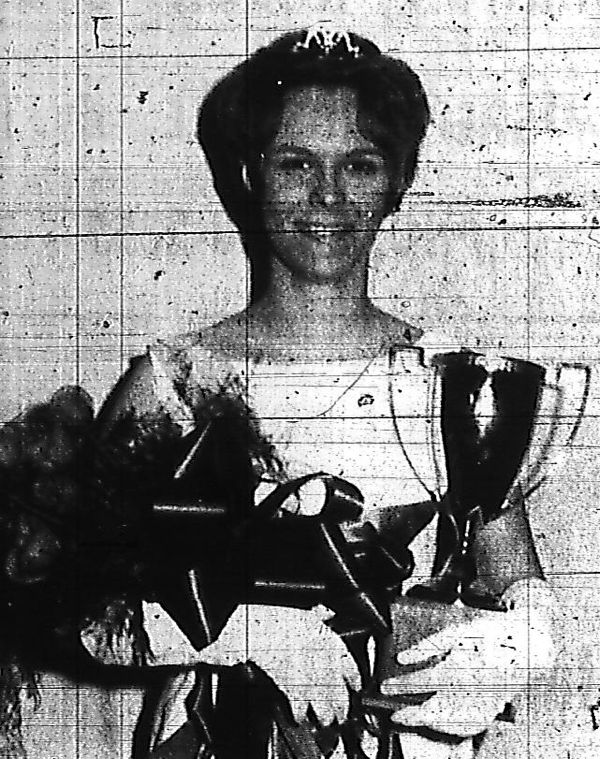 Susan Watkins
There were 33 guests present as P. A. Hester celebrated his 75th birthday.
Reporter Debbie Armstrong reported that the Roby 4-H 5th Grade Club met. Janet King, Lola Shepherd, Renee Larimore, and Rebecca Armstrong gave a demonstration on fudge and non-bake cookies.
The regular meeting of the Overdale P.T.A. was opened with a flag ceremony led by Girl Scout Troop 303. John Hardwick gave the devotion, and Joe Herde and the band entertained with several songs.
John Lee & Sons were doing the grading, and Mac Construction Company of Lebanon Junction was the general contractor as the Beam Distilling Company began a major expansion.
State Senator J. D. "Jiggs" Buckman announced his candidacy for the Democratic nomination for Governor.
Sharon Geoghegan of Lebanon Junction represented her school in an essay competition sponsored by the Armor Center Civic League at Fort Knox.
M. R. Hall, Jeweler, moved into his new store building across from Roby School, while Shuffett Rexall Drug Store moved into the first floor of the Masonic Building at the corner of 44 and Buckman Street. Gagel Furniture & Appliance occupied the building vacated by Shuffetts near Second and Buckman streets.
Wayne Crenshaw, Jerry Croan, and Larry Coy were injured in an automobile accident, but none seriously.
Miss Susan Watkins was selected as Miss Bullitt County at the Beta Club Contest in the Shepherdsville gym. Miss Nan Williams placed second, and Miss Faye Bacon was third.
Mr. and Mrs. Jack Williams of Lebanon Junction had the pleasure of having all of their family at home for Easter. Mr. and Mrs. David Dawson were there from Bowling Green; as well as Mr. and Mrs. Johnny Williams and son from Mt. Washington.
And a $100,000 blaze destroyed the Shepherdsville High School gym. The nearby old school building escaped damage. The gym, built under the leadership of Professor Jack Sanders, was a memorial to Veterans of World War II. That building had a lot of history. The Memorial Plaque that was saved from the fire is now on display at the Bullitt County History Museum in the Courthouse.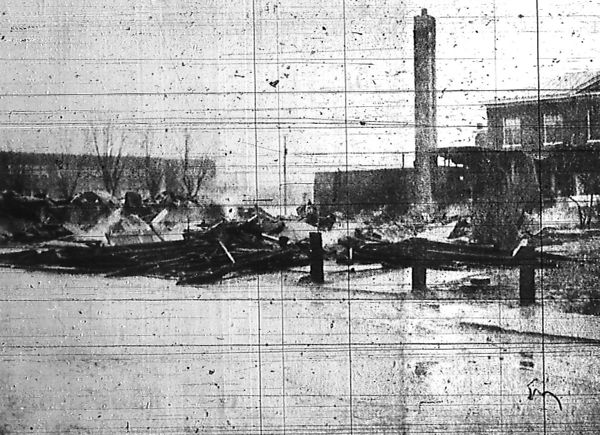 Shepherdsville High School Gym Destroyed
1941 - 75 Years Ago.
Ray Masden, principal of the Belmont School, was attending Western State Teacher's College where he hoped to receive his degree in August.
William S. Rhea, Bullitt County's first draftee, had been promoted to the rank of Radio Supply Sergeant, and would remain at Fort Knox for the time being.
The farm of Louis Roby, located in the Mt. Washington community, was the scene of the first tobacco plant bed spraying demonstration held in the county that year.
Burlyn Pike, a sophomore at the University of Louisville, attended a debate tournament in North Carolina.
Both C. T. Bridwell and Luther Van Vactor announced that they were candidates for county coroner; and Clyde Elmer Roby announced for tax commissioner.
Jim B. Williams, a junior in the College of Engineering at the University of Kentucky, was chosen editor of the Kentucky Engineer for the year. He was also a member of the University Band.
Mt. Washington bought a new fire engine.
Deputy Sheriff Fred Smith and Patrolmen Gibson and Mann ran down a car in Mt. Washington suspected of carrying whiskey. Turns out it contained 49 sacked chickens that had been stolen in Nelson County.
Mrs. Sylvia Barrall visited Mrs. Josie Zimmerman and son before leaving for Bowling Green where she was working on her college degree.
Mr. and Mrs. Ben Hardy installed a new refrigerator, washing machine and radio for their daughter to use in her room while staying in Shepherdsville.
J. R. Ball and his son Robert both had new cars.
Mr. and Mrs. B. B. Dunaway of Cincinnati were weekend guests of relatives in Shepherdsville.
Mrs. Mollie Crenshaw of Salt River erected some new rooms in the rear of her store.
News arrived in Shepherdsville to Mr. and Mrs. Ben Crewnshaw and Mr. and Mrs. Dee Bergen of a new grandbaby arriving in the home of Mr. and Mrs. Guy Bergen of Nashville. The Crenshaws traveled to Nashville on this happy occasion. I bet I know just who that baby was!
Bernie Milam had ten tons of good Timothy hay baled and ready for sale.
F. E. Patterson's store was offering a special on strawberry and fudge royale ice cream at the store's fountain.
Folks needed to stay away from the Wilson Creek area as the community was "full of measles, mumps, flu, sore throats, and colds, as well as a few cases of scarlet fever."
Members of the Lebanon Junction Speech Class enter contests at Hodgensville, and Cora Gaddy placed first in interpretative reading, qualifying her to enter the state contest.
Work on the L. & N. coal hopper, which burned the previous November, was nearing completion despite a delay caused by a shortage of steel because of the defense program.
Mrs. Fronie Harris and Bertha Trunnell of Louisville spent Easter with Mrs. Sola Trunnell.
Pete Bleemel, age 73, a well-known farmer, died at his home near Bethel Church. He left behind a daughter, Mrs. Bertha Schreck of Louisville, and six sons, all of Bullitt County, including William, Matthew, Frank, Edward, Freddie, and Leo.
And Robert Price Jr. was looking for his Black Angus steer that was lost. Anyone seen it?
1917 - 99 Years Ago.
Prof. Edward Barrall, a well-known teacher of this county, took the examination for United States entrance to the Navy.
The Shepherdsville Town Board set April 17 as Clean Up Day. All citizens were requested to gather up and remove all brush, tin cans, bottles and like rubbish from their premises. Prizes were awarded to boys gathering the first, second and third largest piles of rubbish. Town Attorney, Tot Carroll, issued numbered cards to children wishing to engage in the contest which were to be placed on each collection.
Mrs. Fronie Samuels and Miss Lillian Thompson spent a Tuesday in New Albany. Mrs. Samuels was called there on account of the death of Mrs. Ernest Canter who was killed in the cyclone there.
Miss Lillian Pitman entertained with a chafing dish party one Friday evening in honor of Miss Mary Jane Trunnell. Those present were Misses Mary Jane Trunnell, Nancye Jeffries and Lillian Pitman, Messrs Jim Lee Williams, Tot Carroll and Guy Stansbury.
A large crowd from all parts of the county were in Shepherdsville attending court and the candidates were so numerous that you could see them on every corner and telling the good people that they would make the best officer the county ever had. Sound familiar?
The school board was in session with a full set of new members including J. E. Chappell, E.Z.Wiggington, W.J. Shaw and A. C. Viers.
The box supper and entertainment given at Glen Ella was well attended and enjoyed by all patrons and friends present. This school was taught by Miss Clara Linn Funk with H. M. Trunnell as trustee.
The musical given by the Red Men's Brass Band was a decided success and was one of the best things ever started in this town. The success of this undertaking was largely due to the efforts of Nat Maraman and Millard Troutman and had among its members such splendid school boys as John Glenn, Charles Lee Bradbury, Roscoe Tucker, Samuel Ridgway, Hardin Bros., Troutman Bros., and several old heads.
W. P. Swearingen of Shepherdsville was selling a Studebaker wagon, good as new.
From the personals column we learned that Mrs. Mallie Smith, of Mt. Washington, spent a Sunday and Monday with her daughter, Mrs. Ada Sanders; that W. F. Queen, Bert Hall, Bud McGee and several others of Mt. Washington were in Shepherdsville; and Fred Harshfield, of Mt. Eden, spent a Monday in town.
Also, Misses Maggie Hardesty, Lola Ashby, and Mr. Charles Ashby spent Sunday with Chrissie Ashby; and C. W. and John Samuels, of Louisville, spent Thursday as guests of Mrs. Fronie Samuels.
Mr. and Mrs. T. J. Daniels of Bardstown Junction, who spent the winter in Florida, returned to their home in April.
At Barrallton, Miss Hazel McNutt had been sick with measles, but she was getting along nicely now, and would be able to take up her school work again.
Miss Elnora Bridwell and sister purchased a splendid new "Maxwell" touring car.
At Hebron, John L. Whitledge fell at his home and broke his right arm just below the shoulder. Floyd Jenkins, passing, gave first aid and went for Dr. Holsclaw who set the broken bone. Floyd took Mr. Whitledge to his home and in the evening Mr. Crumbacker had him come to his home to remain until he recovers. Mr. Whitledge had been feeble all winter, and he lived alone.
And Talmage Lloyd had a new buggy and it got broken the first time it was used. His mule ran away with his father, mother and himself all in the buggy, no one was hurt. The editor wrote, "Talmage, you must not drive that mule when you go to take your girl to church, for she would feel afraid to go."
---
Copyright 2016 by Charles Hartley, Shepherdsville KY. All rights are reserved. No part of the content of this page may be included in any format in any place without the written permission of the copyright holder.
---