It Happened in April
The following article by Charles Hartley originally appeared in The Pioneer News on 27 April 2015. It is archived here for your reading enjoyment.
---
We will look back 10, 20, 40, and 80 years to capture glimpses of what was happening in Bullitt County in each of these years. Today we will focus on the month of April.
2005 - 10 Years Ago.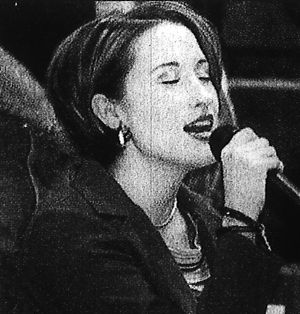 Brandy Saunders Johnson
Mona Tamme and David Strange were among those pictured in the paper at the opening of the Red Cross facility in Shepherdsville. Red Cross Volunteer of the Year, Evelyn Hale cut the ribbon opening the facility.
Bullitt County native Brandy Saunders Johnson won the Kentuckiana Idol contest sponsored by WDRB. Among others, she credited Eva Floyd, her music instructor at Bullitt Central, with helping her along the way.
Seven North Bullitt FBLA students advanced to the state competition, including Martina Tognazzi, Sheetal Patel, Britany Forshee, Cari Spadie, Danielle Davis, Ashley Smith, and Emina Toric. And at Bullitt East, Sarah Bailey, Patrick Buley, Nick Miles, Kelsey Cox, Rachel Neblett, AShley Thornton, and Kayla Phipps also advanced to the FBLA state meet.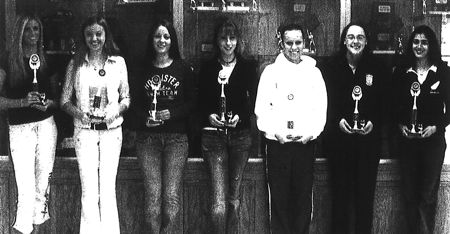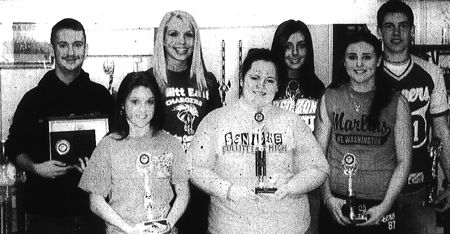 North Bullitt FBLA (left) and Bullitt East FBLA (right)
In sports, Bullitt East senior Austin Battcher signed to play soccer at Cumberland College; Bullitt Central senior point guard Amy Etherton signed up to play basketball at Spalding University, and Bullitt East senior Kyle Downs signed to play golf for Georgetown College.
Several Bullitt County players made the All-Eighth Region girls' basketball squad including Kasey Harrod, Katie Followell, and Abby Thompson of Bullitt East, and Amy Etherton of Bullitt Central. On the boys' side, Daniel Alcorn and Ryan Troutman of Bullitt East made the squad.
And the North Bullitt Eagles baseball team spent spring break in Tennessee and racked up four victories including a 1-0 win in which Eric Carter pitched a two-hit shutout. Then senior Kris Elam pitched a no-hitter against Louisville Central High School.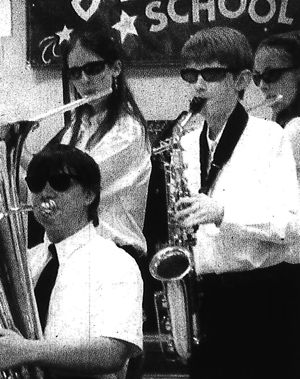 BMS Jazz
Hannah Adkins, an Old Mill fourth-grader, was praised in the paper for her literary talents that she used to write her mother's work with the Mothers Day Out program.
Bernheim Middle School band students Benjamin Kemble, Lauren Kemble, Hannah Corbett, Katie Tyrell, Phillip Figg, Carissa Hailey, Johnnie Keck, Josh Seelye and Megan Capps performed Jazz Up With Beta to an enthusiastic audience during the school's Night for the Arts program.
Sara Price of Mt. Washington was selected as one of six young ladies crowned as a Derby Princess for the Kentucky Derby Festival.
WHAS radio talk show host Francene was the guest speaker at the American Cancer Society Memorial Dinner where she was presented with a framed Bernheim Forest photo by longtime cancer society official Frank Hatfield.
And a number of Bullitt County students made various college Dean's Lists including Erick Bean (Somerset Community College), Joshua McKay Powell (Berea College), and Erin Rachel Sapp, Nathan Andrew Willoughby, Jessica Brooke Durr, and Rebecca Mae Beasley (Campbellsville University).
1995 - 20 Years Ago.
Bullitt East drama teacher Judy Chandler took a drama group to visit New York City, and one of the highlights of the trip was a visit to Ellis Island where Melinda Finley discovered her mother's name in a book listing immigrants. Her mother had originally come from Hungary. Others who were mentioned in the article included Kim Maraman, Elizabeth Johnson and Ashley Davis.
Buddy Gaddie of Pine View Farms was proud to show off his prize cow, Swee Dee who had produced two consecutive outstanding sets of twin calves.
The entire county was saddened to learn of the death of J.D. "Jiggs" Buckman on April 2.
Cedar Grove Elementary's Academic Team did well in the district tournament with Todd Medley placing first in social studies, Ben Campbell second in science, Lynsey Wuzel second in language arts, and Brittany Hoskins third in mathematics. Their future problem solving team of Beth Anne Clayton, Rachael Hurt, Michelle Mattingly, and Bethany Runion took first place.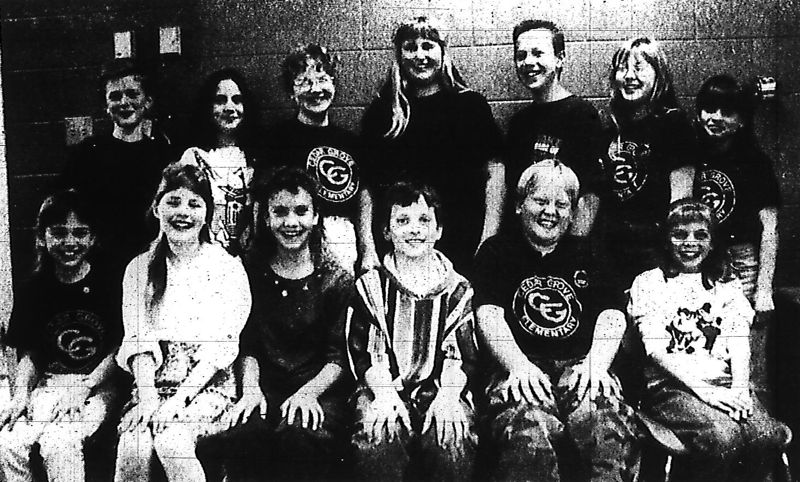 Cedar Grove Academic Team
Bernard and Louise Bischoff of the Hebron/Zoneton community celebrated their 58th anniversary this month.
Mary Cynthia Holsclaw died at the age of 96. A native of Bullitt County, she was a school teacher, and a secretary for the Jefferson County Board of Health; but will be best remembered as the resident of a small community who kept in touch with her neighbors and amassed quite a knowledge of local history.
Lebanon Junction celebrated the 100th anniversary of the town's incorporation with the formal dedication of the railroad caboose. Were you there?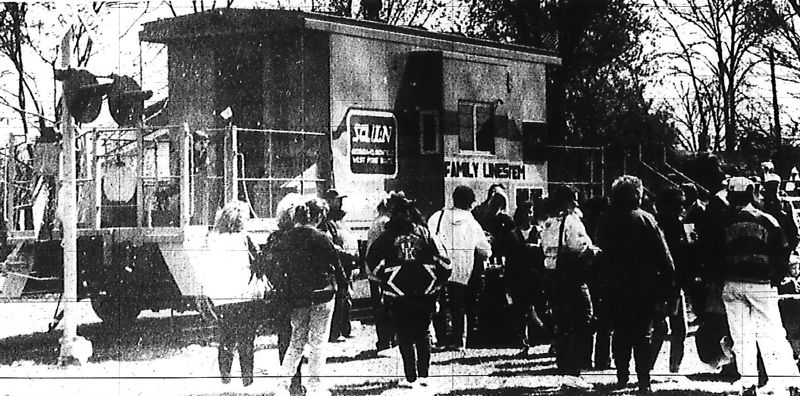 Lebanon Junction Caboose
Two members of the Mt. Washington Middle School academic team capped off their season with a top 10 finish at the state academic meet. Leslie Dorris finished 8th in English Composition, and Gabe Hodges placed 7th in science written assessment. Quite an achievement!
At Lebanon Junction, Dakota Hale, although just four years old, was able to use 9-1-1 to get help for his unconscious mother. Quite the little hero!
Bullitt East standout Lisa Mason accepted a scholarship to play basketball for Marshall University. And three BE Chargers, Willie Foster, Todd Wray, and Scott Johnson signed to play football at Anderson College in Indiana.
Megan Fitschen pitched a no-hitter and Lee Remington hit a home run in Bullitt East's victory over Bullitt Central in fast-pitch softball.
Erin Sapp of Pleasant Grove Baptist Church was among those youngsters participating it the state Bible drill at Highview Baptist.
And M. R. Hall, Jeweler, was advertising gifts for Mother's Day. Did you get one?
1975 - 40 Years Ago.
Robert E. McDowell, Sr., a noted local author and historian, died. Mr. McDowell was responsible for much of the research into early Bullitt County history. He also wrote a novel, Tidewater Sprig, based on his research into our county's early history.
Dianah Pike, a junior at Bullitt Central, was one of the finalists in the WHAS Crusade for Children King & Queen competition.
Clara Simmons of Pleasant Grove reported that Mr. and Mrs. Glenn Gentry entertained Sunday for dinner, Mr. and Mrs. Waldo Gentry, Mr. and Mrs. Jack Stallings, Mr. and Mrs. Billy Roy Gentry, and children. She also reported that Mrs. Lilburn Robinson was too sick with a cold to attend church on Sunday.
In the Hebron Newsletter, we learned that Mr. and Mrs. George Z. Wigginton entertained some 23 guests at dinner on Easter Sunday, They had an egg hunt in the afternoon for the children. We also learned that Mr. and Mrs. Ray Becknell were home after vacationing in Texas for several months.
She also reported that Ethel Jones, Dorothy Reader, Maxine McGruder, Mildred Crumbacker, Faye Crumbacker and Tyree Hinshaw would be calling on the community for contributions for the crusade against cancer.
Mrs. Mary Whitworth of Cedar Grove reported that Mrs. Bertha Bowman had returned from Florida where she attended the church her grandson was pastoring in Tampa. She also reported that the Bill Miller's luncheon guests were Mr. and Mrs. Frank Carpenter, Mr. and Mrs. Emmett Coakley, Mr. and Mrs. Willie Frank Masden, and Mr. and Mrs. Charles Lamb, all of whom had a good time.
Bullitt County Superintendent Frank Hatfield was appointed by the governor as chairman of the Citizens' Advisory Council to discuss implementation of the new Title IV federal program.
The paper wrote about Lloyd Mattingly's interesting hobby of making models of historical items. Mattingly who retired from the railroad, has his workshop filling up with his projects. (If you want to see two of his larger projects, visit the Courthouse and see his model of the 1917 train wreck, or visit Paroquet Springs Center and ask to see his model of the Paroquet Springs Hotel.)
Mr. and Mrs. Arnold Roland Baughn celebrated their Golden Wedding Anniversay on Easter Sunday. Mr. Baughn was Camp Ranger for Camp Shantituck for 14 years.
Rene VanVactor, Carla Hourigan, Debbie Doan, Beth Walker, Lois Metcalf, Vicki Ingram, Susie Bryant and Terry Phillips were selected as cheerleaders for Bullitt Central. All were from Lebanon Junction.
The 19th annual Cancer Dinner was held at Shepherdsville Junior High School. Neil Boggs of WAVE-TV was the guest speaker. Luke Lucas of Mt. Washington provided entertainment along with The Tonemaster Quartet. Mrs. Dorothy Hartsell once again provided dinner music. Nina Jasper, Maureen Hester, and Nancy Strange were presented with pins for 25 years service working with the Bullitt County Cancer Society.
And Gary Browning, Dianah Pike, Michael Lewis, Jacqueline Richardson, David Pike, Ann Huber, Eric Farris, Kathy Strange, and Shelia Roberts were rehearsing for their performances in an upcoming production of "Fiddler on the Roof" at Bullitt Central under the direction of Barbara Elliott.
1935 - 80 Years Ago.
The James B. Beam distilling plant at Clermont was completed and made its first run in the last of March with a current mash at 600 bushels per day. It was located on the site of the old Murphy, Barber Company.
Children from the Mt. Washington school performed for the the faculty members of the Western Kentucky State Teacher's College and were well received. Participating were Stanford Harris, Demetra Fisher, Loraine and Geraldine Forman, Mary Coyle, Opal Mae Owens, Elizabeth Lloyd, Alma Dean Fisher, Anna Ruth and Kathleen Harris, Zara Jane Hall, and Lindsay Wigginton. Edna McGee was their teacher.
The Board of Education filled all county teaching positions for the coming school term. Here is the list. J. C. Brashear (principal), Mary Holsclaw and Beatrice Lutes, Nichols; Dorothy Hedges, Mt. Olivet; Francis K. Beeler, Sunny Side; A. J. Beeler (principal), Pauline Daughterty and Ethel Mae Cochran, Glen Meadows; Sarah D. Whitman, Bullitt Lick; Fronia Crenshaw, Mt. Elmira; Myrtle Stansbury, Pleasant Grove; Ruth Weller (principal) and Cora Ney Hardy, Hebron; Junie Ash, Brooks; Quinn Pearl (principal) and Catherine Triplett, Bethel; H. N. Ockerman, Mt. Washington principal;Louella McFarland and Lindsay Jones, Mt. Washington High; Clyde E. Roby, Mary B. Hill, Virginia Gardner, Katherine Williams, and Myrtle Shake, Mt. Washington; Dale Carrithers, Cedar Glade; Jack Gardner (principal) and Martha Weller, Cedar Grove; Ruby C. Masden, Pitts Point; Mae Mathis, Beech Grove; Zardetti Dawson, Hayes; Johnnie Cruise (principal) and Evelyn Adams, Clermont; Woodrow Masden, Cane Run; Ida Lee Ball, Mt. Carmel; Clifton Hall, Culver Springs; Mildred Hall (principal) and Louise Cochran, Oak Grove; Kathryn Harned, Bardstown Junction; Ray Masden, Belmont; Sara Fay Lee, Sharps; Henry Owens and Mattie Owens, Bowmans Valley; Wilma Crenshaw, Woodsdale, and Willard Wright, Zoneton.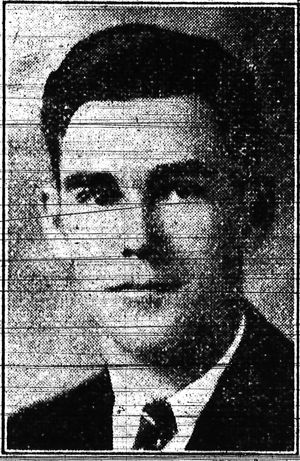 William F. Russell
Professor William F. Russell was given a four year contract as principal of the Shepherdsville School. The school's teachers were Virginia Thomas, George Yates, Hallie K. Griffin, Mary B. Smith, Lynwood Crenshaw, Maudean Mitchell, and Mary Alta Hudson. Roy L. Maraman, John H. Lee, Ralph C. Henderson, Gilbert S. Daugherty, and William N. Griffin were the members of the school board.
Erwin Funk was witness to the death of J. T. Melton on April 23rd when Melton was struck by a train on the Salt River bridge. Funk was driving over the wagon bridge when he saw the accident.
The Jack Sanders Family performed at the Masonic Temple with 25 musical numbers, and 15 different instruments.
Miss Mary Holsclaw attended service at the Walnut Street Baptist Church in Louisville to hear a Spaniard speak on religious conditions in his country.
And in the personal column we learned that Eva and Ida Maraman were guests of Evelyn and Virginia Dawson; and that Guy and Thelma Bergen and their little son Gerald of Atlanta were home visiting their parents.
---
Copyright 2015 by Charles Hartley, Shepherdsville KY. All rights are reserved. No part of the content of this page may be included in any format in any place without the written permission of the copyright holder.
---