It Happened in April
The following article by Charles Hartley originally appeared in The Pioneer News on 29 Apr 2019. It is archived here for your reading enjoyment.
---
We will be looking back 25, 50, 75, and 100 years to see what was being printed in The Pioneer News in 1994, 1969, 1944, and 1919 in the month of April.
1994 - 25 Years Ago.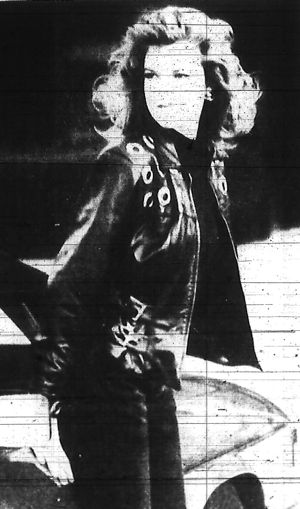 Michelle Sharp
Michelle Sharp, a senior at Bullitt Central, was pictured at a modeling session for an advertisement for the Bacon's Department Store.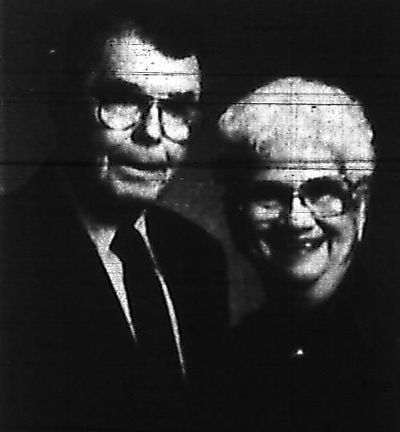 The Dunns
Lou Ann Moore's grandparents, Mr. and Mrs. A. E. Dunn, celebrated their 60th wedding anniversary. They were the parents of Mrs. Barbara Crume, Mrs. Sharon Smith, and the late Tracy Dunn of Shepherdsville, and Ronald Dunn of Texas.
Hot on their heels were Mr. and Mrs. Bernard Bischoff who were celebrating their 57th wedding anniversary. They were married at St. Rita Church in 1937. Bernard was a retired farmer, and Louise a retired school teacher of 45 years.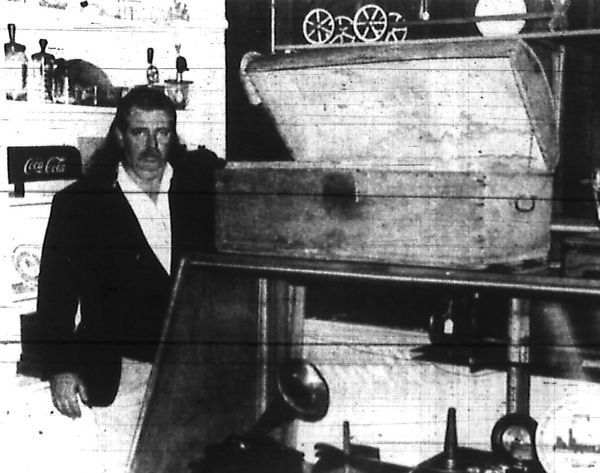 Louis Hoskinson
Louis Hoskinson was pictured with part of his railway collection at the Railtown Museum located in the Ole Hotel in Lebanon Junction.
The Central Kentucky Gaited Horse Club was working to clear a riding trail at Taylorsville Lake. Donna Perkins was president of the club, Frankie Yates was vice-president, and Denny Berry treasurer.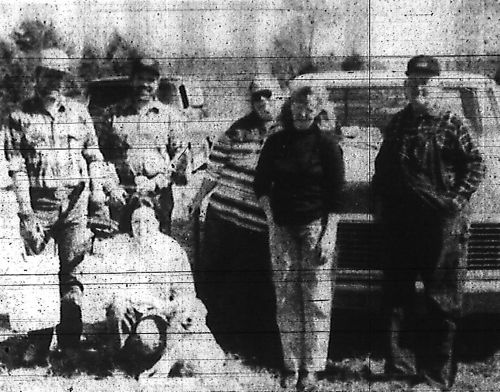 Those who were there to work were pictured including (left to right) Howard Perkins, Denny Berry, Frankie Yates, Janice Yates, Jim Cox, and Donna Perkins (kneeling).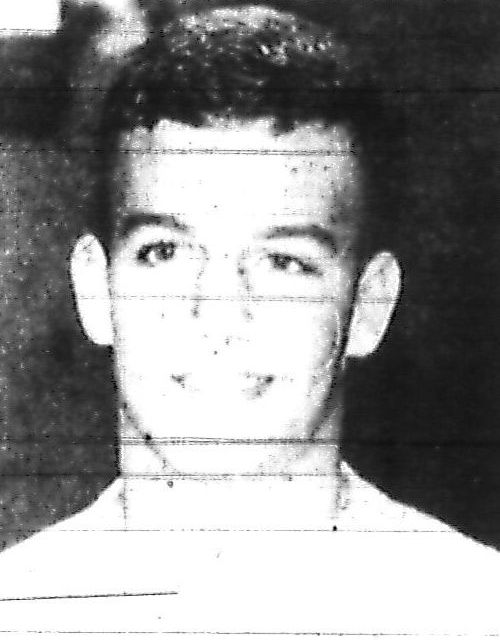 Bryan Young
Bryan Young of Mt. Washington Middle School was one of only ten of the 700 attenders at the Kentucky United Nations Assembly in Lexington to receive the designation of Outstanding Delegate.
The Bullitt County Woman's Club presents college scholarships to Chris Hodge of Bullitt Central, Julie Roemele of Bullitt East, and Jason Schmidt of North Bullitt.
A fixture in Kentucky politics, U. S. Representative William Natcher died not long after his consecutive voting streak came to an end due to his failing health. Natcher had served the Second District, including Bullitt County, since 1953.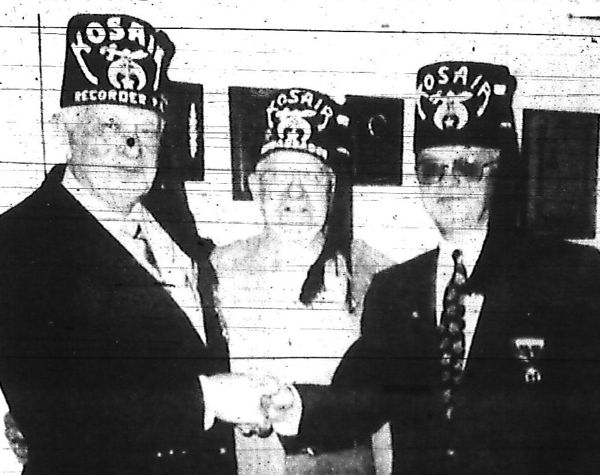 Shriners
Bullitt County Shrine Club President Billy Calvert was pictured along with Harley Sadler and Ike Neal as the club installed new officers including Charles Montgomery, first vice-president; Jerry Webb, second vice-president; David McDonald, 3rd vice-president; Bud White, secretary; Jim Welker, club coordinator; and Benny McDonald, treasurer. The board of directors included Bob Owens, Charles Hodges, Kelly Atwood, Ike Neal, Dave Woods, Charles Gentry, and Clarence Dodd.
The following members of the Bullitt Central FBLA qualified for state competition by placing in the top three in various categories: Toni Ashbaugh, Bobby Trowbridge, Mike Waters, Chris Decker, Mary Clark, Tina Hartlage, Sunshine Douglas, and Anna Parsley.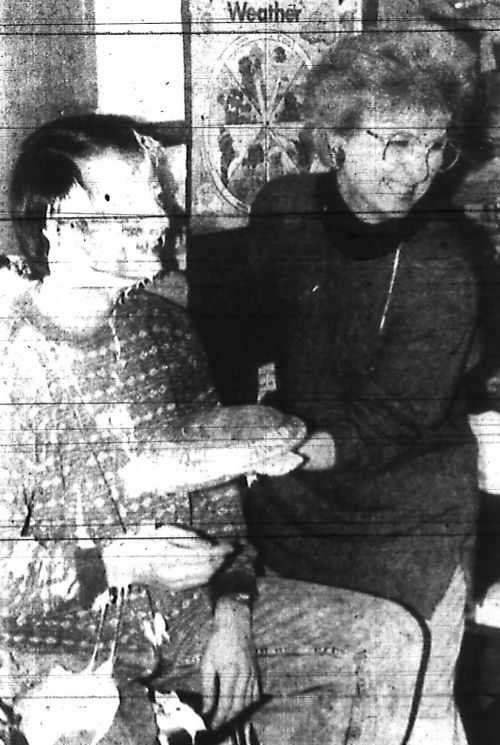 Pie in the face!
Overdale Elementary custodian Richard Woosley agreed that if students from the school raised $500 for the American Red Cross, he would take a pie in the face. Well the kids doubled the amount and he ended up with two chocolate meringue pies delivered by teacher Connie Garrett to the delight of the kids.
Seven students at the Bullitt County Technical Center advanced to state competitions following the regional event in Louisville. In visual communication arts, Jason Riggs earned a gold medal, David Howlett a silver, and James Holsclaw a bronze medallion. James Sweasy placed sixth in the event.
Becky Donnelly of Bullitt East placed first in culinary arts, and Amy Branch of North Bullitt was second. Sherry Tidwell of Bullitt Central placed first in group report, while Shirley First of Bullitt East earned third place in action skills. Finally, Shawn Geary of North Bullitt placed second in graphic arts.

Bullitt County Technical Center Winners
And Jimmy Frans, manager at the Shepherdsville McDonalds, was awarded a Bachelor of Hamburgerology degree from McDonald's Hamburger University after completing their advanced operations course.
1969 - 50 Years Ago.
The S.H.S. football squad was divided into "Black" and "Gold" squads for their spring practice game. The following team members were listed beneath a group photo.

Black Team: Gary Myers, Gary Roberts, Gary Shanks, John Clardy, Terry Price, Clinton Sears, Walker Crawley, Gary Wilson, Gary Sadler, Dent Able, Danny Perry, Greg Jones, Ray Graham, B. J. Dockery, Joe Eyes, Rick Sims, Terry Larimore, Dennis Watson, Jim Roby, Keith Walker, Bruce Myers, Thomas Crenshaw, Robert Shepherd, Gary Wilson, Leslie Sutton, Klapper and Knight
Gold Team: Larry Hodge, Phillip Freeman, Mike Cowan, James Snell, David Anderson, Larry Hilton, Ray Tarrence, Richard Morris, Tommy Gillespie, Henry Hume, Rickie Bruce, Kevin Simcoe, Ted Korfhage, Tom Baker, Mike Coy, Charles Myers, Lewis Skidmore, Eric Cundiff, J. B. Rutledge, Bill Hardy, Lonnie Price, D. McCreary, and Richard Mason.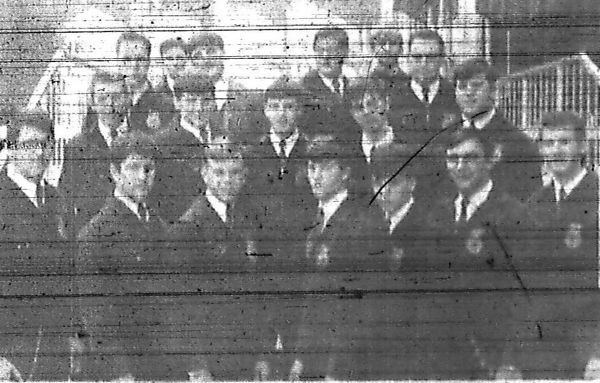 Shepherdsville FFA Chapter
The Shepherdsville FFA Chapter placed first in a Parliamentary Procedure contest at Lexington to advance to the state competition. The participants included Mike Perry, Philip Harris, Charles Tracy, Johnny Crump, Gary Moore, Kenny Young, Fielden Hawkins, Cecil Burks, James Frans, and John Price. Allen Middleton was the chapter advisor.
Gladys Sprinkle of Mt. Washington reported that Skip and Barbara Hatfield, their daughter Jenny, and Skip's mother Ruth all journeyed to Fort Knox to visit Lanny Lloyd who was recently inducted into the armed forces.
Mrs. W. C. Lanham of Cedar Grove reported that Mrs. Mae Vincent's visitors on Wednesday were Mrs. Eunice Young and Mr. and Mrs. Oral Meredith. Also Mr. Tommy Bolton and Mrs. Annie Bolton spent time in Bowling Green where Tommy's son attended school. In addition, Mr. and Mrs. John Warden of Belmont spent a day with Mrs. Beulah Vincent; and Mr. and Mrs. Calvin Young had returned home from their Florida vacation. Finally she told us that Mr. and Mrs. James H. Anderson celebrated their 25th wedding anniversary.
Athol Lee Taylor withdrew from the race for Circuit Judge, and gave his support to C. V. Sanders.
Barbara Jean Rummage, a senior at S.H.S., received a scholarship to attend Western Kentucky University. Barbara is a daughter of Mr. and Mrs. George (Bud) Rummage.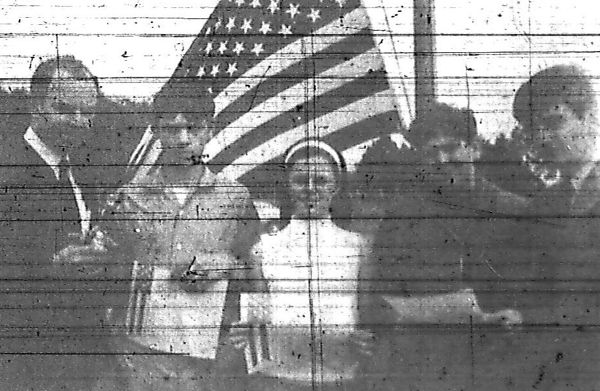 Mr. Lee and Essay Winners
Principal W. Lee of Cedar Grove was pictured presenting awards to essay winners Tommy VanMeter, Joey Dever, and Debbie Thomas who would participate in the county contest.
In the county contest, the three winners were David Sweazy and Sarah Routt of Mt. Washington, and Joey Dever of Cedar Grove.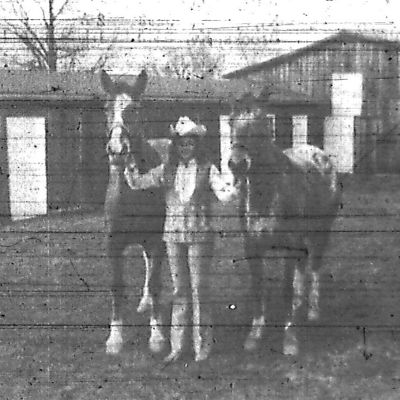 Mary Denzinger
Clara Simmons of Pleasant Grove reported that Rev. and Mrs. Boatwright, Mr. and Mrs. Wallace Armstrong, and Mr. Albert Armstrong were dinner guests of Mrs. Dorothy Armstrong. She also reported that Pvt. James Rummage had called his parents from San Diego where he was stationed with the Marines. His grandfather was Charles Rummage.
In the Hebron report we learned that Mr. and Mrs. George Z. Wigginton visited Miss Alice Pope, that Mr. and Mrs. Edward Earl Wigginton visited Mr. and Mrs. George Wigginton, and that Mrs. James H. Pope of Louisville visited the George Wiggintons.
Mary Denzinger, a member of the Bullitt County Saddle Club, was selected as the Bluegrass State Appalossa Horse Club queen.
And Harvey Johnson, manager of the Bluegrass Lodge, was taking applications for a desk clerk.
1944 - 75 Years Ago.
The Grand Jury, made up of Burton Wise, F. E. Deacon, Jess Hardaway, Walter O'Bryan, Carl Christman, Charles Lamb, Albert Able, Vernon Dickey, G. L. Everback, Harold Ricketts, E. F. Hornbeck, and Raymond Cox, had a light load of work to do, taking only two days to complete it.
Folks called to serve as petit jurors included Roy Applegate, Robert Devers, Will Shaw, O. H. Masden, Ed. C. Tyler Sr., E. E. Stevens, Lee Bumgardner, Lowell Hall, Everett Hackett, Jeffie Lee, G. A. Branham, W. A. Ladusaw, Val Hartlage, Elmore Hatfield, R. A. Tinsley, Bernard Bishoff, Albert Fisher, Squire Roby, George Cox, Henry Maraman, and Fred L. Owen.
The Shepherdsville High School Civics class, led by Mrs. Layne Wigginton, attended Circuit Court to watch court in action. Circuit Judge L. B. Handley took time to explain to them the work of the probation law.
Jesse Lee Houck, who was formerly of the Clermont area, and son of Dr. Isaac Houck, died in Louisville. He was a switchman and yard master for the L & N for about 23 years.
The Community Easter Sunrise Service was held for the eighth consecutive year at the Methodist Church in Shepherdsville. Dr. James Leo Green of Southern Seminary was the speaker.
In Mt. Washington, the Sunrise Service was sponsored by the Sunday School classes of Mrs. C. L. Stansbury and Mrs. Lindsay Jones.
A large crowd attended a local "Gay Nineties" play in Shepherdsville. Rev. Lowell F. Sodeman of the Baptist Church was the master of ceremonies, and he was joined by Rev. Howard Matthews, Rev. Earl T. Sturgess, Professor Hayes, Russell Jenkins, Professor Sanders, Herman Williams, Jr., and, I quote, "several ugly school-boys and about thirty real pretty girls." The play was directed by Mrs. Anna Laura Jenkins.
Pvt. Roy Larimore, Pvt. Burel Coakley, Pvt. Raymond Coakley, and T-5 Ray Masden were all stationed somewhere in England where they each received their Good Conduct medals.
Stanley Lee and Jimmy Powers were attempting to start a truck at the Standard Oil garage in Salt River when it caught fire. The fire spread, burning everything except two gasoline storage tanks.
Cissy Gregg was the guest speaker at the Woman's Club meeting held at the home of Mrs. Ralph Henderson, and hosted by Mrs. Fletcher Smith and Mrs. Burks Williams, Sr.
In the Personals column we learned that S.Sgt. Edgar Lee Howlett had arrived safely in New Guinea; that Capt. Gilbert Masden was home on a furlough; that Cecil Larimore was on the sick list; that Mr. and Mrs. W. L. Napier and sons spent several days as guests of Mr. Amos Napier at Prestonburg; and that William Lee Hatfield was home on furlough and spent a day with his brother Lewis Edward Hatfield and family.
Athol Lee Taylor, son of Bailey Taylor, and grandson of J. B. Swearingen, was added to the faculty of the University of Louisville law school teaching special courses following his discharge from the army.
Mt. Washington High School Commencement Exercises were scheduled for May 4th, with the following students scheduled to graduate: Lucille Cook, Pearl Cox, George Raymond, Ersa Armstrong, Rosetta Benningfield, Betty Jo Lloyd, Dortha Alcorn, Christine Owen, Ward Hill McAfee, Madeline Moore, Kenneth Lutes, Carrie Lee Smith, and Owen Tyler.
And Shepherdsville High School had 24 scheduled to graduate including Robert Bennie Armstrong, Solomon Neil Brooks Jr., William Howard Dawson, Charles Larue Hamilton, James Ray Hardy, Thomas Anthony Noltemeyer, William Thomas Price, John Allen Raley, Wilbur Ellis Raymond, Thomas Earl Stillwell, Elizabeth Bealmear, Mary Tyler Bell, Nellie Lee Easten, Shirley Mae Lane, Alberta Pope Maraman, Geneva Mae Masden, Mary Catherine Mudd, Clara Jane Newman, Mildred Marietta Raley, Martha Elizabeth Ridgway, Mary Jane Ridgway, Lula Mae Thurman, Margie Catherine Warden, and Mildred Williams.
1919 - 100 Years Ago.
The first issue for April 1919 reported the death of J. M. Stansbury. James moved from Georgia to Bullitt County following the Civil War, and married Nancy Jane Carpenter soon thereafter.
Their first child was Mary Jane, known better as Jennie. She married John Henry Lee, son of Orleans and Mary (Cundiff) Lee.
Next was James W. Stansbury who married Mary Jane Cundiff. The last of their four children was Lounetta who married William Williams. This James was a victim of the 1917 Shepherdsville train wreck.
Next came Emmett Stansbury who married Mabel Katie Bell, daughter of John and Reva (Mobley) Bell. Among their children was Edgar Bryant Stansbury whose ties to WKU are still remembered today.
The final two children of James and Nancy Jane were Henry Augustus Stansbury who married Ida Pearl Gilpin, and Ella Stansbury who married Richard Hays.
In other news, S. L. Hayden, the night telegraph operator at Brooks Station, was held up by an armed masked man. Hayden said he was about 5'9", weighed about 150 pounds, and wore a dark suit and gray cap. If you see him, call the sheriff.
The paper reported that C. F. Troutman had suffered a paralytic stoke on his left side. Charles Fillmore Troutman, Sr. was one of three brothers who operated the Troutman Mammoth Store in Shepherdsville. He had also been cashier for the Bullitt County Bank for many years.
The editor was happy to report that General Wilson was about recovered from his bout with the Spanish flu, and would be back behind the counter at Troutman's store soon. Wilson, a transplant from North Carolina, was married to Letitia Hornbeck. Their son Tommy would later become Bullitt County Court Clerk.
The editor was also pleased to announce that Jimmie Lee was back from the army, and present alongside Jim Hardaway at the Peoples Bank in Shepherdsville.
The four banks in Bullitt County issued their annual reports. R. L. Simmons of the Shepherdsville Peoples Bank reported a total value of $324,525.96. R. M. Hocker of the Lebanon Junction bank reported $216,806.96. Bert Hall of the Mt. Washington Peoples Bank reported $263,732.59. And J. F. Combs of the Bullitt County Bank reported $448,733.95.
Bert Gentry, James Roney, J. E. O'Bryan, Robert Brashear, Embry Deacon, O. D. Hill, Lee Beard, F. T. Harned, Henry Lutes, John Barrall, Tom Terry, J. L. Quick, James Cochrane, Charles Funk, Charles King, Ray Lansford, and John Pound all learned that their names had been called to serve as Bullitt Circuit Court jurors.
The Hebron correspondent reported that Lillian Wiggington had returned from Bowling Green where she was a student; that Miss Birdie Ball had spent a weekend with Miss Howlett at Pitts Point; and that Mrs. Charles Bridwell of Shepherdsville had spent a weekend with her mother, Mrs. Rogers.
She also reported that they had found a chicken nest in the hay loft that contained 52 eggs. Sounds like a "fowl" story to me.
And Mrs. Clara Newman, together with her daughter Ethel and son Arthur were slightly injured when their horse was frightened by an automobile driven by Walter Harshfield on Main Street in Shepherdsville. Their buggy turned over, throwing them to the ground. The editor reported that immediately after the accident, Arthur Newman ordered an automobile.
---
Copyright 2019 by Charles Hartley, Shepherdsville KY. All rights are reserved. No part of the content of this page may be included in any format in any place without the written permission of the copyright holder.
---