It Happened in April
We will be looking back 20, 40, 60, 80, and 100 years to see what was being printed in The Pioneer News in 2002, 1982, 1962, 1942 and 1922 in the month of April.
2002 - 20 Years Ago.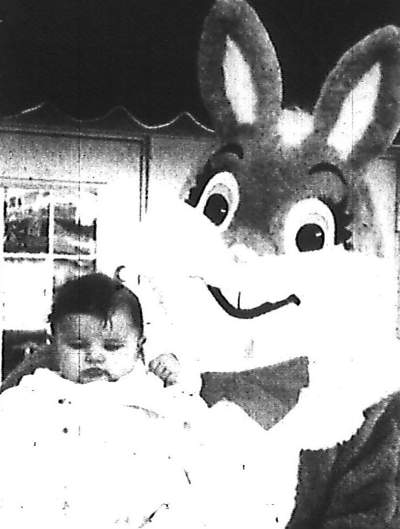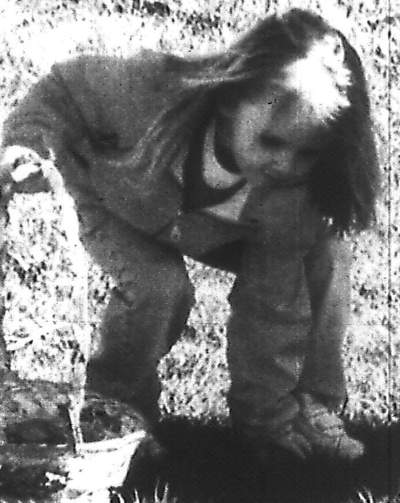 Marissa and Shayna
Marissa Simmons had her picture taken with the Easter Bunny, and Shayna Capei collected eggs during the festivities.
Brooks Elementary was overall winner in their regional Governor's Cup competition. In individual events, Ashley Anderson of Old Mill placed first in written composition, Taylor Pickett of Old Mill won in mathematics, Connor McGinnis of Bardstown won science, Ethan Morris of Brooks took the social studies event, Carrie Wohlschlegel of Brooks won in language arts, and Sean Fowler of Mt. Washington took first in general knowledge. The Brooks team won Future Problem Solving, and Bardstown won quick recall.
In the conservation essay contest, Phillip Figg of Lebanon Junction placed first, Zack Hardin of St. Aloysius was second, and Whitney Crabtree of Maryville placed third. In the poster contest, Taylor Jenkins of Overdale was first, Amanda Denham of Nichols was second, and Kaelin McWilliams of Mt. Washington Elementary was third.

The Bullitt County 4-H Council held its annual public speaking competition and the following winners were pictured with 4-H Agent Jeff Young: Candise Cooksey, Veronica Decker, Kathy Burton, Janna Mallay, Karissa Smith, and Laura Lund.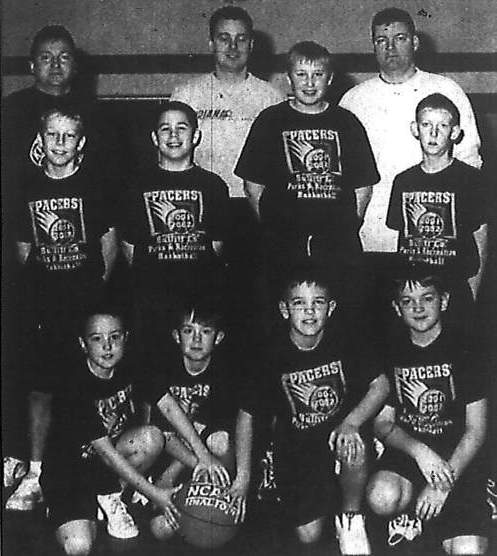 The Pacers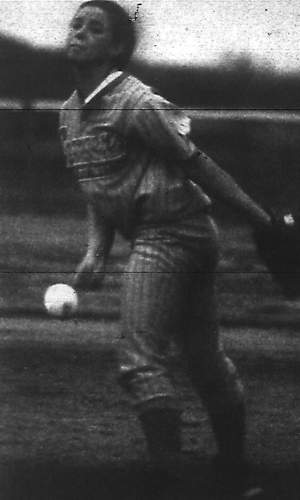 Katie Seitz
Christopher Harper of Shepherdsville received a gold medal in his age group for Kumite at the Bluegrass Winter Games.
The Pacers were undefeated in the Parks and Rec 9-10 boys' basketball division. Team members included Nathan Judd, Luke Allen, Kodey Kearney, Justin McGary, Justin Dalton, Jordan Leslie, Willie Moore and Andrew Hoben. Their coaches were Jerry Barnhart, Jim McGary and Danny Dalton.
Tricia Lynn Bowlds of Mt. Washington and Gregory Michael Vittitow of Brooks were among those named to the President's List at Eastern Kentucky University.
Bullitt East sophomore Katie Seitz was pictured delivering a pitch in her school's victory over North Bullitt.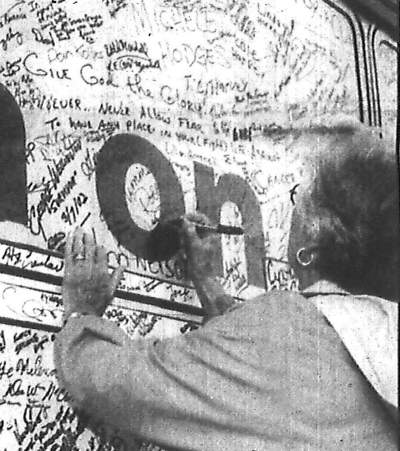 Margaret Hatfield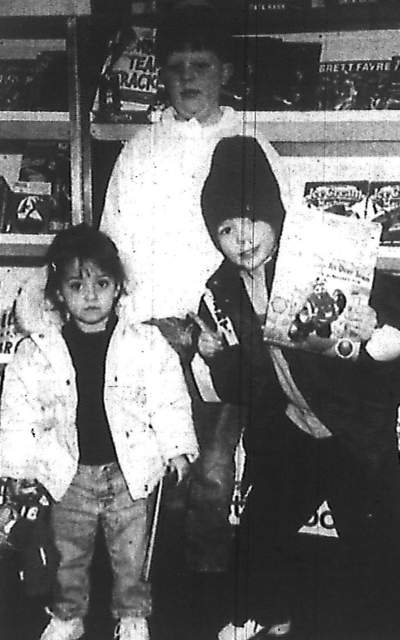 The Nortons
Margaret Hatfield was pictured writing her name on the side of a bus, but it was for a good cause as a fund raiser for Relay for Life. The bus was to be on the road for several months, collecting signatures in more than 40 states.
Justin, Jordan and Gabby Norton were pictured checking out the book fair at Mt. Washington Elementary School.
The Girls' All-Bullitt County basketball team included "player of the year" Melanie Keith (BE), Amanda Dixon (BE), Ashley Reynolds (BC), Tiffany Allen (BC), and Nikki Keehner (BE) who was also co-juniors of the year along with Lauryn Hatchett (NB). Brittany Anderson (BC) was the leading sophomore.
On the boys' side, the team included "player of the year" John Stover (BE), Todd Spencer (BC), Adam Schott (NB), Chad Stivers (BC) who was also the leading junior, and Travis Kotheimer (BE). Justin Broughton (BE) was the top sophomore.
High school students from Bullitt Central and North Bullitt participated in a Military Ball. North Bullitt king Steven Merz and queen Niki Martin were pictured with Jill Heuser and Patrick Berry.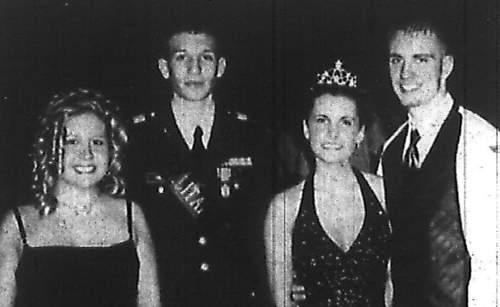 At the Military Ball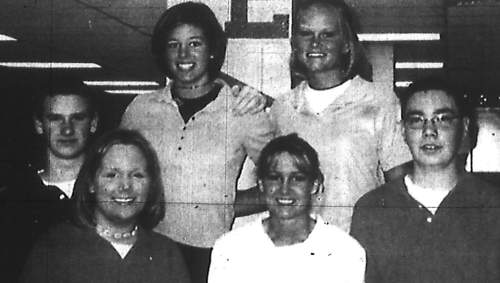 Scholarship Winners
Six Bullitt East students were pictured as recipients of scholarships to Western Kentucky University. They included Meghan Anderson, Sarah Murray, Kyle Cooke, Sallie Mills, Stefanie Sellers, and Kristal Atwell.
And Scott and Dedre Hatfield's three children have triple crown birthdays. Brett was born on Derby Day, Tate on Preakness Day, and then Brooke on the day of the Belmont race. Grandma still talks about her "miracle" granddaughter!
1982 - 40 Years Ago.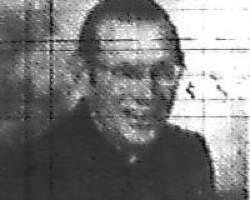 Father Hagen
Father Joseph Hubert Hagan, pastor of St. Aloysius Catholic Church in Shepherdsville, died after an illness.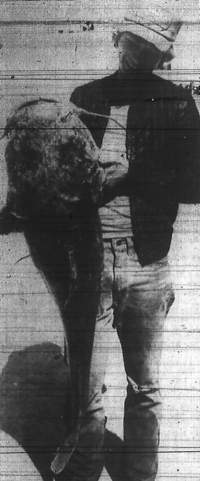 Ray Rowland
Oretha Ridgway of Nichols wrote that Deborah Atkinson, niece of Betsy Smith, attended Cumberland College and was spending spring break with her Aunt Betsy.
Wanda Richardson was available to transport senior citizens to the Health Fair at Shepherdsville First Baptist.
Elizabeth Worley of Lebanon Junction wrote that Kevin Miller was excited to be a part of the official University of Louisville party attending the NCAA tournament games in Birmingham. Also attending from Bullitt County were Randy and Sue Baumgardner.
Mary C. Holsclaw wrote that the Easter Sunrise Service held at the Hebron Cemetery would be led by Rev. John Everett of the Hebron Church. She also mentioned that the Hebron Women of the church enjoyed a pot luck meal at the home of June Williams.
Winners of the conservation essay and poster contest were announced in a ceremony at Roby School. Named as winners in the poster contest were Kimberly Perkins (Cedar Grove), Patrick Keating (Brooks), Troy Hamilton (Overdale), Eric Scott Elwell (Roby), Cheryl Pickens (Maryville), Rebecca Dadisman (Bullitt Central), Thomas Peacock (Nichols), and Matt Romine (Mt. Washington). The essay contest winners were Vanessa Stearman (Nichols), Keith Polston (Hebon), Gerald Burba (Bullitt Central), Tammy Mahoney (Bullitt Lick), and William Douglas Slaughter (North Bullitt). Countywide winners were Rebecca Dadisman (poster), and Gerald Burba (essay).
Ray Rowland of Shepherdsville was pictured holding the 50 pound catfish he caught from Salt River.
JoAnn Barr and Mary Lou Smith, principals of Nichols and Maryville Elementary schools respectively, attended the National Association of Elementary School Principals' annual convention in Atlanta. Mrs. Barr was president-elect of the Kentucky Association, and Mrs. Smith was state editor.
Polly Cundiff, Chairperson of the Bullitt County Woman's Club Scholarship Committee, presented the annual scholarships to Gerald Burba of Bullitt Central, Robert Kennedy of North Bullitt, and Deanna Herr of Bullitt East.
Andy Wibbels of Bullitt East was pictured racing for a fly ball in a game against Bardstown Bethlehem.
Bullitt Central junior Troy Simpson was pictured clearing the last hurdle on his way to victory in the high hurdles.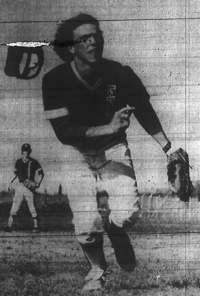 Andy Wibbels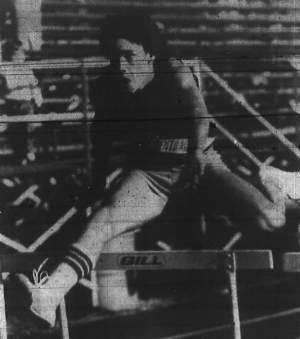 Troy Simpson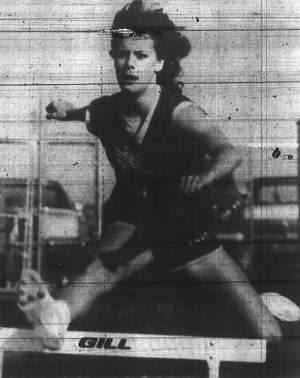 Andy Anthony
Bullitt East's Andy Anthony was also pictured clearing a hurdle on her way to victory.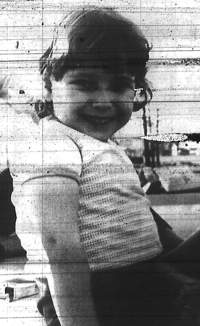 Amy Hodge
In speech team competitions, the following Bullitt Central team members qualified for nationals: Dana Alcorn and Lisa Carlton in debate, Teresa Hollingsworth and John Shafer in student congress, Brian Waddle in humorous interpretation, Karen Bleemel in original oratory, and Mike Kirkman and Maiko Chambers in Lincoln-Douglas debate.
Also from Bullitt Central, David Summers, social studies teacher, accompanied Lisa Carleton, Rafael Rosa, Karen Bleemel, Tommy Davenport and Danna Grider to Washington, D.C. where they participated in the "Close-Up Foundation" program.
June Harrington took a cute picture of Amy Hodge, daughter of Andy and Brenda Hodge.
Sam Hardy and Joe Mooney had all the parts you needed to tune up your lawn equipment, and they were on sale at the Hardy & Mooney store next to the railroad tracks.
And if you wanted to rent a booth at the Bullitt County Fair, you needed to call John Newton, George Roederer, John Diebel, Adrian Larimore, or Bernice Greenwell.
1962 - 60 Years Ago.

Joetta Bass, Laverne Stout and Donna Harris were pictured following a victory in the 4-H contest sponsored by Kentucky Utilities.
C. V. Sanders
B. F. Robards presented honor awards to bankers C. Frye Haley, Leo B. Dawson, Vernon Mothershead, and Roger Alford.
C. V. Sanders was appointed chairman of Bullitt County's campaign organization for the "Wyatt for Senator" effort.
Mrs. W. A. Hessey of Mt. Washington wrote in detail about a style show sponsored by the Mt. Washington School cheerleaders. In it she named all of them including for the varsity Beverly Hurst, Connie Alcorn, Joetta Bass, Cherry Armstrong, Benita Clark and Monie Armstrong; and for the junior varsity Patsy Cook, Betty Cook, Brenda Travis, Barbara Armstrong, and Sue Bowman. Alumni cheerleaders featured in the event included Eleanor May Troutman, Linda Lou Lloyd, Barbara Mullins and Maurice Wise.
J. W. Vincent had rooms for rent at the Lebanon Junction Hotel; $10 a week or $30 a month.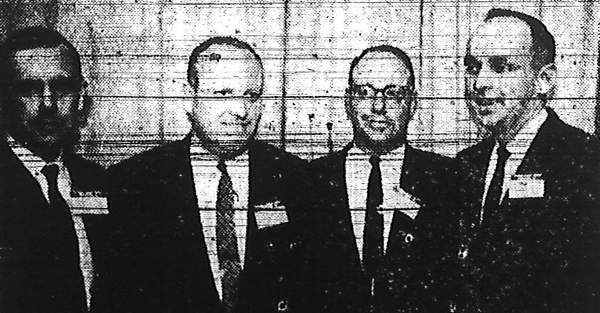 School Board Members
Miss Margaret Foster of Bardstown Junction congratulated Mr. and Mrs. Henry Hasty on the birth of their son.
Also celebrating a birth were Samuel and Sue (Coy) Lindsay with the birth of their daughter.
The Harmonaires, a quartet of boys including John Wayne Moore, Mike Waller, Neal Armstrong, and Nickey McArthur of Mt. Washington, competed in a 4-H contest at Bardstown and earned a red ribbon for their efforts.
C. R. Anderson, Dr. M. J. Cundiff, C. T. Korfhage, and Thomas Jeffries were pictured as they attended a meeting of the National School Boards Association in St. Louis.
Mr. and Mrs. Bob Harned of the Bullitt County Feeders Supply were among other top dealers of the Ralston Purina Company at a meeting in San Francisco.
Lottie Mullins of Lebanon Junction wrote that the high school seniors returned from a trip to Washington, D.C. Those on the trip included Gwendolyn McCubbins, Joyce Hayden, Ethel Rhodes, Nell Baumgardner, James Dennis, Larry Coakley, Billy Whitehouse, David Goodman and Larry Sanders. Their sponsors were William Bishop and Shirley Asher.
Mrs. John Rhul of Shepherdsville advertised that she was interested in buying an old-fashioned butter churn.
Mrs. Joe Hedges of Sunnyside wrote, "Our dear Aunt Katherine Applegate had to be rushed back to the hospital last Wednesday week. She was feeling some better Friday when I saw her."
In the Personals column we read that Mr. and Mrs. J. D. Buckman, Carletta and Ann, Mr. and Mrs. Jerome Monroe, and Mr. and Mrs. Theodore Cook were Easter Sunday guests of Mrs. Carletta Buckman.
And Sue Powell taught a first aid class to local firemen, telephone men, and bus drivers. Among those participating were Bill Jenkins, Bill Bacon, Ben McAdams, C. L. Croan, J. B. Hockensmith, S. A. Lowe, Bill Armstrong, C. E. Smith, and Delray Robinson.
1942 - 80 Years Ago.
Most of us don't pay much attention to lists of property transfers in the paper, but this list caught my eye. See if you recognize anybody. Virginia and Marvin Harmon to Earl and Delia McAhron, 35 acres; William and Etta Hammond to James and Rachael Garr, 20 acres; Hewitt and Dorothy Harned to Ack Harned and wife, about 4 acres; Wilson and Anna Summers to George and Ida May Wise, 150 acres; T. J. Trunnell and wife to Charles W. Dawson and wife, 60 acres; Maud E. Daugherty and husband to Irvin Shelton, 110 acres; W. J. Fogle and wife to Hughlett Moore and wife, 66 acres; Robert and Dorothea Nickols to Oscar and Laura Whiteman, 110 acres; C. L. and Lena Troutwine to William Heffley, 6 lots; Lula, Tom and Georgia Cochran to Richard Maraman, a house and lot; Etta and Thurman Shouley to Emmett and Beulah Coakley, 92 acres; and D. J. and Imelda Maloney to Fred and Melissa Losch, 97 acres.
In the April 3rd paper, the names of 21 men drafted into the military from Bullitt County were listed. They included Smith Garrow Carrithers, Benjamin Lunsford, Daniel Rarden, Morris Wilhite, Vernon Anthony Wise, Lloyd Newton Branham, Vernon Clarence Moore, Richard David Hickerson, Emmett Lee Raney, Golden Louis Myers, Woodford C. Peacock, Robert Franklin Mudd, Vernon Walls, Lucien Porter Parrish, Marshall Emerson Samuels, Francis Dugan Montgomery, Thomas Clay Bowman, Ernest Howard Ashbaugh, Nickles Steinlander Jr., Albert Lawton Rodgers, and Robert Lee Abell. They would not be the last.
G. L. Shaw of the Woodsdale School Community had five ewes and ten lambs in his effort to produce sheep for the "Food for Defense" program.
In the Personals column we learned that Mrs. Dee Bergen had returned from Louisiana where she had been with her daughter Mrs. Leland Brickle who had been ill but was now better.
J. A. Hayes of Shepherdsville was selling his 1940 Plymouth sedan. It had good tires, a radio and heater, and was in A-1 condition.
The Barrallton correspondent wrote that the H. E. Stivers and Mrs. Mattie Able visited Lee Beard and family at Gap in the Knob and found them well pleased with their new home.
John N. Lane, Forest M. Whitworth, and J. Satterly were each ordained as deacon of the Cedar Grove Baptist Church.
The Beech Grove correspondent wrote that Clifford Lee, Hilary Eddington, Lindsay Cundiff, and Herbert Cundiff made a trip to Nashville; and that J. M. Cundiff needed to find a new fishing hole as they weren't biting at his old place.
From Mt. Washington we learn that M. R. Porter, who had been occupying the Mt. Washington Motor Company garage had moved his equipment to the rear of the Cyclone Store where his mechanic Horace McGee was then working.
L. D. Robinson, George Tinnell and Miles Fox were each injured when the high runway at Beam's Distillery at Clermont gave way causing them to fall.
James E. Hagan, Horace Dawson, Jesse J. Lee, W. J. Leslie, Thomas Huffman, and Trainor H. Roby were among the farmers displaced by Fort Knox who were scheduled to receive payment for their land.
And the Hebron correspondent reported that Mr. and Mrs. Bernard Bischoff and Mr. and Mrs. Sam Bell went to see "Lum and Abner" on Saturday evening.
1922 - 100 Years Ago.
Misses Evelyn Adams and Dorothy Maraman entertained with an informal dance. Present were Misses Hattie Buckman, Etta Nusz, Clara Johnson, Mary Buckman, Eleana Glenn, Ada Buckman, Hazel Dell Trunnell, Ophelia Masden, Wanda Adams, and Messrs James Stallings, Clarence Stallings, Gabe Summers, Charles Lee Bradbury, Orbra Lee Masden, Robert Hays Simmons, Curtis Smith, Brooks Tyler, Pat Pope, Robert Tyler, Jerome Monroe, Theodore Combs, Bill Griffin, and Golden Hall.
The School Board elected the following teachers for the fall session: Nichols - Christina Armstrong, Shades - Margaret Chambers, Woodland - Tom Stallings, Licks - Willie Quick, Mt. Elmira - Aldena Barrall, Hebron - Miss Magruder, Brooks - Evelyn Sutton, Zoneton - Meta R. Cooper, Sugar Valley - Elizabeth Cash, Glades - E. Nora Bridwell, Pleasant Hill - Mabel Snellen, Victory - Ruth Crenshaw, Woodsdale - Mary Weller, Hobbs - Elizabeth Vittitoe, Clermont - Thelma Daugherty, Glen Ella - Willie Mae Ridgway, Pitts Point - Beulah Lee, Hays - Mary Stallings, Cane Run - Ida Mae Greenwell, Harned - Ruby Houck, Mt. Carmel - Ruth Murray, Culver - Janice Harned, Oak Grove - Mary Crenshaw, County-Substitute - Hewitt Harned.
The usual suspects were drafted to serve on the Circuit Court petit jury. They included Frank Carpenter, Pearl King, Fred Bogard, N. J. Cundiff, Charles Nelson, J. L. Quick, Charles Burns, Ed Owens, Stoney Weller, R. W. Childers, R. B. Hall, Ambrose Skinner, John Greenwell, W. T. Jenkins, S. O. Armstrong, Jim Taylor, Buck Close , I. T. Mudd, Lee Barger, Albert Armstrong, W. P. Foster, Lee Bolton, J. H. Shelton, Charles Starks, Virgil Hibbs, Albert Fisher, Burr Gentry, Joe Dawson, Henry Davis, and Virgil Duvall.
That was after O. P. Means, the grand jury foreman, and his cohorts James King, Lowell Hall, Arthur Ice, Ambrose Ridgway, George B. Herps, J. C. Thornton, S. S. Barger, John Adams, Basil Scott, Robert Shanklin, and W. A. Cook had approved all the charges.
The paper reported that as Misses Berle, Ernestine and Dorothy Hall were on their way to school at Shepherdsville one morning, the pony they were driving became frightened as it passed Wax Simmons' place and ran away, upsetting their buggy. Fortunately, none of them were hurt, although Miss Berle's clothing was badly torn as she was thrown against a wire fence. Ouch!
In Mt. Washington, Mrs. C. O. Parrish opened her millinery store at her home and had a lovely new line of goods on display.
Also, Lee McArthur and Frank Parrish, of Louisville, spent the weekend with Paxton Parrish. Frank said he was tired of city life and will try the country again.
The Pleasant Grove correspondent reported on the death of "Aunt Axie" Stallings at the age of 82. She had always been industrious and a good neighbor. She left a son, John Stallings and five grandchildren; also a sister, Mrs. Tillman Ridgway.
The correspondent for the column titled "On the Mt. Washington Road" wrote that J. D. Hough had spent a weekend with his daughter, Mrs. Rosa Simmons; that Mrs. Jane Hall was having a new hen house erected; and that Robert Sanders lost a horse the previous week.
And in the Personals column, we learned that Dr. Ridgway spent a weekend in Lexington, and that Colonel Billy Preston, considered the ladies man of Clermont, visited from Chapeze.
---