It Happened in April
The following article by Charles Hartley originally appeared in The Pioneer News on 27 Apr 2020. It is archived here for your reading enjoyment.
---
We will be looking back 24, 50, 75, and 100 years to see what was being printed in The Pioneer News in 1996, 1970, 1945, and 1920 in the month of April.
1996 - 24 Years Ago.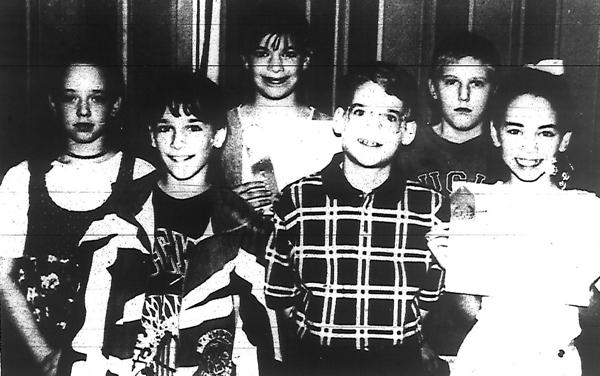 Poster Winners
Warren White, St. Aloysius, placed first in the county in the Soil Conservation poster contest. Placing second was Crystal Thompson of Nichols. Other school winners included Andy Puckett, Bernheim; John Hodge, Brooks; Donnie Paul, Bullitt Lick; Lynsey Wurzel, Cedar Grove; Carrie Maddox, Hebron; Lauren Parrish, Maryville; Lindsey Abell, Mt. Washington; Ashley Murrell, Overdale; Michael Evans, Roby; and Natalie Hettinger, St. Benedict.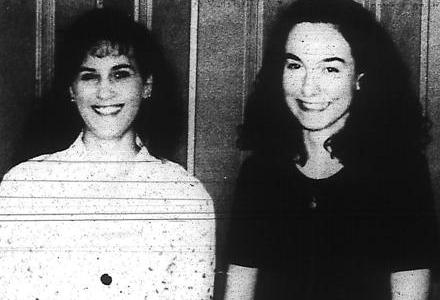 Essay Winners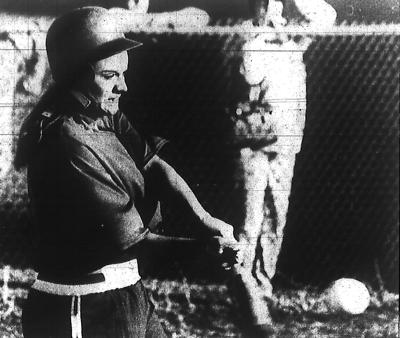 Carrie Johnson
Were you in Ms. Thomas and Ms. Dorris' classes at Roby when Jim Jolly showed off his breakaway basketball rim invention?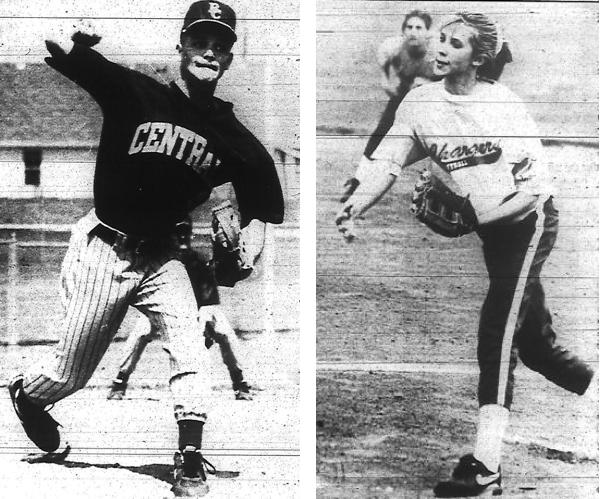 Maynard Thompson / Megan Fitchen
Whitney Robertson and Jennifer Belcher of North Bullitt placed first and second, respectively, in the Soil Conservation Essay Contest.
B.C. Head Coach Rick Dawson was looking forward to a strong baseball season with his top pitcher being senior Maynard Thompson, followed by junior Jason Thiel.
First year B.E. softball coach Leon Remington had an experienced team returning, led by Megan Fitchen who led the team in pitching during the previous season. Joining Megan with pitching duties would likely be sophomore Amanda Duncan.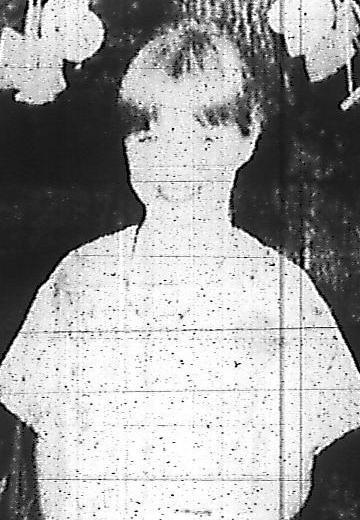 Jessica Hutchins
In a game against North Bullitt, East player Carrie Johnson had two hits, and was pictured in the paper hitting the ball.
Buddy Shepherd contributed his talent as an auctioneer for the Nichols Elementary Spring Fling.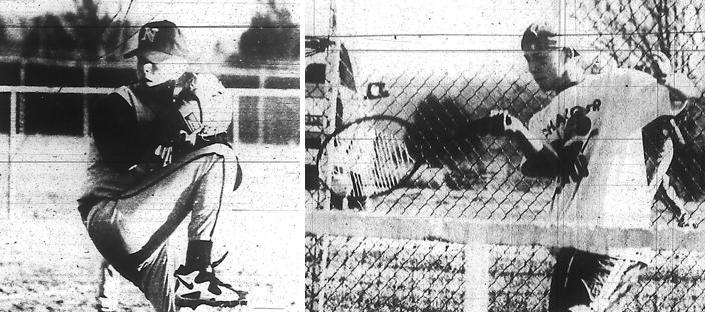 David Lewis / Jason Ralston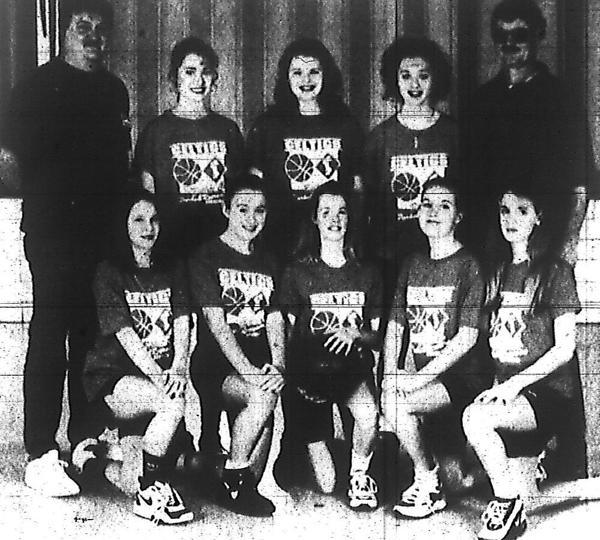 The Celtics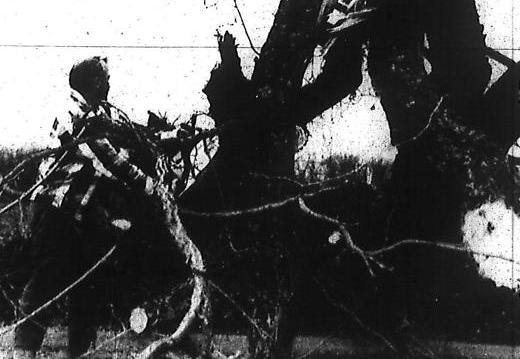 Jessica Hutchins of Roby Elementary won the "Jump Rope for Heart" contest for the second year in a roll.
David Lewis got the North Bullitt baseball team off to a winning start when he allowed just two hits in a 6-0 win over Nelson County. He recorded 10 strikeouts in just four innings.
Jason Ralston led his Bullitt East tennis team to a 3-2 victory over North Bullitt by defeating Mike Garr 8-3.
Joe Ryan and Spud Skidmore coached their Celtic team to a runner-up place in the girls' 12-14 division. Team players included Amy Eichen, Brandy Ryan, Cindy Thornsberry, Kristie Dillman, Megan Oatley, Holly Skidmore, Stephanie Billings, and Theresa Yocum.
How many of us remember enjoying Fred Wiche's Weekend Gardener columns? In gathering material for this column I once again enjoyed reading his April 15, 1996 column of the pawpaw tree.
Several couples celebrated their golden wedding anniversaries including Nick and Dottie Hahn of Hillview, Abel and Viola Snellen, Joe and Mildred Wilder, and Barney and Betty Horton of Lebanon Junction; but they all had a way to go before reaching the mark set by George and Hazel Conway who celebrated 70 years of marriage.
Regrettably, George passed away a short time after their anniversary. Hazel lived until September 2000.
After the strong wind storm (some say tornado) hit the eastern part of the county in April 1996, Danny Fackler was pictured helping clear debris off Markwell Lane.
Sharon Wernery, office manager for TCI of North-Central Kentucky, was nominated by the Bullitt Central FBLA chapter for Business Person of the Year in this region. She was honored to win that title.
Mt. Washington Middle School's Future Problem Solving team of Josh Meredith, Melissa Hilbert, Kristen Delaney, and Alicia Burton joined Gabe Hodges (science and general knowledge) in reaching the State KAAC competition.
And Glenn Caple and Rodney Hockenbury, local deputy sheriffs, opened Cortney's Castle on Preston Street in Okolona. How many of you remember taking your kids there?
1970 - 50 Years Ago.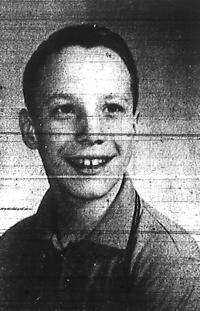 Kevin Nunn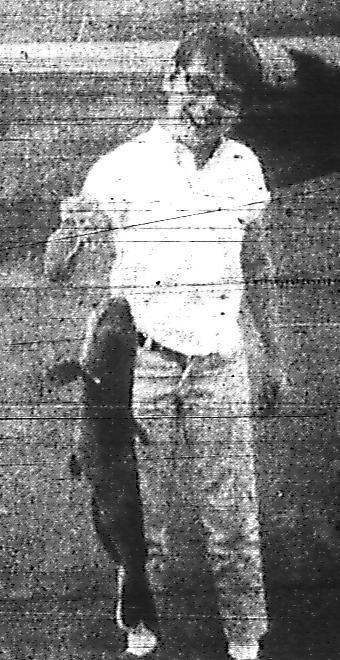 Christi
The paper reported that a warrant had been issued for the arrest of a 22-year-old man in the murder of William Paul Kidd, a Bullitt County school teacher in March. The accused murderer had been arrested in Florida, accused of another murder there. He was later convicted of that crime, and remains in a Florida prison, serving a life sentence.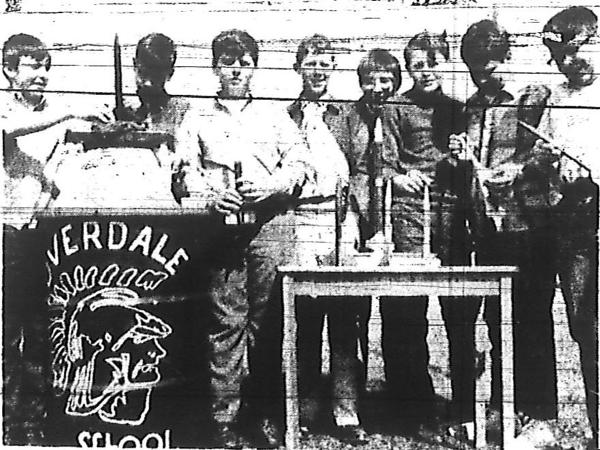 Rocket Launchers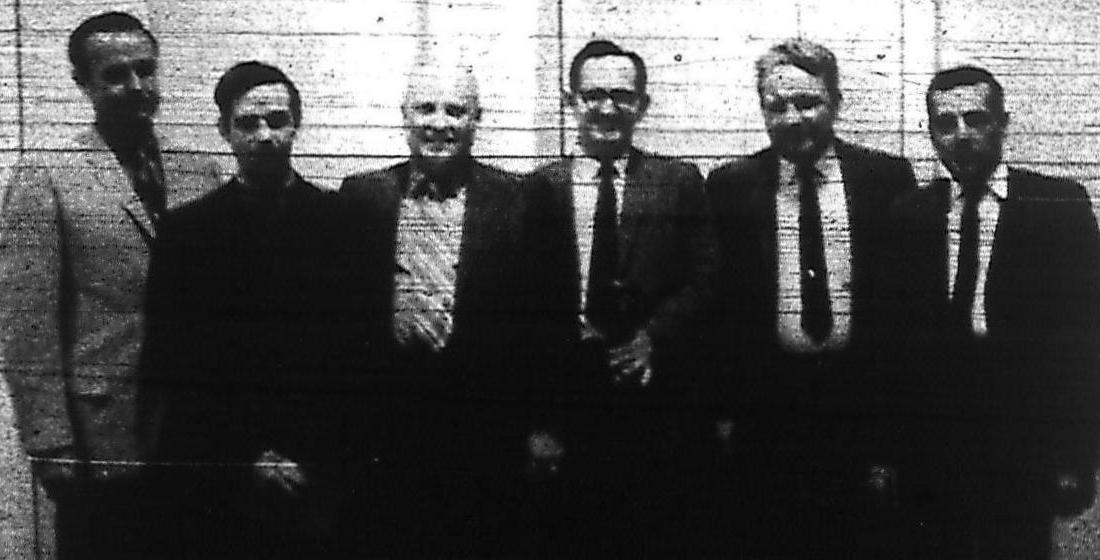 Fab 5 in 1970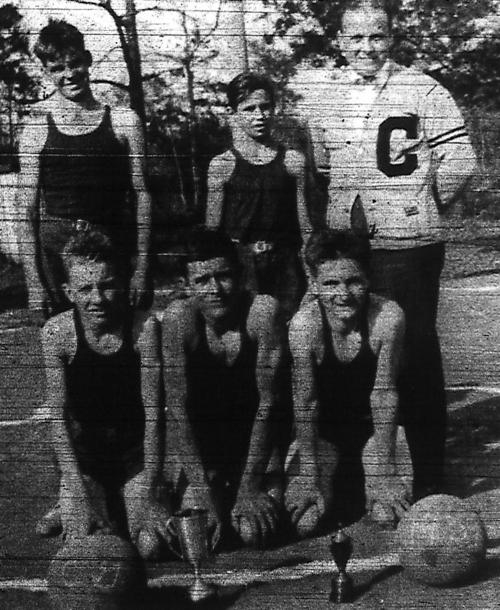 Fab 5 in 1937
Kevin Nunn, a sixth grader at Brooks Elementary, won a 4-H Public Speaking contest at Taylorsville in the Junior Boys' Division. His topic was geology.
Were you at the Overdale School when Randy Fields, Steve Manning, Larry Horton, Lloyd Crowe, Doug Meyer, Carlos Wentworth, Tommy Lee, and Noel Smith put on a display of rocket launching in the school playground? Their efforts were guided by their science teacher, Mr. Cecil Mattingly.
Guess who caught the fish when Harvey and Peggy Johnson took daughter Christi fishing? Yep. Christi was pictured holding her five and a half pound catfish!
A local "Fab 5" won the Shepherdsville Rural Tournament in 1937. They were the Cedar Grove team and the school held its first Athletic Banquet in April 1970 with the earlier team as guests of honor. Former players who returned including Jack Lanham, Robert Greenwell, Clifton Ratliff, Donnie Crenshaw, and Vernon Simmons. Missing was Robert Moore of Brooklyn, New York. Also present was their former coach, Dr. Millard Cundiff.
An earlier team picture included Jack Lanham, Donnie Crenshaw, Clifty Ratliff, Robert Moore, Robert Greenwell, and Coach Cundiff.
Do you remember when Bud Hardy moved his insurance business from Second Street to Tom Givhan's Professional Building on the street behind the Court House? Now do you remember what that street was called before it was named for Frank Simon?
Mary Cook, wife of T. L. Cook, and Hattie Monroe, wife of J. W. Monroe, joined their brother former state attorney general, J. D. "Jiggs" Buckman in mourning the death of their mother, Carletta (Hatzell) Buckman.
The Hebron newsletter informed us that Mrs. Iva Hawkins was nursing two broken ribs as a result of falling down the stairs; that Mr. and Mrs. Joe Kelly were proud grandparents of a new granddaughter; and that George Wigginton was nursing a badly burned hand suffered when an aerosol can explored after being accidentally put in the trash fire.
The Pleasant Grove reporter wrote that Rev. and Mrs. Warner Baumgardner and children spent a weekend with her parents, Mr. and Mrs. Theodore Gentry in Mt. Washington; that Darrel Swift and Judy Armstrong had a beautiful wedding solemnized at Pleasant Grove by Rev. Alden Puckett; and Mr. and Mrs. Bud Owen spent a weekend in Ohio with Mr. and Mrs. Darrel Gaddie and son Westley who had the mumps.
In Mt. Washington, they were still talking about the snowfall on Easter, as well as the Easter dinners hosted around town including the ones hosted by Mr. and Mrs. Hubert Armstrong, Mrs. Hilden Cornell, and the Jasper home.
The fourteenth Annual Cancer Memorial Dinner was held in the Shepherdsville High School cafeteria. Participating were Frank Burke, mayor of Louisville, Shepherdsville Mayor Bill Bacon (master of ceremonies), Dorothy Hartsell (organist), and Linda Crouch of Louisville and Tom Bonhert of Actors Theatre (featured singers).
Oh, and before I forget, Tom Givhan's professional building was on Beech Street (now Frank E. Simon Ave.)
1945 - 75 Years Ago.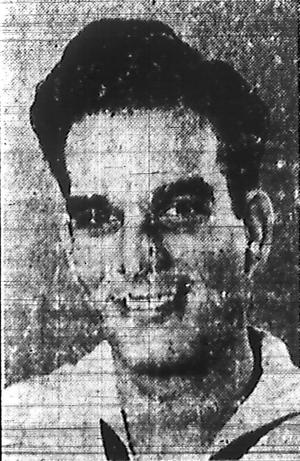 Eddie Carr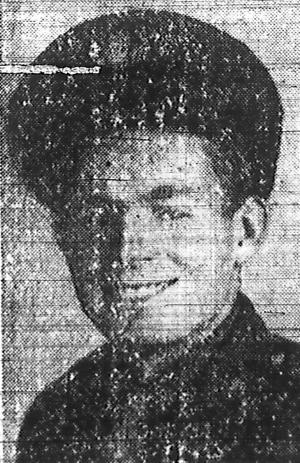 James Jackson
After the flood receded, the school superintendent thanked the George T. Stagg Distilling Company, along with Charles Bullock and John Sloan for using their motor and large pump to pump the water out of school basements.
Mr. Bullock also offered the distillery's recreation room at Chapeze to the Red Cross for its blood drive to secure 250 pints for the Army Red Cross Blood Bank.
Eddie Carr of the Navy Air Corps was home on leave after two years overseas. He and his wife and daughter were visiting his parents, Mr. and Mrs. Dave Carr, before Eddie returned to duty.
Oscar Underwood received an unconfirmed report that his son, SSgt. Marvin Underwood was a prisoner of war in Europe. He had been previously reported in December as missing in action.
Rev. Lowell F. Sodeman, pastor of the Shepherdsville Baptist Church, concluded his series of sermons from the book of Jeremiah with one titled "Don't Fence Me In!"
The paper reported the death of Isaac Bernheim in California, and mentioned that the acreage for the preserve at Clermont had been bought twelve years earlier as a memorial to his wife, Amanda.
A memorial service was held at the Baptist Church to remember TSgt. James W. Jackson who had been killed over Belgium. He was a son of Lee and Myrtle Jackson of Shepherdsville, a brother of Freddie L. Jackson with the army in Germany, and a sister, Mrs. Columbus Pugh of Shepherdsville.
Edgar B. Stansbury of Bardstown Junction was promoted to Lt. Colonel in the Army Air Forces. Prior to the war he was the athletic director at Western Kentucky State College in Bowling Green.
The annual spelling bee was held on April 6 at the Shepherdsville School. Contestants included Hazel DeMarsh (Nichols), Ella Brewer (Brooks), Veleda Stallings (Pleasant Grove), Willie Scrogham (Mt. Washington), Laverne Ratliff (Cedar Grove), Thomas Ray Thorton (Clermont), Kathleen Phillips (Beech Grove), Geneva Lee Ryan (Cane Run), Delores Bradbury (Belmont), Nancy Williams (Shepherdsville), and Jane Sweat (Lebanon Junction). The winner was Hazel DeMarsh, a seventh grader in Mrs. Christina Whiteman's class at Nichols.
In the high school division, Mary Lucy Marr of Lebanon Junction was the winner, defeating Henrietta Nalley of Shepherdsville, and Garneta Smith of Mt. Washington.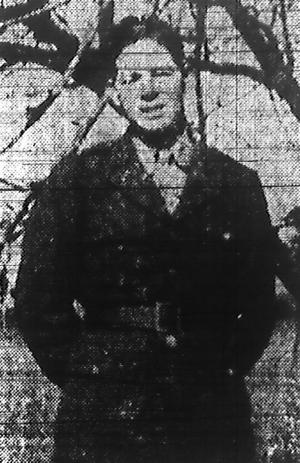 Woodford Peacock
At the Bowman Valley School, the winner was sixth grader Robert Lee Coleman, son of Philmore and Mary Jane Coleman.
Patterson's Drug Store in Shepherdsville was broken into, and E. M. Frantz, the owner, reported that the only thing missing was some narcotics.
SSgt. Woodford C. Peacock was awarded the Bronze Star for bravery in leading his unit forward under intense fire to clear the enemy before them in a part of France.
Lucy Bergen of Bardstown Junction died in her 64th year, leaving her husband, Asa Bergen, and four daughters: Inez Leona, wife of Earnest H. Williams; Ruby, wife of James Stansbury; Mildred, wife of Walter Shepherd; and Nora, wife of Howard Masden.
The entire nation was saddened to hear of the sudden death of President Franklin D. Roosevelt.

But, Thomas Bowman's handwritten letter to his parents carried the good news that he had been released from a German prison camp. He had earlier been declared as missing in action.
1920 - 100 Years Ago.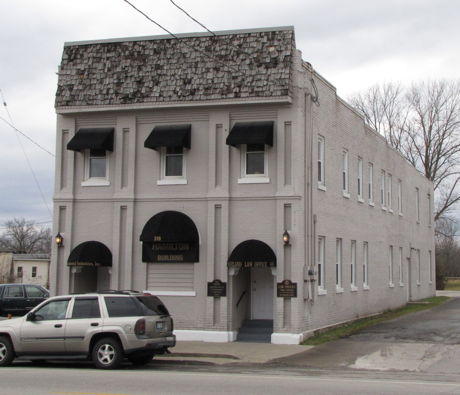 People's Bank Building
Miss Mirian E. Sutton, daughter of Mr. and Mrs. E. W. Sutton, of Louisville, and Mr. Geo. Bradbury Jr, of Belmont, were married in Jeffersonville. They had plans to go to Iowa to reside, but ended up spending most of their lives here in Bullitt County.
The Peoples Bank bought the O'Brian Hotel property across the street from their current location and would soon go to work erecting an up-to-date bank building. A recent picture of that building is shown here.
The editor wrote, "the Bullitt County Garage has been completed and is now ready for the public. The owners, Mr. Frank Goldsmith, Neil Trunnell and Gib Daugherty are well known businessmen and have had several years experience in automobile business."
Mrs. Mattie Glenn, who had been official stenographer of the Bullitt Circuit Court for many years, tendered her resignation. Miss Belle McCandless, daughter of Judge McCandless, was appointed official stenographer for the entire judicial district.
Andy Kulmer's large silo was blown down by a big storm. Fortunately, he had it insured.
Mrs. Emma B. Maraman advertised that she would be in Shepherdsville every first and third Friday of the month to fit Spirella corsets for the ladies. Emma began doing this work after her husband Howard was severely injured in the December 1917 train wreck, and could no longer manage his farm work.
W. B. Gwynn wrote congratulating Herbert and Ida Lovelace on their silver anniversary. He had married them at the Shepherdsville Baptist Church in 1895. She was a daughter of Mr. and Mrs. J. R. Rayman of Pitts Point, and had been a student of his at Pitts Point.
These teachers had enrolled in the Shepherdsville Normal School: Neva Magruder, Willie May Ridgway, Mary Weller, Mary B. Howlett, Lillian Wigginton, Claud Duvall, Roth Smith, Virginia Duvall, Martha Lee, Ora Long, Estelle Landers, Corine O'Nan, Nettie Lutes, Effie Johnson, Bertha Trunnell, Lillian Thompson, Thelma Lee, Fanny Belle Melton, Elizabeth Stamper, and Gertrude G. Forrest. A "normal" school was designed to help prepare teachers who did not have college degrees.
For the April term of Circuit Court, the following were chosen for the Grand Jury: Alex Hardy, Sam Armstrong, A. T. Stansbury, S. B. Simmons, Rice Dawson, Sam Bass, Jamie Bass, M. S. Harmon, J. H. Gore, Price Smith, and H. G. Cooper.
Called to be members of any Petit Jury were O. D. Hill, Lem Swearingen, G. W. Scott, C. O. Tyler, W. H. Cundiff, George Hough, Ed Quick, C. T. Wise, Jess Ridgway, D. B. Monroe, Ben Crist, C. A. Barrall, A. V. Greenwell, J. W. Lloyd, J. D. Harned, W. R. Johnson, J. B. Proctor, L. L. Roby, W. A. King, J. D. Masden, A. F.Brooks, George Swearingen, W. T. Jenkins, and M. B. Starks.
Posey Grant lost a horse from being choked on oats; and S. N. Brooks had a well-broke city horse for sale cheap.
W. P. Thurman's children, grandchildren, and friends surprised him after church with a dinner table laden with good food to celebrate his 77th birthday.
Harve Davis wrecked the old Daniel property next to the J. F. Collins place. The Bullitt County Bank would use this lot when they put up their new building.
And Bert Shepherd, the County Assessor, after being minus a foot for 14 years, was now walking on two again, having just gotten his new cork foot.
---
Copyright 2020 by Charles Hartley, Shepherdsville KY. All rights are reserved. No part of the content of this page may be included in any format in any place without the written permission of the copyright holder.
---