It Happened in 2007
Over the years, Charles Hartley has shared glimpses of what was being printed in The Pioneer News in different months and years. This page includes what was taken from the January through December issues of 2007.
---
January 2007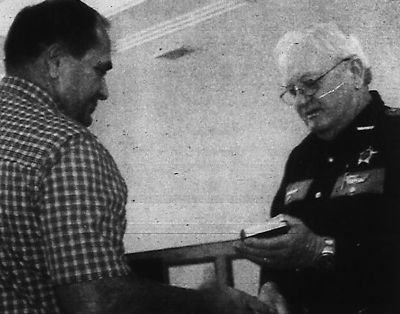 Paul Parsley and Jerry Corum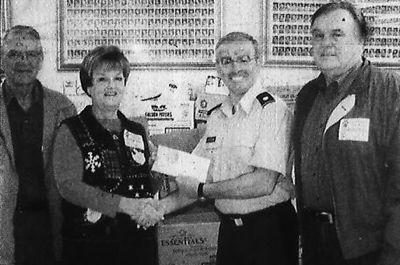 Jana Miller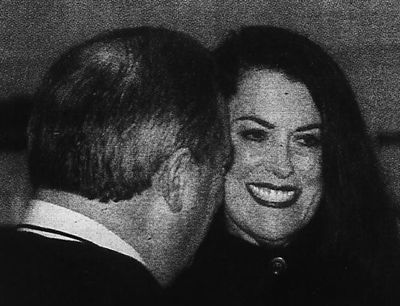 Judge Spainhour
Sheriff Paul Parsley was pictured honoring Deputy Jerry Corum. Both were retired from duty when Donnie Tinnell was elected sheriff.
Hebron Estates Mayor Jerry Clark was sworn in for a second term by City Attorney Mark Edison. Also pictured were the city's commissioners, Russell Forshee, Sandra Murphy, James Tucker, and David Allen as they were sworn in.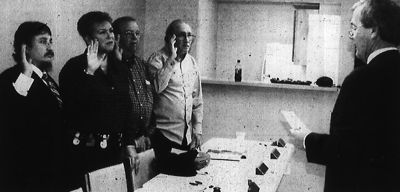 Hebron Estates Commissioners
Frank Hatfield and Sam Hardy looked on as Jana Miller accepted a check and over 4,000 canned food items from the Bullitt Central JROTC for the Christmas giveaway.
Elise Givhan Spainhour was sworn in as Bullitt County's first family court judge. She was pictured with Supreme Court Justice Minton prior to being sworn in.
Jim and Connie Ethridge celebrated their 50th wedding anniversary. Their sons, Mike and Kenneth Ethridge, along with their grandchildren and great-grandchildren helped them celebrate the occasion.
Also celebrating 50 years together were Bill and Jo Duncan, and Lawrence "Pie" and Glenda Watkins. That Glenda Watkins is one fine lady!
And celebrating 61 years were John and Doreen (Cox) Bunch, both natives of Shepherdsville.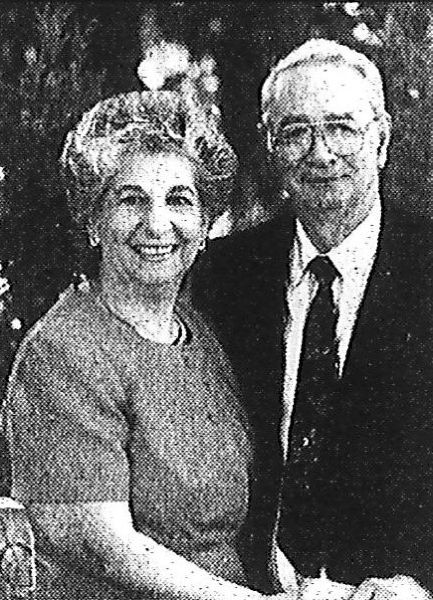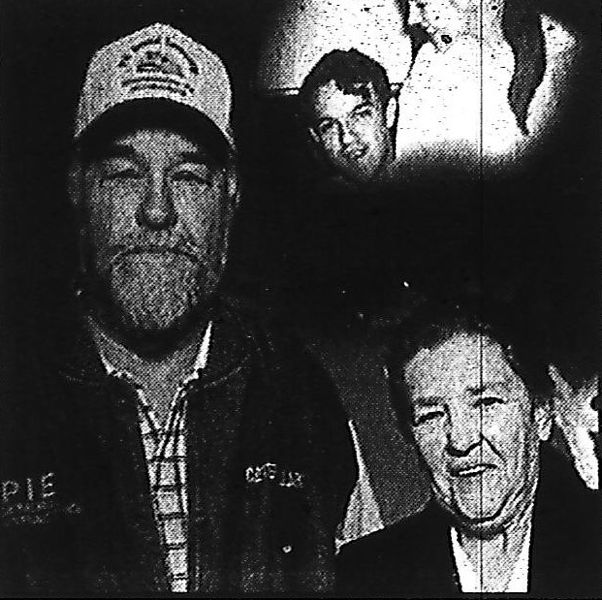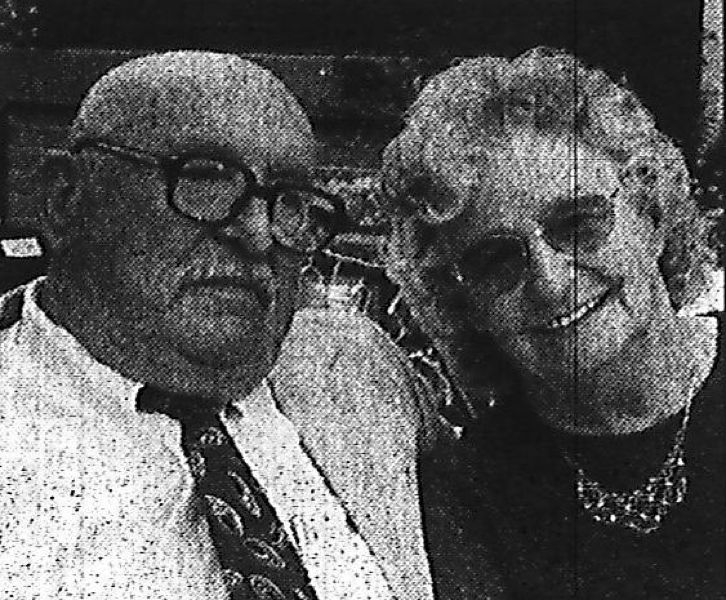 Duncan / Watkins / Bunch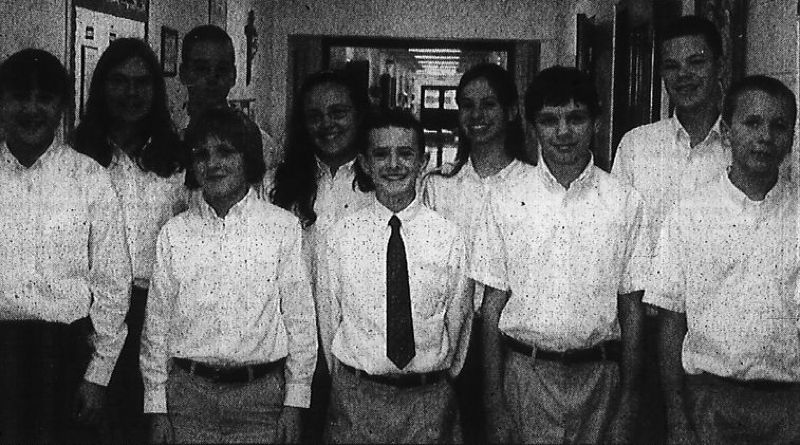 Ten 7th graders from the St. Aloysius school qualified to participate in the Duke Talent Identification Program. They were Gabrielle Adams, Nicholas Canchola, Adam Dant, Gabrielle Fong, Cathleen Gendron, Jessica Harris, Tyler Janes, Kurt Parks, Benjamin Quisenberry, and Brandon Ray.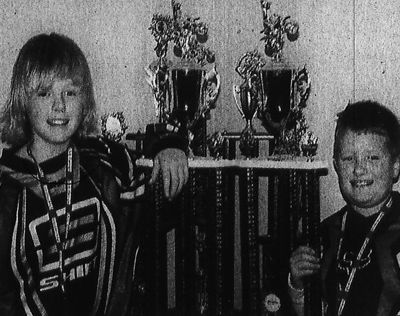 Campbell & Hurst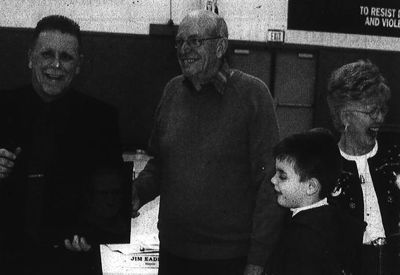 Dale Russ
Las Vegas was the destination for Dalton Campbell and Randy Hurst as they competed in motorcross racing.
Dale Russ was honored for 20 years of service as a member of the Hillview City Council.
Layne Abell and Karen Wood, outgoing members of the school board, were honored by the school system at their retirement.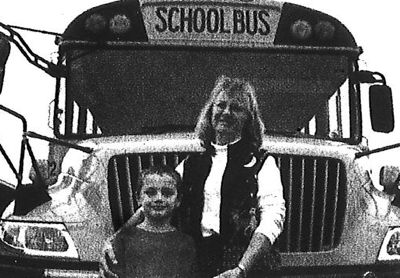 Glenda Spratt
Glenna Spratt was pictured with first-grader Trenton Davis in front of her school bus. Glenna retired after 32 years as a school bus driver, and during her time she transported some three generations of the same families.
Some of Lloyd "Hog" Mattingly's replicas were put on display in the Kentucky Museum of Art and Craft. (Visit the Bullitt County History Museum in the courthouse today to see many of his fine works.)
The Bullitt East Chargers had an opportunity to play a team from Australia, a game that ended with the Chargers winning 76-71. The Australians were also guests in the homes of the Bullitt East team for a few days.

Jennifer Brookshire, Judy Jackson, David Strange, Joyce Manning, Randy Matlow, Pam Polston, and Henry Robinson were pictured as members and staff of the County Library Board.

And who can forget when the CSX cars derailed and exploded alongside the Coral Ridge Road? Certainly not the nearby residents and schools that were so affected by it all.
February 2007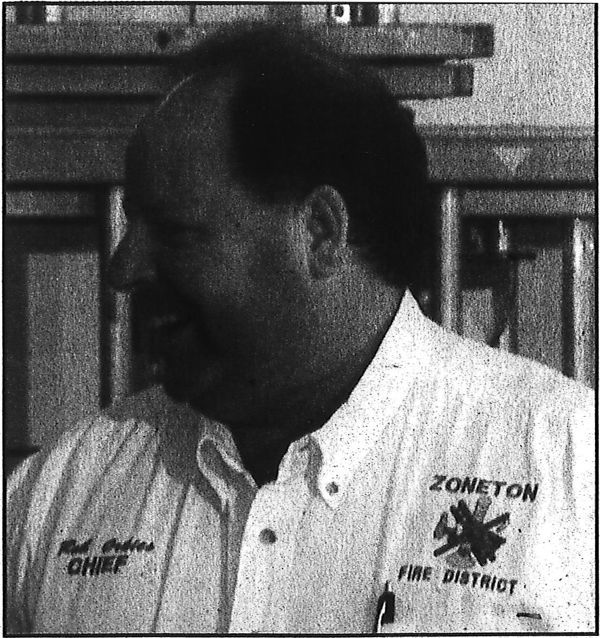 Rob Orkies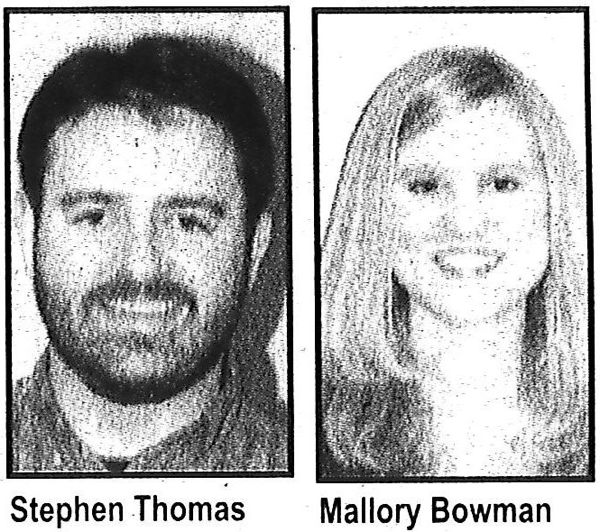 Zoneton fire chief Rob Orkies was pictured with a smile on his face as the stress of dealing with the CSX train wreck eased up a bit.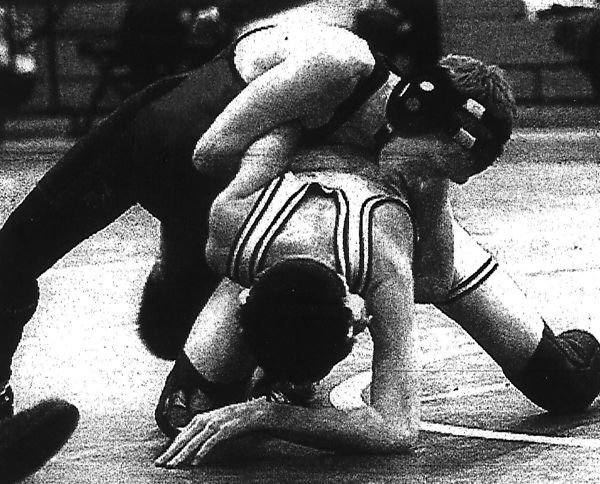 James Badgett
Bullitt Central's wrestling team won their regional title for the second year in a row, with victories by James Badgett (103 lbs), Justin Walls (135 lbs), Chris Pearson (140 lbs), Jeremiah Walls (152 lbs), and Thomas Salter (171 lbs). The Cougars finished with 200 points, defeating PRP by six points. Badgett's victory was his third straight regional title, and Jeremiah Walls scored his second straight regional crown.
Pioneer News staff writers Stephen Thomas and Mallory Bowman captured honors in the Kentucky Press Association's Excellence in Kentucky Newspapers Contest for 2006. They had written about the problems at the Big Valley sewer treatment plant.
Brian Thornsberry of Bullitt East signed a letter of intent to attend the United States Coast Guard Academy in Connecticut. He will be earning a degree in engineering and playing football and baseball at the Academy. He said that ultimately he wanted to be a Coast Guard helicopter pilot.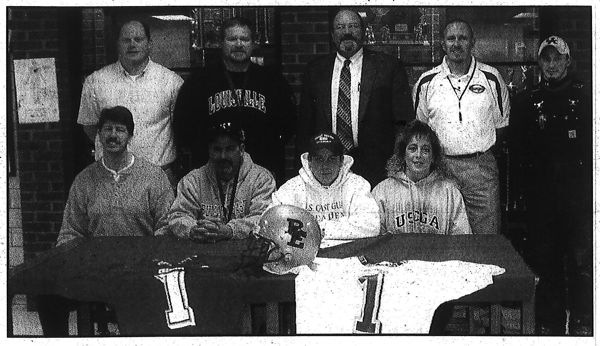 Brian Thornsberry, family and coaches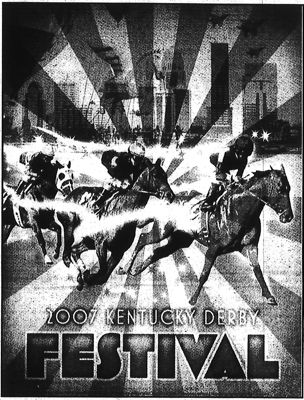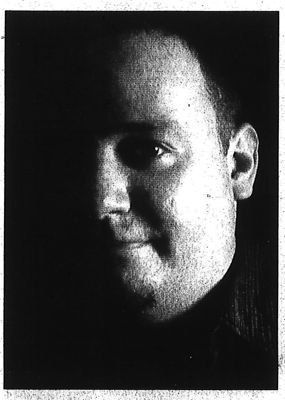 Donovan Sears & his poster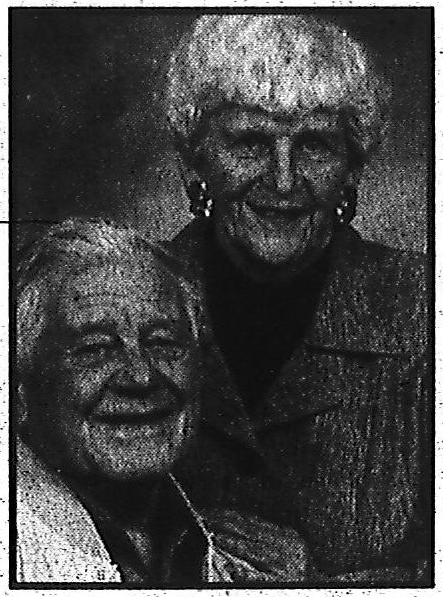 Bob and Betty Dever
Local graphics artist Donovan Sears of Mt. Washington was chosen to create the official 2007 Kentucky Derby poster. Sears spent more than six months perfecting the design. He is a 1996 graduate of Bullitt Central, and graduated from University of Louisville with a degree in art and emphasis in graphic arts.
Shepherdsville residents Bob and Betty Dever celebrated their 60th wedding anniversary with family and friends. They were married at Little Flock by then-pastor Rev. John Lawrence.
And Bullitt Central defeated Shelby County 54-52 on a last second three-point shot by Johnathon Druin. The Cougars were led by Josh Jarboe with 20 points. Druin's basket was his only points of the game, but they came at just the right time!
March 2007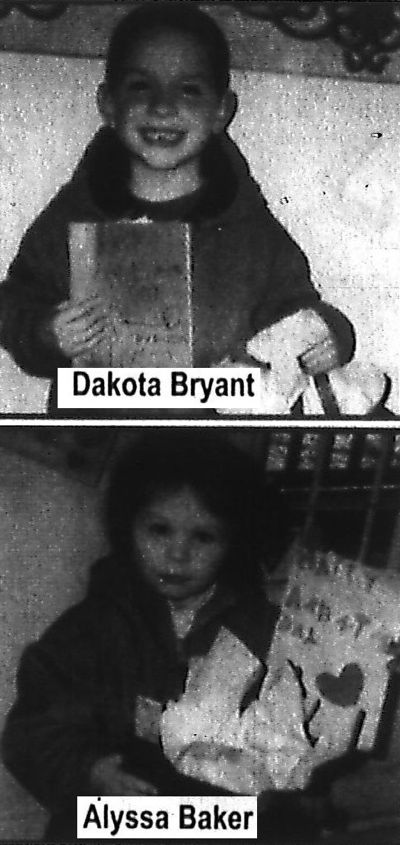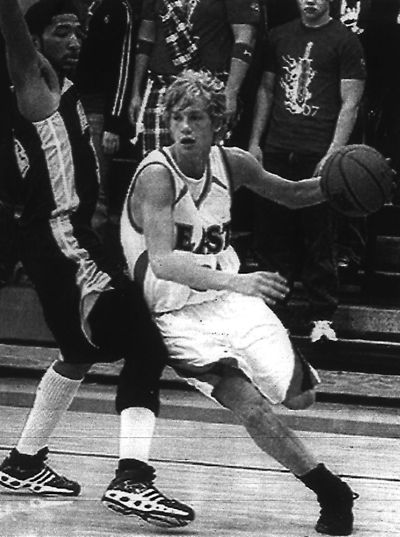 Pleasant Grove Elementary students and teachers lined up to throw pies at Principal Joe Reister at the fund raiser for the school's Math-a-Thon and for the County YMCA's spirit program.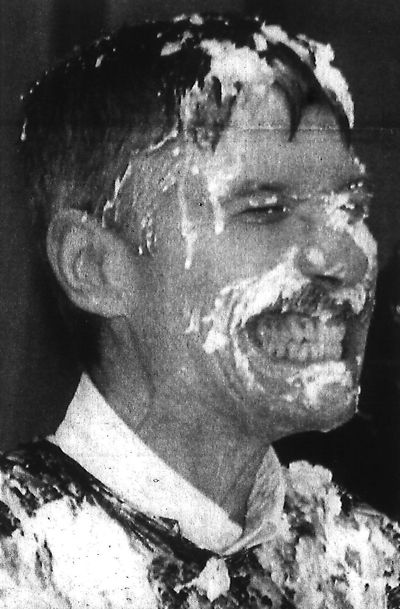 Bullitt East's Whitney Hanley and Robert Troutman were honored as the Bullitt County Basketball Players of the Year.
Dakota Bryant and Alyssa Baker won first place in the Valentine Card design contest at the Clermont Post Office.
Fairdale was double-trouble for Bullitt East in the district basketball tournament, beating the boys 54-50 in the final game, and the girls 64-52 in their game.
The Lady Chargers fell to Iroquois in the first round of the Sixth Region tournament 60-47.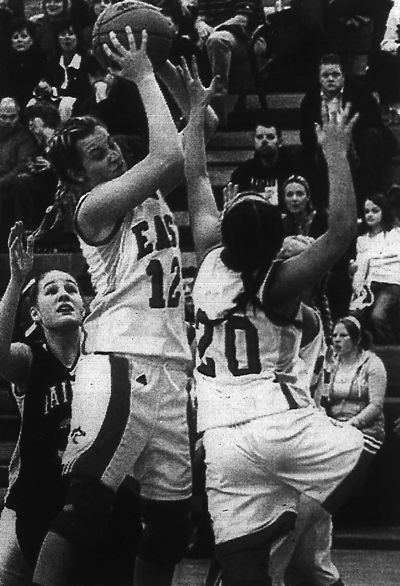 Whitney Hanley led the scoring for East with 14 points while Kelly Harrod added 10 and Kathleen and Kelli Thompson each added 8 points.
Meanwhile the Bullitt East boys fell to Butler 57-43 in the opening round of their region. Robert Troutman led the Chargers with 13 points, Alex McMahan had 8, Michael Elder 6, and Adam Kelty 5 points.
Whitney Hanley and teammate Kathleen Thompson were pictured battling for a rebound in the Fairdale game. In another picture we see Zach Strachan driving around a Fairdale player.
Michael Eberbaugh retired as Bullitt County School Superintendent.
Sandy McCoy was pictured displaying a quilt at a Quilting Bee in Mt. Washington.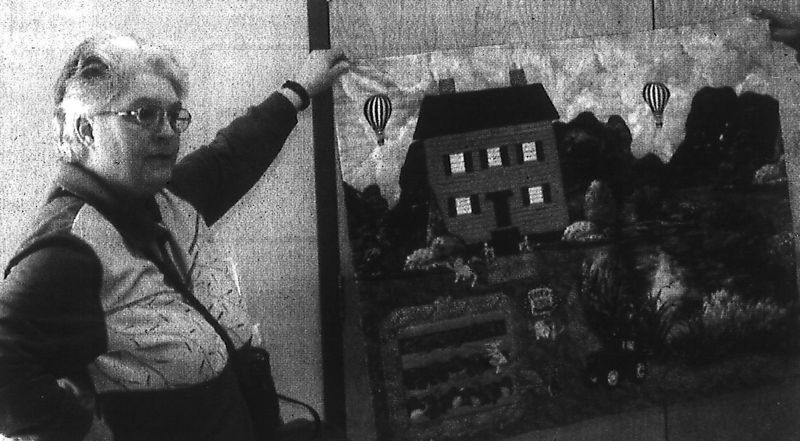 Poetry was on display at the Bullitt County Libraries' poetry contest. The Elementary School Division was won by Rebekah Cochran with her poem "Cheese Lovers." Stevie Jones won the Middle School Division with "Tobacco Man," and Brandon Carey wrote "Time For Autumn" to win the High School Division. Patricia L. Morgan won the Adult Division with her poem "Stillness."
I wonder how many scouts from Pack and Troop 687 remember making a field trip to The Pioneer News and Standard Publishing in Shepherdsville?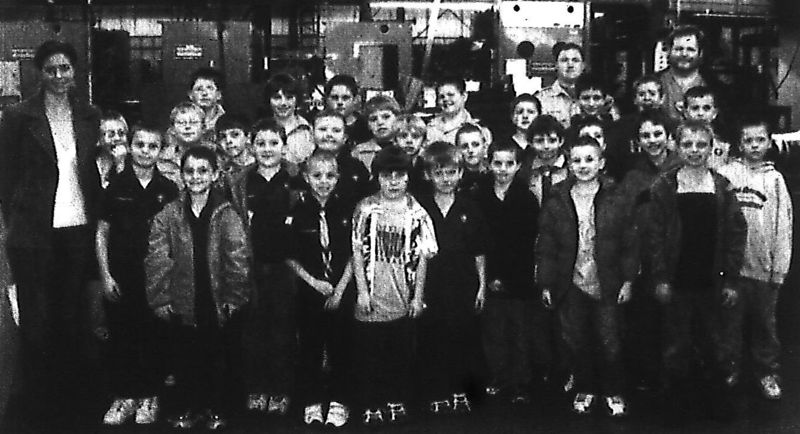 And Sheriff Donnie Tinnell was pictured standing beside one of those new white cruisers with the stripping package. Hmm... I wonder...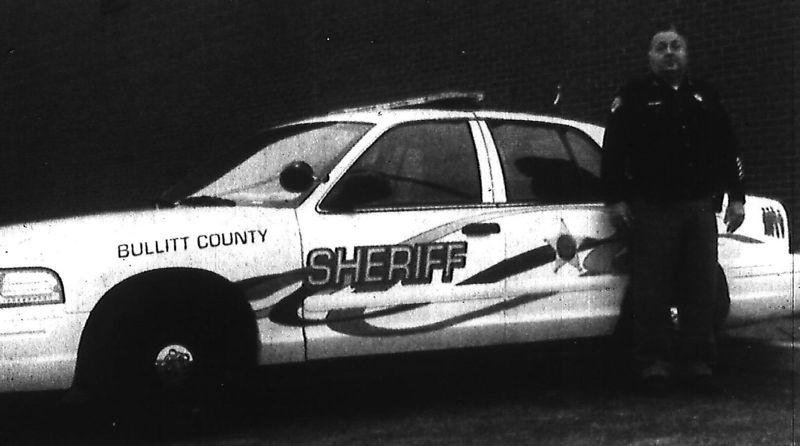 April 2007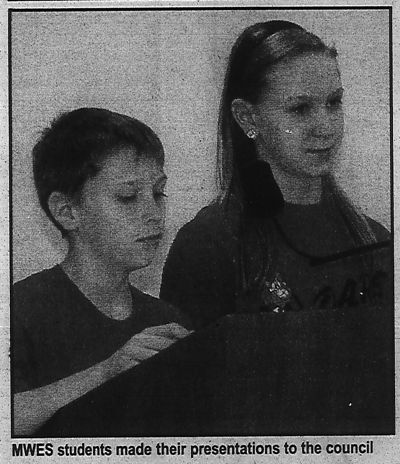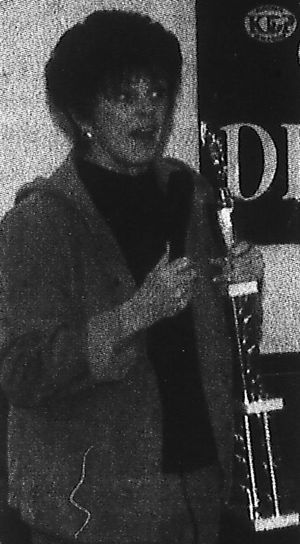 Laurie Geary's fifth grade class at Mt. Washington Elementary challenged the Mt. Washington City Council to pass an ordinance to ban smoking in restaurants in the city. Katie Whicker and Phillip Burress were among those who presented their request to the council.
Mt. Washington mayor Joetta Calhoun won the chili competition for the best chili by a mayor.
Fifty years of annual Cancer Memorial Dinners came to an end as the local dinner was ended in favor of a Survivor's Celebration at the annual Relay for Life.
Well over a thousand children came out to the Hillview Community Center for the Hillview Police Association's Easter Egg Hunt. Tom Barr had a great time taking pictures at the event.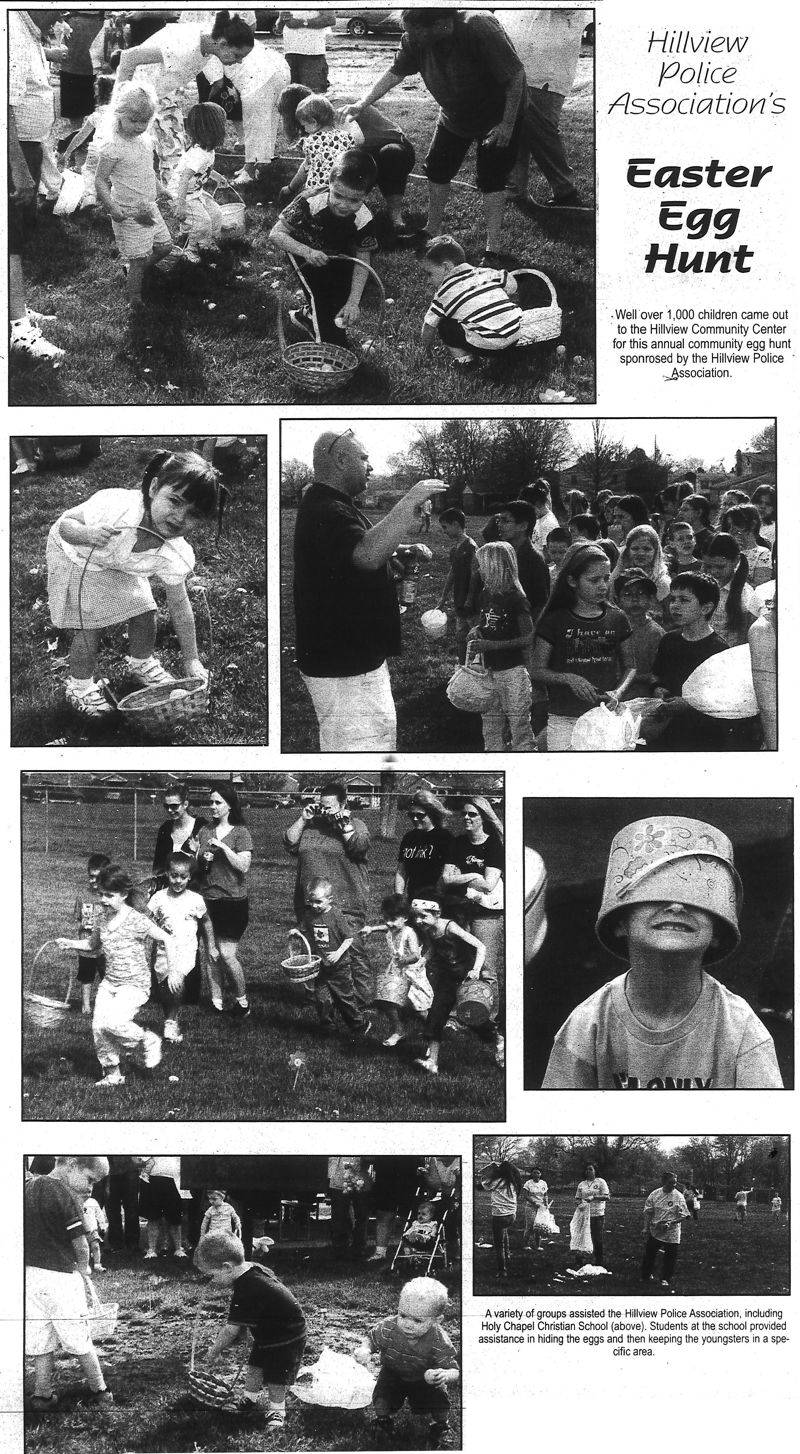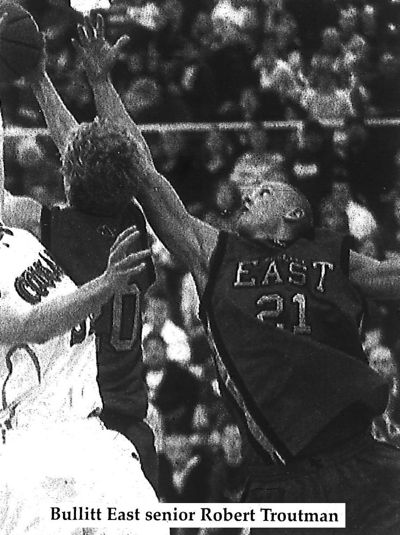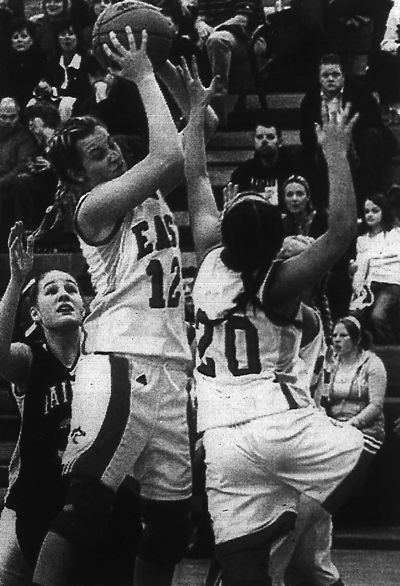 The 2006-2007 Pioneer News All-Bullitt County Basketball Teams were announced. For the boys, Robert Troutman of Bullitt East was Player of the Year. The other four honorees were Brian Swan of North Bullitt, Josh Jarboe and Brent Smith of Bullitt Central, and Matt Miles of Bullitt East. Brent Smith was also named Junior of the Year, and Willie Moore of Bullitt East was named Sophomore of the Year.
On the girls' side, Whitney Hanley, a junior at Bullitt East, was Player of the Year. Joining her were Jesse Mattingly of Bullitt Central, Kelly Harrod of Bullitt East, and Amber Thompson and Erin Keith of North Bullitt. Sarah Anderson and Lindsey Hester of Bullitt Central were Co-Sophomores of the Year.
Samantha Siriphokha was pictured with her teacher Toni Dorris and Janet Thomson of the Bullitt County Retired Teachers Association as she received the award for her Grandparent of the Year winning essay.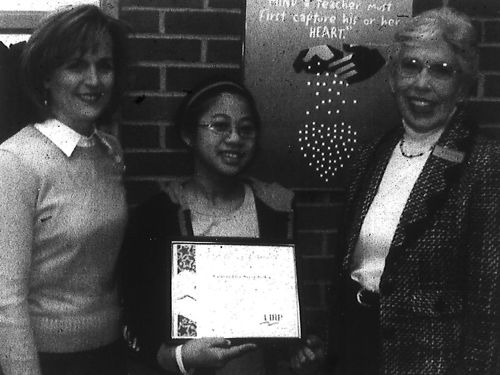 Cub Pack 20 from Overdale Methodist Church held a Pinewood Derby and the five fastest were Shaun Sanders, Trey Hornback, Jack Johnson, Brixton Jacobs, and Jacob McCartin. The best in show went to Jesse Dyer.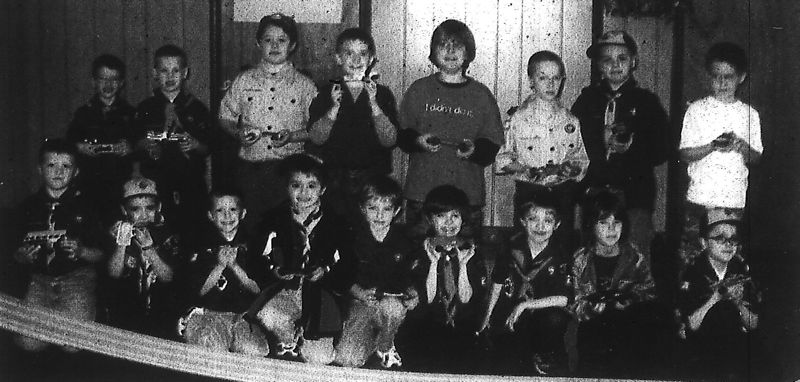 Young Authors winners at St. Aloysius included Daylin Huff (1st grade), Devin Crawley (2nd grade), Kelsey Wright (3rd), Mary Martha Brand (5th), Samantha Stevenson (6th), Cathleen Gendron (7th) and Haley Beisler (8th). Haley and Daylin were selected as regional winners.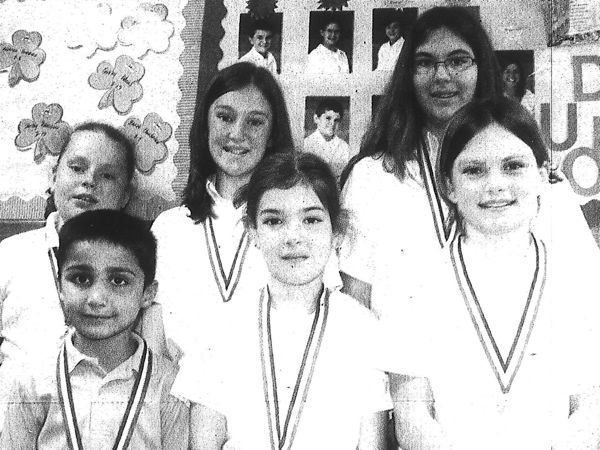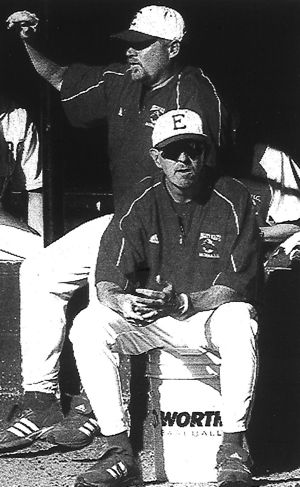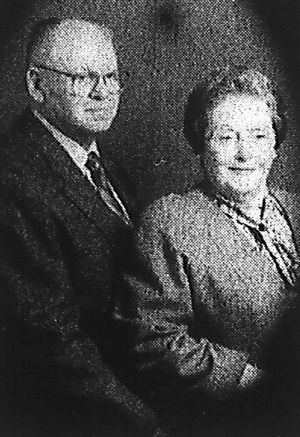 Head Coach Jeff Bowles and Assistant Craig Sharpe were pictured in the dugout during a Bullitt East baseball game.
Mr. and Mrs. Alton Hunt of Mt. Washington celebrated their 50th wedding anniversary; and Tommy and Polly Elzy of Shepherdsville (pictured right) celebrated their 60th.
Keith Davis was selected as interim leader of the school system.
And Frederick's Bullitt Bowl closed for good with the coming of the expanded Preston Highway.
May 2007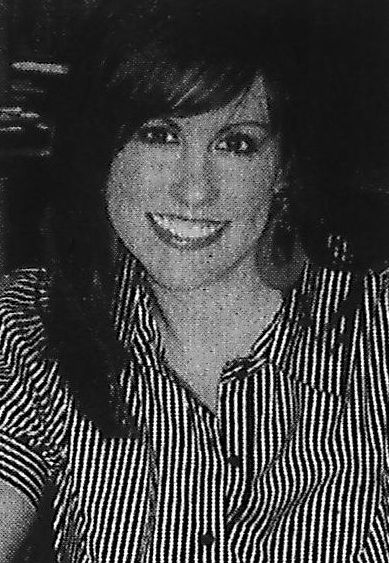 Lauren Scott
Lauren Scott, a North Bullitt graduate, earned a degree in psychology from the University of Louisville where she was named a Dean's Scholar. She planned to pursue a master's degree in elementary education.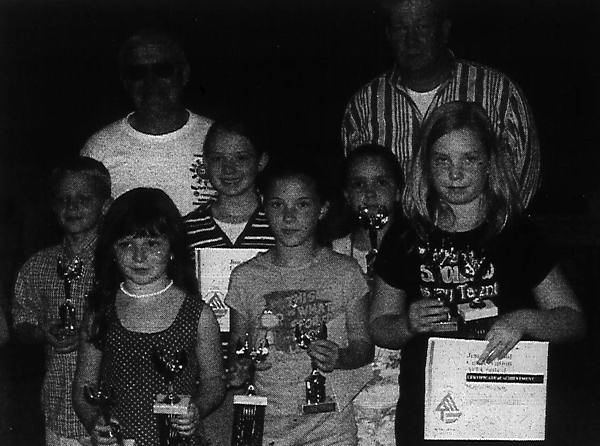 Poster Winners
In the Jim Claypool Conservation Poster Contest, first place school winners included Tucker Gardner (Mt. Washington Elementary), Sarah Jones (Nichols), Annalee Riggs (Maryville), Emerald Allen (Freedom), Alex Asbury (Overdale), Morgan Daugherty (Cedar Grove), and Jalynn Simpson (Lebanon Junction). The county winners were Jaylnn, Emerald, and Morgan.
Members of the Mount Washington Fire Department's Explorer Program took first place in a fire-fighting obstacle course at the annual Scout-O-Rama in Louisville. Explorers Melanie Embry, David Bowen, Daniel Griffy, Lane Parks, Oscar Rodriguez, Andrew Scrogham, Isaiah Arvin, and Bradley Foster participated in the competition.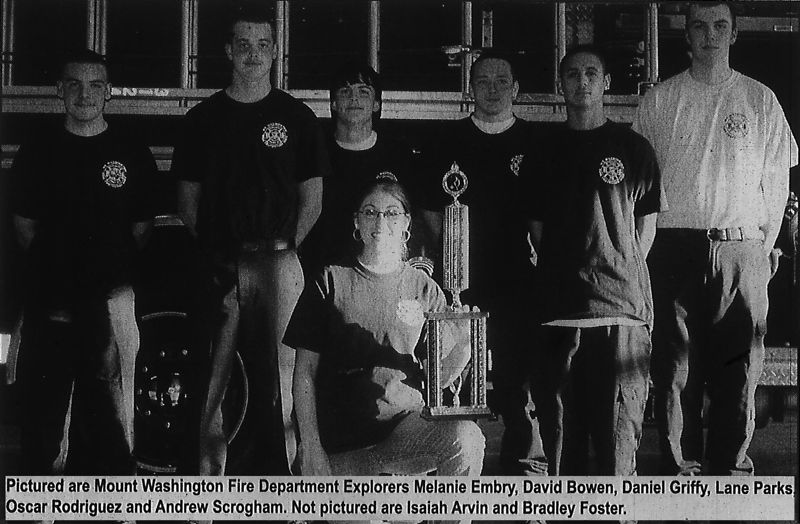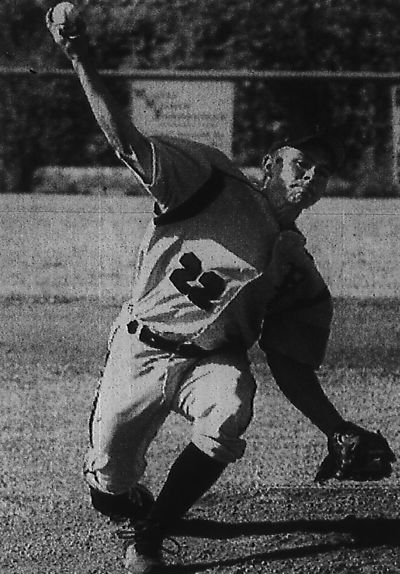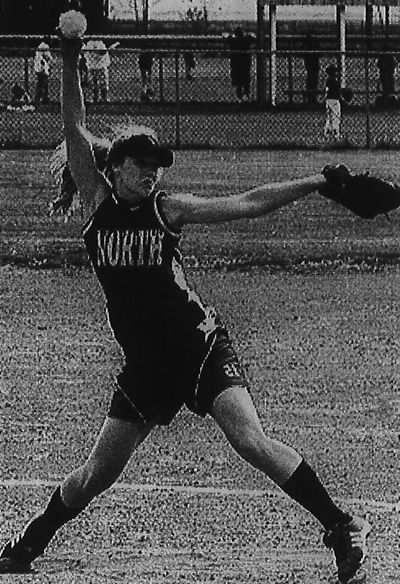 Aaron Yocum and Allison Rowe
Bullitt Central senior Aaron Yocum was pictured delivering a pitch in the Cougars' victory over North Bullitt 4-2.
Allie Myers, Morgan York, Scotty Thompson, and Gabe DiEnno displayed their artistic works, and Ashley Napier, Randall Daniel, and Katelyn Frye participated in the dance routines at the third annual "Evening for the Arts" at Bernheim Middle School.
North Bullitt junior Allison Rowe was pictured delivering a pitch during the school's five game winning streak in which she allowed only three runs total.
Music instructor Joan Wise was pictured leading her Hebron Middle School band in practice.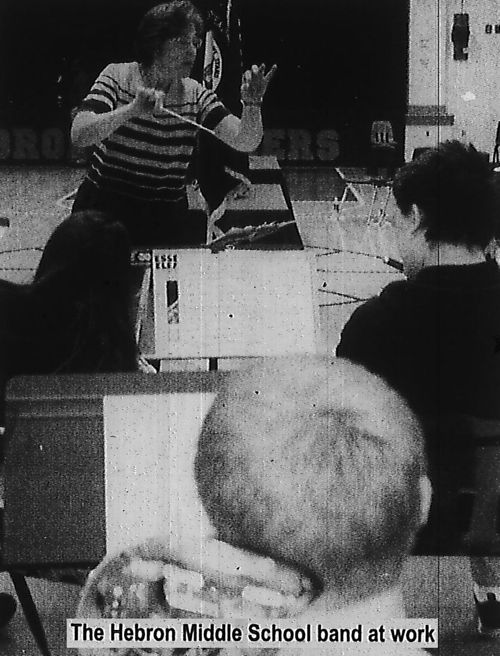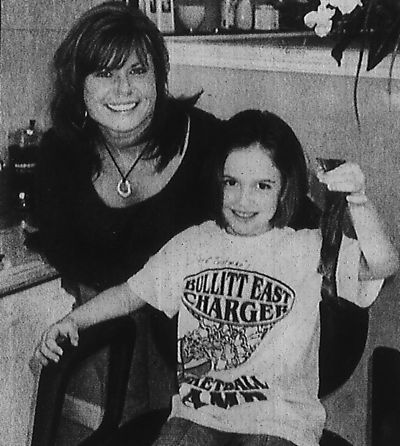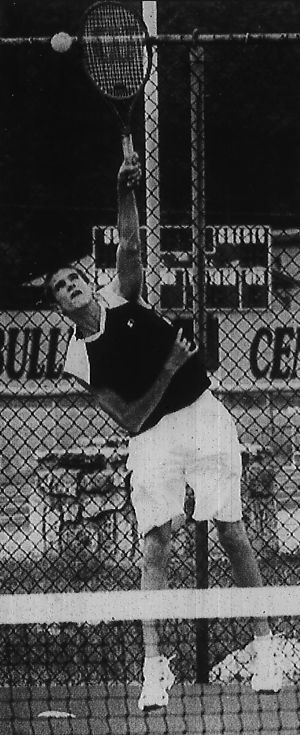 Six-year-old Jordan Blain donated over ten inches of hair to the Locks of Love program, a national organization that assists cancer patients who need wigs due to medical treatments.
Janis Gentry was presented with the second annual Honor award by Donna Bradshaw, coordinator of the local National Day of Prayer celebration.
Bullitt Central senior Eric Caldwell was pictured delivering a serve during a Cougar tennis match. He and his twin brother Nick were the top two players on the team.
Jenna Florence signed up to play soccer at Campbellsville University where her brother Cliff was already his team's goalkeeper. Both graduated from Bullitt East.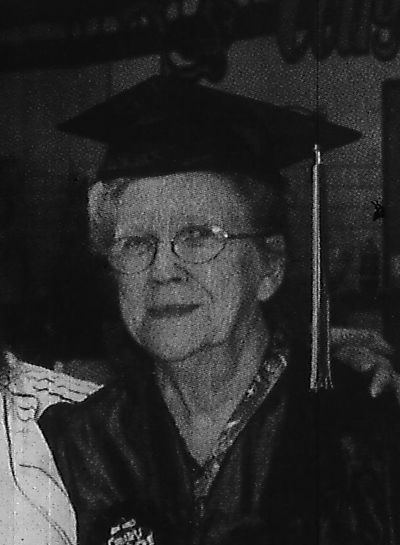 Richard B. Maraman passed away in May. He was a funeral director at the Maraman Funeral Home for years, and a son of James and Ethel Maraman.
At 80 years of age, Freda Samuels became the second oldest Kentuckian in history to earn a GED diploma.
Bob and Shirley Sanders, and James and Marcella True each celebrated a 50th wedding anniversary.
And Nick Simon helped dedicate the new Shepherdsville Elementary School playground by taking the first official slide.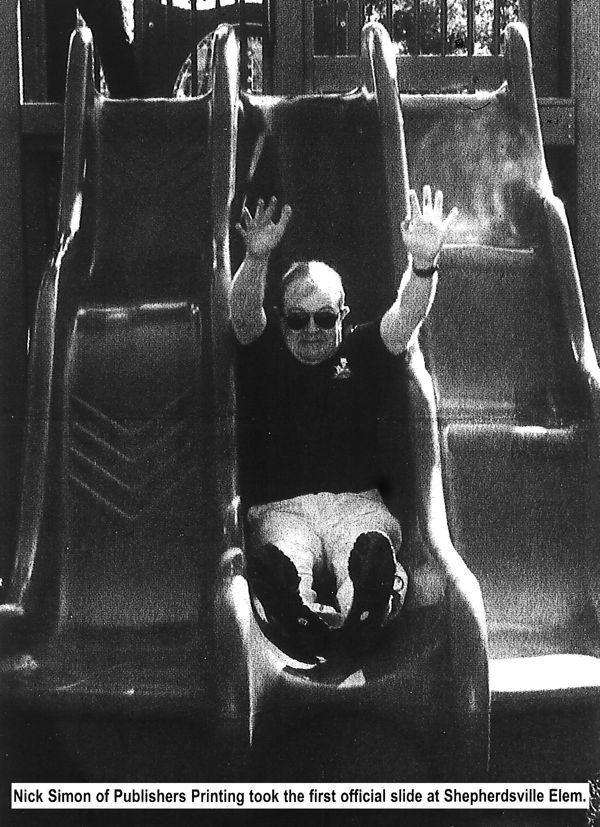 June 2007
Collectively, Herschel and Pat Ricketts, Lonnie and Myrtle Washburn, Billy and Wanda Cox, Everett and Nettie Coy, Clarence and Lillian McDonald, Donald Kenneth and Ramona June Kerr, and Bob and Jane Harned had totaled 350 years of married life as each couple celebrated their golden wedding anniversary.
However, they would need another decade to reach the milestone of Sidney and Evelyn Griffin who were celebrating their 60th wedding anniversary.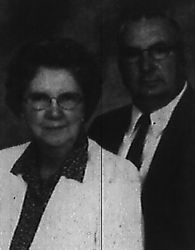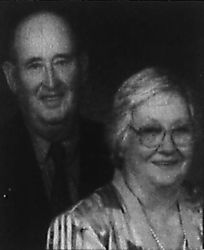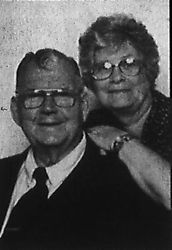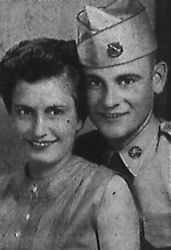 Left to right: Ricketts, Washburn, Cox, and Coy.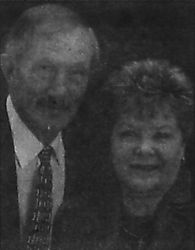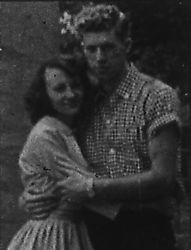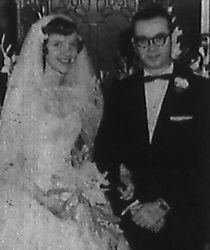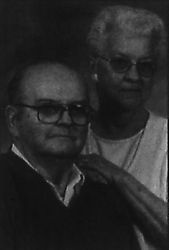 Left to right: McDonald, Kerr, Harned, and Griffin.
Megan Michelle Nalley was crowned Miss Bullitt County Fair 2007. Danielle Pauline Dafler was the first runner-up, Erica Michelle Meenach was the second runner-up, Kandace Dawn Burton was third and Abby Lea Karcher was fourth runner-up.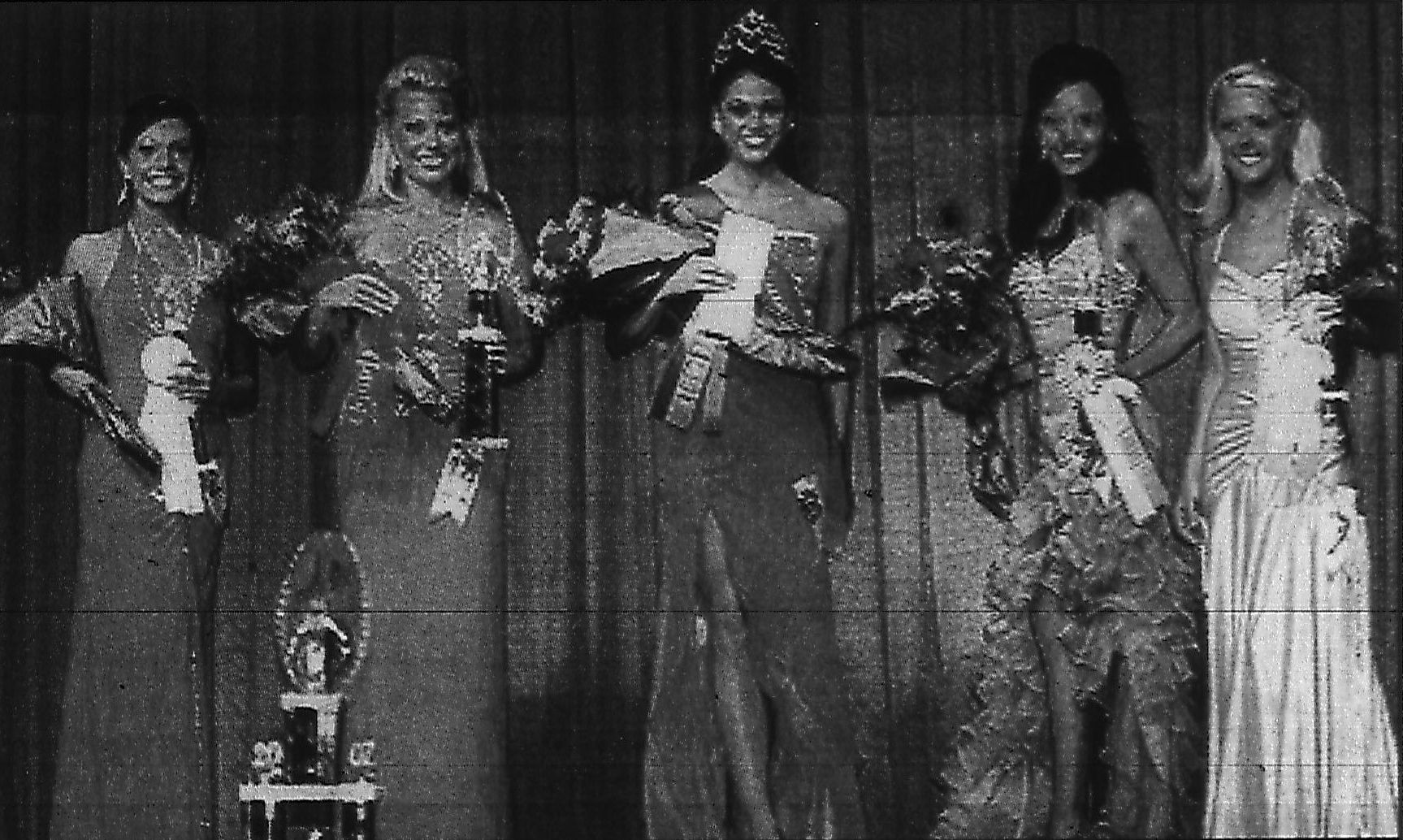 I bet Landon Lawrence really enjoyed his watermelon at the County Fair.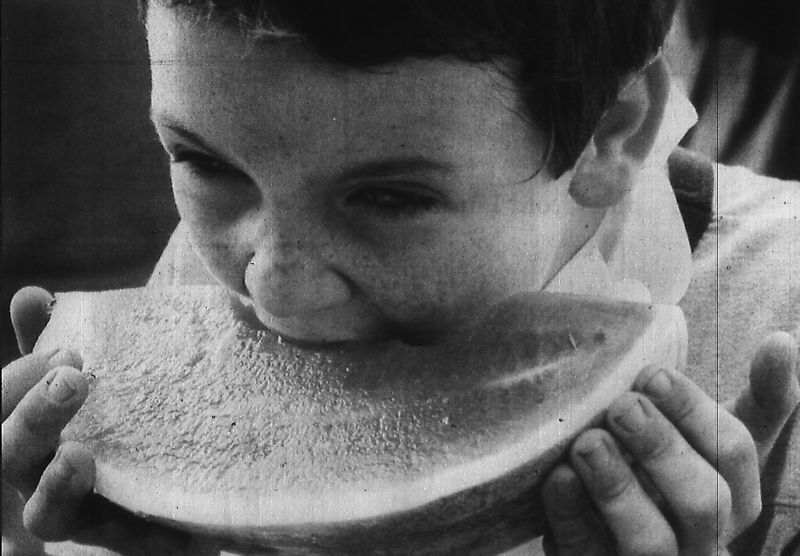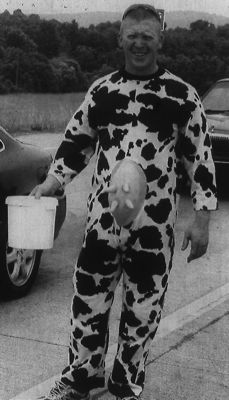 Southeast Bullitt firefighter Adam Heath was "udderly" excited about collecting money for the Crusade for Children in his cow suit.
I wonder if Angelo Nasti remembers his pipe organ and wooden spoon, or Nathan Meredith's rainstick, both homemade musical instruments created as part of Nichols' music teacher, Brenda Hutchison's lesson. Others included Abbey Davis' maraca, and Alyssa Renfrow's xylophone/drum/flute combination.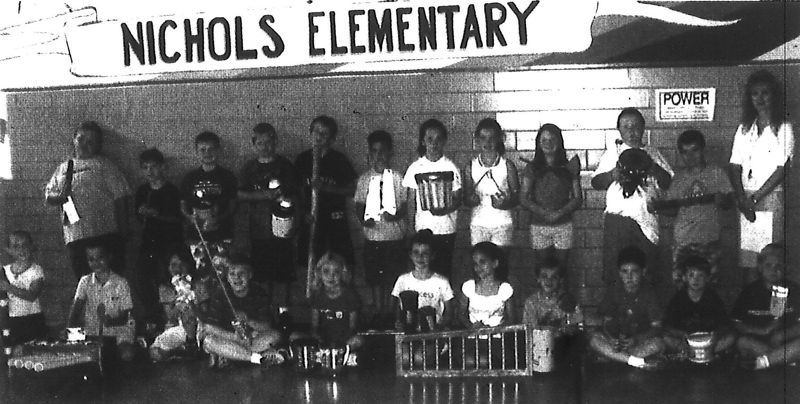 Nichols Elementary Instrument Makers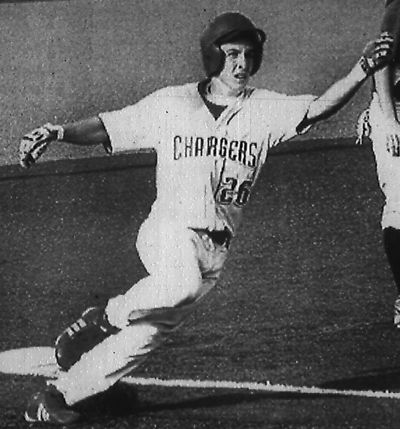 Bobby Harrison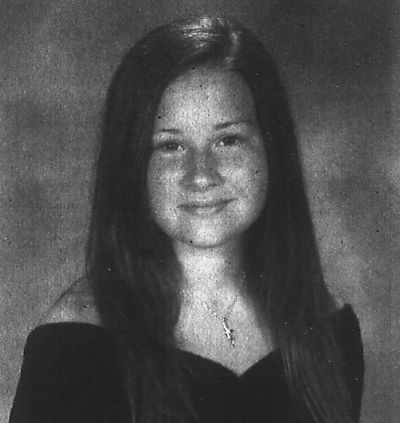 Dinah Elliott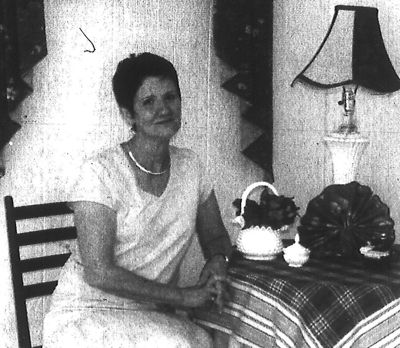 Barbara Jordan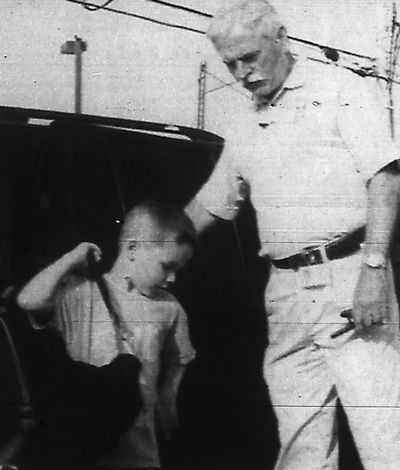 Mr. Firquin
Barbara Jordan, a skilled seamstress, opened her own "Little Curtain Shoppe" on Buckman Street.
Ricky Seay finished third in the discus at the Class AA Kentucky State Track and Field Championships.
Bobby Harrison was pictured rounding third and heading for home in the Sixth Region tournament. Bullitt East won 10-0 over Portland Christian, but lost to PRP 8-0.
Rod Firquin retired as Old Mill's principal after serving there for 11 years, as part of his 32 years as a Bullitt County educator.
Dinah Elliott was selected by the Bullitt Central faculty as the school's 2007 Honor Graduate.
Selected students with perfect attendance at the elementary schools were awarded bicycles. At Brooks, Diana Roederer, Keri Sparks, Kyle Beasley, and Austin Mack were the winners. At Freedom Elementary, Kassidy Hill and Sean Sutton won bikes. At Cedar Grove the winners were Luis Ortiz and Faith Belanger. The winners at Shepherdsville Elementary were Kerigan Robison and Jordan Fleming.
The new officers of the Woman's Club were pictured in the paper, including Barbara Wright, Jackie Allgeier, Betty Porter, Donna Stout, and June Daugherty.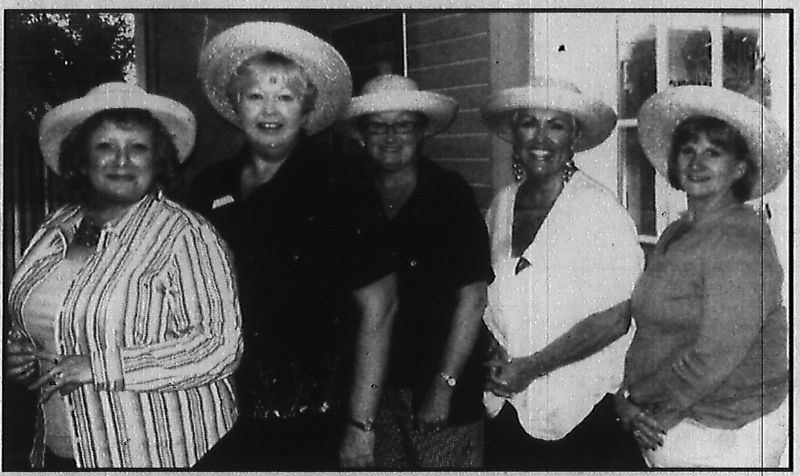 And Stephen Thomas wrote an excellent article about Christena Gabehart who achieved her goal of graduating from high school despite a lifetime struggle with cystic fibrosis and asthma. Lung transplants gave her some years of normalcy, but as you may already know, Christena's life came to an end just seven years after this article was written, as did that of her brother George who fought the same battle.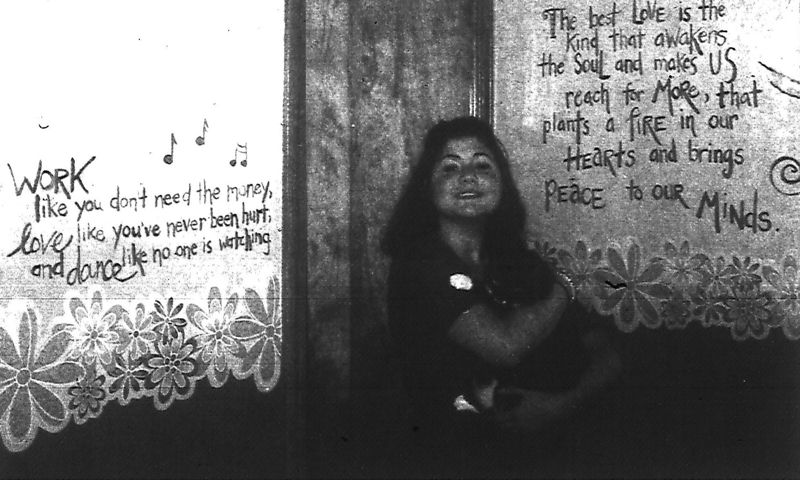 Christena
July 2007
Jailer Danny Fackler was honored by the Kentucky Jailers Association as its Jailer of the Year. He also volunteered to sit in the dunking booth at the St. Aloysius summer picnic.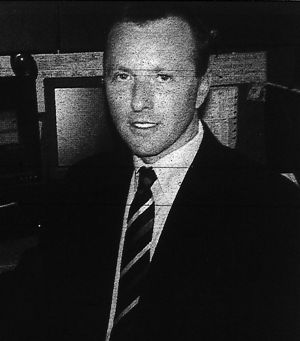 Keith Davis
Bernheim Middle students Scott Thompson, Amy Krill, Brooke Reesor, and Cody Ernest participated in the Junior Beta Club national convention in Nashville.
The paper announced that Mark Rogers had decided to resign as athletic director at Bullitt Central, a job he held for five years.
Keith Davis was selected as interim superintendent of the Bullitt County Schools, in addition to his duties as finance director. The former Hebron Middle School principal hoped to remove the "interim" from his title. Seems like that worked out for him.
Liz Maupin, senior vice-president, and Ashley Cyr, assistant vice-president of the Peoples Bank of Mt. Washington, graduated from the Paul W. Barret, Jr. School of Banking in Memphis.
Tammy Quartermouse and her daughter Brianna won the annual Relay for Life Playhouse sweepstakes sponsored by the Bullitt County Clerk's Office. The playhouse was donated by Jim and Pam White's USA Portable Buildings business in Shepherdsville.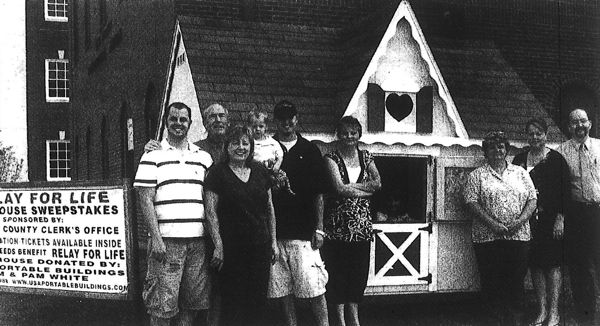 Ryan Cogburn was pictured astride a pony, and Tracy Jones was shown in the paper busy making cotton candy.

Clayton Stallings kept his eye on the ball in a baseball tournament at Mt. Washington.
Christina Logsdon of Mt. Washington graduated from Centre College in Danville with a degree in anthropology/sociology. She was a graduate of Bullitt East.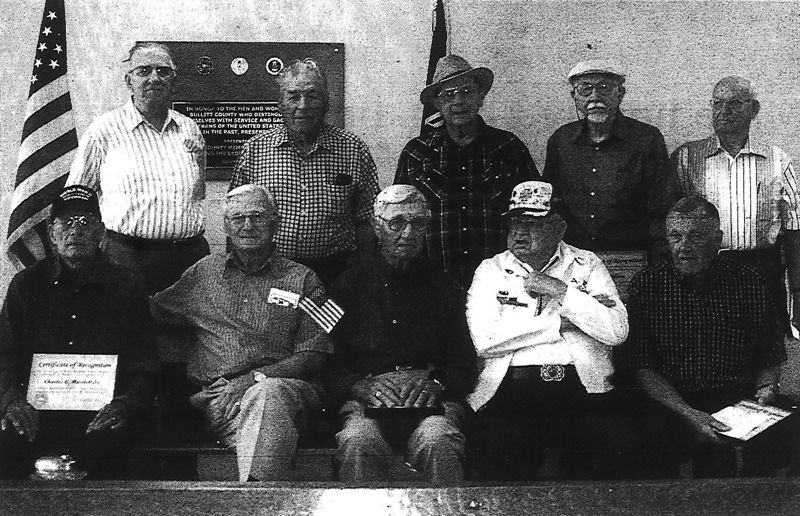 Tom Barr wrote a nice piece on a group of World War II veterans. Names mentioned included Frank Hicks, Bob Devore, Cecil Gentry, Willard Wright who died in action, Joe Milliner, Raymond Montgomery, Melville Owen, Edward Snider, Shearman Taylor, J. C. Thompson, Thomas Givhan, and Paul Hayden. Ten veterans were pictured along with the article.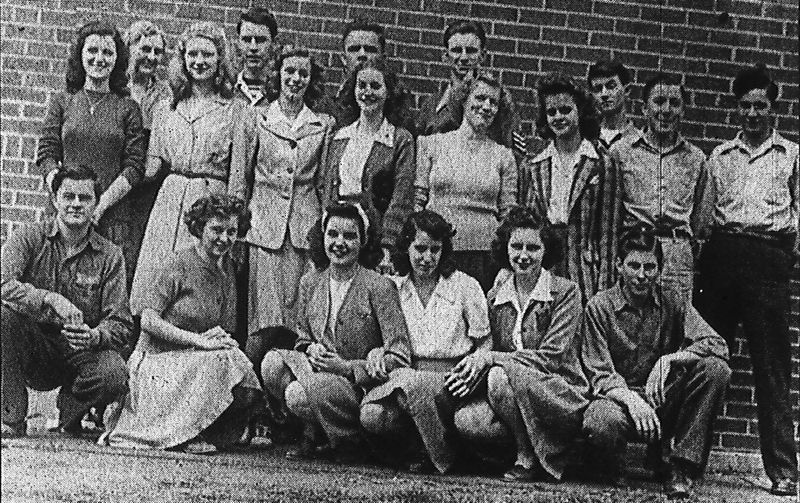 Nancy Avery shared a picture of the S.H.S. junior class of 1945-46. Classmates included Johnny Maraman, Norma Jean Ridgway, Jean Barger, Betty Jean Johnson, Christine Armstrong, Roger Wigginton, Sam Raley, Charles "Shorty" Milam, Laverne Troutman, Henrietta Nalley, Eleanor Mae Moody, Edith Mae Roby, Daphne Cox, Patsy Eddington, Boyd "Percy" Carter, Harold Boyd, Paul Ferguson, Marian "Buddy" Mobley, and Miss Lucy Jackson, their sponsor. Not pictured were Clara Lee and Glen Bradbury.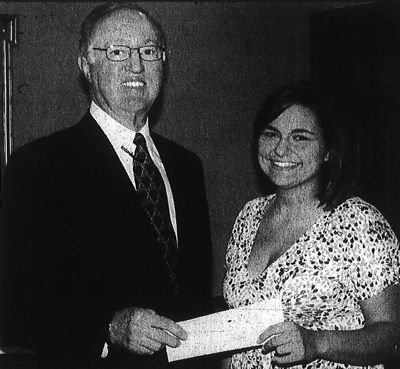 Cathy Roby retired from the Bullitt County Health Department after serving more than 30 years. She followed in the footsteps of her mother, Blondeana Meredith who worked for the board for 10 years, and her father Harold Meredith who was a board member for 25 years.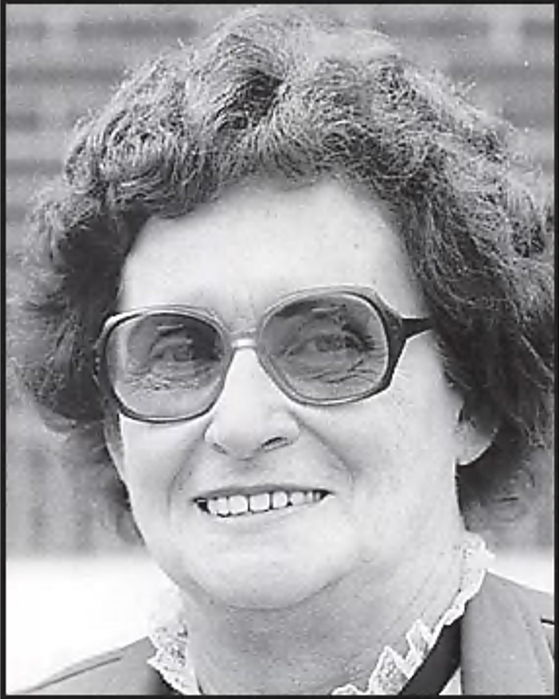 Dorothea Stottman
Bill Hardy was pictured handing Andria Thorne her scholarship check from the James W. Hardaway Scholarship fund which is awarded annually to a graduating Bullitt County senior. Andria, daughter of Erin and Terri Thorne, planned to attend Indiana University-Southeast and major in secondary education.
And one of the sweetest, most gracious ladies I ever knew passed away. Dorothea "Dot" Stottman was largely responsible for Bullitt County's library system growing from a one-room library to what it is today. She loved books, and loved helping people. She and her husband Jack were really fine people.
August 2007
Carol and Laveda Richards celebrated their 50th wedding anniversary. Carol was a school administrator, and they ran a local shoe store for many years.
Chester Tinnell had his picture in the paper as Clermont's oldest living resident. His favorite pastime was tinkering with all sorts of mowers. Chester lived until the second week of June 2011, dying at the age of 86.
Cody Hodge qualified for the bull riding competition of the National Wrangler Junior High Finals Rodeo. He rode his first steer at age 11, and his first bull at 12.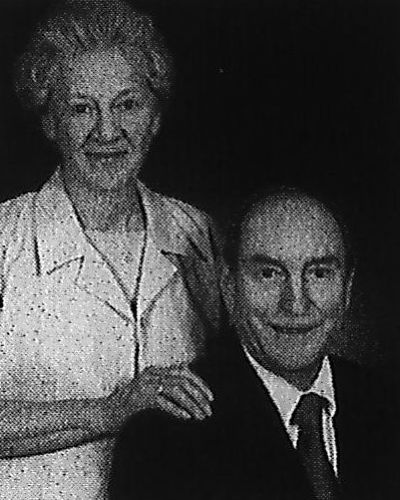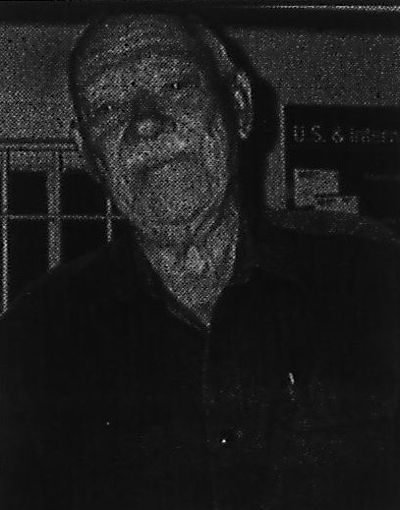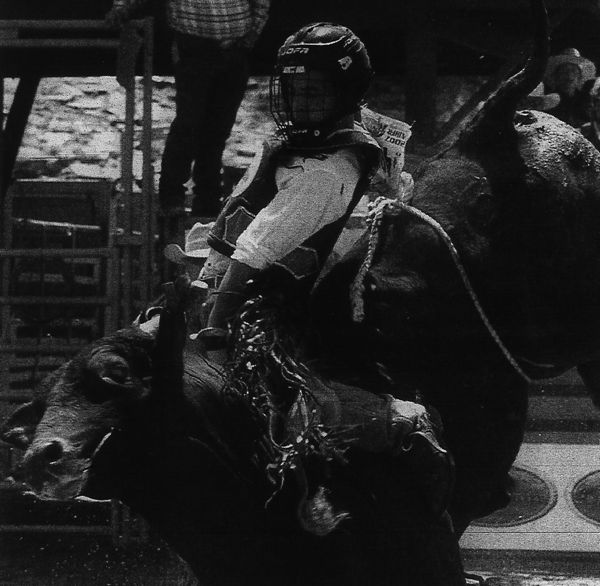 Carol and Leveda Richards, Chester Tinnell, and Cody Hodge
Jammie and Tonya (Squires) Vance, both North Bullitt graduates, were called to the Little Flock Baptist Church where Jammie would pastor the church.
Cathy Roby was pictured with her family as she received a plaque honoring her 31 years of service at the Health Department.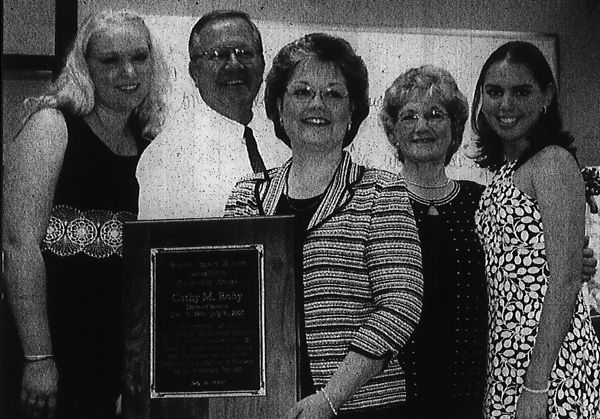 Cathy Roby and Family
Megan Hatter was named coordinator of the Mt. Washington Middle School Youth Service Center.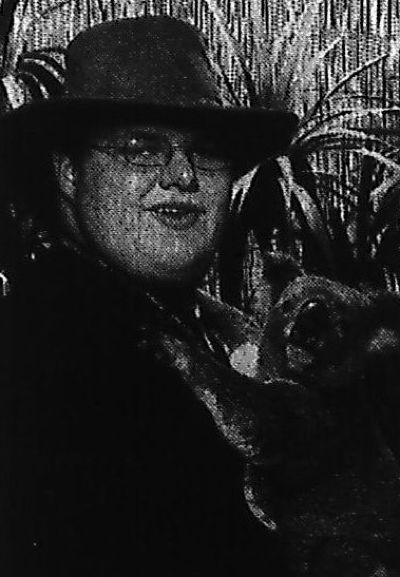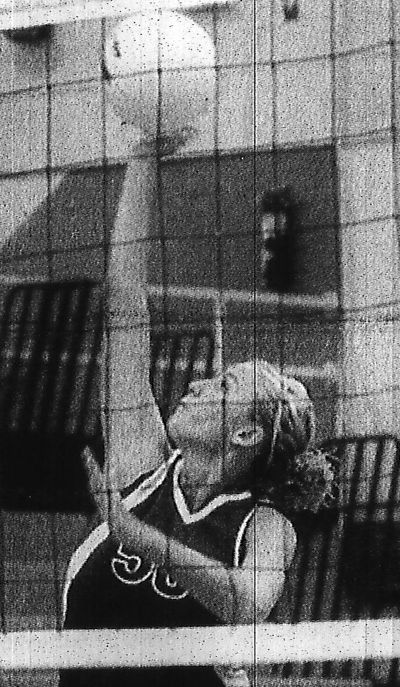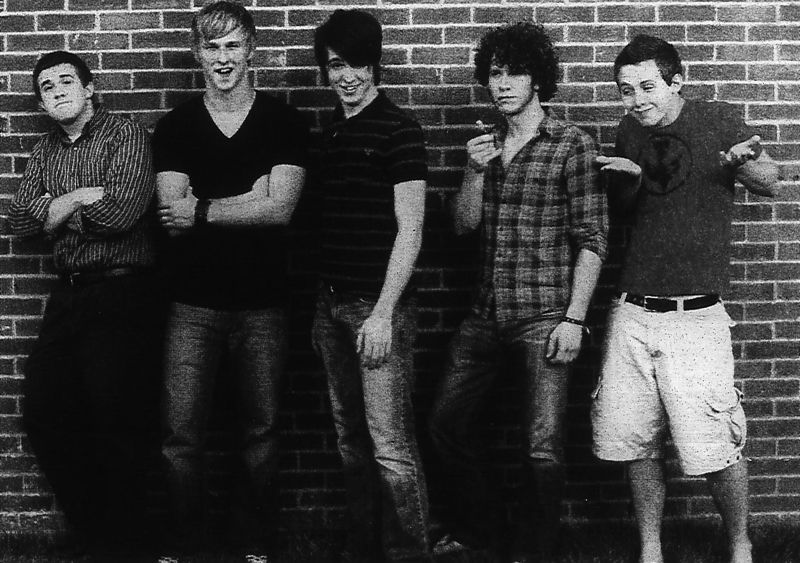 Nicholas Simmons, Amber Cheek, and Wake the Day Band
Nicholas Simmons of Mt. Washington served as a student ambassador to Australia and New Zealand in the People to People Ambassador Program, an organization formed in 1956 by President Eisenhower.
North Bullitt junior Amber Cheek was pictured participating in a volleyball scrimmage at Bullitt Central.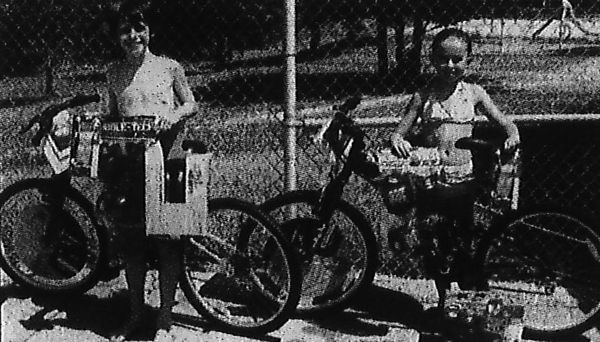 The band, Wake the Day qualified to appear on a spin-off of "American Idol" called "The Next Great American Band." Band members included Andy Myers, Chris Jackson, Tyler Anderson, Jeff Armstrong, and Brian "Buv" Meyers.
Jarred Showalter and Hannah Perdew were the lucky winners of bicycles at the Hillview Community Safety Day Camp program.
Philip McClure became the eighth member of Boy Scout Troop 868 of Shepherdsville to attain the rank of Eagle Scout.
Sarah Schaaf won first place in the costume class for the previous six years at the Bullitt County Fair's miniature horse show.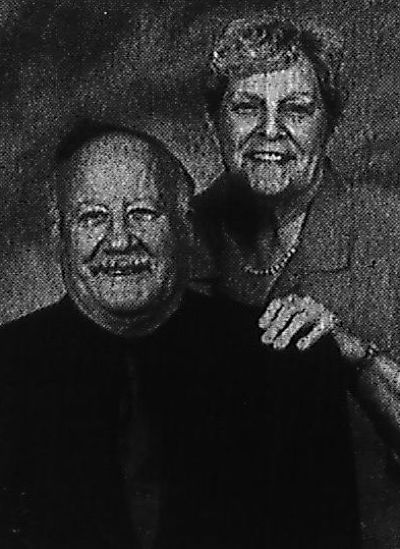 Al and Donna Kikstadt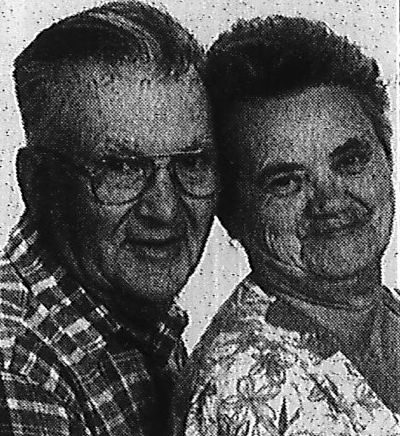 Robert and Delma Weird
Cissy Owen Boone and her husband Tom enjoyed a trip to England and Ireland.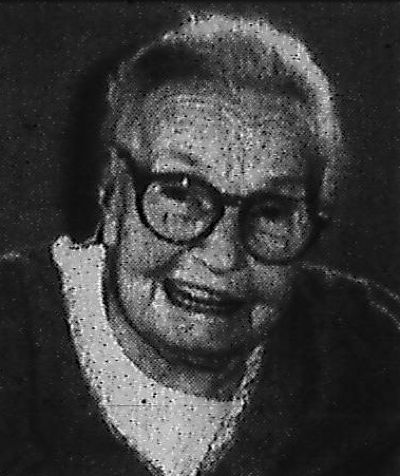 Fannie Huff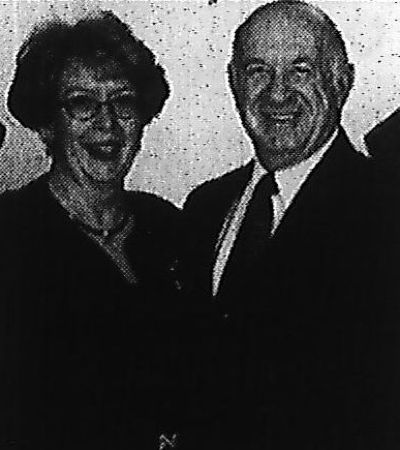 Jan and Marvin Stewart
Al and Donna Kikstadt of Mt. Washington celebrated their 54th wedding anniversary.
Shirley Lakes held her 24th annual summer piano recital with the following performers: Karen Cash, Carly LaGrange, Alanis Morgan, Ben Sneller, Chalan Walton, Camrin Richardson, Kayla Cash, Samantha Morgan, John Marsolek, Kayley Strange, Joye Walton, Charla Brown, Gabrielle Fong, Ryan Parker, Hope Walton, Katie Kiefer, Leanne Dant, Lauren Kemble, Kelly Parker, Ben Kemble, and Kristina Hand.
Fannie Huff celebrated her 104th birthday. She was the mother of Tom and Robert Huff of Shepherdsville, and Dorothy Howell of Louisville. (Fannie lived until February 2009, dying at the age of 105.)
Jan and Marvin Stewart, and Robert and Delma Weird both celebrated their 50th wedding anniversaries.
Rebecca Hart was selected to appear in an issue of Discovery Girls Magazine. She was one of several girls chosen to represent Kentucky in the issue.
And Bullitt Central Cougars won their first football game of the season with a 20-7 victory over Spencer County. Akeem and Jeremy Bennett combined for over 300 rushing yards to lead the Cougars.
September 2007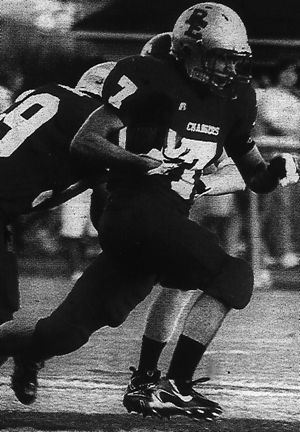 Nate Hanson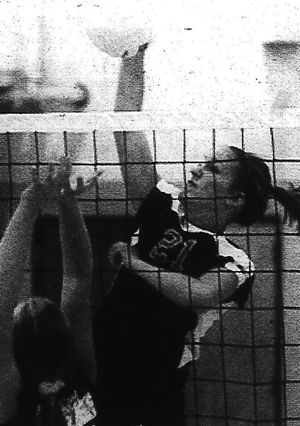 Samantha Johnson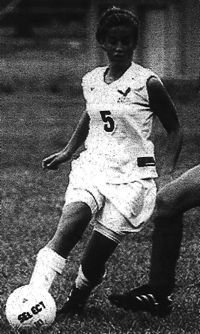 Lindsey Shepherd
Local artists Diana Colgate, Carole Powell, Lola Foley, Sandy Higgins, Laura McCann, and Jan Rawlings teamed up with six Shepherdsville Elementary students to create a 2008 calendar for sale to benefit the school's art mentoring program. The participating students were Daisha Crosby, Tahlia Dries, Marissa Ing, Hanna Leffew, and Jorge Ojeda.
Quarterback Matt Bowles threw for four touchdowns and Nate Hanson caught a 64 yard reception for a touchdown as Bullitt East defeated DeSales 27-7.
Meanwhile, Bullitt Central defeated Iroquois 32-26 after being down 26-14. Jeremy Bennett capped a big night with an 18-yard touchdown run for the winning score.
Rounding out the night, North Bullitt crushed Breckinridge County 66-0 with Brandon Daniels having a big night for the Eagles.
In volleyball, Bullitt East sophomore Samantha Johnson had a strong net game as the Chargers defeated North Bullitt 25-14 and 25-22.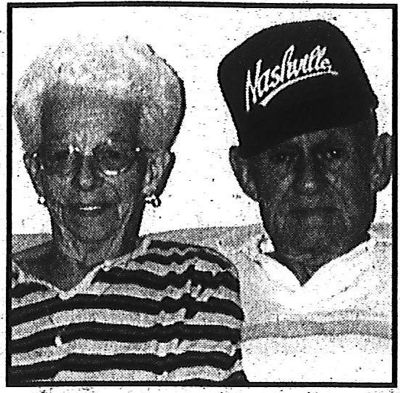 Willie and Ollie Engle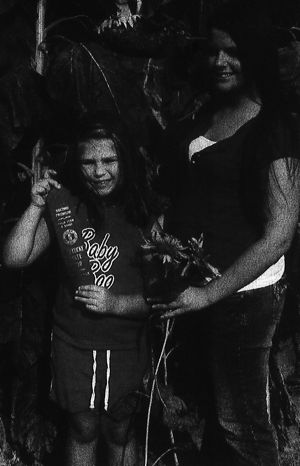 Sydney with her mother Michelle
Gary Morris, a Mt. Washington native, realized his dream of working at the Pentagon in Washington, D.C.
John and Kathy Holt celebrated their 50th wedding anniversary, as did Shirley and Virginia Milligan of Lebanon Junction. However they still had a decade to go to match Willie and Ollie Engle of LJ who celebrated their 60th wedding anniversary.
Sydney Cheatham used special seeds to grow a sunflower that reached all the way to the State Fair where it earned second place when she was six.
Tiffanie Baunach, 16, was one of 230 Kentucky high school students who were chosen to take part in the Governor's School for the Arts at Transylvania.
North Bullitt's Lindsey Shepherd scored two second half goals as the Eagles defeated Bullitt East 5-0 in soccer.
Rachel Hurt was awarded the Gospel Music Association Best of Show Overall by Disney which earned her a chance to perform at Disney World.
The County Library System lost another long-time librarian with the death of Doris Van Vactor who was head of the Lebanon Junction branch for almost 30 years.
And John Beckner of Clermont continued his winning ways in the models category at the State Fair. His model of a Caterpiller high track earned first place in the wooden model category. It was created out of more than 600 pieces of scrap wood.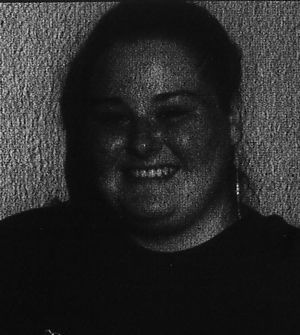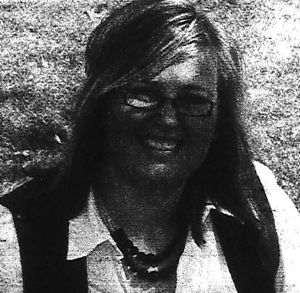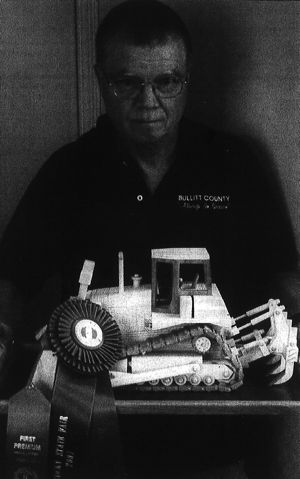 Tiffanie Baunach, Rachel Hurt, and John Beckner
October 2007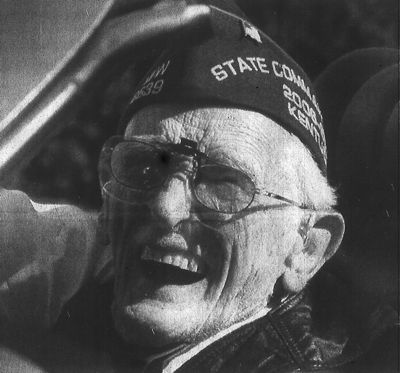 Robley Rex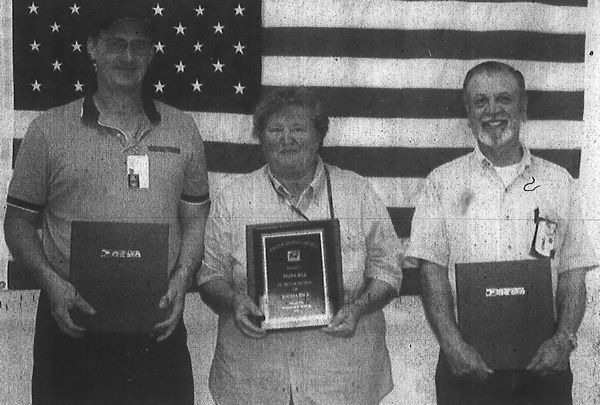 Postal Workers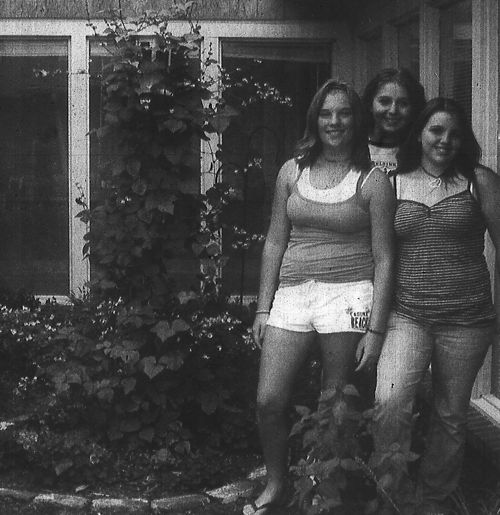 Girl Scouts
The Lebanon Junction Old Fashion Days festival parade featured two grand marshals: Robley Rex and Danny Fackler. Mr. Rex, a veteran of World War I, was instrumental in starting several Kentucky VFW posts, and had been honored for volunteering more than 7,500 hours at the VA Medical Center. Mr. Fackler had recently been recognized as the 2007 Kentucky Jailer of the Year.
At the festival, Cadence Shoptaw, daughter of Marsha Shoptaw, was selected as the most beautiful baby; Jenna Mattingly, daughter of Kenny and Shelly Mattingly, was selected as Tiny Miss LJ; Alanis Morgan, daughter of Pamela Morgan, was Little Miss LJ; Madison Black, daughter of Jamie and Amy Black, was Junior Miss LJ; and Matt Hagan, son of Jeff Hagan and Dana Duckett, was declared Tiny Mister LJ.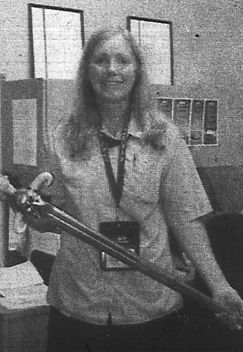 Lisa Fedenko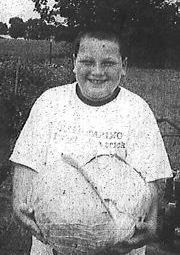 Jake Cox
Three postal workers from Mt. Washington were honored by receiving the United States Postal Service Eagle Spirit Award. They were Jim Sparks, Diana Bill, and Garey West. And Lisa Fedenko provided a little muscle at her post office job, muscle developed in competitive weightlifting that saw her set some powerlifting records.
Jake Cox was mighty proud of his cabbage! His teacher at Pleasant Grove, Ms. Stansbury, provided him with the plant, and he nurtured it in his papaw's garden until it reached the size of 22 pounds, and 14.5 inches across.
At the North Bullitt football homecoming, seniors Cara Hefty and Trey Phelps were chosen as homecoming queen and king. Meanwhile, over at Bullitt East seniors Kendra Clark and Boaz Johnson took the honors.
Bullitt East senior Kelly Harrod was pictured preparing to slam the volleyball in a match against Bullitt Central.
Bullitt East freshmen, Rachel Allgeier, Beth Maddox, and Kayla Curtsinger of Girl Scout Cadette Troop 790 spent the summer building a hummingbird and butterfly garden in the courtyard area of the Green Meadows Health Care Center as part of their requirements to receive their Girl Scout Silver Awards.
Kyle Evanow provided a key block that enabled Bullitt East senior Nate Hanson to score on a 75-yard play against North Bullitt. East won the game 42-35.
Seventeen members of the Shepherdsville High School class of 1950 gathered for a reunion. They included Sonny Crowe, Albert Black, Arthur Hilbers, Glendon Hall, Kenneth Raymond, Prince Ryan, Lindsay Croan, Betty Berman Begley, Willa Burns Fougnie, Marilyn Miller Ferguson, Norma Layeers Myers, Dolores Bradbury Hall, Evelyn Buckman Frisby, Emily Thompson Ford, Ramona Simpson Troutman, Merrill Cundiff Roberts, and Joan Wise Shawley.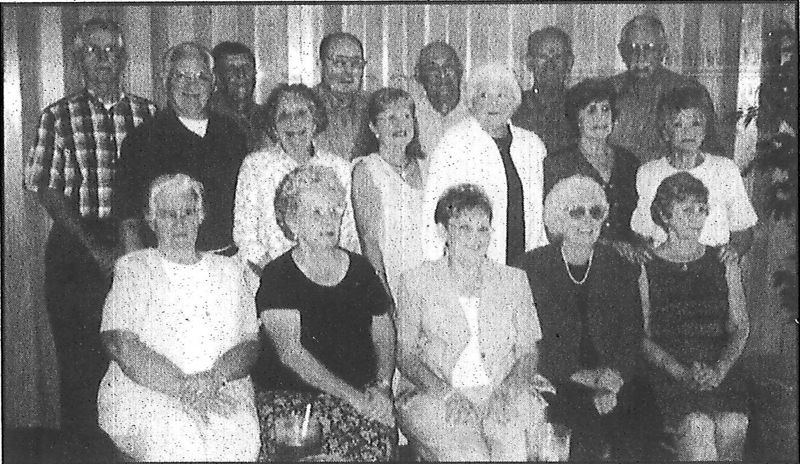 S.H.S. Class of 1950
Also, the S.H.S. Class of 1957 had their reunion as well. There was not room in the print version of this article to include all their names, so we are including an image of the 2007 article here.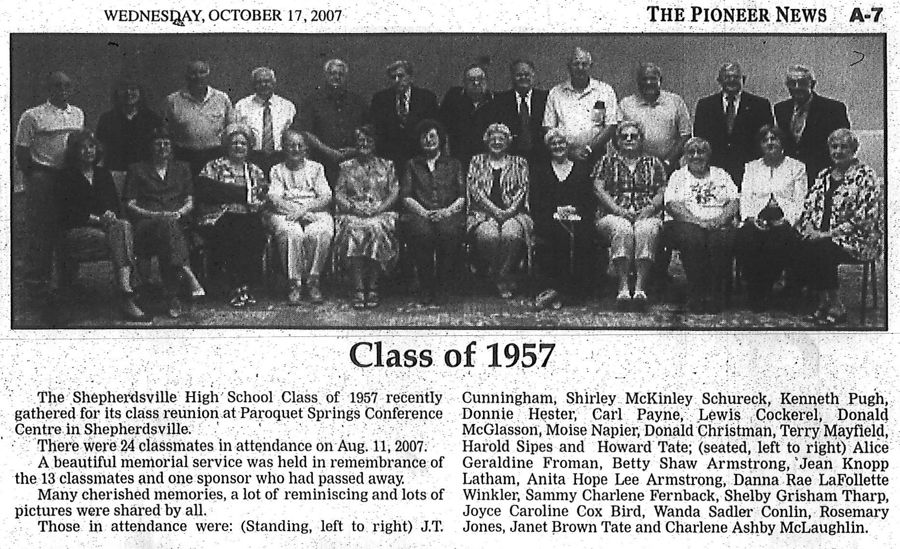 Bradley Frans received a $1,000 employee scholarship from local McDonald's owner/operator Rick Peters.
And a number of enduring marriages were celebrated in this month's papers. Shirley (Shag) and Anita Hope (Lee) Armstrong celebrated their 50th wedding anniversary, along with James and Carolyn (Armstrong) Robinson of Shepherdsville.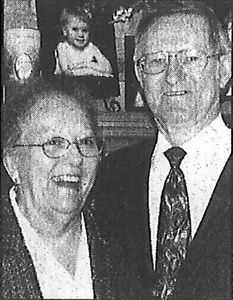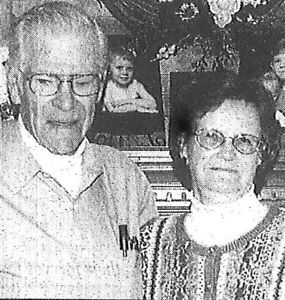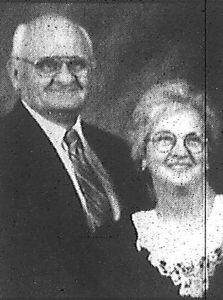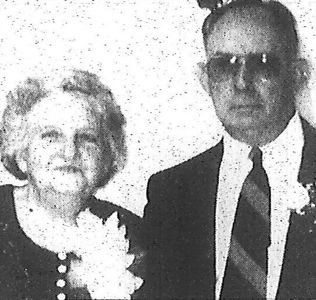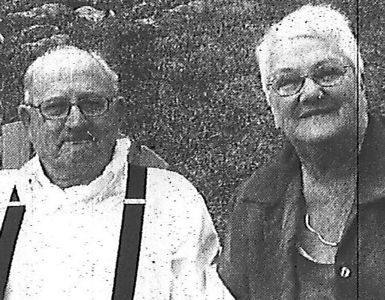 Not to be outdone, John and Elizabeth Durall of Lebanon Junction celebrated their 55th wedding anniversary; Joseph and Ida May Redemann, also of LJ, celebrated their 60th anniversary; and J. L. and Jenrose Sturgeon added a year to that, with their 61st anniversary!
November 2007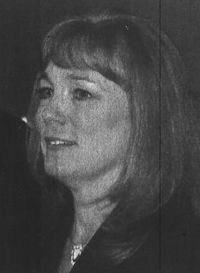 Tammy Spratt
The wrought iron fence around the historic Lone Grave was accidentally destroyed by developers. It is a Bullitt County landmark that had been nearly lost in time. When advised of its significance, the builder readily agreed to have it replaced.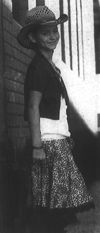 Kayla Brown
At the annual Chamber of Commerce dinner, Bob Hill received the Barbara Cahoe Award, and Tammy Spratt, a fifth grade teacher at Shepherdsville Elementary, was the Chamber/Pioneer News Citizen of the Year.
Mt. Washington's Kayla Brown was pictured with an article about her modeling career.
Coach Brett Newton of North Bullitt received a cool shower from the water bucket after the Eagles defeated Marion County 20-13 to clinch the district football title. R. D. Reynolds rushed for 44 yards, threw two touchdown passes, and intercepted one on defense.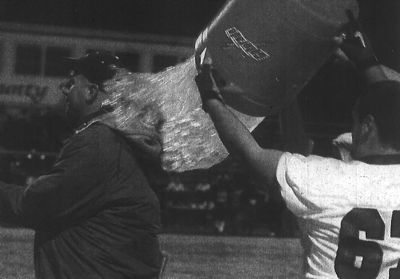 The following Nichols students were honored as students of the month for October: Tessa Patterson, Catie McCaslin, Ashley Roeder, Zachary O'Bryan, Eric Brookshire, Sarah Tomes, Tre Guffey, Rachel Wilkinson, Dalton Gassaway, Samantha Frank, Gabrielle Browning, Jessica Renfro, Cole Hurst, Destiny Nall, Rebekah Carter, and Nich Cain.
Meanwhile, at Mt. Washington Middle, the following students were Generals of the Month: Charice Burwell, Kacie Ledrick, Matt Clarkson, Trevor Troutman, Aaron Jones, Karissa Chambers, Sydney Wiseheart, Trey Adkins, Jamie Braun, Camron Creager, Mason Hellyer,Katie Profitt, Victoria Soto, and Kayla Kelty.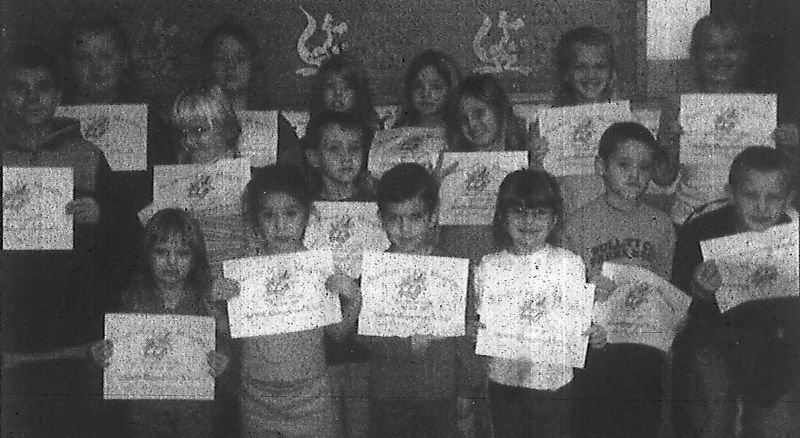 Nichols Honor Students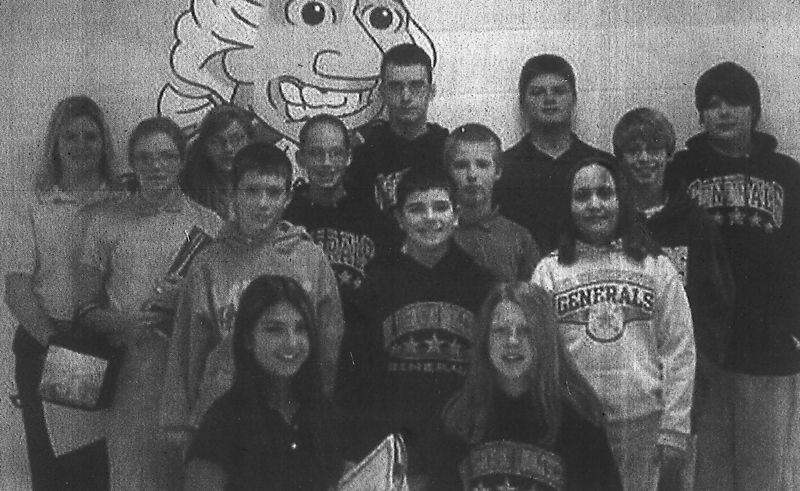 Generals of the Month
Members of the Teen Court, all high school students from Bullitt County, were sworn in by Judge Bailey Taylor. They included Cody Anderson, Amber Burbank, Candice Caulk, Andrew Cochran, Jennifer Connelly, Cornie Coomes, Ben Cresswell, Joanna Cruise, Katie Etherton, Tara Fambrough, Emily Gentry, Leslie Grider, Jarrod Heffley, Brian Hester, Ben Kemble, Melody Kimball, Trina Mattingly, Vanessa McGill, Heather Mercer, Haley Moore, Mallori Puchino, Kayla Robertson, Elizabeth Tatum, Michael Workman and Kayla Worner.

Teen Court
In community activities, Belmont Baptist hosted a gospel sing, Micah Christian School had a craft fair, Mt. Eden Baptist had a revival, Bethany Baptist hosted a parents night out, St. Luke Catholic Church presented the drama, A Christmas Carol, Pleasant Grove Baptist hosted a scrapbooking event, and St. Aloysius had their fall festival.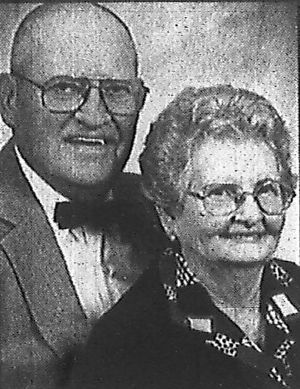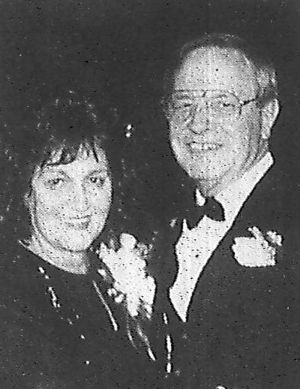 The Keliens and The Strebles
Liz Curtis Higgs spoke at the Mt. Washington Methodist Church, Overdale UMC sponsored a Seniors Day Out and Thanksgiving meal, and the Bullitt County Ministerial Association held their monthly meeting at Mr. Gattis in Shepherdsville.
In the AA Cross Country regional, the following Bullitt County runners advanced to State: Betsy Heines and Gentry Collins from North Bullitt; and Kristen Lewis, Alexis Carey, Eddie Holcomb, Bradley Foster, and Caleb Noe from Bullitt East.
And Marvin and Carrie Kelien celebrated their 50th Wedding Anniversary; while Roy and Juanita Streble celebrated their 60th!
December 2007
Doug Puckett was selected as the new Shepherdsville police chief by Mayor Sherman Tinnell. The two were pictured shaking hands while Mrs. Puckett looked on.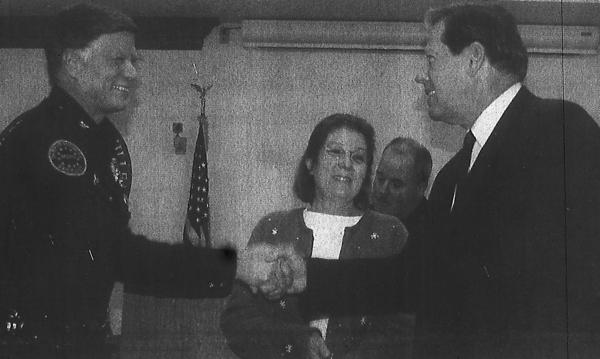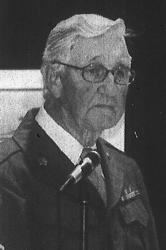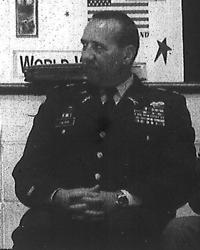 Raley and Valdivia
The students at St. Aloysius remembered soldiers, past and present, during a special Veteran's Day service. Present and representing veterans were Sergeant Joe Raley and Colonel Robert Valdivia. Among the veterans honored was St. Aloysius teacher, Captain Christine Farrell.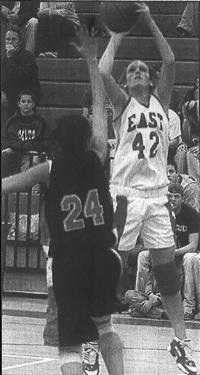 Sam Johnson
The Bullitt East Lady Chargers came up just short against Fern Creek, falling 70-68. The paper printed a picture of Sam Johnson attempting a jump shot. She had five points in the game.
Bullitt East Chargers won their first victory ever over Fairdale as Willie Moore scored 24 points, all in the second half.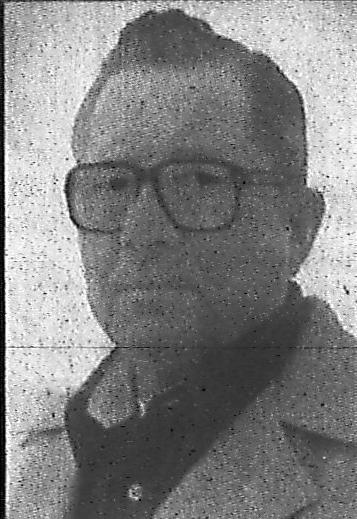 Leonard Light
Leonard Light, who was Bullitt County Sheriff for 16 years, passed away at age 86. He was survived by his children Linda, Louis, Floyd, and Karen, and two brothers, Howard and Jim.
Justin Walls, Jeremiah Walls, and James Badgett took individual titles in the wrestling tournament at Bullitt Central. Tony Tinnell and Akeem Bennett placed third in their weight classes, and Preston Glass placed fourth.

Justin, Jeremiah, and James
The following youngsters made the All County Dance Team: Dakota Robinson, Rachel Mitchell, Selena Greenwell, Destiny Ashmore, Kayly Norris, and Madison Schmitt.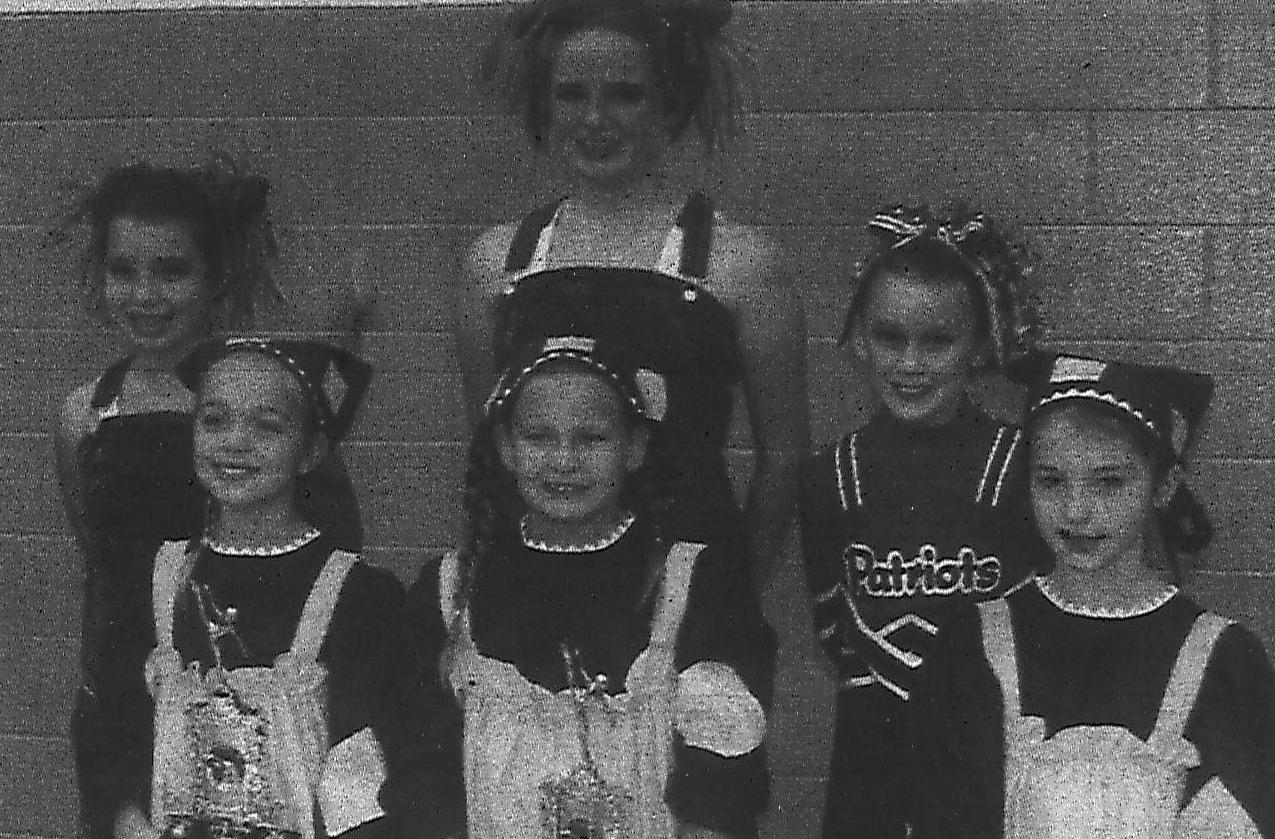 All-County Dance Team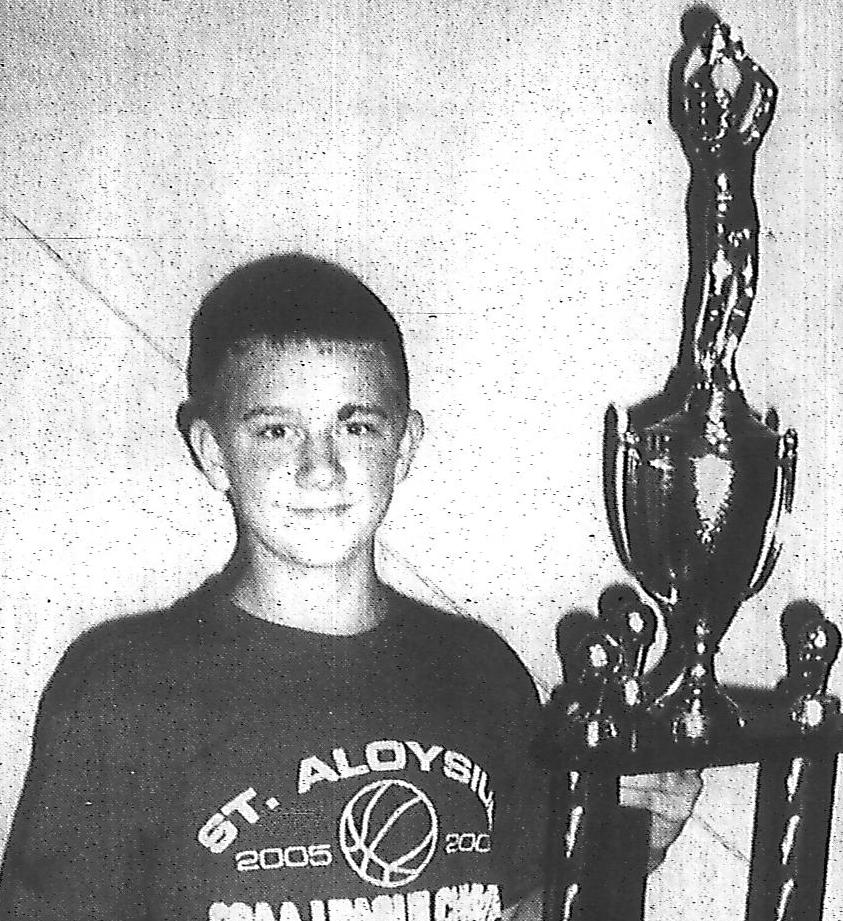 Ricky Conover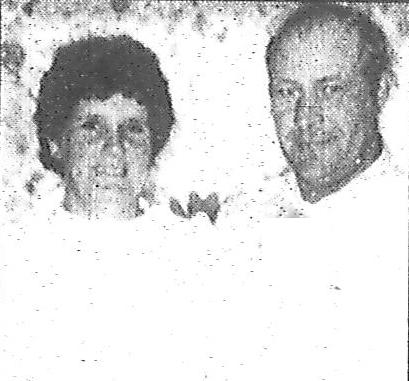 The Shoptaws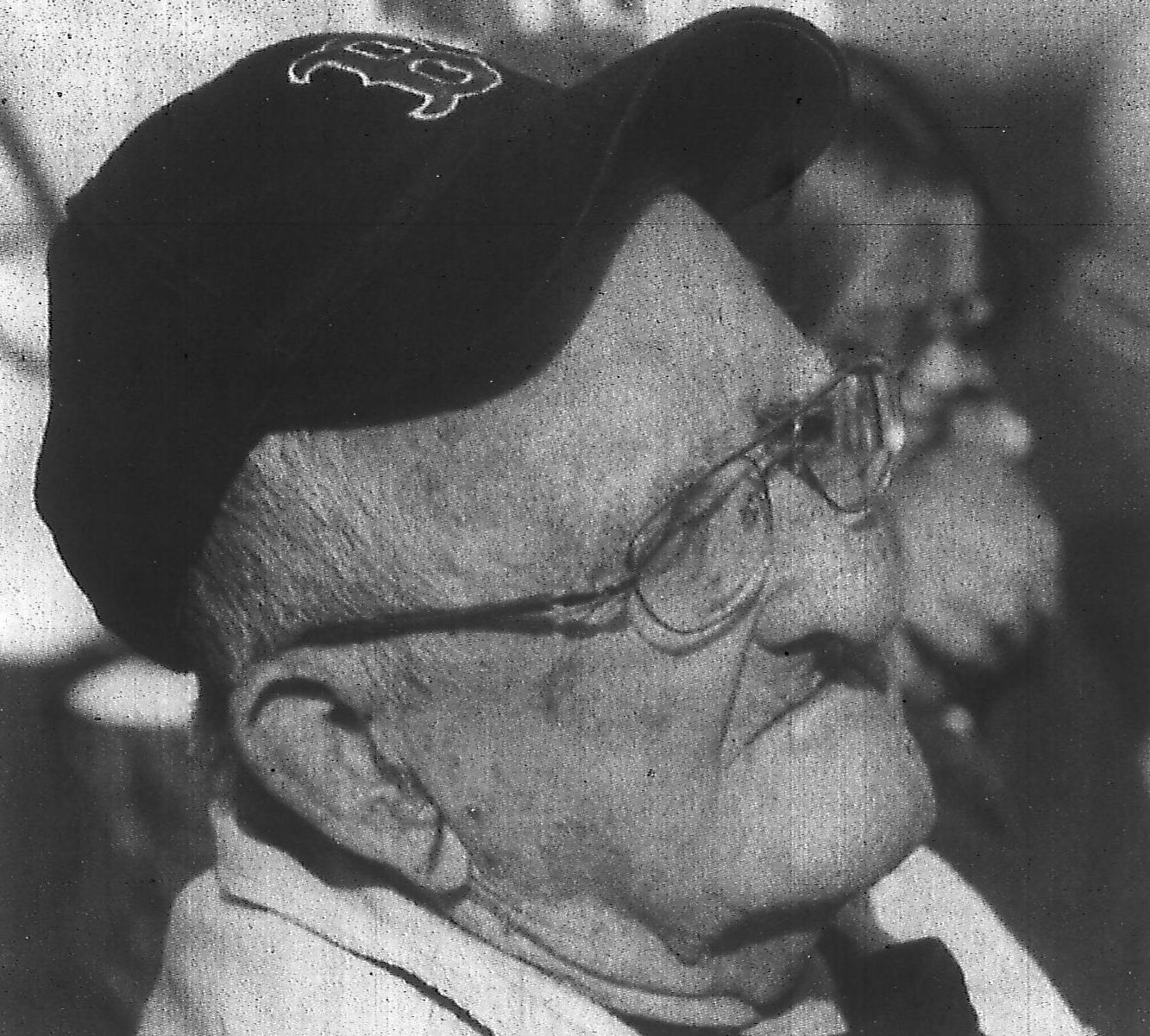 Virgil Cothern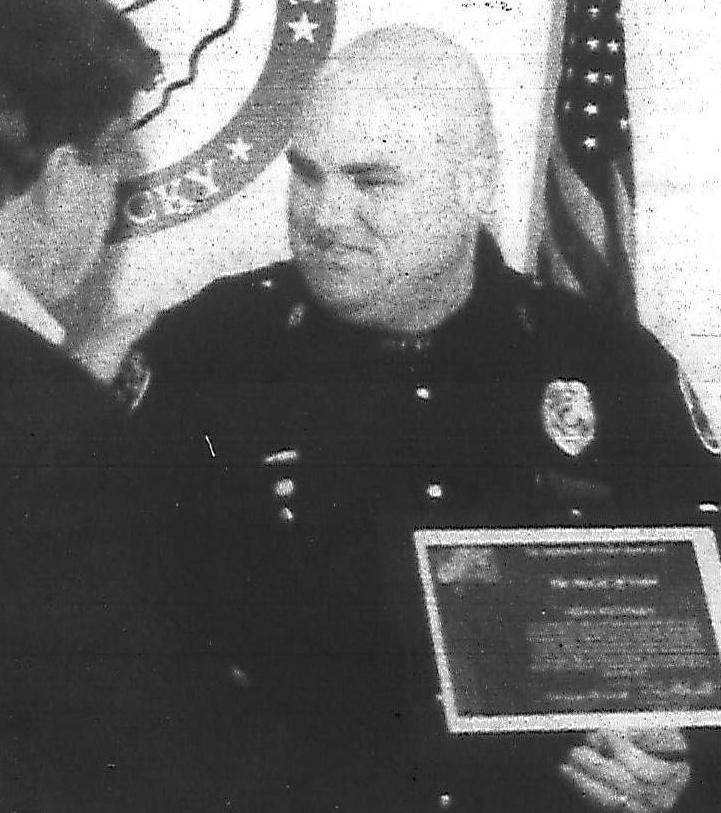 Chad Ledington
Ricky Conover won a three-point shooting contest at St. Aloysius to claim a big trophy.
Virgil Cothern of Lebanon Junction received his long-overdue combat awards sixty-four years after his discharge from the navy at the end of World War II.
Dr. Mohana Arla was the recipient of that year's Distinguished Citizen Award from the Bullitt County Education Association.
Cornell and Loraine Shoptaw celebrated their 50th wedding anniversary by renewing their vows.
Shepherdsville police officer Chad Ledington received the Medal of Valor for his role in preventing a suicide.
And the Bullitt County History Museum organized a memorial service in remembrance of the dead and injured in the December 20, 1917 train wreck in Shepherdsville. More than a hundred descendants of those passengers were in attendance in the Courthouse at Shepherdsville to hear the story of the crash. That was 90 years after the wreck, and ten years ago this month. By the time you read this, we will once again honor the memory of those who were lost or injured that night 100 years ago.
---
Copyright 2018 by Charles Hartley, Shepherdsville KY. All rights are reserved. No part of the content of this page may be included in any format in any place without the written permission of the copyright holder.
---