It Happened in 2005
Over the years, Charles Hartley has shared glimpses of what was being printed in The Pioneer News in different months and years. This page includes what was taken from the January through July issues of 2005.
---
January 2005
Dennis Johnson's Solid Concepts granite etching business was featured in a front page story about his portrayal of Muhammad Ali in an eight foot granite scene of the champ knocking out Sonny Liston.
The Hillview City Council honored Boy Scout Pack 20 for contributing over 400 food items to Operation Santa. Members of the pack were pictured in the paper.
Bullitt East's boys' basketball team won the Ashland Invitational, with Daniel Alcorn and Ryan Troutman leading the way. Both were named to the All-Tournament team, and Alcorn was named the tournament MVP.
Amy Etherton scored 20 points for Bullitt Central, and Jesse Mattingly added 11 points and pulled down 13 rebounds in a close loss to Carroll County. It was her fifth straight game with at least 11 rebounds.
Local singer Blake Stamper was one of the entertainers who traveled to Iraq to perform for the troops. Blake is the son of Art Stamper, Bluegrass legend, who died in January 2005.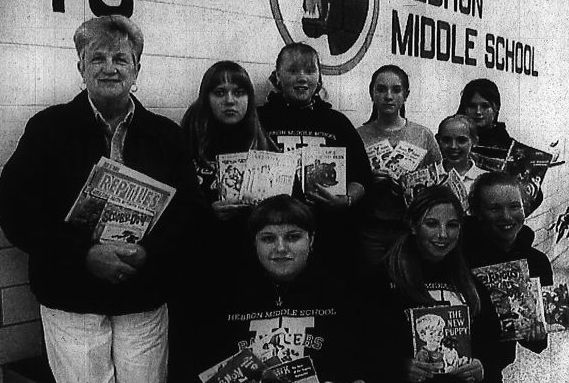 Hebron M.O.B.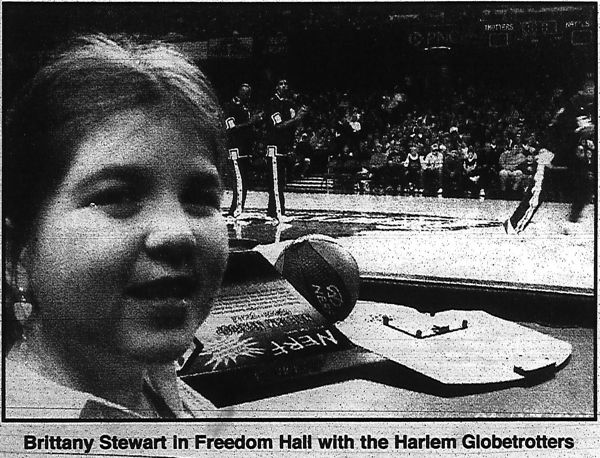 The Bullitt East Lady Chargers defeated Manual 52-44, led by Kasey Harrod's 13 points. Katie Followell added 8 points, and Kathleen Thompson made 7 more.
The Bullitt Central Lady Cougars beat PRP 61-44 behind Emma Hall's 26 points.
"Making Ourselves Better," a school organization at Hebron Middle School collected over 5,000 books for a Kosair Children's Hospital drive.
Tony Carney, Mt. Washington native, and TV personality in Thailand, found himself back in Thailand to help translate for the Thai government with western tourists during the disaster there following the recent tsunami.
Bullitt County native Charles L. Hamilton, former Kentucky Commissioner of Agriculture, received the Kentucky Farm Bureau's 2004 Award for distinguished service to agriculture.
The school board decided on names for the two new middle schools and the new elementary school: Zoneton, Eastside, and Shepherdsville Elementary.
And Fifth Grader Brittany Stewart was selected to sing the National Anthem at a recent Harlem Globetrotters basketball game at Freedom Hall.
February 2005
Shepherdsville police officers Doug Puckett, Joey Alton, Kenny Proffitt, and James Benham all received meritorious service awards for saving lives during the previous year.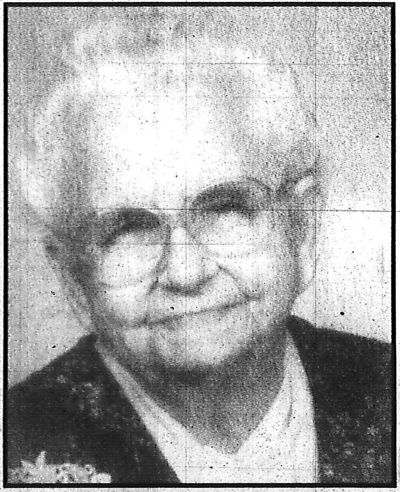 Nettie Greenwell Coomer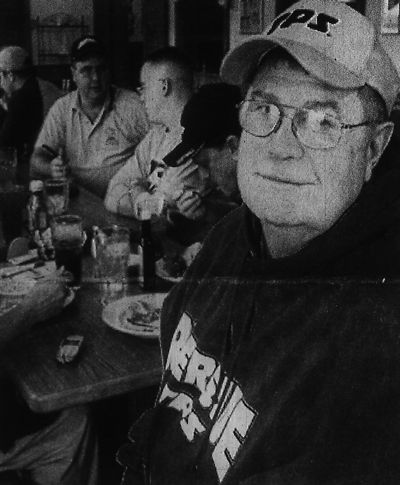 Leon Mattingly
Mt. Washington Middle School claimed the District Governor's Cup competition. Hebron placed second. In individual events, Crystal Grant of Mt. Washington placed first in language arts, Zachary Drane of Hebron won science, Rebecca Porter of Hebron won arts & humanities, Matthew Okruch of Mt. Washington took mathematics, and Alex Nutt of Mt. Washington won social studies.
Did you go see Gold City at the Paroquet Spring Conference Centre ten years ago? The concert also featured the Morris Family from Mt. Washington.
Bullitt Central eighth-grader Jeremiah Walls was pictured keeping his head up in the Sharkbait wrestling tournament hosted by B.C.
Theodore Roosevelt was president when Nettie Greenwell Coomer was born. When she was seven, Arizona became a state. Her parents Gatton and Leona (Shepherd) Greenwell lived in the Cedar Grove area when she was born on Valentine's Day. She married Ray Coomer when she was sixteen. And in 2005 she celebrated her 100th birthday!
Allison Miniard of St. Aloysius won the county spelling bee.
I wonder if David Bradshaw, Austin Eastridge, Isaac Mitchell, Noah VanVactor, Nathan Sparkman, Mason Hebst, Devon Hollander, Alex Bryant, Jesse Miles, Brandon Mann, Avery Runion and John Bradshaw of Cub Scout Pack 686 remember visiting the Southeast Bullitt firehouse and getting their picture in the paper?
Wayne Edwards of Shepherdsville placed ninth in the Florida Dodge Dealers 250 at Daytona Beach, his first top-10 finish.
And Robert White wrote an excellent article about Leon Mattingly, a very talented softball coach who happened to be legally blind. He was beginning his 39th season coaching softball, including 20 years while legally blind. Amazing guy.
March 2005
Former state representative and retired educator Larry Belcher was selected by Bullitt Fiscal Court to lead the Bullitt County Joint Planning Commission. He replaced Daryl Lee who had retired.
Jimmy and Neva Milam, and Enoch and Rosa Cornett celebrated being married for 50 years. Nice milestone!
Kevin Bowen, Mark Cornett, Jacob Carter, Jacob Franklin, Nathan Owen, Zachary Paine, Andrew Wagner, were all part of Cub Scout Pack 333 of Kings Baptist Church as they were awarded the National Summertime Pack Award. Leaders included Nathan Owen, Carl Carter, and Jamie Franklin.
Easter Week services at First Baptist in Shepherdsville were to be led by different pastors each day. They included Deke Rigor of Shepherdsville Christian Church, Paul Hines of Eastside Baptist, Rev. David Naylor of St. Aloysius, John Vaught of Davidson Memorial Methodist, and Gary Hardin of First Baptist.
Mt. Washington Middle School's Math Counts team placed fifth among 28 teams in the Louisville area. Team members included Andrew Adkins, Matt Hardin, Sean Fowler, and Matt Okruch.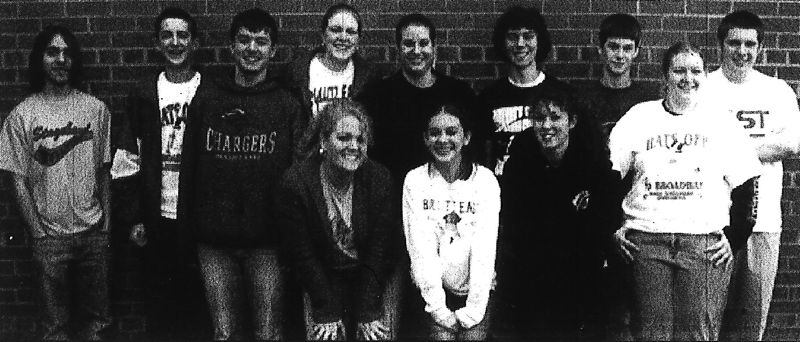 Twelve Bullitt East musicians were part of the State Honors Band. They included Lindsay Anderson, Lance Biddle, Bridgette Branham, Nick Brown, Ada Daugherty, Katrina Emberg, Tyler Hall, Beth Jacoby, Steven Kurk, Laura Mann, Adam Norris, and Spenser Smith.
Bullitt Central senior Sam Riley became the first local wrestler to ever medal at the Kentucky State Championships when he finished seventh in Frankfort.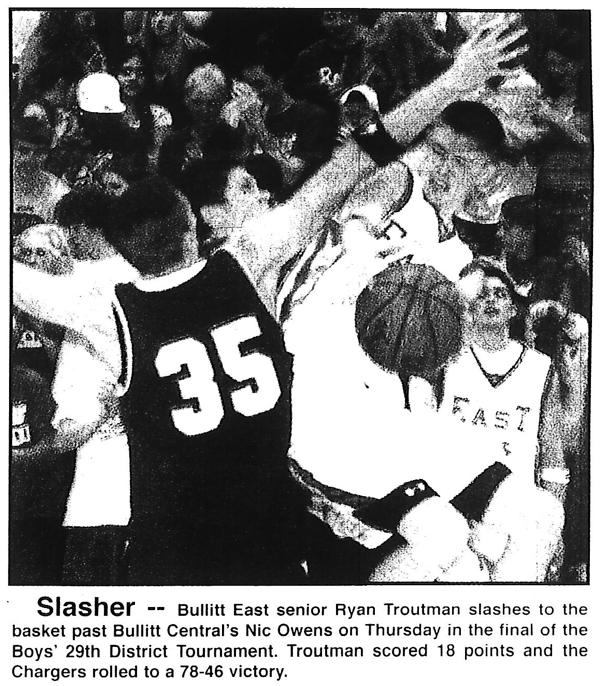 This was to be the last year that the Bullitt County schools were a part of the 29th District in basketball, and the paper printed several remembrances of previous tournaments.
Joe Barger remembered the 1958 tournament in which Daryl Lee made the winning shot in a big game.
The tournament was held at S.H.S. In the first game, John Conlin led the L.J. Bulldogs with 18 points as they defeated the Mt. Washington Generals 56-43. John Carnes and Jack Lloyd each had 13 for the Generals.
In the final game between S.H.S. Rams and L.J. Bulldogs the Bulldogs had a 9 point lead at the half. However, the Rams came back and Daryl lee hit a last second jump shot to tie the score. He was fouled, and scored the winning point when he hit his free throw. Jame Jones led the Rams' scoring with 24, and Joe Barger added 13. Pat Jenkins leg the Bulldogs with 20.
In the 2005 "last edition" of the 29th District tournament, Bullitt East swept both boys and girls' events.
In the 8th region tournament, Bullitt Central, 29th District runner-up, shocked Henry County in the first game, winning 82-69. The Cougars were led by Josh Jarboe with 30 points.
This was the high point for the Cougars, but not for the Bullitt East Chargers. They went on to win the 8th region, defeating Scott County 68-56 behind the scoring of Ryan Troutman (30) and Daniel Alcorn (23).
April 2005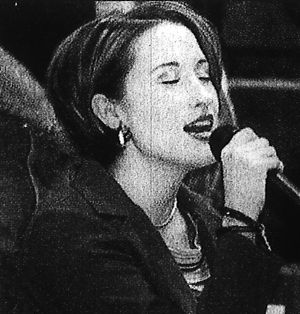 Brandy Saunders Johnson
Mona Tamme and David Strange were among those pictured in the paper at the opening of the Red Cross facility in Shepherdsville. Red Cross Volunteer of the Year, Evelyn Hale cut the ribbon opening the facility.
Bullitt County native Brandy Saunders Johnson won the Kentuckiana Idol contest sponsored by WDRB. Among others, she credited Eva Floyd, her music instructor at Bullitt Central, with helping her along the way.
Seven North Bullitt FBLA students advanced to the state competition, including Martina Tognazzi, Sheetal Patel, Britany Forshee, Cari Spadie, Danielle Davis, Ashley Smith, and Emina Toric. And at Bullitt East, Sarah Bailey, Patrick Buley, Nick Miles, Kelsey Cox, Rachel Neblett, AShley Thornton, and Kayla Phipps also advanced to the FBLA state meet.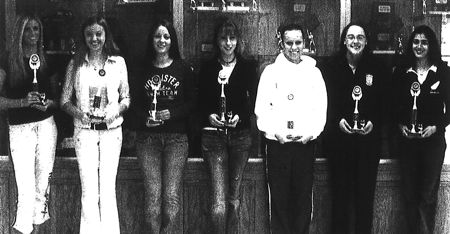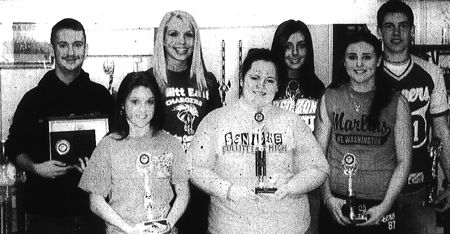 North Bullitt FBLA (left) and Bullitt East FBLA (right)
In sports, Bullitt East senior Austin Battcher signed to play soccer at Cumberland College; Bullitt Central senior point guard Amy Etherton signed up to play basketball at Spalding University, and Bullitt East senior Kyle Downs signed to play golf for Georgetown College.
Several Bullitt County players made the All-Eighth Region girls' basketball squad including Kasey Harrod, Katie Followell, and Abby Thompson of Bullitt East, and Amy Etherton of Bullitt Central. On the boys' side, Daniel Alcorn and Ryan Troutman of Bullitt East made the squad.
And the North Bullitt Eagles baseball team spent spring break in Tennessee and racked up four victories including a 1-0 win in which Eric Carter pitched a two-hit shutout. Then senior Kris Elam pitched a no-hitter against Louisville Central High School.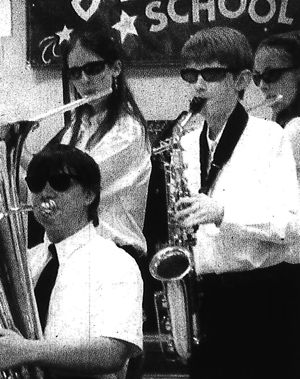 BMS Jazz
Hannah Adkins, an Old Mill fourth-grader, was praised in the paper for her literary talents that she used to write her mother's work with the Mothers Day Out program.
Bernheim Middle School band students Benjamin Kemble, Lauren Kemble, Hannah Corbett, Katie Tyrell, Phillip Figg, Carissa Hailey, Johnnie Keck, Josh Seelye and Megan Capps performed Jazz Up With Beta to an enthusiastic audience during the school's Night for the Arts program.
Sara Price of Mt. Washington was selected as one of six young ladies crowned as a Derby Princess for the Kentucky Derby Festival.
WHAS radio talk show host Francene was the guest speaker at the American Cancer Society Memorial Dinner where she was presented with a framed Bernheim Forest photo by longtime cancer society official Frank Hatfield.
And a number of Bullitt County students made various college Dean's Lists including Erick Bean (Somerset Community College), Joshua McKay Powell (Berea College), and Erin Rachel Sapp, Nathan Andrew Willoughby, Jessica Brooke Durr, and Rebecca Mae Beasley (Campbellsville University).
May 2005
Stephen Thomas wrote about Bullitt East senior Stephanie Orr and her mother Lisa, and about how they ran marathons as a part of Team in Training associated with the Leukemia Society. Also preparing to participate was another Mt. Washington resident, Bryan Redick.
Bullitt East senior Daniel Alcorn signed his letter of intent to play basketball for the University of West Florida in Pensacola.
Do you remember when the Shepherdsville postal employees dressed up as characters from The Wizard of Oz in honor of a newly-issued stamp honoring E. Y. "Yip" Harburg, an American songwriter who created many of the songs used in that show? Postmaster Donna Thompson portrayed Dorothy, Maui Cundiff was the Wizard, Jennifer Higgins the Scarecrow, Peggie Nemeth the Tin Man, Beck Bolton the Cowardly Lion, Debbie Shaw the Wicked Witch, Lorin Self as Glenda the Good Witch, and Alice Hill as Auntie Em.
Debra Shaw and her mother Patsy Karr of Shepherdsville were selected to decorate Galapalooza horses for Louisville's Operation Brightside.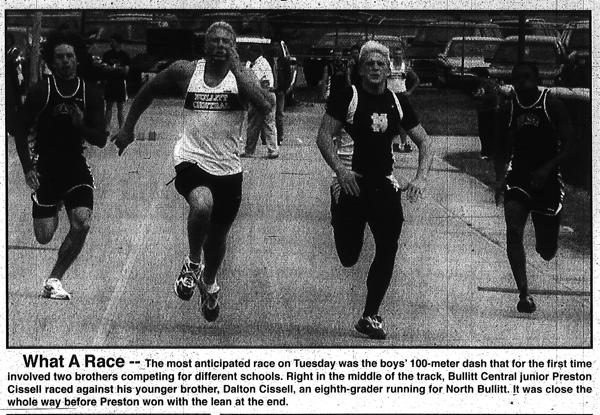 100 Meter Race
In the All-Bullitt County Track and Field Championships, Bullitt East junior Lance Biddle had a big day as he won two distance events, and was on both of the winning distance relay teams along with Josh Clardy, Brandon Clardy, and T. J. Devore.
The most anticipated race of the day was the 100 meter dash. Competing were brothers Preston and Dalton Cissell, and throughout the contest they were never more than a yard apart. At the finish line Preston, a junior at Bullitt Central, leaned just ahead of Dalton, an eighth grader representing North Bullitt.
Bullitt Central senior Nic Owens won all four of his events, the high jump, long jump, triple jump, and 300 meter hurdles.
North Bullitt got wins from R. D. Reynolds in the 200 meter dash, and Jared Aubrey in the 800 meter run.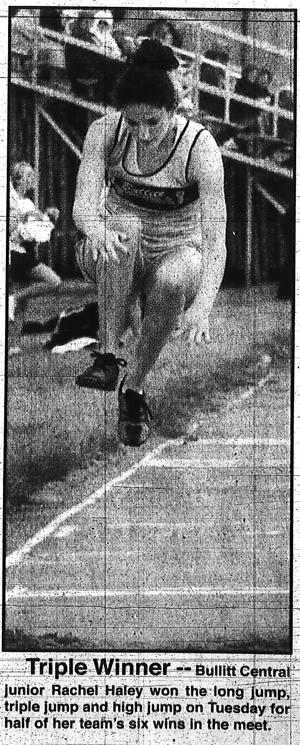 Rachel Haley
On the girls' side, Rachel Haley of Bullitt Central won the high jump, the long jump, and the triple jump. Jesse Mattingly added a win in the shot put, and Felicia Welsh won the 400 meter run for the Cougars.
North Bullitt freshman Betsy Heines won both the 1600 and 3200 meter runs. Her team also placed first in the 300 meter hurdles (Cherita Keene), and the 800 and 1600 meter relays.
James and Alice Rogers celebrated their 50th wedding anniversary at the Cedar Grove Baptist Church.
Samantha Burress of Bullitt East earned a full four-year scholarship to the University of Louisville. A 2004 Governor's Scholar, Samantha was also a black belt in martial arts.
Kenny Blair, with a metal detector, and Jesse Walls on a back hoe spent time searching for the bits of remains of an old iron manufacturing operation located along Salt River in what is now the Shepherdsville City Park.
Zachary Drane, a 6th grader at Hebron Middle School, won the Conservation Essay Contest and advanced to state competition. Megan Smith of Bullitt Lick was second, and Kylie Meiser of Freedom Elementary was third.
In the Conservation Poster Contest, Tabby McPherson of Roby placed first, Damien Bruce Lyvers of Nichols was second, and Brittany Scott of Overdale was third.
The newspaper reported that Jaitlyn Marie Peace, a junior at North Bullitt High School, was crowned Bullitt County Junior Miss in the last competition to be held for that event.
And Adrain Jones and Henry Powell were honored for their long time service to the Shepherdsville Lions Club.
June 2005
Audra Dickerson of Bullitt East placed second in floor routine, and tenth overall at the USA Gymnastic Junior Olympic Eastern Championship in Florida.
Bill Garvey, Danny Sketo, Kurt Hale, and Mike Garvey were among the locals who attended Rolling Thunder XVIII in Washington, D.C., an annual gathering of bikers and veterans.
The paper noted that the new Bullitt County History Museum was open and ready for visitors. I hear they're still going strong!
The first annual Bluegrass 101 concert in Bullitt County raised $3,000 for the Crusade for Children. Pam Waldridge said that plans were already underway for next year.
The 4-H Rabbit Club held their show with 38 rabbits on display. Tiffany Rash won best in show; Andrea Bunch was first runner-up. Ashley Hester won best opposite(?) in the open youth section.
Again this year, the Bullitt County Scottish Rite Club held their student recognition program. Those high school students recognized included Samantha Cantrell, Candace Cooksey, Terry Goldsmith, Rodney Graham, Casey Harvey, Wade Holt, Henry Hope, Shane Kolasa, Jamika Owens, Corey Russell, Ashley Stinson, and Erin Whitaker of Bullitt Central; Shawna Bricken, Michael Kippes, Josh Lister, Brittney Milliner, Missy Oerther, Robert Parrish, and Francis Ziegler of North Bullitt; David Depoyster of Riverview; Megan Eason, Ryan Freudenberger, Brian Meister, and Timothy Newman of Bullitt East.
The middle school students included Chris Ballenger, Jessica Boley, Matthew Collins, Mitch Embry, Michelle Green, Caitlin Hoover, Maverick Losey, and Ashleigh Roundtree of Bernheim; Andrew Casey, Chantel Dawson, William Ernst, Eevin Hellums, Dylan Henning, Lance Henry, Tiffany Martin, and Tommy Perkins of Bullitt Lick; Darrel Atherton, Nathan Callaway, Anna Dachille, Ray Davis, Amanda Deshler, Christina Maddox, Zachary Porch, Andrew Raymond, and Ashley Wells of Hebron; and Ryan Crisp, Jacob Hudson, Edward Johnson III, Chris Kaiser, Joshua Napier, and Austin Sweeney of Mt. Washington.
The post offices of Bullitt County held a contest for Mothers Day, and the winners were Edna Lane of Shepherdsville, and Maud Elizabeth Rothman of Mt. Washington. Both were 98 years young.
Four hair stylists, Dawn Daugherty, Whitney Hall, Patty Curtsinger, and Tiffany Spears opened Shear Brilliance in May, and held a special fund-raiser in June to benefit the Christena Gabehart Transplant Fund.
Stephanie Pollett, a 1993 Bullitt East graduate, earned her doctor of veterinary medicine degree.
Joseph and Peggy Jean Raley celebrated their 50th wedding anniversary with a Mass at St. Aloysius.
Bullitt East senior Todd Williams closed out his high school track career with his best throws ever to finish second in the State Class AA discus competition. His best throw was 155 feet, 9 inches!
I wonder if the students in Mrs. Willett's class at Nichols remember when Jake and Gretta Sohl visited their classroom. The class had been writing to Jake while he was stationed in Iraq.
Boy Scout Troop 868 recognized its most recent Eagle Scout, Tyler Stephen Vandeveer.
And Bullitt County Schools Director of Transportation Robert Beasley resigned his position to follow his heart and return to military life with the Indiana Air Guard in Terre Haute, Indiana. I hear he's still doing quite well there.
July 2005
Sara Miller of North Bullitt High School and Tina Stottman of Hebron Middle were among 17 students autographing their own posters during a reception. They were selected to be on posters due to their high standards and community service.
The girls of Girl Scout Troop 20 prepared gift baskets as a part of their community service project. They were led by Kathie Bryant and Tracy Wilson. Participating girls included Katelyn Bryant, Cassie Wilson, Julianna Witherington, and Kelsey Warford.
Members of the Pioneer Village City Council honored a former colleague, Eldon White, a founding Pioneer Village council member who served for two decades by planting a tree in his memory at Becknell Hall.
Permit me to remember a good friend, Noah Whittle who passed ten years ago. Noah was a former employee of the Kentucky Toll Facilities, an army staff sergeant during World War II where he received a Bronze Star with oak leaf cluster; and was a valued and much loved member of First Baptist Church in Shepherdsville.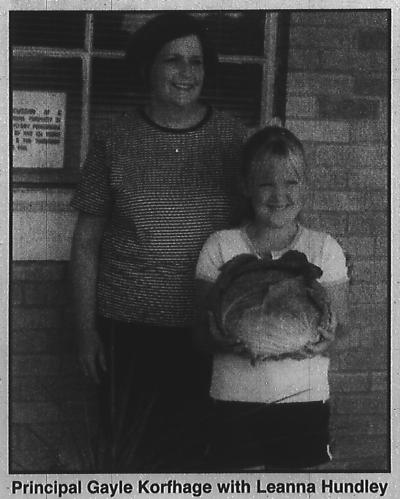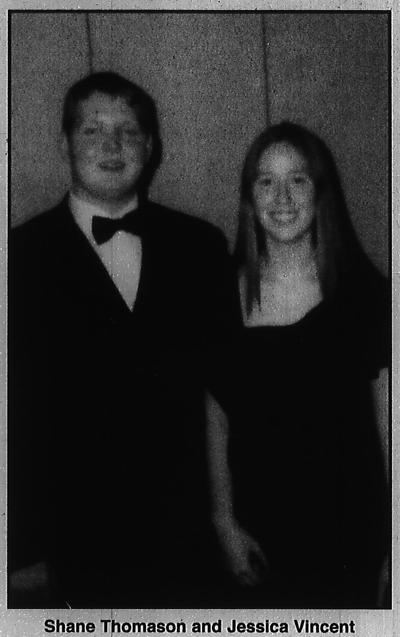 Students at all of the schools were selected and honored as "Academic Achievers." We will list those from the high schools. From Bullitt Central were listed Thomas Akridge, Harlan Compton, Aaron Crowe, Cayce Dever, Megan Doan, Stacey Harvey, Dorothy Humphrey, Charleton Johnson, Katharine Lee, Heather Shaner and Kandace Vanhoozer.
At Bullitt East, these students were honored: Christie Bagley, Samantha Burress, Jessica Hare, Holly Huber, Jonathan Young, Ashley Alvey, Jacqueline Bleemel, Whitney Ashton Smith, Mollie Bolin, Stephanie Judd and Casey Henson.
And at North Bullitt, these students were chosen: Elizabeth Cunningham, Steven Clark, Crystal Dibley, Brittany Dorsey, Anna Eiler, Summer Jenkins, Gerald "Lee" Kendall, Samuel Korwatch, Sara Miller, Amanda Milton and Kristin Wallace.
It seems like just about every generation found a need to clean up and restore the old cemetery down by the river in Shepherdsville. This time it was the local Scottish Rite Club that took on the project. Led by Jim McClure, Darrell Vires, and C. L. Lane, and ably assisted by Jesse Walls of the City Public Works Department, they did an admirable job.
Steve Trentham, a North Bullitt graduate, was pictured with Bill Hardy of the Peoples Bank as he received the James W. Hardaway Memorial Scholarship that is handed out annually. Trentham planned to pursue a degree in music education at University of Louisville.
Amanda Stephens Heck was featured in the paper with a description of her shop located in Mt. Washington. According to the article she went from milking cows to designing things, and this led to the birth of Amanda's Creations Florist.
The Bullitt County History Museum received a $500 grant from the Kentucky Historical Society to help fund outreach programs for the museum. I hear they've done a pretty good job.
Leanna Hundley was pictured with her principal Gayle Korfhage and a nine and a half pound cabbage! Seems that Leanna took that little cabbage plant provided by her third grade teacher, Karen Miller, and with a bit of help from her family nurtured it into a potential prize-winning hunk of green!
Bullitt Central students Jessica Vincent and Shane Thomason were two of 100 students nationwide to be selected to participate in the Sousa National High School Honors Band. They were two of six Kentucky students selected. Vincent plays the French horn, and Thomason the bass clarinet. Way to go!
And The Pioneer News announced that their new web site was up and ready to go. Have you checked it out yet?
---
Copyright 2018 by Charles Hartley, Shepherdsville KY. All rights are reserved. No part of the content of this page may be included in any format in any place without the written permission of the copyright holder.
---