It Happened in 2002
Over the years, Charles Hartley has shared glimpses of what was being printed in The Pioneer News in different months and years. This page includes what was taken from the issues of 2002.
January 2002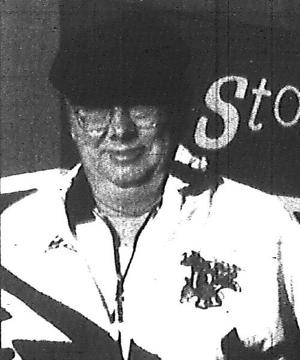 Eddie Stout
Eddie Stout sold his Mt. Washington grocery business to Bob Bell, and planned to take a trip through the Panama Canal. Stout had been in the grocery business for nearly 50 years.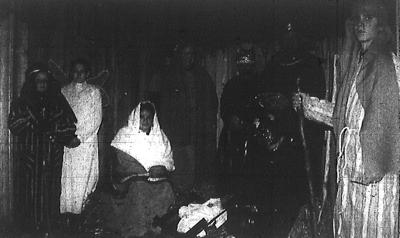 The Hebron Presbyterian Church live nativity scene was pictured in the paper. This year they had a new shelter to in which to perform.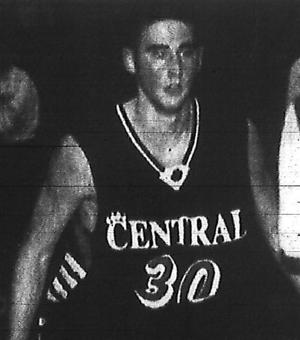 Herbie Rowe
The Bullitt East Chargers were masters of their own holiday tournament, first defeating Pulaski Southwest 69-53, following that with an 86-57 win over Southern and 77-72 over Shawnee. In the first game Bryan Krugman and John Stover each contributed 16 points. Then in game two Stover led all scorers with 21. The final contest saw Ves Chancellor scoring 19 points to lead the Chargers to victory. Also contributing in double figures in that game were Stover with 12, and Krugman and Justin Hall, each with 11.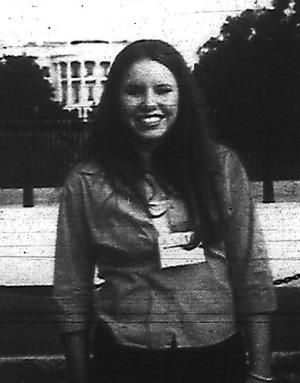 Melissa Thompson
In other local basketball, Bullitt Central defeated Fairdale 63-57 led by Chad Stivers' 28 points, and 21 by Todd Spencer. But defensively, the Cougars turned to the efforts of senior Herbie Rowe.
On the girls' side, all three local teams were victorious. The Lady Eagles of North Bullitt defeated Waggener 59-46 led by double-figure scoring by Lauryn Hatchett (16), Whitney Lee (14), and Melanie Keith (13). Meanwhile, the Lady Chargers of Bullitt East were defeating Henry County 72-38 with Nikki Keehner's 16 points leading the way. Not to be outdone, the Bullitt Central Lady Cougars defeated Fairdale 67-33, led by Ashley Reynolds with 13, Brittany Anderson with 12, and Kim Jacobs with 11 points.
Bullitt East Junior Melissa Thompson was selected to attend a National Young Leader's Conference session in Washington, D.C.
Courtney VanMeter of Bernheim Middle School and Chellby Tinnell of Bullitt Lick Middle School were honored for their "Peace" posters by the Lions Club. Each received a certificate and a cash prize.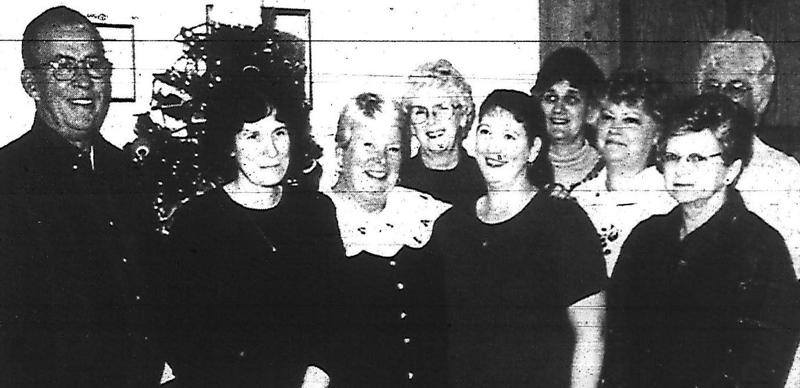 The Prevailing Grace Cancer Support Group celebrated Christmas at its annual dinner held at Belmont Baptist Church. Pictured in the group were Jim Adams, Debbie Delaney, Sharon Klosterman, Gale Morris, Donna Froman, Betty Davis, Sharon Howlett, Gayle Shepherd, and Linda Maraman.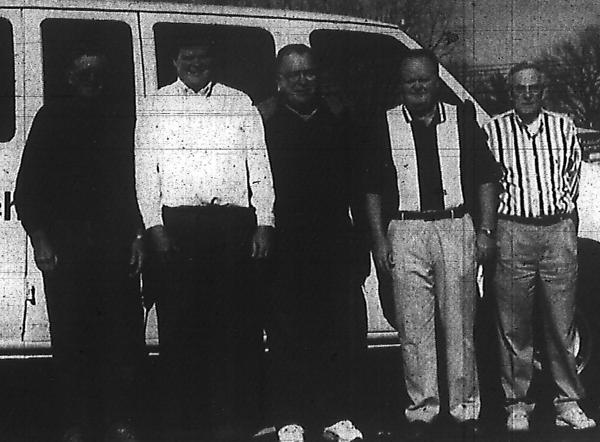 Marvin Proctor, Chip Pendleton, Ron Murphy, Moise Napier and Darrell Burress were among the members of the Southern Baptist Disaster Relief team sent to New York City in support of the effort following September 11.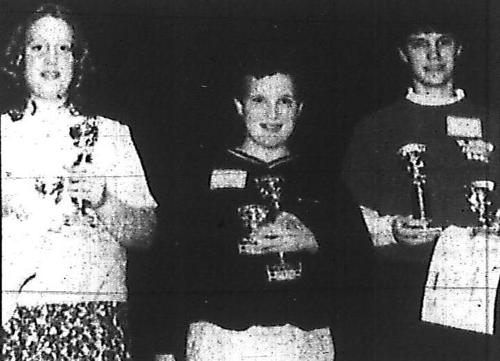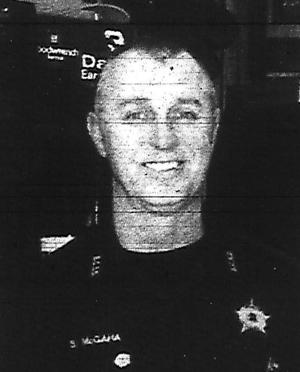 Scotty McGaha
Rachel Nunn, Cory Reid and Melissa Raley were finalists in the County Spelling Bee. Cory won by spelling "nordic" and "coverlet."
Lawrence and Glenda Watkins celebrated 45 years of marriage; and Francis and Lillian Thornsberry celebrated 50 years.
And Sheriff Deputy Scott McGaha was honored with the Medal of Valor by the Kentucky Sheriff's Association for his efforts to help save a man's life.
February 2002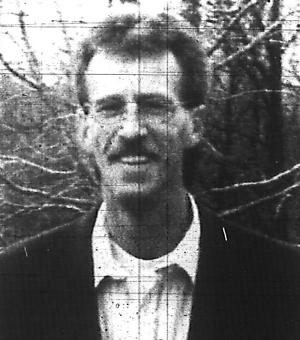 Dale Saltsman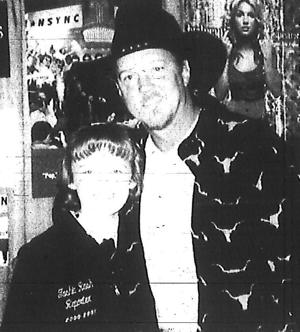 Tashia Rash & Trace Adkins
Dale Saltsman was appointed to the Board of Education, filling the position vacated with the death of Donna Sweat.
Local FFA members from Bullitt Central including Kyle Skidmore, Tashia Rash, Penny Bullock, Tami Ison, Jason Stinson, Crystal Whiteside, Aaron Culver, Tommy Wietecha, Josh Beahl, Melissa Mirzaian, Kerry Lavely, Kelly Staley, Benji Smith, Beth Thompson, (Advisor) Michael Peake and Beve Smith attended the National FFA Convention in Louisville. The paper printed a picture of Tashia Rash with country music star Trace Adkins.
The YMCA hosted a weight lifting competition and some of the winners were as follows. In the men's 50 and over class, Bruce Capps lifted 325 pounds. In the 45-50 age group, Dan Tomlinson lifted 300 pounds and Bryan Patton hefted 285. Mark Watson at 335 pounds and Keith Griffie with 300 led the 30-45 age group. The 20-30 age group was split by body weight, and Ronnie Winter led the over 200 class with a lift of 450 pounds followed by Norm Kulmer with 385, while Robert Patton lifted 360 in the under 200 group. Not to be left out, Agnes Kulmer lifted 170, Felicia Reynolds 120, and Brenna Tomlinson 100. In the teenage group, Chris Ashby lifted 225, and Phillip Whalen 160 pounds.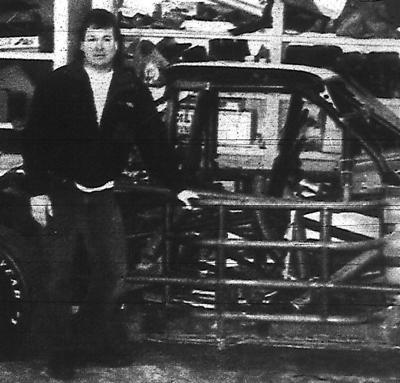 Wayne Edwards
Wayne Edwards of Shepherdsville was pictured standing in front of one of his racing frames in preparation to compete in the Goody's Dash Series. The paper reported that Wayne had five top-10 finishes the previous season.
The North Bullitt Lady Eagles earned an important victory over Bullitt East 75-52 behind Lauryn Hatchett's 22 points, 19 by Janna Funyak, and 11 from Melanie Keith. The Lady Chargers were led in scoring Lea Warren with 11.
In a game against Wayne County, Bullitt Central was led by Todd Spencer with 27 and Chad Stivers with 21 in a close loss 65-73.
In the middle school Governor's Cup district competition, Tyler Hall of Mt. Washington Middle placed first in mathematics and in science; his teammate Jodi Brashear was first in English composition; Hebron Middle's Tara Luster led the scoring in social studies; Brittany Bush of Bullitt Lick was tops in language arts; and Patrick Buley of Mt. Washington led all scorers in general knowledge. The Mt. Washington team also won the quick recall tournament and placed first overall in the day's events.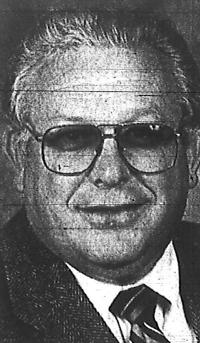 Larry Belcher
In the high school Governor's Cup competition, Bullitt Central placed first overall. Josh Powell placed first in social studies and general knowledge. Beth Runion took first in language arts and English composition, and the BC quick recall team of Dylan French, Josh Powell, Levi Freeman, Beth Runion, John DeFerraro, Greg Holt, Whitney Theis, Tony Pepper, and Harlen Compton won their competition. Other first place winners were John Wigginton of Bullitt East in science, and his teammate Siles Adkins in mathematics.
And Bullitt County found itself split into four legislative districts following the redistricting wars in Frankfort. As a result, Representative Larry Belcher of the 49th District opted to try a run for the Kentucky Senate.
March 2002
It was March, and Sports Editor Mike Farner was busy covering the basketball tournaments.
He wrote about the Bullitt East coach Bob Blackburn who coached his team to a district championship victory over Bullitt Central despite suffering with the flu. The Chargers were led by John Stover with 20 points in the 55-46 victory. Also contributing in double figures were Dusty Lewis and Travis Kotheimer with 10 each. The Cougars' scoring was led by Todd Spencer with 13 and Herbie Rowe with 12.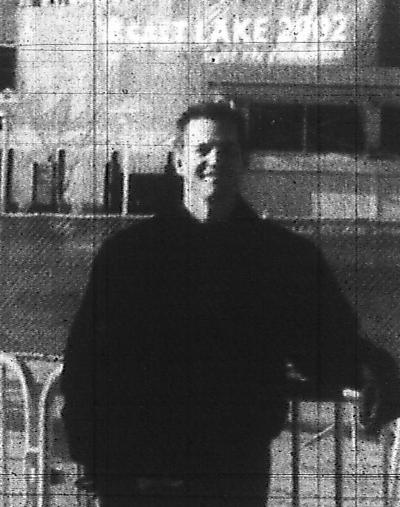 Rick Taylor
The Bullitt Central Lady Cougars were more successful with a 55-47 victory over Spencer County to take their district championship. This was a big upset, as the Spencer County team had won their first two encounters.
Going into the game, Coach Christy Coulter had called for her seniors Ashley Reynolds, Krista Yocum, Tiffany Allen who scored 15 and Erin Culver who scored 14 to step up and lead the team to victory, and they did.
Shepherdsville native Rick Taylor played a unique role in the Winter Olympics as a dancer in the opening ceremony where the Bullitt Central graduate played a dancing, enchanted tree.
Members of the Campbellsville University Handbell Choir, including Bullitt Central graduate Becky Beasley, performed at the First Baptist Church in Shepherdsville.
In elementary school academic competitions, Bullitt County's schools were divided into three districts. In the first district, Brooks Elementary was the overall winner with Cedar Grove placing second.
Winners in that district included Carter Sibley of Brooks in math, Brent Hale of Cedar Grove in science, Crystal Perkins of Lebanon Junction in composition, Michael Wilson of Roby in social studies, Megan Riley of Roby in language arts, and Autumn Allen of Brooks in general knowledge.
The Brooks future problem solving team of Krista Hefty, Carrie Wohleschlegel, Christina Dilley, and Katie Brannon won that event. In quick recall Cedar Grove's team of Patrick Thorne, Joanna Crise, Tanner Greenwell, Brent Hale, Garrett Fowler, Craig Spriggs, and Jake Veatch placed first.
In the second district, Overdale placed first with Nichols coming in second.
Individual winners included Chelsy Clark of Overdale in composition and also in social studies, Addison Thomas of Maryville in general knowledge, Krystine Patenaude of Nichols in language arts, Eric Kuchenbrod of Overdale in math, and Tyler Finley of Nichols in science.
Nichols won the quick recall event, and Overdale took first place in future problem solving.
In the third district, Mt. Washington Elementary placed first and Old Mill placed second.
Individually, Brandon Nidiffer of Pleasant Grove won the composition event, Sean Fowler of Mt. Washington took the general knowledge category, Other first place finishers included Matthew O'Kruch of Old Mill in science, Taylor Pickett of Old Mill in math, Tyler Foster of Pleasant Grove in language arts, and Alex Nutt of Mt. Washington in social studies.
Old Mill won the quick recall competition, and the Mt. Washington future problem solving team of Jordon Nutt, Jeffrey Smallwood, Lauren Smith, and Megan Willey took that event.
Bullitt County natives Amy Hettinger and Traci Rupard had singing roles in the Bardstown Community theatre production of Kiss the Boys Goodbye.
Susan Brashear was the only Bullitt County participant in the Old Kentucky Home Festival of Quilts. Her entries included an antique quilt she inherited from her great-great-great grandmother.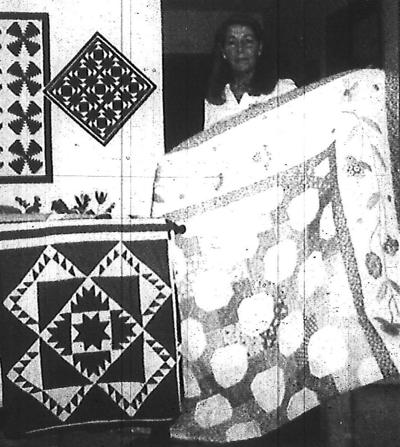 Susan Brashear's Quilts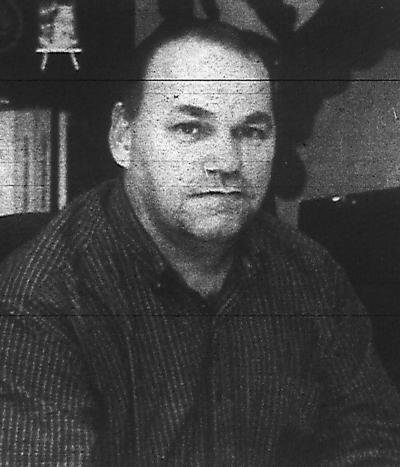 Bruce Johnson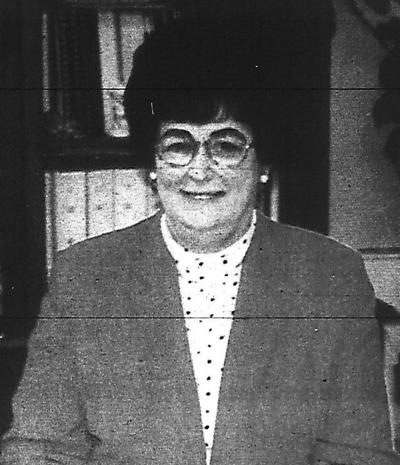 Rhonda Keith
It's interesting to note that Bruce Johnson was taking over the PVA job with Rhonda Keith's retirement.
And Carl Curtsinger, a former Pioneer News employee, was named 2002 Employee of the Year by Baptist Hospital East.
April 2002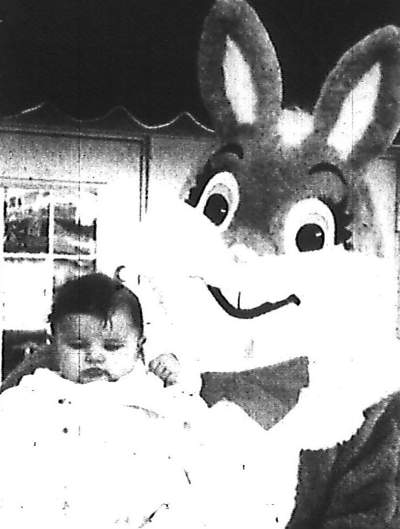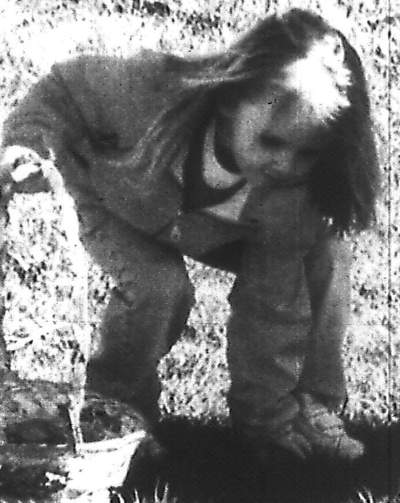 Marissa and Shayna
Marissa Simmons had her picture taken with the Easter Bunny, and Shayna Capei collected eggs during the festivities.
Brooks Elementary was overall winner in their regional Governor's Cup competition. In individual events, Ashley Anderson of Old Mill placed first in written composition, Taylor Pickett of Old Mill won in mathematics, Connor McGinnis of Bardstown won science, Ethan Morris of Brooks took the social studies event, Carrie Wohlschlegel of Brooks won in language arts, and Sean Fowler of Mt. Washington took first in general knowledge. The Brooks team won Future Problem Solving, and Bardstown won quick recall.
In the conservation essay contest, Phillip Figg of Lebanon Junction placed first, Zack Hardin of St. Aloysius was second, and Whitney Crabtree of Maryville placed third. In the poster contest, Taylor Jenkins of Overdale was first, Amanda Denham of Nichols was second, and Kaelin McWilliams of Mt. Washington Elementary was third.

The Bullitt County 4-H Council held its annual public speaking competition and the following winners were pictured with 4-H Agent Jeff Young: Candise Cooksey, Veronica Decker, Kathy Burton, Janna Mallay, Karissa Smith, and Laura Lund.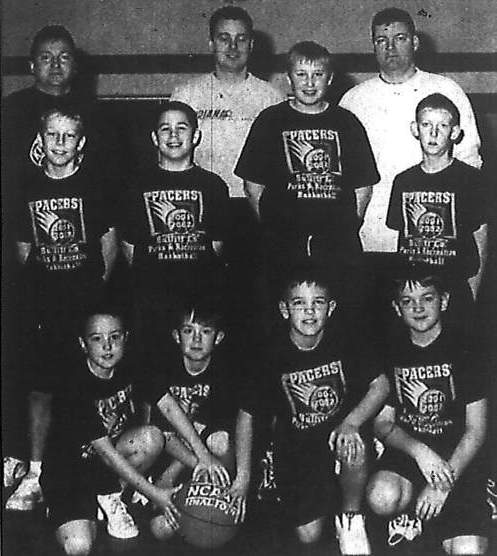 The Pacers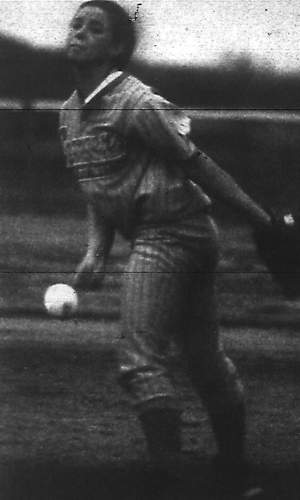 Katie Seitz
Christopher Harper of Shepherdsville received a gold medal in his age group for Kumite at the Bluegrass Winter Games.
The Pacers were undefeated in the Parks and Rec 9-10 boys' basketball division. Team members included Nathan Judd, Luke Allen, Kodey Kearney, Justin McGary, Justin Dalton, Jordan Leslie, Willie Moore and Andrew Hoben. Their coaches were Jerry Barnhart, Jim McGary and Danny Dalton.
Tricia Lynn Bowlds of Mt. Washington and Gregory Michael Vittitow of Brooks were among those named to the President's List at Eastern Kentucky University.
Bullitt East sophomore Katie Seitz was pictured delivering a pitch in her school's victory over North Bullitt.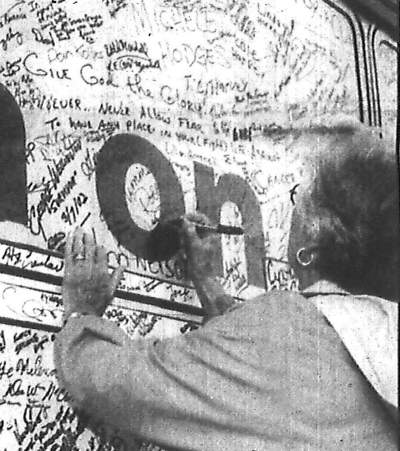 Margaret Hatfield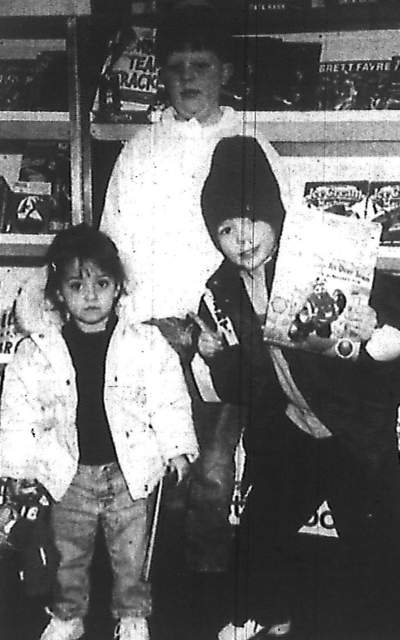 The Nortons
Margaret Hatfield was pictured writing her name on the side of a bus, but it was for a good cause as a fund raiser for Relay for Life. The bus was to be on the road for several months, collecting signatures in more than 40 states.
Justin, Jordan and Gabby Norton were pictured checking out the book fair at Mt. Washington Elementary School.
The Girls' All-Bullitt County basketball team included "player of the year" Melanie Keith (BE), Amanda Dixon (BE), Ashley Reynolds (BC), Tiffany Allen (BC), and Nikki Keehner (BE) who was also co-juniors of the year along with Lauryn Hatchett (NB). Brittany Anderson (BC) was the leading sophomore.
On the boys' side, the team included "player of the year" John Stover (BE), Todd Spencer (BC), Adam Schott (NB), Chad Stivers (BC) who was also the leading junior, and Travis Kotheimer (BE). Justin Broughton (BE) was the top sophomore.
High school students from Bullitt Central and North Bullitt participated in a Military Ball. North Bullitt king Steven Merz and queen Niki Martin were pictured with Jill Heuser and Patrick Berry.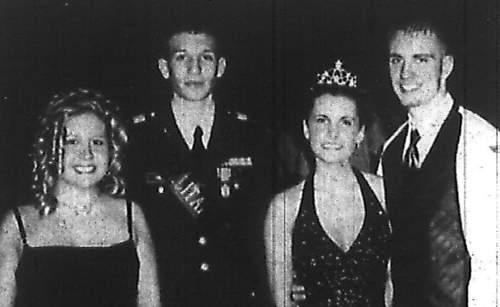 At the Military Ball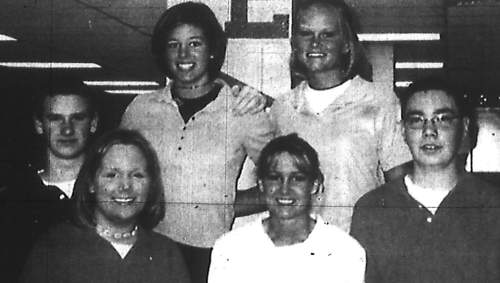 Scholarship Winners
Six Bullitt East students were pictured as recipients of scholarships to Western Kentucky University. They included Meghan Anderson, Sarah Murray, Kyle Cooke, Sallie Mills, Stefanie Sellers, and Kristal Atwell.
And Scott and Dedre Hatfield's three children have triple crown birthdays. Brett was born on Derby Day, Tate on Preakness Day, and then Brooke on the day of the Belmont race. Grandma still talks about her "miracle" granddaughter!
May 2002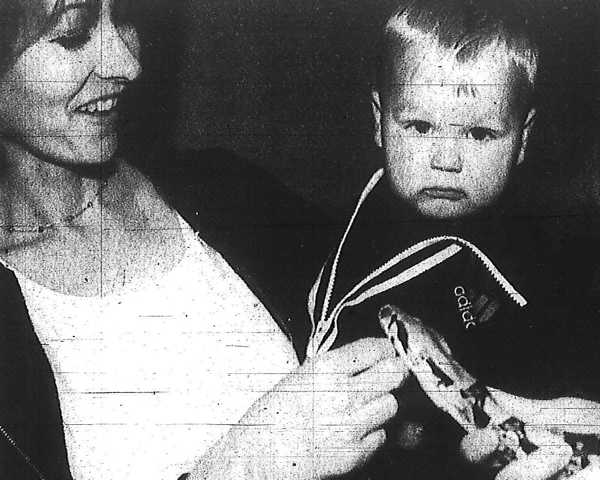 Zackary
I think Zackary Mobley was more interested in the camera than the boa constrictor at KidsFest.
Dennis James Holland of Brooks and Joel Popplewell of Shepherdsville both earned their Bachelor of Science degrees at E.K.U. And Melissa Spalding of Shepherdsville played her flute at the Morehead State Spring Gala symphony band performance.
Graduating from Murray State were the following Bullitt County students: Allison Clark of Mt. Washington, and Jessica Eveland, Trisha Grace, Katrina James, Michael Jones, and Leslie Rowland, all of Shepherdsville.
Allen Hayes of Mt. Washington Middle School was the catcher receiving a heavy dose of science as he caught a softball while MWPD officer Jim Smith clocked its speed with his radar gun.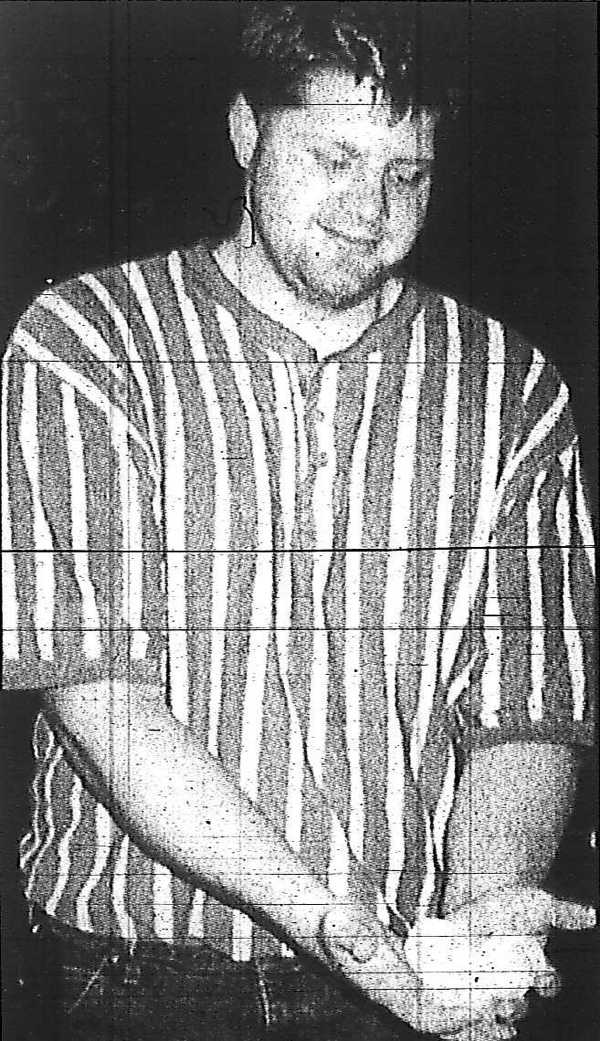 Chris Fair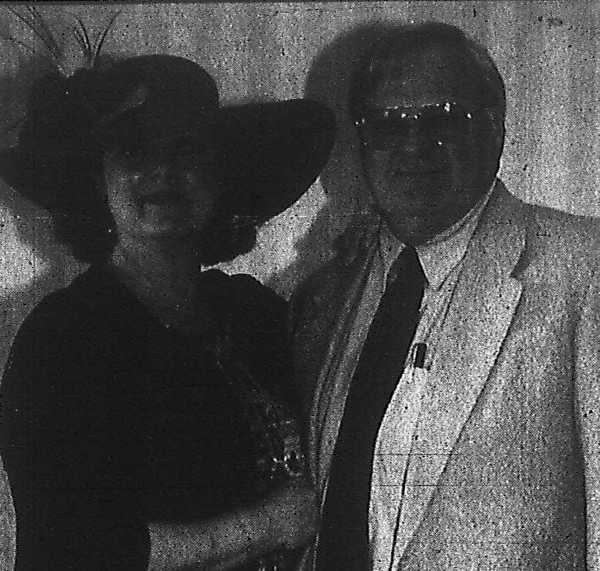 Connie Royalty & Tom Kelly
Bob Blackburn graduated from Bullitt Central before working as an assistant coach at North Bullitt. Then he moved to Bullitt East for 14 seasons before stepping down as coach in 2002.
The new library at Lebanon Junction Elementary was dedicated to the memory of Donna Sweat in honor of the work she had done for the school.
Connie Royalty, pictured with Tom Kelly, was the winner of the Derby Hat contest sponsored by the Bullitt County Woman's Council.
Chris Fair was pictured holding a double handful of the baseball-sized hail that fell in Lebanon Junction.
Roby Elementary had a changing of the guard when Martha Bowman Fagan retired as principal and Gayle Korfhage took her place.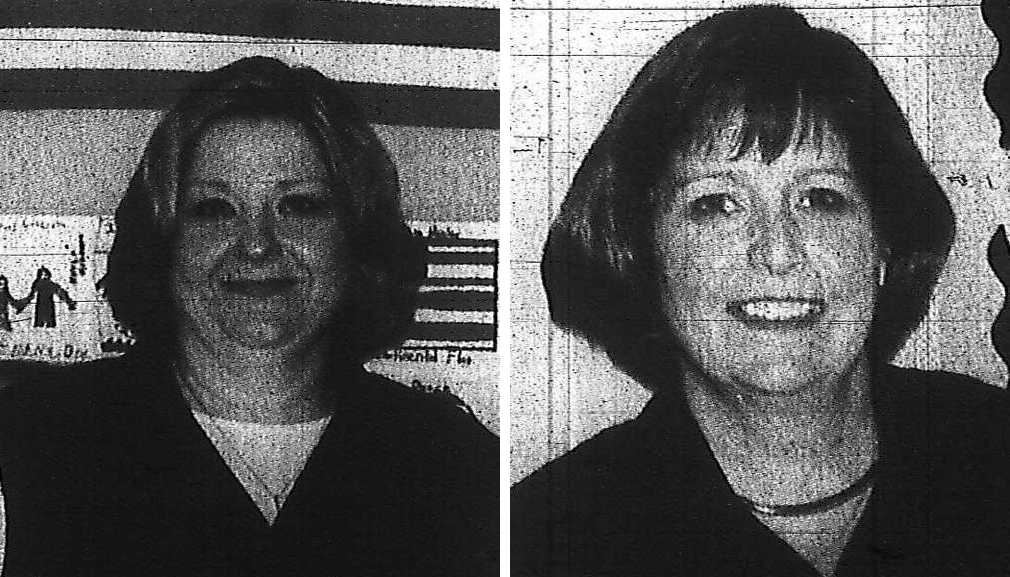 Martha & Gayle
The Woman's Club awarded their Irene Carroll scholarships to Adam Bohannon of North Bullitt, Meghan Anderson of Bullitt East, and Joshua Powell of Bullitt Central.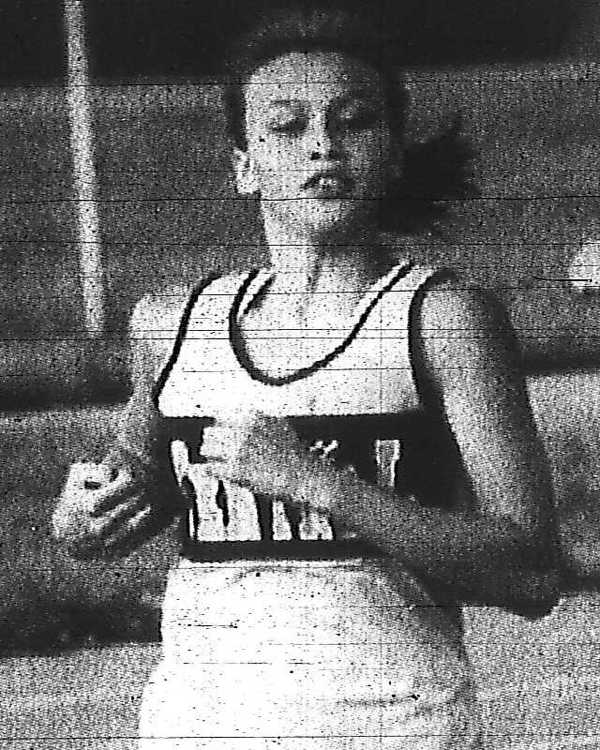 Robbin Tedder
Dana Hefley's front yard was where the lawn mower trailer took out the gas line there. Chris Slaten was the unfortunate driver of the vehicle that was pulling the trailer along Highway 44E when the trailer jumped the hitch and headed for the gas line pipes.
Bullitt Central's Robbin Tedder was pictured on the track getting ready for the upcoming distance events.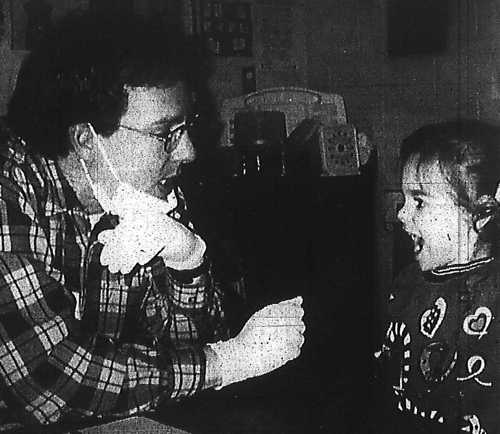 Healthy Teeth!
Chris Dowell, Robbie Cope, Phillip Mudd, Kristen Farris and Jeremy Royal were among the North Bullitt students enjoying the computers donated to the school by Park Federal Credit Union.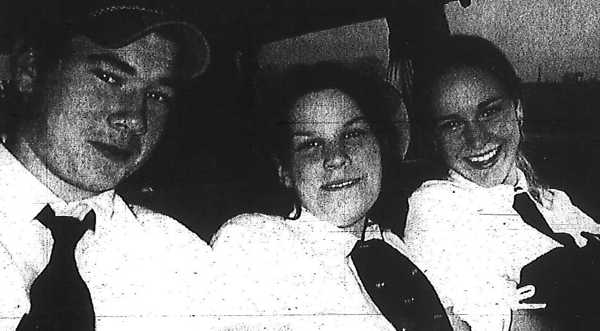 Stockyards Trip
Brianna Kaster of Brooks Elementary was pictured showing her healthy teeth to Dr. Kent Conder during his visit to the school.
James Musser, Penny Bullock and Kelly Staley were pictured on their trip to a Livestock Judging competition at the Washington County Stockyards.
Adrain Jones was honored by the Bullitt County Scottish Rite Club as Civic Leader of the Year for his work as Shepherdsville's mayor and for establishing Shepherd's Shelter.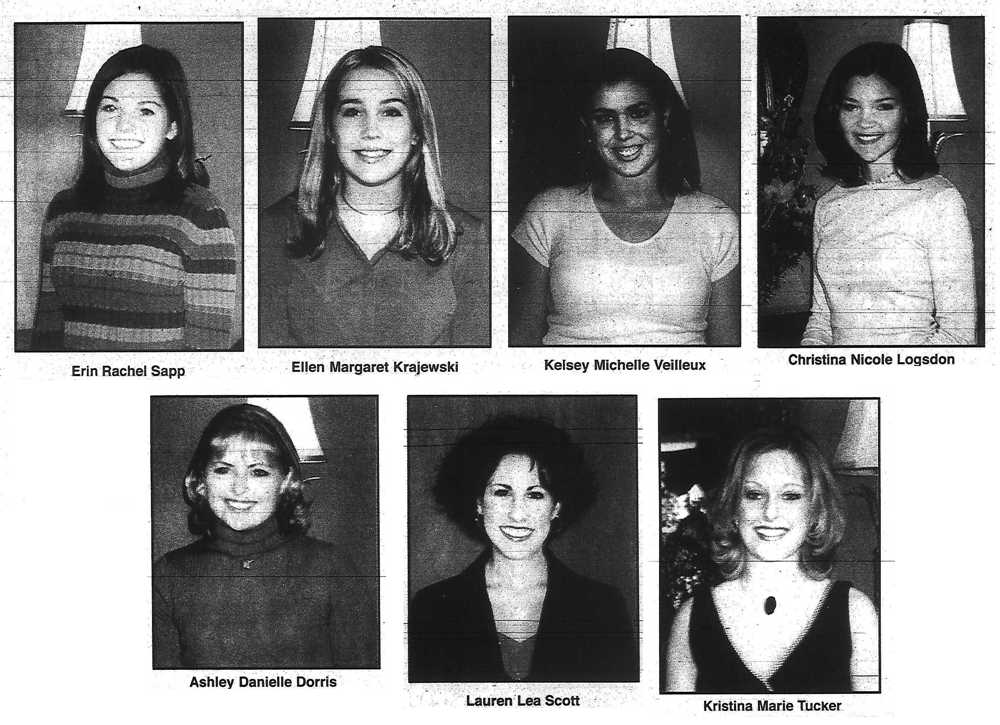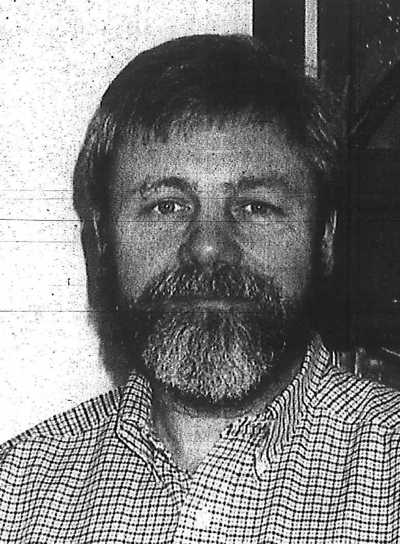 John Lentz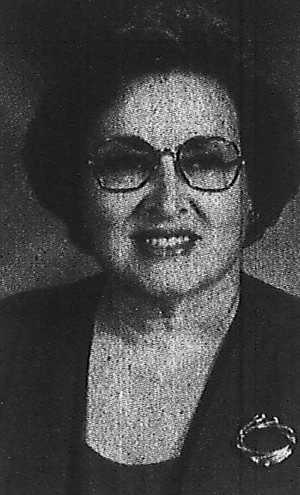 Linda Belcher
Lauren Lea Scott, Ashley Danielle Dorris, Kristina Marie Tucker, Erin Rachel Sapp, Ellen Margaret Krajewski, Kelsey Michelle Veilleux, and Christina Nicole Logsdon were the contestants in the Bullitt County Junior Miss Scholarship Program. Ashley was the winner.
John Lentz, a Presbyterian minister and marriage and family therapist, announced the publication of his new book titled How the Word Heals.
And after 32 years of service in Bullitt County Schools, Linda Belcher decided to retire from her job as principal of Mt. Washington Elementary School. Since then she's been kinda busy.
June 2002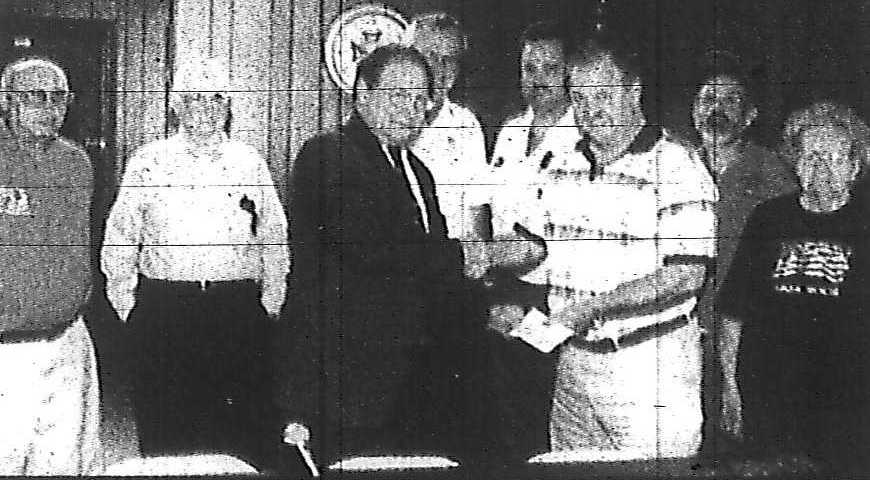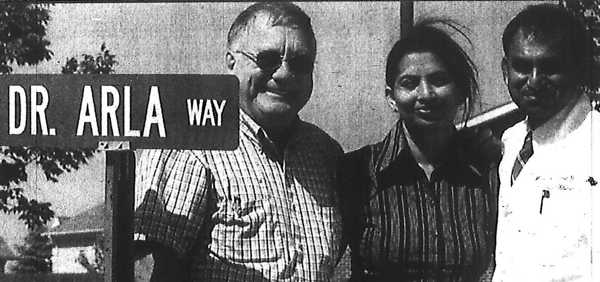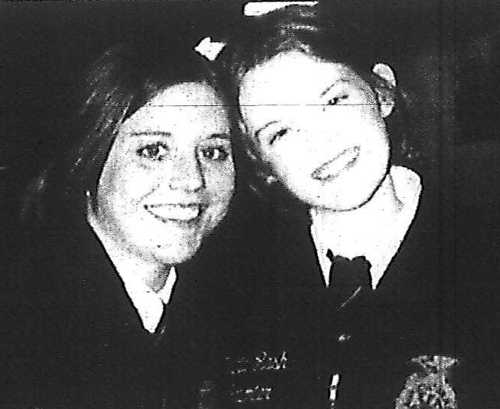 Whitney & Tashia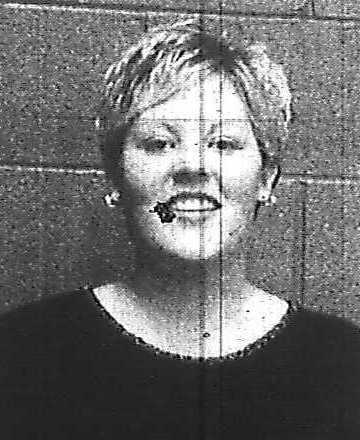 Kassie Parrish
Lebanon Junction Mayor George Halk was pictured receiving a check from Tom Armstrong of the state emergency management agency that helped the city finance an extension of the Rolling Fork flood wall.
Hillview Mayor Leemon Powell was pictured with Dr. Mohanna Arla and his wife as the street formerly named Tanyard Way was now named for the doctor in recognition of his efforts to bring medical facilities to the northern part of the county.
Bullitt Central FFA members Whitney LeGrand and Tashia Rash were pictured as they traveled to Gallatin County for the Regional FFA awards banquet.
Bullitt East graduate Kassie Parrish was selected as student of the year at St. Catharine College in Springfield.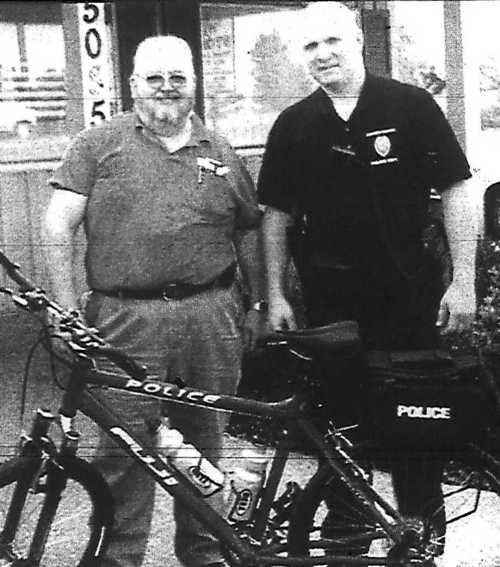 Nina Bain, retired Bullitt County teacher, was one of those honored at the Annual Law Day Ceremony in Frankfort for her work with Kentucky's Law Related Education Program.
David Meek became the first member of Boy Scout Troop 848 to earn Eagle Scout honors.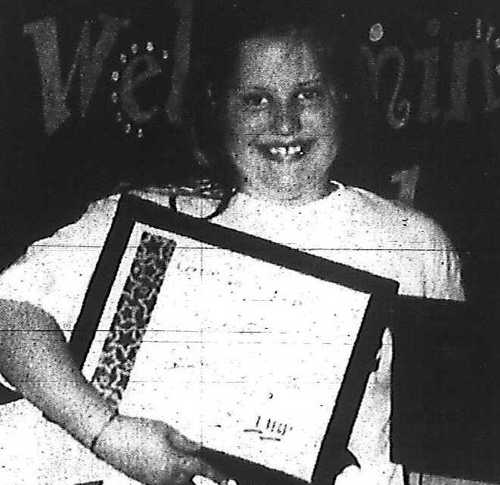 Laura Crady
Many business people over the years have worked to make our communities better, and high among them was Nick Simon of Publisher's Printing. Randolph Settles and LaVonda Barker unloaded 600 books at the Health Department for distribution in the "Hands" Program thanks to Simon and Publishers.
Pioneer Village Officer Mike Murdoch was taking to the streets on a bike to bring a personal touch to the community's law enforcement thanks to a mountain bike purchased with a gift from Tom and Joyce Bernard.
Laura Crady of Lebanon Junction was the district winner in the "AARP Kentucky Grandparent of the Year" essay contest.
Members of the Bullitt County Bar Association, led by their president John Spainhour, met for the last time in the old courthouse. They also paid respect to two senior members, Burlyn Pike and Thomas Givhan who each had over 50 years of legal experience.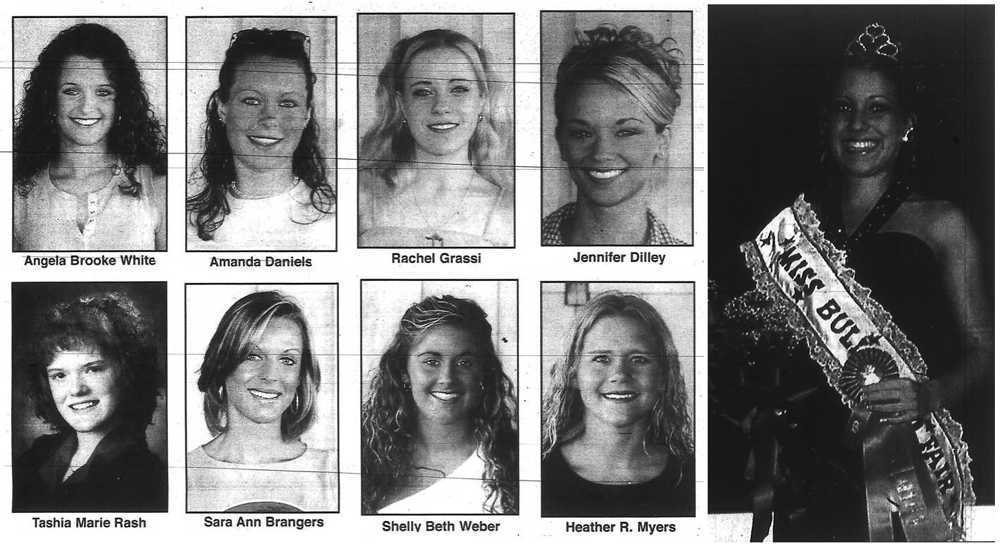 The contestants for Miss Bullitt County Fair included Angela Brooke White, Amanda Daniels, Rachel Grassi, Jennifer Dilley, Tashia Marie Rash, Sara Ann Brangers, Shelly Beth Weber, Heather Myers, and late entry Christine Wallace who was chosen for the honor.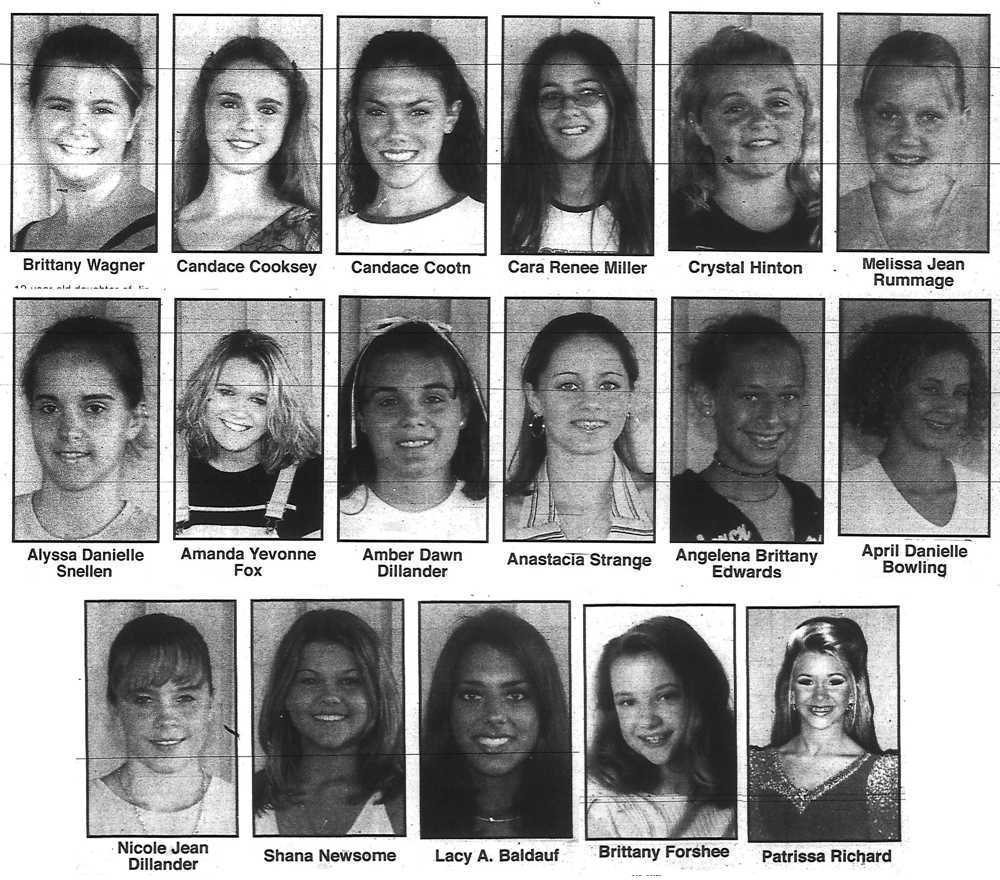 The contestants for Junior Miss Bullitt County Fair were Brittany Wagner, Candace Cooksey, Candace Coont, Cara Renee Miller, Crystal Hinton, Melissa Jean Rummage, Alyssa Danielle Snellen, Amanda Yevonne Fox, Amber Dawn Dillander, Anastacia Strange, Angelena Brittany Edwards, April Danielle Bowling, Nichoe Jean Dillander, Shana Newsome, Lacy A. Baldauf, Brittany Forshee, and the winner, Patrissa Richard.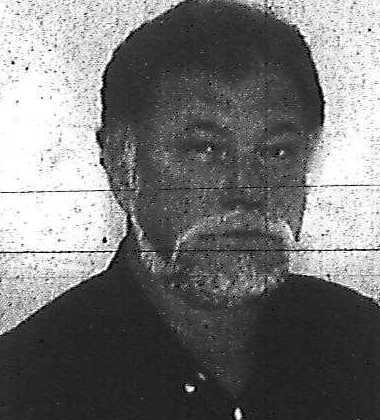 Chris Allen
The 2002 Coaches' All-Bullitt County Baseball Team included from North Bullitt Ben Gordon, Joe Hager, Chris Childers, Tyler Sibley, Bryan Maiden, Norm Casse, and Brian Kulmer. From Bullitt East were Chris Boggs, Landon Collins, Justin Broughton, Tommy Schorck, Josh Newton, Robbie Anderson, David Haycraft, and Billy Willoughby. Bullitt Central's players included Josh Etherton and Charles Young. Additionally, Josh Shepherd of Bullitt Central was chosen "Freshman Player of the Year."
Bill Ranney retired, stepping down from a job as Bullitt Central's assistant principal and athletic director. The paper said his role was going to be filled by three different people, splitting up the load.
And another retiree was Chris Allen, a science teacher at North Bullitt. The headline said he was going to "relax a little." With Chris, that didn't mean with his feet propped up in an easy chair.
July 2002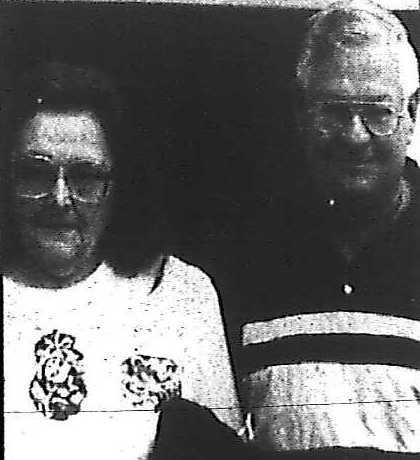 Gerald & Glenna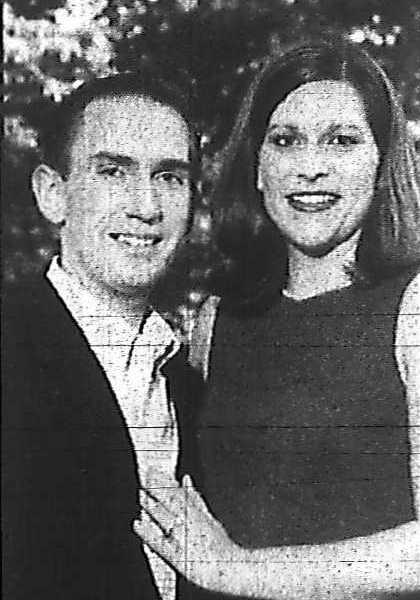 James & Emily Ann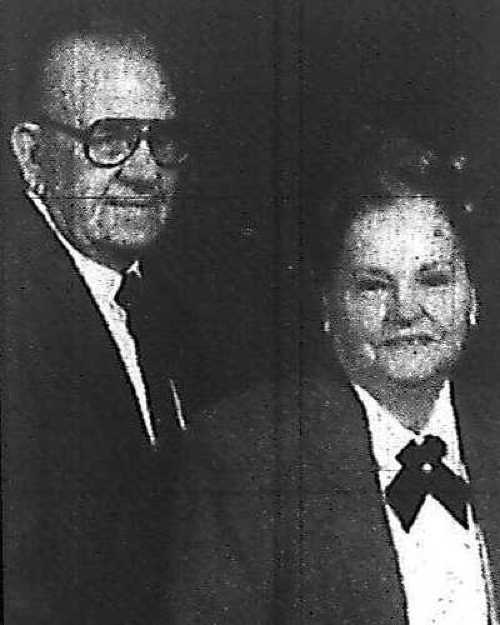 Paul & Lorine
Mr. and Mrs. John Samuels celebrated their 50th wedding anniversary at the Nichols Fire House with family and friends.
Also celebrating a Golden Wedding Anniversary were Gerald and Glenna (Young) Smothers of Mt. Washington; and Paul and Lorine (Browne) Hefley of Shepherdsville.
Ted and Gayle Korfhage were pleased to announce the engagement of their daughter Emily Ann to James William Monarch of Louisville.
Lee Barger was named the new North Bullitt basketball coach, replacing Larry Wooldridge who had stepped down after eight years at the helm.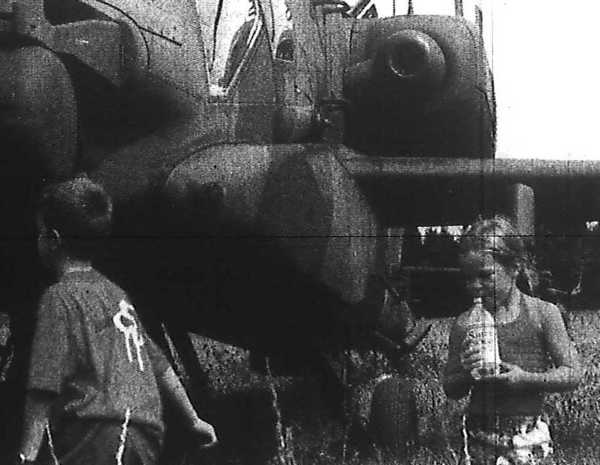 And over at Bullitt East, Troy Barr was named the Chargers' new coach, replacing Bob Blackburn.
Sondra Wilkins of Nichols wrote that Ron Weimer had retired as principal of the school, and that Mona Simcoe, a teacher there, had also retired.
Ben Robards and Bart Pickett were putting a shoe on a horse in the barn when they heard something circling above. Turns out it was an Army Apache helicopter making an emergency landing nearby. Tyler Thomas and Hannah Robards were later pictured having a look at the helicopter while it was waiting for repairs to be made.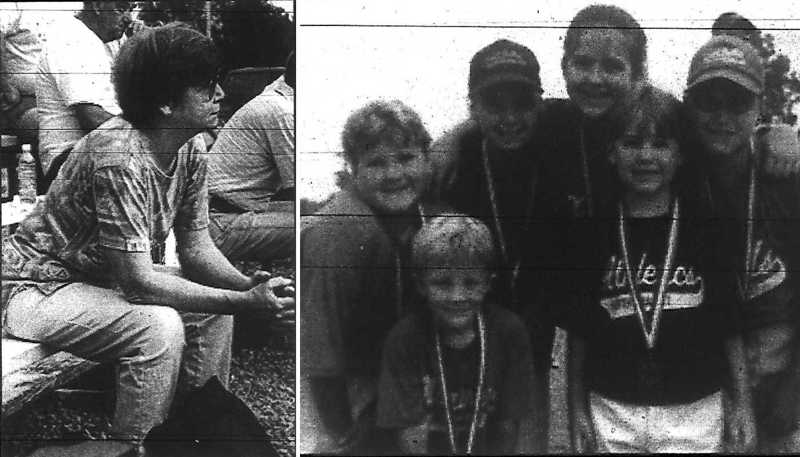 Barbara Tindall was kept busy at the Brooks Community Park watching games in which her six grandchildren were playing. She and her six "All-Stars" were pictured in the paper. They included Priscilla Roeder, Chuck Roeder III, Ashley Atherton, Alisha Roeder, Emily Roeder and Brandon Atherton.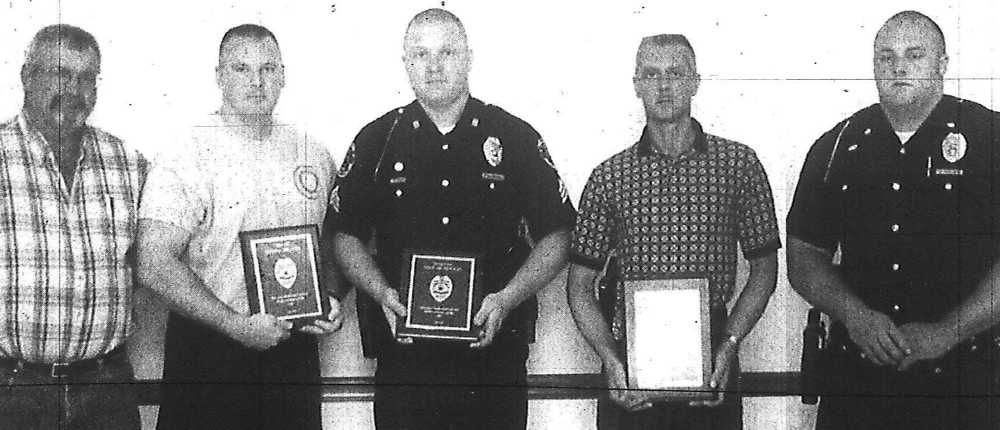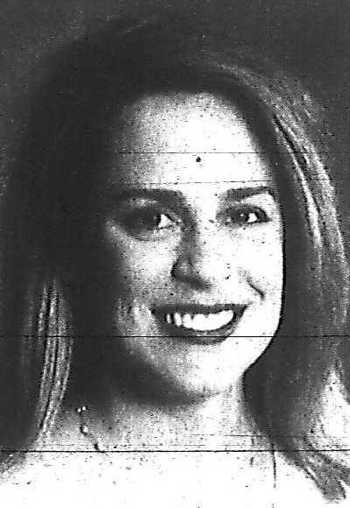 Kelli Mudd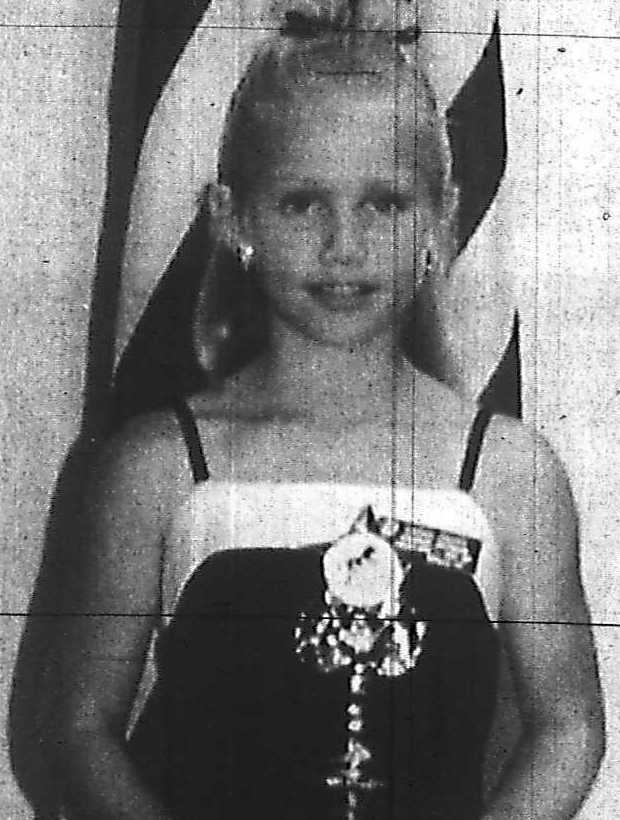 Sarah Drury
Pioneer Village Mayor Gary Hatcher and Officer Scott Bauman were pictured honoring three other officers, Michael Murdoch, Dan Miller and Steve Hamilton, for their work in a recent case.
Dr. Kelli Mudd, the granddaughter of Oneida Watson and the late Sam Watson, graduated from residency from the U of L Department of Obstetrics and Gynecology.
Sarah Drury was named American Legion state junior auxiliary member of the year. Post 157 junior auxiliary of which she was a member also won the state commitment award at the convention.
Edie Taylor was pictured with former student Todd Long who returned to visit her before her retirement from the school system.
Sam Underwood received the Melvin Jones Fellow award for his 38 years of service to the community through the Lions Club.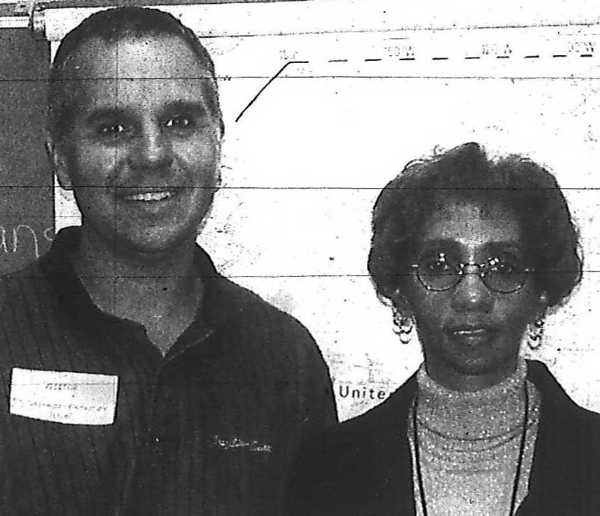 Todd & Edie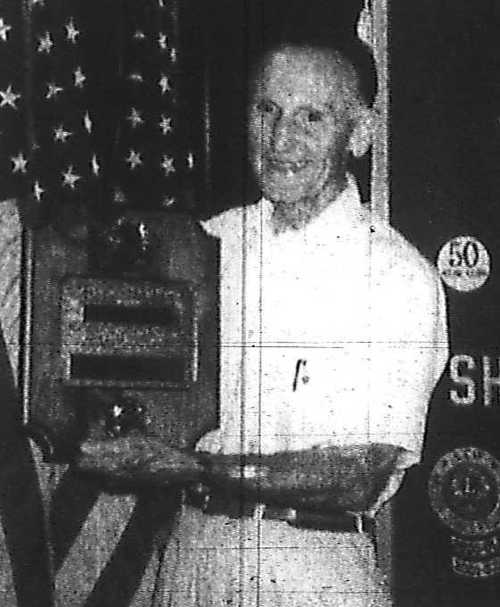 Sam Underwood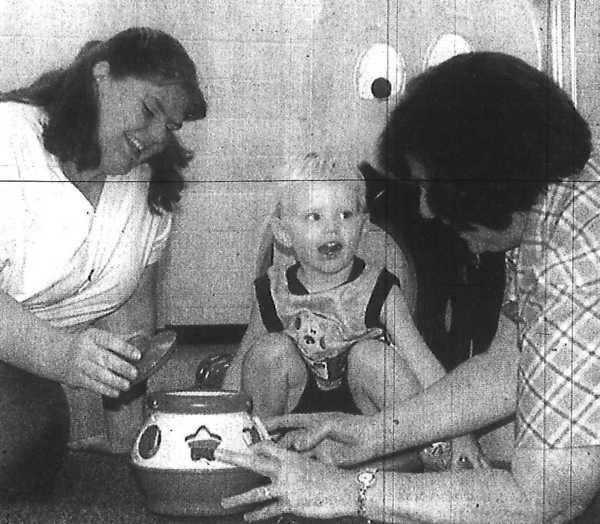 Heather, Clayton, and Barb
Clayton Etherton was pictured playing in the Wee Care Child Development Center in Shepherdsville. Pictured with him were Heather Etherton and Barb Plenge.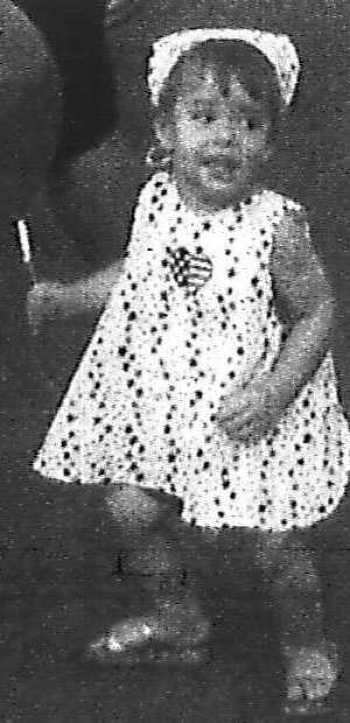 Courtney
A number of local students made the Dean's List at Eastern Kentucky University. They included Gregory Michael Vittitow of Brooks; Kevin S. Arnold, Kristen Nicole Delaney, Sarah Jean Kurk, Lindsay Carol Martin, Kimberly Marie Rogers, and Tricia Lynn Bowlds, all of Mt. Washington; and Stephane Annette Billings, Stephanie Diane Flischel, and Genifer Faye Skidmore, of Shepherdsville.
A grandson of Isaac W. Bernheim, I. W. "Tubby" Burnham II, a trustee of Bernheim Forest died at the age of 93. He had been a forest trustee since 1933.
Chris Atkins, Joey Rippy, Johnny Rippy, Andy Lamkin, and Ernie Lamkin were among the 45 volunteers who helped make home repairs for those in need in the second annual Repair Affair organized by Fred Ellingsworth.
And little Courtney Wheatley was pictured dancing to the the tone of America the Beautiful.
---
Copyright 2022 by Charles Hartley, Shepherdsville KY. All rights are reserved. No part of the content of this page may be included in any format in any place without the written permission of the copyright holder.
---