It Happened in 1996
Over the years, Charles Hartley has shared glimpses of what was being printed in The Pioneer News in different months and years. This page includes what was taken from the issues of 1996.
---
January 1996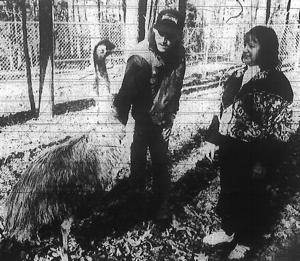 Phil and Lin Reed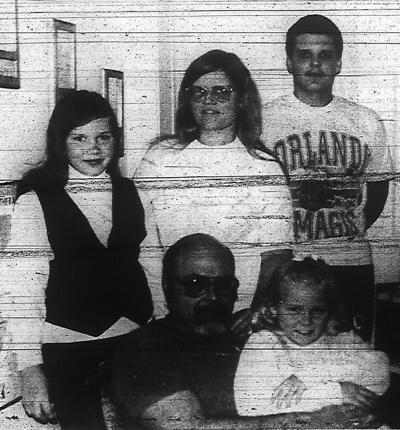 Cope Family
John Roberts interviewed Phil and Lin Reed about their Bullitt County farm where they had begun raising Emus, a flightless bird native to Australia.
Harold W. Hardy, retired owner of the Hardy Funeral Home in Shepherdsville, as well as the old Hardy's Supermarket, died on Christmas Day. He was 78.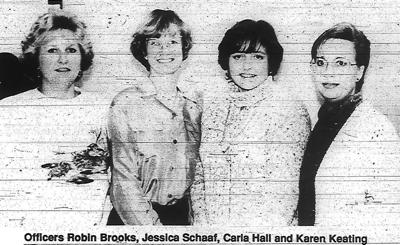 The Bullitt County Humane Society elected these officers: President Jessica Schaaf, Vice-President Carla Hall, Secretary Robin Brooks, and Treasurer Karen Keatting.
Carl Curtsinger interviewed Hollis Cope and his family about their ham operator experiences. Everyone in the family, including ten-year-old Sharon had obtained operator licenses at various levels.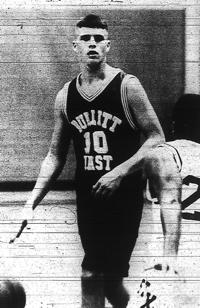 Brian Miles
Brian Miles led the Bullitt East Chargers with 32 points as they defeated North Bullitt in the consolation game of the Papa John's Classic at Bethlehem High School.
Allen Maricle was pleased to continue representing at least part of Bullitt County in the General Assembly, with the legislature making changes in representative boundaries.
Robert Eugene Schildknecht Jr., coordinator for the school system's drug and alcohol abuse program, suffered a stroke and died ten days later. During his tenure, Bob was instrumental in helping the DARE and Red Ribbon Week programs increase in participation. I knew Bob as a boy when we were both in the same scout troop.
The Lebanon Junction Lions Club was featured in an article about their 50th anniversary celebration. According to the article, eight men had started the group including John Samuels, R. N. Argenbright, W. B. Samuels, Dr. Hill, Rev. Harold Ritter, C. T. England, Wallace Newburger, and H. S. Beeler. Mr. Samuels was on hand for the celebration.

Ewings, Bowmans, Hurts, & Greens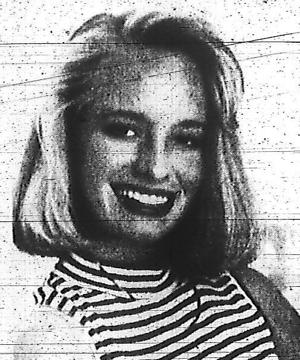 Christina Strange
Lebanon Junction residents Buford and Roberta Ewing celebrated their 50th wedding anniversary. Also celebrating 50 years were Mr. and Mrs. Jessie G. Bowman of Mt. Washington, Owen and Christine Hurt, and John and Virginia Green of Shepherdsville.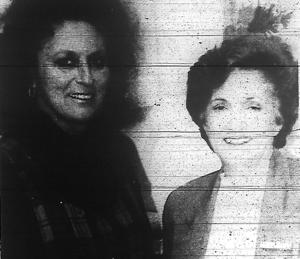 Brosick & Heath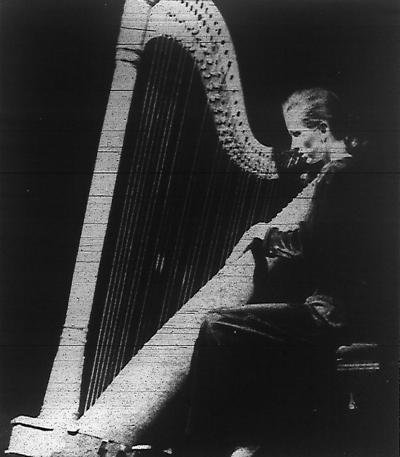 Julia Sanders
I'm sure that David and Bonnie were proud of their daughter, Christina Strange, when she was placed on the Dean's List at EKU in her freshman year!
Darlene Brosick and Glenda Heath were featured in a "Bullitt Countians Making a Difference" article by Carl Curtsinger. Both are nurses working with the school system.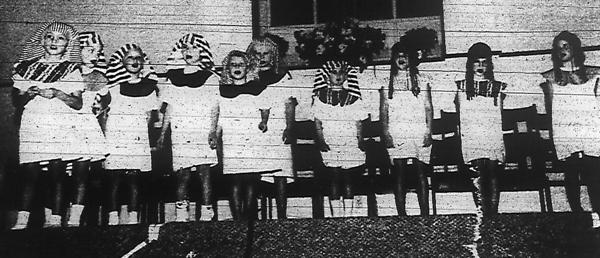 The Children's Music Ministry of First Baptist, Shepherdsville, performed the Christmas musical, Christmas in Egypt. They were led by Angela Thomas.
Julia Sanders, a Bullitt Central Senior and Nichols resident, finished in the top four in the state Junior Miss competition in Lexington.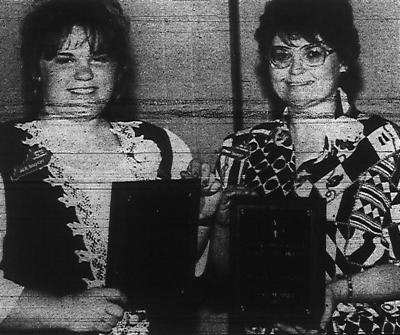 Donna and Julia Bischoff
Charlie Long was forced by an ailment to retire as Commonwealth Detective. He had held that position for almost twenty years.
June Hartmann wrote about Donna and Julie Bischoff being honored for their work with the 4-H program.
Three St. Aloysius eighth graders, Amy Karr, Rachel Anderson, and Jennifer Amburgey, outmaneuvered over a thousand other teams in the annual Stock Market game to place first in the state. You can imagine how pleased their teacher, Peggy Dawson was!
And did you see the "Pit Bull O Saurus" that Jakie and Brett Elswick made out of the heavy snow? It was over twenty feet long!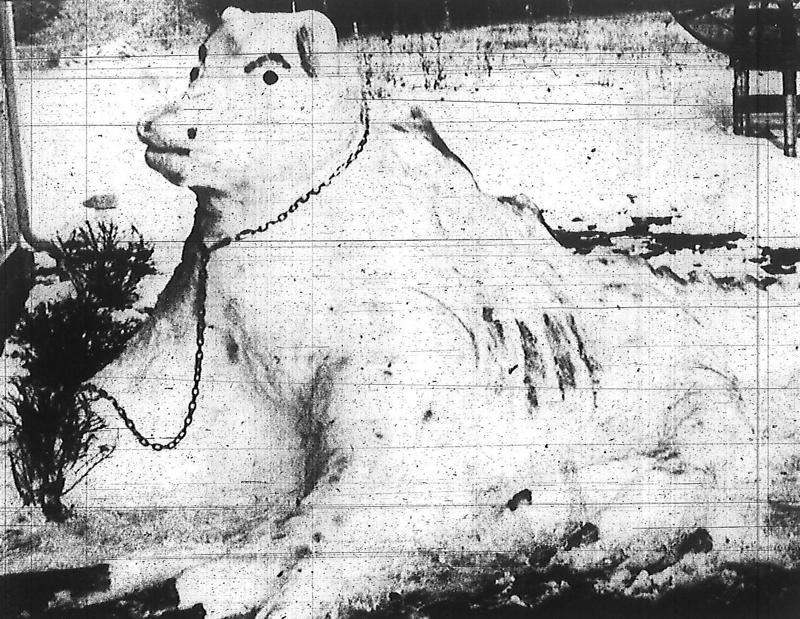 February 1996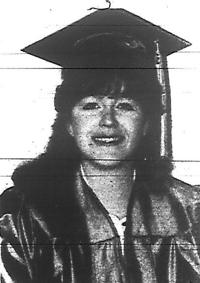 Crystal Meredith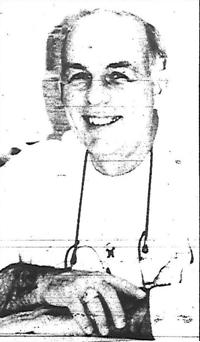 Ray Smith
Bullitt Central's JROTC unit traveled to Owensboro for competition and returned home with an overall first place award. Members included Gerald Braden, James Crump, Zachary Smith, Tim Phelps, John Walls, Shane O'Bryan, Lucas Woosley, Charles Hume, Robert Daniels, Joseph Waters, Aaron Benningfield, Allen Benningfield, Matt Kulmer, Andrew Hawkins, Lester Brice, Kim Bartley, Christy Jackson, Regina Youngblood, Angie Cadreau, and Charles E. Johnson.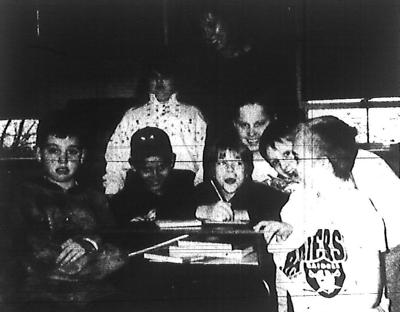 Roby Cookbookers
Crystal Meredith, at 28, became the first graduate of the Adult Diploma Program in Bullitt County by earning the last credits she needed to complete her high school course work.
That recently finished widening of Preston Highway from Zoneton to Shepherdsville was just lines on maps on display at Hebron Middle School in 1996, when local residents came to see where the proposed highway would be.
Were you a part of the Roby Elementary class that created the cookbook titled, "Reading, Writing and Recipes"? Yvonne Bell-Creason's class was pictured signing copies of it.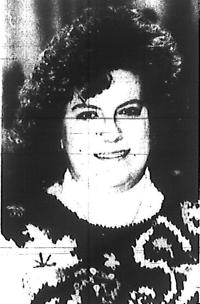 Shannon Shuffitt
Tom Barr interviewed Ray Smith about his new job at the Riverview High School located in the old Shepherdsville High building. Ray, who had spent 15 years at the central office, was happy with his new opportunity to serve Bullitt County students directly.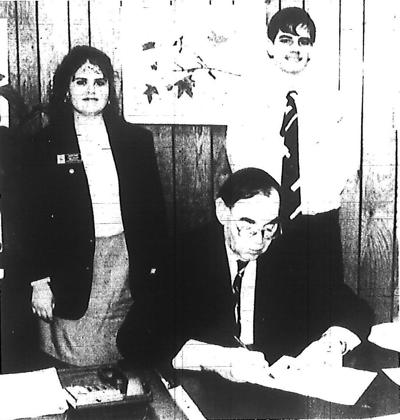 FBLA Week
Shannon Shuffitt was excited to return to Lebanon Junction Elementary as a teacher, after being a student there. She joined a faculty that included four of her former teachers: Sally Beeler, Judy Halk, Cathy Bryant, and Rose Durham.
Leanna Faith of Bullitt Central and Brandon Wilkerson of North Bullitt joined County Judge Harper as he signed the proclamation declaring Future Business Leaders of America Week in the county.
How about three cheers for three sisters who really knew how to cheer! I'm talking about the daughters of Bobby and Debbie Spears: Delenna, Dara, and Devona of Mt. Washington.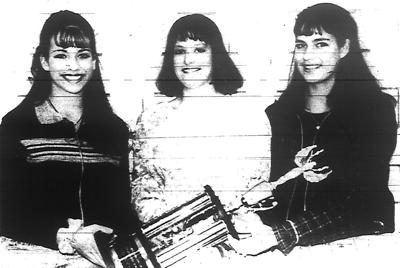 Cheerleaders
Mt. Washington mourned the loss of their former city clerk, Darrell Dickey, who died following an illness. Among his many friends were Paul A. Roby, Paul V. Smith, Ralph Lutes, Bruce Clark, and Norvel L. Harris who served as his pallbearers.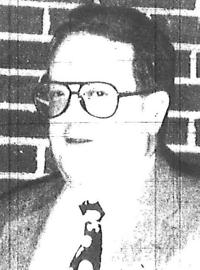 Roger Hayes
North Bullitt's Roger Hayes was named as the Kentucky Assistant Principal of the Year by a state organization.
The middle school academic teams participated in district competitions and Mt. Washington came away with the county title with five first-place finishes including quick recall and future problem solving, team events. John Stover placed first in mathematics, Melissa Hilbert led in English composition, and Gabe Hodges won the general knowledge section. Other winners included Hebron's Fred Paul in science, Bullitt Lick's Rachel Crump in language arts, and Jason Thompson, also of Bullitt Lick, in social studies.
Daughters Lou Ann Moore and Amy Gay Crume helped Charles T. and Barbara Crume celebrate their 40th anniversary. Also celebrating 40 years were Clyde and Bettie Rose (Kappel) Ratliff of Lebanon Junction. And celebrating 50 years were Daniel and Carolyn Thompson of the Nichols community.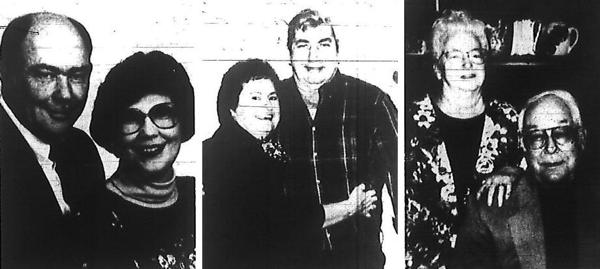 Crume / Ratliff / Thompson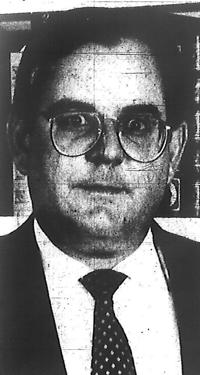 John Spainhour
John Spainhour, local attorney, was elected as a member of the Board of Governors of the Kentucky Academy of Trial Attorneys. He was beginning his 20th year of practice in Bullitt County.
Carol Richards retired from Bullitt County Schools after serving 31 years in a variety of roles from teacher to principal to transportation director to finance officer. He and his family would continue to operate their shoe store for a number of years after that.
Balanced scoring helped Bullitt Lick defeat Bernheim in the middle school boys' basketball tournament 60-52. Bobcat scoring was led by Tanner Stivers with 15, followed by Anthony Risinger with 13, Kyle Buege 12, and Daren P'Pool 11.
In girls' competition, Mt. Washington held off the Hebron Panthers 38-35 to take that championship. Brittany Etherton with 13, and Cathy Coleman with 10 led the Lady Generals' scoring, while Jennifer McMillion of Hebron led all scorers with 16 points.
And it might house a church now, but for many years it was the place folks like us went to purchase the furniture we needed. It was in 1996 that Jimmy and Frances Hardy, and their son Sam, decided to shut the doors on their furniture store on Buckman Street near the river.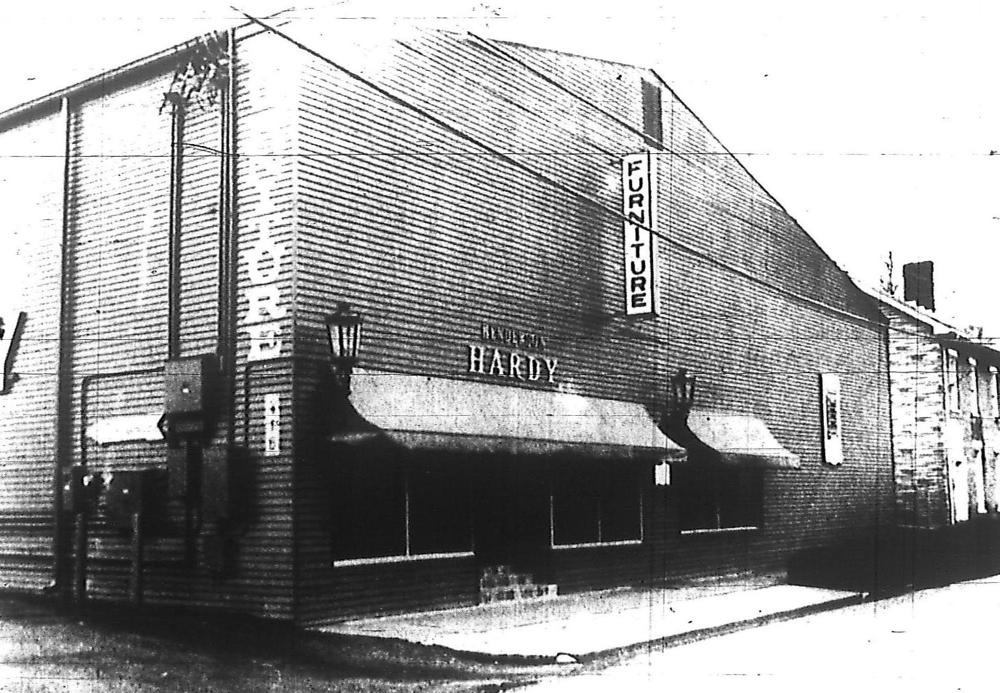 Henderson-Hardy Furniture Store
Since 1922, the building had been a retail establishment. Samuel Hardy, Jimmy's grandfather, and R. C. Henderson started a farm implement and supply store there. Later they switched to hardware and building supply before becoming fully a furniture store following the 1961 flood, and would remain so for over thirty-five years.
March 1996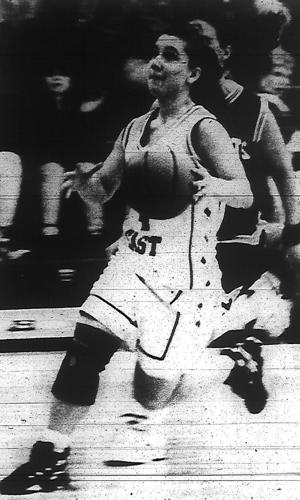 Kelly Karnes
District and Region High School basketball was in full swing in March. In boys' district play at Spencer County, Bullitt East defeated North Bullitt 71-64 to advance to the finals against Bullitt Central. East was led by Damon Walston and Brian Miles, each with 14 points, and T. J. Whitfill with 11. For North, Kyle Wise scored 20 points, followed by Jarad Neighbors and Joey Tipton, each with 12.
Bullitt Central advanced to the finals by defeating Spencer County 70-60, led by B. J. Close with 18, Steven Bartch with 15, and John Sherlock with 10. Spencer's Jimmy Stout poured in 31 points, but it was not enough to defeat the Cougars.
In girls' district play, the first round easily went to Bullitt Central and Bullitt East. The Lady Cougars' April Steinius scored 18 and Stephanie Crable added 11 in their 48-7 victory over North Bullitt. Meanwhile, four Lady Chargers scored in double figures in East's 75-36 win over Spencer County. They included Alison Bass with 19, Kelly Karnes with 14, Carrie Johnson with 13, and Lee Remington with 10. Jenny Peak led Spencer with 17.
In the girls' district finals, Alison Bass scored 21 to lead the Lady Chargers to a 65-33 victory over Bullitt Central. Adding to the East total were Lee Remington and Kelly Karnes, each with 13, and Carrie Johnson with 12. Central's scoring was led by April Steinius and Tabitha Gibson, each with 8 points.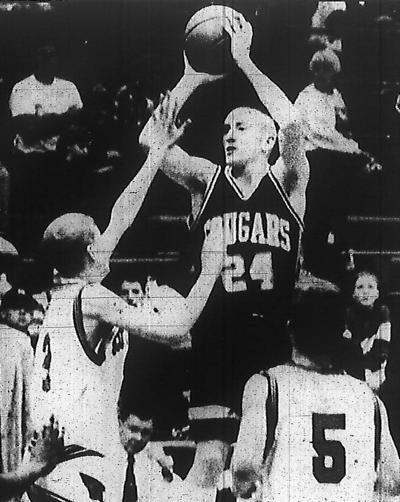 Bobby Hartlage
Meanwhile, on the boys's side, Brian Miles dropped in 22 points, and T. J. Whitfill added 15 to lead the Chargers past the Cougars 62-48. Scott Giles led Central's scoring with 13, followed by B. J. Close with 10.
In girls' regionals, Carrie Johnson's 16 points led East to a 59-34 first round victory over Henry County. Meanwhile, Bullitt Central fell to Scott County, 60-36 to end their season.
Scott County proved to be too much for the B.C. boys as well. Despite B. J. Close's 22 points, the Cougars fell 76-65. The B.E. Chargers also dropped their game to Owen County 54-50, ending their season as well.
The Lady Charger's season finally ended with an overtime loss to Oldham County 55-53. Mike Farner wrote that "the Lady Chargers played as close to 100 percent of their ability as any team to ever wear the red and gold." High praise from someone who has witnessed a LOT of Bullitt County sports.
Alison Bass and Carrie Johnson of Bullitt East, and Tabitha Gibson of Bullitt Central were selected for the All-Region team. Receiving honorable mention were Kelly Humphrey (B.C.), Stephanie Crable (B.C.), Kelly Vowels (N.B.), Delores Lowe, (N.B.), and Lee Remington (B.E.).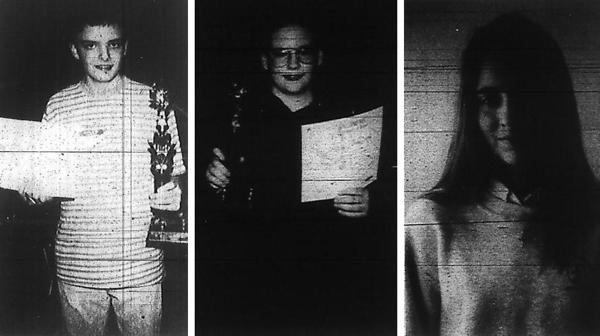 Gabriel Hodges, Daniel Sherrill, Sandra Amshoff
On the boys' side, Brian Miles of Bullitt East was the only Bullitt County player selected.
In other news, Gabriel Hodges of Mt. Washington Middle, Sandra Amshoff of St. Aloysius, and Daniel Sherrill of Bernheim Middle were the final three contestants in the annual county spelling bee. As pronouncer Barbara Elliott gave each word, the audience held its collective breath as the young spellers spelled it. After several rounds for the three spellers, finally Hodges correctly spelled "osprey" to win the contest.
Robert Lee Farmer and Mary Belle Gentry were married in March 1946 at Little Flock Church. Fifty years later Monk and Sis were back there to celebrate their anniversary with family and friends.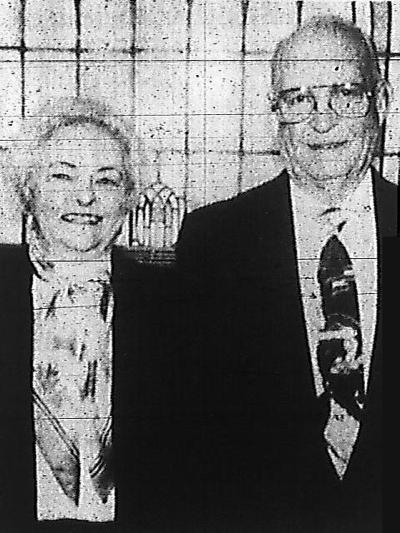 Monk and Sis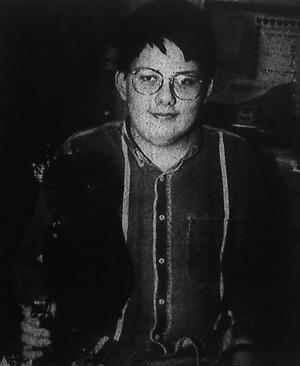 Fred Paul
Rod Firquin, former assistant principal at Mt. Washington Middle School, took the lead as the new principal of Old Mill Elementary, replacing Helen Harrah who moved to the Board. Mr. Firquin expressed gratitude to former supervisors who had helped prepare him for this role, including Sue Powell, Mary Lou Smith, Cecil Mattingly, and Debbie Atherton.
Fred Paul knew his science. The Hebron seventh-grader placed second in the state in science written assessment, quite an achievement.
The Roby Raiders "B" team cheerleaders placed first in the Greater Bullitt County Youth Football League competition. Members included Kasie Bastin, Kendra Burgin, Angie Foster, Nicole Karr, Dawn Pine, Jeanna Richardson, Beth Thompson, Shelly Weber, Cristin Wilburn, and Tiffany Wilburn.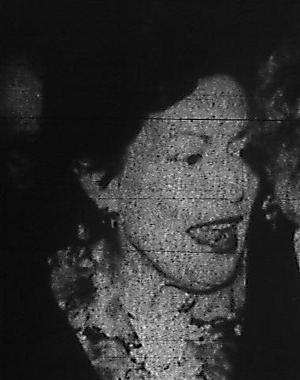 Peggy Nutt
Bullitt East Junior, Kenneth Sallings led his team to a third place finish in the state chess tournament. He was undefeated in all of his matches.
After 30 years of work at Farm Bureau Insurance, Peggy Nutt retired at a special celebration in her honor.
And Bernard Bischoff celebrated his 84th birthday with a surprise dinner prepared for him by Kit Parker of the Country Cupboard in Shepherdsville. Yum! Yum!
April 1996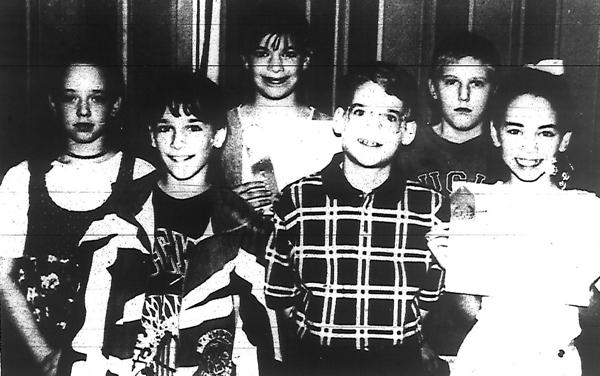 Poster Winners
Warren White, St. Aloysius, placed first in the county in the Soil Conservation poster contest. Placing second was Crystal Thompson of Nichols. Other school winners included Andy Puckett, Bernheim; John Hodge, Brooks; Donnie Paul, Bullitt Lick; Lynsey Wurzel, Cedar Grove; Carrie Maddox, Hebron; Lauren Parrish, Maryville; Lindsey Abell, Mt. Washington; Ashley Murrell, Overdale; Michael Evans, Roby; and Natalie Hettinger, St. Benedict.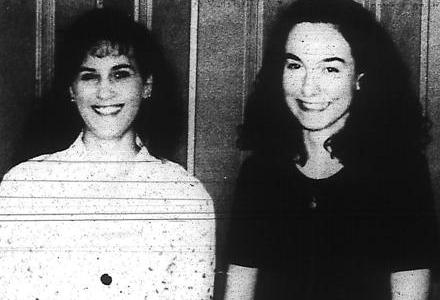 Essay Winners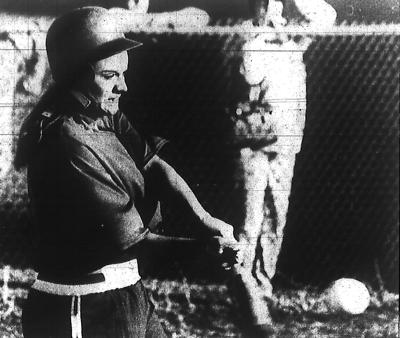 Carrie Johnson
Were you in Ms. Thomas and Ms. Dorris' classes at Roby when Jim Jolly showed off his breakaway basketball rim invention?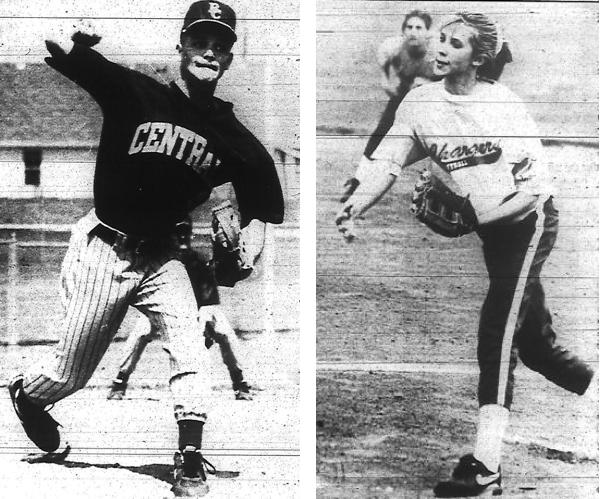 Maynard Thompson / Megan Fitchen
Whitney Robertson and Jennifer Belcher of North Bullitt placed first and second, respectively, in the Soil Conservation Essay Contest.
B.C. Head Coach Rick Dawson was looking forward to a strong baseball season with his top pitcher being senior Maynard Thompson, followed by junior Jason Thiel.
First year B.E. softball coach Leon Remington had an experienced team returning, led by Megan Fitchen who led the team in pitching during the previous season. Joining Megan with pitching duties would likely be sophomore Amanda Duncan.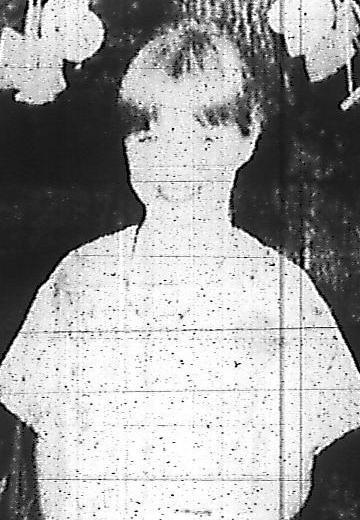 Jessica Hutchins
In a game against North Bullitt, East player Carrie Johnson had two hits, and was pictured in the paper hitting the ball.
Buddy Shepherd contributed his talent as an auctioneer for the Nichols Elementary Spring Fling.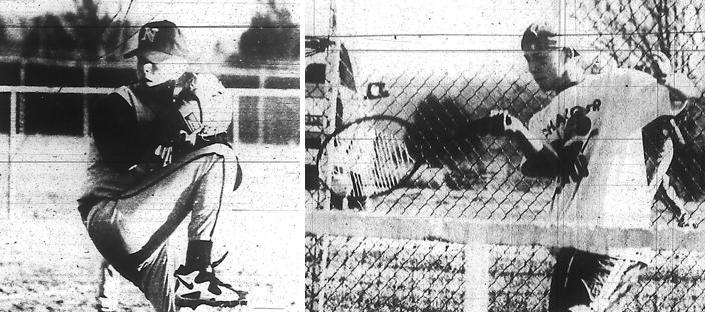 David Lewis / Jason Ralston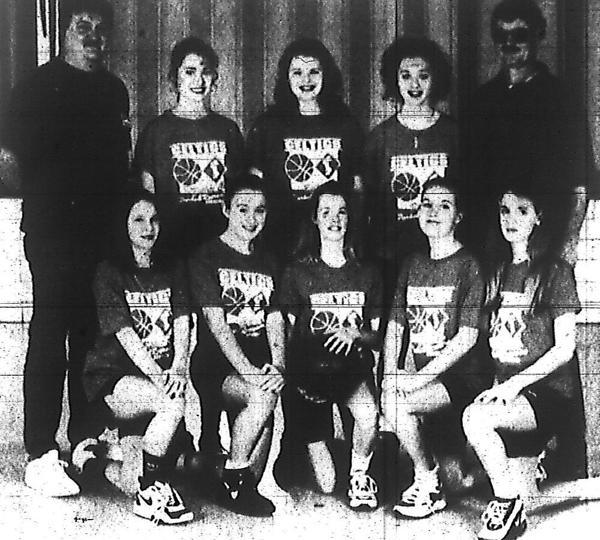 The Celtics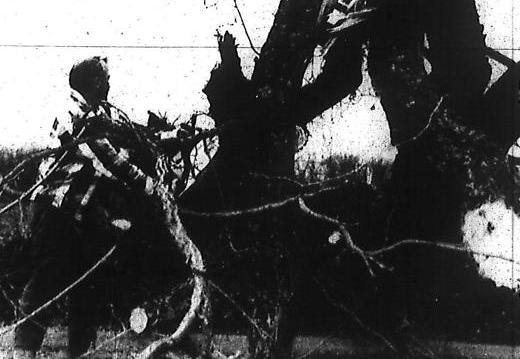 Jessica Hutchins of Roby Elementary won the "Jump Rope for Heart" contest for the second year in a roll.
David Lewis got the North Bullitt baseball team off to a winning start when he allowed just two hits in a 6-0 win over Nelson County. He recorded 10 strikeouts in just four innings.
Jason Ralston led his Bullitt East tennis team to a 3-2 victory over North Bullitt by defeating Mike Garr 8-3.
Joe Ryan and Spud Skidmore coached their Celtic team to a runner-up place in the girls' 12-14 division. Team players included Amy Eichen, Brandy Ryan, Cindy Thornsberry, Kristie Dillman, Megan Oatley, Holly Skidmore, Stephanie Billings, and Theresa Yocum.
How many of us remember enjoying Fred Wiche's Weekend Gardener columns? In gathering material for this column I once again enjoyed reading his April 15, 1996 column of the pawpaw tree.
Several couples celebrated their golden wedding anniversaries including Nick and Dottie Hahn of Hillview, Abel and Viola Snellen, Joe and Mildred Wilder, and Barney and Betty Horton of Lebanon Junction; but they all had a way to go before reaching the mark set by George and Hazel Conway who celebrated 70 years of marriage.
Regrettably, George passed away a short time after their anniversary. Hazel lived until September 2000.
After the strong wind storm (some say tornado) hit the eastern part of the county in April 1996, Danny Fackler was pictured helping clear debris off Markwell Lane.
Sharon Wernery, office manager for TCI of North-Central Kentucky, was nominated by the Bullitt Central FBLA chapter for Business Person of the Year in this region. She was honored to win that title.
Mt. Washington Middle School's Future Problem Solving team of Josh Meredith, Melissa Hilbert, Kristen Delaney, and Alicia Burton joined Gabe Hodges (science and general knowledge) in reaching the State KAAC competition.
And Glenn Caple and Rodney Hockenbury, local deputy sheriffs, opened Cortney's Castle on Preston Street in Okolona. How many of you remember taking your kids there?
May 1996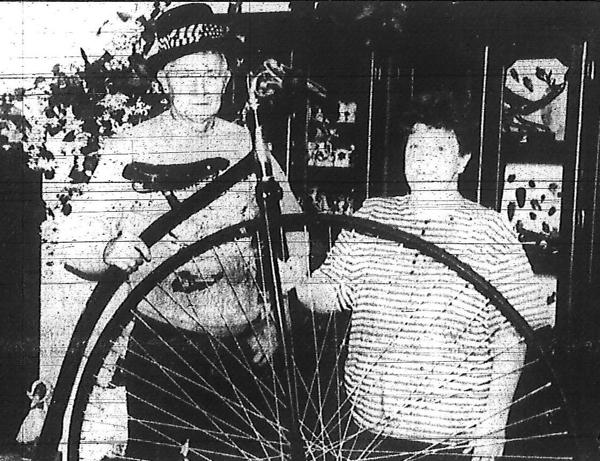 Carroll and Faye Arnold were pictured with one of their cycles as they prepared to ride in the Kentucky Derby Festival Parade. Carroll began riding a unicycle 30 years earlier before building his own high wheel cycle. At least 12 members of the family participate riding.
Dr. Charles T. "Chuck" Crume, noted naturalist and wildlife artist, died after an illness. He had taught at W.K.U., been a naturalist at Bernheim Forest, and gained a fine reputation with his wildlife prints.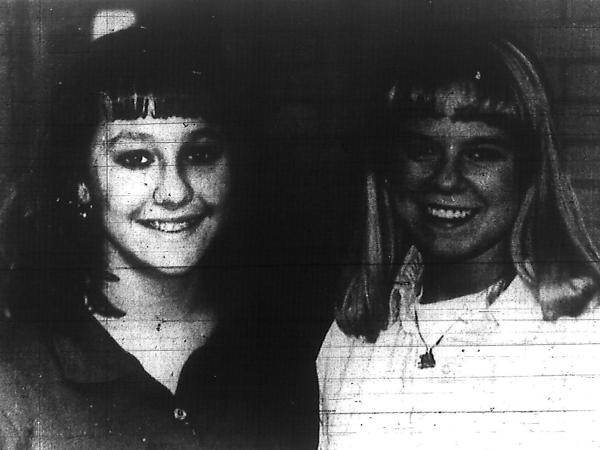 Amy Reid & Stephanie Melcher
Tae Kwon Do instructor Kevin Shellman led his students in a competition at the University of Louisville. Participants included Terry Holmes, Joe Swanson, Tim Miller, Mike Whitaker, David Pendleton, Ron Kuhn, Karen Kerman, Dana Reynolds, Seth Lentz, Jared Pendleton, Joe French, Art Redeman, and Justin Allen.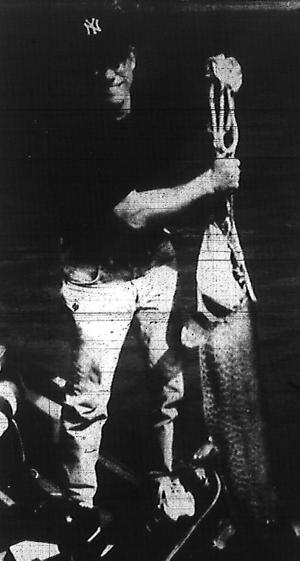 Bullitt East cheerleaders Amy Reid and Stephanie Melcher were part of the Gymtyme Senior All-Star squad that won a national competition in Dallas, Texas.
The Bullitt County Thoroughbreds included students from both Mt. Washington Middle School and the St. Aloysius School. This young group of volleyball players included LeAndra Chapman, Sarah Murray, Jessica Clements, Nicole Davis, Jamie Tabeling, and Heather Phelps from Mt. Washington, and Whitney Faust, Michelle Simon, and Jessica Simon from St. Aloysius. Their coaches were David Bryant and Mike Murray.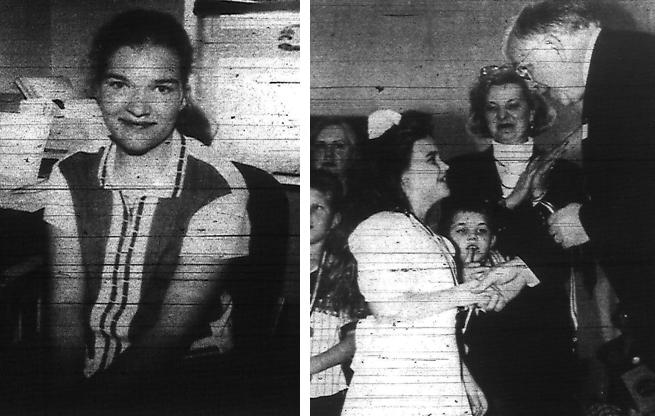 Staci Maynard | Ashley Holland
Barry MacDonald of Mt. Washington hooked a 33-pound Muskie at Dale Hollow on an 8-pound line!
Bullitt Central's Lady Cougar tennis team maintained their undefeated record with victories over North Bullitt. Winners for Coach Mary Ann Smith's team were Johnnie Newton, Stephanie Sollman, Jamie Clark, Tara Webb, Amy Doan, Leslie Baker, and Leigh Logan.
Kenneth and Virginia (Fowler) Lane of Lebanon Junction celebrated their golden wedding anniversary. Also celebrating 50 years were Edward and Edith (Howlett) Sears of Shepherdsville.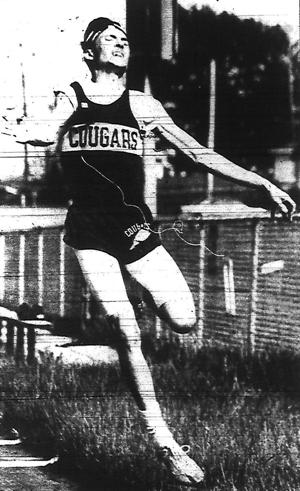 David Collins
Both Staci Maynard of Bullitt Lick Middle School, and Ashley Heather Holland of Nichols Elementary were state winners in the Young Author's competition.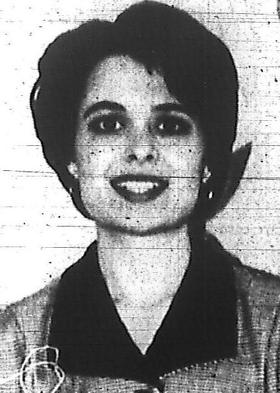 Eva Floyd
Eva and Chad Floyd of Shepherdsville, and Lee Kendrick and Margo Compton of Mt. Washington returned to the county as their Campbellsville Collegiate Chorale and Handbell Choir performed at the Pleasant Grove Baptist Church as a part of their spring tour. Senior Eva Floyd, an excellent pianist, was the principal accompanist for the group, as well as singing and playing in the handbell choir.
Eva was also selected as Miss Campbellsville University.
Led by Mike Clark, David Collins, and Chris Caudell, the Bullitt Central track team easily won the All-County Track Championship. Clark won both hurdles events and the 100 meter dash; Collins took the high jump, long jump, and triple jump; and Caudell performed well in the discus and shot put.
Four technical school students earned high marks in the VICA competitions. They included Amanda Leonhardt who placed first in Food Service Technology, Crystal Hayden who captured second in the regional level, Josh Miller who took first in Graphic Arts, and Jason Woodsen whose knowledge of Visual Communication Arts captured first in pin design and second in advertising and design.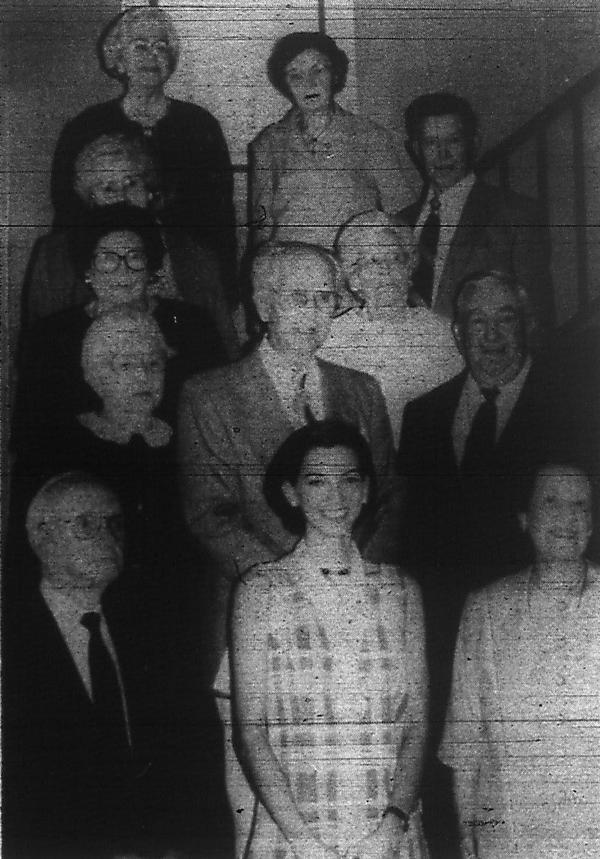 The Bullitt East Lady Chargers easily defeated Owen County 14-0 in the 8th Region Softball Semi-Finals at Carrollton with Amanda Duncan pitching a no-hitter. She had pitched a one-hitter in a district win over Spencer County.
Bullitt County Junior Miss Julia Sander joined in a photo opportunity (shown here) with the attending members of the S.H.S. Class of 1932's 64-year reunion.
Teachers Virginia Gunther and J.T. Underwood were present for the reunion.
Members of the class still living at the time of the reunion included Kathryn Harned Alderdyce, Robert Erman Becker, Eudora Evans Burns, Margarita Crenshaw Dunaway, Frances Cundiff Jobe, Tommy and Julia Joyce, Beulah Richardson Keifer, Frances Binford Lake, Margaret Riley Luvisi, Woodrow Masden, Esther Mann Myers, Homer Myers, Wanda Garr Rodgers, Rua Larimore Shouley, Eva Maraman Whittle, Burks Williams, Lounetta Stansbury Williams, and Ruth Spears Woosley.
Deceased members included Carl Burklow, Maudie Mathis Cundiff, Matilee Rice Hatfield, Blanche Stansbury Jenkens, Stanley Lee, Victor Lee, Louise Miller, Ollie May Dawson Mann, Sara Fay Lee Myers, Charles Ratliff, David Rhea, Charles Vernon Sanders, Russell Wheatley, Frank R. Whitman, and Lewis Earl Colvin.
And Principal Larry Belcher had previously kissed a pig, and sat on the school roof before this time taking pies in the face at Roby Elementary. But it was all for good causes; and this time the school was raising money for the Red Cross.
June 1996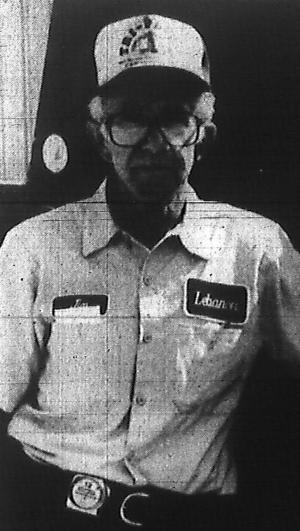 Jim Lucas
Fourth graders Mica Carter and Sarah Hughes, and fifth graders Ashley Brock, Felicia Casey, Willie Kline, Alicia Lambert, Jason Moore, and Lauren Parrish all made the Principal's Honor Roll list for the third grading period at Maryville Elementary School.
Meanwhile, at Brooks Elementary, the following fifth graders made the "A" Honor Roll: Kaycee Crecelius, Lauren Scott, Lindsay Seeders, Heather Thornton, Sarah Hornback, Jessica Hoyt, Bradley Maynard, Raquel Pearson, Chris Pendleton, Cassie Guenthner, Justin Odle, Crystal Powell, Barndon Stevenson, Nikki Miller, Kim Nugent, and Crystal Clark.
Jim Lucas of Lebanon Junction was retiring after 16 years as superintendent of the city's water and sewer department. He was also a member of the local volunteer fire department for 15 years.
Louise Bischoff of the Hebron/Zoneton community offered prayers and sympathy to the families of Standford Harris, John Lawton, Edith Crigler, and Mrs. William Bierman, each of whom had died recently.
Lois Simmons, over at Pleasant Grove, recalled that Mrs. Myrtle Ruth Stansbury Harris, widow of Standford Harris, had been her school teacher at the old Pleasant Grove School.
Clifford and Geneva (Masden) Samuels of Lebanon Junction celebrated their 50th wedding anniversary, having married in Lebanon Junction in 1946.
The candidates for Miss Bullitt County Fair Teen Miss were (top row, L-R) Terrah Elizabeth Ross, Alicia Bogard, Jennifer Nicole White, Chrystal Lea Etherton, Maranda Renee Harvey, and Christy Marie Riggs; (middle row, L-R) Sara Clark, Amanda Marie Simmons, Shawnelle Simmons, Heather Renea Hefley, Michelle Danielle Walls, and Eleschia Kay Eldridge; (bottom row, L-R) Tonya Fields, Sarah Ruth Yates, Angela Chrisla Elliott, Lesli Dayle Elzy, and Stephanie Trautwein.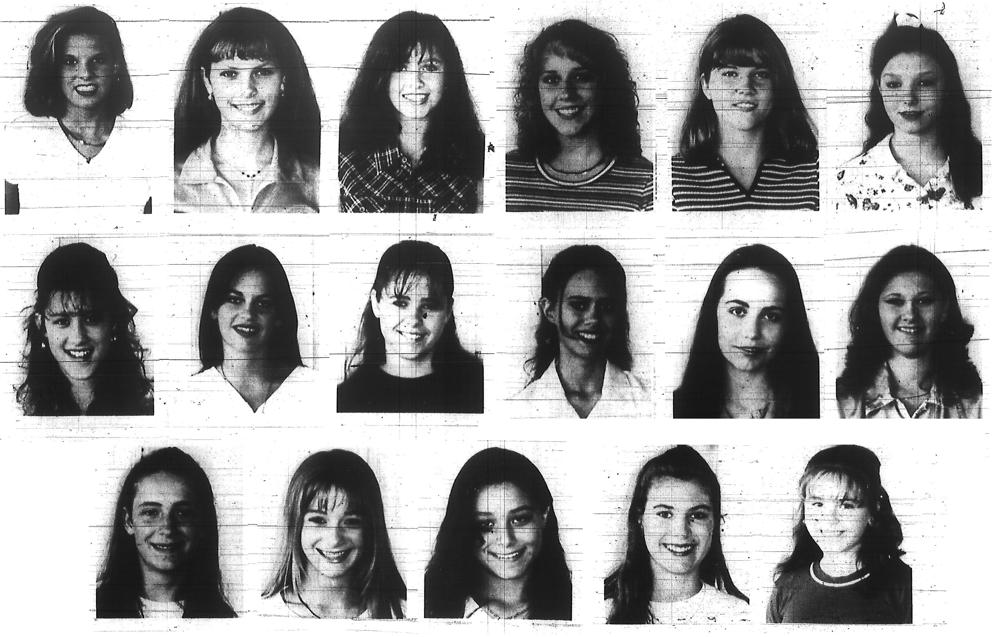 And the candidates for Miss Bullitt County Fair were (top row, L-R) Crystal Gayle Bentley, Kelly Michelle Johnson, Portia Reana Boone, Cristalle Dawn Maraman, and Shannon Clark; (middle row, L-R) Tabitha O'Neal Dever, Amanda Basham, Chrystal Lynn Pile, Aimee Beth Bowling, and Michelle S. Kelley; (bottom row, L-R) Abby McAllister, Trisha Lynn Watson, Cassandra Jean Owens, Kelly Blair McPherson, and Dara Ann Davenport; (not pictured) Amanda Rose Poppell. [Note that the images are taken from microfilm which isn't aways clear.]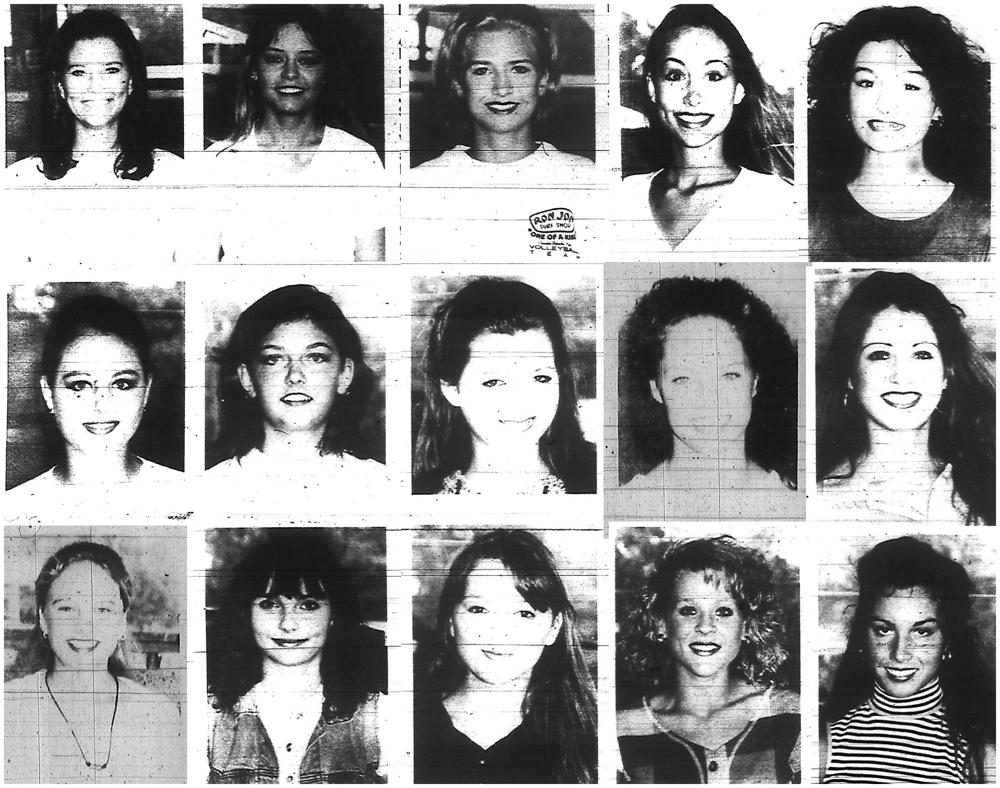 Cristalle Maraman was selected as Miss Bullitt County Fair.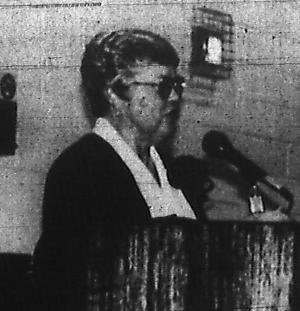 Barbara Elliott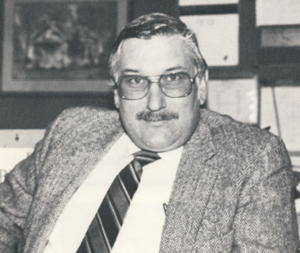 Joe Mills
Linda Waller, Supervisor of Social Services for the Bullitt County Schools, participated in the Kentucky Institute for Women in School Administration. She joined JoAnn Barr, Karen Travis, Dr. Helen Harrah, and June Maier who were past participants in the institute.
Bullitt Central Principal Barbara Elliott was pictured in the paper as she presided over her final commencement at the school.
And Joe Mills retired as principal of Bernheim Middle School after spending 28 years in the school system. On a personal note, Joe was as fine a man, and as good an educator as any I've ever known. It was my pleasure and honor to work with him for a number of years.
July 1996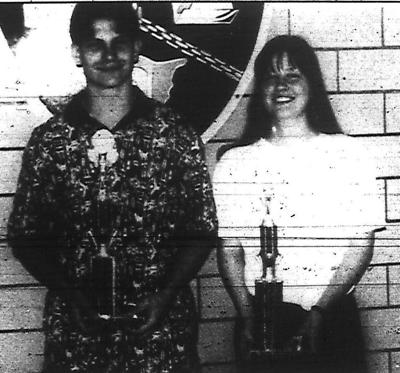 Billy McCrary and Mary Clark
Bullitt Central's Mary Clark and Billy McCrary were representing the school and state at the FBLA National Convention. Clark won the state competition in accounting, and McCrary finished second at the state in computer concepts.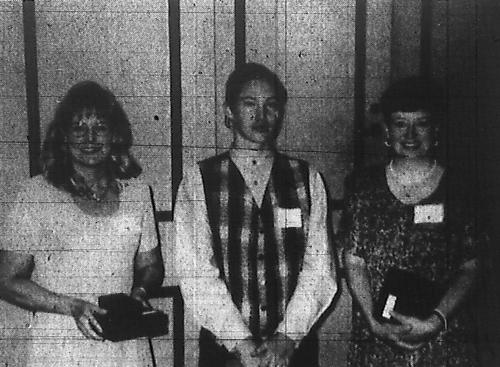 YMCA Honorees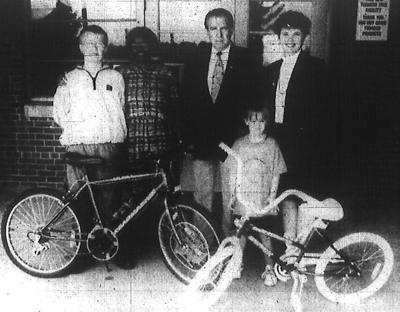 Bicycle Winners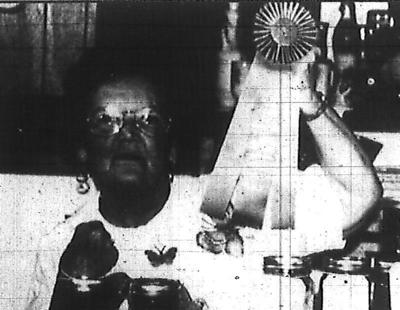 Alma Harbin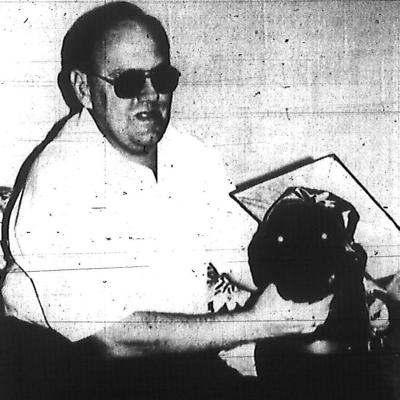 Jim and Ginger
Other B.C. students who participated at the state competition were LeAnna Faith, Chasitie Wakeland Simmons, Jamie Clark, and Andrea Ridgway. Sherry Reesor was their chapter advisor.
James and Addie Faye (Jones) Wilson of Lebanon Junction celebrated their 50th wedding anniversary.
Alice Harris, Taylor Broderick, Brinda Ritchey and Debbie Lentz were honored by the YMCA for their volunteer work with the organization. Alice had been a board member for seven years; Taylor was chosen Youth of the Year; Brinda was honored for her work in the Leader Club program; and Debbie had served four years as chairperson of the program committee.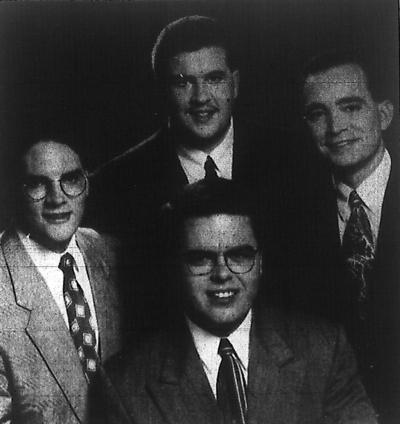 Journeymen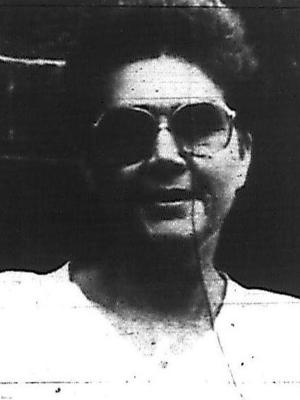 Brenda Eddington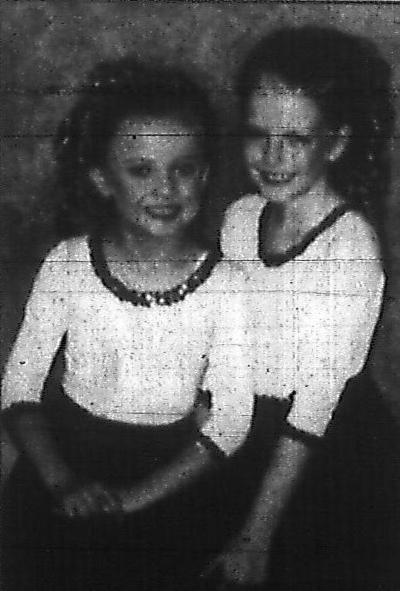 Brittany and Sara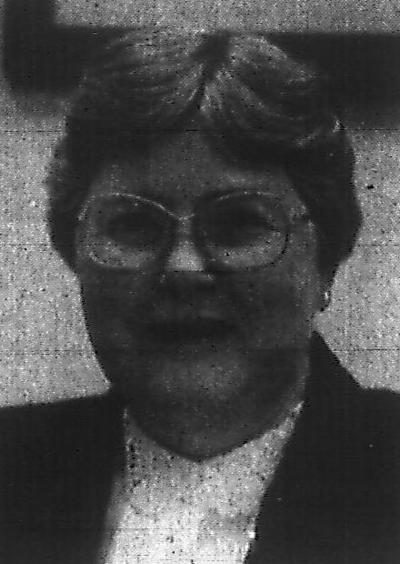 Barbara Elliott
Remember the Journeymen? They were in concert at the First Baptist Church in Shepherdsville. Their members included Dean Antle, Stacey Murphy, Michael Mardis, and David Grant.
Josh Tuttle, son of Wanda and Alan Tuttle, and Lori Rutledge, daughter of Larry and Paula Rutledge were pictured with their new bikes. They were selected from the group of Brooks Elementary students who had perfect attendance.
Losing half her home to the May tornado didn't stop Alma Harbin from entering the Bullitt County Fair, winning first place overall in the foods category. She won 10 first place ribbons and 10 second place ones. She also took three blue ribbons in sewing.
Brenda Eddington wore many hats, and the most recent was Bullitt County Homemaker of the Year for 1996. President of the Bullitt County Homemakers Extension Club, she was also a school bus driver, a guide for Toby Tours, and sold skin care products. Her most recent project was called Tasha's Hands, which was designed at U.K. to show children how germs spread from one person to another.
The 1996 All-Bullitt County Baseball Team was announced, and it included Maynard Thompson, Cory Roy, J. T. Burden, and Jason Thiel of Bullitt Central; Toby Grover, Corey McBride, Travis Crump, and Aaron Reid of Bullitt East; and Tom Cunningham, Chris Maiden, Kyle Wise, David Lewis, and Kenny Hudgins of North Bullitt.
Jim Haynes managed to earn his G.E.D. despite losing his eyesight. He was pictured in the paper along with his dog Ginger.
Sara Zimmerman and Brittany Forshee managed to make it to join the performance of the Diane Moore Dance Academy at the Crusade for Children, despite difficulties caused by the May tornado in their community.
The paper ran a number of articles about educators who were retiring. The first one was Rachel Russell, counselor at Bullitt East who had been a fixture at the school since it opened. Next was Opal Jeanie Adams who was one of the first staff members of the Bullitt County Day Treatment program. Then there was Sonja Whittle who retired from Brooks Elementary after a 31-year career.
Also featured was Barbara Elliott who was retiring as principal of Bullitt Central. Barbara's career highlights included her exceptional work with speech and drama students.
Shirley and Anita Hope Armstrong were delighted about their granddaughter Stephenie Judd's placing second in the "Walk and Trot" Pony Class at the Hardin County Fair.
Louise Bischoff reported that Bob and Jean Vittitow attended a family get-together at the home of David and Bonnie Strange in Tanglewood.
And do you have one of the Bullitt County Landmark Afghans that Dolores Raymond had for sale at Bo-Kay Florist? It included scenes of the Bullitt County Courthouse, the Mt. Washington school, the old Lebanon Junction railroad terminal, and the Hebron Presbyterian Church among others.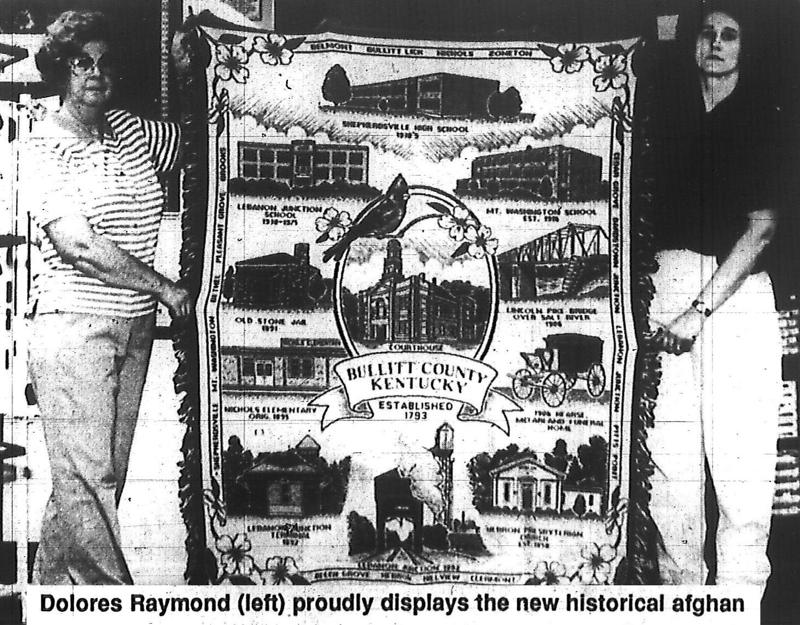 August 1996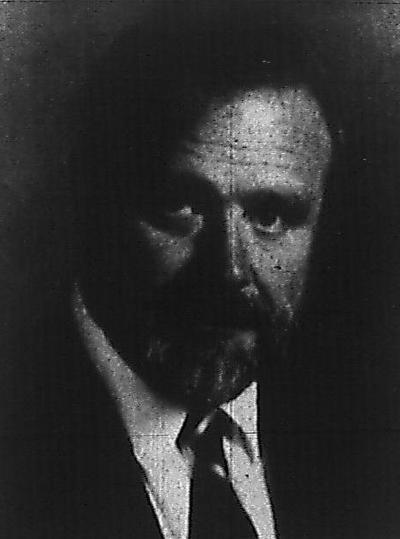 Jack Thompson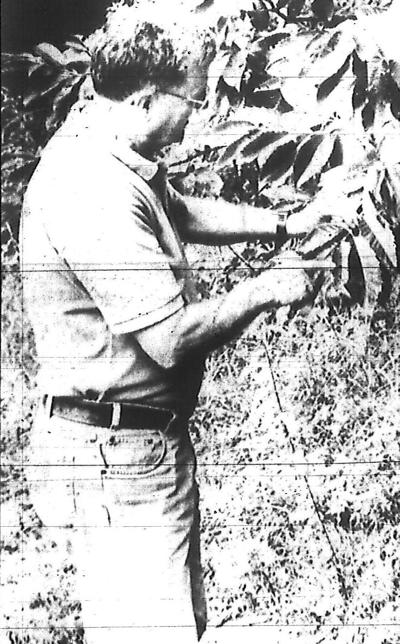 Varley Wiedeman
One of the teachers retiring from Bullitt County Schools was Jack Thompson of Bullitt Central. A teacher of history, civics, and political science, he helped his students engage in the Kentucky Youth Assembly and the Close-Up Foundation that permitted students to travel to Washington, D.C. Among his comments to Ellen Morris of the newspaper, he expressed gratitude to Randall Sullivan of Farm Bureau Insurance for supplying newspapers for the classroom.
The John Delaney family earned 13 gold medals at the Bluegrass Games, out of a total of 45 medals won by participants from Bullitt County. Besides John and his daughter Kristen who earned 5, and John's sister Karen Tuttle and her son Andy, other top winners were Karl Saier Jr. in swimming, Brenda Metcalf in table tennis, Ryan Eatherly in swimming, Joseph Abell in martial arts, Danielle Robison in gymnastics, Charlotte Goodman in equestrian, and Kevin Maginnis in chess.
Larry Belcher left his job as Roby Elementary Principal to take on a new role as Director of Buildings and Grounds for the school system.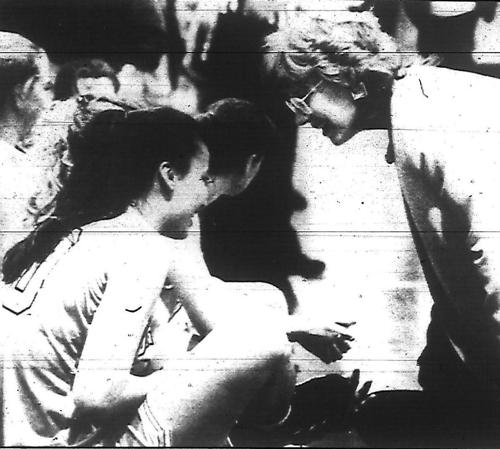 Head Coach Christy Coulter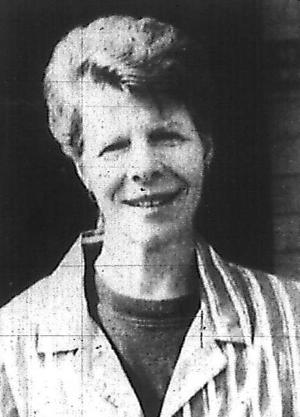 Gayle Sims
Varley Wiedeman, Director of Research at Bernheim Forest, reported that researchers had planted 200 Chestnut seeds in May, and had 44 to sprout. These are Chinese Chestnut hybrids that are more resistant to the Chestnut blight, but have the look of the original American Chestnut. Since this occurred 24 years ago, I'm wondering how those seedlings have grown.
Christy Cruise played basketball at Bullitt Central and Campbellsville College. She then coached with Steve Small at W.K.U. as a graduate assistant. Returning to Bullitt County, she taught at B.C. while coaching first at Mt. Washington Middle, and then as freshman coach at B.C. Then, in 1996 when Bert Hensley stepped down as head coach of the Lady Cougars, Christy Cruise Coulter got her chance to do what she had always wanted.
Gayle Sims was selected as the new principal of St. Aloysius.
Leslie Dorris was the youngest chosen, and the only Bullitt County student chosen for the Courier-Journal Roundtable, made up of teenagers around the state.
Participants in the Governor's Scholar program from Bullitt County included Rebecca Youngblood, Zach Moxley, Leslie Rowland, Danielle Herriford, Leanna Walker, Amanda Long, and Jackie Ayers.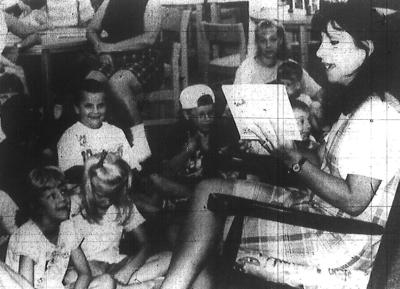 Mrs. Sego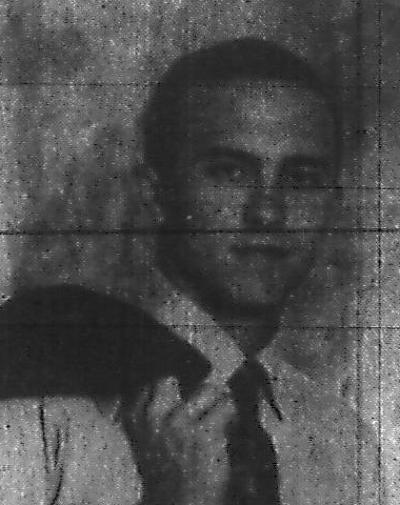 Chris Maiden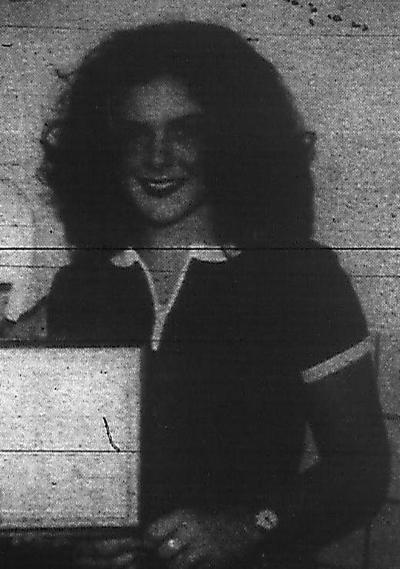 Stephanie Burden
School Librarian Kim Sego was pictured reading to Nichols students in their summer reading program.
Chris Maiden, an honor graduate of North Bullitt, earned a scholarship to Morehead State University.
Tom Pack went from teaching social studies and driver's education to being the school system's pupil personnel director, a role he filled for a quarter century before retiring in 1996. Tom was well suited for his task of helping keep truant students in school.
Stephanie Burden of Hebron Middle School was awarded the Glennie Dawson Math Award by her principal, John Rowland. Stephanie credited Shirley Hardin of Overdale and Les McIntosh with encouraging her math abilities, and Monty Edwards with being her coach on the basketball team.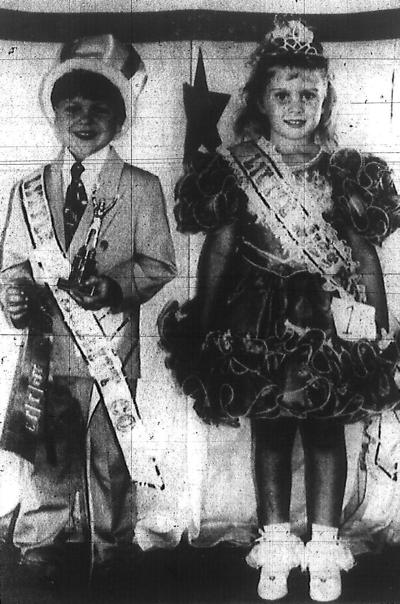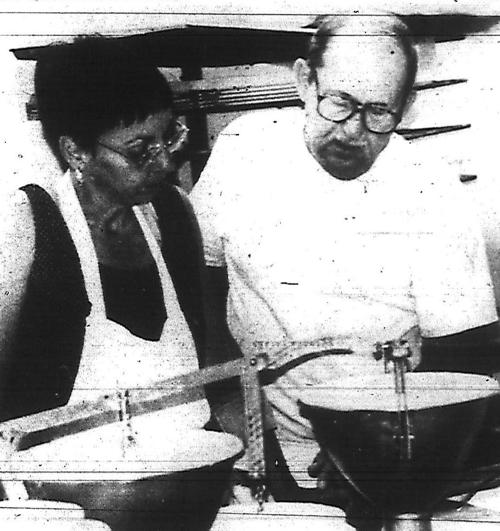 Zachary and Crystal | The Sullivans
Zachary K. Johnson and Crystal Michelle Hester represented Bullitt County in the Little Miss and Mister Pageant at the Kentucky State Fair.
And how many of you remember satisfying your sweet tooth at Sullivan's Bakery in Mt. Washington? Frank and Elizabeth Sullivan retired after getting up at 3:30 a.m. every morning for over 37 years, after selling the business to Mark and Donna Alcorn.
September 1996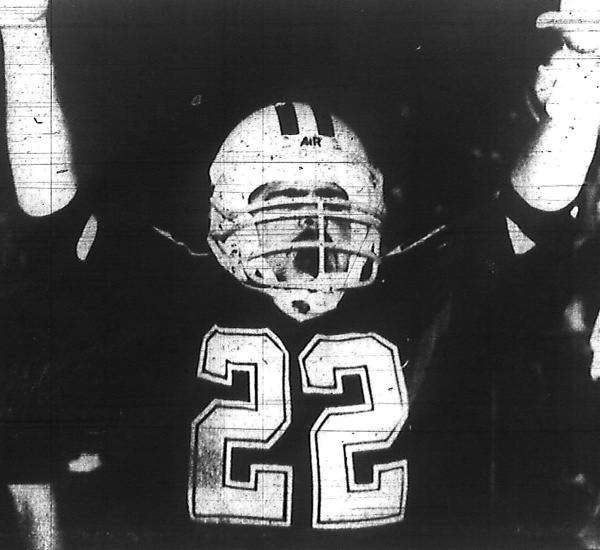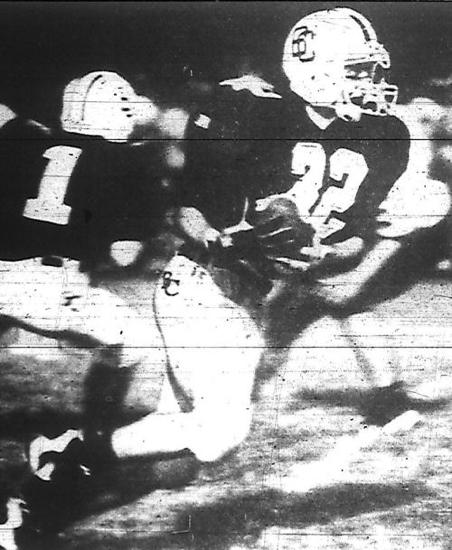 Bullitt Central senior Jason Thiel was pictured whooping it up during his school's 41-13 football victory over Bullitt East. Also pictured was junior Scott Etherton who rushed for 181 yards and three touchdowns for B.C.
North Bullitt opened their football season with a 29-7 win over Bourbon County. The Eagles were led by quarterback Ricky Spears who rushed for one touchdown and passed for two others. Brennan Conway added a 36-yard field goal.
A week later, the Eagles put a whipping on Bullitt East 66-22 with Spears hitting junior Danny Bell with three touchdown passes.
Tom Pack, Bud Settles, Tom Kelly, Trina Summers, and Elaine Wilson were members of a committee making plans for the county's bicentennial celebration.
The Roby Raiders cheerleaders had a baby pageant with a number of winners including Megan Walls, D. J. Keith, Dustin Kole Wyssbrod, Raven Cothern, Brennan Nevill, Keisie Jean Simmons, John Cody, and Deaven Brutsher.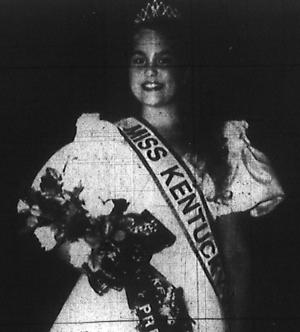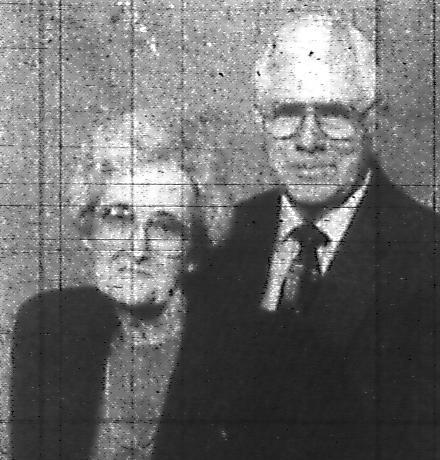 John and Anna
Autumn Gabrielle Napper was crowned Miss National Pre-Teen Princess for Kentucky, and would compete in the national pageant in November.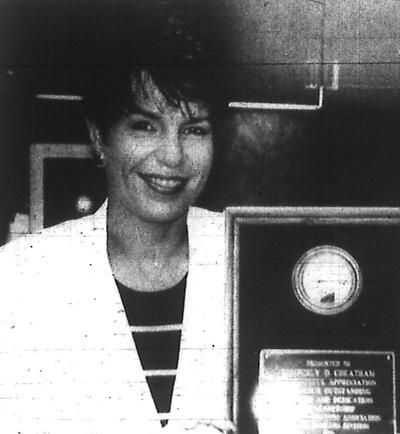 C. A. Hourigan of Lebanon Junction bought half an alley for a dollar. John L. Thompson had purchased the other half for a dollar in 1976.
Kim Cheatham of the People's Bank of Mt. Washington was selected as the 1996 Young Banker Division Leadership Award winner by the Kentucky Bankers Association.
John and Anna Rhea (Adams) Settles of Mt. Washington celebrated their 50th wedding anniversary. Their children included Cathyann Pike, Norma Rae Mattingly, and Randolph Settles.
Ann Marie and Melissa Thompson, daughters of John and Diane Thompson rode away with several honors at the State Fair 4-H competition. Ann Marie rode Me Nifty Cash, a gray gelding, to a first place award in showmanship, while Melissa rode a sorrel mare called Shesa Noveltee to first place in horsemanship.
The Red Cross golf classic held at Bardstown was won by the team of Dave White, Phil Boyd, Bill Kegerreis, and Russell McCubblins. The second place team included Ralph Miller, Brandon Filiatreau, Wes Wilkinson, and Donald Coy. Finishing third were Ray Mattingly, Buddy McCubbins, Martin Tucker, and Patsy Grigler.
Rebecca Sexton was pictured in an article about her job as assistant principal at Mt. Washington Middle School.
In other school news, Roger Hayes left his job as assistant principal at North Bullitt to take on the role of Roby Elementary principal, replacing Larry Belcher who had become the system's buildings and grounds director.
And Leslie McIntosh, a long-time Hebron Middle School teacher, became the new principal of Lebanon Junction Elementary, replacing Linda Littlejohn who left to take a job with the Department of Education.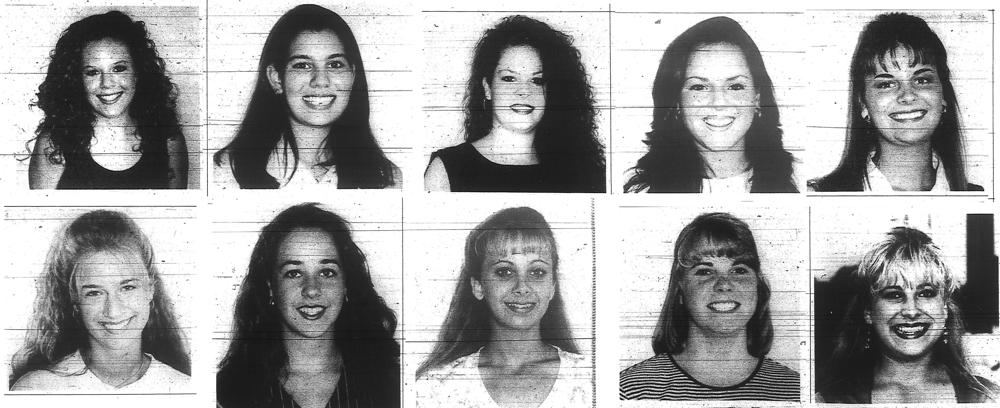 The 1996 Junior Miss Scholarship Program was held at Bullitt East High School in September. The contestants included Leslie Anne Rowland, Marcie Lynn Downs, Traci LaGail Rupard, Laura Lee Ferguson, Jodi Anne Harris, Jennifer Marie Duranceau, Leanna Gayle Walker, Julie Marie Anderson, Amanda Janae Long, and Casey Marie Underhill.
Jodi Harris was selected as the winner, Leslie Rowland placed second, and Leanna Walker was third.
And at the annual Red Cross Volunteer Recognition, many were awarded pins for their service including Helen Underwood (25 years), Willie Mae Hackett, Gerald Tamme, and Mona Tamme (20 years), Peggy Childers, Betty Jo Fisher, and Evelyn Hale (15 years), and Carol Douglas, Mildred Hatfield, and James Wilson (10 years). James Wilson received the Exceptional Volunteer award for his tireless efforts, and Joseph Rhea was awarded as the Volunteer of the Year.
October 1996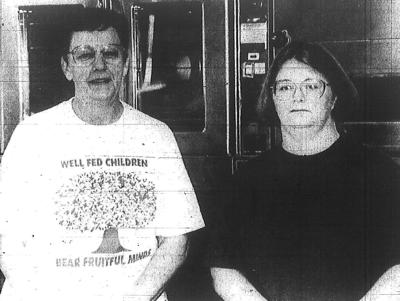 Annette and Roberta
Annette House and Roberta Lee enjoyed their work in the St. Benedict cafeteria, and as former students of the school they had fond memories of it.
The Olde Tyme Festival in Shepherdsville had a number of competitions including a baby pageant won by Kameron Gray Carter, son of Kevin and Denise Carter of Pioneer Village; and a tiny toddler pageant won by Amber Close, daughter of Terry and Susan Close of Lebanon Junction.
The Tiny Miss Shepherdsville contest was won by Emily Noelle VanVactor, daughter of Tommy and Tina VanVactor; and the Little Miss contest went to Amber Gagel, daughter of Billy and Annette Gagel.
The next level, the Miss Pre-Teen contest went to Makensie Nicole Walls, daughter of Jerome and Belita Walls; and the Teen Miss category was won by Amanda Marie Simmons, daughter of David and Tina Simmons of Lebanon Junction. She was also the Overall Supreme winner of the festival.
The Miss Shepherdsville crown went to Jennifer White, daughter of Ron and Pam White; Second place in that contest went to Michelle Danielle Walls, daughter of Steven and Valerie Walls; and third place was Chrystal Pile, daughter of Jerry and Rita Pile.
Ralph Bleemel
Ralph Bleemel had served 11 years as Bullitt County Jailer when he decided to retire and turn the reins over to Tim Seng. Prior to being jailer, Bleemel had served 12 years as First District Magistrate.
Lebanon Junction held their Old Fashion Days pageant with the following winners: Baby Miss Alexandria Skidmore, daughter of John and Lana Skidmore; Baby Mister Tyler Platacis, son of Starla Perkins; Toddler Miss Amber Close, daughter of Susan and Terry Close; Little Mister Corey Goff, son of Richard and Staci Goff; Tiny Miss Kelsie Simmons, daughter of Sherry Simmons and Mike Robison; Little Miss Tiffany Hall, daughter of Pam and Buddy Hall; Pre-teen Miss Makensie Walls, daughter of Jerome and Belita Walls; Teen Miss Heather Hefley, daughter of Debbie Waters and Bruce Hefley; and Miss Old Fashion Days Sabrina Raymer, daughter of Claudette Raymer.
Kelsie Simmons (younger age groups) and Makensie Walls were the Overall Supreme Winners.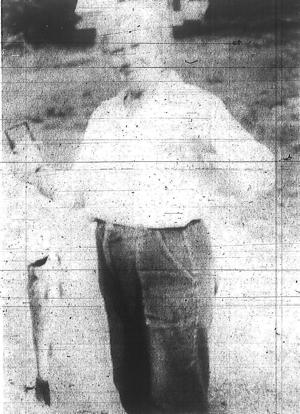 Thelma Ellaby
Thelma Moore Ellaby of Mt. Washington caught a 25-inch Walleye while fishing with her husband Jim at Nolin Lake.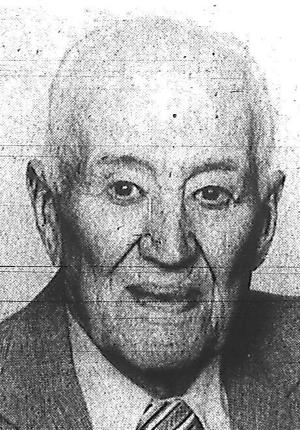 Royce Swearingen
James and Dorothy (McBee) McCubbins of Lebanon Junction celebrated their 65th wedding anniversary.
Royce Swearingen of Mt. Washington was born on October 25, 1896. He celebrated 100 years on that date in 1996. Royce and his wife Geneva (Overall) Swearingen enjoyed 72 years of marriage before her death in 1994. Swearingen was a Dutch name, and Royce got a double dose as both his parents were also Swearingens. His father, James Henry was a son of William and Sallie (Jones) Swearingen; and his mother Cora was a daughter of David and Angeline (Pratt) Swearingen.
Ricky Spears completed 9 of 14 passes for 240 yards, and Kevin Crisp gained 112 yards rushing to lead North Bullitt to a 48-10 win over Bullitt Central.
Meanwhile, in Mt. Washington, the Bullitt East Chargers tasted sweet victory, defeating LaRue County 35-6. Eric Bentley carried the ball for 106 yards, and Travis Gossum added another 100 yards in the Chargers' first victory of the season.
November 1996
The Bullitt Central Cougars ended their football season with a 59-0 victory over Atherton. They were led by senior running back Ronnie Winter who scored five touchdowns on 152 yards of offense. The second half began with a 48-yard drive that ended with Jack McGuire going 10 yards, quarterback J. T. Burden adding 14 yards to the end zone.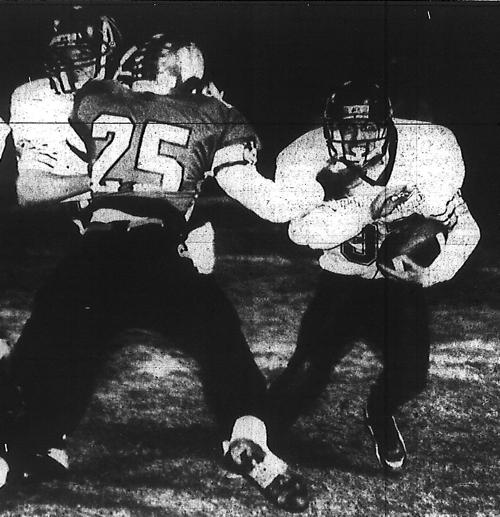 Scotty Richardson
The Bullitt East Chargers ended their season with a 14-6 victory over Taylor County. Eric Bentley scored their first touchdown on a nine yard run after quarterback Clifton Brunson and wide receiver Wayne Livers connected three times to move the ball down the field.
And the North Bullitt Eagles defeated Waggener 36-13 to win the district football championship, led by senior running back Kevin Crisp who collected 183 yards on 23 carries, and scored 5 times. Also contributing were Danny Bell with a 16 yard punt return, Jimmy Phillips who recovered a Waggener fumble on their 20 yard line, and Scotty Richardson who was pictured in the paper looking for a hole in the Waggener line as he rushed for 37 yards.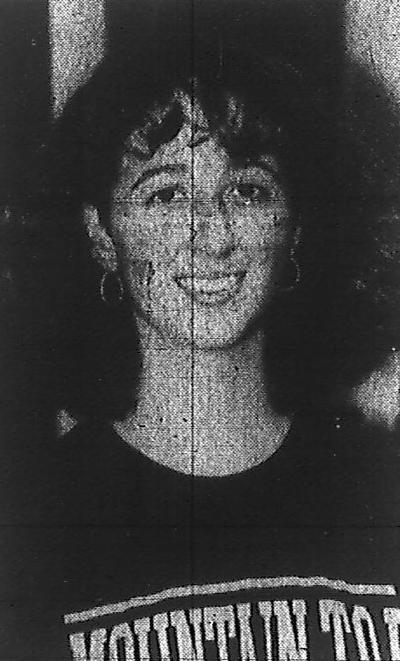 Olivia Korfhage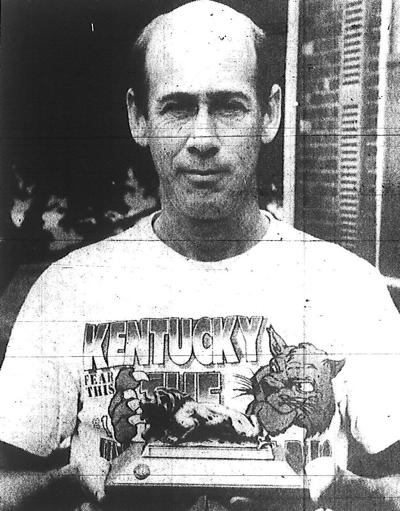 Bobby Darnell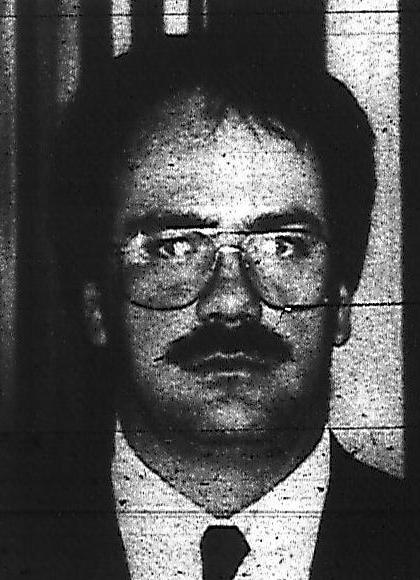 Rodney Burress
The Eagles continued their winning ways with a 21-0 win over Woodford, followed by a 20-12 victory over Harrison County, before losing the regional final to Montgomery County 27-24.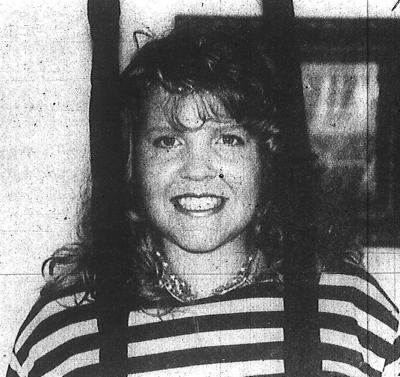 Andrea Motsch
Olivia Korfhage, daughter of Paul and Andilyn Korfhage, and a member of the Bullitt East band, was the only Bullitt County student to be accepted by the Louisville Youth Orchestra.
Andrea Motsch was pictured in the "lock up" as part of the fund raiser for the Muscular Dystrophy Association.
Bobby Darnell was selected as Lion of the Year by the Mt. Washington Lion's Club. Darnell, who had served as both vice president and president of the club, had first become involved when the club sponsored a running event.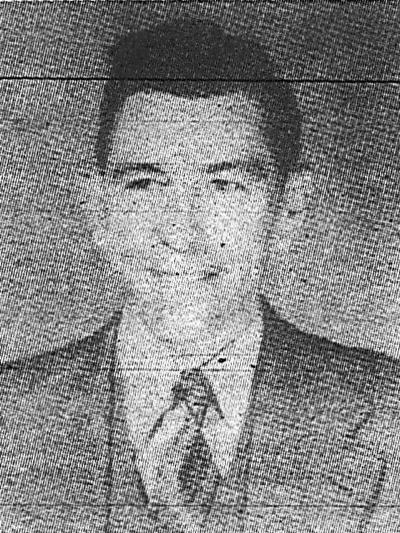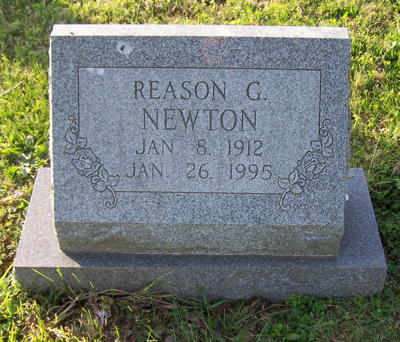 Ressor Newton
The Lebanon Junction High School Alumni Association was trying to raise money to provide a proper marker for the gravesite of a former coach, teacher, and school leader, Reesor Newton whose legacy at the school began in 1935. It appears that they were very successful.
Four Mt. Washington girls were performing with the Louisville Ballet during the holiday classic, The Nutcracker. They included Lori Moore and Morgan Hamilton of Old Mill Elementary, and Celeste and Elyse Bova of Mt. Washington Elementary.
Mike Mann's job as Commonwealth's Attorney was made a full-time position, and Rodney Burress became an assistant in that office following the resignation of Anne McAfee.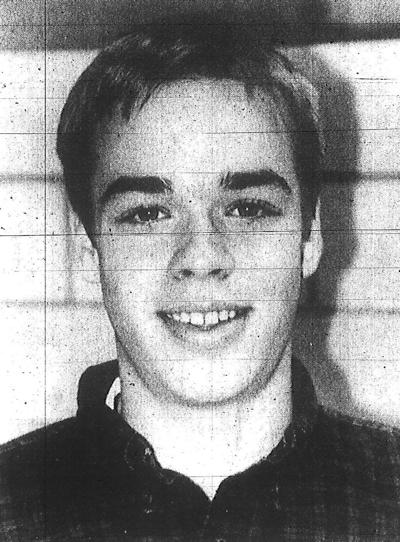 Brandon Tindle
Melissa Halbauer, daughter of Greg and Cindy Halbauer, was selected as Miss WinterFest at the Mount Washington WinterFest Pageant. Placing second and third were Devona Spears and Wendy Haight.
Patricia Baker was named Junior Miss Winterfest with second and third going to Amber Renee Davis and Brandy Wilkerson. Jennifer White was declared most photogenic in this category.
Brandon Tindle, a Bullitt East junior, captured the role of Buster in The Glass Christmas Tree, a production at the Kentucky Center for the Arts.
And then we come to a remarkable lady. Marian McGee, daughter of William and Lizzie (Barnes) McGee, was born in November 1889. She married Clarence Porter in September 1910. He died in an automobile accident a mile south of the Salt River bridge on the Jackson Highway in April 1937, leaving her and her son William to run their grocery store. Fifty-nine years later, Lois Simmons of Pleasant Grove wished a belated birthday to Mrs. Marian Porter, then 107 years old!
December 1996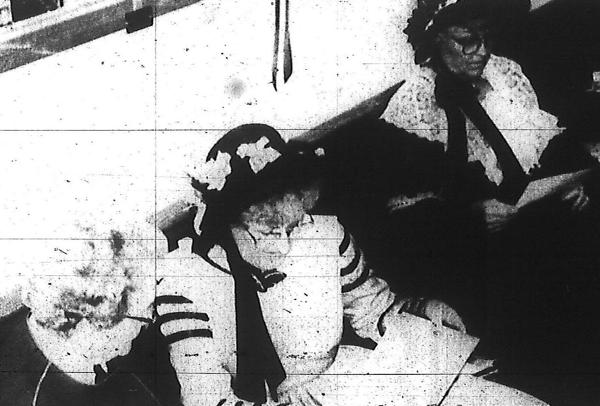 Ladies in Period Costumes
Bullitt County's bicentennial celebration was kicked off with an exhibition at the courthouse led by Bud White, president of the Chamber of Commerce, and Tom Pack, local historian. Also present were descendants of Alexander Scott Bullitt for whom the county is named. They included Porter Watkins, Mrs. Virgil Christian, and Larry Watkins Jr. A number of the ladies of the genealogical society were present in period costumes. And Renee Shaw, a student at the Bullitt County Technical Center, was honored by having her logo selected to go on merchandise.
Sondra Wilkins of the Nichols community wrote her first column, describing how the folks there looked out for one another. She said, "For many years most of the Nichols area has been a generation of families with a lot of land passed down. Our area is very quiet and peaceful."
In a later column, Sondra wrote that Cindy P'Pool "is always there to prepare a meal for families in sorrow and to visit the elderly. We love and appreciate Cindy."
Lois Simmons of the Pleasant Grove community mentioned that Clara Simmons' birthday was December 1st, and she was 96 years old.
The Bullitt County 4-H Council sponsored its annual Communications Festival at Hebron Middle School. In the Speeches category, the various winners included Penny Bullock, Ann Marie Thompson, Josh Foster, Tasha Rash, Robert Favreau, Julie Bischoff, and Melissa Thompson.
The various winners in the Demonstrations category included Crystal Winfrey (Jr Crafts/Hobbies), Amber Squires (Jr Ag Sciences), Julie Bischoff (Sr Horse), Erin Maginnis (Jr Horse), Lauren Scott (Jr Animal Science), Eden Gabbard (Jr Food Prep/Nutrition). Kim Jones (Jr Natural Sciences), Anthony Parker & Adam Pryor (Speciality Acts), Robert Johnson (Jr General), and Heather Cramner (Sr General).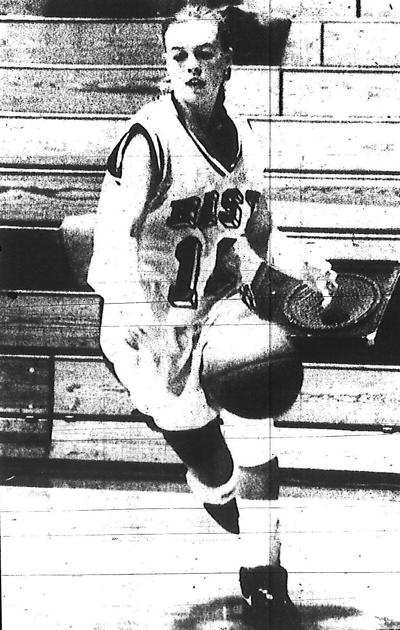 Erika Smith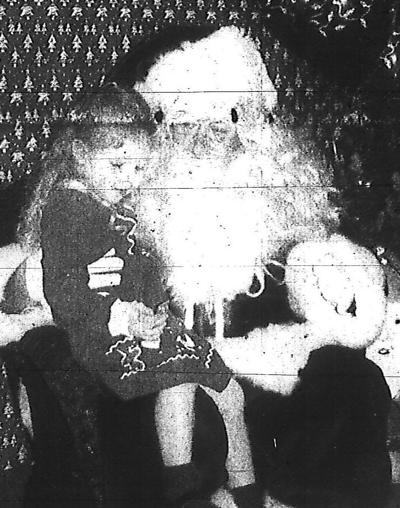 Mary Kate McClure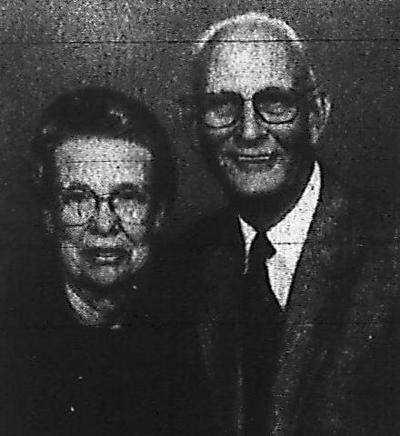 Lloyd & Catherine
In high school basketball, Josh Travis and Jamie Kearney, with 23 and 15 points respectively, led Bullitt Central to a season-opening victory over Meade County 66-61. Meanwhile, Coach Christy Coulter's Lady Cougars defeated Carroll County 72-66 with Stephanie Crable leading the way with 21 points.
The North Bullitt Lady Eagles won their first two games, 87-42 over Highview, and 70-52 over Portland Christian. Scoring was widely shared in both games with Stephanie Burden getting 20 & 14, JoJean Parrish with 15 & 17, Jennifer McMillion with 14 & 13. Others scoring in double figures in one game were Bonnie Phelps and Becky Tuttle.
The North Bullitt Eagles defeated Jeffersontown 79-52 with Kyle Wise scoring 21, Justin Hornback adding 15, and Ricky Spears scoring 12.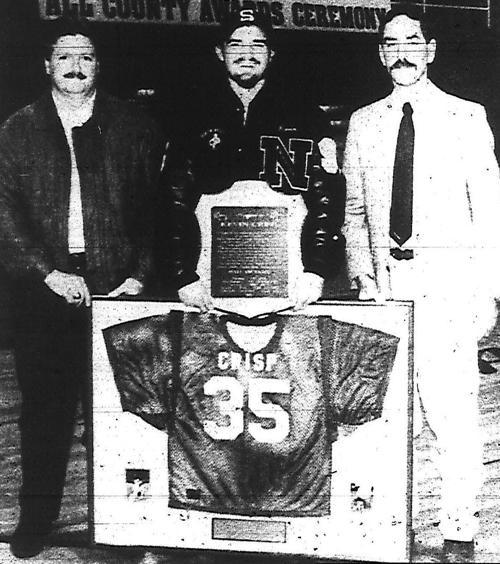 Kevin Crisp with Coaches
The Bullitt East Chargers defeated Valley 70-66, with Brian Miles scoring 21, Johnnie Witham with 19, Michael Newkirk with 13, and Chris Devine dropping in 10 points.
The Lady Chargers easily defeated Spencer County 77-31 with Nickie Randall leading the scoring with 20 points. Erika Smith contributed 16, Lindsey Wegley 12, and Pat Baker 11 to the scoring.
North Bullitt standout Kevin Crisp became the first inductee in the Bullitt County Youth Football Hall of Fame. Before starring for the Eagles, he played for the Overdale Chiefs. He was pictured in the paper along with his youth league coach, Tom Clemens, and North Bullitt head coach Don Biggs.
Mary Kate McClure got to sit on Santa's lap during his visit to St. Aloysius.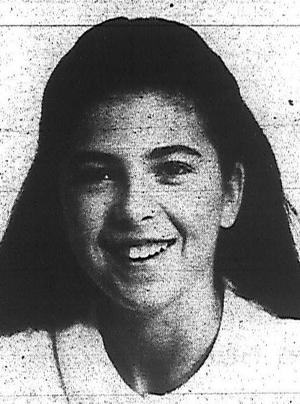 Nancy Gibbs
Nancy Gibbs got to fight with rats during the Louisville Ballet's production of The Nutcracker. Of course the rats were dancers, and Nancy, a seventh grader at Bullitt Lick, was portraying a soldier in the play.
Lloyd Metcalf and Catherine Hardin were married shortly after Christmas in 1946. Fifty years later, they celebrated their Golden Wedding Anniversary.
And the December papers were filled with letters to Santa from the local schools. One in particular that caught my eye was written by Ashley Fryer of St. Aloysius. While she looked forward to presents, her main wish was for her Grandma Doris to get better and recover from her open-heart surgery.
---