It Happened in 1995
Over the years, Charles Hartley has shared glimpses of what was being printed in The Pioneer News in different months and years. This page includes what was taken from the January through July issues of 1995.
---
January 1995
After 14 seasons, two regional titles, and the 1988 State Softball Championship, North Bullitt coach Clyde Muncy announced his resignation.
Bullitt County native, Ed Stansbury was inducted into the Western Kentucky University Athletic Hall of Fame. Stansbury was raised in Bardstown Junction, and graduated from Shepherdsville High School where he played football, basketball and baseball.
Lois Simmons of Pleasant Grove reported that Clara Simmons celebrated her 94th birthday in December, and the family celebrated with a party of 15 family and friends present.
She also reported that Mrs. Birdie Moore, Madaline Porter, and Doris Ann Hall visited Mr. and Mrs. J. B. Proctor who were "about the same."
At St. Benedict, Darcy Wheaton, Charita Jennings, and Lindsay Harned were winners in the Conservation Poster Contest, while Cory Dickerson, Marcie Burba, and Jude McGuire were Conservation Essay winners.
Also at St. Benedict, Clayton Chapman won the school geography bee.
Mention soccer in Mt. Washington and the name Koprowski is sure to come up. Andrew Koprowski was pictured in the paper, and his brother Nathan was mentioned as being on the Campbellsville College team.
The Mt. Washington Quilting Bees celebrated their 12th anniversary as a club. Some of the members included Sandy McCoy, Thelma Moore, and Jean Wiley.
Tourism Coordinator Elaine Wilson announced that the Old Stone Jail was now open for tourists to visit.
Charlie Long related how "Zeke" Long was a frequent visitor to the jail, and managed to stay drunk throughout one particular visit because his friends kept slipping him liquor.
John McGregor High School from Canada showed up to play a couple of games against local teams. They defeated North Bullitt 52-47, but lost to Bullitt Central 59-58. In the first game, Kevin Gearlds led the Eagles with 13 points. In the second game, four Cougars scored in double-figures: Derek McClellen with 13, Lee Crump 11, and David Miller and Joe Pat Lee each with 10 points.
St. A. students Anton Payne, Patrick Deeley, Ryan Payne, and Todd Frisby participated as a team in a stock market game sponsored by the Kentucky Council on Economic Education. Their success netted them a second place finish among all middle school teams in Kentucky.
Bullitt East junior Alison Bass scored a school record 43 points as the Lady Chargers defeated Spencer County.
Tiffany Young of Mt. Washington was one of only 15 girls across the nation to be selected to Team America in the National Cheerleading Competition in Nashville.
Bullitt East students Heather Beckmann, Ryan Naylor, Matt Kurk, and Lesley Dossett participated in a special week of learning at Old Mill Elementary where they served as role models for the younger students. Good job!
And the Bullitt East Lady Chargers defeated Marshall County 67-52 to win the LIT in Louisville. They were led by Alison Bass with 24 and Lisa Mason with 22 points. Great job ladies!
February 1995
Brian Shelman and Jennifer Adams were named King and Queen of the Bullitt Central Basketball Homecoming. At Bullitt East, it was Steve Mudd and Stacy Clements taking the honors; and at North Bullitt Chris Beisler and Dara Davenport were selected.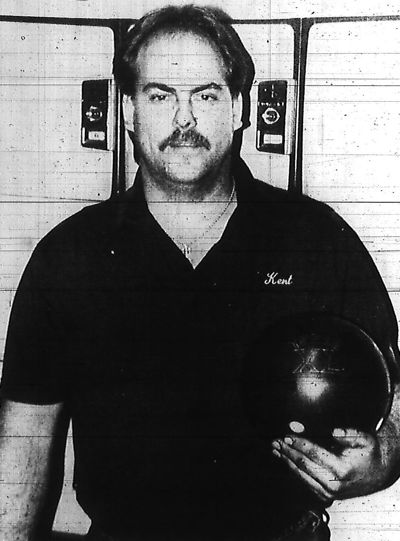 Kent Vincent
Kent Vincent rolled his first 300 game at the Bullitt East Bowling Center.
Bullitt Central chorale students Benji Simmons, Russ Berry, Erica Steams, Olivia Terry, Chris Lasley, Bobbi Jo Mattingly, Leslie Baker, and Jeremy Galloway presented their annual music presentation, "BC Billboard."
Brandon Egan of Bullitt East signed a national letter of intent to attend Western Kentucky University on a football scholarship.
The Cracker Barrel restaurant at Brooks and the Medicine Shoppe in Shepherdsville both opened this month in 1995.
Lois Simmons of Pleasant Grove reported that Doc and Robie Neighbors of Louisville visited Mr. and Mrs. Mac McAfee, and they played dominoes and had chili for supper.
The Bullitt East Lady Chargers defeated Sacred Heart 61-59 behind 26 points by Alison Bass. The rest of their scoring was evenly spaced with Becky Franklin having 5 points, Lisa Mason 6, Sheri Barnett 8, Lee Remington 4, Kelly Karnes 6, and Carrie Johnson 6.
The paper announced the 1994 All-Bullitt County Football Squad. Included on offense were Brandon Egan, Scott Johnson, Jason Calvert, Jason Reynolds, Eric McCawley, Reggie Wells, Willie Foster, Jason McClain, Dereck Rogers, and Newton Farias of Bullitt East; Jason King, Sam Potter, and Rick Brown of Bullitt Central; and Ricky Spears and Clint Smith of North Bullitt.
The defense included Kevin Crisp of North Bullitt; Bud James, Rick Brown, and Jason King of Bullitt Central; and Jeremy Yearns, Dereck Rogers, Todd Wray, Reggie Wells, Niki Britt,, Jeremy Jenkins, Jason Calvert, and Brandon Egan of Bullitt East.
Victor Shawler showed that he knew his way around the world by winning his Mt. Washington school's Geography Bee competition.
In the middle school Academic District Competition, Chad Thompson of Mt. Washington won the mathematics written assessment competition, Fred Paul of Hebron won in science, Michael Robison of Hebron in social studies, Hannah Compton in language arts, and Gabe Hodges of Mt. Washington in general knowledge. Leslie Dorris of Mt. Washington wrote the best English composition.
David A. Imbrogno was officially welcomed as the new executive director of the Bernheim Forest and Arboretum Center.
Lee and Debbie Mills of Bullitt Central announced that they would retire at the end of the school year.
And Carolyn French and Betty Darnell signed copies of their new book, Out of the Shadows, at the Ridgway Library. It's still available.
March 1995
Kara Shoulders and Natasha Smith were pictured in the paper as part of Carolyn Campbell's art class at Roby Elementary.
Louise Bischoff's Zoneton/Hebron report sounded like a "sick call." Among those mentioned as either ill or getting better were Margaret Bell, Elizabeth Crumbacker, Pat Higdon, Coleman Robison, David and Juanita Frick, Lawrence Frick, and Dorothy Schroeder.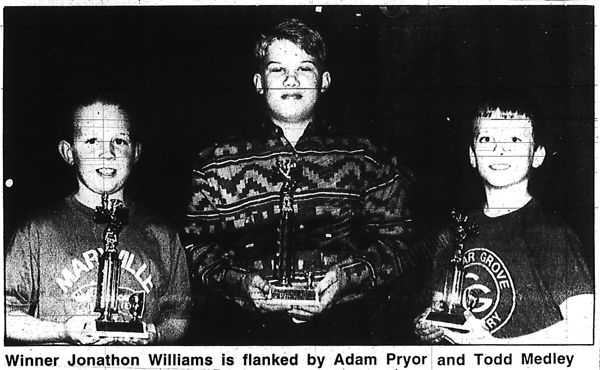 Lois Simmons' Pleasant Grove report was similar. Parlee Armstong fell and cut her arm. Mrs. Inez Manion, Mrs. May Bell Whitledge, and Mrs. Mabel Shoulders were all on the sick list. And Shirley Armstrong said his grandbaby Brandon was doing fine after eye surgery for tear ducts.
Lois did share that the Journeymen had their 16th annual concert at Pleasant Grove Church with a large crowd. Miss hearing those young men sing!
Jonathan Williams of Mt. Washington Middle School won the county spelling bee. Adam Pryor of Maryville Elementary placed second, and Todd Medley of Cedar Grove was third.
Five-year-old Shane Kalbhin knew just what to do when his mother fainted and hit her head in their kitchen. He dialed 9-1-1 and told the dispatcher that his mother needed an ambulance, and told where he lived. Dispatcher Mark Richardson said it was fortunate to get an address from someone so young.
Melody Beverly and Jeanette Branson were honored by the Peoples Bank of Mt. Washington for their service.
John Roberts wrote about Bullitt Lick Middle School seventh-grader Phoenix Freeman who would be spending three weeks in Australia as part of a People to People program involving U.S. youths as student ambassadors.
The Bullitt East Lady Chargers used a smothering defense to easily defeat Grant County 72-23 in the first round of the 8th Region tournament. They were led by Lisa Mason and Alison Bass, each with 14 points. Kelly Karnes added 12 to the total.
However, Lee Remington's 13 points weren't enough as East lost their next game to Oldham County 62-50.
Alison Bass and Lisa Mason of Bullitt East, and Tabitha Gibson of Bullitt Central all made the Eighth Region All-Tournament Team. On the boys' side, Tim Couch and Steve Mudd of East made that tournament's team.
The following students at Mt. Washington Elementary were winners in the Young Authors competition: Ashley Waddell, Justin Lowe, Brandon Ray, Steven Hunt, Ryan Cecil, Brain Figg, Cathleen Theiler, Larry Spray, Megan Eason, Courtney McMillin, Justin Hall, Bridget Spencer, and Leslie Davis.
And, did you go see and hear Randy Atcher at the Country Palace Music Show in Mount Washington? Bet you remember him from Hayloft Hoedown and the T-Bar-V show.
April 1995
Bullitt East drama teacher Judy Chandler took a drama group to visit New York City, and one of the highlights of the trip was a visit to Ellis Island where Melinda Finley discovered her mother's name in a book listing immigrants. Her mother had originally come from Hungary. Others who were mentioned in the article included Kim Maraman, Elizabeth Johnson and Ashley Davis.
Buddy Gaddie of Pine View Farms was proud to show off his prize cow, Swee Dee who had produced two consecutive outstanding sets of twin calves.
The entire county was saddened to learn of the death of J.D. "Jiggs" Buckman on April 2.
Cedar Grove Elementary's Academic Team did well in the district tournament with Todd Medley placing first in social studies, Ben Campbell second in science, Lynsey Wuzel second in language arts, and Brittany Hoskins third in mathematics. Their future problem solving team of Beth Anne Clayton, Rachael Hurt, Michelle Mattingly, and Bethany Runion took first place.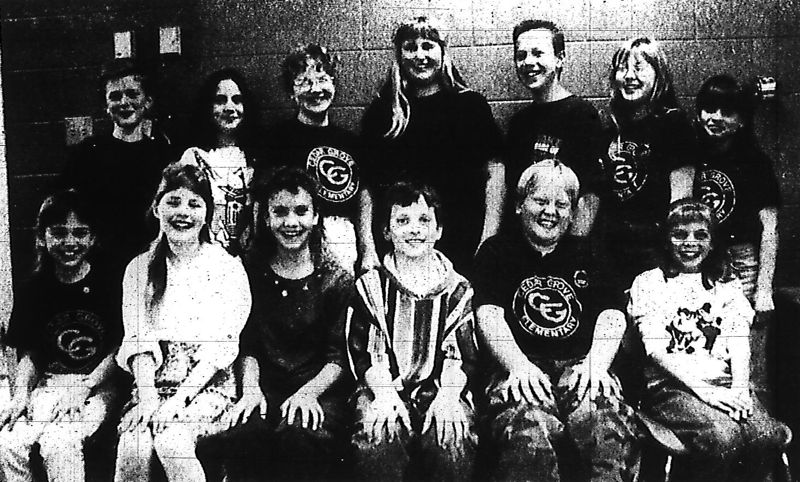 Cedar Grove Academic Team
Bernard and Louise Bischoff of the Hebron/Zoneton community celebrated their 58th anniversary this month.
Mary Cynthia Holsclaw died at the age of 96. A native of Bullitt County, she was a school teacher, and a secretary for the Jefferson County Board of Health; but will be best remembered as the resident of a small community who kept in touch with her neighbors and amassed quite a knowledge of local history.
Lebanon Junction celebrated the 100th anniversary of the town's incorporation with the formal dedication of the railroad caboose. Were you there?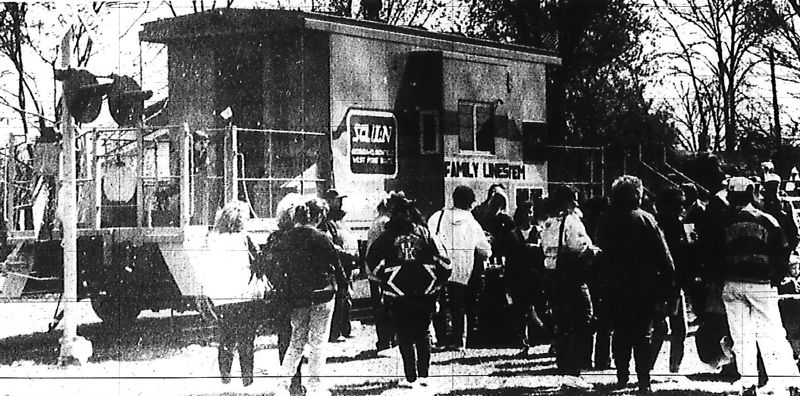 Lebanon Junction Caboose
Two members of the Mt. Washington Middle School academic team capped off their season with a top 10 finish at the state academic meet. Leslie Dorris finished 8th in English Composition, and Gabe Hodges placed 7th in science written assessment. Quite an achievement!
At Lebanon Junction, Dakota Hale, although just four years old, was able to use 9-1-1 to get help for his unconscious mother. Quite the little hero!
Bullitt East standout Lisa Mason accepted a scholarship to play basketball for Marshall University. And three BE Chargers, Willie Foster, Todd Wray, and Scott Johnson signed to play football at Anderson College in Indiana.
Megan Fitschen pitched a no-hitter and Lee Remington hit a home run in Bullitt East's victory over Bullitt Central in fast-pitch softball.
Erin Sapp of Pleasant Grove Baptist Church was among those youngsters participating it the state Bible drill at Highview Baptist.
And M. R. Hall, Jeweler, was advertising gifts for Mother's Day. Did you get one?
May 1995
The Bullitt County Woman's Club Scholarship recipients for this year were Janel Richardson of North Bullitt, Derek Hall of Bullitt Central, and LeaAnn Burden of Bullitt East.
Louise Bischoff of the Hebron/Zoneton community reported that Joyce Bischoff had been awarded a plaque at Publishers for four years of perfect attendance.
Bullitt County Bank announced that Christopher Chad Floyd was to receive a $4000 scholarship to Campbellsville University. Chad, a student at Bullitt Central, is the son of Carroll and Betty Floyd.
Joshua Jackson, Corey Redmon, Johnna Wimsatt, Crystal Wilson, and Samantha Jones were school winners at Lebanon Junction Elementary in the Young Authors' competition.
Lois Simmons of the Pleasant Grove community reported that sisters Bonnie Waters and Karen Stel came to visit their parents, Mr. and Mrs. Arther Waters. Ruth Waters was still in the Green Meadow Home, and Mr. Waters reported that their home was almost repaired from the fire in January.
In the 1995 All-Bullitt County Boys Track Championship match, Bullitt Central easily won, outscoring both North and East combined.
For Central, Mike Clark won the 110 meter high hurdles, 100 meter dash, and 200 meter dash; Stephen Bartsch took the 1600 meter and 800 meter runs; Steve Blankenship finished first in the 400 meter dash; Jeremy Foley took 300 meter low hurdles; Dennis Holland the 3200 meter run, Chris Caudill the discus, and Barry James the triple jump. David Collins won the long jump and tied with Brad Stivers of North in the high jump. Jeremy Bible, Jason Close, David McDaniel, and Brian Woosley of Central won the 400 meter relay; Brad Stivers ,Greg Stout, Jason Stout, and Jason Sheppard of North took the 3200 meter relay; and Greg Stout, Brian Denton, Justin Morgan, and Jason Stout of North were victorious in the 1600 meter relay. And Willie Foster of East won the shot put.
And in the girls' match, North Bullitt easily won over the other two schools, totaling 103 1/2 points.
For North, Beth Hoffman, Kelly Vowels, Casey Murrell, and Angie Hoffman won the 3200 meter relay; Shelly Blake took the 100 meter low hurdles; Michelle Cannon won the 100 meter dash and the 200 meter dash; Cara Link, Shelly Blake, Rebecca Bean, and Michelle Cannon won the 800 meter relay; Angie Hoffman won the 1600 meter run; Cara Cimilluca, Angie Purvis, Jennifer Belcher, and Michelle Cannon took the 400 meter relay; Beth Hoffman won the 400 meter dash; Shelly Blake took the 300 meter low hurdles; Kelly Vowels won the 800 meter run and the 3200 meter run; and North won the 1600 meter relay with Rebecca Bean, Angie Hoffman, Beth Hoffman, and Casey Murrell. North also won the long jump (Misty Durall) and shot put (Christina Tuttle). Central's Casey Murrell took the high jump.
June 1995
The Bullitt County Chamber of Commerce honored Jan Teensma on his retirement as president of ALLTEL Kentucky. He and his wife Janet were pictured in a photo by John Roberts.
Mark Rogers was named the new Bullitt Central basketball coach. Jeff Pickett returned as Junior Varsity coach, and Shawn Pickett became the Freshman coach.
Holly Skidmore and Valerie Caple combined to win six events in the middle school county track meet. Holly won the 55 meter hurdles, the 800 meter run, and the high jump. Valerie won the 70, 100, and 200 meter dashes. Both ran for Bernheim Middle School.
Nikki Ridenour of Mt. Washington set a new shot put record.
Lois Simmons, the Pleasant Grove correspondent, reported that Mr. and Mrs. Bud Owen had a Memorial Day cook-out with guests Julia Armstrong, Ashley Davis, Kyle Davis, Nancy and Bob Gray, and Fern Lloyd.
Nick Raley joined Walter A. Sholar's staff as victim's advocate under a new state grant. Raley had been the Court Designated Worker for the juvenile division.
Stacey Coy, a sophomore nursing major from Mt. Washington, was pictured as part of the cheerleading squad for W.K.U.
Brian Brashear, a Mt. Washington Elementary student, received his first place award for the 1994 Conservation Poster Contest from Bob Harned.
Louise Bischoff was honored with a plaque from the Rock Creek Horse Club for her long time support. She began her riding career at the age of 50, and was now 86.
Jane Sanders, Beulah Beam, June Daugherty, and Alice Harris were all pictured in the paper regarding their work with the Red Cross.
George and Delores Valentine were pictured as George was honored for his four decades as an educator as he retired as school superintendent.
Misty Jo Newman was named Miss Bullitt County Fair Pageant. Lea Mattingly was fourth runner-up, Shannon Clark was third runner-up, and Dara Davenport was second runner-up. Michelle Kelly placed second in the contest.
Pleasant Grove Baptist Church was the scene of the celebration of the 50th wedding anniversary of Mr. and Mrs. Dumah Riggs.
When Charles Graham decided to retire, the Plenges and Korfhages decided it was time to sell their dairy herd. Graham had tended the herd for 18 years, and replacing him would be nearly impossible.
And Louise Bischoff of Hebron reported that Bernard Bud Oppel and Irvin Vittitow went fishing at Lake Malone and had quite a nice catch. Fish fry anyone?
July 1995
Several good friends retired from the school system in 1995. They included Jim Hatley, the school system's Technology Coordinator, Carol Richards, Assistant Superintendent of Administration and Finance, Cecil Mattingly, Director of Federal Programs, and Linda Remington, Bullitt East's librarian. Good people all!
Also retiring was Betty Lane who came to Shepherdsville High School as secretary about the same time I arrived there, still wet behind the ears. We worked together for all of those years, and the school was always a better place for her being there. Thanks Betty!
Melody Beverly was named Lioness of the Year for the second straight year in Mt. Washington, and Bill Breeden was named Lion of the Year for the second time; the first time coming in 1971.
In Shepherdsville, Sam Underwood was pictured passing the gavel to Lloyd Swann, the Lions Club's incoming president.
Miss Nannie Rayman celebrated her 100th birthday at a reception given for her by family and friends at the Bullitt Lick Baptist Church. A six-tiered cake baked by family friend Sharon Rexroat reflected the many historical events and occasions during Miss Nannie's lifetime.
Two couples, each celebrating 65 years of marriage, were pictured in the paper. They included Ezra and Nettie Rose (Whitehouse) Kays; and John and Eva Larence.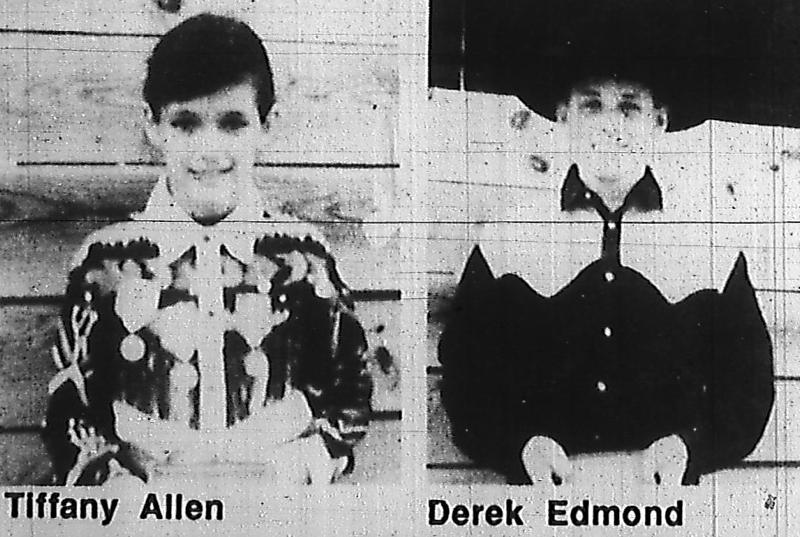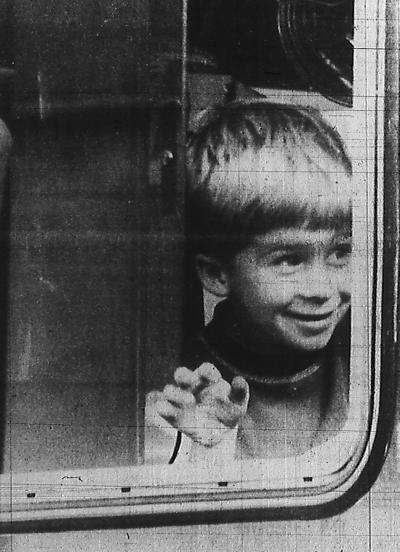 Adric Andrew Ridenour
A group of 16 men and women from churches throughout the area traveled to Tikhvin, Russia to spend two weeks building a church and sharing their faith. They included Ray Hayes, Libby and Terry Thomas, Eddie Reynolds, Jim Chinn, David Smith, Barbara Tarter, Ron and Mary Cox, Jeff Fuller, Darrell Lauer, Sturgess Leathers, Avis Mason, Marvin Proctor, Stewart Strickland, and Janet Tracy.
The Shepherdsville High School Class of 1945 held their 50th class reunion in 1995. Attending were Kathleen Mattingly Hartlage, Edith Woods Amos, Joyce Carter Gentry, Kathleen Brashear Giogio, Eva Lee Feambach, Sue Charles Wigginton Jones, Alma Ratliff Williams, John W. Lawton, Mary Evelyn Milam Cundiff, Louise Simpson McMahan, Francis Baugh Hardy, Mary Charles Smith Rogers, June Dallas Spence, Charles Feambach, James Bud Hardy, Dick Pope, Marilyn Maraman Lee, Virginia Williams Wolfe, Charles E. Brown, and Richard C. Hines.
Tiffany Allen and Derek Edmond were "High Point Scorers" at the State 4-H Horse Show at the Fair and Exposition Center.
Adric Andrew Ridenour, five-year-old son of Don and Peggy Ridenour was pictured waving to his friends from a Zoneton fire truck when the firefighters visited his day care center for a teaching day about fire safety. He sure looked happy!
Jessica Leigh Shelton of Bullitt East received a full scholarship to pursue a degree program at U. of L.'s Speed School or a teaching degree in the School of Education. She was a National Merit Finalist!
Five players from Mt. Washington, including Amber Davis, Jamie Wagner, Amanda Dixon, and sisters Lacie and Lea Warren, were part of the Louisville Hits-N-Misses who won the under-12 division of the USSSA Pepsi-Cola Youth Classic. Amanda was named the tournament's most valuable player!
And the folks at Peoples Bank of Bullitt County in Mt. Washington made sure everyone knew that it was Billy Hardy's 40th birthday with a big sign outside the bank. Let's see now, 40 + 20, hum... Happy Birthday Billy!
August 1995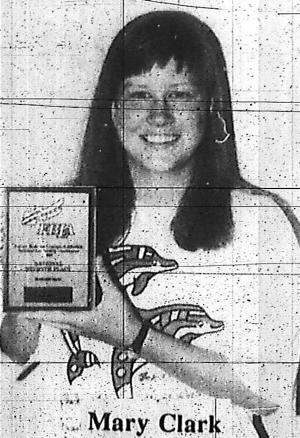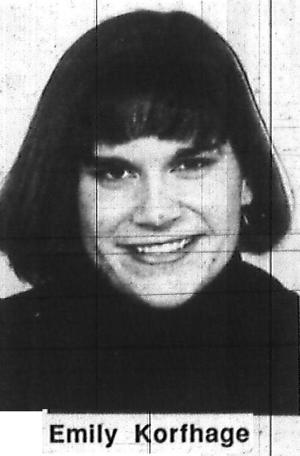 John Roberts wrote a feature on Rolene Wooldridge who owned Forest Hill Livery with her husband John, and who provided carriage rides in Shepherdsville and at Bernheim Forest.
Mary Clark of Bullitt Central, daughter of Eugene and Jean Clark of Shepherdsville, placed seventh in the nation at the Future Business Leaders of America National Leadership Conference in Orlando.
Nicholas Marsh, a magna cum laude graduate of Williams College, received an award for his essay in Afro-American Studies. He had since enrolled at Duke University law school. He was a son of Jim Marsh of Shepherdsville.
Emily Korfhage, daughter of Ted and Gayle Korfhage, and a graduate of Bullitt Central, began attending Transylvania on scholarship. While at Bullitt Central, she was captain of the speech and debate team, and a member of the Governor's Cabinet for the Kentucky Youth Assembly. She was also a Kentucky Governor's Scholar.
Charles and Faye McCubbins of Shepherdsville celebrated their golden wedding anniversary. Their children included Anna June Nix, Venita Nix, Keith McCubbins, Cindy Nation, Buster McCubbins, and Charles "Dickie" McCubbins.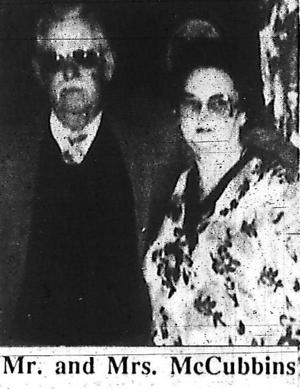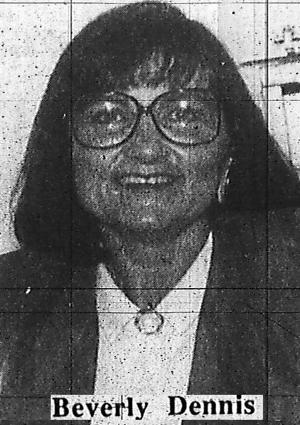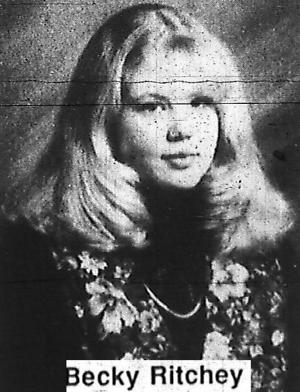 Beverly Dennis was appointed as the new principal at the Bullitt County Technical Center, replacing Jon Zekausky.
Becky Ritchey joined the YMCA Leaders Club in 1991, and was president in 1993-94. She was honored for her work by the YMCA, and was hired as a junior counselor at Camp Piomingo.
The Delaney family brought home 16 medals from the Bluegrass State Games. John and Debbie Delaney each earned five medals, as did their 13-year-old daughter Kristen; and Hollie, a 10-year-old, earned the other one. All of their medals were in canoeing events, something the family enjoyed with yearly trips to Alaska to canoe on rivers there.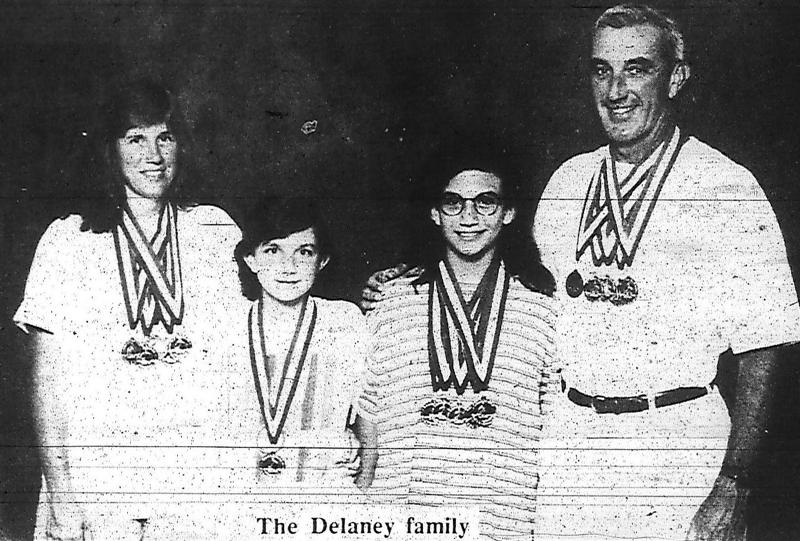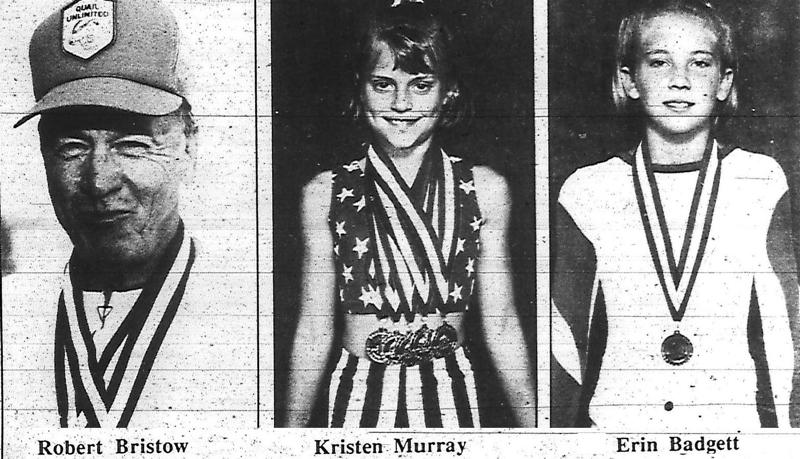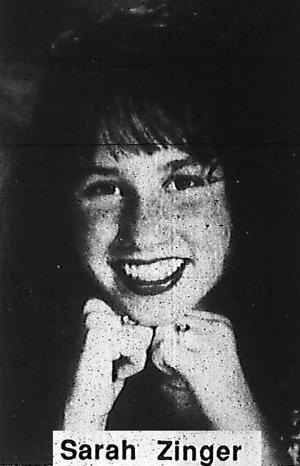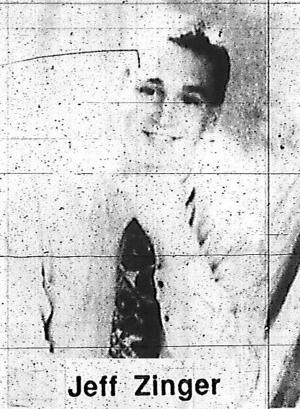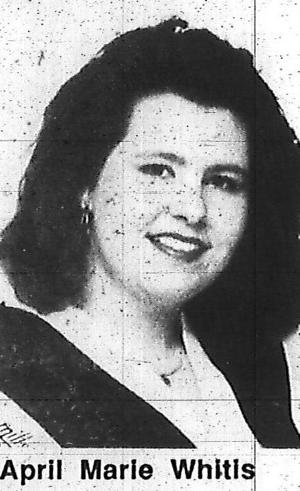 Other medal winners included Kristen Murray of Mt. Washington who won first place in the vault, floor, and all-around events. Other gymnastics medal winners were Paige Barnsfather and Erin Badgett. Additionally, Robert Bristow of Mt. Washington took the gold in the Master's division in Skeet Shooting; Ryan Eatherly of Shepherdsville placed first in the 50 meter backstroke and 100 meter freestyle; Brenda Metcalf of Brooks placed first in women's open table tennis; and Keith Morris of Shepherdsville took a gold in archery.
Sarah and Jeff Zinger, both graduates of North Bullitt High School, were pictured in the paper for receiving school honors. Sarah received the Presidential Scholarship at Spalding University, and Jeff was named to the Dean's List at the University of Kentucky. Their parents were Marcia and Steven Zinger of Hillview.
Also, April Marie Whitis was on the Dean's List at the University of Kentucky.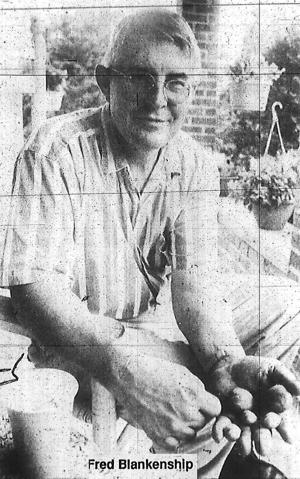 John Clan of ALLTEL and Bill Downs, Randy Nalley, Bobby Hill, Joe Osborne, and John Newton of Salt River RECC were kept busy repairing and replacing power lines and poles following a week of severe thunderstorms.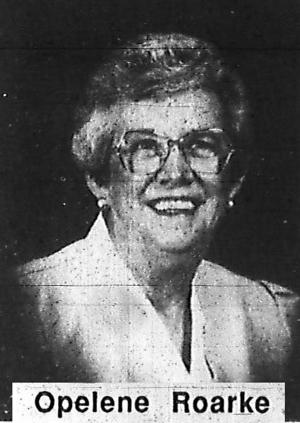 Fred Blankenship enjoyed being an official judge for the nut category at the State Fair. He enjoyed even more growing nut trees and grafting seedlings to get new varieties. His favorite seemed to be the hican, a cross between a hickory and a pecan.
When school started in the Fall, there would be one less "Dude" riding bus 16. Opelene "Dude" Roarke (wonder how she got that nickname) retired after driving school buses for 31 years. Before driving that special education bus for six years, she drove the larger buses in the northern part of the county.
And forgive me as I take a moment to recall the passing of a dear lady, Marjorie Jean Casey, a retired Bullitt County teacher at Roby and Bullitt Lick, and my mother.
September 1995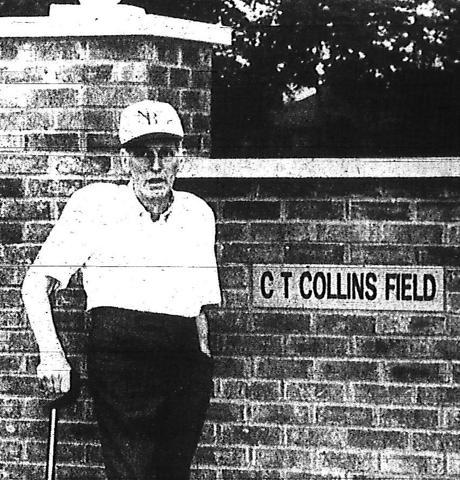 C. T. "Tom" Collins was honored by having North Bullitt's football field named in his honor with the dedication of a large monument. In his career in Bullitt County, Tom taught and was basketball coach at Shepherdsville High School, was later principal of Hebron Middle School, and was the first principal of North Bullitt High School. Tom's battle with cancer would end nearly two years later.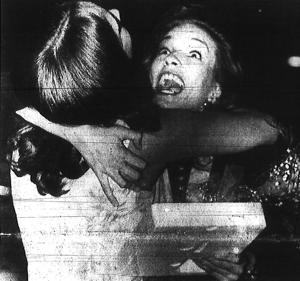 Junior Miss Julia Sander
Sixteen young ladies participated in the Junior Miss Scholarship Program sponsored by the Bullitt County Woman's Club.
They included Leslie Baker, Samantha Barnsfather, Aimee Beth Bowling, Melissa Louise Bowman, Amy Hettinger, Jaclyn Michelle Lord, Bethany Jean Masden, Stephanie Melcher, Casey Jo Murrell, Jessica Nichols, Stacia Payton, Sarah Pendleton, Julia Sander, DeLenna Spears, Tara Webb, and Nikki Willis.
As awards were announced, Amy Hettinger was named the third runner-up, followed by Nichole Marie Willis as second runner-up, and Aimee Beth Bowling as first runner-up. Then Julia Sander was named the 1996 Bullitt County Junior Miss. Julia was awarded a one thousand dollar cash scholarship plus a variety of scholarship opportunities at a number of universities.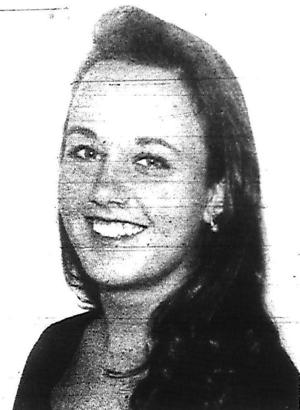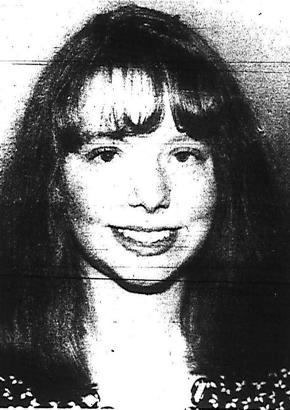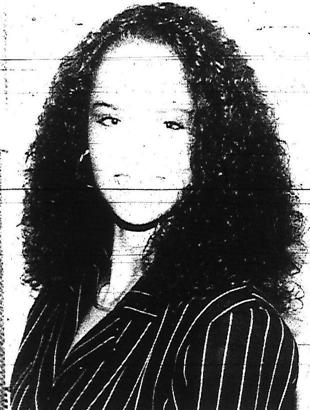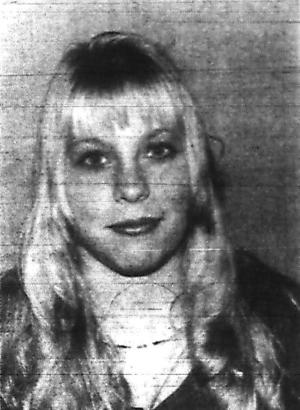 Leslie Baker, Samantha Barnsfather, Aimee Beth Bowling, and Melissa Louise Bowman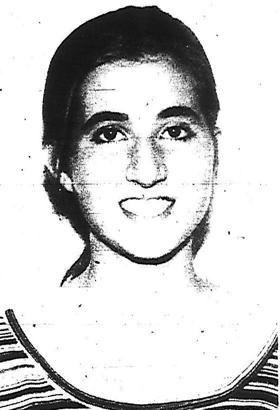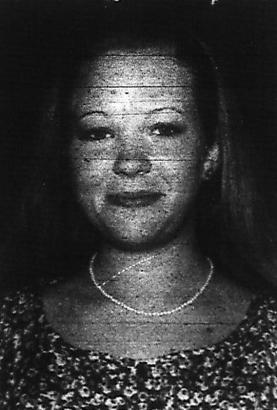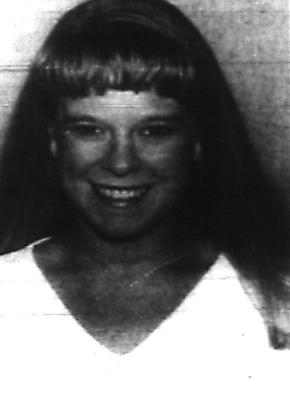 Amy Hettinger, Jaclyn Michelle Lord, Bethany Jean Masden, and Stephanie Melcher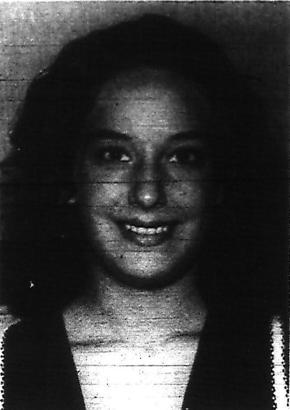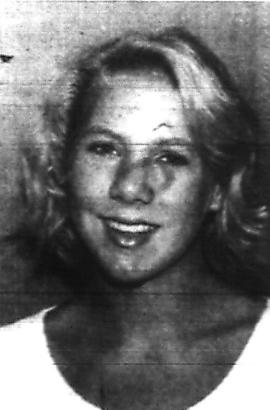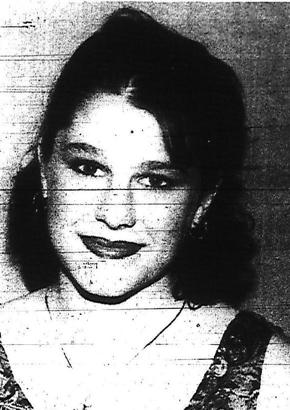 Casey Jo Murrell, Jessica Nichols, Stacia Payton, and Sarah Pendleton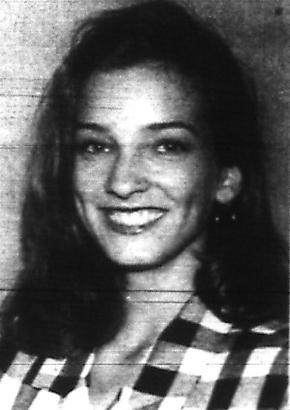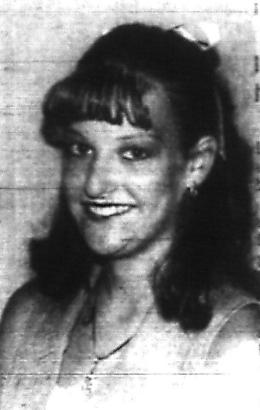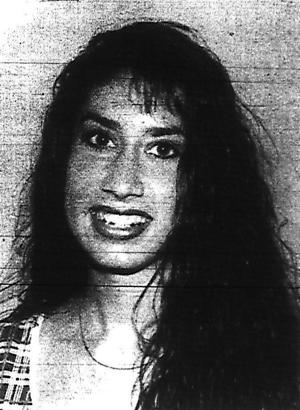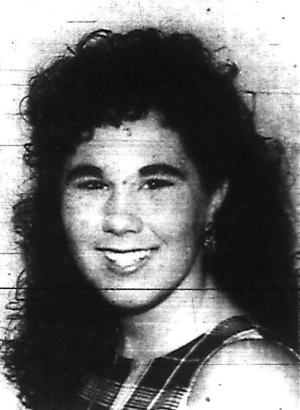 Julia Sander, DeLenna Spears, Tara Webb, and Nikki Willis
Principal Debbie Atherton was happy to get school open at Mt. Washington Middle after a delay while the finishing touches were put on the school remodeling.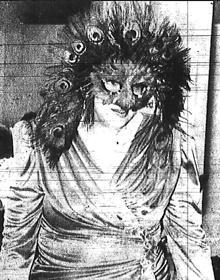 Janis Gentry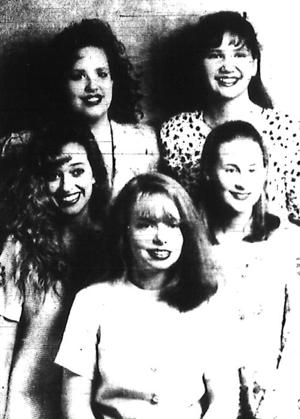 Girl Scouts
Red Cross Service Center Manager Janis Gentry was pictured, complete with mask, at the Mardi Gras style party and recognition dinner where Wayne Swindle was recognized as Volunteer of the Year.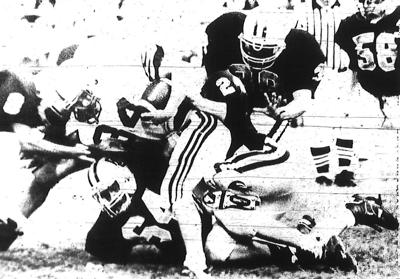 Mike Barnes won a $50 savings bond in the summer reading program at the Lebanon Junction library.
Bullitt Central's Nathan Fischer, Mike Cook, and Jack McGuire were pictured on defense in a football game.
Lois Simmons of Pleasant Grove reported that the Journeymen from the Pleasant Grove Church were singing in Bowling Green. Raise your hand if you have ever heard this fine quartet sing.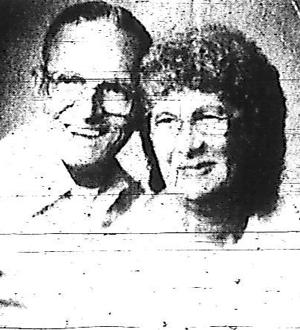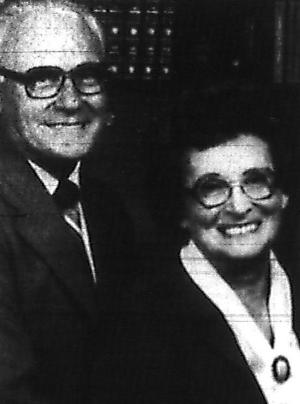 Nalleys & Stottmans
Five Mt. Washington girls earned the Girl Scout Gold Awards. They included Samantha Barnsfather, Farrah Cook, Beth Ingram, April May, and Jesse Shelton. They also each received a Governor's Youth Merit Award from First Lady Libby Jones.
J. T. and Lena (Weathers) Nalley of Hillview celebrated their 50th wedding anniversary.
And Jack and Dorothea (Williams) Stottman celebrated their 50th wedding anniversary. Jack had retired from duPont, and Dorothea from the Bullitt County Library. Their two daughters were Sharon Ulrich and Brenda Quillen.
October 1995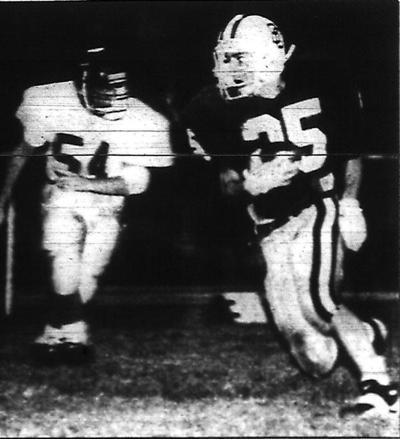 Ronnie Winter carrying the ball.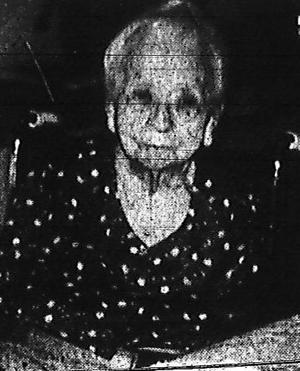 Edna Ormes Ice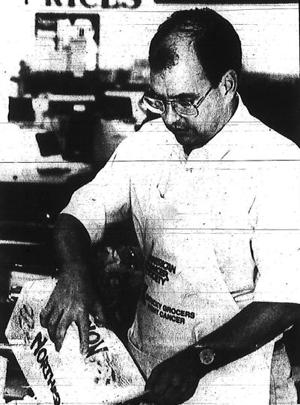 John Laum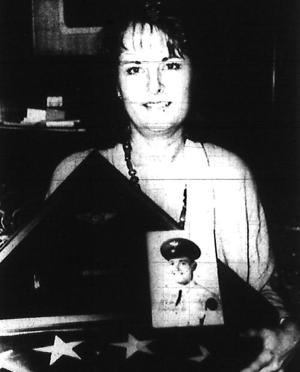 Sarah Routt displays
Eldon's picture and flag.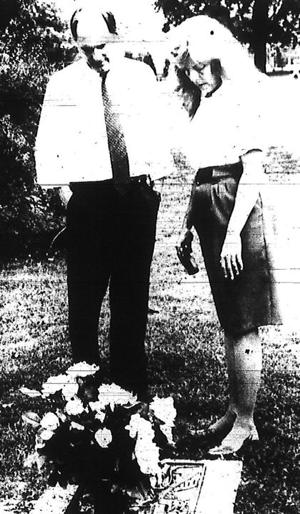 Gov. Jones with Judy Allgood-Hodge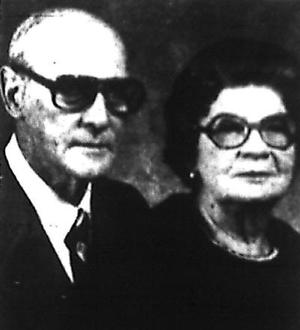 The McCubbins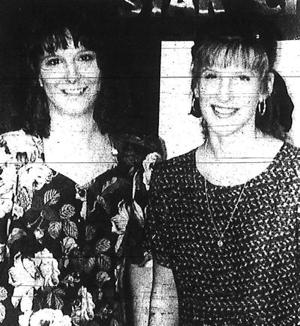 Sweat & Driskell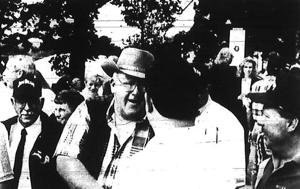 Booker Noe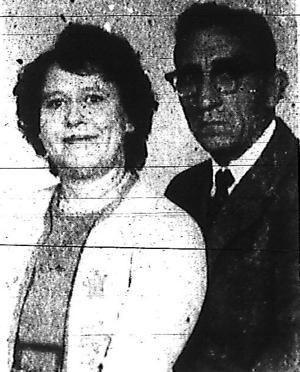 Mr. & Mrs. Thomas
Scott Etherton scored Bullitt Central's first touchdown in their 33-7 victory over Moore. Others scoring for the Cougars were Ronnie Winter, Mike Cook, and Scott McGuire. Nathan Fischer kicked the extra points for the Cougars.
Governor Brereton Jones officially opened the Harold Bradley Allgood Memorial Highway as a bypass for Mt. Washington. He shared the stage with County Judge John Harper; and later joined Judy Allgood-Hodge in a visit to the grave of the firefighter for whom the bypass is named.
Jones also presented Judge Harper with a check for the startup of the Brooks Road extension.
Tom Barr reported on the repairs needed for the aging Bullitt County courthouse. David Juergens, a committee member, along with Butch Sweat and Rip Carter, called the condition of the old courthouse a disgrace..
Tom Barr lamented the loss of John Roberts on the newspaper staff. Roberts had taken the position of public relations director and grant writer for the school system.
Edna Ormes Ice celebrated her 100th birthday. She was born in Bullitt County and attended the Zion school near Lebanon Junction. Edna married Leslie Ice, and they lived on a farm in L.J. for years.
Mr. and Mrs. J. M. "Pete" McCubbins celebrated their 64th anniversary.
Louise Bischoff wrote that Pat Higdon had recent visitors, including her son, Scott Anderson; that Mr. and Mrs. Walter Crumbacker celebrated their 58th anniversary; and that Bernard Bischoff, Irvine Vittow, and Bud Oppel caught a nice mess of fish at Taylorsville.
District Judge John Laun was one of many community leaders who volunteered to bag groceries during the fundraiser for the American Cancer Society.
Lanie Sweat and Lori Driskell, former students at St. Benedict, returned to the school as teachers.
Leslie Rowland returned from a three-week trip to Norway, and almost immediately joined Nanette Feeback on a trip to Switzerland. Both trips were arranged through the Girl Scouts.
St. Aloysius students marched down Main Street carrying "thank you" signs for the community's financial support in raising funds to air condition their school.
Air Force Second Lieutenant Eldon Routt was aboard a B-24 D Liberator that crashed in Australia in February 1945. The crash site remained hidden in a forest for 50 years, before being discovered in 1995. Sarah Routt of Mt. Washington received the news of her uncle's remains discovery in August.
Hundreds of people gathered at Clermont to help the Jim Beam Distillery celebrate its 200th birthday. Booker Noe was pictured greeting guests.
Stefan Brosick was set to spend his second academic excursion in Austria where he would study in classes taught in the German language.
Lois Simmons of Pleasant Grove expressed sympathy to the family of Mrs. Geneva Gentry who passed in October. Mrs. Gentry played the piano and organ at Pleasant Grove for 62 years.
Mr. and Mrs. Reco Thomas of Mt. Washington celebrated their 50th anniversary.
Also celebrating 50 years of marriage were William C. and Geraldine (Simpson) Bleemel who were married at her parents' home in 1945.
Ray Ferguson and Richard Allison were pictured paddling down Salt River.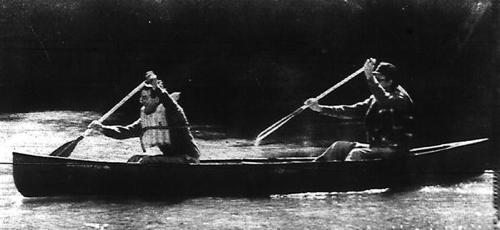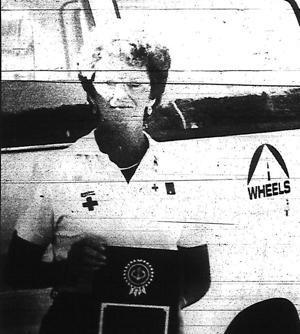 And Sue Coy was honored as the Kentucky Public Transit Association driver of the year. She had been driving the WHEELS van in Bullitt County for fifteen years.
November 1995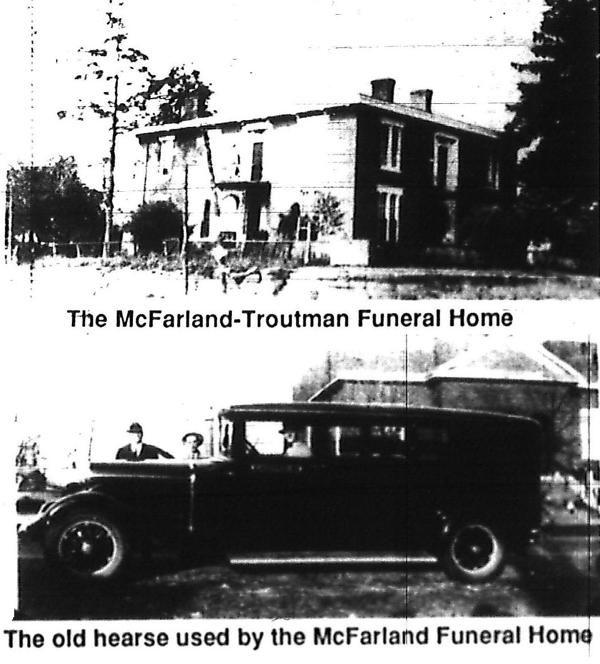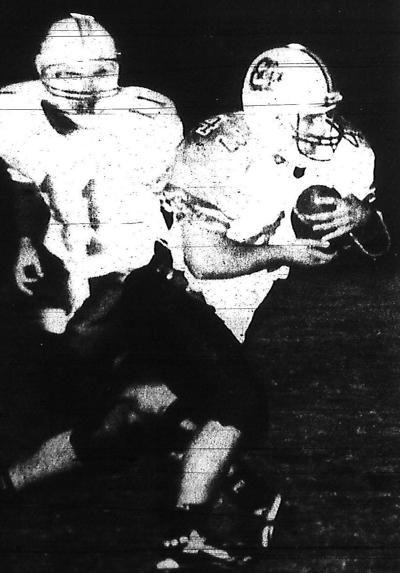 Jason Calvert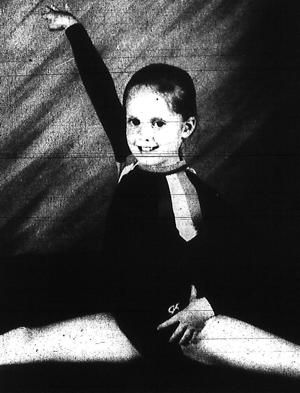 Amber Walters
The Bullitt County Genealogy Society announced that its history book was nearly complete, and they were taking orders. To highlight it, the newspaper article featured one of its family and business histories: the McFarland-Troutman Funeral Home. Did you order your copy a quarter century ago?
Mike Farner wrote about Jason Calvert, the Bullitt East running back who was then leading the state in rushing yards, and had already broken the school season and career rushing records.
Young Amber Walters, daughter of Joe and Vickie Walters, was quite a gymnast. At the Derby City Gymnastics competition she placed first in balance beam and floor, fourth in vault, and fifth in uneven bars for an overall first place finish.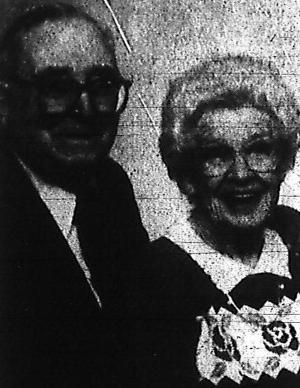 66 Years!
J. M. and Naomi (Bishop) Thomas of Kings Church Road celebrated their 66th wedding anniversary. They had lived in that community since 1944.
In the Pleasant Grove newsletter, we learned that Dorothy Armstong and Willie Mae Simmons delivered fruit to the shut-ins from their Sunday School class; that Mrs. Lois Wilkin's son took her out to the Banquet Table for her birthday (remember that place?); and that a group of friends took Mrs. Evelyn Owen to Ponderosa for her birthday. Also, Lois Simmons was pleased that the area had had a beautiful fall with leaves and mums before the first snow fell.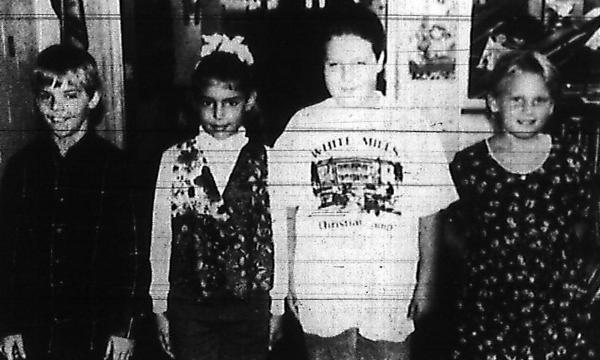 Pumpkin Carvers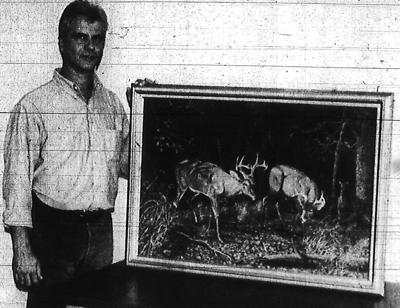 Fred Perry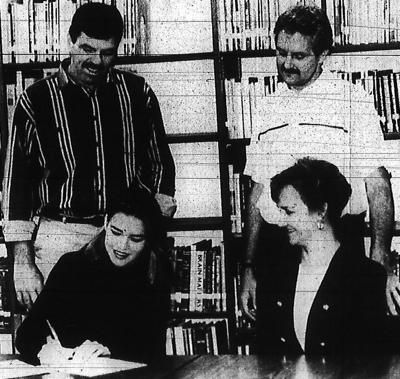 Allison Bass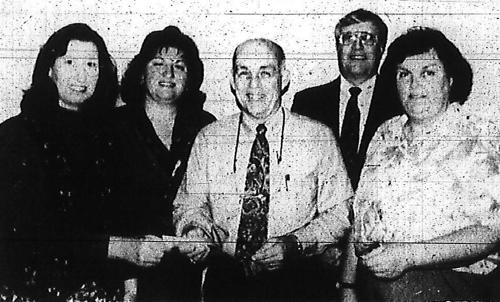 Womans Club Check
Cedar Grove School's Mary Lou Neel was selected as Bullitt County's elementary teacher of the year.
Mt. Washington Elementary fourth graders visited the Pumpkin Patch and then held a decorating contest at the school. Philip Johnson's Cinderella Carriage Pumpkin won first place. Kristen Williams placed second with her Angel Pumpkin. Placing third and fourth were Bobby Carney and Jessica Newton.
Fred Perry combined his love for the outdoors and for art by painting wildlife scenes. The Brooks resident was pictured with one of his creations.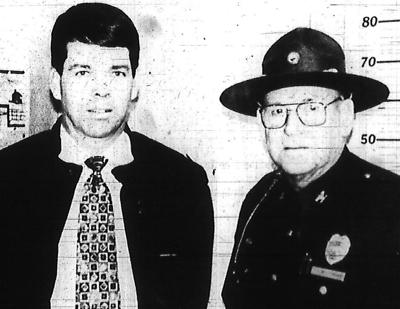 Police Chaplain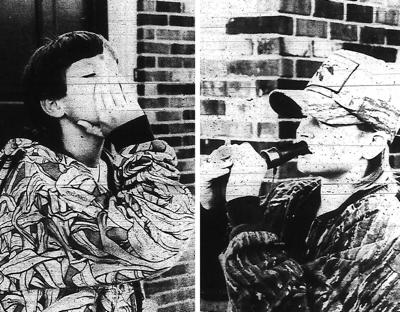 Karl and Travis
Tom Hughes, pastor of the Lebanon Junction First Baptist Church, became that community's first police force chaplain. He was pictured with Bob Brian, the police chief.
After years of being at the corner of Buckman Street and Highway 44, the Bullitt Lodge 155 F. & A. M. moved to new quarters on what was known as the Old Gap-N-Knob Road. (Raise your hand if you knew that this was the original name of High School Drive.)
Alison Bass signed her letter of intent to attend the University of Louisville as her parents and Bullitt East Coach Jerry Troutman looked on.
Karl Lausman Jr. and his brother Travis traveled to the World Goose Calling Championships in Maryland and came back champions. Thirteen year old Travis finished third, and fourteen year old Karl topped that, finishing first!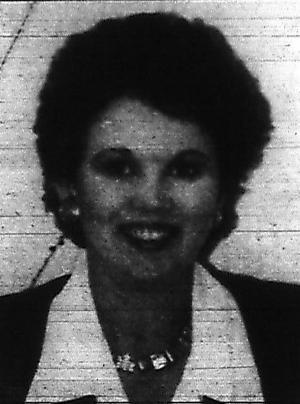 Bonita Franklin
Kathleen Kallaher and Linda Rayhill of the Bullitt County Woman's Club presented Riverview principal Ray Smith with a contribution of funds collected at their annual homecoming parade chili supper. Included in the presentation were Leon Remington, Joyce Crigler, and Carolyn Dennison.
She taught for six years at Mt. Washington Middle School, and was a counselor for six years at Maryville Elementary, before becoming assistant principal at Hebron Middle School. Then in 1995 she became the Brooks Elementary principal. By now you probably know I am talking about Bonita Franklin who would take on additional roles before retiring as the principal of Eastside Middle School. A fine lady, and a good friend; she has touched the lives of a lot of Bullitt County children!
December 1995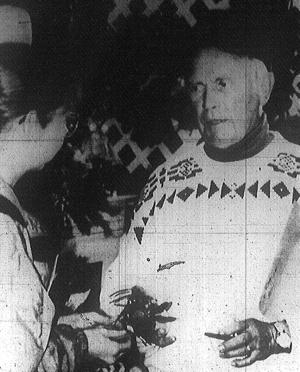 Fred Wiche
Did you get Fred Wiche's autograph at the Country Corner Greenhouse during their Open House?
Did you see the drama, The Brothers Menaechmus, performed by the Bullitt Central drama students under the direction of their teacher, Peter Rivard? Was it as funny as they say?
What do these people have in common: Julie Edmonds, Heather Barrow, Gregory Brotzge, Raymond Buckler, Tyra Butler, Angelica Cisneros, April Daly, Ellen Dugger, Wendy Dugger, Mary Glass, Julie Graepel, Shauna Hadley, Amanda Harris, Andrew Hawkins, Courtney Hedges, Timothy Horine, Tonya Hutchinson, Amanda Jesse, Bryan Jones, Matthew Kulmer, Jeremy Leffler, Beth McGaha, Kerry O'Bryan, Shane O'Bryan, Desirae P'Pool, Matthew Rhea, Dana Reiber, Bobby Sageser, Benji Simmons, Melissa Spalding, Amanda Thompson, Wayne White, Scott White, Isthmie Whorley, Justin Howlett, and Amie Rheaume? Does it help that Mr. Stites was in charge?

McIntosh / McClure / Croan
Bruner and Rubylean (Donaldson) McIntosh celebrated their 50th wedding anniversary. So did Robert and Erman (Booth) McClure, and Charles and Irene Croan.
Were you part of the Pleasant Grove group on the Toby Tour Bus tour to Nashville to see the Christmas lights? How about the 95th birthday party for Clara Simmons? I hear there were about fifty people there to celebrate with her.
Jewell Jackson of Hebron Middle School was named Bullitt County Middle School Teacher of the Year.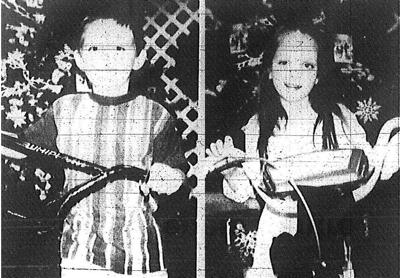 Cox and Triplett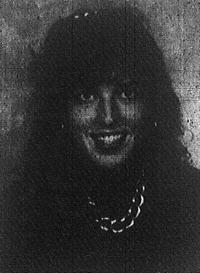 Sheila Collins
Derek Cox and Brooke Triplett were the happy winners of new bikes at the Christmas celebration at Shepherdsville Square.
Bobby and Wanda Collins were happy to announce the graduation of their daughter Sheila who received her masters of divinity degree from the Southern Baptist Theological Seminary.
Aaron Mattingly portrayed Joseph, Meghan Metcalf portrayed Mary, and baby Jesus was Jonathan Snider, son of Kevin and Tammy Snider of Lebanon Junction, in the St. Benedict School Christmas program.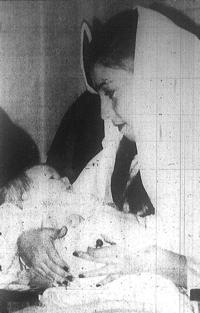 St. Benedict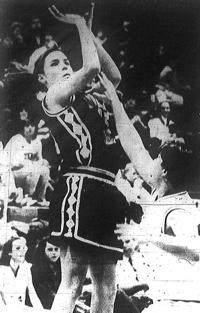 Allison Bass
And Alison Bass was pictured putting up two points against Nelson County.
---
Copyright 2020 by Charles Hartley, Shepherdsville KY. All rights are reserved. No part of the content of this page may be included in any format in any place without the written permission of the copyright holder.
---