It Happened in 1993
Over the years, Charles Hartley has shared glimpses of what was being printed in The Pioneer News in different months and years. This page includes what was taken from the January through October issues of 1993.
---
January 1993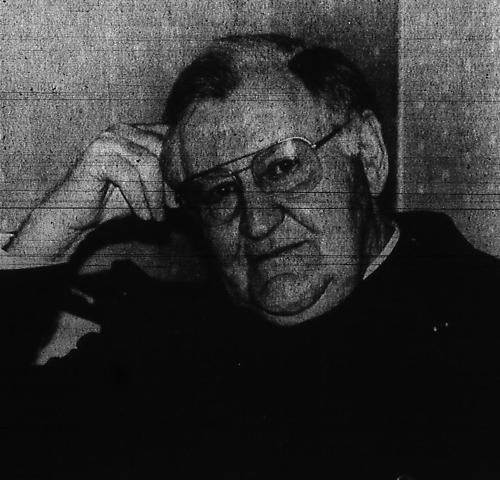 Rev. Joseph Hamilton
Rev. Joseph Hamilton, pastor of St. Francis Xavier Church in Mt. Washington, retired after spending nine years at the church. Rev. Hamilton suffered a heart attack in his second year at the church, and was the recipient of a transplanted heart in August 1985.
In his interview with Carl Curtsinger, Rev. Hamilton said that he was retiring mostly for health reasons. He said, "I've taken enough medicine to kill two horses and a mule."
He would continue to be active for several years, before passing away in April 2003.
In the B.C. Invitational, North Bullitt defeated Warren East by 3 with Rick Szczapinski scoring 18 and Jeff Larison adding 16.
In their semifinal game against Fren Creek, it took three overtimes for Fern Creek to come out on top 98-96. Both Szcapinski with 35, and Larison with 20 fouled out in the overtimes.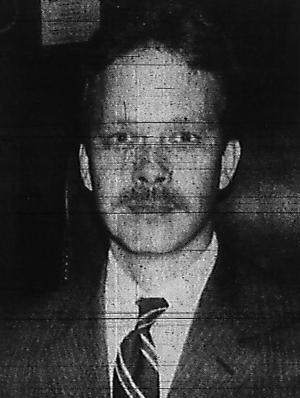 Walt Sholar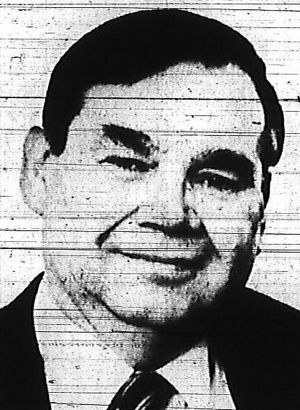 John Harper
Then Bullitt Central ran past McCreary Central by 23 with Jason Post scoring 29 points, Bryan Bates adding 20, and Jimmy Westwood scoring 18. Westwood was the team's leading scorer with 21 in B.C.'s semifinal loss to DeSales.
In the consolation game, B.C. defeated North 86-73 with Post leading the B. C. scoring with 26, and Szczapinski scoring 27 for North.
With election time fast approaching, several folks were filing to run for office. Walter A. Sholar filed for re-election as country attorney; incumbent Glenn Armstrong and John Harper filed for County Judge; Nina Mooney sought re-election as county clerk, and Ralph Bleemel filed for his third term as jailer.
The Peoples Bank of Bullitt County added three members to its Board of Directors. Bob McDade, Billy Hardy, and Eddie Stout joined Joe Barger, Bill Dawson, Bill Hardy, Mary Murray, Billy Howard Smith, and Burks Williams on the board.
In Pleasant Grove news, Lois Simmons reported that Mr. and Mrs. Mack McAfee made several visits, taking a fruit basket to Mrs. Frances Cox, and visiting both Rodney Grant and Clifford Foster at the hospital. She also reported that Shirley Proctor had retired from work in Michigan and planned to return to Bullitt County in the summer to live.
Louise Bischoff of Hebron/Zoneton reported that Lucille Bain and Georgie Sadler spent New Year's Eve aboard the West Virginia Belle River Boat. They enjoyed a prime rib dinner, followed by an evening of dancing. According to Louise, Georgie danced with Berry Bear.
And Katina Chesser was excited to learn that she had been accepted at West Point, the prestigious New York military academy. She expressed gratitude to Sgt. Rishor and Major Riggins of the Bullitt Central JROTC program for their support and training.
During her time at Bullitt Central, Katina excelled in both academics and athletics where she ran the distance races in track and cross country.
Four years later, The Courier-Journal ran an article on the Chesser family, highlighting Katina's graduation from West Point, and sharing the story of Larry and Judy Chesser, and the home they made for two adopted children, Katina and her sister Raina; a delightful story of two remarkable young ladies, and their equally remarkable parents.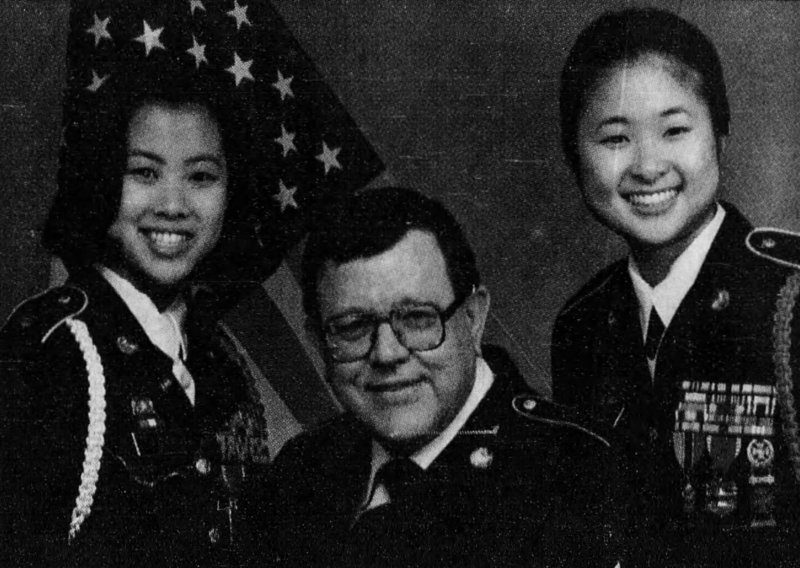 Raina (left) and Katina with their mentor, Master Sgt. Patrick Rishor
February 1993
Two Bullitt County students at Morehead University had leading roles in a performance of the Elizabethan classic "Volpone." They were Larry W. Coy, Jr., son of Larry and Thelma Coy, and Derek Scott Mudd, son of David and Marilyn Mudd of Lebanon Junction.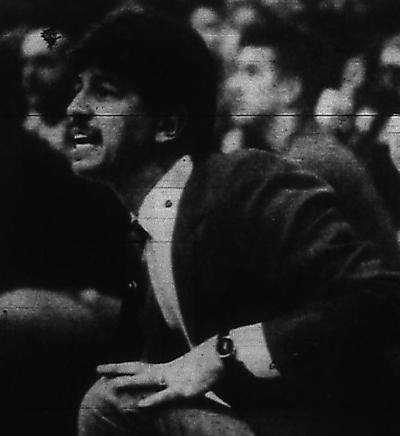 Bob Blackburn
Patrick Piazza was promoted to plant manager of the Hubers plant of Kentucky Solite.
Hillview Mayor Richard Terry, Council Member Bud Eadens, Police Chief Jim Perry, City Clerk Blenda Weber, and Bud White of the Chamber of Commerce were present for the official ribbon cutting for the opening of the Waffle House at Brooks. Bet they ate too!

Andrea Franklin
Bob Blackburn, Bullitt East basketball coach had his team undefeated in district play following an 82-69 victory over Bullitt Central. East scoring was led by Kerry Hollifield's 30, and Mike Sims' 15 points. Jimmy Westwood led Central with 24 points.
Meanwhile, the Lady Cougars pulled off an upset of the Lady Chargers, winning 44-43 before a home crowd. They were led by Tonya Rhoades' 14 points, and Andrea Franklin's 10. Monica Reed led East with 11 points.
Three days later, poor free throw shooting cost Central in a 62-61 loss to Nelson County. The Lady Cougars did shoot well from the field, with Andrea Franklin leading the way with 29 points.
Old Mill Elementary students participated in Geography Bee competitions by classrooms with the following classroom winners: Holly Hensley, Jacob Lynch, Jake Mayfield, Matthew Smith, Casey Whitley, Chad Thompson, Jason Cope, Matt Thompson, Jamie Sacra, Josh Lewis, Hannah Cunningham, Eric Porter, Alan Sharp, Jason Mersmann, Kristin Hardesty, and Gabe Hodges. Gabe was the school winner, and Kristin came in second.
A Golden Anniversary party was held for Jim and Myrtle Holthouser by their daughter and son-in-law, Donna and Keith Smith. There were actually two parties, as the second one was held at the Country Music Barn the next evening, organized by C. R. Wilson.
A bunch of people showed up to wish Paralee Armstrong a happy 84th birthday according to Lois Simmons of Pleasant Grove.
Lois also mentioned that Ethel Proctor, Elaine Wilson, J. B. and Juanita Proctor helped Fern Lloyd get her groceries in, as Fern was not feeling well.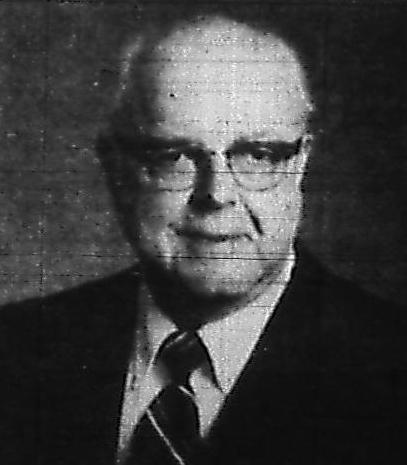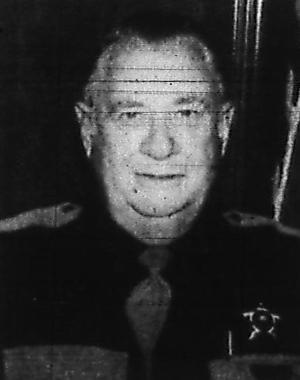 Adrian Jones / Shot Dooley
Out at Nichols School, the honor roll included Kevin Duvall, a fifth graders with all A's, and the following students on the A-B honor roll: Ellie Allgeier, Roseanna Heath, Adam Mitchell, Greg Perkins, Joshua Embry, Justin Perkins, Michael Adams, and Adam Jeffries.
Lloyd "Shot" Dooley and Adrain Jones were among the politicians throwing their hats in the ring for another go-around. Dooley wanted to be sheriff again, and Jones was trying for the Shepherdsville mayor's seat one more time.
Susan Spalding, social worker for the Day Treatment Center, was named School Social Worker of the Year by her peers in the Kentucky Association of School Social Work.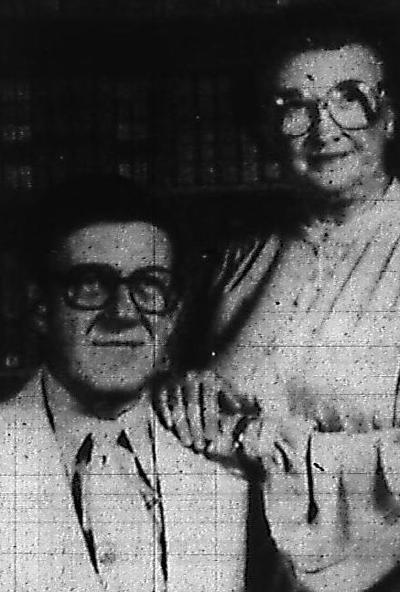 Stanford and Myrtle Harris
The University of Kentucky Dean's List included the following Bullitt County students: Kelley Lynn Coy, Jason Lee Giardina, Raymond A. Hodges, Kimberly Renee Kelly, Micheline E. Schott, and James Darrell Vincent.
Stanford and Myrtle Ruth (Stansbury) Harris celebrated their 50th wedding anniversary with a reception hosted by their daughter, Donna Stout.
And just imagine a chance meeting between two first-cousins who hadn't seen each other in over fifty years. That's what happened when Cecilia Jaudon and her husband Robert stopped in at the Pioneer Village Community Center to ask where they could get their car registered, since they had just moved here from Florida.
At the same time, Lucille Simmons arrived there to give Carmine Bertolo a ride home.
Lucille and Cecilia stuck up a conversation, and soon discovered their relationship. They had both attended the same school in Bowling Green, and Lucille's mother and Cecilia's father were brother and sister. Imagine that!
March 1993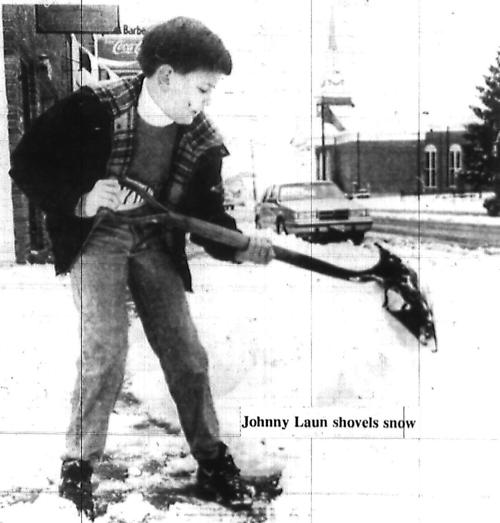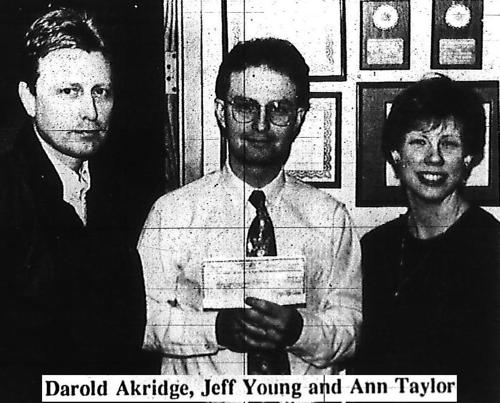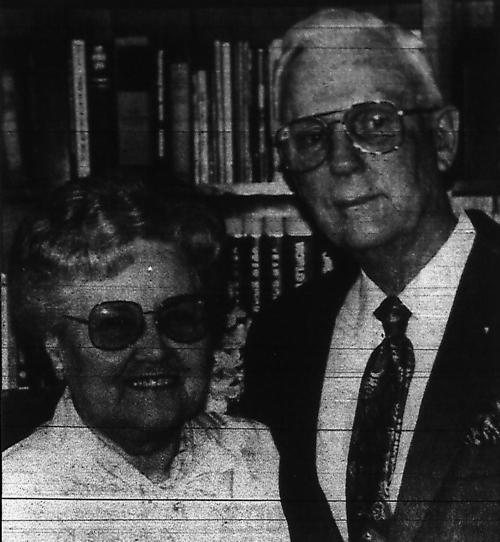 The Clarks
After a late snow, young Johnny Laun was pictured shoveling snow off a Buckman Street sidewalk.
The Bullitt East Lady Chargers captured their seventh victory in eight games, defeating Oldham County 75-61 behind Alison Bass's 32 points. Kristy Hardman added 12, and Monica Reed 13 in support. The team played again the next evening against Jeffersontown, winning 59-55. Charger scoring included Bass with 14, Carrie Johnson and Michelle Simms with 11 each, and Hardman with 9. This improved East's record to 23-4 on the season.
Later in the month Bullitt East's boys' team won the 29th district tournament, defeating Bullitt Central 86-68. East was led in scoring by Kerry Hollifield with 24, followed by Eddie Hunt with 17, Mike Sims with 13, and Scott Collins with 10. Central scoring was balanced, with Bryan Bates collecting 17 points, Jimmy Westwood and Jason Post had 16 each, and Craig Shuffitt adding 12.
Coach Bill Schott of the Cougars announced his retirement after 17 years at the head of the Bullitt Central program.
Meanwhile the Lady Chargers continued their winning ways by defeating North Bullitt 66-36 to take the district title. Monica Reed led East's scoring with 20, while Kristy Hardman and Alison Bass each collected 14. North was led in scoring by Trudi Beard with 15.
Darold Akridge, Jeff Young, and Ann Taylor of the Bullitt County Extension Office were pictured along with an article about radon detection.
Milton and Mary Clark celebrated fifty years of marriage on March the eighth. They went to school together in Mt. Washington, but did not get married until he was serving in the Coast Guard in Seattle. She retired from teaching in the Bullitt County schools in 1983, and he retired from teaching carpentry at the Elizabethtown vocational school two years later.
Gerald Tamme was appointed mayor of Lebanon Junction following the resignation of Gene Bryan. Tamme had been mayor of L.J. from 1972 until 1989.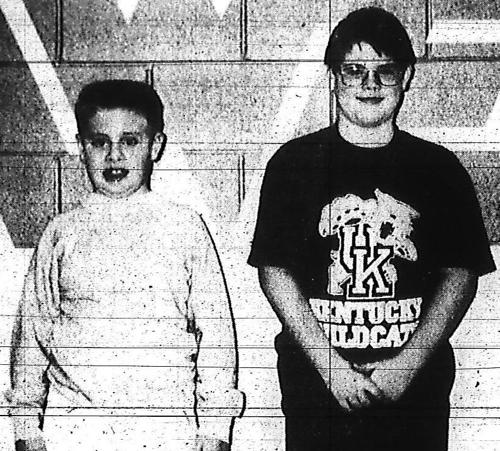 Jason Thompson and T. J. Thomas were pictured in the paper as winners in the spelling bee at Mt. Washington Elementary School.
And Jerry and Pauline Hawkins rescued B.J. after a vicious storm, and later found that he imitated the telephone ring very well. You see, B.J. was a Bluejay who had just hatched out of his egg when the nest was knocked to the ground. Jerry found him and together they cared for him as he grew up. B.J.'s telephone ring imitations fooled a lot of folks it seems.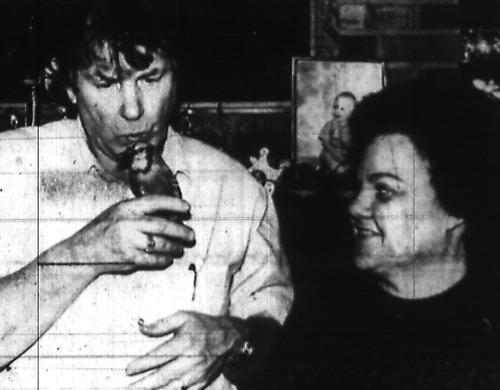 April 1993
The Jim Claypool Conservation Essay winners by school were Mark Walls (Bullitt Lick), Teia Keller (Mt. Washington Elementary), Tamatha Griffin (Bullitt Central), Tany Kelley Ortenzi (North Bullitt), Erin Wilkins (Hebron), Bradley L. Haynes (Mt. Washington Middle), Amanda Douglas (Shepherdsville), and Courtney Lucille "Cory" McGuire (St. Benedict) whose essay titled "Family Trees" was the district winner.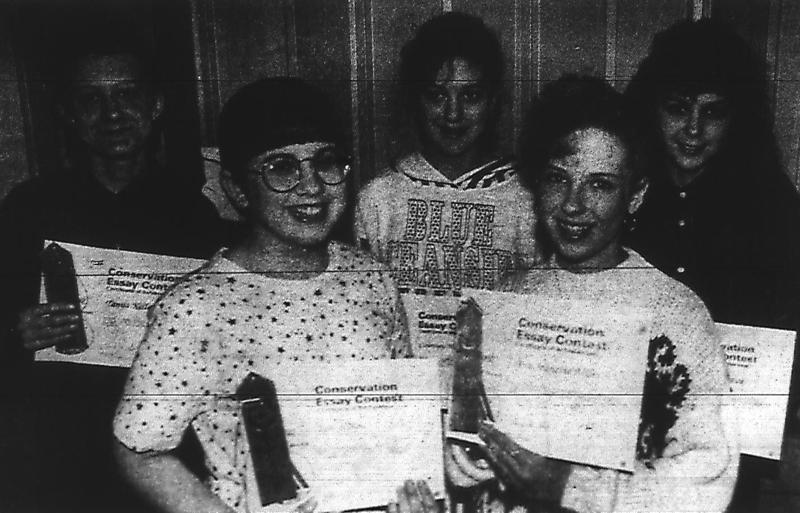 Essay Contest Winners
The school winners in the poster contest were Kevin Duvall (Nichols), Wes Krebs (Shepherdsville), David Logsdon (Maryville), Jeremy Allen Ratcliff (Roby), Jessica Hudson, (Lebanon Junction), Patrick Spencer Deeley (St. Aloysius), Stephanie Burden (Overdale), Joshua Lakes (Hebron), Erika Ingwersen (Cedar Grove), Crystal Sanders (Old Mill), and Jackie Cambron (Mt. Washington Elementary), whose poster placed first in the district, and in Area 4 which included 9 counties.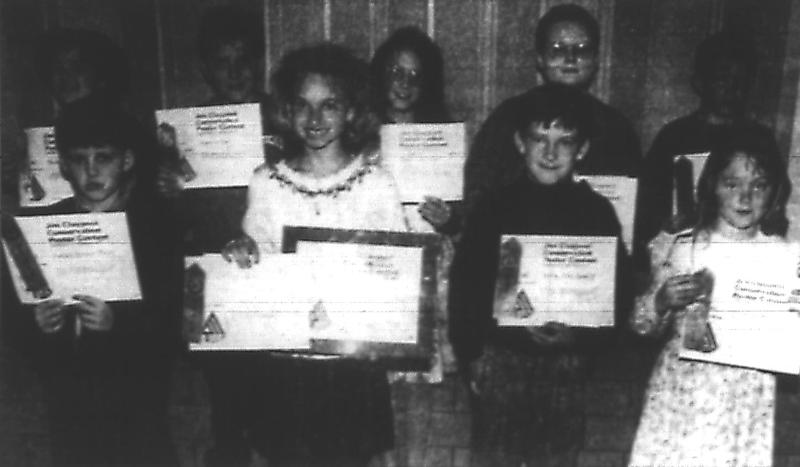 Poster Contest Winners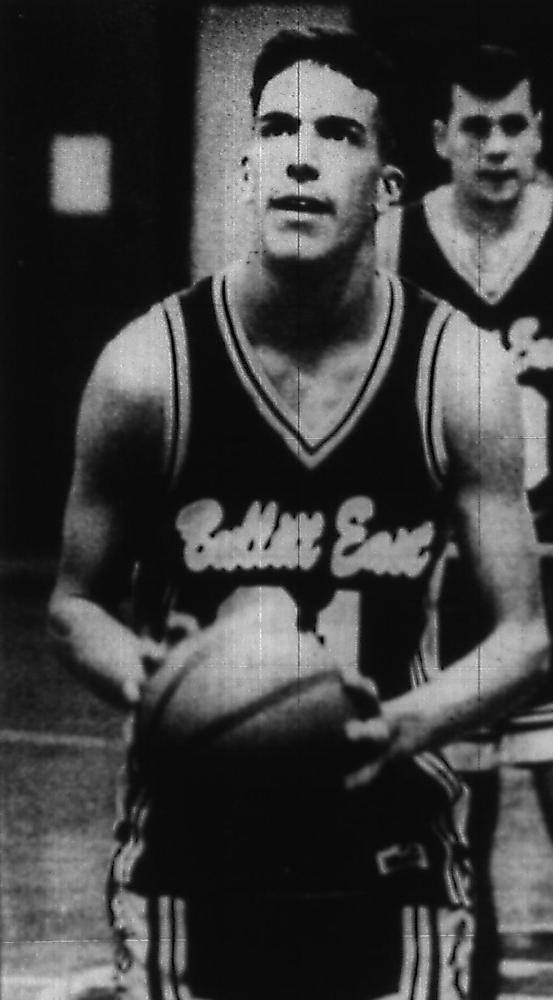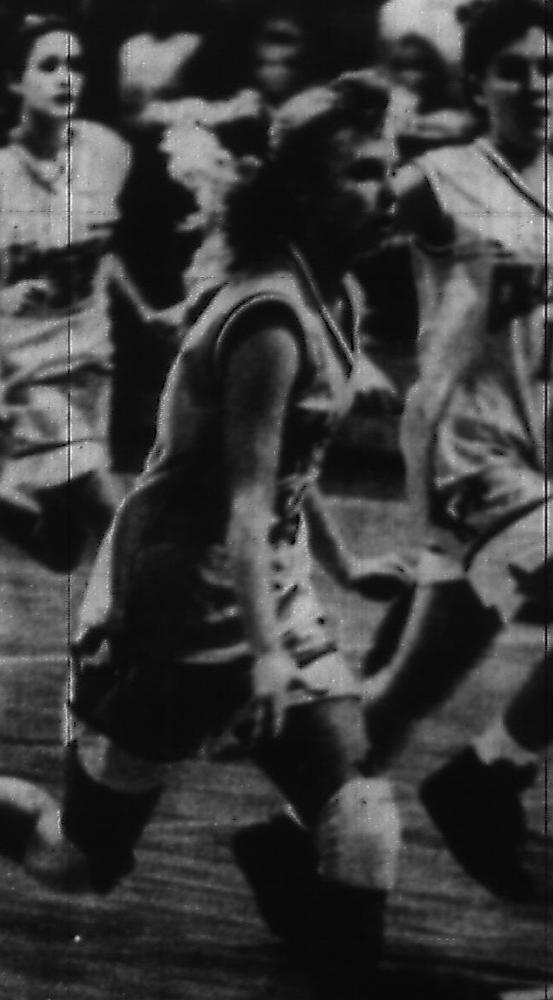 Kerry Hollifield and Kristy Hardman
The members of the Boys' 1993 All-County Hoops Squad were Jimmy Westwood and Jason Post of Bullitt Central, Rick Szczapinski of North Bullitt, and Mike Sims and Kerry Hollifield of Bullitt East. Hollifield was named "Player of the Year."
Bryan Bates of Bullitt Central was "Junior of the Year," and Tim Couch of Bullitt East was "Sophomore of the Year."
The Girls' All-County Hoops Squad included Andrea Franklin and Tony Rhoades of Bullitt Central, Joni Neighbors of North Bullitt, and Alison Bass and Kristy Hardman of Bullitt East. Hardman was named "Player of the Year."
Tonya Rhoades of B.C. was "Junior of the Year," and Monica Reed of B.E. was "Sophomore of the Year."
Kerry Hollifield and Kristy Hardman joined elite groups of players who had received the "Player of the Year" honor over the years it had been presented. On the boys' side were Larry Woodridge, Todd Miller, Mike Fleetwood, Brad Murray, Jason Falk (2 years), Kirk Greathouse (2 years), Ernie Wolf, Martez Ballard, Jerome Hoosier (2 years), and Tim Mason.
On the girls' side were Stephanie Falk, Rosanne Conlan, Carla Coffey (2 years), Stacy Harris, Tina Sammons, Amy Hall, Shannon Miles (2 years), Kim Dial, and Becky McKinley (3 years).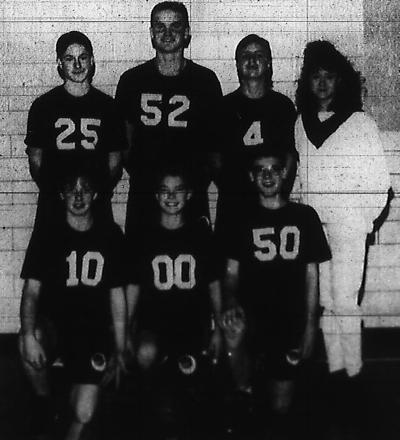 Lebanon Junction Team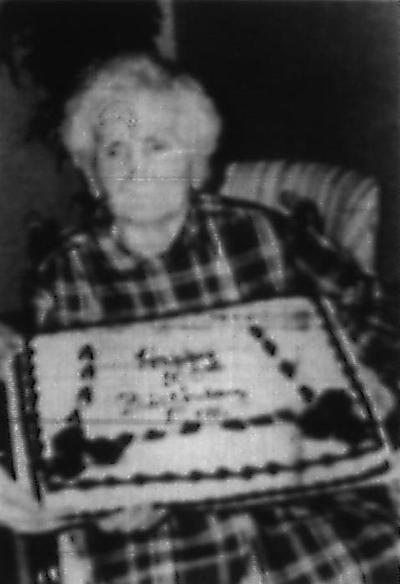 Mary Elzy
Louise Bischoff of the Hebron/Zoneton community wrote that Mr. and Mrs. Jock Boley had purchased a farm in LaRue County and would be moving. She mentioned the benefit show for Devin Hoffman, a five-year-old who faced cancer surgery. She also congratulated John and Brenda (Ryan) Roberts on their marriage. Finally, she let us know that Gary Stiger had won a boxing match in Lexington recently.
In Lebanon Junction news, Doris VanVactor celebrated her 25th anniversary at the local library. Also David Peacock was the spelling bee champ at St. Benedict; and the Lebanon Junction team won the boys' 13-14 league in basketball. Team members included Shawn Redemann, Jonathon Coleman, Jeff Hasty, Jimmy Carnes, Chris Caudill, and Charlie Back. Teri Whitehouse was their coach.
Mary Elzy celebrated her 100th birthday on April 3. A native of Bullitt County, she was the former Mary Miller, and was preceded in death by her husband, George Elzy.
In an annual contest sponsored by the Mt. Washington Dairy Queen, three youngsters won new bicycles. They were Jeremy Drury, Danielle Adams, and Kevin Purvis.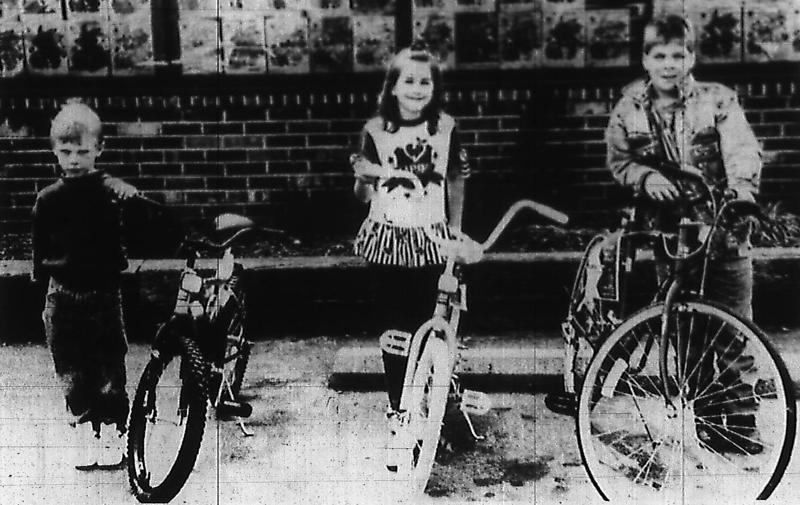 Danny and Shirley Meredith's boys enjoyed a day at Cox's Critters according to Jean Cox of the Cedar Grove/Solitude community. She also shared a Polish Easter Cake recipe.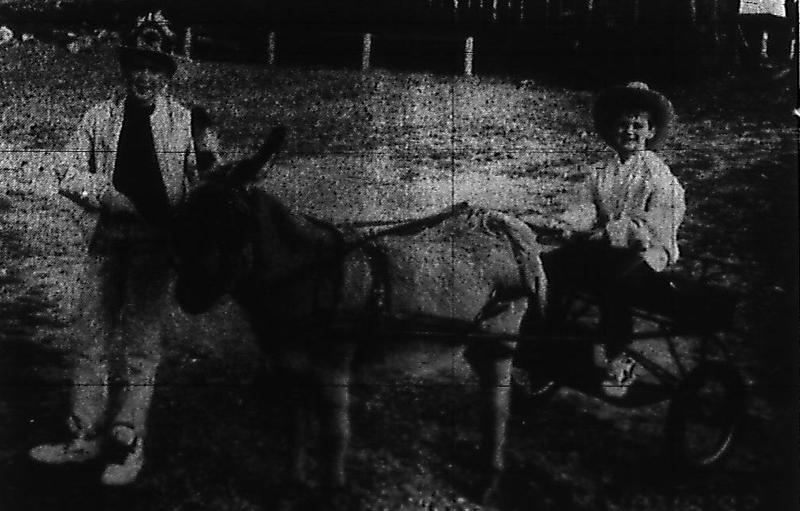 And as Roby School's principal, Larry Belcher would do just about anything to get his students in school. He promised that if they'd come to school he'd kiss a pig. He was a man of his word, and Tom Barr put a picture of it on the front page!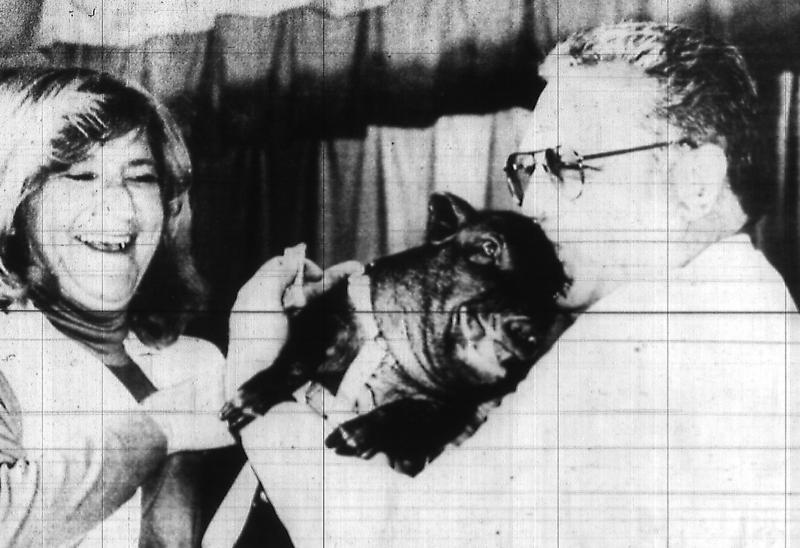 May 1993
What did Jayda Freibert, Sarah Elizabeth Price, Tara Michelle Coleman, Brandy Israel, Leslie Pennington, Jennifer Belden, Lisa Vowels, Melissa Smith, Julie Coy, Kenzie Herron, Cortnea Hardy, Julie Ann Roemele, Joni Neighbors, Raina Chesser, Amy Spears, Kim Carnes, Kathy Milby, Beth Hettinger, Erin Ashbaugh, Karen Grigsby, Kristi Hess, Margo Compton, and Casey Wade have in common? They were all contestants in the "Young Woman of the Year" contest sponsored by the Bullitt County Woman's Club.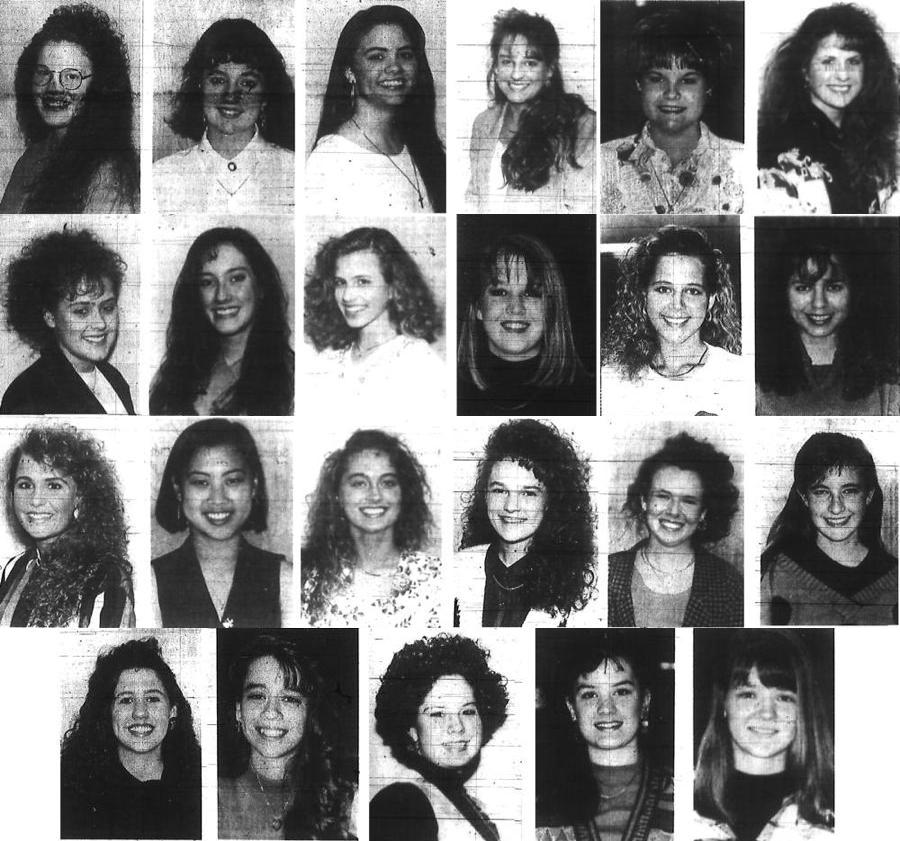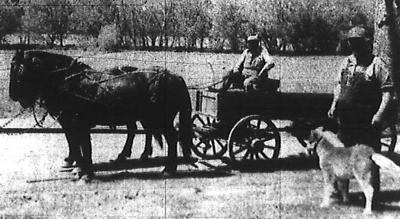 The overall winner was Beth Hettinger of Bullitt Central High School. Finishing a close second was Raina Chesser, followed by Erin Ashbaugh. The awards were presented by Krista Webb, the previous year's winner.
Jean Cox wrote that Robert Lee Ashbaugh stopped by to "shoot the breeze" with Jim. They appeared in a picture, comparing the size of Robert's team of horses with Jim Cox's miniature one.
In Lebanon Junction news, Robbie Renfrow and Adam Walker split the $10 prize, as both completed 42 miles in the St. Jude's Bikeathon. Also, Bridgett Etherton passed her state boards and became a licensed paramedic.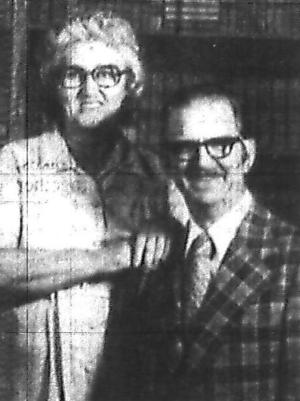 The Greenwells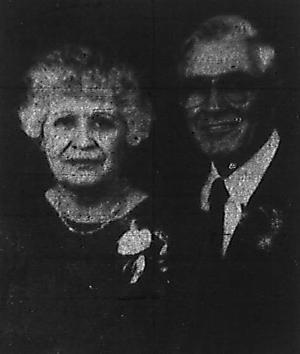 The Maramans
Father Kamber of St. Benedict celebrated his 40th anniversary in the ministry.
Preston Greenwell, a Bullitt County native, and his bride, the former Mary Evelyn Wise, were planning to celebrate their 50th wedding anniversary in early June.
Also celebrating fifty years were Millard and Lucy (Rachel) Maraman. (They would reach 66 years before Millard passed in 2009.)
Out Nichols way, Gertrude Able received a basket of plants for being the oldest mother in her church. She sent the flowers to the hospital for Oretha Ridgway to enjoy.
Doris (Cox) Owen, Cassy (Owen) Caswell, Juanita Owen, and Mary Francis (Clark) Richardson visited Mrs. Myrtle (Shake) Wheeler, their former first grade teacher.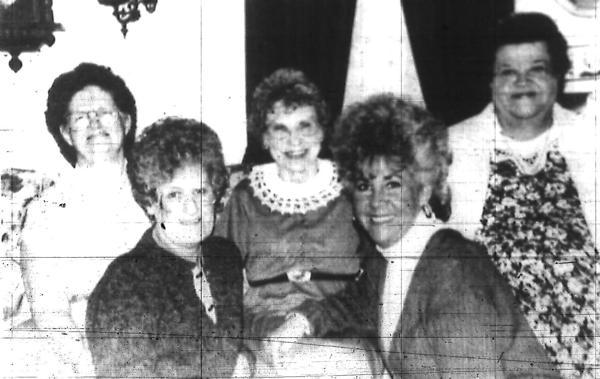 Accompanying the Cedar Grove/Solitude column was a picture of Elaine Wilson with her brother's family and friends on a visit to Cox's Critters.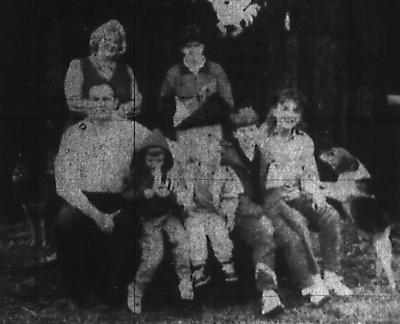 The Bullitt County Homemakers planted a weeping flowering cherry tree at the Bullitt County Health Department. Participating were Virginia Francis, Mallie Jo Werkmeister, Barbara Garmon, Betty Stivers, Mary Evelyn Farmer, Marie Sadler, Edna Hardin, and Liz Coleman.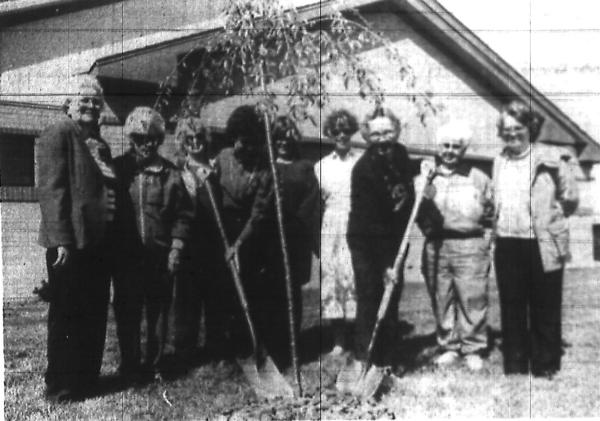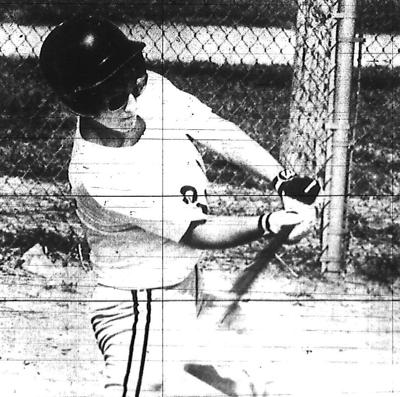 Bullitt Central junior Angie Dunagan was pictured getting a key hit in their 2-1 victory over North Bullitt.
The Bullitt East Lady Chargers extended their winning streak to 19 games with an 11-0 win over Carroll County. In that game, Julie Feeback had three hits including a double and triple, and Kristy Hardman added two singles.
And according to Louise Bischoff, little Desirae Patrice Cloutier celebrated her second birthday at her grandparents, Garland and Pat Higdon's home.
June 1993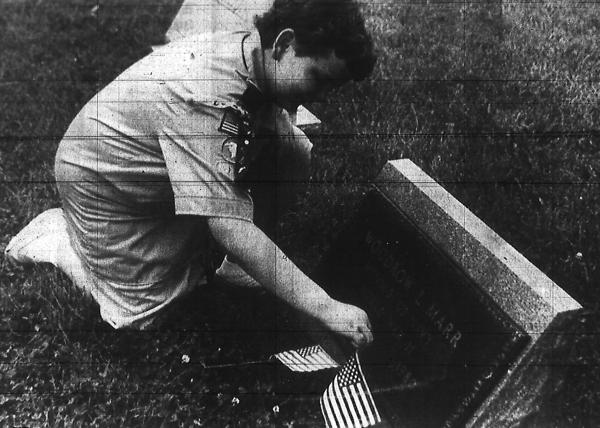 Jimmy Wilkins
Cub Scout Jimmy Wilkins was pictured placing a small American Flag before a veteran's grave at the Hebron Cemetery on Memorial Day morning.
The paper reported on the work that Pioneer Village resident Corbin Huff was doing to help teach martial arts to pupils who are blind.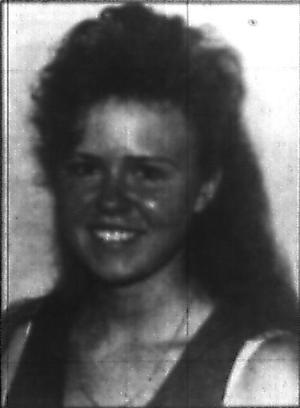 Emily Sullivan
Emily Sullivan was cleaning tables at Mr. Gatti's in Shepherdsville when she found an envelope containing $2000. She took it to her boss, and twenty minutes later a Tennessee couple returned, looking for their vacation money. John Roberts wrote about Emily's honesty in the paper.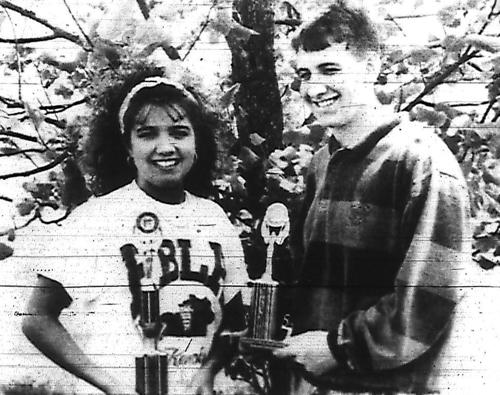 Crume & Skaggs
Out Pleasant Grove way, Clara Simmons had lots of company come calling. Among her visitors were Carl Thomas, Rose Thomas, Rodney Grant, Norman Etheridge, LuWell McAfee, Hazel Armstrong, Ray Grant, and Roberta Gaddie. Also, Cliff Haley and Ethel Proctor called on Fern Lloyd, and Fern and Ethel Proctor visited J. B. Proctor.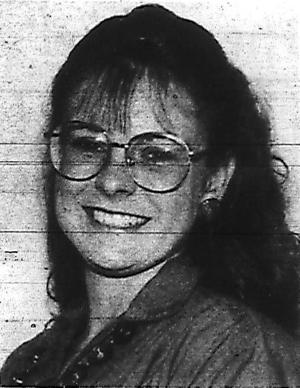 Danita Cobble Lybrook
In the last middle school county track meet to include Shepherdsville Middle School, the Rams won both boys' and girls' championships.
North Bullitt High School seniors Sherry Crume and Kenny Skaggs were pictured with their trophies earned at the FBLA conference in Louisville.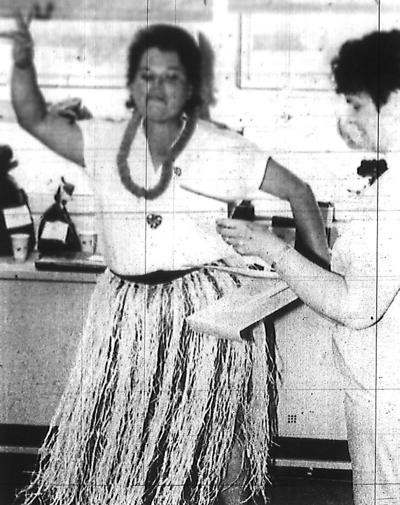 Danita Cobble Lybrook was honored as a top student teacher for her work at Mt. Washington Middle School. Danita was a former Hebron Middle and North Bullitt High graduate.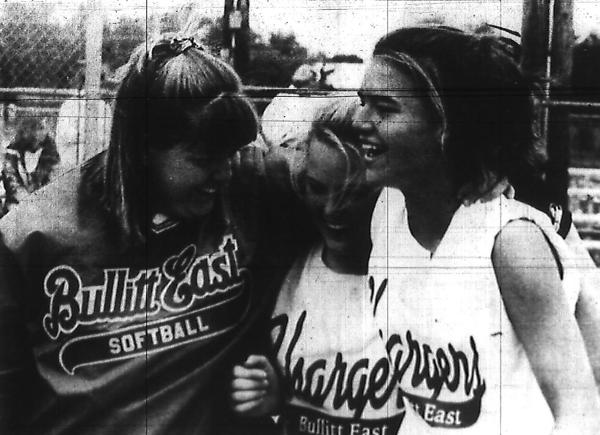 Celebrating a Victory!
Kathy Smith was named Volunteer of the Year at Cedar Grove Elementary, and celebrated with a Hawaiian Hula number.
Betty Darnell wrote a genealogy piece on the Swearingen family.
Leslie Dossett, Maryanne Newkirk, and Alison Bass were pictured celebrating Bullitt East's softball victory over Boone County in the state tournament. Victory was assured when Julie Feeback doubled with the bases loaded, driving in three runs to take the lead. Unfortunately they came up short, losing to Jessamine County 7-6 in the championship game.
De Ette Mann won the 1993 Miss Bullitt County Fair title, joining her sister Candice who won the title in 1990.
The graduates of St. Benedict School in Lebanon Junction included Carrie Sue Beeler, Amy Hood, Cory McGuire, Crystal Ray, Amanda Ryan, Beth Tinnell, and Lin Wiseman.
Mark Daniels' sixth graders enjoyed their picnic on the last day of school before the closing of Shepherdsville Middle School. Among those named in the newspaper article were Jessica Walls, Star Meredith, Kirstie Dillman, Bridget Fackler, Kris Carey, Mark Jennings, Nathan Hinton, Tiffany Burks, Justin Grimes, Pam Lyons, Cory Stovall, Derek Edmonds, Carrie Thornsberry, Michael Wilson, and Tim Pile.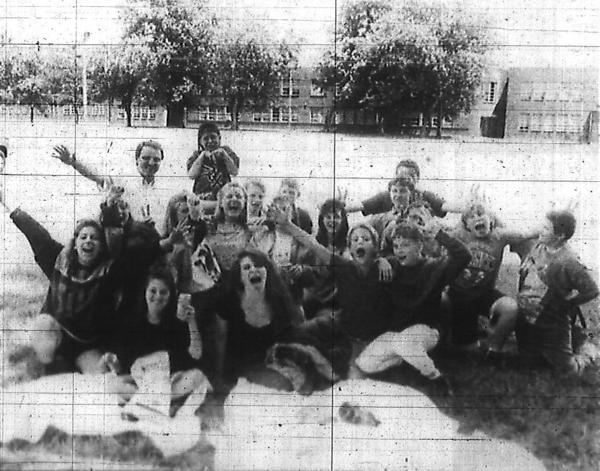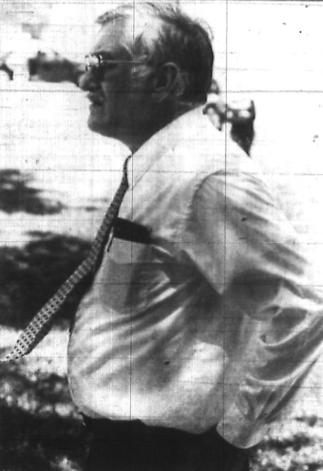 And Principal Joe Mills was pictured looking on as the final buses rolled out of the Shepherdsville Middle School parking lot on the last day of school.
Allow me to take a moment to pay tribute to one of the finest men I've ever known. Joe Mills cared deeply about his students, his teachers, and his school. He was a good friend, and all of us who worked with Joe will never forget him.
July 1993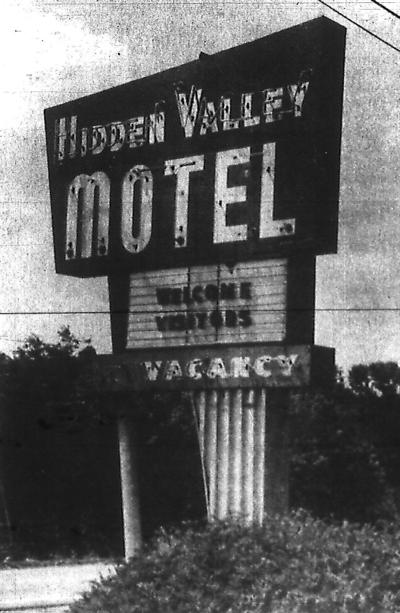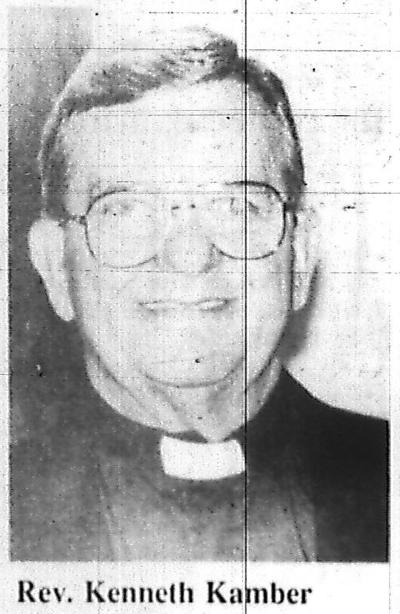 Carl Curtsinger wrote about the Hidden Valley Motel near Mt. Washington, and interviewed Phyllis Smith, its owner, about the future of the motel with the scheduled expansion of Bardstown Road.
Carl also wrote about Darrell Dickey's retirement after 16 years as Mt. Washington's City Clerk and Treasurer, and about the surprise celebration his wife Adeline and his fellow employees planned for him.
Carl was really busy as he ran down to Lebanon Junction Elementary School to see Judy Halk's class perform "We're Proud to be Americans" in front of the students and a special group of senior citizens. Students who participated included the following: Adam Back, Greg Boone, Kelly Brummett, Aaron Clark, Sara Clark, Daniel Cothem, Tiffany Cunningham, Stephanie Doan, James Goff, Chris Heath, Heather Hefley, Kristen Jenkins, Garett Mattingly, Benji Mann, Elizabeth Nalley, Darrell Newcomb, Brian Ogle, Ali Porter, Robbie Renfrow, Shauna Richardson, Sara Royse, Tammy Schmader, Derek Shawley, Greta Smith, Tonia Younger, and Amy Yasho.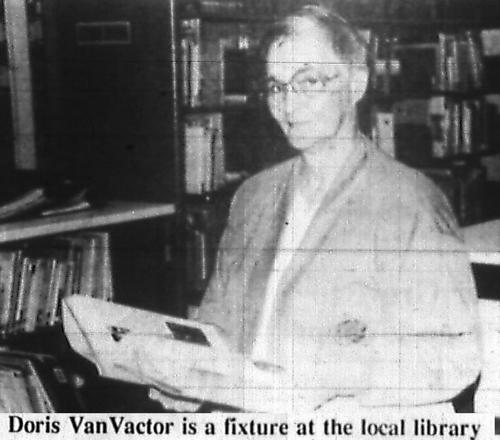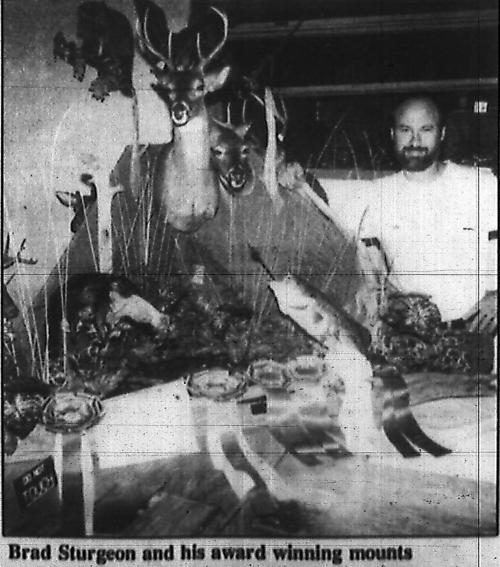 While in Lebanon Junction, Carl interviewed Rev. Kenneth Kamber, pastor of St. Benedict Church, who was celebrating his 40th year as a pastor.
He also interviewed Doris VanVactor who had reached 25 years of service in the library. She had been with the LJ library from its beginning in a corner of the senior citizens' room in the Eastern Star Building, through its time inside a converted bookmobile, and rooms in the Old Hotel, to its location next door.
Mike Riffe tendered his resignation as Bullitt Central's baseball coach and assistant basketball coach.
According to a John Roberts' interview, Brad Sturgeon had the right stuff, stuff that is to win honors for his taxidermy efforts. He won first place in the fish and the reptile divisions with his large mouth bass and his bullfrog, and also first place for two mounted deer. Sturgeon was also declared Wildlife Artist of the Year by the Kentucky Department of Fish and Wildlife.
Donna Sweat of Lebanon Junction congratulated "Pete" McCubbins on his retirement after 20 years at International Harvester. Donna was also excited about the new playground equipment at the elementary school. She also informed folks that they could rent videos at Moore's Ice Cream Shoppe, as well as at Minit Mart and 105 Mart. Best hurry to reserve your favorite.
Mollie Kate Jones, Lauren Maddox, Megan Mefford, and Terri Jewell were among the winners in the Bible Drill competition at Mt. Washington Baptist Church.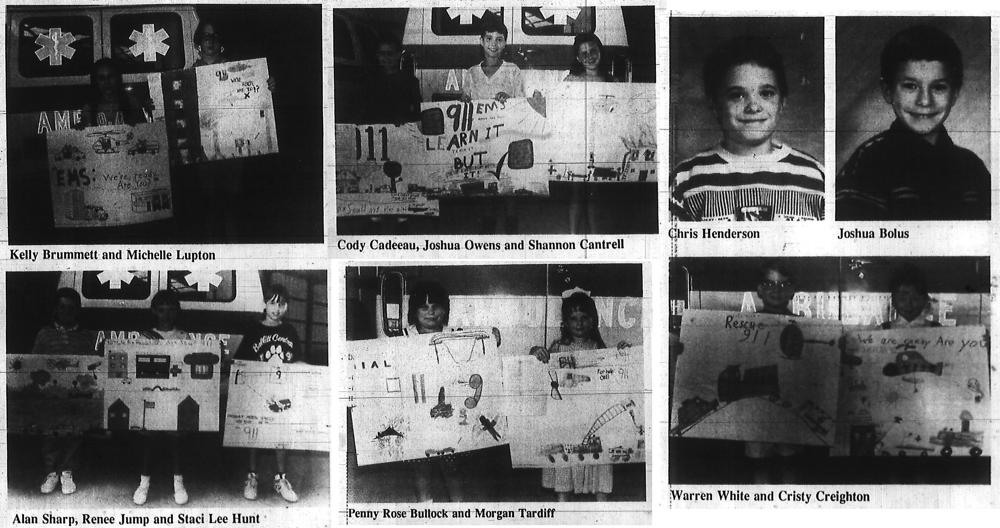 What do Penny Rose Bullock, Morgan Tardiff, Chris Henderson, Joshua Bolus, Kelly Brummett, Michelle Lupton, Alan Sharp, Renee Jump, Staci Lee Hunt, Cody Cadeeau, Joshua Owens, Shannon Cantrell, Warren White, and Cristy Creighton have in common? They all were pictured in the paper as they showed their prize-winning posters in the "We're Ready, Are You?" contest sponsored by the Bullitt County EMS.
Harry Feeback, Director of Transportation for the school district, distributed service pins to the bus drivers with Ruth Leonhardt (27), Opalene Roark (26), and Emma Dockery (25 years) receiving the highest level pins.
Brian Williams, an Englishman, had been at Bernheim Forest for two months learning lessons about nature when he cared for a one-week-old fawn, and John Roberts took his picture.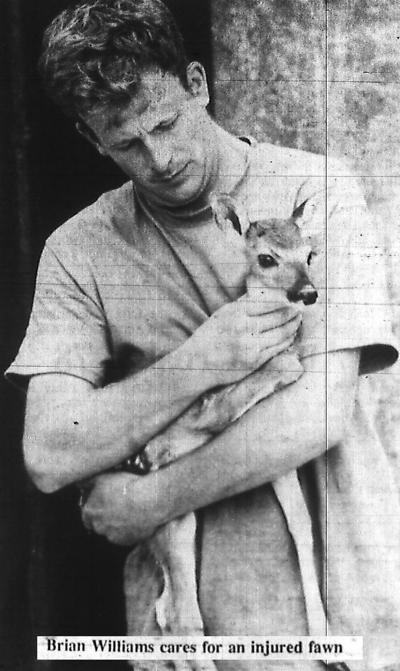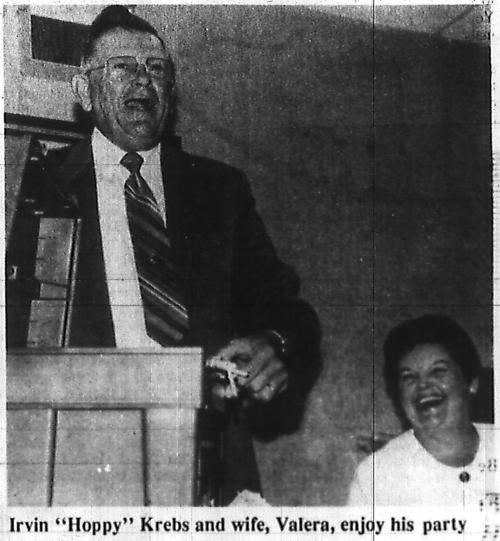 And Irvin "Hoppy" Krebs celebrated his retirement from the phone company after thirty-nine and half years on the job. When he started, the company was called Echo!
August 1993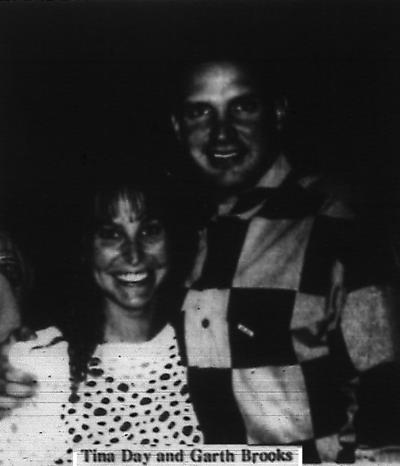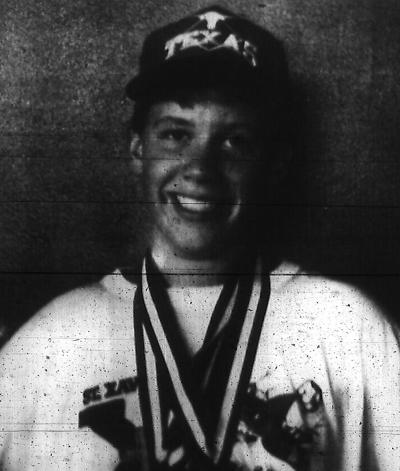 Ryan Eatherly
Tina Day would probably never forget her trip to Nashville when she was photographed with the country music star Garth Brooks.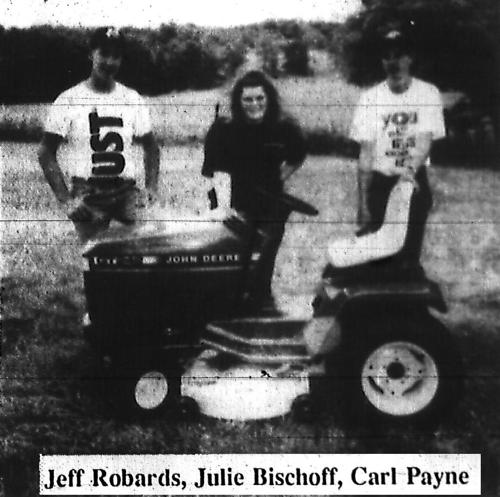 Julie Bischoff, Carl Payne, and Jeff Robards participated in a 4-H Tractor Driving Contest in Henry County. Jeff, a student at North Bullitt, won both senior divisions of the contest, Carl placed third, and Julie placed sixth in the junior compact division.
Ryan Eatherly of Nichols won five medals in the swimming competition of the Bluegrass State Games in Lexington. He took first place in the 50-meter backstoke and freestyle, and the 100-meter freestyle. He also won a silver medal in the 50-meter butterfly, and a bronze when he teamed up with his brother Ryan in the 200-meter medley relay.
Charlotte Goodman won three gold medals in the equestrian events, and the father-son team of William and Michael Whitfill earned three golds in shooting competitions.
Heather Taylor, Cara Cimilluca, Mandy Glass, Dana Davenport, Jennifer Noc, Brandey Israel, Amy Tobbe, Dara Davenport, Noelle Bickel, Sarah Zinger, Beth Leonard, and Helen Glover came home to North Bullitt High as Camp Champs of the Murray State Cheerleading Camp.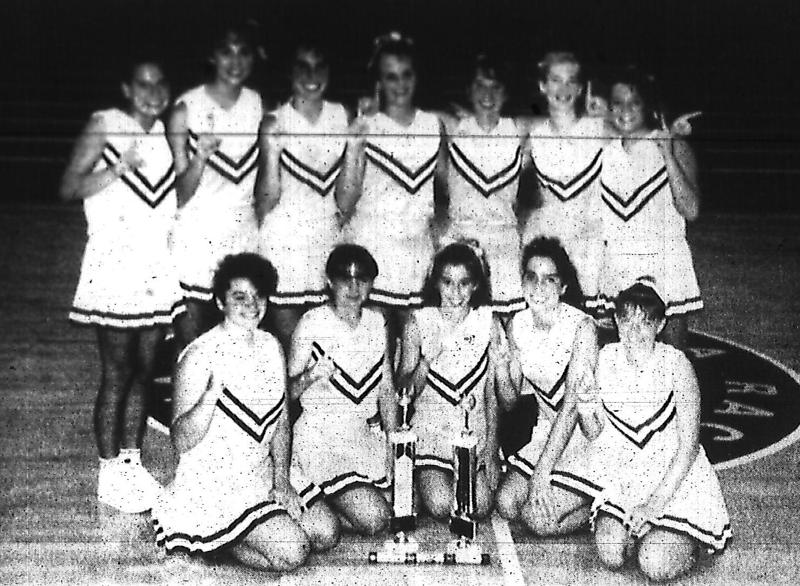 Billy Smith of the People's Bank of Mt. Washington was pictured in the paper after completing his first year of Loans School from the Kentucky Bank Management Institute at WKU.
Linda Farris was one of more than twenty GED recipients at a special graduation ceremony, and was pictured hugging a proud daughter, Mandy.
Keith Heath, son of Albert and Glenda Heath, was named as a Dean's Scholar at the University of Louisville with his 4.0 grade point average. Keith graduated from Bullitt Central in 1991.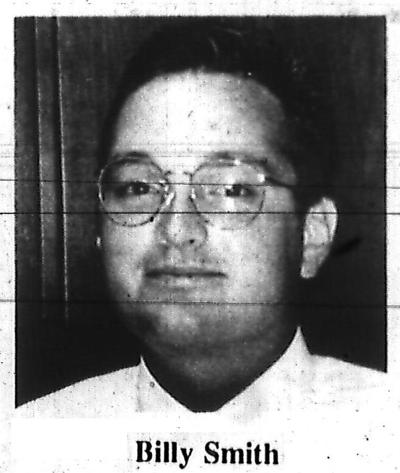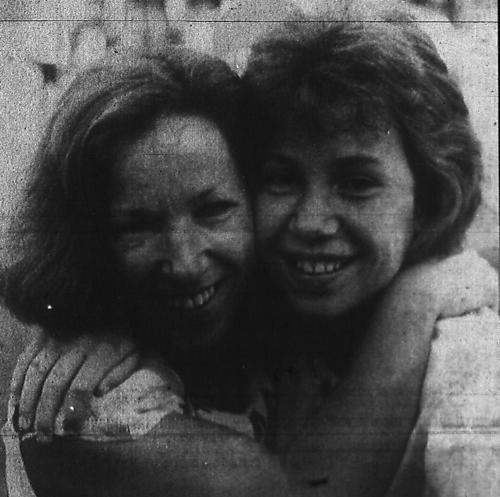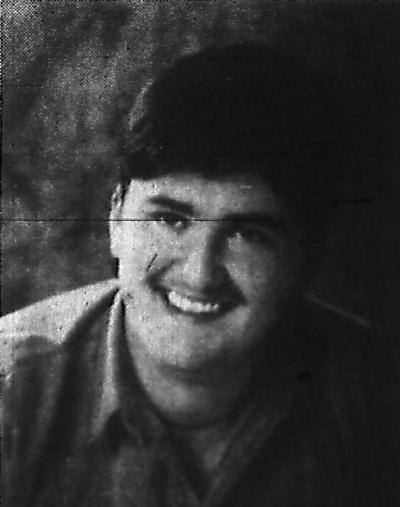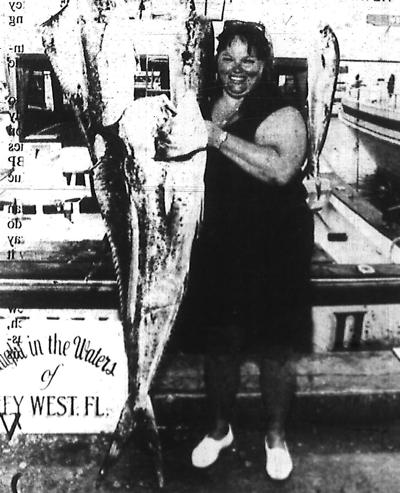 Lois Simmons of Pleasant Grove described the comings and goings of the community, and mentioned that Jack Stallings had been out baling hay in the hot weather. She also mentioned that Clifford and Helen Foster spent some time in Georgia with their daughter Lana and her husband Gregg. Clifford had retired in June.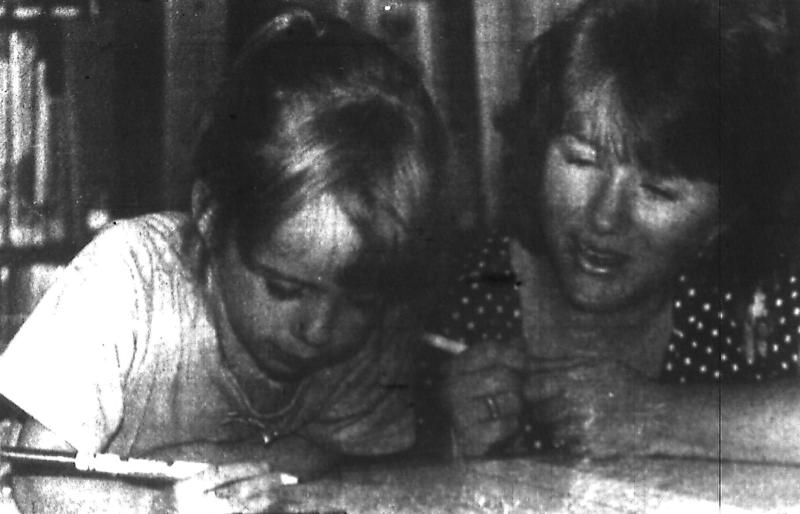 Morgan draws Kermit
Morgan Jury drew Kermit the Frog while her mother Tammy watched during one of the special activities at the local library.
Janet Franklin of Mt. Washington landed a 32 pounder while fishing in the waters surrounding Key West.
Oretha Ridgway of Nichols was happy to report the visits of Pauline Appelhaus and Deanna Sinnett, as well as offering thanks to Darlene Youngblood for sharing vegetables.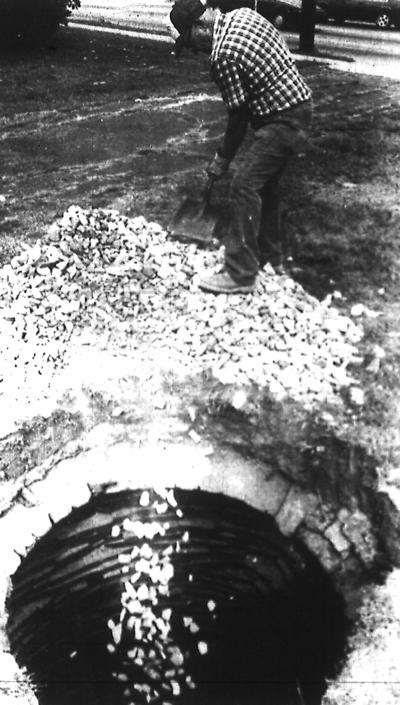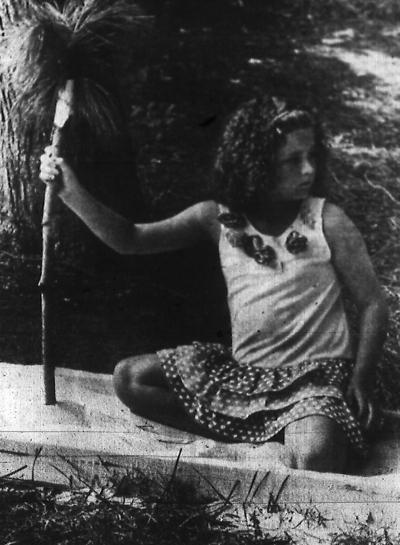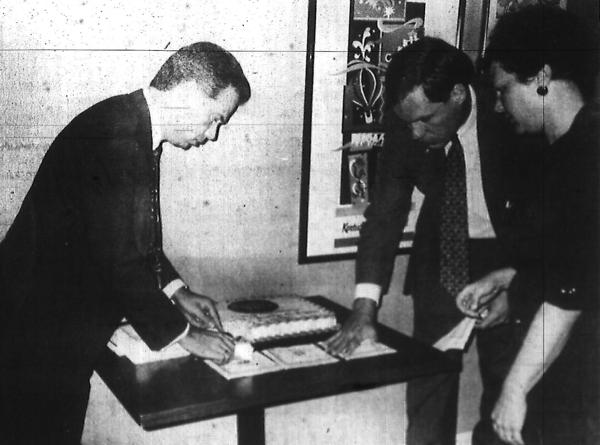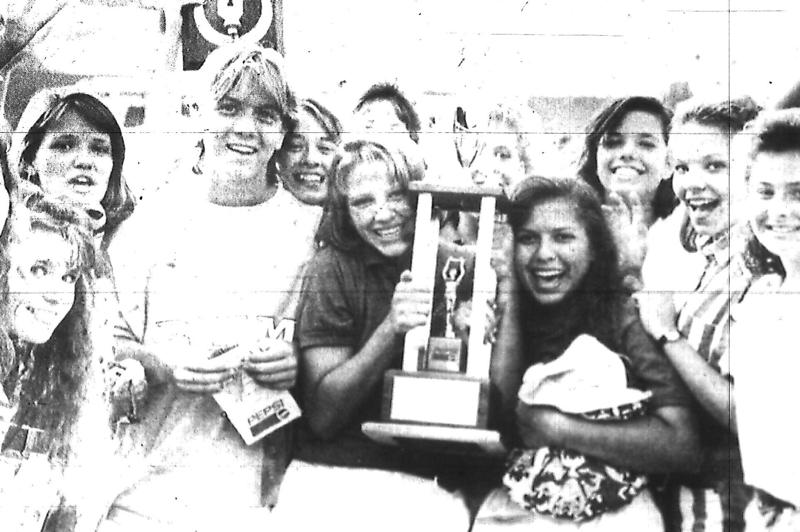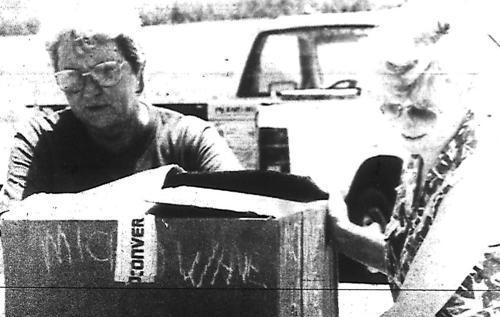 The Kiwanis Club of Bullitt County celebrated their fifth anniversary with a party. The paper pictured former presidents Roy Welch and Lynn Martin helping Margaret Hamilton cut and pass out the cake.
R. L. Farmer was pictured shoveling gravel into a well at the former home of Mrs. Charles Ashby. Roy and Rhonda Welch had purchased the building to turn it into a law office. They filled the well to prevent anyone from falling in it.
Jennifer Bischoff was pictured playing in a recyclable sandbox at Bernheim Forest as part of environmental awareness day.
Bullitt East Marching Band Field Commander Shannon McClain led her squad to bring home top honors at the Kentucky State Fair Marching Band Competition despite not having a director. Director Cathy Ardrey had resigned just prior to the competition and faculty member Jerry Neal volunteered to be the adult sponsor for the band.
Betty Lane and Pamela Cook were pictured helping to move equipment and supplies into the new Bernheim Middle School where Betty was secretary and Pam was guidance counselor. The school site-based council included Principal Joe Mills, teachers Jean Oney, Delores Mudd, and Julia Barker, and parents Paula Blankenship and Val McClearan.
And the Shepherdsville VFD received the Jim Walton Traveling Trophy for attaining the largest percentage increase of Crusade for Children donations for departments raising between ten and fifty thousand dollars for the Crusade. The department increased their collection 176% over the previous year.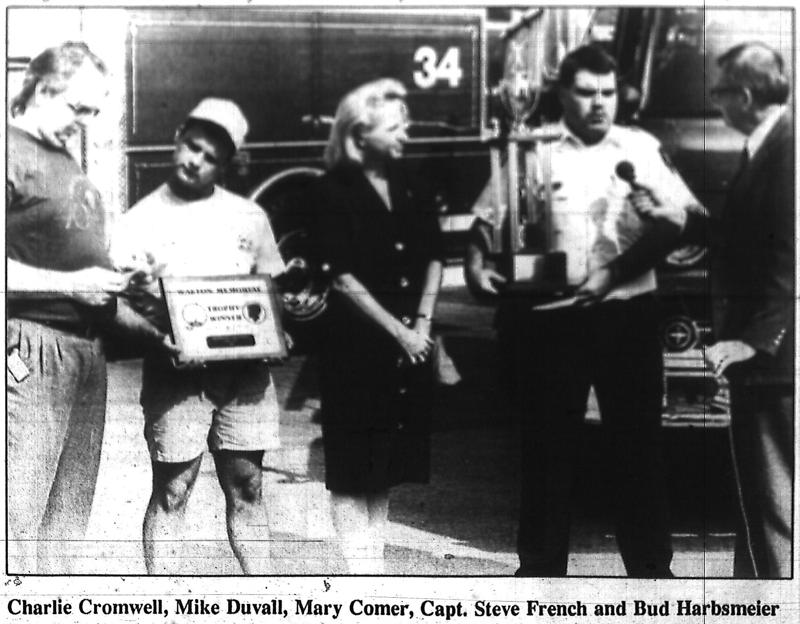 September 1993
Several Bullitt County truck drivers earned awards in the Kentucky Motor Transportation Association's championships held in Lexington. Among them, Donny Wethington claimed first place in twin trailer; Chris Blanford was first in the three axle division; Marty Blanford place third in five axle van; and Robert Neal took third in five axle flat bed.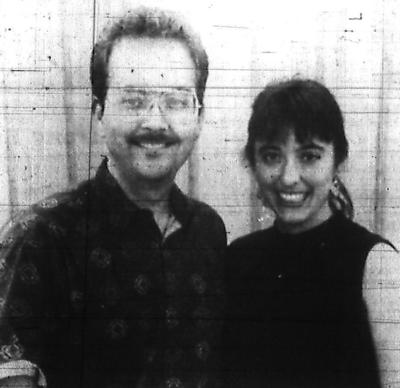 Kevin & Melissa
Kevin and Melissa Mooney, along with Joe Wantland were participants in the American Lung Association's annual Wilderness Road Bike Trek, a 100-mile excursion that included a tour of Shakertown, and a cruise down the Kentucky River on a paddle wheeler. The trek's purpose was to raise funds for the Lung Association.
Jason Reynolds caught all seven of Bullitt East's completions, two of them for touchdowns, as the Chargers defeated Bullitt Central 37-18.
Tony Whitfill and his sons, T.J. and Mike returned from the Bluegrass games with a total of five gold medals. Tony's medals were in the Sporting Rifle and High Power Rifle divisions; T.J.'s came in the same events in the junior division; and Mike brought home gold in the Sporting Rifle unclassified division.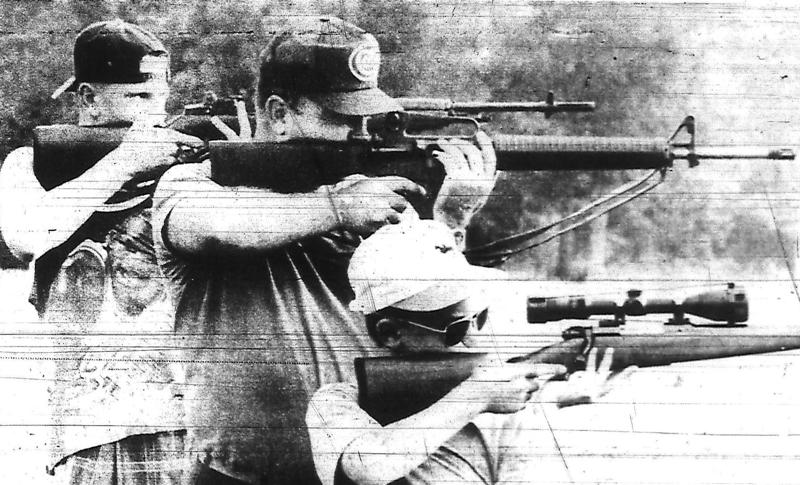 Whitfills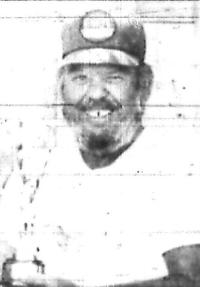 Kenny Dishon
Marty Cox was especially proud of one of his students, 55-year-old Kenny Dishon whose determination to learn to read led to a trophy just three months after their work together had begun. Dishon, an employee at Bernheim would meet with Cox at the forest for literacy sessions, and during those three short months his reading skills had reached the point that he was reading a Jesse Stuart novel.
Louise Bischoff, the Hebron/Zoneton correspondent, extended sympathy and prayers to the family of George Bishop, and to the family of "Jippy" Hatzell. She also reported that Pat Higdon visited Jess Perkins at Colonial Home.
Lois Simmons of Pleasant Grove reported that Mr. and Mrs. Ray Armstrong went to Washington and California to see his son, and to show off his big apple.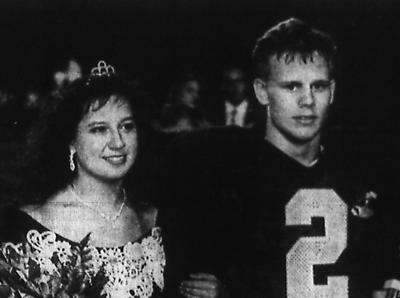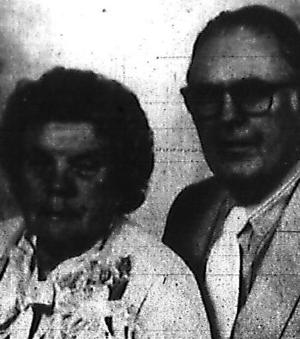 The Perkins
Forrest and Elizabeth Waller, parents of Tom Waller, celebrated their 65th wedding anniversary.
Mr. and Mrs. Stanley Perkins celebrated their 50th wedding anniversary.
Samantha Raymer, daughter of Mr. and Mrs. Leonard Raymer, and Nathan Chappell, son of Mr. and Mrs. James Chappell, were homecoming royalty for Bullitt Central's football homecoming game.
Bullitt Central's FFA students participated in the State Fair. Bobby Stivers and Robert Cox earned white ribbons in mixed hay; Hyte Rouse, David Greco and Bobby Stivers entered in tobacco; and Joe Pat Lee earned a blue ribbon in alfalfa.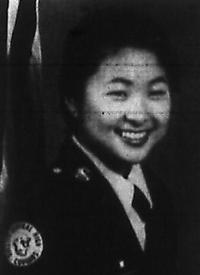 John Martin was a state winner for his loading chute shop project; Jeremy Lyons gained a blue ribbon for his hay carrier; Roger Peck earned blue for his truck rack; Chris John got blue for his round bale loader, and Jason Williams earned blue for tractor boom.
Jean Wood, a senior geography major from Lebanon Junction, received numerous honors for her performance in EKU's Army ROTC program.
And Cadet Katina Chesser completed the "Beast Barracks" course at the U.S. Military Academy at West Point.
October 1993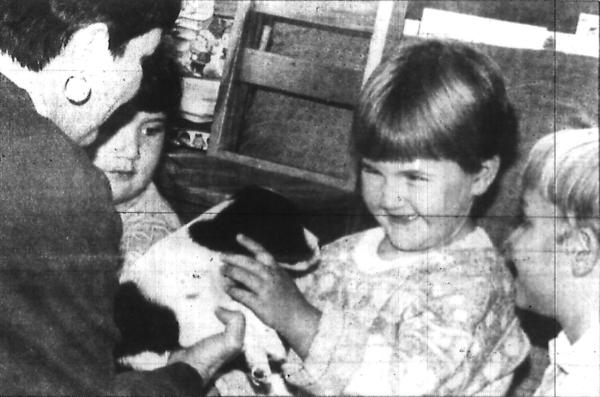 Puppies and Kittens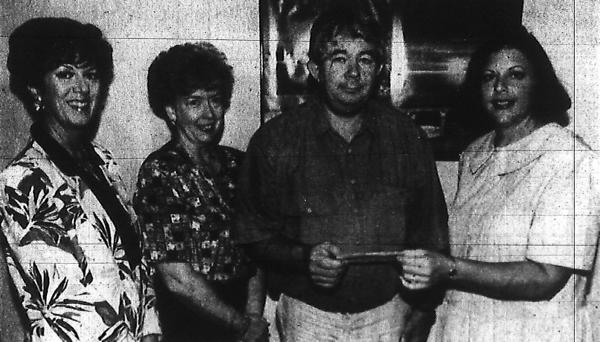 Riverview School Support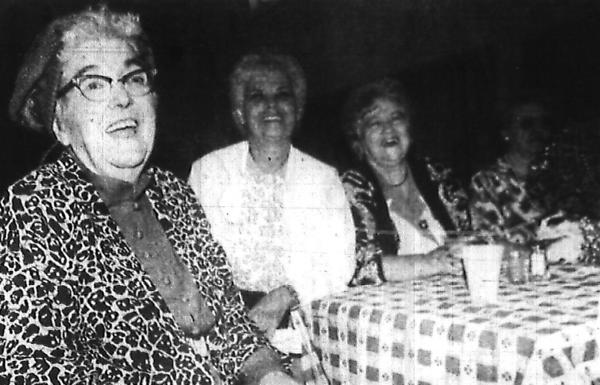 Nichols Celebration
I wonder if Leslie Holsclaw, Josh McDonald, Chris Rose, Tiffani Hall, Ty Bratcher, Nathan Tate, Kayla Curry, Evan Yunt, Ross Whitaker, Alex Young and Amber Robertson remember when Diana Yeager of the Kentucky Humane Society brought puppies and kittens for them to enjoy at First Baptist in Shepherdsville?
Janet Teensma, Jan Stewart, and Barb Plenge were pictured with Lonnie Dawson as the Woman's Club presented a check to help support the Riverview school.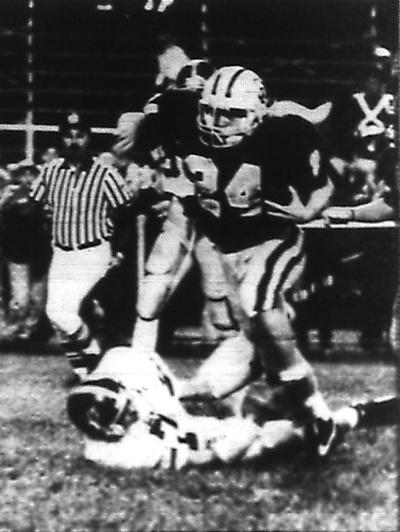 Moses Malone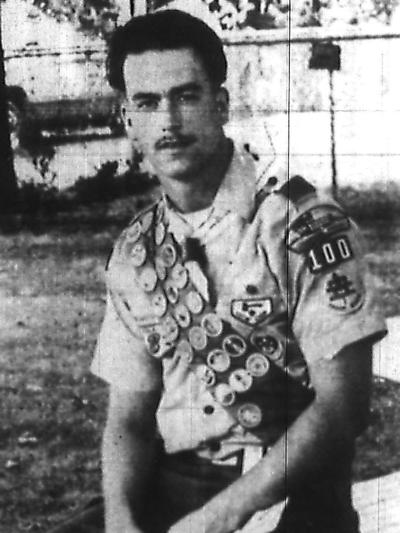 John Bania
Bullitt Central senior Moses Malone was pictured on a 24-yard run as his tean defeated North Bullitt 35-14. Malone rushed for a total of 183 yards on 17 carries and scored two touchdowns. Quarterback Nathan Chappell added 105 yards on nine carries and scored three touchdowns.
With the Chargers down by a point with less than three minutes left in the game, Willie Foster recovered a Fort Knox fumble near midfield, and Bullitt East went on to win after Jason Reynolds dashed for 24 yards, Heath Mayes got 11 yards on a screen, and Brandon Egan found Eric McCawley open at the five yard line.
John Bania both kicked goals in soccer at Bullitt East, and achieved goals in his pursuit of the Eagle rank in Boy Scouts. As part of his Eagle project, he built five benches for Mt. Washington Methodist Church who sponsored his troop.
Oretha Ridgway, Gerry Eaves, Katherine Roy, and Patsy Larimore were among those who helped celebrate the 75th anniversary of Nichols Elementary School.
Jim Palmquist of Pennsylvania wrote a letter to the editor seeking information about the location of Solitude where his Rouse ancestors once lived. Wonder how many of our readers today could answer his question?
Interestingly enough, the same paper announced the 50th wedding anniversary of Ray and Birdie Rouse of Mt. Washington. She was the former Birdie Onetta Shelburne. Bet they could have answered Jim's question.
Terry Lee Whitaker of Shepherdsville graduated from Kentucky State Police Cadet school, and was assigned to Carroll County.
Lebanon Junction's Old Fashion Days pageant winners included Bethany Masden as Miss Lebanon Junction, Casey Walker as Junior Miss L.J., and Michelle Thompson as Little Miss L.J. In the Beautiful Baby Contest for boys and girls, ages 0-3, Brandon Duckett placed first, Elizabeth Egan was second, and Whitney Burton was third.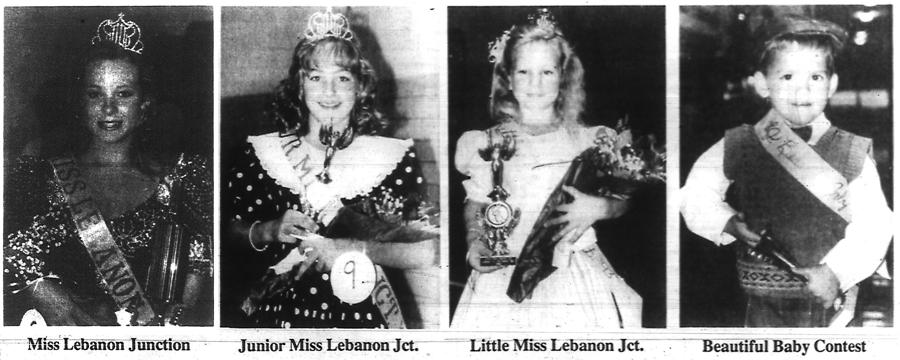 North Bullitt's Trent Coleman qualified for the state golf tournament.
The Bullitt East student body picked Michelle Simms and Mike Bass as their football homecoming royalty.
Cotton and Rua Shouley celebrated their 50th wedding anniversary at the home of Betty Larimore.
Greg Beamer was honored by fellow Board of Education members at his final meeting.
Bullitt East earned their first ever football district championship with a 35-21 victory over Elizabethtown, giving them a 4-0 record in district competition. Strong running from Scott Johnson gave them a balanced attack.
According to Louise Bischoff, Garland and Pat Higdon had dinner with Mr. and Mrs. Frank Lawson who provided a "most delicious dinner."
According to Lois Simmons, Jim and Florence Goldsmith, Bill and Mary Bland, and Charlie and Roberta Gaddie spent a weekend in Berea and attended the sorghum festival and took in two shows at Renfro Valley.
And Shot Dooley climbed into the ring against professional wrestlers, and won (with a little help).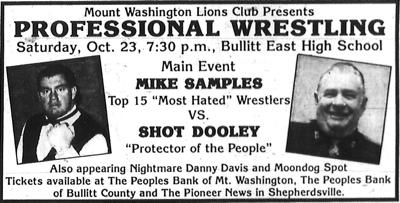 November 1993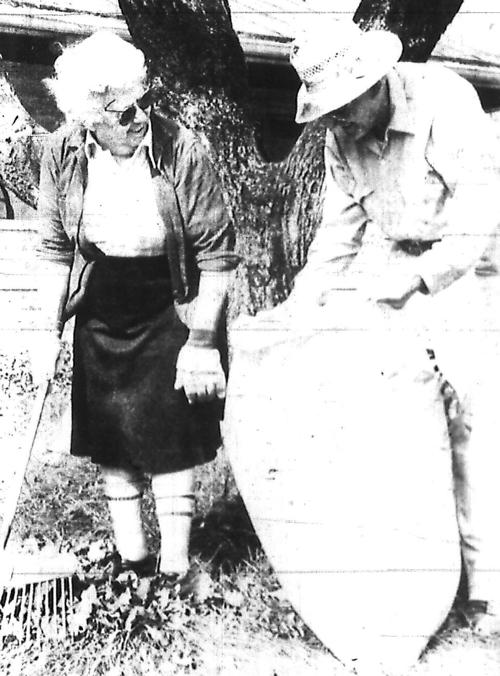 Raymond & Lois
Raymond and Lois Shake were pictured bagging up their leaves at their Buckman Street home just before the snow hit.
John Harper, John Laun, Sherman Tinnell, and James Welker all got their pictures in the paper by winning their respective offices (county judge/executive, district judge, Shepherdsville mayor, Pioneer Village mayor) in the November elections.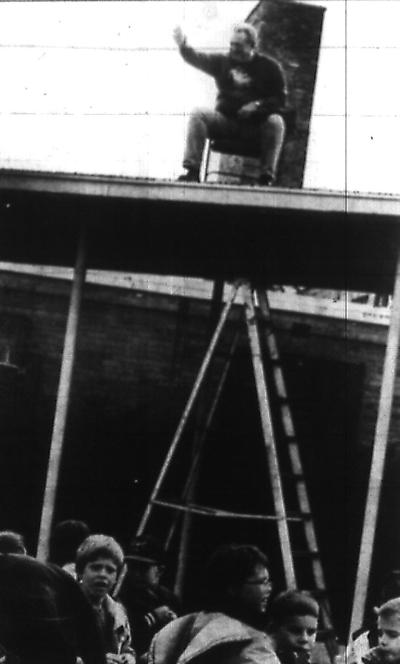 Larry Belcher sat on the roof of Roby Elementary, waving at the departing students. Remember when he kissed a pig; well he wagered that his students wouldn't reach an attendance goal and lost again. Ah, but there was method in his madness! Larry was a fine educator, a good representative, and a really nice fellow.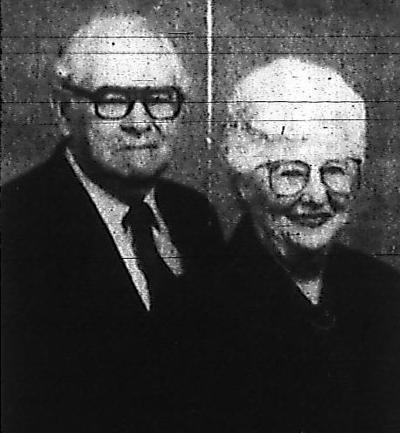 Mutt and Virginia celebrated their 50th wedding anniversary. Carl Lee and his wife came home from North Carolina and took them to the Terrace Restaurant in the Kaden Towers. If you don't know who I'm talking about, read on down in the 1943 section.
What do Jeffrey Crady, Melissa Cundiff, Brittany Korfhage, Marcy Nelson, Amanda Simms, and Shane Skaggs all have in common? They were all eighth graders who made the very first All A's Honor Roll at Bernheim Middle School which opened that year.
A surprise birthday party for Mrs. Elnora Foster was given by her children, grandchildren, and great-grandchildren. Mrs. Foster was celebrating her 83rd birthday.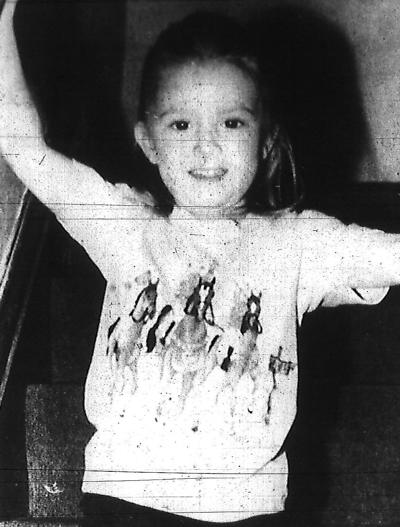 Kelly
Kelly Beglin, age 3, was pictured modeling at the fashion show at the Imagine Tearoom.
According to Mike Farner, Bullitt Central "made history" with a 12-0 victory over Daviess County in a post-season football battle in Owensboro. Moses Malone and Walker Dees combined for 75 yards rushing to gain the first score.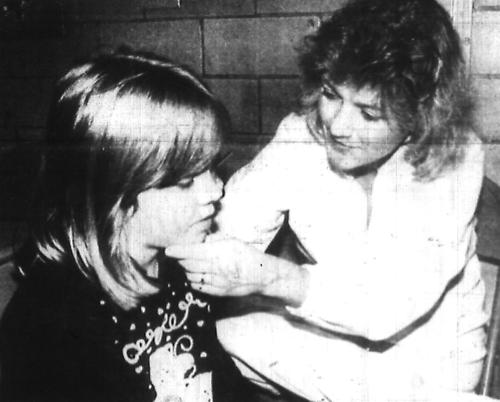 Tonya Ploof had her face painted by Sondra Wilkins at the Nichols Fall Festival.
The following juniors and seniors were inducted into the North Bullitt High School National Honor Society chapter: Brian Brummel, Lee Denny, Vanessa Hester, Rachel Layman, Erica Mindel, Jason Perry, Jason Sheppard, Brad Stivers, Amy Tobbe, Donna Whelan, and Sarah Zinger.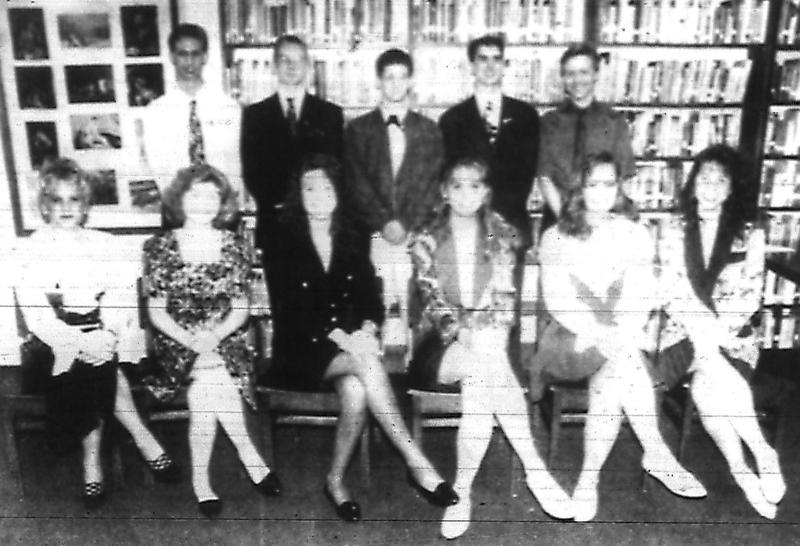 Veterans Day was a special time for one family in Bullitt County. Anderson Lashley, age 97, who served in France during World War I, was pictured together with sons Charles and Presque Lashley who both served in World War II, Charles in the Pacific, and Presque in France.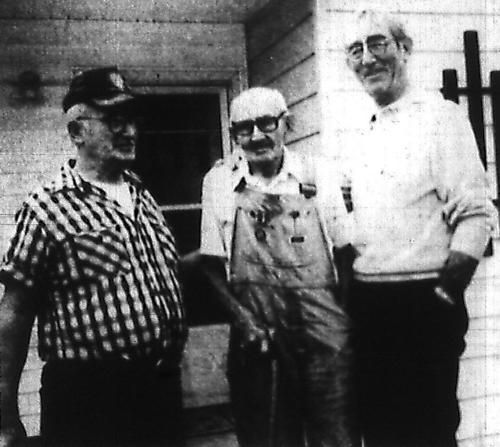 Lashleys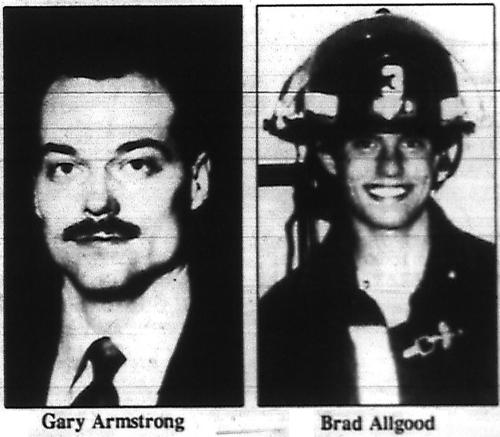 Carol and Leveda Richards were excited about their new shoe store location on Highway 44. Formerly located on Buckman Street for many years, this new store was made possible because Publisher's Printing wanted the former store property and worked with Richards to make this new store possible. Leveda was the store manager with plenty of help from Sheila Doan, Stacy Richards, Amy Michelle Doan, Jeanette Richardson, and Joyce Pickett.
And who among us can forget that tragic evening when firefighters Gary Armstrong and Brad Allgood lost their lives in the line of duty. Earlier Carl Campbell had been struck and killed on Highway 44 near KOA, and the firefighters were traveling to that scene when the second wreck occurred, killing both men.
---
Copyright 2018 by Charles Hartley, Shepherdsville KY. All rights are reserved. No part of the content of this page may be included in any format in any place without the written permission of the copyright holder.
December 1993
Tabitha Gibson led B.C. scoring with 26 as the Lady Cougars defeated Spencer County 60-42. Tonya Rhoades contributed 18, most from outside range with a trio of 3-pointers.
Debbie Murrill was pictured leading a great group of Nichols Elementary students in their annual Thanksgiving program for parents and grandparents.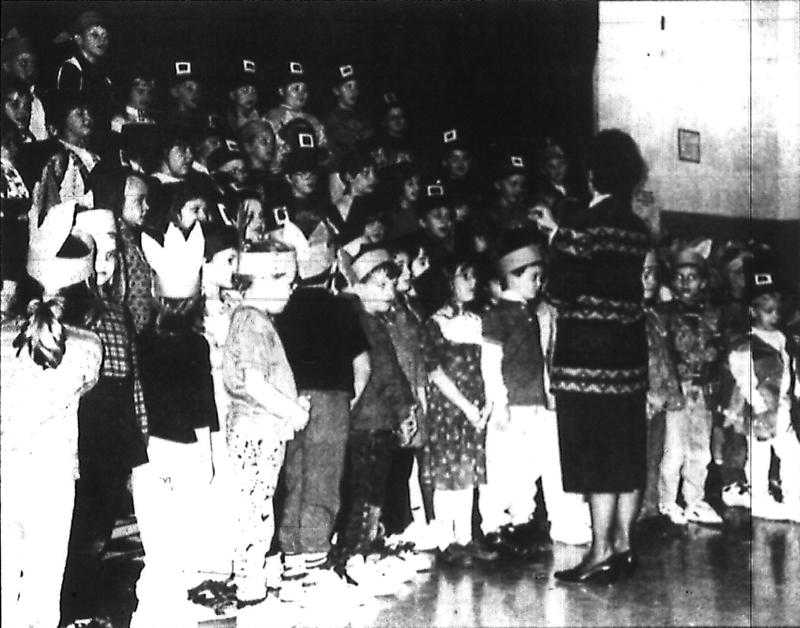 Also out Nichols way, June Dawson's home was the scene of a fine Thanksgiving feast enjoyed by her mother, Oretha Ridgway, and Dwight, Lyndia, Tony and Jamie Dent and his friend Cheryl; Craig and his fiancee, Glenda, her son, Shannon; Clayton, Marlene, Andrew and Leslie and Clarence Dawson.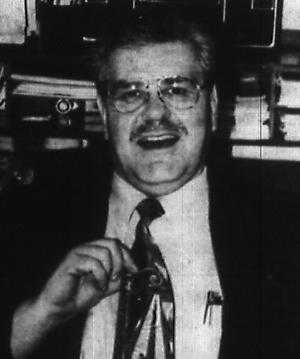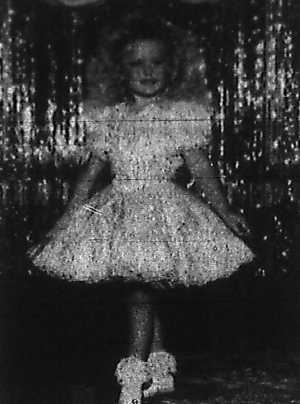 Ralph and Margie Geary celebrated their 50th wedding anniversary at the Pioneer Village Community Center with family and friends. Also, Aenon and Christine (White) Thomas celebrated their 50th two days before Christmas.
I'm pretty sure Bryan Bates would rather have had a win against Meade County than scoring 40 points in the game, but the Cougars fell 99-85 in the contest.
Glenn Gray was sporting his Micky Mouse tie at Bullitt Lick Middle School's celebration of the 65 year old mouse.
Little Danielle Dafler was successful in several contests nationally, and won $3000 for her efforts.
The Bullitt County Kiwanis Club installed new officers including Jackie Dant, president; Richard Allison, vice-president; Margaret Hamilton, secretary; and Morris Proffitt, treasurer.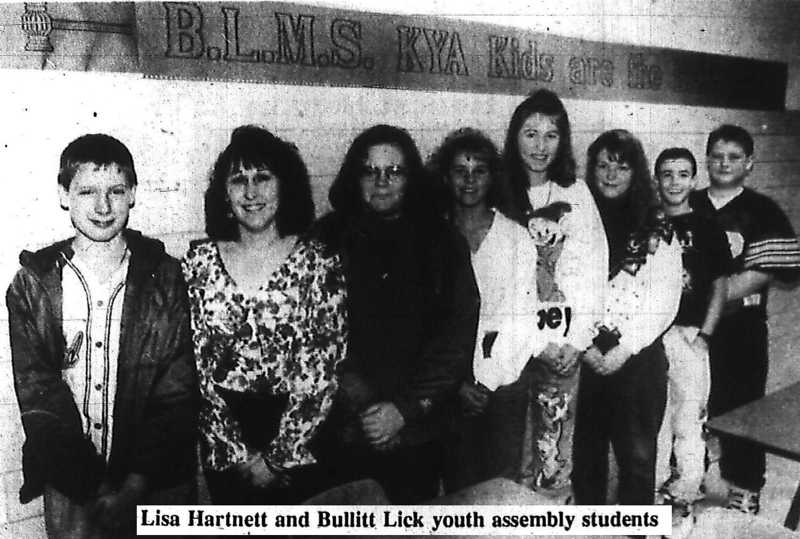 Anthony Smith, Kelly Humphrey, Jessica Wilkins, Ryan Moore, Charlie Price, Amy MacGeorge, and Christy Ballard were members of the Bullitt Lick Middle School young assembly team who managed to get their bill passed at the state assembly. The team was sponsored by Lisa Hartnett.
Tom Pack was pictured with other gentlemen looking over memorabilia at the 200th birthday celebration for the city of Shepherdsville.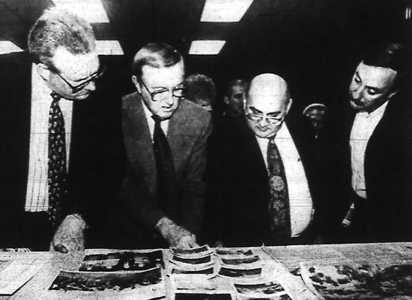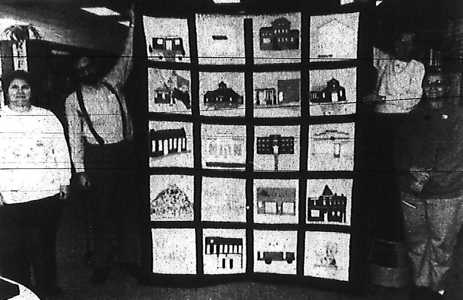 A handmade quilt made by Doris VanVactor and Renee Wallace, with June Muir, Mike Jackson, Robbie Taylor, and Jamie Nolthey contributing, was auctioned off in Lebanon Junction to help support the Lebanon Junction story hour children.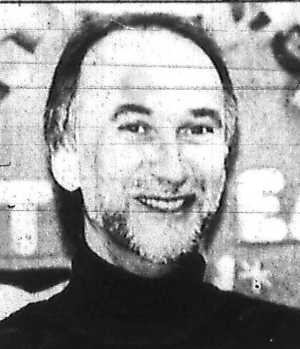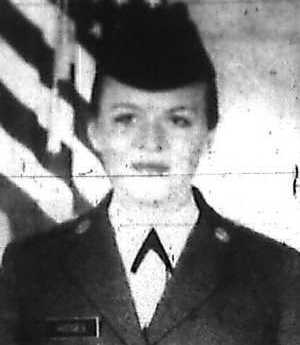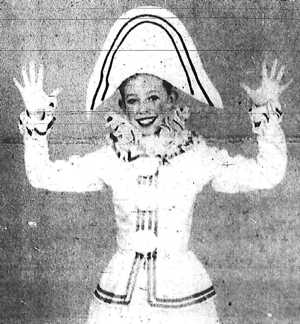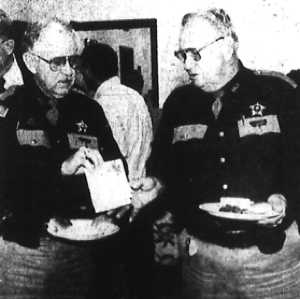 Janice Stewart was sworn in as the newest member of the Bullitt County School Board to the applause of Superintendent George Valentine, and board members John Hardwick, Layne Abell, Mike Argenbright, and Joe Eames.
Dennis Shaffner was happy to design a Christmas ornament that was to hang on the White House Christmas tree.
Amanda Jessie was happy to participate as one of the actors in the Louisville Ballet's production of The Nutcracker.
Rhonda Keith was sworn in by Glenn Armstrong as the newest Bullitt County Property Valuation Administrator.
Stacey Hodges was pleased to have her parents, Raymond and Kathy Hodges, and her grandmothers, Lavon Yaeger and Margaret Hodges present as she graduated from basic training in preparation for attending AIT classes as a lab tech.
And Deputy Melvin Davis joined Sheriff Shot Dooley in filling their plates at the annual Christmas luncheon at the County Clerk's office.
---