It Happened in 1990
Over the years, Charles Hartley has shared glimpses of what was being printed in The Pioneer News in different months and years. This page includes what was taken from the August through December issues of 1990.
---
August 1990
I wonder if Julie Wilkins remembers getting her picture taken while she washed cars during the Bullitt Central Football Boosters car wash?
John Roberts wrote about school board plans to purchase a 20-acre tract off of Audubon Lane for a proposed new middle school to replace the aging Shepherdsville Middle School. Gee, I miss that old school.
Shepherdsville resident Keith Hurt was interviewed about his role as a banjo and guitar player in The Stephen Foster Story in Bardstown. He auditioned for the role on a dare by his wife Sherry.
Matt Glass, a North Bullitt grad, led a cheerleading camp for elementary school girls at Bullitt Central. He was assisted by Central cheerleaders Candi and Terri Beamer, Shellie Fackler, Amanda Johnson, Katherine Zimmer, and Jenny Brewer.
Jennifer Wallace of North Bullitt High School was honored by the Future Business Leaders of America at its national leadership conference in Washington, D.C. when she placed second in the job interview category. Her advisor at North Bullitt was Paula Maddox.
Lois Simmons of Pleasant Grove reported that Mr. and Mrs. Mack McAfee and son John went to the Hodgenville Jamboree. She also reported that Evelyn Gentry said Mr. and Mrs. Warner Baumgardner and all of their children, grandchildren, and great-grandchildren were over to the house during the July 4 holiday. They all went to Shot Dooley's place for a picnic.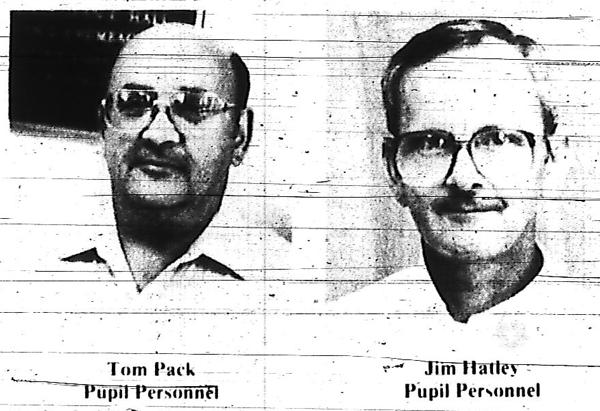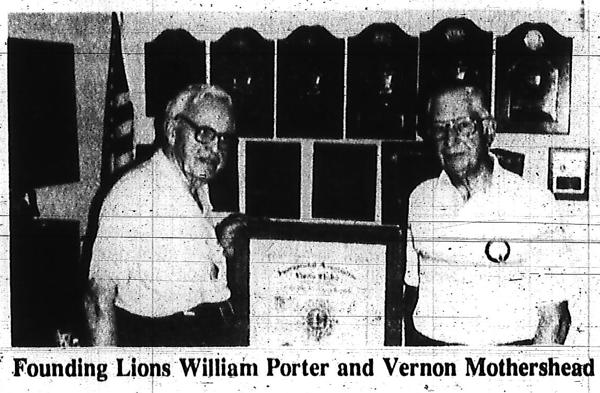 Eric Netherton and Wes Curtsinger were pictured in the paper displaying their award-winning entries summer reading program contest sponsored by the library. The drawings were to be displayed on the library walls.
Members of Boy Scout Troop 333 were pictured helping fix up the Lloyd home in Mt. Washington. The community service project was done by Eric McDonald, Sean McPherson, Jason Owen, Scott Mangum, Kerry Ashby, Gary Coy and Charlie Andrews.
Happy Cahoe was named manager of the Bullitt County branch office of Salt River R.E.C.C., and Lynn Martin was named manager of the member services department.
The paper published pictures of members of the school board staff, and I noticed right in the middle, sandwiched between Landon Perdew and Ray Smith, were the two "pupil personnel" guys, Tom Pack and Jim Hatley. I wonder how many doors they knocked on that year?
Pete Huber of Mt. Washington drove his miniature stallion Gentleman Jim to another victory at the Oldham County Fair.
Bob Bohannon and Dandy were pictured at the Old Settlers Days activities in Corydon, Indiana. For obvious reasons, Dandy was invited to help the Democratic party in the Lanesville parade, but had to decline because of a previous commitment.
And founding Lions William Porter and Vernon Mothershead were pictured at the 42nd anniversary of the Mt. Washington Lions Club.
September 1990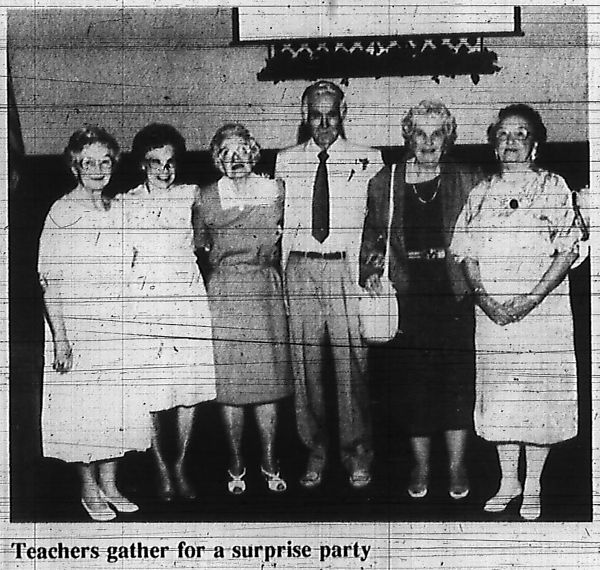 Elsie Cox Beeler was surprised with a "This is your life" party by five of her former Mt. Washington teacher colleagues. Elsie, who taught music, was joined by her husband, Francis K. Beeler, Martha Weller Lloyd, Myrtle Shake Wheeler, Nell Bell Porter, and Myrtle Stansbury Harris. These folks taught together fifty years ago!
Lois Simmons of Pleasant Grove wrote that "Clara Simmons' company last week included Sandy Lanham, Juanita Proctor, Ellen Givhan, Peggy Williams, Hazel and Wallace Armstrong, Clifford Foster, Birdie Moore, Elizabeth Travis, Jack Stallings and Evelyn Stallings. Mr. and Mrs. George Ward came by to help mow the yard."
Clifton Whitmer broke around left end and scampered 75 yards for a touchdown as the Bullitt Central Cougars defeated Nelson County for their third straight win.
Brenda Quesenberry was honored as the 1989-1990 American Red Cross Volunteer of the Year for her work with the Mt. Washington Bloodmobile Drive effort.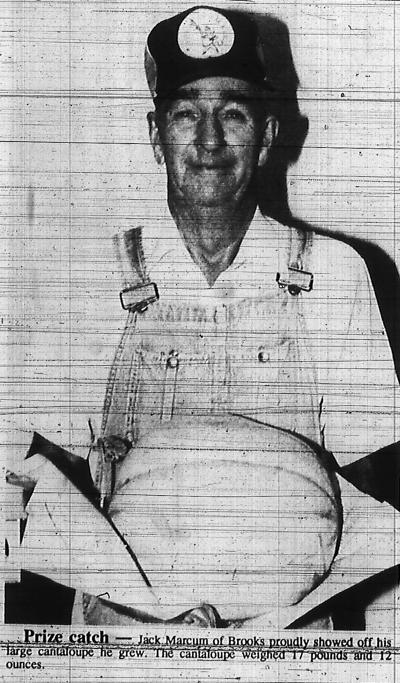 During the Kentucky State Fair, the Bullitt Central FFA chapter had the following first place finishes. Potted Flower Division: Scott Kidd and Carol Price. Mechanics Division: Tim Stillwell, Paul Hall, Tommy Luttrell, and Joey Rogers. The chapter won the state title for its mechanics exhibit.
Judith Frisby, a first grade teacher at Brooks, was named Bullitt County Elementary Teacher of the Year. She joined her teaching colleague Jennifer Hicks who had won the honor two years earlier.
Jack Marcum was pictured showing off his 17 pound, 12 ounce cantaloupe.
Did you see Bernard and Louise Bischoff's new glasses? The Hebron correspondent mentioned them in her column.
Quarterback Jeff Miller found tight end Jimbo McCubbins all alone in the end zone to break a 7-7 tie against Daviess County and secure Bullitt Central's fourth straight win.
Mt. Washington Boy Scout Troop 100 held a Court of Honor to recognize scouts' advancement at summer camp. The following boys earned multiple merit badges at Camp Crooked Creek: Brian Huff and Chris Maddox, six badges each; Troy McDonald and Dan Hatfield, five badges each; John Bania, Chad Jones, John Childress, Robbie Hardin, Donnie Price, Sam Wigginton, four badges each; and Josh Coleman, three badges. Great job guys!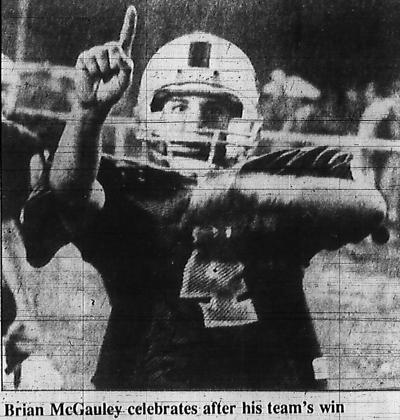 According to Oretha Ridgway of Nichols, Roger and Linda Wilkins, with Stephanie and Austin, were moving into the community from Rineyville.
Rebecca Keller was pictured painting Rachel McClearn's face at the Shepherdsville Middle School barbecue.
John and Eileen Philpot's daughter, Alice was a member of the 82nd Airborne S & T Division. She was stationed in Saudi Arabia at the time.
Mike Waters' 29-yard field goal in the third quarter, followed by a stout defensive effort that included four interceptions, gave Bullitt Central a 9-8 victory over Shelby County, giving the Cougars a 5-0 record.
Everyone was proud of James McPherson of Bullitt East who qualified as a National Merit semifinalist.
And Clyde and Bertha Patterson celebrated 73 years of marriage. Wow!
October 1990
Tammy Hester, the new volunteer coordinator for Roby Elementary School, greeted school volunteers at an orientation luncheon.
Bullitt Central's FBLA officers attended an officer's camp at Hardinsburg. In attendance were Tonya Hines, president; Sonya Hash, vice president; Sharon Smith, secretary; Rick Woods, treasurer; Cheri Sinclair, reporter; Shannon Mitchell, historian; and Christy Quire, parliamentarian. They were accompanied by their advisers, Sherry Reesor and Christy Coulter.
Beverly Cairnes, B.C.'s academic coach was looking for a Commodore 64 computer for their academic meets. Wonder if they found one?
Add Ice N Stir, a pacer owned by Fred Robinson of Shepherdsville, won the first race at Louisville Downs. The horse had five wins, five seconds, and three thirds in 29 starts.
Hungarian dancers, members of the Buckner Grays re-enactors, and the Shepherdsville Middle School band were all part of the events surrounding the Shepherdsville Olde Tyme Homecoming. Award winners at the event included Shelia and Jessica Leigh Kearney of Shepherdsville in the Parent and Baby Pageant; Katina Marie Chesser as Miss Shepherdsville Pageant; Misty Jo Newman as Junior Miss Shepherdsville Pageant; Melissa Noel Payne as Miss Pre-Teen Shepherdsville Pageant; Jeana Kay Richardson as Little Miss Shepherdsville Pageant; and Tiffany Marie Bruce as Tiny Miss Shepherdsville Pageant. Also, Abe Lincoln (a.k.a. Charles Long) made an appearance.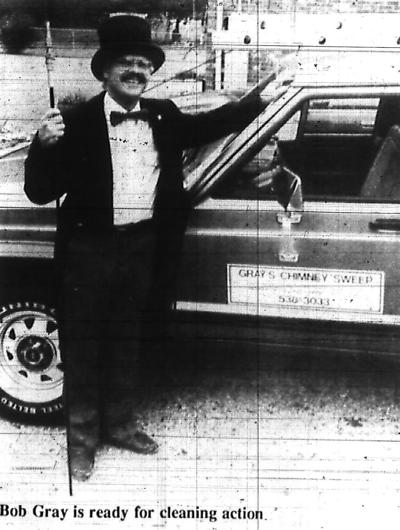 Gordon Carter of Louisville walked away from serious injury following the crash of his single engine plane at the Blue Lick Airfield. Besides the plane itself, the fence belonging to Kenneth Hester sustained significant damage.
Bob Gray, owner of Gray's Chimney Sweep of Mount Washington, was pictured in the paper in his top hat and coat tails in the image of an old-fashioned chimney sweep.
Lois Simmons of Pleasant Grove thanked Bill Wiseheart and Carl Thomas for the fish they brought her.
Young Larry Coy Jr. participated in a production of "Romeo and Juliet" at Morehead State University. He played the role of Balthasar in the production. I know that his parents, Larry and Thelma Coy were really proud of him.
The Kiwanis Club elected their new officers. Lynn Martin of Salt River R.E.C.C. was elected president; Linda Hobbs of ALLTEL became vice president; Janis Gentry of the Red Cross Chapter was treasurer; and Tom Barr of The Pioneer News was secretary.
The paper carried a nice article about the old Cyclone store in Mt. Washington that was being demolished. It mentioned Mrs. Marion Porter who was then 100 years old.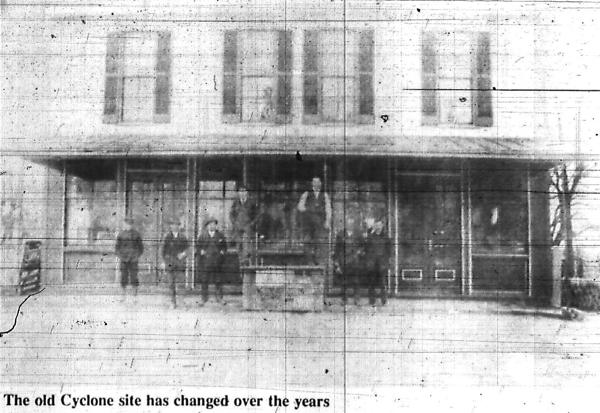 In Lebanon Junction, the Elementary Kindergarten float was a winner in the Old Fashion Days Festival. It was built by Lloyd Mattingly on a wagon donated by Sam Maraman. It was pulled by Butch Sweat's tractor, driven by Buster Sweat.
And I don't usually write about weddings, but this one is too good to pass up. It seems that Darlene Collier and Robert Bohannan got hitched at the Nelson County Fairgrounds. The members of the wedding party were all mounted on horseback, and Joe Evans, owner of Rooster Run General Store performed the ceremony from the back of a horse-drawn wagon (he was a Nelson County magistrate). The bride and groom honeymooned (along with their horses) on a friend's horse farm.
November 1990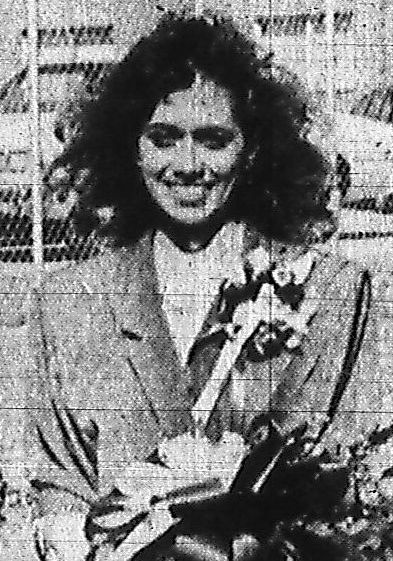 Sharon Thomas
Sharon Gail Thomas, daughter of Carl and Roberta Thomas of Bells Mille Road in Shepherdsville, was selected as the 1990 Homecoming Queen at Campbellsville College. Sharon was a junior majoring in elementary education.
Mrs. Betty Waddell was selected as Mt. Washington Elementary School's Teacher of the Year. She taught band and music.
Over at Nichols Elementary School, Mona Simcoe was selected for the honor. She was a 30-year veteran at Nichols.
And Marilyn Noel of Bullitt East was selected as Bullitt County's High School Teacher of the Year.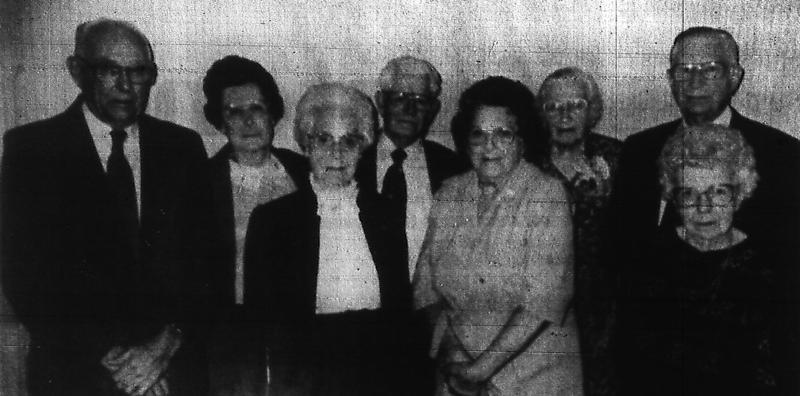 The Mt. Washington School Class of 1929 had a reunion. This was the second graduating class from the school. At the reunion, former teacher Lida Stansbury joined grads Vernon Mothershead, Jeanne Hall Shaw, Darrell Harris, Evelyn Wade Stallings, and their guests, Doretha Mothershead, Jack Stallings and Burledene Harris.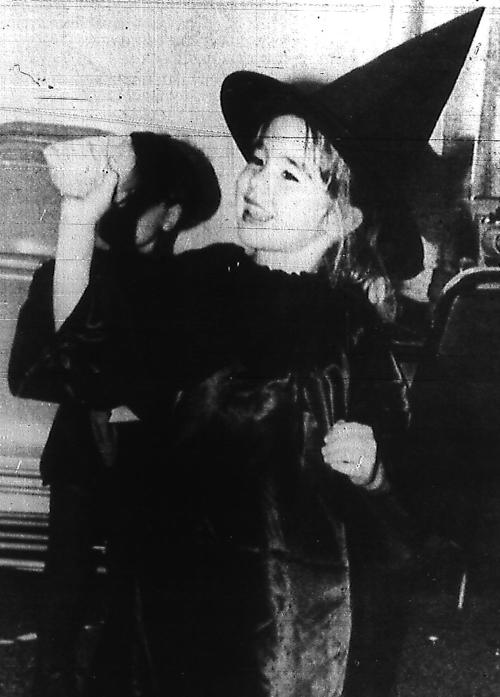 Brittany Caple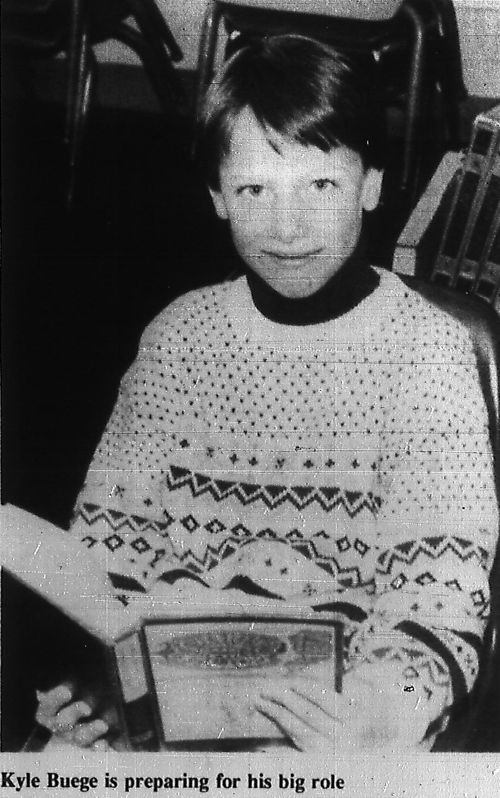 Kyle
The original group of graduates included John Dinguid Coakley and Marvin Porter; making six in all.
In the school board races, Layne Abell defeated Betty Porter in the Mt. Washington district; and Greg Beamer defeated two challengers for the District Four seat.
Burlyn Pike and Steve Masden announced that they were ready to publish their book, Railroad Town: A Pictorial History of Lebanon Junction. It turned out to be a fine volume, and is still available at the Bullitt County History Museum.
The Bullitt Central FFA sold calendar ads as a fund raiser, and Carol Price was the top salesperson with $710 collected.
Lois Simmons of Pleasant Grove reported that Mrs. Ray Grant entertained all her children and grandchildren and great-grandchildren for supper. They were all there to see Kevin Grant who was home from the service.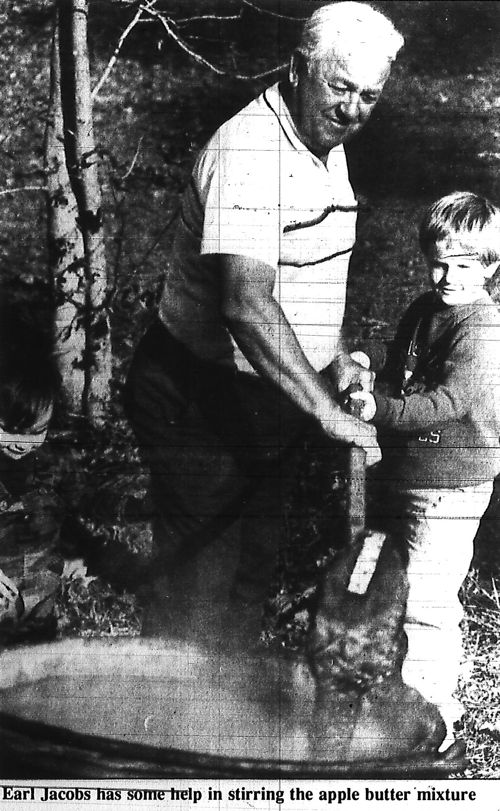 Brittany Caple, age 4, was all dressed up for a Halloween party at the Dorothea Stottman Library in Hillview when John Roberts took her picture for the paper.
We were all saddened at the passing of Pauline Cundiff in November 1990. Mrs. Cundiff was well known for her role in many community activities, and she was selected Kentucky Mother of the Year in 1986. I know that Karen, Paula Sue, and Don still miss her.
Eight-year-old Kyle Buege was selected for the role of Tiny Tim in Actors Theatre's production of A Christmas Carol.
And Bea Jacobs, Stella Millholland, Teresa Baldridge, Joan Watkins, and Lynn Nugent took turns peeling apples for the kettle at Bea and Earl Jacob's place at Nichols where they stirred up a fine batch of apple butter.
They all took turns stirring the mixture, from Carolyn, Joe and Stacy Sedoris to Lisa Hodges, Barry Jacobs, and Larry Corley. Just imagine that 28 gallon kettle nearly plumb full of mouth-watering apple butter!
December 1990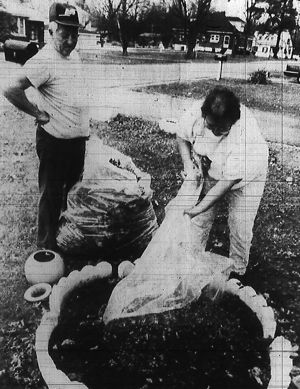 The Schepers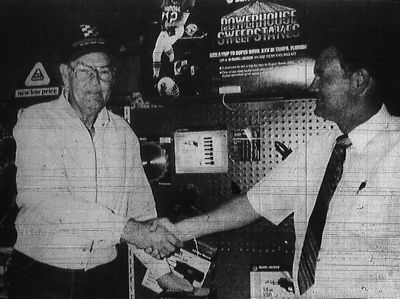 Walter Adams & Mac McGuire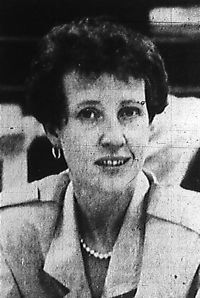 Penny Sanders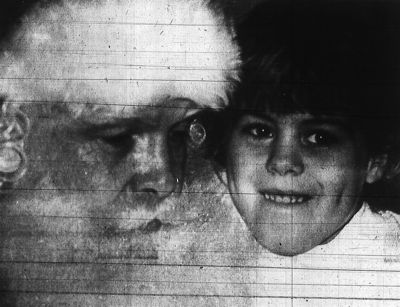 Santa & Jessica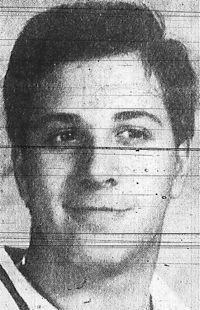 Jason Chandler
John Roberts took a picture of Roman and Carolyn Schepers, Plum Street residents in Shepherdsville, as they finished up preparing their flower beds for the winter.
Teri Fritch, Greg Chinn, Tony Hughes, Doris Barton, Gary Johnson, Kim Hornung and Linda Longacre enjoyed a warm Indian summer hayride. They assembled at the homes of Morris and Barbara Longacre, and Foster and Jan Sanders in Cedar Grove for the hayride and wiener roast.
In high school basketball, North Bullitt defeated Franklin County 106-50 with Garry Dukes scoring 37 points for the Eagles. On the girls' side, the Lady Eagles lost by 6 points, despite Cora Conn's 28 points.
In another game, Bullitt Central defeated LaRue County in overtime on a three-pointer at the buzzer by Jerome Hoosier. Clifton Whitmer led Cougar scoring with 35 points.
Meanwhile, Bullitt East defeated North Bullitt by three, 75-72. Bryan Mudd led Charger scoring with 21 while Garry Dukes scored 23 for the Eagles.
In the Lady Cougar Invitational, the home team first defeated Fort Knox 89-31, and then Henry County 61-32. Tonya Hines scored 19 in the first game to lead Lady Cougar scoring. She added 15 in the second game. Sarah Schuler added 16 and 14 in the two games.
When the Cougars and the Chargers met on the hardwood, the Lady Chargers easily won 61-34, with Becky McKinley leading the way with 20 points. In the boys' game, the Cougars won 82-79 in overtime. Jerome Hoosier led the Cougars with 37 points, while Tim Mason scored 30 for the Chargers.
Mac McGuire, manager of the Shepherdsville Stout's Building Center, was pictured congratulating Walter Adams who had won a remodeling kit which included a number of power tools. Teresa Graham took the picture.
Dr. Penny Sanders, principal of Bullitt East High School, left to take a job with the State to head the Office of Educational Accountability.
Kevin Waddell was featured in an article written by John Roberts. Kevin had earned a spot on the cheerleading squad at Louisville.
In community news at Pleasant Grove, J. B. and Juanita Proctor visited Mrs. Birdie Moore, and Clara Simmons' company included Wallace and Hazel Armstrong, the Proctors, Sandy Lanham, Minnie Mae Franklin, and Clifford Foster.
Jessica Hoyt, age 5, was one of the Roby Elementary students who had a chance to whisper their Christmas wishes in Santa's ear. John Roberts took her picture.
David Pike and Rodney Burress served as judges for the 1991 Miss Western Kentucky Scholarship Pageant. Nice job!
Jason Chandler of Mt. Washington was elected governor of the junior Kentucky Youth Assembly.
Tonda Shockley, Greg Jones, Julie Armstrong, Tracy Hill, Bowen Stine, Ryan Naylor, and Jimmy McPherson were members of the Bullitt East quick recall team that won the second annual Jefferson Community College Quick Recall Tournament, competing against nine other schools.
Tom Barr wrote about L. R. "Buck" Kidwell who was retiring as county agent. Buck was pictured with Tony Lee, both having a good laugh.
And Bill Webb was pictured showing off his 57 pound melon, part of his "heavy" harvest.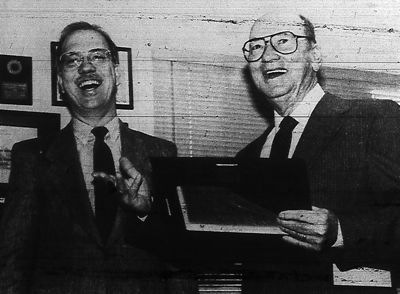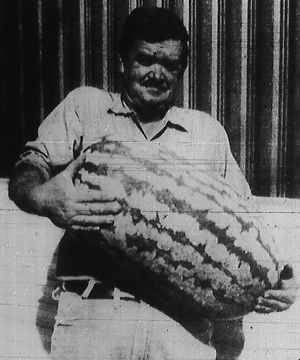 ---
Copyright 2018 by Charles Hartley, Shepherdsville KY. All rights are reserved. No part of the content of this page may be included in any format in any place without the written permission of the copyright holder.
---