It Happened in 1987
Over the years, Charles Hartley has shared glimpses of what was being printed in The Pioneer News in different months and years. This page includes what was taken from the January through December issues of 1987.
---
January 1987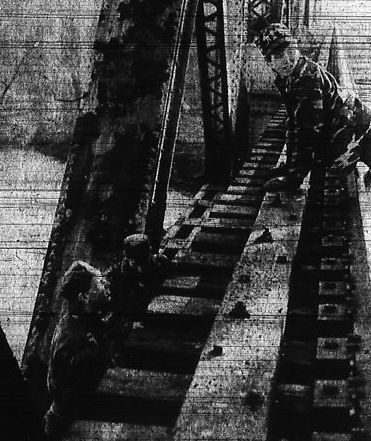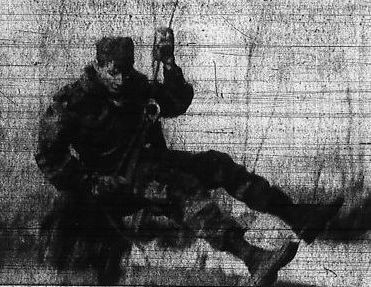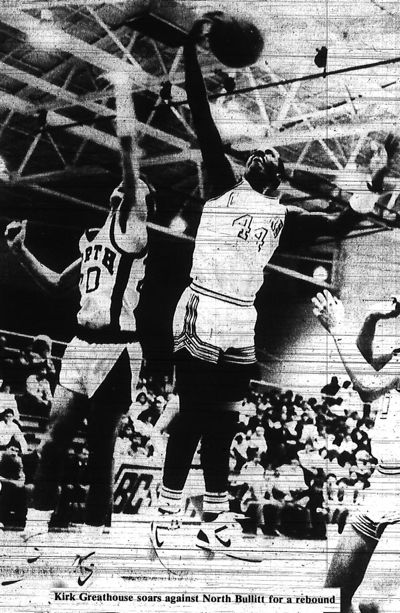 North Bullitt ROTC cadets Julian Patrick, Donnie Hilterbrand and Jason Jacobig were pictured practicing their rappelling skills from the railroad bridge in Shepherdsville.
State Representative John Harper announced his candidacy for Kentucky Governor.
Mary C. Holsclaw wrote from the Hebron community that Mr. and Mrs. Dudley Shelburne were celebrating their 50th anniversary, and that Mr. and Mrs. Joe Ball were celebrating their 25th. She also complimented Mrs. Ann Bates for preparing and taking Christmas dinner to Miss Sally Carrithers, calling it a gracious thing to do. She also noted that little Amy Crumbacker was recovering from the chicken pox.
Lois Simmons of the Pleasant Grove area wrote that Warner and Dolly Baumgardner and daughter of Germany were home to visit Dolly's parents, Theodore and Evelyn Gentry. She mentioned that Alvine and Beulah Foster hosted a dinner for Lanna Janzen and husband, Cliffa Foster, Larry Foster and family, Elaine Massey and her two children; and also told that Kenny Harden's family gave him a surprise birthday party at Mr. Gattis. His wife Bunny served everyone cake and ice cream.
Mike Farner wrote about Bill Schott's ten-year record at Bullitt Central; noting that Schott had won 60% of his games at the school. His teams had won the District title five times, and reached the Regional semifinals six times. Schott was pictured with his assistant Mike Riffe.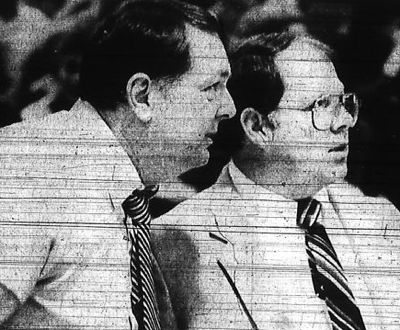 Bill Schott & Mike Riffe
Oretha Ridgway of Nichols reported that she and Marvin Hopewell visited Morris and Hazel Hopewell one afternoon. She also reported that Emily Vincent, Marlene Dawson, Dorte Carman, Daniel Thompson, Calvin Nichols, and Paul Blair were all having January birthdays.
Bob and Ginger Carter of Lebanon Junction reported that the Senior Citizen Center was having a yard sale, and you could contact Mrs. Simpson or Margaret Norris to have items picked up.
Terry Boyd, staff writer for the paper, interviewed Lorraine Taylor, and wrote an excellent article about her family's achievements. Her four daughters were among the first black children to be admitted to the county school system, and all four graduated from college, with two of them, Edie and Bobbye Taylor becoming teachers in the system.
Kirk Greathouse of Bullitt Central was pictured soaring for a rebound in a game against North Bullitt.
Chris Keith and Larry Lowe of Scout Troop 20 of Overdale were pictured building a signal tower inside Jefferson Mall. It was one of a number of scout projects in the Mall's annual Scout Fair.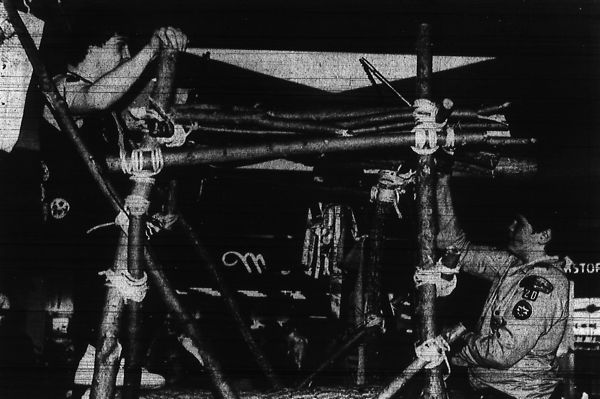 And I wonder how many students in Penny Pack's music class at Nichols remember when the jazz musicians filled their gym with the sounds of strings, bass, and vocals?
February 1987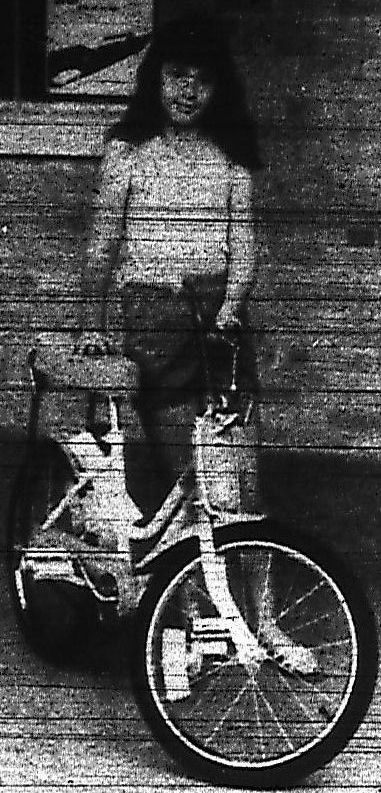 Sarah Hardy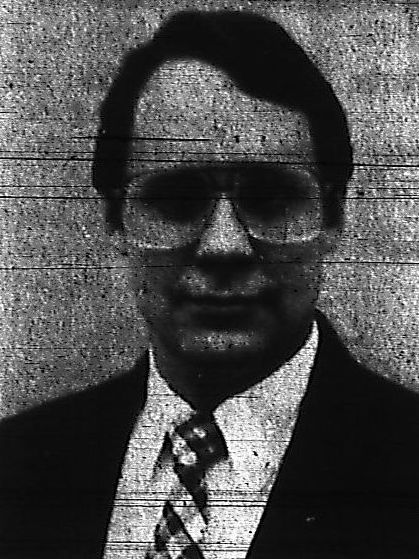 Dr. Stephen McSwain
Attorney David Pike announced that Publisher's Printing would be building a warehouse on their Lebanon Junction property. It was seen as the first step toward building a printing plant in the community.
Sarah Hardy was pictured with her new bicycle that she won in the perfect attendance contest at Roby Elementary. David Pike furnished the bike.
Steve McSwain, pastor of Shepherdsville First Baptist Church, earned his doctoral degree from the Southern Baptist Theological Seminary.
A number of Bullitt Central graduates came back to participate in the homecoming band, along with their former director, Joe Herde. Participating were Pam Miller, Brian Kerr, Tabitha Meadows Capps, Lisa Combs Rogers, Jeff Flowers, Kevin Spratt, DeWayne Harvey, and Lucy Rosa.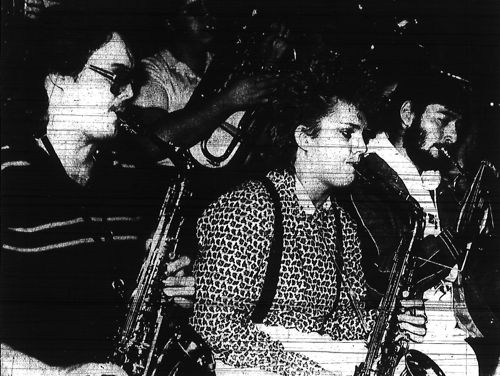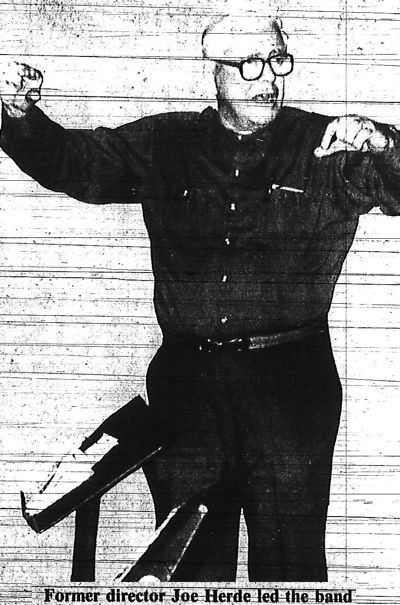 Brian Kerr, Pam Miller & others / Joe Herde
Brent Skidmore made the Murray State Dean's List with a perfect academic standing for the fall semester.
Heather Lynn Strange would be participating in the Miss Junior America Show.
Lois Simmons of Pleasant Grove reported that J. B. Proctor called to visit with his sister, Mrs. Virgie Jones; and Johnny Scoggham was in the hospital with a broken leg.
Bullitt County Stone sponsored an essay contest for the middle schools in their area. Ben Fraley placed first at Hebron, and Robin Campbell was first at Shepherdsville Middle; while Valerie Stearman of Bullitt Lick was the overall winner. Second place finishers at each school were Danny Hagan (HMS), Robin Jackson (BLMS) and Nellis Willhite III (SMS).
Ben Fraley, Valerie Stearman, Robin Campbell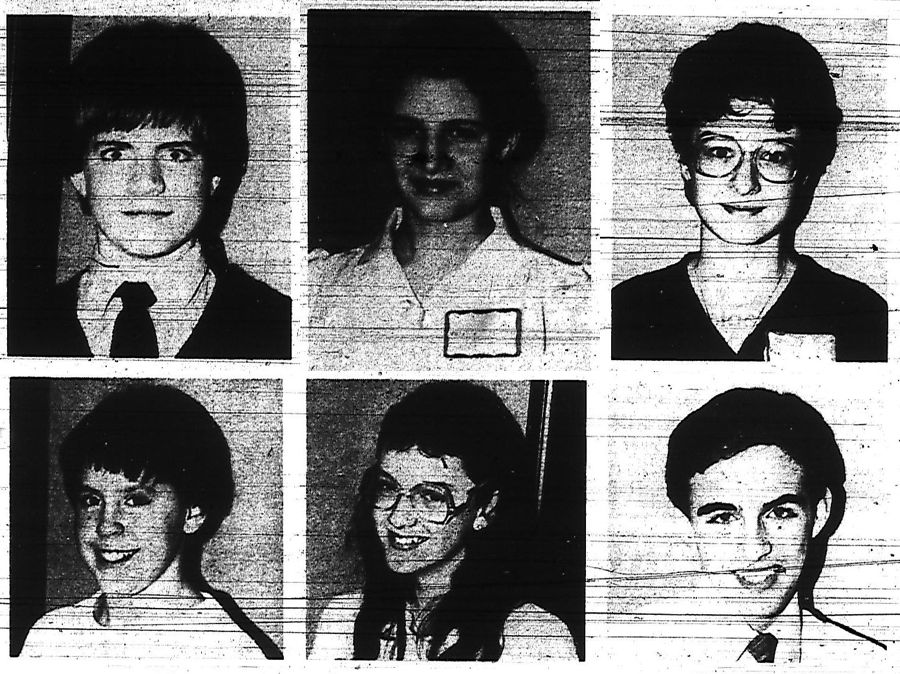 Danny Hagan, Robin Jackson, Nellis Willhite III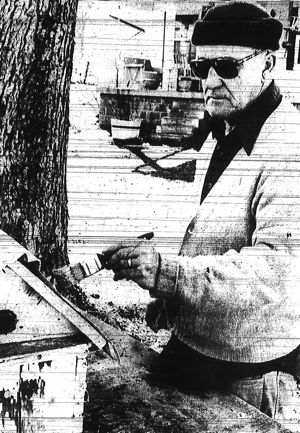 Ernest Miller
Bullitt East Lady Chargers defeated Assumption 69-53 with junior center Shannon Miles scoring 36 points. Stephanie Jarvis and Jennifer Powell each added 10 points, and Beth Snider scored eight.
Ernest Miller, a Beech Grove Road resident, was pictured putting a fresh coat of paint on a bird house while he enjoyed the unusually mild weather.
Bullitt Central students Jennifer Hester, Michelle Pack, Kimberly Hardy, and Marion Higdon entertained Overdale Elementary students as storytellers during the "I Love to Read Week."
Bullitt County native Courtney Longacre signed a letter of intent to play football for the University of Kentucky. Courtney attended Fairdale High where his mother was counselor.
Nell Pike retired as a teacher at Roby Elementary. I know at least one little girl that thought she was just fantastic!
Bob and Ginger Carter of Lebanon Junction reminded folks that it was almost time for the St. Benedict Church fish fry. You could order in advance too!
Clifford and Helen Foster traveled to Bowling Green to attend services at the Rev. Dowling Runner's church. Clifford taped the sermon for Lois and Clara Simmons.
Mary Holsclaw of Hebron reported that Mrs. Mary J. Jenkins had eye surgery and was doing well. She also reported that Mrs. Jane Williams and Mrs. Maureen Fisher enjoyed a travelogue on Australia at the Kentucky Center for the Arts.
And Tom Barr quoted 23-year-old June Crenshaw who said, "I'm really anxious to start work. It's going to be a lot of work, but I'm exciting about getting started." June's work was as the new director of the Bullitt County YMCA where she would be starting from scratch. Well, 30 years later we know how that all worked out. Congratulations June, and thank you for a job well done!
March 1987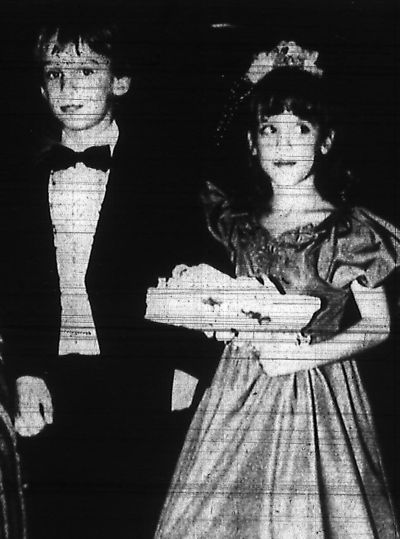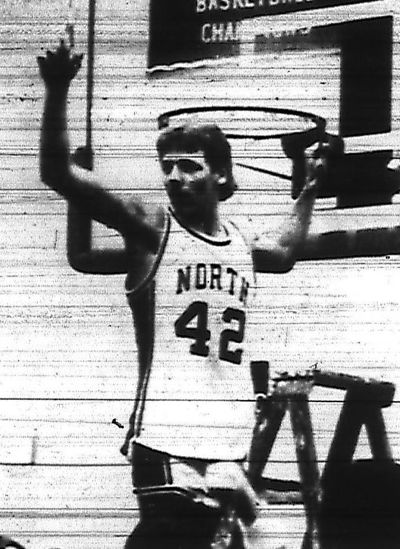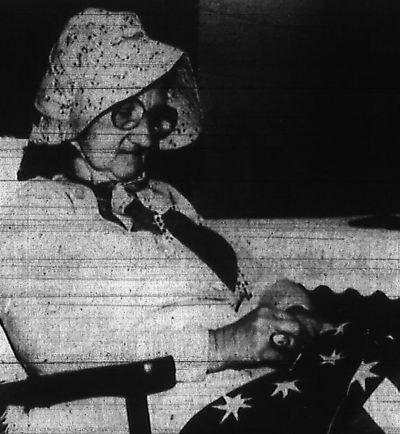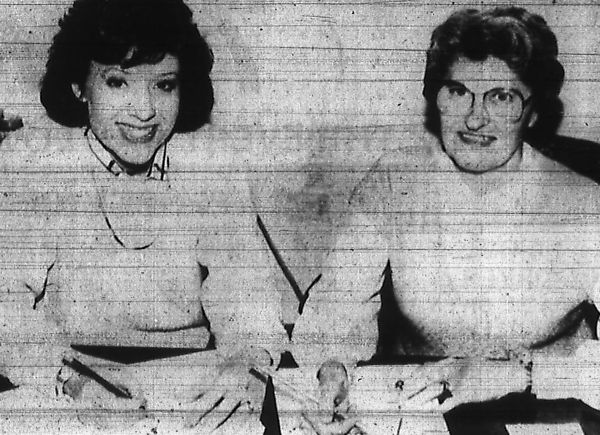 Joshua Lee Newman escorted Jessica Marie Newman down the aisle during the third annual Bullitt County Bridal Show. They were modeling the latest fashions.
Gladys Morris spent a part of "I Love to Read Week" playing Betsy Ross and encouraging people to read. You could find her in the Bullitt Lick library.
Cheryl Crenshaw and Helen Underwood took time out from their busy schedule mailing tickets to the Irene Carroll Scholarship luncheon and style show to have their picture taken.
Mark Elzey and Eddie Norris combined to score 33 points as North Bullitt defeated Bullitt East in the 29th District championship game; and Doug Henson got his picture taken while cutting down the net.
Elzey and Norris joined Eric Moore and Chris Crenshaw of East, Randy Graham and Kirk Greathouse of Central, and John Shelly and Chad Whitaker of Spencer County on the all-tournament team.
North Bullitt made it to the regional semi-finals before losing to Shelby County 59-58 in double overtime, despite Norris' 24 points and Elzey's 18.
The Lady Chargers of Bullitt East defeated North Bullitt 51-45 behind Shannon Miles' 17 points and 14 by Beth Snider. North was led by Amy Hall with 16 and Kim Dial with 14. This gave East their fourth 29th District championship in the last five years.
Those four made the all-tournament team along with Jennifer Powell and Stephanie Jarvis of East, Tammy Hall of Central, and Stephanie Redmon of Spencer County.
The Lady Chargers would reach the regional championship game before falling to Shelby County 44-39.
Mary C. Holsclaw of Hebron declared that the first signs of spring had been seen - wild onions and dandelions!
Linda Boley of Cedar Grove reported that David and Ritha Hatcher took advantage of the nice weather to put a new roof on their house.
Lois Simmons of Pleasant Grove reported that she and Clara were visited by Wallace Armstrong, and J. B. Proctor.
School Superintendent Frank Hatfield announced that he would be retiring at the end of the 1987-88 school year.
Andrea Burden of Mt. Washington Middle, Vanessa Brotzge of Bullitt East, and Dawn Wilkins and John Thompson of Bullitt Central all made it to the state Governor's Cup academic competition.
F. E. "Red" and Martha Parrott Deacon celebrated their 50th wedding anniversary with an open house at their home in Mt. Washington.
And Bob and Ginger Carter of Lebanon Junction reported that Bobby Campbell won a set of The Chronicles of Narnia books in the perfect attendance drawing at Lebanon Junction Elementary. I bet he read all of them.
April 1987
Stacey Easley, daughter of Richard and Marge Easley of Mt. Washington was one of four high school students to receive an expense-free trip to Washington, D.C. as part of the National Rural Electric Youth Tour sponsored by local cooperatives.
Mary C. Holsclaw of Hebron congratulated Miss Lori Wilson and Anthony Hill who were married at Little Flock.
Bob and Ginger Carter of Lebanon Junction reported that 54% of the students at the L.J. school had perfect attendance for the seventh school month.
Lois Simmons of Pleasant Grove reported that Mr. and Mrs. Ray Armstrong had dinner at the Banquet Table with their son Greg and his wife. Greg and Robin were on leave, and heading for Hawaii.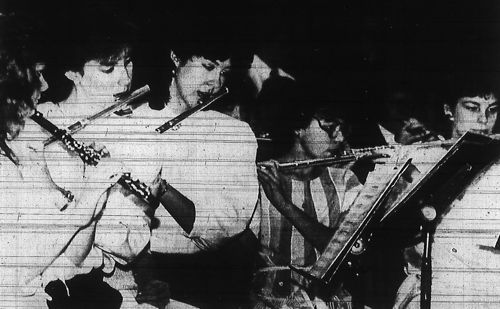 Linda Boley of Cedar Grove congratulated the Cedar Grove 13-14 year old basketball team for an undefeated season.
Quite a number of North Bullitt High School alumni returned to the school for a concert led by band director Mary Lisa Wolfe. Those named by the paper included Jennifer Wheeler, Rhonda Byrd, Dr. Denise Corum Pelphrey, Jennifer Jones, Cynthia Jones, Becky Shaffer, Joyce Thomas, Karen Massey, Jana Meredith, Cliff Ambrose, Rob Heines, Bruce Key, and Rusty Hardesty.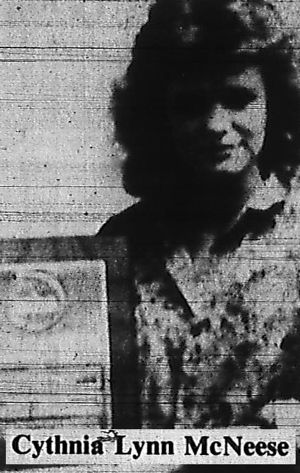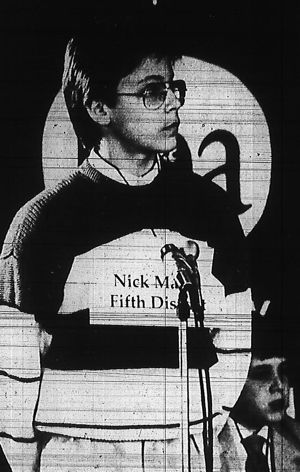 Nick Marsh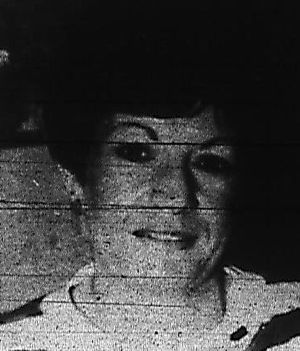 Brenda Lasley
Eleven Bullitt County students were selected to participate in the summer Governor's Scholar program. Bullitt Central was represented by James H. Bickers of Shepherdsville, Raymond A. Hodges, Jr. of Brooks; Angela H. Smith of northern Bullitt County; and Melinda D. Hunt, Sonya D. Jackson, and Christopher A. Taylor of Lebanon Junction. Paula K. Brown of Shepherdsville, and James E. McCubbins and Michael F. Walker of Hillview represented North Bullitt. Laura R. Carnes and Cliftina L. Weakley of Mt. Washington represented Bullitt East.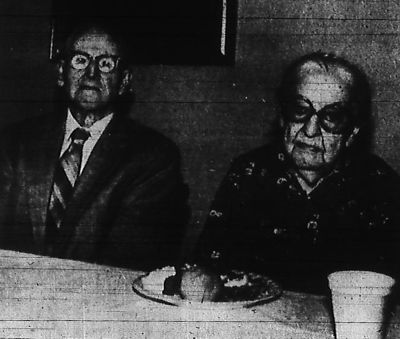 Basil Scott & Annie Owens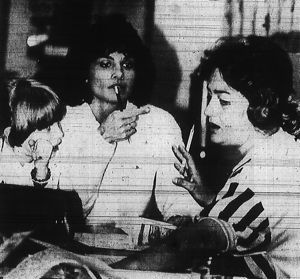 Oretha Ridgway of Nichols congratulated Adrian Larimore, Kevin Simcoe, Dorothy Medley, Bobby Belcher, and Lamarr Sinnett on their birthdays.
Basil Scott (97) and Annie Owens (98) were honored by the congregation of Bethel Memorial United Methodist Church.
Cynthia Lynn McNeese, daughter of Larry and Lola McNeese of Lazy Rivers, and a Bullitt East graduate, was awarded the Ford Lee Wilkinson Jr. Scholarship from the University of Louisville as an outstanding student in the information science department at the Speed Scientific School.
Nick Marsh, an 8th grader at Shepherdsville Middle School, finished fourth in the state in the KEA President's Spelling Bee.
Amy Crimmins and her mother Margo were pictured receiving information on kindergarten registration at Maryville Elementary.
Brenda Lasley was named the top school custodian for Bullitt County. Brenda who worked at Hebron Middle School received the honor, and shared it with the school. She remarked, "Everyone here is great -- the faculty, students, staff, and my co-workers in the afternoon have been very nice."
And George Gabehart, news editor, wrote about William Spaulding of Mt. Washington and his semi-rare multiple bloom tulips.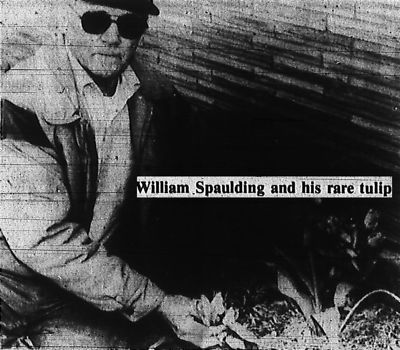 May 1987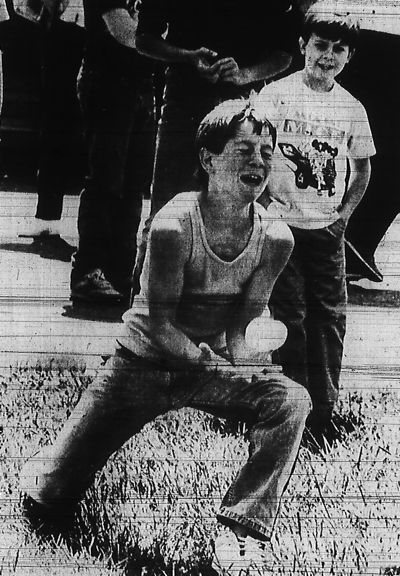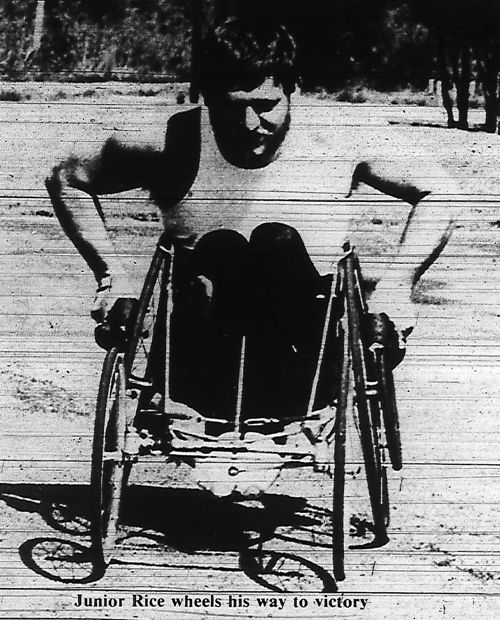 Chad Jackson appeared to be in agony as he caught a water-filled balloon thrown by Tammy Bernard during the Hebron Middle School Spring Festival.
Junior Rice did not let an automobile accident in 1970 keep him from leading an active life. Despite being paralyzed from the waist down, he learned to compete in wheelchair races, and became one of the top racers in everything from short distance runs to marathons. Mike Farner wrote a feature story on him in the May paper.
Jason Glenn Lakes of Brooks Elementary won the Soil Conservation poster contest; and Jo-Leigh Blakely of Shepherdsville Middle won the essay contest.
School winners for the poster contest included Angela Eddington (Lebanon Junction), Jennifer Reynolds (Shepherdsville Middle), Jerry Alan Miller (Overdale), Michael Bell (Nichols), Dao Le (Maryville), and Melanie Price (Bullitt Lick).
School winners for the essay contest included Traci Weird (Bullitt Lick), Rebecca Kay Leach (Brooks), Brandy Kron (Hebron), and Michelle Lape (North Bullitt).
The Lebanon Junction correspondent wished happy birthdays to Johnnie Samuels and James Goff; and happy anniversaries to Mr. and Mrs. B. Frazier and Bob and Martha Heady. He also announced that Brittney Burden was back in town.
The Hebron correspondent reported that Mrs. Ethel Jones and Mrs. Julia Booth had returned home from a week's stay in Washington, D.C.; and that Nan Wilkins and Erin, Jane Williams, and Marie Sadler attended the Governor's breakfast.
The Pleasant Grove correspondent reported that Allard Armstrong celebrated his birthday at his daughter's home; that Mable Shoulders had cataract surgery; and that Willie Mae Simmons and May Bell Whitledge visited Virgie Jones who was not feeling well.
The Cedar Grove correspondent wished a happy retirement to Louise Reynolds who retired from the Cedar Grove School lunchroom. She also offered get well wishes to Phillip Bischoff who had a broken foot, and suggested that that was not the way to slide into home plate.
In an earlier rendition of this column, the paper began a column titled "Front Pages of the Past" in which it remembered what happened 50, 25, and 10 years earlier. Among the stories included was one from 1977 in which Eva Brashear wrote the winning letter to get her mother, Wanda Brashear named Mother of the Year by the Shepherdsville Jayceettes.
That column reported that in 1962, Jan Porter was named president of the district FHA, and Linda Owen was the organization's reporter. Both were from Mt. Washington. Also, the Bullitt County Saddle Club agreed to lease six acres from Bob Bridwell of Mt. Washington.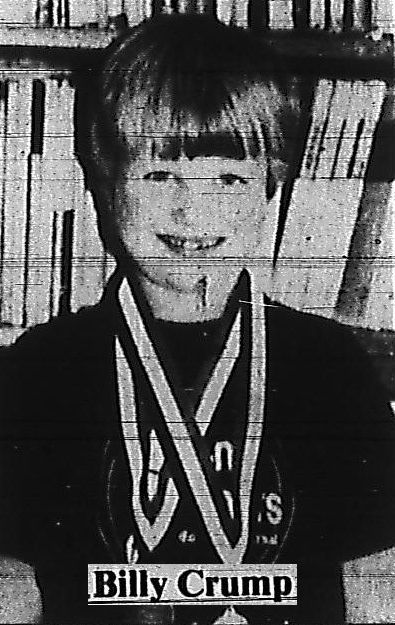 And in 1937, Salt River RECC was born, and 82 miles of lines were approved for Bullitt County. Ack Harned of Belmont was named to the Board of Directors. Also, James Jesse, son of Mrs. Jesse of Shepherdsville, was named editor of the Centre College newspaper.
Shepherdsville Middle School's Math Bowl team won the event for the second year in a row. Team members included Pat Hagan, Tonya Hines, Craig Crawley, Kevin Bickett, and Nick Marsh. The team was coached by Mark Daniels.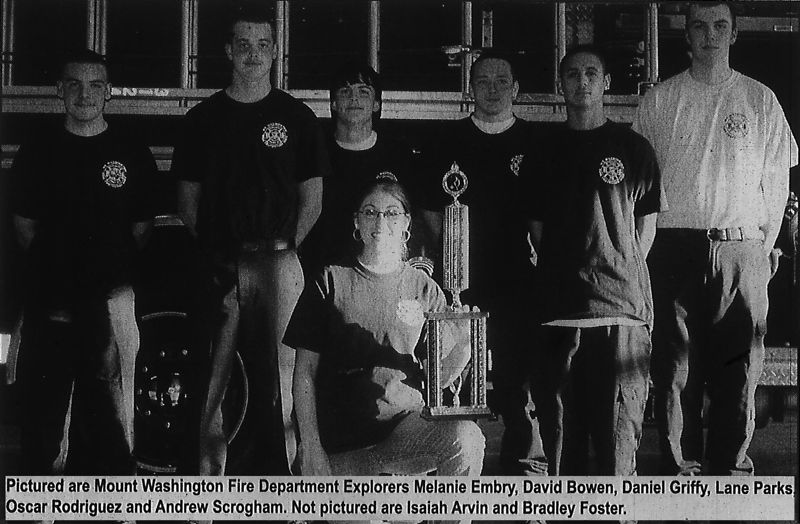 Billy Crump's Young Authors story was selected as state winner in the kindergarten and first grade division. Billy, a son of Harold and Bonnie Crump, was in Pat Hayes' class at Cedar Grove. Joy Brooker, classroom assistant, helped him as well.
Other local winners included Beth Mudd (Cedar Grove, 2nd grade), Bobby Campbell (Lebanon Junction, 5th grade), Lori Lucas (Shepherdsville, 6th grade), Kelly Hardman (Mt. Washington, 8th grade), and Caisidy Bolton (Overdale, Sp.Ed.).
Sheriff "Shot" Dooley was pictured awarding a badge to Explorer Scout Jamie Hill, as the rest of the group looked on, including Brandi Lewis, David Bivens, Bill Clark, and Dale Elliott.
And the following members of the S.H.S. Class of 1932 attended their 55th class reunion: Eva Maraman Whittle, Beulah Richardson Kiefer, Homer and Sara Fay Lee Myers, Frances Cundiff Jobe, Ollie May Dawson Mann, Matilee Rice Hatfield, Margaret Riley Luvisi, Lounetta Stansbury Williams, Ruth Spears Woosley, Rua Larimore Shouley, Carl Burklow, Woodrow Masden, Stanley Lee, Burks Williams, Lewis Earl Colvin, Frank Whitman, Tommy Joyce, Esther Man Myers, in addition to teachers J. T. Underwood and Virginia Thomas Gunther.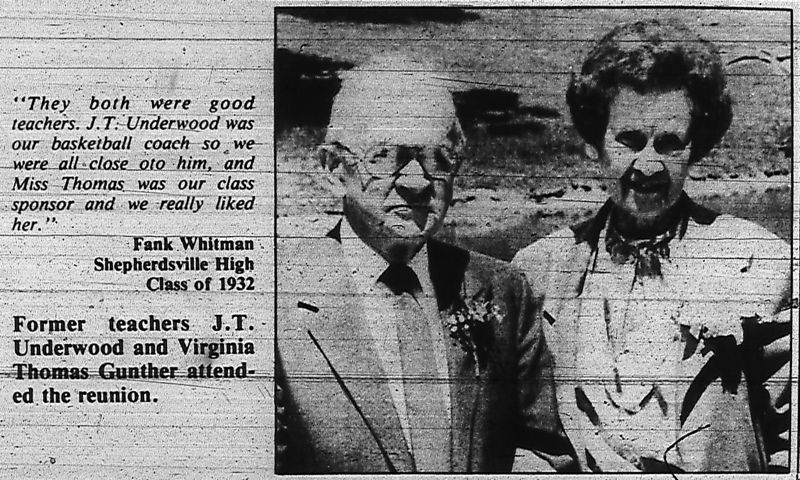 June 1987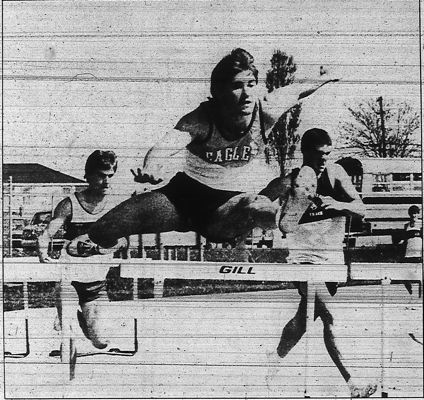 George Hodge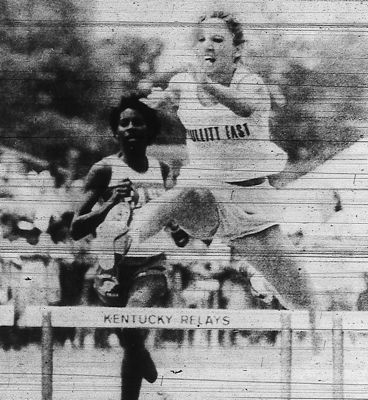 Michelle Wilson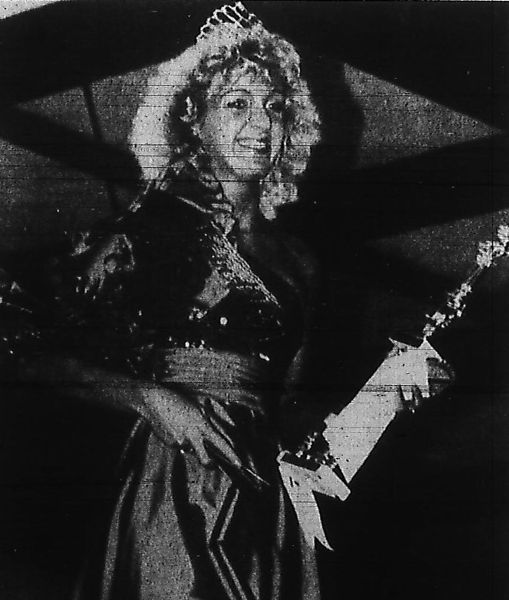 Kara Longacre
George Hodge of North Bullitt competed in his fourth straight year in the state track meet. In each year he competed in a hurdles event.
Nan Wilkins resigned from the Bullitt County School Board to return to the classroom at Hebron as a home economics teacher.
Irene Patterson, Mable Shoulders, Geneva Gentry, and Clara Simmons all enjoyed visits from Clifford and Helen Foster according to Lois Simmons, the Pleasant Grove reporter.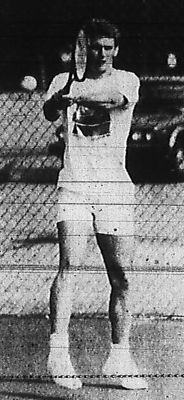 Shawn Pickett
Bob and Ginger Carter of Lebanon Junction thanked Howard Starcher, Norma Hoagland, Margaret Norris, Larue Mullins, Shirley Hourigan, Mary Rice, Linda Duckett, J. I. Samuels, Lottie Schultz, Mary K. Shepherd, Kathy Marks, Norma Streble, and Mona Tamme for the success of the intramural program.
They also thanked Mr. Van Meter for managing the program, his wife for helping supervise the kids, and Cathy Geary and Nancy Rausch for being scorekeepers.
Bullitt East's Michelle Wilson captured first place in the 300-meter hurdle event at the state competition. She also placed second in the 400-meter dash, and third in the 200-meter dash.
Shawn Pickett defeated Jim Rice in the men's "A" division tennis tournament to take first place. He had earlier defeated Lloyd Harris to advance to the finals.
The 1987 All-Bullitt County Baseball Team was announced. Player of the year was Craig Simpson of Bullitt Central. Junior of the Year was Kevin Hughes of Bullitt East. Sophomore of the Year was Ambrose Mendoza of North Bullitt. Other players on the list included Mike Hightclew, Troy Lewis, and Eric Moore of Bullitt East, Mike Sharp, Brian Tinnell, and Lance Smith of Bullitt Central, and Eric McGlothin of North Bullitt.
Kara Longacre, daughter of Morris and Barbara Longacre, was chosen as Miss Bullitt County Fair. She received her crown from Eva Brashear, the previous year's winner. First runner-up was Susan Mitchell; second runner-up was Melissa Ann Johnson; and the winner of Miss Congeniality was Shelly Lynn Rhodes.
And Ray Armstrong announced his retirement as a social worker for the Bullitt County Schools. Ray graduated from Mt. Washington High School in 1949, and later attended Campbellsville College where he earned a degree in secondary education. He was one of the charter members of the Fellowship of Concern, and served as pastor at Clermont Baptist Church. In retirement, one of his passions would be his orchard.
July 1987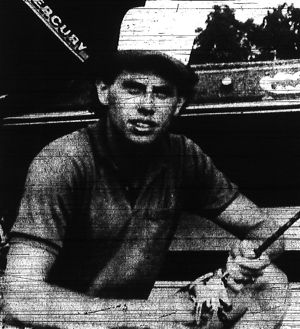 Scott Patton
Scott Patton, a North Bullitt graduate, won the top prize in the 1987 Hydra-Sports tournament in the Tennessee region by catching the biggest bass.
The Carters of Lebanon Junction wished happy birthday to Mae Bunch and Evelyn Frazier, and expressed their sympathy to the family and friends of Patricia House Brinley.
Lois Simmons of Pleasant Grove described the aches and pains of numerous folks in that neighborhood including Alvine Foster's stay at Audubon Hospital, Anita Hope Armstrong's knee problems, and Shirley Armstrong's visit to the eye doctor. She also mentioned that Mr. and Mrs. J. B. Proctor visited his sister, Mrs. Virgie Jones who was not doing so well.
Also reported was Hubert Gaddie moving in to his new home in Mt. Washington, and Pleasant Grove's new pastor, Mark Ross and family moving into the parsonage.
Linda Boley of Cedar Grove congratulated Michael Hurt who won three ribbons in the 4-H division at the County Fair.
Bryan McLaughlin, son of James and Charlene McLaughlin, made the Dean's List at Speed Scientific School, the engineering college at University of Louisville.
Also, Cynthia McNeese, daughter of William and Lola McNeese, earned a perfect 4.0 grade point average at Speed.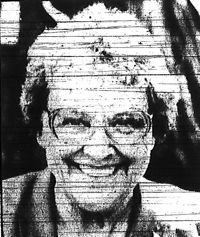 Carolyn Sadler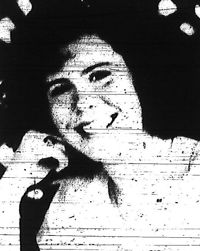 Kim Hardy
Cunningham and Lucas
Louis and Zilpha (Biven) Stottman celebrated their 65th wedding anniversary!
Carolyn Sadler retired after spending a decade working at the Multi-Purpose Senior Citizens Center as nutrition manager.
Tim Cunningham and Tommy Lucas served as voting delegates for the Bullitt Central FFA Chapter at the FFA Convention in Louisville.
Engineer Jack Stewart was present as little Michael Faust of Mt. Washington tried out the seat of the fire district's new pumper truck.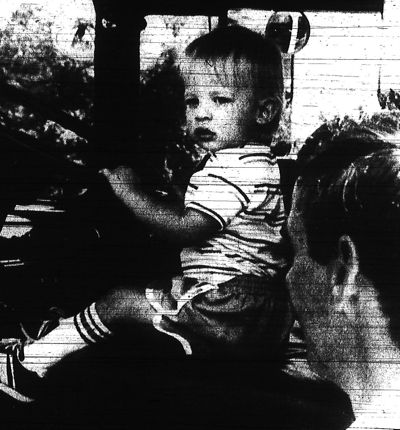 Michael Faust
Frank Simon was the winning bidder for a William Aiken Walker painting at a sale at the home of G. B. Helm.
Kimberly Hardy was all smiles as she received a Pastor's Christian Leadership, Honor Scholarship, Trustee's Scholarship, and a Baptist Matching Fund as she prepared for college. Her parents, Sam and Barbara were happy too!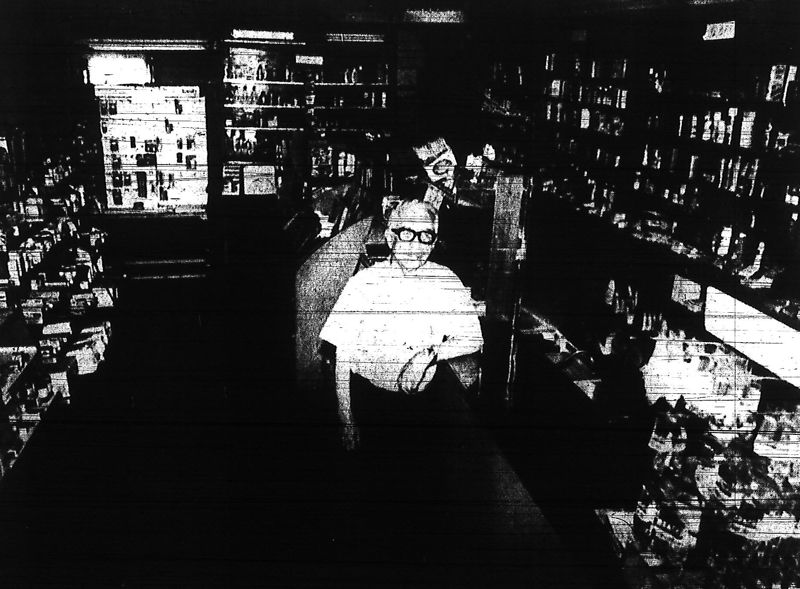 Ted Lesch in his Corner Drug Store
Fletcher and Evalena Hagan were among the last to pay a visit to the corner drug store run by Ted Lesch as Ted and his cashier Peggy Lajaune retired and closed the business.
And Rebecca Harshfield and Katina Chesser were pictured enjoying a night of clogging!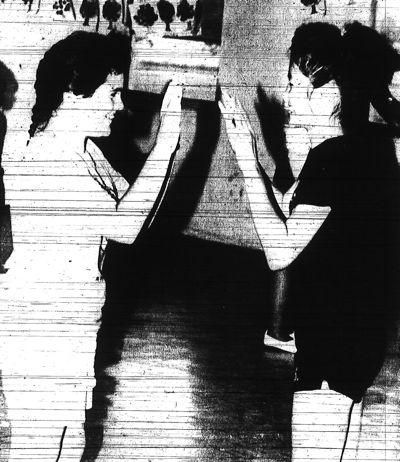 Rebecca and Katina
August 1987
Carissa Dugan, a freshman at North Bullitt was pictured playing her tenor sax at the school's band camp.
Bullitt Central trumpet players were pictured leading a pack of musicians; while Travis Wright and Todd VonAlmen worked with their drums.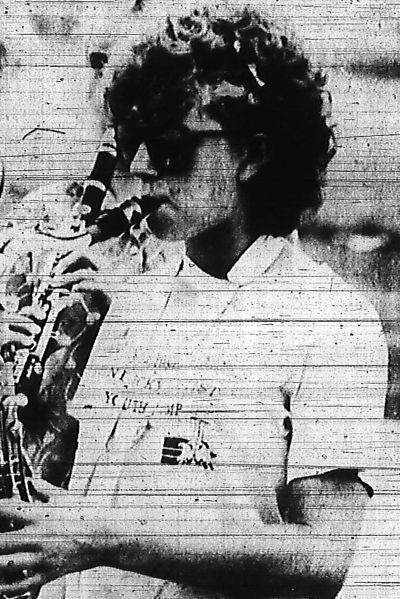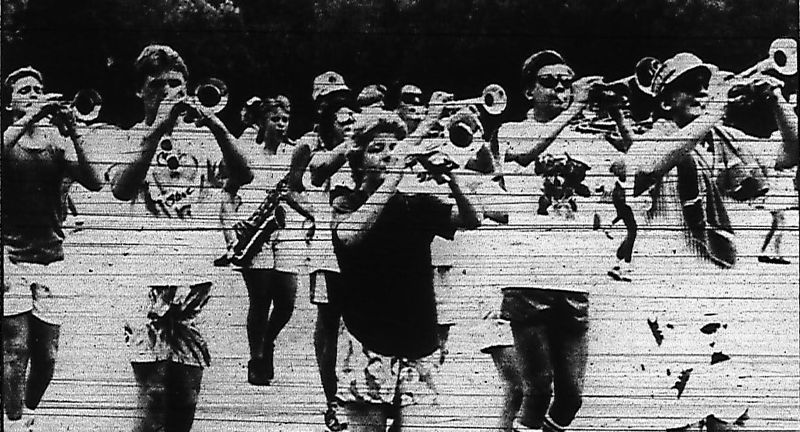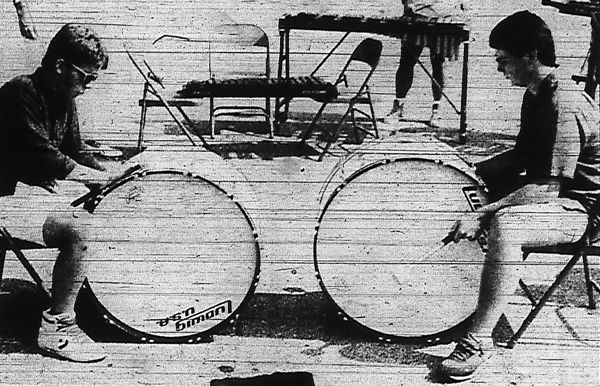 Carissa Dugan, B.C. trumpet players, Travis Wright and Todd VonAlmen
There were two lifeguards on duty at the Mt. Washington pool as Denise Hardin and Carla Coffey were pictured at work.
Odell Clark and Barbie Lee were pictured in the morning sun doing some roof work on the house of Hallie Lee.
George Gabehart, who had been news editor for The Pioneer News for a year, resigned that job to become the managing editor for The Springfield Sun.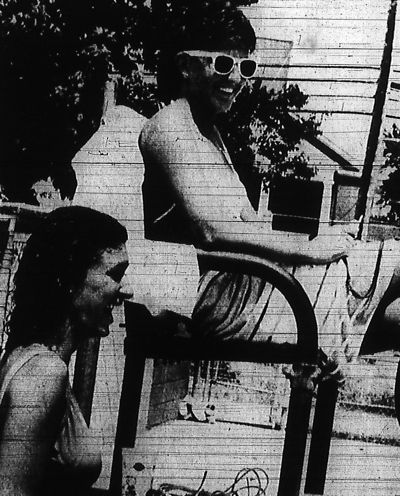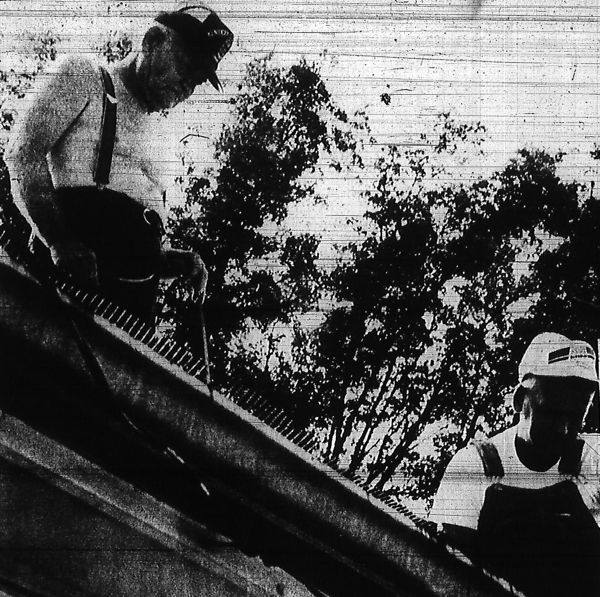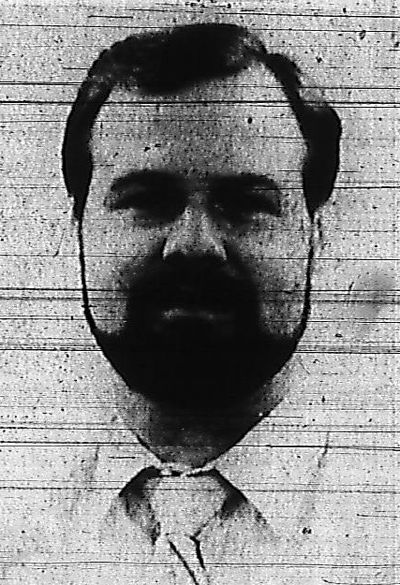 Denise Hardin and Carla Coffey, Odell Clark and Barbie Lee, and George Gabehart
Linda Boley of Cedar Grove wrote that Thelma Thompson was happy to announce that her great grandson, Michael Ray was born to Milton and Sheila West.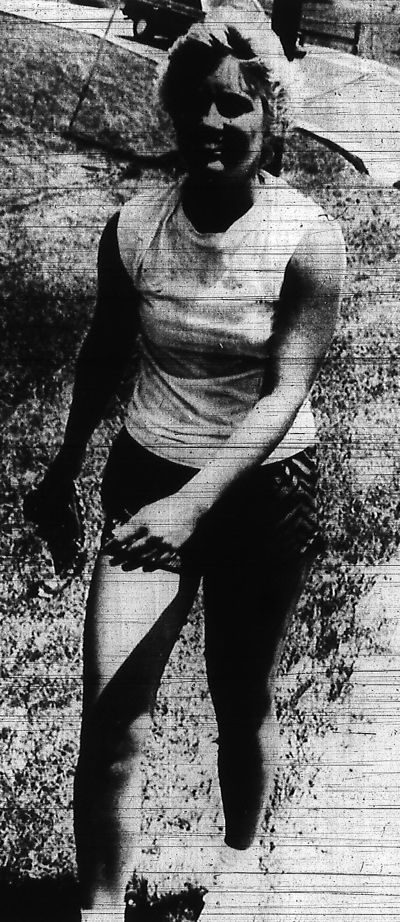 Linda Ritter
Bob and Ginger Carter of Lebanon Junction wished a happy birthday to Adele Shawley, Susie Cave, Aaron Johnson, Jimmy Baker, Chasity Sullivan, and Stella Gray.
Linda Ritter was pictured participating in the Lebanon Junction walk-a-thon. The walkers raised over $3,000.
Lois Simmons reported that Cliffa Ann Foster had been in town from Texas to visit with her parents, Clifford and Helen Foster.
And Oretha Ridgway of Nichols extended birthday wishes to Gertrude Abel, Dewey Foster, L. W. Nichols, Jamie Lee Able, Robin Briggs, Elizabeth Haycraft, Charles Corman, and Roger Thompson.
Steven Steele, a North Bullitt grad, defeated Jeff Klumb, a Bullitt East grad, to take the gold in the men's "B" division finals of the Bluegrass Games tennis tournament.
Also in the Games, Chris Bischoff won the men's 19-29 year old discus title, while bronze medals were awarded to Kenny Allen, Marilyn Allen, and Krissy Dadisman in other events.
Wendy Gunter of Bullitt Central captured the championship of the Owensboro National Bank Classic 18 and under division tennis tournament.
Gwinn Hahn's son Todd had been collecting pocket knives since he was two, according to his parents, and at nine years old, he had an outstanding, award-winning collection. Much of the credit for his interest lay with his grandfather, Bernie Hudson who repaired and built knives.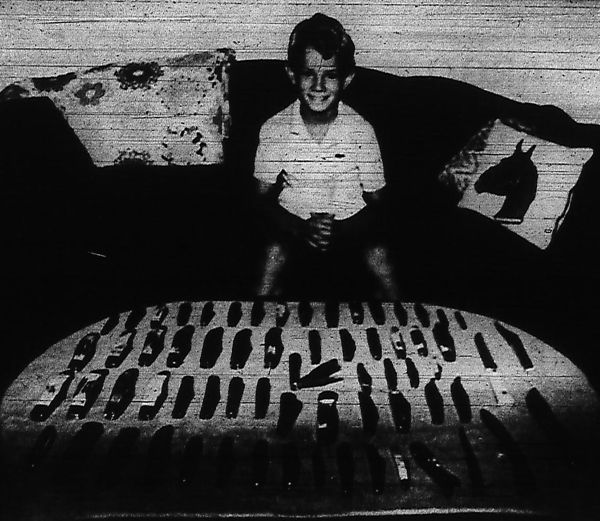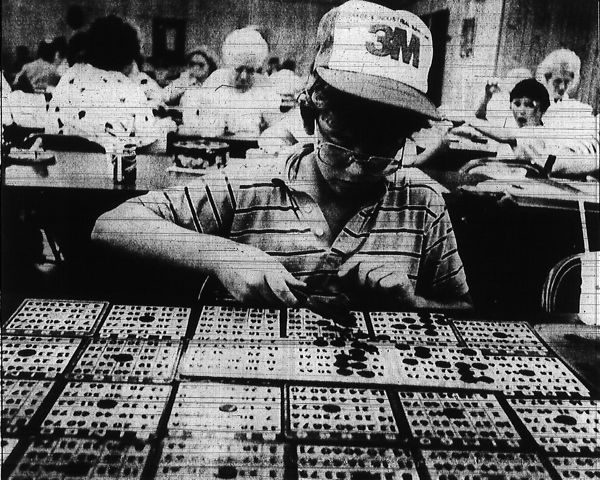 Todd Hawn and Robin Brown
Robin Brown, son of Sheila and Melvin Hodge, was pictured at the VFW Post in Shepherdsville with more than twenty bingo cards in front of him.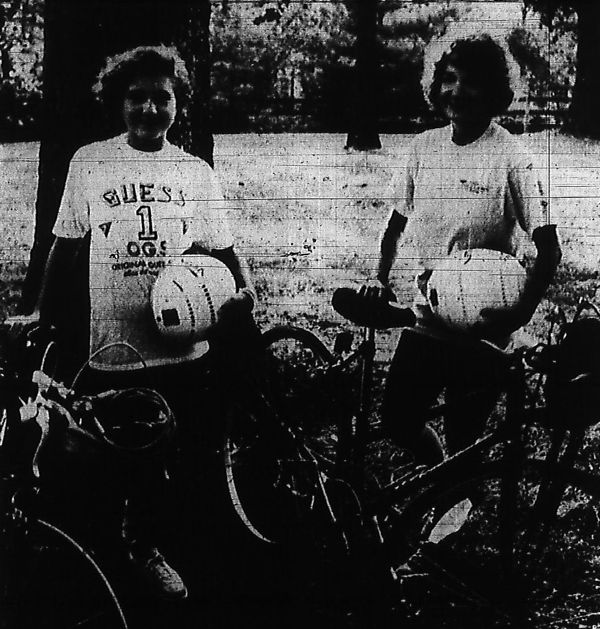 Renee and Ashley Fox
Frank Hatfield, who had recently retired as school superintendent and gone to work as the executive director of the Kentucky Retired Teachers Association, was awarded the Distinguished Service Award by the Kentucky Association of School Administrators.
Governor's Scholars from Bullitt County included Raymond Hodges Jr., Sonja Jackson, James Bickers, Paula Brown, Darlene Hunt, and Angela Smith who attended the program at the University of Kentucky; and Laura Carnes, Cliftina Weakley, Chris Taylor, Jim McCubbin, and Mike Walker who were at Centre College in Danville.
And Renee Fox and her daughter Ashley were scheduled to participate in the 100 mile Wilderness Road Bike Trek to benefit the American Lung Association.
September 1987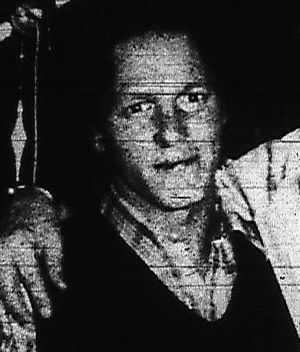 Garry Cawthorn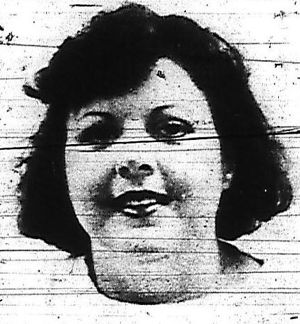 Barbara Plenge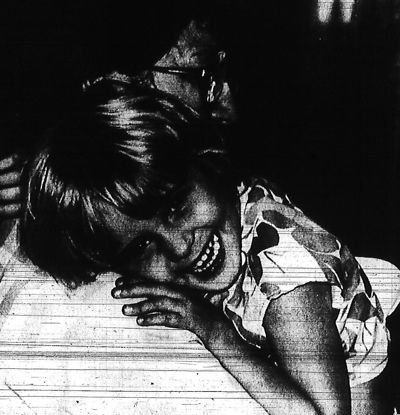 Randi Slaughter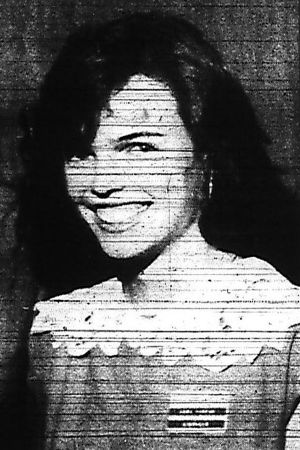 Lori Pippin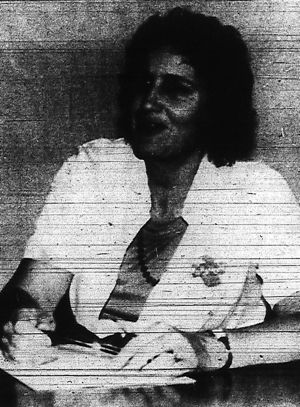 Penny Pack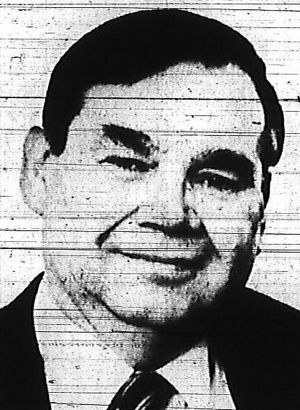 John Harper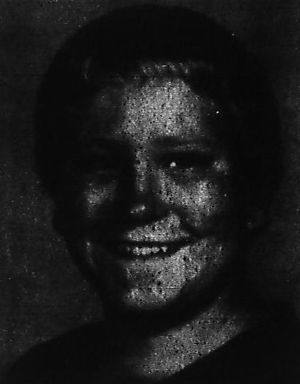 Mike Charlet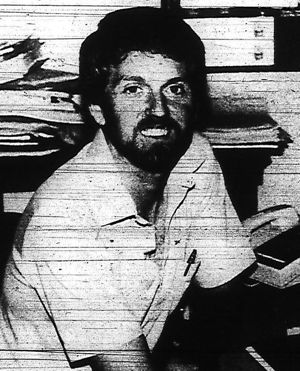 Layne Abell
Garry Cawthorn picked up some nice prizes in his appearance on the Nashville TV show, Fandango.
Barbara Plenge was selected to be on the Prichard Committee for Academic Excellence to improve educational opportunities in Kentucky.
Bob and Ginger Carter of Lebanon Junction congratulated Wilma and Dillon Hall on their anniversary, and wished Mrs. Annie Sweat a happy 95th birthday. They also welcomed Larry Belcher as the new principal of the LJ school, and Steve McGill as the new school music teacher.
The editor announced that, due to illness, Mary Holsclaw would no longer be writing the Hebron column. Her successor would be Louise Bischoff.
Louise Bischoff and Lisa McDowell were having a successful year on the horse show circuit. Louise won several ribbons and cash prizes in the pleasure horse riding and driving classes, and Lisa won on her three-gaited pleasure horse.
The school system added counselors to the elementary schools. At Cedar Grove, Linda Shofner moved from the classroom to accept this new role. And Penny Pack took on the challenge of counselor at both Lebanon Junction and Nichols, spending days at both schools.
One of the high point for John Harper's run for governor must have been visiting the White House to meet President Reagan.
Randi Slaughter was all smiles while being held by her grandmother on a tour of the Beam Distillery on the annual Farm/City Tour.
Shepherdsville Middle Schooler Mike Charlet won a contest by drawing a new logo for Options Unlimited. His prize was a $50 savings bond.
Abrea Thompson of Mt. Washington constructed a tower of 31 Oreo cookies to win a contest at the Houchens Store in Hillview. Wonder how many she ate afterwards?
Bullitt East graduate Lori Pippin was selected to participate in the National Youth Science Camp. Only two from the state were selected to participate.
In a lopsided contest, Bullitt Central defeated North Bullitt 36-0, making Assistant Coach Lewis Clark's dream come true.
Cougar Cross Country Coach Bob Carpenter was pictured talking with his team in preparation for the new season.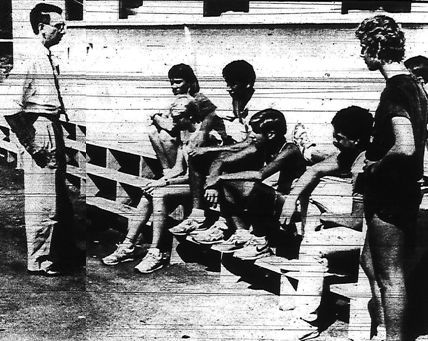 Bob Carpenter
John Roberts interviewed Layne Abell about his role as a pre-trial commissioner. Layne was also a pretty fair photographer.
Business teacher Sherry Reesor was selected Bullitt County Teacher of the Year.
And Clyde and Bertha (Daugherty) Patterson celebrated their 70th wedding anniversary! Wow!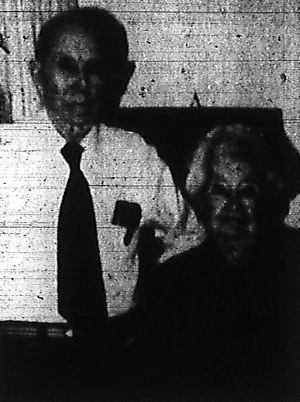 Clyde and Bertha
October 1987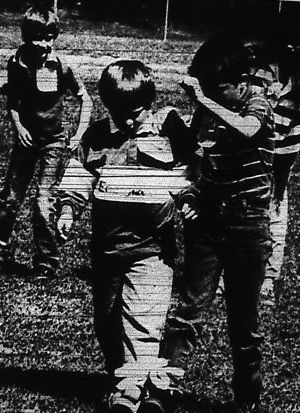 Freddy and Shannon
Freddy Holladay and Shannon McMichael of Mt. Washington Elementary School participated in a three-legged race with an apple balanced on their feet at the school's annual apple festival.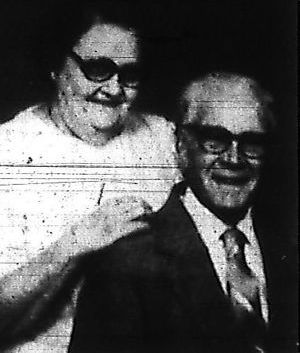 Crumbackers
There were lots of beautiful and handsome winners in the Olde Tyme Homecoming Baby Contests, including Amanda Michelle Coy, Ashley Sharp, Joni Leigh Burden, Tiffany Bruce, Elizabeth Porter, Megan Price, Christopher Halstead, Donald Caudill Jr., Ken Sanders, Tasha Lynn Etherton, Jessica Michelle Moore, Amy Nicole Halstead, and Chad Tucker Lanham.
While the Eagles lost to Anderson County, a highlight for them was Ambrose Mendoza's kicking. He scored all of their points on three field goals.
Judge Executive Clifford Haley underwent bypass surgery at Audubon Hospital.
Walter and Elizabeth (Ferring) Crumbacker celebrated their 50th wedding anniversary. They've lived at the top of Crumbacker Hill on Zoneton Road for almost all of those years.
Lebanon Junction Mayor Gerald Tamme was pictured looking over a replica L&N locomotive at the 1986 Old Fashion Day festival.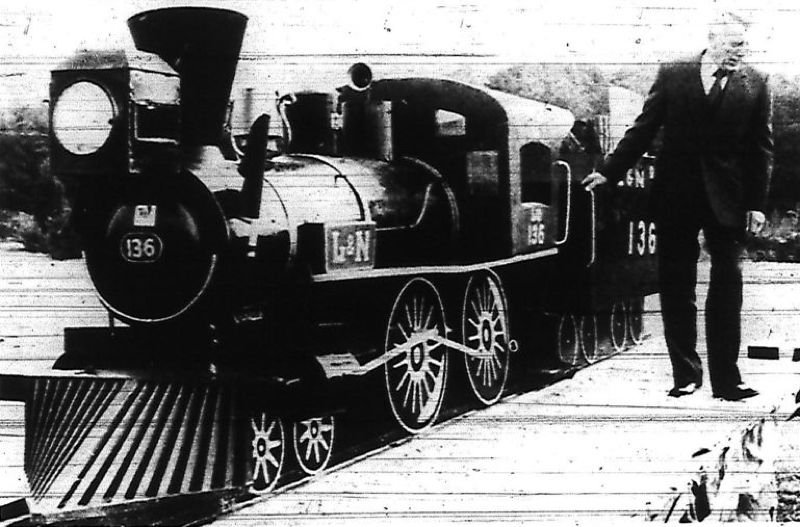 The LJ correspondents wished happy birthdays to Mattie Allen, Mary Lou Snellen, Kevin Collins, Emily Sullivan, Guy Snellen, and Jimmy Carnes.
Volunteers at the LJ school included Marge Barker, Carol Bibee, Carol Greer, Craven Durham, Cathy Geary, Cindy McCrary, Aubrey Maddox, Billie Raley, Billie Jo Ricketts, Connie Bailey, Carol Beeler, Mary Bowman, Carolyn Caudill, Gail Decker, Lois Hines, Debbie Metcalf, Brenda Underwood, and Brenda Vittitoe.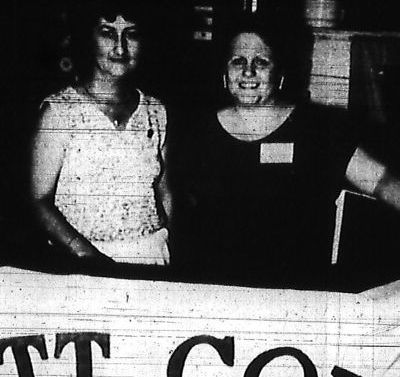 Jean Hagan and Brenda West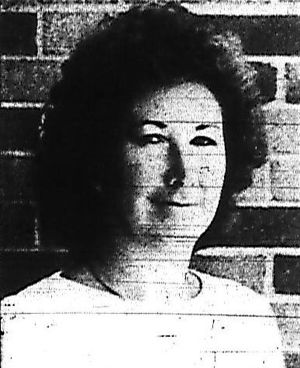 Judy Seigle
At the Nichols Family reunion at Cupio, the oldest attendee was Miss Minerva Pendleton, and the youngest was Clayton Andrew Dawson.
Jean Hagan and Brenda West were two that represented the Bullitt County Chamber of Commerce at the Bullitt County Fair.
Lebanon Junction Mayor Gerald Tamme shared the spotlight with WHAS news co-anchor (and Grand Marshal) Melissa Forsythe at the Old Fashion Days festival parade.
Commonwealth Attorney Tom Waller was honored by State Attorney General David Armstrong when he was named Outstanding Prosecutor of the Year.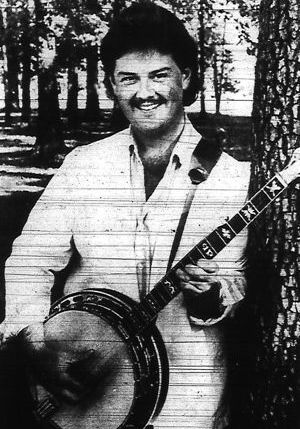 Marke Richardson
Dickie Hay was featured in an article by Bobbi Woloch on his songwriting aspirations. His song "Who Gets Custody of the Memories?" placed third in the American Songwriting Festival in 1976.
Louise Bischoff of the Hebron Community shared that Lisa McDowell was traveling to Lexington for the Fall Classic Horse Show. She also reported that Bernard and Jimmy Bischoff and Hubert Meredith enjoyed two days of fishing at Barren River.
Judy Seigle was named Homemaker of the Year by the Bullitt County Homemakers.
Marke Richardson "picked" his way to a second-place finish in the senior division of the Kentucky State Banjo Championship.
New Lebanon Junction School Principal Larry Belcher was pictured aboard the school float in the Old Fashion parade. Belcher, a 1965 graduate of S.H.S., described himself as a "people person" which certainly proved to be true in his later endeavors.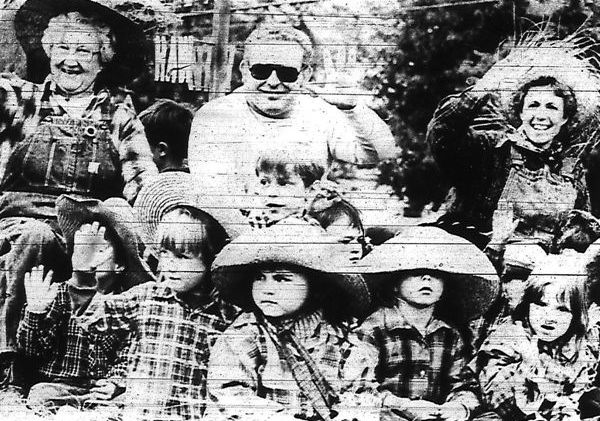 And Jane Sanders was named Outstanding Citizen of the Year by the Bullitt County Chamber of Commerce.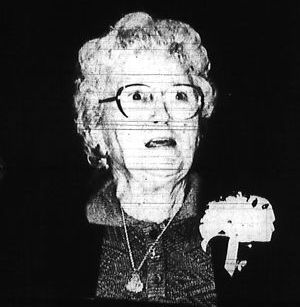 November 1987
Seven of the eight candidates for the Pioneer Village City Council were pictured on the front page of the paper, including Bradley Allen, Donald Coffman, Herbert Eggers, John Noltemeyer, Jonathon Sutton, Eldon White, and Lee Wilborn.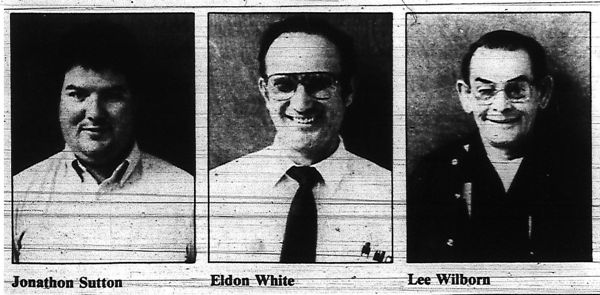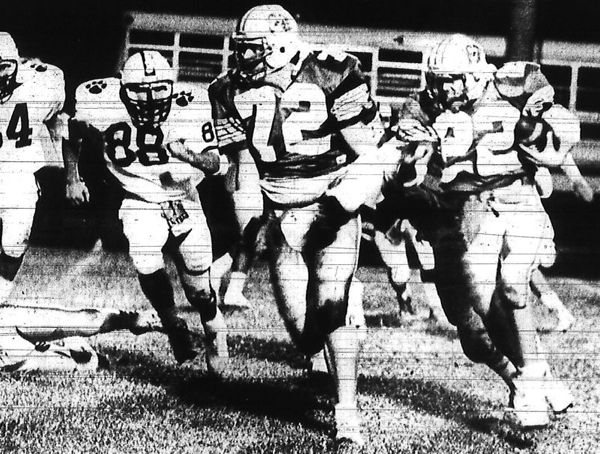 Offensive lineman Micah Redmon was pictured opening a big hole for Kerry Stout in the Bullitt East Chargers' 35-6 victory over Carroll County.
The 1924 S.H.S. class met for their 63rd reunion, along with one of their former teachers, Hester Bell (Anderson) Hardaway. Students mentioned in the article included Virginia Gardner Shelburne, Iva Elliott Roby, Louise Shelton Lamb, Lawrence Feather, and Robert Ball. There had been 17 members of the class originally.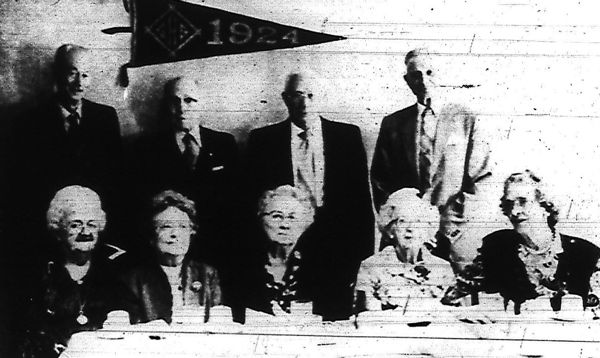 S.H.S. Class of 1924
Kim Burks and Linda Rice were pictured by John Roberts sitting in the pumpkin patch at the Cedar Grove Fall Festival.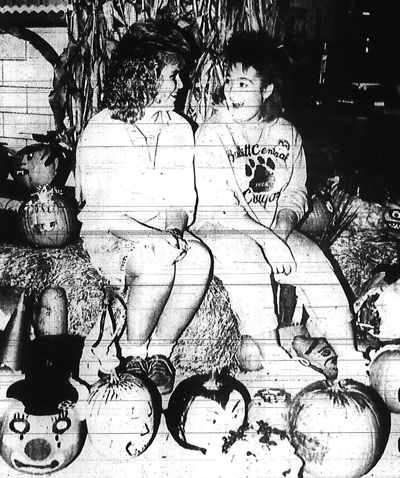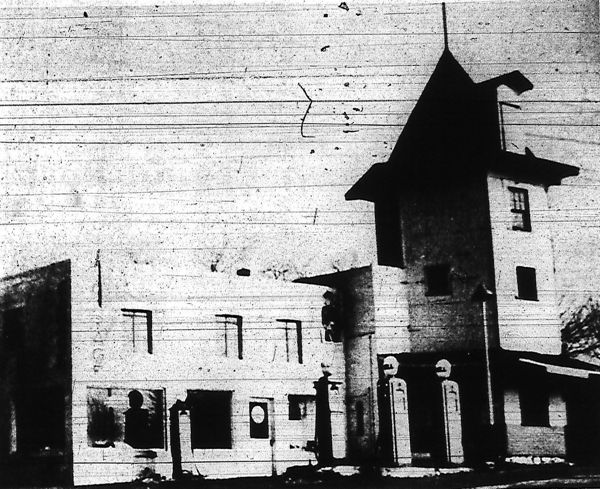 Hocker Building
In Nichols news, Oretha Ridgway congratulated Mark and Clara Thompson on the birth of their son Mark Evan. Oretha reported that she and Marvin Hopewell visited with Thelma Hopewell.
She also listed the names of the Nichols Fifth-graders who made the school honor roll. They included Annie Allgeier, Jason Warner, Tina Burden, Jonathan Cook, Sonya Gillespie, Becky Haiby, Kelly Hurst, Matt McBroom, Jodie Thomas, and Deanna Thurman.
Bob and Ginger Carter reported on the new post office being built in Lebanon Junction on the site of the old Hocker building. A picture of that service station was included. According to Steve Masden, the first building on that site was built by Clyde Duvall and Golden Engle. Dick Hocker bought it about 1938.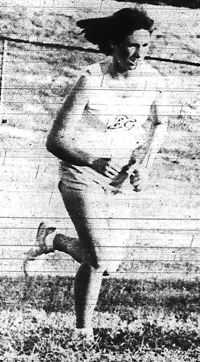 Lois Simmons of Pleasant Grove reported on the death of Mrs. Virgie Jones whose survivors included her son Adrian, and three brothers Harley, Roscoe, and J. B. Proctor.
Lois also reported that Clifford and Helen Foster visited their daughter Lana Jenzen.
Kim Davis and Dwayne Goers of Bullitt Central earned places in the state cross-country competition with strong performances at regionals.
Tonya Hines, with 22 points, led the S.M.S. Rams to a championship victory over the Generals in the Middle School Tipoff Tournament. Meanwhile, Tim Mason's 19 points led the M.W.M.S. Generals to a 47-43 victory over Bullitt Lick in the boys' tournament.
Jeff Reynolds wore a neck brace during rodeo competitions following a throw that nearly broke his neck. The Bullitt Central sophomore from Lebanon Junction enjoyed his participation on the professional rodeo circuit.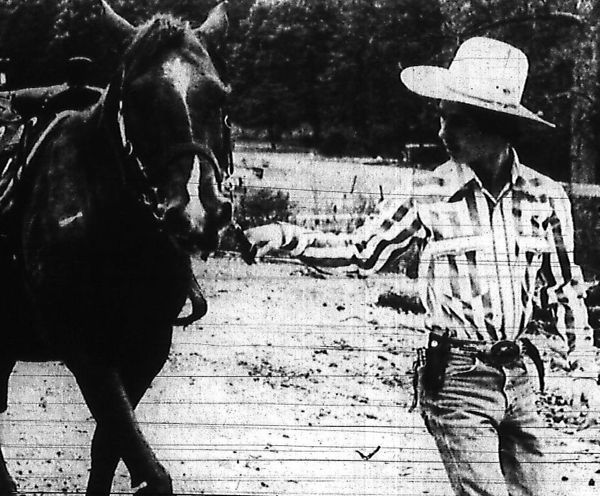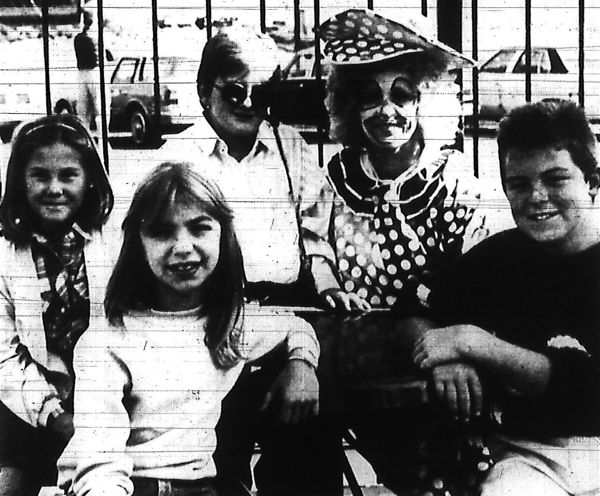 Jamie Vincent, Amy Elzy, Eric Rogers, and Kim Maraman were pictured with Laurie Wilkerson as a clown following their free meal at McDonalds as a prize for their winning entries in a country safety contest.
And First Baptist of Shepherdsville celebrated 150 years of service. The special event was led by Pastor Stephen McSwain. Maggie Bridwell and Thelma Newman were recognized for their membership of 76 years in the church. The church Sunday School attendance was recorded at 414, and more than 600 attended the morning worship service. Following the service the congregation moved to the sidewalk and street in front of the church for a church picture.

And rounding out the day's activities, a historical quilt was presented to the church by Mary Sue Bleemel and the Woman's Missionary Union.
December 1987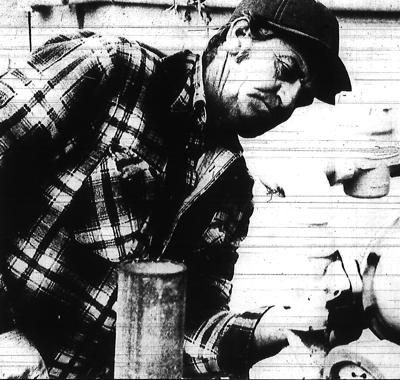 R. G. Branham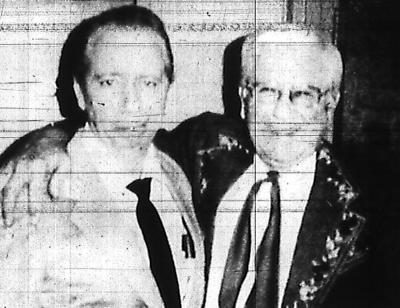 Ayers and King
John Roberts took a picture of R. G. Branham of Mt. Washington as he touched up the paint on some exterior plumbing.
Hillview resident William Jerry Ayers was pictured with country music legend Pee Wee King.
In Bob and Ginger Carter's Lebanon Junction article, they included a picture of the communities second school building (1902-1930) that was located on Masden Street.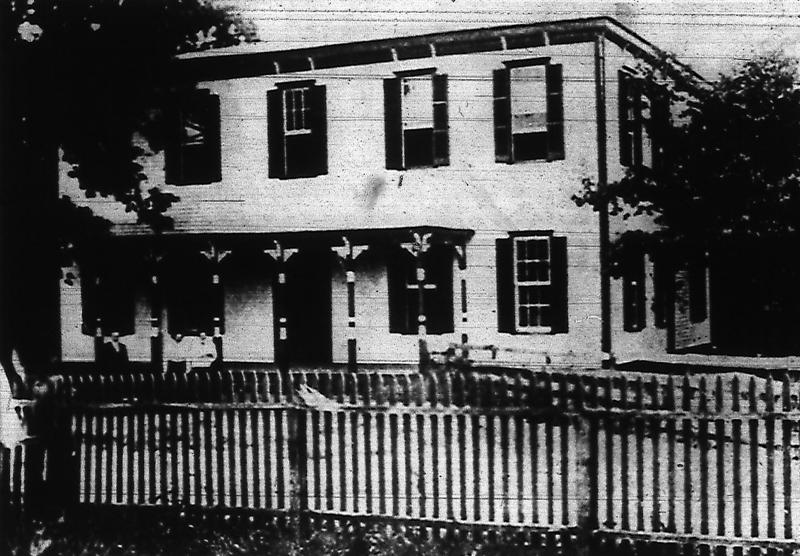 Becky Dadisman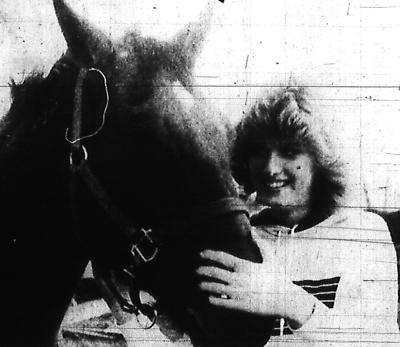 Lisa Laytart
Becky Dadisman captured 16 rebounds and Penny Troutwine scored 18 points as the Lady Cougars defeated Spencer County. The rest of the scoring for Central was spread out with Kim Davis getting 9, Stacy Richards 7, Becky Dadisman 5, Michelle Mitchell and Connie Johnson 4 each, Krissy Dadisman, Stacy Sedoris and Tiffany Rice 2 each, and Laurie Horton 1 point.
Lisa Laytart's picture in the paper accompanied a story about her winning ways in horse competitions, including being the only female competitor in a horse plowing contest.
Linda Boley of Cedar Grove wished a happy birthday to Diane Cook, Linda Snyder, Ruth Thomas, Mary Lou Neel, Ruben Rosa, Liz Grider, Audrey Foley, Karen Cravens, and Melissa Tyler. She also congratulated Sharron Rene and Donnie Kaufman on the birth of their daughter, Whitney Rene.
Linda also congratulated Kirby Slone for receiving a trophy for outstanding offensive lineman at Bullitt Central's football banquet.
Lois Simmons of Pleasant Grove wished a happy birthday to Jennifer Johnson, and to the twins, Jennifer and Jeannine Hurst. Other birthday wishes went ot Ellen Brewer, Doris Stevenson, Clara Simmons, Juanita Proctor, Vonnie Laster, and Maggie Bridwell.
Lois also mentioned that Kenny Price took a load of tobacco to Horse Cave and Wallace Armstrong went along for the ride.
Louise Bischoff of Hebron mentioned the kind deed by Mary Harper who visited Mrs. Holsclaw and brought her a nice meal and some goodies.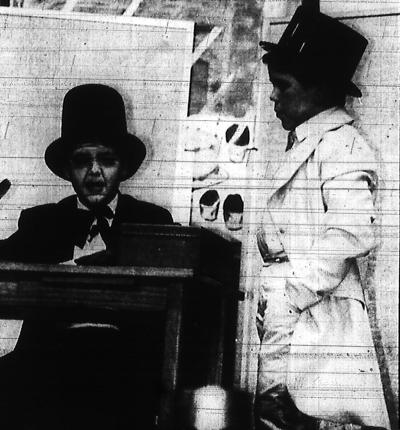 Chris and Josh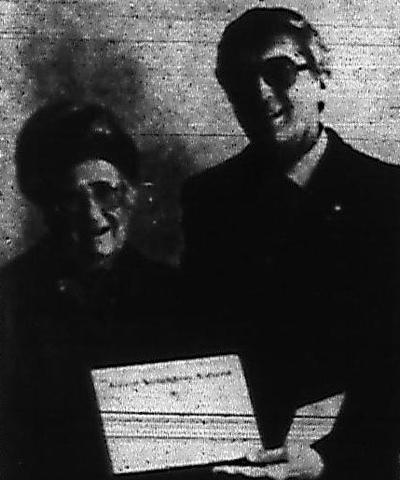 Edna and Bud
In a four-overtime thriller, the Lady Chargers of Bullitt East defeated the Lady Eagles of North Bullitt 62-61. Shannon Miles led East scoring with 30 points. Adding to East scoring were Jennifer Laha with 13, Michelle Wilson and Lisa Clark with 6 each, Stephanie Jarvis with 5, and Deronda Owen scored 2. For the Lady Eagles, Kim Dial led with 28, Shannon Hatfield had 8, Shelly Dial 7, Sandi Richmond 6, Tonya Cundiff 5, Ami Thorne 4, and Tammy Conn added 3.
Chris Tobbe as Scrooge, and Josh Broadway as his nephew were pictured on the front page in their roles in the Brooks Elementary production of the musical Scrooge.
And Bud Hardy celebrated 35 years as a State Farm insurance agent by also honoring his very first client, Edna Lane who had been with him the whole time.
---
Copyright 2018 by Charles Hartley, Shepherdsville KY. All rights are reserved. No part of the content of this page may be included in any format in any place without the written permission of the copyright holder.
---