It Happened in 1983
Over the years, Charles Hartley has shared glimpses of what was being printed in The Pioneer News in different months and years. This page includes what was taken from the issues of 1983.
---
January 1983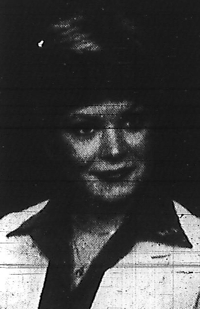 Nan Stewart
Carroll Knicely, president of Bullitt Publishing Corporation which published The Pioneer News assumed the role of the paper's general editor upon the resignation of Carol Fetter. Donna Sweat also resigned from the paper to take a position with Otto Drugs' advertising department.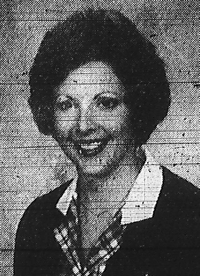 Barbara Plenge
The paper also announced that Nan Ellen Stewart had been hired as the paper's news editor with duties including editing news copy, and feature writing. She joined the news staff of Mike Daniel, John Roberts, Mike Farner and Beanie Powell.
How many remember Mrs. Mary B. Shuffett who, along with her husband Garnett, operated Shuffett's Drug Store which later merged with Otto Drugs?
The Bullitt County Woman's Club named Barbara Plenge as Club Woman of the Year. Barbara, a member of the club for ten years, and her husband Steve lived on their Valley View dairy farm with their children Kara and Kent.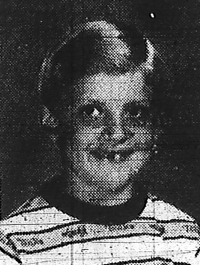 Donald Lawson
Donald Lawson showed off his grin at being selected as "Gleaner of the Month" at his church. He was the son of Don and Mildred Lawson.
According to Mary Holsclaw, the Hebron correspondent, Mr. and Mrs. Herman Williams and Mr. and Mrs. Raymond Baker were Christmas Day guests of Mr. and Mrs. Rick Wilkins. She also reported that Mrs. Maurine Fisher and mother, Mrs. Ruby Westfall had returned from a trip to Florida and that the Hebron Church women had met with Mrs. Jane Williams where Mrs. Mary Dell Meyers had the Bible study.
Ruth Owens of Lebanon Junction wrote that Willie Paul Mullins won a 19 inch color TV from Beam's Distillery, the second one he had won in two years. She reminded folks that lots of kids in the neighborhood got bikes for Christmas so drivers needed to be on the look out for wayward riders; and congratulated De Nealta (Etherton) Ryan, daughter of Mr. and Mrs. J. W. Etherton, for having a 4.0 average and making the Dean's List at the E-town college.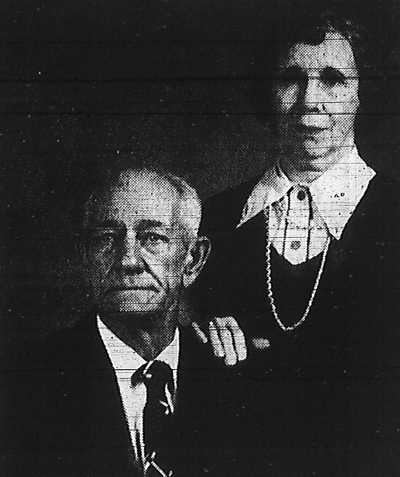 Mattinglys
Estelle Biery had the distinction of being the first volunteer firefighter in the Lebanon Junction department.
Daniel B. and Thelma Frances (Weakley) Mattingly of Mt. Washington celebrated their 50th wedding anniversary. They were the parents of Doris Keersey, Jeanetta Calvert and Linda Smith, all of Mt. Washington.
Clara Simmons of Pleasant Grove community reported that Clifford Foster was able to smother a small fire in his refrigerator by dumping soda powder on it.
And Oretha Ridgway of Nichols expressed sympathy at the passing of Zula Applegate who had made her home with kind friends Viola and Carnell Logsdon following her husband Roy's death.
February 1983
Ruth Owens of Lebanon Junction wrote about Suzanne Marie Halk, daughter of George and Judy Halk, who modeled flower girl dresses in a bridal extravaganza in Louisville. She also reminded folks of the fixings at Dennie Beeler's dinner in the St. Benedict lunchroom.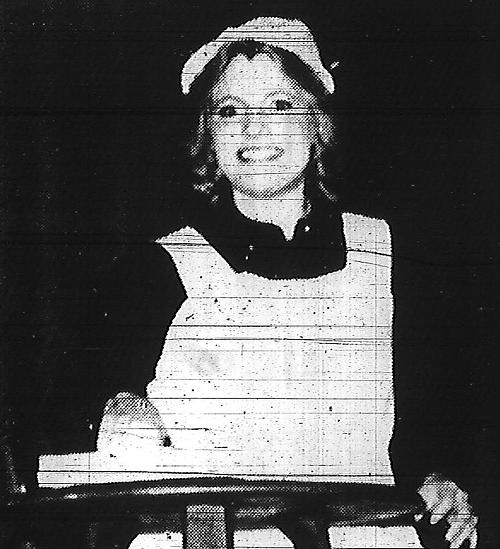 Dianna Lynn Tarter
Ruth also wrote about a new local country and western band called the "Dark Hollow Boys" that included Dale Eskridge and Paul Dickerson of Lebanon Junction.
Dianna Lynn Tarter of Lebanon Junction received the Talent Award in the Valentine pageant at Campbellsville College as she portrayed a character of Smurfette in a monologue about Valentine's Day in Smurf Land.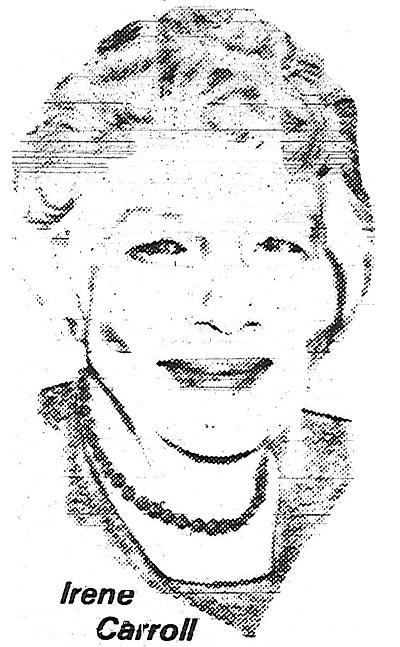 The Hebron correspondent reminded folks of the fish supper to be held at Hebron Presbyterian Church before the Lenten Services. Ike Neal was cooking the fish.
The paper's lead story on February 17th was about Irene Carroll and the scholarship fund sponsored by the Bullitt County Woman's Club. The fund was begun partly with a memorial fund set up at the death of T. C. Carroll, Irene's husband, who was prominent in the county for many years.
Leo B. "Buck" Dawson, president of the Peoples Bank of Lebanon Junction, passed away.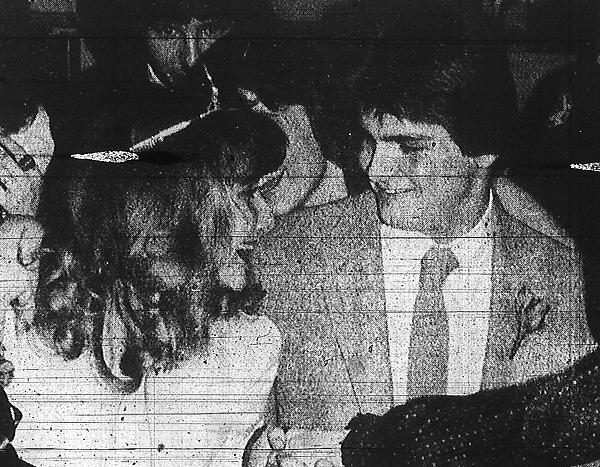 Sandy & Chuck
Pam Crouch, daughter of Mr. and Mrs. Harry Mann of Mt. Washington, toured London and France in a group from Western Kentucky University.
Chuck Journey and Sandy Bleemel were king and queen for Bullitt Central's homecoming game.
Alvin Moorman of Shepherdsville was one of ten Kentucky finalists out of over 1500 candidates nationwide for a full scholarship at Eureka College. The scholarship was named for President Ronald Reagan, a former graduate of the school.
D. B. and Thelma Mattingly of Mt. Washington celebrated their golden wedding anniversary.
Lt. Governor Martha Layne Collins selected Sheriff "Shot" Dooley, Sam Hardy, and Marian Farris to head up her campaign for governor in Bullitt County.
And I remember with pleasure when the congregations of Mt. Zion Baptist and Shepherdsville First Baptist joined in worship with Mt. Zion's choir providing the music and Bill Crosby the preaching.
March 1983
Nan Ellen Stewart, news editor for the Pioneer News, in an editorial about women in society, closed with the statement "We don't necessarily have to rule the roost, we just want to be up there with the roosters."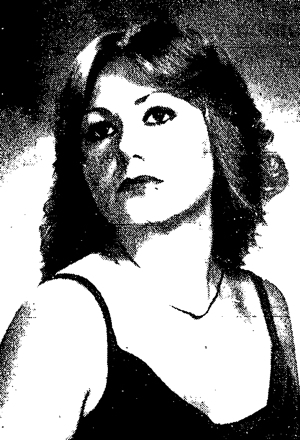 Pam Eddington
Adrian Jones, Mrs. Virgie Jones, and Rick Fetty announced that their hardware and furniture business was changing into a used furniture and appliance store as soon as they could liquidate their current inventory.
Dr. Gary Pursell announced the opening of his dentistry office in Shepherdsville Square. Evening and Saturday appointments were available.
A young sports editor, Mike Farner (is he still around?) wrote about how basketball seniors Mike Fleetwood, Jimmy Masden, Ray McCubbins, and Monty Edwards capped the regular season with a 73-42 victory over East Hardin.
Pam Eddington was selected as a contestant in the 1983 Miss Kentucky Teen U.S.A. pageant. She was sponsored by Hairport and Margie's Shop-N-Save store.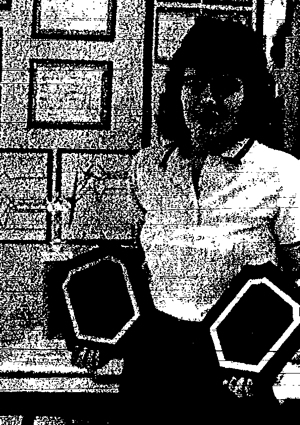 Hilda Lee McDaniel
Paul Whitworth who was majoring in Agriculture Education at UK, made the Dean's List.
Bullitt Central Cougars' basketball team defeated North Bullitt for the 29th District title, 63-55. This was their third title in a row.
Dennis Tate, who had been responsible for transporting the voting machines, resigned from that job.
At the Bullitt Central Science Fair, Darrin Leonard Donahue placed first in general science, Stephanie Ann Troutman was first in botany, David Leon Sheeks first in zoology, Hila Lee McDaniel first in Advanced Biological Science, Kevin Lance Mann first in Chemistry, and Cathy Grace Biggs first in physics. Hilda McDaniel was awarded best overall project.
Bullitt East Lady Chargers defeated Spencer County 73-22 in the district basketball tournament.
Jimmie Bennett, a local school teacher, was named as chairman of the Harvey Sloane for Governor campaign in Bullitt County.
Bullitt Central's boys' basketball team made it to the semi-finals of the regional tournament before losing a heartbreaking 72-71 overtime game to Carroll County.
Grace Elden, in her Shepherdsville column, wished happy birthdays to Michelle Pack and Kimberly Hardy. She also congratulated Billie Lee and Carol Lee who have just opened "Lee Ceramics & Gift Shop" on Highway 44E.
Rosanne Conlin of Lebanon Junction was playing basketball for the Lady Tigers of Campbellsville University and they had won their regional tournament.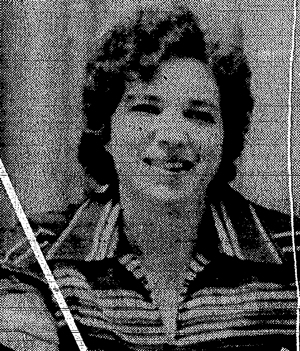 Janis Gentry
While complaining about the lack of space, County Clerk Nina Mooney said, "When this record room was built there were only six attorneys in the county. Now there are close to 20, and they are running all over themselves when they work here."
Dorothy Hartsell provided the music for the Irene Carroll Scholarship Dinner and Style Show.
Bill Porter of Monarch Hardware was reporting a 35 percent sales increase for last year.
John Perry wrote about the role of Janis Gentry as the Bullitt County service center manager for the American Red Cross since 1980.
Two buildings, each scheduled to house 10 one-bedroom units were scheduled to be constructed on the site of the former Lebanon Junction High School. Mayor Gerald Tamme took part in the ground-breaking along with Judge Executive Clifford Haley, and Magistrate James Sweat.
And Shepherdsville Middle School reported its third grading period honor roll with Cheryl Mayes, Kim Alvey, Anissa Bennett, Lea Ann Hardy, Cindy Hobbs, Jennifer Mudd, Debbie Robinson, and Kimberly Hardy having straight A's.
April 1983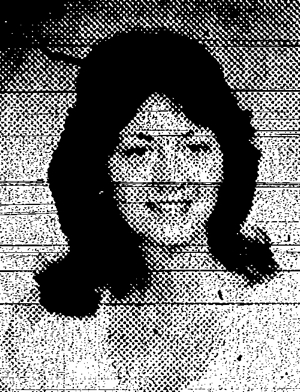 Kim Sewell
Ziniz Inc., a metal manufacturing plant at Maryville Drive and Blue Lick Road, was upset with local government and the Bullitt Planning Commission over zoning problems that threatened to block planned expansion.
While Glenn Baxter scored three straight wins in the high jump for Bullitt Central, Michelle Leasor was knocked out of competitions with torn ligaments in her foot. Helping Baxter score points were Troy Thompson, Allan Tolle, Troy Simpson, Chuck Curtsinger and John Crosby among others.
Leasor and Gina Armstrong led the Lady Cougars to victory over Meade County, each placing first in two events. Other winners included Terry Shadburne, Robin Phillips, Linda Ritter, Dana Trimble, Michelle McGrane, KenAnn Rigdon and Kara Longacre. Leasor's injury occurred before this meet, but was aggravated at it.
Kim Sewell, a 1975 graduate of Bullitt Central, completed four years of medical school and received her M.D. from University of Kentucky. She planned to start a residency program in internal medicine at Oakland Naval Hospital in California.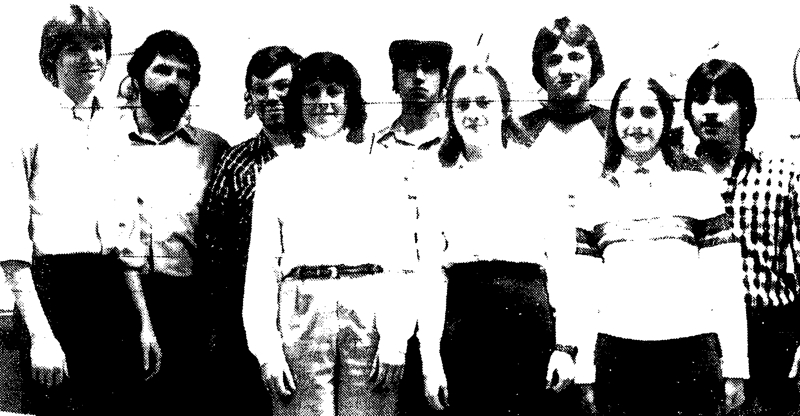 In the Louisville Regional Science Fair, North Bullitt High School won first overall in the Senior division. They were led by Chris Allen, head of N.B.'s science department. Participants included Bobby Morris, Greg Aaron, Donna Thurow, Alice Baggett, Steve Hamilton, and Jennifer Bowers among others. John Roberts took the team's photo for the paper.
Bullitt Judge Executive Clifford F. Haley Jr. received a box of black roses from UK basketball fans after his favorite Cardinals were eliminated by Houston in the NCAA tournament.
Publishers Printing celebrated owner Frank Simon's birthday by presenting him with a press that dated back to 1921. Publishers had been in Shepherdsville since 1958.
Joe Mills and Bill Mohollon were in charge of grilling the chicken and pork chops for the Zoneton Lion's Club barbecue in Hillview. Both men were 12 year members of the club.
Tom Martin was featured in an article about how he had dealt with the fall that left him unable to walk, and how the school system had modified the driver's ed car so that Tom could be the driving instructor.
And Miss Mary Holsclaw wrote in her Hebron column that Joe Ball, Kenny Ball, Tim Riggs, and Jerry Viers were the guests of Robert Ball at a fresh fish supper; and that Rev. Mike Livingston was with Robert and his wife on Sunday. Wonder if fish was on the Sunday menu too?
May 1983
Andy Anthony of Bullitt East placed first in the Girls' State Track Meet in three events: the discus, the 100 meter hurdles, and the 300 meter hurdles.
Kara Longacre, Susan Morrison, and Paula Ritter advanced to the sectional track meet at Owensboro, representing Bullitt Central in the high jump, 100 meter hurdles, and the 1600 meter run respectively.
Cecilia Conlan of Bullitt Central advanced to the state golf tournament to be held in Elizabethtown.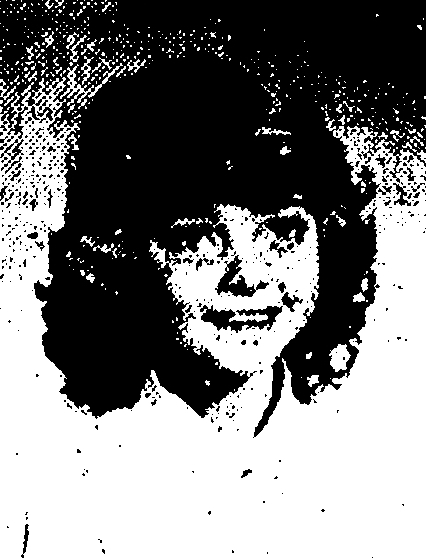 Kimberly Helms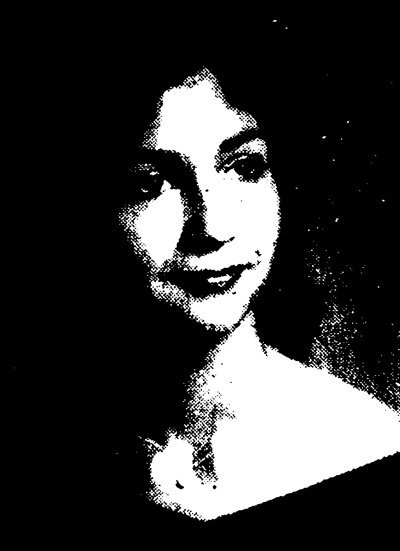 Paulita Keith
Amy Falk of Bullitt East was selected to participate in the summer's annual Kentucky-Indiana All-Star games.
The Bullitt Central FBLA selected officers for the coming school year. Among them were Kim Valentine, president; Beth Priddy, vice-president; Julie Huffman, secretary; Ray Thurman, treasurer; Beth Boone, reporter; Dione Losch, historian; and Lucy Rosa, parliamentarian.
Heavy rains in early May caused some flooding in Shepherdsville, but the Taylorsville Lake dam was credited with saving the town from another flood like the one in 1964.
Cliffa Foster received a special scholarship at the Blue Mountain College in Mississippi where she was a junior. The former Bullitt Central graduate was a member of the school's basketball team.
Kimberly Helms, 8 year old daughter of Rodney and Jeannie Helms, got her picture in the paper when she was honored by her church as the "Gleaner" of the month.
Paul Whitworth and Glenn Armstrong were each honored by their fraternities at UK for maintaining high scholastic averages during their four years at the school.
Paulita Keith of Shepherdsville was named valedictorian of Bethlehem High School in Bardstown.
The North Bullitt Marching Eagle Band was selected to participate in the Kentucky Derby Festival Pegasus Parade.
The Kentucky Department of Transportation announced that a hearing would be held on the proposed addition of ramps off I-65 onto Cedar Grove Road.
Assistant Superintendent Raymond Terry announced his retirement from the Bullitt County school system after spending 32 years here in such roles as principal of Roby and Overdale, as well as many years as assistant superintendent.
William Lee announced his retirement after 22 years in the Bullitt County school system including many years as Cedar Grove's principal.
Bullitt Central's speech team led by Barbara Elliott did well in two tournaments with eight members advancing to Nationals in Chicago. They included Karen Bleemel, Brian Waddle, Chris Sears, Lisa Carlton, Monica Shepherd, Kenny Higdon, Maiko Chambers, and Rafael Rosa.
Larry Wayne Boblitt, son of Mr. and Mrs. Virgil Boblitt of Lebanon Junction, was a writer for the Morehead University's television news broadcast, and a staff writer for the student newspaper.
And Jailer Billy Roy Shepherd was urged by Third District Magistrate Chris Glanz to bill the state for the cost of housing state inmates in the local jail. County Attorney Tom Givhan concurred, along with the remaining members of Fiscal Court.
June 1983
Donna Ricketts, a student at North Bullitt High School, was named Miss Bullitt County at the county fair. Denise Davenport was first runner-up and voted Miss Congeniality. The other finalists were Leslie Hawkins, Lisa Raymer, Teri Newton and Janet Trowbridge.
One of the biggest stories in 1983 was the murder trial of James Edward Rummage and Cletus Ray Oller in the death of Delbert Logsdon, Sr.
Bullitt County was caught up in the search for the missing Ann Gotlib when she and her abductor had reportedly been given a ride and dropped off near Buckman and Blue Lick Road. She was not found here.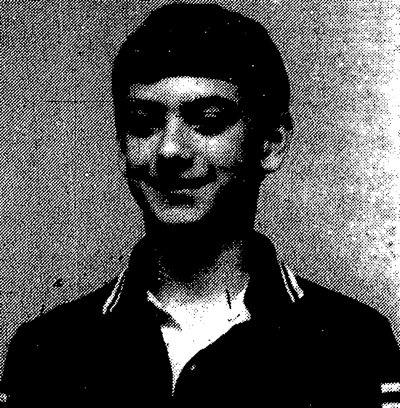 Hap Powell
Bullitt East's basketball camp featured Dirk Minniefield and Clem Haskins, and Clemette Haskins, 1983 Miss Basketball from Kentucky.
"Hap" Powell, son of Henry and Sue Powell, became one of the youngest photographers to have a photo in the Louisville Zoo calendar. His photo was selected second out of over a thousand entries.
Christy Cruise received a basketball scholarship to Campbellsville College where she would join Rosanne Conlan, another BC grad from the previous year. Her coach, Mary Ann Elam looked on as Christy signed her letter of intent to attend the school.
And Dr. Hubert L. Clay, the veterinarian from Shepherdsville, held a rabies clinic at Lebanon Junction Elementary School.
July 1983
A. S. Crenshaw caught a 32 pound snapping turtle in a small pond last week. According to him, it will be soup soon.
Lloyd Harris and Mary Ann Elam were victorious in the Simms' Shear Design Firecracker Open tennis tournament. Harris defeated Roger Cobb 7-5 and 6-2. Elam defeated Linda Wooden 6-3, 6-2.
Johnny and Helen Sparks are as proud as punch that their seven-year-old daughter, Misty Michelle has won the title of "Little Miss Shepherdsville." She will represent the town in the state competition.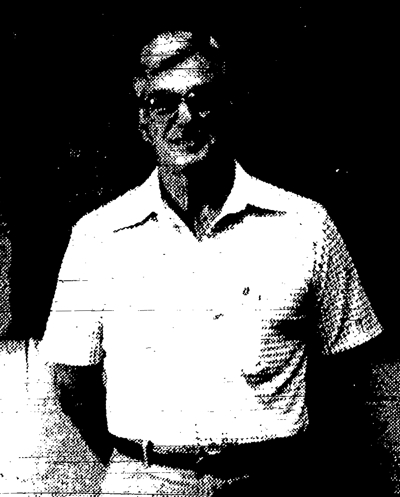 George Bradbury
Winners of the girls' skating competition held recently at Sububan Skate-o-rama were Joyce Barnes, Jenny Jackson, Alison Leslie, Janna Dowdy, and Chrissa McGrew.
John Roberts wrote a nice article about George Bradbury. Did you know that Brad's Roller Rink came about because the families of Ernest Waters and Bill Travis bought their gas every Saturday on their way to skate in Valley Station. They asked Bradbury why he didn't build a roller rink, and so he did.
Lawrence Frick, a long-time resident of the Zoneton Community, was recognized at a dinner-dance given in his honor at the Shrine Club. The party was hosted by Neil Farris, Bud Hardy, Art Hartlage, Ray McGruder, Ike Neil, Cecil Nichols, Bill Robey, Jim Shacklette, Bruce Thomason, and George Wigginton.
Donny Able, Gary Moore, Brian Meredith, David Hall, Phil Barnhouse, Robert Williams, John Thomson, Kevin Waddle, Dole Huff, Jason Varble, Mike Sharp, Ronnie Griffin, Shelby Clements, Jack Porter, Kyle Maki, Steve Roby, Brad Eschman, Darrell Vincent, Todd Bradbury, Kerry Stout, Troy Baumgardner, Jim Cash, and Mike Gravens all took part in the annual Clem Haskins Hilltopper Basketball camp in June, and their picture appeared in a July paper.
Joe Brown of LJ caught a 14 pound catfish in a pond up around Boston.
They're looking for lights so Otto Ballou, Ardell Holbert, Jimmy McGee, Tom Barnes, Gerald Tamme, and Jake Vincent can continue their horseshoe tournament even when it gets dark in Lebanon Junction.
The Senior League All-Stars for North Bullitt included Scott Duncan, Randy Flaherty, James Adams, David Bates, Bryan Bullock, Ronald Boley, Tim Carroll, Michael Hall, Jeff Lee, Robert New, David Warden, Joseph Newman, Jeffery White, Ronald Parker and Dwayne Goers.
And did you know that Amelia Samuels was Lebanon Junction postmaster for 30 years, and that she had retired from it 20 years earlier? She and her husband would celebrated their 65th anniversary on July 10.
August 1983
June Dawson returned for her second year as president of the Bullitt County Fair Board. Mark Edison was re-elected as vice president, and Happy Cahoe was second vice president with Dorothy Glanz as third vice president.
J. R. and Margaret (Lanham) Ball celebrated their golden wedding anniversary with the help of their five children.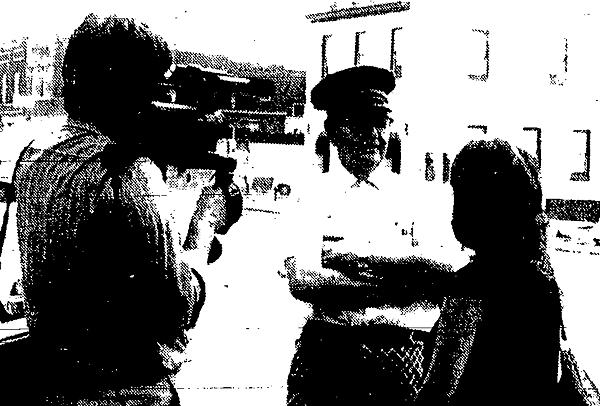 Mr. Shelburne
Louis Torok, better known as Ripp Ronay, was pictured on the front page painting a mural scene of Oregon mountains on the side of Mike Rizor's truck trailer.
Jean Hatzell advertised an auction to sell the Old Stone Bank which she had been using in her bookkeeping and tax service business. Being Circuit Court Clerk was just keeping her too busy to run the business too.
Bullitt Central's cheerleaders won the Camp Championship at WKU. The team included Cindy Meyers, Dana Fogarty, Kara Longacre, Andrea McCubbins, Denise Ray, Missy Perkins, Sherry Fackler and Paula Weber. Their sponsor was Reba Johnson.
Bullitt County television channel 12 (remember them?) were photographed by John Roberts as they interviewed Rogers Shelburne, owner of Shelburne Fabrics Shop.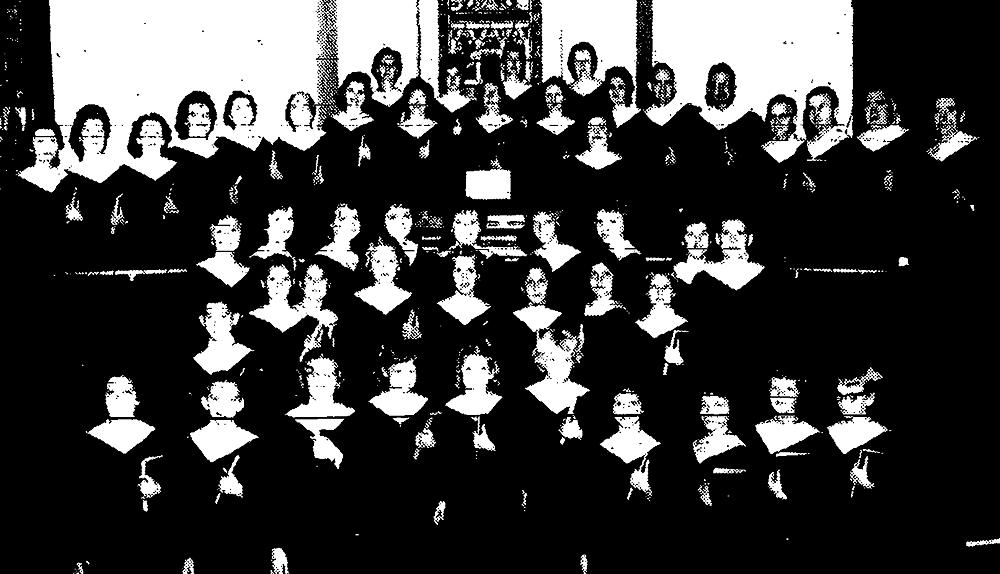 The newspaper printed a picture of a 1959 combined choir of Shepherdsville churches. I just can't resist sharing all their names: [front row] Karen (Cundiff) Larimore, Emmett Shepherd, Sharon Stottman, Patricia Smith, Brenda Stottman, Faye (Bacon) Dawson, Sandra Russell, Marilyn Mann, Linda (Tate) Tichnor, and Charlene (Holsclaw) England.
In the second row were Bobby Price, Linda Florence, Marcella Rummage, Dianne (Cundiff) Cook, Dianna Moore, Jennifer Plenge, Janet (Masden) Rummage, Billie Fay Hasty, and David Smith.
Sharing the third row were Mary Lee (Price) Mason, Betty (Anderson) Coy, Billie Jo (Russell) Shaw, Joyce Rosser, Billie Sue (Bacon) Waters, Shirley (Etherton) Edwards, Mary Lois Nusz, and Patsy Woods; and in the fourth row were Thelma Shelburne, Mary Sue Bleemel, Hester Belle Hardaway, Naomi Scott Kolb, Mary Cook, Ada Price, Sandra Lee Hack, Lillian Holsclaw, Alma Hardesty, Rose Hall, Dorothy Hartsell, Norma Tate, Roger Shelburne, Bill Bacon, Bruce Hartsell, Henry Powell, Stanley Lee, and Charles Holsclaw.
In the back row were Reba Dawson, Judy Lee Shoulders, Ida Jane Harned and Fannie Belle Anderson. Boy, that must have been a sweet sounding choir!
Linda Lyly photographed Joe Clark cleaning the glass doors of the Baptist Church where his father Hilary Clark has been custodian for six years.
Little Joani Johnson was pictured enjoying the waters of the Maryville pool along with her mother, Lisa, and Julie McNeese.
Bullitt Central grads, Mike Fleetwood and Ray McCubbins signed to play basketball at St. Catherine Junior College in Springfield.
Mrs. Beulah Foster visited Clara and Lois Simmons at Pleasant Grove and displayed a quilt she was making of the Old Pleasant Grove school house that burned in 1935. She attended that school and had many happy memories.
And down at LJ, Don Sanders said that his wife-to-be won the Gong Show and that she was going to be on the $1.98 Show. Then she would have enough money to get married.
September 1983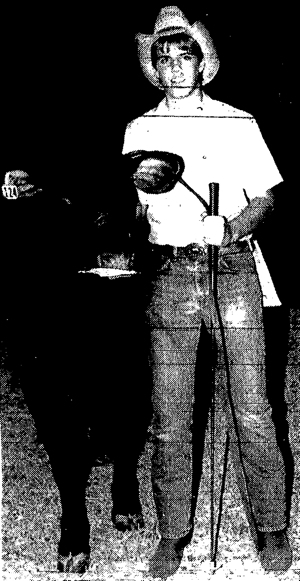 Courtney Longacre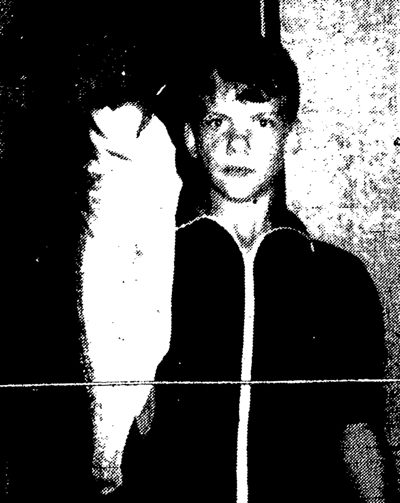 John Baxter
Tommy Ashbaugh was extremely grateful for a CPR course the phone company required of its workers when he needed to administer it to his nine-month-old son, saving his life.
Eddie Rice of Lebanon Junction caught a three-pound catfish, and John Baxter landed a five and a half pound whopper at Clermont.
Diane Cruze Mills rode Brenda Eddington's school bus and wrote about "driving controlled chaos" as Brenda transported her charges to Brooks Elementary. I wonder if Shawn remembers turning down his radio volume, or Shannon remembers being required to pick up the papers she left behind the day before, or Tommy remembers being reminded to pick up his papers under his desk so he would not get fussed at today?
At the State Fair, Bullitt County 4-H'er Courtney Longacre exhibited the animal chosen best of polled Santa Gertrudis in the 4-H beef show.
Out Nichols way, Dorothy Jones, Patsy Larimore, Wilma Tucker, Christie Able, Woodrow Sample, and Clarence Dawson were celebrating birthdays; and June Dawson was attending the International Cake Convention at the Galt House.
North Bullitt defeated Bullitt Central 18-8 on the gridiron, but not before the Cougars staged an exciting comeback attempt with Pat Masden, John Fackler, and Craig Smith leading the way.
Down at LJ the Fall League got underway with the Miller-Lite boys taking on Woosley's boys. Dan Woosley hit a long home run, but Dave Bass of the Miller-Lite team clobbered two of them to lead his team to a 13-12 victory.
In the Pleasant Grove community, Mrs. Rilla Owen visited with the Rodger Shelburnes, Fern Lloyd called on Clara Simmons, and Dorris Stevenson and Lois Simmons went to see some beautiful quilts and then had lunch with Clara Simmons.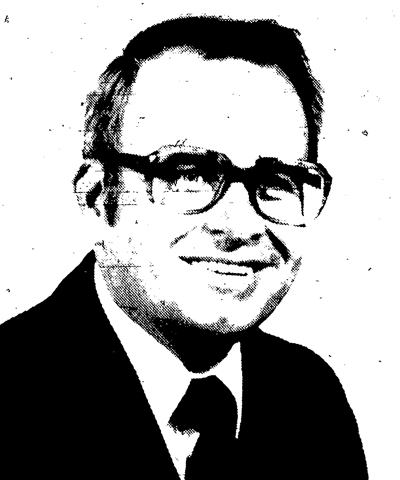 Henry Powell
Shepherdsville artists Alma Lesch, Anna Faye Crockett, and Dennis Shaffner were featured at the Georgetown College of Fine Arts Gallery art show.
Contestants for the Junior Miss competition were all pictured in the paper this month. They included Teri Newton, Ramona Simms, Paula Mathews, Leslie Hawkins, Tonya Proctor, Dione Losch, Carla Harvey, Gayle Milam, Tammy Shaw, Jana Meredith, Lisa Raymer, Nickie Hennig, Renee Griffin, Dandy Hopkins, Tina Bond, Denise Davenport, Paula Fisher, and Steffanie Bowles. Lisa Raymer, a senior at North Bullitt, was the winner. First runner-up was Denise Davenport, and second runner-up was Renee Griffin.
And, Bullitt Central's William Henry Powell was selected at Bullitt County Teacher of the Year for the third time!
October 1983
Sixth grade teacher, Rod Firquin was pictured teaching Jennifer Wallace and Michael Stage how to use one of five state-of-the-art Apple //e computers available at Hebron Middle School.
Estel and Emma Lee Armstrong recently celebrated their 50th wedding anniversary with their family including their three sons, W. T. (Dub), Wayne, and Gerald, nine grandchildren and seven great-grandchildren.
Mark Cross and Ronnie Tyler were two of the younger participants in a Bike-a-thon at the Bullitt Central track to raise money for the Cystic Fibrosis Foundation; while at Frank's Roller Rink in Belmont, a large group of skaters did the same. They included Melina Ashbaugh,Jerry Combest, Debbie Cox, Cindy Crady, Cindy Fish, Barbara Lanham, Brent Marcum, Craig Martin, Stacie Martin, Andrew Ragg, Bobby Trowbridge, Dana Trowbridge, Cline Tyler, Melissa Tyler, and Ronnie Tyler.
In cross-country track, Michelle Leasor, Sonya McKinney, Tammy Everett, Linda Ritter, Paula Ritter, and Dawn Keeling led Bullitt Central to victory in the Mid-West Kentucky Conference meet at West Hardin.
Adults and kids alike had a great time at the Roby Fall Festival. Among the kids present were Harvey and Debbie Childers' daughter Sarah, Clinton and Gail Sears' son Donovan, Randy and Sandy Blakely's son Trevor, Ronnie and Diane Masden's daughter Brittany, Delbert and Sherrell Miller's daughter Jennifer, and Chuck and Sharon Hunt's children Brian and Christina.
The Bullitt Central FFA had its annual marksmanship contest this month. Greg Walters won the shotgun category; Wayne May won the open-sight 22 rifle competition; Chris Simpson the 22 rifle with scope event; and Kevin Spratt took the pistols category. Others placing in these events were Charlie Ploetner, Dennis Philpot, Don Glass, Richard Eisenback, Steve Geary, and Jeff Philpot.
Missy Perkins and Larry Roeder were named Bullitt Central's football homecoming queen and king, while Tracy Whitaker and Anthony Coke took the honors at Bullitt East.
Out at the Belmont Baptist Church, Clifford Etherton, Timmy Etherton, Otis Burks, Sammy Hatfield, Shirley Milligan, and Bro. Clarence Duvall worked to install a new cistern.
The Lebanon Junction correspondent reported that "there's a new band, country and western, playing at the Timber Inn, called the V.V.C." which stands for Vietnam Veterans and Co. On lead guitar is George Bishop; Ronnie Wyatt and Keith Johnson are playing rhythm guitars, and Ronnie Chapman is on the drums. Ronnie is Butch Sweat's cousin.
And Dennis Tate was recently a contestant of the TV show, The Joker's Wild. He was picked out of the audience and won a refrigerator and cash. With him were his wife Norma, and friends Harvey and Peggy Johnson.
November 1983
Frances Riggs, the Belmont correspondent shared that Mackie and Myrtle French and family visited the Smokey Mountains over the weekend and had a great time. She also congratulated the Vincents on the birth of their son Ricky Jr., and the Bonneys on the birth of their son William.
John Y. and Elizabeth Brown of the Nichols Community celebrated their golden wedding anniversary with a reception at the Knob Creek Union Church.
Janice Daniel of Lebanon Junction, a sophomore at Campbellsville College, was named to "Who's Who Among Students in American Universities and Colleges."
The Bullitt County Fair Board was granted ownership of the old Houchens supermarket building on Preston Highway, and they set about moving it to the fairgrounds. Many people were involved in the project including Sam Hardy, Foster Sanders, John Cornett, Jack Plenge, Butch Sweat, Noah Whittle, Tom Napp, Wallace Armstrong, Bernie Bischoff, Dorman Hardy, W. A. Napier, Buck McGlasson, Adrain Larimore, Happy Cahoe, Al Morman, Carol Samuels, Dorothy Glanz, JoAnn Nunn, June Dawson, and many others.
Oretha Ridgway of the Nichols Community wrote an expression of sympathy to the Ash family in the loss of Sgt. Thomas Keown who lost his life at Marine Headquarters in Beirut. He was buried in the Ash family cemetery on Knob Creek.
Clara Simmons of Pleasant Grove reported that the home of Mrs. Fern Lloyd was the scene of quite a gathering of folks including Mrs. James Bandy, Mrs. Lillian Stallings, Mrs. Geneva Gentry, Mrs. Margret Jones and son, Mrs. Evelyn Owen, Mrs. Sharon Jenkins, Mrs. Nancy Davis, Miss Jenny Davis, Mrs. Nancy Davis and son, and Mr. Fred Armstrong. I wonder what was the occasion?
I wonder if Stephanie Wilkins remembers her grandmother Juanita Wilkins helping her aim a pool stick during a game of "cool pool" at Nichols Elementary School's Fall Festival? Their picture made the paper.
The quilters at the McDowell United Methodist Church in Brooks were finishing their third quilt for the Methodist orphans home. This group included Esther Myers, Sarah Fay Myers, Ruailmer Meredith, Mary Evelyn Farmer, and Mrs. Leonard Williams. They gathered every Tuesday morning to work on their projects.
Diane Cruze-Mills snapped a picture of Ruth Sohm accepting her award as Bullitt County Citizen of the Year. The award was presented by Mark Edison and Barbara Cahoe.
In a close race, decided by only 84 votes, Athol Lee Taylor defeated C. V. Sanders for the circuit judgeship in the November election.
And Linda Lyly photographed Mayor Sparrow and Councilman Harvey Johnson starting a fire in the Shepherdsville City Hall. Relax, they were just burning the hall's mortgage note.
December 1983
The paper reported that Roger Basham had recently learned how to carve exact replicas of a pocket knife using his old case knife. Earlier he had made replicas of several shotguns.
I wonder if Brian Hawkins, Darrin Downey, Jeffry Whitehouse, Matt Roller, and Frankie Rodgers remember being cast in a Thanksgiving play in Mrs. Crismon's class at Cedar Grove?
Bullitt Central grad Richard Smith was pictured in his football uniform as a member of the Anderson College team. He was a defensive tackle, and a junior physical education major there.
Danna Morrison, a teacher at Hebron Middle School, was pictured checking papers while preparing the Christmas edition of the school newspaper. John Roberts took the picture.
Oretha Ridgway, the Nichols correspondent, reported that an organizational meeting of the Nichols Homemakers would be held this month. If you need more details, call Carol Braden or Thelma Coy. She also reported that Carolyn Sander hosted a baby shower for Karen Larimore attended by Viola Logsdon, Rue Shouley, Patsy Larimore, June Dawson, Oretha Ridgway, and Evelyn Hale.
Ruth Owens, the Lebanon Junction correspondent, reported that Ellis Summers' NAPA Store had moved down the road into the K.C.'s building. She also issued a special hello to Lois Broadhurst and her daughter Carol from all their friends at Belmont Food Mart. She also reported that Brent Welch fell the previous Friday and cut his lip and had to have two stitches. Ouch!
The paper reported that Reverend Tommy Smith preached his last sermon at Cedar Grove Baptist before moving to Bentonville, Arkansas. He came to Cedar Grove seven years ago while still a student at the seminary.
I wonder if Dawn Pawley, Leigh Logan, Suzie Logan, and Allison Cardin remember sitting on Santa's lap at the Shepherdsville Florist's Open House?
Carroll Knicely, president of Bullitt Publishing Corporation was named commerce secretary by Governor-elect Collins.
When residents of Lebanon Junction needed to have shoes repaired, they knew to take them to Howard Shane who had operated a shoe repair shop out of his garage since 1946. Folks will remember his work apron with the message, "Let Howard do it."
And how many of you remember when Robbie Dennis hit two clutch free throws after time had run out to seal a 51-49 Bullitt Central victory over Spencer County? Not bad for someone who had missed 6 of 7 up to that time.
---
Copyright 2018 by Charles Hartley, Shepherdsville KY. All rights are reserved. No part of the content of this page may be included in any format in any place without the written permission of the copyright holder.
---