It Happened in 1976
Over the years, Charles Hartley has shared glimpses of what was being printed in The Pioneer News in different months and years. This page includes what was taken from the issues of 1976.
---
January 1976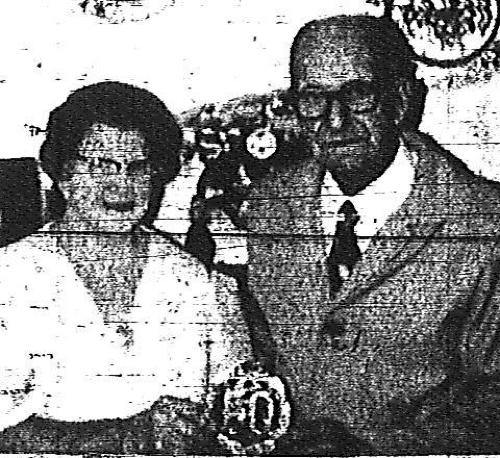 The Boyds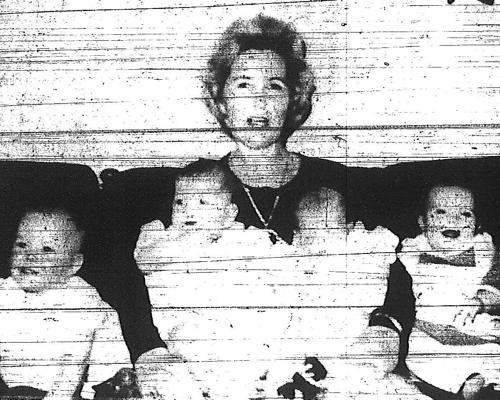 Virginia Haney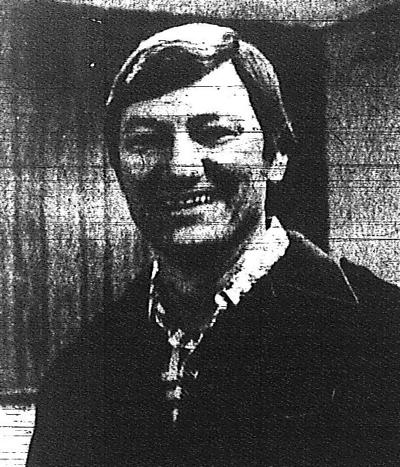 Harvey Johnson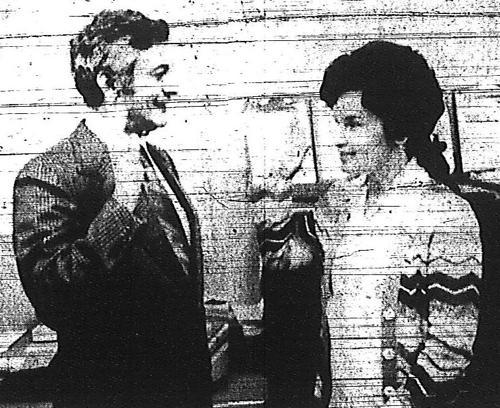 Phyliss Myers
In honor of their 50th wedding anniversary, Jessie Calvin and Ollie (Maraman) Boyd renewed their vows. They were married on Christmas Eve in 1925.
Harvey Johnson was all smiles when pictured in the paper as a new real estate agent for the Hardy Realty Company.
Charles Summers wrote a description of Bullitt Central's victory over Fairview in the Ashland Invitational, 76-74. David Christman scored 18 points and collected 16 rebounds; Howard Miller contributed 21 points and 10 rebounds; and Greg Haven added 16 points. The twins Ronnie and Donnie Lee together collected 11 rebounds. Also contributing to the victory were Mike Seaton, and Mark Alcorn. Later, he wrote that Miller and Christman were named to the All-Tournament team.
Virginia Haney of Shepherdsville was pictured with her four granddaughters, all born in 1975. They included Jenny Lynn, Lisa Michelle, Angela Susan, and Melissa Ann.
Phyliss Myers was sworn in as Lebanon Junction's postmaster. She had worked for the post office since 1971, including work as a rural carrier.
Tom Berry, agent for the land owners Sam and Dan Rayhill, Robbie Popplewell, George Joseph, and Kenny Stout, announced that construction of the new Burger Queen would begin very soon in phrase 1 of the new Paroquet Springs Development. (For those who can't remember, it sat where Taco Bell is today.)
At a brief meeting of the Shepherdsville City Council, Neva Ward was appointed City Clerk and Treasurer, Mark Edison become City Attorney, Darlene Skidmore was appointed as Water Clerk, James Skidmore as Water Plant Operator, and Lewis Skidmore as Sewer Plant Operator.
State Representative Tom Givhan was named as chairman of the Judiciary Statutes Committee.
Members of the Blue Lick Flying Club included Thomas Howard Jean, Hilcie David Harlow, Patrick Andrew Adams, Roland Sherman Bellingham, August Earl Roberts, Wilford Earl Hill, Phillip Lee Buttram, Gene T. Sims, Junious Elmer Bond Jr., Fred O. Raemhild, George Thomas Mitchell, David Andrew Adams, and Samuel R. Kerr.
Jean C. Hall of Mt. Washington was re-elected as Chairman of the Bullitt County School Board, as he began his 16th year of service on the Board. William Dawson of Lebanon Junction was also re-elected as Vice Chairman.
The Shepherdsville Jr. High Rams were led by Geno Blanton as they defeated Bardstown 46-40 to remain undefeated in conference play. Other contributors to Coach Bob Carpenter's team's victory included Eddie Douglas, Don Masden, Mike Meadows, and Keith Herb.
In their next victory over Bloomfield, Keith Herb led with 16 points and 7 rebounds. David Baumgardner added 7 and Mike Meadows contributed 6. Then in their next victory over New Haven, Steve Brown led with 12 points, while Herb and Barry Conlin contributed 11 and 9 respectively.
In Freshman girls' basketball, SJHS defeated New Haven 28-13 led by Sharon Whitley with 15 points, followed by Lisa Cundiff with 8, Crystal Conlin 3, and Wendy McCubbins 2. Then the 7th and 8th graders lost a close one to Hebron 22-24. Cliffa Foster had 10 points, Deana Firkins added 6, Sandy Kennedy 4, and Jackie Thomas 2.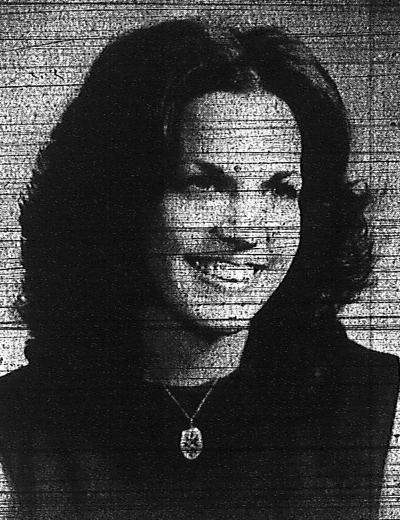 Rebecca
The Parks and Recreation Board met with Fiscal Court to discuss plans to develop parks in the county. Board members included C. A. Hourigan Jr. of Lebanon Junction, Nancy Summers of West Bullitt, Henry Powell from Shepherdsville, Ralph Lutes of Mt. Washington, and Yvonne Doran of North Bullitt.
Rebecca Hartsell Schuble performed a piano recital at Shepherdsville Baptist Chapel which included music by Beethoven, Schubert, and Debussy.
The local Jaycee Chapter presented State Trooper Kenneth Rigdon a plaque designating him as their "Man of the Year." Kenneth and his wife Debbie, and their daughters Kenann and Susan lived in Shepherdsville.
A young men's quartet including Terry Masden, Bobby Harned, Tommy Myers, and Mike Maddox, performed in the morning worship at the Lebanon Junction Baptist Church. Then at Men's Day, John Carnes, William Streble, Buster Sweat, Mark Price, George Price, and John Holman were in charge, especially of the breakfast.
February 1976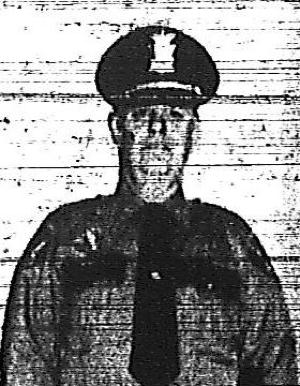 Chief Eadens
Major Herbert "Bud" Eadens of the Hillview Police Department was promoted to the rank of Colonel and Chief of the department.
Blane Skaggs joined Kenny's Texaco as a mechanic with 18 years experience. The business was located on Highway 44 next to the interstate.
In girls' basketball, the Freshman Rams defeated the Generals 28-25 led by Sharon Whitley's 17 points; and the 7th and 8th graders won 15-13 behind Cliffa Foster's 9 points.
In boys' basketball the Shepherdsville Rams clinched the Bullitt-Nelson Conference Championship with a 9-0 record in conference play by defeating Bloomfield 44-26 behind Steve Brown's 18 points. They then won the conference tournament, defeating Mt. Washington in the final game 53-37, capping a fine season for Coach Bob Carpenter's team.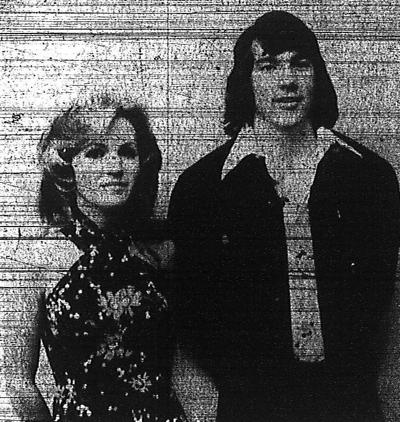 Randall Hunt and Jo Anne Kearney were elected King and Queen at Bullitt Central's homecoming game. First runner-ups were Leland Graham and Nancy Crenshaw, and second runner-ups were Steve Mingus and Ann Huber. The flower girl was Kim Hardy and the crown bearer was David Smith. The queen was crowned by Rachael Korfhage, 1975 Homecoming Queen, who was escorted by Bill Moore.
Officers and members of the new Fair Board were named at a meeting held for that purpose. They included Ted Korfhage as chairman, James Roe as Co-Chairman, Louise Bischoff as Secretary, and Harold Trammell as Treasurer. Board members included Nancy Whitley, Linda Gousha, John Cornett, Bob Harned, Nick Junker, Mike Thornsberry, Kenneth Gibson, June Dawson, Adrain Larimore, and Gail Korfhage.
Frank Smith replaced Charles Long as volunteer chairman of the local Red Cross chapter.
The "new" Mt. Washington Elementary School opened its doors in February when grades 1-4 moved into the building. Its principal and assistant principal were Cecil Mattingly and Sue Powell.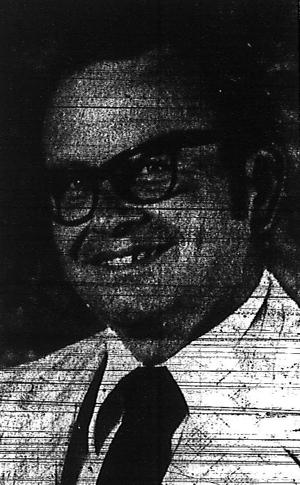 Henry Powell
The article stated that "Mt. Washington Schools have come a long way since the two room school building which stood where the Mt. Washington PCA Building now stands."
Henry Powell announced that he was running for president of the Kentucky Education Association.
Barbara Elliott's Bullitt Central Speech Team placed first in the Lincoln Speech Tournament at LaRue County. Those with 1st place results included Katrina Sweazy, Lisa Smith, Donna Jo Crank, and Dinah Pike. Others who placed in various categories included Becky Hunt, Clara Lewis, Jackie Barbour, Elisa Deason, and Debbie Browning.
Mrs. Miriam Bradbury entertained the Ruth Class and the Golden Circle of Belmont Baptist Church. Part of the activity was a good-natured roast of the Golden Circle teacher, Vanita Jenkins by her classmates including Pat Maraman, Bonnie Waters, Bonnie Ricketts, Bernida Owens, Dorothy Laytart, Carolyn Heffley, Joyce Coffey, Molly Jewel, Bonnie Ratcliff, Barbara Etherton, Jan Samuels, Anita Lucas, Lavada Glitner, Mary Coakley, and Judy Scrogham.
Among the messages in the Vine Hill Church news was a "thank you" from Maudie Shelton and Mae Tinnell to the neighbors who gave lovely flowers to their sister, Edith Hibbs, who passed away in February.
Mrs. Oretha Ridgway of the Nichols community wrote that Roger Miracle and Kevin Webb, students at Nichols Elementary, participated in the county 4-H Achievement program. She also wrote that Lawrence Knott, son of Mr. and Mrs. Lewis Knott, performed with the All-State Chorus for the second year in a row.
The Hebron correspondent wrote that Mrs. Ann H. Quick was a luncheon guest of Mr. and Mrs. Robert Ball. She also reminded her readers about the first aid course being taught at the Hebron Church.
Betty Price of Lebanon Junction, wrote that Theresa Ballew, Robin Sullivan, Becky Price, and Ricky Hughes had participated in the Mason-Dixon Games at Louisville.
And as nearly always, there were numerous obituaries in the paper. One in particular that caught my eye was that of Richard Lee, husband of Alma (Fischer) Lee, and father of Belinda and Carol Lee. After Richard's death, Alma was a good neighbor of ours for a number of years.
March 1976
Members of Boy Scout Troop 5, Shepherdsville, braved the chilly weather for a weekend campout on Bill Fischer's property above Floyd's Fork. The campout themes were pioneering and archery, with junior leader Alan Fischer leading the archery instruction. Participants included Gerry and Tom Breeding, Dale Taylor, Alex and Phillip Horton, Todd Robinson, Tom Kallin, Tony Lacefield, Joe Mayes, Steve Karr, Rusty Kerr, John Reid, Milton Price, Robbie and Ronnie Bischoff, and adult leaders Eric Fischer, Tommy Baker, and Mike Freeman.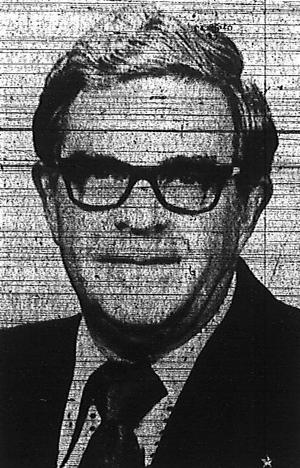 Bill Bacon
William R. "Bill" Bacon, who had served as the General Manager of Echo Telephone Company before it was acquired in 1971 by Allied Telephone Company, was named Vice President of the company. Always community-minded, Bacon had served as Shepherdsville mayor for six years, was past president of the Shepherdsville Lions Club, and past chairman of the Louisville Area Red Cross.
The Bullitt Central Cougars won their first 29th District tournament, defeating Anderson County in the final game. Howard Miller led the team with 24 points and 10 rebounds. They would go on to place second in the regional tournament. Then, in a surprise, Coach Norman Weaver resigned his position as coach and teacher to devote his time to his real estate business.
Mary Ann Elam's varsity cheerleaders also placed first in their district competition. They included Beth Walker, Helen Stevens, Suzie Bryant, Terry Phillips, Carla Hourigan, Lois Metcalfe, Rene VanVactor, and Vicki Ingram.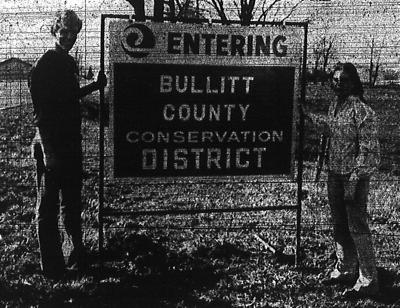 The Bullitt and Spencer County Junior Conservation Boards together purchased a sign marking their respective districts. Placed at the county line, it announced Bullitt on one side and Spencer on the other. Eddie Rogers and Paula Shepherd were pictured displaying the sign's Bullitt County side.
Intramural basketball at Shepherdsville Junior High enjoyed a four week season with multiple boys' and girls' teams participating. In the final week, three champions were crowned. In the girls' tournament, the Robins easily defeated the Cardinals 24-10 with Regina Tabeling leading all scorers with 8 points, while Judy Hammon of the Cardinals scoring 6.
In the 7th-8th grade boys' match the Eagles defeated the Wildcats 44-40. Dennis Johnson, whose 28.8 average was tops in the tournament, led all scorers with 26. Wildcat scoring was balanced with Terry Wilson having 11, John Elway 9, Duane Price 6, and Harold White 5.
In the final three games for the 9th grade boys' teams over three days, the Panthers beat the Wolves with Jimmy Williams scoring 21 for the Panthers, Russell Greenwell tallying 20 for the Wolves. The Panthers next beat the Elks 71-63 with Jimmy Burden scoring 28 for the Elks. This set up a re-match between the two teams which was won by the Panthers 49-45, with Williams and Billy Ritter each scoring 15, and Billy Arrowood added 13 to lead their team to victory. The Elks' James Howard scored 19 for his team.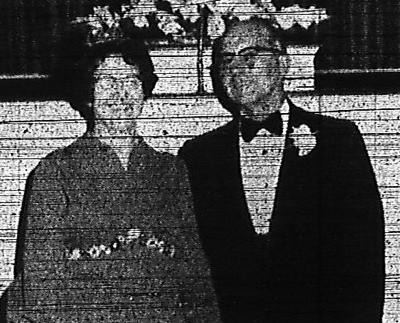 The Bains
Jacob and Lucille Bain were pictured celebrating their retirements. He had spent 39 years with L. & N.; she was retiring from the Hebron School.
Led by Beth MacCracken as General Chairman, a number of Bullitt County Woman's Club members chaired committees in preparation for the annual dinner and style show, including Gay Cox, Helen Underwood, Penny Pack, JoAnn Barr, Carolyn Waller, Mary Lou Hackett, Kim McConnell, Betty Porter, Marion Farris, Barbara Plenge, Connie Shuffett, and Donna Stout.
And the Shepherdsville Junior High FHA chapter sponsored their annual talent show at the school with 21 total performers. Performing dance numbers were Angie Jett and Donna Laymon, Theresa Slayton, and Denise Phelps. Singers included Mark Webb, Judy Noll, David Goodman and Wayne Hatcher, Connie Evans, Cathy Taylor and Carrie Blissett. Performing on the piano were Alice Rogers, Virginia Harned, and Myra McCoy. Perhaps the hit of the show were Mark Huffman on the banjo and John Huffman on the guitar playing "Dueling Banjos" and "Foggy Mountain Breakdown."
April 1976
In April 1926, Russell Crenshaw and Rena Louise Shaw drove over to Jeffersonville to get married. Fifty years later they were celebrating the Golden Wedding Anniversary. Also celebrating 50 years were Clarence and Pansy (Wooten) Phillips of Lebanon Junction.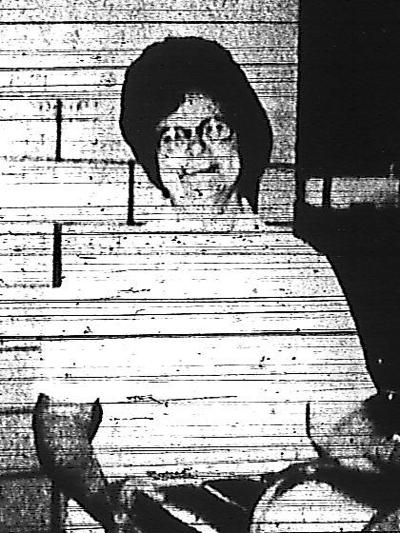 Mrs. Troutman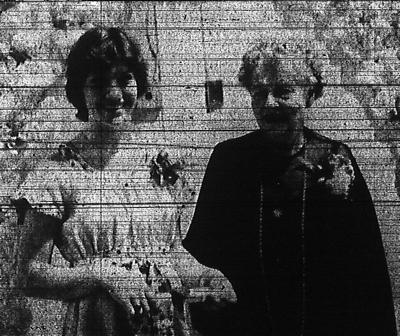 Lowena with Mrs. Carroll
Mrs. Edith J. Troutman just belonged in the kitchen; there's no doubt about it. She was asked to prepare the Woman's Club dinner in April. Before that she served in the Shepherdsville School cafeteria for 20 years, including 8 years as its manager. Many organizations sought her out to prepare their banquets including the Cancer Society, the Farm Bureau, and others. I can tell you from personal experience that she and her fellow cooks at the school made lunchtime a delightful experience.
At that dinner, Lowena Coleman of Lebanon Junction, a student at Bullitt Central, was the recipient of the Irene Carroll scholarship.
The Hebron Church women held their meeting at the home of Mrs. Sam Rhea.
In April, 12 retired teachers met at the library to organize the Bullitt County Retired Teachers Association. They included John R. Masden, Christine Cruise, Woodrow Masden, Bertha Trunnell, Ann Goodwin, Monroe Major, Matilda McAfee, Mary Blanch Hill, Louise Bischoff, Fay England, Virginia Shelburne, and Luella M. Schmitt.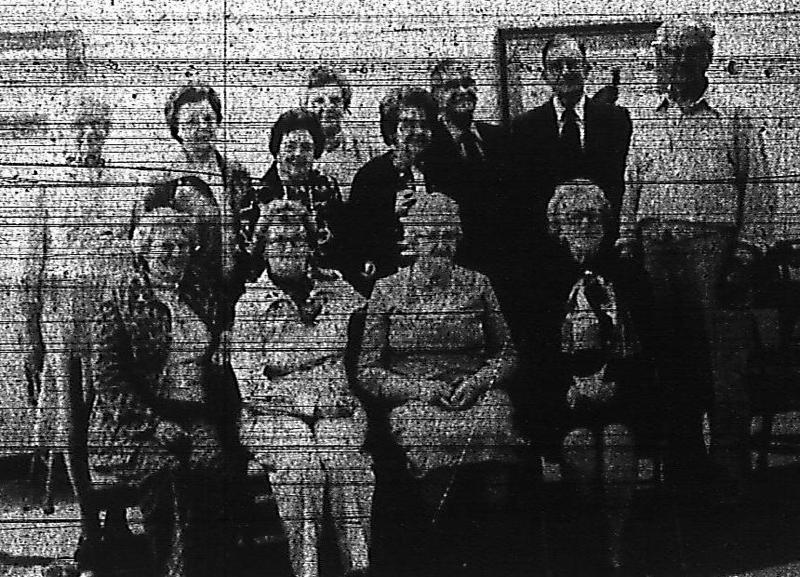 Retired Teachers
At the 20th annual Cancer Memorial Dinner, Dr. Bruce Hamilton, president of the local chapter, said attendance was at an all-time high. Engraved plaques were given to members of the Board of Directors who had been with the chapter throughout its history, including Nancy Strange, Mr. and Mrs. Rogers Shelburne, and Dr. and Mrs. Bruce Hartsell.
The School Board announced the appointment of Sue Powell as principal of Hebron Junior High School, John Carnes as Mt. Washington Elementary principal, and William Bishop as Lebanon Junction Elementary principal for the upcoming school year.
The Shepherdsville Jay-cettes sponsored a bike-a-thon in support of the cystic fibrosis research. Participants could register at Simms Reality or at Jones Hardware. Students could register at in Laveda Baker's room at B.C. or with Barbara Jo Firkins at SJHS. Refreshments at the event were provided by Mr. and Mrs. Bruce Carter.
Mrs. Oretha Ridgway of the Nichols community joined with Roger Miracle, Danny Bruce, Harold Walker, Jeffery Allen, and Mrs. June Dawson in attending the 4-H Talent Show at Roby Elementary.
Ronald Byers' 9th grade shop students at SJHS took home some award ribbons for their creations presented at a state-wide industrial arts fair at Bowling Green. They included Kevin Sanders (bookcase), Larry Cunningham (table), Kevin Davis (nightstand), Greg Watts (model flatbed trailer), Roger Losch (table), Greg White (table), Jimmy Williams (wall shelf), Mark Richardson (tool box), Anthony Morris (USA cutting board), and Paul Harvey (8 track tape holder).
In Pleasant Grove news we learned that Mrs. Della Owen had a new Plymouth, and she and Mrs. Ruth Cox were out visiting in it.
Clara Simmons also reported that Mrs. Tressie Fortner and Mrs. Wava Bleemel and some of their grandchildren spent a week in Florida.
Mary Kay Shepherd of Lebanon Junction wrote that Bridgett Etherton was looking for someone to coach for the women's softball league. She also reported that Beth Walker, Terri Phillips, Lois Metcalf, and Marlene Etherton, all of Lebanon Junction, were selected as varsity cheerleaders.
Among the praises and calls for sympathy found in the Cedar Grove column was one for the family and friends of Mrs. Gussie (Lillian) Swearingen who died on April 24th.
And Van Morris & Company were still playing in the Best Western Lounge on Friday and Saturday nights. Do you ever recall enjoying the entertainment there, or perhaps eating at their Sunday buffet?
May 1976
Bullitt Central's drama department put on the play, My Fair Lady, with Becky Hunt playing Eliza Doolittle, David Darst as Henry Higgens, Troy Ross as Colonel Pickering, Gary Browning as Alfred Dolittle, Bobby Sewell as Freddy, Clara Lewis as the maid, and Donna Crank as Higgens' mother. Set design was handled by Tim Stapleton; Lynn Firkins was in charge of choreography; Joe Herde and Don England were in charge of the music, and Barbara Elliott was the director.
Mrs. Jane Williams hosted the women of Hebron Presbyterian Church.
The Shepherdsville Jaycees elected these officers for the upcoming year: John Newton, president; Dave Bernard, internal vice president; Danny Anderson, external vice president; David Huff, secretary; Jim Cox, treasurer; and Steve Ashbaugh, Joe Price, Phil Bischoff, and Mike Mayes as directors. Additionally, Bill Ryan was appointed administrative assistant to the president; Ken Fox was state director, and Ted Korfhage as parliamentarian.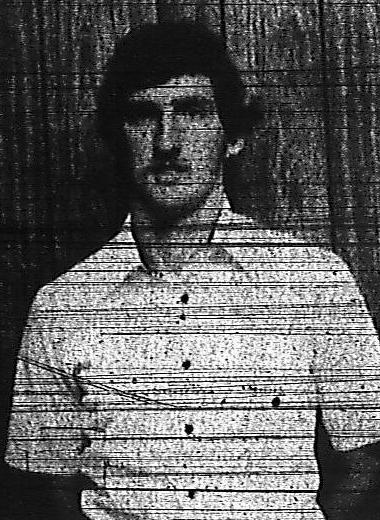 Randall Mefford
Fiscal Court hired recent Campbellsville College grad Randall Mefford to be parks and recreation director. He was married to Tara Jasper of Mt. Washington.
Mary Whitworth of the Cedar Grove area wrote that Maggie Waters had returned to her home in Salt River after breaking a hip.
Gladys Shepherd of the Bullitt Lick community wrote that Mrs. Minnie Pearl celebrated her 93rd birthday. She also reported that the local church sent 88 dozen eggs to the Glendale Baptist Home for Easter.
C. D. Sweat of Lebanon Junction married his sweetheart, Lula Belle Monroe, on 16 May 1926, and they celebrated that marriage 50 years later. He retired from the L. & N. in 1968.
Barbara Shelton wished her grandmother, Mrs. Ollie Grace Crump a happy Mother's Day, writing that "Ma" and her deceased husband Leslie Porter Crump had 4 daughters including Mae Tinnell of Clermont, Maudie Shelton of Shepherdsville, Mildred Reynolds of Lebanon Junction, and Edith Hibbs who had recently died; and two sons, Bobby Crump of Clermont and Delmar Crump who died in 1975.
Oretha Ridgway of Nichols expressed regret in the passing of Roy Applegate, an active member of the Knob Creek Union Church. He and his wife, the former Zula Cook, had lived on their farm on Weaver's Run Road for about 50 years. She mentioned that he and Mr. Haycraft had spent considerable time in the previous two years caring for and cleaning the Knob Creek Cemetery.
Mary Kay Shepherd of Lebanon Junction wrote that J. I. and Lillian Samuels wished to thank the following for working on the cancer fund drive: Betty Roney, Clara Ann Whitehead, Jane Walker, Becky Carnes, Sharon Sweat, Nancy Harned, Josephine Wethington, Mary Richardson, Onita Mattingly, Joyce and Rhonda Ritter, Pauline Arrowwood, Laraine Dragoo, Maxine Meadows, Bonnie Yager, Lee Cox, and Barbara an Debbie Hilton.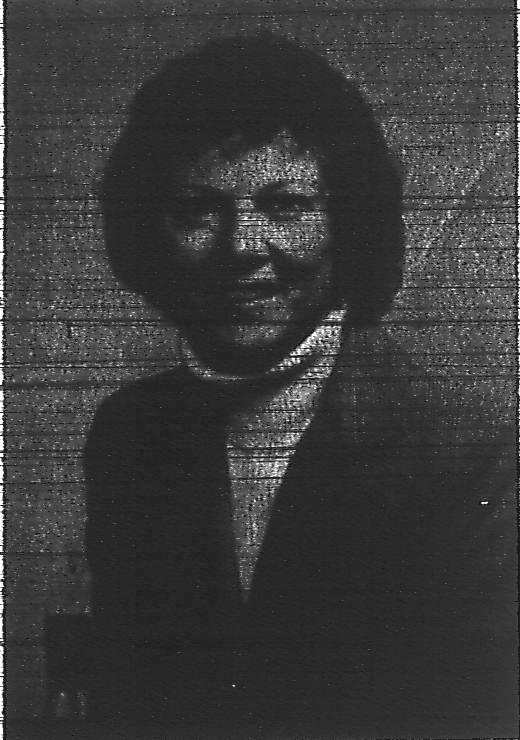 Anne McAfee
Do you remember seeing Mt. Washington mayor Sidney Griffin dressed as George Washington while serving as grand marshal for the bicentennial parade? Or, did you spend 10 cents for a bar of Mary Neal and Arletta Walker's homemade lye soap?
Anne Wigginton McAfee, daughter of Mr. and Mrs. Lindsay Wigginton, and wife of Bill McAfee of Mt. Washington, earned her Juris Doctor degree. She had previously graduated from Mt. Washington High School in 1967, and then Transylvania University.
Bill Schott was hired to coach basketball at Bullitt Central and teach driver's ed.
Bullitt County School Superintendent Frank Hatfield was named a member of the Kentucky Educational Television (KET) Task Force to set guidelines and advise on implementation of an equipment project for the entire state.
And according to Clara Simmons of Pleasant Grove, David Grant was a proud little boy because he won the tricycle race at the Mt. Washington fair. He was the son of Mr. and Mrs. Rodney Grant.
June 1976
Congratulations were offered to Rev. Don Smith who had recently graduated from the Presbyterian Seminary. He had been ordained at the Hebron Presbyterian Church on May 31st, and was soon to go with his family to Alaska for service.
We also learned from the Hebron correspondent that Mr. and Mrs. Sam Rhea and Mrs. Alice McAfee had been called to Missouri by the death of Mrs. Emily Payne.
The S.J.H.S. track teams won victories in the conference track meet at Bardstown. Kevin Davis set conference marks in the pole vault and the 70 yard high hurdles, and finished second in the 120 yard low hurdles. Billy Hogg won the 100 yard dash and 220 yard dash. Martin Adams and Corey Dunn placed first and second in the 880 run, and Steve Brown took honors in the mile run. Billy Arrowood won the 120 low hurdles, and placed second in the 70 high hurdles. Keith Herb won the 440 yard run. In field events, Bobby Walker set a new conference mark in the shot, and placed second in the discus. Keith Herb won the high jump, while Billy Ritter placed second in the triple jump. In the 880 relay, Shepherdsville set a new conference record with the team of Hogg, Davis, Ritter and Barry Conlin.
On the girls' side, Ginny Harned broke the conference record in the 60 yard hurdles, came in first in 80 yard hurdles, and placed second in the 220 yard dash. Mindy Watson placed first in the 50 yard dash. Holly Gaines took second place in both the 100 and 440 dashes, and finished third in the 880 run. Shepherdsville took first in the 440 relay with a team that included Holly Gaines, Ginny Harned, Mindy Watson, and Denise Goodrich. In field events Denise Goodrich won the high jump.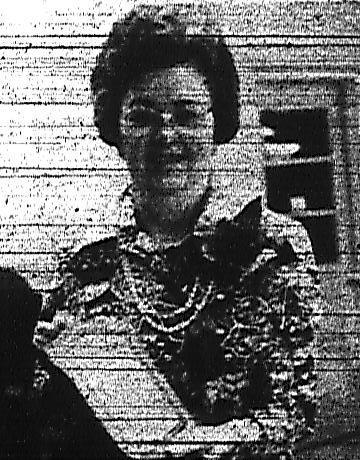 Hattie Halk
Other girls earning team points included Melanie Moser, Paula Crigler, Kathy Hester, Laura Troutman, Terri Combest, Joni Corrigan, and Angie Jett.
Mrs. Hattie Halk, librarian at Bullitt Central, retired after a 32 year career in education. A tea was held in the school library in her honor, hosted by Charlyn Roberts, Margaret Foster, Mona Tamme, Carolyn Odom, and Wilma Harper.
In the Pleasant Grove community, Carl Thomas and his wife had a cookout with Mr. and Mrs. Charlie Gaddie, Mr. and Mrs. Rodney Grant, Kevin, Karen and David and Kendall Grant as guests. Also mentioned in the column was Beulah Foster who had a very deep cold. (Who remembers the beautiful quilts made by her?)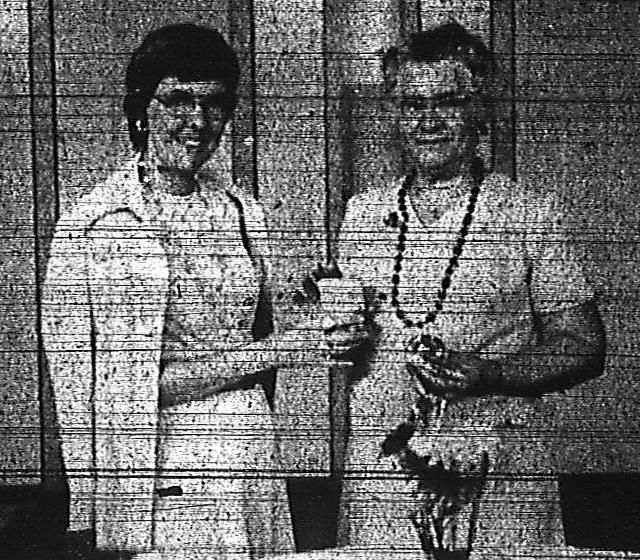 Louise Terry & Emily Robison
Fortitude and good fortune go hand in hand when a student successfully attends every single day of school in a year. Such was the case for these S.J.H.S. students: Michael Johnson, Robbie Bischoff, Ronnie Bischoff, Lauren Howard, Freddie Clan, Ronnie Burks, Denise Goodrich, Debbie Harlow, Virginia Harned, Debbie Hilton, Kathy Nichols, Mark Richardson, Donnie Schmidt, Christy Sturgeon, Keith Sturgill, and Barry Swanson.
Mrs. Louise Terry was pictured with Mrs. Emily Robison at Mrs. Robison's retirement after 30 years of teaching in Bullitt County.
The paper published a picture from the days when Sam P. Martin was pastor of the Shepherdsville Baptist Church between 1902-1911. Pictured were deacons and officers of the church including on the front row, Asa B. Davis, Andrew Nelson, William J. Phelps, Alonzo Lee, John Edward Weller, William Riley Weller, Cleveland A. Masden; and on the back row, Delbert M. Fulkerson, Samuel B. Stephens, Ora Lee Roby, Herbert H. Glenn, William Thomas Lee, James F. Collings, and Jack Sanders.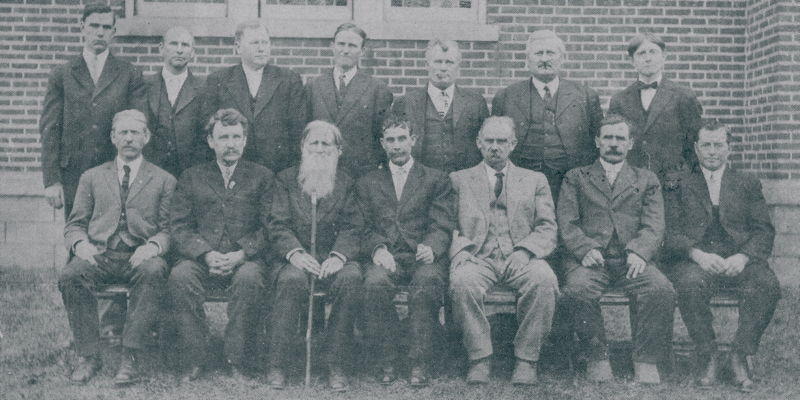 Landon Hadley was called as pastor by the Bullitt Lick Baptist Church. Hadley and his wife Mary Lou were both graduates of Campbellsville College.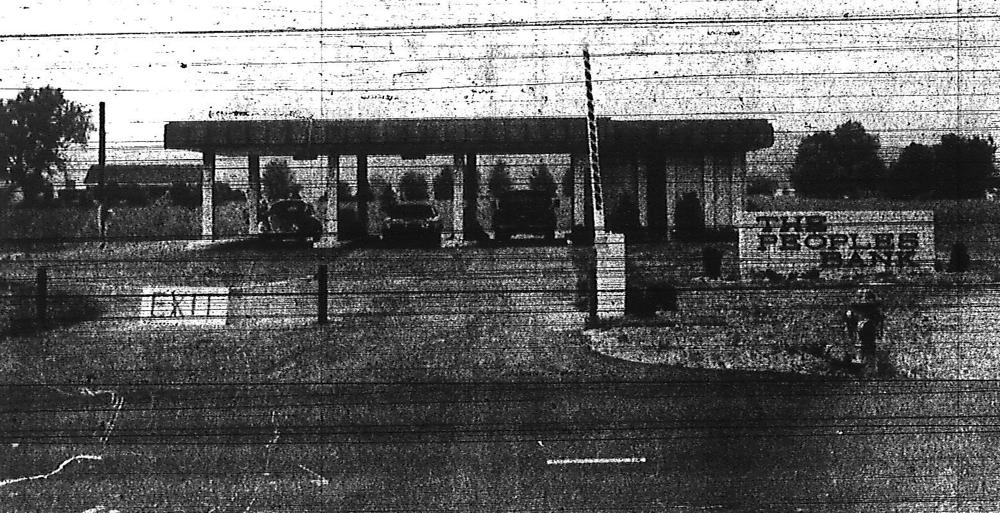 And do you remember when the Peoples Bank opened their three lane drive-up bank on 44E across from Tollview Drive? I bet Bill Hardy does.
July 1976
Ten members of Boy Scout Troop 5 attended summer camp at Rough River, including Gerry Breeding, Tom Breeding, Phillip Horton, Tom Kallin, Steve Karr, Rusty Kerr, John Reid, Alex Horton, Tony Lacefield, and Todd Robinson. The latter three earned a special patch for swimming a mile. Troop leaders included Eric and Alan Fischer.
Pleasant Grove correspondent Clara Simmons wrote that Chaplain L. W. Knight and wife from Mississippi came to visit several families in the neighborhood including the Simmons, Mr. and Mrs. Walter Devine, Mr. and Mrs. Harley Proctor, and Mrs. Austine Jasper. She noted that he had been pastor of the Pleasant Grove Church 35 years earlier.
Mrs. Mary Whitworth of Cedar Grove wrote good July birthday wishes to Lucy Arnold, Brenda Ashbaugh, Gertrude Troll, Edna Hoagland, Christine Pollard, Hazel Cundiff, Bridget Denise Bleemel, and Anna Belle Philpot.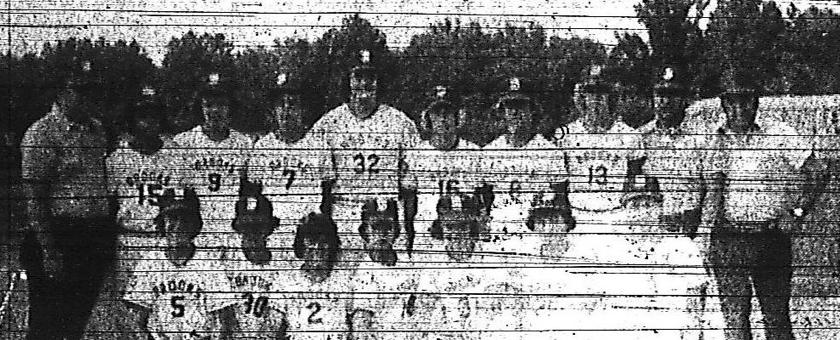 The Brooks team took the title in the Bullitt County Babe Ruth League. Team members included Jim Williams, David Baumgardner, Randy Smith, Paul King, Billy Hobbs, Matt Collins, Jeff Strange, Garry Vickery, David Collins, Sammy Etherton, Roger Bennett, Mark Highbaugh, David Williams, Dean Huff, and Kevin Davis. The manager and coaches included Bill Wehrenberg, Sam Strange, and Bo Williams.
Mary Kay Shepherd of Lebanon Junction wrote that Valine Judware and Lora Shepherd graduated from square dancing school; that the second annual horseshoe tournament was won by Bill Duckett and Richard Tinnell; and that first place winners in the golf tournament were Danny Walker, Gerald Tamme, Charles Kolish, and Larry Hillerick.
Also at L.J., Jane Harned's piano students performed in a recital at the Baptist Church. They included Cathy Biggs, Julie Ann Crawford, Susy Crawford, Jamie Crawford, Tavia Biggs, Linda Ilari, Debbie Lee Bee, Jeanette Sturgill, Jennifer Ilari, Dawn Eve McCarty, Melissa Troutwine, Melissa Ridenour, Cheryl Newton, Mary Alice Harned, Kathy Sturgill, Leah Kay Masden, James Ragg, Mark Ragg, Beth Boone, Debi Ilari, Mary Dale Rogers, Cheri Collins, Alice Rogers, and Barbara Sue Sturgill.
How many of you remember Harold K. Lanham's bookkeeping service located in the Hardy Building in Shepherdsville?
Oretha Ridgway of Nichols wrote that Betty Barnes had taken a tumble down the stairs without breaking any bones; that Craig Dawson was now able to have visitors following his auto accident; and that Mr. and Mrs. Burton Bennett had dinner at the Tijuana restaurant at Muldraugh.
Gladys Shepherd of the Bullitt Lick community wrote that eight of their girls were attending the Cedarmore Camp, including Teresa Hollingsworth, Stephanie Troutman, Annette Pike, Dawn Huff, Jeanie Shepherd, Monica Shepherd, Dyana Howlett, and Cheryl Karr.
The Hebron area newsletter mentioned the recent marriage of Miss Gale Stallings to Roger Allen Phelps. She also wrote that the teachers and pupils of Hebron VBS went to the Bellewood Presbyterian Home for children to visit and take a love offering.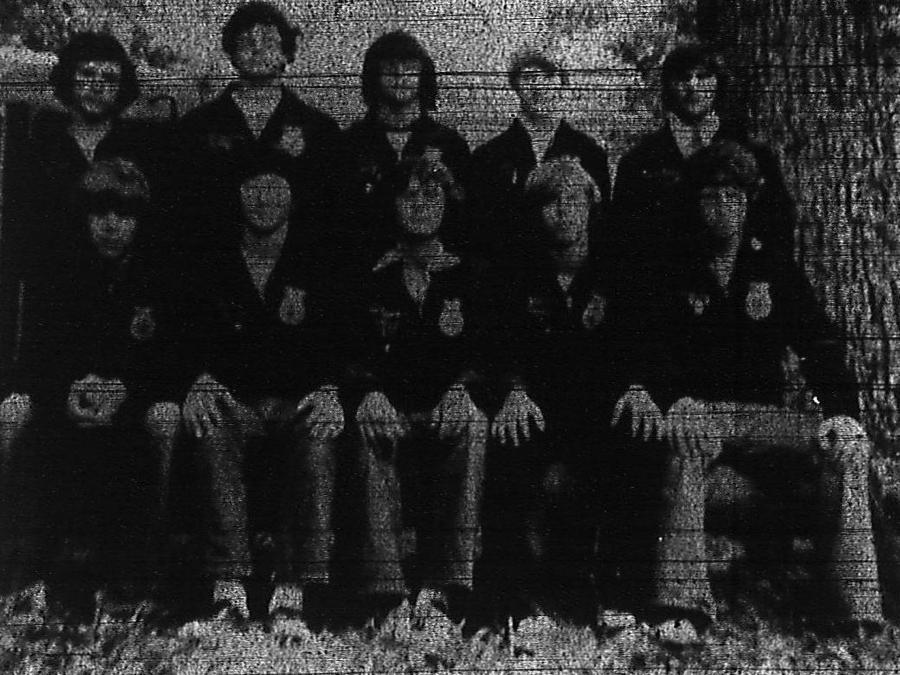 Ten FFA members and their advisor attended the Kentucky FFA Leadership Training Center at Hardinsburg. They included Gary Hancock, Bobby Harned, Jay Raymond, Jim Graham, Donnie Miller, Mike Hill, Bill Harned, Mike Miller, John Raley, and Mark Dever. Kenneth Gentry was their advisor.
Marie Havey, Laura Richardson, Dolly Stephan, Hazel Ratliff, Evelyn Herron, Ophelia Carney, Mildred Troutman, Wassel Rodgers, Thelma Bergen, Carl Shaw, Etta Shouley, Margaret Moran, Bill Griffin, Marjorie Becker, Arthur Lutes, Alice McAfee, E. B. Stansbury, Anna Ray Shaw, Charles Shaw, Ray Binford, and Robert Hays Simmons gathered together at the Best Western in Shepherdsville to celebrate the 50-Year Shepherdsville High School reunion. Also present was Mrs. Hester Bell Hardaway, one of their former teachers.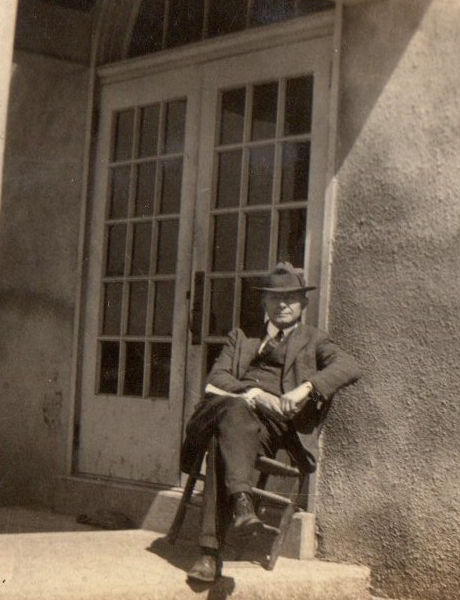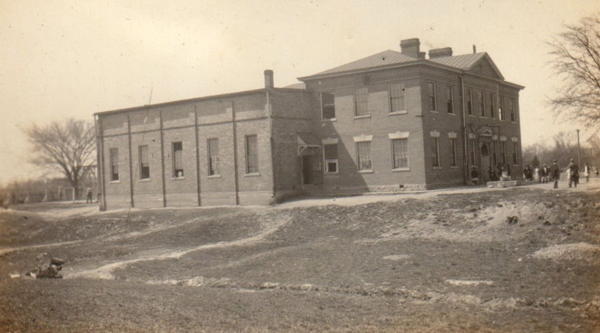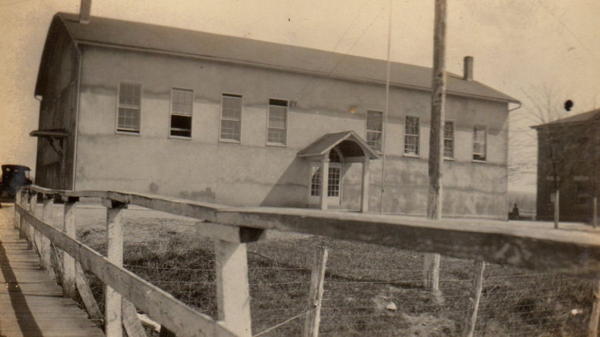 Prof. Sanders | Old S.H.S. | Old Memorial Gym
And Laura (Frisk) Richardson also wrote a piece remembering their days at the school. It is too long to include here, but we have added it on the History Museum website.
August 1976
Clarence and Ed Crigler became the new owners of the Western Auto Store in Shepherdsville. Herman Brown was the previous owner.
The annual Samuels Family Reunion hosted 76 folks at the Hillcrest Acres farm of Mr. and Mrs. W. B. Samuels of Lebanon Junction.
Margaret Beeler, Suzy Crawford, Johna Vittitow, Roseann Conlan, Tommy Culver, Mary Dale Rogers, Lisa Hayden and Roberta Barnes of Lebanon Junction area attended a week at Camp Wallace Conservation Camp.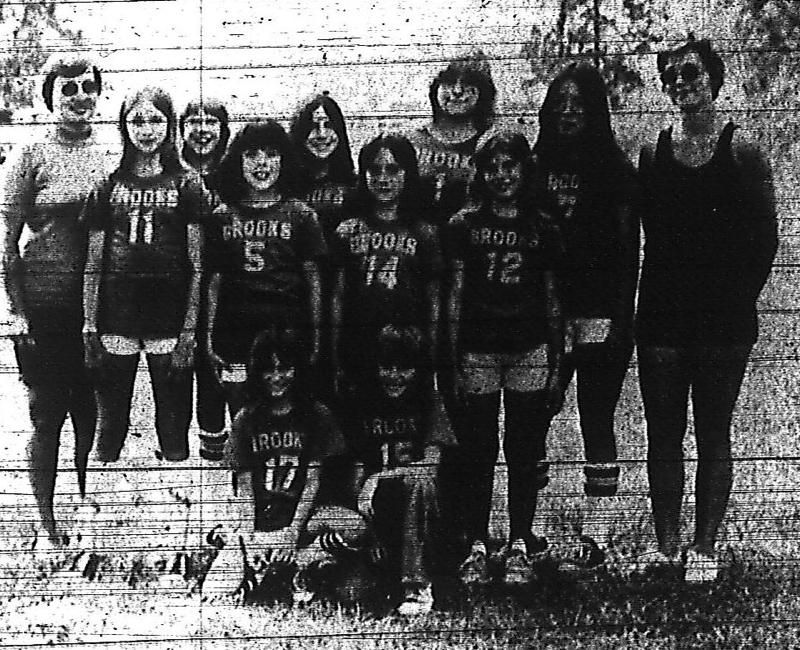 Brooks Softball Champs
The team of Henry Seaton, Bobby Mullins, Dr. H. Q. Kennedy and Gary Woodhand won the Rainbow Scramble at the Knob View Golf Course.
The Brooks team was the Girls' 9-12 County Softball Champs. Members of the team included Wendy Lucas, Tammy Walker, Beverly Willis, Lisa Bennett, Melanie Worley, Micky Riggs, Ann Finch, Kim Eddington, Tracee Williams, Sherry Graham, Mona Croan, Becky Willis, and Ruby King. Their coaches were Linda Belcher and Brenda Eddington.
Mrs. Oretha Ridgway reported from the Nichols area that Tracy Sumner was surprised when her parents had a piano delivered to their home for her.
Clara Simmons reported that Fern Lloyd was on the mend, and had been visited by many in the community including Lois Simmons, Lynn Bunch and wife, Nancy Owen, MayBelle Whitledge, Tommy Grant, Allard Armstrong, Mr. and Mrs. Pete Monroe, Earl Ray Stallings and family, Wallace Armstrong, J. B. Proctor and wife, Birdie Moore, Bud Owen and wife, Rev. Cecil Laster, Mr. and Mrs. Cecil Bridwell, and several others.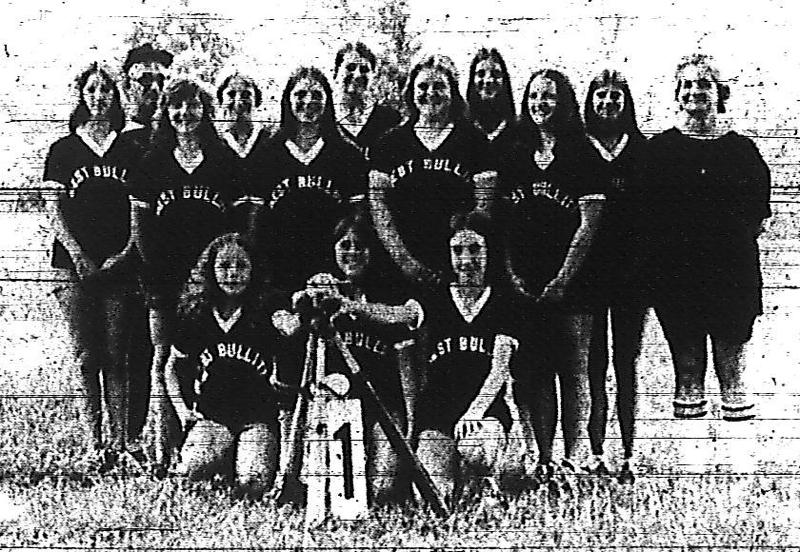 West Bullitt Softball Champs
Mainard Cornett, Ron Wiemer, Betty Cornett, June Dawson, Bob Simcoe, Doug Mitchell, Nancy Sumner, Ray Bowling, Carl Bischoff, Ralph Dockery, Wendall Dockery, Linda Sanders and Marshall Dillander were the recreation committee largely responsible for the new West Bullitt Recreation Park.
The paper celebrated Dr. Hubert Clay's 20 years of service in Bullitt County as a veterinarian. Before arriving in Bullitt County, Dr. Clay was an educator at the Hardinsburg High School, and an agriculture extension agent.
The West Bullitt 13-18 girls, Kathleen Sandra, Joann Barnes, Gale Burden, Cathy Gethof, Debbie Redden, Diane Graham, Lois Bischoff, Becky Snellen, Jenny Bennett, Robin Antle, Lisa Jacobs, and Debbie Allen won the county softball championship in their division. Doris Graham was their coach.
Mary Dell Meyers hosted the Hebron Presbyterian women for a gathering.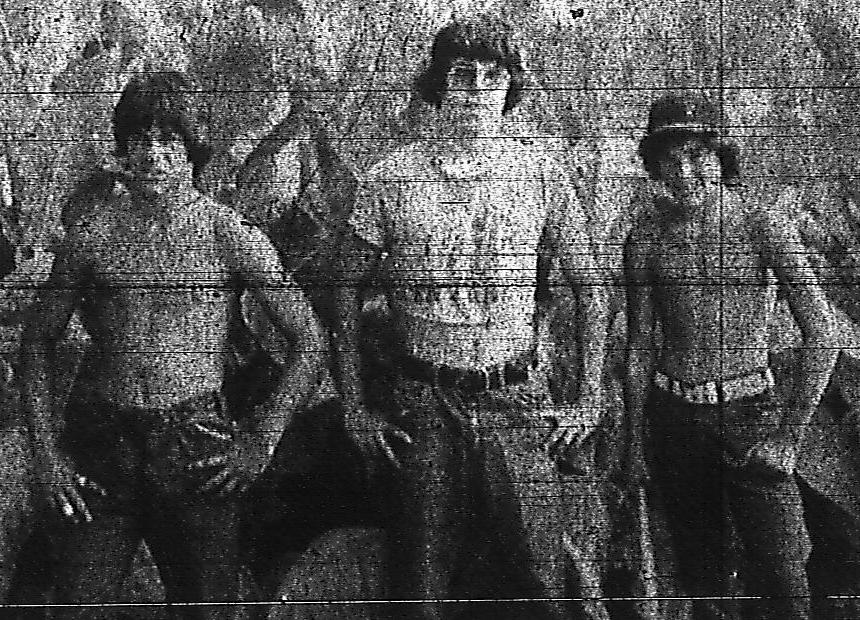 Jimmy, Robbie and David Williams
Jimmy, Robbie and David Williams were pictured in front of the family's outstanding tobacco crops on the farm of Robert "Bo" Williams.
Stevie Johnson of the Hebron community had a bike accident requiring nine stitches in his forehead. Ouch!
Robert J. Williams of Shepherdsville was attending the Kentucky State Police Academy. Following graduation, he was scheduled to work at the Elizabethtown post.
Many of us can remember bowling at Frederick's Bullitt Bowl that opened in 1976.
Alan Fischer of Boy Scout Troop 5 in Shepherdsville earned his Eagle Scout rank.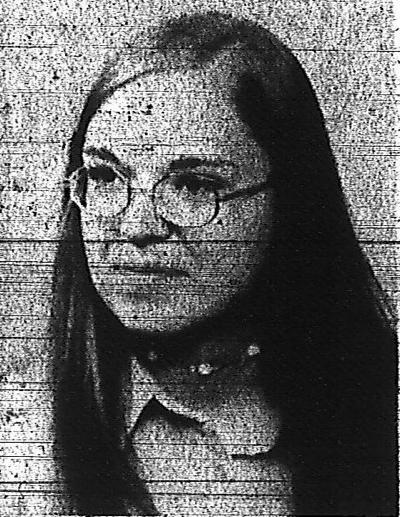 Mary Christine Hoagland
A group of young people from Lebanon Junction Baptist Church were in Eastern Kentucky conducting a Vacation Bible School. They included Becky Garmon, Darlene Thompson, Lisa Streble, Annette Samuels, Amy Metcalf, Virginia Harned, Denise Goodrich, Marlene Etherton, Pamela Masden, and Kevin Ridenour. They were accompanied by Mr. and Mrs. Marvin Ridenour and Mrs. Doris Masden.
Mary Christine Hoagland, daughter of Mr. and Mrs. James Hoagland Jr., completed her graduate study in library science. She was a teacher at Hebron Junior High School.
Many in the county were saddened to learn of the deaths of Dr. H. C. (Curt) Firkins, a local dentist, and Rev. R. B. Cundiff, longtime pastor in the Bardstown Junction area.
Dr. Firkins also served as Bullitt County coroner, and taught at the University of Louisville.
Rev. Cundiff was the father of Dr. M. J. Cundiff, also a Shepherdsville dentist.
Fiscal Court appointed Alvin Gayle Troutman to serve as county coroner following the death of Dr. Firkins.
And in writing her Bullitt Lick column, Gladys Shepherd shared, "Denise Shepherd, my little granddaughter, spent last week with me. James Calvin and Sue came and got her Saturday." Now, doesn't that just sound like a proud grandma!
September 1976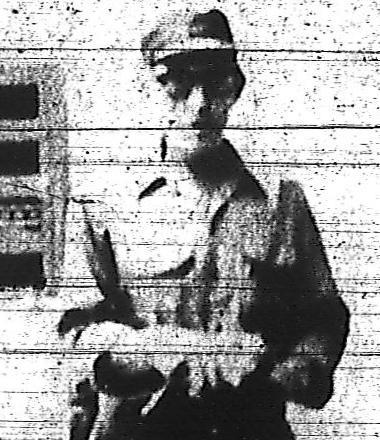 Theodore Harris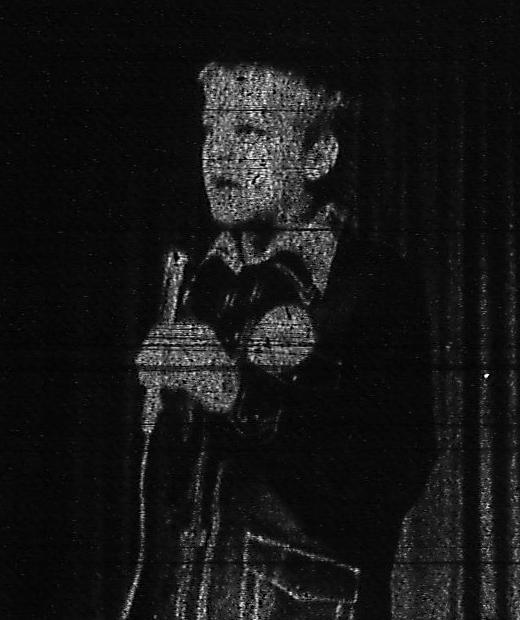 John Shafer
Theodore Harris, who had served as custodian at Lebanon Junction Elementary for 14 years, was pictured at his retirement from the school.
Clara Simmons of the Pleasant Grove community wrote that Ronnie Horsley, choir director at Pleasant Grove, sang "Rock of Ages" for J. B. Proctor in honor of J. B. and Rosco Proctor's mother, Mrs. Ora Proctor who had died 37 years earlier.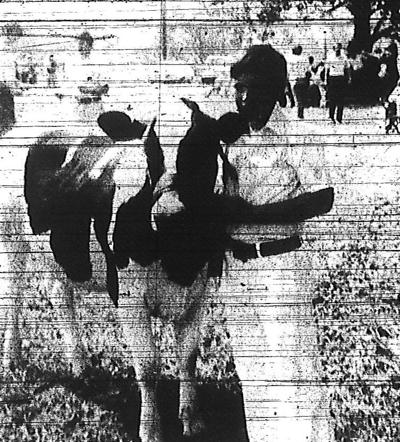 Tony Koch
Tony Koch, a student at St. Aloysius School, was pictured in the paper with the dairy cow he showed at the 4-H show in Shelbyville.
Oretha Ridgway of Nichols wrote that Gary Miles, son of Mr. and Mrs. Raymond Miles Jr., was leaving for Florida to enter the Florida Institute of Technology to study marine biology.
John Shafer, a 12-year-old from Cedar Grove, won the County and Area 4-H Talent Show. A son of Mr. and Mrs. Wayne Shafer, John was a student at SJHS.
Mary Whitworth of the Cedar Grove community wrote that Mr. and Mrs. James Orkies and son Christopher were returning to Germany after visiting her parents, Mr. and Mrs. James Kuykendall and other relatives.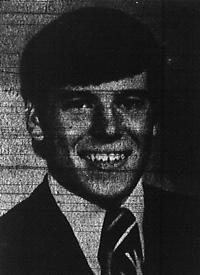 Eric Farris
In the personals column we learned that Mr. and Mrs. Rogers Shelburne visited Mr. and Mrs. Headie Lee and family in Midland, Michigan. We also learned that Mrs. Myrtle Jackson and brother were moving to their new home on 44 East; and that Mr. and Mrs. Bill Owen Jr. and family returned home from a trip to Opryland.
Eric Farris, a 1975 graduate of Bullitt Central, was pictured along with comments about his success in his freshman year in college.
The Hebron community correspondent wrote that Eva Garr, J. A. Crumbacker, Floyd Tinnell, Bobby Dever and Walter Crumbacker drove to Bardstown to see a performance of the musical "Hello Dolly." They also dined at the Talbot Inn. She also mentioned that the Hebron Church ladies were meeting at the home of Mrs. Bebe Hamilton, and that the Hebron Kindergarten would be starting on September 7th.
In other news, the Zoneton Homemakers met at the library where Mrs. Maurine Fisher gave a detailed lesson on holiday decorating.
About 200 people attended a grand reunion of a school district that first opened in the mid 1800s under the name Log Cabin College. Later the name was changed to Needmore, and still later to Pleasant Grove. The school closed on 12 May 1948.
The oldest reunion attendee was Mrs. Ester (Hoskins) Nutt; the youngest was Mrs. Roxie Clark. They were pictured together. In another picture we found Mrs. Gladys Murphy Tunner of Springfield, Edward Palmer from Cincinnati, Joe Fultz from Bradenton, Florida, and John Hoskins from Memphis who were among those traveling the farthest to attend the reunion.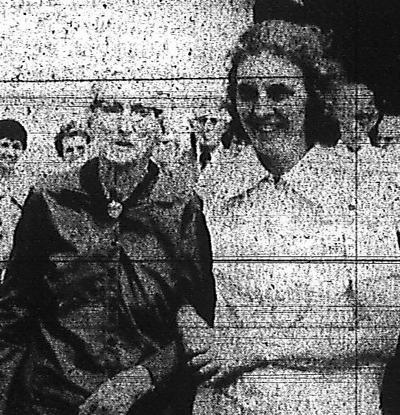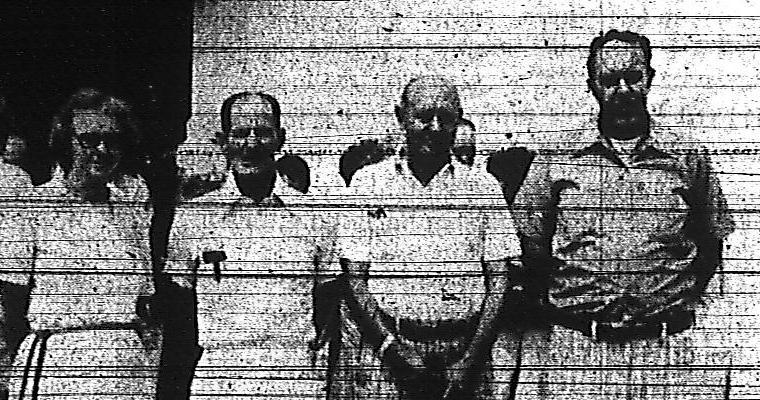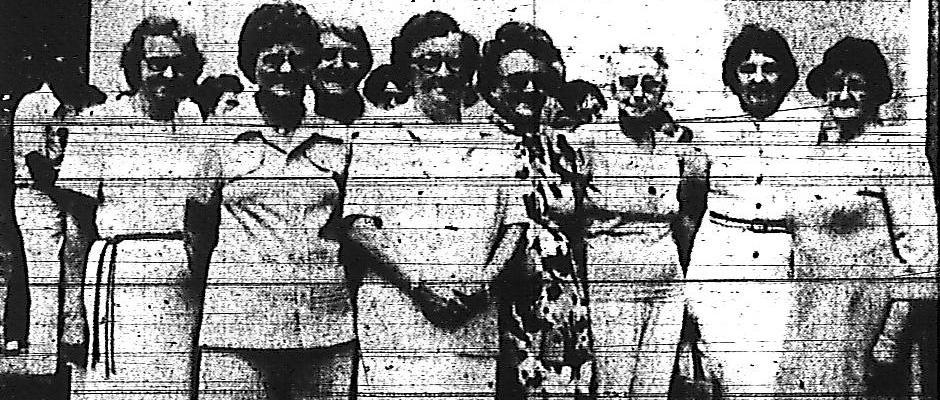 In a third picture, we found a group of former teachers at the school, including Gladys (Murphy) Tunner, Dorothy (Hedges) Fackert, Mary Frances (Hedges) Jones, Myrtle Ruth (Stansbury) Harris, Hilda (Smith) Cornell, Mrs. Beryl (Hall) Porter, Mrs. Neil Vernon (Bell) Porter, and Virginia (Gardner) Shelburn.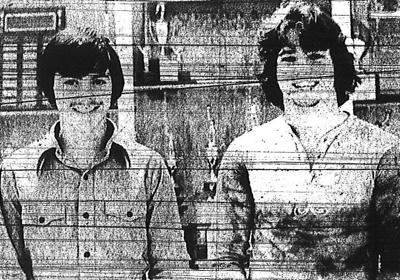 Montgomery & Raymer
Dwayne Montgomery and Tony Raymer were pictured in the paper after winning Bullitt Central Cougar-of-the-Week awards.
In a sad note, Gladys Shepherd of the Bullitt Lick community reminded us of the death of Jasper Keith, who drowned in Salt River.
Mary Kay Shepherd of Lebanon Junction wrote that Dan Meadows had driven to Charleston, South Carolina with Maxine Meadows and Laverne Bryan where Dan's car was shipped to Puerto Rico. The ladies took a flight back home while Dan flew to the island where he had taken a job teaching 2nd grade at the Roosevelt Road Naval Base.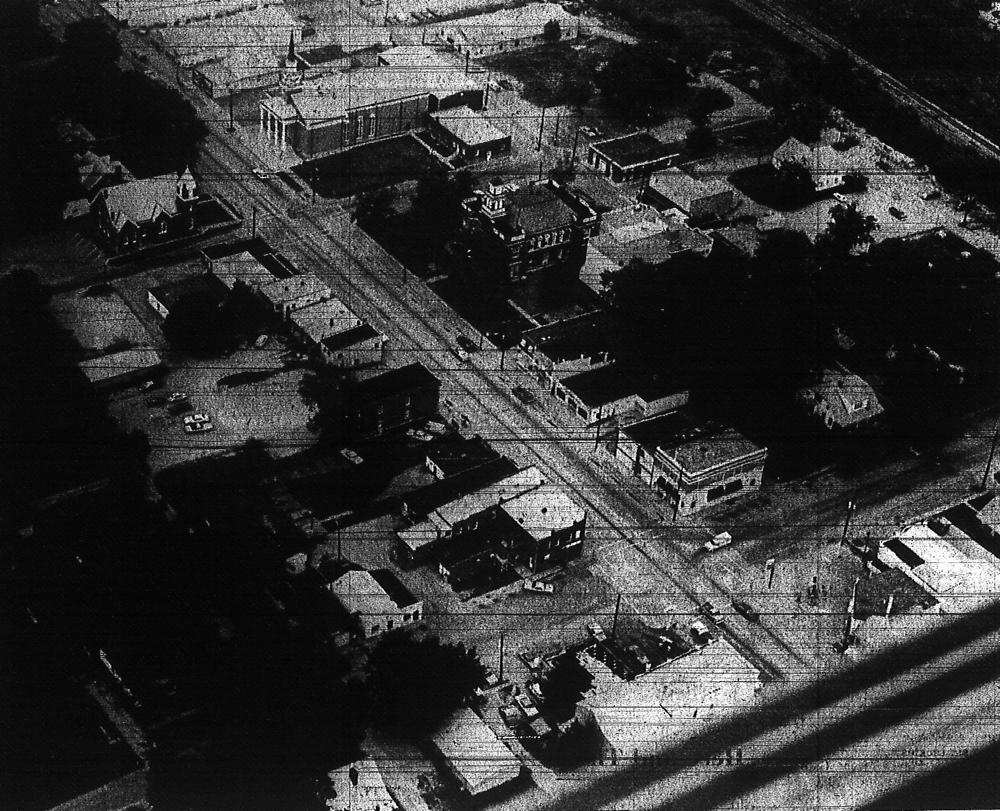 And an aerial photo of downtown Shepherdsville taken from a plane piloted by Dave Harlow reminds us of the many changes that have occurred in the past 45 years. The old courthouse and jail were there, as was the old Western Auto store; not to mention the number of changes just to the west of the railroad tracks.
October 1976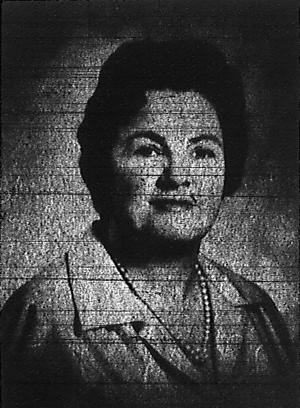 Nell Pike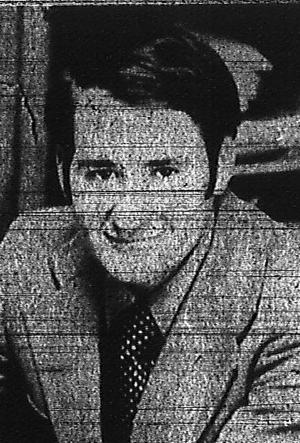 Bill Dawson
Bill Dawson announced that he was running for re-election to the County School Board from the Bernheim, Camp Crescendo and Lebanon Junction precincts. During his first term he served as vice chairman of the board.
Nell Sanders Pike, fourth grade teacher at Roby Elementary, was selected as Bullitt County Teacher of the Year. She was the mother of David Pike, then a student at Depauw University, and Mrs. Burnell Lemme, a teacher at Doss High School.
In news from the Pleasant Grove area, we learn that Owen Risk and wife were the proud parents of a baby boy. Owen was a previous pastor at the Pleasant Grove Church.
The Hebron Area Newsletter informed us that Bernard Bischoff was suffering from an infected eye. We also learned of the marriage of Barbara Sabiston and Rudolph Fisher at the Little Flock Church, and that the bride wore a gold and garnet necklace that had been in the family for five generations.
We also learned that Dr. and Mrs. Harry Goodykoontz were honored at the Hebron Church. He had served as interim pastor for the past year. Also, the women of the church met at the home of Mrs. Herbert Fisher and selected the following officers: President Mrs. Willie Gentry, Vice President Mrs. Jane Williams, and Secretary/Treasurer Mrs. Bebe Hamilton.
The following young ladies were contestants in the Junior Miss competition: Susan Farris, Elisa Deacon, Lynne Firkins, Melanie Sloan, Becky Mitchell, Diana Gillespie, Debbie Fentress and Beverly Smith. Susan Farris the chosen winner.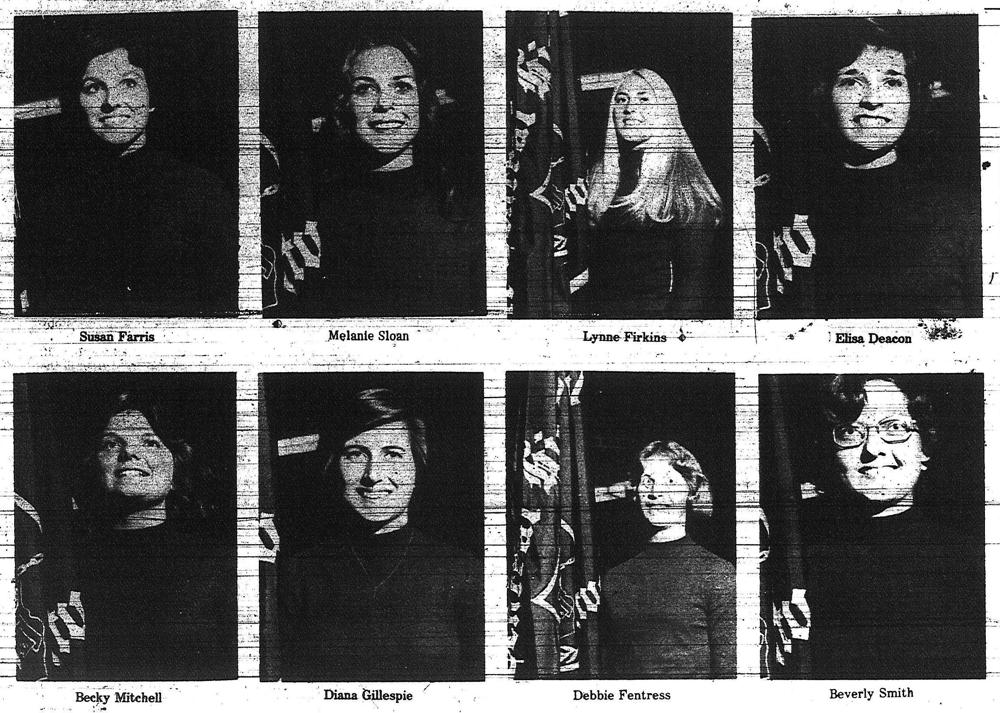 In the Cedar Grove news column we learned that the following people were celebrating birthdays in October: Ida Mae Hilton, James Rogers, Dr. Donald Wood, Mike Thompson, Ella Crenshaw, Bill Flairty, Faron McCubbins, Kathy Overfelt, Margie Jackson, Stacy Ann Knopp, Mrs. Donald Wood, and Alice Shelton.
The Generals of Mt. Washington Junior High defeated Old Kentucky Home 18-0 with Ronnie Shepherd scoring the first touchdown on a screen pass from Jimmy Goodman. Keith Atwood scored the second TD on a five yard run. The third TD was scored by Chris Simmons who intercepted a pass and returned it 40 yards.
The Hebron Junior High Panthers defeated New Haven 28-0 with Billy Corder, Mike Corum, Ronnie Saylor, and Joe Galvin all scoring touchdowns. Coach Sallee complimented his offensive line of Mike Lawson, Robbie Reno, Scott Hawkins, Dwayne Green, Greg Curry, Mike Corum, and Billy Riley.
And the Shepherdsville Rams defeated the Generals 20-0, scoring all their points in the first half. Brett Larimore ran five yards for the first score; the second and third touchdowns came on passes from Damon Blanton to Dennis Johnson.
In Bullitt Lick news, we read that Ida Atkisson, Mrs. Larimore, Mrs. Alcorn, and Gladys Shepherd paid a visit at the Masonic Home.
In Nichols news, we learned that Herbert Haycraft, Walter Ferguson and Ernie McNutt spent a day fishing near Springfield. I wonder if they caught anything.
In the Lebanon Junction news column we read that the St. Benedict 8th graders took a field trip to Phillip Horn's bee farm accompanied by their teacher Jane Crawford and three mothers, Martha Beeler, Frances Ilari and Mary Kay Shepherd.
They called her "Dr. J." as she served as the first certified student trainer at Shepherdsville Junior High. She was Jan Firkins, a freshman at the school.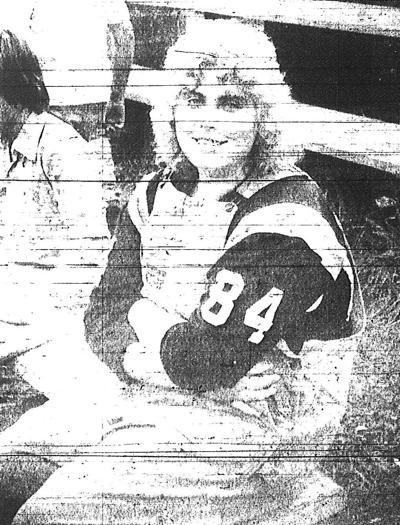 Jan Firkins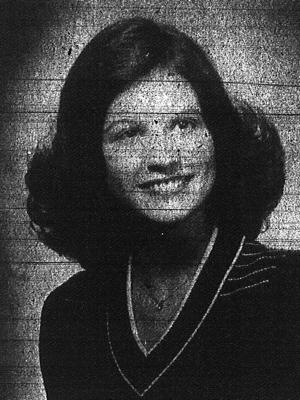 Susan Sloane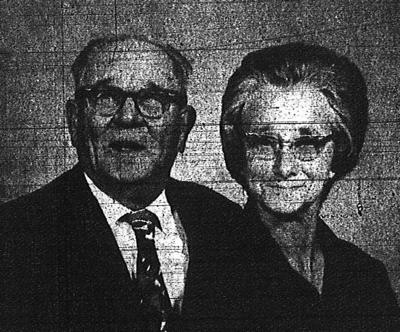 The Sidebottoms
Susan Tichenor Sloane, a 1970 graduate of Mt. Washington High School, was selected as Mistress of Ceremonies for the Bullitt County Junior Miss Pageant.
Clyde and Maranda (Brown) Sidebottom of Lebanon Junction celebrated their golden wedding anniversary.
The Cash's Grill Sandwiches sign prominently appeared in a photo of the Bullitt Central football homecoming parade.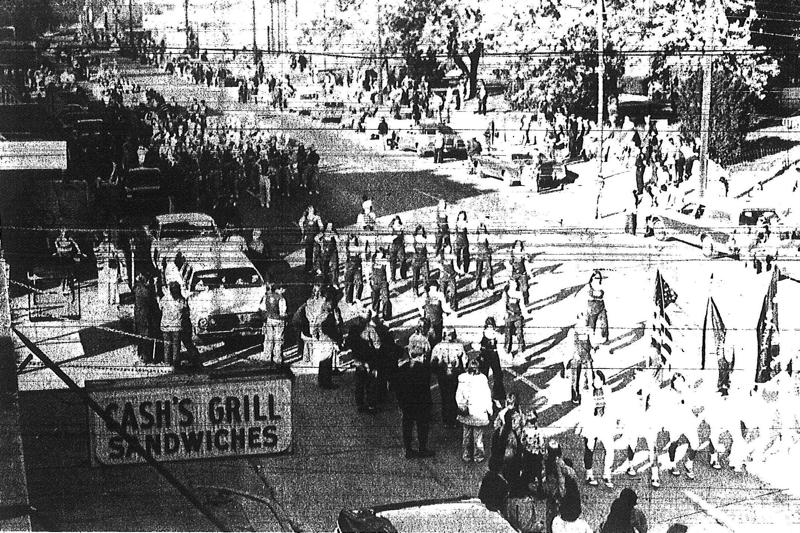 The McNeil Masonic Lodge of Lebanon Junction celebrated its 100th anniversary. Its nine charter members were Charles B. Tydings, H. H. Hart, John L. Thompson, J. E. Ricketts, William H. Mayfield, William Ormes, J. D. McNeal and Luke Howlett. The lodge master in 1976 was Otto Ballou.
November 1976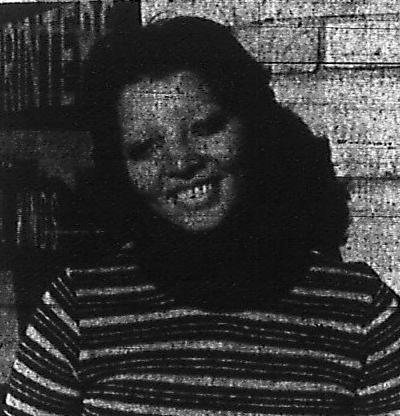 Lia Costa
In local school board races, George Bradbury was unopposed, Thomas Whitt defeated Jean C. Hall in the Mt. Washington district, and Bill Dawson was reelected over Don Hatfield in the Lebanon Junction/Bernheim district.
Miss Heliana "Lia" Costa was an exchange student from Brazil attending Bullitt Central and living with Mayor and Mrs. Sparrow of Shepherdsville. When interviewed, she said her home was near the equator, and she was looking forward to seeing snow in Kentucky.
At Pleasant Grove, Mr. and Mrs. Jimmy Butler and children, and Mr. and Mrs. Buddy Laster helped Rev. and Mrs. Laster celebrate Rev. Laster's birthday.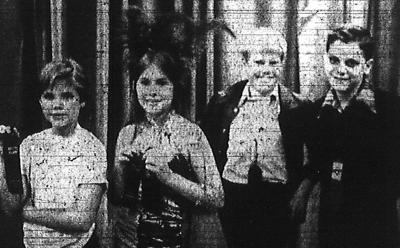 4-H Champions
Members of the school system staff and title 1 reading teachers attended a conference in Louisville. Attending were Karen Larimore, Louise Terry, Janice Stewart, Jan Grigsby, JoAnn Barr, Vernon Spurling, Nanette Abell, Karen Buckingham, Mary Ann Matthews, Naomi Parker, Verna Scott, Anna Sedoris, Eva Smith and Joetta Walker.
Jimmy Werkmeister, Carla Harvey, John Shafer, and Kim Davidson were chosen champions at the 4-H talent show held at Overdale.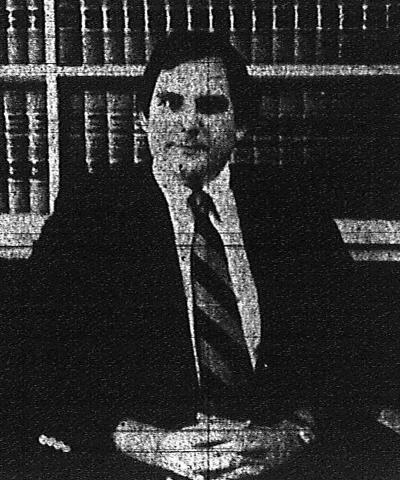 John E. Spainhour
Rev. William Beswick was called as pastor of Hebron Presbyterian Church.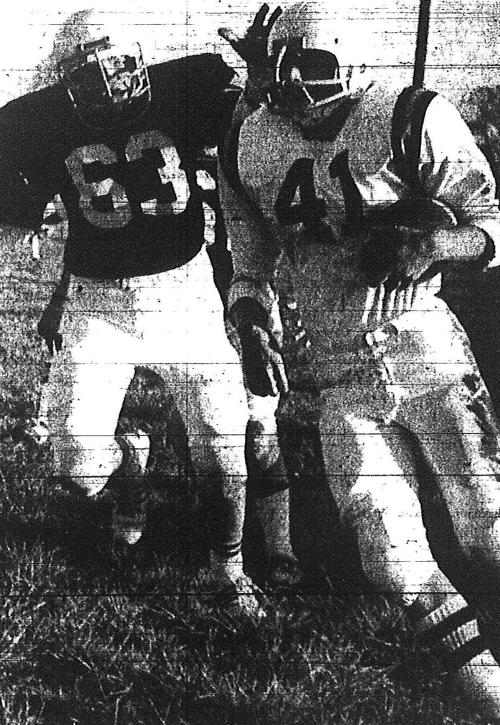 Johnny Lloyd #41
Thomas B. Givhan announced the addition of his son-in-law, John E. Spainhour to his law firm in Shepherdsville. Spainhour was a graduate of the Vanderbilt Law School.
Dennis DeWitt of Shepherdsville was selected as a member of the Berea College Choir.
The S.J.H.S. Rams defeated Hebron 20-0 to clinch the Bullitt-Nelson Junior High Football Conference championship. Halfback Brett Larimore rushed for 90 yards on 14 carries to score the team's three touchdowns. Dennis Johnson added a two point conversion to complete the scoring. But it was Johnny Lloyd of Shepherdsville who got his picture in the paper, as he carried the ball for a 15 yard gain and a first down.
Oretha Ridgway of Nichols was sorry to report that the home of Mr. and Mrs. John Franzell was destroyed by fire. She also reported that Rosemary Jones cut her hand while helping prepare lunch at Nichols School.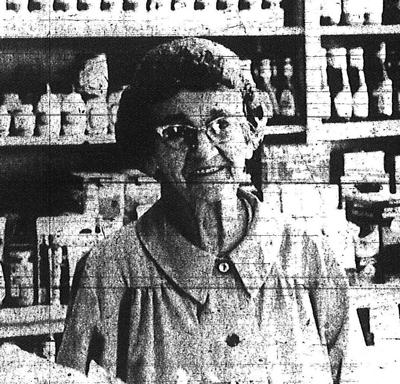 Alma Funk
She also reported on the funeral of James Ridgway. Jim lived all his life in Bullitt County, and was the last of the family of Elmer and Cora Ridgway.
Mrs. Alma Funk was pictured at her general store in the Nichols community. The Brown's Grocery had been in her family for years.
Mr. and Mrs. Harley Proctor and Ella Lois Simmons and her mother Clara enjoyed a supper meal at the Blue Boar restaurant.
In Lebanon Junction news Vickie Madison, daughter of Wanda McHargue, gave birth to a daughter. Proud great grandparents were Dorothy Ash of Colesburg and Mattie McHargue. Mrs. Annie Jackson is the great great-grandmother.
The Hebron correspondent wrote that "the Zoneton Homemakers met with Mrs. R. L. Farmer in her modern and tastefully decorated new home."
Jan Samuels & Oral Meredith
Sherri Crady won the hairpin lace afghan given away at the "Country Oak" Shoppe in Lebanon Junction.
Pam Napier and Tim Crumbacker were married at First Baptist in Shepherdsville. Connie Nalley was maid of honor, and bridesmaids were Kelly Newton, Susan Hardy, Lynn Firkins, and Toni Napier. Best man was Ronnie Crumbacker, and groomsmen were Tim Myers, Richard Fetty, Dennis Watson, and Hyman Ashby Jr.
And Oral Meredith was pictured receiving the first swine flu shot at the county health department. Jan Samuels administered the shot.
December 1976
Ted Korfhage represented the Southern States Cooperative's members at the annual stockholders' meeting in Richmond, Virginia. Also attending were Michael Ross and Lloy Vannarsdall representing the local store.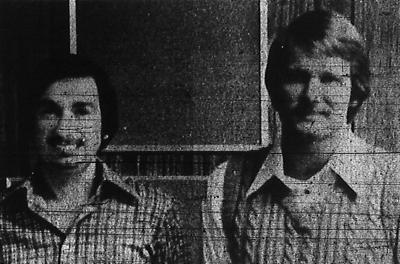 Carpenter & Mineer
Bill Miller of Shepherdsville and Donnie McHargue of Lebanon Junction were elected to offices in the Alpha Gamma Rho fraternity at the University of Kentucky.
Jon E. Rickert of Elizabethtown was elected to the Bernheim Forest Board of Trustees. Mr. Rickert had been active as a volunteer leader of nature programs at the forest.
In a series of articles about coaches, Buford Williams and Mary Ann Elam were introduced as the new coaches of Bullitt Central's girls' basketball program. Other coaches mentioned included Bob Carpenter and Robb Mineer who were coaching the Shepherdsville Rams' boys' team; Barbara Firkins and Betty Hartley led the girls' team; Jo Ann Price leading the Mt. Washington Generals' girls' team; and Kenny Waddell, head coach of the Lebanon Junction Bulldog's team.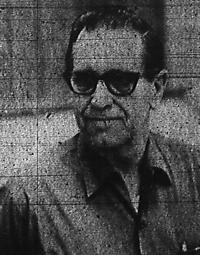 Jerry Bridwell
Charles Long announced the appointment of Jerry Bridwell as the county Emergency Welfare Coordinator. Bridwell, a native of the county, had a long history of community involvement.
In the Nichols community, Clarance Dawson's family served a Christmas buffet to their guests; Santa Claus visited the local school and was treated to a meal by the lunchroom staff; Bill Carpenter called on Mr. and Mrs. Arthur Stivers; and sympathy was expressed to Willie Ray and J. T. Carpenter in the death of their mother, Mrs. Fern Carpenter.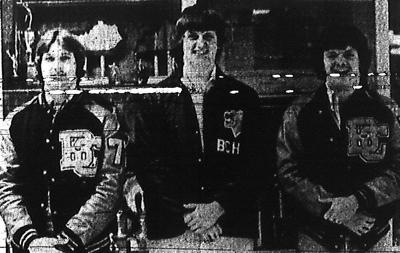 Sanders, Cruise, & Dobson
At Lebanon Junction, a number of local boys were home on leave including Tony Troutman, David Clayton, Ricky McCubbins, Allen Bryan and Rick Murley. Also, winners of the $10 gift certificates at the Key Market were Chris Sweat, Bridgett Etherton, Tom Masden, Ricky Simmons, and Kay Beam.
Georgetown College awarded football scholarships to three members of the District Champion Bullitt Central Cougars: Tim Sanders, Tim Cruise, and Ted Dobson. Of these, Ted Dobson and Tim Sanders joined Chuck Baker, Rich Dietrich as honorable mention to the all-state football team.
In local politics, Sidney Griffin and Eddie Dawson both announced as candidates for jailer.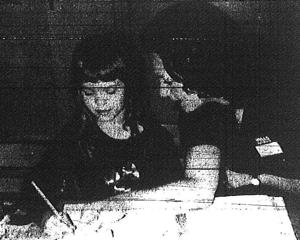 Charlotte Ashby
The Hebron correspondent wrote, "Thanks to the kindness of Mrs. Maurine Fisher, we enjoyed the morning service at Hebron Presbyterian when they presented the Cantata 'Shepherds, Rejoice.' A lovely and inspirational service. Dr. Harold Nebelaick will be their guest minister next Sunday."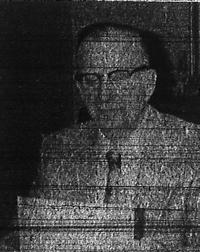 Vernon Mothershead
She also wrote that the Hebron women of the church met with Mrs. Hilda Adams.
Charlotte Ashby was pictured helping a Nichols Elementary student as a volunteer at the school. She and her husband Billy were the parents of John and Ricky, students at the school.
Vernon Mothershead retired as Executive Vice President of The Peoples Bank of Mt. Washington after a career of nearly fifty years at the bank.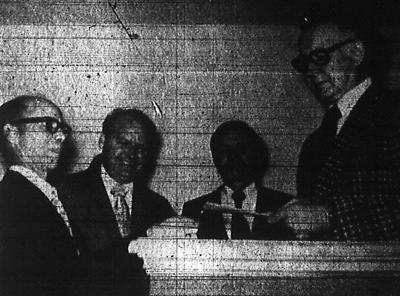 Note Burning
Bill Mattingly, Wavy Mayes, James Land, and Rev. Bob Crady were pictured at the note-burning service at Bardstown Junction Baptist Church.
Bill Robey was re-elected chairman of the Democratic Party Executive Committee which included the following members: Florence Ryan, Nancy Strange, J. Chester Porter, Arson Moore, Donna Sweat, Eric Farris, Tim Bradshaw, James Gordon, Bernice Greenwell, Sandra Johnson, and James Roe.
The Bullitt County School Food Services employees met for their annual Christmas dinner with their elected officers, President Barbara Thixton, President-Elect Ethel Armstrong, Secretary Rosemary Jones, Treasurer Louise Madden, Parliamentarian Carolyn Kearney, and Helen Underwood, the director and consultant.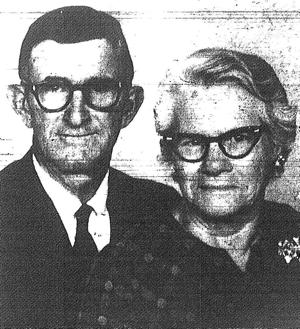 Allard & Paralee Armstrong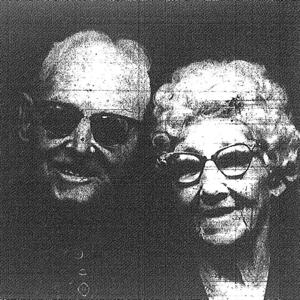 Mr. and Mrs. Basil Scott, Sr.
Allard and Paralee Armstrong celebrated their Golden Wedding Anniversary; and Mr. and Mrs. Basil Scott, Sr. celebrated 65 years of wedded bliss.
And Harold Winston Hardy was entering his 20th year of service with the American Cancer Society.
---
Copyright 2021 by Charles Hartley, Shepherdsville KY. All rights are reserved. No part of the content of this page may be included in any format in any place without the written permission of the copyright holder.
---