It Happened in 1969
Over the years, Charles Hartley has shared glimpses of what was being printed in The Pioneer News in different months and years. This page includes what was taken from the issues of 1969.
---
January 1969
H. C. "Doc" Firkins was appointed Chief Deputy Coroner by Coroner Walter "Pee Wee" Keith following the death of Luther VanVactor of Lebanon Junction. He is pictured below, being sworn in by County Judge Neil Farris.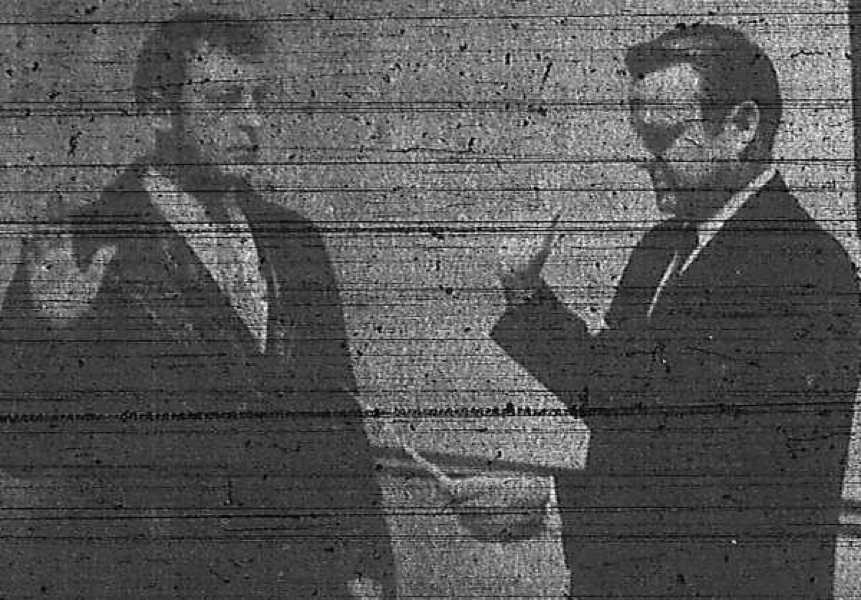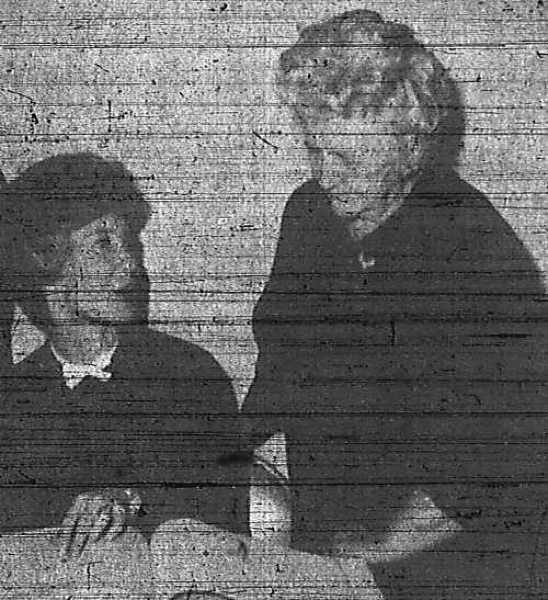 Mrs. Nancy Strange, Circuit Court Clerk for Bullitt County, is pictured above in Mumfordville, helping to train Hart County's newly appointed clerk, Mrs. Freda Rife. The paper indicated that this was a task Mrs. Strange was frequently called upon to do because of her vast experience and helpful spirit.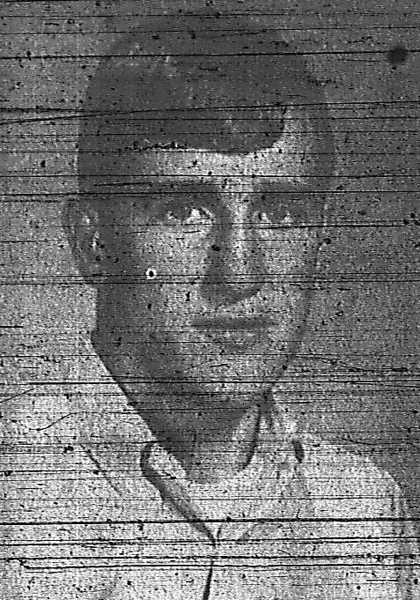 Barry Watson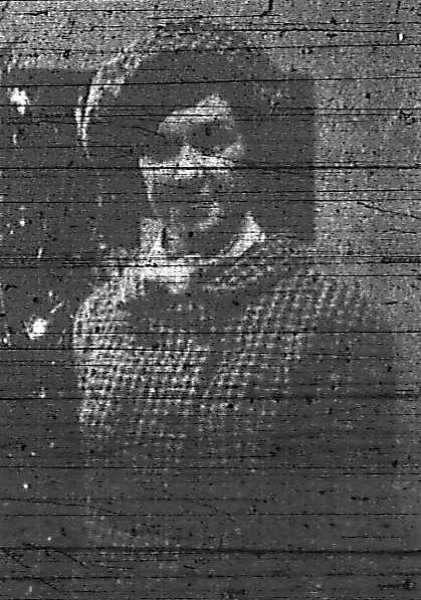 Lois Barker
S.H.S. baseball coach, C. H. Skelton announced the establishment of a Memorial Scholarship in the memory of Barry Watson who was killed in an automobile accident. Watson, son of Mrs. and Mrs. Sam Watson, had been a member of the team for three years.
In the Hebron Newsletter we learned that Mrs. David James gave an organ recital as part of Hebron's Christmas Eve Candle Light Service.
In Cedar Grove news, Mrs. Annie Bolton, Mrs. Ella Bell and Mrs. Agnes Webb attended the Golden Anniversary of Mr. and Mrs. Leo Kufman in Jefferson County; and Miss Juanita Stansbury of Cox's Creek spent Christmas with her aunt and uncle, Mr. and Mrs. Charles Livers.
Miss Lois Barker was pictured with an article announcing her assignment to the Bullitt County Extension Office in Shepherdsville.
Coach Charles Coy's Lebanon Junction Bobcats won the fifth annual Christmas tournament at the school, defeating Cox's Creek 40-26.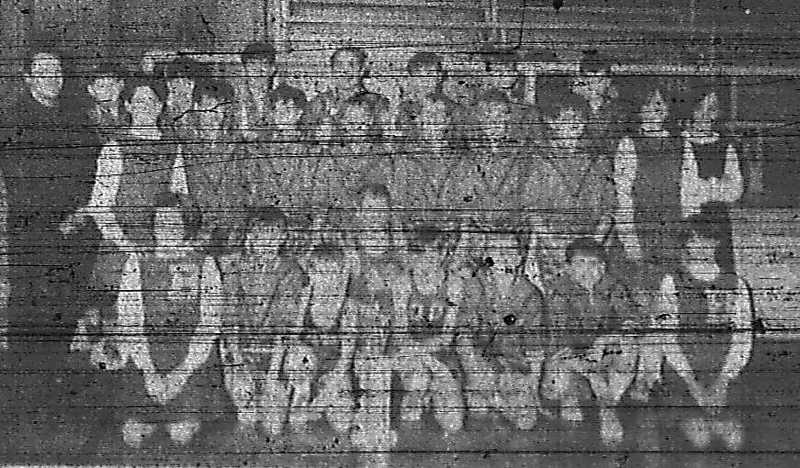 The team was pictured in the paper as follows: left to right, first row - Cheerleader Carla Hoagland, Carlie Rogers, Ricky McCubbins, Moachy Wise, Bobby Bryan, Mark Hardy, Mike Crady, and Cheerleader Sheryl Crawe; second row - Cheerleader Mary Bowman, Johnny Wise, Marty Comley, Terry Clase, Corky Overfelt, Terry Overfelt, Curt Firkins, Cheerleader Elaine Masterson, Cheerleading Sponsor Roberta Bowman; third row - Coach Charles Coy, Billy Hardy, Tommy Freeman, David Clayton, Randy Adams, Craig Bradbury, Ricky Ryan, and Alan Bryan.
Bradbury, Clayton, and Adams made the all-tournament team.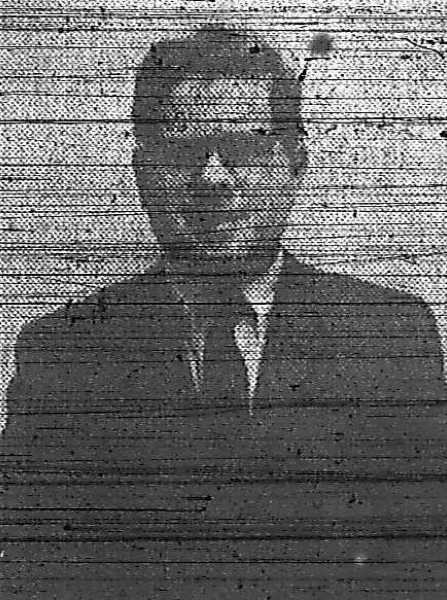 J. Chester Porter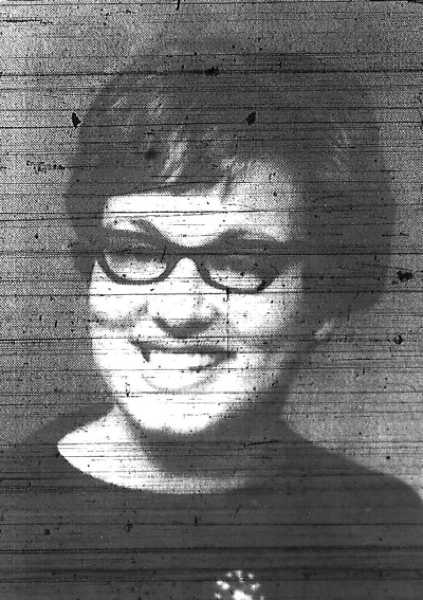 Linda Howlett Belcher
Mr. and Mrs. William Snellen of Clermont celebrated their 50th Wedding Anniversary.
J. Chester Porter of Mt. Washington was named Outstanding Young Man of the Year by the Bullitt County Junior Chamber of Commerce. Porter and his wife, the former Betty Wolford, were graduates of Campbellsville College, and Porter was a member of the law firm of Givhan and Porter.
There was a mighty cute picture of Linda Howlett in the announcement of her marriage to Larry Belcher.
Mrs. Nancy Strange presented Mrs. Helen Underwood with a certificate making her a Kentucky Colonel. This was in recognition of Mrs. Underwood's service to the community and to her students at Shepherdsville High School.
In Mt. Washington news, Mrs. Alberta Troutman, Mrs. Ann Waller, Mrs. Opal Allen, and Lunette Landis attended the Gospel Singers program at the Memorial Auditorium in Louisville.
Five Bullitt Countians were named to leadership posts in the Heart Fund Drive. They included Mrs. J. W. Hardaway, Mrs. Vernon Troutman, Mrs. Ruby Neal, Mrs. James T. Sweat, and Mrs. Ralph Henderson.
The Bullitt County 4-H Council presented "Friends of 4-H" awards to Bill Hardy, Ben McAdams, Mrs. Lester Rinkel, Roger Alford, and Vernon Mothershead.
And the first snow of 1969 could be blamed on Kevin Mooney, age 5, who when asked in Sunday School to pray, offered this prayer, "Dear God, please send us snow!" He got his wish.
February 1969
\
Thomas Lee Waller announced his candidacy for county attorney, launching a career of service to Bullitt County. He had practiced law here for five years as a member of the law firm of Taylor, Pike, and Waller.
The Shepherdsville High School "High Q" team of T. Diemer, Dan Rhea, Mike Cowan, Sammy Hardy, and Captain Elise Givhan was pictured on the front page following their victories over Old Kentucky Home and Flaget High Schools. The team coach was Bob Strohman.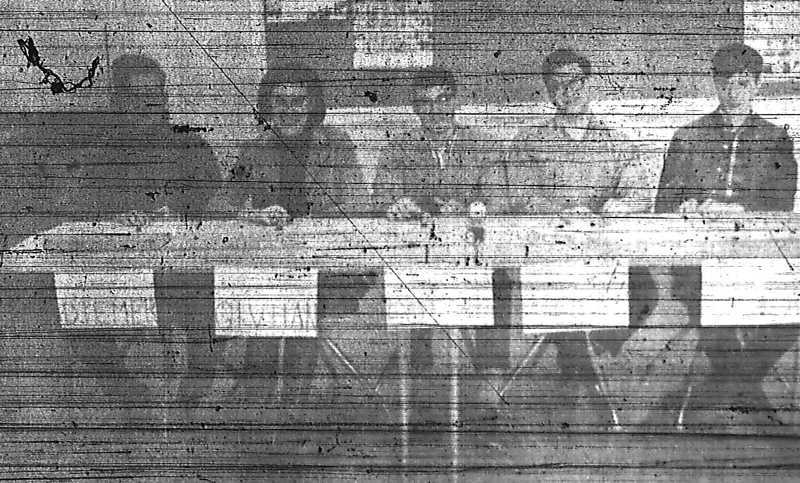 The team was again pictured on the front page of a later paper after they had defeated Bishop David High School to retire undefeated.
Walter "Pee Wee" Keith, a local barber, announced his candidacy in a run to be Property Valuation Administrator.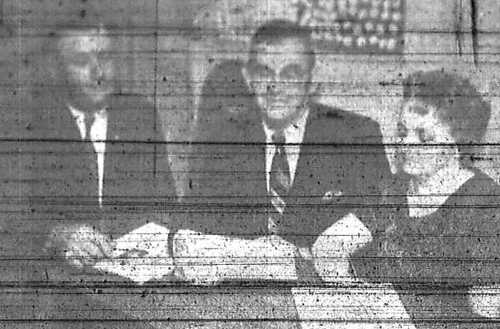 Extension Officers
The Hebron correspondent expressed sympathy to the family of Hubert Wigginton of Mt. Washington who had passed recently. He was for many years the manager of a Mt. Washington grocery store.
The Cedar Grove correspondent reported that Wesley Thomas, son of Rev. and Mrs. Bill Thomas, pastor of the Cedar Grove Baptist Church, was in Veteran's Hospital with maleria, following his return from Vietnam.
The Bullitt County Extension Council elected the following officers: President M. L. Majors, Vice President William Steedley, and Secretary-Treasurer Mrs. Burks Williams, Jr.
I wonder if some of Ms. Casey's Roby Elementary 7th grade homeroom students remember performing the play "Take Care Anne"? Those who participated included Anita Wilson, Jeanie Hogg, Louise Anderson, Barbara Lockwood, Kathy Yaeger, Sandy Cookley, Donna Lee, Terry Hadley, Phillip Keith, Terry Overfelt, David Smith, and Ken Carver.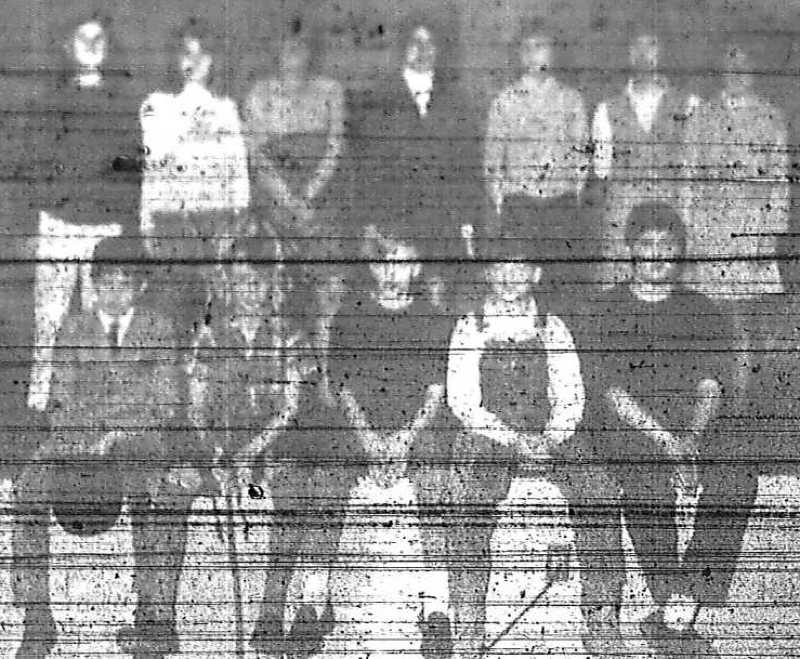 Ms. Casey's Homeroom Students
And maybe Mrs. McNellis' students remember performing "Snow White and Friends." Participating were Glenda Davis, Kathy Shepherd, Lorna Pieller, Judith Vanhoozer, Judy Osborne, Debbie Underwood, Wenette Meyers, Dina Hawkins, Donna Franklin, Susan Hardy, Cathy Jo Meredith, Debbie Samuels, Connie Skidmore, Lou Ann Crume, Nancy Owen, Kevin Cundiff, Don Cundiff, Billy Sims, Dennis Combest, Gregg Smothers, Ronnie Howlett, Norman Bradley, and Rodney Troutman.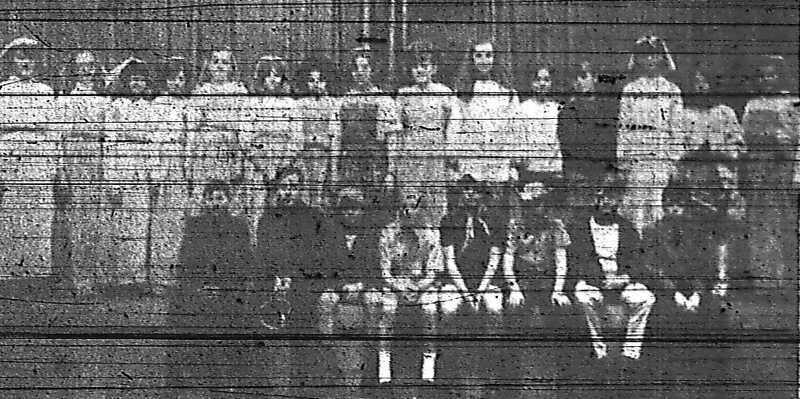 Mrs. McNellis' Homeroom Students
County Judge Neil Farris presented Mrs. M. J. Cundiff with his proclamation of the February P.T.A. Week. Mrs. Cundiff was president of the Bullitt County P.T.A. Council.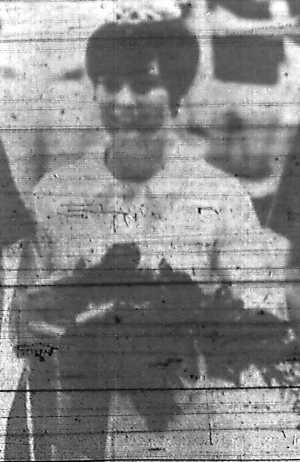 Brenda Heath
Sue Powell, local educator, was named chairman of the 1969 Easter Seal Campaign for Bullitt County.
The S.H.S. Rams celebrated their basketball homecoming by defeating Eminence 68-55. James "Buttons" Masden led their scoring with 20 points. Steve Coulter added 16 and Larry Hodge scored 12 in the victory. At halftime, Brenda Heath was crowned homecoming queen. Her attendants were Patsy Osborne, Linda Deats, Linda Lawson, and Nelly Deschand.
In Conservation News, Ray Becknell reported that William Loyall, B. M. Bennett, Preston Vaughn, and Sam Wells had plans to install tile drainage systems.
In the Personals column we learned that Mrs. Beulah Lee Fontaine visited Mr. and Mrs. Jeffie Lee over a weekend; that Freda Staley of West Point visited Mr. and Mrs. William Snellen of Clermont, and that a surprise birthday dinner was given in honor of Mrs. Salley Ramsey by her daughter, Mrs. Amy Addison and her granddaughter Mrs. Danny Fischer.
And The Hebron Presbyterian Kindergarten was collecting green stamps for their program. Did you contribute yours?
March 1969
John Price was one of ten district winners in the F.F.A. competition for recognition as "Outstanding Young Farmer."
Gladys K. Sprinkle wrote that the First Baptist Church of Mt. Washington held its first worship service in the new church building. Pastor Wendell Romans delivered the morning sermon titled, "Now, build me a church."
She also wrote that Russell Hall was given a birthday party by his son and daughter-in-law, Jean and Anna Joyce Hall, to celebrate his 76th birthday.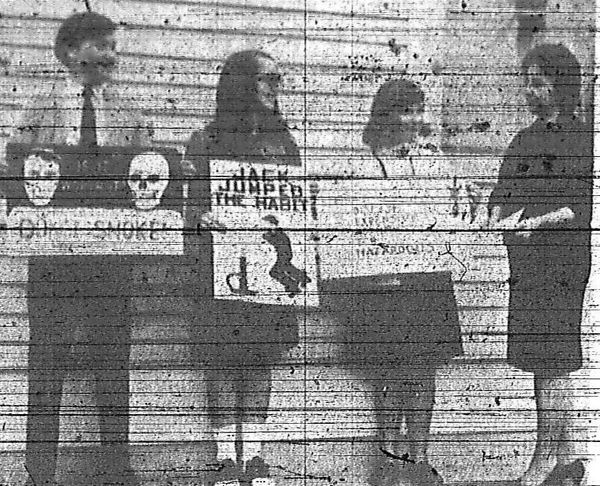 Anti-Smoking Campaign Posters
Mrs. M. J. Cundiff was pictured presenting awards to the winners of the "Anti-Smoking" poster contest. The winners were Doris Jean Druin (SHS), Chris Wigginton (MW), and Jackie Sue Richardson (Roby).
In Cedar Grove news, Mrs. Lanham expressed sympathy to the family of Mrs. Lena Foley who died on March 1st. She also wrote that her Sunday guests were Mrs. Bud Hardin, Mrs. Sharleen Owen, Mrs. Bessie Smothers, Mrs. Lena Smothers, and Mrs. Amy Lindy. Sounds like they had a nice visit.
The Hebron correspondent wrote that the John Harper family were dinner guests at the home of George Wigginton; that Edward Rhea was recovering from pneumonia; and congratulated Mr. and Mrs. Joe Bailey who were celebrating their 50th anniversary.
Maudie and Mae Cundiff, teachers at Roby Elementary, were awarded for ten years of perfect attendance in the school P.T.A. Mrs. Pat Vanover presented the awards.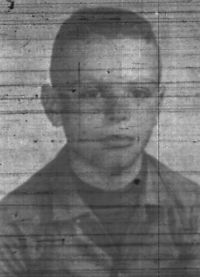 Larry Raley
Clara Simmons wrote that Elbert Bass fell and hurt his leg, that Norma Smith was under the weather, that Roberta Gaddie had the flu, and that several children in the Pleasant Grove area had sore throats and colds. Ouch!
Larry Raley received a $5 prize for being the winner of the Rural Riddle Contest. Larry, a son of Mr. and Mrs. Carl Raley, is a student at Mt. Washington.
The list of candidates for the Democratic primary election in May continued to grow. Among those running were Jiggs Buckman (State Senator), Harold Trammell and Leo Bleemel (State Representative), Athol Lee Taylor, C. V. Sanders, and Charles R. Richardson (Circuit Judge), Neil Farris (County Judge), Tom Waller and Tom Givhan (County Attorney), Jean Hatzell and Nancy Strange (Circuit Clerk), T. L. Cook (County Clerk), Pee Wee Keith (PVA), Bill Robey, Dr. James S. Bowles, Dr. H. C. Firkins, and Fred Losch (Coroner), Kenneth Price and L. J. Light (Sheriff), Owen Mann, Charles Gentry, Herbert Roby, and Billy Roy Shepherd (Jailer).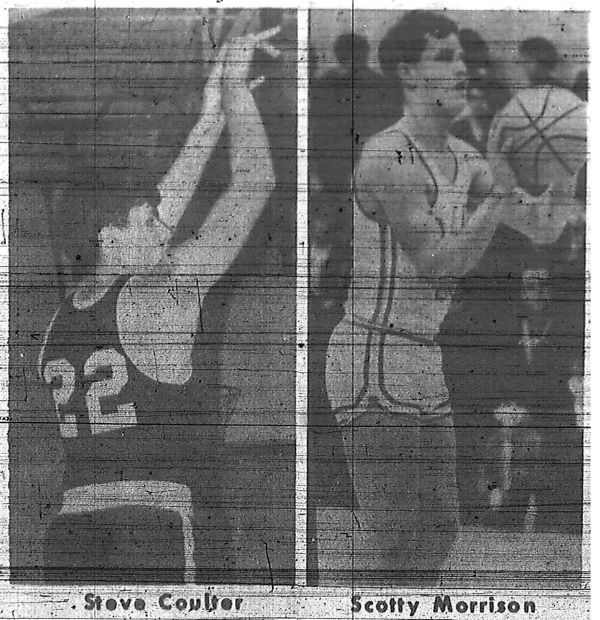 In the magistrate races, District 1 candidates included Ralph Bleemel, E. L. Ferguson, and Leslie Larimore; District 2 included Forrest Bay Moore, Rufus Gentry, and Eugene Laswell; District 3 candidates were Wendell Hawkins, J. W. Vincent, and Russell Crenshaw; and District 4 included Walter R. Magruder, C. J. "Red" Parsons, Jess Conlin, Glenn Booth, and Jesse Waters, Jr.
Guinn Thompson of Mt. Washington was selected among twelve young ladies at Campbellsville College to represent the college at the Kentucky Mountain Laurel Festival.
Steve Coulter and Scotty Morrison were selected to be on the All Regional Basketball Team.
June Halk was chosen to represent Lebanon Junction in the Federal Civil Service essay contest.
And Miss Sharon Rose Fischer, daughter of Bill and Mary Fischer, was chosen to represent the State Association of FHA at the National Youthpower Congress to be held in Chicago.
April 1969
The S.H.S. football squad was divided into "Black" and "Gold" squads for their spring practice game. The following team members were listed beneath a group photo.

Black Team: Gary Myers, Gary Roberts, Gary Shanks, John Clardy, Terry Price, Clinton Sears, Walker Crawley, Gary Wilson, Gary Sadler, Dent Able, Danny Perry, Greg Jones, Ray Graham, B. J. Dockery, Joe Eyes, Rick Sims, Terry Larimore, Dennis Watson, Jim Roby, Keith Walker, Bruce Myers, Thomas Crenshaw, Robert Shepherd, Gary Wilson, Leslie Sutton, Klapper and Knight
Gold Team: Larry Hodge, Phillip Freeman, Mike Cowan, James Snell, David Anderson, Larry Hilton, Ray Tarrence, Richard Morris, Tommy Gillespie, Henry Hume, Rickie Bruce, Kevin Simcoe, Ted Korfhage, Tom Baker, Mike Coy, Charles Myers, Lewis Skidmore, Eric Cundiff, J. B. Rutledge, Bill Hardy, Lonnie Price, D. McCreary, and Richard Mason.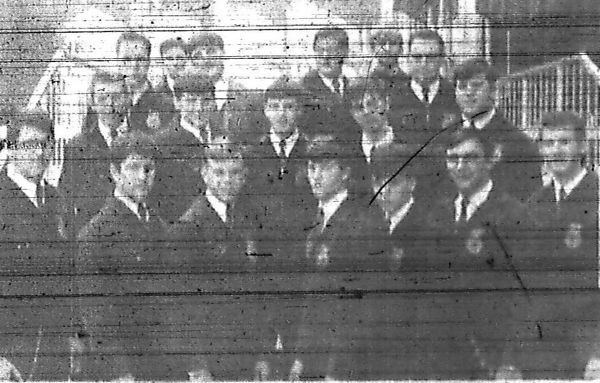 Shepherdsville FFA Chapter
The Shepherdsville FFA Chapter placed first in a Parliamentary Procedure contest at Lexington to advance to the state competition. The participants included Mike Perry, Philip Harris, Charles Tracy, Johnny Crump, Gary Moore, Kenny Young, Fielden Hawkins, Cecil Burks, James Frans, and John Price. Allen Middleton was the chapter advisor.
Gladys Sprinkle of Mt. Washington reported that Skip and Barbara Hatfield, their daughter Jenny, and Skip's mother Ruth all journeyed to Fort Knox to visit Lanny Lloyd who was recently inducted into the armed forces.
Mrs. W. C. Lanham of Cedar Grove reported that Mrs. Mae Vincent's visitors on Wednesday were Mrs. Eunice Young and Mr. and Mrs. Oral Meredith. Also Mr. Tommy Bolton and Mrs. Annie Bolton spent time in Bowling Green where Tommy's son attended school. In addition, Mr. and Mrs. John Warden of Belmont spent a day with Mrs. Beulah Vincent; and Mr. and Mrs. Calvin Young had returned home from their Florida vacation. Finally she told us that Mr. and Mrs. James H. Anderson celebrated their 25th wedding anniversary.
Athol Lee Taylor withdrew from the race for Circuit Judge, and gave his support to C. V. Sanders.
Barbara Jean Rummage, a senior at S.H.S., received a scholarship to attend Western Kentucky University. Barbara is a daughter of Mr. and Mrs. George (Bud) Rummage.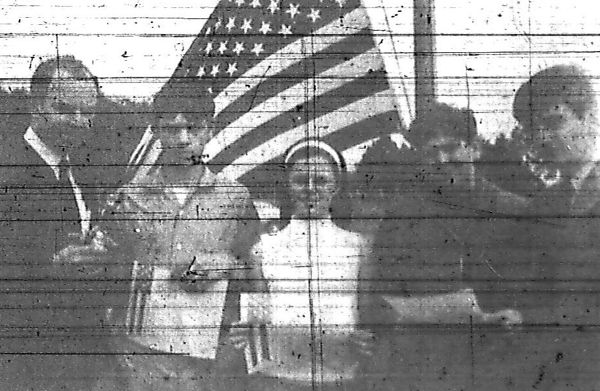 Mr. Lee and Essay Winners
Principal W. Lee of Cedar Grove was pictured presenting awards to essay winners Tommy VanMeter, Joey Dever, and Debbie Thomas who would participate in the county contest.
In the county contest, the three winners were David Sweazy and Sarah Routt of Mt. Washington, and Joey Dever of Cedar Grove.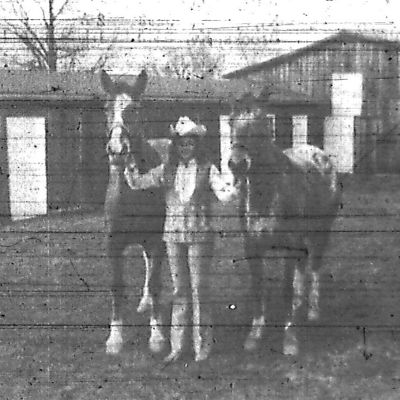 Mary Denzinger
Clara Simmons of Pleasant Grove reported that Rev. and Mrs. Boatwright, Mr. and Mrs. Wallace Armstrong, and Mr. Albert Armstrong were dinner guests of Mrs. Dorothy Armstrong. She also reported that Pvt. James Rummage had called his parents from San Diego where he was stationed with the Marines. His grandfather was Charles Rummage.
In the Hebron report we learned that Mr. and Mrs. George Z. Wigginton visited Miss Alice Pope, that Mr. and Mrs. Edward Earl Wigginton visited Mr. and Mrs. George Wigginton, and that Mrs. James H. Pope of Louisville visited the George Wiggintons.
Mary Denzinger, a member of the Bullitt County Saddle Club, was selected as the Bluegrass State Appalossa Horse Club queen.
And Harvey Johnson, manager of the Bluegrass Lodge, was taking applications for a desk clerk.
May 1969
Jaycee President Bernie Wiley announced that the Bullitt County Jaycees had selected Frank E. Reams, Principal of Overdale Elementary as the Outstanding Young Educator for 1968-69.
Jean Hatzell announced that, if she were elected Circuit Court Clerk, her deputies would be Sue Sweat of Lebanon Junction and Caroline Turner of Mt. Washington.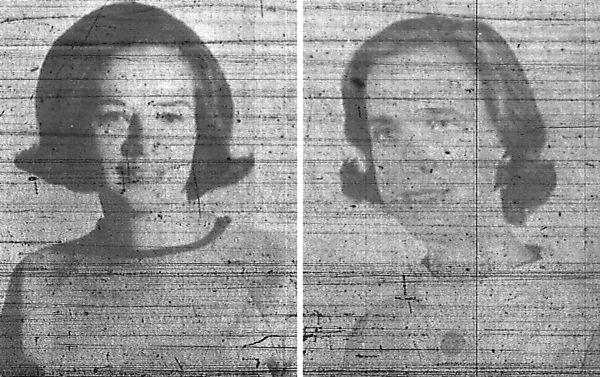 Sue Sweat and Caroline Turner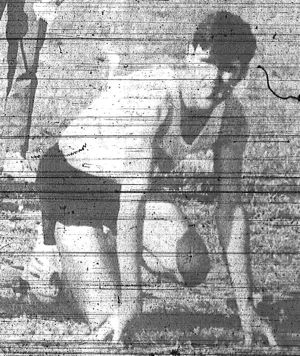 James Snell
According to the Hebron Newsletter, Miss Susie Swearingen of Mt. Washington took Miss Ethel Ridgway to dinner in Jeffersontown; Mrs. John Harper and boys spent the weekend in Chicago with her husband; Rev. Joe James of Hebron Presbyterian had been in Wisconsin attending a training school; and the correspondent was lamenting about daylight saving time, and declared, "we are on moron time again; hope the new legislators will change that soon."
James Snell was pictured ready to start his track event for Shepherdsville High School. He was leading the team in points earned.
Joyce Cundiff, a graduate of S.H.S. and the University of Louisville, received a grant to complete her Master of Arts in Teaching degree. She was a daughter of Mr. and Mrs. Charles Cundiff of Shepherdsville.
Gladys K. Sprinkle spent most of her Mt. Washington News column talking about the importance of voting by pointing out numerous occasions when a single vote carried the day.
She also had time to mention that David Kennedy of Paducah, and David Shaeffer of Indiana were guests of Miss Vickie Ann Sprinkle.
Charles L. Magruder of Shepherdsville was initiated as a member of Tau Beta Pi honor society at the University of Kentucky.
Hebron Presbyterian Church formally dedicated its new organ in memory of Mrs. Ethel Robards. Mrs. Keith Stonecipher was the guest organist.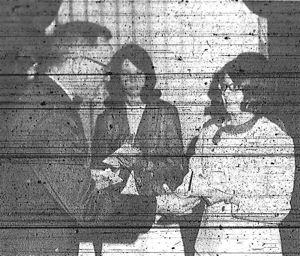 June Halk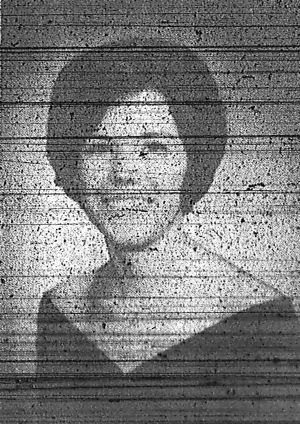 Veronica Morgan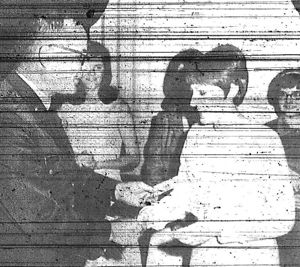 Janet Stivers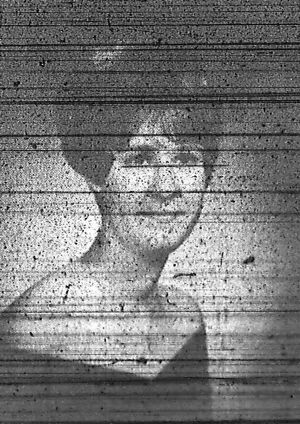 Debra Rush
The Hebron correspondent congratulated Dan Rhea who was the valedictorian of S.H.S. graduating class. She also commended Dan and his classmate Mike Cowan for their good work on High Q.
June Ann Halk received a $50 savings bond, and Janet Stivers received one for $25 as awards for their essays in the Civic League contest. June was a daughter of Mr. and Mrs. George W. Halk; Janet's parents were Mr. and Mrs. Archie Stivers.
Shela Troutwine, daughter of Mr. and Mrs. Curran Troutwine, was elected a vice-president of the Student Nurses' Association of Kentucky.
Jimmy Carter, Clinton Cook, Paul Young, Bud Coy, Duggie Johnson, and Irvin Maddox participated in the annual "Pony Express" race in Bullitt County.
Mr. and Mrs. Allen Harding, Mr. and Mrs. Billy Joe Pryor, and Mr. and Mrs. William Simmons were among those whose home were severely damaged by a sudden tornado on May 10th.
Debra Lynne Rush and Veronica Lee (Nalley) Morgan was the valedictorian and salutatorian of Lebanon Junction High School. Debra was a daughter of Mr. and Mrs. Herman S. Rush. Veronica's parents were Mr. and Mrs. J. D. Nalley.
Miss Peggy Troutman, daughter of Mr. and Mrs. Roy Troutman (and Roy Gene's sister), earned her Master of Religious Education degree from the New Orleans Baptist Seminary.
And the very first All-County Band & Chorus was held in the Shepherdsville High School gym on May 15, 1969. Leading the various sections will be Deborah Murrell, Joseph Herde, Joyce Trammell, Barbara Powell, Donna Harper, Dian Ray, Diane Walls, and Nellie Sircle.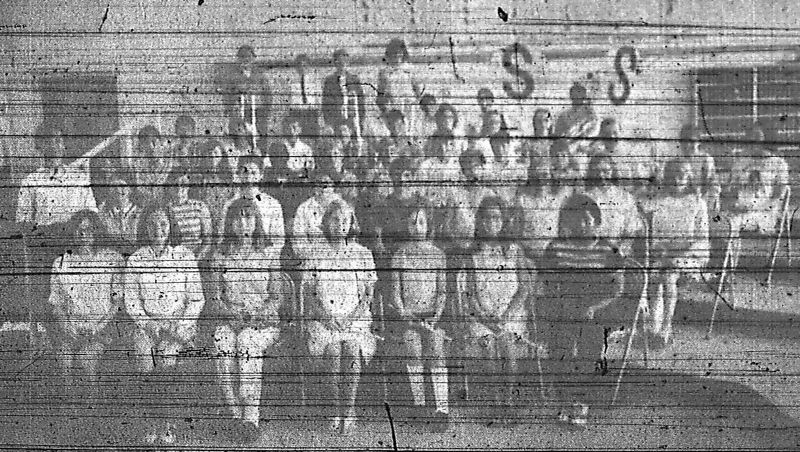 June 1969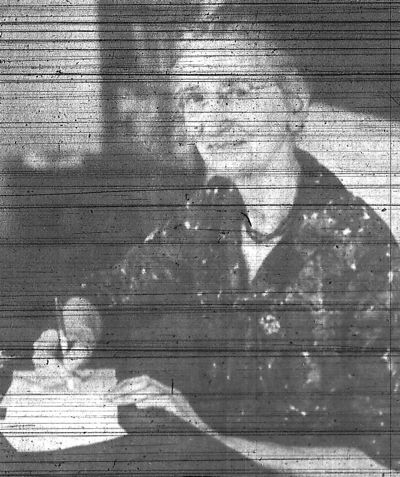 Miss Augusta Dawson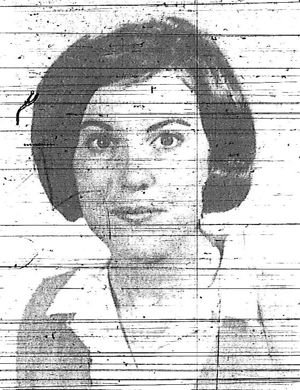 Elisé Givhan
Miss Augusta Dawson retired after 43 years, including the last 22 years at the Shepherdsville school. Her sister, Miss Zardetti Dawson had retired a year earlier after teaching for 44 years.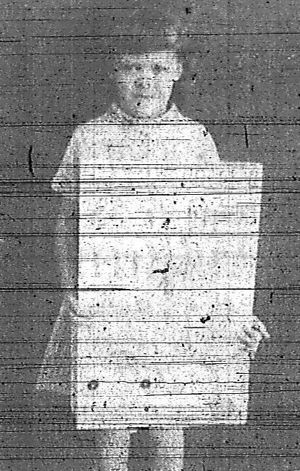 Janine Sohm
Janine Sohm was a second grader at St. Aloysius in Shepherdsville. Her safety poster won first place in the national poster contest, primary division, sponsored by the A.A.A. She was the daughter of Mr. and Mrs. John Sohm of Shepherdsville.
Elisé Givhan, a junior at S.H.S., was selected at Girls' State Assembly to represent Kentucky at Girls' Nation in Washington, D.C. At the State Assembly, she was elected Speaker Pro Tem of the House of Representatives.
The Mt. Washington community was saddened to learn of the death of S/Sgt Harold M. Brown in Vietnam. His widow was the former Judith Stringer.
In Cedar Grove community news, Mrs. Lanham reported that she spent a few days with her daughter, Mrs. Bud Hardin; and that Mrs. Mae Vincent spent a weekend with Mr. and Mrs. Oral Meredith on Bells Mill Road.
The Hebron correspondent expressed sympathy to the family of Alva Smith who died in Washington, D.C., and was buried in the Hebron Cemetery. His widow was the former Margaret Frances Beeler.
She also reported that Rev. Joseph James of Hebron Presbyterian Church had been appointed to represent Bullitt County on the Kentuckiana Educational Television Council.
Clara Simmons of the Pleasant Grove community reported that lightning had destroyed a television, radio, and telephone at Tommy Grant's home, and had broken the top out of a cedar tree at Carey Smith's place.
Dr. C. H. Skelton advertised the Fisher's Fun Farm, located near Mt. Washington, as a good place for boys ages 8 to 11 to enjoy swimming, fishing, games, and pony rides. He recruited Ricky Dever, Dennis Watson, and Billy Adkins as Junior Counselors at the camp along with the Camp Leaders, Rita Belcher and Danny Masden.
The paper reported that Bullitt County high schools graduated 283 students with 185 coming from Shepherdsville High School. Mt. Washington graduated 59, and Lebanon Junction added 39. The total number of graduates exceeded the previous year by 67, and 107 over the class of 1964. We've included microfilm images of the three graduating classes below.

Shepherdsville High School

Mt. Washington High School

Lebanon Junction High School
William Robert Rhodes, Jr., of Lebanon Junction, graduated from W.K.U. with honors.
Nine local students were identified by the paper for receiving financial aid to attend institutions of higher learning. They included Christine Hoagland, Cassandra Travis, Barbara Rummage, Lee Nalley Morgan, Danny Meadows, Dale Anderson, Richard Fetty, Mike Phillips, and Phillip Louis Noltemeyer.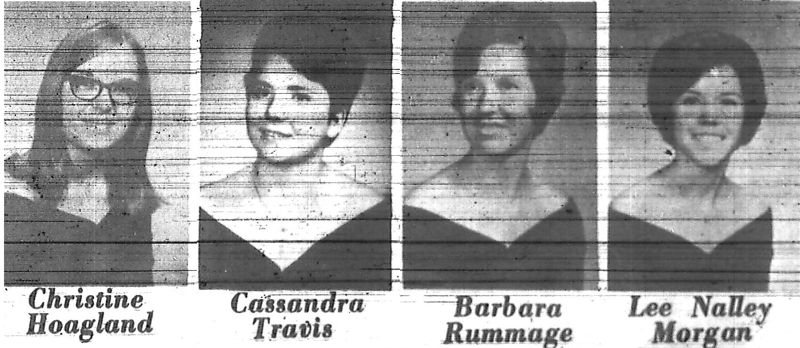 And eleven of the twenty-four 1944 S.H.S. graduates gathered for their 25th anniversary. Pictured from left to right, standing were John A (Jack) Raley, Howard Dawson, Martha Ridgway Carrithers, Marietta Raley Stovall, Charles Hamilton, and Jimmy Hardy. Seated were Mildred Williams Russell, Mary Tyler Bell Hamilton, Lula Thurman Thomas, Elizabeth Bealmear, and Shirley Lane Meiman.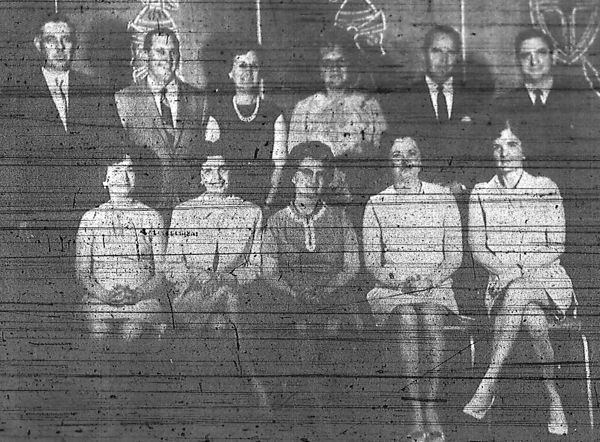 July 1969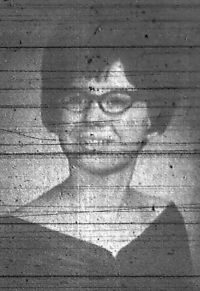 Julia Fowler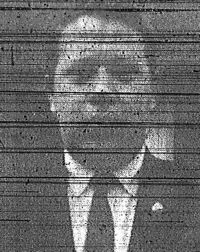 Daryl Lee
Julia Fowler, a 1969 Shepherdsville High School graduate, enrolled at Spencerian College, taking a secretarial course. Also at the college, Mary Lou Hamm, daughter of Mr. and Mrs. James Hamm of Brooks, was one of the recipients of the Nancy Taylor secretary award at her graduation.
Jerald Smith of Shepherdsville assumed his new duties as Assistant Dean at the University of Louisville School of Business.
The reconstruction of First Corinthians Baptist Church in Zoneton was nearing completion.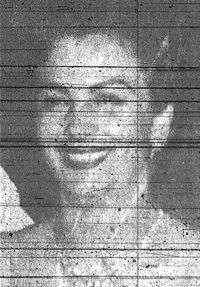 Mrs. Sparrow
Mr. and Mrs. Moise Napier, along with Pam and Toni, and Mr. and Mrs. W. H. Powell, all of Shepherdsville, visited the Citrus Tower at Clermont in central Florida.
Daryl Lee, son of Mr. and Mrs. Stanley Lee, was selected as the incoming president of the Bullitt County Jaycees. Other incoming officers included Vice Presidents Wendell Harvey and Terry Edwards, Secretary Jim Hatley, Treasurer Carl Payne, and Directors Frank Reams, C. E. Roby, Everett Waters, and Joe Reneer.
Mrs. James T. Sparrow, of Shepherdsville, was appointed to serve on the Executive Committee of the Jefferson Regional Department of Crime Council. She was a probation officer with the Bullitt County Juvenile Court.
Gladys Sprinkle of Mt. Washington reported that Susan Smoot Bowen and Edward Martin Bleemel were married in June at the St. Francis Xavier Catholic Church in Mt. Washington. She was the daughter of Mr. and Mrs. Stephen R. Bowen; he was the son of Mr. and Mrs. Frank Bleemel.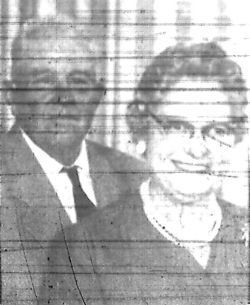 Mr. & Mrs. Berry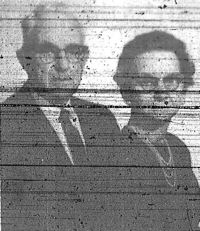 Mr. & Mrs. Moser
Mrs. W. C. Lanham of Cedar Grove reported that Mrs. Lonnie Hodge had arrived in Germany to join her husband who was stationed there. She also reported that Butch Raymond had a tonsillectomy; that the Forest Mann and Ernest Mann families spent some vacation time at Rough River; Mrs. Nancy Lunsford, Robin and Bernard, and Mr. and Mrs. Enoch Webb spent a day at Mammoth Cave; and that Mrs. Nancy Lunsford's guest, Mr. and Mrs. Philip Berman and son all enjoyed homemade ice cream.
Clara Simmons of Pleasant Grove reported that the community was hit by a storm on July 6th that did much damage to telephone lines, gardens, and trees, but the worst damage was to Paul Shepherd's trailer home that had its porch blown away and the roof torn loose.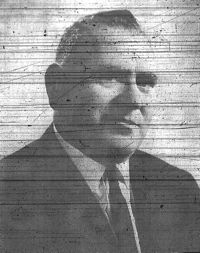 Stanley Lee
Mr. and Mrs. John Berry of Church Street in Lebanon Junction celebrated their golden wedding anniversary in July. Also celebrating fifty years of marriage were Mr. and Mrs. C. H. Moser.
Mrs. Betty Larimore, vocational teacher at Shepherdsville High School, was enrolled in a data processing class at the University of Kentucky.
Stanley Lee was appointed chairman of the Democratic Party's registration drive committee.
Sarah Nell Hamilton, Donna Holt, Susan Crumbacker, Paula Sue Cundiff, and Sheri Mullins, the Shepherdsville High School varsity cheerleaders, were pictured during an event at Vincennes University.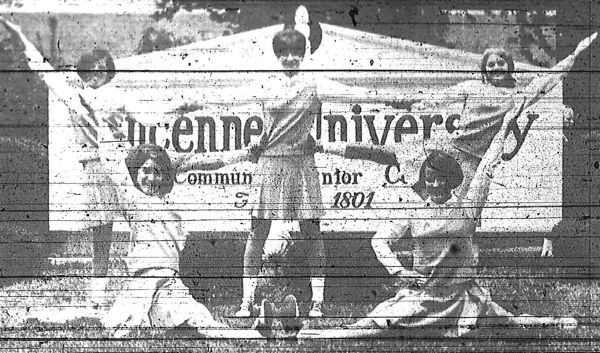 And the Hebron correspondent reported that Roger Barger had ripe tomatoes on June 13th, and wanted to know if anyone could top that. She also reported that Rev. Joe James of the Hebron Church had returned from Camp Cedar Ridge where he was the director of the senior high conference. Finally, she reported that John and Mary Dell Meyer had returned home from a vacation in Wisconsin where I'm sure they did a lot of fishing.
August 1969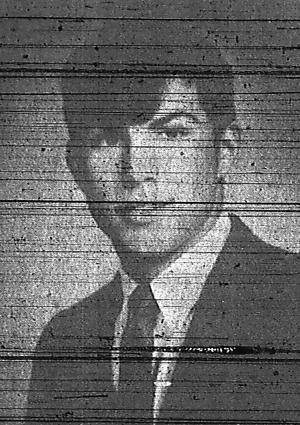 John Ice
John Ice, son of Mr. and Mrs. Jeffie Ice of Lebanon Junction was awarded a scholarship to attend Eastern Kentucky University. He graduated from S.H.S. where he participated in football, track, and baseball.
Gladys Sprinkle of Mt. Washington wrote that a birthday dessert was held to honor Dr. J. F. Furnish and Mr. Charles Lamb on July 26th, an event that is celebrated yearly at one or the other's home.
The Hebron correspondent reported that Mrs. Virginia Shelburne fell down the basement steps, but sustained just bruises. Also, she reported that Becky Becnel had graduated from UK and accepted a good position in Cincinnati; and that J. W. Holsclaw and King Pettit had returned home from Alaska where they attended Baptist churches in both Fairbanks and Anchorage.
Mrs. Lanham of Cedar Grove reported that Mrs. James Foley was injured in a wreck. She also reported that she and Mrs. Bud Hardin, Miss Penny Lanham, and Miss Beverly Avery had traveled to the old fort at Harrodsburg.
Clara Simmons of Pleasant Grove reported that Robin, Gina, and Amy Armstrong spent a weekend with their grandparents, Mr. and Mrs. Wallace Armstrong. She also wrote that Kendall Grant had his tonsils removed; that Mr. and Mrs. J. B. Proctor treated Mr. Albert Armstrong and Mr. and Mrs. Wallace Armstrong to supper at the King's Table; and that Mrs. Madelene Porter and Miss Ella Proctor were vacationing in Washington, D.C.
The annual Samuels Reunion was held at the Triangle Farm of Mr. and Mrs. W. B. Samuels in Lebanon Junction. There were 104 people in attendance.
Vickie Ann Sprinkle, in her School Daze column, reported that Mr. Leon Remington, former assistant principal at Shepherdsville, was the new principal at Mt. Washington; and Mr. Ronald Murphy was the new assistant principal there.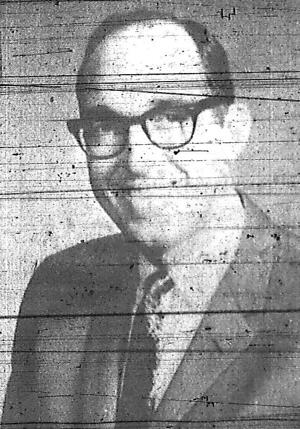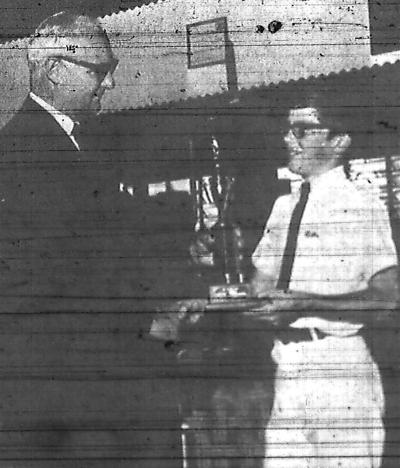 Billy Horrell, Paul Mann, and Billy Miller
Billy B. Horrell completed his doctorate, and was named to the faculty of Kentucky Wesleyan College. He had been connected with Bullitt County Schools for 15 years including seven as principal at Roby Elementary.
Paul Mann was a grand prize winner of the European Holiday drawing sponsored by the Encyclopedia Britannica.
Billy Miller was pictured receiving the 4-H Herdsmanship Trophy from the Kentucky Commissioner of Agriculture.
And as they prepared for the season to begin, the paper carried an article about the S.H.S. football team. Mentioned were linesmen James Masden, Bill Deats, Gary Sadler, Ronnie Price, Gary Roberts, Ricky Simms, Kirk Gillenwater, Donny Perry, and Terry Larimore. The backfield included Larry Hodge, James Snell, David Anderson, Larry Hilton, Eric Cundiff, Tim Crumbacker and Mike Cowan. Others mentioned included Ted Korfhage, Jack Rhea, Pat Magruder, Clinton Sears, Henry Hume, Gary Meyers, and John Cloudy.
September 1969
Twelve members of Troop 5, including Eric Fischer, Alan Fischer, Doug Miller, Roger Phelps, Keith Phelps, Phillip Cross, Tommy Waller, Russell Forshee, Harold Masden, James Sneed, Danny McElvain, and Mike Freeman, along with Donnie Sanders, a cub scout of Pack 261, spent a weekend at Mammoth Cave camping and hiking. They walked the four mile trek through the cave, and also enjoyed a trip on Green River. They were accompanied by Roger Phelps, Don Sanders, and Charlie Hartley.
Misses Zardetti and Augusta Dawson of Lebanon Junction were commissioned Kentucky Colonels. Both ladies had recently retired from the Shepherdsville school, and Frank Hatfield, School Superintendent, made the presentation.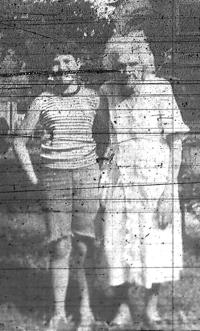 Mrs. Melissa Ormes
Earlier, Miss Helen Ratliff and Mrs. Elenora Edmondson were also commissioned Kentucky Colonels. Mrs. Alberta Ireland, acting on behalf of the governor, made the presentation at the regular meeting of the Order of the Eastern Star.
Skip Hatfield and Shorty Armstrong of Mt. Washington played on the Ulrich Athletic Club slow pitch softball team that placed fifth out of 32 teams participating in the World Championship Tournament in Toledo, Ohio.
According to Clara Simmons of Pleasant Grove, the Mt. Washington school was supplied with some of Pleasant Grove's good cooks including Marcella Fitzgerald, Juanita Proctor, Jean Gentry, and Dorothy Armstrong.
Jerry Whitworth of the Cedar Grove area won nine ribbons on his Landrace hogs at the State Fair.
Mrs. Melissa Ormes of Lebanon Junction celebrated her 102nd birthday on September 3rd. The daughter of David and Susan (Holt) Tucker, she was married to Phillip Ormes who preceded her in death in 1936. Melissa would live another eight months, passing in May 1970.
Bill Hardy likes to catch bass, and one evening after work he went to a small pond and caught five beauties, but he wouldn't tell where he caught them!
According to the Hebron correspondent, the Hebron Church was planning to refurnish and reactivate its recreational building to provide adequate youth ministry. They were planning a fish fry to help raise the needed funds.
She also reported that Mr. and Mrs. John Wigginton attended the watermelon festival in Brownstown, Indiana.
Mrs. Noah Whittle hosted a birthday party for her mother, Mrs. Mina Maraman. Mrs. Mina received nice gifts, and the 15 guests were served by her daughters, Eva Whittle and Ida Troutman.
The Shepherdsville Rams football team defeated Eminence 30-20, with Gary Roberts scoring three touchdowns and Larry Hodge scoring the other two. The game's turning point came in the third quarter when Tim Crumbacker intercepted a pass, stopping Eminence from scoring. Also contributing was Larry Hilton who averaged eleven yards a carry in the game.

Crumbacker, Hilton, Hodge, Roberts
And the Lebanon Junction correspondent was happy to write that 25% of that town's high school graduates from the previous year were enrolled in college; and others were continuing their education in other ways.
Rita Mattingly, Mike Cravens, and Danny Thurman were attending E-town Community College; Theresa Reid, June Ann Halk, Kevin Miller and Danny Meadows were at WKU; Cassandra Travis was at Georgetown, Christine Hoagland at Midway, Geneva Parris at Jefferson Community College, Stanley Hefley was at the University of Louisville, and Judy Rogers was at UK. Outside the state, Patrice Murphy attended St. Louis University.
October 1969
What did Calvin and Betty Arnold, James and Imogene Beatty, Louis and Darlene Brosick, Jammie and Jean Cox, Riley and Frances Day, Eric and Susan Farris, Neil and Marian Farris, Eldon and Charlotte Foster, Chuck Kuykendall and Joyce Cox, Jimmy and Neva Milam, Harrison and Lillian Nalley, Ray and Rose Perry, Herschele and Lorrain Reynolds, Jim and Terry Young, and Ken and Alene Martin have in common?
They were all initiated into the Bullitt County Squares Club, joining a lively group of square dancers.
Benny Stuart Armstrong of Shepherdsville was appointed as chief naturalist for Bernheim Forest, replacing Judy Weyer who had returned to school.
Billy Howard Smith was appointed chairman of the Red Cross blood program. The first bloodmobile operation under his direction was held at the Shepherdsville Baptist Church. Smith was appointed by Sam Hardy, Bullitt County Red Cross chairman.
Gladys Sprinkle of Mt. Washington wrote about the marriage and honeymoon trip of E. J. Lucas, Sr. and Mrs. Lucille Carnes. Their extended trip took them to a number of places including the Bahamas, New Orleans, and Dallas where they visited the church pastored by Rev. C. Criswell who was the husband of the former Betty Harris of Mt. Washington.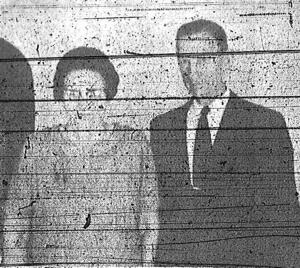 Mr. and Mrs. Howard Hardin
The Hebron correspondent mentioned that Dudley Shelburne and wife had spent a few days with Harold Shelburne. While there, Dudley helped cut wood and house tobacco.
In Cedar Grove news, Mrs. Paul Allen and son Shawn visited Shawn's grandparents, Mr. and Mrs. Hugo Maraman; Mr. and Mrs. Gilbert Vincent visited Mr. and Mrs. John Warden at Belmont; and Mrs. Charles Liver celebrated a birthday with relatives and friends including Mr. and Mrs. Charles Stansbury, Mrs. Marshall Brown, Mrs. James King, Juanita Stansbury, and Larry Ray Parrott.
Mr. and Mrs. Howard Hardin celebrated their 50th wedding anniversary.
The Pleasant Grove correspondent reported on vacations by Mr. and Mrs. Charlie Gaddie and Mr. and Mrs. James Robinson who traveled to Abilene, Kansas and St. Louis; and also Mr. and Mrs. Shirley Armstrong, and Mr. and Mrs. David Armstrong who joined the Robinsons on a trip to Talledega, Alabama for the stock car races.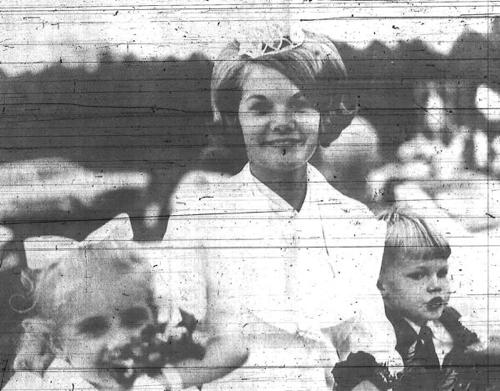 The streets of Shepherdsville were lined with spectators watching the longest parade in the history of Shepherdsville High School. Miss Sheri Mullins, a senior cheerleader captain, was chosen by the football team to reign as homecoming queen. Her court included Senior Kathy Armstrong, Junior Linda Gillespie, Sophomore Charlene Phillips, and Freshman Sandy Madison. The Flower Girl was Sandy Bleemel, and the Crown Bearer was Greg Collins.
H. T. Grant and Clarence Dawson both celebrated their 90th birthdays in October.
Dr. M. J. Cundiff, a member of the county school board, was elected chairman of the fourth region of the Kentucky School Board Association.
And Gayle Calvert was crowned Bullitt County's Junior Miss in the event sponsored by the Bullitt County Jaycees. Brenda Snellen was first runner-up, and Helen Robinson was second runner-up. Other participants included Linda Deats, Penny Ann Masden, Bernice Shepherd, Teresa Bryan, Gail Zenor, Elise Givhan, Jackie Sue Wade, Deborah Sweat, and Rita Phillips.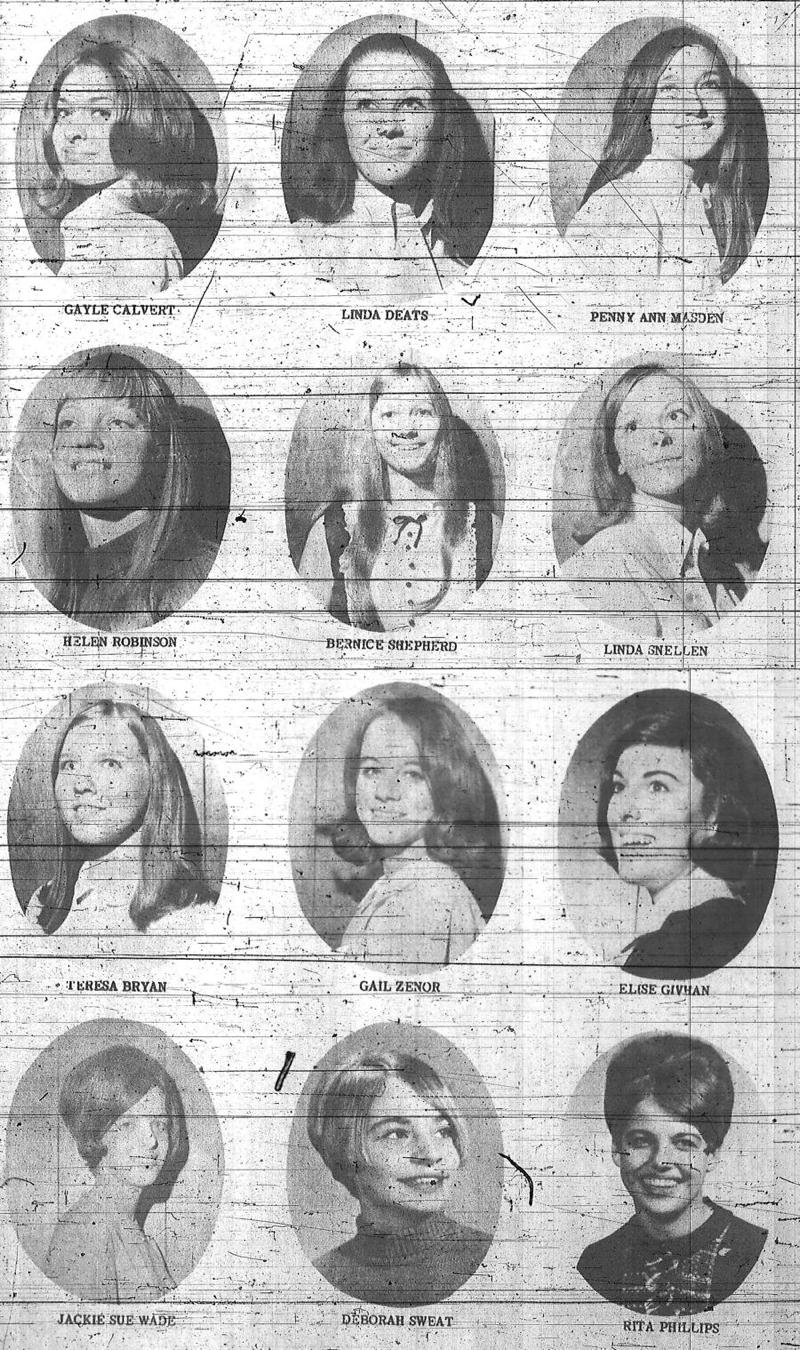 November 1969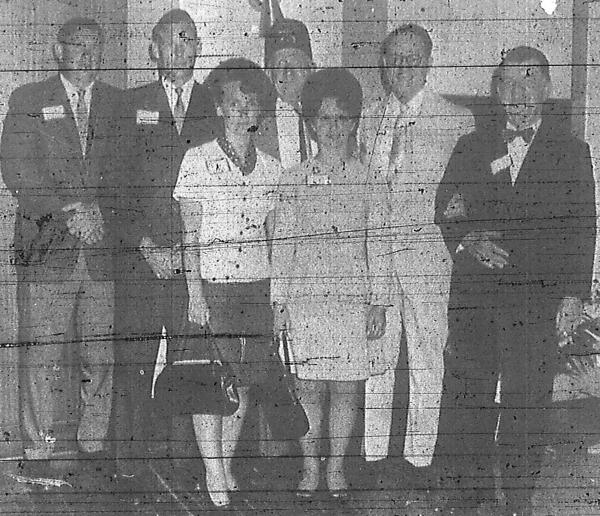 Saddle Club Presentation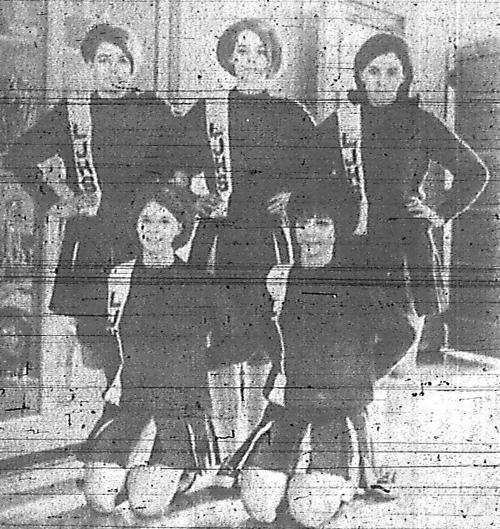 LJ Varsity Cheerleaders
The Bullitt County Saddle Club presented a check to Kosair. Pictured in the paper were Stuyler M. Harris, C. J. Hyde, Ike Neal, Mr. and Mrs. Norman Stallings, and Lloyd and Arbadella Dooley.
In local elections, Nancy Strange easily won re-election as Circuit Clerk, carrying every precinct in the county. Arson Moore was nearly as successful in his bid for the County Judge seat, losing only precinct #4 to his nearest challenger, Christian Glanz.
In other elections, Leonard Light was elected Sheriff by 2,000+ votes; and Billy Roy Shepherd was elected County Jailer by even more votes.
In the magistrate races, Ralph Bleemel, Forrest Moore, Russell Crenshaw, and Walter Magruder were each victorious in their respective districts.
And in the constable races, J. W. Armstrong, Everett Cook, Charles Raymond, and George Brown were the victors.
In the Pleasant Grove community news, we learned that Mr. and Mrs. Oldham were moving to Leitchfield; and that Steve Fagenbush, choir leader at the church, caught his hand in a door, breaking a finger.
In Hebron news, the writer mentioned that the new Brooks school was opening, and encouraged the bus drivers to be "alert and very careful with our children."
The Lebanon Junction varsity cheerleaders were pictured in the paper. They included Rita Phillips, Debbie Sweat, Denise Johnston, Beverly Masden, and Roberta Bowan.
The Shepherdsville Rams football team prepared to play their final game, and the final football game ever for S.H.S. Senior players included Larry Hodge, Rick Sims, David Clark, Walter Crawley, James Snell, Tim Crumbacker, Kirk Gillenwater, Terry Willis, Clinton Sears, Ronnie Price, Larry Hilton, Gary Shanks, David Anderson, and Eric Cundiff.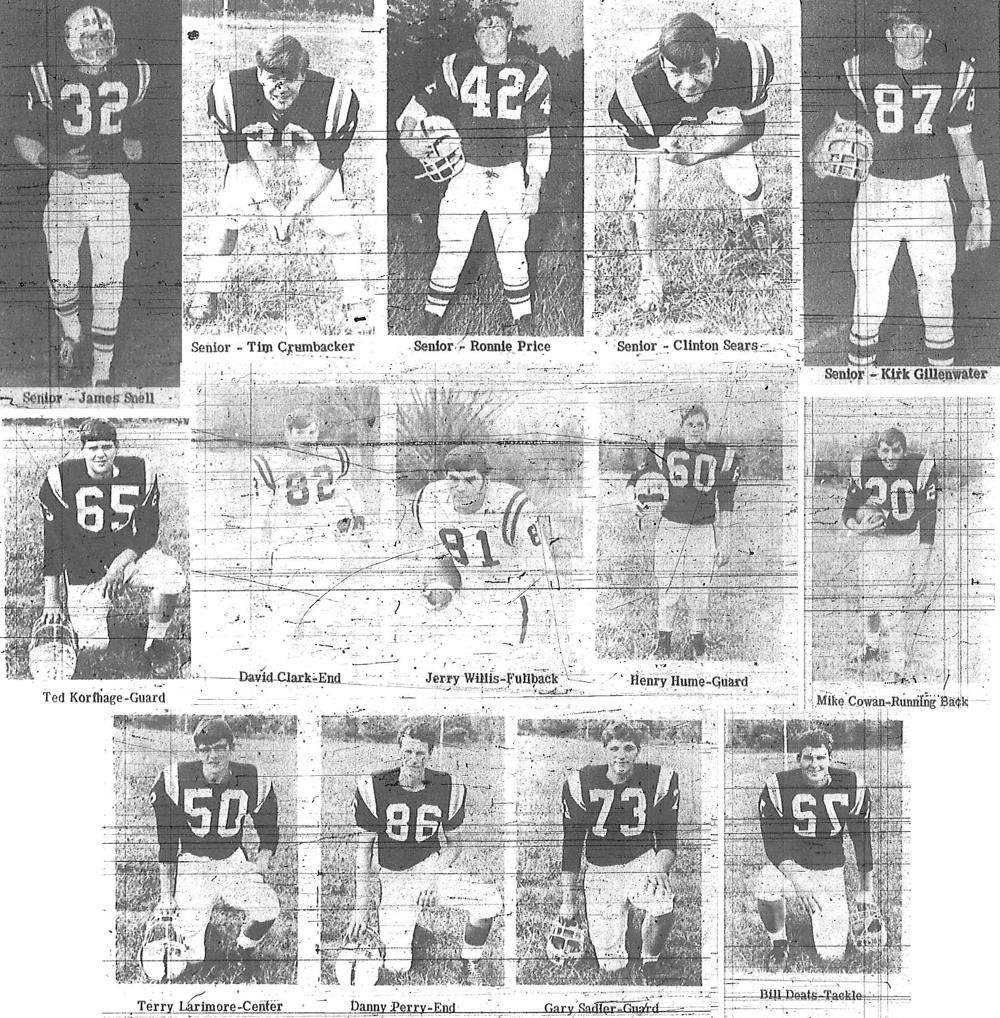 SHS Football Team Members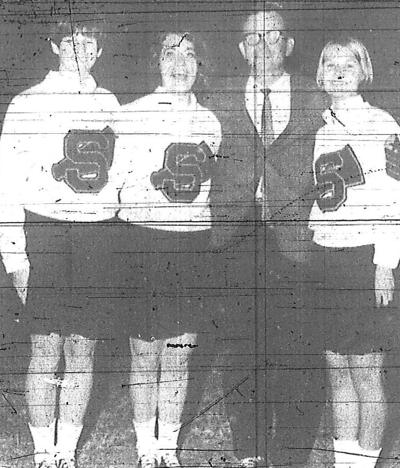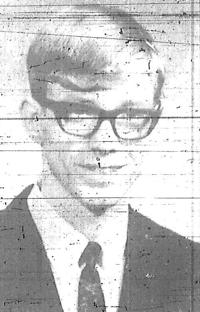 Roger Cravens
Senior cheerleaders, Susan Crumbacker, Donna Holt, and Sheri Mullins were pictured in the paper with Coach Henry Powell.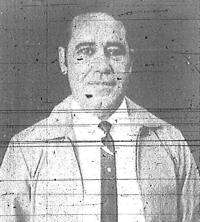 J.C. Thompson
J. C. Thompson, manager of the Harold W. Hardy Super Market in Shepherdsville, was appointed as agent for the Kentucky Growers Insurance Company.
In the Personal column, we learned that Mrs. Walter Crowe, Mr. and Mrs. Joe Moser and Mr. and Mrs. Tom Trunnell drove to Greenville to visit with Professor Jack Sanders who, they reported, was fine, was substitute teaching, and as chipper as ever. He was living with his daughter Margaret.
And Roger Cravens, a senior at Lebanon Junction High School, had his poem published in the National Beta Club Journal. Here it is.
GOING THERE by Roger Cravens
For fifteen years I've been heading the same way,
Step by step and day by day.
People ask, "You're going where?"
And all I can say is I'm going "there."
"There" is a place I'm not exactly sure of,
It's just a place of happiness and love.
It's where hate is gone and people care,
That's why I'm going "there."
A few times I thought I found the place of which I've dreamed,
But a closer look showed it wasn't what it seemed.
Some times the road is rough and hard to bear,
But I must not give up, cause I'm going "there."
So I'm gonna keep living as well as I can,
And face hardships like a man.
Living like that in today's world is rare,
But if I do, I'm sure that when I die, I'll be "there."
December 1969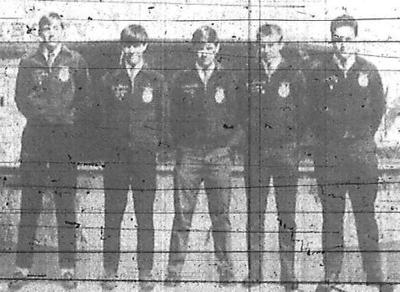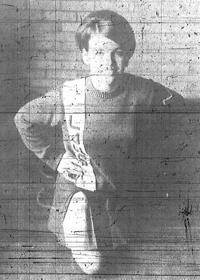 Rita Phillips
Jerry Price, Gary Moore, Bobby Hill, Johnnie Crump, and Dell Keith attended the FFA national convention in Kansas City.
G. K. Bass of Mt. Washington wrote that Royce Swearingen treated his wife Genevieve, and family members Mr. and Mrs. Melvin Porter, Mr. and Mrs. Amos Brown, Lt. and Mrs. Murrell Dean Porter, Mrs. Walter Kalewski and son Jon to a smorgasbord dinner at the Doe Run Inn. Lt. Porter was due to ship out to Vietnam in December.
Rita Phillips, a senior cheerleader at LJHS, was pictured in the paper.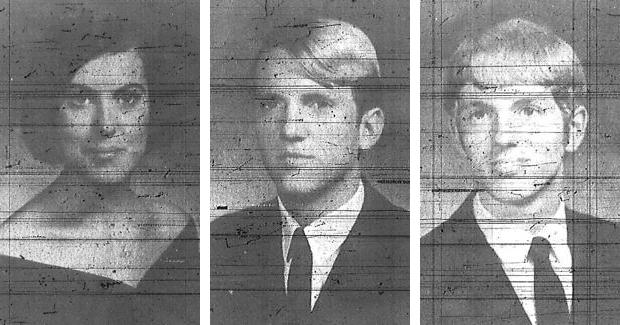 Elisé Givhan | Bill Nusz | Layne Abell
Elisé Givhan, Bill Nusz, and Layne Abell were pictured in the paper as SHS students selected as Outstanding Teenagers of America for 1970.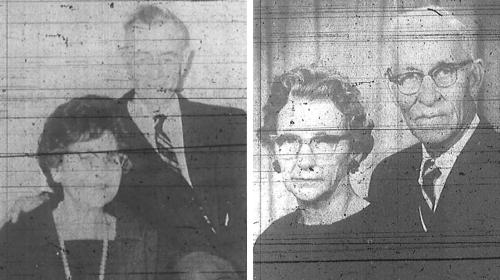 Hall | Sweat
Mr. and Mrs. Russell Hall of Mt. Washington celebrated their 50th wedding anniversary. Also celebrating 50 years of wedded bliss were Mr. and Mrs. William Oscar Sweat of Lebanon Junction.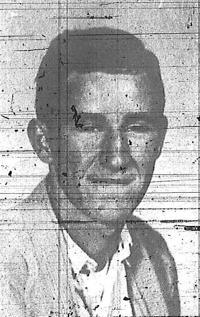 Darrell Sample
The paper reported on the progress of the SHS speech and drama department under the direction of Miss Barbara Elliott. In competitions that Fall, Elisé Givhan placed first in extemporaneous speaking, and Rodney Franklin and Desie Deschand won for duet acting. Linda Hester placed third in impromptu speaking, and Desie placed second in dramatic interpretation.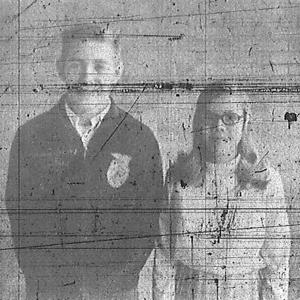 Crump & Davidson
Darrell Sample was pictured in the paper with the announcement that he would be attending the Lincoln Technical Institute in Indianapolis to study automotive technology.
Johnnie Crump of SHS placed first in the Conservation Essay Contest, and Sylvianne Davidson, a 7th grader at Roby, placed second.
The Zoneton Optimist Club was organized with J. W. Abbott as president, Martin Roper and Kenneth Kamber as vice presidents, and Bill Johnson as secretary-treasurer. They were meeting in the home of H. M. Taylor.
The Hebron correspondent gave birthday greetings to Burks Williams, Sr. on his 90th birthday! She also congratulated Seaman 1st Class Gary Johnson and Miss Janice Sears who were married at Bullitt Lick Baptist Church. Their attendants were Brenda Heath and Dennis Sears. The ushers were Timmie Crumbacker and Terry Sears.
The SHS Honor Roll was published in December with the following seniors listed on the first roll (All A's): Debbie Lee, Donna Holt, Theresa Mills, Ronnie Milliner, Brenda Snellen, Linda Scott, Bernice Shepherd, Theresa Sweat, Donna Walls, Carolyn Jackson, Marcia Leffler, Susan Dunnavan, Brenda Hall, Sandra Rinkel, Mike Tatchell, and Elise Givhan.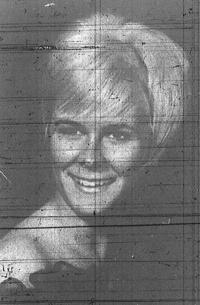 Susan Watkins
At an appreciation dinner for Boy Scout leaders, both Robert Ball and Joe Ball were recognized. Robert received the President's Award for outstanding service.
Bernard Bischoff had a new roof put on his greenhouse.
Susan Watkins, a SHS graduate, was a charter member of the Valianettes Co-ed Military Drill Team at EKU.
Harold W. Hardy sold his Shepherdsville supermarket to his manager, J. C. Thompson.
And at an "old fashioned" church service at Pleasant Grove in honor of the church's senior citizens, Mrs. Ann Armstrong read a poem, and Mrs. Helen Foster and Steve Fagenbuesh sang a special. Albert Armstrong was the oldest deacon present, and his grandson David was the youngest deacon present. Albert had served as deacon for 54 years!
---
Copyright 2020 by Charles Hartley, Shepherdsville KY. All rights are reserved. No part of the content of this page may be included in any format in any place without the written permission of the copyright holder.
---