It Happened in 1968
Over the years, Charles Hartley has shared glimpses of what was being printed in The Pioneer News in different months and years. This page includes what was taken from the January through October issues of 1968.
---
January 1968
Circuit Judge W. R. Gentry, Sr. ruled that the Bullitt County Board of Education could build a central high school to serve the entire county, and turn the three high schools into junior high schools.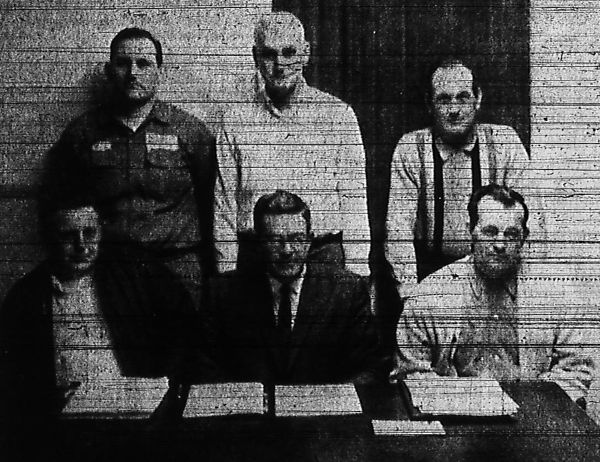 The Shepherdsville mayor and city council were pictured on the front page. Henry Troutman, Jr., Thomas P. Price, and Tot Moore were standing behind Charles Gentry, Mayor W. R. Bacon, and Mr. R. Hall.
The Bullitt County Jaycees presented their first presidential award to James Lanham, editor of The Pioneer-News, for the many ways he had helped the local chapter in its work. The award was presented by Jaycee president C. L. Lane.
G. H. Swearingen advertised his insurance agency, with an office in the Bullitt County Bank building.
The recently organized Bullitt County Sheriff's Posse officers included Chief Deputy James Skidmore, Vice-President Leroe Skaggs, Secretary Irvin Maddox, and Treasurer Raymond "Tee" Howlett. C. L. Croan, out of the sheriff's office was a board director along with Norman Peacock and Donald McKee.
The Cedar Grove reporter shared that Mr. Overbee was very ill at Hazlewood, Joe Bland was at St. Joe, and W. C. Lanham and Essie James were at home with the flu.
Alice C. Harned, Bullitt County Elementary School Supervisor, was selected as a member of the special ETV curriculum selection committee for the upcoming school year in Kentucky.
The Hebron correspondent congratulated Mr. and Mrs. Joe Kelly on celebrating their 49th wedding anniversary.
She was sad to report that the home of Mr. and Mrs. W. H. Brummott burned, and little was saved.
The Personals column was filled with illness and injuries. Robert L. Tanner was at St. Joe's; Otto Stillwell had surgery there; Walter Harshfield had just returned home from the hospital; Cecil Cash had surgery at St. Anthony's; and Mrs. Vernon Jones was recuperating from a fall.
Steve Coulter had 16 points, Mike Robey and Scotty Morrison each had 14, and Albert Goldsmith added 10 as the S.H.S. Rams defeated Trimble County 66-57.
Frankie Hartlage and Charlie Bowman each scored 11 points, Kevin Miller had 10, Edgar Sullivan had 8, and Merrell Coleman added 6 as the Lebanon Junction Bulldogs lost a close game to Taylorsville.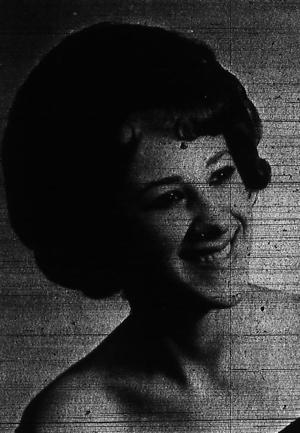 Patricia Ann Ashby
The Lebanon Junction F.H.A. selected Jerry Van Vactor as F.H.A. Sweetheart, and Linda Engle as Miss F.H.A.
The engagement of Miss Patricia Ann Ashby to Carl L. Troutman was announced. Patricia was the daughter of Mr. and Mrs. Hyman Ashby of West Point. Carl was the son of Mr. and Mrs. Marvin C. Troutman of Shepherdsville, and a graduate of E.K.U.
The Mt. Washington correspondent reported that Hubert and Marion Armstrong hosted a family gathering that included Mrs. Ethel Gentry, Miss Cherry Armstrong, Jack Stewart, George Armstrong, Carol Cecil, Aaron Armstrong, and many others.
Hardy & Mooney Auto Supplies was advertising a sale on 4 horsepower chain saws at the price of $79.95 while they lasted.
And Bill Hardy was elected chairman of the committee for Cub Scout Pack 261. Other pack officers included Cub Master Cleo Skelton, Treasurer Sam Hardy, Institutional Representative Billy Horrell, Webelos Leader Don Sanders, Den Mothers Mrs. William Huckaby, Mrs. Tom Waller, and Mrs. Pat Wode. Additional members of the committee were Burlyn Pike, Bud Hardy, Bluford Tinnell, and Tom Waller.
February 1968
The local Jaycee chapter held an open house along with a mock trial to let the public know what the organization was all about.
Presiding at the trial was County Judge Neil Farris. The attorneys were Tom Pack and C. J. Crume. Members of the jury were Louis Brosick, Terry Atherton, Terry Edwards, Norman McAdams, Bruce Carter, Jim Kirk, Jim Hatley, and Rev. Bob Lamson.
The witnesses included Sam Hardy, Daryl Lee, Jim Bunce, Fred Duke, Bernie Wiley, Carl Payne, C. L. Lane, Moise Napier, and Wendell Harvey.
Gladys Sprinkle, writing from Mt. Washington, described the wedding of Miss Alice Carol Hall to Elden Duvall of Charlestown, Indiana. Miss Hall was the daughter of Mr. and Mrs. Jean Hall of Mt. Washington. Rev. Wendall Romans, pastor of the First Baptist Church, performed the ceremony.
She also reported that Coyla Clark and her sister, Mrs. Elma Anderson were visiting with their parents, Mr. and Mrs. Milton Clark in Mt. Washington.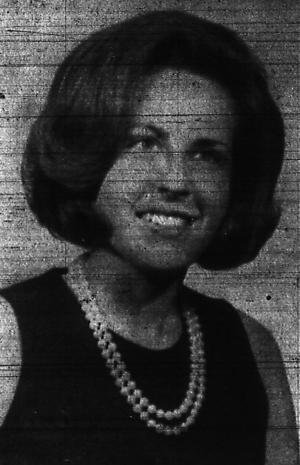 Betty Gayle Gaines
And did you know that Mr. and Mrs. Paul Alvin Roby hosted a rook party with Mrs. Alberta Troutman, Mr. and Mrs. J. M. Stout, Mr. and Mrs. Rudy Neal, Mrs. Ruth Drake, Mrs. Ann Waller, Mr. and Mrs. Norman Bridwell, and Mrs. Eva May Graham as guests?
From the Hebron newsletter, we learn that Sam Gentry had celebrated his 93rd birthday; that John and Mary Harper had spent a weekend at French Lick; and that Mr. and Mrs. George Z. Wigginton and Mr. and Mrs. Edward Earl Wigginton attended the wedding of Carl Troutman and Patricia Ashby at the Bullitt Lick Baptist Church.
The engagement of Betty Gayle Gaines to David Burks Williams was announced in the paper. A June wedding was planned.
In Wilson Creek news, we read that Larry Coleman and Miss Gloria Waters were home from E.K.U. for the weekend; and that Mr. and Mrs. Frank Stopher of Lebanon Junction had a baby daughter they named Pamela Michele.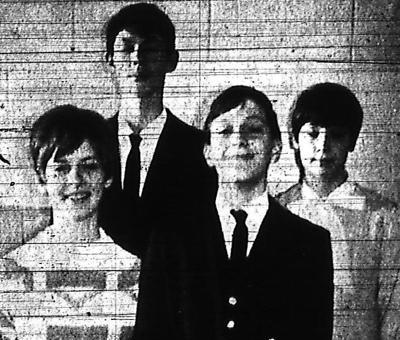 Speech Champs
Four speech contest champions were pictured in the paper. They included Pamela Simcoe, Charles Bowman, Jerry Price, and Melinda Rogers.
At the S.H.S. basketball homecoming game, Carol Korfhage was reigning queen. Chuck Heath was crown-bearer, and Beth Korfhage was flower girl. The attendants included Sheila Troutman, Paula Harbin, Diana Goff, Desie Deschand, and Rita Stallings.
The Roby P.T.A. observed Founders Day, led by their co-presidents, Rev. Joseph James of Hebron Presbyterian Church, and his wife Roberta. They and their two sons came to Hebron in October 1962.
Charles Bowman, Leeland Stevenson, and Gerald Fulkerson of the Shepherdsville F.F.A Chapter were identified as candidates for the Kentucky State Farmer Degree.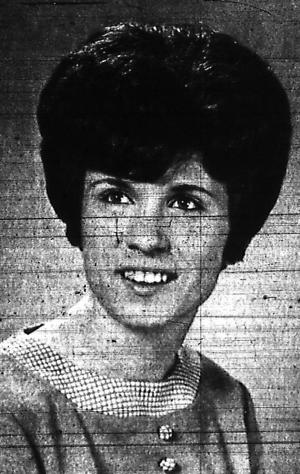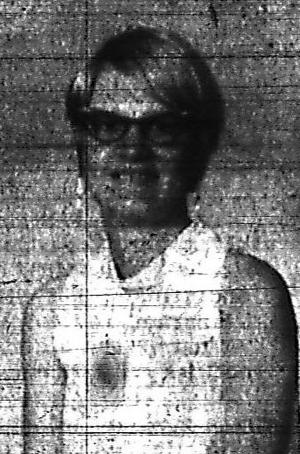 Donna Ray Maraman / Rhonda Hoagland
The engagement of Donna Ray Maraman to Richard Wayne Davis was announced by her parents, Mr. and Mrs. Charles B. Maraman. The wedding was to be in March at the Cedar Grove Baptist Church.
Rhonda Hoagland, daughter of Mr. and Mrs. Fred Hoagland, Sr., of Shepherdsville, had a perfect 4.0 standing for the fall semester at Campbellsville College.
At the Nichols P.T.A. meeting, Mrs. Arthea Ridgeway presented Ron Weimer with a lifetime membership in the organization.
And a special Court of Honor was held at the Hebron Presbyterian Church where Richard Sansbury, Barry Watson, and Rick Adams were presented with their Eagle badges, the highest rank available in Scouting. A high honor, indeed!
March 1968
Sam Hardy, Red Cross Campaign Chairman for Bullitt County, announced the following workers as campaign leaders: Dr. Norman Troutman, Billy Howard Smith, and Jim Bunce in Shepherdsville; Mrs. M. S. Daughtery and Mrs. Eugene Kirsh in Lebanon Junction; Mrs. Gale Troutman in Mt. Washington; Mrs. James Lanham, and Mrs. Roy Troutman, also in Shepherdsville; J. D. Garr in Zoneton; Harold Trammell in Brooks; Mrs. Ronald Thompson at Nichols; Mrs. Eva Fernback at Clermont; Miss Anna Faye Dawson at Bardstown Junction; and Mrs. Sue Logsdon at Belmont.
Circuit Court convened in March with the following individuals serving on the Grand Jury: Leon Grigsby, Hubert L. Clay, Ray W. Edwards, Margaret Stout, James S. Cruise, Gladys Shepherd, Bryant Harris, Garner Dooley, Harold Seay, Marvin Dawson, Elizabeth Bridwell, and Robert Crady.
Citizens selected to serve on various petit juries included Judson D. Garr, R. Lee McAfee, Vernon A. Edmonds, Sterling Fisher, Isaac H. Hines, William C. Greenwell, Marvin Masden, John Isgrigg, Sr., Birdie Lee Moore, Albert Bowman, George T. Neighbors, Mack Holt, Richard B. Cundiff, Mary Ellen Bivens, Frank Scroggins, Lillian Stallings, Homer Myers, W. B. Charlton, Bryant Crenshaw, Lyndol Nutt, Henry E. Hasty, Carroll T. Korfhage, H. Saumel Houck, Ray Brasher, Acie L. Moore, Ernest L. Thomas, Marvin C. Crenshaw, Lewis L. Simmons, Jene Martin, and Jeane P. Chancellor.
The Circuit Judge was William R. Gentry; Commonwealth Attorney was Shelby Howard who was assisted by County Attorney Thomas B. Givhan and Circuit Court Clerk Nancy Strange.
The Hebron correspondent reported that Mr. and Mrs. John Meyers spent a Saturday at Rough River getting their cabin in order for summer vacation. She also reported that the Hebron Church folk had begun a six week study on the Gospel of John. (Sound familiar, George?)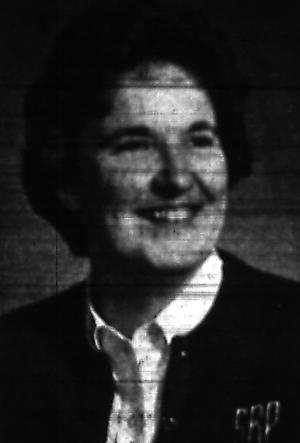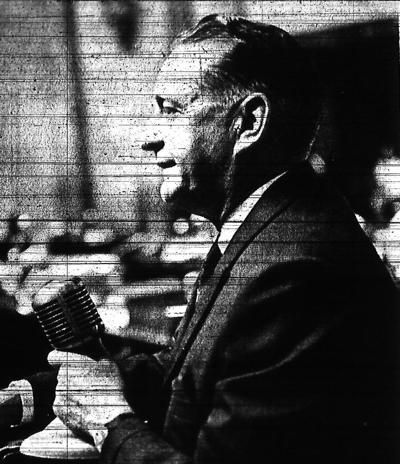 Sue Powell and Leo Bleemel
The S.H.S. cheerleaders took first place at the 8th region tournament and were participating in the State Competition at Freedom Hall. Members of the squad included Carol Korfhage, senior and captain, daughter of Mr. and Mrs. C. T. Korfhage; Karen Cundiff, senior and captain, daughter of Dr. and Mrs. M. J. Cundiff; Pat Hodge, senior, daughter of Mr. and Mrs. Irwin Hodge; Brenda Heath, junior, daughter of Mr. and Mrs. William C. Heath; and Sheri Mullins, sophomore, daughter of Mrs. and Mrs. Edgar Mullins.
Mrs. Sue Powell was selected as chairman of the Easter Seal Drive.
State Representative Leo Bleemel, of Mt. Washington, was pictured at work in the General Assembly.
Mrs. Lanham of Cedar Grove reported that Annie Bolton celebrated her 80th birthday at the home of her daughter, Mrs. Clifford Bell. Guests present included Mr. and Mrs. Humphrey Jefferies, Mr. and Mrs. Enock Webb, Tommy Bolton and son, Mr. and Mrs. Jack Grant, Mr. Bob Grant, Mr. and Mrs. Joe White, Mr. Hubert White, and Mr. and Mrs. Matt Bleemel.
In Lebanon Junction news, varsity players Merrell Coleman, Edgar Sullivan, and Kevin Miller were named to the All-District team. Also Karen Shaw, a senior at L.J.H.S. won the Betty Crocker Award.
Also, the Junior Class presented a comedy entitled "Off the Track" with a cast that included Danny Meadows, Kevin Miller, Donna Hart, June Halk, Sadalia Samuels, Christine Hoagland, Rosalie Moutardier, Danny Thurman, Bennie Hartlage, Stanley Hefley, Denealta Etherton, Glenda Booth, and Rita Mattingly. Lee Nalley was state manager; Carolyn Travis was prompter, and Mrs. Hattie Halk was director.
And Sharon Fischer, a junior at S.H.S., appeared on WAVE-TV's Morning Show, representing the F.H.A. Sharon, a daughter of Bill and Mary Fischer, was also an active Candy Striper at St. Joseph Infirmary.
April 1968
Norman and Dorothy Bridwell of Mt. Washington were returning home from a dinner at the Doe Run Inn Hotel when their car was struck by another car during a downpour. The car was badly smashed, but there were no reports of injuries to the Bridwells.
Fifteen local boys were inducted into the army at the end of March including James Oscar Oller who volunteered, Ernest Lee Fulkerson, Wayne Morris Tomes, Loyd Montgomery Woods, George Elmer Bishop, Lawrence Eugene Mercer, Gary Wayne Hall, William Edward Dawson, Donald Marvin Lewis, Robert Larue Mullins, Curtis Elijah Johnson, James Edward Sweat, Stanley Eugene Lanham, Terry Gene Wood, and Joseph Michael Duckett.
Michael Waller, a Mt. Washington boy and student at Campbellsville College, presented a piano recital at the First Baptist Church in Mt. Washington.
The Wilson Creek correspondent reported that "much improvement is being done to Mt. Carmel Cemetery such as leveling, resurfacing with top-soil, liming, fertilizing and seeding." She also reported that Mrs. Kate Chadwick was to have an eye operation, and that Mrs. Ernest Lyme was better and home from the hospital.
A rook party was held at Alberta Troutman's home. Guests included Harold and Irma Hallinan, Rita Sherman, Ralph and Jewell Lutes, Tom and Vernessa Jasper, Raymon and Leona Cope, Herbert and Ima Owen, Jimmy and Juanita Roby, and C. N. and Maylene Tichenor. A good time was had by all.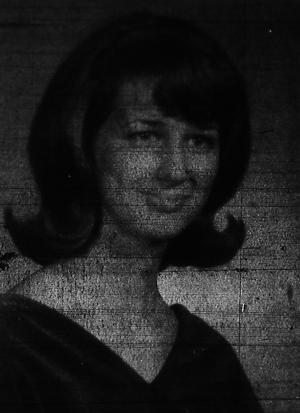 Linda Jean Engle
Mrs. Alberta Kinnard of the Hebron community celebrated her 87th birthday at an open house hosted by her daughter, Mrs. John F. Wigginton.
Gwinn Thompson of Mt. Washington was crowned Miss Bullitt County of 1968 at the pageant sponsored by the Bullitt County Jaycees. Gwinn was a junior at Campbellsville College.
Mr. and Mrs. J. V. Shaw received word that their son Tom had been promoted to sergeant in the Air Force. He was stationed in Japan.
Linda Jean Engle's engagement to Leonard Ray Ice was announced by her parents, Mr. and Mrs. J. E. Engle of Lebanon Junction. Leonard's parents were Mr. and Mrs. C. L. Ice, also of Lebanon Junction.
In the personals column, we learned that Sgt. Robert C. Blevens, Jr. had signed up for five months longer in Vietnam, and was scheduled to return home in September; that Cpl. Steven R. Blevens was serving with the marines in Okinawa; and that P.F.C. David L. Blevens was home for a visit while stationed at Ft. Meade.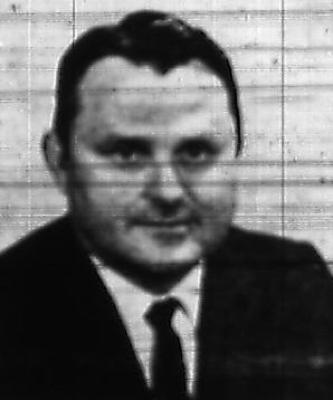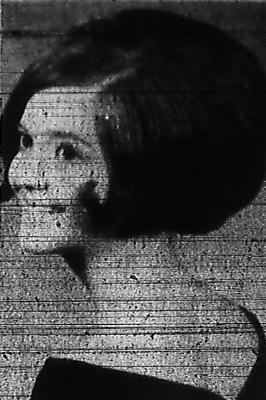 Judge Farris / Nina Jones
If you attended the Annual Cancer Memorial Dinner in 1968, you heard Carol McClure, a 13-year-old harpist, and Mrs. Jean Cassady, a Louisville soprano soloist. You also heard Judge Marlow Cook speak. That year's dinner was hosted by Judge Neil Farris, with organ music provided by Mrs. Dorothy Hartsell. The dinner committee was headed by Mrs. Nan Plenge.
Nina Jones was selected to represent Shepherdsville High School in the annual Kentuckiana Typewriting Contest at Spencerian College. Mrs. Betty Larimore was her typing instructor.
According to various advertisements, Pee Wee McGruder would dig your well and sell you a pump, Tom Cunningham would sell you a Speed Queen washer and dryer, and W. T. Hill would haul your load and spread your lime. You could also get your General Electric appliances at Ray Woods Cabinet Shop in Shepherdsville; and get your horse shod by Ernie Vest.
And did you know that The Pioneer News was first established on 15 Jun 1882? Do you remember that James M. Lanham and Cecil Smothers were editors and publishers of the paper in 1968? And, did you pay your $3.00 for a year's subscription ($4.00 if you lived out of state)?
May 1968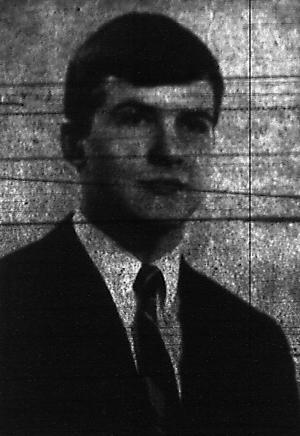 Charles Cecil Cash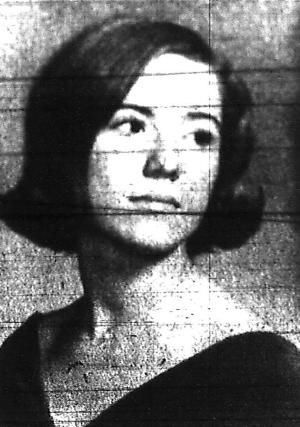 Rebecca Sandra McMillen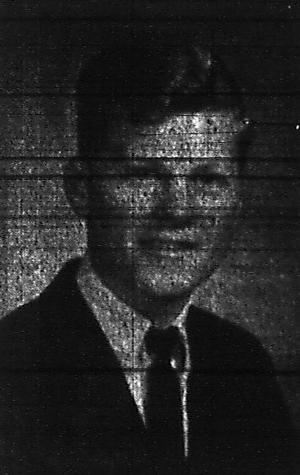 Pat Wise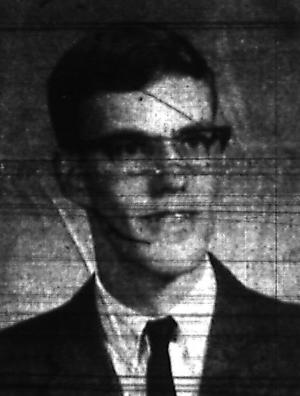 Jerry VanVactor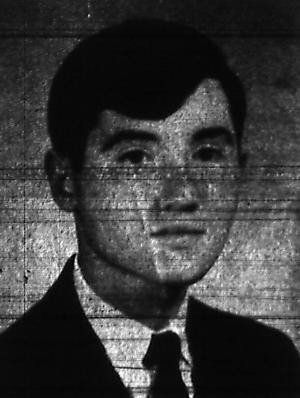 Les McIntosh
At the annual Cancer Memorial Dinner held in the Shepherdsville High School cafeteria, Harold W. Hardy, a member of the State Cancer Society Board, was presented a National Award for Outstanding Services by a Layman in the Kentucky Division of the American Cancer Society.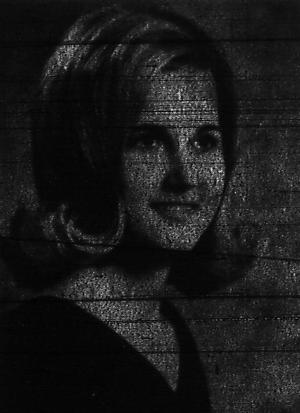 Diana Moore
Diana Moore, a senior at Shepherdsville High School, was selected as a flag-bearer for the University of Kentucky band.
Sharon Fischer, a junior at Shepherdsville High School, was elected president of the Louisville District of the F.H.A. She was also a candidate for state 2nd vice-president.
Dr. and Mrs. Millard J. Cundiff hosted a luncheon at their home for the teachers of Roby Elementary School.
Hebron Presbyterian Church hosted The Agape Singers, a group of high school singers from the greater Louisville area, in a Sunday afternoon performance.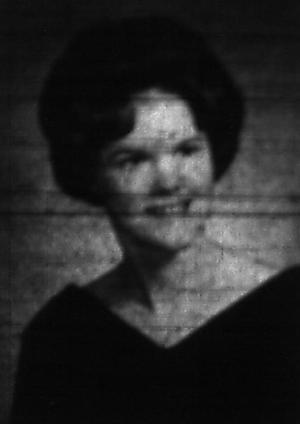 Karen Lynn Shaw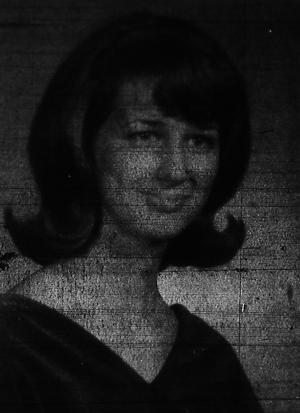 Linda Engle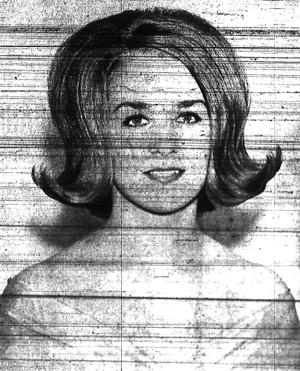 Gwinn Thompson
Shepherdsville High School announced that Charles Cecil Cash was the Valedictorian of the 1968 class. The school also announced that Rebecca Sandra McMillen was the Class Salutatorian.
Lebanon Junction High School's top two students were Valedictorian Karen Lynn Shaw, and Salutatorian Linda Engle.
Pat Wise, son of Mr. and Mrs. Hayden Wise of Lebanon Junction, won the PTA Council Scholarship given annually to a deserving high school senior.
The Hebron correspondent reported that Robert Holsclaw spent part of his vacation in bed with the flu; that Overdale Scout Troop 20 got a blue ribbon for its Indian Lore display at Scout-O-Rama; and that Rev. Overstreet had returned from Georgia after holding a revival there.
Cub Scout Pack 333 of Mt. Washington also received a blue ribbon at Scout-O-Rama according to their scoutmaster, Eugene O'Bryan.
In Clermont news, Mrs. H. B. Sedoris assisted Mrs. William Snellen in setting out 15 rose bushes. Also, Mr. and Mrs. Bobby Cox were moving into their new home at Clermont.
Robert E. McDowell, author, historian, and an authority on early Bullitt County history, was present at the dedication of a new historical marker near the site of the historic Belmont Iron Furnace.
The Nichols Elementary School music department presented a "Stephen Foster" musical in the West Point gym. They were led by Deborah Murrell, with Anna Faye Dawson providing direction on scenery and costumes. Soloists in the production included Susan Shepherd, Cheryl Underhill, Shiela Underhill, Kay Burden, Dennis Shepherd, Nancy Dockery, Steve Alford, Ricky Hodges, Steve Nall, Bobby Bailey, Dean Shepherd, Roger Burden, Mike Faulkner, Barry Willson, and David Murphy. Howard Horine played a trombone solo, and Leta Miller played a piano solo.
Gwinn Thompson, a college junior from Mt. Washington, was crowned Queen of the Spring Festival held at Campbellsville College.
Jerry Wayne VanVactor, son of Mr. and Mrs. Luther VanVactor of Lebanon Junction, received the Eastern Kentucky University Scholarship and Leadership Award as an outstanding graduating senior of Lebanon Junction High School.
And Leslie B. McIntosh, a student teacher at Roby Elementary School, received the first Richard E. Jaggers Award, an award given by Kentucky Commission on Teacher Education and Professional Standards. Les was the outstanding male graduate of a Kentucky college or university who planned a career in teaching.
June 1968
Fiscal Court accepted A. S. Crenshaw's resignation as county dog warden, and hired Larry Greenwell as his replacement.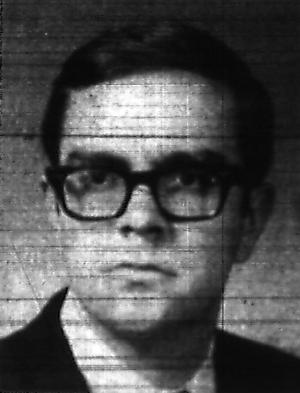 Norman Lemme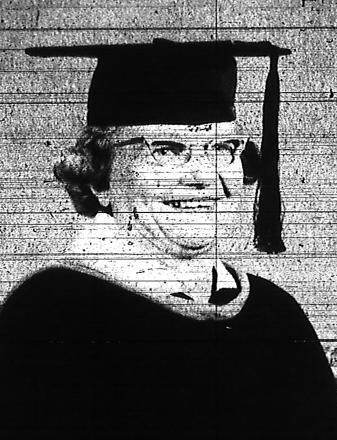 Catherine Cornell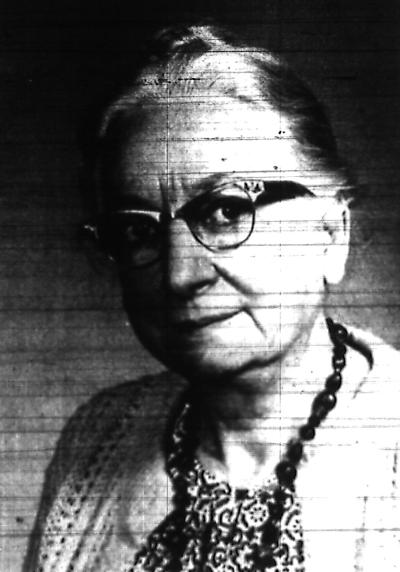 Miss Zardetti Dawson
Norman Lemme was awarded the degree of Doctor of Jurisprudence at Vanderbilt University.
Miss Zardetti Dawson was honored as Teacher of the Year at her retirement after 44 years as a teacher, 34 of them in Bullitt County. I was privileged to work with Miss Zardetti and Miss Augusta in my first year at the Shepherdsville School, and I learned a great deal from them.
Mrs. Hilden Catherine Cornell received her Bachelor of Science Degree in Elementary Education from Nazareth College. Mrs. Cornell joined her daughter, Mrs. Darlene Stallings in earning a degree from Nazareth. Also present to see Mrs. Cornell receive her degree were her son, Bobby Jean Cornell, and her grandson, Christopher Stallings, along with many friends.
In the Hebron newsletter we learned that Mrs. Robert Holsclaw and Miss Pat Browne motored to Bowling Green to bring Miss Clara Ruth Browne home for the summer; that Mrs. Howard Stallings was home following eye surgery; that Mr. and Mrs. Glidden had gone to Nevada on vacation; and that Mr. and Mrs. Kenneth Elder had moved to a home on Blue Lick Road.
In Cedar Grove news, we read that Stanley Lanham was home from Fort Knox on a two-week furlough before heading to camp in Georgia; that Mr. and Mrs. Calvin Young, and Mrs. Eunice Young helped celebrate Wayne Shehan's 77th birthday with a delicious dinner at his daughter's home; and that the James Wilson family spent a holiday in the Smokies.
The Hebron correspondent was happy to write that Mrs. Frank Quick Sr. had taken her to the Hebron Cemetery to decorate the graves. She also wrote that Mrs. Howard Stallings came home following eye surgery; and Mr. Irvine Kelly was operated on at Sts. Mary and Elizabeth Hospital.
In the 4-H Style Revue at the Roby School, Becky Garman had the best apron, Debbie Gutermuth had the best homemade skirt and blouse, Allysan Smith came in first in the "First Dress" category, Marcia Ann Caple led in "Play Clothes," Genne Price was champion in the "Mix Match" group, Sandy Rinkel came in first in the "Advance Dress" category, and Karen Shaw was first in the "Formal" category.
Thomas Louis Roby of Mt. Washington was chosen to serve on the State Fair Youth Advisory Committee.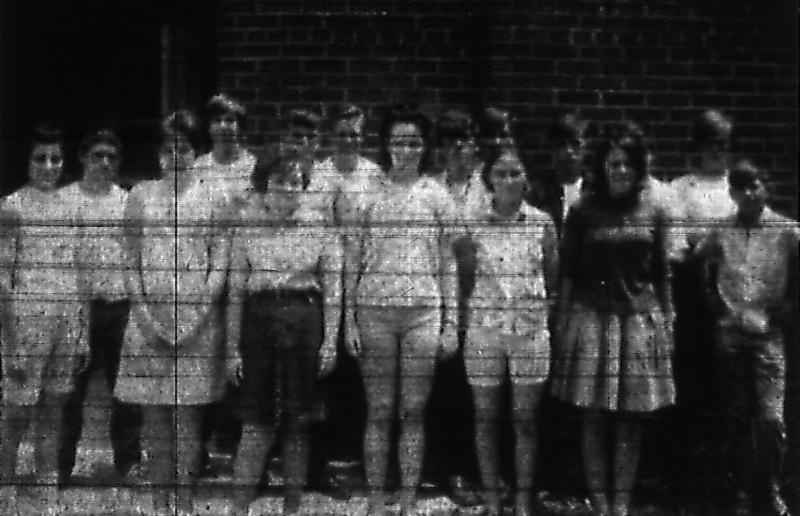 Neighborhood Youth Corps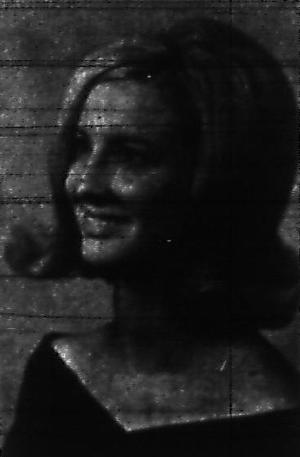 Mary Jean Marcum
Were you one of the students pictured with the Shepherdsville Neighborhood Youth Corps for the summer of '68? Those pictured included Roger Hilton, Curtis Hatchell, Billy Smith, Tommy Meadors, Roger Gilbert, Jack Lay, James Loser, Michael Walls, John Lay, Leon Fox, Charlotte Hines, Rita Richardson, Roberta Faye, Diane Pratt, Brenda White, and Deborah Gilbert.
Wayne and Denise Breeden were houseguests of their grandparents, Leo and Virginia Bleemel, while their parents attended a Lions Convention in Owensboro. The Bleemels treated their grandkids to a night at the St. Aloysius picnic supper in Shepherdsville.
Mary Jean Marcum, a graduate of both Shepherdsville High School and Campbellsville College, would begin teaching in the fall at Doss High School in Louisville.
The Lebanon Junction column was devoted to bidding a farewell to Father Boehmicke, pastor of both St. Benedict's and St. Clare's of Colesburg who was leaving to begin work in another parish.
And did you attend "Bullitt County Day" at Fontaine Ferry Park and ride the Comet?
July 1968
The newly formed Optimist Club of Shepherdsville elected its officers, including President David Winkenhofer, Vice Presidents Donald Sanders Jr. and James Wesley, Directors Richard Tetty, Herbert Robinson, Terry Gray, Leonard Light, Stanley Lee, and J. P. Hatzell, Jr. James "Bud" Hardy was appointed secretary-treasurer, and Lee Watkins sergeant-at-arms.
Gwinn Thompson, Miss Bullitt County, planned to enter the Miss Kentucky Pageant.
The Hebron correspondent congratulated Mr. and Mrs. Russell Jenkins on their 40th wedding anniversary; thanked Mrs. Bernard Bischoff for bringing her fresh vegetables from her garden; wrote that Mrs. Elizabeth Elliott was in California visting her daughter, Mrs. Jim O'Neil; and announced that Mr. and Mrs. George Howard Wigginton had returned from a three week tour of Europe.
Charlotte McAfee, ASCS office clerk for Spencer County, and Lounetta Williams, ASCS office manager for Bullitt County, enjoyed a box lunch while seated on a bale of straw while participating in the TAP sponsored farm tour.
On the same tour, Matt Bleemel, Homer Myers, and Cecil Cash were spotted inspecting a self-propelled picker-sheller on Raymond McGruder's farm.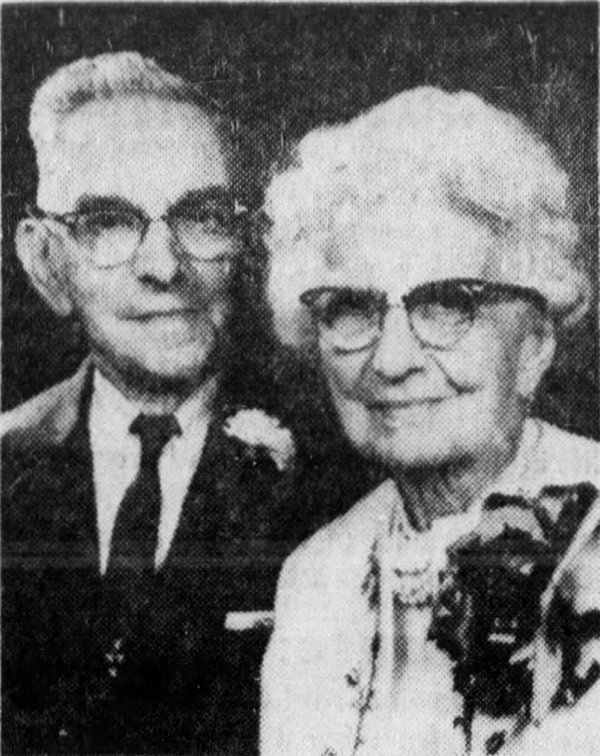 The Bashams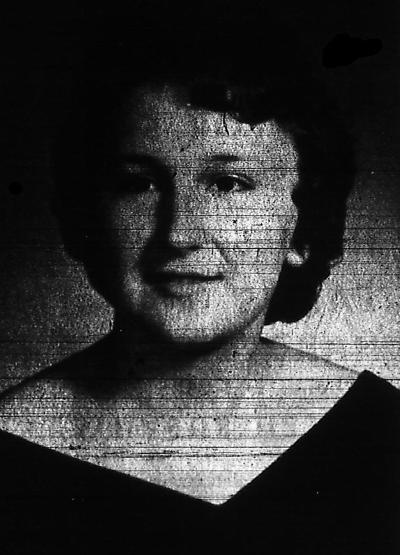 Mary Lee Mason
Two freight trains sideswiped one another near Bardstown Junction, but thankfully there were no injuries.
Jennifer Williams, a student at Shepherdsville High School, was named Miss Roller Rink 1968 at Brad's Roller Rink. In the competition at the rink the following were winners in their categories: David Mills and Cecilla Wilson (10 and under), Vickie Norris and David Crady (11-12), Craig Bradbury and Patricia Berry (13-14), and Suzi Williams and Dennis Sullivan (15 and up).
Oral Peyton Basham and Alma Nancy Jones were married on July 8th, 1908, and celebrated they 60th wedding anniversary in 1968 at their Ridge Road farm. Oral lived until March of 1972. Alma re-joined him almost four years later in January 1976.
Dr. C. H. Skelton announced a recreational program for day campers on the old Fisher farm, once the home of Albert and Mary Fisher.
Eighteen of the members of the S.H.S. Class of 1958 met at the Forrest View Restaurant for their 10-Year Class Reunion. Present were Dr. Ronald Masden, Jo Ann Belden Mercer, Ronnie Dowell, Jeanie Castle Owen, Johnny Warley, Margaret Hardesty Day, Joyce Cash Stansbury, Larry and Faye (Elder) Crumbacker, Jerry Davis, Carolyn Hester Moore, Quentin Johnson, Albert Koch, Barney Maraman, Verna Patterson Montgomery, Wanda Price Crumbacker, Janis Sadler Gentry, and H. T. "Dickie" Williams.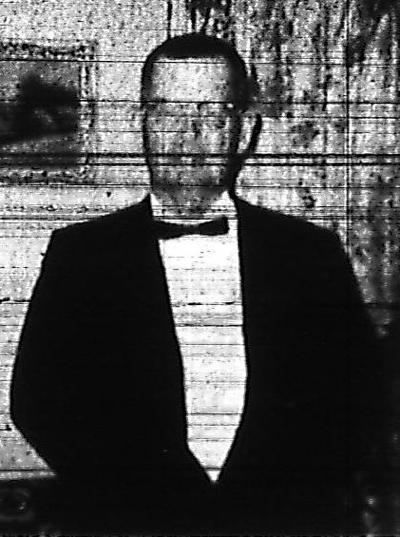 Delmer Eskridge
A very special couple were married at the Baptist Church in Shepherdsville when Mary Lee Price and Avis Mason joined in wedlock.
Delmer L. Eskridge was appointed City Police Judge at Lebanon Junction, replacing Fred Whitehead who resigned to become manager of the Kentucky Turnpike.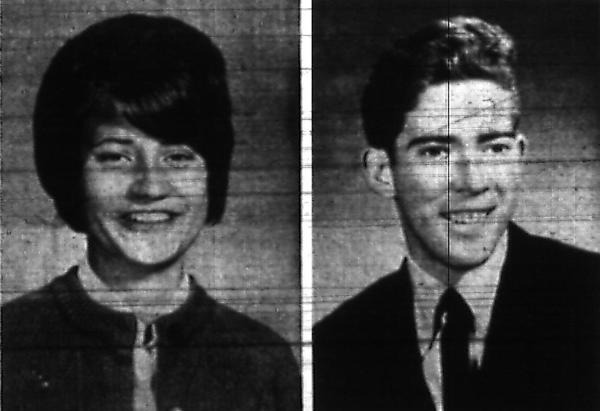 Two Bullitt County 4-H'ers, Jackie Koeberlein and Jimmy Dawson participated in People-to-People tours to Europe.
At Lebanon Junction, Mrs. Myrtle Kappell was visited by her mother, Mrs. Mary Bolton and a number of relatives including her sisters Georgia Drury and Bertha Mae Edlin.
And SSgt James C. Westerman was pictured with his 1928 Model A Ford that he drove from New York to Shepherdsville in 19 hours and 45 minutes without a single problem.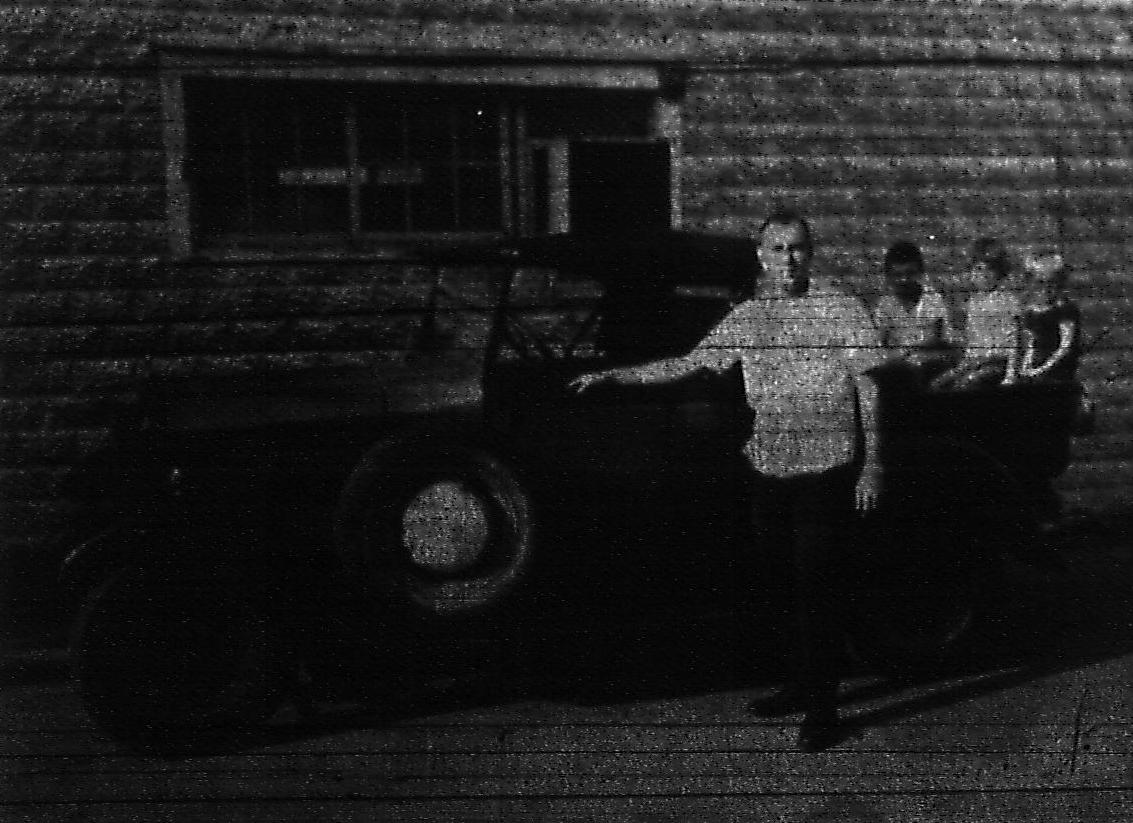 August 1968
Dr. Ronald Masden, a Shepherdsville native, was appointed to the Heart Disease and Stroke Control laboratory of the U.S. Public Health Service in Atlanta, Georgia.
In the Hebron Newsletter we learned that Rev. and Mrs. Joseph James of the Presbyterian Church had returned from a trip through the American West; that Mrs. H. M. Taylor had taken Mrs. Dudley Shelburne, Mrs. Ruby Roller, Mrs. Raymond Hornbeck, and Miss Mary Cynthia Holsclaw to a quarterly W.M.U. meeting in Louisville; and that Mrs. Bernard Bischoff attended a tea given by Mrs. Mary Burke in honor of Mrs. Jane Tucker who was leaving to teach in England.
The writer also told that Mr. and Mrs. R. G. McGruder and sons had returned from a trip to San Antonio, Houston, New Orleans, and Mexico; and that Misses Suzanne and Sally Brooks were visiting relatives in Ohio.
The Wilson Creek correspondent told us that Walter McGruder had a new barn; that Mr. and Mrs. Roscoe Milligan, Jr. had returned from vacationing in Florida; and that Mr. and Mrs. Shirley Milligan and family were vacationing in the Smokies and at Myrtle Beach.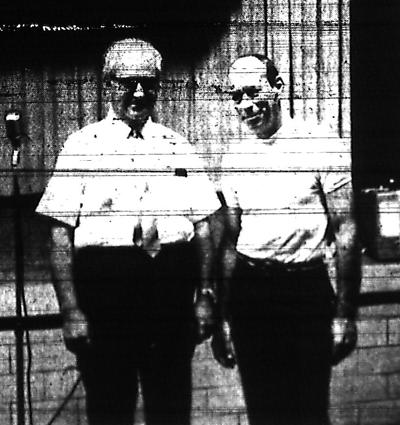 Mr. Masden & Ed Kalley
I wonder how many former Roby Elementary students remember when Ed Kallay of WAVE-TV visited the school during its summer head start and enrichment classes. (I really wonder who remembers Uncle Ed's Saturday TV show, or remembers listening to him call ball games on the radio.)
The paper pictured him along side the school principal, Mr. Woodrow Masden.
Mrs. Lanham out Cedar Grove way shared with us that Mrs. Nettie Jeffries, Mr. and Mrs. Clifford Bell, and Mrs. Annie Bolton spent a day recently with Mr. Tommy Bolton at Fern Creek; that Mrs. Eunice Young and Mrs. Regenia Anderson visited Mrs. Hubert Cox and Mrs. Mae Vincent; and that Mr. and Mrs. Neil Bennett and family of Georgetown were visiting Mrs. Bennett's parents, Mr. and Mrs. Hugo Maraman.
The engagement and forthcoming marriage of Miss Delores Ann Crenshaw to Mr. James C. Mudd, Jr. was announced in the paper.
From the Personals column we learned that Pat Hagan, Judy Troutman, Brenda Goff, and Myria Simpson were vacationing at Daytona Beach; that Matthew Wiley had his tonsils removed; that Mr. and Mrs. Roger Shelburne were vacationing in Michigan; and that Stevie Meredith was rushed to the hospital for an operation for appendicitis.
Also from that column we find that Peggy Troutman, Roy Gene's sister, had returned home from New Orleans where she was attending school; and Air Force Sgt. Tom Shaw was spending a 30-day leave here with his wife Billie Jo and his parents, Mr. and Mrs. J. V. Shaw.
County Home Economics teachers Helen Underwood, Mildred Mindel, and Jane Cowan attended the Kentucky Home Economics Teacher Association meeting where Mrs. Underwood was elected association president for the 68-69 school year.
And A. R. Baugh was honored at Camp Shantituck with an engraved watch on his retirement after fourteen summers at the camp. He and his wife were returning to Alabama to enjoy their retirement years.
September 1968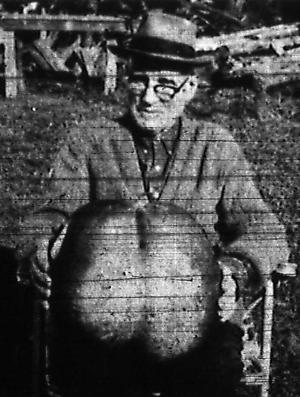 Frank Mings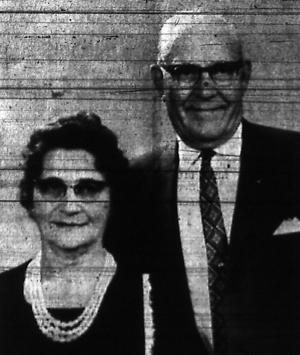 Eula & Willie
Frank Mings, 80 year old Lebanon Junction farmer, displayed an unusual twin watermelon that he grew on his farm.
In Mt. Washington news, Mr. and Mrs. Owen Tyler hosted a dinner at their home for Mr. and Mrs. Everett Stevens, Rev. and Mrs. Earl Cotton, Mr. and Mrs. Roy Smith and sons Jeffry and Tommy, Mrs. Ada Tyler, and Mrs. Eunice Grasch.
Also, Miss Geneva McFarland and Miss Emma Slaughter visited Geneva's brother Grigsby McFarland and wife during a vacation stay in Mt. Washington. They also visited her niece, Mrs. Eleanor McFarland Troutman.
At Lebanon Junction, Mr. and Mrs. Floyd Bryant announced that they had opened their back lot for a picnic ground for all senior citizens to come and take part in the games, including croquet, checkers, rook and a marble game.
Willie Marrow Cundiff and his wife, the former Eula Mae Ice, celebrated their 50th wedding anniversary.
Calvin Cundiff of Lebanon Junction and his wife, the former Georgia Fay Stanley, will also celebrate their 50th wedding anniversary.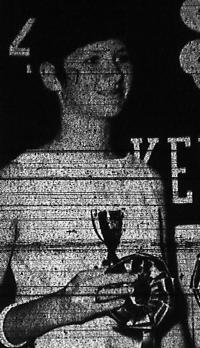 Cheryl Cundiff
Did you know that the Hebron Presbyterian Church kindergarten was collecting S & H green stamps to support their work?
Ricky Holsclaw fell off his pony and had to start school with a cast on his arm.
Cheryl Cundiff scored the highest of any senior competing in the 4-H clothing division at the State Fair.
Principal Marvin Stewart of Lebanon Junction reported that the school's enrollment had topped 700. He named his school's new teachers as Candice Putnam, Shirley Babcock, Sally Beeler, Ann Damron, William Lile, Anne Thomas, Janice Nafziger, Cleveland Taylor, Anita Morgan, Jane Cowan, Robert Hollingsworth, Mrs. Lorz, and counselor William Kolb.
Mr. Shirley Milligan was building a new home in the Wilson Creek area.
Dr. B. C. Moser, who retired as president of the Kentucky Association of Chiropractors, Louisville Division, was elected to the group's Board of Directors.
The local Jaycees named two outstanding young men: Charles T. "Chuck" Crume, and Moise L. Napier.
Sammy Hardy wrote that, despite good efforts by Ray Hammon, Larry Hodge, and Wayne Fearnback, the SHS Rams were defeated by Old Kentucky Home 29-0.
In the Hebron newsletter, we learned that Mr. and Mrs. H. M. Taylor had received word that their son had returned to California after being stationed in Guam. Also Jeff Crumbacker suffered a broken shoulder while playing football.
In Wilson Creek news, Sam Myers' home was damaged by fire.
And vocational business classes began at Shepherdsville High School using the very latest in business equipment including the I.B.M. Selectric, a dictaphone listening station for shorthand instruction, and rotary and tape calculators and Royal electrics.
---
Copyright 2018 by Charles Hartley, Shepherdsville KY. All rights are reserved. No part of the content of this page may be included in any format in any place without the written permission of the copyright holder.
October 1968
The 1968 S.H.S. homecoming queen was Janet Stivers. Her attendants were Brenda Stottman, Susan Crumbacker, Lorona Huber, Ellen Givhan, and Helen Blankenship. The cheerleaders were also honored at halftime. They included the varsity cheerleaders Brenda Heath, Rita Wilson, Pat Smith, Donna Holt, and Sheri Mullins; and the J.V. squad Paula Sue Cundiff, Sarah Nell Hamilton, Gayle Britt, Lynn Hardy, and Jennifer Williams.
First Baptist Church of Mt. Washington laid the corner stone for their new church building; and Victory Baptist on Ridge Road celebrated its 50th anniversary. A highlight of that program was the solo titled "Lifeboat" sung by Mr. Oral P. Basham who was 91. His wife Alma, who was 81, played "When the Roll is Called Up Yonder" by memory on the piano.
In other church news, Rev. William Thomas began his ministry at the Cedar Grove Baptist Church. And in that community, Clifford Bell and wife, along with Annie Bolton and Della Scott, visited Bob Grant on a Wednesday; Della had also visited with Enoch Webb.
The Bullitt County Junior Miss candidates included June Ann Halk, Brenda Heath, Judy Isgrigg, Lee Nalley, Geneva Parris, Theresa Reid, Pam Simcoe, Pat Smith, Janet Stivers, Brenda Stottman, Barbara Thompson, and Rita Wilson. Brenda Stottman was the winner. (Sorry for the quality of the pictures, but they come from old microfilm.)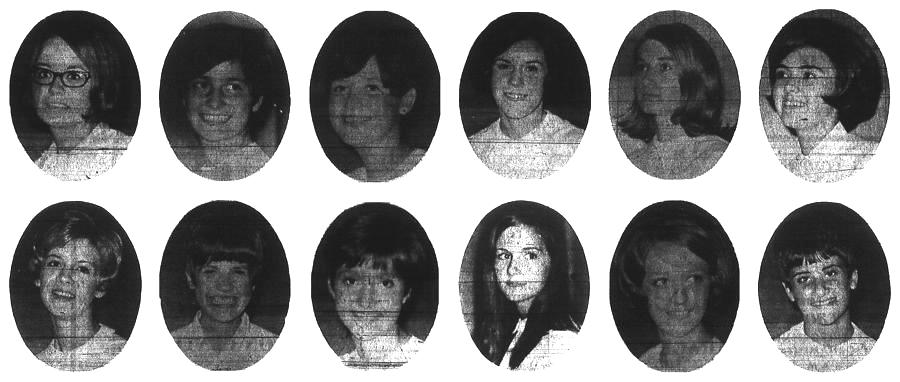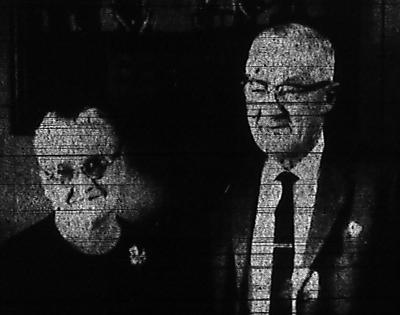 Flora and Bates
Billy Masden was visiting his grandparents, Bill and Ruth Masden, when he caught a 25 pound catfish in the lake on Elizabeth Holsclaw's farm near Lebanon Junction.
Bates Samuels and Flora Erma Skaggs were married in October 1918, and celebrated their 50th anniversary at their home on Route 1, Shepherdsville.
In the Personals column we learned that Paula Crigler, Stevie Crigler and Jeffrey Owen all had the chicken pox; that Myrtle Hibbs was very ill at home; and that Mrs. Charles Maraman was leaving for Ohio to make her home with her brother. We also learned that Mrs. Fannie Bell Henderson moved into her new home on Centerview Drive.
Bill and Mary Fischer's daughter Sharon was one of twelve chosen to represent the Kentucky Association of the F.H.A. at the Youthpower Conference in Louisville.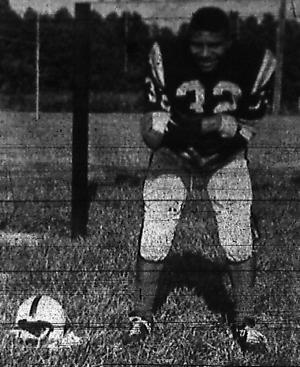 Gary Roberts
Robert E. McDowell was the guest speaker at the Bullitt County Homemaker's Annual Meeting. Mr. McDowell, a local author and historian, was an important researcher in Bullitt County history.
Gary Roberts, sophomore fullback for the S.H.S. Rams, was recognized in the paper as a key player for the team.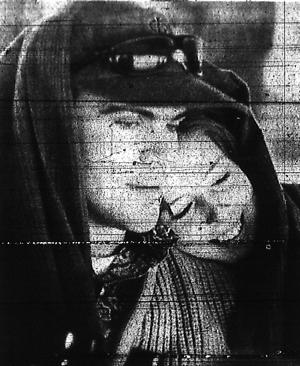 Lee and Connie
Seniors Pat Browne, Wayne Fearnbach, Mary Lou Hatfield, Teresa Keith, Bill Magruder, Linda Miller, Judy Phillips, Terri Stine, and Gloria Wilburn made the all A's honor roll at S.H.S. for the first grading period.
Lee and Connie Shuffett were pictured wrapped in a blanket to keep warm at the World Series in St. Louis. In case you've forgotten, Detroit won that series.
And Jim's Little Giant Food Store in Lebanon Junction was selling chuck roast for 43 cents a pound, and 5 pounds of Henderson sugar was 39 cents. Better stock up.
November 1968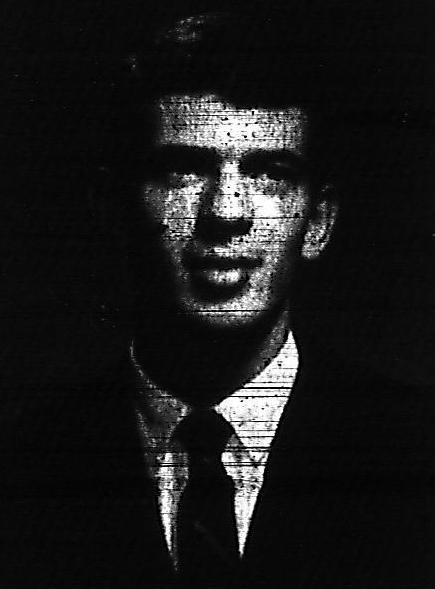 Joseph Burkhead
Joseph Burkhead, son of Mr. and Mrs. Joseph E. Burkhead of Shepherdsville, was selected to be in the 1968 edition of Who's Who Among Students in American Universities and Colleges based on his work at Georgetown College. He was a senior speech and English major there.
The champions of the 4-H Specialty Act Program included Teresa Bryan, Gary Bryan and Colleen Bryan of St. Benedict in the vocal division; Mary Ann Steedley of Shepherdsville in the instrumental division; David Russell of Cedar Grove in the dramatic division; and Robert Bryan and Steve Hinton of St. Benedict in the comedy division.
Charles Capps Sanders, son of Mr. and Mrs. C. V. Sanders of Brooks, enrolled at Centre College, and was on the school golf team.
The paper reported that Cawood Ledford announced the radio schedule for Kentucky basketball on WHAS 840. Coach Rupp's pre-game show would start at 7:30. Mark your calendars!
The Bullitt County Homemakers celebrated their 20th anniversary with a joint meeting at Mt. Washington. The county president was Mrs. Lester Rinkel. Other officers included Vice President Mrs. Harvey Hubbard, Secretary Mrs. Lawrence Howlett, and Treasurer Mrs. Carson Jenkins. Various group chairpersons included Mrs. G. H. Stout, Mrs. Hellen Hollingsworth, Mrs. Marty Korfhage, Mrs. Edna Koerner, Mrs. Myrtle Price, Mrs. Gene Goodwin, Mrs. Val Leadley, and Mrs. Leo Bleemel.
Vickie Ann Sprinkle reported in her School Daze column that Bailey Taylor hosted a Halloween dinner party for guests Mary Kay Brom, Barbara Carter, Kathy McGrew, Charles Dennis, Walton Jones, and Tommy Wood.
The Hebron correspondent reported that the Hebron Church men prepared a fish supper for the members. She also reported that a house on Bernard Bischoff's farm occupied by the Hatfields caught on fire from an overheated stove, but Zoneton firemen put the fire out.
Mrs. Lanham of Cedar Grove reported that Mr. and Mrs. Walter Hilton had the following visitors: Mrs. and Mrs. Joe White, Mr. and Mrs. Charlie Rice and son, and Mr. and Mrs. Hubert Crenshaw of Louisville.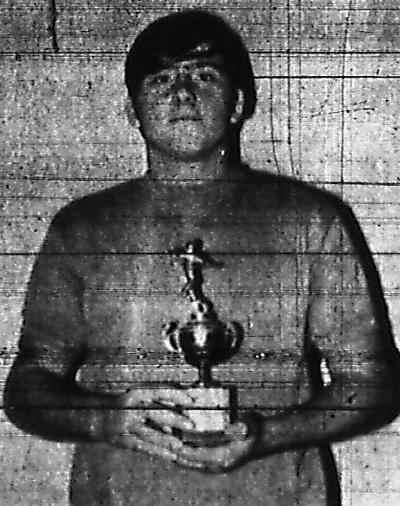 Gary Phillips
Jean Hatzell announced her candidacy for Bullitt Circuit Court Clerk in the Spring primary.
Gary Phillips, a senior tackle on the S.H.S. football team, was chosen for the Mid-Kentucky All-Conference team. Gary Roberts, Mike Perry, Bill Comer, and Ray Hammon all received honorable mention.
Don't you miss the days when folks looked forward to knowing who was visiting who, and who was going to the hospital for tests, and who was back from somewhere after visiting someone whose name you recall?
On that note, Mrs. and Mrs. Russell Crenshaw, Mr. and Mrs. J. V. Shaw, and Mrs. Tom Shaw spent a Thursday in Greenville visiting Mr. and Mrs. Carl Kaufman. Also Mr. Richard Pope of Huntsville visited Mrs. Mabel Adams on Sunday. Dick attended school here and was now teaching art at the University of Alabama.
And if you felt the earth move under your feet in November 1968, you weren't alone. A 5.5 earthquake was felt in 22 states. Here in Bullitt County, at Cecil Smothers' home the jello dessert began to bounce up and down, and the dogs barked at the shaking windows and doors.
December 1968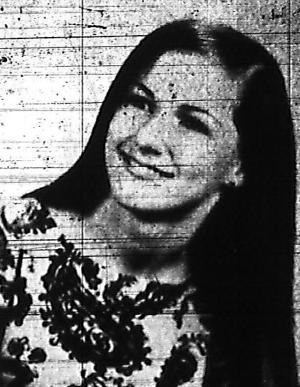 Brenda Stottman
The Shepherdsville High School FHA members braved the cool weather to decorate the Court House Christmas tree. Those participating included Debbie Myer, Sharon Fischer, Jennifer Masden, Norma Crenshaw, June Crenshaw, Vickie Craddock, Debbie Roark, Engenia Sheldon, Beulah Swearengen, Lynn Hobbs, Linda Hobbs, Linda Miller, Sherry Hardesty, Kaye Crenshaw, and Doris Irvin. They were supervised by Mrs. Roberta Crafton and Mrs. Helen Underwood.
Jack and Dorothea Stottman were proud of their daughter Brenda as she participated in the Junior Miss Pageant.
Elise Givhan's campaign for the state vice-presidency of the National Beta Club was a success thanks to the help she received from her campaign supporters including Dale Anderson, Janet Stivers, Pauline Daugherty, Sheryl Cundiff, Barbara Rummage, Wayne Fernback, Bill Magruder, Rita Wilson, Kathy Armstrong, Pat Smith, Pam Simcoe, Mary Ann Hamilton, Mike Robey, Mike Cowan, Dan Rhea, Becky Steedley, Theresa Sweat, Gerald Mills, Roy Welch, Jackie Wade, Marcia Leffler, Carolyn Jackson, Debbie Lee, Brenda Snellen, John Ice, Mike Phillips, and Brenda Heath.
C. E. Roby joined his father's insurance agency after completing his state insurance examination. Clyde, his father, had started the agency in 1936.
The Hebron correspondent reported that Hebron Presbyterian Church members were pleased with their new electric organ bought with gifts of love and sacrifice. She also wrote that Mrs. Dorothy Crumbacker and Mrs. Sara Crumbacker hosted an open house for Mr. and Mrs. J. A. Crumbacker in their new home on Crumbacker Lane.
Tom Givhan replaced the retiring J. D. "Jiggs" Buckman as County Party Chairman of the local Democratic Party. Nina Mooney succeeded Nancy Strange as party secretary, and the executive committee included Neil Farris, William Hayden, Joyce Trammell, Carolyn Beam, and J. Chester Porter.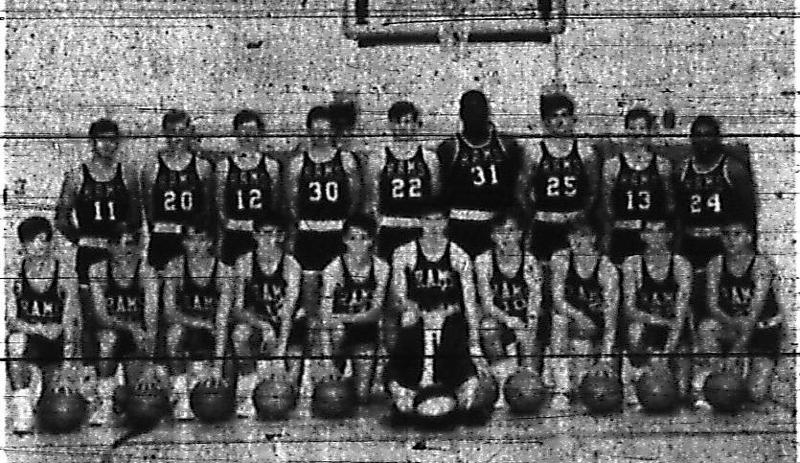 The S.H.S. basketball team was pictured in the paper. Unfortunately, the image was small, and the microfilm was dark and grainy. On the back row were Scotty Morrison, Randall McClearn, Bob Richardson, John Price, Steve Coulter, James Masden, Terry Willis, Mike Robey, and Gary Roberts. The front row included Eric Cundiff, Ricky Cople. Steve Hartlage, Terry Larimore, Donny Perry, Kirk Gillenwater, Larry Hodge, Tim Crumbacker, Dale Farris, and Roger Dawson.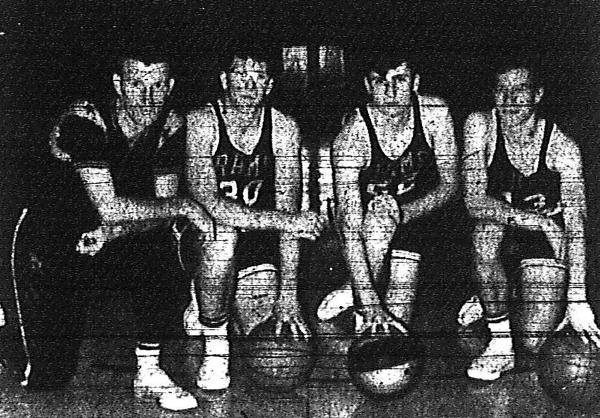 Pictured separately were Coach Collins with his senior players: John Price, Steve Coulter, and Mike Robey.
Gladys Sprinkle of Mt. Washington reported that Mr. and Mrs. Vernon Mothershead hosted a Thanksgiving dinner for family including her mother Mayme Harris.
And, Arson Moore, former county judge, and Mrs. Moore hosted a number of guests including Mr. and Mrs. Albert Rose, Jerry, Benny, Scott, David and the twins Terry and Perry; Mr. and Mrs. Sterling Morgan, Brad and Stacy; Mr. and Mrs. Curtiss Moore, Kim and Stephanie; Mrs. Paula Foster, Donna and Karen.
---