It Happened in 1966
Over the years, Charles Hartley has shared glimpses of what was being printed in The Pioneer News in different months and years. This page includes what was taken from the January through December issues of 1966.
---
January 1966
County officials; sworn in for the next four years; included Judge Neil Farris; Attorney Tom Givhan; Court Clerk T. L. Cook; Sheriff W. R. French; Tax Commissioner Clyde Roby; Jailer Everett Heffley; Coroner Walter "Pee Wee" Keith; Justices of the Peace (magistrates) Ralph Bleemel, Forrest Moore, Russell Crenshaw, and Walter Magruder; and Constables J. W. Armstrong, Frank J. Garey, Wendell Hawkins, and William Mullins.
In Lebanon Junction, the mayor was Dr. J. W. Roney; police judge was Fred C. Whitehead; and the city councilmen were Gerald Tamme, Joseph E. Bryan, William E. Smith, C. L. Ice, Jr., William E. Tanner, and Sammy Maraman.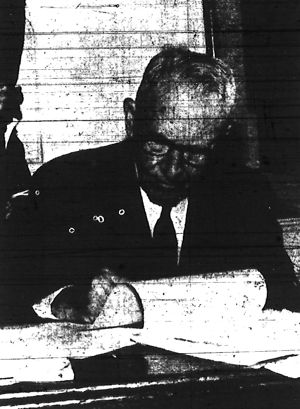 T. C. Carroll
In Mt. Washington, the police judge was W. O. Carrithers, and the town trustees were Marion Jasper, Bruce Clark, Lloyd Branham, Harold Seay and John Settles.
In Shepherdsville, the mayor was J. C. Thompson, the police judge was Arthur J. Hartlage, and the councilmen were Henry J. Troutman, Jr., Vernon Patterson, Arthur Weller, Carl McDaniel, L. R. Mattingly and Cecil Larimore.
Mr. and Mrs. Roy Kulmer and Mr. and Mrs. David Kulmer were among the guests at Mr. and Mrs. James Thompson's for New Year's dinner.
Mrs. J. W. Hardaway was announced as the year's Heart Fund Drive chairperson. Mrs. Ralph Henderson continued as the Shepherdsville Business Gifts chairperson.
T. C. Carroll was pictured signing the draft of the proposed new Kentucky constitution at the old State House in Frankfort.
The English department of Shepherdsville High School sponsored the Carriage House Player's productions of "Shakespeare in the Schools" with performances of Hamlet and Taming of the Shrew in the Shepherdsville Memorial Gym.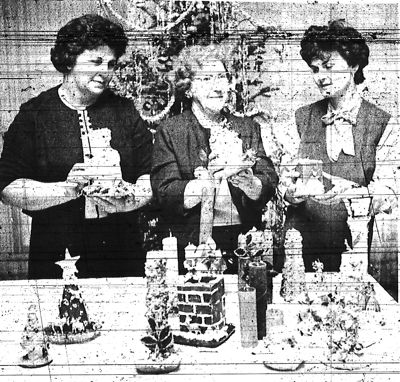 Candle Makers
A new boy scout troop was being organized at the Methodist Church in Shepherdsville. Wonder how that turned out?
Mrs. Charles Wheeler, the Lebanon Junction and Colesburg reporter, wrote that Amos Stringer had sold his barber shop, and would be missed.
The paper reported that as of January 1st, 1966, cigarette packs had to be labeled with the message "Caution: Cigarette Smoking May Be Hazardous To Your Health."
Mrs. Carl Joiner, Mrs. Anna Airgood, and Mrs. Pearl Wilson were pictured with some of the candles made by members of the Brooks Homemakers Club.
Sonia Lutz was selected as Shepherdsville High School's 1966 Betty Crocker Homemaker of Tomorrow.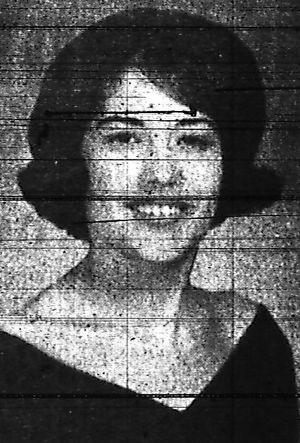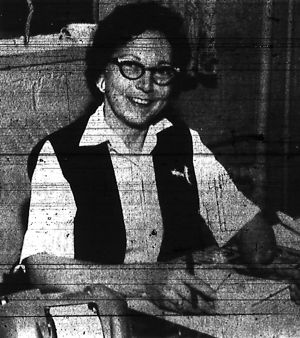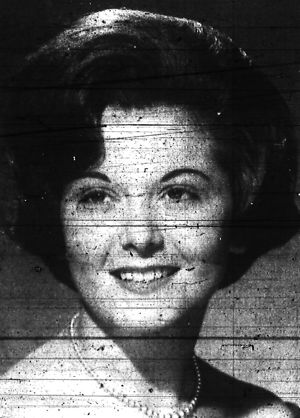 Sonia Lutz; Agnes Lee; and Burnell Pike
Mr. and Mrs. Tommy Shaw were entertained at dinner at Briarwood, the home of Mr. and Mrs. C. L. Lane.
Agnes R. Lee was appointed Quarterly Court Clerk and secretary to the county judge and county attorney. She had been the secretary at Shepherdsville High School.
Robert McDowell was a guest present at the dedication of the historical marker commemorating the naming of Bullitt County. Mr. McDowell did much of the early research on the history of our county.
Miss Burnell Pike's engagement to Mr. Norman Lemme was announced. A June wedding was planned.
And Mrs. Ida Holsclaw, "the world's oldest newspaper correspondent" was pleased to have Mr. and Mrs. Walter Crumbacker, Master Timmie Crumbacker, Mrs. Eva Garr, and Mrs. Betty Dever call on her on New Year's Day. Timmie played some hymns on his trumpet.
February 1966
An institution in local newspapers, Ida Holsclaw, age 105, died at her home on Zoneton Road. She had been a neighborhood correspondent for most of her life.
Mrs. Lena Hall, former Mt. Washington postmistress for about 30 years, passed away at the age of 88. She had been succeeded by her niece, Mrs. Corine Shehan.
Twenty-five Bullitt County 4-H members participated in their public speaking event. The champions, John Ice, Sheryl Cundiff, Karen Shaw, and Perry Robison, were pictured on the front page.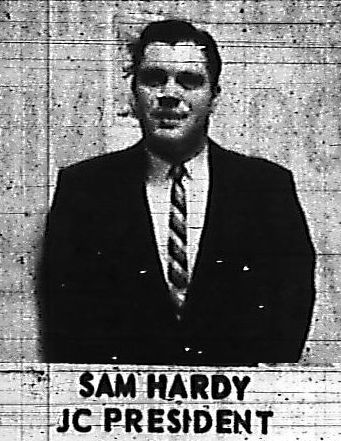 Dr. B. C. Moser, a local chiropractor, advertised his office at 104 East Second Street. Like many businesses, he was closed on Wednesdays.
In the Social News column we learned that Mr. and Mrs. Jimmy Roby hosted a Quail Dinner for their guests: Mr. and Mrs. Millard Roby; Mr. and Mrs. C. N. Tichenor and Gary; Mr. and Mrs. Louis Roby Sr. and granddaughter Cathy Crawford. A rook party followed dinner.
Jim's Little Giant grocery in Lebanon Junction was selling whole fryers at 29 cents a pound, and bananas at 10 cents a pound.
Tom Cunningham was selling Speed Queen washers and dryers in his Shepherdsville store. Remember that place?
Sue Powell was named chairman of the 1966 Easter Seal Campaign for Bullitt County.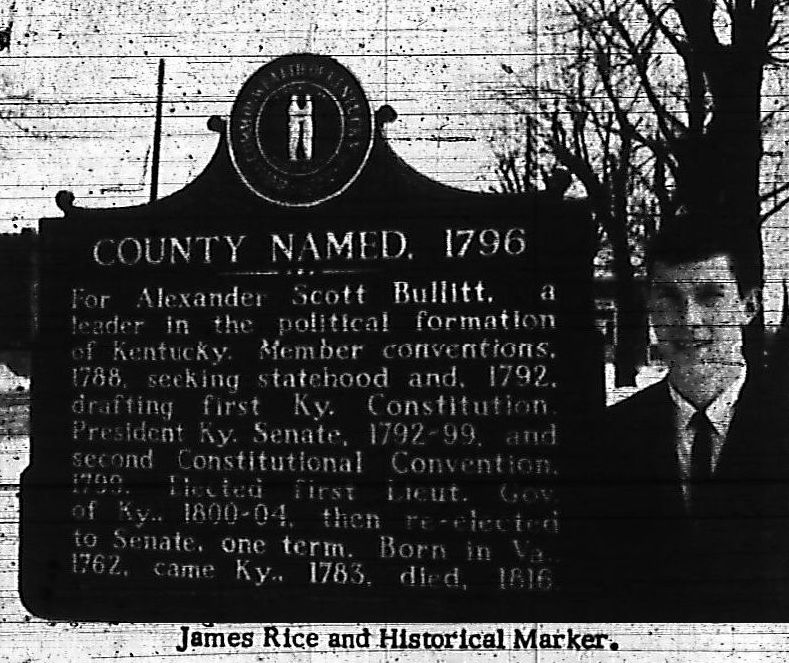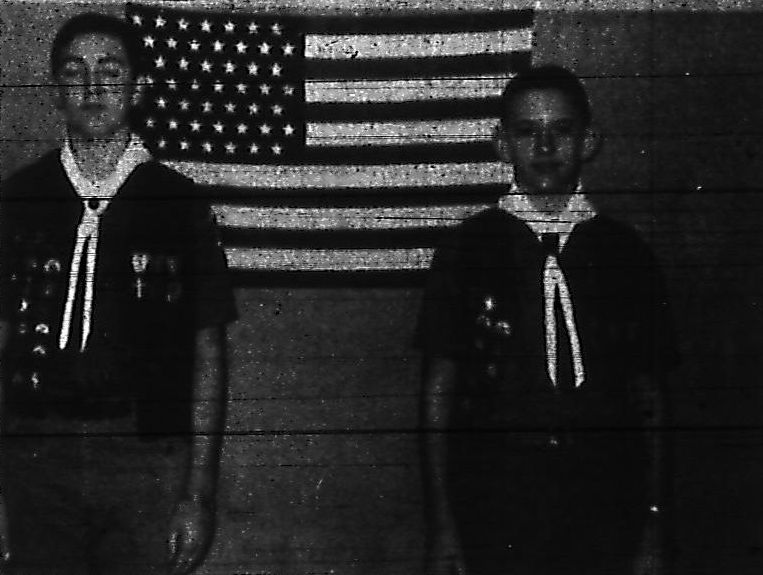 Sam Hardy was elected president of the Bullitt County Jaycees.
James Rice of Shepherdsville High School won first prize in the essay contest on Alexander Scott Bullitt. Rice was pictured next to the new historical marker in front of the Courthouse that honored the naming of the county.
The following eighth graders at S.H.S. made the third six-weeks first honor roll: Elise Givhan, Brenda Snellen, Sandra Marksberry, Ronny Milliner, Michael Tatchell, Sheri Mullins, Donna Holt, and Thomas Skaggs.
M. R. Hall, Jeweler announced that he would soon be moving from his Buckman Street business to his new building on Highway 44, across from Roby school.
Mrs. W. C. Lanham, Cedar Grove correspondent, wrote that Michael Miller was recovering from a bad case of measles. She also reported that Mr. and Mrs. Carroll Arnold had moved into their new home near the Cedar Grove Baptist Church.
The Social column mentioned that Mr. and Mrs. Edward Dugdale and son Timothy Edward had returned to their home in England following a visit with her mother, Mrs. Thelma Newman, sister Clara Newman, and aunt Ethel Newman.
And John Sansbury Jr., son of Mr. and Mrs. John Sanbury Sr, and Steven Heffley, son of Mr. and Mrs. Chester Heffley, were awarded scouting highest rank, as Eagle Scouts. I was pleased to be present at that ceremony.
March 1966
David Williams was pictured on the front page as he was a recipient of a scholarship at the University of Kentucky.
Adrain Jones' Bargain Shop moved to a new location on Beech Street in the Morrison Building, directly behind the post office.
D. B. Hardy of Mt. Washington purchased 17 registered Angus cows from Paul Fry of Bagdad, Kentucky.
Gladys K. Sprinkle, Mt. Washington news editor, reported that Shirley Kay Wise of Louisville and Guthrie Armstrong of Mt. Washington were married at the Methodist Church in Mt. Washington. Guthrie was the son of Mr. and Mrs. Myron Armstrong.
Williams Wrecking Service on Old Mt. Washington Road was offering new dressed lumber at $110 per 1000 feet.
Mr. and Mrs. Harold Grooms announced the birth of their daughter, Stephanie Lynn. Harold was a teacher at Shepherdsville High School.
In the 29th District basketball tournament first round, Lebanon Junction defeated St. Aloysius 97-62. Mike Duckett had 25 points for LJ while Robbie Masden added 23. Andy and Donnie Dawson combined for 49 of St. A's points.
In the second game, Shepherdsville defeated Mt. Washington 84-71.Craig Larimore had 34, Bill Hornung 24, and Tony Lee 16 points for the Rams. David Mason had 34 and Billy Bass 16 for the Generals.
In the final game, the Bulldogs defeated the Rams 67-61. Robbie Masden had 20 and Bill Sullivan 17 for LJ; Hornung scored 20, Larimore 13 and Lee 13 for the Rams.
The paper reminded folks that the Bullitt County Historical Commission was seeking materials that help define the county's history. Commission members included Ivy T. McBride, Thelma Newman, Nancy Strange, Stuyler Harris, Athol Lee Taylor, Mrs. Stewart Beeler, Mary Combs, and Tom Pack.
Bobby Hall was recognized in the paper for completing two degrees from Western Kentucky University, one in agriculture and one in accounting, all in five years.
Bill Bass won a transistor radio in a drawing on radio station WKLO.
Pamela Joy Horrell received a $25 savings bond for winning first place in the county Soil and Water Conservation Essay Contest. She was pictured receiving it from Ray Becknell.
Charles C. Sanders, son of Mr. and Mrs. C. V. Sanders, and a graduate of S.H.S., was pledged to Centre College's Phi Kappa Tau fraternity.
Vickie Ann Sprinkle of Mt. Washington earned the title of Kentucky's Junior 4-H Cornmeal Champion.
At the Lebanon Junction P.T.A. Founders Day celebration, Mrs. S. R. Raney and Mrs. John L. Thompson were recognized as the only two ladies still residing in LJ who were P.T.A. presidents prior to 1936.
Kathryn R. Miller retired as mail carrier of route 3, Shepherdsville, after 30 years of service.
Need a truck? Mack's Truck Sales, one-half mile north of Mt. Washington, was looking to sell you one.
Bill Fischer, down at Fischer's Sporting Goods in Shepherdsville, had camping trailers for rent or sale; and he would fix your rod and reel good as new.
Shuffett's Rexall Drug Store advertised that they were moving locations. Who remembers where they were, and where they moved?
And, Sam and Joe down at the Hardy & Mooney Auto Supplies were having a special spring battery sale.
April 1966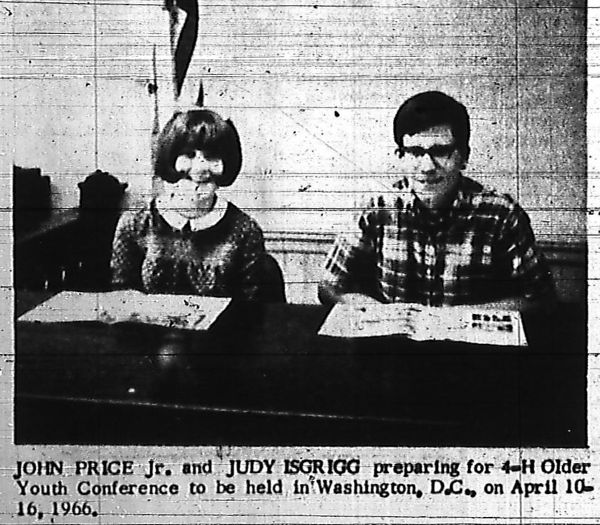 Judy Isgrigg and John Price Jr. were delegates to the 4-H conference in Washington, D.C.
Jimmy Hardy served as master of ceremonies at the annual Cancer Dinner. Victor Scholis was the guest speaker.
Neil Brooks Williams was home following surgery for an appendectomy.
The paper reported that Mikel Carrier of Shepherdsville was a fireman aboard the USS Sheldrake, an oceanographic survey ship.
Pleasant Grove Baptist Church held a revival with Pastor Jim Spaulding bringing the messages and Waldo Gentry leading the music.
Mrs. W. C. Lanham of Cedar Grove reported that Mr. and Mrs. Hubert Binder of Louisville had purchased the Sam Greenwell farm.
There were 33 guests present as P. A. Hester celebrated his 75th birthday.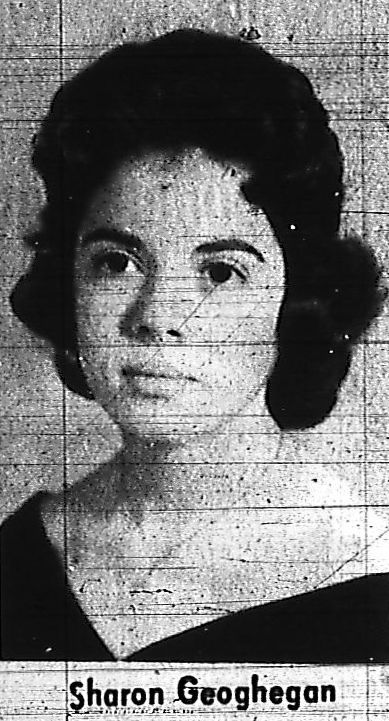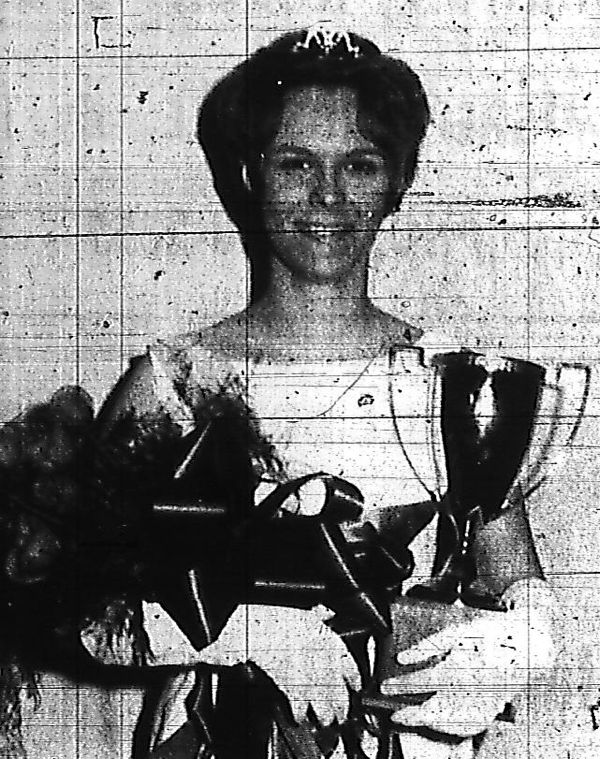 Susan Watkins
Reporter Debbie Armstrong reported that the Roby 4-H 5th Grade Club met. Janet King, Lola Shepherd, Renee Larimore, and Rebecca Armstrong gave a demonstration on fudge and non-bake cookies.
The regular meeting of the Overdale P.T.A. was opened with a flag ceremony led by Girl Scout Troop 303. John Hardwick gave the devotion, and Joe Herde and the band entertained with several songs.
John Lee & Sons were doing the grading, and Mac Construction Company of Lebanon Junction was the general contractor as the Beam Distilling Company began a major expansion.
State Senator J. D. "Jiggs" Buckman announced his candidacy for the Democratic nomination for Governor.
Sharon Geoghegan of Lebanon Junction represented her school in an essay competition sponsored by the Armor Center Civic League at Fort Knox.
M. R. Hall, Jeweler, moved into his new store building across from Roby School, while Shuffett Rexall Drug Store moved into the first floor of the Masonic Building at the corner of 44 and Buckman Street. Gagel Furniture & Appliance occupied the building vacated by Shuffetts near Second and Buckman streets.
Wayne Crenshaw, Jerry Croan, and Larry Coy were injured in an automobile accident, but none seriously.
Miss Susan Watkins was selected as Miss Bullitt County at the Beta Club Contest in the Shepherdsville gym. Miss Nan Williams placed second, and Miss Faye Bacon was third.
Mr. and Mrs. Jack Williams of Lebanon Junction had the pleasure of having all of their family at home for Easter. Mr. and Mrs. David Dawson were there from Bowling Green; as well as Mr. and Mrs. Johnny Williams and son from Mt. Washington.
And a $100,000 blaze destroyed the Shepherdsville High School gym. The nearby old school building escaped damage. The gym, built under the leadership of Professor Jack Sanders, was a memorial to Veterans of World War II. That building had a lot of history. The Memorial Plaque that was saved from the fire is now on display at the Bullitt County History Museum in the Courthouse.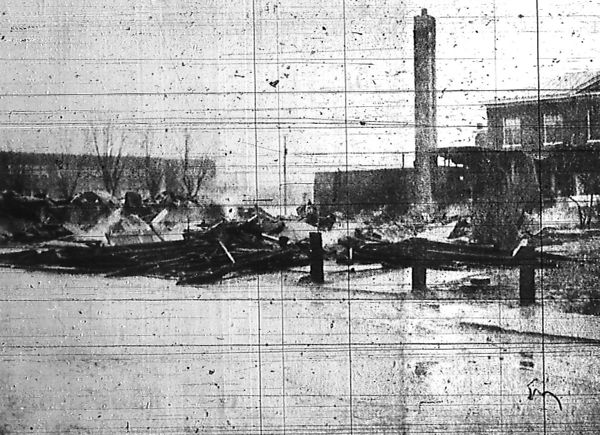 Shepherdsville High School Gym Destroyed
May 1966
The Cedar Grove correspondent reported that Mr. and Mrs. Gilbert Vincent and daughter spent a Sunday with Mrs. Vincent's parents, Mr. and Mrs. John Warden of Belmont. It was Mrs. Warden's birthday.
She also reported that Mrs. Betty Arnold, Mrs. Elizabeth Price, Mrs. Evelyn Kurkendall and Mrs. Nancy Lunsford all enjoyed a picnic at Bernheim Forest.
Mrs. Thelma Newman presented the gavel to Mrs. Lucille Warren, as Mrs. Warren became the Woman's Club president for the coming year.
Lebanon Junction news included the report that Bernard Ray Boone, son of Mrs. Amy Boone and the late John C. Boone, graduated from Bellarmine College with a degree in secondary education.
Cary's Garage, near Belmont, would rebuild your transmission, starting at $75.00.
Out Hebron way, Mr. and Mrs. J. B. Shelburne entertained guests at a cook-out, including Mr. and Mrs. Dudley Shelburne, Miss Elizabeth Gardner, and Mrs. Bettie R. Johnson.
That reporter also said that little Robin Ann Holsclaw had the mumps, and little Debbie Overstreet had chickenpox.
The Hebron Weekday Preschool children were pictured with their teacher, Mrs. J. W. James. Children pictured included Randy Fox, Dawn Flower, Steve Gentry, Angela Troutman, George Bailey, Shirley Ann Price, Michael Edrington, Lynne Firkins, Keith Bailey, Donna McAdams, Jerry Bohart, Jennifer Willoughby, Mike Cravens, Toni Davis, Bradley Moore, Lee Ann Gardner, Andy Crumbacker, Keli Harden, Pamela Jackson, and John Gleason.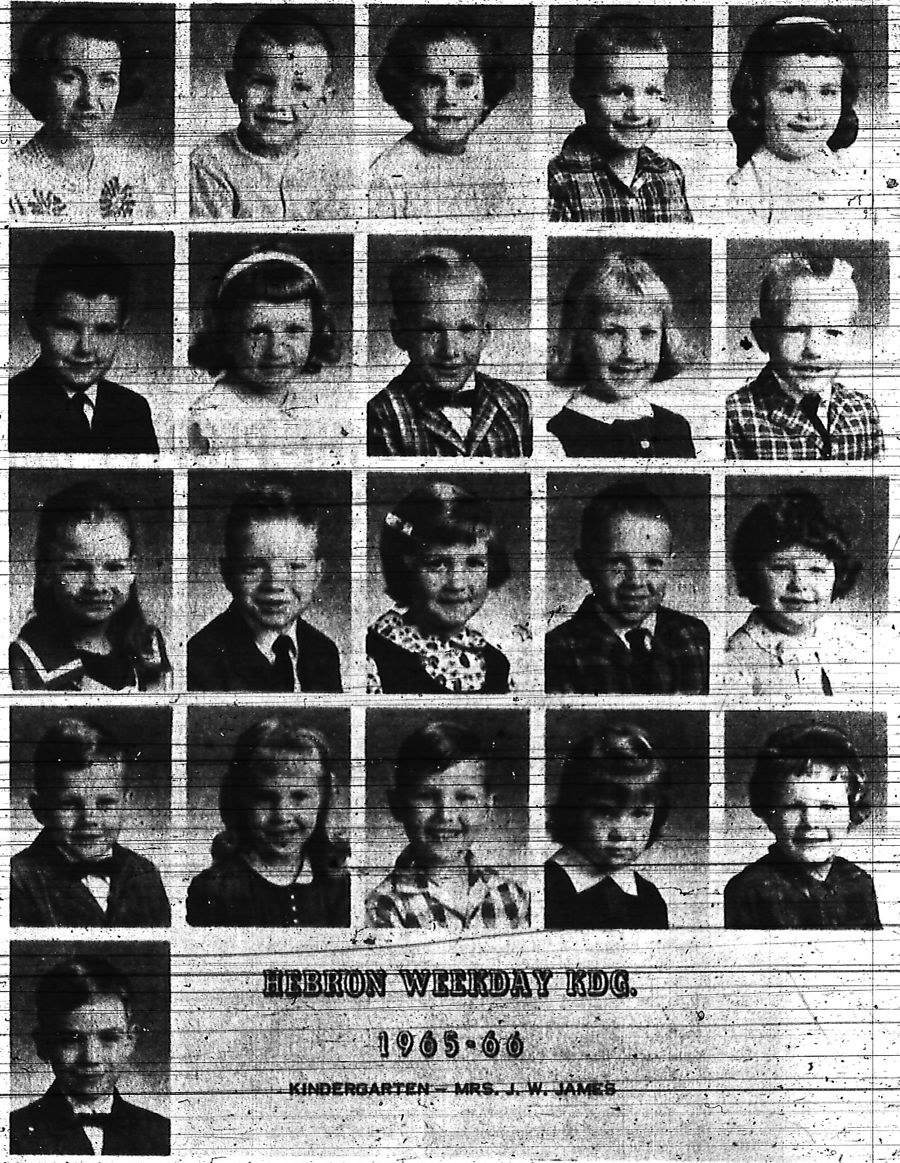 Mrs. Mary B. Wise retired after 42 years of service in the Bullitt County Schools. She was head teacher at the Lebanon Junction Elementary School.
The new Boy Scout Troop 5 reported that it had already been on two hikes and two overnight trips, and was looking for new recruits. It's current members were Ted Brasham, David Lee, Mike Hasty, Wayne Moore, Mike Mayes, Terry Etherton, Johnny Miller, Charles Porter, and Jimmy Hall; with Stevie Hart and James Porter ready to pass their Tenderfoot requirements.
The Shepherdsville F.F.A. Chapter elected officers, including President Gene Crigler, Vice President David Cox, Secretary Daryle Bowman, Treasurer Gerald Fulkerson, Reporter Leeland Stevenson, and Sentinel Larry Miller.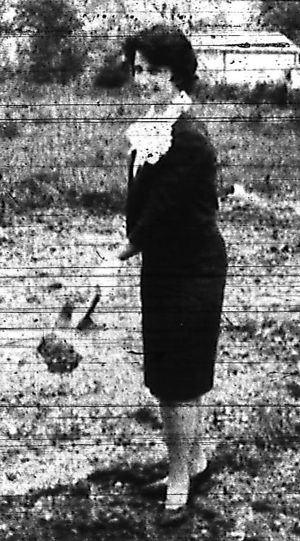 The Junior F.F.A. Officers, who will take office the next year included President John Price, Vice President Charles Tracy, Secretary Mike Perry, Treasurer Roy Hobbs, Reporter Charles Bowman, and Sentinel Kenneth Young.
Mrs. Nan Plenge (shown here) was pictured turning the first spade of soil for the new Health Center.
Mrs. Violetta Jones, Mrs. Eva Graham, and Mr. and Mrs. Norman Bridwell spent a weekend in the Smokey Mountains.
At the Shepherdsville F.H.A. meeting, Pamela Wilson led the group in singing Happy Birthday to their advisor, Mrs. Underwood. Chapter members present included Judy Hicks, Janet Ashbaugh, Wanda Bennington, Treasa Young, Bonnie Ferguson, Eva Phillips, and Lucy Hazelwood, among others not named.
Boy Scout Troop 365 participated in Scout-O-Rama. Their booth received a blue ribbon. Scouts Barry Watson, Rick Adams, Joe Cundiff, and Larry Buchanan won a blue ribbon in the chariot race.
Ben F. Robards announced that Lloyd A. Tichenor's farm was selected as Bullitt County's Safe Farm Family in the Kentucky Farm Safety Contest.
4-H members Linda Tate, Charlene Holsclaw, Carol Metcalf, Becky Becnel, Gail Becnel, and Jimmy Dawson were preparing for a trip to Europe.
And Shelburne Cleaners & Laundry on Buckman Street wanted to be your tuxedo rental headquarters!
June 1966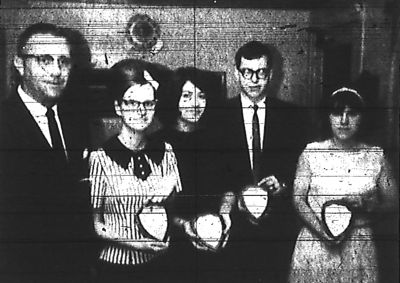 Ray Becknell, president of the Shepherdsville Lions Club, presented recognition plaques to the Valedictorians and Salutatorians of Shepherdsville High School and St. Aloysius School. They were Rhonda Hoagland and Sonia Lutz (S.H.S.) and Larry Robey and Diane Kraus (St. A).
In the L.J. and Colesburg news, Mrs. Hallie French and Pearl and her son, Ernest French and family spent Memorial Day weekend at their home place on Colesburg Road, where they entertained the Louisville band of which Mr. French is leader.
The following St. Aloysius High School students were the graduating class of 1966: James Berry, Peggy Brady, Marvin Dennis, Richard Gutermuth, Vickie Hodge, Diane Kraus, Mary Lucy Kenny, Daniel Morrison, Norma Pendleton, Ken Puckett, and Larry Robey.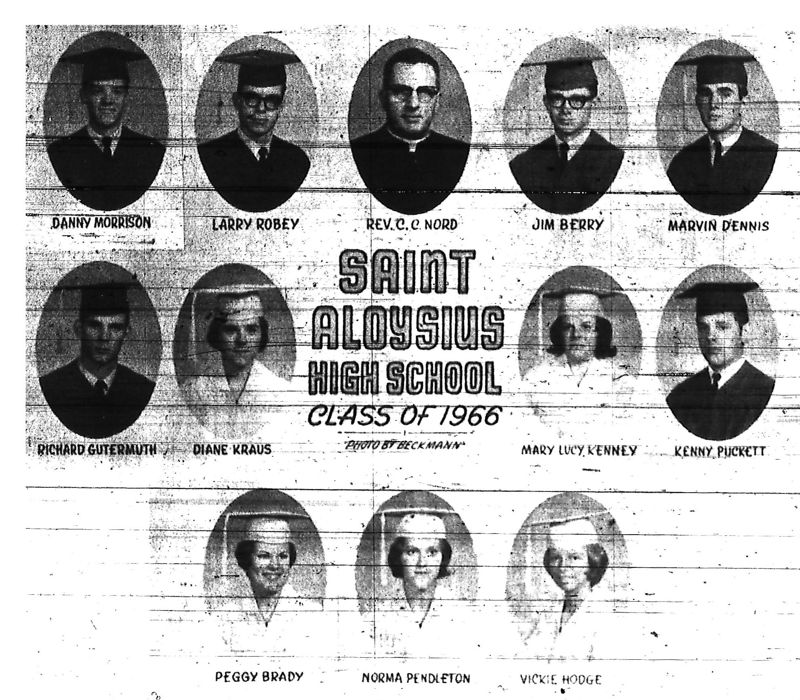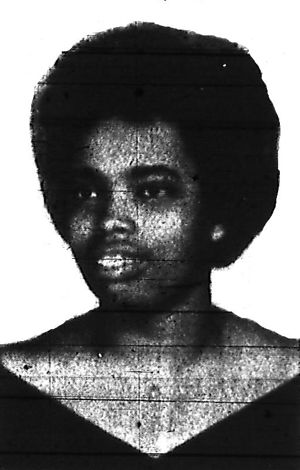 Frances Masden
Frances Masden, 1966 graduate of Shepherdsville High School, was awarded the Crisco Trophy for her outstanding achievement in Home Economics and the Future Homemakers of American organization. The award was presented to her at the F.H.A. Mother-Daughter Banquet by Mrs. Helen Underwood, her teacher.
The Shepherdsville Recreation Park provided recreation and handicrafts for children ages 6-12 under the supervision of Betty Hartley, a teacher at Shepherdsville High School.
The Mt. Washington Generals baseball team members were pictured following their trip to regionals. They included Billy Bass, Gary Middleton, Gary Armstrong, Tommy Fulkerson, Mike Owen, Aaron Armstrong, Murray Clark, Joe Johnson, Dale Gordon, Bob Switzer, David Marksbury, Joe Lentz, Bill Dawson, and Chip Wiggington. They were coached by Lloyd Mullins.
The six 4-H'ers from Bullitt County who were going to Europe were pictured in the paper. They included Charlene Holsclaw, Linda Tate, Gail Bechel, Jimmy Dawson, Becky Becnel, and Carol Metcalfe.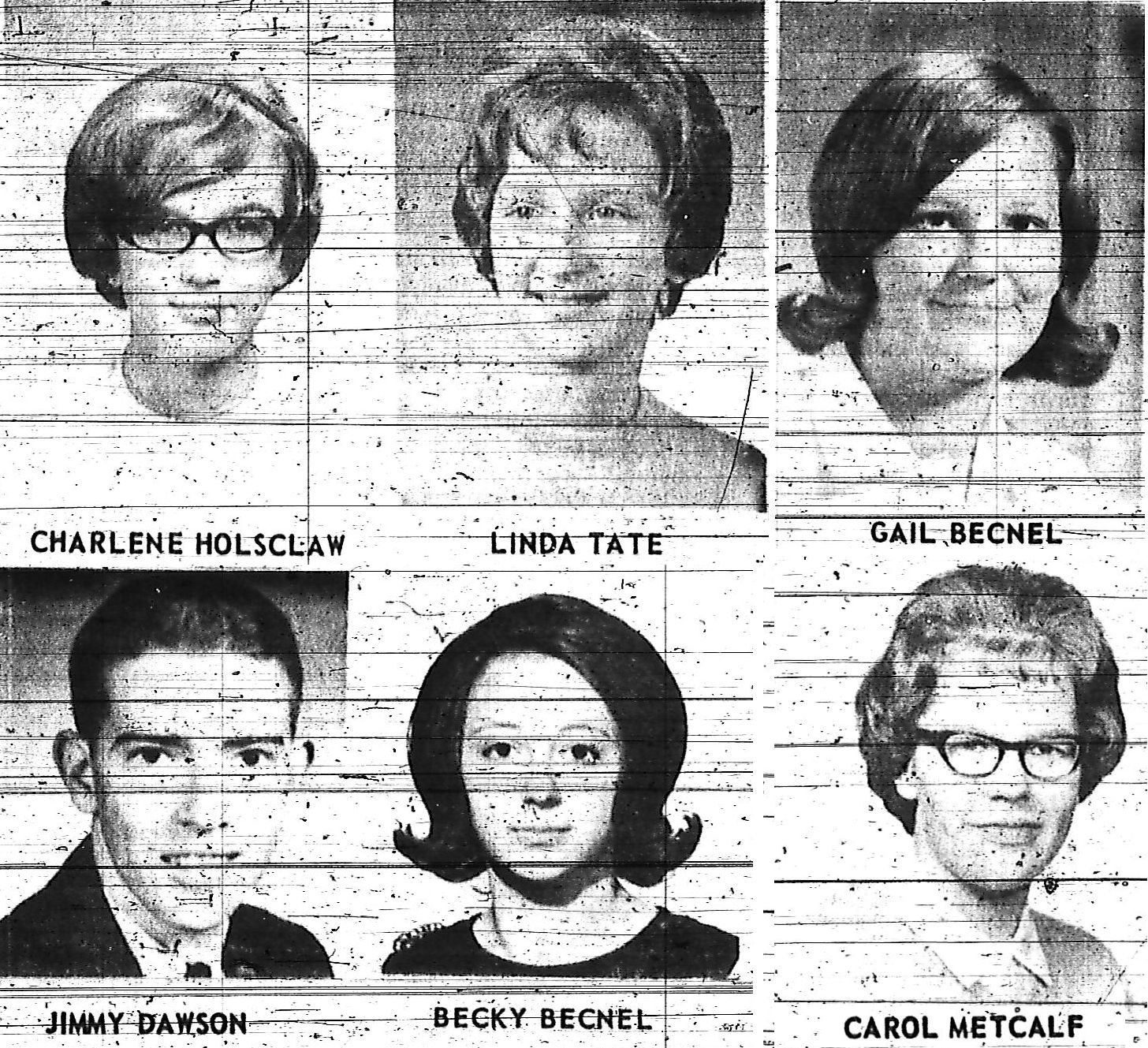 Charles A. Long opened a full-time insurance agency in Shepherdsville near the courthouse.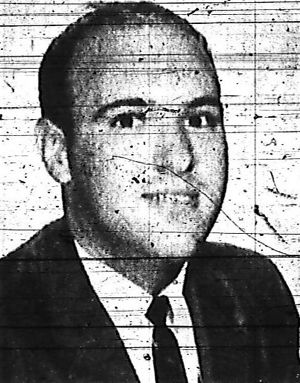 Sidney Myers
Peggy Troutman
Sidney Ray Myers graduated from the Southern Baptist Theological Seminary with a masters of religious education degree. Myers was a 1964 graduate of Georgetown College.
Leon Eskridge was sworn-in as Bullitt County Conservation Officer by Judge Neil Farris.
The Hebron Newsletter reported that a gasoline fire nearly destroyed the bus belonging to Little Flock Church. Also reported was that Dave Crumbacker celebrated his 91st birthday with some 50 members of his family.
Charlie Sanders of Brooks finished second in the College Athletic Conference golf tournament. He was a freshman at Centre College.
Jim Bruce Bunce of Clermont graduated from the Stockbridge School of Agriculture at the University of Massachusetts.
Miss Peggy Troutman graduated Magna Cum Laude with a degree in elementary education from Campbellsville College. Peggy, the daughter of Mr. and Mrs. Roy W. Troutman, was doing summer mission work in New Mexico.
A 48-inch rattlesnake was killed on the George Kipp farm near Belmont. It had 17 rattlers and a button. The Kipps lived on Horse Fly Hollow road near Fort Knox.
M. R. and Rose Hall opened their new jewelry store across the street from Roby School. My, how the time flies.
And the paper noted the celebration of the golden anniversary of a double wedding. Pictured were Mr. and Mrs. Walter M. Heizer and Mr. and Mrs. B. F. Bryant who were married in a double wedding ceremony on June 22, 1916. Mr. Heizer was with the Lebanon Junction bank before moving to Louisville. Mr. Bryant was a conductor for the L. & N. Railroad. The two ladies were sisters.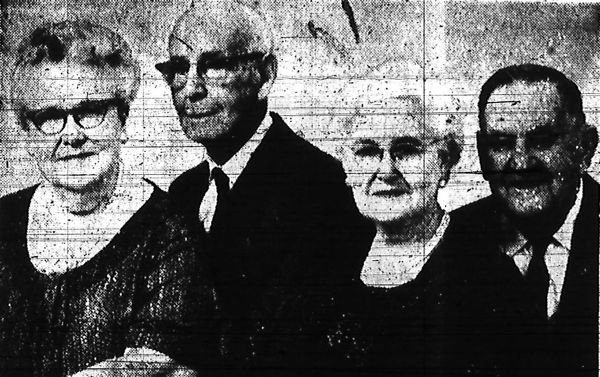 July 1966
Mrs. Frank Koeberlein, 4-H leader, was pictured instructing Jackie Koeberlein, Mitchline Wheatley, and Linda Wiedemer in dog showmanship. Mitchline's German Shepherd dog "Swatz" placed first in her division at the Jefferson County 4-H Open Show.
Robert Bristow of Shepherdsville won the A.T.A. Kentucky Handicap Trap Shoot event at Vine Grove. He was also the runner-up in the State Singles Championship.
In social and personal notes, Mr. and Mrs. George Laswell purchased the Napier house on Lee Street in Shepherdsville; Mr. and Mrs. Charles Holsclaw spent a weekend at Cumberland Falls; and Audrey Jane Price became engaged to Norman Roy Kulmer.
From the Cedar Grove newsletter we learned that Mr. and Mrs. Hugh Maraman and Lenny and Davis and Don Maraman spent a Sunday with their daughter, Mrs. Paul Allen of Louisville. Other relatives present were Mr. and Mrs. Don Shelton, Mr. and Mrs. Charles Lambe, and Mr. and Mrs. Calvin Boyd.
Maynard D. Jasper, prominent Mt. Washington businessman, died July 2nd. He had retired from his firm of Mt. Washington Central Garage several years ago. He was one of the original members of the Mt. Washington town board following the town's incorporation.
In Lebanon Junction and Colesburg news, guests for Mrs. Myrtle Kappell for the 4th of July were her daughter Mrs. Sue Levin and her daughters Paula Ann and Lesa Marie of Des Plaines, Illinois. Other guests were Mr. and Mrs. Rex Kappell and son Dwayne, and Mr. and Mrs. Raymond Kappell.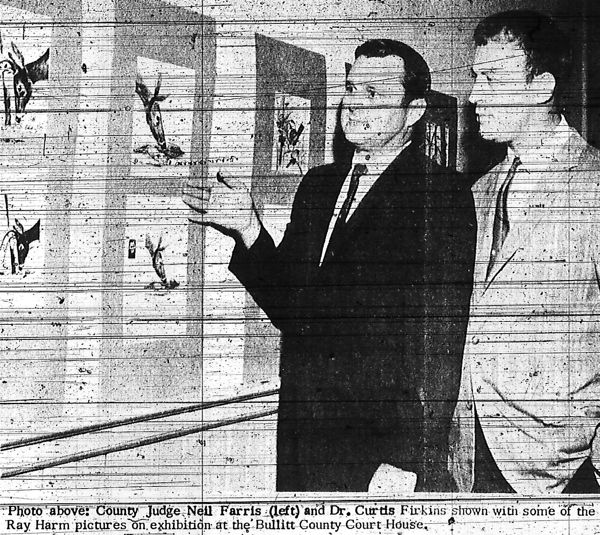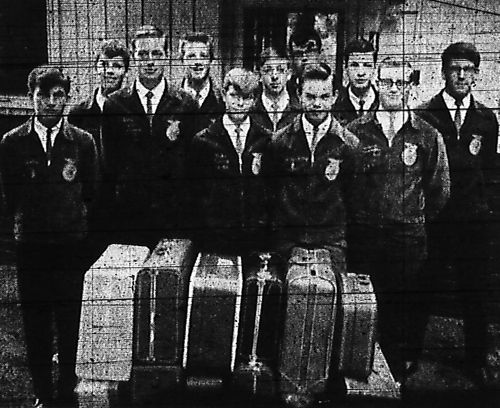 Mary C. Holsclaw reported from Hebron that Overdale Boy Scout Troop 20 was spending a week at Rough River. She also reported that Mrs. Fred Elder had completed her course as nurse's aide and was working at Methodist Hospital
In Mt. Eden news, Dwight and Dent Able spent a week at Kentucky Lake; the church girls from primary through intermediate were camping at Twin Lakes with Bro. and Mrs. Melvin Holland; and Mrs. Mary Dawson spent a weekend with Mr. and Mrs. Joe Meadley and family.
County Judge Neil Farris and Dr. Curt Firkins were pictured on the front page admiring the Ray Harm prints exhibition in the courthouse.
The officers of the Shepherdsville F.F.A. Chapter attended the leadership training camp. Those attending and pictured in the paper were Roy Hobbs, Gene Crigler, Mike Perry, Charles Tracy, Leeland Stevenson, Charles Bowman, Kenneth Young, Larry Miller, Daryl Bowman, Gerald Fulkerson, and John Price. Gene Crigler, president of the group, received the leadership award.
The Bullitt County Board of Education announced several changes in staff. Thomas Jeffries, school superintendent, was taking a leave of absence to complete his work on his doctorate degree, and Frank Hatfield, Shepherdsville High School principal, became acting superintendent. Roger Phelps moved up from assistant to the principal of S.H.S. His assistant would be John G. Lovell of Greenville. In addition, Billy Horrell, Roby Elementary's principal, moved to the central office as assistant superintendent, and he was replaced at Roby by Woodrow Masden who had been principal at Nichols. William Bishop, a Lebanon Junction teacher, became Nichols' principal.
And Mr. A. F. Armstrong, 85, was declared the oldest blacksmith in Bullitt County. Mrs. Albert Armstrong was also declared the oldest member of the Peaceful Valley Riders Association.
August 1966
Steven Heffley, Richard Sansbury, Barry Watson, and Assistant Scoutmaster Earl Cundiff of Troop 365 were inducted into the Order of the Arrow Honor Society.
Lucy Hazelwood and Pamela Wilson of S.H.S. attended the F.H.A. leadership conference at Hardinsburg. Also attending was their advisor, Roberta Crafton.
Janice Riggs made the Dean's List at Berea College. She was a S.H.S. graduate.
The Belmont correspondent was happy to report that Mr. and Mrs. Calvin Rice were both home from the hospital. Calvin had surgery and Nora Lee had a broken foot.
Mr. and Mrs. Wallace Richardson spent a weekend at the Pine Mountain Park where they saw a performance of "The Book of Job."
Miss Cora Ney Hardy was guest of honor at a dinner held at the home of Mary C. Holsclaw, given by members of the local Hardy Circle.
Mrs. W. C. Lanham of Cedar Grove reported that Mr. and Mrs. Jerry Whitworth and son, and Mr. and Mrs. Lloyd Maraman spent a day touring eastern Kentucky.
Jiggs Buckman, candidate for the Democratic nomination for governor, was pictured at the annual Fancy Farm picnic.
Marilyn Rouse of Mt. Washington graduated with honors from Western Kentucky University.
Young 4-H tractor drivers were pictured in the paper. They included Jerry Price, Garry Myers, Terry Price, Orville Walls, Ricky Caple, Timmy Myers, John Price Jr., and Ted Korfhage.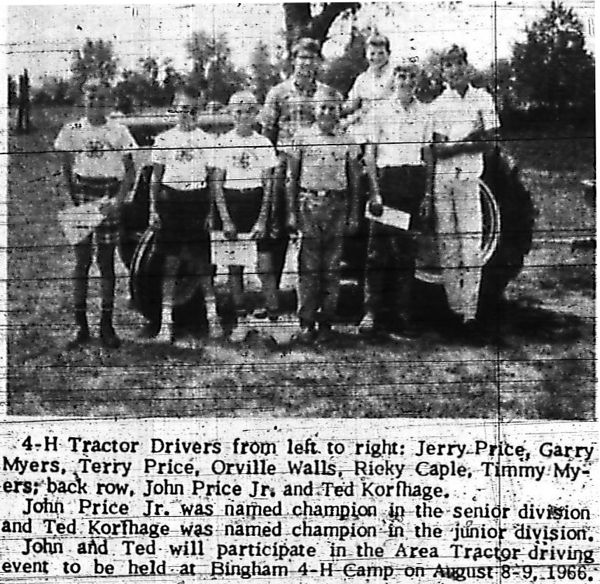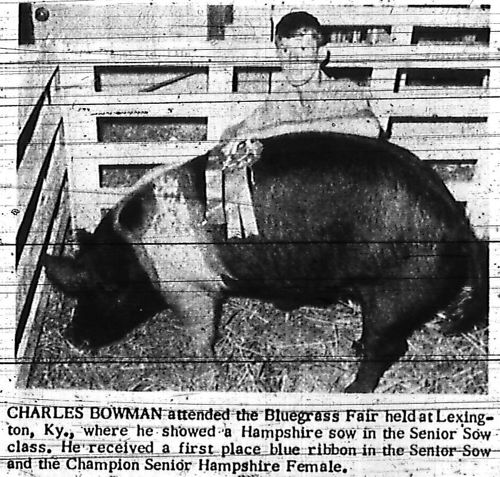 Charles Bowman was pictured with his award-winning Hampshire sow. He received a first place ribbon in the Senior Sow and the Champion Senior Hampshire Female.
The Lebanon Junction correspondent reported that Mrs. Grace S. Mooney and Mr. and Mrs. J .S. Fendall entertained Miss Frances McAllister at the Maples. She also reported that Mrs. Robert Bigelow held an open house for Mrs. Pearl Hammontree who was 86 years old. Mrs. Hammontree was the mother of Mrs. Geneva Hocker.
In social notes, Mrs. Marie Maraman called on Mrs. Myrtle Barrall, Mr. and Mrs. Arthur Weller moved into their new home, and the homecoming at Clermont Baptist Church was well attended.
A fire destroyed a barn belonging to Burks Williams.
J. H. Sanders, who taught at and led S.H.S. many years ago, was interviewed in the paper. Although he was 85 years old, he still substituted as a teacher on occasion.
C. H. Skelton, a former pastor of the Davidson Memorial Methodist Church, preached there on August 21st.
The Shepherdsville Rams cheerleaders were pictured in the paper. They were Sherry Davis, Karen Cundiff, Marilyn Mann, Carol Korfhage, and Brenda Heath.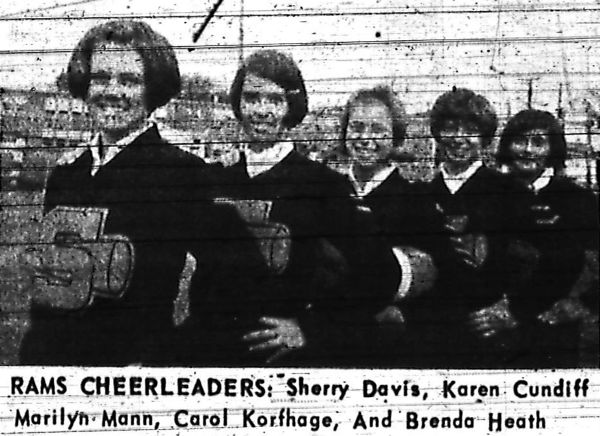 And, while Mr. and Mrs. Joe Mooney vacationed in the Smokies, their little son, age 3, celebrated his birthday by visiting both his grandparents.
September 1966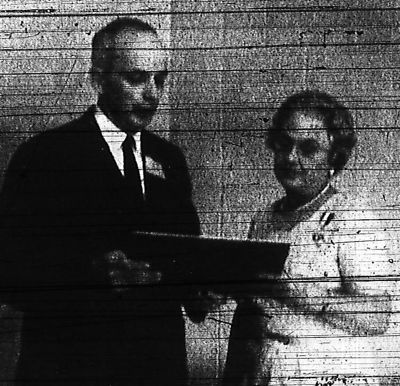 Thomas Jeffries & Mary McClure
Mrs. Mary McClure of Mt. Washington was honored by the Freedom Foundation for her exemplary citizenship qualities as evidenced by her teaching. She was presented with a plaque by Superintendent Thomas Jeffries.
Mrs. Jane McAfee, Mrs. Nell Porter, and Miss Edna Lake greeted third graders to the Mt. Washington school; while the fourth graders were greeted by Mrs. Myrtle Ruth Harris, Mrs. Frances Armstrong, and Mrs. Beryl Porter.
The 1933 S.H.S. graduating class held their reunion at the home of Mr. and Mrs. Charles Croan. Those present included Mr. and Mrs. W. L. Napier, Mr. and Mrs. Freddie Sadler, Mr. and Mrs. Louis Crigler, Mr. and Mrs. Otis R. Ratliff, Mesdames Maurice Crigler, Mildred Robards, Wilma Hatfield, Miss Helen Rhea, Mr. Edward Deacon, Mr. and Mrs. Arthur Church, and Mr. and Mrs. J. E. Smith.
The Lebanon Junction correspondent reported that Mr. Herbie Koch was leaving Kentucky to travel to Stone Mountain GA where he would be in charge of what was probably the world's largest carillon. Both Miss Frances McAllister and her niece, Mrs. Dunlap Roney studied with Mr. Koch.

Mrs. Melissa Ormes
Mrs. Mary C. Holsclaw reported that Bill Roby won a trip to Tokyo, and that Larry Roby won a scholarship to the University of Kentucky.
Margaret Foster of Bardstown Junction reported that Mrs. Ruby Bergen of Akron, Ohio, Mrs. Dee Bergen of Shepherdsville, and Mrs. Edith Cundiff of Bardstown Junction spent a day visiting with Mrs. Inez Williams.
Clyde N. White and Charles C. Myers were selected to be the first guidance counselors for Bullitt County's high schools.
Bullitt County boys did well in FFA competitions at the State Fair. James Frans placed 6th out of 103 participants in the seed identification and judging contest. Charles Bowman placed third in the Brown Swiss Junior Calf competition, and Daryl Bowman placed second in the 3 year old Brown Swiss Cow division. John Price Jr. earned a red ribbon in the Angus Heifer division. Charles Bowman won in the Senior Hampshire Sow division. Dalton Lundy showed three Duroc hogs and took home a blue and two red ribbons. Finally, Charles Bowman, Leeland Stevenson, and Gerald Fulkerson placed third in the FFA Meat Judging Contest.
Wayne Thomas Kappel received his diploma from the Kentucky School of Mortuary Science, and was serving his apprenticeship in Campbellsville.
The following students were 4-H Area Champions: John Price, Linda Tate, Peggy Isgrigg, Steve Tichenor, John Ice, Carol Metcalf, Gail Becnel, and Jimmy Dawson.
Mrs. Melissa Ormes of Lebanon Junction celebrated her 99th birthday. She was the widow of Phillip Ormes and mother of Mrs. Leona Spillman.
James E. Underhill was selected as president of the Nichols P.T.A.
And I wonder if Eric Farris remembers sitting in the Governor's chair when he and his Dad visited Frankfort?
[He does! And he shared this pic with me.]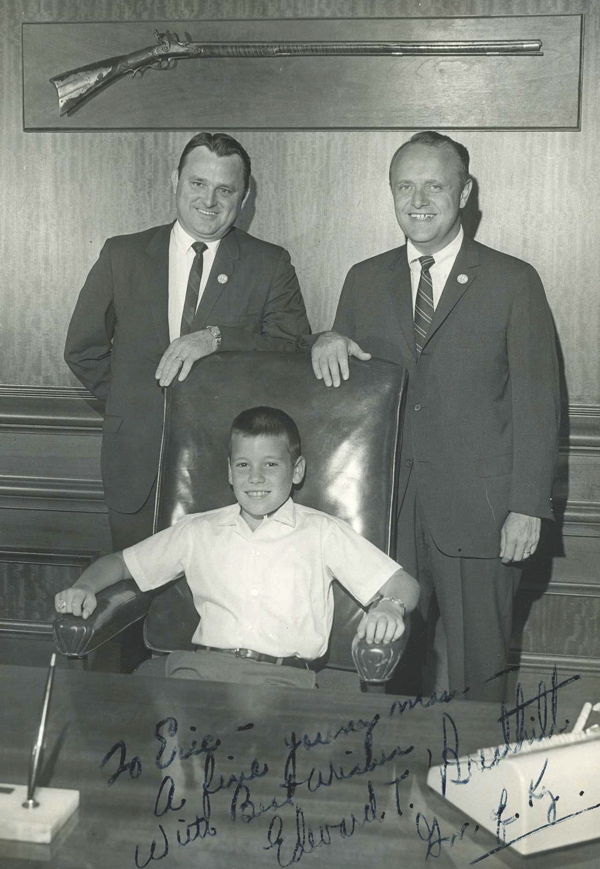 October 1966
The following Scouts of Shepherdsville Boy Scout Troop 5 attended their first camporee at Otter Creek: Mike Mayes, Mike Hasty, Tommy Baker, Curtis Howlett, Terry Etherton, Charles Porter, Ronnie White, and Ted Brabham.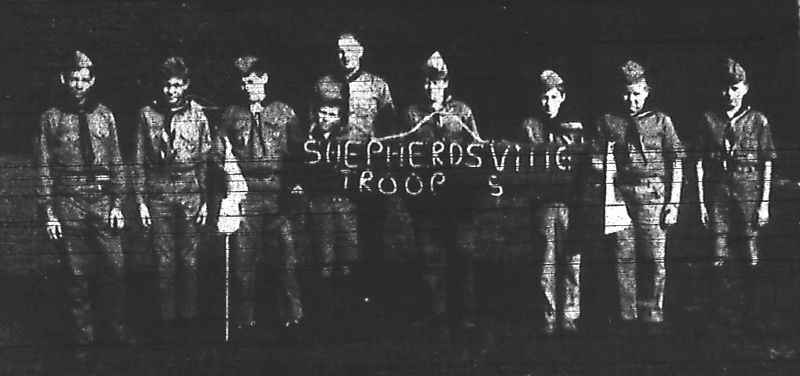 Then the troop went on a 15 mile hike at Perryville Battlefield with the following boys completing the hike: Mike Mayes, Mike Hasty, Thomas Baker, Ronnie White, Lewis Skidmore, James Hensley, Johnny Miller, Jimmy Hall, Terry Etherton, Curtis Howlett, Wayne Moore, and Steve Hart.
Gladys K. Sprinkle, Mt. Washington correspondent, reported that Mrs. Beatrice Porter, a teacher at Mt. Washington Elementary, was involved in a car accident.
She also reported that a surprise golden wedding anniversary party was given in honor of Dorsey and Edith (Gentry) Hall by Mr. and Mrs. Gene Hall.
The Shepherdsville Rams defeated Shelby County 12-6 with Ray Hammond carrying the ball for the final touchdown. Then they won their homecoming game, outscoring Henry County 33-26. Marilyn Mann was selected as the homecoming queen. And quarterback Richard Fetty and halfback Ray Hammond were selected as players of the week.
Mrs. W. C. Lanham, the Cedar Grove correspondent, reported that Mr. and Mrs. Walter Hilton and Mr. Bill Hilton spent a Sunday with Mrs. Cora Jane Greenwell. Also Mrs. Annie Bolton and Mr. Bob Grant spent a week with Mr. and Mrs. Enoch Webb.
In the Social & Personal Notes column we learned that Mr. and Mrs. Will Shelton of Ohio spent a day with Mr. and Mrs. Bill Goodin; Miss Judy Hatfield spent a weekend with her mother, Mrs. Stella Goodin and family; and the Roby P.T.A. officers included Mrs. Barbara Griffis, Mrs. Thomas Waller, Mrs. Betty Skaggs, and Mrs. Polly Cundiff. Mrs. Belcher's fourth grade class won the banner for having the most parents present. Also, Rizoy's Grocery on the Deatsville and Cedar Grove Road was sold to Mr. and Mrs. English.
Douglas and Ethel (Jenkins) Robards celebrated their 50th wedding anniversary. They had spent their entire married life on a farm in the Hebron community.
The Hebron correspondent, Mary C. Holsclaw reported that Mrs. Cora Edwards and Mrs. Myrtle Arnold were guests of Mrs. William Becker Sr, and Miss Dora one day.
In Belmont news, we learned that the Belmont Saddle Club had a trial ride attended by Mr. and Mrs. John Cornett, Donnie and Tommy Etherton, Bruce, Stanley and Sammy Hefley.
Bullitt County Jaycees Arthur Daniels, Cecil Shepherd, Norman McAdams, Tom Waller, and Curt Firkins were pictured in an article about purchasing road signs.
The following Bullitt County Homemakers attended a meeting of the Kentucky Federation of Homemakers at the State Fairgrounds: Mrs. Marguerite Clark, Mrs. Henry Kneisler, Mrs. Lawrence Howlett, Mrs. Hallie Hamilton, Mrs. Ann Newton, Mrs. John Price, Mrs. Mattie Rensel, Mrs. Charles Koerner, Mrs. Ike Neal, Mrs. Paul Jones Sr., Mrs. Charles Holsclaw, Mrs. Bill Steedly, Mrs. Shirley [Armstrong?], Mrs. Kenneth Hall, Mrs. Harvey Hubbard, Mrs. Athol Lee Taylor, Mrs. Ralph Lee, Mrs. Edd Apple, Mrs. Lester Riskel, and Mrs. Lucille Warren.
Harold Grooms was selected by the Bullitt County Jaycees as Bullitt County's Outstanding Young Educator. He was the vocational agriculture teacher at S.H.S.
Ten local students were attending Campbellsville College. They included Phyllis Engle, Rhonda Hoagland, Eugene Hogg, and Jim Marsh of Shepherdsville; Mary Marcum of West Point; and Robbie Masden, Tad Murray, David Roberts, Glenda Routon, and Ray Van Meter of Lebanon Junction.
And the TV lineup on WLKY for Friday, October 28, was The Green Hornet, followed by The Time Tunnel, the Milton Berle Show, the Wackiest Ship in the Army, and local news with Ken Rowland. Remember any of these?
November 1966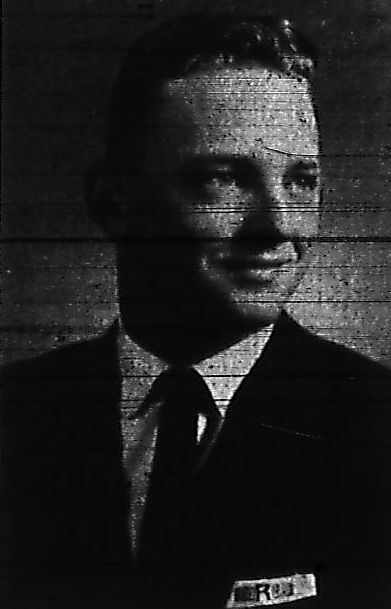 Harry Roggenkamp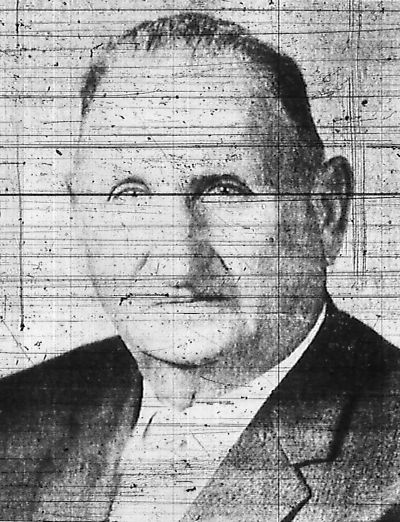 Tom Hibbs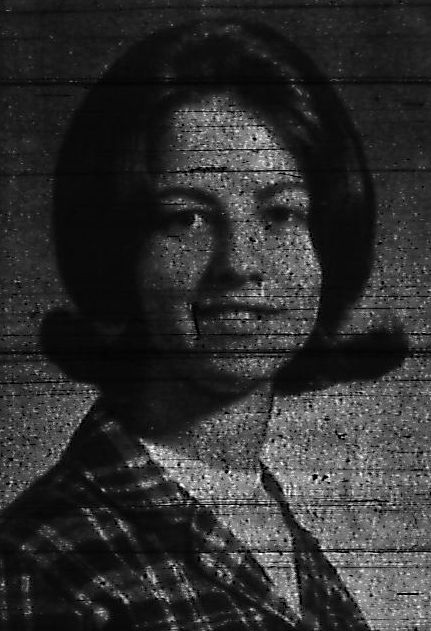 Bonnie Ferguson
The Bullitt County Jaycees selected Harry Roggenkamp as Bullitt County's Outstanding Young Farmer in 1966. Harry and his wife Jean (nee Ashby) were honored at a banquet put on by the Jaycees.
Thomas Givhan was a guest of honor in Lexington as the Henry Clay High School honored former lettermen of the Blue Devil squad from 1941-1945. Apparently his nickname was "T-Bone."
Karen Shaw, daughter of Mr. and Mrs. Richard Shaw, and a student at Lebanon Junction High School, won the junior suit division of the "Make It Yourself with Wool Contest." Karen was president of the Belmont 4-H Community Club.
Tom Hibbs, former jailer and sheriff of Bullitt County, died in November 1966. Survivors included his widow, the former Helen Klapper, and four daughters.
Adrain Jones advertised his "Little Store With the Big Values" located behind the post office in Shepherdsville.
At the Roby School Fall Festival, Dewayne Montgomery and Debra Hillman of Mrs. Mae Cundiff's first grade class were named Festival King and Queen.
Bonnie Ferguson, daughter of Mr. and Mrs. E. L. Ferguson, was elected Miss FHA of the Shepherdsville Chapter for 1966-67. She was also chosen as a member of McCall's Teen Fashion Board. She was nominated by her Home Ec Teacher, Mrs. Helen Underwood.
Richard Maraman and wife attended the Annual Convention of the National Funeral Directors Association in Miami Beach.
Despite touchdown runs by Richard Fetty and Tony Spencer, the S.H.S. Rams lost to Lebanon 39-14.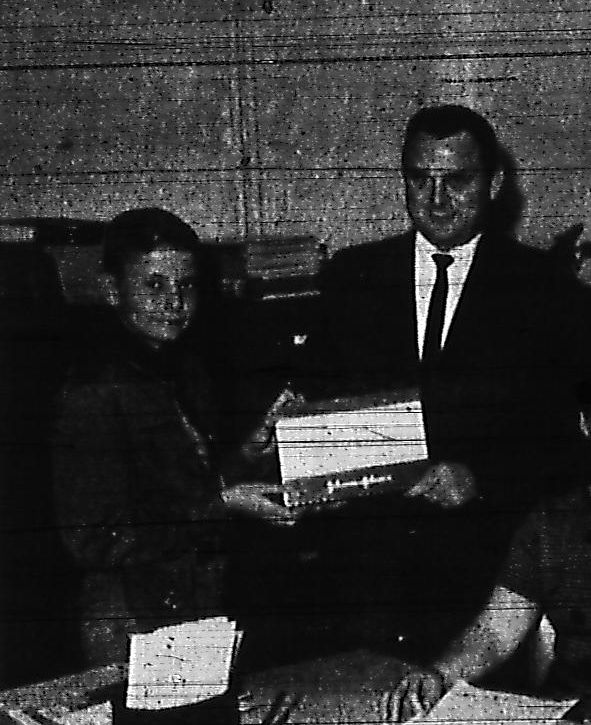 Jimmy Hall with Judge Farris
Jimmy Hall of Boy Scout Troop 5 was pictured donating a first aid kit to Judge Neil Farris as a part of the troop's fund raiser. Jimmy was a son of M. R. and Rose Hall.
The Wilson Creek reporter described the losses suffered by Robert Harned and others following the winter storm that dumped 12 to 14 inches of snow and caused a power loss of several days. Mr. Harned's large laying house of some 5,000 hens was sorely affected.
In social and personal notes, we read that Cora Ney Hardy, who was on furlough from Nigeria as a missionary, would speak at the Lebanon Junction Baptist Church. We also learned that Miss Zollie Swearingen visited Mrs. Myrtle Barrall on a Sunday.
The Building Committee of First Baptist Church in Shepherdsville, led by Burlyn Pike, was largely responsible for the vote by the church to build a new auditorium.
The following members of the Bullitt County Historical Commission paid a visit to the site of Pitts Point: Mrs. Ivy McBride, Mrs. Stewart Beeler, Mrs. W. A. Beeler, Mrs. Nancy Strange, Miss Clara Newman, Mr. Robert McDowell, Mrs. Athol Lee Taylor, Mr. Walter Shepherd, Master Andy Shepherd, Mr. Wilbur Strange, Mr. Clifford Lee, Mr. Paul Talbert, and Mr. Tom Pack.
And you could get a turkey dinner with all the trimmings at the Maples in Deatsville, but you had to made an appointment first.
December 1966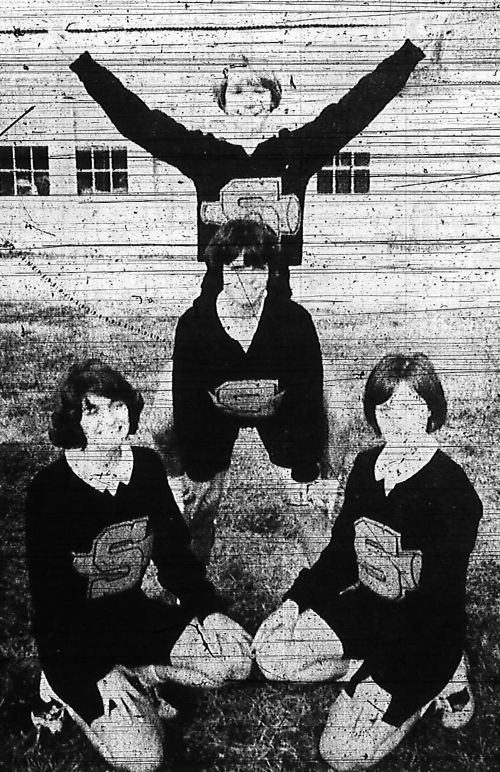 Cheerleaders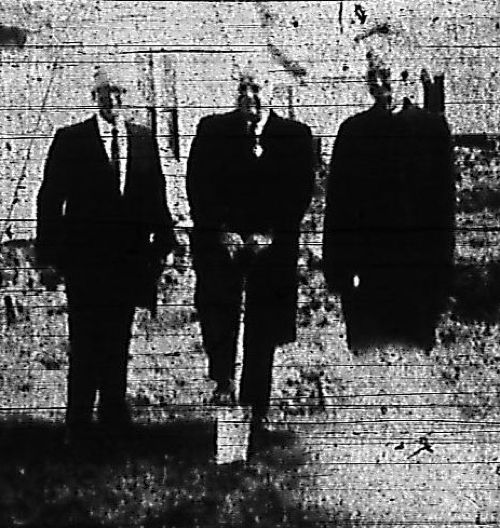 First Baptist Dedication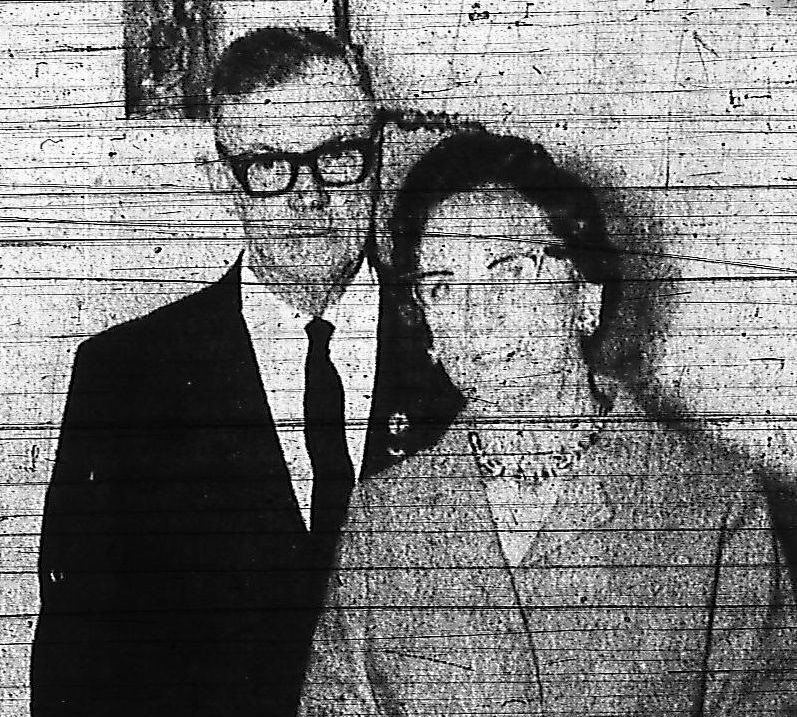 The Proctors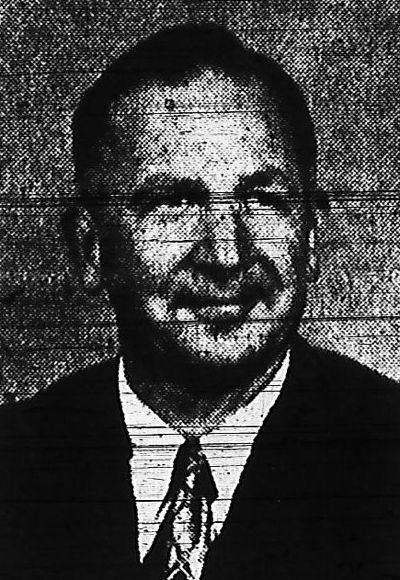 Cleo Skelton
William Becknell, Jr. was a member of the "new image" Kentucky Wildcat Marching Band.
Cheryl Haven, daughter of Mr. and Mrs. Leonard Haven was queen of the Overdale Elementary School Fall Festival, and Doug Meyer, son of Mr. and Mrs. John Meyer was king.
Catherine Weller resigned as Bullitt County Treasurer, a position she held for fifteen years. Fiscal Court hired Mrs. Alvin Deacon to fill the position.
The Shepherdsville High School J-V cheerleaders held a bake sale to raise funds to purchase uniforms. Members of the squad included Sheri Mullins, Sylvia Pennington, Peggy Crenshaw, and Nancy Farris.
The Shepherdsville FFA contest winners included Bennie Keith, Charles Tracy, Tommy Blatz, Lester Rinkel, Gerald Fulkerson, and Daryl Bowman.
Gladys Sprinkle of Mt. Washington provided a late report on Thanksgiving happenings. Mr. and Mrs. Leo Blemmel hosted a dinner at the Wildwood Country Club for their daughter and family, Bonnie, Bill, Wayne, and Denise Breeden. Mr. and Mrs. Tony Drake, David, Susan Lynn, Carolyn, and Cathy were guests of their grandparents, Mr. and Mrs. Goodloe Bass.
The Shepherdsville Rams basketball team began their season without a home court after fire had destroyed their gym earlier in the year. Team players included David Cundiff, Gary Rupp, Andy Dawson, Steve Roby, Charley Pepper, Ray Hammond, Steve Coulter, Mike Kenny, John Price, Mike Roby, Kenny Lee, Sam Hardy, Gene Eaves, Albert Goldsmith, Scotty Morrison, and Terry Willis.
In their first game, a loss to Eminence, Dawson scored 17 and Cundiff added 12 points and 15 rebounds.
Shepherdsville First Baptist broke ground for their new auditorium. Susan Hardy was the youngest person participating in the ceremony. Also present were Miss Mary Holloway Miller, Miss Alice Hardesty, and Miss Margaret Foster, three ladies who were present in 1910 when the then-present auditorium was dedicated. Also present were Dr. Bruce Hartsell, pastor of the church, Evan Patterson, deacon chairman, Dr. M. J. Cundiff, trustee, and Headie Lee, deacon vice chair, who gave the benediction.
Anyone remember shopping in Adrian Jones' "Bargain Shop" located on what was then Beech Street, behind the old post office building in Shepherdsville?
Harley and Maggie (Stallings) Proctor celebrated their 50th wedding anniversary.
Dr. B. C. Moser was elected president-elect of the Third District Kentucky Association of Chiropractors.
Cleo Skelton, an English teacher at S.H.S., received his doctorate degree in Recreation and Education at Indiana University.
Sandra Rinkel of S.H.S. won the county level Soil and Water Conservation essay contest.
And James "Bud" Hardy, president of the Shepherdsville Lions Club, led the club's efforts to provide Christmas baskets for 60 needy families.
---
Copyright 2018 by Charles Hartley, Shepherdsville KY. All rights are reserved. No part of the content of this page may be included in any format in any place without the written permission of the copyright holder.
---