It Happened in 1965
Over the years, Charles Hartley has shared glimpses of what was being printed in The Pioneer News in different months and years. This page includes what was taken from the August through December issues of 1965.
---
August 1965
As the 1965-66 school year started, the paper listed the names of all those who would be teaching in Bullitt County. Among those from the Shepherdsville school were Principal Frank Hatfield, Assistant Principal Roger Phelps, Sarah Taylor, Joseph Herde, Harold Grooms, Helen Underwood, Roberta Crafton, Nick Diachenko, Clarence "Tom" Collins, William Knob, Sue Powell, C. H. Skelton, Bertie Smith, Betty Tyler, JoAnn Bealmear, Elizabeth "Betty" Hartley, Charles Hartley, Doris Phelps, Lee Mills, Arlene Romine, George Schellenbarger, Elizabeth "Betty" Larimore, William Henry Powell, Shelby Belcher, Ruby Becknell, Ira C. King, James Land, Thomas Meadows, Malinda Thompson, Thomas Pack, James Hatley, Olen Kerns, Ray Armstrong, Jimmy McFarland, Zardetti Dawson, Augusta Dawson, Norma Wooden, Richard Martin, Ann Whitfield, David Winkenhofer, and Nancy Winkenhofer. Hard to believe its been fifty years.
T. C. "Tot" Carroll was named Lawyer of the Year at the Kentucky Bar Association Convention in Louisville.
Mrs. Charles Wheeler, the Lebanon Junction and Colesburg correspondent, reported that Mr. and Mrs. Joe Mooney and "Master Kevin" visited Mrs. T. D. McAllister on Sunday evening. Also, Mrs. Grace Mooney and Frances McAllister attended a class reunion banquet given by Mr. James Stallings and Mr. Gabe Summers.
About 200 friends attended the reception given in honor of the Reverend and Mrs. Bruce Hartsell in observance of their 20th anniversary with the Shepherdsville First Baptist Church. Among those present were Peggy Troutman, Carolyn Jackson, Rebecca Hartsell, Frank Hatfield, Mrs. Ralph Henderson, and Dr. Bruce Hamilton who were all pictured with the Hartsells.
Johnie and Helen Lee of Shepherdsville celebrated their Golden Wedding Anniversary.
At the County Fair, Barbara Armstrong was crowned "Miss Bullitt County." She was the daughter of Mr. and Mrs. S. O. Armstrong of Mt. Washington. The first runner-up was Linda Payne of Mt. Washington, the second runner-up was Sandy Divine of Shepherdsville, and the third runner-up was Eudora Thompson.
Mrs. Ida Holsclaw of Hebron, "the World's Oldest Newspaper Correspondent," reported that Bernard Bischoff and wife were off attending a horse show in Indiana. She also thanked Joe Creason for recognizing her in his column in the Louisville paper.
The paper wrote that George Wigginton had rented a CESSNA 180 and flown himself and his father George to Daytona Beach for a vacation. They returned with a cooler full of fresh shrimp.
The Wilson Creek correspondent reported that Roscoe Milligan Jr. and wife of Lebanon Junction had returned from a trip through 15 western states. Also, Mrs. Robert Harned was reported somewhat ill.
The Nichols correspondent reported that Lewis Withers had sold his property and moved to the Masonic Home. She also said that Claude Barrall, Mr. and Mrs. Charlie Paulley, Mrs. Jessie Roberts, Marvin Hopewell, Morris Hope, Mrs. JoAnne Davis and Leigh and Timothy Davis all visited with Mrs. Charles Ridgway.
And the Charles G. Bridwell family of Star Route, Shepherdsville was the 1965 Bullitt County winner of the Safe Farm Family Contest, sponsored by the Kentucky Farm Safety Committee.
September 1965
Seniors on the S.H.S. football squad were pictured in the paper. They included Lynn Rhea, Terry Woods, David Price, Willard Burden, and Bobby Hurst. The team was coached by Nick Diachencho, with Tom Collins and Richard Martin as his assistants.
The team's cheerleaders included Becky Sanders, Carol Korfhage, Sara Lutz, Marilyn Moran, and Karen Cundiff.
The 1922 S.H.S. class held a reunion hosted by Gabe E. Summers and Samuel J. Stallings. Those attending included Mrs. Ruth Patterson Scroggins of Shepherdsville, Mrs. Mary Blanche Hill Wine of Lebanon Jct., Mr. Brooks Tyler of Shepherdsville, Mr. Stallings of Louisville, Mr. Summers of Jacksonville, Florida, Mrs. Grace L. McAllister Mooney of Bardstown Jct., Mrs. Mary Buckman Cook of Shepherdsville, Mrs. Ruth Crenshaw Hayes of Coxs Creek, Mrs. Julia Ann Ashe Rodgers of Lebanon Jct., and Mrs. Buryl Hall Porter of Mt. Washington.
Mr. and Mrs. Johnny Williams, Mrs. Robert Carnes, and John Carnes went to the Smoky Mountains and Gatlinsburg, and then traveled to Cherokee NC to attend the drama, Unto These Hills.
The Hawks, Lebanon Junction's softball team, received trophies from their league. The players included Roger Smith, Kevin Miller, Charlie Bowman, Wayne Boone, Chuck Waters, Gary Bryan, Doug Roberts, Donald McCubbins, H. B. Brown, William Waters, Edgar Sullivan, Gary Wilson, William Whitsell, Charles Wilson, and Jimmy Lee. James Wilson was their coach.
In Shepherdsville, Mr. and Mrs. J. C. Thompson and sons moved into their new home on Combs Court.
Mrs. Ida Holclaw of Hebron reported that Vaughn Smith had an accident with his tractor, resulting in a broken leg for him.
In the Lebanon Junction and Colesburg News, Mrs. Charles Wheeler reported that the Streble family had their homecoming at the Phil and Van Streble home with 64 present.
She also reported that Mr. and Mrs. LeRoy Hughes had moved into the house near Colesburg Road owned by Mrs. Hallie French. And, she also congratulated Mrs. Kate T. Brooks on her 99th birthday.
Continuing her news, Mrs. Wheeler reported that Jack Plenge was recovering from surgery on his knee, and that C. T. Korfhage had to have stitches in cuts on his face.
Butch Johnson of the Shepherdsville FFA Chapter placed fourth in the state welding contest at the State Fair.
And little Jeffrey Tucker fell off his bicycle and injured his leg. He had to have it x-rayed.
October 1965
Pat Lee was the Shepherdsville High School Football Homecoming Queen. Her attendants included Teresa Ann Tinnell (7th grade); Susan Crumbacker (8th grade); Pam Simcoe, Freshman; Rhonda Farmer, Sophomore; Lana Bagby, Junior; and Jan Braden, Senior.
The banks in Shepherdsville and Lebanon Junction announced that they would begin closing on Wednesdays.
Dr. John Carter, President of Campbellsville College, preached at a revival at Shepherdsville First Baptist.
Mrs. J. B. Spangler of Mt. Washington received her 25 year pin from the Eastern Star.
Rev. C. G. Sledge, pastor of the Mt. Washington and Bethel Methodist Churches, participated in a workshop in Louisville.
Mrs. Gladys Sprinkle and her daughter Vickie Ann visited Mrs. Nellie Hubbard, and were glad to see her progressing nicely after a recent operation.
Joe Kelley won a trophy as the oldest man rider in the trail ride from Munfordville to Hodgenville. Mrs. Bernard Bischoff also participated in the ride.
Jane Dawson of Mt. Eden reported that Jerry Coy spent a few days at the hospital following his motorcycle accident. She also reported that Carolyn Poppell was present at church services, and was "flying around" in her "red bird" (a new car).
Mrs. W. G. Lanham of Cedar Grove reported that Mr. and Mrs. Gilbert Miller spent their 30th wedding anniversary at Renfro Valley.
New officers serving the Mt. Washington Lions Club were President W. O. "Bill" Carrithers, Secretary J. E. Fisher, Treasurer C. N. Tichenor, Publicity Chairman Charles Able Long, Lion Tamer Sidney Griffin, and Tail Twister Billy Romine.
Mrs. Vernon McAfee was in charge of the anniversary program for the 25th anniversary of the Woman's Society of Christian Service in Mt. Washington.
L. W. "Doc" Jenkins of Salt River took a job with Mt. Washington Motor Company.
The Shepherdsville High School P.T.A. met with Mrs. Jeff Ice presiding. She introduced the school's new principal, Frank Hatfield.
The Wilson Creek correspondent reported that Mr. and Mrs. Walter Magruder went to Deatsville to help Oliver "Dude" Leach celebrate his 85th birthday.
Rev. Ralph S. Griswold, a Methodist minister for nearly 50 years including time at Brooks, died in Louisville.
The Democratic candidates for office in 1965 were pictured as a group.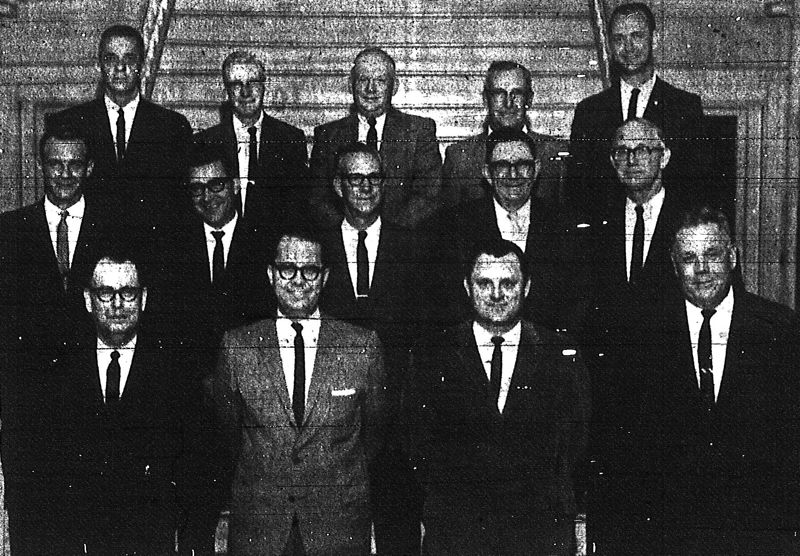 Front row left to right: T. L. Cook, County Court Clerk; Tom B. Givhan, County Attorney; Neil Farris, County Judge; Stuart Kelly, Representative; second row: Ralph Bleemel, Magistrate District 1; Walter Keith, Coroner; Clyde Roby, Tax Commissioner; Everett Heffley, Jailor; W. R. (Bill) French, Sheriff; back row: Forrest (Bay) Moore, Magistrate District 2; Russell Crenshaw, Magistrate District 3; Walter Magruder, Magistrate District 4; J. W. (Bill) Armstrong, Constable District 1; Frank Carey, Constable District 2; absent when picture was made: J. D. (Jiggs) Buckman, State Senate; Wendell Hawkins, Constable District 3, William Mullins, Constable District 4.
David Williams, a senior at the University of Kentucky, received the American Farmer Degree at the National F.F.A. Convention, the nation's top F.F.A. award.
And Mr. and Mrs. Jimmy Cruise announced the birth of their daughter, Christy Rena.
November 1965
Louis Roby, chairman of the Bullitt ASC County Committee announced the names of the nominees for the community committees who will help administer the various farm programs carried out by the Agriculture Stabilization and Conservation Service. The nominees included the following people.
Knob Creek Community: Perry Gooch, Lewis Knott, S. A. Lowe, Earl McAhron, Herman Mann, and Guthrie Muss.
Shepherdsville Community: Rodger Barger, Matt Bleemel, Alvine Foster, Dudley Marksbury, A. J. Miller, Jr., Roscoe Proctor, and Russell Stallings.
Mt. Washington Community: S. O. Armstrong, Jr., Roy Vernon Cornell, Donald Frey, Darrell Harris, Thomas Knapp, Clyde Crenshaw, and George Maddox.
Solitude Community: Larry Greenwell, Eugene Hall, James Korfhage, Lawrence Light, Hyte Rouse, and Norman Thompson.
Pine Tavern Community: R. E. Brown, E. B. Massey, Clifford Samuels, J. P. Stark, Phil Streble, and Andy Wise.
Dorothy and Melvin Porter of Mt. Washington attended the homecoming celebration at the University of Kentucky where their son Murrell Dean was a junior.
Mrs. Charles Wheeler, the correspondent for Lebanon Junction and Colesburg, expressed her hope that Mrs. Clifford Samuels was doing well after breaking her ankle.
Mrs. Wheeler reported that Mrs. Jack Williams, Mrs. Jack Holton, Mrs. Delmar Eskridge, Mrs. Loraine Dragon, and Mrs. Elmer Bryant of L.J. all attended the annual Homemakers Club meeting in Shepherdsville.
She also congratulated 13 year old Bobby Owens who bagged a four-point buck.
Raymond Abell, Larry L. Belcher, Ray Foster, Terry Hasting, Donna Jean Kerns, Gary Mason, David Anthony Roberts, Carole Elizabeth Smith, Peggy A. Troutman, Raymond VanMeter, and Michael Ray Waters were all identified as students at Campbellsville College by Dr. John M. Carter, the school's president.
The Nichols Teen Club meet and elected Janet Stivers as their president. Dana Faulkner was elected vice-president; Pamela Simcoe was chosen as secretary-treasurer; and Marlene Milby became the group's reporter.
Mrs. W. C. Lanham, the Cedar Grove correspondent, reported that little Tony Wilson had been in the hospital with the croup, but was then home and improving. She also reported that Henry Greenwell and Mrs. Hubert Cox both remained ill at home.
Mrs. Ida Holsclaw of Hebron reported that Mrs. Sammy Bain and family had moved to the Charles McCawley farm. She also told that Mrs. Herbert Satterly had spent a Saturday in Brandenburg looking over saddle horses. Mrs. Holclaw was also grateful to Mrs. Bobby Dover for giving her a ride to the voting place.
In the Social and Personal Notes column we learned that Miss Susan Watkins suffered a gash on her forehead while playing ball. Also, Kenneth Bailey Jr. received a bad cut on his hand at work, and Mrs. Bailey broke a toe, and then was in an accident while returning from the doctor's office. Ouch!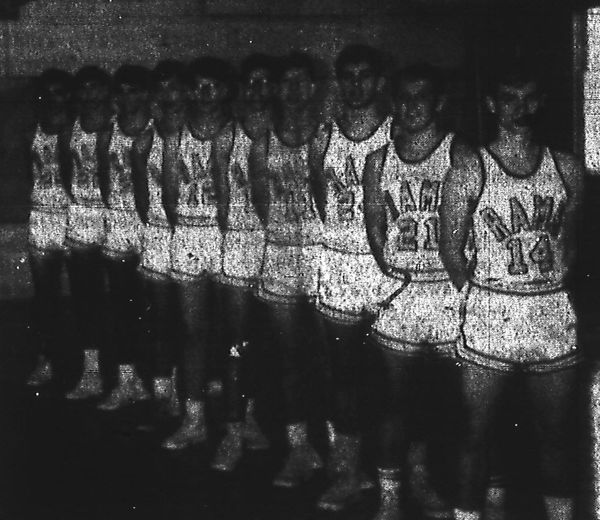 Tom Collins took over the reins as head coach for the S.H.S. Rams basketball team. Members of his varsity team included Tony Lee, David Cundiff, Craig Larimore, Bill Hornung, Fred James, David Price, George Robinson, Tony Spencer, Terry Calvert, and John Price.
And the UNICEF collection committee offered a special "thank you" to little Depp Rasner and his mother who collected for the first time at the Gap-in-the-Knob.
December 1965
Gladys Sprinkle of Mt. Washington reported that Mr. and Mrs. Lloyd Branham hosted a number of guests for Thanksgiving dinner including Mrs. Emma Armstrong, Mr. and Mrs. J. R. Jasper and daughter Emily, who was home from Georgetown College. Also there were their daughter Mary Lou and son, Maurice Dean; Mr. and Mrs. Clark Murphy; Kent, Peggy, Timmy and Kyle from Indiana; Mr. and Mrs. Woodrow McClure of Bardstown; as well as a number of others.
The S.H.S. Rams defeated Eminence 72-63, with four starters scoring in double figures. Bill Hornung had 18 points, Craig Larimore 17, Tony Lee 11, and David Cundiff 10.
J. E. Chappel of Fern Creek spent a day with Mr. and Mrs. Joe Chappel of Shepherdsville. Joe was recovering from a recent operation, but was able to be out some.
Mrs. Charles Wheeler, the Lebanon Junction and Colesburg correspondent, extended expressions of sympathy to the families of Mrs. Lola Masden, Mr. Harry J. Booth, Mr. Jessie Lee, and Mr. Charles W. Zwicker.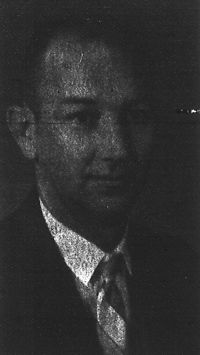 Dr. Troutman
The paper announced that Dr. Norman O. Troutman, a 1954 graduate of Shepherdsville High School, had received his Doctor of Chiropractic degree. He was currently in practice at Prestonia Chiropractic Center.
Mr. and Mrs. Prince Ryan Jr. of Anchorage, Alaska were the proud parents of a son, John Kelly.
Mrs. Tot Moore returned home after surgery at St. Joseph Infirmary, and was improving nicely.
Mr. and Mrs. Bill Goodin, Judy and boys spent time in Ohio visiting with Will Shelton and J. L. McCord.
Steve Masden of Lebanon Junction enrolled at Union College. A graduate of L.J.H.S., he's the son of Mr. and Mrs. William A. Masden.
Ida Holsclaw of Hebron offered congratulations to Mr. and Mrs. H. P. Hodges on their 50th wedding anniversary; and to Burks Williams Sr. on his 86th birthday.
Mrs. W. D. Ridgway entertained with a birthday dinner for Delbert A. Ridgway.
Shepherdsville Mayor J. C. Thompson announced that the Harold W. Hardy Supermarket was paying to have all parking meters covered during the Christmas season so that everyone could park for free.
H. E. "Ed" Carter won a trip to Nassau for himself and his wife Sue.
The Bardstown Junction correspondent reported that Virgie Jones, Nora Hill, Holloway Miller, and Alice Hardesty spent an afternoon visiting with the Fosters.
Mrs. Ella Maude Harris suffered a broken bone in her leg and foot, and Mrs. Susie Shaw stayed with her for several days.
And Gladys Shepherd let everyone know that jam cakes were her specialty, and she would make them to order.
---
Copyright 2018 by Charles Hartley, Shepherdsville KY. All rights are reserved. No part of the content of this page may be included in any format in any place without the written permission of the copyright holder.
---