It Happened in 1962
Over the years, Charles Hartley has shared glimpses of what was being printed in The Pioneer News in different months and years. This page includes what was taken from the issues of 1962.
January 1962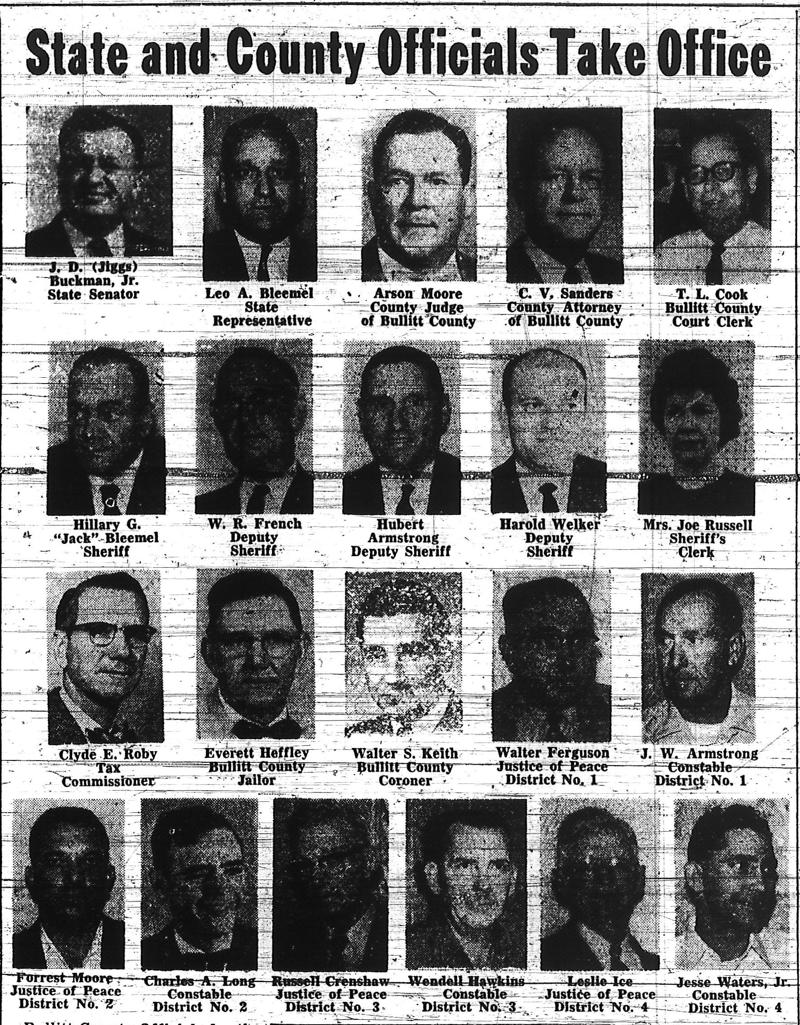 The newspaper printed pictures of state and county officials who took office in January. They included State Senator Jiggs Buckman, State Representative Leo Bleemel, County Judge Arson Moore, County Attorney C. V. Sanders, County Court Clerk T. L. Cook, Sheriff Jack Bleemel, Deputy Sheriffs W. R. French, Hubert Armstrong and Harold Welker, Sheriff's Clerk Mrs. Joe Russell, Tax Commissioner Clyde Roby, Jailor Everett Heffley, Coroner Walter "Pee Wee" Keith, District 1 Magistrate Walter Ferguson and Constable J. W. Armstrong, District 2 Magistrate Forrest Moore and Constable Charles Long, District 3 Magistrate Russell Crenshaw and Constable Wendall Hawkins, and District 4 Magistrate Leslie Ice and Constable Jesse Waters, Jr.
The Zoneton Recreational Council began making plans for the youth of their community. Members included Rev. John Dunaway, Mrs. Bernard Bischoff, Gilbert Hartlage, Mrs. H. M. Taylor, Charles Cook, Martin Roper, Mrs. Sara Crumbacker, Ike Neal, B. McGruder, Ray Becknell and Eugene Laswell.
Mr. and Mrs. R. B. Armstrong gave an Anniversary Supper for Mr. and Mrs. Robert Armstrong who were celebrating 64 years of marriage. Guests present included Mr. and Mrs. Marvin Stallings, Mr. and Mrs. Ples Snellen, Mr. and Mrs. Maxie Armstrong, Debbie and Steve, Mr. and Mrs. Garnett Snellen and Brenda, Mr. and Mrs. L. R. Mattingly and Mr. and Mrs. R. B. Armstrong and Kathy and Bennie.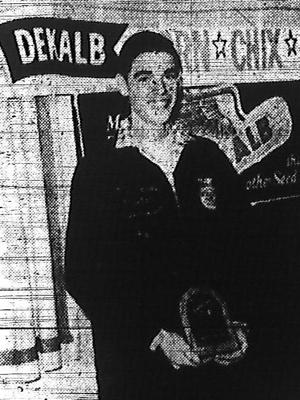 Omer Dale Proctor
Linda Napier (nee Bleemel) advertised that she was then employed with Edith's Beauty Shop in Shepherdsville.
Arthur Penick, a sophomore at Lebanon Junction High School, won the the Bullitt County Soil Conservation Essay Contest. Placing second was Thomas Goodyear of Mt. Washington High School. School winners included Doris Hartlage (St. Benedict), Rita Bertley and Paulette Goodman (Overdale), Thomas McDaniel and Norman Philpot (SHS), Omer Dale Proctor and Thomas Goodyear (MWHS), Mary Ann Hamilton (Roby), James Marcum Jr. (Nichols), and Arthur Pennick and Joyce Hayden (LJHS).
Proctor of Mt. Washington was also recognized as the winner in Bullitt County of the DeKalb 5 Acre Contest where he grew 108 bushels per acre of corn.
One of the old Bullitt Lick salt kettles was donated to the Filson Club of Louisville by the Charles Holsclaw family. Charles Sr. said that the kettle had been in the Holsclaw family since it was purchased at a public sale in 1830 by Hardin Holsclaw after the saltworks closed.
R. T. Milligan of Wilson Creek reported that Mr. and Mrs. Bob Harned were happy with the arrival of a baby girl.
In an article summarizing the SHS basketball season thus far, it was reported that Buddy McCubbins was leading the team in scoring, averaging 20 points a game. Jimmy Hatfield was averaging 14, and C. E. Roby 10 points for the team.
The Hebron Presbyterian Youth Group met at Nan William's house where they elected officers for the new year. Those elected included President Lynn Rhea, Vice-President Mike Heffley, Secretary-Treasurer Rita Bentley, Recreation Leader Larry Magruder, and Music Leader Janie Robards.
And Mrs. Thelma Bergen was happy to announce that her daughter Penny was engaged to Tommy Pack of Ludlow, Kentucky. They would marry at the Shepherdsville Baptist Church in February.
February 1962
Ray Foster scored 29 points to lead the Mt. Washington Generals over Bloomfield to win the Salt River Valley Conference Tourney.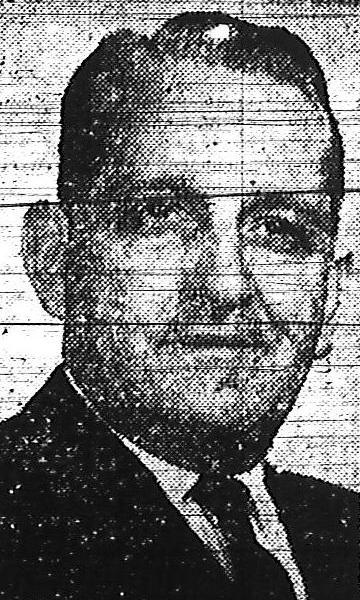 Rep. Leo Bleemel
Dr. M. J. Cundiff, a Shepherdsville dentist, was elected to the Bullitt County Board of Education to fill the unexpired term of the late Ray Bush.
Rep. Leo A. Bleemel was pictured in the paper as he began his second term in the Kentucky House of Representatives.
Mrs. Lewis Hatfield was elected president of the Bullitt County Council of the P.T.A. Mrs. Harold Jenkins of Lebanon Junction was elected as the first vice-president.
In Cedar Grove community news, Mrs. W. C. Lanham reported that Pvt. Charles P. Raymond was home on leave visiting his mother, Mrs. Rose Raymond.
In the Personal Notes column we learned that Mrs. Noble Porter fell and broke her hip; that Mrs. Harry Farmer fell and injured her spine; that Mrs. Margaret Ridgway fell at home and injured her face and knees; and that Mrs. Ben Hardy broke her arm when she fell at home. (As I get older, I better understand the dangers of falling.)
The Bardstown Junction correspondent reported that Walter Cundiff was home from the hospital and doing well; and that Callie Bowman had a cataract removed from one eye. She also reported that Mrs. Dee Bergen spent a day with Mrs. Inez Williams.
Did you know you could get two bunches of green onions for 19 cents at Harold Hardy's Shepherdsville supermarket?
The Hebron correspondent, Mrs. Ida Holsclaw, billed as "The World's Oldest Newspaper Correspondent," reported that her grandson, Roger Holsclaw paid her a Sunday visit, and also subscribed to The Pioneer-News. (Sounds like a good idea!)
In advertisements, we see that Elmer Cundiff would sand your floors to make old ones look like new; and that J. W. Hatfield would either hang your paper or paint your walls, just as you like.
Mrs. R. L. Stallings of Pleasant Grove wrote that Mrs. Bud Owens took her Sunday School class skating on Saturday night. Bet they went to Brad's place.
Mrs. W. A. Hessey of Mt. Washington wrote about the celebration of Mr. Almer Barnes' 100th birthday. He was the oldest son of Timoleon and Elizabeth (Hall) Barnes, and was married to Lulu Grigsby who had died years earlier. Mr. Barnes was past president of The Peoples Bank of Mt. Washington, and the only living charter member of its board of directors.
Mrs. Alberta Black of Brooks welcomed Mr. and Mrs. Bud Skeito and family into the community. She also wrote that twin calves had been born at his place.
Billy Howard Smith passed the Kentucky Pharmacy Board Examination in January and was employed at the Louisville Apothecary on Preston Street.
Among the many pastors listed in the church listings were Ray Armstrong at Immanuel Baptist, Smiley Johnson at Hebron Presbyterian, and Bruce Hartsell at Shepherdsville First Baptist.
Mrs. Garnett Shuffett became president of the Roby P.T.A. when Mrs. Bailey moved away.
And Miss Patricia Ann Miller of Nashville was married to Ronald Masden of Shepherdsville, son of Mr. and Mrs. Woodrow Masden.
March 1962
Nancy June Dawson was the winner at St. Benedict School in the knowledge and attitude test at her school in the Betty Crocker Search for the American Homemaker of Tomorrow contest.
Mrs. W. A. Hessey, the Mt. Washington correspondent, described the wedding of Miss Shirley Lewis, daughter of Mr. and Mrs. Marvin Lewis, to Mr. Roy Vernon Cornell, son of Mr. and Mrs. William Cornell.
She also reported that Mrs. W. O. Anderson, Mrs. Janet Tinsley, Mrs. Janice Porter, Mr. Anthony Devoto, and Mr. and Mrs. Amos Brown all received certificates of achievement at a civil defense adult education class taught by Miss Joyce Farmer of Shepherdsville.
Mrs. Joe Hedges, the Sunnyside News writer, reported that Sharon Bishop and Rebecca Sample were over their cases of measles. She also reported that Mrs. Christina Whiteman was feeling well enough to go shopping at Bacon's.
Bill and Mary Fischer advertised that fresh bakery goods were available daily at their Shepherdsville grocery next to the ice house. They would go on to build a very successful sporting goods business further north on Buckman Street.
Members of Boy Scout Troop 132 of Lebanon Junction visited the Patton Museum at Fort Knox. Included were Larry McCubbins, Jackie Williams, Tony Roberts, Ted Murray, Bobby Tracy, Gregory Bryant, Leonard Ice, Dennis Whitehouse, Darrel Mann, Roger McCubbins, Bobby Mullins, Gary Rexroat, Edgar Sullivan, Wayne Doan, Elbert Lee Davis, Harold Davis, Dennis Fleming, Roger Smith, Gary Wilson, Tim Fleming, Gary Whitehouse, and Douglas Roberts. James Wilson was their scoutmaster, and Kenneth Daughterty was the assistant.
Ethlyn Mae (Maraman) Crenshaw died in late February. Born in May 1873 near Shepherdsville, the daughter of Charles and Sue Henderson Maraman, she was the widow of J. Ewing Crenshaw who had died in 1932. Her siblings included Mrs. Sallie Masden, Mrs. Gertrude Masden, Mrs. Josie Foster, Will Maraman, and James Maraman.
The Shepherdsville 4-H Teen Club members visited the home of Miss Mansfield, a missionary to India, for a program about that land. Present were David Williams, Jimmy Poppell, John Lee, Francis Parker, Jimmy Dawson, Martha Jane Hickerson, Linda Light, Sammy Edwards, Becky Becknel, Bill Becknel, Janie Robards, Melvin Wheatley, Larry Magruder, Janet Myers, Judy Robards, Linda Howell, Steve Plenge, Nan Williams, Charles Williams, Mrs. Pauline Willliams and Mrs. Warren.
The flag flown from the Shepherdsville High School's staff was donated by Lindsay Jones as a memorial to his brother, Robert "Dutch" Jones who graduated from the school in 1925.
Myra Williams of Mt. Washington High School, Lois Anita Mulligan of Lebanon Jct. High School, and Diane Carol Meredith of Shepherdsville High School were each honored by the local D.A.R. Chapter with their annual "Good Citizen" awards.
The Park and Recreation Board proposed new developments to the Shepherdsville park including a play lot, tennis courts, and a pavillon suitable for skating and other public events. Members of the board included the mayor, Dr. B. C. Moser, W. H. Powell, Denzil Ramsey, Mrs. Jack Plenge, and Adrian Jones.
Work on the new bridge over Salt River at Shepherdsville had begun, and was expected to be finished by November.
And Kit Neal and Ronnie Parker were married at the Bullitt Lick Baptist Church. A fine couple indeed!
April 1962

Joetta Bass, Laverne Stout and Donna Harris were pictured following a victory in the 4-H contest sponsored by Kentucky Utilities.
C. V. Sanders
B. F. Robards presented honor awards to bankers C. Frye Haley, Leo B. Dawson, Vernon Mothershead, and Roger Alford.
C. V. Sanders was appointed chairman of Bullitt County's campaign organization for the "Wyatt for Senator" effort.
Mrs. W. A. Hessey of Mt. Washington wrote in detail about a style show sponsored by the Mt. Washington School cheerleaders. In it she named all of them including for the varsity Beverly Hurst, Connie Alcorn, Joetta Bass, Cherry Armstrong, Benita Clark and Monie Armstrong; and for the junior varsity Patsy Cook, Betty Cook, Brenda Travis, Barbara Armstrong, and Sue Bowman. Alumni cheerleaders featured in the event included Eleanor May Troutman, Linda Lou Lloyd, Barbara Mullins and Maurice Wise.
J. W. Vincent had rooms for rent at the Lebanon Junction Hotel; $10 a week or $30 a month.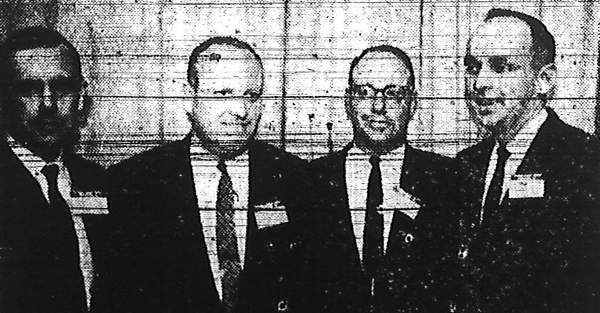 School Board Members
Miss Margaret Foster of Bardstown Junction congratulated Mr. and Mrs. Henry Hasty on the birth of their son.
Also celebrating a birth were Samuel and Sue (Coy) Lindsay with the birth of their daughter.
The Harmonaires, a quartet of boys including John Wayne Moore, Mike Waller, Neal Armstrong, and Nickey McArthur of Mt. Washington, competed in a 4-H contest at Bardstown and earned a red ribbon for their efforts.
C. R. Anderson, Dr. M. J. Cundiff, C. T. Korfhage, and Thomas Jeffries were pictured as they attended a meeting of the National School Boards Association in St. Louis.
Mr. and Mrs. Bob Harned of the Bullitt County Feeders Supply were among other top dealers of the Ralston Purina Company at a meeting in San Francisco.
Lottie Mullins of Lebanon Junction wrote that the high school seniors returned from a trip to Washington, D.C. Those on the trip included Gwendolyn McCubbins, Joyce Hayden, Ethel Rhodes, Nell Baumgardner, James Dennis, Larry Coakley, Billy Whitehouse, David Goodman and Larry Sanders. Their sponsors were William Bishop and Shirley Asher.
Mrs. John Rhul of Shepherdsville advertised that she was interested in buying an old-fashioned butter churn.
Mrs. Joe Hedges of Sunnyside wrote, "Our dear Aunt Katherine Applegate had to be rushed back to the hospital last Wednesday week. She was feeling some better Friday when I saw her."
In the Personals column we read that Mr. and Mrs. J. D. Buckman, Carletta and Ann, Mr. and Mrs. Jerome Monroe, and Mr. and Mrs. Theodore Cook were Easter Sunday guests of Mrs. Carletta Buckman.
And Sue Powell taught a first aid class to local firemen, telephone men, and bus drivers. Among those participating were Bill Jenkins, Bill Bacon, Ben McAdams, C. L. Croan, J. B. Hockensmith, S. A. Lowe, Bill Armstrong, C. E. Smith, and Delray Robinson.
May 1962
A new Cub Scout pack was organized at Roby Elementary. Its members included Donald Adams, Rickie Bruce, Larry Buchanan, William Collins, James Cox, David Cundiff, James Frisby, Tommy Howlett, William Krebs, Terry Larimore, Gary Moore, John Nusz, Charles Reed, John Rhea, Terry Sears, Emmett Shepherd, Gregory Skaggs, Donald Sparks, Craig Sturgill, Keith Sturgill, and Ronald Trunnell. Leslie Larimore was the cubmaster, and Irvin Krebs the assistant.
Gail Lutz of Shepherdsville was selected as a cheerleader for the Transylvania College basketball team. The daughter of Mr. and Mrs. Roy Lutz, Gail was a music education major at the school.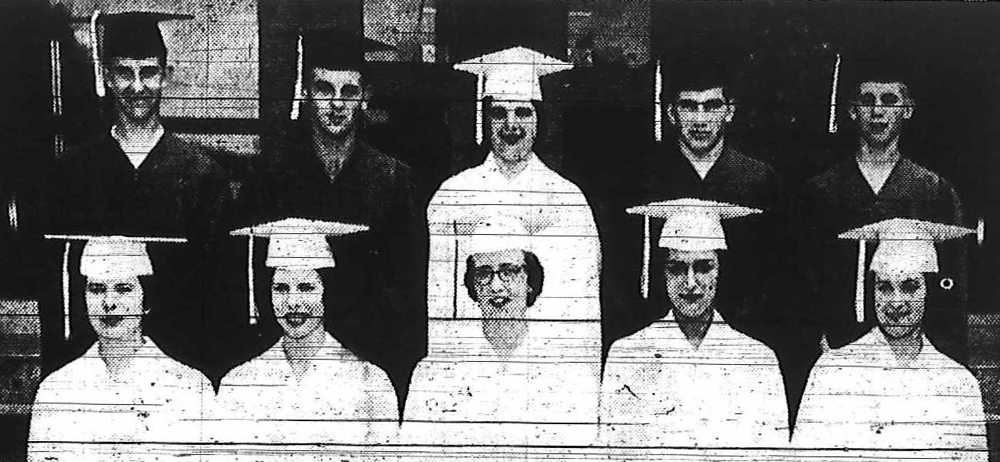 Mr. and Mrs. Larry Lutes of Mt. Washington gave a party for the senior class of St. Aloysius. The seniors were also pictured in the paper in their caps and gowns, including Kenneth Bryant, John Schwoebel, Beverly Bernard, Ronnie Reesor, John Cruise, Sharon Pennington, Sandra Stine, Beverly Lutes, Rhonda McGruder, and Carol Barger.
Bertha Bowman of the Solitude community reported that Hyte Rouse was going to put up a new milking parlor; that Bob Bowman had bought a new tractor, that Elizabeth Rouse was busy with her garden, and that Anna Mae Ash was home from college.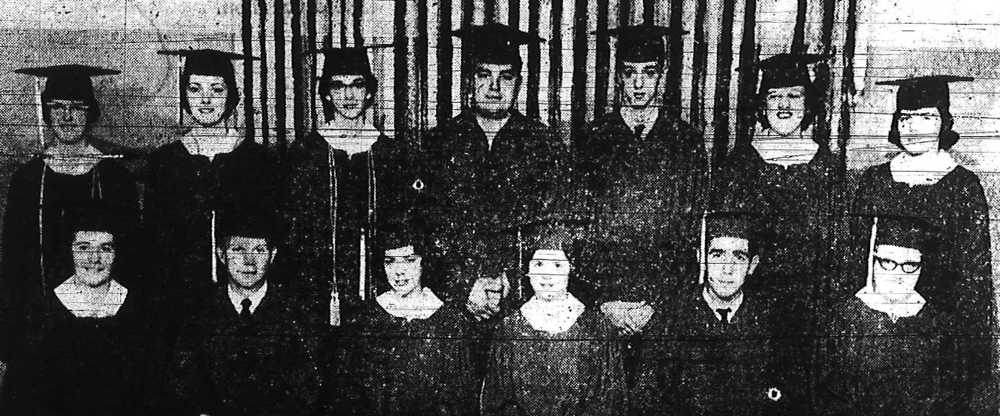 Lebanon Junction High School graduated 13 who were pictured in the paper, including Carolyn Sipes, Lois Jenkins Geoghegan, Gwendolyn McCubbins, Larry Sanders, Billy Whitehouse, Betty Tracy, Lois Milligan, Mary Spurrier, Larry Coakley, Joyce Hayden, Ethel Rhodes, James Dennis and Neil Baumgardner.
Dr. Duke McCall of the Southern Baptist Seminary was the guest speaker at the sixth annual Cancer Memorial Dinner held in the Shepherdsville School dining room. Bruce Hartsell was the master of ceremonies and his wife Dorothy provided the dinner music.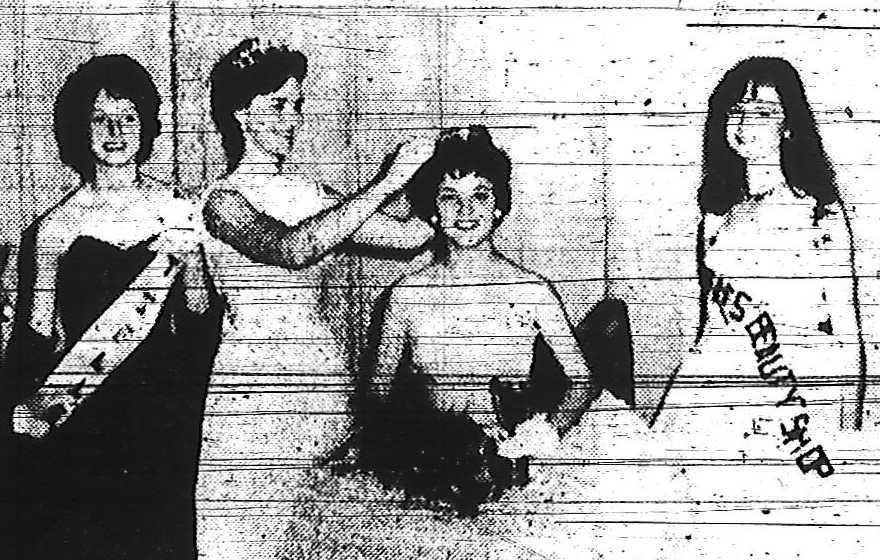 Patsy Jean Trent was crowned Miss Bullitt County of 1962. Her crown was presented by Jeannean Jett, the previous year's winner. The photo also included Billie Jo Kelley, second place winner, and Marilyn Lee, third place winner.
Mrs. Mattie Ashbaugh of the High Grove community wrote that neighbors helped to carry out and save her furniture when her house caught on fire. The Bardstown Fire Department arrived in time to save the building.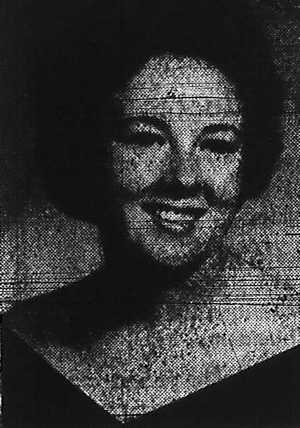 Carole Smith
Margaret Foster of Bardstown Junction wrote that little Terry Goodin had his cast removed from his arm and was doing nicely. I wonder what Larry and Garry thought of his cast?
Lottie Mullins of Lebanon Junction wrote that the members of the the senior class of St. Benedict School, including Patsy Moore, Nancy Jane Dawson, Susan Nicholson, Barbara Shelton and Regina Wise, visited New Orleans on a senior trip.
At the annual meeting of the board of directors for Hebron Cemetery, the following were elected to serve for the coming year: S. B. Williams, Sr., H. P. Hedges, Brooks Tyler, Nancy Strange, and Inez Brooks.
Carole Smith, a senior student at Mt. Washington High, was awarded the Crisco Trophy for outstanding work in home economics.
And Penny Bergen Pack presented a piano recital at the Shepherdsville First Baptist Church, a repeat of her graduating recital at Campbellsville College.
June 1962
In Mt. Washington notes, Miss Linda Lloyd entertained the following members of her scheduled wedding party at the Blue Boar: Mrs. Lexie Lloyd, Mrs. Eleanor May Troutman, Misses Mona and Cherry Lynn Armstrong, and Miss Barbara Mullins.
Mrs. Ida Holsclaw of the Hebron community wrote that W. E. Morrow, Sr., Jr., and the III were all out with Miss Jane Morrow decorating graves at the Hebron Cemetery. She also wrote that Forest Brooks had returned to his home, and that J. B. Shelburne spent a weekend with his parents.
She also wrote that she was sorry to hear that Hebron Presbyterian Church was without a pastor, but that they had a good V.B.S.
Mrs. W. C. Lanham of Cedar Grove wrote that Mrs. Lucy Viers and Mrs. Jack Duvall spent a day with Mrs. Maye Rice; and that Walter Franke and family of Illinois spent a week with their parents, Mr. and Mrs. Dan Franke and Mr. and Mrs. Bob Ratliff.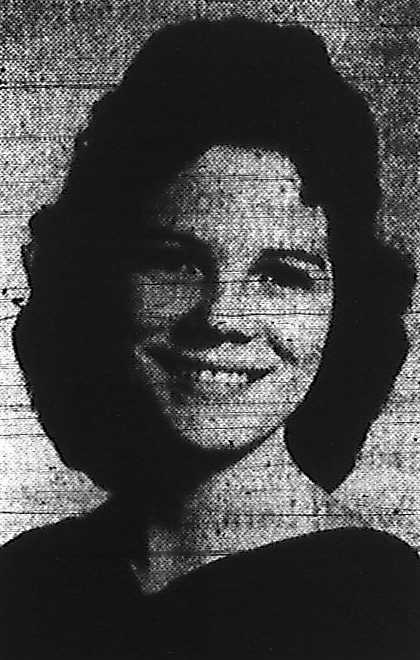 June Wilson
Lottie Mullins of Lebanon Junction reported the death of Scott Whitehouse, a retired railroad man who had retired in 1942 after 50 years service. Survivors included his widow Mrs. Minnie Whitehouse, a daughter Lattice Johnston, and a son Lowell.
Mrs. Joe Hedges of Sunnyside wrote that her husband's brother Tom was in the hospital, and they went to visit him rather than attending church that evening to hear Brother Bishop preach.
June Dawson wrote for the Mt. Eden News that for their V.B.S. preparation, the judges selected Susan Thornton, Peggy Thornton, Sharon Ewing, and Alice Dockery for giving the "best cheers."
June Wilson, daughter of Mr. and Mrs. Robert L. Wilson of Overdale Drive, was chosen the most outstanding Home Economics student by Mrs. Helen Underwood, her teacher.
The Shepherdsville Lions Club elected new officers including Richard Henley as president, Dr. B. C. Moser as first vice-president, Bob Harned as second v-p, and Dr. Curt Firkins as third v-p. Gay Hamilton was chosen "Lion tamer" and L. R. Mattingly as "Tail Twister." Bud Hardy was treasurer and Bearol Culler was secretary. Directors included M. L. Major, Bob Myers, Adrian Jones, and Woodrow Masden.
Miss Margaret Foster of Bardstown Junction wrote that Onie Magruder was building a home in the community near his brother Curtis. Mr. and Mrs. Delmar Crump of Lebanon Junction were also building a new home nearby.
G. H. Swearingen, insurance agent, had his office in Room 5 of the Bullitt County Bank Building in Shepherdsville.
Rachel Ratcliff advertised her beauty center on Highway 44 between Shepherdsville and the toll road.
And Wallace Richardson advertised "Wally's Body Shop" on Cedar Grove Road where they did auto painting, electric and acetylene welding, blacksmith work, and lumber planing.
A new Brownie Scouts troop was organized at the First Baptist Church in Shepherdsville. Its leaders were Alma Cox and Margie Gentry. The troop committee included Mrs. James H. Hardy, Mrs. Marvin Lester and Mrs. Bobby R. Myers.
And Cash's Variety Store advertised that you should watch your mail for their Big 7 Sale circular.
July 1962
In Mt. Washington news, Miss Linda Lou Lloyd, daughter of Mr. and Mrs. Lee Lloyd, was married to Barry Armstrong, son of Mr. and Mrs. Hubert Armstrong.
In other Mt. Washington news, Mrs. Mary Elizabeth Clark, a delegate to the N.E.A. convention in Denver, had returned home. Others from the county who participated in the event included Miss Peggy Whitehouse of Roby School, and Mrs. Mary McClure of Mt. Washington.
Mrs. Ida Holsclaw continued writing her Hebron columns. She congratulated a neighbor Ronnie Crumbacker who won the State Farm F.F.A. medal and certificate. She mentioned that Mrs. Josephine Garr attended a course for librarians in Frankfort, and also wrote that she regretted losing the Rev. and Mrs. Dunaway as neighbors and pastor with his leaving.
Lottie Mullins of Lebanon Junction mentioned that Carlos Jackson was confined to the hospital after surgery, and that Len Masden was still confined to a Louisville infirmary for treatment. Remember when folks stayed in the hospital for days or even weeks for treatments that are now done on out-patient basis?
The paper reported that "We don't have a swinging bridge, but they're swinging the first span of the old Salt River bridge to the right to make room for the new bridge which is now under construction." Raise your hand if you remember that happening.
Ralph Lee Grant was opening a Ford car dealership in Shepherdsville. Wonder how that worked out?
The paper reported the death of Roy L. Maraman. Mr. Maraman was a member of one of Bullitt County's pioneer families. His father George W. Maraman owned one of the largest general stores in the county, and following his death the store was managed by Roy and his brother Conrad. Roy was also a funeral director in Shepherdsville for many years.
Mrs. Shirley Asher of Lebanon Junction, Mrs. Mildred Williams of Mt. Washington, and Miss Roberta Sims and Mrs. Helen Underwood of Shepherdsville attended the annual conference for vocational teachers at Lexington.
Dr. Raymond Holbrook, who practiced medicine in Shepherdsville for two years before moving to Louisville, died following a heart attack. Dr. Holbrook was a member of the Bullitt County Masonic Lodge.
Mrs. Joe Hedges of Sunnyside wrote that Mr. Jones was happy to get in and out of his wheel chair, that old fashion night at the Knob Creek revival was delightful, and that Renee Brashear was home and recovering nicely.
In the personals column we learned that Mr. and Mrs. Headie Lee, Jr. and sons, Bruce, Steven and Kevin, Mr. and Mrs. Edward Lee and children Jimmy and Janice, Mr. and Mrs. Marvin Hack and Mr. and Mrs Gilbert Nation and son Wendell were guests of Mrs. Elizabeth B. Lee. We also learn that Billy Howard and Mary Lou (Beeler) Smith were the proud parents of a baby girl they named Bill Lou.
And in another one of the personals columns we read that the many of the friends of Brother Hartsell were glad to see him able to sit in church.
---
Copyright 2022 by Charles Hartley, Shepherdsville KY. All rights are reserved. No part of the content of this page may be included in any format in any place without the written permission of the copyright holder.
---