It Happened in 1953
Over the years, Charles Hartley has shared glimpses of what was being printed in The Pioneer News in different months and years. This page includes what was taken from the issues of 1953.
---
January 1953
J. W. Hardaway was improving nicely and expected to be back at the People's Bank soon.
Joseph Clay Wooldridge, son of the late Ben Tom Wooldridge of the Pitts Point section, died in Louisville, age 79. He was a student of the old Pitts Point Academy, and one time member of the Bullitt County Fiscal Court. He was survived by three sons, Herman, David and Joseph Jr., two sisters, Katie Greer and Nora Floyd, and one brother, John Wooldridge.
Lounetta Williams was appointed county chairman for the fund raising campaign of The National Foundation for Infantile Paralysis.
The Hebron correspondent wrote that she received a note from Maude Jenkins who was spending the winter with a daughter in Washington, D.C. Maude was grateful to receive the "weekly Hebron happenings" that she also shared with a daughter in North Dakota.
The Bullitt Lick correspondent wrote that "little Ronnie Parker is visiting his grandparents, Mr. and Mrs. J. W. Shepherd."
In the Personals column we learned that Mr. and Mrs. Bruce Hamilton and two sons of Louisville, and Mr. and Mrs. Charles Hamilton and daughter of Lexington were Christmas guests of Mr. and Mrs. Henry C. Hamilton, Sr.
In the same column, we read that Bertha Trunnell, Mr. and Mrs. Curtis Smith and daughters, and Mr. and Mrs. Joe Duncan and children were Christmas guests of Joe Trunnell and his daughter, Mrs. Nancy Strange.
In the Lebanon Junction column, we learned that on Christmas day, Mr. and Mrs. Fry Haley, son Cliff, and mother, Mrs. Haley spent the day in Louisville with Mr. and Mrs. W. R Fowl.
Also from L.J., New Year's Day marked the 51st anniversary for Mr. and Mrs. Otho Quick with all their family gathered for the celebration.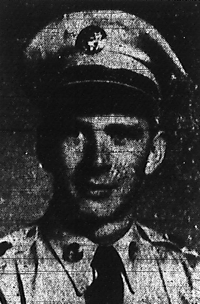 Jimmy Milam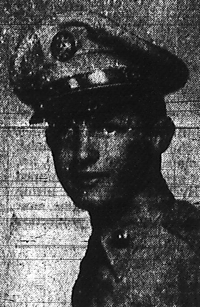 John Moore
Two army privates, Jimmie Milam and John Moore, had been together in grade school, had graduated from high school together in 1951, and had gone through military training together; and they were heading to Seattle together to take up their new assignment.
The paper reported that the Chatterbox Sewing Club held their Christmas party at "The Meadows" where a delicious dinner was served by Mrs. McAdams.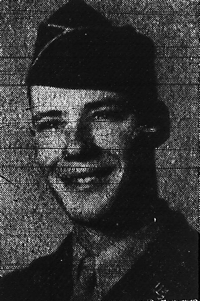 Kenneth Joseph Moore
The soil conservation essay contest winner was Iris June Formhals of Lebanon Junction. Rogna Wagner was second, and Christine Pugh was third.
Honorable mention was given to Janette Yaeger, Margaret Roby, Sue Cornell, James Alcorn, Leonard Paul Masden and Betty Leigh Formhals.
Rev. Archie C. Graham, pastor of Hebron Presbyterian Church, welcomed Mrs. Norman Horner to speak at the Hebron School of World Missions directed by Mrs. W. S. Rhea. The Horners had been missionaries in West Africa. Graham also welcomed Dr. A. B. Rhodes of the seminary to the church pulpit. Then, the church session announced that Graham had been called to a North Carolina church and would be departing in February.
PFC. Kenneth Joseph Moore, son of Mr. and Mrs. George C. Moore of Route 2, Shepherdsville, and husband of Ruth Moore, was pictured in the paper as he arrived in Germany for duty.
And Shepherdsville Mayor M. J. Cundiff announced the establishment of the local Police Court with Burlyn Pike appointed Police Court Judge, and Tom Givhan as City Attorney.
February 1953
The Lions Clubs of Shepherdsville and Lebanon Junction played two games of basketball with the following participants. For Shepherdsville, Prof. Rodgers, Neil Farris, Robert Tanner, Jimmy Powers, Ted Lesch, Billy Hill, Adrain Jones, Bill Snellen, Lindsey Mattingly, Elihu Meador, Raymond Terry, Burlyn Pike and Woodrow Masden; for Lebanon Junction, Charles Tribble, Charles Muir, David Lovell, Junior Thompson, Russell Argenbright, Coach Smith, J. E. Newton, W. H. Meadows and Marvin Duckett.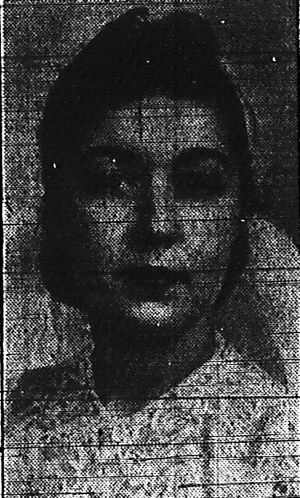 Betty Berman Carter
They also featured games between local "Biddy" teams, boys ten and under, with the following playing for Shepherdsville: Bill Lee, C. E. Roby, Bill Morrison, Billy Scroggins, Chuck Bullock, Anthony Bullock, Mike Rodgers, Gary Feltner, Billy Hackett, Jimmy Bunce, Jimmy Smothers, Joe Caddel, Ronnie Bishop, Melvin Morris, Buddy Messer and Tommy Shaw.
Lebanon Junction's Biddies included Billy Isgrigg, Larry Ward, Benny McDonald, Tommy Price, Lee Barger, Charles Greenwell, Gerald Greenwell and Daryle Lee.
Do you remember when the Shepherd Theatre had its grand re-opening with soft cushion seats replacing the old wooden ones?
The February 6th paper announced the passing of Charlie Bridwell, former county coroner; John B. Hoagland at the Bardstown Junction home of his son, J. E. Hoagland; Frank Richardson who died in Florida and was buried at the Hebron Cemetery; Orlean T. Lee, age 83, of the Belmont community; Selbert D. Owen at his Mt. Washington home; and Mrs. Lydia Shepherd Keith at her home near Bullitt Lick Church.
Miss Betty Berman, daughter of Mr. and Mrs. Edd Berman of Shepherdsville, married P. B. Carter Jr., also of Shepherdsville, at the Shepherdsville Baptist Church in a ceremony performed by the Rev. R. B. Hines.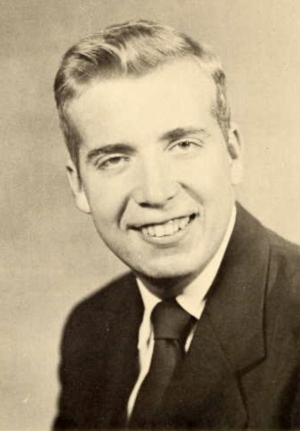 Jerry Bergen
With Circuit Court in session, the following men were called to duty on the Grand Jury: James A. Coakley, Bud Brown, George D. Bardbury, C. T. Korfhage, Forrest Moore, John E. Stottman, Posey Grant, Hugo Maraman, William L. Crumbacker, Frank Bleemel, Carl E. Vance, J. V. Ashby, William R. French, Vernon Duckett, Neal B. Williams, Mitch Moore, Burris Williams Jr., Elmer Downs, Raymond Moore, Everett Hackett, Frank Cornell, H. C. Williams Jr., Frank Hicks and Hobert L. Roby.
The Hebron correspondent wrote that E. Z. Wigginton passed his 79th birthday and was honored with a turkey dinner. She also thanked Mrs. Haley for a share of the fruits of a recent hog killing.
And the Baptist Student Union Executive Board of Campbellsville College met at the Shepherdsville Baptist Church under the leadership of Gerald "Jerry" Bergen of Shepherdsville. Their weekend activities concluded at the Sunday Evening Worship Hour where Jerry Bergen spoke. He was the son of Thelma (Crenshaw) Bergen and brother of Penny Bergen (later Penny Pack).
March 1953
A Shepherdsville Ground Observation Corps post was organized on March 10 at Shepherdsville High School. Its purpose was to have volunteer civilian observers to watch for possible enemy aircraft; a sign of the times.
"Operation Fire Truck," a fund-raising campaign was organized at a Lebanon Junction community meeting at the high school. C. N. Shaw was campaign chairman, and was assisted by Mrs. Ella Able, Mrs. Fred Bishop, Mrs. Elmer Bryant, Mrs. Russell Argenbright, L. W. Demaree, and David Lovell.
Alberta Troutman directed a "Gay Nineties" variety show for the P.T.A. in Mt. Washington featuring costumes and songs of that era.
The "Sousa Band" of Shepherdsville High School, directed by Anna Hodge, presented its annual spring concert in the school gym. Tickets were thirty-five cents.
The Pep Club of Shepherdsville High School was sponsoring a basketball game between faculty and students; admission was ten cents.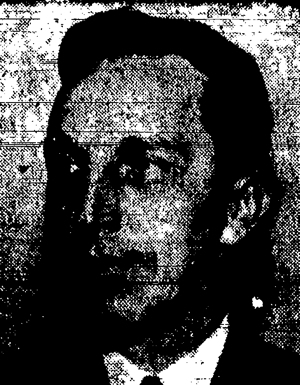 Frye Haley
The Belmont Homemakers had a cake sale in Mrs. L. W. Demaree's Furniture Store in Lebanon Junction.
A variety of politicians announced as candidates for various offices including Leo Bleemel as state representative, C. L. Troutwine Sr. as county judge, C. V. Sanders as county attorney, and Leo Bishop, Jack Bleemel, Franklin Foster, and W. A. Gentry as candidates for sheriff.
Mr. and Mrs. W. O. Swearingen (Sug and Ella) celebrated their 50th anniversary.
Thomas Conniff and Jack Kohler of Shepherdsville, and Charles Fernbach of Clermont were delegates to the Kentucky state convention of the Woodmen of the World Life Insurance Society.
Frye Haley of Lebanon Junction joined the staff at the Peoples Bank of Shepherdsville. Haley was active in Masonic work and was then Deputy Grand Master of the Grand Lodge of Kentucky.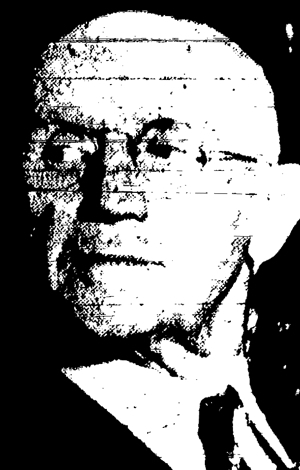 Bert Hall
The Bullitt County Woman's Club met at "The Meadows" hosted by Mesdames Newton Helm, J. W. Pope, Frank Chase, Marie Haines, John Summers and Miss Helen Rhea.
Bert Hall, ex-state legislature and county sheriff, died in Mt. Washington. He has been a director and president of that community's bank.
At the annual meeting of the Bullitt County Farm Bureau, held at the Shepherdsville High School auditorium with over 500 in attendance, Woodrow Masden was elected president and C. T. Korfhage vice-president for the coming year. An old-fashioned square dance was held at the close of the meeting.
A new barber, Walter "Pee Wee" Keith joined Nick's Barber Shop.
And "The Jolly Club" of young married women in Mt. Washington had their annual outing, spending the day in Louisville shopping, dining at the Blue Boar, and going to a show.
April 1953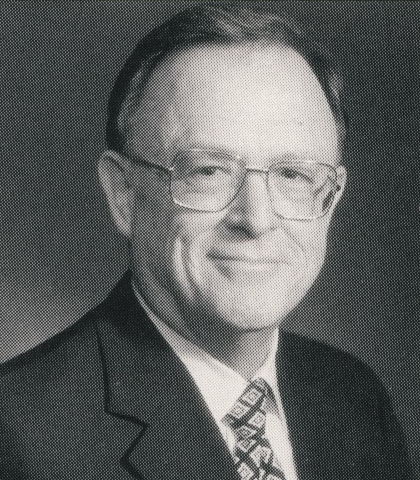 Burlyn Pike
Most of the residents of Bullitt County went on Voluntary Daylight Saving Time on Sunday, April 26th, in conjunction with Louisville's change in time. This included the schools as announced by W. O. Anderson, the superintendent.
Burlyn Pike, owner and publisher of The Salt River Valley News for four years, and recently appointed Shepherdsville Police Judge, announced his candidacy for Bullitt County Judge. Burlyn was the son of John and Jewell Pike. He and his wife, Nell Sanders Pike, had two children, Burnell and Mark Daniel.
The St. Clair Theatre in Lebanon Junction planned to show "Tarzan's Savage Fury" starring Les Barker over the weekend, and then "Bloodhounds of Broadway" on Monday. It starred Mitzi Gaynor.
The Harold W. Hardy Super Market advertised pure hog lard at 14 cents a pound, and sirloin steak at 69 cents a pound. They also offered to pay farmers 39 cents a dozen for eggs. They announced that, due to increased costs, they were discontinuing their delivery service in June.
Mr. and Mrs. Hilary Hardy celebrated their 31st wedding anniversary on the 19th. All their children were present except Billy and wife, who were still in Waco, Texas.
Rev. and Mrs. Richard Hines had a new Chevrolet car.
The Shepherdsville F.F.A. scheduled its annual banquet, and selected Woodrow Masden as honorary member. Other invited guests included Ernest Threlkeld, Larry Greenwell, Elmer Bean, Bob Harned, Bernie Milam, Russell Crenshaw, Charles Kneisler, Hubert Cox, Homer Myers, Ben Robards, Norman McAdams, Ben McAdams, Adrain Jones, and James Mason.
Cecil Cash purchased an interest in the Wilson Store where he had worked for 20 years. Mr. Wilson had recommended Cash, saying "Cecil Cash was straight as an arrow."
The paper announced that death of Cpl. Norman Barr in Korea, who died of battle injuries shortly after reaching the front lines. He was a nephew of Richard Hickerson of Shepherdsville.
And tragedy struck the Bergen home when 19 year old Gerald Bergen was killed in a traffic accident on Dixie Highway. He was the son of Guy and Thelma Bergen, and older brother of Penny Bergen. He was a student at Campbellsville College, and planned to be a medical missionary.
May 1953
In early May the General Henry Crist Chapter of the Daughters of the American Revolution met in the home of Miss Sallie Pope. The following officers were elected for the coming year: Mrs. Henry C. Hamilton Sr, Regent; Mrs. Newton B. Helm, Vice-Regent; Mrs. Jesse Lee Hardaway, Chaplain; Mrs. H. H. Combs, Recording Secretary; Mrs. Charles Hamilton, Corresponding Secretary; Mrs. Henry Maraman, Treasurer; Miss Sallie Pope, Registrar; Mrs. Harley T. Perkins, Historian; and Miss Winonah Maraman, Librarian.
A crew of F.F.A. boys, including Richard Crigler, Lloyd Maraman, Doyle Eskridge, C. L. Lane, Silvie Hodge, and James Burden, erected street markers at Third and Plum, Third and Abbott, and Third and Lee streets. Their leader was Elihu Meador.
Lebanon Junction High School seniors receiving diplomas included David Bishop, Coleman Crady, Clifton Goodlett, Freddy Hoagland, Billy Larkin, Neil Masden, George Newman, Jimmy Thompson, and Ralph Welch. Welch delivered the Valedictory Speech. The Salutatory was given by Masden.
"The Campbells Are Coming," a three-act hillbilly comedy, was presented by the senior class at the Shepherdsville High School Gym. Performers included Rogna Wagnor, Betty Weller, Alice Bogard, Victor Franke, Donnie Garr, Lemo Hester, Wayne Armstrong, Dot Burden, Donald Glenn, and Barbara Kneisler.
After serving for more than 40 years, Howard Roby resigned as mail carrier of the Lebanon Junction rural route.
Dr. Bernard Popham of Lebanon Junction was to report to California where he was to be attached to a Marine Division and sent overseas.
Delores Inez Hoskins was Valedictorian of the S.H.S. Senior Class. Margaret Austine Roby and Elizabeth Jeanette Yeager were its Salutatorians. At M.W.H.S. Glenda Moore was Valedictorian and Shirley Luckey was Salutatorian.
Johnny Samuels, a Lebanon Junction sixth grader, was the best grade school speller in the county in its annual Spelling Bee. Audrey Klapper of Mt. Elmira School placed second. Alice Froman of Brooks School was third. Glenda Moore of Mt. Washington won the high school event. Larry Ward of Shepherdsville was second. Gelinda Fay Greathouse was chosen as winner in the Bowman's Valley School.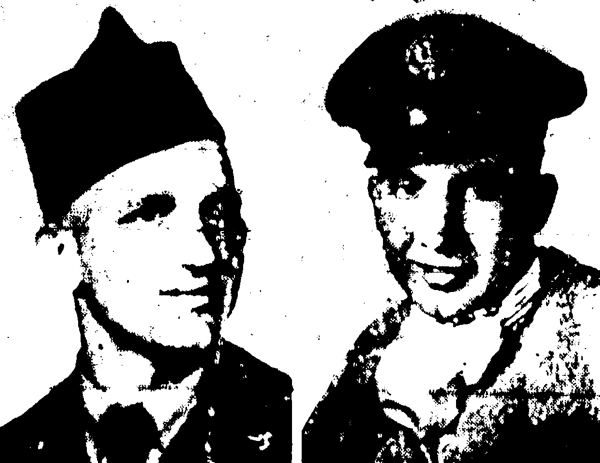 Raymond & Donald Graham
Kentucky Attorney General, and Bullitt County native J. D. Buckman reminded folks that the law requires motorists to stop when approaching a school bus loading or unloading students.
The paper printed pictures of the two sons of Mr. and Mrs. O. C. Graham who were in the armed forces. They included Pvt Raymond C. Graham and Staff Sgt Donald Lee Graham.
And at the first session of Shepherdsville's newly established Police Court two fines were levied. We'll spare the guilty, and just mention that Tom Givhan was City Attorney, Burlyn Pike was Police Judge, and Alf Weller was Police Judge Pro Tem.
June 1953
Joyce Ann Farmer and Mary Kneisler of Brooks, Anna Faye Dawson of Bardstown Junction, and Mary Robert Barger of Shepherdsville each received blue ribbons in the 4-H District Rally at Simpsonville.
The Chamber of Commerce elected officers for 1953-54 including Frank Bunce, President; Vernon Mothershead, 1st Vice-President; L. W. Demaree, 2nd Vice-President; Lee McArthur, Dr. M. J. Cundiff, Glenn Pace, and Bruce Hartsell, Directors; and Mrs. Ted Lesch, Secretary-Treasurer.
Ronald L. Coy of Shepherdsville was one of 125 outstanding schoolboy patrolmen from the state who got to spend a week at Camp Earl Wallace on Lake Cumberland.
The Bullitt County Coonhunters Association sponsored dog races on Bill Armstrong's farm on Deer Lake Road.
The community was invited to attend the opening of the new addition to the Roy L. Maraman Funeral Home. It included four new chapel rooms with air conditioning.
The Henderson-Hardy Company advertised that their lumber yard would soon be loaded with fir wood because "pine has gotten so sorry we are forced to order fir from the West Coast."
Roy L. Maraman's dry goods store advertised Saxon brand slacks for $6.48 to $8.45 a pair.
Mattie's Eat Shoppe in Mt. Washington was able to recover its stolen cash register and other property when the State Police captured the thief when he reached his parent's home in Louisville.
Hubert White & Son of Salt River advertised a 1946 Chevrolet Tudor for sale at $575. Any takers?
June 19th was Bullitt County Day at the Fontaine Ferry Park in Louisville which featured the Comet, the nation's newest and finest roller coaster. Were you there?
July 1953
Sue Comstock, a counselor at Camp Shantituck Girl Scout Camp is reported to have a mild case of polio. She is the first case reported in Bullitt County in 1953.
Korea is on the minds of lots of folks. The Bullitt Lick reporter mentions that families have heard from Linsey Croan, Henry J. Troutman, Jr., Clifford Thomas, and Bill Simmons, all of whom are over there. While down at LJ, Mr. and Mrs. C. N. Shaw have heard from their son in Korea, and he urges that "they sure need doctors" over there.
Meanwhile at Belmont, the Baptist Church has held its Vacation Bible School. Their faculty included Mrs. Eliza Thurman, Mrs. Leonard Waters, Mrs. Hubert Gribbens, and Mrs. Melvin Rhodes in the beginner's department; and Mrs. W. F. Masden, Mrs. Otho Quick, and Miss Janet Masden in the primary department. The junior department was led by Mrs. Albert L. Melburg, Mrs. E. D. Raney, and Mrs George Bradbury; the pastor led the intermediates, while Mrs. Byrd Brown, Mrs. Will Bradbury, and Mrs. Oscar Kidwell provided refreshments.
Judge and Mrs. C. P. Bradbury will hold open house at their Shepherdsville home to celebrate their golden wedding anniversary.
Dr. Patrick J. Murphy and wife have moved into the home of Dr. Bernard Popham at Lebanon Junction and will occupy Popham's office while that doctor is away in the service.
Clyde E. Roby and Bert Shepherd just learned that they have been made Kentucky Colonels.
You are invited to attend the 6th annual rally of the Mt. Washington Lions Club. There will be plenty of fish, fun and entertainment for young and old alike. Come hear Jimmie Osborne's band.
Jimmy H. Milam and John C. Moore of Shepherdsville are pictured in Korea. Both are with the 7th Division infantry.
Billy Horrell, vocational agriculture teacher at SHS, is attending class at U.K. In preparation for the class, he visited fifty Bullitt County farms. (Do we still have that many?)
Mr. and Mrs. Fletcher Hagan and daughter Pat of Shepherdsville are spending their two-week vacation in Florida, while Misses Frances Trunnell, Ethel Newman and Zollie Swearingen traveled only as far as Clifty Falls, Indiana. However, Misses Sara and Clara Newman and friends just returned from a trip to Alaska. Sara will return there to teach in the fall.
The Shepherdsville F.F.A. elected new officers for the coming school term. They are President Bobby Milam, Vice-President Sam Hardy, Secretary Lloyd Maraman, Treasurer Eddie Beam, Reporter Doyle Eskridge, and Sentinel Richard Crigler. All are seniors.
Marvin Porter proudly announces the grand opening of his newly modernized Shepherdsville Motor Company, your Chevrolet dealer on Main Street.
And Rev. W. H. Powell treated his Sunday School class of young ladies to breakfast Sunday morning. Wonder what was on the menu?
August 1953
The paper reported that Billy Joe Stansbury was granted a transfer to the Carrier U.S.S. Boxer so that he could join his brother, Robert Wayne Stansbury aboard that ship off the coast of Korea. They are the sons of Mr. and Mrs. Folly Stansbury.
Dorothy Maraman's piano students performed in a recital. They included Billy Scroggin, Carol Welch, Billy Lee, Janet Parrish, Anna Fay Dawson, Joyce Cundiff, Mary Alice Davis, Anita Hope Lee, Ruth Marie Welch, Billy Morrison, and Ina Charles Roby.
Lightning played havoc in the county with Alton Trunnell losing a television, Frank Wrocklage a hay barn full of hay, and N. B. Helms two cows.
The Hebron correspondent made it clear how she felt about Happy Chandler when she wrote, "Doesn't it nauseate you to hear the name of Mr. Chandler in connection with high political office?"
Gayle Troutman returned from Bowling Green along with the family of Tommie Jasper who plan to make their home in Mt. Washington where Jasper will be the bookkeeper and accountant at the Jasper garage.
Harry Ash posted a notice of his intention to apply for a retail package distilled spirits license to operate a liquor store at the corner of Blue Lick and Main Street.
A donation in memory of Jerry Bergen was used to purchase a suction machine needed at a Baptist hospital in Asuncion, Paraguay.
J. W. Hardaway was honored at a reception at "The Meadows" to celebrate his 50 years of service at Peoples Bank in Shepherdsville.
T. C. "Tot" Carroll was appointed to hold court in Louisville to try an air pollution case. He is frequently called on to act as special circuit judge.
And the Shepherdsville P.T.A. sponsored a "Big Square Dance" with Pat Cruise, Jimmy Cruise, Virgil Hibbs, Walter Mattingly, Pflanz Hatzell, and Norman and Frankie Huffman providing the music. Let the good times roll!
September 1953
Mr. and Mrs. Claud Barrall celebrated their 60th wedding anniversary with family on September 7th.
Charles Davis Shaw, son of Mr. and Mrs. C. N. Shaw of Lebanon Junction, was released in Korea following 34 months as a prisoner of war.
The honor reception for James W. Hardaway for fifty years' service at The Peoples Bank of Shepherdsville was well attended including Mr. Hardaway's cousin, Howard Hardaway (a reporter for The Courier-Journal) who took several pictures of the gathering. Others attending included Clarence Dawson, Leo Dawson, Hattie Monroe, Lilliam Swearingen, Marguerite Ashby, Betty Howell, Mary Murray, Faye Haley, and Shirley Hourigan; all employees of the bank. William Simmons, Robert L. Simmons, Dr. S. H. Ridgway preceded Mr. Hardaway as bank president.
Out Bullitt Lick way, squirrel hunters are plentiful in this part of the woods now.
The Mt. Washington F.F.A. meat-judging team placed sixth at the State Fair. Team members included Tom McAfee, Lloyd Dooley, and Glenn Armstrong, with Billy Roy Gentry acting as an alternate.
Kay Hardy just returned from three months in Europe. She is the wife of Harold Hardy, a local merchant.
Methodist pastors appointed to Bullitt County churches for the coming year are Amos Miller at Lebanon Jct., M. C. Yates at Mt. Washington, T. J. Wade in Shepherdsville, Addison Schiefelbein at Brooks, and Norman Parsons at Cedar Grove.
Over at Mt. Washington, Doris Bleemel, Retta Williams, Edward Frank, and Mrs. Lillian Spivey helped Betty Spivey celebrate her 18th birthday; while Mr. and Mrs. Bruce Stripling, Mr. and Mrs. J. H. Duckett went to Lebanon Junction to visit Mr. Duckett's brother.
And, Dr. J. J. Owens, Old Testament professor at the Baptist Seminary, held revival services at the Baptist Church in Shepherdsville. The paper noted that his basketball prowess, and remarked that he once made 137 consecutive free throws. I wonder if he preached as well as he shot?
October 1953
The following boys were selected to serve on the Shepherdsville School bus patrol: Jimmie Smith, James Froman, J. B. Shelborne, Gene Hester, Charles Bullock, Rodney Simpson, Robert L. Stevenson, Leonard Armstrong, Gerald Armstrong, Eugene Elder, David Beam, Phillip Tinnell, Billy Isgrigg, Jackie Yaeger, Samme Anderson, Billy R. Shepherd, J. C. Heffley, Cecil Beams, Everett Brown, Richard Phelps, Ray Smith, Evert Coy and Jerry Davis. The town patrol included Edwin Arnold, Warren Arnold, Errol Greer, Jon Myers, David Kulmer, Edward Schmidt and Gene Cox.
Cecil Cash purchased Joe Troutman's interest in their store. They had formerly been in partnership with the late G. T. Wilson in the Wilson and Company store. These three had begun their business after buying it from Lindsay Mattingly several years ago. Cash is now the sole owner.
At the Community Day event at the Shepherdsville High School, Arthur Miller and Beverly Simpson were selected as Mr. and Miss Shepherdsville.
The Belmont Homemakers met at the home of Mrs. Russell Strebble. A lesson of Swedish embroidery was given by Mrs. D. L. Eskridge and Mrs. Strebble.
Six Bullitt County homemakers appeared on the TV show, Farm and Folks. They include Mrs. Homer Myers of Brooks, Mrs. C. L. Stansbury of Mt. Washington, Mrs. Howard Hardin of Nichols, Mrs. William Goodwin of Hebron, Mrs. Harry Farmer of Brooks, and Mrs. Leo Bleemel of Mt. Washington.
Bullitt County Sheriff Allen R. Hawkins, Jr. resigned to become an investigator for the state fire marshall staff.
The Shepherdsville FFA chapter initiated new freshman members including Dallis Bentley, Leroy Bishoff, Donald Christman, Lewis Cockrell, Everett Coy, J. T. Cunningham, Roy Dowell, James Froman, Gerald Gagel, Gene Hester, Bobby Hines, Cecil Hurst, Billy Magruder, Ronald McCubbins, Donald McGlassen, J. B. Shelburn, James Sheppard, Billy Smith, Kenneth Ray Smith, Jimmie Smith, Donnie Thompson, Ike Toy, Garland Waters, Larry Lewis, Maxie Huff, Donald Johnson, Glenn Lewis, Ted Marcum, Carl Ray Saddler, Fletcher Crigler, Vernon Huff, and Billy Webb. The reporter was Doyle L. Eskridge.
Roy Maraman and Noble Porter purchased 65 acres of land east of town which was the last part of the Thomas Cochran estate. Rumor has it that they are planning to develop it into a "Boom City." This speculation is driven by the prospect of the new toll road coming by it.
And the folks at Jackson's used car lot in Shepherdsville advertised that Smarty was missing and a reward was offered. Smarty is a female Cocker Spaniel that walks with a limp. Have you seen her?
November 1953
The Mt. Washington 4-H club elected officers at their meeting. Danny Donahue was elected president; Jimmy Carey was vice-president, Thurman Raymond secretary, and Cathy Smith reporter. Over at Cedar Grove, the 4-H club elected Orval Martz president, Ronnie Meredith vice-president, Virgil Jackson secretary-treasurer, Carolyn Vincent song leader, and Carol Berman reporter. And at Nichols Mary Nell Heavrin was elected president of their 4-H club. Other officers included Alice Heavrin as vice-president, Glanda Darlene Muss as secretary, and Mary Rose Klapper as reporter.
Out Bullitt Lick way, Royce Wayne Mitchell was the recipient a fine birthday dinner and gifts provided by his grandmother, Mrs. Pearl Smith. After dinner they went hickory nut hunting. He was especially pleased with the gift of some things that belonged to his grandfather.
It is said that the following people left the local blood drive a pint low. They included Darnell Harris, Marvin Moore, J. W. Armstrong, Jimmy Ryan, Charles Lee, Clinton Richardson, Billy Stallings, Jene Trunnell, Mary Ellen Bivens, Minnie Croan, Selvie Hodge, Darrell Bridwell, Dorothy Nichols, Minnie Bailey, Mrs. Meacie Roy, Inez Shepherd, Robert Miliam, Norman Troutman, Sara Price, Clifford Shepherd, Ralph Lutes, Cecil Smothers, Lee Miles, James Burden, Roslee Bridwell, Wanda Dean Myers, Burlyn Pike, Glendon Hall, Mrs. Melvin Porter, Mrs. Amos Brown, Laverne Demarsh, Esther Williams, Mamie Blissitt, Mrs. Vernon Mothershead, Mrs. Lee McArthur, Mrs. Arson Moore, Mrs. Frances Stallings, Lillian Myers, Mrs. Romona Smith, Bernie Milam, Mrs. Lura Dennis, Corine Smith, Vernon Mothershead, Nellie Hubbard, Dorothy Stottman, Mrs. Richard Hedrick, Leo Bleemel, Rev. Addison Scheifelbein, Archie Whiteman, Raymond Terry, Mrs. Bertha Milam, Mrs. Virgie Jones, Mrs. Addison Schiefeibein, Melvin Shepherd, Mrs. Betty Kinder, J. V. Shaw, Ack Hill Harned Jr., John Morton, Marie Dever, Helen Hukle, Mrs. Dorothy Reader, Mrs. John Sloan, Ralph Philips, and Noah Whittle.
The classified ads provided some interesting reading. Emmett Miller had hay to sell for 65 cents a bale; Freddie Losch was trying to sell 200 bushels of corn; and Henry Brumett out on Bells Mill Road had 9 weanling pigs. Mrs. Alfred Maraman would sell turkeys and chickens, either dressed or on foot; and Mrs. Myrtle Barrall was selling 4 storm windows.
Mrs. Howard Tharpe took her Little Flock class of junior girls to her home for lunch, followed by a hike to a cave, and then to Okolona for ice cream. I wonder where that cave is.
Betsy Stamper of Brooks was chosen as the most popular girl on the campus of Campbellsville Junior College. She graduated from Shepherdsville High in 1952.
Sometimes we forget who served us in days gone by. In 1953, Nancy Strange was circuit clerk, G. H. Swearingen was the master commissioner, C. A. Dawson was county judge, C. V. Sanders was county attorney, Theodore Cook was county clerk, Charles Holsclaw was county surveyor, Tom Hibbs was jailor, and Allen Hawkins Jr. was sheriff. W. O. Anderson was school superintendent, and Luther Van Vactor was coroner. The magistrates were Emmett Nall (Shepherdsville), Arson Moore (Mt. Washington), A. P. Weller (Leaches), and John Samuels (Pine Tavern).
Aunt El Bridwell, who would soon be 96, was missing her little terrier dog by the name of Peggy Ann. I hope she was found safe.
Also, Lee Jackson of Shepherdsville was looking for his red bull that was lost. It weighed about 400 pounds. Have you seen it?
December 1953
A recording of Christmas greetings by Bobbie Etherton to his parents was played on the Jimmie Osborne program on station WKLO. Bobbie was stationed in Germany.
Despite being short-handed with Arthur Miller bedridden with mumps, the Shepherdsville Rams nearly overcame a big Willisburg lead behind "Tee" Coy who scored 16 points in the second half, but the rally fell short 52-49.
Neill Brooks, Jr. and Samuel G. Vittitow of Shepherdsville were among about 300 farmers who visited the Purina Research farm in Missouri.
Mrs. Roy Ireland, Mrs. Thomas Givhan, Mrs. J. W. Pope, and Mrs. Neil Ferris were hostesses for the Woman's Club luncheon at the Meadows Restaurant on the McAdams farm this month.
The Hebron correspondent reported that "Mrs Frank Quick has learned to operate a car and has purchased one. She came out and took us to church Sunday."
Mrs. Jean Goodwin was selected as the outstanding member of the Hebron Homemakers Club last month.
The personals column mentioned that Mr. and Mrs. Delmar Dawson had just moved into their new home east of town on highway 44; and Mr. and Mrs. J. W. Daugherty moved into a new home at Gap-in-Knob.
Out at Clermont, Wanda Thompson received many nice birthday gifts at a party attended by Bonnie Tinnell, Polly Smith, Ella Mae Sowders, Wanda D. Meyers, Barbara Gayle Morris, Norman Troutman, Laura Wise, Howard Moore, Faye Coy, Joyce Thompson, Dot Williams, Rayburn McDonald, Peggy Boone, Joe Raley, Fronia Sweat, and Frankie Huffman.
Down at Lebanon Junction, the correspondent reported that two of the children of Mr. and Mrs. J. D. Raney received tonsil operations during the holidays. I wonder if ice cream was on the recovery menu?
Who remembers the variety show based on the Whippleville Depot? Some of the cast included John McGill, Yvonne Huffman, Buddy Brown, Joyce Harris, Sherry Johnson, Ronnie Hatfield, Joyce Farmer, Janet Masden, Peggy Sadler, Carolyn Carpenter, Ina Charles Roby, Shirley Jo Stansbury, Bernice Smith, Vernon Goodwin, Eugene Elder, Wilda Swanner, Barbara Morris, Jim Griffis, Arthur Miller, Charles Reichmuth, Betty Greenwell, Carmel Greenwell, Lydia Keith, and Margaret Keith.
The Shepherdsville lunchroom staff surprised Mrs. Betty Larimore with a cake and ice cream party on her birthday. She was praised for her excellent work in the Commerce Department, and in managing the lunch program.
The Cedar Grove Homemakers met at the home of Mrs. Alf Weller. Attenders included Mrs. C. T. Korfhage, Miss Mariah Stiglitz, Mrs. Myrtle Deacon, Mrs. Ed Berman, Mrs. Leslie Earl McCubbins, and Mrs. Johnson Ash.
And the Standard Oil Service Station changed hands when Leland Cundiff purchased the business.
---
Copyright 2018 by Charles Hartley, Shepherdsville KY. All rights are reserved. No part of the content of this page may be included in any format in any place without the written permission of the copyright holder.
---