It Happened in 1946
Over the years, Charles Hartley has shared glimpses of what was being printed in The Pioneer News in different months and years. This page includes what was taken from the issues of 1946.
---
January 1946
A surprise birthday party took place at the home of Harley and Maggie Proctor on the evening of January 1st. It was for their sons Gordon and Don Hill Proctor who were both born on January 2nd, but 17 years apart. Those present included Joe, Ralph, Ray, and Bernie Bleemel, J. O., Joy and Marion Smith, Ailene and Madelene Moore, Jane and Wilbur Hall, Valeda, Omar and Billie Stallings, Herman Clark, Thurston Stallings, Capels Ridgway, Ruby and Evelyn Stallings, Evelyn Porter, Ina Bridwell, Ercel Armstrong, Betty, Leola and Harold Armstrong, Martha and Theo Nelson, Mrs. Virginia Nelson, and Mr. and Mrs. Arvel Bridwell.
Hobart Roby was sworn in as the new sheriff, and Tom Hibbs as the new jailer.
The marriage of Charles Croan, grandson of Mrs. Fannie Croan of Shepherdsville, and Irene Kneisler, daughter of Mr. and Mrs. Henry Kneisler, was announced in the January paper. Miss Marie Kneisler, sister of the bride, was maid of honor, and Everett Hawkins was best man.
In the Lebanon Junction column we learned that Dr. J. G. Dodd had died in Ohio the previous December. Dr. Dodd was a physician at both Bardstown Junction and Lebanon Junction before moving to Ohio. He was also a survivor of the 1917 Shepherdsville train wreck that took so many lives.
We also learned in that column that Coach R. G. Newton was back from the service, and recovered from his injuries.
We read in the Personals column that Dennis Tate of the Navy was home on a furlough; that Delores Settles, Clara Lee, Bob O'Keefe, and Jerry Mattingly attended the Juke Box Ramblers dance in Louisville; and that O. H. Masden and wife hosted for dinner Bro. and Mrs. Hartsell, C. A. Masden and wife, C. W. Stansbury and wife, Ed Morris and wife, and his son O. H. Jr. and his wife.
Mr. and Mrs. Erwin Newman of Mt. Washington announced the upcoming wedding of their daughter Nellie Frances to Marshall Emerson Samuels, son of Mr. and Mrs. John I. Samuels of Lebanon Junction.
The Bernheim Foundation advertised a $100 reward for information leading to the arrest and convention of the persons who entered Bernheim Forest and cut about an acre of spruce and pine for Christmas trees.
Need your wood floors sanded? Elmer and Otto Cundiff will make old floor look like new. Phone them at 9822.
The Belmont correspondent reported that P.F.C. George E. Bradbury had been heard from, and was currently in Tientsin, China.
The Salt River correspondent expressed sorrow at the illness of Lorene Tinnell, and said that Mrs. Lester Philpot and Mrs. Myrtle Tinnell were taking care of Lorene's children.
Roy L. Maraman Dry Good Store was the first in Shepherdsville to display Neon lighting.
The seniors at Lebanon Junction School were sorry to lose their sponsor and English teacher, Miss McKindree who was leaving to go to Campbellsville College as librarian.
W. L. Bass advertised a sale of personal property with this sad notice: "As I have lost my wife and I am crippled, I have sold my farm and I am offering the following described personal property for sale at public auction."
Just beneath that advertisement was one by Wallace Kneisler that was a bit more hopeful. His sale, located at Brooks Station, just south of Marcum's Store, was being held because he had accepted a position in Louisville, and didn't have the needed help to maintain his livestock.
And Charles G. "Jerry" Bridwell was just one of many local boys who were receiving their military discharges and returning home. But the joy of receiving these returnees was tempered by messages of memory like the one that said, "In memory of our precious son, Cpl. Millard H. Proctor who gave his life for his country and loved ones on January 18, 1944."
February 1946
The annual Red Cross drive was headed up by Lindsay Ridgway who was assisted by Ella Hardy, Eugenia Stansbury and a committee that included H. H. Combs, C. A. Masden, R. M. Hardy, T. C. Carroll, Ora L. Roby, J. E. Chappell, Clara Simmons, Irene Carroll, Mary Collings, Conrad Maraman, Ethel Newman, Mrs. E. T. McAfee, Roy Stallings, Mary Priest Combs, J. E. Fisher, Mrs. John Hoagland Jr., and Gertrude Masden.
Buford Tinnell of Chapeze was married to Bettie Jean Waters of Belmont by her pastor Rev. Douglas of the Belmont Baptist Church. Bettie Jean was a daughter of Mr. and Mrs. Waverly Waters. Buford was the only son of Mr. and Mrs. Squire Tinnell. Members of the wedding party included Willie Frank Masden, Mary Blanche Hill, Otha Quick, Charlene Waters, Loretta Tinnell, Waneita Waters, Charles McCubbins, Leonard Waters, Waverly Waters Jr., Jannet Fay Masden, Delores Bradbury, Lillian Wineholder, and Mrs. Douglas.
Grover Maraman was killed in an accident while moving a calf to his farm near Salt River. He was the second son of Charles and Sus Henderson Maraman to die in an accident, with his brother David having died in the 1917 train wreck at Shepherdsville. Another family tragedy occurred in 1940 when Grover's son Bobby had been killed on the railroad bridge by a freight train.
On a happier note, Charles and Eva Lee Fearnbach were the proud parents of a son, Charles Darwin Fearnbach Jr.
A fire discovered in the kitchen of Frank Jones' home soon consumed the entire house. Mr. Jones, who was bedfast, was carried to safety by friends.
In Mt. Washington news, Prof. W. H. McFarland, recently released from the army, and Mrs. McFarland were overnight guests of Lindsay Jones. Also, Mrs. Anderson and Miss Inez Lloyd chaperoned the local school's four cheerleaders on a trip to Willisburg. The four girls included Lois Jean McAfee, Evelyn Porter, Verneasa Troutman, and Garreta Smith.
Harold Hardy announced that J. E. Chappell Jr. joined the staff of the Robert Hardy & Son Funeral Directors.
Lt. Col. Edgar Stansbury, who was expected to be discharged soon, joined the faculty of Western Teachers College as the head of the physical education department. The son of Emmett Stansbury and brother of Mrs. Christine Cruise and Mrs. Stanford Harris, he graduated from Shepherdsville High School in 1926.
The Shepherdsville Rams won the Salt River Valley Conference basketball tournament, defeating Taylorsville in the final game 38-32, held on the Rams' home court before a capacity crowd. It was a physical game, with referees Charlie Vettiner and Paul York calling 37 personal fouls including five each on the Rams' Captain Arthur Moody, and both James Brewer and Charles Henry of the Taylorsville team. Moody and Ray Cunningham led the Rams' scoring with 15 and 10 points respectively. Among the other players mentioned by name in the article was Walter Franke, the tall center for the Rams who used his height to gather rebounds and block shots.
The paper reported that Jimmy Cruise was in California and would begin harness racing there in April. He was described as "one of the best drivers in the nation."
John Warden of Belmont lost an eye when a piece of metal he was striking with a chisel broke off and struck him in the eye.
P. H. Croan resigned as Shepherdsville town marshall to devote his time to the maintenance of the local water works. He was replaced by W. A. Gentry.
Hazel DeMarsh was elected president of the Nichols 4-H Club. Laverne Haycraft was vice president, Emily Thompson became secretary, and Shirley Huff was the club's reporter.
And Roy Maraman, local merchant and undertaker, who lived at the south end of the Salt River bridge, was approached one evening by an excited man who wanted to hire Roy's ambulance to rush his expectant wife to the infirmary. Roy rushed the woman into the ambulance and started across the bridge into Shepherdsville. However when he pulled off the north end of the bridge, he heard the baby crying, and the mother saying, "It's all over!" He stopped the vehicle and Dr. McCubbins was summoned to take over.
March 1946
It was spelling bee time again, and Elizabeth Sheeley, daughter of Mrs. Leona Sheeley from Sunny Side School won the Grade contest. Her teacher was Miss Lillian Pearl Smith, a recent graduate of Shepherdsville High School. The runner-up was Glecia Ann Ratliff from Woodsdale whose teacher was Miss Mary Belle Hall. Other contestants in this division included Hazel DeMarsh (Nichols), Joyce Smith (Pleasant Grove), Van Nutt (Mt. Washington), Kathleen McCubbins (Clermont), Merrill Cundiff (Beech Grove), Delores Bradbury (Belmont), Georgia Clark (Shepherdsville), Leonard Mattingly (Lebanon Jct.), and Charles W. Crenshaw (Bowman's Valley).
In the high school division, Leola Armstrong of Mt. Washington won, with Juanita Philpott of Shepherdsville and Mary Lucy Marr of Lebanon Junction tied for second.
In the Belmont community column we learned that Mr. and Mrs. J. H. Hardy and sons Billy and Sammy of Cedar Grove, along with Mr. and Mrs. Frank Durbin of Shrewsburg TN were guests of Mr. and Mrs. George Bradbury and family. Mrs. Durbin, the former Mary Lee Hardy, and husband were moving to Pennsylvania to live.
The Hebron correspondent reported that the Hebron Auxiliary met with Mrs. Kate Brooks and Mrs. H. T. Williams where a book on Africa was taught by their president, Mrs. Russell Jenkins.
An interesting description of Ralph Scrogham's tour of duty was published in the paper. He was inducted in June 1943, trained in Georgia, sailed from New York to Liverpool, England, and crossed the English Channel on a Liberty ship. After a month in Normandy, his unit went to the front under the command of Gen. Patton and took Metz. Next they moved to Luxenbourg and took part in the Battle of the Bulge. Next they joined the 7th, crossed the Rhine, and stayed with them until the end of the war. After a long wait for transport, Ralph reached New York on January 15th, and received his discharge on February 5th.
Paul Tyler, age 3, son of Willis and Amy Tyler of Star Route, Shepherdsville, wandered off leaving no clue of his whereabouts. By dark the entire neighborhood were out searching for him. As the night deepened, the search became more frantic, especially with Salt River being nearby. It continued into the next morning without success until Sam Deacon found him a few miles from Shepherdsville at Bowman's camp house on Salt River. Or rather, Paul found Sam, for he heard Sam's radio and followed the sound to the camp which was about two and half miles from the boy's home.
And Bobbie Lee wrote an exciting description of the Shepherdsville - Mt. Washington basketball game in the 24th district tournament. The Generals' Walter Mathis opened the scoring with a jump shot and Paul Smith added a free throw for a 3-0 lead. The Rams' Walter Franke then scored a basket making it 3-2. With Arthur Moody, Sam Raley, and Harold Boyd scoring for the Rams and Mathis, Smith and Charles Rogers for the Generals, the score was 12-10 Generals at the end of the quarter.
The Generals controlled the second quarter which ended with them up 21-15. In the second half, Ralph Lutes scored his only basket before Boyd and Raley scored to cut the lead to just five points. The score was 27-20 when Boyd and Moody scored baskets to draw within three points as the third quarter ended.
The Generals regained a five point lead on a basket by Gentry, before Raley hit a jump shot, Boyd tipped in a rebound, and Moody sank a free throw to tie the score at 31 with 45 seconds left in the game. Then Gentry was fouled and sank the free throw. Then with fourteen seconds left Franke was fouled by Lutes and tied the score with his free throw, ending regulation play.
Ray Cunningham, who had first entered the game near the end of regulation, gave the Rams a spark in overtime. Moody started the scoring with a crip shot before Gentry hit a foul shot followed by two by Cunningham, giving the Rams a 38-35 lead. Then Smith and Rogers combined to tie the score again at 38. Then, just before the buzzer went off, one of the Rams grabbed the ball under the Generals' basket and heaved a long pass to Cunningham all alone at the other end of the floor, and he sank the shot, giving Shepherdsville a 40-38 victory.
I have to tell you, I got really excited just reading Bobbie Lee's description of this game!
April 1946
The Circuit Court grand jury, consisting of C. P. Bullock, W. F. Masden, Ed Applegate, E. E. Stephens, A. L. Bean, Burks Williams Jr, George Jones, Wallace Kneisler, J. P. Hatzell Sr., Woodrow Masden, Roy Shepherd, and Alex Hardy, returned ten indictments including five persons indicted for trespassing. Those charges grew out of the Christmas trees that were taken from the Bernheim Foundation at Clermont.
Carl Hodge and Martha Pauline Bivens of Clermont were married. He was a son of Mr. and Mrs. Golden Hodge; she was a daughter of Mr. and Mrs. Charles Bivens.
The Cupio correspondent wished Mr. and Mrs. Pete Monroe an enjoyable trip to Salt Lake City to visit with Mr. and Mrs. Harry Monroe; and also offered get well wishes to James Hopewell, Charles McNutt, Mrs. Mattie Muss, Mrs. Cora Ridgway, and Mrs, Birdie Griffin.
At their annual banquet, the Bullitt County Farm Bureau elected Russell Jenkins as president, Robert Henderson vice president, and Lounetta Williams secretary-treasurer. Their board of directors included Lee Masden, J. W. Stark, Ack Harned, Tom Huffman, S. N. Brooks, Ben Frank Robards, S. O. Armstrong, Leonard Daugherty, Earl Dacon, Hilary Hardy, Roy Applegate, Howard Hardin, Henry Kneisler, and O. H. Masden.
A local V.F.W. post was installed with Allen R. Hawkins as Commander, Ray Masden as Senior Vice Commander, Paul Patterson Junior Vice Commander, and Harold Hardy as Quartermaster.
In the Salt River community, Dock Jenkins bought the house of Mrs. Henry Dever; an eighth grade party was held at the home of Gloria Miller; and Johnnie Philpot was given a birthday party by his parents, Mr. and Mrs. Lester Philpot.
In the Lebanon Junction column we learned that Albert Meadows passed away suddenly in the train baggage car somewhere between Cincinnati and Worthville, Kentucky. He was the baggage man on the train. His funeral was held in Lebanon Junction.
H. M. Greenwell advertised monuments for sale. The cost of granite started at $25; marble was $14, and concrete began at $5. You could pay more, of course.
Most of the stores in Shepherdsville placed a joint advertisement announcing that beginning May 1st they would be closed on Wednesday afternoons during the summer months.
T. H. Froman had a horse he'd sell or trade for ear corn. Russell Stallings was selling a pair of matched sorrel mares. C. L. Stansbury was selling sheep, stock cows and heifers, or would trade any of them for clover hay. And Doc Jenkins of Salt River wanted to sell a fuel oil heater "good as new."
Mrs. Henry Hamilton was elected president of the Bullitt County Woman's Club for the 1946-47 year. Ethel Newman was the vice president, Thelma Newman was Secretary, and Mrs. J. W. Hardaway was elected treasurer.
Miss Lucile Thompson of Cincinnati was married in April to Neil Brooks "Booky" Williams in the Hebron Church Manse.
Pope Sheehan, a Greyhound bus driver living in Nelson County, invited Miss Corrine Owen to travel with a group of drivers to Philadelphia to pick up new buses. The trip gave her a well earned vacation from her duties as Mt. Washington postmaster, as Mrs. Marvin Moore and Mrs. Darrell Harris took care of the post office in her absence.
In the Personals column we learned that Mrs. Fronie Harris and Bertha Trunnell spent Easter with Mr. and Mrs. Joe Trunnell at the home place.
Alvine Foster and Beulah Stallings tied the knot in April. She was a daughter of Mr. and Mrs. Claud Stallings, and he was a son of Mr. and Mrs. A. G. Foster.
And the Hebron correspondent always had something personal to add to her column, like when she wrote "We weeded our asparagus bed those nice cool mornings last week and now we are almost helpless with lumbago."
May 1946
In the scholastic activities column, we found a listing of school personnel whose classes participated in the Easter Seal Drive. While it is incomplete, here are the names we found for each school. Nichols: Virginia Nichols, Louise Buck and Christine Whiteman; Sunny Side: Lillian P. Smith; Pleasant Grove: Beryl Porter, and Hilden Cornell; Mt. Washington: W. O. Anderson (principal), Bertha Anderson, Nell V. Porter, Inez Lloyd, Ruth Franklin, Sylvia McGee, Anna Goodwin, Lucille Insko, Mary G. Paris, Steven Hardin and Maurice L. Bates.
Continuing with Cedar Glades: Margie Ashbaugh; Cedar Grove: Thelma Roby, Alma Ratliff and Lena Roberts; Clermont: Ora L. Roby and Ophelia Morris; Woodsdale: Mary Belle Hall; Beech Grove: Maudie Cundiff; Belmont: Augusta Dawson, Zardetti Dawson and Mary B. Hill; Bowman's Valley: Mattie Owens.
Here is the Shepherdsville School list: H. T. Peterson (principal), Lillie Vertrees, Nell Miller, Laura Richardson, Nancye Masden, August West, Ruby C. Napier, Susan Avritt, Christine Cruise, Louise Bischoff, Myrtle Frick, Woodrow Masden, Alma Hardesty, Mary Dawson, Clara Myers, Eulah Mae Wise, Ann Taylor, Lucy Jackson, Mary H. Miller, Jane Black and Lanye Wigginton.
Only two names were given for the Lebanon Junction School: L. A. Johnston (superintendent) and Martha Dell Dant.
Seventeen seniors graduated from the Shepherdsville School in May, including Wilma Maraman, Mary Harned, Myrtle Roby, Loretta Tinnell, Norma Holsclaw, Ella Mae Maraman, Ferol Sims, Juanita Philpott, Margaret Williams, Betty Williams, June Harned, Kathleen Croan, Walter Franke, Harold Lanham, Russell French, Bernie Milam and Arthur Moody.
Betty Williams, daughter of Mr. and Mrs. Dick Williams of Hebron, was class valedictorian. Myrtle Roby, daughter of Mr. and Mrs. Trainor Roby, was salutatorian, and soon added another title when she married John Price in a ceremony officiated by her uncle, Rev. R. B. Cundiff.
Lebanon Junction native, Sergeant James Sprinkle was reported to be serving with the 701st MPs in Shanghai, China.
Mother's Day at the Trunnell House was special with four generations present including great grandparents Mr. and Mrs. Joe Trunnell; Mrs. Nancy Strange, grandmother; Ruth Duncan, mother; and little Ruth Ann Duncan representing the fourth generation. Also present were Mr. and Mrs. Curtis Smith, Bertha Trunnell, and Fronia Harris of Louisville.
Mr. Lee Masden, "one of the oldest men in Bullitt County to take active part in the Bullitt County Sportman Club," recalled hunting with his grandfather William Duvall, and watching him shoot squirrels and then reload his muzzle loader without dismounting from his horse. Lee was a son of Joseph and Lucinda (Duvall) Masden. His other grandparents were Dennis and Elizabeth (Howlett) Masden.
Jimmie Cruise, son of Mr. and Mrs. Hardy Cruise, won a big harness race, the $50,000 Pacing Derby at Santa Anita Track, driving the horse named Blue Again.
Eleven of the 18 members of the Shepherdsville High graduating class of 1930 gathered at the home of Jack Gardner for their annual reunion. Present were Mr. and Mrs. Claud Rodgers and son, Mr. and Mrs. Frank Laurita, Mr. Pete Trunnell, Mr. and Mrs. Harry Farmer and daughter, Mr. and Mrs. Robert Easton, Mr. and Mrs. Burks Williams Jr. and son, Mr. and Mrs. Charley Gunther, Mr. and Mrs. Jack Gardner and son, Mr. Jimmy Harned, Mr. Charley Farmer, and Mr. and Mrs. Clifton Hall. Coming the longest distance were Charley Farmer from California, and Jimmy Harned from Panama.
And how often do you see a century old "Last Will and Testament" published on the front page of the newspaper? Mrs. Josie Zimmerman brought this original 1842 document of the last wishes of her great-great grandfather Archibald Magruder to the newspaper office and they published it. If you are interested, we have an image of the original will on the History Museum website.
June 1946
Ed Frantz, local druggist and owner of Patterson Drug Store, purchased a Main Street lot from G. S. Patterson that lay between the lots of L. R. Mattingly and the Peoples Bank. It was thought that he planned to build there.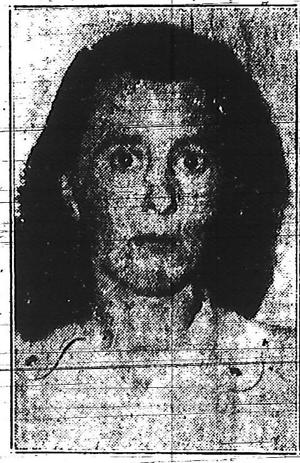 Gladys Bradbury
The local paper called Gladys Elizabeth a British war bride when she arrived in at her new home on her husband's farm at Belmont. She had been a widow with a small son, working in a Leicester, England textile mill when she met Pfc. Albert Bradbury in a movie queue. They were married in England, and were temporarily separated in November when Albert returned to the states with his unit. But they were soon reunited as Gladys arrived with her two children, James Francis Ragg and Ray Anthony Bradbury.
Miss Marion Smith, a piano major and honor student at the Bethel Woman's College at Hopkinsville, returned to Shepherdsville to spend the summer with her parents, Mr. and Mrs. Marion Smith.
We learned in the personals column that Mrs. Howard Roby was able to be out again after being painfully injured several weeks earlier when she fell down the basement steps. And in the Mt. Washington column, we read that both Mrs. Leonard Daugherty and Mrs. Vane Rouse sustained injuries by falls down stairs at their homes.
We also learned that Leland David Cundiff had returned to his unit at Memphis following a few days leave spent with his parents, Mr. and Mrs. Elmer Cundiff.
Geraldine Williams, daughter of Mr. and Mrs. E. L. Williams of Shepherdsville, graduated from Ursuline College with a major in home economics.
There was a big V.F.W. dance at the Old Deer Lake Dance Floor just west of Shepherdsville, sponsored by the V.F.W. Jarriet Thurman Moore Post No. 6720 of Bullitt County. Paul Barry's orchestra entertained.
There was also an ice cream supper and fish fry at the W.O.W. Hall at Clermont.
The people of the Bardstown Junction community met at the home of Mr. and Mrs. R. W. Childers for a "surprise farewell meeting." After 26 years in the post office and grocery business, they had sold their business and planned to make their home with their daughter, Mrs. A. E. Funk in Frankfort.
Tommy Sipes at Gap in Knob had a good male hog for sale. John Richards (The Goat Man) had for sale milk goats and kids. And Hugo Maraman of Shepherdsville would sell you a registered Hereford bull.
Bullitt County's magistrates included Hugh Samuels (Shepherdsville), C. S. Moore (Mt. Washington), A. P. Weller (Leaches District), and John I. Samuels (Pine Tavern District). Other county officials included Clyde E. Roby as tax commissioner, School Superintendent C. V. Foreman, and Coroner C. T. Bridwell.
C. P. Bradbury was county judge, Lindsay Ridgway was county attorney, Theodore Cook was county clerk, Tom Hibbs was the jailer, and Hobart Roby was sheriff.
Pat B. Cruise was master commissioner for the county, and Nancy Strange was circuit court clerk.
And there were quite a few wedding announcements in the paper including Martha Dawson to Albert Rodgers, Dolly Robison to Raymond Perkins, Daphne Cox to Charlie Parris, Mary Elizabeth Maraman to Elmer Eugene Laswell Jr., Sue Averitt to Neill Brooks Jr., Maxine Sowder to W. H. Meadows, Nancy Lunsford to Wathen Viers Jr., Charlotte Thompson to John Wade McAfee, Mary Coryell to Herbert Cundiff, Loretta Tinnell to Joseph Chester Thompson, and LaVerne Troutman to Charles E. McCubbins. (I'm sure there were more that I missed.)
July 1946
July 4th saw the placement of a plaque dedicated to Archibald Magruder, a Revolutionary War veteran, at his grave site located within the boundaries of the Bernheim reservation near Bardstown Junction. Among the speakers was T. C. Carroll, a great-great grandson of Mr. Magruder. Also present was Frank Magruder, the only surviving grandson, and J. E. Magruder, the oldest great-grandson.
In news from Mt. Washington, Rodney Lee Hinsch was born to Virgil and Beatrice (McGee) Hinsch; Donna Lynn was born to Mr. and Mrs. Stanford Harris; Vernon Mothershead took his boy scout troop on a weekend trip; Mrs. Paul Horner and son visited her mother, Mrs. Marion Porter; Kathleen Harris and Betty Crenshaw of Asbury College spent the weekend at home; and Judith Ann, eldest daughter of M. R. Porter, had a wreck with her scooter, and broke her arm.
Also in Mt. Washington, the Cyclone Cash Store made a turn-around. Originally facing Highway 44, after remodeling it then faced Highway 31E.
The Brumley and Bridwell General Store located between Mt. Washington and Shepherdsville was sold to David C. Schmitt.
In Lebanon Junction news, Geneva Masden and Clifford Samuels were married. Also, a memorial service was held at the Baptist Church to honor the memory of Lt. Willard Wright and P.F.C. Thomas G. Mullins, two Lebanon Junction boys who lost their lives in the war.
In the Cupio neighborhood, Mrs. Cora Ridgway and Miss Eunice Ridgway entertained in their home Marguerita Ridgway, Alma Klotter, Beatrice Culver, Joe Chappell, Lindsay Ridgway, Samuel Ridgway, Mr. and Mrs. Charles Ridgway, Mr. and Mrs. Raymond Mattingly, June and Janet Ridgway, and Billy Howard Smith.
William H. McFarland became the superintendent of Boone County Schools. He had previously been principal at Mt. Washington from 1930-34, and superintendent of Bullitt County schools for eight years before spending four years in the army.
Fruit growers of the Louisville area met at Howard Hardin's orchard in Bullitt County in one of the oldest fruit sections of the area.
Leonard Daugherty, Earl Dacon, and Lee Masden were elected as supervisors for the Bullitt County Soil Conservation District.
The Circuit Court Grand Jury members included George Wigginton as foreman, J. R. Taylor, Lee Loyd, J. M. Harvey, Harvey Hubbard, Floyd Stallings, G. R. Henderson, Walter Mathis, H. L. Williams, A. R. Nusz, O. L. Beard, and George Cox.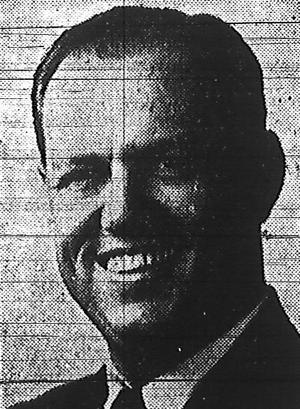 Albert L. Carnett
Tommy Grant and family, Ellis Stallings and family, and Thurston Stallings enjoyed a day at Fontaine Ferry Park in Louisville.
Rev. Albert L. Carnett, a former pastor at the Shepherdsville Baptist Church, returned for a revival meeting.
Rev. Shows of Hebron Presbyterian and Rev. Sandridge of Little Flock Baptist oversaw a combined VBS for the two churches.
And the editor and staff of the newspaper asked folks to bear with them "during the misfortune that has swept the shop." Two of their staff were out as Anna Hawkins had an appendectomy, and Anna Underwood was away due to serious illness of her granddaughter. They thanked Hardin County Enterprise for printing that week's newspaper.
August 1946
J. S. Broaddus, manager of Salt River R.E.C.C. encouraged its members to attend the annual meeting at Bardstown, as a majority was needed to pass rate reductions and revised articles of incorporation so more farms could get electricity.
In Mt. Washington news, a cow belonging to Swearingen Harris presented him with twin calves. Mr. and Mrs. Stanford Harris and Donna Lynn spent a day with her sister, Mrs. Pat Cruise in Shepherdsville. And Mr. and Mrs. W. T. Tyler and Mr. and Mrs. Emmett Smith have moved to their new home just completed on the Jackson Highway west of town.
On Needmore Road, the Harley Proctor family hosted a gathering that included Bro. Ben Lawton, Mr. and Mrs. Ellis Stallings' family, Mr. and Mrs. Cecil Bridwell, Marvin Brumley, Joe and Ray Bleemel, and J. O. Smith.
In the personals column, we read that Mrs. J. H. "Jack" Sanders of Greensburg was visiting with Mr. and Mrs. C. A. Masden. We also read that Miss Jennie Carpenter had as guests Mrs. Barbara Philpot, Mrs. Pulliam, Kitty Lou Pugh, Mrs. Arthur Carr, Mrs. Halla Armstrong, Minnie Mae Whitledge, Johnnie Philpot, Birta Patterson, Lula Monroe and Maggie Porter.
John R. Perkins and his son were in front of a tractor moving a log when the tractor slipped into gear. Perkins was able to push his son out of the way, but was unable to escape himself and was killed. This happened on the Sewell farm southwest of Brooks Station.
Mrs. Lounetta Williams announced that the Triple A office in Shepherdsville would be closed each Saturday afternoon.
Thomas B. Lloyd of Mt. Washington died at his home on August 14. He left three sons, Vaughn, Marshall, and T. C., and three daughters, Lula Lee, Mrs. Gladys Lloyd and Mrs. Bertha Dooley; and a brother Otha Lloyd among others.
In the May Civil Service examination, Mrs. Roy Larimore of Shepherdsville made among the highest grades for Kentucky.
Schools were set to open with these teachers: Mattie Owens (Bowman's Valley); Louise Buck, Wilma Maraman and Lillian Dawson (Nichols); Emily Robison (Sunny Side); Margaret Hardin (Brooks), Beryl Porter and Marilyn Maraman (Pleasant Grove); W. O. Anderson, Getrude Paris, Lucille Insko, Steven Hardin and Earl Houchins (Mt. Washington H.S.); Anna Goodwin, Frances Armstrong, Inez Lloyd, Bertha Anderson, Martha Well and Rosetta Benningfield (Mt. Washington Grade School); Margie Ashbaugh (Cedar Glades); Ora L. Roby, Ophelia Morris and Thelma Roby (Cedar Grove); Ferol Sims and Maudie Cundiff (Clermont); Ruth Light (Beech Grove); Mary B. Hill, Zardetti Dawson, and Augusta Dawson (Belmont); J. Marvin Hopewell (Woodsdale); Foster J. Sanders, Mary H. Miller, Layne Wigginton, H. T. Peterson, Ann Taylor, Stewart M. Gaunce and Maurice L. Bates (Shepherdsville High); and Mary Dawson, Pearl Hall, Eulah Mae Wise, Jo Ann Lawton, Woodrow Masden, Myrtle Frick, Nola Bates, Sue Brooks, Augusta West, Ruby C. Napier, Nancye Masden, Louise Bischoff, Alma Hardesty, Lillie Vertrees and Eleanor Brinson (Shepherdsville Grade School).
Dora Armstrong, daughter of Mr. and Mrs. William Armstrong, and Paul Horning of Salt River were married by Rev. Bruce Hartsell. They planned to live in the Salt River community where Paul worked with his father in the garage business.
Barbara Ann and Mary Louise Hecker celebrated their 81st birthday on August 13th at a party given them by Mrs. Fannie Hall, Mrs. Myrtle Mothershead, and Mrs. Elizabeth Harris. These ladies, all sisters of the late Mrs. Ida Jane Hecker, wished the twins much joy.
The Hebron correspondent reported that Robert Ball would be the new Little Flock Sunday School superintendent. She also reported that Mrs. Eva Garr took her sons and Robert and Roger Holsclaw to Bowman Field and all took flights in airplanes!
September 1946
The funeral of Mason Williams was conducted at his home by his pastor, Rev. Shows of the Hebron Church. Mr. Williams was a son of the late Samuel B. and Martha Magdaline (McCloskey) Williams, and was married to Blanche Braithwaite, daughter of the late Richard W. Braithwaite. He was survived by his widow, and two brothers, Burks Williams and Herman T. Williams, as well as other relatives.
The Lebanon Junction correspondent reported that Mr. and Mrs. James William Strange hosted a family reunion at their home with many family guests. Mr. Strange was a retired railroad conductor. He and his wife, the former Bettie Wickershan, had lived in Lebanon Junction all their married lives, as did many railroad folks.
Also at L.J., Billie R. Miller, back from the service, was living with Mrs. A. D. Miller while taking his senior classes under Reason G. Newton, who was also back from the service.
The Hebron correspondent wrote that Meta Riley (Cooper) Emberger, wife of Roman Emberger, had been made a member of the faculty of the University of Louisville College of Liberal Arts.
The home dry cleaners headquartered in Roy L. Maraman's store was managed by Clyde Heskamp who was married to Alice Rhea Sanders, sister of C. V. Sanders.
In Mt. Washington notes, we learned that Mr. and Mrs. Crume Roby held a surprise birthday party for their daughter Jean who was 17. Also Mr. and Mrs. E. L. Ryan held a party for their daughter Mildred.
The Personals column included the note that Mr. and Mrs. Frank Scroggins and son Billy had spent several days with her brother in Lexington; and that Mrs. Opal Simmons and her family had moved to property on Abbott Street.
Bullitt County schools opened with record attendance. C. V. Foreman, county superintendent reported at all schools except Mt. Elmira and Mt. Olive had teachers in place. The teachers met and formed the Bullitt County Teachers Association, and elected W. O. Anderson president, and Ann Taylor secretary.
A lot of property changed hands in Mt. Washington. C. A. Long and J. E. Fisher sold their hotel building to Roy Gentry of Louisville; S. B. Fox sold the log house on Main Street, known as the Bridwell place, to Mr. Drahe and Mr. Schleeter of Buechel; and Jack Barnes purchased a two acre lot from R. E. McAfee where he planned to build a house.
At the Southern States Cooperative meeting held at Shepherdsville High School, more than 180 local farmers attended. A. H. Harned of Bardstown Junction acted as chairman of the meeting. W. C. Harned of Lebanon Junction and Howard Hardin of Shepherdsville were elected to the local advisory board succeeding Russell Jenkins and Henry Maraman. Also Mrs. Tom Huffman of Bardstown Junction and Mrs. J. P. Stark of Lebanon Junction were the new members of the Farm Home Advisory Committee for the area, replacing Mrs. Emmett Coakley and Mrs. Homer Myers.
The sixth grade class at the Shepherdsville school elected officers, including Charles Barnes as president, Ramona Shepherd vice president, Betty Larimore secretary, Martina Coy treasurer, and Burldean Tracy as reporter. Also, the school's high school curriculum had been enlarged to include French, Business Practice, and Agriculture.
And a blurb at the bottom of first page mentioned that Jimmy Hardy, Billy Simmons, and Gay Hamilton were enrolled at the University of Kentucky.
October 1946
In Shepherdsville School News, Mrs. Hill's section of the 8th grade elected class officers. J. T. Scott was elected president; Billie Williams, vice-president; Joann White, secretary; and committee members Billy H. Smith, Dean Nicholas and Jimmy Milam who were to plan the program for their next meeting.
In Miss Dawson's 8th grade section, Audrey Jent was elected president; Gerald Bergen, vice-president, Pauline Dever, secretary; Doris Howlett, treasurer; and Billy Brown, chairman.
Phil Shindlebower of Route 1, Shepherdsville, was advertising for two good carpenters and a few laborers. Wonder if he was building a barn?
The Cedar Grove correspondent wrote that Mr. Royce Boes and family had moved back to their home after being burned out a few months earlier. She also wrote that Oral Meredith had bought Herman Crenshaw's farm.
Captain Joseph Brunson Burkhalter, son of Rev. L. L. Burkhalter, former pastor of the Shepherdsville Baptist Church, was married in Wisconsin to Mary Charlotta Goss.
Ack H. Harned, chairman of the Bullitt County Soil Conservation District, announced an essay contest for the children of Bullitt County. It was sponsored by the Louisville newspapers.
In Needmore Road news, Cecil Bridwell, Alvine Foster, Gen Hall, Billie Bleemel and all their wives were entertained in the home of Randolph Porter. And Mr. and Mrs. Harley Proctor, Ella and Don Hill Proctor, and J. B. Proctor Sr. drove to Bardstown to the Old Kentucky Home.
In the personal notes column we read that Mr. and Mrs. Roy Stallings had moved to the Horace Maraman property, and that Mrs. Fannie Croan had moved to the Stallings property that she recently purchased.
The Lebanon Junction correspondent wrote that Emmett Lee Raney had returned to New York City where he was a speech student at Columbia University. She wrote, "Our town is very proud of Emmett Lee."
The Bullitt County Bank hired William T. Finn as cashier, while H. H. Combs moved from that position to that of Executive Vice-President of the bank. Other bank officers include President Woodford B. Troutman and Vice-President W. Howard Roby.
Foster Sanders, principal of the Shepherdsville school, announced the results of the school carnival and festival. The high school queen for the festival was Edith Roby who was escorted by Johnnie Maraman. The elementary queen was Jean Castle escorted by Dickie Williams. The school P.T.A. sponsored the events and raised $1,478.14 to help support school programs.
The Junior Womans Club of Shepherdsville met and elected the following officers: President Mrs. Harold Hardy; Vice-President Miss Catherine Weller; Secretary-Treasurer Miss Swearingen Weller. The president then appointed Miss Frances Nooe as parliamentarian, and a program committee that included Miss Elizabeth Wise, Miss Sara K. McEnnis, and Mrs. Jimmy Powers.
In Mt. Washington school news, the teaching staff included Rosetta Benningfield (1st grade), Martha Weller (2nd grade), Inez Lloyd (3rd grade), Bertha Anderson and Marilyn Maraman (4th grade), Frances Armstrong (5th grade), Gertrude Snider (6th grade), Ann Goodwin (7th grade), Earl Houchin (8th grade), Mary Gertrude Paris (9th grade), Steven Hardin (10th grade), Lucille Insko (11th grade), and W. O. Anderson (12th grade).
Each class elected officers, and the following were elected presidents of their class: Norman Snider (9th), Veleda Stallings (10th), Verneasa Troutman (11th), and Juanita Quinn (12th).
And in other Mt. Washington news, Mr. and Mrs. R. S. Hall purchased the Downs house on Main Street then occupied by Mrs. Bess Owen and daughter Miss Corinne. The correspondent wrote, "Miss Corinne now has double trouble trying to find a home for herself and a new quarters for the post office."
November 1946
In Mt. Washington news, E. O. Carrithers purchased the farm of R. S. Hall. Vernon Mothershead attended a meeting of Boy Scout leaders at Camp Covered Bridge. Corinne Owen attended a National Postmaster's meeting in California. And Phyllis, little daughter of Mr. and Mrs. Ed Pound, was able to return to school following her tonsil operation.
Nine local musical artists performed at the Woman's Club meeting. They included Ina Charles, Hilda Ogle, Jean Higgins, Jerry Bergen, Frances Carolyn Carpenter, Nancy Kulmer, Betty Jean Johnson, Betty Lee Ireland, and Nancy Woods.
In Cedar Grove news, Mr. and Mrs. Alf Weller and children, and Mr. and Mrs. Arthur Harris and daughters helped Mrs. Sude Swearingen celebrate her birthday.
The newspaper mentioned that Mrs. Lida Smith of Columbia, Tennessee had bought the property known as the Mrs. Kitty Collins home at Lebanon Junction from Gabe Meredith, and would move there to make her home.
Robert Barger and L. M. Masden were standing in the election for the county school board. They were unopposed.
Eleven Bullitt County students were enrolled at the University of Kentucky. They included Thomas Carroll, Robert Farris, Charles Hamilton, William Hamilton, Bernie Milam, William Simmons, and Billy Snellen of Shepherdsville, and Robert Harned, Gerald Napier and James Snyder of Lebanon Junction.
James W. Smith of Mt. Washington, son of Mr. and Mrs. Emmett Smith, who had been employed as a mechanic at the Smith Garage, was now in Germany serving in the occupational Air Force.
In the Hebron community, Will Becker had recovered from a severe chest wound suffered when he fell on a corn stob in the field.
The paper listed those who had been appointed as election officials for the upcoming election. They included the following. In each precinct, the first two named were judges, the third was the precinct sheriff, and the fourth the clerk.
Shepherdsville No. 1 - Lida Armstrong (D), J. H. Boes (R), W. P. Foster (R), and Fronia Samuels (D). Shepherdsville No. 2 - Lillian Stallings (D), Mack Jones (R), J. W. Divine (D), and Pinkie Minter (R). Brooks No. 3 - J. M. Havey (D), S. C. Sanders (R), James Beghtol (R), and Mrs. Lee Hatzell (D). Griffin No. 4 - Gladys Shepherd (D), J. E. Burden (R), Roy Shepherd (D), and Mrs. J. E. Burden (R).
Cupio No. 5 - John Marcum (R), R. B. Ridgway (D), Archie Whiteman (R), and Mrs. George Atkisson (D). Salt River No. 6 - T. D. McAllister (R), C. A. Masden (D), S. B. Foster (R), and Mrs. Jess Hardaway (D). Mt. Washington No. 7 - Leda Barnes (D), Mrs. Statira Mathis (R), German Branham (R), and Mrs. Lillian Parrish (D). Mt. Washington No. 8 - S. B. Owens (R), S. O. Armstrong (D), J. B. Proctor (R), and Mary Fisher (D).
Zoneton No. 9 - D. J. Crumbacker (R), W. A. Ladusaw (D), Maud Gentry (R), and Mrs. George Wigginton (D). Cedar Grove No. 10 - Mrs. Lee Close (R), K. F. Bolton (D), Elmer Cundiff (R), and Mrs. Edna Lane (D). Leaches No. 11 - R. J. Clark (R), Ed R. Ash (D), Milton Clark (R), and Mrs. H. D. Rouse (D). Clermont No. 12 - Ray Morris (R), John Shaw (D), Mrs. Charles Fernback (R), and Mrs. Georgia Duvall (D).
Lebanon Junction No. 13 - Mrs. Minnie Fisel (R), Hansford Ricketts (D), Mrs. N. E. McMillen (R), Mrs. Christine Boone (D). Lebanon Junction No. 14 - Andrew Mann (R), Vina Roby (D), Mrs. Tillie Vanfleet (R), and Mrs. J. W. Starks (D). Belmont No. 15 - Fred Goodrick (R), Mrs. Luke Ryan (D), George Ashbaugh (D), and Gladys Bradbury (R). Beech Grove No. 16 - Otto Cundiff (R), Kathryn Carpenter (D), Mrs. Anna Cundiff (D), and Mrs. Mayme Cundiff (R).
And the Lebanon Junction correspondent wrote, "We were sorry our football boys lost the game to the Perryville players, but the boys brought back a good supply of Boyle County mud which may be a help to our gardens."
December 1946
The Bullitt County Farm Bureau had a membership of 380 families according to its president, Russell Jenkins. Bureau directors included Robert Henderson, Roy Applegate, A. H. Harned, S. O. Armstrong, Henry Kneisler, Lee Masden, J. W. Stark, Tom Huffman, S. N. Brooks, Ben Frank Robards, Leonard Daugherty, Hilary Hardy, O. H. Masden and Mr. Jenkins.
Harold Guthrie Snellen Jr. was born in early December to Harold and Martha Isabelle Snellen.
Robert Ridgway of Cupio died in his 80th year. The paper described Bob as "clever, jolly, accommodating, good farmer, lodge leader, and long considered Cupio and Knob Creek's leading citizen." He was the son of the late Captain James W. Ridgway, and was survived by his widow, Lizzie (Welsh) Ridgway, a daughter, Mrs. Gilbert Daugherty, three sons, Gussie, Walter, and Maurice, and two brothers, Lindsay and Thomas Ridgway.
Johnny Reading and Noah Reed had to abandon their 1938 Hudson at a private railroad crossing one night when they missed the crossing and the wheels were lodged in the rails. Before they could get help to move it, a southbound freight tree did it for them. The demolished vehicle was pushed a fair distance down the tracks.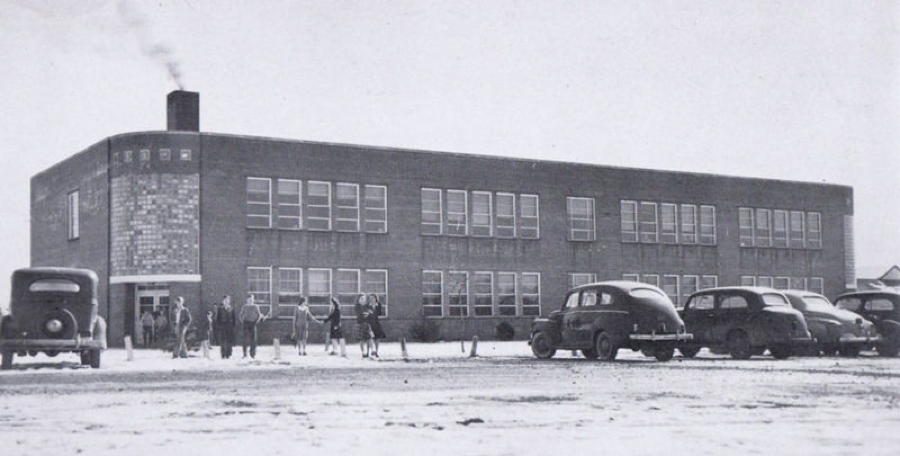 Shepherdsville High School, 1945
F. J. Sanders wrote a front page plea for the community to consider the need to expand the size of the Shepherdsville School.
Bertha Cundiff (nee McClure) died at St. Joseph's Hospital in Louisville. Besides her husband Elmer Cundiff and son Leland Cundiff, she was survived by three sisters, Maude Shelton, Martha Hatter, and Mrs. Walter Cundiff, and a brother, John McClure.
The first Future Homemakers of America chapter in Bullitt County was started on December 11th. Their elected officers included President Willa Louise Burns, Vice-President Helen Fields, Secretary Norma Ratliff, Treasurer Joan Wise, Reporter Emma Jean Sadler, Historian Dolores Bradbury, Art Editor Carolyn Smith, and Song Leader Jean Devers. Miss Geraldine Williams was the advisor.
The parents of Emma Mae Fowler of Elizabethtown announced the engagement of their daughter to Joseph Ray Dawson, son of Mr. and Mrs. Horace Dawson of Shepherdsville. The wedding was to take place the day after Christmas.
Johnnie Love and Elizabeth Cook were married in Mt. Washington. After returning from their wedding trip they set up housekeeping at Mt. Washington in an apartment in Mrs. Ida Drake's house.
William T. Ladusaw, seaman second class, son of William E. Ladusaw of Shepherdsville, was initiated into the Royal Order of the Deep aboard his ship as they crossed the equator on a tour of South American ports.
Mrs. Lee Masden of Lebanon Junction was attending a Circle Meeting at her church when she fell and broke her shoulder.
Mrs. Jessie Hill of Lebanon Junction was advertising a four room house for rent. It was located on Highway 61 at the Crooked Creek bridge.
A list of county officers included County Judge C. P. Bradbury, County Attorney Lindsay Ridgway, Clerk Theodore Cook, Jailer Tom Hibbs, Sheriff Hobart Roby, Tax Commissioner Clyde E. Roby, School Superintendent C. V. Foreman, Coroner C. T. Bridwell, and Magistrates Hugh Samuels, C. S. Moore, A. P. Weller, and John I. Samuel.
And the Lockett Auto Paint Shop advertised that it was now located in Mt. Washington. Their telephone number was 2911 if you're looking to get your car painted.
---
Copyright 2021 by Charles Hartley, Shepherdsville KY. All rights are reserved. No part of the content of this page may be included in any format in any place without the written permission of the copyright holder.
---