It Happened in 1945
Over the years, Charles Hartley has shared glimpses of what was being printed in The Pioneer News in different months and years. This page includes what was taken from the issues of 1945.
---
January 1945
With war continuing to rage around the world, much of the news focused on what was happening with those in the armed forces who had Bullitt County roots.
Captain John W. Bradbury of Shepherdsville was a member of the staff Sixth Army Group's 23rd General Hospital unit then in France.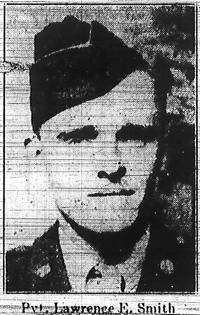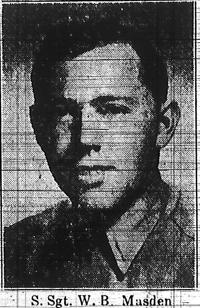 The paper reported that Cpl. Leonard Gilkey, a 1936 graduate of Shepherdsville High School, and an aerial gunner, died in action over Germany in September 1944.
The Belmont correspondent reported that James Richardson, who had been running a grocery store in the area along with his wife, was then at the Navy boot camp at Great Lakes.
The Personals column mentioned that Pvt. Wallace Armstrong was back in the States, and had been sent to a hospital in Texas. It also mentioned that Mrs. Thelma Bergen had been appointed as assistant postmaster at Shepherdsville. She was the daughter of Mr. and Mrs. Ben Crenshaw of Salt River.
Sgt. Melvin E. Morris of Bardstown Junction was awarded a Silver Star for his heroic actions in recovering casualties in the face of enemy fire.
S.Sgt. William B. Masden, son of Sadie Masden of Shepherdsville, was admitted to the Convalescent hospital in Miami Beach, Florida.
Pvt. Lawrence E. Smith, son of Mr. and Mrs. Dewey Smith, received a Purple Heart. He had been wounded twice, and spent four months in a hospital in England before returning to his unit.
Private Roy L. Rummage, son of Mr. and Mrs. Dan Rummage of Shepherdsville, died on Layte Island in the Philippines of pneumonia.
Mr. and Mrs. Charles Edwards of Brooks had four sons and a son-in-law in the service. These included Sgt. Marvin Edwards, Pfc. Charles Edwards, Jr., Pvt. Thomas Edwards, Pvt. Carl Edwards, and Pvt. Alvin Edwards, son-in-law and husband of Mrs. Mary Lee Edwards.
In other news, Mrs. Ida Carroll, widow of Senator Charles Carroll, and daughter of Mike and Sophia (Magruder) Troutman, died in January. She had been residing with her son T. C. Carroll prior to her death.
Zora Raymond moved into her new home in Shepherdsville which she purchased from Mr. and Mrs. Roy Langford. It was the former residence of Mr. and Mrs. William A. Shaw.
At the annual election of Bullitt County Bank officials, Dr. Woodford B. Troutman was elected president, W. Howard Roby became vice-president, H. H. Combs was re-elected cashier, and Roger E. Alford was re-elected assistant cashier. Both Troutman and Alford were still serving in the armed forces.
S. N. Brooks advertised that the Dr. G. W. Kirk farm, four miles north of Shepherdsville, was for sale.
And in the Mt. Washington area Jack Barnes sold his farm, Vaughn and Lee Lloyd bought a house and lot on the Shepherdsville Road, Marion Jasper bought a lot on Church Street next to his, Dr. L. S. Settle sold a bungalow on Flat Lick Road west of town, and Will Calvert bought the ground lying between Flat Lick Road and Bardstown Road.
February 1945
The Mt. Washington correspondent wrote that Darlene Nutt, daughter of Claud Nutt, had been rushed to the Deaconess Hospital for an emergency appendectomy.
Also in that column was a report that Mr. and Mrs. Vernon Travis had bought the Fred Owen farm and moved there. Also Mr. and Mrs. Earl Bass had moved into the Jesse Wheeler cottage on Flat Lick Road. These two families had been living in the house of Dr. Settles which he had recently sold.
Official notice was received that T-Sgt J. W. "Dub" Jackson was killed in action in Belgium. He was survived by his wife, the former Cecila Lucille Hutchinson, a daughter and a step-son.
Victor Hugo Rouse, a former Bullitt County Circuit Court Clerk, was 54 when he died in Louisville.
Mr. and Mrs. J. L. Walls of Mt. Washington received word that their son, Vernon "Jack" Walls was missing in action in Luxemburg.
The paper reported that Elizabeth McCubbins, daughter of Otto McCubbins of Lebanon Junction, married Melvin Ray Thurman, son of Willard Thurman, at the home of Rev. R. B. Cundiff of Bardstown Junction. Thurman had been in the navy in the South Pacific for two years.
Robert Sims and Lucile Troutman were returning home after taking C. W. Larimore to a train in Louisville for his return to camp in California when their car was struck by another vehicle in Louisville. Sims was killed, and Troutman was seriously injured. Robert's parents owned the old Lynn farm near Huber's Station.
Folks were moving around a bit in the Salt River community. Wash Smothers and wife moved to the Cecil Smothers' home; Mr. and Mrs. Lester Philpot bought the Smothers' home; and Irvin Shelton bought the home of Alice Johnson who had moved to the city.
The editor had to print a correction to get the right husbands and wives together. For the record, William Wallace Armstrong was married to Hazel Lloyd, and Cecil Bridwell was married to Ruby Brumley.
Speaking of marriages, there was a fine celebration at the Baptist Church in Shepherdsville when Edna Rae Maraman became the bride of Roscoe E. Waters. Edna's sister Wilma was the maid of honor, and the bride's maids were Ophelia Masden and Martha Harned. Clyde Roby was Roscoe's best man, and the ushers were Richard Maraman, Adrain Jones, Roy Stallings, and Theodore Cook. Little Misses Alice Ryan and Ramona Ash were the flower girls.
Weddings have anniversaries, and Judge and Mrs. E. Z. Wigginton of Bells Mill Road celebrated their 50th on February 6th. Their seven children were present to help celebrate Ernest and Bessie's happy occasion.
Also celebrating fifty years of wedded bliss were James W. and Ella (Sweeney) Pope who had been married by Professor W. B. Gwynn. And also Maurice and Pearl (Buky) Harris of Mt. Washington passed the half-century mark as a married couple.
And not to be outdone, Squire and Nanny (Bean) Roby of Mt. Washington celebrated sixty years together on February 10th. Nearly a hundred friends and relatives came to help them celebrate.
March 1945
The 1945 Red Cross War Fund drive began in Bullitt County with Lindsay Ridgway as chairman. An early donation came from the Standard Oil Company through their local representative, Stanley Lee.
The correspondent from the Solitude community in eastern Bullitt County wrote that Mr. and Mrs. Arch Rayman reported that their son, SSgt. H. T. Rayman, who had been wounded in action, was recovering.
At the other side of the county, over in Cupio, a buffet supper was given in honor of the birthday of Mrs. L. W. Nichols. Those present included Mr. and Mrs. Pete Monroe, Mr. and Mrs. Roy Applegate, Mr. and Mrs. Cornell Logsdon, Mr. and Mrs. Charles Ridgway, Mrs. Thelma Sipes, Darlene and Carole Sipes, Patsy Logsdon, and June and Janet Ridgway.
Rev T. R. Omer, pastor of the Christian Church in Lebanon Junction, and his wife were the proud parents of a baby boy.
The Mt. Washington correspondent wrote that "Mrs. Stanford Harris looked very charming and pleasant at church Sunday morning wearing a shoulder bouquet of beautiful red roses, part of a dozen sent as a love gift from her husband who is stationed in Tennessee on their second wedding anniversary."
Clyde Roby, chairman of the used paper collection drive, reminded folks to bundle their collected paper and put it on the side of the street to be collected. He reported that the county had collected about two tons in February.
Among the news reported in the Personals column, we learned that SSgt. Walter Myers had been wounded in Belgium, and was recovering in an English hospital.
Another report was that Sgt. John E. Brown, Jr. was missing in action over Germany in February.
The Mt. Washington report included the announcement of the death of Cpl. Thomas Armstrong, son of Mr. and Mrs. Dave Armstrong, formerly of that town. He died of fatal burns received in battle.
Also, PFC Thomas C. Bowman, who had been reported as missing in action, was actually a prisoner of war in Germany.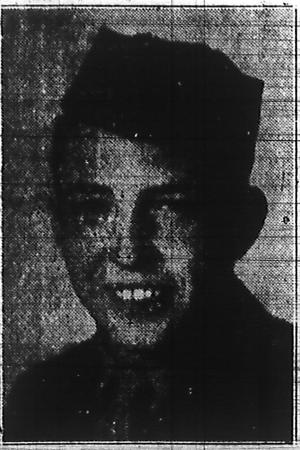 Dewey Woods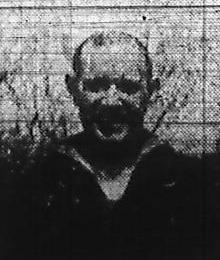 Chick Williams
Two servicemen were pictured in the paper. Mrs. Dewey Woods had received word that her son, PFC Dewey Woods Jr., had arrived in France. And S1C Ernest (Chick) Williams had been on leave at Bardstown Junction with his wife, Inez Bergen Williams, and their two children before returning to his ship at New York City.
On the last day of February, the Salt River at Shepherdsville was nearly at flood stage. It would get worse before receding. Flood waters crossed Main Street on March 6th, cresting two days later.
In Lebanon Junction, most of the dwellings west of the railroad tracks were inundated. Trains were moving southward from there, but northbound trains were halted due to flooded tracks around Bardstown Junction where nearly every home was inundated.
At its crest, water had entered the southern corner of the Court House yard in Shepherdsville. The Pioneer-News building, which was then on the east side of Main Street, and the The Peoples Bank on the west side (now the Hamilton Building), were the last two buildings entered by flood waters.
Water had entered every building west of Main Street and south of the alley between the bank and Daugherty's Store.
On the east side of Shepherdsville, both school buildings and three homes were flooded. This can be seen in an aerial photo taken by a Courier-Journal photographer and printed in the paper.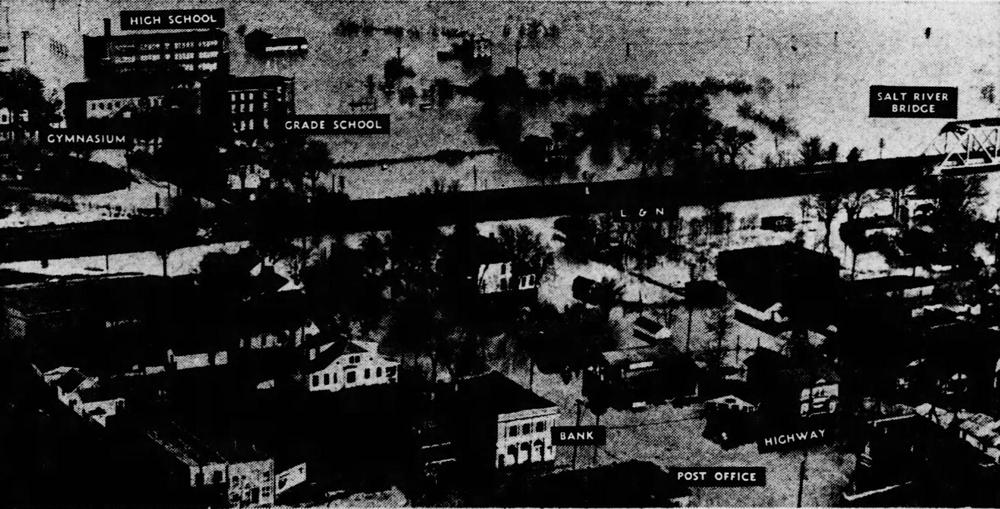 The paper called it the second highest flood in history, cresting ten feet below the 1937 crest.
April 1945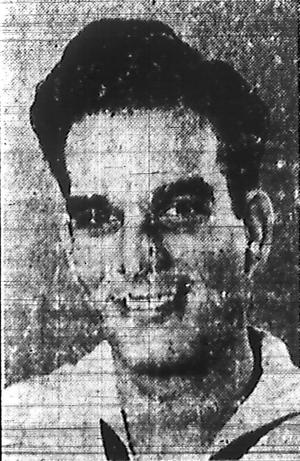 Eddie Carr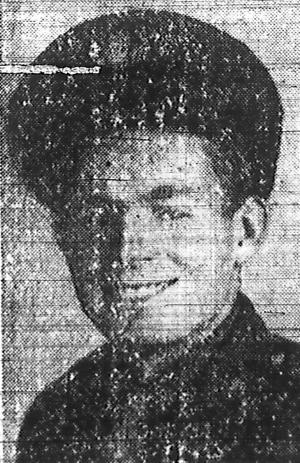 James Jackson
After the flood receded, the school superintendent thanked the George T. Stagg Distilling Company, along with Charles Bullock and John Sloan for using their motor and large pump to pump the water out of school basements.
Mr. Bullock also offered the distillery's recreation room at Chapeze to the Red Cross for its blood drive to secure 250 pints for the Army Red Cross Blood Bank.
Eddie Carr of the Navy Air Corps was home on leave after two years overseas. He and his wife and daughter were visiting his parents, Mr. and Mrs. Dave Carr, before Eddie returned to duty.
Oscar Underwood received an unconfirmed report that his son, SSgt. Marvin Underwood was a prisoner of war in Europe. He had been previously reported in December as missing in action.
Rev. Lowell F. Sodeman, pastor of the Shepherdsville Baptist Church, concluded his series of sermons from the book of Jeremiah with one titled "Don't Fence Me In!"
The paper reported the death of Isaac Bernheim in California, and mentioned that the acreage for the preserve at Clermont had been bought twelve years earlier as a memorial to his wife, Amanda.
A memorial service was held at the Baptist Church to remember TSgt. James W. Jackson who had been killed over Belgium. He was a son of Lee and Myrtle Jackson of Shepherdsville, a brother of Freddie L. Jackson with the army in Germany, and a sister, Mrs. Columbus Pugh of Shepherdsville.
Edgar B. Stansbury of Bardstown Junction was promoted to Lt. Colonel in the Army Air Forces. Prior to the war he was the athletic director at Western Kentucky State College in Bowling Green.
The annual spelling bee was held on April 6 at the Shepherdsville School. Contestants included Hazel DeMarsh (Nichols), Ella Brewer (Brooks), Veleda Stallings (Pleasant Grove), Willie Scrogham (Mt. Washington), Laverne Ratliff (Cedar Grove), Thomas Ray Thorton (Clermont), Kathleen Phillips (Beech Grove), Geneva Lee Ryan (Cane Run), Delores Bradbury (Belmont), Nancy Williams (Shepherdsville), and Jane Sweat (Lebanon Junction). The winner was Hazel DeMarsh, a seventh grader in Mrs. Christina Whiteman's class at Nichols.
In the high school division, Mary Lucy Marr of Lebanon Junction was the winner, defeating Henrietta Nalley of Shepherdsville, and Garneta Smith of Mt. Washington.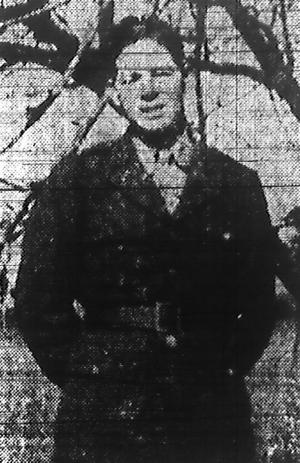 Woodford Peacock
At the Bowman Valley School, the winner was sixth grader Robert Lee Coleman, son of Philmore and Mary Jane Coleman.
Patterson's Drug Store in Shepherdsville was broken into, and E. M. Frantz, the owner, reported that the only thing missing was some narcotics.
SSgt. Woodford C. Peacock was awarded the Bronze Star for bravery in leading his unit forward under intense fire to clear the enemy before them in a part of France.
Lucy Bergen of Bardstown Junction died in her 64th year, leaving her husband, Asa Bergen, and four daughters: Inez Leona, wife of Earnest H. Williams; Ruby, wife of James Stansbury; Mildred, wife of Walter Shepherd; and Nora, wife of Howard Masden.
The entire nation was saddened to hear of the sudden death of President Franklin D. Roosevelt.

But, Thomas Bowman's handwritten letter to his parents carried the good news that he had been released from a German prison camp. He had earlier been declared as missing in action.
May 1945
The war effort continued on the minds of nearly everyone. And there was cheering when the paper's headline on May 11 declared that "All of Germany Surrenders, May 8th Proclaimed as V-E Day."

Dr. David Smith, who was a well respected veterinarian in Bullitt and Jefferson counties, died from complications of pneumonia. Before becoming a veterinarian, he was a blacksmith in Shepherdsville. His survivors included his widow Mrs. Lida Gruber Smith, a daughter, Mrs. Ruth Parrish, and three sons, Dave, Carl, and Alec Smith. David's parents, John and Isabelle (Murdock) Smith were both natives of Scotland.
Jennie Hibbs married T. J. Bolton in 1876, and they reared a large family. T. J. died in 1910, and his widow survived him another 35 years, dying at her Cedar Grove home near the end of April 1945. Surviving her were three daughters, Mrs. Mae Grant, Mrs. Nettie Ash, and Mrs. Cora Young, and three sons, Claud, Kennie, and Lee Bolton. Also surviving her was a sister, Mrs. Levie Swearingen of Shepherdsville, and a brother George Hibbs of Union County.
The Personal Column was always filled with the comings and goings of folks. P.F.C. Charles G. "Jerry" Bridwell, accompanied by his wife and little daughter, returned to California after a 15 day furlough with his parents, Mr. and Mrs. Arvol Bridwell. And Mr. and Mrs. "Pete" Trunnell and daughter, Sue, Misses Cora Ney and Margaret Hardy, Winston Hardy and Misses Martha Lee and Juanita Patterson were the guests of Mr. and Mrs. Owen Roby.
The column also reported that Mr. and Mrs. Dee Bergen and Mrs. Kenneth Tipton and son, and Mrs. Fletcher Hagan were guests of Mr. and Mrs. Leland Brickle and daughters of Frankfort on a Sunday.
Raise you hand if you remember the "Jukebox Ramblers." Its charter members were Billy Hill, Elizabeth Bealmear, Eleanor Moody, Arthur Lee Moody, Delores Settles, Marilyn Maraman, Jippy Hatzell, Edith Roby, Jean Barger, Mary Charles Smith, Bobby Zimmerman, James Hilary Hardy, Charles Fearnbach, Dick Pope, Harold Boyd, Adrian Jones, Virginia Williams, Mildred Ellegood, Boyd Carter, Joyce Carter, Kathleen Mattingly, Jack Duvall, Joan Higgins, Betty Jean Johnson, Billy Ray Snellen, Jane Ridgway, and Norma Jean Ridgway.
At their second meeting they were joined by nine new members: Neil Brooks, Clara Lee, Eva Lee, Albert McAhron, Betty Williams, Catherine Weller, Swearingen Weller, Jack Kahler, and Wilbur Raymond.
Dr. Paul F. Orr, the district health officer, wrote a column about the need in Shepherdsville for a modern sewer system. He began with these words: "There are 122 open surface privies, 20 septic tanks and 33 cess pools in Shepherdsville. On the other hand there are only 24 connections to a short inadequate sewer. There are no storm sewers, only open drainage ditches."
The family of Dr. Henry P. Beeler arranged a birthday party for him on his 73rd birthday. The entertainment was a string band of which Dr. Beeler was a valued part. The others included J. R. Ball, Frank Frick, Theodore Young, and Mr. Hukle and two sons. Dr. Beeler had been a practicing dentist until his eyesight failed him. This would be his final birthday party as he died in September.
The Hebron correspondent wrote that J. R. Ball had another birthday, and described him as "one of our indispensables whose life work is to create beauty for decay, build instead of destroy, as many attractive homes and barns, garages, poultry houses, etc. all over our own and adjoining counties are monuments to his skill and artistry."
I never had the honor of knowing this Joseph Robert Ball, but I have know his fine son and grandson of the same name.
June 1945
An early June headline announced that SSgt Marvin Underwood had been liberated from a German prisoner of war camp. This was great news for his parents, Mr. and Mrs. Oscar Underwood of Shepherdsville. He returned home on furlough the next week.
The "Jukebox Ramblers" sponsored the first basketball game played in the restored S.H.S. gym. In it the school seniors' team defeated the underclassmen 33-29.
Some found time to do some traveling, including Mr. and Mrs. W. L. Napier and sons, and Mrs. Lawrence Frick and daughters who managed a weekend at Renfro Valley.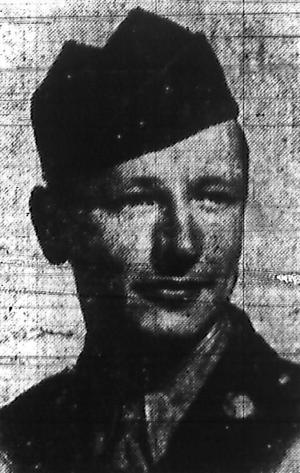 Russell Johnston
George A. Jones, pastor of the Bardstown Junction Baptist Church became the third local area pastor to enter the armed services as a chaplain. He joined Carmen Sharpe of New Salem, and Lowell Sodeman of Shepherdsville Baptist.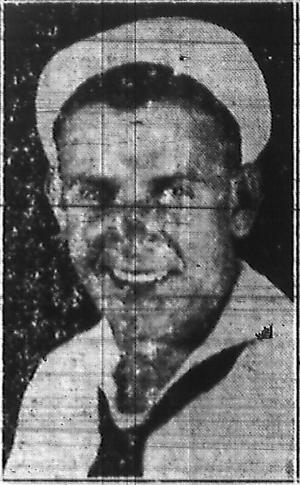 R. B. Armstrong
Russell C. Johnston of Shepherdsville, son of Mr. and Mrs. William R. Johnston, was promoted to sergeant. He was a B-24 aerial gunner stationed in Italy.
Another promotion went to Jerome W. Dawson, husband of Pauline Rose Dawson of Lebanon Junction. He advanced to 1st Lieutenant as an infantry officer serving in the Pacific.
The Hamilton boys were both home on leave. Charles "Gay" Hamilton was home while his ship was undergoing repairs; and Bruce had leave from the hospital in Virginia. Their parents were Mr. and Mrs. Henry Hamilton of Shepherdsville.
Robert Bennie "R.B." Armstrong was pictured in the paper. He was a Seaman First Class stationed somewhere in the Pacific.
SSgt Glendon C. Hall was home on leave after returning from overseas where he was wounded. He was a son of Mrs. Blanche Hall of Shepherdsville.
The Lebanon Junction correspondent wrote that the entire community was "sorely grieved" when they learned that their former high school football coach, Reason Newton, was severely injured on Okinawa. I'm pleased to report that he survived his injuries, and returned to coach football. He lived a long life, passing in 1995 after a career as a teacher and coach at Valley High.
Lt Herbert W. Lee Jr., son of Herbert and Mildred Lee of Shepherdsville, was an air force pilot serving in France. Before the war, he was a maintenance mechanic at the Schenley Distillery of Limestone Springs. He was credited with more than 13 combat missions. The paper also reported that his wife Mildred (Huffman) Lee gave birth to a boy in June.
While the war in Europe had ended, it continued in the Pacific. Another casualty was P.F.C. Johnny W. Bishop, son of Mr. and Mrs. Walter Bishop of Shepherdsville who was killed on Luzon, the largest of the Philippine islands.
The Cupio correspondent wrote that Mrs. Jane Friebert had gone to the City to await the arrival of her husband, Sgt Frank Friebert who had been overseas for three years.
July 1945
The Shepherdsville town board purchased a lot on Second Street, just west of the post office, and planned to erect a building there to store a fire truck.
The paper noted that three brothers, Thomas, Carl, and Charles Edwards had met recently in the Philippines. Thomas and Carl were engineers in an Aviation Battalion, and Charles was with the Rangers. Their parents were Mr. and Mrs. Charles Edwards of Brooks.
James C. Shelburne died at the home of his son Roger in Shepherdsville. He was survived by his three sons, Roger, Collings, and Kearnes Shelburne. James was 72.
Neill S. Brooks died at his residence in Okolona. He was survived by his widow Mrs. Austine (Bell) Brooks, three brothers, Minor, Edward, and Frank Brooks, and a sister Miss Mary F. Brooks.
A third death reported by the paper was that of Mahalia Pace who died at the home of her daughter, Mrs. Evan Barbour at Salt River. She was also survived by her husband, Lee Pace.
The following were appointed as election officials for the primary election. Shepherdsville (No. 1): Lida Armstrong, W. S. Foster, John H. Boles, Mrs. Fronie Samuels; Shepherdsville (No. 2): Mrs. Nora Hill, Mack Jones, Duke Thompson, Pinkie Minter; Brooks (No. 3): J. M. Havey, Jim Beghtol, Steve Sanders, Mrs. Lee Hatzell; Knobs (No. 4): Gladys Shepherd, J. E. Burden, Ed Shepherd, Mrs. Essie Holsclaw; Cupio (No. 5): John Marcum, R. B. Ridgway, Harry Lewis, Mrs. George Atkisson; Salt River (No. 6): T. D. McAllister, C. A. Masden, S. B. Foster, Mrs. Jess Hardaway; Mt. Washington (No. 7): German Branham, Mrs. Tom Parrish, John L. Walls, Margaret Grigsby; Mt. Washington (No. 8): S. B. Owens, S. O. Armstrong, J. B. Proctor, Mary Fisher; Zoneton (No. 9): Mrs. John Oliver, Mrs. Louise Bischoff, Sam Morehead, Mrs. Ella S. Pope; Cedar Grove (No. 10): Tom Close, K. F. Bolton, Elmer Cundiff, Mrs. John Lane Jr.; Leaches (No 11): R. J. Clark, Ed R. Ash, Milton Clark, Mrs. Hite Rouse; Clermont (No. 12): Ray Morris, Alex Riley, Mrs. Charlie Fearnbach, Mrs. Charlie Robinson; Lebanon Junction (No. 13): Mrs. Winnie Fisel, Hansford Ricketts, Mrs. N. E. McMillen, Mrs. Christine Boone; Lebanon Junction (No. 14): Andrew Mann, Mrs. Viney Roby, Mrs. Tillie Van Fleet, Miss Corine Beeler; Belmont (No. 15): Gladys Bradbury, Luke Ryan, George Ashbaugh, Mary Bradbury; Beech Grove (No. 16): Gladys Shelton, Frank Carpenter, Mrs. Annie Cundiff, Mrs. Arthur Cundiff. Charlie Rodgers, Fred Smith, and J. W. Hardaway were election commissioners.
In the Personals column we learn that Mr. and Mrs. Prince Ryan entertained Mrs. J. E. Brown and son, Mrs. Josie Zimmerman, Miss Margaret Foster, and Mr. and Mrs. Walker and daughter at their Bardstown Junction home. We also learned that Mrs. Zimmerman had returned to the County Public Assistance office after a brief vacation.
Continuing with that column, Mr. and Mrs. Thurman Shouley and Mrs. Rua Shouley spent several days in Frankfort as guests of Mr. Shouley's sister. Also, Miss Bertha Trunnell and Mr. Lewis Jones spent a Sunday with her parents. And Mrs. Fronie Harris of Louisville visited with her sister Mrs. Sola Trunnell (Bertha's mother).
Mr. and Mrs. Ola L. Roby moved into their new home, the former John Buckman house, south of the Salt River bridge. And Mr. and Mrs. Howell Young sold their farm near Cedar Grove.
A chance meeting in the Pacific Theater found two Bullitt County boys getting acquainted. R. B. Armstrong, son of Mr. and Mrs. Clarence Armstrong, and Carl Sipes, husband of Mrs. Thelma Sipes didn't know each other before meeting, but found pleasure in talking about home.
Byron F. Pennebaker, superintendent of Lebanon Junction schools, accepted a job as a field executive for the boy scouts. He was replaced at L.J. by L. A. Johnston of Paducah.
The Lebanon Junction correspondent shared that two sisters, daughters of Mrs. Ruby Shearer, had daughters born on the same day. The proud parents were Mr. and Mrs Jack Darby, and an Mr. and Mrs. J. D. Raney.
Sad news continued as Mr. and Mrs. John E. Brown Sr. of Shepherdsville learned that their son, John Jr. had been killed in Europe in February. He had previously been listed as missing in action.
At the July term of the Bullitt Circuit Court, the following were chosen for the Grand Jury: Arthur Harris, Jess O. Ridgway, Albert F. Armstrong, Walter Mathis, Vance McGill, Fred Owens, Hansford Ricketts, Preston Shelton, F. H. Kulmer, Evan Patterson, R. L. Bridwell, and W. D. Ellaby (foreman).
Those available for the Petit Jury pool included Orvil Bridwell, H. C. Cundiff, George Jones, Henry Kneisler, W. E. Calvert, Roy Tinsley, Louis Mothershead, R. W. Childers, Dorsey Hall, Jesse Napper, F. L. Gentry, Clarence Drake, Charles Maraman, Roy Brashear, Charles Ratliff, Chester Deacon, Darrell Harris, Louis A. Crigler, and Henry Hamilton.
Raise your hand if you know where Needmore Road is. The correspondent from there reported that "Mr. and Mrs. Russell Stallings and family, Mr. and Mrs. Theo. Gentry and family, Mr. and Mrs. Louis Whitledge were one night last week till bed time guests of Mr. and Mrs. Waldo Gentry and had music."
She also reported that Beulah Stallings, Alvine Foster, Ailene Moore and Jene Hall spent a Sunday with Lois Stallings; and that Matt Bleemel and wife were called to Bowling Green due to the death of her Uncle Burr Dickey.
Lastly, she reported that Willis Tyler had been suffering with his eye, and went to a specialist who removed a piece of steel from his eye. Ouch!
August 1945
Mr. and Mrs. George Perkins of Bardstown Junction were happy to learn that their two sons had been discharged from the armed forces. George T. (Buck) Perkins Jr., and Louis G. (Pete) Perkins were both discharged in June. Both had spent extensive time overseas and had been involved in several major battles.
Victory Baptist Church held a Vacation Bible School with Mrs. J. Titus Aldridge as principal, Mrs Alma Basham and Mrs. Alma Harris in charge of the Juniors, Mrs. Thelma Roby and Mrs. Mary Elizabeth Weller the Beginners, and Mrs. Albert Raymond, Mrs. Ruby Simpson, and Mrs. Stickler preparing refreshments.
When Mrs. Catherine Triplett Applegate resigned as Junior Red Cross Chairman, Mrs. Mary Kirk Hoagland of Bardstown Junction was appointed to the post. She was the wife of John Hoagland, and daughter of Dr. George W. Kirk.
An article about the Bernheim estate mentioned that the first buildings were near the Clermont school, just across from the farm recently owned by Chester Hill. It continued, "A large part of the property will be converted into an arboretum where trees of many species will be raised, the surplus stock to be turned over to the state for planting along Kentucky highways."
A case of diphtheria in Elizabethtown alerted Dr. Orr, District Health Officer, to encourage those who had not had their children inoculated to do so.
Schools of Bullitt County were scheduled to open in September with the following teachers. Nichols: Mrs. Christina Whiteman and Mrs. Glessie Luker; Sunny Side: Miss Lillian Pearl Smith; Brooks: Mrs. Nellie Kneisler; Pleasant Grove: Mrs. Beryl Porter and Mrs. Hilden Cornell.
Mt. Washington: Mr. W. O. Anderson (principal), Mrs. Ann Jones, Miss Mary Gertrude Paris, Miss Madeline Rapier, Mrs. Lucile Insko, Mrs. Anna Goodwin, Miss Sylvia McGee, Miss Ruth Franklin, Miss Inez Lloyd, Mrs. Nell V. Porter and Mrs. Bertha Anderson.
Continuing with Cedar Grove: Miss Lena Roberts (principal), Mrs. Thelma Roby and Miss Alma Ratliff; Clermont: Mr. Ora L. Roby and Mrs. Ophelia Morris; Beech Grove: Mrs. Maudie Cundiff; Woodsdale: Miss Mary Belle Hall; Belmont: Miss Mary B. Hall, Miss Zardetti Dawson and Miss Augusta Dawson.
Shepherdsville: Mr. H. T. Peterson (principal), Mrs. Mary H. Miller, Mrs. Lanye Wigginton, Miss Jane Black, Miss Ann Wilson, Miss Lucy Jackson, Mrs. Pearl Hall, Mrs. Alma Hardesty, Mrs. Kathleen Cooper, Miss Mary Dawson, Mrs. Myrtle Frick, Mrs. Louise Bischoff, Miss Susan Avritt, Mrs. Christine Cruise, Mrs Ruby Claire Napier, Miss Augusta West, Mrs. Nancye Masden, Mrs. Laura Richardson, Mrs. Nell Miller, and Miss Lillie Vertrees; Bowman Valley: Miss Mattie Owens.
The paper's bold August 17th headline declared that the war had ended with Japan's surrender.
You just never know what you are going to learn in the Personals column. For instance, did you know that Lilbert Skaggs killed a copperhead snake that was three feet long? And Mr. and Mrs. Will Armstrong presented Mr. and Mrs. Herbert Cundiff with a head of cabbage that weighed over ten pounds! And over in Salt River, little Patty Edward was playing in Mrs. Paul Robinson's yard when she jumped off a cot and hung the clothes line behind her upper teeth, pulling most of them out!
September 1945
Diphtheria, which had been spreading in Kentucky, took the life of Madeline Devers, a two-year-old living in Lebanon Junction. She was a daughter of Ernest and Nanie (Gray) Devers.
School opened in Mt. Washington with a new principal, Mr. Anderson. He and his wife rented an apartment from Henry Biven. The former principal, Mr. T. R. Omer, was substituting for an ailing Mrs. Lindsay Jones before leaving for his new work in Cincinnati.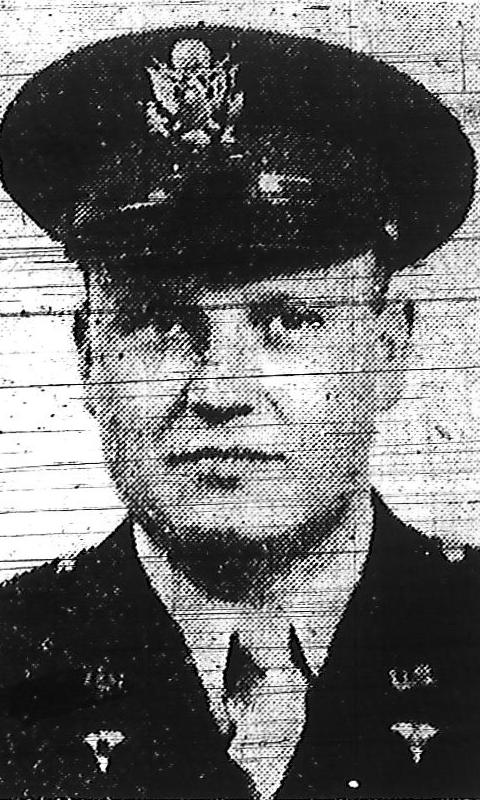 Captain Cundiff
The Lebanon Junction schools also opened with a new superintendent, Mr. L. A. Johnston. His teachers included Miss McKendree, Mrs. Thompson, Mrs. Johnston, Miss Beeler, Mrs. Maris, Mrs. Dalton, Misses Martha Masden, Emma Schirmer, Frances Herndon, and Anna Mae Burkhead.
Bert Pope brought six potatoes to the County Agent's office that weighed a total of seven and a fourth pounds.
M. J. Cundiff, son of Rev. and Mrs. R. B. Cundiff, was promoted to the rank of Captain in the army Dental Corps. He was a graduate of Shepherdsville High School, Western State Teachers College, and received his doctor's degree from the University of Louisville.
Inez Hibbs, daughter of Mr. and Mrs. Tom Hibbs of Shepherdsville, was promoted to Yeoman Second Class.
John Saar and his daughter Mina Maraman hosted Mr. and Mrs. Edward Heinzeman, Mr. and Mrs. Charles Martin and three children, Mrs. Rose Blatz of Louisville, Mrs. Anna McAhron, Mr. Albert McAhron, Mrs. Noah E. Whittle and son, Mrs. Ida Troutman and Mr. Troutman and two children, Mr. and Mrs. Charles Maraman and little daughter. Sounds like a family gathering.
The Hebron correspondent wrote that Mrs. J. C. Gardner and daughter had canned 300 quarts of fruits and vegetables. She went on to say that she canned hers by the pints so it would sound like more.
The paper identified a number of service men who were either discharged or awaiting it. They included Cpl. Emmett Shepherd, Sgt. William Lamb, Pvt. Robert H. "Lasses" Simmons, S-Sgt. Glendon Hall, T-5 Edward Richardson, Sgt. Waverly Waters Jr., Sgt. Leonard Waters, Cpl. Raymond Hoskinson, PFC John E. Hibbs, PFC Emmitt Q. Shepherd, Sgt. Ecel R. Owen, T-Sgt. Lee E. Howlett, T-5 Charles H. Brown, and T-5 Charles Smith. There were likely others that I missed.
A number of locals ventured north to Michigan on a fishing trip. They included J. W. Hardaway, Howard Roby, Neil Trunnel, W. H. Nusz, Ralph Henderson, C. C. Daugherty, W. C. Morrison, Jack Barnes, and J. M. Larimore.
In Needmore Road news, we learned that Roberta and Arbedela Gentry entertained Theodora Cook, Blondena and Dortha Ray Stallings, Jene Armstrong, Joy Smith, Ruby Stallings, and Carolyn Armstrong at a Sunday get-together.
S-Sgt. Emmett Q. Harned, husband of Mary Evelyn (Lee) Harned, was in Berlin, a member of the battalion helping establish the American headquarters there.
Ephran G. Quick died at the age of 85. A former county jailor, and frequent election official, he was survived by his wife, one daughter, Mrs. Gussie Ridgway; two sons, Fred and Bert Quick; a sister in California, and a grandson, Cpl. Carl Quick who was overseas.
And in the classified section we found that William Swearingen had an "extra good" Jersey cow for sale; that Luther McCubbins wanted to sell eight weaning pigs; that W. R. French was selling Balboa rye seed; and Henry Greenwell was selling monuments.
October 1945
The paper reported that Sgt. Sherley J. Parrish, son of Mrs. Hassee Parrish of Mt. Washington, was expected home soon. He had been overseas since February 1943, and seen action in North Africa, and several parts of Europe. Near the end he was stricken with malaria and was quite sick.
The Freshman Class of Lebanon Junction High elected the following officers: President James Murphy, Vice President Norma Shawley, Secretary Geraldine Kapple, Treasurer Wilhelmina Brady, and Sgt. at Arms Kenneth Shawley.
The Sophomore Class elected as officers President Charles Smith, Vice President Alfred Mattingly, Secretary J. F. Murrell, Treasurer Bill Beeler, and Sgt. at Arms J. C. Boone.
The Junior Class selected President Paul Mullins, Vice President James Montgomery, Secretary Billy Boone, and Treasurer William Bishop.
And the Senior Class selected as officers President Frank Booth, Vice President Elsie Lamb, Secretary Helen Wise, and Treasurer Faye Thompson.
Former Bullitt County Sheriff Will Rouse died at the age of 85. He was the oldest son of Mr. and Mrs. Anderson Rouse living at Solitude, and was for many years a prominent political leader in the Leaches district. Will had been married to Minnie Magruder who died many years earlier. They had two sons, Hugo and Calvin who were both also deceased. He left a sister, Mrs. W. B. Ellaby of Mt. Washington.
Out at Cupio in the western part of the county, fire destroyed Elmer Ridgway's stock barn. His home and other buildings were saved with the help of neighbors.
The congregation of Hebron Presbyterian Church welcomed a new resident pastor, Rev. Shows and his wife.
With the war ending, a number of local boys were receiving discharges, including among others Harold Walker, Marion "Buster" Rogers, Samuel Meyers, Freddie Lee Jackson, Alton Trunnell, Oscar Hester, brothers Walter Bishop and Tommy Bishop, Bobby Dever, Junior Daugherty, Otis Ray Ratliff, Asa B. Magruder, Wilson W. Fox, Buck Jackson, Glen Hamilton, June Deacon, Allen Hawkins, Frances Sweat, Andrew Cook, David Durbin, and Charles Edwards Jr. With all the names we've had to say of boys who didn't make it home, it's good to name a bunch who did.
In the Personals column we learned that Cpl. Jerry Bridwell, wife and baby had arrived home to spend his furlough with his parents, Mr. and Mrs. Arvol Bridwell, his sister and grandmother.
We also read there that Mrs. Margaret Ridgway and her grandson Billy Howard Smith joined Lindsay Ridgway, Mr. and Mrs. Conrad Maraman and daughter Dorothy in visiting Mrs. Alice Ridgway in Cloverport.
Alberta Pope Maraman and Marilyn Pope Maraman both enrolled as students at University of Kentucky. And Mrs. Eula Kay Hardy and Miss Jane Ridgway resigned their jobs to enter classes at the University of Louisville.
Spec 1st Class Charles Hamilton, son of H. C. Hamilton was reported to be recovering from pneumonia. He was on patrol duty in the Yellow Sea near Korea.
A family reunion was held at the home of James W. Maraman of Bardstown Junction in honor of their two sons, T-Sgt. Archie Maraman and Pvt. Richard Maraman. Archie had received his discharge, and Richard was home on furlough.
And the marriage of Miss Polly Whitehouse of Chaplin, Kentucky to Capt. Millard J. Cundiff was solemnized at the bride's home by Rev. R. B. Cundiff, Capt. Cundiff's father. Polly was described as one of Chaplin's outstanding teachers, and a sweet Christian girl. I think all us who knew her can say Amen!
November 1945
In Mt. Washington news, Billy Bleemel and Geraldine Simpson were married at the bride's home. Attending were the bride's sister Louise, and the groom's brother Bernie. Geraldine was a daughter of Will Simpson; Billy was a son of Matt Bleemel.
In Lebanon Junction school news, we learn that the seniors elected an annual staff including Editor-in-Chief Fay Masden, Assistant Editor Virginia Sidebottom, Sports Editors Rita Hayden and Frank Booth, Advertising Managers Elsie Lamb and Margie Roller, Business Manager Alda Faye Thompson, and Photographers Barbara Masden and June Shane. Class editors were Helen Wise (12), Dorothy Sweat (11), Martha N. Masden (10), Virginia Sidebottom (9), Alden F. Thompson and Dorothy Sweat (7-8). Miss McKendree was their faculty advisor.
The following county officials were running unopposed in the November election: County Judge C. P. Bradbury, County Attorney Lindsay Ridgway, County Court Clerk T. L. Cook, Circuit Court Clerk Nancy Strange, County Tax Commissioner Clyde E. Roby, Sheriff Hobart L. Roby, and Coroner Tom Hibbs.
In the Personals column we read that James H. Hardy Jr. and Albert McAhron drove to Notre Dame at South Bend where McAhron enrolled as a student. We also learned that the little son of Mr. and Mrs. W. L. Napier broke his arm.
Six young people from Shepherdsville were injured in an automobile accident near Lawrenceburg. Alden Jones, the driver, was hospitalized with a fractured knee and cuts. Delores Robinson was there with a broken arm and cuts. Harold Boyd was at home with a broken arm; Charles Woods was in the hospital with a broken leg and injured feet; Marilyn Miller was there with a fractured jaw and arm; and Mary Shelton was at home with a possible shoulder fracture.
Lt. Lindsay Melton Wigginton arrived in California from the Pacific and phoned his parents, Mr. and Mrs. H. P. Wigginton of Mt. Washington with the news that he would be home soon for leave before being discharged. I see from other sources that Lt. Wigginton served as a pilot during both World War II and the Korean Conflict.
The Lebanon Junction correspondent identified three of the local servicemen who were returning home with their honorable discharges. They included Sgt J. F. Fowler, son of Mr. and Mrs. John Fowler; James Snyder; and T-Sgt. Billie R. Coleman who brought with him his new wife, Pauline, a native of Iowa.
A week later the same correspondent named Billie Ben Jenkins, J. F. Sullivan, Billie Fowl, brothers Ben and Andrew Wise, and Horace Greenwell all as returning servicemen.
Happy reunions were taking place all over the county. In Mt. Washington, Mr. and Mrs. Martin Clark were excited to have their daughter Lt. Frances Clark and their son Milton Clark returning home. Milton had been in the Coast Guard aboard the USS William B. Black. Milton's civilian career was as a furniture and cabinet maker. Frances had been an army nurse, serving part of her time in London during the Blitz. After the service she would travel to California, and marry Kenneth Beach.
The big dairy and stock barn on O. H. Masden's place a half mile south of Shepherdsville was engulfed in flames on a Saturday night. The fire was discovered by Elnora Maraman and Joseph Bryant who spotting the fire on their way home, and they helped Mr. Masden get his livestock out of the burning barn. The rest was a total loss.
And August Schulz of Clermont was offering his farm of 346 acres for sale. Also known as the old Joe Taylor farm, it was located one mile east of Clermont. I wonder who bought it.
December 1945
Cpl. Charles R. Owen of Shepherdsville decided to re-enlist. He'd been in the army since 1942, and had served as a fright crew member in trips to many parts of the world. His brother, Sgt. Bernard L. Owen was with the infantry in Europe.
Horace and Bess (Henderson) Maraman moved to Louisville to live with their daughter Ailene. Horace was retiring from the Maraman store in Shepherdsville where he had been a merchant for many years.
If you can remember back to the days of World War II, then you likely remember the red and blue tokens used to assist in making rationing more efficient. It seems, according to the paper, that with the war over, the government wanted folks to return all of them for recycling.
Miss June Shane, daughter of Mr. and Mrs. Howard Shane of Lebanon Junction, and J. P. Stark, son of Mr. and Mrs. Wilbur Stark also of Lebanon Junction, were married in November. Miss Geneva Masden was bridesmaid, and Clifford Samuels was best man.
Reason G. Newton, former Lebanon Junction teacher, was hospitalized after returning from overseas. He was being treated for an injury received in action.
Rev. John C. Brinson, pastor of the Shepherdsville Methodist Church, married Miss Eleanor Sheamaker, daughter of Rev. and Mrs. Robert L. Sheamaker of Campbellsville. His father performed the ceremony.
Elmer Ridgway of Stites Station died, leaving his wife Cora (nee Nichols) three daughters, Mrs. Howard Samuels, Miss Eunice Ridgway, and Mrs. Raymond Mattingly; and three sons, James, Charles, and Harry Ridgway.
And Ruby Crenshaw, daughter of the late Charlie and Clara (Samuels) Nichols of Knob Creek, died in early December. She was the wife of Elmer W. Crenshaw, and mother of Mrs. Eloise Crenshaw Hendrickson.
The Brooks schoolhouse burned, a likely case of arson. Details were sketchy.
A boy scout troop was organized in Mt. Washington, led by Clarence Drake. He took the following boys on a camping trip: Tommy Jasper, Tommy Whitt, Jimmy Smith, Junior Donahue, Jimmy and Louis King, and Scotty Drake. Sounds like they had a fine time of it.
Joseph M. Ryan posted a notice that there was to be no hunting on his farm west of the railroad between Huber and Brooks Station.
Nannie Mae Rogers of Shepherdsville must have been a historian. She wrote a several column long article about the county's early history, including information about the early salt works, and the spa at Paroquet Springs.
In the Personals column we learned that Mrs. Ivy T. McBride arrived from Alabama to spend the holiday with her sister, Mrs. Malcolm Harmon; that both Adrian Jones and Mrs. Josie Zimmerman were on the sick list; that little Nancy Woods had the measles; and so had the two daughters of Mrs. Fritz Saddler; and Sgt. Charles Barbie Lee, who recently returned from overseas, spent the weekend at his home.
A basket of beautiful chrysanthemums to honor the memory of Miss Stella Hedges adorned the chancel during the Thanksgiving service at Hebron Presbyterian Church.
And the Hebron correspondent wrote that, thanks to Mrs. Roger Barger, she was able to attend the Bazaar given by the Hebron Church Auxiliary at the home of Mrs. Wakefield. The many articles offered for sale were a delight to her, and $162 was realized from the sale to support the Auxiliary's mission work.
---