It Happened in 1944
Over the years, Charles Hartley has shared glimpses of what was being printed in The Pioneer News in different months and years. This page includes what was taken from the issues of 1944.
---
January 1944
Schools were having a hard time finding teachers as their pay scale was so much lower than the wages being paid by defense and industrial plants. Mrs. May Frances Jones, a fifth grade teacher at Shepherdsville was leaving to be with her husband who was stationed near Chicago; and Miss Doris Beard, the teacher at Brooks had resigned to return to college as she had been teaching on an emergency certificate.
This meant that Brooks joined Mt. Olivet, Sunny Side, Mt. Elmira, and Cedar Glades as a closed school due to a lack of teachers.
A column on the front page was filled with death notices including that of Frank Maris of Lebanon Junction who had died on Christmas day in his 80th year; Lydia Wells Mumford of Bardstown Junction who died at the age of 79; Mrs. Allie B. Thompson, age 64, of Lebanon Junction; John D. Harned, a well-known Bullitt County farmer, who had recently purchased the Wathen farm at Bardstown Junction after having to sell his farm to the army; and Sam Peacock, age 39, was killed on Christmas day by a hit and run driver in Louisville.
Another death reported was that of May Hays Collings, 85, of Louisville. She was a daughter of the late James Hays of the Hays Flats near Belmont. She was survived by her husband, John H. Collings, and their son Ben Collings.
The paper reported that Major Edgar B. "Dooley" Stansbury, son of Mr. and Mrs. Stansbury of Bardstown Junction, was chief of the physical fitness program of the Army Air Force.
The paper continued to get notes of appreciation from servicemen who were happy to get copies of their hometown newspaper. These included PFC Edwin L. Ratliff, Willie Samuels, PFC Hansford Milligan, Pvt. Wesley C. Ryan, William N. Jackson, Jr., S2C Raymond Hornbeck, Cpl. Wallace E. Owens. Pvt. J. R. Dawson, T-5 Johnny E. Richardson, Cpl. Joseph W. Sullivan, and Pvt. Colonel Jackson.
Mrs. S. B. Simmons advertised that the farm known as "Paroquet Springs Tenant house and outbuildings" was for rent on a cash basis.
The paper reported on the death of William Heffley, a well-known farmer living on Salt River below Shepherdsville. Mr. Heffley was born near Belmont.
Mike Smith, one of the survivors of the 1917 Shepherdsville train wreck, died at his home in Shepherdsville. He had been employed by Mr. and Mrs. G. S. Patterson for many years.
There was a mainly Mattingly and Ridgway gathering at Cupio as Mr. and Mrs. Elmer Ridgway hosted Mr. and Mrs. Robert Mattingly, Mr. and Mrs. Raymond Mattingly, Jo Ann Mattingly, Miss Eunice Ridgway, Mr. Harry Bishop, Mr. Edgar Monroe, Mr. and Mrs. Howard Samuels, amd Mr. and Mrs. Charles Ridgway and children.
In the Salt River community, Mrs. Ben Crenshaw, and Mrs. Wilma Hatfield and son were Sunday afternoon guests of Mrs. James Shepherd.
Ben Frank Robards was elected president of the Farm Bureau for 1944. Other elected officers included Robert Henderson as vice-president; and the following directors: S. N. Brooks, Russell Jenkins, Roy Applegate, Howard Hardin, Leonard Daugherty, S. O. Armstrong, J. W. Stark, Lee Masden, Hobart Roby, L. M. Masden, Stanley Lee, Ack H. Harned, Hilary Hardy, and Earl Dacon.
And Mrs. Lounetta Williams was reappointed as secretary-treasurer for the Bullitt County Farm Bureau.
February 1944
Mr. and Mrs. Bert Hall celebrated their Golden Wedding Anniversary.
The newspaper listed those servicemen from Bullitt County who had died while serving. They included Jarrett Thurman Moore, Robert Able, Charles R. Lee, Charles Montgomery, Willard F. Wright, Luke Briscoe, and Clyde York.
T-5 Millard Proctor, a graduate of Mt. Washington High School, was declared as missing in action in the Asian theater. He was a son of Mr. and Mrs. Harley Proctor.
Dr. George B. Hill, a prominent physician in the Mt. Washington area, attended a family reunion in Cumberland County.
The Valley View correspondent reported that T-1 Ralph Schrogan had returned from overseas after seeing action in North Africa and Italy as a part of Patton's corps.
A number of death notices appeared in the paper this month. Among them was Bemis Masden, age 80, who spent most of his life farming near the Rolling Fork River before the government took his farm for Camp Knox, died at his Louisville home. He was a brother of the late J. Mack Masden. He left to mourn his loss his widow, Mrs. Matila Henderson Masden, sons Elzie, Henry, Willie, John, Roy and Howard, and daughters Myra (Raney), Angie (Dawson), Birdie (Hamilton), Thelma (Jones), and Garnett.
In the Personals column, we learned that Mr. and Mrs. John Boes had taken an apartment in the home of Mrs. Clara Deacon. Mr. Boes, who used to run a local grocery, had just returned home from the hospital. Also, C. E. Rodgers and wife received word that their son Marion "Buster" Rodgers had arrived in the North Pacific area, and had seen his brother Albert who had been overseas for two years.
R. E. Brown's cow "Bonnie" gave birth to twins on President Roosevelt's birthday. Brown named them "Franklin" and "Eleanor."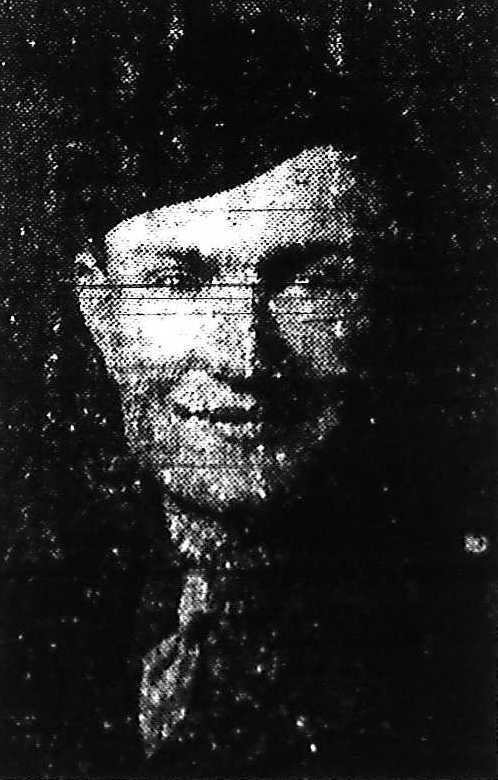 Sgt. Chales Barbie Lee
Servicemen continued to write their thanks to the newspaper for news from home. They included Samuel T. Harrison, Sgt. John R. Cruise, 2nd Lt. Bernadeen Wheatley, Pvt. Gordon R. Armstrong, PFC Arthur H. Waters, T-4 Ereel E. Gentry, T-Cpl Marvin K. Shelton, and T-Sgt Cecil Cox.
The family of Sgt. Charles Barbie Lee were happy to hear that he had landed in Australia. Lee, who had been in the army for two years, was married to Essie Mae Hawkins.
And a surprise birthday party was given Miss Frances Cruise by family and neighbors. Attending were Mr. and Mrs. Bill Williams, Mrs. Ella Hardy, Mr. and Mrs. Ralph Henderson, Mrs. Wilma Hatfield, Mrs. John B. Cruise, Mr. and Mrs. C. W. Stansbury, Ophelia Masden, Eloise and Jimmie Hardy, Mr. and Mrs. Pat Cruise and children, Frances Trunnell, Richard Wathen, Mr. and Mrs. Lee Pennington, Mr. and Mrs. Emmett Coakley, Mr. and Mrs. Bill Dawson and daughter, Mr. and Mrs. J. W. Brown, Mr. and Mrs. John Sloan, Mr. and Mrs. Welker, Mr. and Mrs. Charles Bullock and children, Mrs. Ack Hill Harned, Betty Ann and Sue Charles Wigginton, Jimmie Cruise, and Mr. and Mrs. Hardy Cruise. Quite a party!
March 1944
The paper reported that Edward and Myrtle Felker had three sons serving in the armed forces. Sgt. Louis Everett Felker, the eldest, and his brother Pvt. Edward Thurman Felker, Jr. were both stationed in England. The youngest, Cpl. James H. Felker was with a tank destroyer unit currently stationed in Texas.
It is good to report that Edward and Myrtle's boys all returned home safely, and each married and had families of their own. Louis passed in 1972, Edward Jr. lived until 1999, and his brother James passed a year later. Their parents were living on Pendleton Road when they passed, Edward in 1973, and Myrtle in 1979.
The county school system hired Miss Emma Wilcox to serve as attendance officer. She had just finished a term teaching at the Clermont school.
The W.M.S. of the Mt. Washington Baptist Church surprised Mrs. Zella Gentry with a party to celebrate her 41st wedding anniversary, and for her loyal service as president of the organization.
The names of local young men entering the service continued to be posted in the paper. Ernest Houston Williams, Joseph Leonard Johnson, William Jennings Bryant Pulliam, General Wilson Armstrong, Claud Vernon Parrish, and James Martin Hester all joined the navy on March 2nd.
The announcement of the death of Jesse P. Young indicated that his residence was "The Hermitage Fish Pool Plantation" on Preston Street Highway. Those of you knowledgable of this area's early history will recall the mention of the fish pools in what is now southern Jefferson County.
Mrs. Marion Porter was honored for her knitting skills as she knitted more than 30 sweaters for the Red Cross.
Inez Hibbs, daughter of John T. Hibbs, joined the Navy WAVES.
Mrs. Mike Smith moved from her home by the railroad to the Shepherd house in the alley east of the railroad.
The Personals column included reports on Marie Kneisler who was improving following an operation; on Pvt. George Douglas who was home for a visit after spending more than two years overseas; Pvt. Harold Hardy who was home due to the illness of his mother, Mrs. Robert Hardy Sr.; Woodford C. Peacock who had been promoted to staff sergeant; and Mrs. Inez Troutman who was brought to her sister, Mrs. Charles Maraman's home to recuperate.
PFC William Bruce Hamilton was reported ill in Texas, suffering from rheumatic fever, but was improving.
In news from Belmont, we learned that the James Schumaker family moved to Salt River, that the J. T. Rhodes family moved to a farm near Deatsville, and that Mr. and Mrs. J. C. Watts were occupying the Wise property.
Tom Harris of Shepherdsville had two black and tan fox hound pups for sale; and Walter Devine wanted to sell you two jersey cows.
And the Shepherdsville Rams had a fine season with 20 wins against only 3 losses. This included multiple wins against both Mt. Washington and Lebanon Junction. Harold "Goat" Dawson was their leading scorer. He received All-State Honorable Mention that year.
April 1944
The Grand Jury, made up of Burton Wise, F. E. Deacon, Jess Hardaway, Walter O'Bryan, Carl Christman, Charles Lamb, Albert Able, Vernon Dickey, G. L. Everback, Harold Ricketts, E. F. Hornbeck, and Raymond Cox, had a light load of work to do, taking only two days to complete it.
Folks called to serve as petit jurors included Roy Applegate, Robert Devers, Will Shaw, O. H. Masden, Ed. C. Tyler Sr., E. E. Stevens, Lee Bumgardner, Lowell Hall, Everett Hackett, Jeffie Lee, G. A. Branham, W. A. Ladusaw, Val Hartlage, Elmore Hatfield, R. A. Tinsley, Bernard Bishoff, Albert Fisher, Squire Roby, George Cox, Henry Maraman, and Fred L. Owen.
The Shepherdsville High School Civics class, led by Mrs. Layne Wigginton, attended Circuit Court to watch court in action. Circuit Judge L. B. Handley took time to explain to them the work of the probation law.
Jesse Lee Houck, who was formerly of the Clermont area, and son of Dr. Isaac Houck, died in Louisville. He was a switchman and yard master for the L & N for about 23 years.
The Community Easter Sunrise Service was held for the eighth consecutive year at the Methodist Church in Shepherdsville. Dr. James Leo Green of Southern Seminary was the speaker.
In Mt. Washington, the Sunrise Service was sponsored by the Sunday School classes of Mrs. C. L. Stansbury and Mrs. Lindsay Jones.
A large crowd attended a local "Gay Nineties" play in Shepherdsville. Rev. Lowell F. Sodeman of the Baptist Church was the master of ceremonies, and he was joined by Rev. Howard Matthews, Rev. Earl T. Sturgess, Professor Hayes, Russell Jenkins, Professor Sanders, Herman Williams, Jr., and, I quote, "several ugly school-boys and about thirty real pretty girls." The play was directed by Mrs. Anna Laura Jenkins.
Pvt. Roy Larimore, Pvt. Burel Coakley, Pvt. Raymond Coakley, and T-5 Ray Masden were all stationed somewhere in England where they each received their Good Conduct medals.
Stanley Lee and Jimmy Powers were attempting to start a truck at the Standard Oil garage in Salt River when it caught fire. The fire spread, burning everything except two gasoline storage tanks.
Cissy Gregg was the guest speaker at the Woman's Club meeting held at the home of Mrs. Ralph Henderson, and hosted by Mrs. Fletcher Smith and Mrs. Burks Williams, Sr.
In the Personals column we learned that S.Sgt. Edgar Lee Howlett had arrived safely in New Guinea; that Capt. Gilbert Masden was home on a furlough; that Cecil Larimore was on the sick list; that Mr. and Mrs. W. L. Napier and sons spent several days as guests of Mr. Amos Napier at Prestonburg; and that William Lee Hatfield was home on furlough and spent a day with his brother Lewis Edward Hatfield and family.
Athol Lee Taylor, son of Bailey Taylor, and grandson of J. B. Swearingen, was added to the faculty of the University of Louisville law school teaching special courses following his discharge from the army.
Mt. Washington High School Commencement Exercises were scheduled for May 4th, with the following students scheduled to graduate: Lucille Cook, Pearl Cox, George Raymond, Ersa Armstrong, Rosetta Benningfield, Betty Jo Lloyd, Dortha Alcorn, Christine Owen, Ward Hill McAfee, Madeline Moore, Kenneth Lutes, Carrie Lee Smith, and Owen Tyler.
And Shepherdsville High School had 24 scheduled to graduate including Robert Bennie Armstrong, Solomon Neil Brooks Jr., William Howard Dawson, Charles Larue Hamilton, James Ray Hardy, Thomas Anthony Noltemeyer, William Thomas Price, John Allen Raley, Wilbur Ellis Raymond, Thomas Earl Stillwell, Elizabeth Bealmear, Mary Tyler Bell, Nellie Lee Easten, Shirley Mae Lane, Alberta Pope Maraman, Geneva Mae Masden, Mary Catherine Mudd, Clara Jane Newman, Mildred Marietta Raley, Martha Elizabeth Ridgway, Mary Jane Ridgway, Lula Mae Thurman, Margie Catherine Warden, and Mildred Williams.
May 1944
Mrs. Mack Jones was the first to spot the blaze coming from the east side of the Shepherdsville High auditorium. She turned in the alarm and the volunteer fire fighters soon had it under control. The main damage was to the stage area.
Claudie Mefford, daughter of Mr. and Mrs. Allen Mefford, and Lee Owen, son of Mr. and Mrs. Alvin Owen of Mt. Washington, were married at the Baptist Seminary.
The paper continued to receive correspondence from serviceman thankful for receiving the newspaper. Among those who wrote were Charles N. Wheeler, Bassell Duke Tinnell, Morris A. Lambe, James Noe, Theodore Harris, J. W. Peacock, Ray W. Allen, Wallace E. Owens, Earnest L. Harris, Otto (Buck) McGlasson, Wheeler H. Meadows Jr.
The classified ads indicated that Tom Cochran was selling a farm, Woodrow Tinnell a house with electricity, Fred Harshfield his farm due to his health, Edd Berman a good McCormick Deering two row corn planter, Bernard Bischoff a nice mule, and C. C. Magruder some fresh cows.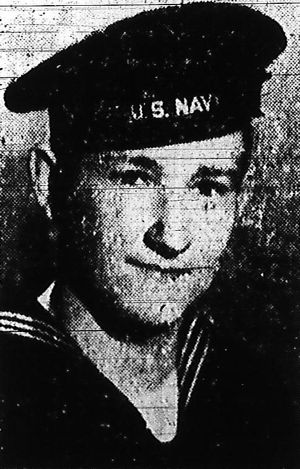 Clifford Kerr Lee
In the Personals column we learned that Mrs. Bill Goldsmith had received word that her husband had arrived safely in India. We also learned that Chester Tinnell and Howard Jackson were both in England somewhere. In a later column we learned that Adrian Jones and Charles Brown traveled to Chicago to visit Private John Brown.
Mr. and Mrs. Grover Lee were happy to report that their son Clifford Kerr Lee had arrived safely in the Southwest Pacific. His picture was included with the announcement.
In the Wilson Creek Notes we learned that R. T. Milligan Jr. was employed at the George T. Stagg Distillery; that his father had returned home after an operation at Jewish Hospital; and that Roscoe Waters and Carroll Ricketts visited the Renfro Valley.
The Bardstown Junction community mourned the death of Mabel Stansbury, wife of Emmett Stansbury. The former Mabel Bell, daughter of John H. and Rena Bell, was the mother of four including Edgar Stansbury, Christine Cruise, Myrtle Ruth Harris, and Blanche Moore. Her funeral was conducted by her good friend, Rev. R. W. Cundiff.
Sadly, that same evening, the home of Pat and Christine Cruise burned.
Mr. General Wilson, wife and son, moved to their large farm near Boston. Mr. Wilson had been an active businessman in Shepherdsville for years. Their Shepherdsville home would continue to be occupied by their daughter, Miss Lydia, and by Miss Minnie Hornbeck.
In the Cupio community, Sunday guests at Mr. James M. Hopewell's home were Mr. and Mrs. Doll Ashby, Mr. and Mrs. Mayard Hopewell, Mr. and Mrs. Erbie McNutt, Mrs. Edwin Roberts, Mrs. Nellie Hardin and children, Mrs. Nancy Hopewell, and S.Sgt. James M. Hopewell who was home on furlough before returning to Miami where he was stationed.
Clarence "Duck" Stansbury was quite happy that his chestnut filly, Jeanie Berry won its maiden race at Churchill Downs by two full lengths. The filly was trained by Bryant Ott, nationally known horse trainer, who was married to a Bullitt County girl.
A brief note in the Mt. Washington column stated, "born to Mr. and Mrs. Luther B. Martin (nee Doris Collings) a boy." Intrigued, I discovered that Doris Collings was a daughter of William and Jessie (Showalter) Collings, and granddaughter of W. E. and Susie (Grant) Showalter. The baby boy was named Luther Clayton Martin.
And a couple of other birth announcements included that of a girl to Sgt. Barbie and Essie Mae (Hawkins) Lee, and a boy to Sgt. Johnnie and Virginia (Dawson) Cruise.
June 1944
Cpl. Clifton Hall, Sgt. Robert G. Harned, PFC Jessie R. Foster Jr., Pvt. Noah E. Whittle, Pvt. Morris A. Lambe Sr, PFC Johnny W. Bishop, John B. Viers, Wathen E. Viers Jr., PFC Martin Ryan, Cpl. Earl T. Stottman, and Pvt. Roscoe Weller all wrote to the paper, thanking the editor for seeing that they received the local paper wherever they were.
The Lebanon Junction correspondent reported that Sgt. Bernard Mattingly was home on furlough and looking fine. Also, Mr. and Mrs. John Argenbright were the proud grandparents of a new grandson born to their daughter, Mrs. Seabrook Kile in Louisville.
In Red Cross notes, Miss Frances Trunnell, Mrs. Octavia Bradbury, Miss Reba Hall, Miss Cora Ney Hardy, Mrs. Mary E. Sodeman, and Mrs. Betty Larimore represented the N.Y.A. of the Baptist Church at the home of Mrs. H. H. Combs to fill 144 Red Cross apron kit bags for service men. Mrs. Pearl Lee of Shepherdsville had made 36 of the bags to be filled.
Bullitt County Court Clerk T. L. Cook posted a notice that anyone 65 and older could hunt and fish without a license if they had a signed affidavit of the place and date of their birth.
In Mt. Washington news, Pvt. Stanford Harris left to return to his camp in Alabama after a furlough with his family; Mrs. Jean Hall visited her husband Pvt. Jean Hall at Jacksonville; and Mrs. Leroy Moore left to stay with her husband Pvt. Moore at Ester Field in Louisiana.
Also, Major Samuel H. Ridgway, son of Mrs. Margaret Ridgway and the late Dr. S. H. Ridgway, became seriously ill in Pennsylvania, but was reportedly much improved.
In the Personals column, we learned that 1st Lieut. Otto Losch was home on furlough after being overseas for more than two years; that Mildred Williams and Jane Ridgway, recent graduates of the Shepherdsville school were employed as secretaries by the American Creasoting Company in Louisville; and that Wesley Ryan, who was somewhere in the South Pacific, had been promoted to PFC.
Mrs. Lena Troutwine of Bardstown and Mr. Orien Roby of Shepherdsville were married. They spent their honeymoon at Mammoth Cave.
In news from the Hebron community, we read that Joe Kelley, while putting a new roof on the home of Mrs. Maude Ridgway, fell from the roof, but his only injury was a hot foot from stepping in hot tar.
Anna Hawkins of Shepherdsville was looking to buy a used sewing machine with a long bobbin and in good condition. Call her at 107 (yes, that was her phone number).
PFC Allen R. Hawkins Jr. arrived home on furlough from Italy after being overseas for about a year. He was the former editor of The Pioneer News, and the husband of Mrs. Anna Hawkins.
And Mrs. T. C. Carroll was selected as the National Democratic Committee woman from Kentucky, a distinct honor.
July 1944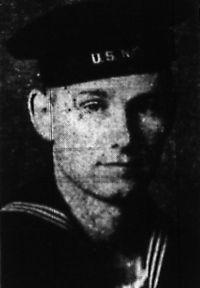 William Huber Lee
The Lebanon Junction correspondent expressed regret at hearing of the deaths of two old time former neighbors, Russell Thompson, a retired railroad conductor, and Felix McMillen, a retired telegraph operator, both of whom had lived in the town years earlier.
William Huber Lee, whose wife was living in Shepherdsville, was pictured on the front page along with a story about his military duties with the amphibious forces aboard an LST, the beach-hitting tank carriers.
In other war news, Mr. and Mrs. Tom Karr of Lebanon Junction received the news that their son Edgar Karr had received a purple heart after being wounded in action in May.
In Mt. Washington news, Mr. and Mrs. Billy Cornell gave a surprise birthday party for her father, Tom Porter, with a large crowd attending.
The paper continued receiving thanks from servicemen who were happy to receive the hometown newspaper. Those expressing their thanks included Samuel Ray Sadler, Curtis M. Deacon, Carl E. Powers, J. W. Bradbury, R. B. Hornbeck, and Willie Samuels.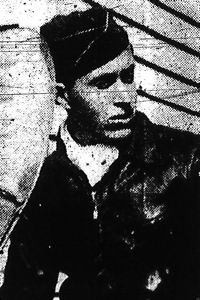 Joe Nevins Harned
Folks in the Knob Creek neighborhood were greatly concerned about their crops since it hadn't rained in sometime. The correspondent reported that the stork had visited Herman and Rozella Mann and left a girl they named Brenda Joyce.
The paper reported the sad news that Joe Nevins Harned, son of Mr. and Mrs. A. H. Harned of Bardstown Junction, had been killed in the fighting in Italy. He had graduated from the Lebanon Junction school in 1939, and was a member of the Christian Church in that town.
The Lebanon Junction correspondent reported the death of Cpl Clarence Warren Boulware in the Pacific area. He was the grandson of Mrs. Kate Haley.
The Bullitt County Board of Health declared a quarantine order for children under sixteen who were not to congregate in public places due to the prevalence of multiple cases of polio in the county and in the surrounding counties. The paper also encouraged everyone to be careful about the source of their drinking water.
The Needmore Road correspondent reported that Mr. and Mrs. Strause Hall gave a birthday party dinner in honor of their oldest son, Emery. Guests present included Mr. and Mrs. Ed Bridwell, Mr. and Mrs. Roselee Bridwell and children, Mr. and Mrs. Carey Smith, J. O. Marion and Joy Smith, Wilda Lois, Mary Hall, Trulavern Cook, Leola Armstrong, Ella and Gordon Proctor, Gilbert and Cecil Clark, Lloyd, Glendon and Adrain Hall, and J. P. Bleemel.
Kulmer's Service Station in Shepherdsville advertised that they were now equipped to vulcanize tires and tubes.
In the Personals column, we read that Mr. and Mrs. A. G. Foster and their son Alvine were the guests of her sister, Miss Lillie Thompson. We also learned that Mr. and Mrs. George Stottman had moved to a residence near the Bullitt Lick bridge.
Out at Cupio, tasty watermelon was on the menu as Mr. and Mrs. Cornell Logsdon and daughter visited Mr. and Mrs. L. W. Nichols.
And in the classified ads we learned that Tuffy was lost. He was a small collie and spitz mix with brown spots. If you see him call the newspaper office.
August 1944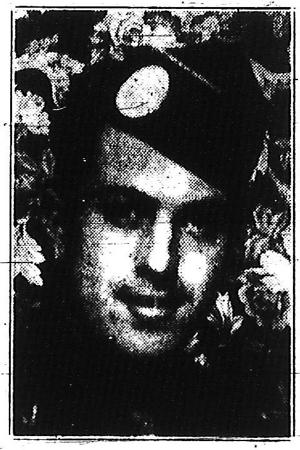 Mack Maraman Jr.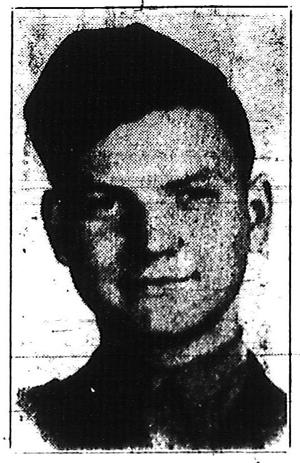 Commie Robison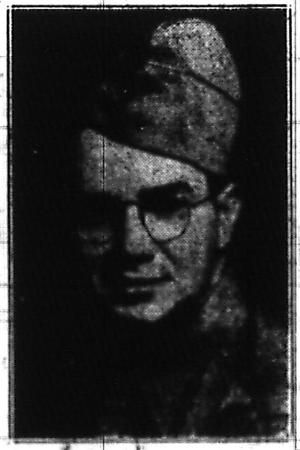 Wilbur Strange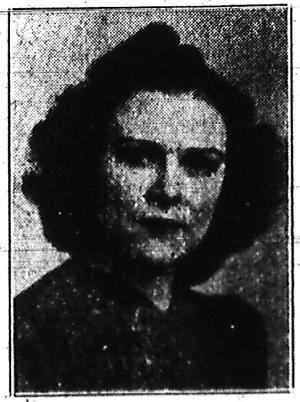 Jean Rouse
In Lebanon Junction news, the Eastern Star Chapter held an anniversary party for its charter members, including Mrs. Mollie Hocker, Mrs. Leona Coleman, Mrs. Ada Carter, and Mrs. Ethel McMillen.
The Mt. Washington correspondent expressed sympathy to Mrs. Annie Talbott of Bardstown in the death of her sister, Miss Jeannette Sutherland who had lived in Mt. Washington for many years.
She also reported that Mrs. Randolph Porter and Doris Ann Pound had both had their tonsils removed, and both were getting back to normal.
The paper reported that PFC Mack H. Maraman was reported missing in action in France. Thankfully, according to later reports, he had been taken captive by the Germans, and was reported as liberated in 1945.
Not as fortunate was PFC Commie L. Robison, son of Mr. and Mrs. Pete Robison of Clermont. He was reported killed in action in June.
In Salt River community news, Mr. and Mrs. Elsie Masden gave a dinner in honor of their two sons who were home from overseas, Capt. Gilbert Masden and S-Sgt. W. B. Masden. The occasion was also the birthday of their son-in-law, Sgt. Kenneth McCubbins.
The paper reported that two of the four sons of Mr. and Mrs. Stonewall Tinnell who were overseas had been wounded in action: PFC Harold R. Tinnell and PFC Chester Tinnell.
The paper continued to be full of war news with the Personals column identifying Pvt. Edgar Karr wounded in the Mediterranean area, and PFC Howard Jackson wounded in France. Also, Miss Florine Carr was accepted in the United States Cadet Nurse Corps. She was a Lebanon Junction High School graduate.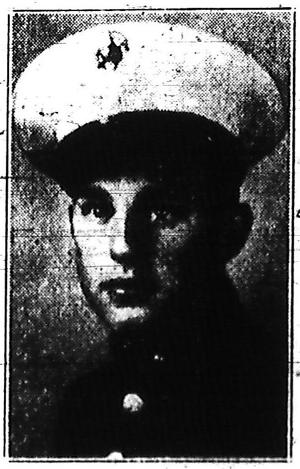 George Edward Bradbury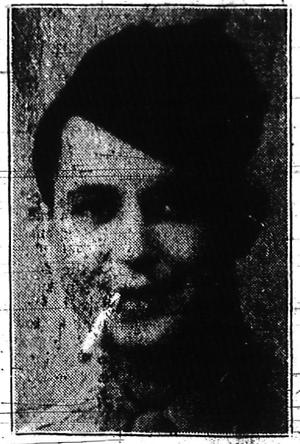 William Hatfield
Election officers for the August primary were announced. With so many young men away at the war, most of these names would be of older men, and women who stepped forward to fill the need. They included W. F. Joyce, Fronia Samuels, Lida Armstrong, and Margaret Foster in the first Shepherdsville district; J. M. Larimore, Mrs. E. G. Quick, Mack Jones, Sr., and Blanche Howlett in the second district; Harvey Owen, J. M. Havey, James L. Beghtol, and Mrs. Lee Hatzell at Brooks; W. P. Foster, Gladys Shepherd, Ed Shepherd, and Essie Holsclaw at Knobs; Albert Abel, Joe Samuels, John Marcum, and Mrs. George Atkisson at Cupio; T. D. McAllister, C. A. Masden, Julius Cundiff, and Mary G. Hardaway in the 6th district at Salt River; German Branham, Mrs. Tom Parrish, John L. Walls, and Margaret Grigsby in the 7th at Mt. Washington; S. B. Owen, S. O. Armstrong, J. B. Proctor, and Mary Fisher in the other Mt. Washington precinct.
Continuing, Mrs. John Oliver, Mrs. George Wigginton, Mrs. Margaret Wigginton, and Mrs. Ella S. Pope served at Zoneton; Tom Close, K. F. Bolton, Elmer Cundiff, and Mrs. John Lane at Cedar Grove; R. J. Clark, Ed R. Ash, Milton Clark, and Mrs. Hyte Rouse at Leaches; Henry Fearnbach, Alex Riley, Mrs. Charles Fearnbach, and Mrs. Charles Robinson at Clermont; Mrs. Winnie Fisel, S. H. Ricketts, Mrs. N. E. McMillen, and Mrs. Christine Boone at the 13th in Lebanon Junction; Andrew Mann, Mrs. Vina Roby, Mrs. Tillie VanFleet, and Mrs. J. W. Stark in the 14th at LJ; Gladys Bradbury, Luke Ryan, George Ashbaugh, and Mary Bradbury at Belmont; and Otto Cundiff, Frank Carpenter, Mrs. Annie Cundiff, and Mrs. Arthur Cundiff at Beech Grove.
The paper shared a photo of PFC George Edward Bradbury who was serving in the South Pacific as a radio operator. In another picture we found PFC William E. "Dude" Hatfield, son of Earl Hatfield of Shepherdsville. He was in the Air Corps Supply Squadron in Italy.
Also pictured was Pvt. Joseph Wilbur Strange who had been wounded in Italy. He was the son of Mrs. Nancy Strange.
And on a happier note, Hyte & Florence Rouse of Cox's Creek announced the engagement of their daughter Jean DeVere Rouse to Kenneth L. Stinnette, a student at the University of Louisville School of Medicine. Dr. and Mrs. Stinnette would spend many years in Bardstown.
September 1944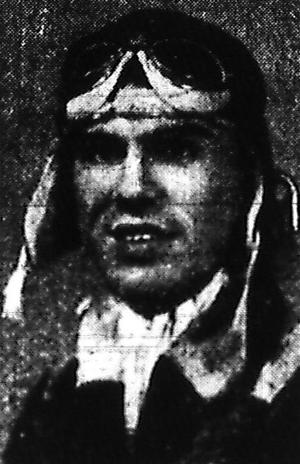 Lt. Willard F. Wright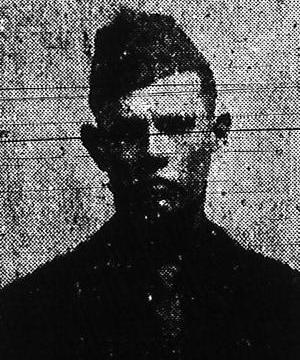 PFC Leo M. Clark
The war still raged in Europe and the Pacific, and young Americans were in the thick of it. Some died, others were wounded, and many performed deeds that we call heroic. One such soldier was Noah Whittle. I've asked Tom Barr to reproduce the citation of a bronze star awarded to Noah along with this column today.
Lieutenant Willard Franklin Wright, son of Mr. and Mrs. Leonard Wright of Lebanon Junction, was reported missing in the southwest Pacific area in December 1942. His parents were notified of his death in February 1944, and the announcement was printed in the paper in September. Lt. Wright had been a teacher in the local schools before being called up.
Memorial services for PFC Leo M. Clark were held at Pleasant Grove in September following his death a month earlier. Clark had been serving in France when he was killed. Left to mourn his loss were his widow, the former Minnie Mable Smith, three small children, Hilary, Earl and Doris Jean, his parents Mr. and Mrs. Vivian Clark, and four brothers, Cpl. Harry D. Clark, PFC Albert H. Clark, Gilbert Clark, and Cecil Clark.
Not all military deaths occurred overseas. A B-26 bomber caught fire in the air and crashed about eight miles south of Bardstown Junction on Wednesday, August 30th. Two airmen were killed in the crash.
County schools opened September 4th with the following teachers in place:
Shepherdsville was led by Principal H. T. Peterson. The faculty included Mary H. Miller, Clara Myers, Layne Wigginton, Ruth Yoe, Reba Smith, Pearl Hall, Sara Fay Myers, Mary Dawson, Ruby K. Cooper (Ruby Laws substituting), Louise Bischoff, Myrtle Frick, Evelyn Jones, Susan Auritt, Ruby C. Napier, Augusta West, Nancye Masden, Laura Richardson, Nell Miller, and Lillie Vertrees.
At Mt. Washington the principal was Thomas Ray Omer. His faculty included Ann Jones, Mary Gertrude Paris, Lucile Insko, Anna McGee, Frances Armstrong, Ruth Franklin, Kathleen Harris, Martha Weller, and Mary McClure.
Glessie Luker, Christina Whiteman, and Jane Freibert were the teachers at Nichols. With no teacher at Sunny Side, those pupils were transported to Nichols.
Beryl Porter and Hilden Cornell opened the Pleasant Grove school, while Nellie Kneisler was the lone teacher at Brooks.
Eulah Mae Wise, Jeanette Harrison, and Thelma Roby provided the staff at Cedar Grove, and Clermont were staffed by Ora L. Roby and Ophelia Masden.
The Belmont teachers were Mary B. Hill, Zardetti Dawson, and Christine Cruise. Augusta Dawson was at Cane Run, and Maudie Cundiff at Beech Grove.
Bowman's Valley was staffed by Mattie Owens and Maggie Owens.
Mt. Olivet, Mt. Elmira, and Cedar Glades failed to open since teachers had not been hired there.
Guy Bergen's remains were returned to Bullitt County from North Carolina for burial at Hebron. He was survived by his widow, the former Thelma Crenshaw, two children, Jerry and Penny, his parents Mr. and Mrs. Dee Bergen, and five sisters including Mrs. J. H. Adcox of Nevada, Mrs. L. B. Brickle, Mrs. Cecil Cash, Mrs. Kenneth Tipton, and Mrs. Fletcher Hagan, all of Shepherdsville.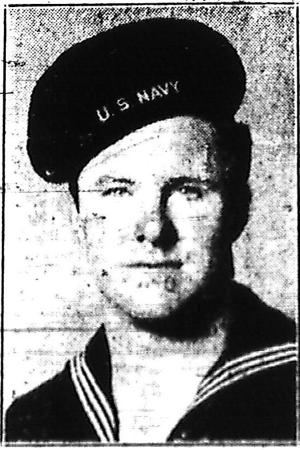 Mitchell K. Smith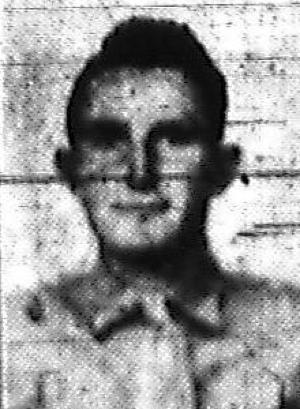 Wesley C. Ryan
Mitchell K. Smith, a graduate of Shepherdsville High School, joined the navy in 1943, and had made several trips to Europe aboard Merchant Marine ships. He was the son of Mrs. Clara Smith of Shepherdsville who provided the paper with his picture.
Also pictured in the paper was PFC Wesley C. Ryan, son of Mr. and Mrs. Luke Ryan of Belmont. He was reported to be in a rest camp following his participation in the capture of the Pacific islands of Saipan and Tinian earlier that year.
Alice Huffman Barett took a job at the Bullitt County Bank; joining others working there including Charles Combs, Frances Trunnell, and Katherine Weller.
And two barns burned near Bardstown Junction. Eugene Henderson lost his to lightning, while Ack Hill Harned's was said to have ignited by spontaneous combustion.
October 1944
Frank Easton of Belmont received word that his son, Elmore Roscoe Easton, had been lost at sea in September when his ship, the USS Warrington sank during a hurricane off the Bahamas. Frank's wife, Martha (Engle) Easton had died in 1935.
Clarence Lee Croan, better known by his initials, C. L., died in late September. A former Shepherdsville businessman, he was also a race-horse owner, and former member of the Kentucky Racing Commission. C. L. was 78, born in 1866 to James and Elizabeth (Lee) Croan.
In Mt. Washington news, Lt. Lindsay M. Wigginton, son of Mr. and Mrs. H. P. Wigginton, who was stationed at Tonopah Air Base, was married to Miss Nancy Gilchrist of Louisville in September.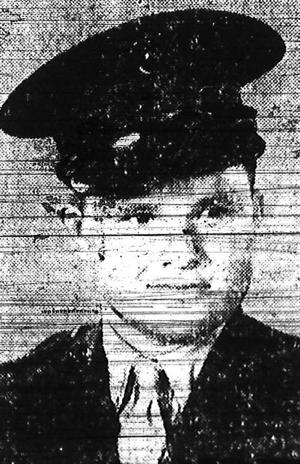 Ray Dawson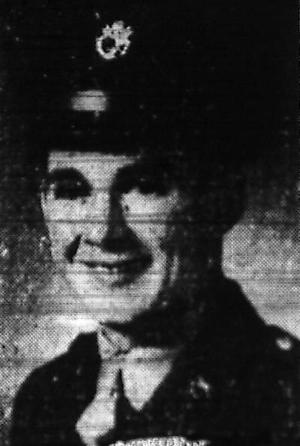 Marvin Underwood
Mrs. Josie Drane, age 81, the oldest daughter of Frank Hardy, Pitts Point merchant, died in Louisville. She was sister to Margaret Ridgway of Shepherdsville.
Also, members of the Methodist Church met to greet the new pastor, Rev. K. R. Dillon and bid goodbye to Rev. M. D. Allen. Also present as honored guest was Rev. C. K. Dickey, a former pastor.
The Lebanon Junction correspondent reported that Leo and Margaret (Silver) French had moved to town recently from Louisville. Both were former residents of the area. Leo was a fireman for the railroad.
Cpl. Burlyn Pike, who passed the bar exam in June, and was admitted to practice law in September, was stationed in a hospital unit in Texas. He was the son of Mr. and Mrs. John Pike. His father was a conductor for the railroad.
Mr. and Mrs. J. R. Ball of Zoneton celebrated their golden wedding anniversary in October. Joseph Robert Ball and Florence Lentsch was married in 1894, and to them were born seven children.
The Needmore Road correspondent reported that Mrs. Cecil Bridwell received word from her husband that he was in Belgium, and Mrs. Wallis Armstrong's husband was in France. Later papers indicated that Wallis had been wounded.
The paper printed a picture of PFC Ray Dawson who was in the South Pacific. He was the son of Mr. and Mrs. Horace Dawson.
Also pictured was PFC Marvin Underwood who had just landed in France. He was the son of Mr. and Mrs. Oscar Underwood.
And in the Personals column we learned that Shirley Ann Jackson, little daughter of S.Sgt J. W. Jackson spent the week with her aunt and uncle, Mr. and Mrs. Columbus Pugh. Also, Robert Hardy resigned from the Medical Depot to devote his time to his undertaking business. Finally, we read that Joseph Raley, son of Mr. and Mrs. John Raley of Bardstown Junction, had arrived safely in Germany, and reported that the Red Cross was doing fine work, as well as serving delicious coffee and donuts.
November 1944
Mr. and Mrs. Arvol Bridwell of the Needmore Road area gave a Halloween party for their daughter. Guests included "Betty and Leola Armstrong, Marion and J. O. Smith, Gordon and Ella Proctor, Mary and Wilda Hall, Valeta and Billy, Ruby and Louise Stallings, Floyd, Emery, Adrain and Glendon Hall, Louise Cox, Nina Ridgway, Mary Margaret Shawler, Treacy, Billie Joe, Roy, Ralph Bleemel, Sam Raymon, Russell Smith, Welford Breaden, Sammy Gentry, and Nodman Owen." (Yes, I know some names are missing.)
In Lebanon Junction news, Dr. W. S. Napper died in late October, age 85. "His patients always felt like when Doctor came they would get better from his medicine and his jolly disposition."
Election officials were named for the November election. The first two named served as judges, the third as sheriff, and the fourth as clerk.
Shepherdsville #1: J. W. Goldsmith, Fronie Samuels, Lida Armstrong, W. F. Joyce; Shepherdsville #2: C. T. Farris, Mrs. E. G. Quick, Mack Jones Sr., Blanche Howlett; Brooks #3: Harvey Owen, J. M. Harvey, James L. Beghtol, Mrs. Lee Hazlett; Knob #4: W. P. Foster, Gladys Shepherd, Ed Shepherd, Essie Holsclaw.
Cupio #5: Albert Abel, Joe Samuels, Rufus Able, Mrs. George Adkisson; Salt River #6: T. D. McAllister, (second name missing on microfilm), Mrs. Dee Bergen, Mary G. Hardaway; Mt. Washington #7: German Branham, Mrs. Tom Parrish, John L. Walls, Margaret Grigsby; Mt. Washington #8: S. B. Owen, S. O. Armstrong, J. B. Proctor, Mary Fisher.
Zoneton #9: Mrs. John Oliver, Mrs. George Wigginton, Mrs. Margaret Wigginton, Mrs. Ella Pope; Cedar Grove #10: Tom Close, K. F. Bolton, Elmer Cundiff, Mrs. John Lane; Leaches #11: R. J. Clark, Ed. R. Ash, Milton Clark, Mrs. Hyte Rouse; Clermont #12: Henry Fearnbach, Alex Riley, Mrs. Charles Fearnbach, Mrs. Charles Robinson.
Lebanon Junction #13: Mrs. Winnie Fisel, Hansford Ricketts, Mrs. N. E. McMillen, Mrs. Christine Boone; Lebanon Junction #14: Andrew Mann, Mrs. Vina Roby, Mrs. Tillie Van Fleet, Mrs. J. W. Stark; Belmont #15: Gladys Bradbury, Luke Ryan, George Ashbaugh, Mary Bradbury; Beech Grove #16: Kenneth Edington, Frank Carpenter, Mrs. Annie Cundiff, Mrs. Arthur Cundiff.
The election commissioners were J. W. Hardaway, C. E. Rodgers, and F. B. Smith.
The Hebron correspondent wrote, "On October 23, 1894, Miss Etta Hedge and Joseph N. Brooks were married at Hebron Presbyterian Church by Rev. Richard Priest, brother-in-law of the groom." Fifty years later, the couple celebrated their Golden Wedding anniversary. Henrietta lived until 1953; Joe until 1967, dying at the age of 99.
In Lebanon Junction news, Arthur Thompson, a retired railroad conductor, died at his home on November 1st. He was survived by a son, Edward.
On a happier note, Margaret Jo Shearer, daughter of Mr. and Mrs. William Shearer was married to J. D. Raney at the home of the bride's grandmother, Mrs. D. B. Monroe.
December 1944
In news from Belmont, we read that Mrs. Otho Quick of Lebanon Junction was accompanied by Miriam Bradbury of Belmont, Ethel McMillian, Lizzie Wickersham, Myra Raney and Mrs. Joe Canzoneri of Lebanon Junction as they attended a W.M.U. meeting at Bardstown.
Sgt. W. E. Viers Jr., son of Mr. and Mrs. Wathen Viers of Shepherdsville, who had just returned from overseas, was married to Geneva Hill Helm of Buechel by Rev. L. F. Sodeman.
James Henry Swearingen of Mt. Washington died in late November. He was 75, and married to Cora Swearingen. He was a son of William and Sallie (Jones) Swearingen; she was a daughter of David and Angeline (Pratt) Swearingen. James and Cora were the parents of Royce, Ford, and Angeline.
The Woman's Auxiliary of the Hebron Presbyterian Church held their annual bazaar and afternoon tea at the home of Mrs. Will Wakefield.
In the personal column we learned that Mrs. Pearl Lee spent the holiday with her son Frazier; that Rua Shouley had been very ill, but was some improved; that Bill Burns had pneumonia; and that the Johnson family reunion was a joyful day for Mrs. Nannie Johnson when her seven children were with her. Those present including Ollie Dawson, Nora Cundiff, Eula Haley and son, Eva Bullock, Effie Duvall, Clara Pearl, Norman and Charles, Jesse Johnson and wife, and also Ethel Philpott Smith and husband and Mr. and Mrs. Ed Pitt.
The Needmore Road correspondent reported that a number of men gathered at Levy Ridgway's place and cut some wood for him while he was sick.
Lt. Agnes Bernadeen Wheatley, daughter of Mr. and Mrs. J. K. Wheatley of Shepherdsville, returned from England on a short furlough. She had been stationed in hospitals in England for three years, and paper stated, "We are proud of the grand work Lt. Wheatley is doing."
The Hebron correspondent reported that J. R. Ball lost a horse named Old Joe who was 29 years old and had been a faithful and prized friend. J. R. said that Old Joe's last year or two had been spent in idleness.
In Mt. Washington, Rev. Paul Horner, wife and son visited her mother, Marion Porter for the holidays; Pvt. Jerry Bridwell was home for a few days on furlough with his wife and baby; and R. E. McAfee and T. H. Parrish spent a day with E. E. Pound and had a "hog killing" time.
Blanche Hall received official notice that Sgt. Glendon Hall had been slightly wounded in Germany.
Pvt. Vernon Druin, son of Mrs. Martha Druin of Shepherdsville, was awarded the Bronze Star. The citation stated, "On 14 September 1944, in the vicinity of Fort Montbarey, Brest, France, Pvt. Druin exploded charges hooked up during the night, in order that tanks could cross an anti-tank ditch and bring fire on the city. Pvt. Druin crossed open fields under enemy observation and under heavy enemy artillery and small arms fire checking the hook-up of the charges before he set the fuse. He did this in the early morning hours and his work resulted in the successful destruction of the ditch. His courage and enthusiasm reflects highest credit on himself and the military."
Out at Cupio, little Jimmy and Lillian Bishop spent two weeks with Mr. and Mrs. Cornell Logsdon while their mother was in the hospital.
J. V. Shaw was promoted to Staff Sergeant. He was a graduate of the Lexington Signal School, and had served in Labrador, Greenland, and Scotland before being assigned to France as part of the Signal Corps.
And James W. Croan, president of the Bullitt County Bank, died suddenly while talking with H. H. Combs at the bank. He was a successful timber dealer, a farmer and for years served as county jailer, deputy sheriff, and for four years sheriff.
---
Copyright 2020 by Charles Hartley, Shepherdsville KY. All rights are reserved. No part of the content of this page may be included in any format in any place without the written permission of the copyright holder.
---