It Happened in 1943
Over the years, Charles Hartley has shared glimpses of what was being printed in The Pioneer News in different months and years. This page includes what was taken from the January through October issues of 1943.
---
January 1943
The paper reported that Mrs. Gertrude Masden sponsored a free turkey dinner for the entire Shepherdsville School two days before Christmas, feeding all 550 pupils. She was ably assisted by Mrs. Minnie Maraman, Mrs. O. H. Masden, Mrs. Curtis Smith, Mrs. Roy Stallings, Mrs. Gabe Bealmear, Mr. Peterson, Prof. Foreman, Mr. Bailey, Otto Stillwell and others.
Clyde Troutman of Mt. Washington, an outstanding stock trader, joined the firm of Montgomery Bros. at the Bourbon Stockyards in Louisville.
Isaac Edison Berkstresser secured a good job with the Jeffersonville Boat and Machine Works.
In Belmont news we learned that Mrs. Kate (Woods) Snellen and Miss Sue Engle both passed away shortly before Christmas.
In Home Front news, the Department of Agriculture purchased more than fifty million pounds of seeds to replant Allied farmland recently freed from Axis domination.
Josie Zimmerman received word that her brother, Dr. George Barrell of Kansas City slipped on the ice and cracked his skull, but was recovering.
In Cedar Grove news, we learned that Riley Thompson and wife spent a Sunday at Solitude with Mr. and Mrs. Duke Thompson.
In news from Needmore Road, Bro. Jesse Hill accepted the invitation to pastor the local church; Mr. and Mrs. Harley Proctor left for Camp Shelby, Mississippi, to spend time with their son, Private Millard H. Proctor; and Beulah Stallings and Alvine Foster spent Christmas evening with Mr. and Mrs. Everett Newton.
That correspondent was sad to report the death of Tom R. Bridwell on January 3rd. He was in his 69th year, married to Eva Stallings in 1897, and the son of Hayden and Nannie Bridwell.
The paper listed all the local elected officials including the magistrates Hugh Samuels, J. R. Cornell, O. P. Hessey, and John I. Samuels. Clyde E. Roby was tax commissioner; C. V. Foreman was school superintendent; and C. T. Bridwell was county coroner.
Do you remember listening to the Baptist Hour sermons on W.H.A.S. radio?
Red Cross surgical dressings were being made up at the Masonic Temple. Mrs. Clarence Stansbury was chairman of the committee.
In Lebanon Junction news, Mrs. Alean Rexroat passed away. She had been chief telephone operator for many years.
Mr. and Mrs. James Strange celebrated their golden wedding anniversary. He was a retired conductor for the railroad.
In the Personals column we read that Mr. and Mrs. Guy Bergen and children of Tennessee spent a weekend with relatives here.
Also, Mrs. Geraldine Traylor received a letter from her husband who was in North Africa. As was the case with most letters from servicemen overseas, it was positive and upbeat, perhaps hiding the truths of war from friends and relatives back home.
In Mt. Washington news, E. T. McAfee was injured when kicked by a mule in the leg. Fortunately it was only bruised, not broken.
Frank Scroggins, Master of Bullitt Lodge No. 155, invited visiting brothers to their monthly meeting.
In Hebron news, Mrs. N. H. Miller was confined to bed with bronchial trouble; Miss Mary Cynthia Holsclaw was in bed a week with a head cold; and Mrs. Bernard Bischoff suffered an attack of tonsillitis.
And Jiggs Buckman was offering for sale a 1942 Buick. It had a radio, heater, and five new tires, and was in good shape. Any takers?
February 1943
Unfortunately, the microfilm for February 1943 is unavailable; however, we had more news from January than we could include last month, so here is some additional January news.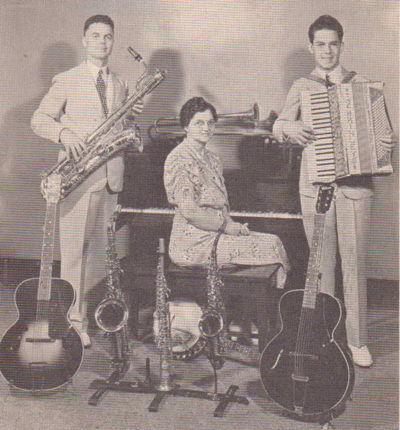 McKinley Family
Dr. S. H. Ridgway, who was in a Louisville infirmary, was some better. And Mrs. Clarence Dawson was on the sick list.
The paper printed a number of letters from local boys who were elsewhere in the military. Among these were Dexter R. Hatfield, Arthur Waters, James Jupin, and Evan McKinley. Evan shared part of his journey overseas this way: "We left Frisco on an unidentified date, traveled an unidentified course, arriving at an unidentified port at an unidentified time. Outside of this there is very little to say about the trip over."
Evan was the son of Rev. Henry Evan McKinley, Sr. who had pastored the First Baptist Church of Shepherdsville in the 1930's. Evan would go on to reach the rank of Staff Sergeant of the Army Air Corps.
Of the others, Dexter Ray Hatfield returned from the war and later worked at the Beam Distillery as a truck driver. He lived 93 years, passing in 2011.
If my research is correct, Arthur Bryant Waters, Jr. had left the service by June and was working as a laborer for the railroad when he was struck by a train and killed.
James Jupin had enlisted in July, and would serve until discharged in October 1945. He was living in Louisville when he died in 1972.
Billy B. Kidwell, husband of LaVerne Kidwell of Lebanon Junction, graduated from the Aviation Machinist's Mates School at the Naval base at Pensacola.
In Mt. Washington news, Mr. and Mrs. E. O. Carrithers bought Burt Rouse's house on the Jackson Highway; Grigsby McFarland remodeled a restaurant into a dwelling and rented it to Mrs. C. C. Coggins; and John F. McClure died at his home after a lingering illness.
In the personals column we learned that Bruce Hamilton visited his parents, Mr. and Mrs. Henry Hamilton; that Sgt. Gregory O'Bryan was home on leave visiting his mother, Mrs. Lena O'Bryan; that Otto McGlasson, son of Melissa McGlasson, had completed his early military training; and that Mrs. Carl Beam and sons of Clermont were guests of Mrs. Chester Hill.
Mrs. Wilma Hatfield and son were present at a dinner given to honor two local boys, PFC Henry B. Manakee and Cpl. Silvester A. Crenshaw.
Mrs. Rice Dawson spent a day with her sister, Mrs. Ora L. Roby.
T. C. Carroll, local chairman of the U.S.O. Commission, encouraged folks to donate books "that you like yourself" to be shared with the boys overseas.
J. D. Spann of Route 3, Shepherdsville, advertised to trade a team of small mules for a mare or horse about 16 hands high.
In Wilson Creek news, we learned that Mr. and Mrs. John Masden moved to their farm on the Creek; that Miss Virginia Milligan was a guest of the Walls sisters; that Howard Masden was home on furlough from the navy; that Private Leo Wall was stationed at Fort Benning, Georgia; and that a farewell party was given at Emmett Hornbeck's for Raymond Hornbeck who left for service in the navy.
And Miss Billy Roy Maraman of Shepherdsville entered the service of the W.A.A.C. and was stationed at Daytona Beach, Florida.
March 1943
Shepherdsville High defeated Willisburg 34-30 to advance to the semi-finals of the regional basketball tournament before bowing to Campbellsville 40-38. Harold (Goat) Dawson made the all tournament team. Jimmy Hardy was tied with three others for the final spot on that squad, but lost out on a coin toss.
Virginia Bergen, daughter of Mr. and Mrs. Dee Bergen, and Kenneth Tipton of Shelbyville were married in Louisville.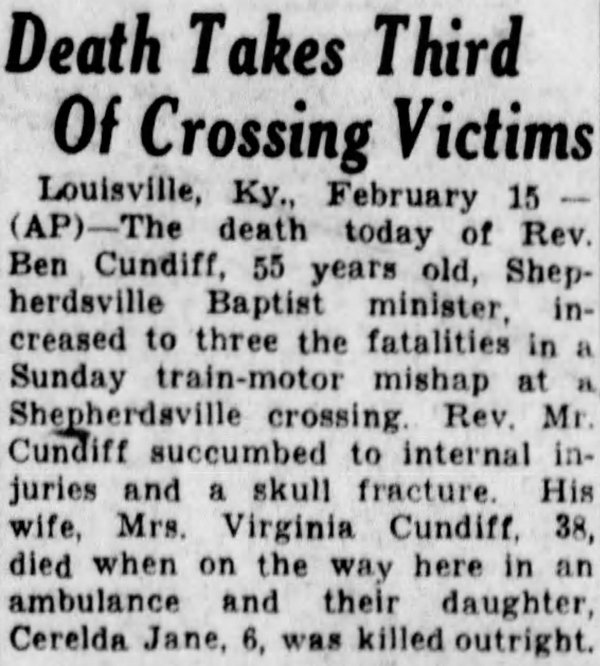 The Cincinnati Enquirer
, Tuesday, 16 Feb 1943
Private Fletcher Hagan of Memphis, Tennessee was home on a furlough; as were Private Hillary (Buddy) Hatfield, PFC Theodore Harris, and S-Sgt M. D. (Buster) Rodgers.
The Salt River correspondent wrote, "Everything sold well at the Cundiff sale. We still miss these good neighbors. It will be something we will long remember just how they were killed." She was referring to Rev. Benjamin H. Cundiff, his wife Virginia, and their daughter Cerelda Jane who were killed when their car was struck by a train at the Highway 44 intersection in February.
Rev. Cundiff was brother to Mrs. Mary Stansbury of Shepherdsville, and had five brothers, George, Will, Harve, Arthur, and Walter of Belmont.
The March 26th paper reported that the county had experienced its worst flood since '37 with the crest at Shepherdsville reaching 35 feet, 10 inches, making it about equal to the 1884 flood. The report said that the river flooded more than 30 homes and 12 businesses before receding.
And the paper reported that Luke Briscoe was killed in action in North Africa in February 1943, and indicated that he was the husband of Dora Montgomery Briscoe. A bit of digging turned up some interesting information about the Montgomery family.
Dora's parents were Mont and Ezra (Dugan) Montgomery of Lebanon Junction, and she had a number of brothers and sisters. Of these, her brother Charles was a sailor aboard the U.S.S. Quincy when it went down in the Battle of Savo Island in August 1942. He was listed as M.I.A. for many months before being declared deceased by the navy.
Dora's brother Louis was a radioman in the South Pacific. Her brother Dugan was an Army Air Force radio instructor, and another brother Jack had joined the F.B.I. before the war began.
In a newspaper report in December, it was stated that Dora's sister Ann was a student nurse at St. Joseph's Infirmary, and intended to go into the navy. And their sister Mary Rose was a printer third class in the Waves, stationed in Washington.
Dora herself joined the Wacs, after giving blood multiple times, for the war effort. She met and married John C. Jones in 1944. They were stationed at the Malmstrom Air Force Base in Montana until his discharge in 1962. They lived in Great Falls for 20 years before retiring to Lebanon Junction in 1982. Dora passed in 1997, and John followed a decade later. I'm sure folks in Lebanon Junction remember them.
April 1943
A metal-working class opened at the Agriculture Shop at Shepherdsville High School with Ben Parrish as the instructor. The course included welding, soldering, forging and farm machinery repair.
Mary Elizabeth Coyle and Milton Clark, both of whom grew up in the Mt. Washington area, were married in Seattle. Milton was in the Coast Guard. Mary Elizabeth was the granddaughter of Mrs. Lizzie McGee; Milton was the son of Mr. and Mrs. J. M. Clark.
Mrs. J. D. Buckman, Jr. underwent an emergency appendectomy in Dallas where her husband Pvt. J. D. (Jiggs) Buckman was serving.
Mrs. Frank Scroggins and her son moved to Frankfort to be with her husband who was stationed there.
James Vernon Shaw, Thurman Buford Shouley, and Robert Cecil Smothers graduated from the Lexington Signal School and were accepted into active military service in the Signal Corps.
Old newspaper obituaries are often very valuable to those who are seeking to learn more about their family genealogy. For example, from our paper this month we learned that John Robert Stallings was born 30 Apr 1875, married Etta Simmons on 27 Dec 1905, had two sons, Floyd and Raymond, a brother named Tobe Stallings, and a sister, Mrs. Albert Armstrong. John Robert died on 21 Mar 1943, and was laid to rest in the Pleasant Grove Church cemetery.
Pvt. Millard H. Proctor wrote his parents a letter from India where he was stationed. I'm sure Mr. and Mrs. Harley Proctor appreciated hearing from their son.
Dee Bergen was home from the infirmary after being hit on the knee by a piece of coal falling from a moving train. It fractured his leg.
In the personals column, we learn that Mr. and Mrs. W. C. Patterson and little Verna Louise spent a week with Mr. and Mrs. Clyde Patterson while the flood water was up.
Word had been received that Urey W. O'Bryan was in South Africa, and hoped to get home in a month or so. Urey was a son of Mrs. Robert O'Bryan, and brother to Everett O'Bryan.
In 1943, A. B. Hawkins was the editor of The Pioneer News, and a newspaper subscription would cost you $1.50.
Mr. and Mrs. R. K. Swearingen, Mesdames J. H. Swearingen, Mabel Harris and Mr. George Swearingen motored to the city on a Sunday to visit Mrs. Nancy Baird in the hospital. Finding her in good condition, they then called on Mrs. Bailey Taylor who had been suffering with pleurisy, but was also improving.
The Cupio correspondent reported that the heavy rains had caused slides to cover the road to the Kosmosdale Cement Plant, causing the men working there to have to walk to get to work. She also reported that Wayne Hopewell, who had the measles, was tended by his sister, Mrs. Jessie Roberts of West Point.
And the Senior Class of Shepherdsville High School presented a three-act comedy titled "Boston Blues." Student actors included Geraldine Williams, Gerald Napier, Alma Huffman, Gabe Bealmear, Frances Noe, J. C. Thompson, Ray Dawson, Jimmy Boston, George Bradbury, Anna Bell Harris, Lillian Smith, Inez Masden, Tom Ericson, and Charles Franke.
May 1943
Shepherdsville High School graduated 20 seniors, including Martha Harned, Anna Bell Harris, Mary Alma Huffman, Inez Masden, Lillian Pearl Smith, Geraldine Williams, Frances Nooe, Gabe Bealmer, Jimmie Bosson, George Bradbury, Ray Dawson, Tom Ericson, Ack Hill Harned Jr., Delbert Kelly, Hansford Milligan, Gerald Napier, Lloyd Patterson Jr., Robert Price, J. C. Thompson, and Charles Franke.
Mt. Washington High graduated 10 seniors including Lula Hope Crenshaw, Imogene Hall, Haley Irene Lewis, Myrtle Hessey, Elizabeth Cook, William Jasper, Mary Hannah Shelburne, Gene Hayden, Mayelene Roby, and Mattie Frances Lewis.
In military news, William F. Porter, son of Mrs. C. A. Porter of Mt. Washington, was promoted to Sergeant at the Army Air Base in Casper, Wyoming; Vernie Druin, who had attended the Pitts Point School, and whose wife was living in Shepherdsville, was promoted to Technician Fifth Grade at his Central California post; and Charles T. Miller of Lebanon Junction had reported to the U. S. Naval Training Station at Great Lakes. Also, Thomas L. Montgomery of Lebanon Junction was enrolled in the Naval Training School at Miami University in Ohio; and Penrhyn J. Phelps of Shepherdsville was promoted to Technician Fifth Grade at Camp Lee's Quartermaster Replacement Training Center. Also reporting to the Great Lakes facility were Shepherdsville recruits Edward T. Carr and Jesse T. Kelly.
Continuing with the military, PFC Vernon Patterson, son of Mr. and Mrs. Clyde Patterson of Shepherdsville, graduated as an expert mechanic, working on the B-24 Liberators.
In the Needmore Road column we learned that Miss Elizabeth Cook spent a Sunday evening with Irene and Frances Lewis; that Miss Christine Owens was a weekend guest of Dortha Alcorn; and that Miss Valeda Mae Stallings spent a Sunday night with her cousin Trulaverne Cook.
Out near Cupio, the children of the Nichols school had an Easter egg hunt in the back grove on Mrs. Hassie McPherson's farm. The drizzling rain didn't slow down the eager hunt for decorated eggs.
In Salt River community news, we read that Misses Geneva and Millie Hoagland spent a fews days with their aunt, Mrs. Beulah Maraman; That Mrs. B. B. Dunaway and baby spent a few days with her parents, Mr. and Mrs. Ben Crenshaw and sister, Wilma Hatfield; and that Mr. and Mrs. Paul Simpson and children of Victory spent a Saturday night with her aunt and uncle, Mr. and Mrs. Wash Smothers.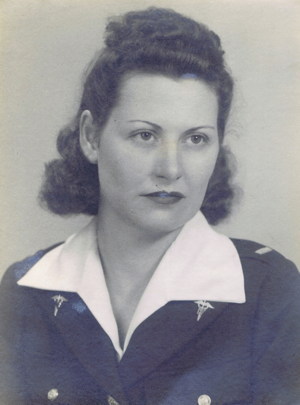 Bernadeen Wheatley
The Bullitt County Board of Education met in May and elected the following teachers for these schools: Nichols - Junia Mae Kneisler, Julia Rogers and Sylvia Barrall; Sunny Side - Lillian Pearl Smith; Mt. Elmira - Ruth Evelyn Wise; Pleasant Grove - Beryl Porter and Nell V. Porter; Mt. Washington - Raymond Fields (principal), Ruth Franklin, Madeline Rapier, Anna L. McGee, Kathleen Harris, Frances Simpson, Myrtle R. Harris, Martha Weller, and Myrtle Shake; Cedar Grove - Eulah Mae Wise, Mary Theresa Smith, and Thelma Roby; Clermont - Lillie Vertrees; Cane Run - Augusta V. Dawson; Belmont - Mary B. Hill, Zardetti Dawson, and Christine Cruise; Shepherdsville - H. T. Peterson (principal), Antoinette Waller, June Vinson, Lanye Wigginton, Sara Fay Myers, U. G. Salter (grade school principal), Myrtle Frick, Mary F. Jones, Susan Avritt, Evelyn Masden, Ida Lee Sellers, Sarah W. Rouse, Carolyn Muir, Nell Miller, Annie L. Jenkins, and Catherine Applegate; Bowman's Valley - Thelma Hall and Mattie Owens. There were no applicants for the schools at Mt. Olivet, Brooks, Cedar Glades, and Beech Grove.
William Dawson, former high sheriff of Bullitt County, celebrated his 95th birthday in May.
And Lieutenant Agnes Bernadeen Wheatley, daughter of Mr. and Mrs. J. K. Wheatley of Shepherdsville, was serving as a nurse in Northern Ireland. Her brother, Sgt Russell Wheatley was in London with the medical corps.
June 1943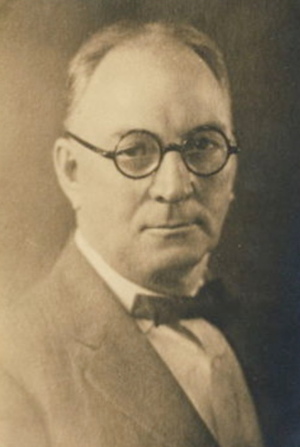 Dr. Samuel Howard Ridgway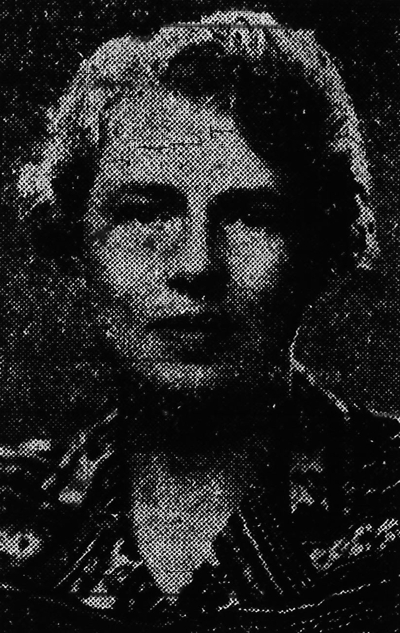 Mrs. T. C. Carroll
Among the numerous deaths reported in the paper was that of Dr. Samuel Howard Ridgway, a beloved citizen of Bullitt County who was born near Cupio, and who served as a physician for over fifty years in Bullitt County. His home on Second Street in Shepherdsville (now Joe B. Hall Ave.) would become the home of the public library in the years to come.
Mrs. T. C. Carroll of Shepherdsville was appointed Women's Chairman of the Donaldson Campaign for Kentucky governor. Mrs. Carroll was also National Democratic Committeewoman from Kentucky, having been appointed to the post in 1941.
Russell Jenkins of Shepherdsville was appointed Bullitt County campaign chairman for the Ben Kilgore campaign for governor.
Freddie Sadler bought the F. E. Sadler Truck Line at auction. He was the eldest son of the late F. E. Sadler, and he had been running the business along with his mother and brother Ray Sadler since his father's death a few years ago.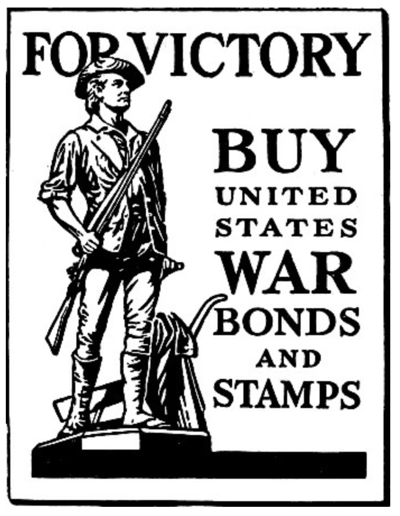 The Pioneer News sent its issues to local boys in the military, and received thank you's from a number of them including Cpl. Thomas P. Joyce, PFC Radford L. Patterson, Bell. M. Clark, PFC Chester Heffley, Pvt. Henry H. Mattingly, Pvt. James R. Buffin, Pvt. James Jupin, Pvt. George Douglas, Cpl. Jerome (Pinhead) Dawson, Pvt. Martin K. Ryan, Pvt. W. T. Moser, 2Lt. Francis I. Clark, Pvt. Perry Berkstresser, Robert J. Jackson, Sgt. Wathen E. Viers Jr., 4-Tec John B. Viers, Pvt. L. H. "Bobby" Rice, and Pvt. Charles F. Hagan among others.
With the war raging in Europe and Asia, hardly a page of the paper failed to include an encouragement to buy war bonds and stamps to support the effort.
Marvin H. Masden of Lebanon Junction completed his basic training in preparation for active duty.
Mr. and Mrs. Ehrman Maraman of Shepherdsville announced the marriage of their son, PFC M. K. Maraman to Miss Lucy Mae Rachel of Pineville, Louisiana. He was then stationed in Nebraska.
In the Personals Column we learned that Mrs. Hazel (Crawhorn) Mann was in Los Angeles working in an anti-aircraft factory while her husband Pvt. George L. Mann was stationed nearby. Also, Mesdames Cecil Smothers, Thurman Shouley, Tom Adams, and J. V. Shaw, along with little Tommy Shaw, left for West Palm Beach to spend two weeks with Cpl. Cecil Smothers, Pvt. Thurman Shouley, and Cpl. J. V. Shaw, who were stationed at Camp Murphy, Florida.
In Mt. Washington news, Mrs. Fronie Harris was a Sunday guest of the E. T. McAfee's and heard her former pastor, Rev. C. K. Dickey preach. Also, the Jasper family gathered at J. R. Jasper's for a family dinner.
C. J. Fogle of Shepherdsville was selling milk goats at the Old Cassidy place on Blue Lick Road near Huber's Station.
And A. P. Weller had a 1940 Chevrolet 30 passenger school bus for sale. Anyone thinking of starting their own school?
Did you know that little Audrey Cox had the measles; or that Mrs. Edna Lane was having her living room refinished; or that the blackberry plants were blooming like crazy; or that K. F. Bolton cleaned off the new cemetery which was badly needed? Well all that and more was happening up and down Cedar Grove Road.
And the local Star of Hope Chapter was serving a chicken dinner at the Masonic Temple on June 8th. Cost was 75 cents a plate. Save a place for me in line!
July 1943
Lee Howlett, son of Charlie Howlett of Shepherdsville, received his Gunner's Wings in the Army Air Force, qualifying him to handle the machine guns aboard the big bombers.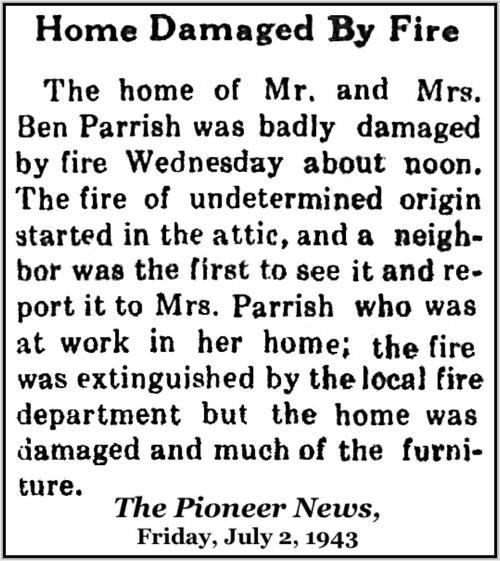 Hal Palmer Hedges had been released from his military duties to return to his father's farm because of his father's helplessness due to arthritis.
The home of Mr. and Mrs. Ben Parrish was badly damaged by fire about noon on Wednesday, June 30th. The fire started in the attic and a neighbor was the first to see it. Mrs. Parrish was at work in her home when the neighbor alerted her to the fire. The fire was extinguished by the local fire department, but the home was damaged and much of the furniture ruined.
Bert Hall of Mt. Washington and Cora B. Roby of Shepherdsville were appointed as local managers for the Donaldson campaign for governor.
The editor reported on the death of Ed Hardy in Memphis. Ed was a son of F. M. Hardy, former merchant and prominent Pitts Point land owner. The editor was reminded that Hardy was one of the last of the former leaders of the Pitts Point community, and that only James B. Dawson, James Collings, and William Dawson were left of that group.
Among those receiving degrees from the University of Kentucky from Bullitt County were James Brooks Williams with an electrical engineering degree, Lydia Eleanor Wilson with a teaching degree, and Herbert N. Ockerman with a master's degree in education.
The newspaper continued to receive thank you letters from those serving in the military who were grateful to receive copies of their hometown newspaper. Among those offering thanks were Clifton Hall, Guy Miller, Melvin Grant, Bill McFarland, W. C. Fiedler, Robert G. Harned, Lee McAfee, James V. Shaw, Raymond Coakley, W. N. Jackson, Jr., T. C. Harris, James E. Alcorn, Gordon Armstrong, and Daniel McNutt.
Alberta Hoagland, Tom's daughter, graduated with honors from the Bryant Stratton Business College.
In Cupio news, Mrs. Charles Ridgway and children were spending a few days with her father, Mr. James Hopewell, as they were being run out of their home by the shells that had been falling on their place from the Navy Proving grounds nearby.
Thelma Lee Welsh accepted a position as program director for the U.S.O. A graduate of the University of Louisville School of Music, she was a former teacher in both Bullitt and Jefferson counties.
Oliver Miller, son of N. H. Miller of Shepherdsville, graduated from the Hospital Corps School as a hospital apprentice, second class.
Mrs. Nancy Strange was happy to host her son, Wilbur, and five of his Fort Knox buddies over a weekend.
Roy Ireland, who with his wife had lived in Shepherdsville for several years, received a promotion to head inspector of the government alcohol tax unit headquartered in Louisville.
The marriage of Jr. Leader Billy Roy Maraman of Lima, Ohio and Lt. Lee Pennington of Camp Forrest, Tennessee took place in Louisville. Following the ceremony, Mr. and Mrs. Roy Maraman entertained with a wedding breakfast for the bridal party, including Lt. Dorothy Rice, Mrs. Raymond Coakley and Miss Frances Cruise. After a brief honeymoon the couple returned to their posts in Ohio and Tennessee.
And Corporal Barbie Lee and PFC Hillery Hatfield were happy to receive visits by their wives who traveled all the way out to California.
August 1943
The following men served on the Circuit Court petit jury: H. P. Hedges, Earl Dacon, O. E. Larance, Wallace Kneisler, Edward McArthur, Howard Stallings, S. O. Armstrong, Lloyd Whitehead, H. S. Beeler, Roy Owen, Johnnie Douglas, W. L. Bass, E. Hoke Harris, Albert Fisher, Tom Adams, Mitch Brown, J. L. Trunnell, and B. W. Oakley.
The Grand Jury members included Mike Brumley, Bert Hall, Ben Miller, C. H. Hall, Lyman Hall, W. C. Morrison, Bert Pope, Henry Bivens, W. T. Simpson, George Maddox, W. A. Bergen, and Harvey Hubbard.
In Needmore Road news, the C. E. Smith family entertained Louise Stalling, Wilda and Mary Carolyn Hall, Trulavern and Elizabeth Cook, Valeta Stalling, Ella Proctor, Gladys Wade, Gordon Proctor, and Mrs. George Clark on a Sunday. Also, Walter Bowman, Clarles Stallings, and Herbert Glenn were guests of Henry Bowman.
The August 6th paper reported that Master Sgt. Henry C. Hamilton had been slightly injured in North Africa. His parents received a letter from him indicating that the injury was to his left shoulder and was not serious.
The August 27th paper reported that Tommy Carroll had just been promoted to Lieutenant in the army, and was spending a few days with his parents, T. C. and Irene Carroll.
Church revival services were a frequent occurrence with the paper reporting services at the Bethel Methodist Church, The Beech Grove Baptist Church, and the Sunnyside Baptist Church, all in the same paper.
In the Valley View Notes we learned that Mrs. Wayne Harris gave a little party for her grandchildren, Glenda, Paul, Jean and Sandra Moore and their young visitor, Miss Wheeler. Also, Corp. George H. Stout was home from Camp Livingston, shaking hands with his old friends; Martha Crenshaw had been on the sick list, but was much improved; Mrs. Lula Glascoe was very happy to receive a letter from PFC Everett Glascoe who was stationed somewhere in England; and Miss Mary Burton Rouse had some teeth extracted.
Pvt. Leslie H. "Bobby" Rice wrote an unusually long and detailed letter about his time in North Africa, after the military loosened restrictions on what the boys could write in their letters home.
Kenneth McCubbins received a Purple Heart after he was wounded in battle. In his letter to his parents, Mr. and Mrs. Roy McCubbins, he wrote, "I got hit by shrapnel from artillery in my left arm, left side, middle finger on right hand and in top of my head." He seemed to be in good spirits, and I'm happy to report that he survived the war and returned home.
And in Mt. Washington news, Frank Parrish and wife of Louisville spent time with his parents, Mr. and Mrs. T. H. Parrish, and while there went fishing and caught a string of bass in R. E. McAfee's lake. Mrs. Parrish caught five of the nine they hooked. Needless to say, they had fried fish for supper.
September 1943
Some of the local boys in the service wrote home to the local paper, thanking the editor for sending them copies. They included Joe C. Hoagland, Leslie H. "Bobby" Rice, William A. Lutes, John D. Harned, John B. Viers, Louis E. Felker, James B. Dawson, Thomas Sipes, Hansford Milligan, Willie L. Samuels, James Noe, Dexter Hatfield, Vernon Druin, Earnest L. Harris, and Morris A. Lambe.
The following school enrollments and teachers for schools that had opened included ...
SCHOOL
ENROLLMENT
TEACHERS
Nichols +
Sunny Side
110
Junia Mae Kneisler, Christina Whiteman, and Glessie Luker
Brooks
39
Doris Beard
Pleasant Grove
54
Beryl Porter and Ruth Newman
Mt. Washington
340
Thomas Omer (Principal), Ann Jones, Margaret Duncan, Madeline Rapier, Ruth Franklin, Anna McGee, Frances Armstrong, Kathleen Harris, Martha Weller, Vivian Omer, Geraldine Simpson, and Mabel Owens
Cedar Grove
103
Eulah Mae Wise, Thelma Roby, and Dorothy Calvert
Clermont
60
Lillie Vertrees and Wilma Bailey
Beech Grove
30
Ruth Armstrong
Cane Run
20
Augusta Dawson
Belmont
85
Mary B. Hill, Zardetti Dawson, and Christine Cruise
Woodsdale
19
Clara Childress
Shepherdsville
573
H. T. Peterson (principal), James A. Hayes, Annie L. Jenkins, Layne Wigginton, Clara Myers, Mary Sodeman, Mary Dawson, Sara Fay Myers, Ruby K. Cooper, Mary F. Jones, Myrtle Frick, Evelyn Masden, Susan Avritt, Eula Mae Matthews, Sarah Newman, Beulah Harned, Laura Richardson, Nell Miller, and Catherine Applegate
Bowman's Valley
62
Thelma Hall and Mattie Owens
The paper anticipated additions in all the schools.
Privates Roy Larimore, Ray Masden, Raymond Coakley, and Burrell Coakley of Ft. McPherson, Georgia, were home on furloughs.
In Mt. Washington news, Maurice Harris entered the hospital where Dr. Hall was scheduled to remove a cataract from his left eye, hopefully restoring vision in that eye.
Lt. Teddy V. Rouse of Rhode Island was with his wife at the home of her sister, Mrs. C. L. Stansbury and his parents Mr. and Mrs. Max Rouse.
And Charles R. Owen of Mt. Washington was promoted to Sergeant at the Fourth Ferrying Group stationed at Memphis. He was a son of Mr. and Mrs. Chester Owen.
Shepherdsville Baptist Church planned a revival led by Rev. J. Lester Lane of South Carolina, with Bro. Sodeman, pastor of the church, leading the music.
In the personal column we learned that Mr. and Mrs. Hugo Maraman and Mrs. Ethel Crenshaw spent a day in Louisville with friends; that Pvt. William Russell of Camp Bowie, Texas, was home on furlough; and that J. L. Raymond and his daughter Zora, and Mesdames Kate Greenwell and Myrtle Barrall were guests of Mr. and Mrs. A. V. Greenwell.
Henry Maraman advertised that he had twenty high producing Holstein cows to freshen within four weeks, and would sell bull calves at $15 to $25 each.
Major Woodford B. Troutman, Army Air Force, visited friends in Shepherdsville.
And W. R. French purchased the Gulf Service Station at the city limits north of Shepherdsville that had been formerly operated by "Pop" Koebke.
October 1943
In the third round of war bond sales, the paper noted with pride that the county had oversubscribed its quota by 35%, and particularly named Ben Crenshaw for leading the effort in his Salt River district as he and his helpers visited every household and sold 101 bonds, nearly one per house.
In Belmont community news, we learned that both J.C. Watts and J. J. Napper, and their wives, have moved to Lebanon Junction. We also learned that Clinton Etherton was at home with his parents after having been wounded in the Pacific the previous winter.
The community was also shocked and saddened by the death of a local boy, Millard Wineholder, who died in an automobile accident.
Another local boy, Sgt. Samuel S. Gore was killed in an airplane accident at a training camp in Colorado. He was buried at the Hebron Cemetery.
Rev. Paul Horner and his wife Lillian Porter Horner were visiting with her mother, Mrs. Marion Porter in Mt. Washington.
Pvt. John R. Miller wrote from Hawaii to express his thankfulness at receiving the local paper. Pvt. Emmett H. Brown was in New York when he too thanked the paper. Pvt. Charles T. Reesor was "working in the motor pool" somewhere, and he too was grateful for the paper. Pvt. Morris A. Lambe was in California when he wrote his thanks.
Other servicemen who wrote with their appreciation included PFC Arthur H. Waters, Lt. William H. McFarland, Sgt. A. T. Raymond, Willie Samuels, M. H. Masden, Cpl. Roscoe "Bill" Noe, Pvt. James V. Miller, Lindsay M. Wigginton, Pvt. Howard P. Jackson, James Noe, and Pvt. Erbie H. McNutt.
In the Personal column we learned that Mrs. Emmett Coakley spent a week with her sister, Miss Thelma Lee Welch, who had a position with the U.S.O. at Norfolk, VA. She also expected to visit her nephew, Marshall Welch while there.
The senior class at Lebanon Junction High School elected class officers. They were President Billy Masden, V.P. Florine Carr, Sec. Jean Roberts, and Treas. Jackie Pennebaker.
The junior class elected George Canzoneri as president, Clifford Samuels as V.P., Anna Pearl Routen as secretary, Mary E. Welker as treasurer, Harold Keith Parker as sergeant at arms, and Ora Jean Lawence as pianist.
The sophomores elected Paul Huffman, Richard Walker, Virginia Sidebottom, T. J. Sweat, and Bobby Kidwell in that order. And the freshmen selected James Montgomery, Gwendolyn Purcell, Patty Masden, and Billy Boone.
PFC and Mrs. Burlyn Pike were the proud parents of a baby girl they named Burnell.
The paper announced the death of Congressman E. W. Creal who was best remembered by Bullitt County folks as the prosecutor in the Browningtown murder trial some fifteen years earlier.
And the paper reported the marriage of Miss Evalena Bergen to Pvt. Charles Fletcher Hagan. Miss Addie Mae Hagan, sister of the groom, was maid of honor. The bride was the youngest daughter of Mr. and Mrs. Dee Bergen.
November 1943
Roy Stallings was Blood Chairman, H. H. Combs was Chapter Chairman, and Ora L. Roby was Publicity Director for the Red Cross blood drive in Bullitt County.
In Lebanon Junction news, Charles Harry Miller had recovered sufficiently from his accident to walk from home to his mother's home; Mary VanVactor had almost recoverd from a recent fall; and Brother Joe Canzoneri had returned home from holding a revival in Columbia, Tennessee.
The L.J. correspondent listed the names of their hometown boys in the service which included Bill Jackson, Willis Ryne, Paul Brenner, Duke Payne, Charles Ray Masden, and Lenn E. Marr.
The paper reported that folks in Bullitt County had made over 43,000 surgical dressings to be used in the war effort in the previous three months. The names of those who were supervising the effort were listed, including the following from Mt. Washington: Mesdames Lida Stansbury, H. P. Wigginton, S. F. Smith, Eunice Stout, Marion Jasper, Norman Bridwell, Tina Swearingen, Vernon Mothershead, Noah Benningfield, Zella Gentry, Mary Clark, and Miss Georgia Porter.
The Shepherdsville supervisors were Mesdames Gabe Bealmear, Malcolm Harmon, Bettie Welch, Mabel Shepherd, Chester Hill, Roy Stallings, Miss Ethel Newman, and Miss Nannie Hornbeck.
Two recent employees of the Bullitt County Bank received promotions. Woodford B. Troutman, vice-president of the bank, was promoted to Lieutenant Colonel; and Roger E. Alford, assistant cashier at the bank, was promoted to Sergeant.
General T. Wilson, a local businessman, retired from the retail business after over forty years in the business. He was the father of Tommy Wilson, former County Court Clerk for Bullitt County.
In more L.J. news, Maxine Sowders, Jackie Pennebaker, Mary E. Welker, Rita Hayden, and Patty Masden were elected cheerleaders for the basketball team. Also, at the school carnival, Maxine Sowders and Billy Masden were crowned queen and king of the upper six grades, and Mary Lou Beeler and Gordon Sweat, fifth graders, were queen and king of the lower six grades.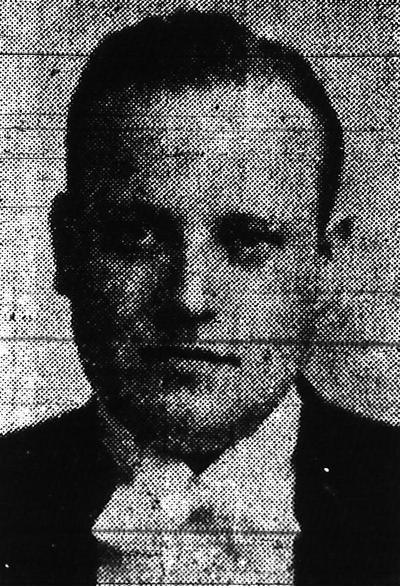 Dr. Millard J. Cundiff
In a bank election, The Peoples Bank of Shepherdsville elected J. W. Hardaway, president; Clarence Dawson, vice president; Isaac T. Mudd, vice president; Leo B. Dawson, cashier; and Lillian T. Swearingen, assistant cashier.
Dr. Millard J. Cundiff, son of Rev. and Mrs. R. B. Cundiff, graduated from the University of Louisville School of Dentistry. Dr. Cundiff graduated from S.H.S. in 1935, Campbellsville Junior College in 1937, and from Western Teachers College in 1940. As a member of the Dental Reserve Corps, he was commissioned a first lieutenant and ordered to Pennsylvania for further training.
In news from Cupio, we learned that Elmer Ridgway had been kicked by a mule, but was okay; and that Little June Ridgway was swinging on a grape vine when it broke, throwing her against a rock. Outside of a big hicky on her head, she was fine. Also, Mrs. Cora Ridgway was regaining her sight after a cataract was removed.
The paper reported that a local owner of a beauty palor, Miss Rua Larimore had married Cotton Shouley in Colorado Springs at the Baptist Church there. She was the daughter of Mr. and Mrs. J. M. Larimore. Cotton was a brother to Thurman Shouley of Bullitt County.
And Miss Virginia Stovall and Mr. Marvin Troutman were married on October 30th by Rev. Sodeman. Mutt and Virginia were a delightful couple.
December 1943
The Shepherdsville High School basketball team defeated Mt. Washington 66-17, and Taylorsville 31-24. Dawson, Hardy, and Armstrong led the Rams' scoring.
In Mt. Washington news, Jean Hall, who was at camp in Illinois, was visited by his wife and family, and got to see his son Bobby Jean for the first time.
Also in that column we learned that T. H. Parrish, W. S. Rouse, and Leo Harris shared the same natal day.
In Belmont news, we learned that Miss Willa Mae Bradbury and little Sydney Ray Meyers spent a Sunday with Mr. and Mrs. W. A. Bradbury and family. Also the Baptist Church filled the pantry of Rev. and Mrs. Smith following the Thanksgiving service, and also collected a worthy offering for the Baptist Orphan's Homes.
Also, David Shepherd and Claud and Everett Brooks learned it was not profitable to visit McDaniel's Service Station when it wasn't open.
However, they did enjoy a bit of freedom, along with Howard Bell and Calvin Biven when the group of them left Vern Jones' stone cottage before their time was up. Bell and Biven didn't stay away very long.
The paper reported on the death of William E. "Billy" Ashby who grew up in the western part of the county, and was postmaster at Shepherdsville for a while. According to the paper, Billy had been a good orchardist, a good mechanic, a good farmer, a merchant at Cupio, as well as postmaster. He had married Dora Skinner in 1894, and she and their two children, Lula and Charles survived him.
The Lebanon Junction correspondent reported that "it seems like old times in school since Mrs. O. E. Lawrence is teaching school for us again. She is substituting for awhile." She also reported that Corporal Warren Boulware had written to his grandmother, Kate Haley, that he had married the girl friend he brought by a few weeks earlier. Seems that was quite a bit of that going on in those days.
It seems that the paper encouraged young servicemen to write upon getting the paper by printing as many of their letters as possible. They included Fred Hoagland, Vernie Druin, A. T. Raymond, Otto McGlasson, Chester Heffley, Royce S. Crenshaw, Charles T. VanVactor, J. R. McCord, G. R. Armstrong, Clarence R. Lee, Floyd A. Alcorn, and Mark B. Rhea.
The following were school winners in the Spelling Bee contest: Virginia Mae Stevens, Nichols; Margie Ferguson, Brooks; D. J. Rummage, Mt. Washington; Betty Burns, Beech Grove; Lorraine McCubbins, Cane Run; June Bradbury, Belmont; Catherine Mae Ashe, Woodsdale; Mary Lee Brooks, Shepherdsville; Naomi Fields, Lebanon Junction; John Hoskins, Pleasant Grove; and Fay Lee Williams, Bowman's Valley. John Hoskins of Pleasant Grove was the county winner.
In Wilson Creek news, we read that R. T. Milligan had returned home after spending 19 days in the hospital following an operation. At home he was visited by Mrs. Marvin Masden and G. E. Masden along with little Frances Jones. We also learned that Private Emmitt Quinn Harned was home on a furlough.
In the Personals column we learned that Mrs. Sylvia Barrall spent a Sunday with Mrs. Josie Zimmerman, and that Miss Dorothy Jean Harris spent a Monday night with Miss Mary Shelton.
And T-5 Carl R. Light's picture was in the paper as he had been awarded a Silver Star for gallantry in action as he risked his life under enemy fire to extinguish a fire in the command half-track in Tunisia.
---
Copyright 2018 by Charles Hartley, Shepherdsville KY. All rights are reserved. No part of the content of this page may be included in any format in any place without the written permission of the copyright holder.
---