It Happened in 1941
Over the years, Charles Hartley has shared glimpses of what was being printed in The Pioneer News in different months and years. This page includes what was taken from the January through December issues of 1941.
---
January 1941
The largest hog ever killed by Maraman and Sons belonged to E. M. Frantz of Huber's Station. It was an 840 lb pure bred Duroc raiser, registered under the name "Shepherdsville Beauty."
Mr. and Mrs. W. T. Close had as dinner guests Mr. and Mrs. Roy Nall and daughter, Agnes; Mrs. Lula Cunningham and sons, Ralph, Billy, and Ray; Mr. and Mrs. Steve McCubbins, all of this community, and Mr. and Mrs. Frank Lile and daughter Evelyn of Louisville.
The paper identified the county's magistrates as Robert E. Lee of Shepherdsville, J. R. Cornell of Mt. Washington, A. V. Greenwell of the Leaches District, and John I. Samuels of the Pine Tavern District.
Adrian Jones returned to college at Bowling Green after spending the holidays with his parents, Mr. and Mrs. Ronald Jones.
John D. Harned arrived home after spending four years in the navy.
The Stitch and Chatter Club of Bardstown Junction celebrated its seventh birthday at the home of its president, Mrs. Ollie Larkin.
The Hardy & Stallings Cash Market encouraged its customers to come by and sample some Krispy Crackers. They were also selling a gallon of cherries for 54 cents.
Clarence Dawson of Shepherdsville had 30 mules, 20 horses, 300 tons of hay, 1,000 bushels of corn, and a ton and a half truck for sale.
Sheriff W. F. Monroe announced that he had the 1941 dog tags, and encouraged all owners to get theirs.
Sylvia Barrell decided to quit housekeeping and put everything from her cook stove to her feather bed up for auction by Troutwine and Hardesty, Auctioneers.
Mr. M. A. Harris, who lived near Mt. Washington had been on the county school board for fifteen years, and was now its chairman for the fourth year in a row.
Mr. and Mrs. T. H. Parrish had as dinner guests their son Frank Parrish of Louisville and Mrs. Geneva Mothershead.
Local farmers were encouraged to check out the demonstration plots of cover crops seeded in the fall at the following locations: Herman Owens place (Porter Farm) at Mt. Washington, the lot adjoining the post office in Mt. Washington, the plot on the Shepherdsville school grounds, Ike Mudd's farm at Belmont, O. M. Skaggs' farm at Knob Creek, Henry Hamilton's place at Cedar Grove, and Raymond Cox and A. J. Miller's places at Hebron.
The members of Mt. Carmel Baptist Church gave a surprise shower for Rev. Ben Lawton who was recently married.
Theodore Cook had been sick for more than a week, but was better, and able to go back to work as deputy county clerk.
In the news from Belmont, Rev. Walter Brown was accompanied by Carrie Napper, Minnie Coakley, Susie and Eva Roby, Henry Kneisler, and Ruth Roby on a trip to Bardstown.
Everyone was encouraged to go see "Gladrags," a four-act musical comedy presented by the Shepherdsville Alumni Association. Featured performers were Helen Lee, Minnie Buckman, Kathryn Rennison, Nancy Strange, Hattie Monroe and Ida Roby.
And F. E. Patterson's advertisement listed Pine Tar and Honey Cough Syrup for sale for a quarter.
February 1941
Mrs. C. L. Stansbury of Mt. Washington, Mrs. Reason G. Newton of Lebanon Junction, and Mrs. Ida Roby of Shepherdsville were the judges in the annual spelling bee. That year's winner was Marion Smith, daughter of Mr. and Mrs. Carey Smith of Pleasant Grove. Marion was 12 years old and this was her first competition. Virginia Milligan was second. She was the daughter of Mrs. and Mrs. Roscoe Milligan, and a student at Belmont. Virginia had won the competition the previous two years.
Out at Belmont, Little Miss Dolores Mae Bradbury was a birthday dinner guest of little Miss Janet Faye Masden.
Hallye Hays Hamilton was chairman of the local Infantile Paralysis Drive. Nancy Strange was secretary, H. H. Combs was chairman of the executive committee, and Ora L. Roby was publicity agent.
Theodore Cook announced that he was running for county clerk; and J. V. Jones wanted to be re-elected county jailer. Bert Shepherd was standing for re-election as tax commissioner. Also, Fred Smith was running for sheriff.
Mt. Washington folks, Almer Barnes, Alma Dean Fisher, Sterling Fisher, and G. H. Stout motored down to Florida. Almer wasn't sure when he'd return; it depended on the weather.
John Moore and Lindsey Wiggington led Mt. Washington to a 49-22 victory over the Shepherdsville squad. John had 16 points, Lindsey had 15, and "Goat" Stout added nine points. Marvin Underwood led the Shepherdsville team with eight points. Shepherdsville played without their team captain, Philip York, who was in bed with the flu.
The Wilson Creek correspondent reported that the Rice Brothers had moved their saw mill on the Bardstown Road following the death of John Rice.
Three people were killed in what the paper described as the "worst automobile wreck in the history of the county." Killed were Sam and Hazel Hatfield of Clermont, and Clyde Duvall of Shepherdsville.
The Shepherdsville 4-H club officers included President Paul Price, Vice President Geraldine Weller, Secretary-Treasurer Betty Wigginton, Reporter Marylin Maraman, and Song Leader Sue Wigginton.
The Belmont club had these officers: President Christine Lee, Vice President Charles Edward McCubbins, Secretary June Bradbury, Song Leader Lillian Wineholder.
Myrtle Tichenor at the Mt. Washington Beauty Shoppe was offering shampoos and fingerwave for 20 cents.
Mrs. Conrad Maraman and daughter Mrs. George Yates were spending some time in Miami, Florida.
Gabe Bealmear Jr., Mitchell Smith, and Marvin Underwood attended Robert Price's birthday party.
You could get two pints of pure honey for a quarter at Hardy & Stallings store in Shepherdsville.
The Shepherdsville Debate Team of Geraldine Williams, Juanita Goff, Louise Golf, Lula Thurman, Alice Huffman, and Earl Coy defeated Jeffersontown in a tournament. Mrs. Annie Laura Jenkins was their coach.
The Barrallton reporter mentioned that Mrs. Jesse Hale and Mrs. Mattie Able and Mrs. Sample's daughter were busy with their quilting.
The Hebron correspondent wrote that Mr. Ed Rhea was honored by the Hebron Sunday School for 29 years' attendance with only one miss, and that was to attend a funeral.
John Summers of Shepherdsville had a extra good team of five-year old mules for sale.
Miss Jane Stevens, a student at Nazareth Academy, formed a Bullitt County Knitting Club which included 10 girls who were knitting sweaters for the Red Cross.
And Jerry Martin and Pflanz Hatzell, local barbers, would shave you for 20 cents, and cut your hair for 35 cents.
March 1941
Miss Mary Francis Hedges, teacher in the Pleasant Grove School, was ill for several days. Mrs. Ida Roby substituted for her.
Over at the Mt. Washington school, Mrs. C. L. Stansbury substituted for Sam Goodman while he was ill.
The Mt. Washington school had a great deal of sickness with sieges of mumps, chicken pox, and measles.
Catherine Thomas won the grade school spelling bee at the Bowman Valley School.
The Mt. Washington correspondent reported that Miss Alma Dean Fisher, Sterling Fisher, and G. H. Stout had returned from a month's stay in Florida. Alma Dean was proud of her sun tan.
Mrs. Hassie McPherson was selected to lead the girls' sewing project for the Nichols 4-H Club.
John Price, Robert Price, Morris Wrocklage, and Roger Holsclaw of the Shepherdsville 4-H Club, and Warren Harned and June Harned of the Belmont Club all purchased angus calves from Tom Cochran.
Taylorsville defeated Mt. Washington 27-26 in the first game of the 23rd district basketball tournament. John Moore led the Mt. Washington team with 13 points. However, it was the Lebanon Junction squad that won the championship, defeating Shepherdsville 37-33 in the final game. LJ had to defeat Taylorsville and Bardstown to get to the final game. Shepherdsville reached the finals by defeating Boston and St. Joe of Bardstown.
In the 6th Region tournament, Shepherdsville defeated Willisburg in the first round, but LJ lost to Horse Cave. Then Shepherdsville fell to Horse Cave in the semi-finals. Phillip York of Shepherdsville and Howard Whitehouse of Lebanon Junction were included on the all-regional team.
Mrs. Ella S. Pope of Hebron had to be rushed to the hospital suffering from appendicitis. Her operation was successful.
The Bullitt County Woman's Club met at the Johnson House with Mrs. Henry Hamilton, Mrs. Bernard Bischoff, Mrs. Jess Hardaway, and Mrs. Susie Bridwell acting as hostesses.
Mr. and Mrs. J. R. Buckman returned home from a visit with their daughter in California.
The Young Woman's Missionary Society of the Methodist Church of Shepherdsville had their monthly meeting at the home of Miss Eeulah Barrall. Esther Bell Bridwell presented the program.
The Belmont correspondent reported that Carrie Napper, Mattie Brown, Teenie Mae Stitzer, and Mary B. Hill motored to Louisville on a shopping trip.
F. E. Patterson was offering the Gillett Tech Razor, with 5 blades, for 49 cents at his Shepherdsville store.
Miss Winnie Bass was looking to rent a four-room house on Bells Mill Road, about a mile and a half from the Preston Street Pike.
Out Needmore Road way, Miss Lois Simmons entertained the following folks: Beulah and Thurston Stallings, Allden Moore, Lillian Clark, Almeta Ridgway, Leo Clark, Alvine Foster, Fredric Armstrong, Eugene Hall, and James Allcorn.
Hallie Hamilton and Nancy Strange attended a luncheon at the Kentucky Hotel.
And Hardy Cruise was bruised considerably when kicked on the leg by a horse.
April 1941
Ray Masden, principal of the Belmont School, was attending Western State Teacher's College where he hoped to receive his degree in August.
William S. Rhea, Bullitt County's first draftee, had been promoted to the rank of Radio Supply Sergeant, and would remain at Fort Knox for the time being.
The farm of Louis Roby, located in the Mt. Washington community, was the scene of the first tobacco plant bed spraying demonstration held in the county that year.
Burlyn Pike, a sophomore at the University of Louisville, attended a debate tournament in North Carolina.
Both C. T. Bridwell and Luther Van Vactor announced that they were candidates for county coroner; and Clyde Elmer Roby announced for tax commissioner.
Jim B. Williams, a junior in the College of Engineering at the University of Kentucky, was chosen editor of the Kentucky Engineer for the year. He was also a member of the University Band.
Mt. Washington bought a new fire engine.
Deputy Sheriff Fred Smith and Patrolmen Gibson and Mann ran down a car in Mt. Washington suspected of carrying whiskey. Turns out it contained 49 sacked chickens that had been stolen in Nelson County.
Mrs. Sylvia Barrall visited Mrs. Josie Zimmerman and son before leaving for Bowling Green where she was working on her college degree.
Mr. and Mrs. Ben Hardy installed a new refrigerator, washing machine and radio for their daughter to use in her room while staying in Shepherdsville.
J. R. Ball and his son Robert both had new cars.
Mr. and Mrs. B. B. Dunaway of Cincinnati were weekend guests of relatives in Shepherdsville.
Mrs. Mollie Crenshaw of Salt River erected some new rooms in the rear of her store.
News arrived in Shepherdsville to Mr. and Mrs. Ben Crewnshaw and Mr. and Mrs. Dee Bergen of a new grandbaby arriving in the home of Mr. and Mrs. Guy Bergen of Nashville. The Crenshaws traveled to Nashville on this happy occasion. I bet I know just who that baby was!
Bernie Milam had ten tons of good Timothy hay baled and ready for sale.
F. E. Patterson's store was offering a special on strawberry and fudge royale ice cream at the store's fountain.
Folks needed to stay away from the Wilson Creek area as the community was "full of measles, mumps, flu, sore throats, and colds, as well as a few cases of scarlet fever."
Members of the Lebanon Junction Speech Class enter contests at Hodgensville, and Cora Gaddy placed first in interpretative reading, qualifying her to enter the state contest.
Work on the L. & N. coal hopper, which burned the previous November, was nearing completion despite a delay caused by a shortage of steel because of the defense program.
Mrs. Fronie Harris and Bertha Trunnell of Louisville spent Easter with Mrs. Sola Trunnell.
Pete Bleemel, age 73, a well-known farmer, died at his home near Bethel Church. He left behind a daughter, Mrs. Bertha Schreck of Louisville, and six sons, all of Bullitt County, including William, Matthew, Frank, Edward, Freddie, and Leo.
And Robert Price Jr. was looking for his Black Angus steer that was lost. Anyone seen it?
May 1941
Miss Frances Wake, music teacher at the Shepherdsville school took Jane Salyer, Martha Dawson, Shirley Lane, Eloise Hardy, and Alvin Jones to sing in the All State High School Chorus.
Mr. Foster Sanders, local high school history teacher took his social science classes to LaGrange to inspect the new state prison, which was supposed to be one of the most modern in the nation. (Wonder if he left any behind?)
The Seniors of S.H.S. had their annual senior play, a farce titled "Oh, Promise Me!" Students with parts in the play included Wilfred Ridgway, Earl Coy, G. Daugherty Jr., C. Elizabeth Warren, Addie Mae Hagan, Evalena Bergen, Alice Huffman, Catherine Harden, Martha Williams, Charles Holsclaw, and Geraldine Simpson.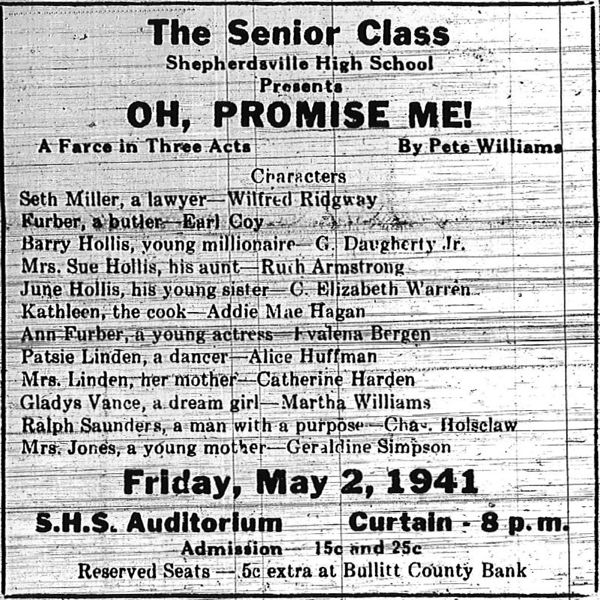 Mt. Washington's new fire engine got its first call on a run to Lucian Porter's near Fairmount. Regrettably, his tobacco barn had gone up in smoke before they arrived.
Mrs. Ancel Hatfield and son made a trip to Nashville to visit with Mr. and Mrs. Guy Bergen and family.
Also visiting the Bergens were Mr. and Mrs. Leland Brickle and daughters. Mrs. Brickle was Mr. Bergen's sister.
Mr. and Mrs. R. L. Horning purchased a new Frigidaire.
Little Donnie Cook, son of Mr. and Mrs. T. L. Cook, purchased the first "Defense Saving Stamp" at the local post office.
Mrs. Josie Zimmerman had a 4-burner oil range with built-in oven for sale.
Ora L. Roby wanted to sell a pony mare for $40. He advertised it as "gentle and safe for children."
Anyone interested in operating the Shepherdsville lunch room for the 1941-42 school year needed to send an application to Clyde Lassiter or Mrs. Roy Stallings.
John W. Holsclaw bought a new Plymouth Sedan.
A "Junior High Operetta" titled "False Fernando" was presented at the Shepherdsville Auditorium. Featured actresses were Swearingen Weller, Pollyanna Bealmear, Betty Williams, and Sue Wigginton. The singing chorus was made up of Mary C. Wigginton, Margaret Williams, Ellen Mae Maraman, Billy Ray Snellen, Bernie Milam, Orville Harris, Marion Earl Mobley, Arthur Griffin, Edith Mae Woods, Mary E. Milam, Eva Lee, Virginia Williams, Marilyn Maraman, Mary E. Baugh, Frances Owen, and Frances Elkins.
At Belmont, litte Billy Stilzer underwent a tonsillectomy operation, and was doing well.
Jesse White of Alexandria, Virginia, came for the Derby and visited his parents, Mr. and Mrs. W. C. White, in Lebanon Junction.
Lebanon Junction school superintendent suffered a slight concussion and black eye in an automobile accident near Greensburg. School principal R. G. Newton was driving.
The Shepherdsville softball season was scheduled to begin with an organizational meeting. All those interested in playing needed to attend or give their names to Clyde Lassiter, Foster Sanders, Ben Parrish, or Roy Stallings.
Mr. and Mrs. Wilson Summers celebrated their 60th wedding anniversary. They lived in their home, located in back of Brooks Station, for 57 of those years. She was the former Anna Brooks. (Mr. Summers lived until 1948, so they celebrated 67 years of married life.)
And Austine Armstrong, daughter of Mr. and Mrs. Sam Armstrong of Mt. Washington, graduated from M.W.H.S. with the enviable record of having never missed a day of school. She was Salutatorian of her class.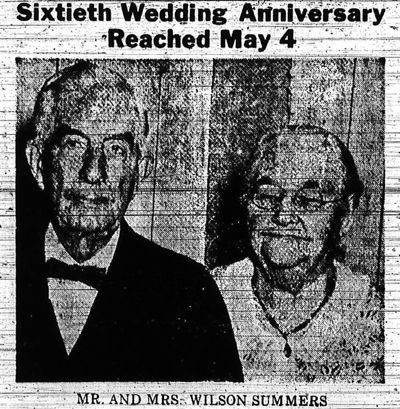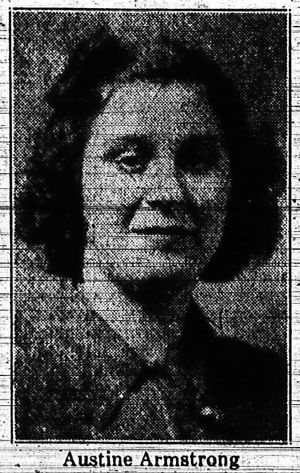 June 1941
In Lebanon Junction news, Jack Bryant, who was home from college, was working at an A & P Supermarket in Louisville; W. B. Rexroat was in the hospital with an injured shoulder following a fall; and the service station owned by the VanVactors had been sold to someone from Bowling Green.
Miss Elsie McClain Cox, a music teacher at Mt. Washington High School, was married to Francis King Beeler of Lebanon Junction, who also taught at that school.
Clem Pope was declared the best Freshman debater at Purdue University.
Stanley Lee resigned as Farm Bureau Insurance Agent to become a local agent for the Standard Oil Company. Ben Robards took his place.
Six 4-H Club members were selected to represent Bullitt County at Junior Week at the University of Kentucky. They were Carl Hines of Cedar Grove, Ruth Cundiff of Nichols, Claud Cornell of Mt. Washington, and John Price, Geraldine Williams, and Betty Wigginton, all of Shepherdsville's club.
Mr. and Mrs. James Maraman entertained for dinner on Decoration Day [Memorial Day] the following friends and family: Mrs. Cleve Masden, Mrs. O. H. Masden, Mrs. Grover Maraman, Mr. and Mrs. Richard Maraman, Mrs. Ethel Crenshaw, Mr. and Mrs. Hugo Maraman and children, Mrs. Curt Harris and Mrs. Ida King of Mt. Washington.
Misses Reba Hall, Cora Ney Hardy, Juanita Patterson, and Mrs. Mary Evelyn Harned spent two weeks in Florida.
In Mt. Washington, Claud Barnes of Honolulu was visiting his sister, Mrs. Lizzie McGee.
William Sowders of Shepherdsville had two good work mules for sale, or he would trade them for cows, hogs, corn or hay.
J. W. Browne of the Bernheim Foundation at Clermont was looking for a good, reliable cook. Living quarters were furnished.
John L. Thompson, Jr. of Lebanon Junction graduated from the University of Kentucky Department of Agriculture.
A familiar face at the Shepherdsville depot was L. & N. conductor Jim Hunter who retired after 50 years service. He had worked the Louisville-Bardstown-Springfield branch intermittently from 1892 to 1898, and regularly since that time. He was promoted to conductor in 1905, and was 71 years old.
Tommy Joyce had a new Plymouth Sedan purchased from Parrish Motor Company of Shepherdsville.
Billy Manion of Lebanon Junction, who was studying at Fort Wayne, obtained a job in Chicago as a mechanical draftsman.
Mrs. Thelma Newman, and daughter, Clara, Miss Ethel Newman, Mrs. Josie Zimmerman and son, and Mrs. Ella Hardy traveled to Louisville.
Miss Willie Mae Grant and Mr. Dewey Simmons were married.
And at Belmont, Mrs. Pearl Laswell entertained Mr. and Mrs. Hobert Roby, Wilber Gray, Emma Wise, A. J. Kettler and Ola M. Gray at a card party.
July 1941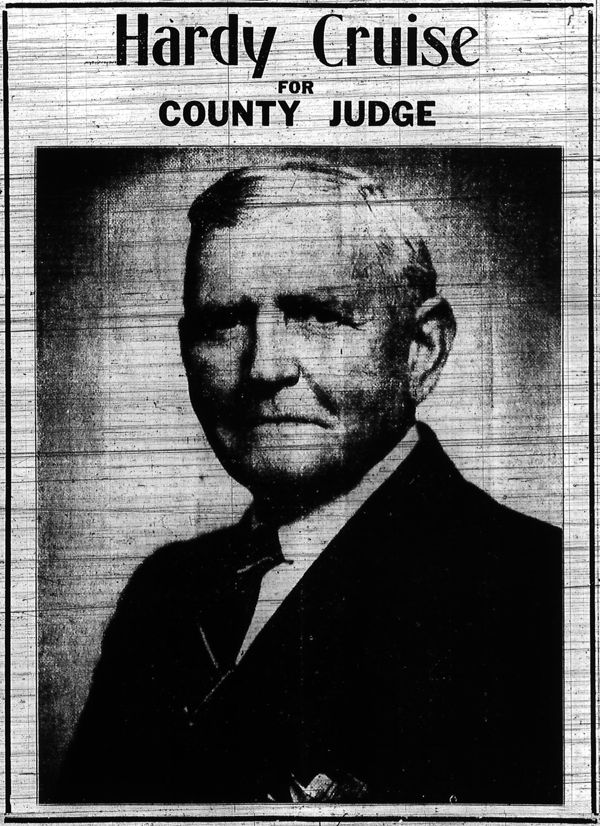 Hardy Cruise was running for County Judge, and placed several fine advertisments in the paper that included his picture, shown here.
Teachers Myrtle R. Stansbury, Myrtle Shake, Martha Weller, John B. Cruise, Ray Masden, Evelyn Masden, Frances Simpson, and Nancye Masden were attending classes at Western State Teachers College; while at Nazareth were Mildred Hall, Catherine Applegate, Pauline Williams, Louise Bischoff, Junia May Kneisler, Ida Lee Sellers, and Augusta Dawson. Beulah Tinius was at the University of Kentucky.
Harold Hardy bought Conrad Stalling's interest in their store, Hardy & Stallings U.B.C. Store.
Local marriages included Evelyn Adams and James Vernon Shaw, Jacquelyn Raymond and David Caple, Mrs. Janice Pulliam Johnson and Arthur Lutes, Pauline Masden and Jerome "Pin Head" Dawson, and Eva Maraman and Noah Whittle.
Circuit Court jurors came from the following pools. For petit jury were A. G. Foster, Alex Hardy, Claud Nutt, Henry W. Cundiff, G. C. Maraman, F. O. Sadler, Herman Williams Sr., Richard Maraman, Fred Quick, John L. Thompson, Waldo Gentry, Marvin Moore, S. F. Smith, Willie Griffin, Henry Maraman, Virgil Hibbs, O. E. Hall, Gabe Bealmear, Russell Hall, Hugh Magruder, O. H. Masden Jr., Robert E. Lee, Claud Owens, Thomas J. Owens, Clydie Parrish, Bert Brown, B. A. Parrish, E. W. Newman, N. T. Nusz, Chester Deacon, A. P. Weller, R. L. Roby, Garner Dooley, and Fred Hatzell.
For the grand jury, the pool included Ellis Cook, S. N. Brooks, J. R. Fall, O. L. Beard, H. H. Magruder, James Hougland, Horace Maraman, H. Crenshaw, Rudell King, W. R. Cornell, George Jones, Hubert Cox, George Essex, Paul Simpson, A. R. Nusz, Corbett Tinnell, Howard Crenshaw, O. P. Basham, C. L. Stansbury, Frank Bleemel, Ernst Funk, J. S. Tinnell, Sam Thurman and Ezra Myers.
In Lebanon Junction news, Mrs. Mollie Hocker, Mrs. Leona Coleman, and Mrs. Ethel McMillen attended the Eastern Star celebration. Also, Rev. and Mrs. W. E. Bryant returned home after attending meetings in Georgia; Mrs. Ida Gentry and Mrs. John Argenbright returned home from Hot Springs, Arkansas; and Mrs. W. R. Johnston and Mrs. Leona Coleman took the Christian Church Endeavor children on a weiner roast.
In the Personal Column, we learn that Mrs. Tillie Masden spent the weekend with her brother, P. H. Henderson; Mr. and Mrs. W. J. Mehne and son James Lee spent time at their camp on Salt River; and weekend guests of Mr. and Mrs. E. L. Straney were Miss Margaret Weatherly, Mr. Louis Winters, and Miss Alma Klotter.
An ice cream supper and fish fry was advertised to be held on the Cedar Grove Church Yard for the purpose of raising funds for improvements and care of the Old Cedar Grove Burying Ground.
And Red Hall and Hugh James were to run a foot race around the bases of the softball diamond to see which one was faster. I wonder who won?
August 1941
Miss Lorraine Foreman, daughter of Mr. and Mrs. Cecil V. Foreman, graduated from the University of Louisville with a Bachelor of Music Education degree.
Francis Beeler, a Lebanon Junction native who taught at Mt. Washington High School, took Miss Elsie Cox to be his bride. Miss Cox was from Madisonville, and taught music at Mt. Washington.
Miss Mariana Mothershead entertained her father, E. H. Mothershead and the J. T. Grants with a family party at the Rialto Theater. They went to see "Moon over Miami."
Mrs. Will Ladusaw of Zoneton visited with her aunt, Mrs. Nettie Cassell in Mt. Washington.
According to the Hebron correspondent, Earl Smith sold five fat hogs for $112.40. She also reported that Mrs. Roger Barger and daughter Lois drove to Birmingham to visit J. T. Barger who was working at the St. Vincent Hospital there.
Mr. Kelly Thurman, a native of Bullitt County, and son of Mr. and Mrs. Roscoe Thurman near Lebanon Junction, accepted the position of Superintendent of the West Point School System. He was a former teacher in several Bullitt County schools.
The swimming hole about a quarter mile above Shepherdsville claimed another victim when W. C. Masden was stricken with cramps in deep water and drowned. W. C. was a son of Leona Masden.
Roy L. Maraman, Shepherdsville merchant and undertaker, married Miss Lilberne Armstrong of Louisville.
Mr. and Mrs. Jack Meredith of Clermont advertised their store for sale.
The Needmore Road correspondent wrote that Mr. and Mrs. Everett Newton and family were Sunday guests of Mr. and Mrs. Roscoe Proctor and Mr. Brumley.
Dr. R. A. Weir, a dentist with offices over the Peoples Bank, advertised that he was available nights by appointment.
All the busy folks at Barrallton took time out from harvesting their crops and gardens to attend the Chicken Supper at the Sunnyside Baptist Church at Ferguson's Grove.
The paper reported the death of Lem Swearingen, a prominent citizen of the Leaches section of Bullitt County. At one time Mr. Swearingen was a member of the county school board from that district.
Miss Thelma Richardson, daughter of Mr. and Mrs. Ben Richardson of Shepherdsville, married Freddie Hoagland of Clermont. Freddie was a son of Mr. and Mrs. Joseph Hoagland. Thelma was a clerk in Geroge Maraman's store.
In the primary election, C. P. Bradbury defeated Hardy Cruise for county judge; Lindsay Ridgway won over Jiggs Buckman for county clerk; Fred Smith defeated P. F. Philpot for sheriff; J. V. Jones won the jailer's race over W. F. Monroe and Herbert Cundiff; Clyde E. Roby defeated Bert Shepherd in the tax commissioner race; and Charles T. Bridwell won the coroner's race by defeating Luther Vanvactor and C. S. Morrison.
In magistrate races, Robert Lee defeated Ben Miller in District One (Shepherdsville, Brooks, Griffin, Cupio, and Salt River precincts); O. P. Hessey won the Leaches district (Cedar Grove, Solitude, and Clermont precincts) over A. V. Greenwell; and John I. Samuels won the Pine Tavern district (Lebanon Junction, Belmont, and Beech Grove precincts) over J. C. Wooldridge and Tom Hoagland.
In Lebanon Junction news, 13 boys entered a tennis tournament under the guidance of Reason G. Newton. They included J. C. Conlin, Joe O'Mary, Billy Boone, Bill Masden, Billy Ben Jenkins, William Scott Johnson, David Jackson, Allen Pipes, J. H. Parker, C. R. Hourigan, Donald Masden, Keith Parker, and Eugene Meadows.
Also in Lebanon Junction, the musical comedy "Swing Out" was performed at the Masonic Hall by the Eastern Stars, with a cast of 34 including the following: Margaret Lee Harned, Sara Rexroat, Dugan Montgomery, Anne Ewing, James Snyder, J. T. Fowler, Mildred Newton, Dorothy Jean Bryant, Walter Lee Crady, and Monroe Major. The play was directed by Miss Dorothy James.
September 1941
The Mt. Washington correspondent reported that Mr. and Mrs. Francis Beeler were at home in their apartment at Vernon Troutman's. Mrs. Beeler was Miss Elsie Cox. Both taught school in Mt. Washington last year and will do so in the coming year.
H. P. Wigginton bought the Write property on Jackson Highway, made some needed repairs, and had two apartments taken by Mrs. Lillie McClure and Mr. and Mrs. Roger Shelburne.
William Longacre and Thomas Preston Joyce were ushers at the wedding of Miss Beulah Barrall to Mr. A. Raymond Logsdon. The Logsdons were making their home in Shepherdsville.
The Shepherdsville school was staffed by Clyde T. Lassiter, Foster J. Sanders, James A. Hayes, Mrs. Annie Laura Jenkins, Miss Beulah Tinnius, Mrs. Frances Hayes, Miss Dorothy Wolfe, Mrs. Lonie Wigginton, Mr. Lafe Monroe, Mrs. Catherine Applegate, Mrs.Sara Fay Myers, Mrs. Nancy Masden, Mrs. Jessie Basham, Mrs. Ida Lee Sellers, Mrs. Louise Bischoff, Miss Carolyn Muir, Miss Cora Ney Hardy, and Mrs. Pauline Williams.
Miss Eula Kathryn Ridgway and Mr. Harold Winston Hardy were married in the Shepherdsville Baptist Church by the Rev. J. Roy Robinson.
In Lebanon Junction, Uncle Otis Dobson resigned his job as janitor of the local high school to accept "an easier job" at the local Baptist Church. He figured that might be a bit easier on a 72 year old man.
The Belmont correspondent reported that Kenneth McCubbins and Clinton Etherton would be greatly missed by their friends as they left for military training.
Miss Jane Hall of Mt. Washington won first prize in the Red Hair Contest at the State Fair. Also, Mrs. J. C. Gentry received first prize on checkerboard cake at the fair.
W. T. Stephenson wrote a letter from Michigan where he and the following men were enjoying a fine fishing trip. They included Uncle Billie Morrison, Carl Daugherty, James Hardaway, Howard Roby, Dick Wathen, Will Howard Nusz, and Dr. Kirk. He reported that Jim Hardaway caught the biggest Pike.
Miss Elizabeth Robertson of Lebanon Junction moved to Louisville to begin clerking at Kaufman & Straus. And Mr. Sam Myers of Wilson Creek was working at the L. & N. Shop in South Louisville.
Rev. E. J. Risinger, who had been pastor of the Sunnyside Church in Barralton for 17 years, resigned.
The Mayme Burkhalter Circle had a program given on missions by Mrs. Mary Collings and Mrs. Cora Roby.
The paper ran an advertisement for the Renfro Valley Barn Dance to be held at the Shepherdsville Auditorium for the benefit of the Pitts Point School. Homer and Jethro would be there.
And Mrs. Martha Dawson and daughters Zardetti and Augusta spent several days at West Baden Springs in Indiana. (A quarter-century later, the two daughters taught this fellow a thing or two about teaching school.)
October 1941
These were the Voting Precinct Election Officers For November 4, 1941. The first and second named were appointed to serve as judges, the third is to serve as Sheriff, while the last name was to act as Election Clerk.
Shepherdsville No. 1: J. M. Larimore, Fronia Samuels, J. W. Shepherd, Margaret Foster. Shepherdsville No. 2: Katherine Belmear, E. G. Quick, Mack Jones, Sr., Blanche Howlett. Brooks No. 3: Jasper Foster, B. F. Robards, Jim Beghtol, Mrs. Lee Hatzell. Knobs No. 4, W. P. Foster, T. J. Barrell, Robert Hardesty, Mrs. Essie Holsclaw.
Cupio No. 5: John Marcum, Joe F. Samuels, Robert Nichols, Mrs. Emmett Stivers. Salt River No. 6: Ben Cundiff, C. A. Masden, Mrs. Virginia Cundiff, Mrs. Jesse Hardaway. Mt. Washington No. 7: German Branham, Mrs. Tom Parrish, Henry Lutes, Mrs. Margaret Grigsby. Mt. Washington No. 8: S. B. Owen, S. O. Armstrong, J. R. Proctor, Mrs. Mary Fisher.
Zoneton No. 9: R. C. Cotton, Russell Jenkins, J. H. Gilmore, Mrs. Ella S. Pope. Cedar Grove No. 10: Tom Close, K. F. Bolton, Elmer Cundiff, Mrs. Wathen Viers. Leaches No. 11: R. J. Clark, Ed. R. Ash, Hyte Rouse, Edgar B. Crenshaw. Clermont No. 12: Henry Fernbach, John Morris, Mrs. Charles Fernbach, Mrs. Chester Hill.
Lebanon Junction No. 13: Mrs. Clarence Routen, Ezra Newman, Mrs. N. E. McMillen, Mrs. Christine Boone. Lebanon Junction No. 14: Andrew Mann, Mrs. Vina Roby, A. D. Miller, Ethie Yaeger. Belmont No. 15: George Bradbury, Rice Dawson, Ben Powers, Mrs. I. T. Mudd. Beech Grove No. 16: Otto Cundiff, Frank Carpenter, Mrs. Anna Cundiff, Mrs. Arthur Cundiff.
In Belmont news, Rev. Walter Brown was entertained in the home of Mr. and Mrs. Emmett Hornbeck and Mr. and Mrs. Lee Beard on two Sundays. Also, Mr. and Mrs. Dave Stitzer and family were evening guests of the Delk family.
At Pitts Point, Mr. R. C. Ferguson of Mt. Vernon spent a weekend with his sister, Mrs. Burton Wise. And Mr. and Mrs. Roy Rogers of Coral Ridge visited her parents, and Mrs. Rogers remained for a week's visit with Mr. and Mrs. Monza Harned.
In Cedar Grove news, Mr. and Mrs. John Lane spent a Sunday with Mr. and Mrs. Forest Whitworth. And Mr. and Mrs. Howell Young and son, Mr. and Mrs. Arthur Weller and children spent a Sunday with Mr. Alf Weller and family.
In the Personals column we learned that Rev. J. Roy Robinson was laid up in bed with a leg infection; that Mrs. Virgil Roby underwent an operation and is doing nicely; that Adrian Jones, son of Mr. and Mrs. Ronald Jones, was home from school due to illness; and that Mrs. Ida Carroll, Misses Annie Troutman, Jennie Carpenter, and Blanche Howlett were dinner guests of Mr. Pearl Lee.
From Mt. Washington we learned that Mrs. H. H. Hall, the popular post mistress and her husband attended a banquet at the Brown Hotel. Also, Mesdames Minnie McArthur and Mayme Harris of Louisville were weekend guests of Mayme's daughter, Mrs. V. K. Mothershead.
And from Hebron we read that Mr. Tom Brooks sold his farm to his daughter and her husband, Mr. and Mrs Powell Ladusaw, and was to make his home with them for the present. Also, his other daughter, Miss Nellie Brooks who worked in the city in a clerical position, would live there as well.
And finally, John Satterly of Shepherdsville was selling a 1941 2-door Ford sedan that had only been driven 3,000 miles. Any takers?
November 1941
Henry C. Hamilton, Jr., son of Mr. and Mrs. Henry C. Hamilton of Shepherdsville, was promoted to the rank of staff sergeant in the army. He graduated from S.H.S. in 1939.
The "Ollie Hardin Farm" of Beech Grove flats was sold to Sammy McCubbins by C. R. Mattingly.
At the Mt. Washington Halloween Carnival, Anna Joyce Jasper was voted most popular, and Mrs. Elzy Wilhite the best disguised. Meanwhile, down the road in Shepherdsville, Mary Belle Gentry was selected as queen of their carnival.
Colonel H. H. Combs and Conrad Maraman were the guest speakers at a gathering hosted by Clara Hays Simmons to solicit Red Cross members.
The charter members of the Lebanon Junction Lions Club included William T. Adams, William B. Samuels, R. G. Newman, W. A. Beeler, Russell Argenbright, H. S. Beeler, R. M. Hocker, C. E. Burkhead, Neal Jackson, Otho Quick, Fred Whitehead, Elvin Doutaz, Ernest Doutaz, Father Ritter, James Richardson, and Logan Murray.
Bullitt Countians enrolled at the University of Kentucky for the Fall Term included William Bruce Hamilton, Catherine Lucile Hardin, Elmer C. Bryant, Chester Frazier Robards, William R. Simmons, Jim B. Williams, L. J. Rouse, and Lindsay Melton Wigginton.
Fort Knox was proposing to add additional territory, including a large chunk of Bullitt County.
Mr. and Mrs. O. H. Masden and daughters Ophelia and Eugenia spent several days in the Smoky Mountains.
The Belmont Church B.Y.P.U. had a halloween party at the home of Mr. and Mrs. Henry Kneisler. Present were Bro. Walter Brown, Mr. and Mrs. J. J. Napier, Mr. and Mrs. Trainor Roby, Roy McCubbins, Miriam Bradbury, Ada Wineholder, Mary Bradbury, Tena Mae Stitzer, Martha Standbury, Miss Mary B. Hill, Gerald Napier, J. L. Thurman, Walter Ward, Charles McCubbins, James Lee Shoemaker, Irene and Marie Kneisler, Mary Sue and Myrtle Roby, Elizabeth, Jean, and Dorothy Rice, June, Joan and Bonnie Bradbury, Thelma and Carl Delk, Millard and Lillian Wineholder, and Dolores Bradbury.
Mike Smith of Shepherdsville had 5000 used bricks for sale.
Robert E. Lee, J. R. Cornell, A. V. Greenwell, and John L. Samuels were Bullitt County's magistrates in November 1941.
Elijah and Rhoda Carpenter Boyd celebrated their 50th wedding anniversary.
In the Personals column we learned that Inez Hibbs and Mrs. Pauline Hibbs attended the ball game between Manual and New Albany; that Mr. and Mrs. Harlan Brown and baby moved into the apartment over the drug store; that Mr. and Mrs. Dee Bergen and family moved into the home they purchased from Judge and Mrs. C. M. C. Porter; that Mr. and Mrs. Cecil Smothers had purchased the Dee Bergen home and moved there; and that Mr. and Mrs. Minter moved into the new home recently built by Mr. and Mrs. Tom Adams in Salt River.
Meanwhile, down at Lebanon Junction, Mr. and Mrs. Wilber Marr moved into the home they bought from Mr. and Mrs. Nickelson just opposite the L & N depot on the corner.
And Mr. and Mrs. J. R. Buckman were moving to California to live near their daughter, and their 6 room, two-story house and property were up for sale. Dawson Realty was handling the auction.
December 1941
Mrs. Marie Maraman and Mrs. Ella Hardy were among members of the Bullitt County Woman's Club involved in the outdoor Christmas decorations contest in the Shepherdsville area.
Ike Durham, a graduate of Lebanon Junction High School, was sent for army training.
Mr. and Mrs. Herman Rouse of Mt. Washington announced the engagement of their daughter Mary to George Maddox, son of Mrs. Mamie Maddox. And Mrs. Russell Hill and son were guests of Mrs. E. F. Pound.
Also in Mt. Washington, Roy Tinsley and family took rooms in the hotel building until their new home at the edge of town on the Shepherdsville Road was completed. R. L. Grigsby and family moved into the Tinsley home.
The Hebron correspondent reported on the wedding of Floyd Tinnell of Taylorsville and Miss Mildred Crumbacker, daughter of Mr. and Mrs. D. J. Crumbacker. Ushers were William Crumbacker and Mr. J. A. Tinnell. Bridesmaids were Bettie Crumbacker and Sarah Jean. Little Mary Emma Brooks was flower girl.
She also reported that Charles Wilson Brooks had built a cottage on the ground bought from O. P. Brooks. Also, W. B. Miller sold his place on Cedar Creek and purchased the old Crumbacker home and store.
In the personals column we learned that Miss Mary Hardaway entertained several for dinner including Mary Green Hardaway, Mary P. Roby, Hester Belle Hardaway, Ida Carroll, and Blanche Howlett.
Also, Mr. and Mrs. Gus Hardin and Mrs. Pate Jones of Cox Creek spent a day in Shepherdsville. And, Miss Lois Wandy Hardy and Mrs. Sue McKelvey moved to the Katherine Rennison cottage.
The Valley View correspondent reported that D. V. Nutt helped Hoke Harris add a room to his house; that Raymon Calvert's new home on the Jackson Highway was underway; that Mr. and Mrs. Marvin Crenshaw named their baby daughter Janice Lois; and that Walter Breeden was not suffering as much from the pain in his eye.
In Shepherdsville, at Hardy's Cash Market, you could buy a 24 ounce jar of peanut butter for 23 cents, and a pork loin roast at 22 cents a pound.

The Pioneer News
, December 12, 1941
With war declared, the paper reported that 17-25 year old young men could enroll at Shepherdsville High School in a metal-working class, including welding, to prepare them for National Defense industrial employment.
The paper reported that Robert Jones was hit by the fast train at the L. & N. bridge in Shepherdsville. He was on duty watching the bridge when the accident happened. His injury was not considered serious.
And the Salt River correspondent reported that Calvin Boyd had been appointed as one of the guards on the railroad bridge. She also stated, "We are looking pretty blue on account of this terrible war."
---
Copyright 2018 by Charles Hartley, Shepherdsville KY. All rights are reserved. No part of the content of this page may be included in any format in any place without the written permission of the copyright holder.
---