It Happened in 1940
Over the years, Charles Hartley has shared glimpses of what was being printed in The Pioneer News in different months and years. This page includes what was taken from the August through December issues of 1940.
---
August 1940
The Hebron correspondent reported that the Intermediate B.Y.P.U. of Little Flock went on a hay ride on Ernest Brooks' truck. They were chaperoned by Mrs. P. S. Holsclaw and Elizabeth Brooks. She also reported that foxes got 38 chickens from Mrs. Homer Jordan.
Mrs. Myrtle Barrall had a farm of 119 acres located seven miles from Shepherdsville for sale. And F. G. Wrocklage at Hubers Station wanted to sell a twelve year old mule and three young goats.
Got a headache? F. E. Patterson would sell you a 100 count bottle of aspirin for 35 cents at his Shepherdsville drug store.
The Victory correspondent reported that Mrs. Fronia Harris and Miss Bertha Trunnell were guests of Mrs. Susie Roby and Leona Robinson. Also, Mr. and Mrs. O. P. Basham were Sunday visitors in the home of her niece, Mrs. Arthur Weller.
The Mt. Washington correspondent reported that Jimmie Lee, three-year-old son of Mr. and Mrs. Maurice McAfee broke the large bone in his left arm in a fall. She also reported that Mr. and Mrs. Vernon Mothershead would soon be occupying their new home on the Shepherdsville Road.
In the Lebanon Junction Notes column, it was reported that Newton Chappell and Sammie Gafford were severely injured when a lumber truck sideswiped the car they were riding in on the way home from work at Fort Knox. The column also reported that Mr. and Mrs. Argenbright and son and Joe O'Mary had returned home from a trip to Virginia Beach and Washington, D.C.
Did you hear "The Bar Nothing Ranch Gang" on radio station WINN in the morning from six to seven o'clock? The band was composed of Bullitt County folks including Norma Lane playing the guitar and singing; Charles and Curtis Hatfield handling the guitar, bass violin, mandolin, and banjo; Huber Lee on the guitar; and Canada Shepherd with his violin.
In the personals column we learned that Florence Edwards of Hodgenville visited Mrs. Thelma Newman and family. Also, Mrs. Sophia Wright of near Shepherdsville was seriously ill; and Judge S. P. Smith of Lebanon Junction was in Louisville recently visiting his daughter Ethel Smith Harned.
The paper reported that Millard J. Cundiff, son of Rev. and Mrs Richard Cundiff, received his degree from Western Teacher's College. Millard was also studying chemistry at the University of Louisville, and hoped to take up more advanced studies. I hear he did quite well.
The Barrallton correspondent reported that Mrs. Mattie Able of that community was an overnight guest of Mrs. Susie Pendleton Jones and Miss Louella Pendleton of Medora. Mr. Henry Pendleton motored Miss Louella and Mrs. Able to the South Jefferson Church to see a film.
Out at Cedar Grove, Miss Mae Bolton and Mrs. Eunice Young visited with John Bolton who seemed to be doing "real poorly."
The news from Pitts Point was that Bobby Delmar and Mildred Crump spent a Sunday with Kenneth and Virginia Harned; and that George Wise, with his rubbing alcohol was a great help to some of the ladies who were slightly injured at the softball games in Shepherdsville.
Did you make it to the fried chicken and country ham supper at St. Benedict's in Lebanon Junction? Or the fish fry sponsored by Woodmen of the World at Clermont? Or how about the ice cream social on the court house lawn sponsored by the Democratic Woman's Club of Bullitt County? Well, surely you made it to the annual fried chicken dinner at the Bullitt County fairgrounds to benefit St. Aloysius Church! No? Well, where were you anyway?
September 1940
Miss Essie Swearingen and her nephew, Athol Lee Taylor, returned home from a visit to Oklahoma where they visited with her niece, Mrs. W. A. Criswell.
Homer Jordan cut his knee seriously while getting out walnut logs.
Russell Jenkins' corn crib burned while he was on a weekend trip to Central City.
Herbert Ockerman, Foster Sanders, and Reason Newton were assigned the task of selecting football officials for the Salt River Valley Conference.
Mrs. A. M. Tate, Annie Perkins, and Burlyn Pike attended the Baptist Young Peoples Union Convention at Hodgenville.
Mrs. Stony Weller and sons returned from a visit in Louisville with Mrs. W. L. Sayers.
Mr. and Mrs. Arthur Harris and little Betty Sue of Leaches visited at the Trunnell House one Saturday.
Rev. E. F. Goodson, son of Rev. Jacob Godson, who was pastor at Mt. Washington and Bethel about seventy years ago, preached at Mt. Washington while the pastor, Rev. C. K. Dickey was away.
The Rev. Albert Carnett, pastor of the Shepherdsville Baptist Church, tendered his resignation, and planned to move to Daytona Beach.
Miss Lillie McClure rented rooms from Miss Lizzie Wright in Mt. Washington. She moved there from High Grove where she had lived for more than fifty years.
C. S. Morrison, Bullitt County Coroner, advertised in the paper that he was taking a trip to Michigan, and anyone needing a coroner should contact his deputy, Mrs. C. S. Morrison.
The paper reported that Dan Carroll had returned to school in Cincinnati after spending the summer with his grandfather, J. N. Brooks. It seems that he took some "hearts" with him.
The paper was pleased to note that Fiscal Court had formally endorsed a new State Highway from Louisville to Shepherdsville, paralleling the railroad tracks on the west side.
Miss Ola Gray purchased a 1940 Chevrolet.
The dentist, R. A. Weir, had his office over the Peoples Bank building in Shepherdsville. He was available at night by appointment.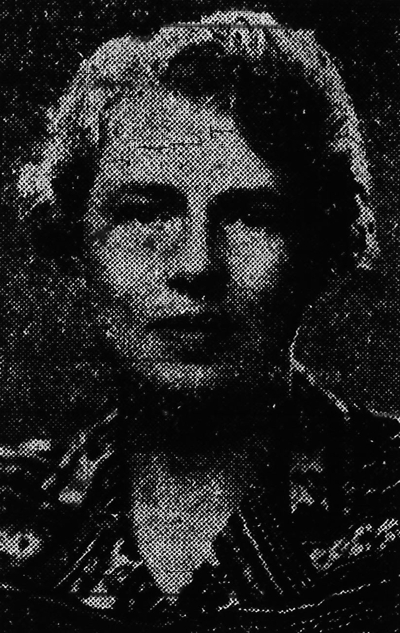 Mrs. T. C. Carroll
Judge and Mrs. C. P. Bradbury were visited by both Dr. J. W. Bradbury of Louisiana, and Charles Lee Bradbury of Shelbyville.
Charles Maraman, son of Mrs. Mina Maraman, and Margaret Philpot, daughter of Mr. and Mrs. P. P. Philpot, were married at the Baptist parsonage by Rev. Carnett. Mrs. Chester Deacon, sister of the bride, was matron of honor, and her husband, Chester was best man.
Mrs. T. C. Carroll, who had served as President of the Kentucky Federation of Women's Clubs for two years, was appointed Woman Chairman for the State Democratic Campaign.
A new fire escape was built in the back part of the Elementary School at Shepherdsville. It was connected to two rooms, making available an exit for the first and second grades.
And when Lester Porter set out on the Jackson Highway, it seems that his mules took a notion to follow him. His grandmother, Lydia Hardy saw them, and fearing that they might be killed by traffic, hurried to the door to warn him, but fell and injured herself. The paper reported she was some better. Not sure about the mules.
October 1940
Millard Cundiff, fourth grade teacher at Shepherdsville, resigned to enter the school of dentistry in Louisville. He had previously taught at Cedar Grove.
The many friends of Jimmy Cruise were happy to hear that he was racing at Winston-Salem, N.C. and then at Spartansburg, S.C., but planned to be home in November.
Tomy Wilson, Bullitt County Court Clerk, was assigned the responsibility for supervising the registration of all male citizens in the county between the ages of 21 and 35 years inclusive. Bullitt County teachers served as registrars.
The Draft Board consisted of five members: Charles Rodgers, Conrad Maraman and Dr. Ridgway of Shepherdsville; Bert Hall of Mt. Washington; and Andrew Mann of Lebanon Jct. Miss Wanda Adams was the board clerk.
Houston Froman up on Brooks Hill had a pair of work mules for sale.
Need a typewriter ribbon? Check at the Pioneer News office.
The Mt. Washington correspondent reported that Mr. and Mrs. Herman Mothershead, Mr. and Mrs. J. T. Grant and baby, and Miss Mariana Mothershead were guests in the home of Mr. and Mrs. Will Markwell at Okolona.
Rev. Roy L. Puckett, pastor of the Mt. Washington Baptist Church for the previous five years tendered his resignation.
The Lebanon Junction six-man football team easily defeated Mt. Washington 86-0. They followed up that win with a 92-7 win over Shepherdsville. Shepherdsville then defeated Mt. Washington 18-14.
Clarence "Buck" Dawson and Tomy Wilson began a new business as agents for public sales. They sold the Feidler farm below Belmont.
Mr. and Mrs. Ben Crenshaw moved to their property at Salt River.
The paper reported that Jack Crenshaw was making sorghum molasses.
Monzey Harned and Roy Rodgers of Pitts Point were in Shepherdsville on business.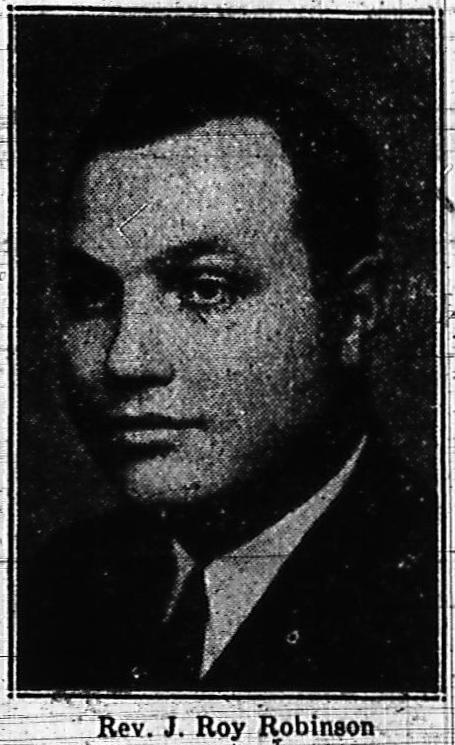 In what might have been the first "All-County Music Festival" Frances Wake, Lillie Lee Miller and Elsie Cox, music teachers at the three county high schools, put together the festival that was held in the Shepherdsville gym.
1,091 men between 21 and 35 registered in Bullitt County in the first peace time registration.
Bro. Roy Robinson was called as pastor of the Shepherdsville Baptist Church.
Out at Barrallton, Harold Atkisson picked 33 bushels of pears.
Mr. and Mrs. H. H. McAfee and children of Cincinnati were weekend guests of his parents, Judge and Mrs. R. E. McAfee. They attended a banquet and barn dance in Louisville given by the organization of railway mail clerks of whom Mr. McAfee was a member.
Folks just loved to surprise Mrs. Georgia Bridwell of the Valley View neighborhood because she was always so surprised. They did it this time on her birthday.
And P. W. Berry, who lived on Bells Mill Road at Floyd's Fork, had large White English Leghorn pullets, seven months old and starting to lay, for sale, $1.00 each.
November 1940
The paper reported on the death of Mrs. Jennie Simmons Hardaway, age 77. She was the widow of Henry Z. Hardaway who was killed in the terrible 1917 train wreck in Shepherdsville. She was survived by a daughter, Miss Mary E. Hardaway, and two sons, J. W. Hardaway, cashier at the Peoples Bank, and J. L. Hardaway, a well-known Bullitt County farmer. Her pallbearers were H. H. Combs, Lindsay Ridgway, Henry Hamilton, Richard Wathen, T. C. Carroll, and Conrad Maraman.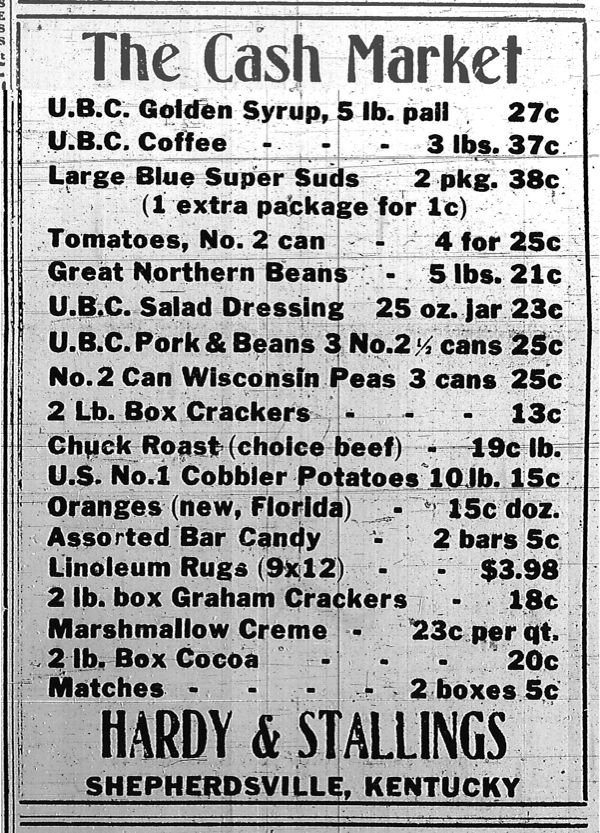 The Hardy and Stallings Cash Market in Shepherdsville was selling chuck roast at 19 cents a pound, and Florida oranges for 15 cents a dozen.
Eva Maraman and Noah Whittle spent a Sunday with Mr. and Mrs. Charles Mauck of New Middletown, Indiana.
Miss Ella Rose Marr was commended for her "eagerness for an education." She regularly walked three miles, morning and evening, to Barrallton, where the school bus picked up the high school students to West Point.
Harlan Brown of Belmont and Doris Cundiff of the Beech Grove vicinity were married. Doris was a daughter of Ralph Cundiff.
Little Lillian Wineholder of Belmont broke her arm while playing at school.
The Belmont Baptist Church members sent $26 worth of chickens to the Baptist Orphan's Home.
Mr. and Mrs. Burke Williams moved into their new home on Blue Lick Road.
T. W. Hoagland was selling ducks and geese for Thanksgiving. Ducks were 60 cents each, geese were $1.50.
Teachers at Mt. Washington were listed. They included Principal H. N. Ockerman, Mrs. Louella McFarland, Mrs. Ann T. Jones, Miss Myrtle Shake, Miss Myrtle Stansbury, Miss Martha Weller, Miss Elsie Cox, Mr. Francis Beeler, Miss Nell Bell, Miss Della B. Crenshaw, and Mr. Sam Goodman.
The Girls Glee Club of Mt. Washington High School elected Garnette Calvert as president, Anna Ruth Harris as vice-president, and Anna Joyce Jasper as secretary/treasurer. The mixed chorus elected Lindsay Wiggington President, Mary Ruth Knapp vice president, and Ann Ruth Harris as secretary/treasurer.
The following were the first 25 men registered for the draft who were sent questionnaires in Bullitt County to establish their potential to be drafted: Chester Thompson, Edward Fredrick Schweckendick, Charles Thomas Van Vactor, Robert Ermon Becker, Walter Lee Samuels, Charles Edward Kyle, Theodore Harris, Stone Wall Keith, William Franklin Porter, Estel Lee Armstrong, Claud Alvin Lynch, Horace Benedict Greenwell, Mell Bivens Cox, Russell Eugene Stallings, Allard Orian Armstrong, Marvin Kenneth Shelton, Grigsby McFarland, James Burton Wise, Joseph Raymond Dawson, Selby Darrell Martin, Robert Shepherd Travis, Paul Edward Rush Sr., Smith Garrow Carrithers, Samuel Thomas Wilson, and Frederick Charles Bleemel. Two volunteers, William Samuel Rhea and William Christopher Scott also received questionnaires.
Mrs. Foster Sanders, Mrs. R. E. Newton, and Mrs. Lindsay Jones were appointed by the county high schools to sponsor Red Cross work in their respective schools.
And William Hilbers of Route 2, Shepherdsville had a stray female shoat, red and black, weighing about 90 pounds in his possession. The owner could claim it upon payment of damages and keep.
December 1940
The Mt. Washington correspondent reported that there was a fire at the high school with damages running into several hundred dollars. Men with buckets and fire extinguishers soon had the blaze out.
The Lebanon Junction correspondent reported that Burlyn Pike, a sophomore at the University of Louisville, skidded into the Bardstown-Springfield train at the Bardstown Junction crossing, causing considerable damage to the car he was driving. Wet roads caused the skid, throwing the right side of the car onto the cowcatcher. He only sustained slight injuries.
The Lebanon Junction six-man football team was in Chattahoochee, Florida to play in a tournament there. It was a short trip as the home team defeated LJ 32-8, ending the Bulldogs' dream of playing in a preliminary game on New Year's Day in the Sugar Bowl.
The Hebron correspondent described Mr. Sipes's new log residence at Gap in Knob as a beautiful piece of architecture.
She also reported that Milton Church went rabbit hunting and it took him two days to find two rabbits. Her comment was that "rabbits will soon be extinct here."
Bland Porter, a student at the University of Louisville, and a resident of Mt. Washington, was assigned the task of compiling a brief history of Bullitt County. The paper reported that a number of its files had been destroyed by fire some years earlier, and that Mr. Porter was asking anyone with copies of these old papers to help him locate them.
In the personals column we learned that Mr. and Mrs. J. R. Buckman had left for Los Angeles to visit their daughter; that Miss Georgia Alice Alford returned to the city after visiting her mother; that Mrs. Kate Greenwell was on the sick list; and that Mrs. Headie Lee spent a day in the city.
From the Belmont community we learned that Mrs. Ada Wineholder and children spent a Sunday with Mr. and Mrs. Leslie Delk and family; that Mr. and Mrs. Weber and daughters had moved from Pitts Point to Mrs. Emma Wise's residence; that George D. Bradbury and W. C. Coleman of Shepherdsville made a business trip to Bardstown; and that Miss Dupie Raley spent a weekend with Mrs. Sophia Raley and family.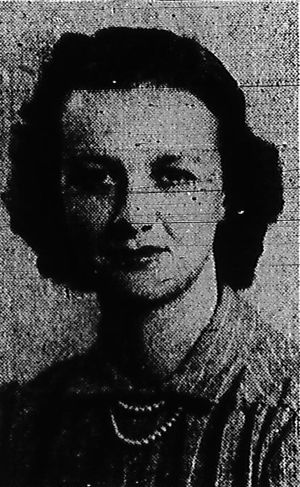 Margaret Lee Buckman
Henderson & Hardy Company in Shepherdsville advertised refrigerators, radios, electric irons and lamps, bed room suites, washing machines, as well as wagons, dolls, velocepedes and other toys for children.
Margaret Lee Buckman, daughter of Mr. and Mrs. Henry Buckman of Shepherdsville, was home for the Christmas holiday. She attended Greenbrier College.
The paper reported on the death of Ben F. Pope, age 98, and described as the oldest man in Bullitt County.
And in Mt. Washington, Robert Cornell and Edward Crenshaw were involved in a collision. Crenshaw's car struck Cornell's, and then crashed into the gas station at McFarland's garage, and then into a tree. Ouch!
---
Copyright 2018 by Charles Hartley, Shepherdsville KY. All rights are reserved. No part of the content of this page may be included in any format in any place without the written permission of the copyright holder.
---