It Happened in 1931
Over the years, Charles Hartley has shared glimpses of what was being printed in The Pioneer News in different months and years. This page includes what was taken from the issues of 1931.
January 1931
Miss Lydia Wilson was in charge of a musical program put on for local students heading off to college. Participating in the program were Jimmy Harned, Mary E. Joyce, Betty Maraman, Roger Alford, Edward Ray Jr., Rev. H. H. Watson, Pauline Daugherty, Rev. James Cox, Wallace Harned, Jack Gardner, Anna Lee Hill, Rev. Blaisdell, Woodrow Masden, Tommy Wilson, and Judge Porter.
Henry Troutman, son of Levi Troutman, and Nora Lee Saddler, daughter of Mr. and Mrs. Ott Saddler, were married by Rev. T. L. Mattingly. The article mentioned that Ott Saddler was engaged in the saw mill and lumber business.
Another marriage, this one between Martha Jane Wallace, daughter of Mr. and Mrs. Jim Wallace, and George R. C. Haefer, son of George Haefer of the Hebron community, took place in Jeffersonville. Seems like a lot of young folks crossed the Ohio River to get married.
The Oak Grove school, located in the curve of Beech Grove Road that met Old Ford Road, shared its honor roll list which included five 7th graders: Gilbert Bennington, Emmett Quinn Harned, Dexter Hatfield, Loyce Bergen, and Eva Mae Lee; three 6th graders: Lucile Bennington, Marie York, and Lena Rayner; five 5th graders: Edward Earl Maraman, Cecil Smothers, Clyde York, Lillian Dever, and Austine Richardson; two 4th graders: Agatha Dever and Milton Warren; three 3rd graders: Lavenia Harris, Vernon Patterson, and Elmer York; three 2nd graders: Helen Dever, Nadine Richardson, and Hassell Hatfield; eight 1st graders: Evalena Bergen, Stanley Crenshaw, Elnor Maraman, Terry Maraman, Radford Patterson, William Perkins, Esther Richardson, and Philip York; and three in the primer group: Clifford Lee, Eva Hatfield, and Ethel Cochran. Their teacher was Linda L. Harned.
At the 3rd annual class meeting of the S.H.S. Class of '29, it was learned that Amelia Hoagland was attending Nazareth College, Loraine Wheatley was teaching at Bullitt Lick, Christine Kerr and J. W. Bradbury were attending Georgetown College, Anna Lee Hill was at the University of Louisville, Ida Lee Ball was preparing to enter Western, Ruth Weller was attending State University in Lexington, Elizabeth Whitman was teaching at Bethel, Edgar Crenshaw was loafing in Salt River, Albert Rodgers was working at home, and Tommy Wilson was at the Peoples Bank.
The local paper shared news of local deaths, often on its front page. Among those mentioned were Skelton Alonzo Shelton, Albert Ward Barrall, and Oscar W. Roby. Mr. Roby was 39 when he died following an auto accident. Mr. Barrall was a young man whose epilepsy contributed to his death before his 20th birthday. Mr. Shelton was 69. He had married Etta Moore in 1883, and they were parents of six girls and a boy: Mrs. J. O. Buckman, Mrs. Thomas Luckett, Mrs. Frank Layman, Mrs. J. O. Buchheister, Mrs. Harian Kessinger, Mrs. Murphy Knott, and Alonzo Shelton. Following Etta's death, he married Minnie Sanders, and they had three girls and two boys: Mrs. Charles Lamb, Beatrice Shelton, Irvin Shelton, Kenneth Shelton, and Joseph Shelton who preceded his father in death at the age of 12.
James Crenshaw, only son of the late Vard Crenshaw, died at his home at Solitude of pneumonia. At one time he was considered the largest land owner in the Leaches district.
Nicholas Hobbs Hall was killed in a boiler explosion at the L. & N. Office Building in Louisville. He was born in Bullitt County in 1883, and was married to Blanche Armstrong in 1906. He left his widow and four children including Hazel Hall Ratliff, Ometa and Reba Hall, and Glendon Hall.
Keeping track of social life by way of the neighborhood columns was an important part of the paper. For example, did you know that the there was a B.Y.P.U. social at the Mt. Washington Baptist Church, and that it was attended by Mary, Louise, and John Coakley; Fronie and Della Crenshaw; Elizabeth, Dudley and Birdie Shelburne; Eva McAfee, Mary J. Jackson, Evelyn Wade, Hazel Cox, Zella Brumley, Marvin Porter, Lee Lloyd, Mildred McClure, Joe Owen, Woodrow Parrish, Leland Hall, Mrs. Alberta Troutman, Sue Long, William and Woodrow Carrithers, Vernon McAfee, Bessie Harris, Acton Brookshire, Vernon McClure, and Herman Smithers? Quite a turnout!
Elmer Welch of Shepherdsville advertised that he did general hauling "anywhere or anytime." You could call him at phone number 88.
County Court was in session, and the following gentlemen were in attendance: William Burns, Henry Wier, Vernon Wier, Robert Hardin, Charlie Williams, Everett Williams, and Owen Hodge. We won't comment on the purpose of their attendance except to remind you that Prohibition was still in force.
And John B. Cruise, 20 year old son of Hardy and Byrda Cruise, was teaching in one of the county schools when he wrote a poem published by the paper. Keep in mind that this was near the beginning of the Great Depression.
It's titled "Help" and goes like this:
If you are keen to do some good,
Help the starving get some food,
Help a brother on his way,
Not tomorrow, but today.
If you would do a thing worthwhile,
Change his frown into a smile,
Give him plenty, give it free,
Place it where it ought to be.
And when you go to bed that night,
The world will look to you more bright,
Sweet joy and peace to you 'twill bring,
For giving is a noble thing.
February 1931
A February school column shared the names of county spelling bee winners from 1924 through 1930. Here they are: 1924 - Ailene Maraman, Shepherdsville School; 1925 - Martha Weller, Glenn Ella School; 1926 - Virginia Eldridge, Mt. Washington School; 1927 - Margaret Newman, Harned School; 1928 - Elizabeth Sanders, Shepherdsville School; 1929 - Margaret Newman, Harned School; and 1930 - Norman French, Culver Springs School, the first boy to win the honor.
Pat Cruise and Christine Stansbury were married in the Hardy Cruise home by Rev. R. B. Cundiff of Bardstown Junction. Pat was employed as Bullitt County's tax commissioner; Christine was one of the county's school teachers, and a daughter of Emmett and Mabel Katie (Bell) Stansbury.
Christine's cousin, Clarence Stansbury married Eugenia Masden at the home of her parents, Mr. and Mrs. O. H. Masden. Rev. Cundiff also performed this marriage. Clarence's youngest sister, Lounetta would later marry William Williams.
And a tragedy occurred at Solitude when Henry Satterly and John Pugh drowned in a creek near the James Crenshaw place where they had attended a sale of the place on Friday, February 13th. The newspaper detailed it this way:
"The rains a few days ago had started the streams to running and Friday morning after the crowd had crossed to attend the sale, the hardest rain in the last 12 months fell, causing the stream to get out of the bank or about 10 feet deep.
"After the sale, Jack Crenshaw had ferried about fifteen persons across; he got tired and turned the boat over to Gabe McCormick.
"The swift current carried the skiff slightly below the landing place. One of the occupants stood and grabbed a tree limb. This tilted the boat at such an angle that the current struck and overturned it.
"Satterly grabbed the belt on the sheepskin coat of McCormick, who was wearing rubber boots. McCormick was pulled under the water several times and was swept 200 feet downstream, before he was able to free himself of Satterly. He then managed to discard his boots and was carried 300 feet farther downstream before he got to shore.
"John Robinson, 22, managed to swim to shore. Ernest Satterly, 22, was washed 200 feet before he grabbed a willow tree and was pulled out.
"Mitchell and Pugh held to the overturned skiff. Those on the shore followed them. Robinson sought to overtake the drifting boat at a bend but it passed ahead of him. A mile from the scene of the mishap, the skiff lodged against two willow trees, fifteen feet from the shore.
"Weak from exhaustion and exposure, Pugh released his hold on the skiff and sank. The throng of men on the opposite side were unable to aid him.
"Mitchell also was so weak that he could not hold a rope thrown to him. He too would have sunk but for the fact that he was jammed between a tree and the lodged boat. Discarding his clothes, Fred Bowman, 18, of Solitude, plunged into the water from an upstream angle so that the current would not carry him past Mitchell. The stream was 120 feet wide at the point. Bowman swam to Mitchell and tied a rope around him. Men ashore pulled Mitchell in. He was barely able to speak and was rushed to the McCormick house and put to bed."
On Sunday, Ed Jackson found John Pugh's body on a sand bar downstream, and two boys found Henry Satterly a short time later.
Mitchell was recovering at his home near Mitchell Hill. Fred Bowman, who rescued Mitchell, was actually just 16. He was a son of Henry and Bertha Bowman.
March 1931
Quite a number of Bullitt County young people were attending school in Bowling Green at Western. On March 16th, they gathered at the Cedar House for a social time. Present were Dr. and Mrs. M. L. Billings, Mr. and Mrs. J. H. "Jack" Sanders, Sylvia Barrall, Pauline Daugherty, Ruth Weller, Martha Weller, Thelma Moore, Ida Lee Ball, Ruth Crenshaw, Linda Lee Harned, Elizabeth Wigginton, Loraine Wheatley, Gertrude Collard, Katherine Triplett, Mary Triplett, Nellie Mae Triplett, Elizabeth Whitman, Clifton Hall, Walter Crumbacker, Logan Murray, A. J. Beeler Jr., Roy Masden, Clyde Elmer Roby, Jack Gardner, and Lindsay Jones.
The Bernheim Interest was already making its presence felt by contributing the needed funds to allow the school at Clermont to remain open an additional month.
Harley and Maggie Proctor of the Needmore Road community entertained the following guests with a musical: Mr. and Mrs. Claud Stallings, Beulah Thuston, Floyd Stallings, Mr. and Mrs. Hubert Cox, Daphney and Elmira Cox, Mr. and Mrs. Bill Bleemel, Mr. J. B. Proctor, Mr. and Mrs. Theodore Nelson, Elizabeth, Birdie and Earl Bass, Geneva and Russell Stalling, Joe Fulz, Arch Trigg, Bill and Hazel Tyler, Lilburn, Gladys and James Alcorn, Mrs. Rose and Frances Simmons, Margaret, W. C., and Baxter Owen, Corine Ridgway, Mabel Whitledge, Marvin, Ruby and Marie Brumley, Jack Clark, Cecil Bridwell, and Waldo Gentry. Sounds like fun.
Out in Cedar Grove, members of the P.T.A. including Mrs. Ben Waters, Mrs. Henry Greenwell, Geneva and Easter Mann, Mrs. W. C. Lanham, and Mrs. George Bolton met at the home of Mrs. S. A. Shelton to complete a quilt to be given away.
J. B. Summers of Route 2, Shepherdsville had "one awful nice Jersey cow" for sale cheap. Otis Porter of Bardstown Junction was set to rent out 40 acres that had both woods and pasture along with good water. And Mrs. Clarence Dawson would sell you Rhode Island Red eggs at 45 cents for 15, or $2.75 for a hundred.
In the Personals column we learned that Jimmie Harned was brought home from Western Normal school was scarlet fever. We also found out that the Rickett brothers had sold their place on Wilson Creek. It had 400 acres of good land.
E. E. McCormick, clerk of the Bullitt Fiscal Court, advertised for bids on a new concrete bridge to be built on Knob Creek across Sugar Tree Run.
The Hebron school was closing with a program that included a mock debate on the topic, "Resolved that the Suez Canal has been of more value to the World than the Panama Canal." Speaking for the affirmative were Bruce Miller, Hal P. Hedges, and Harold Gentry. Taking the negative were Neal Williams, John Wigginton, and C. F. Robards.
The school's 8th graders, including Jack Frick, Geraldine Shepherd, Irvin Robards, Harold Gentry, Florence Ball, and Mary Anna Lockwood, would be attending the Shepherdsville Graded School.
Nellie Mae Dawson, teacher at the Pitts Point school, reported that five of her students had perfect attendance for the school year. They included Margaret Stovall, Ervin Corum, Naoma Dawson, C. F. Phelps, and Robert Philips.
And in the scholastic activities column we learned that 100 copies of the Salt River Tiger, neatly bound in book form, were then available in the Shepherdsville library being kept by the librarian, Malcolm Harmon. This had been a gift by Wallace A. McKay who was reared in Bullitt County. I sure would like to see a copy. Anyone know where one might still be?
April 1931
Joseph A. and Elmira (Martin) Barrall celebrated their 66th wedding anniversary following a trip to Texas where they spent six weeks with their granddaughter Elmira Thompson.
Bullitt Circuit Court opened its April term by appointing the following to its grand jury: R. L. Bridwell, Alvin Hurst, Virgil Hibbs, Bage Shelburn, W. R. Cornell, Alex Meyers, Leo Harris, Arthur Owen, Noble Porter, Fred Rusch, N. H. Miller.
Assigned to the pool of petit jurors were E. H. Mothershead, R. K. Swearingen, A. F. Armstrong, George Gentry, Claud Owen, J. V. Bell, Jess Brumley, Andrew Mann, G. T. Cox, N. H. Braithwait, G. H. Kulmer, Harvey Hubbard, J. R. Ball, Kenneth Bailey, S. F. Smith, Ack Harned, Elbert Bass, Tom Elzy, C. L. Stansbury, J. N. Owen, J. R. Cornell, H. Crenshaw, Hoke E. Harris, and Palmer Hedges.
Samuel A. Hornbeck, a former member of the Confederate Orphan Brigade, died at the age of 87. He was a successful carpenter during much of his life. He married Lydia Fullenwider following the war. She died on Christmas Day in 1919, and Samuel was living with his daughter Letitia Wilson's family at his death.
Another couple set out to Indiana to get married. Follie Stansbury, son of Gus Stansbury of Bardstown Junction, and Josephine Lee, niece of Mrs. Robinson Lee made their way to Jeffersonville and returned happily married.
A lot of visiting was going on in the Bardstown Junction community. Evelyn Masden entertained Richard Shaw, Millard Cundiff, and Monroe Hunt. Mr. and Mrs. H. H. Norris entertained Mr. and Mrs. Robert Rennison, Mr. and Mrs. John Hoagland, Howard Myers, Esther Mann, Garland Myers, and Claudie Hatfield. And Mr. and Mrs. Hardy Cruise and family had been spending much of their time with parents and grandparents during the illness and death of John Boots of Belmont.
Perfect attendance in school was often rewarded. At the Brooks school, they celebrated this for Helen and Flora Mae Kneisler, Geneva Grace, C. L. and Juanita Norris, Stella Mae and Loretta Underwood, Stanley, Lindsay and Lucile Caulk, Lester and Jasper Hogan, and Walter Meyers.
More entertaining was going on in the Wilson Creek community where Mr. and Mrs. Robert Mattingly hosted Mr. and Mrs. J. F. Combs, Mr. and Mrs. J. W. Hardaway, Mr. and Mrs. Conrad Maraman, Mrs. Bowman, Mr. and Mrs. Joe Burchell, Mr. and Mrs. T. W. Masden and daughter Corine, John Ricketts, Melvin Ricketts and John Rice on Easter Sunday.
In the Personals column we read that Mrs. Ben Crenshaw fell in front of the post office and broke her arm. Also Henry Trunnell bought out John Boes in merchandise business on Main Street in Shepherdsville.
And Tommy Carroll placed a notice in the paper, "If the boy who was seen taking my bicycle through Court House alley will bring back same, nothing will be done about it."
May 1931
The Shepherdsville High Senior Play was performed at the school by these students: Helen Bowman, Julius Cundiff, Frances Cruise, Martha J. Haefer, Helen Conniff, J. D. Buckman Jr., Lucile Triplett, Cecil Cash, Robert G. Hardy, Wallace Harned, Carolyn Shepherd, Doris Purcell, Forrest Shepherd, Lillian Hatfield, Beulah Philpot, and Chester Bradbury.
The following local students who were attending the Western Kentucky Teacher's College signed a letter to the local school board from the college inviting the superintendent and board members to visit that school: A. J. Beeler Jr., Ruth Weller, Catherine Triplett, Martha Weller, Nellie M. Triplett, Mary Triplett, Pauline Daugherty, Clifton Hall, Anna Laura Jenkins, Ida Lee Ball, Gertrude Collard, Ruth Crenshaw, Stella Simmons, H. Russell Jenkins, Logan A. Murray, Jack Gardner, and W. J. Crumbacker.
In news from the Wilson Creek area, we learned that John Dragoo and J. F. Ricketts shipped some hogs to Louisville; and that the Ricketts family entertained Rev. T. L. Mattingly after he filled his regular appointment at Mt. Carmel.
In the Needmore Road area, Mrs. Hubert Cox was ill, and received the following well-wishers: Mrs. R. F. Owen, Mrs. Leonard Owen, Mrs. Ronald Jones, Mrs. Theo Nelson, Mrs. Jess Ridgway, Mrs. Clay Whitledge and Mrs. H. C. Tyler.
On May 1st, the editor reported that "unannounced and almost unknown, the famous old classic known as the Bardstown train was pulled off last week and is no more." He went on to name Captain Sweeney, Nat Crouch, George Cheacheir, Bob McGill and his son, Ike Wright, and Captain Thomas C. Coleman as being among those who, over the years, had been a part of that train's operations.
In another part of the paper, he wrote, "Last Tuesday we visited our old friend, Mrs. Elizabeth Crigler, who is about 87 years of age." He named her living children: Joe Crigler, Mrs. Lydia Munford, Mrs. Louise Triplett, and J. L. "Proc" Crigler; and told that she went to school "just across the road from Bob Simmons', and Miss Pattie Pope and her brother Benjamin F. Pope were schoolmates; the last living members of that school.
Elizabeth was born 24 May 1844 to David and Sarah (Buckman) Henderson. She married John Lewis Crigler in 1860, and they reared a large family in Bullitt County. Elizabeth would see one more Christmas before dying on December 29th.
In the Clermont news column we read, "Our managing Forester, Mr. T. W. McKinley and foreman, Leyton Hodge motored to Louisville April 14 to see the opening game between the Louisville Colonels and Minneapolis."
In more railroad news, we read "We regret very much to hear of the L. & N. Railroad terminal being removed from Lebanon Jct. This is our largest town and has reported a population of from 1200 to 2000 which has grown to its present size as a result of railroad activities."
G. C. Logsdon was advertising his farm for sale; 50 to 60 acres, mostly cleared, good pasture and running water; good log house and good stock and tobacco barn; located next to both church and school on Cedar Grove Road.
The Lebanon Junction High School graduating class included Frances Mae Charleston, Virginia Rainey, Mildred Ludwick, Lula Harp, Madeline Hagan, Wilma Steele, William Sweat, Paul Sweat, Elmer Masden, J. T. Pipes Jr., Edward Thompson, John Johnson, Raymond Fallis, and Joseph Rexroat.
At Mt. Washington, 16 graduated including Cecil Bridwell, Dale Carrithers, Iverna and Susan Crenshaw, Fronie and Roy Crenshaw, Ina Fern Gentry, William Hall, Bessie Marie Harris, Doreatha Harris, Amelia Hayden, Corine Owen, Margaret Owen, Sallie Parrish, Dorothy Pound and Charles Swearingen.
And Mt. Washington was happy to welcome the "new and up to the minute" Standard Oil garage and filling station on Main Street next door to the Masonic hall. It would be operated by Patrick Pope, and Leo C. Harris will serve as mechanical manager. Pearl King and Nolan Mothershead did the brick work on the new building.
June 1931
Mr. and Mrs. Edward S. Rhea announced the approaching marriage of their daughter, Alice Cordelia Rhea to Mr. J. Vernon McAfee to be held at the Hebron Church on June 17. Miss Rhea taught English at the Mt. Washington school. Mr. McAfee was a prominent young farmer and undertaker in that town.
At the wedding, the Mrs. Inez Kirk Brooks provided the vocal arrangements, Miss Elizabeth Whitman played the organ, and James Harned played the violin.
There were 190 newspapers being published in Kentucky in 1931; 146 of them were published weekly, 14 semi-weekly, and 30 daily, with 13 of those having Sunday editions.
Miss Ida Mae Brown of Louisville spent several days at home with her mother at Belmont due to having a dislocated shoulder.
R. L. Horning of Shepherdsville advertised "painting and decorating of all kinds done in first class order." He also made window screens.
In Needmore Road news, Mrs. Ronald Jones, Adrain Jones, Elsie Pattric and Harley Proctor and family spent a Sunday with Mr. and Mrs. J. B. Proctor. That correspondent also noted that Mrs. James Ridgway, Mrs. George Armstrong, Mrs. Carey Smith, and Mrs. John Stallings were all on the sick list.
The paper published a list of teachers who would be teaching in the county schools. They included E. N. Pusey and Thelma Moore at Nichols; Robert G. Hardy at Mt. Olive; Mabel Snellen at Sunny Side; Gertrude Collard and Cathrine Triplett at Glen Meadows; Ruth Weller at Bullitt Lick; Georgie Alford at Mt. Elmira; Sylvia Barrall at Sharps; Clifton Hall at Pleasant Grove; Delbert Wagoner and Consuelo Simmons at Hebron; Marie Lutes at Brooks; Louise Cochran at Zoneton; Elizabeth Wigginton and Amelia Hoagland at Bethel; W. H. McFarland, Louella McFarland, Edna Stewart, Cecil Froman, Virginia Gardner, and Lurline Miller at Mt. Washington; Anna Garr at Sugar Valley; Jack Gardner at Edgewood; Ruth Crenshaw at Glades; Loraine Wheatley at Pleasant Hill; Geneva Mann at Cedar Grove; Thelma Philpot at Victory; Ida Mae Shaw at Woodsdale; Julia Ash and Roy Parker at Clermont; Ruth Stansbury at Beech Grove; Ida Mae Wise at Hays; Logan Murray at Zion; Clyde E. Roby at Cane Run; Roy Masden at Harned; Neil Triplett at Mt. Carmel; Estelle Bradbury at Culver; Mildred Hall and Linda Harned at Oak Grove; Mary B. Hill at Bardstown Junction; Corene Beeler and John Cruise at Belmont; and Henry Owens at Bowman Valley. This list didn't include those teaching at Shepherdsville and Lebanon Junction.
However, a later list of Lebanon Junction teachers included C. W. Campbell, Flora Cherry, William Lytle, Loraine Willis, Ida Roby, Herman Johnson, Lillie Lee Miller, Eddie Campbell, and Miskel Davis.
Two former Bullitt County teachers graduated from the Western Teacher's College in Bowling Green. They were J. H. "Jack" Sanders who led the Shepherdsville school for a number of years, and Samuel E. Hancock who, at 74, was the oldest teacher ever to graduate from Western. Professor Hancock was the principal at the Medora school when he died in 1936, having been a teacher or principal for 59 years.
And the trustees of the Isaac W. Bernheim Foundation met at the site near Clermont on June 15th. Present were Mr. Bernheim himself, R. W. Pond, Charles Hueline, Sidney Jenkins, James W. Brume, Arthur Lumis, Lewis Cole, and T. W. McKinley. The newspaper editor commented that "this is one of the largest estates in the country and is worth quite a lot for this county." Now, 90 years later, we can still agree with him, and be grateful for Mr. Bernheim's legacy.
July 1931
1931 - 90 Years Ago.
In scholastic news, teachers Janice Harned, Lydia Wilson, and Elizabeth Harned, all college graduates, were taking special graduate work that summer at the University of Kentucky. And Rossellee McKinney, Zora Raymand, Catherine McKinney, Willie Quick, Mary Dawson, Verna Funk and several others were attending summer school at Nazareth.
P. H. Croan, Sheriff of Bullitt County, reminded local dog owners of their obligation to get tags for their dogs, citing the strict law that would require him to turn over the names of those who failed to do so to the grand jury for indictment.
Robert Mattingly of Wilson Creek was in town where he reported that several head including his mule had died from the heat.
In the Personals column we read that Dr. Horine, the heart specialist, was called in consultation with Dr. Ridgway to see Phil B. Thompson at Huber's Station, who was "very low." The next issue of the paper indicated that Mr. Thompson had died. In 1885 he had been elected County Attorney of Bullitt County.
The folks at Victory Church were glad that the lightning bolt chose the tree in front of the church rather than the church itself.
Mrs. Harve Milam of Shepherdsville had a practically new Singer sewing machine for sale.
In the Brooks column, we read about the marriage of Garland Myers to Claudie Hatfield. We also learned there that C. K. Kneisler and wife, Hazel Kneisler and Nell Triplett and Wallace Kneisler were guests of Mr. and Mrs. Elbert Lutes and family.
Pat B. Cruise, Bullitt County Tax Commissioner, announced that his office was now open for assessments.
Mr. and Mrs. Gabe Summers were spending their vacation with Mr. and Mrs. John B. Summers at the Gap.
The old Steve Sanders house near Brooks burned. The paper reported that it was one of the oldest houses in the county.
In the Lebanon Junction column we learn that Dr. T. P. Sloan was back in town, and that Dr. Napper was glad to see him because Napper had been having to pull teeth while he was gone.
Mr. and Mrs. Guy Bergen of Atlanta had arrived to spend time with their parents, Mr. and Mrs. Dee Bergen, and Mr. and Mrs. Ben Crenshaw.
Hays Electric Shoe Shop, located in the Pioneer News Building, had a special on. They would do ladies' half soles and heel taps for just a dollar.
At the death of Samuel Briscoe "Wax" Simmons, a friend wrote a tribute to him in the paper, concluding with "at the time of his death, he owned the Judge Phelps farm, and the 'Haunted House' farm, and Paroquet Springs, much of it very fertile and all of it beautiful, binding on Salt River for more than two miles, and two more miles on Floyd's Fork."
Members of the July Grand Jury for Circuit Court included John H. Dragon, W. S. Patterson, Alvin Owen, Joe Samuels, Hal Hall, James H. Gallon, Herman Owens, Charles Masden, L. L. Parrish, B. S. Tyler, R. N. Owens, and E. Z Wigginton, the foreman.
And Rev. and Mrs. R. B. Cundiff and son, Millard of Bardstown Junction entertained on a fishing party the following guests: Mr. and Mrs. Biven Crady; Mr. and Mrs. Marshall Duncan, two children, Paul and Lavern; Mr. James Gorin, wife and little daughter, Irene; Mrs. Ray Miller and three daughters, Chris, Emma, Jennie Eva and Ada Net, all the above from Rolling Fork. Also Mr. and Mrs. Ralph Cundiff, two daughters, Doris and Billie of Beech Grove, and Miss Ollie Mae Dawson of Shepherdsville. The twins Jennie and Eva Miller had the most successful catch, adding 14 to the string.
August 1931
Miss Wanda Adams, bookkeeper for the Maraman store in Shepherdsville, helped the editor put together a list of all the books in the 1930 adoption for schools, including their prices.
Prof. J. H. "Jack" Sanders was in town as the guest of Judge Bradbury, C. L. Troutwine, Ralph Henderson, and others. This former Shepherdsville principal was then at Greensburg, and had as one of his teachers there Miss Elizabeth Pitman.
The Wilson Creek correspondent reported that school had opened at Mt. Carmel with Nellie Mae Triplett as the teacher. Some 21 pupils were present. She also reported that Miss Onie Burchell, sister of J. R. Burchell, had died. Services were held at the Mt. Carmel Church with Rev. M. H. Masden presiding.
Quite a bit of visiting went on in the Needmore Road community. Mrs. Willie Grant and daughters Amilee and Willie Mae visited Mr. and Mrs. Will Jones. Miss Corine Ridgway spent a day with her sister, Mrs. Delmer Foster. Louis Whitledge spent an evening with his brother Clay Whitledge. And Conrad Stallings was spending a few days with Mr. and Mrs. Louis Stallings.
Everett Myers and Mae Waters of the Cane Run community were married.
Mary Blanche Hill, teacher at the Bardstown Junction school, invited the community to an ice cream supper at the school.
George Wolfolk was picking blackberries when a briar caught in his hat, and then let loose when he turned and struck him in the eye. Dr. Ridgway was able to remove the briar, but the eye abscessed, and it was feared he would lose the eye.
In a baseball game between the Beech Grove and Bullitt Lick teams, Claud Cundiff pitched his Beech Grove team to victory, only allowing two hits.
Norman Bridwell finished the large tobacco barn he was building for Miss Mattie Thomas at Solitude.
The paper announced a picnic and dance would be held in Claud Hill's woods for the benefit of the Pitts Point school. Nell Dawson was the school's teacher, and Col. Stanley Dawson was its trustee.
Mr. and Mrs. Roy Maraman and daughters Bettie and Billie Roy were in St. Louis for a week.
Sheriff P. H. Croan pleaded with dog owners to get their tags, announcing that the law required him to turn over to the next grand jury a list of the dogs not tagged.
Pauline Daugherty and A. J. Beeler Jr. accepted teaching positions at Culver Springs and Clermont respectively. The editor wrote, "Both these young folks are fine students and we believe will make good teachers."
Fred E. Conn, principal of the Shepherdsville school, announced that Betsy Ray Harned would be teaching home economics, and J. W. Nance would be the agriculture teacher.
H. H. Watson, pastor of the Hebron Presbyterian Church, announced that Dr. Andrew Rule, a member of the seminary faculty, would preach at evening services at the church.
The Victory correspondent reported that their school teacher, Miss Thelma Philpot was boarding with Mrs. Ellen Roby. She also reported that someone had been visiting the local watermelon patches, cutting green ones, and leaving them in the patch.
Mrs. Johnnie Summers Ashworth, a recent graduate of Marshall College in West Virginia, was home to spent a few weeks with her parents, Col. and Mrs. John B. Summers.
And I found this "depression era" story to be of interest. It seems that George W. Maraman & Sons were opening a new department in the room formerly known as the Kosie Korner Inn. Unlike the main store, this would be a cash-only business with no delivery. Customers were encouraged to wait on themselves in order to keep prices as low as possible.
September 1931
Dick Clark, trustee for the Belmont school used the proceeds from an ice cream supper to "tone up" the school building. Correne Beeler and John Cruise were the teachers there.
One of the events of the annual county school fair was the selection of the "ugliest school trustee." In the running were Roy Maraman, Arthur Ice, Claud Hill, Charles Lowe, Granville Welch, Burks Williams, German Branham, James Laveley, Dick Clark, Fisher Harned, Ira Newman, Walter Coakley, Charles Starks and other "notables."
D. E. Wagoner, principal of the Hebron school, and Consuelo Simmons, his assistant, wrote a piece in the paper about the school's planned opening. Pupils were encouraged to bring their last year's books to school on the first day. It read, "The ones you cannot use will be sold if you so desire. Fifty to sixty percent of the original cost is a fair price for second hand books. Books that are not sold will be returned to their owner or turned over to Superintendent Ora L. Roby for distribution among the poor children of Bullitt County."
Schools did not all open at the same time. The Bardstown Junction school had opened on August 8th, and reported that the following students had been present and on time every day of the first month of school: Dorothy Ricketts, Etta Pearl Stansbury, Junior Perkins, Conie Pugh, Altha Perkins, Samuel Hatfield, Walter Ricketts, Elenora Hatfield, Burford Rice, Leslie Shaw, Billy Moser, Dorothy Cruise, J. W. Hatfield, Evelyn Masden and Richard Shaw.
Their teacher, Mary Blanche Hill, listed members of the school honor roll which included Richard Shaw (8), Evelyn Masden and Jimmy Cruise (7), Billy Moser (6), Leslie Shaw and Buford Rice (5), Walter Ricketts (4), Altha Perkins and Alma Larkins (3), Junior Perkins (2), and Alberta Hoagland, Dorothy Ricketts, Etta Pearl Stansbury and Dorothy Larkins (1).
Thelma Philpot, the teacher at the Victory school also identified the school honor roll: Thelma Close (8), Emma V. Harris and Francis Simpson (6), Pari Lee Roby (5), Mary D. Roby and Anna B. Harris (3), J. B. Close, William McCubbins, Loretto Simpson, and Cecil McCubbins (2), and Johnnie Harris, Willie Mae Hilton, Leroy Sharp, Sammie Roby, Henry McCubbins and Agnes Light (1).
The Cedar Grove correspondent offered sympathy to W. C. Lanham's misfortune in sticking a pitch fork in his foot. She also wrote of several members of the Bolton family. Lucile Pulliam spent a week with her mother, Mrs. J. H. Bolton. Bertha Mae Bolton was visiting in Louisville. Mrs. Mary Bolton was among those visiting Mr. and Mrs. Rudell Troll. And Mrs. Jennie Bolton was also visiting in Louisville.
J. R. Zimmerman, local attorney, began his series of articles under the title of "Prepared by the Devil's Devil." In it, he remembered what things were like when he arrived 40 years earlier to supervise the construction of the old stone jail. He began by saying, "The small court house was down in the middle of the public square. Troutman's frame store was the most imposing looking building in town, while the building in which 'Deacon' J. F. Collings sells his wares was the newest."
The title comes from the nickname "printer's devil" given to an apprentice in a newspaper's print room whose tasks ranged from preparing the ink, paper and type for the presses, to cleaning the machines, and running any other errands delegated by the printer.
He would continue this column for quite a spell, and Betty Darnell has collected these columns into a booklet with the same title which can be purchased from her or from the Bullitt County History Museum.
October 1931
J. Tom Foster, 85 years old, a retired real estate dealer, and for many years prominent in Bullitt County politics, died at the home of his daughter Mrs. James H. Wallace. He was buried in the Hebron Cemetery. One writer said, "In his early life, he was a powerful man. Tall, large of bone and active, he was regarded as one of the county's most powerful men."
J. H. Boes advertised that he was opening his store in the Ezra Johnson building in Salt River, and invited all his former customers to visit him there.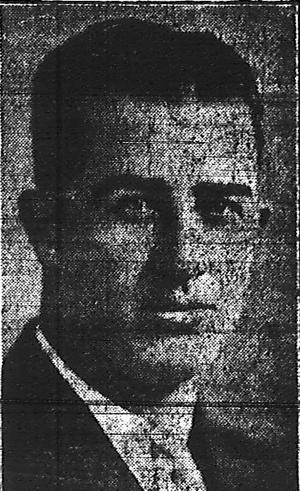 Happy Chandler
We read that Conrad Maraman and family had returned from a trip to Florida, and that he had been the county treasurer for a number of years, a job that paid no salary. The writer stated that "no man could handle this responsible position better."
A. B. "Happy" Chandler, candidate for Lieutenant Governor, addressed the voters of Bullitt County at the court house in Shepherdsville.
Zollie, Brad, and Gussie at Bradbury & Swearingen Company in Shepherdsville would sell you a full pint of milk magnesia for 39 cents.
The Beech Grove correspondent wrote that Mr. and Mrs. Headie Lee and son was guests of Mr. and Mrs. P. T. Momford; that Mrs. Amanda Crigler and son, and Mr. and Mrs. Walter Cundiff and daughter were guests of Mr. and Mrs. A. L. Cundiff.
In the personals column we read that Mr. and Mrs. C. A. Masden entertained Rev. Burkhalter, Herman S. Ray of Louisville, Mr. and Mrs. S. B. Stephens, Mr. and Mrs. O. H. Masden, Mr. and Mrs. C. W. Stansbury, Msses Lois and Virginia Bergen, Ophelia and Orbra Lee Masden and Miss Nellie Dawson.
The following students were selected to represent Bullitt County in the State Rural Tournament in Lexington: James B. Williams (8th grade, Hebron) and Paul Snellen (8th, Belmont) in reading; Martha Howlett (6th, Glen Meadows) and Eva Mae Lee (8th, Oak Grove) in spelling; Helen Armstrong (6th, Glen Meadows) and Richard Shaw (8th, Bardstown Jct.) in English; Mary Goldsmith (6th, Mt. Olive) and Thelma Close (8th, Victory) in arithmetic; Loyd Tinnell (8th, Whitfield) in civics; John D. Harned Jr. (Hays) in history; and Stanley Evans (Clermont) in geography.
According to the Lebanon Junction correspondent, John Argenbright and Floyd Bryant were in an accident in Mt. Vernon in which John suffered a broken leg, and Floyd suffered cuts and other minor injuries.
The Bullitt County fairgrounds were sold to J. L. Everbach who then lived at Clermont.
Pastor L. L. Burkhalter of the Shepherdsville Baptist Church was granted leave by the church to lead a twelve day meeting in New Liberty. Preaching in his place would be the assistant pastor, Rev. H. S. Ray.
The Hebron school under the leadership of Prof. Wagoner, assisted by Miss Consuelo Simmons, gave their school an entertainment. A large crowd was present and a nice sum was made for the school. Burke Williams was the school's trustee.
The following list of local students were attending college classes at Bowling Green: Virginia Raney, Beulah Philpot, Martha Weller, J. W. Bradbury, Madaline Hagan, Dale Carrithers, Wallace Harned, Ida Lee Ball, and Mae Mathis.
And Mr. and Mrs. W. N. Griffin, proprietors of The Quality Inn Restaurant on Main Street opposite the courthouse, advertised that everyone was welcome to listen in on the World Series there, as they had plenty of room.
November 1931
In Lebanon Junction news, Mrs. John L. Thompson took the Baptist Church R.A. boys on a trip to the Kentucky Baptist Orphan's Home, and while there the youngest son of Mr. and Mrs. J. B. Roller fell out of a swing and broke his arm.
Out Needmore Road way, a horse kicked Harley Proctor on the leg, giving him a lot of trouble. His wife and daughter, Ella spent a day with her father, Charles Stallings.
Zollie, Brad, and Gussie down at the Bradbury & Swearingen store were advertising rubbing alcohol at only 39 cents a pint.
In the Victory community, Mr. and Mrs. John Lane's family joined Mrs. Katie Bolton and children in a visit with Mr. and Mrs. H. T. Grant. and Thelma Close made the eighth grade honor roll at the Victory school.
Down around Wilson Creek, R. N. Masden and Rev. M. H. Masden were having some sorghum made. Also a large crowd attended the funeral of McKinley Ricketts at the Mt. Carmel church.
William McKinley Ricketts was 34 when tuberculosis took his life. He died at his Bardstown Junction home, leaving a widow, Lula, a daughter Dorothy Lee, a son, Walter, two brothers Melvin and James, three sisters Mrs. Elmore Hatfield, Mrs. Joe Hogland, and Mrs. Leslie Midigan, and a host of friends to mourn his passing.
Gladys Edington and Billie Cundiff made the fourth grade honor roll at the Beech Grove school.
In the Personal column we learned that Tom Cochran, who had been laid up with a broken collar bone was able to get out and about. We also read that Irene Carroll and Kate Greenwell attended the funeral of Mrs. Bazel Horine, and then were guests of Fred Hatzell and family. Also, Pete Philpot and family moved on Lee Street in the house recently vacated by Sheriff Croan.
In Cedar Grove news, Howell Young was painting the Cedar Grove Church; and Mae Bolton visited with her sister, Howell's wife.
Mildred Hall and Linda Harned, teachers at the Oak Grove school, listed the following members of the school honor roll: 1st grade - Lillie Cheatham, Margaret Horning; 2nd - Evalena Bergen, Obie Horning, Radford Patterson; 3rd - Russell Chertoam and Nadine Richardson; 4th - Vernon Patterson; 5th - Agatha Dever; 6th - Edward Maraman, Austine Richardson, Lillian Dever; 7th - Lucille Bennington and Lana Lee Raymer; 8th - Eva Mae Lee, Virginia Bergen, Loyce Bergen, Ophelia Harris, Stanley Lynch, Dexter Hatfield, and Emment Harned.
And Pauline Daugherty, teacher at Culver Springs, listed her honor roll students too. Rita Osterholt, Ethel Mae Lee, Valear McCubbins, James Lee, and Marjie Etherton were her first grade honorees. Dorothy Etherton represented the third grade, while Marian Osterholt, Ruth Roby, and Mary Ruth Thompson were the fourth graders on the list. Completing the list were 6th grader Doris Beard and 7th grader Jessie Katherine Thompson.
Myrtle Ruth Stansbury and Ralph Cundiff, teacher and trustee of the Beech Grove school were having their school painted.
At Lebanon Junction, Mr. Dobson, better known by the school children as "Uncle Otis," was called to Pennsylvania due to the illness of his daughter. The children were anxious to have their school janitor back.
In Mt. Washington, Rev. Chriswell of the Louisville Seminary was called as pastor of the Baptist Church.
In the Hebron column we read of a "Red Letter Day" at the Beech Grove school with some 500 friends assembled to enjoy the program. As part of the program, Dr. Holsclaw, who first attended the school in 1857, was called on to speak and voiced his disapproval of the new name "Zoneton School."
And the Hebron correspondent also wrote, "Among the workers at the polls here none were more active than Miss Ruth Thornberry who used her sedan all day in taking people to vote and returning them home."
December 1931
Ruby Mann, a 1929 graduate of the Shepherdsville school, married Paul Simpson, and they were to make their home in the Leaches District. Rev. Richard Cundiff performed the ceremony.
Judge Porter met with the State Highway Commission and got them to take over the maintenance of the new stretch of road from town to Bullitt Lick. The two mile stretch had been graded, built and drained using cheap help and prison labor supervised by Herbert W. Lee. It was hoped that the State would be induced to extend the road on through the knobs to West Point.
Out Needmore Road way Mr. and Mrs. Delmer Foster, Corrine Ridgway and Joe Fultz had a candy making at Mr. and Mrs. Harley Proctor's place. And Miss Mable Whitledge was a Sunday guest with Corrine.
The Bernheim Foundation made an expedition to Harlan and brought back a truck load of Rhododendron, laurel, holly, azalea, arbutus, galax, hemlock and magnolia to be transplanted at Bernheim where they were to be protected and allowed to establish themselves. This was an early part of the efforts that have created the fine forest we enjoy today.
Ida Mae Wise, teacher at the Hays School, listed the following honor roll students: Veronica Bohannon (8), Mary Grace Huffman and Margaret Bohannon (6), Corine Huffman, Helen Brashear and James Montgomery (3), and Louise Goff, Juanita Goff, Kathleen Brashear, and John Bohannon, Jr. (1).
Mary Blanche Hill, teacher at Bardstown Junction, also listed her fine group of scholars, including Richard Shaw (8), Evelyn Masden (7), Billy Moser and Elizabeth Showalter (6), Lillian Stovall and Walter Ricketts (4), Altha Perkins and Alma Larkin (3), Dorothy Ricketts, Etta Stansbury and Earl Showalter (2), and Dorothy Larkin (1).
And Pauline Daugherty, the teacher at Culver Springs, reported that Margie Etherton, Mary Ruth Thompson, Doris Beard, Jesse Thompson, Sammie McCubbins and Clifford Lee won prizes for washing their teeth every day for two months.
The school honor roll included Rita Osterholt, Ethel Mae Lee, James Lee, Bernard Moss and Margie Etherton (1), Dorothy Etherton (3). Ruth Roby, Marion Osterholt, and Mary Ruth Thompson (4), Doris Beard (6), Jesse Thompson (7), and W. T. Hill (8).
Samuel Ridgway came from Memphis on an airship to visit his parents Dr. and Mrs. S. H. Ridgway. He said he recognized Shepherdsville from the air by its two bridges and school house, and it took the airship eight minutes to travel from Shepherdsville to Bowman Field in Louisville where it landed.
At Lebanon Junction, a three-act play titled "The Red Headed Step-Child" was sponsored by the school's P.T.A. and coached by Hunter A. Pipes. Acting in the play were Agnes Montgomery as the step-child, and A. J. Beeler, Francis Charlton, Geneva Hamontree, Richard Calvert, Shirley Monroe, Mayetta Johnson, Glenny Berry, Ruth Logsdon, Creighton Hess, Nonearle Bryant, and Helen Pipes.
Maraman's Store advertised fresh pork ribs for 15 cents a pound, and big creamy chocolate drops for just 10 cents a pound.
Down along Wilson Creek, Bud Waters suffered painful bruises on his neck and shoulder when a large tree limb fell on him. Also, Mr. and Mrs. W. A. Harned, Sr. and family moved to their new home on the Boston pike.
Henderson & Hardy in Shepherdsville announced that they had just completed their new store building. Among the specials advertised were a 32 piece dinner set for $3, and shotgun shells for 60 cents a box.
Miss Jennie Carpenter lost her shell rimmed, white gold nose-piece, double lens glasses, and was offering a reward for their return.
The Hebron Graded School girls' basketball team defeated the Okolona team with Dollie Glenn and Thelma Best leading the way. The boys' team narrowly lost 11-10, and were led by Bruce Miller, John Wigginton, and Hal Palmer.
And the paper printed some of the Letters to Santa. Bernie Bleemel wanted a rocking horse; Leroy Sharp wanted a wagon; Margaret Smith asked for a doll, and something for her little brother too; Paul Alvin Roby wanted a guitar; and Aldin Jones wanted an aviation cap, a writing desk, and a printing set.
---
Copyright 2021 by Charles Hartley, Shepherdsville KY. All rights are reserved. No part of the content of this page may be included in any format in any place without the written permission of the copyright holder.
---