It Happened in 1927
Over the years, Charles Hartley has shared glimpses of what was being printed in The Pioneer News in different months and years. This page includes what was taken from the January through December issues of 1927.
---
January 1927
In the School News column we learned that Miss Mabel Ricketts, daughter of school trustee S. H. Ricketts of the Harned district was married to Owen Wright of Lebanon Junction by Rev. Richard Cundiff.
Rev. Cundiff performed another wedding, this one between Miss Paralee Lloyd and Mr. Allard Armstrong. She was a daughter of Mr. and Mrs. J. W. Lloyd; he was the son of Mr. and Mrs. Albert Armstong.
Katheryn Nusz and Robert Rennison were married by Rev. L. L. Burkhalter at the parsonage. Miss Etta Nusz, sister of the bride, and Lindsay Jones were the attendants. Katheryn was described as "one of our most beautiful and popular young school teachers." Both Katheryn and Robert were from Bardstown Junction, she the daughter of N. H. Nusz, he the son of George Rennison.
Mrs. Pete Bleemel spent a day with her son Matt and his wife.
The Hebron correspondent reported that Herman Crenshaw moved his family to a farm near Solitude.
The Lebanon Junction correspondent wrote that Miss Angela Fallis, daughter of Mr. and Mrs. Scott Fallis, had married Newman Bowles, a popular engineer on the Knoxville division. She also reported that W. B. Samuels had moved to Louisville where he went into the garage business. George Sidebottom moved also, and went to work for Samuels.
The paper reported on the death of Judge John D. Carroll, one of Kentucky's best lawyers, who was a brother to Charles Carroll, and uncle to T. C. Carrroll, both local lawyers.
In the Personals column we learned that Henry Trunnell was assistant mail carrier between the post office and the depot; that Mrs. Edwards of Boston spent time with her daughters, Mrs. Croan and Mrs. Younger; and that Mrs. Ed Quick underwent an operation but was better.
Mrs. J. L. Beghtol of Brooks was offering for sale pure bred Mammoth Bronze Toms, one year old. She would take $10 or exchange for two nice bronze hens.
Salt River crawled out of its banks in late January to invade the Shepherdsville area. Water street was all under water. The homes of Frank Maraman, Mack Maraman, Dr. Shafer, J. W. Croan, Clarence Hall, Bob Troutman, Charles G. Bridwell, J. H. Younger, Pflanz Hatzell, Hettie Lee, F. G. Teomas, Miss Gill, Bert Shepherd, Harve Milam, Thomas Martin, Ealem Martin, E. L. Dever, Henry Trunnell, and the old Holsclaw house were surrounded by water, but in most cases the owners stayed at home as the water didn't get in the houses.
And in Shepherdsville, the 198 graduates and friends of Professor J. H. "Jack" Sanders presented him with a Ford Touring Car for his 1926 Christmas present.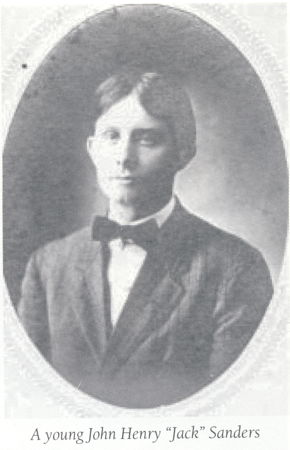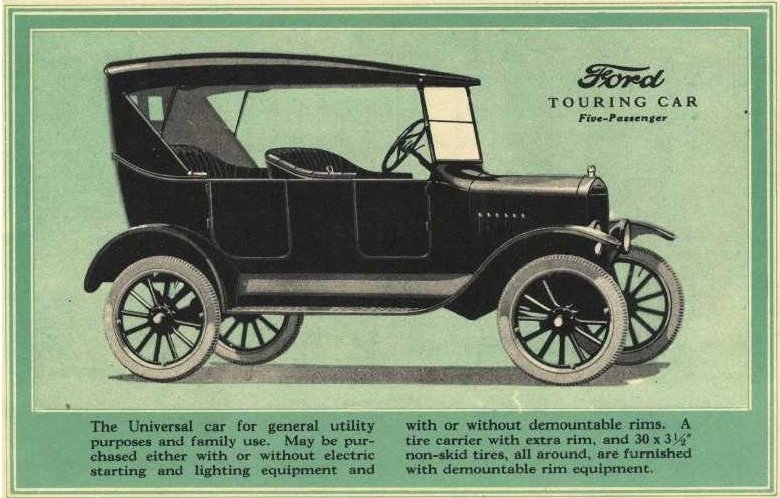 February 1927
Quite a group gathered to celebrate S. A. Hornbeck's 83rd birthday. Those present included Mr. and Mrs. G. T. Wilson, Miss Nannie Hornbeck, Mr. and Mrs. J. F. Collings and son, Sam, Mr. and Mrs. Roy Maraman and daughters, Bettie and Billie Roy, Mrs. Gabe Bealmear and children, Gabe Jr., and Elizabeth, Bill Griffin of Lexington, Mr. and Mrs. Hugo Rouse and daughter May Helen of Louisville, Mr. and Mrs. S. T. Hornbeck, Mr. and Mrs. G. T. Wilson, Miss Lydia Wilson, Tommy Wilson, and Billy Huffman.
The S.H.S. boys' basketball team defeated Elizabethtown 16-12 in a game cut short by ten minutes, as the E-town team had to catch the train home. Playing for S.H.S. were Paul Patterson and Bill Sanders as forwards, J. E. Chappell at center, and Lindsay Jones and Ray Shanklin as guards.
News from the Mt. Washington road told us that Evelyn Wade, Raymond Dexter, and Arson Moore, who were attending school at Shepherdsville, were home for the weekend with their parents. Also Mrs. Howard Hardin and little daughter Katherine of Cupio were guests of her mother, Mrs. Kate Hall.
At Bardstown Junction, Mr. and Mrs. Robert Rennison were showered with beautiful gifts of silverware, cut glass, and aluminum ware. Those present and participating in the event, which included many games, were Mr. and Mrs. W. H. Nusz, Mr. and Mrs. E. L. Stansbury, Mr. and Mrs. Walter Sanders, Mr. and Mrs. R. W. Childres, Mr. and Mrs. Russel Ash, Mr. and Mrs. G. I. Rennison, Mesdames Alice Mooney, Lucy Bergen, John Hoagland, Nannie Reiser, F. A. Pierce, A. E. Funk, B. L. Mooney, Messrs Thomas Hoagland, Richard Hoagland, Chester Cash, Arville Barum, A. E. Funk, Jr., James Ash, Misses Margaret Hoagland, Florence Hoagland, Lily Mooney, Christine Stansbury, Blanche Stansbury, Mildred Bergen, Sallie Carr, Sara Lee Velton, Amelia Hoagland, Loraine Funk, Losetta Funk, Inez Bergen, Ruby Bergen, Jean Mooney, and Etta Nusz.
Out at Pleasant Grove, Lyman Hall sent a bunch of hogs to market; Miss Alma Ridgway, daughter of Mr. and Mrs. J. O. Ridgway, was one of the prize winners in the spelling bee; Earl Bass was on the sick list, but was doing better; Albert Armstrong and Lyman Hall sent their tobacco to Camp Taylor; Master Hilary Bleemel spent a weekend with his grandparents, Mr. and Mrs. Pete Bleemel; and Mrs. Virgie Jones and son Adrain spent an afternoon with Mrs. Lewis Whitledge.
Attorneys J. R. Zimmerman, L. C. Yeast, and A. E. Funk had offices over the Peoples Bank in Shepherdsville.
C. P. Bradbury's house on Bullitt Lick Road burned to the ground. No one was home at the time.
It appears that Mr. Henry H. Hibbs was partial to the number 27. He was born on the 27th, married on the 27th, and then died on January 27th, leaving behind a wife, daughter, and three sons. Bro. Burkhalter conducted the funeral services.
Fiscal Court included the magistrates, Melvin Raymond, W. T. Carrothers, J. H. Bolton, and John Samuels. The county judge was E. Z. Wiggington.
And Mrs. Pearl Lee was advertising room and board for girls coming to Shepherdsville for the spring term of school.
March 1927
Charles Lee Bradbury, a local boy attending Georgetown College, was selected to be on the Kentucky All-Star basketball team.
The Baracca and Fidelis class of the Baptist Church Sunday School met at the home of their teacher, Mrs. Ada Ridgway for a business and social meeting. Present were Reba Dever, Gladys Ice, Ella Mae Dever, Ada Patterson, Hattie Mae Buckman, Ruth Patterson, Guy Bergen, Clarence Stansbury, Jerome Monroe, Lindsay Jones, Robert Jones, Paul Patterson, Bert Quick, and J. B. Burkhalter.
The Pleasant Grove correspondent reported that Rev. Cundiff was entertained by Mr. and Mrs. Albert Armstrong. He was called as pastor for another year. Also, Mrs. Clara Scott and children spent a Sunday with her sister Mrs. Edith Hall; Mrs. Virgie Jones and little son Adrain spent Friday with her mother, Mrs. J. B. Proctor.
Zollie, Polly, and Gus down at the Shepherdsville Drug Store advertised that they had a toaster, and would gladly fix you a sandwich.
Mrs. Sarah Jean McAfee, wife of E. T. McAfee, funeral director and embalmer in Mt. Washington, has graduated from embalming school herself, and will be an assistant to her husband.
In other Mt. Washington news, J. W. Worner purchased the Aunt Jane Hall property at Bethel Church from Mitch Moore. And E. T. Cox and family have moved to the Simmons farm near Shepherdsville.
Elmer Ray Masden and Lucile Stark, both of Lebanon Junction, were married at the home of the bride.
Everett Haynes advertised his saddle, harness, and shoe repairing shop which was opposite Shepherdsville Motor Company.
Mrs. Clarence Dawson advertised Rhode Island Red eggs, 15 for 50 cents.
C. E. Crenshaw advertised an auction of 60 lots in the Cedar Grove Cemetery.
Uncle Eph Quick, the genial and urbane proprietor of the Bullitt County jail, says his business is in fine shape.
The household furnishings belonging to the estate of Mrs. George W. Maraman, deceased, were sold at auction at the residence near Salt River Station.
The County School Board met to set the date for the Common School Diploma Examination. Its members included T. L. Mattingly, H. T. Williams, J. T. Harris, Lem Swearingen, and W. P. Daugherty.
The members of the S.H.S. boys' basketball team included J. E. Chappell, Jr., Paul Patterson, Ray Shanklin, Bill Sanders, Morace Burns, Horace Burns, Carroll Weller, and Chester Bradbury.
The girls' team includes Johnnie Summers, Lois Sanders, Bertha Feathers, Christine Stansbury, Anna Garr, Mary Evelyn Joyce, Loraine Wheatley, and Eugenia Masden.
The Hill Top reporter wrote that Burns Holsclaw and sons bought the Ed Rodgers farm near the Shades School. Also, Ashby, Foster's and Holsclaw were busy spraying their fruit trees.
The Woman's Club officers, Mrs. T. C. Carroll, Mrs. Jesse Hardaway, Mrs. Roy Maraman, and Mrs. J. E. Chappell, see that the local library is open every Wednesday and Saturday. The Catholic Church is supplying the room. The library had over 800 books!
Dr. J. H. Shafer died from a fall from a tree that he was trying to prune. Dr. Shafer, who had been Coroner of the county for many years, was well remembered for his efforts to minister to the poor at a very moderate charge.
And the correspondent from Mud Center reported that Mrs. Stella Foster was spending some time in the city having dental work done. Also, Howard Hardin shipped a load of hogs to the city; and Derwood Welch said, "If you want to find a good looking girl, come to Mud Center." (Anyone know where that was?)
April 1927
Miss Bertha Feathers of Brooks, a senior at S.H.S. and captain of the girls' basketball team, received a gold medal for being the team's most valuable player. The medal was presented by E. E. McCormick, Deputy County Clerk and official time keeper for the school.
The Mt. Washington school completed its term under the direction of teachers Miss Maud VanMeter, Miss Ernestine Hall, and Miss Mary Dell Barnes.
The School News column concluded with a list of spelling words to challenge its readers. Can you spell these words: necessary, concede, portage, banquet, antique, adhesion, cement, martial, mirror, mutual, intimate, recede, isthmus, persecute, prosecute, perspire, recipe, receipt, prairie, decision, document, suspense, verbal, elucidate, illegal, eligible, balance, lucrative, obelisk, informal, expel, carbuncle, sanguine, incredible, sarcasm, hoeing, lynch, dairy, diary, cathedral, facility, verdict, impetuous, ivory, superficial, culinary, partner, synthesis, apostrophe, permeate, intellectual, genealogy.
Missionary posters were created by young people in the Sunday School classes of Miss Inez Patterson, Mrs. J. E. Chappell, Mrs. T.C. Carroll, and Mrs. Lindsay Ridgway at the Baptist Church in Shepherdsville.
The Hebron correspondent reported that Miss Lelia Holsclaw was spending a few days with Alice Pope during the absence of Mrs. Pope who was at St. Mary and Elizabeth with her son, James Pope.
She also reported that Mrs. Roger Barger had 900 eggs set in incubators; and Mrs. Albert Eisenminger had a beautiful clover field.
In the Personal column we learned that Jim Harris of Leaches was in town trading horses; that B. L. Bowman and family had moved into the Mrs. Pearl Lee property on Third Street in Shepherdsville; that J. H. Boes had returned from a trip to Martinsville; and that both Professor Charles Hardesty and Dr. Kerr were in Shepherdsville visiting.
The Pleasant Grove correspondent shared that Mrs. Harley Proctor was an afternoon guest of Mrs. Lola Foster; that Rev. Cundiff was entertained in the home of Mr. and Mrs. Lewis Stallings; and that Clay Whitledge and wife spent a Sunday with Ed Bridwell and family.
We learned that Dick Williams and J. W. Pope shipped two loads of fancy cattle to Louisville. We also learned that Jesse Mann of Cedar Grove was badly injured when an emory wheel on which he was grinding broke and struck him in the head.
The paper reported on the death of James A. Ice, and identified those left to mourn his loss as his wife Mrs. Martha E. Ice, seven children, Mrs. J. W. Langley of Louisville, Mrs. Chester Roby of Lebanon Junction, Mrs. C. L. Troutwine of Shepherdsville, Leslie Ice of Lebanon Junction, Robert Ice of Bardsown, Jess Ice of Louisville, and Arthur Ice of Shepherdsville.
The Hilltop correspondent reported that George Shepherd celebrated his 98th birthday with a party attended by Charles Miller and family, Richard Basket and wife, Mrs. Herman Pearl, W. M. Shepherd and family, and Mrs. C. L. Samuels.
Mrs. Mattie Able at Barrallton, and J. E. Quick who delivered mail in Knob Creek were both praised in the paper for their dedicated service.
Elmer Laswell was plowing, with his two children riding on the tractor, when his little daughter fell off and broke her arm.
And Mrs. Aggie Viers of Belmont advertised that she would hatch your eggs in her incubators for eight cents a chick.
May 1927
The 1927 graduating class of Shepherdsville High School included Nellie Mae Triplett, Lydia Wilson, Kathryn Triplett, Beulah Barrall, Bertha Feather, Reba Dever, Christine Stansbury, Junia Ashe, Conseulo Simmons, Elva Richardson, Elnora Trunnell, Dorothy Swann, Wilma Hatzell, Johnnie Summers, Gladys Ice, Bill Sanders, J. E. Chappell, Jr., Ray Shanklin, Lindsay Jones, Carroll Weller, and George F. Henderson.
The Mt. Washington correspondent reported that the town should be proud of men like Henry Biven. Mr. Biven was having concrete walks made, and filled in a dangerous pothole in front of his house.
That correspondent also reported that Rev. S. J. Henninger was not only a fine preacher, but he could hang wallpaper as well!
The Hilltop correspondent reported that the phone lines were being kept busy reporting the news of the birth of James Robert Zimmerman Jr.
She also reported that T. J. Barrall, Claud and F. M. Barrall roofed a crib and shed for J. A. Barrall; that Ed Shepherd sold a cow and calf to Bob Steerman; that Prof. Charles Hardesty was coming home for a visit, and that they were sorry it would be so short.
The Bardstown Junction correspondent reported that Mildred Bergen, who was attending school at Nazareth, was home for the weekend with her parents, Mr. and Mrs. Ace Bergen. Also Mr. and Mrs. Dee Bergen and family of Salt River were visiting them as well.
She also reported that Mrs. Ora L. Roby and Mr. Hilary Hardy spent a Sunday with Mr. and Mrs. Bill Hardy.
And in Pleasant Grove news, Rev. Cundiff, wife and son, Millard were entertained in the home of Mr. and Mrs. Ed Bridwell; Master Millard Proctor spent a day with his grandmother, Mrs. J. B. Proctor; Mr. Weber was turning the soil with his tractor on the Hecker farm; and Elbert Bass was painting his house.
June 1927
David Crumbacker Jenkins and Charles Lee Bradbury, both graduates of the high school at Shepherdsville, graduated from Georgetown College.
Mrs. Fannie Porter of Mt. Washington suffered a compound fracture of her hip when she lost her footing on the slick ground in her yard.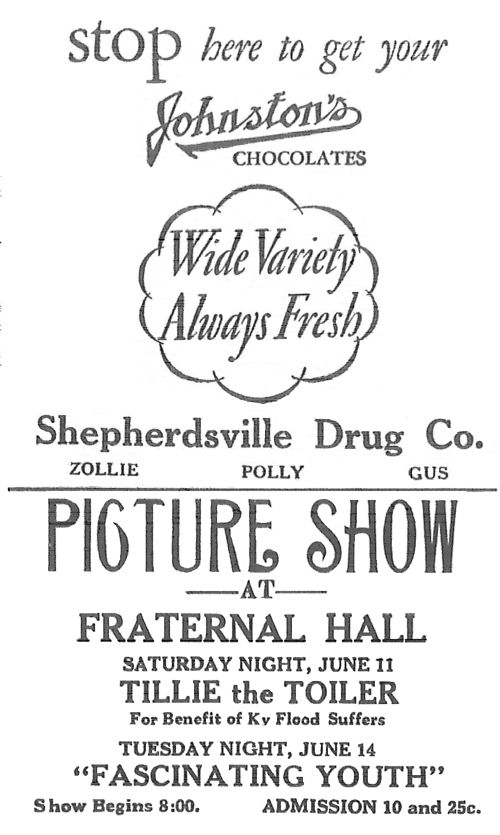 Get some sweets and take in a movie!
Mrs. Fannie Lloyd Hall, Mrs. Dorsey Hall, and Mrs. Albert Fisher spent a Thursday with Mrs. Russell Hall, and helped her paper her kitchen.
In news from the Hilltop community, Ben Smith sent a load of cherries to the city, Professor Charles Hardesty was in Shepherdsville on a Monday, and Mr. Paulley had a good spring wagon and harness for sale.
At Bardstown Junction, Mr. Richard Wathen Sr. was not improving very rapidly.
The Bullitt Lick correspondent wrote that "if anyone should happen to be down the Bullitt Lick road and run out of gas, just stop at Carrol McGlasson's."
In the Personals column we learned that C. R. Smith sold his home to Tom Melton; that Jack Howerton brought his family to visit Gabe Bealmear; that H. J. Crenshaw of Leaches was in town on business; and that Mrs. Ora Sanders of Brooks spent a Monday in Shepherdsville.
J. F. Collings and Sons, of Shepherdsville, advertised that they sold plows, mowers, and corn planters, as well as tractors and fertilizers.
In Pleasant Grove news we learned that Pete Bleemel and his grandson Hilary spent a few days in the City; that lightning killed two valuable milk cows belonging to Robert Grant; and that Mr. Grant's daughter Willie Mae was on the sick list.
Ed Rhea had sold his farm and was offering a lot of equipment cheap, all of it in good working condition.
Death was frequently on folks' minds.
Miss Susie May Parrish, age 21, died at her home in Mt. Washington after a year-long illness. She was the only daughter of Mr. and Mrs. Tom Parrish. She taught school there before her illness. She was survived by her parents, two brothers, Frank and Paxton Parrish, and her grandmother Mrs. Mary Harris. Active pall bearers were Wyhle Ellaby, Hugh Maddox, Dale King, Maurice McAfee, and Herbert McGee.
William Howard Kyle, 25-years-old, died at his home near Cupio after a short illness with yellow jaundice. His parents were Mr. and Mrs. Will Kyle. He was the grandson of William and Nancye Harris. His funeral was held at Bullitt Lick where he was buried.
J. S. Magruder, aged 72, died at his home near Solitude. He left two brothers, Arch and Ben Magruder, and two sisters, Mrs. Nettie Cassell, and Mrs. Letitia Starks.
Robert Troutman, who was about 83, had lived in Shepherdsville for many years. At his death he was buried in the old Troutman burying ground of the John Best farm where his parents and other relatives laid asleep. He was described as a fine painter who did much work in Shepherdsville and the surrounding area. He was survived by two sisters, Mrs. E. H. Mathis, and Miss Annie Troutman.
And, on a lighter note, Mrs. Tom Hall, who lived on the Mt. Washington road, was surprised when her little nephew Charles Ray Owen came running into the kitchen shouting, "Aunt Lizzie, you've got a whole lot of company." It seems that her sisters, Mrs. J. B. Martin and Mrs. Tena Owen, and numerous friends were surprising her with a birthday celebration. Happy Birthday, Aunt Lizzie!
July 1927
In the school news column we learned that Judge E. Z. Wigginton officiated at the marriage of Ethel May Anderson of Beech Grove to James Ernest of Louisville.
The Lebanon Junction school board was composed of J. W. Starks, J. L. Thompson, Charles Duvall, Fisher Harned, and Mrs. Leona Coleman.
Thelma Daugherty, daughter of Colonel and Mrs. C. C. Daugherty of Shepherdsville was married to Dr. Ament Beeler of Lebanon Junction. Thelma had been teaching in the Lebanon Junction school.
J. F. Combs and his wife, J. W. Hardaway, and H. H. Combs attended the State Bankers' Association meeting in Lexington.
Sam Ridgway left for Atlanta where he had been promoted as manager for the Western Union there.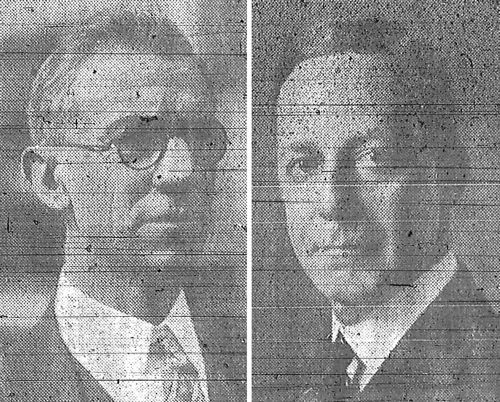 J. L. Stark and Charles W. Welch
David Crumbacker Jenkins and Charles Lee Bradbury graduated from Georgetown College with honors.
Charles W. Welch, pastor of the Fourth Avenue Presbyterian Church in Louisville, and J. L. Stark, Secretary of the L. & N. Veteran's Club, were both guest speakers at the Red Men's picnic at the Shepherdsville fairgrounds on July 4th.
Remember when stores closed on July 4th? The paper announced that Troutman Bros., Geo. W. Maraman & Sons, C. C. Daughterty, and J. H. Boes' stores would all be closed for the holiday.
The Pleasant Grove correspondent reported that both Albert Armstrong and Carey Smith lost valuable cows the previous week; that Edna Jaggers would be teaching at the Pleasant Grove school; and W. S. Gentry sent a bunch of hogs to market by the Proctor truck.
The "Facebook" of olden days was the Personal column which advertised that "all persons wishing notices of their relatives or friends to appear in this column will confer a favor by mailing or sending them to this office by Wednesday evening."
With that in mind, Miss Mary Dawson wanted everyone to know that she was "very proud to learn that all of her eighth grade pupils that took the examination passed and made high grades."
And Miss Beulah Barrall wished to announce that Miss Dorothy Swann, who was attending school at Bowling Green, had spent the weekend with her.
In Hilltop news, Howard Holsclaw took a load of peaches to the City; Lieutenant Charles Hardesty would spend a few weeks at Camp Knox; a big boy arrived at the home of Mr. and Mrs. Charles Coomes; and the revival meeting at Mt. Eden was postponed until August.
The Victory correspondent reported that Mrs. Ola Roby, who had her tonsils removed, was not getting along so well; that most of those in the neighborhood planned to attend the Red Men's Picnic at the fairgrounds; and the Mr. and Mrs. Lem Swearingen spent a Sunday with the Stoney Weller family.
In Bardstown Junction news, Mr. and Mrs. Bill Hardy entertained Mrs. Annie Minum, Mrs. Cora Miller, and Mrs. Ollie Bell Hill; Mrs. George Bradbury and children spent several days with Mrs Grace Mooney; Mildred Bergen, a student at Bowling Green, spent the weekend with her parents, Mr. and Mrs. Ace Bergen; and Mrs. Roussean Engle and daughter of Lebanon Junction spent a Saturday with Mrs. G. I. Rennerson.
Robert Mattingly lost about 120 shocks of wheat and an acre of beans in the heavy rain storm that hit the county on Saturday.
Up at Zoneton, lightning struck L. K. Hall's barn, burning it to the ground.
Robert Ice had returned to Shepherdsville and advertised that had three good trucks, and would do all kinds of hauling.
And the paper announced the death of Gurley Smith in late June. He was buried in the Smith burying ground in the Knobs, and was survived by a brother Bruce Smith, three sisters, Mrs. Ann Bean, Mrs. E. V. Shepherd, and Mrs. Nannie Snellen, and the following children: Mrs. Lillian Shepherd, Mrs. Annie Ray, Mrs. Mattie Rennert, Mrs. Fannie Samuels, Mrs. Ada Able, Mrs. Nellie Marcum, Mrs. Hattie Cox, and Mr. Ben Smith. He was fondly remembered as a fine dancer in his younger days.
August 1927
Miss Mildred Bergen, the teacher at Beech Grove, Mrs. Wise at Zion, and Mrs. Ruby Perry at Oak Grove had ice cream suppers at their schools.
The school at Oak Grove organized a Parent's Club with these officers: President Mrs. Gertie Masden, Vice President Mrs. Minnie Maraman, Treasurer Mrs. Hallie Bergen, and Secretary Mrs. Artha Hatfield. Other members included Ruby Perry, C. A. Masden, Mrs. Anna Underwood, Mrs. Hallie Lee, Mrs. George Osborne, Mrs. Rena Lee, Mrs. Cora Armstrong, Mrs. Bertie Noe, Mrs. Nina Hardy, Mrs. Mollie Devers, Mrs. Lena Best, Mrs. Emma Lee, Mrs. Katie Rogers, Mrs. Ella Maraman, Eva M. Maraman, Cora Ney Hardy, Lillie M. Osborne, Herman and Thurman Armstrong, Edna Armstrong and Loyace Bergen, Cora B. Roby, Ora L. Roby and others not listed.
Mrs. Lena Patterson Nelms of Georgia was in town visiting her grandparents, Colonel and Mrs. Noah Smith. "Lena Pat" was described as "one of the best, most studious, and most popular girls ever raised in Shepherdsville."
At the Mt. Washington P.T.A. meeting, Edgar Fisher was elected president, Mrs. Preston Parrish became vice president, and William Clark was elected the organization's secretary and treasurer.
The Mt. Washington school faculty included Miss Quinn of Georgetown, Mrs. Walter Johnson of Georgetown, Miss Burnell Sweet of Henryville, Miss Virginia Gardner and Miss Mary Ping.
Vernon Dickey had a vacation from the Cyclone Store, but he was busy painting his residence which was one of the prettiest homes in Mt. Washington.
Miss Audra Murel King graduated from Spencerian Business College and went to work at the Mt. Washington People's Bank.
In the personals column we learned that Clarence Dawson's niece, Miss Anna Lee Hill, visited her cousin Miss Lucile Preston in Lexington; that L. M. Barrall of Kansas City had arrived to spend time with his daughter, Mrs. J. R. Zimmerman; and that Miss Lelia Tichenor of Waterford spent a week visiting Miss Bertha Trunnell.
Bill Griffin and Mack Jones advertised that they delivered ice with a smile.
The Hebron correspondent spent much of her column on kind words for the family of Joe Hart Wigginton, son of Judge E. Z. and Bessie Shanklin Wigginton, who died in July.
According to the "On the Mt. Washington Road" column, John Peacock and family spent a day with his daughter, Mrs. Willis Mothershead; Mrs. John Workman was suffering with an abscessed tooth; and Uncle Johnny Owen spent time with his aunt, Mrs. Elgiva Greenwell at Pleasant Hill.
J. C. Thornton of Clermont had a good Ford one-ton truck for sale or trade for a touring car.
The faculty for the Shepherdsville school included Alda Acker, Annie Laura Lawton, Thelma Davis, and Geneva Gibson in the grade school; and Ruth Holeman, Mary J. Brownfield, Virginia Thomas and J. H. Sanders in the high school. Ruth Acker was the instructor in music and expression.
Charles Lee Bradbury, a recent graduate of Georgetown, took a job in the schools at New London, Ohio, as coach and athletic director.
Otto Hoagland and Ernest Funk were given the job of transporting students to the Nichols school. Mr. Funk had the Knob Creek section, and Mr. Hoagland the Weaver's Run section.
And the revival meeting closed at Pleasant Grove with 19 additions to the church. Brother Burns was the preacher.
September 1927
The Lebanon Junction school board elected the following teachers for the coming year: R. L. Murray (superintendent), Flora Cherry, Lillie Beeler, Mary B. Hill, Georgia Anderson, Zardetta Dawson, Ermine Coward, and Sadie Holeman. (I had the honor of teaching with Miss Zardetta 39 years later at Shepherdsville.)
B. H. Weller was offering a reward for information about his missing Jersey cow that had either strayed or been stolen. She was dark with a black face and neck, and had a slit in one ear.
The Victory correspondent reported that Mrs. Alf Weller had given birth to a daughter they named Elizabeth Swearingen Weller.
Sylvia Barrall, the teacher at the Sharps school, announced an ice cream and box supper at the school.
The Hebron correspondent reported that Mr. and Mrs. W. H. Beeler were planning a trip to Arizona to visit their daughter, Mrs. Hedgepeth.
Otis Porter of Bardstown Junction advertised a good grain, dairy, and stock farm for rent.
J. B. Proctor, Sr. fell and broke two ribs according to the Pleasant Grove correspondent.
Junia Ashe, the teacher at Sugar Valley, thanked the community for coming out and supporting the recent social at the school. More than $100 was raised for school improvements.
Superintendent Ora L. Roby and Professor J. H. Sanders made their annual rounds of the county schools, encouraging eligible students to attend high school.
The town of Boston, Kentucky lost four buildings in the business district to a fire fed by high winds. The fire started in G. S. Patterson's general store, and spread to the Sprigg Mercantile Company, the Boston Drug Company, the Boston Bank, and the L. & N. depot before citizens from that town and neighboring communities to get it under control. Three engines equipped with large water tanks were sent from Lebanon Junction.
The Henderson and Hardy Company submitted the winning bid to construct the new school at Bardstown Junction.
Colonel Lem Swearingen, a member of the county school board, was called to Louisville to serve on the Federal jury.
Professor Sander's daughter Margaret started her second year at the college in Bowling Green, where she also assisted in teaching violin, piano, and saxophone.
Clarence Stansbury and O. H. Masden purchased 20 holstein cows from Wisconsin and went into the dairy business.
Matt Bleemel, his wife and boys, were guests of Bert Ridgway and wife on Sunday. Hilary Bleemel spent a Saturday with his grandparents, Mr. and Mrs. Pete Bleemel.
N. H. Braithwaite finished a cistern for Tom Hall.
Sam Troutman married Edith Rice of Clermont. Judge Wigginton performed the ceremony.
And in the personals column we learned that W. F. Monroe, county sheriff, had his tonsils removed. He said it was very painful, but it made no difference in his looks.
October 1927
In the School News column we learned about the Nichols family reunion held at Cupio. This was the family of Lemuel W. Nichols who died in 1923, and for whom the Nichols school was named.
In the same column we learned that, before Dick Wathen's death, he transferred a part of his "magnificent lawn" at Bardstown Junction to the county for a location for the new school and an area for a playground.
The reporter from the Victory community wrote that Steve McCubbins lost a fine cow from eating green corn. To make matters worse, his wife fell and hurt her arm.
The Mt. Washington correspondent wrote that "Mrs. Basil Scott is some shot when it comes to killing squirrels. She killed six one day last week with five shells."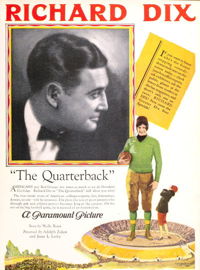 Mrs. Ed Ashe was walking near her home near Solitude when a grey fox came at her. She was able to fight it off with a heavy tobacco stick, and finally killed it. Her son Johnson took the fox to the board of health to be examined, and it was determined that it was mad. This was the second fox attack in the county that summer.
The paper announced that the 1926 silent comedy, "The Quarterback" would be shown at the Fraternal Hall.
W. M. Combs had fruit tree seedlings for sale. You could get an apple tree for 20 cents, or a peach tree for 15 cents, but pear, plum, and cherry trees would cost you 40 cents apiece.
We learned in the personals column that Charlie Bridwell was able to be out again after being laid up for several days; that several children in town had measles; that Bert Shepherd had been busy the past week erecting tombstones; that Charlie Hatzell's friends were happy to see him out again; and Will Shaw was wearing a real smile that just wouldn't come off.
J. C. Thornton of Clermont wanted to sell his one-ton Ford truck, or trade it for a touring car.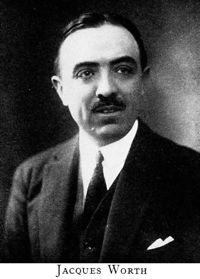 C. P. Bradbury and Tom Adams moved to their new homes, Bradbury to the Lee property he had recently purchased, and Adams into Bradbury's old place.
I found it interesting that the local paper was reporting that a Paris fashion designer named Jacques Worth had declared that women's skirt hems should be two inches below the knee in daily wear.
The Hilltop reporter said that Miss Hettie Shepherd was recovering from her operation for appendicitis; that Chester Shepherd was recovering from typhoid fever; and that Owen Shepherd and family, along with Stoney Keith and family, attended an all day meeting at the Mitchell schoolhouse.
The folks at Bardstown Junction were happy to see their new schoolhouse being built, not to mention the new state highway passing their way. Their reporter also mentioned that E. D. Oaks was back at work after being laid up with a severe cold. This was good news for, in those days, a bad cold could quickly lead to pneumonia and death.
And Henry Maraman of Shepherdsville had ten high producing Holstein cows ready to calve, and would sell bull calves at $25 each if taken at ten days old. They came with papers too!
November 1927
The Pleasant Grove correspondent was sad to report that Felix Miller was killed when a tree he and his brother Josh were cutting rolled and caught both men. Ernest Simmons heard their cry for help, and managed to lift the tree with a hand spike so that Josh could get out from under it. Josh was not seriously hurt.
From the Hilltop reporter, we learned that Bob Hardesty attended the Halloween Party at Sunnyside; that Joe Ogle was in Shepherdsville on Saturday shopping; that Mrs. J. B. Myers had arrived home after spending a week in Cincinnati; that Ed Shepherd took a load of tomatoes to town on Monday; and that Misses Hazel and Elizabeth Shepherd spent a Monday night with Misses Dorothy and Kathleen Hardin.
S. T. Hornbeck bought the old Peoples Bank building from C. P. Bradbury and opened a new general store.
News from Bardstown Junction let us know that Miss Lily Mooney of Louisville spent a weekend with her mother, Mrs. Alice Mooney; that Mrs. Nathan Cundiff spent a Monday with Mrs. Ed Oaks; and that Pat Cruise, and L.& N. operator had been working in Shepherdsville.
In Hebron news, we learned that Harry Bell and Patrick Pope accepted positions on the L. & N. R.R.; that Miss Marietta Jackson substituted as teacher for Miss Mary Cynthia Holsclaw who had been quite ill; that D. M. Fitzgerald had sold his farm and moved to the city; and that Alice Pope won second prize, dressed as Little Bo Peep, at the Halloween social at Little Flock.
At Lebanon Junction, E. M. Fain and Valta Bland were married. He worked for the railroad; she worked at the Lebanon Junction Mercantile Company.
The writer of the personal column shared that Dan Nutt of Leaches was in town on Saturday; that Col. Harve Lively of Louisville was in town shaking hands with his many friends; that James Myers of Pitts Point was in town as well; and that Ambrose Skinner of Cupio was also in town on business.
At the "Masquerade Social" given by the Eastern Star Lodge, Mrs. Gabe Bealmear had the best ladies' costume; Dr. Holbrooks, the best men's outfit; and Professor Sanders and Mrs. McAllister, the most comical costumes.
Miss Thelma Dais coached the local basketball team to a victory over Elizabethtown 14-9. Members of the team included Louise Sanders, Anna Gaebb, Mary E. Joyce, Anna Barrall, Imogene Ember, Gladys Shelton, Loraine Wheatley and her sister.
And C. L. Troutwine had a "dozens" sale. A dozen pounds of English Walnuts would cost you $2.40 while a dozen pounds of chocolate drops were only $1.50. Of course, if that was too rich for your pocketbook, you could try the dozen pounds of fresh prunes; they were only 84 cents!
December 1927
Mrs. Mattie J. Samuels was reappointed treasurer and tax collector for the Lebanon Junction graded schools. C. L. Troutwine held the same post for the Shepherdsville board.
Charles Hardesty, science teacher at Fern Creek, was in town on the way to visit his parents, Mr. and Mrs. R. C. Hardestry at Mt. Eden.
Margaret Sanders came up from Bowling Green where she was attending school to visit with her parents, Professor and Mrs. J. H. Sanders.
Henry Trunnell sold his house in Shepherdsville to Mr. and Mrs. Sam Hardy.
The Hilltop correspondent reported that Mrs. Howard Hardin was in Louisville having dental work done; that Rev. Burkholter visited Mrs. R. C. Hardesty; Rev. Wilson preached at Mt. Eden, and then visited with Mr. and Mrs. Joe Ogle; and the Ogles lost a large barn to fire the next day (no connection, I'm sure).
In the Personals column we learned that Headie Lee and wife entertained the William Ferrings, Kenneth and G. H. Bailey, and Wilma Hatzell for Thanksgiving.
Rev. W. S. Coakley pastor of the Mt. Washington Baptist Church, and Rev. W. G. Potts of Lebanon Junction exchanged pulpits one Sunday.
In Mt. Washington, Almer Barnes had his family for Thanksgiving, including Leland and wife, Dana and wife, Harold, wife, and little Leda Barnes.
The new school at Bardstown Junction cost $2,000 to build. They sold the old school building for just $80.
The Bullitt Lick School Honor Roll included First Grader Jessie Pearl; Second Graders Jackie Raymond, Georgie McGlasson, and William Bettler; Fifth Graders Jack Saddler and John Beetler; and Eighth Graders Nora Bettler and Margaret Bettler.
Troutman Bros' big department store burned.
W. T. Tyler, Georgia Porter, Hazel Hall, Frances Shelburne, Mrs. Weaver Harris, Virginia Gardner, Mrs. Thomas McAfee, Maurice McAfee, Weaver Harris, Rufus Hall, Mariana Harris, Geneva McFarland, Sherley Parrish, and Marvin Parrish were the cast of a comedy drama performed at McCabee Hall in Mt. Washington.
A local music teacher, Miss Mary Hardaway attended a show at the Rialto with Russell Henderson.
In the "Dear Santa" letters we find that Frazier Robards wanted oranges, bananas, nuts, and candy; Mary Dell Robards wanted those plus a new raincoat; and Edyth Mae Robards wanted a doll baby along with all those good things to eat.
Other requests included a bicycle for Baxter Ferrill, a doll bed for Mary Martha Williams, a story book for Mary Frances Hedges, a book to paint for Jim Brooks Williams, a pair of skates for Mark Rhea, and Emmitt Quinn Harned wanted a pencil box, some long pants, a football, and a Santa Claus suit.
And T. C. Carroll lost his bob-tailed fox terrier pup. Let him know if you find it.
---
Copyright 2018 by Charles Hartley, Shepherdsville KY. All rights are reserved. No part of the content of this page may be included in any format in any place without the written permission of the copyright holder.
---