It Happened in 1920
Over the years, Charles Hartley has shared glimpses of what was being printed in The Pioneer News in different months and years. This page includes what was taken from the issues of 1920.
---
January 1920
Six S.H.S. alumni banded together to defeat the school basketball team 34-18 in a hotly contested game during the holidays. They included Sam Ridgway, Muir Funk, Ralph Henderson, Roger Wigginton, Floyd Weller, and Joe Blankenship.
Alleen Swearingen and Alfred Weller were quietly married on New Year's Eve. She was the oldest daughter of Mr. and Mrs. Lem Swearingen and a very popular young teacher. He was the son of Mr. and Mrs. W. R. Weller and a very prominent and successful young farmer.
Jackson Morrison sold his farm near Lebanon Junction and bought the Dr. Dodds farm at Bardstown Junction.
John Barrall, trustee of the Sunnyside School, was in town and reported that the school was planning to have a weekly moving picture show using electricity from the sawmill near the school.
The editor reported that it began raining on January 9th and poured for almost two days, causing the river to rapidly rise to nearly flood stage before dropping temperatures ended the rain.
The paper reported that Frank Goldsmith, Gib Daugherty, and Neil Trunnell had bought S. T. Hornbeck's Shepherdsville lot, and planned to construct a new garage on it. They also bought the electric light plant from C. G. Bridwell.
The new town Board for Shepherdsville was sworn in. They included James Collins as Police Judge, W. S. Rouse as Town Marshall, and James A. Ice, Frank Goldsmith, C. R. Smith, Dr. R. I. Kerr, O. W. Pearl, and W. F. Joyce as Trustees.
The paper also reported that C. A. Dawson had shipped four carloads of mules, and one of Percheron mares to Alabama, and called him the county's "Mule King."
The Mt. Eden correspondent apologized for numerous typographical errors that appeared in a previous week's article, noting that they were not her own.
C. P. Brooks sold his general store at Zoneton to Charles McKenzie. McKenzie had sold his lease on the Widow Wallace place on Preston Street Road near Zoneton in order to buy the Brooks store.
In Clermont news, a party was given by Miss Ethel Thornton. Those present were: Misses Ethel and Pearl Duvall, Audley and Thelma Hatfield, and Nellie Wolf and Messrs Marvin and Billy Duvall, Maurice Stephens, Albert Hatfield and Walter Hoagland. Everyone was said to have had a joyful time.
And the editor thanked one dear friend for a nice box of pickled pig feet, trimmed with red pepper and tabasco, and also thanked Mr. Rush, an old friend who sent a dish of hog brains, with the explanatory remarks that hog brains were better than no brains at all.
February 1920
Charles Newman, who had been seriously ill with pneumonia at his home on the Rolling Fork River, was some better and seemed to have a fighting chance to recover.
Mrs. Mattie T. Hill, aged 83 and widow of Edmond Hill, died at her son John's home near Belmont of the flu.
J. E. Chappell had horses and mules for sale, and also some good milk cows. He had a bay mare that was gentle for a woman to drive. You could see them at his stable in Shepherdsville where he also was a dealer in Maxwell touring cars and trucks.
The Clermont correspondent wrote that Ether Thornton, Johnie Hoagland, Arvil Mudd, Willie Duvall, Walter Hoagland and T. J. Thornton called on Ethel and Myrtle Duvall on a Monday night.
She also reported that on "Wednesday morning, January 28th, the Catholic Church at Chapeze was seen, about 7:30 o'clock, to burst out in flames through the doors and windows. It was not too long before it was all burned to the ground. We hear it was caused from a defective flue. We were very sorry to hear of this fire. Only a few things were saved."
Miss Zilpah Crist and Mr. Dan Nutt were quietly married in Louisville.
In school news, in the Common School diploma examination held at Shepherdsville, the highest general average was made by Minnie Mae Combs, daughter of William Combs and a niece of H. H. Combs, while Mary Engle, of Belmont, was only a couple of points behind her.
J. B. Bell, popularly known as "Sed" had bought a half interest in Main Street Garage from O. W. Pearl and had come back to Shepherdsville to locate permanently.
Maxie McDaniel died at his home near Bullitt's Lick of pneumonia and the flu.
Judge J. F. Collins, who had purchased the Pioneer Building on Second Street in Shepherdsville, opened an implement business there.
In Hebron news, we learned that Tom Lathan was moving into the residence formerly occupied by Willard Bell, who had sold the place and bought a place in Okolona from Walter Bell.
J. E. Quick of Brooks was looking for a good blacksmith to run the shop. He said it was a good location, and would provide a house and shop.
Roy Masden of Shepherdsville advertised for sale a 45 acre dairy farm near Hubers. He was asking $5,000 for the farm which had a good building, a silo, plenty of water, and was all in grass.
The Mt. Washington correspondent reported that Miss Angelina Swearingen and Lewis Roby were married in Louisville and would make their home there. She was the only daughter of Mr. and Mrs. James H. Swearingen while he was a son of Mr. and Mrs. Bud Roby of Solitude.
She also reported that A. H. Settle had sold the hotel property on Main Street to Ben Spratt for $3,300, and that rumor was that Spratt was already looking to sell it again.
In further Mt. Washington news, Mrs. Mary E. Parrish died at the home of her daughter, Mrs. F. C. Porter, on February 21st, after extended illness. As Mary Elizabeth Shoptaugh, she was married December 25, 1854 to Lucian M. Parrish, who died June 7, 1888.
And in lighter news, the editor reported that James Hardaway intended to run for some office just as soon as the ladies got the vote so they could all vote for him; and E. E. McCormick, deputy county clerk, was in the city getting "his feet pruned and upholstered."
March 1920
Samuel H. Ridgway of Shepherdsville, a freshman at University of Kentucky, was making a name for himself as a guard on the school basketball team. At Shepherdsville High School, he was an active student, taking a prominent part in athletics and other school organizations. As a UK freshman, he made excellent grades in the College of Engineering. He would go on to become captain of the UK squad, serve in the military during WWII, and then retire as an assistant vice president of South Central Bell.
Mrs. Fred Rusch of Shepherdsville had eggs for hatching; pure bred Barred Rock, at $1.50 per setting of 15.
In Pleasant Grove news, Thomas Owen moved near Bethel Church, Mitch Moore moved to the Sauter farm he purchased, and Curtis Moore moved to the farm known as the K. K. Hall place, which is now the home of Mr. Moore. Mr. Flood and family have taken up their abode near La Grange.
In the Personals column we learn that Thomas Hornbeck, T. C. Carroll, Roy L. Maraman, W. N. Griffin, Woodford Troutman, Porter Bridwell and J. W. Hardaway went to Lebanon, KY where they took the Commanders degrees and are now full fledged members. Rousseau Engle, from Lebanon Junction, member of McNeil Lodge, also took the degrees.
Mrs. J. L. Laswell of Belmont, advertised "I have a full millinery line for ladies, misses and children's spring hats. Come in and see my stock before buying elsewhere."
A notice was printed that a congregational meeting would be held at Hebron Church for the purpose of calling a minister.
With Spring approaching, J. E. Chappell, Dr. Ridgway, Bob Zimmerman, Wax Simmons and other baseball enthusiastic fans were planning for a local team here. The editor wrote "As several promising youngsters are developing over at the high school and a few of the 'old heads' are beginning to feel young, we certainly have the material in the following players: Ridgway, Hardy, Bell, Monroe, Barger, Ashby, M. Funk, J. Funk, Troll, Summers, Trunnell, Noe, Cundiff, Ash, Weller, Hagan, Viers, Sanders, Bradbury and others."
With the prohibition law going into effect, the paper printed a list of what was legal to do and want was not. Among the legal things was the statement, "Buy a small bottle of whiskey every ten days from a druggist on prescription from your family physician if he believes it necessary to save your life during illness." We wonder just how many "life-saving" remedies were prescribed.
In school news, the following rural trustees met at the Court House: Shepherdsville, Division 1 - Bart King, Ed Rodgers, T. L. Mattingly, C. E. Funk, Owen Shepherd and Jasper Foster; Mt. Washington, No. 2 - J. O. Ridgway, J. M. Harvey, and E. Z. Wiggington; Leaches, No. 3 - G. B. Herps, Alex Riley, H. M. Trunnell, W. J. Shaw, and G. W. Taylor; Pine Tavern, No. 4 - Lee Dawson, William J. Leslie, S. H. Rickets, Claud Hill, H. C. Cundiff, O. H. Harned, R. M. Masden, and O. H. Masden; Colored - Frank Jones, Will Johnson, and Ed Swearingen.
The editor wrote, "As usual, Pine Tavern had the largest attendance at this meeting and this indeed speaks well for the good citizenship of that section."
And in another place the editor wrote, "Jim Hardaway was seen in Louisville last week with a beautiful blonde. We wonder who she is."
April 1920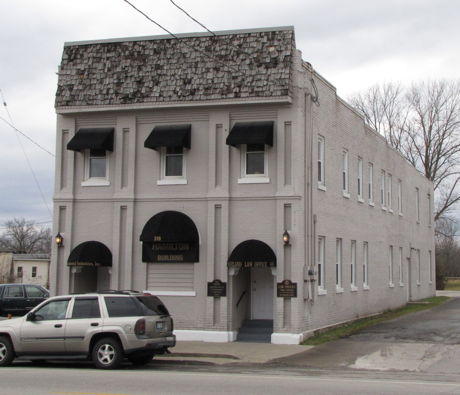 People's Bank Building
Miss Mirian E. Sutton, daughter of Mr. and Mrs. E. W. Sutton, of Louisville, and Mr. Geo. Bradbury Jr, of Belmont, were married in Jeffersonville. They had plans to go to Iowa to reside, but ended up spending most of their lives here in Bullitt County.
The Peoples Bank bought the O'Brian Hotel property across the street from their current location and would soon go to work erecting an up-to-date bank building. A recent picture of that building is shown here.
The editor wrote, "the Bullitt County Garage has been completed and is now ready for the public. The owners, Mr. Frank Goldsmith, Neil Trunnell and Gib Daugherty are well known businessmen and have had several years experience in automobile business."
Mrs. Mattie Glenn, who had been official stenographer of the Bullitt Circuit Court for many years, tendered her resignation. Miss Belle McCandless, daughter of Judge McCandless, was appointed official stenographer for the entire judicial district.
Andy Kulmer's large silo was blown down by a big storm. Fortunately, he had it insured.
Mrs. Emma B. Maraman advertised that she would be in Shepherdsville every first and third Friday of the month to fit Spirella corsets for the ladies. Emma began doing this work after her husband Howard was severely injured in the December 1917 train wreck, and could no longer manage his farm work.
W. B. Gwynn wrote congratulating Herbert and Ida Lovelace on their silver anniversary. He had married them at the Shepherdsville Baptist Church in 1895. She was a daughter of Mr. and Mrs. J. R. Rayman of Pitts Point, and had been a student of his at Pitts Point.
These teachers had enrolled in the Shepherdsville Normal School: Neva Magruder, Willie May Ridgway, Mary Weller, Mary B. Howlett, Lillian Wigginton, Claud Duvall, Roth Smith, Virginia Duvall, Martha Lee, Ora Long, Estelle Landers, Corine O'Nan, Nettie Lutes, Effie Johnson, Bertha Trunnell, Lillian Thompson, Thelma Lee, Fanny Belle Melton, Elizabeth Stamper, and Gertrude G. Forrest. A "normal" school was designed to help prepare teachers who did not have college degrees.
For the April term of Circuit Court, the following were chosen for the Grand Jury: Alex Hardy, Sam Armstrong, A. T. Stansbury, S. B. Simmons, Rice Dawson, Sam Bass, Jamie Bass, M. S. Harmon, J. H. Gore, Price Smith, and H. G. Cooper.
Called to be members of any Petit Jury were O. D. Hill, Lem Swearingen, G. W. Scott, C. O. Tyler, W. H. Cundiff, George Hough, Ed Quick, C. T. Wise, Jess Ridgway, D. B. Monroe, Ben Crist, C. A. Barrall, A. V. Greenwell, J. W. Lloyd, J. D. Harned, W. R. Johnson, J. B. Proctor, L. L. Roby, W. A. King, J. D. Masden, A. F.Brooks, George Swearingen, W. T. Jenkins, and M. B. Starks.
Posey Grant lost a horse from being choked on oats; and S. N. Brooks had a well-broke city horse for sale cheap.
W. P. Thurman's children, grandchildren, and friends surprised him after church with a dinner table laden with good food to celebrate his 77th birthday.
Harve Davis wrecked the old Daniel property next to the J. F. Collins place. The Bullitt County Bank would use this lot when they put up their new building.
And Bert Shepherd, the County Assessor, after being minus a foot for 14 years, was now walking on two again, having just gotten his new cork foot.
May 1920
The 1920 graduating class of Shepherdsville High School included Glacie Orms, Katie Melton, Margaret Combs, Cora Cash, Martha Lee, Ruth Smith, James Collings, Theodore Combs, Thomas Trunnell, Robert Barger, Dorsey Hecker, Tom Stallings, and Johnson Ash.
C. C. Weller, 88 years old, died at his home in Leaches. Surviving him were two daughters: Mrs. W. M. Stallings and Mrs. George Bradbury; and two sons: J. E. Weller and W. R. Weller. Mr. Weller spent much of his life as a farmer, but also served as a Justice of the Peace on occasion. As a young man he had been admitted to the bar.
The County School Board members, including T. L. Mattingly, H. M. Trunnell, E. Z. Wigginton, W. J. Leslie, and Ora L. Roby, advertised for someone to haul school children from Zion to Hays and from J. L. Quick's to the residence of the late William Foster near Shades. This was necessary because the Zion school had only 17 pupils, and the Chappell Ridge school had lost much of its district when Camp Knox expanded there.
Hugo Rouse, who had served as Circuit Court Clerk for about twelve years, resigned and was replaced by R. P. Smith who was appointed to serve until the next election.
The Victory correspondent wrote that Mrs. Arp Harmon was surprised when a lot of folks came to help her celebrate her 76th birthday. Those present included her children, Will Harris and family who reside with her, Mr. and Mrs. Henry Jones, Mr. and Mrs. Lem Swearingen, Mr. and Mrs. I. L. Jones, all from the Victory community, Mrs. Will Magruder and daughter of Deatsville, and James Harris.
It appeared that the town of Shepherdsville may have been slow in paying its light bill, as the Bullitt County Garage & Light Company advertised that "after the 16th, there will be no street lights unless the Town Board makes contract for same."
George Weller of Shepherdsville advertised "a good two horse spring wagon with pole or without or both and good set of harness in first class condition."
The Mt. Washington correspondent wrote that Mr. and Mrs. Wigginton, and Mesdames T. R. Parrish and Jennie Gentry were in Louisville, visiting Miss Mabel Parrish at St. Joseph's. They reported that she was improving nicely and was expected to leave the infirmary within the week.
A new set of school trustees were elected, including Arthur Ice at Shepherdsville; Dr. J. G. Dodds at Bardstown Junction; William Logsdon, E. L. Bradbury, and T. L. Coakley at Belmont; and R. C. Langley and R. A. Collings at Lebanon Junction. These would be the last elected trustees, as under the new law, the County School Board would appoint trustees in January 1921.
Catherine Griffin, daughter of Mr. William N. Griffin, of Shepherdsville, and Gabe Bealmear of Zoneton, son of the late Ben Bealmear, were married at the home of Mr. and Mrs. Roy Maraman, of Salt River, Saturday evening, May 15 . Rev. Henry K. Deacon, of the M. E. church performed the ceremony.
The editor wrote, "The bride has been one of the County's most successful teachers and is a most excellent young lady, while everybody knows and likes Gabe Bealmear."
The first teachers examinations for the year of 1920 and the first one sent out by the new State board were held in Shepherdsville in May. The following teachers were enrolled: Willie May Ridgway, Charles Hardesty, Neva Magruder, Zardetti Dawson, Mary Stallings, Martha Lee, Hallie Wise, Virginia Duvall, Claudie Duvall, Clorene O'Nan, Estelle Landers, Arla Allison, Mary Belle Howlett, Nettie Lutes, Ruth Smith, Agnes Wise, Fanny Belle Melton, Mrs. Margaret Sanders, Mrs. Mary Belle Crenshaw, Hallie Ellingsworth, Ora Lea Long, Bertha Trunnell, Lillian Thompson, Mary Weller, Augusta Dawson, Marge Redman, Lillian Wigginton, Thelma Lee, Eula Funk, Gertrude Forrest, Mrs. Ruby Perry, and Goebel Conner.
Lebanon Junction High School graduated four students: Augusta Dawson, Garnett Masden, Maymee Carter, and Ruth Masden.
June 1920
The Division Boards of Education met and elected the following teachers: Nichols, no principal, Ada Monroe, Assistant; Mt. Olive - Eula Funk; Sunnyside - Marge Redman; Shades - Christine Armstrong; Woodlawn - Bertha Harshfield; Bullitts Lick - Willie C. Quick; Mt. Elmira - Hallie Ellingsworth; Needmore - Stella Simmons; Hebron - Lula Cook, Neva Magruder; Brooks - Mary E. Crenshaw; Beech Grove - Meta R. Cooper; Green Briar - Katie M. Ball; Mt. Washington - Bertha F. Engle, Emma M. Harris; Sugar Valley - Edyth Clark; Edgewood - Kathryn Melton; Whitfield - Mary C. Holsclaw; Cedar Grove - Susie Crenshaw; Victory - Mary Weller; Woodsdale - Ruby Perry; Hobbs - Ruby Monroe; Glen Ella - Bertha Trunnell; Pitts Point - Mary Dawson; Beech Grove - Blanch Engle; Hays - Ida M. Greenwell; Cane Run - Lillian Monroe; Harned - Maggie Wise; Mt. Carmel - Elizabeth Cash; Culver Springs - Ella Hardy; Oak Grove - Willie M. Ridgway; Shepherdsville (colored) - M. E. Jackson; and Bowman Valley (colored) - Louise Murphy; The following schools had no teachers yet assigned: Corinth, Cedar Glades, Pleasant Hill, Clermont, and Lebanon Junction (colored).
The Mt. Washington correspondent remarked on the nice wedding of Miss Sarah Elizabeth McGee and the Rev. Herman Johnson Fox. The paper reported that they were to soon leave for Japan as missionaries where they were joining his twin brother Harry. As a side note, they spent 21 years in Japan, returning home shortly before the attack on Pearl Harbor. After their return, Fox served as a consultant to the U.S. intelligence services during the war. Rev. Fox died in Virginia in 1960.
The Clermont correspondent reported that Wright and Taylor were quite busy in their bottling department, and had employed Edna Perkins, Virginia and Pearl Duvall, Ethel Duvall, Mrs. Willett, Claude Duvall, and Kathryn Taylor in the effort.
Four Pleasant Grove farmers, Judge Cassell, T. H. Wise, J. W. Lloyd, and Arch Magruder took a day off and made a trip to the state capital to see the sights. They shared a few amusing comments about it with the newspaper.
G. S. Patterson, a Shepherdsville merchant, sold half interest in his store to Mr. Rector John.
Rev. H. D. Burns tendered his resignation at the Bullitt Lick church after six years of service. He was continuing to serve at the Victory and Pleasant Grove churches.
In personal column news, Elizabeth Weller was home from the University of Kentucky to visit with her parents, Mr. and Mrs. Stoney Weller. Miss Ina Fern Foster was home from Arizona to visit her mother. Lillian Pittman, who had been in school in New York and Pennsylvania, was back for a visit. And Foskett Barrall, a local boy who had been working for Goodrich Tire Company in Akron, Ohio, had moved to Canada where he worked for the same company.
Mayme Stephens, daughter of Mr. and Mrs. S. B. Stephens, and Clifford Martin were married. She was a fine young teacher, and he worked for the railroad in Lebanon Junction. They made their home in Lebanon Junction.
Miss Mary Hardaway graduated from the Louisville Conservatory of Music.
The newspaper editor enjoyed making mention of Jim Hardaway's social affairs. In June he remarked, "Mr. James W. Hardaway, the handsome and urbane cashier of the Peoples Bank, was a dinner guest at the home of Mr. and Mrs. Horace Maraman Monday. Miss Julia King, a pretty young lady of Louisville, has been the guest of Mrs. Horace Maraman. She left for home Monday evening after promising Jim that she would be back again."
Not satisfied with that little dig, the editor also wrote that Jim had joined Arthur Newman and Porter Bridwell in calling on the young Rush ladies who had recently moved in the Oak Grove vicinity from Monroe county. It seems that Jim did get around, especially where the ladies were.
July 1920
Irene Brooks surprised her sister, Florence Bell with a birthday party. Present were all but two of their siblings including sisters Mary Priest, Laura Priest, and Martha Ridgeway, and brothers Joe, John, Clarence (C.P.) and Thomas (T.J.) Brooks. Only David and Charles Brooks were unable to attend. All of them were the children of Shepherd and Mary (Richardson) Brooks.
W. O. Kulmer retired as mail carrier on the Star Route, and wrote a thank you to the people on the route for their kindnesses. He then took on the job of county truant officer.
The editor wrote that old Uncle Dora Jackson, "the oldest man in Leaches," had died at his home in Jackson Hollow near Clermont. While the editor surmised that he was nearly a hundred years old, census records put him at about 91 when he died.
An ailment we think little about these days, took another victim when Miss Mary Lou Osborne died at the home of her uncle, William Stillwell, on the Pitts Point Road near Woodlawn schoolhouse of Typhoid Fever, after an illness of two weeks.
The following teachers were appointed by the County School Board to fill vacancies at Cedar Glades, Clermont, Nichols and Corinth that we mentioned earlier: Sylvia Phelps, Katherine Melton, Ethel Wise and Hallie Wise.
Hardy Cruise carried off the honors in the trotting and pacing events at the Red Men picnic at the fairgrounds in Shepherdsville.
Woodford Troutman, who had been over at University of Indiana, was at home for a few days. "Woody" was making fine progress at the University, where he was taking the summer course in medicine.
Margaret Hardesty and Charles Daniels were quietly married at the home of the bride at Mt. Eden by the Rev. William Foster. Both were well known and popular young teachers and after a short bridal trip, they made their home in Florida, where he was a teacher.
Robert Ice advertised that he had a new one-ton Ford truck to haul small loads, and still had his larger truck for big loads.
Lightning stuck a haystack on Andy Kulmer's place, burning it to the ground. Guess that bolt must have been attracted by the needle hiding there.
Miss Texia Swearingen and cousin, Miss Elizabeth Magruder, of near Deatsville, spent a Friday and Saturday with Miss Ollie Maraman, of near Lotus. Now don't you just feel better knowing that?
The paper reported that the largest fish ever caught in Kentucky waters was caught in Salt River near West Point, Kentucky. It was gigged by Emmett Crenshaw and after 40 long minutes of hard fighting and worrying with him, he was landed by Steve Simpson. The fish was an Alligator Garr weighing 161 pounds, measuring 7 feet, 2 inches in length and 37 inches in circumference.
Having given Jim Hardaway a gig or two in June, the editor turned his wit on another banker in July, writing "Mr. Harry Hyman Combs, the handsome, heart-smashing cashier of the Bullitt County Bank, is basking in the "Hoosier" sunlight this week, and incidently, in the smiles of some sweet lassies over about West Baden."
And we'll close this section with words about Richard "Dick" Moore who lived up in the knobs where he died in his 64th year. The paper reported, "Dick Moore, in many ways, was a classic. He was the strongest man in his friendships the writer has ever known. There was no burden too heavy for him to bear for his friends. He was an honest, kindly hearted neighborly man, true to his friends, devoted to his home and loyal to his country. He was a Bullitt Countian to the manor born and loved the Knobs as a child loves its mother. His entire life was spent there and at the close of life's day, his ashes were laid to rest in the beautiful little cemetery at Mt. Eden, whence so many of his friends and loved ones lie asleep."
August 1920
Howell V. Smith, deputy cashier of the Bullitt County Bank took a job with a Louisville bank, and moved his wife Anna and son Bill there.
The contractors were busy at work on the new Peoples Bank Building and would soon have it completed. That fine old building on Buckman Street is now called the Hamilton Building.
The August term of the Bullitt Circuit Court convened and the following were selected to be on the Grand Jury: Dave Armstrong, R. F. Owen, R. E. Armstrong, Ben Troutman, C. H. Beghtol, J. H. Swearingen, Martin Clark, Henry Davis, Jasper Pearl, Trainer Hill, Charles Duvall, and Ben Hardy. Those selected for the petit jury pool were Rev. Braithwaite, Jess Hardaway, J. F. Collings, General Wilson, T. A. McAllister, Charles Dawson, Mike Brumley, Carl Troutman, Palmer Hedges, Mason Williams, C. S. Morrison, S. B. Simmons, Sam Miller, Jess Calvert, Tom Coakley, A. Skinner, W. T. Tyler, John Walls, James Pope, S. B. Foster, John Boots, A. Tharp, D. M. Kelley, and James Wallace.
Bud Combs, deputy cashier of the Bullitt County Bank left for a vacation in Tennessee, and while he was gone Elizabeth Weller filled his place at the bank. She had worked there before going to college, and was welcomed back by the patrons.
Mrs. Laura Selby Lee, widow of Orleans Lee of Belmont, died at the home of her daughter, Mrs. Chester Hill, after becoming ill while visiting Mrs. William Raney in Lebanon Junction.
Out on the Mt. Washington Road, J. O. Simmons was cutting logs to prepare for a new home; Ernest Simmons had purchased a new buggy; Mrs. Joe Dickey of Mt. Washington made a Sunday visit to her daughter, Mrs. Herman Owen; and Miss Katie May Bell was progressing nicely with her school at Greenbriar.
Several marriages were reported including that of Miss Evelyn Kuhn to Porter Bridwell, son of the late Samuel Bridwell; Miss Ora Dell Hall of Bethel to Omar Smith of Brooks; and Miss Mabel Davis to Bernard Roby of Solitude.
Most of the little schoolhouses in the county were scenes of ice cream and pie socials to raise money to pay for needed supplies. Included in this list were the Pitts Point social held by Miss Mary Dawson; the Mt. Washington social held by the ladies there, and featuring speeches by J. R. Zimmerman and Lindsay Ridgway; and Miss Lillian Monroe's pie supper at the Cane Run school. These little events, while necessary to help support the schools, were also important social events for the nearby communities.
September 1920
Mrs. T. C. McAllister of Bardstown Junction advertised a "bay mare perfectly gentle. Safe for women and children to drive."
The Hebron correspondent reported that Dr. and Mrs. Holsclaw, Dr. and Mrs. Albert Arnold, and Charles Arnold were guests of Mr. and Mrs. T. Arnold.
The Bullitt's Lick correspondent wrote that Miss Ada Burke spent a day with Misses Eva and Hettie Ferguson near Brooks; and Otis Hoard was visiting his parents, Mr. and Mrs. Bud Hoard.
And the Pleasant Grove correspondent shared that Miss Elizabeth Weller of Shepherdsville and Miss Ruthie Owen were entertained by G. W. Armstrong and wife.
In the Personals column we learned that Mr. and Mrs. Claud Barrall received a letter from their son Edward who was then located in Constantinople, Turkey.
And Mr. and Mrs. K. S. Formhals entertained at dinner the following guests: Mr. and Mrs. Henry Formhals of Louisville, Judge C. P. Bradbury, Messrs Gibb Daugherty, Howard Holsclaw, Charles Ashby, Samuel Ridgway, Millard Daughter, Mr. and Mrs. E. E. Holsclaw and daughter, Mary Louise. The occasion was the 22nd birthday of their son, Milton.
Mr. Bramlett, the contractor, reported that he would have the new Peoples Bank building in Shepherdsville finished in about sixty days.
The newspaper editor wrote, "If we had fifteen empty houses, they could be filled in less than a week. There is a demand for houses in this town, but no supply. Our good school has drawn people here."
J. C. Jeffries and Sid Bell bought an interest in the Shepherdsville Motor company and went there to work.
The County School Board awarded the building of the new school room at Whitfield to Mr. J. R. Ball, of Zoneton. The editor wrote, "Joe Ball is a first class contractor and will erect a good substantial house for the children of that district."
A number of obituaries identified the following deaths: Charles Fillmore Troutman, a member of the Troutman Brothers family; Anna Masry Tatro, wife of A. O. Tatro of Lebanon Junction; and Emma Saunders, widow of Dr. E. Miles Saunders of Zoneton.
Professor Jack Sanders was on the receiving end of a lot of praise, but this time the editor elected to call attention to his wife. He wrote, "Mrs. Maggie Sanders, meaning Mrs. Jack Sanders, of course, is surely deserving of much praise for the admirable manner in which she trained and taught her actors and actresses for the play last Friday night. She had all sorts of difficulties to overcome and almost everything to contend with, but she did all was necessary and more and no one was more pleased with the success of the play than she. She is a most capable little woman and you just cannot lose her. At the organ or piano in church, in the chapter room, sick room, in the choir - anywhere, everywhere, she is there, ready and capable of doing her full share in the best manner possible."
He also had praise for another lady as well, writing, "Miss Thelma Lee will teach at Lebanon Junction this session. Miss Thelma is a splendid teacher and the Trustees of the Lebanon Junction school made no mistake in securing her services in their school."
And Dr. David Smith advertised a Ford Runabout for sale, cheap. Any takers?
October 1920
In school news, we learned that Clay Porter, Sam Ridgway, Elizabeth Weller, Mary Stallings, Gladys Masden, Muir Funk, Thomas Trunnell, Roy Ward, Janice Harned, Mary Dent, Helen Harris and Ollie Lee Maraman were all attending college classes that semester.
The death of Judge A. E. Funk was a surprise and shock to many folks. He was 59, a son of Robert Funk, and served as county judge beginning in 1913. Judge Funk left a widow, the former Eugenia Holsclaw, seven daughters and three sons including Muir Funk, mentioned earlier.
Anna Daniels Jones had not quite reached her 33rd birthday when tuberculosis took her life. She left to mourn her passing her husband Vernon; two daughters, Eva may and Mary Elizabeth; a son Rouse; her father Judge Daniels; two sisters, Mrs. J. B. Buky of Ft. Pierce, Florida, and Mrs. Laura Smith of Colorado Springs; and two brothers, Professor Charles Daniels and Wilson Daniels, both of Ft. Pierce.
Mrs. Eliza Tucker, who ran the Tucker Hotel in Shepherdsville, died at home of stomach cancer. She was the former Eliza McCue who married Joel Tucker in 1893. He preceded her in death in 1919.
Mrs. T. C. Carroll was elected chairman of the first political meeting of Bullitt County women for the purpose of organizing the Democratic women of the county. Others present included Mrs. J. F. Collings who was chosen as secretary, and Mesdames Nannie Rouse, Smith Roby, Dave Parrish, Gertie Masden, Prudence Deacon, Alf Crenshaw, Ida Barger, Sallie Masden, Ben Hatfield, Sola Trunnell, Caddie Shepherd, Ada Ridgway, Kate Lutes, Addie Bradbury, Sallie Lee, Lula Monroe, Fred Harshfield, Bert Shepherd, Willie Quick, Grace Myers, Mary Fisher, Alvin Viers, Hannah Rhea, Irene Carroll, Maggie Quick, Henry Masden, Susie Bridwell, Duke Thompson, Dorsey Hall, Lula Krodel, Rosa Roby, and Misses Thelma Lee, Eddie Edelin, Tommy Edelin, Nell Dempster, Nannie Masden, Frona James and Ethel Newman.
It's interesting to note that some of the married ladies were identified by their own names while others continued to identify themselves by their husband's name.
Some of them were enthusiastic enough to join the list of political speakers for the party which included J. R. Zimmerman, Mrs. Lindsay Ridgway, Mrs. T. C. Carroll, Mrs. Mary Fisher, Miss Bertha Trunnell, Mrs. Ora L. Roby, Ora L. Roby, Charles G. Bridwell, J. F. Combs, T. C. Carroll, Lindsay Ridgway, Judge C. P. Bradbury, J. B. Combs, Mrs. Hannah Rhea, and Mrs. Albert Fisher.
J. Everett Smith announced that he had severed his business relations with O. A. Lutes, and was now in business with his life long friend, Clarence Dawson in the implement business.
And those of you who enjoy driving the four-lane Preston Highway all the way from Jefferson County down into Shepherdsville will marvel that in 1920 private citizens were working to raise $2500 to replace 4-1/2 miles of "miserably rough road" left undone after the county had used up its funds building "3-1/8 miles of splendid pike from Shepherdsville to Brooks Run." Subscription papers were in the hands of Dr. G. W. Kirk, Nat Maraman, Jas. W. Hardaway, H. H. Combs, C. F. Troutman Jr, J. F. Collings, Will Jenkins and others.
November 1920
In the school news column we read, "Leola Owen, the little daughter of Mr. and Mrs. Herman Owens died last week of diphtheria at the home of her grandfather, J. C. Dickey. She was a pupil in the Greenbriar School and was a bright, sweet little girl."
In these days of COVID-19, we may still be grateful for the medical advances that protect us from scourges like diphtheria.
In other school news, Miss Willie May Ridgway, the popular young teacher at Oak Grove, introduced Domestic Art into her school which was enjoyed by both pupils and patrons.
This was the first election after the passage of the 19th Amendment, and the editor wrote, "At Belmont, Grandma Skaggs, age 98, cast her first vote!" This was likely Martha Skaggs, age 94, mother of Charley Skaggs who lived on Bolton Street.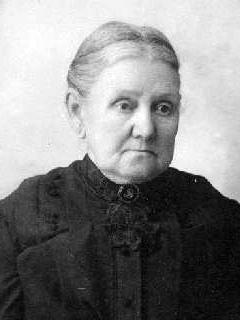 Mary Ellen Barrall
Other elderly ladies casting their first vote were Mrs. Mary Ellen Barrall of Mt. Eden, Mrs. Martha Wells Rouse of Solitude, Mrs. Ellen Monroe, Mrs. Melissa Miller, and Mrs. Sallie Samuels.
Federal officers, with the assistance of Sheriff Croan and deputies, arrested J. H. Bolton, of near Cedar Grove, for running a moonshine still. They captured the still which they destroyed, with 85 gallons of mash. It was the first moonshine captured in Bullitt County since Prohibition began.
Walter Armstrong was seriously injured by having his clothes caught in a hay press. But for the quick thinking of George Osborne in shutting down the engine, Armstrong might have been killed. Although his injuries included several lacerations, he was back to work on the farm three days later.
A letter was received from Miss Ina Fern Foster, who was teaching school in Glendale, Arizona, bringing the good news she was rapidly improving in health and was hard at work every day. A local girl who taught school in the county for several years, she had moved to Arizona for her health. Sadly, we have to report that she died there the following year of pneumonia.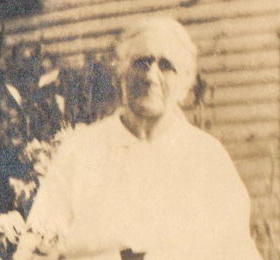 Mrs. Sarah O'Brien
The paper printed an extensive obituary for Mrs. Sarah Hardy O'Brien, widow of the late William O'Brien, and proprietor of the well known O'Brien Hotel of Shepherdsville, who died at her home the evening of November 9, after an illness of more than three weeks. After services at the Catholic Church conducted by Rev. Father Pitt, her remains were taken to Louisville and buried there in St. Louis Cemetery.
G. S. Patterson sold his Shepherdsville store and opened one in Louisville.
Bertie Coleman, Ophelia Coleman and T. C. Coleman posted a notice banning any hunting on their farm north of Shepherdsville near Gap-in-Knob.
Dr. Kerr was building a new drug store by his residence on Main Street in Shepherdsville.
Dr. Ridgway, Miss Willie May Ridgway, R. P. Smith, T. C. Carroll and Mrs. Carroll spent a Saturday at Lexington watching the great game between State and Centre College. Centre won that game 49-0.
Speaking of State College, we read that Elizabeth Weller, Mary Stallings, and Samuel T. Ridgway Jr, were attending there and progressing splendidly with their studies. Ridgway was trying out for the school basketball team. I hear he did all right at it too!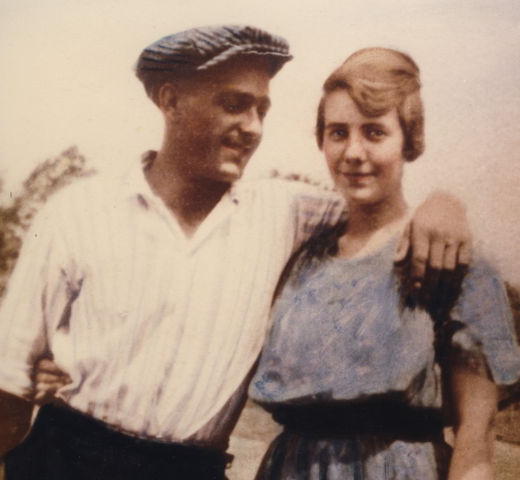 Matt & Wava
The Hebron correspondent wrote that "Mr. James Fegenbush, Mrs. Fegenbush, Mr. William Huber, all of Whitfield, and Miss Mary Cynthia Holsclaw were dinner guests Sunday of Dr. J. R. Holsclaw and Mrs. Holsclaw." You could always count on the name Holsclaw to appear somewhere in that column.
Due to ill health, J. W. Masden was selling his 150 acre farm located a mile from Belmont along the railroad.
And Wava Dickey and Matt Bleemel surprised their friends by going to Jeffersonville and being quietly married. I understand they reared quite a family.
December 1920
We read in the December 3rd paper that County Attorney Carroll, Sheriff Croan and Judge Bradbury held a court of inquiry to determine, if possible, where liquor was being obtained by some of the local boys and young men.
Earl Armstrong, 21-year-old son of Mr. and Mrs. Robert Armstrong was feeding a horse when it kicked him in the abdomen, causing fatal injuries. He had married Miss Christina Skinner two years earlier.
In Mt. Washington the members of the Baptist Church met at the home of Dr. L. S. Settle and proceeded in a body to the parsonage where they pounded their new pastor, Rev. W. B. Coakley and wife with numerous good things, necessary to housekeeping.
The Peoples Bank, at Shepherdsville reported a value of $309,831.56. R. L. Simmons was President; J. L. Williams, Asst. Cashier; and J. W. Hardaway, Notary.
The Lebanon Junction Bank was valued at $266,667.90. R. M. Hocker was President; W. T. Jenkins, Vice President; and W. M. Heizer, Notary.
The Peoples Bank in Mt. Washington was valued at $215,694.03. Bert Hall was President; Stuyler Harris, Vice President; and W. L. McGee, Notary.
The Bullitt County Bank in Shepherdsville had a value of $335,240.08. J. F. Combs was President; and H. H. Combs, cashier.
Charles Skidmore of Barrallton had a yoke of young steers, a good work mule, two work horses, and a good jersey wagon for sale. They could be seen at C. A. Barrall's place.
Judge Magruder, Police Judge of the town of Lebanon Junction assessed some 8 or 10 fines there that year against parents who fail to send their children to school regularly. In one case, one of the delinquents was his own grandson.
With December, the letters to Santa arrived at the paper. I can't begin to mention all of them, but here are some representative ones.
Beulah Barrall wanted a doll with long curly hair; Anna Barrall asked for a doll buggy; Willie James Campbell wanted a little pistol and candy; and Albert Ray Langley asked for a hammer and a whole bushel of nails.
Continuing with the letters, Mabel Maraman of Gap-in-Knob asked for a nice rocking chair; Thomas Preston Joyce wanted a BB gun, a basketball, and a horn; Edith May Browning asked for a doll, some oranges and candy, and a red wagon for her brother Howard.
Mary Ethel Warren urged Santa to not forget her Grandpa and Grandma; while James L. Warren wanted a sleigh, gum boots, and firecrackers.
Nanna Pearl Ferguson, 4-years-old, wanted oranges, nuts, bananas, apples, and lots of good things to eat.
Flora Lee Ferguson, who said she had been sick for a year, wanted a blue sweater trimmed in green.
Ernest Ferguson was ten. He declared that he went to school every day, and asked for a new suit of clothes, along with good things to eat.
Francis Lee Pearl covered all the bases, asking for a BB gun, a basketball and rubber ball, a boy scout suit, A Robinson Crusoe Book, oranges and other fruit, some fire crackers, nuts, roman candles, sky rockets, and popping matches!
Leona Roby, a ten-year-old, instructed Santa to pick up her big dollie from her Aunt's house in Highland Park and deliver it to her.
Martha Elizabeth Burch wanted Santa to bring her presents on Thursday instead of Christmas Eve as she would be in the City that night.
Rena Shaw asked for a coat with fur collar and muffs, a dress, and a dictionary.
A number of Hatfield children made their requests. Kathleen wanted a necklace; Lillian a little piano, Lewis Edward wanted a watch, William Lee a wagon, and Cleo said, "As there are so many of us, I'll not ask for much."
And Jannetta Armstrong said, "I am a little girl with brown eyes and light hair. Please bring me a broom so I can keep the house clean, a ball, and lots of things to eat."
---