It Happened in 1919
Over the years, Charles Hartley has shared glimpses of what was being printed in The Pioneer News in different months and years. This page includes what was taken from the issues of 1919.
---
January 1919
T. C. Carroll, the popular County Attorney of Bullitt County, arrived at the Court House to take charge of his duties Dec. 26th.
Tot has been drawing contracts and doing other legal work for the Government in Washington D.C., and before the Commanding Officer knew he was a lawyer, they had him hauling cinders with a mule and dump cart.
In Mt. Washington, G. P. Wiggington moved to his home across the street from the M. E. Church, recently purchased from Mr. Tom Rogers. Mr. and Mrs. Rogers bought the house opposite from Oscar Porter.
Geo. W. Maraman, Shepherdsville, was looking for a good housekeeper, and would pay good wages.
Alex Smith, son of Dr. David Smith, was married to the only daughter of Mr. and Mrs. Ed Funk, of Highland Park.
Nick Hall and family moved from Bell's Mill to their farm purchased from Walter Armstrong, known as the Troutwine farm.
Miss Mabel Funk, twin sister of Miss Mattie May Funk and one of Cupio's finest young ladies was quietly married in Louisville to Mr. Lawrence Jones, a prominent young merchant of West Point.
Hugo Crenshaw wrote home from France to Miss Mollie Roby about the death of their friend, Horrie Thompson. In his letter he said, "The telegram was true that his folks received. He was instantly killed in action in that big drive on the Hindenburg Line, September 29th, with a piece of shrapnel from a big shell and was buried near Belliscourt, a little French village.
"I, with all the rest, sure hated to give him up for he was missed by his many friends in this company. He was one of the two Kentucky boys that gave their lives for the Country in this company.
"I was wounded on the same day that Horrie was killed, by being hit with a piece of shrapnel in the foot, but stayed with the Company all day and night, after I was hit and my foot got so sore, I had to go to the hospital, but I am back with the Company now. I would like to have been there to spend Xmas with you all, but I don't think it will be very long until I will get to come home and then I will tell you all the news. So, I will close for this time, hoping to hear from you again soon."
And on a lighter note, on January 31st, the editor wrote, "The Louisville High School Team which defeated our boys in the last game will be in here Feb. 1st at 8 o'clock and if you have any interest in our school or a particle of county pride, you will surely bring your whole family to see the game.
"The following old 'country Jakes' will play and will do their best to bring victory to Bullitt County and show the City boys that we are on the map.
"Floyd Weller, from Glenn Ella with his Charlie Chaplain mustache, Roger Wiggington of Hebron with his smiling face and courage to win, Thomas Trunnell of Bardstown Junction, the player who never gives up, Samuel Ridgway of Shepherdsville, the deliberate old war horse who never gets excited, and Little Woodford of Bardstown Junction, whose speed cannot be followed with the naked eye. Come on out, Grandpa, and encourage the boys."
February 1919
One hundred years ago there were one and two room schools scattered all over Bullitt County. In February 1919, the County School Board met at the Court House and appointed trustees for the rural schools. Those appointed included J. L. Tierney (Highland), C. E. Funk (Mt. Olive), Bart King (Corinth), J. E. Chappell (Chappells), J. M. Barrall (Sunnyside), Edd Rodgers (Shades), Owen Shepherd (Woodlawn), T. L. Mattingly (Licks), Sex Barger (Pleasant Hill), W. J. Shaw (Woodsdale), P. H. Croan (Beech Grove), W. J. Leslie (Hays), Charles Newman (Zion), O. H. Harned (Cane Run), Claud Hill (Culver), O. H. Masden (Oak Grove), A. F. Armstrong (Needmore), E. Z. Wiggington (Hebron), J. E. Quick (Brooks), N. H. Miller (Beech Grove), L. I. Owens (Green Briar), J. T. Harris (Sugar Valley), W. E. Fiddler (Edgewood), Frank Jones (Shepherdsville Colored), Will Dugan (Mt. Washington Colored), Edd Swearingen (Bowman Valley), and Will Hill (Lebanon Junction Colored).
The following trustees were elected by the voters at the regular elections: W. B. Nichols (Nichols), Jasper Foster (Mt. Elmira), Chas. Long (Mt. Washington), James Tinnell (Whitfield), John Raymond (Cedar Glade), George Herps (Cedar Grove), A. V. Greenwell (Victory), J. R. Clark (Hobbs), Geo. Taylor (Clermont), H. M. Trunnell (Glenn Ella), A. C. Viers (Pitts Point), S. H. Ricketts (Harned), and R. A. Masden (Mt. Carmel).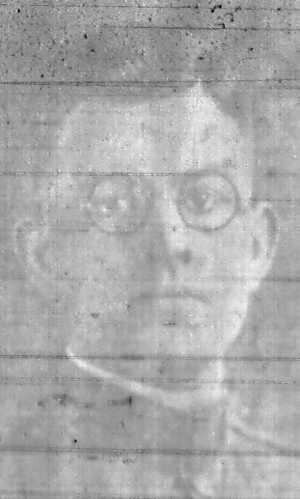 Sgt. Wallace Smith
Edgar Vennie Meunier was a corporal in the Pioneer Infantry, and he wrote to his friend John Greenwell about his company's 200 mile march from France to the Rhine River in Germany, and the sights he had seen along the way.
Disease continued to strike servicemen as the parents of Sergeant Wallace Smith were informed that he had died in France of meningitis.
The paper reported, "We have been informed that the land adjoining Camp Knox will be taken over and that all the residents in about five miles of West Point will have to move. They will take about 6,800 acres of land in Bullitt County, most of it will be good river bottom land."
J. E. Chappell was one of many who would be advertising that, due to having to sell his farm to the government, he was selling his livestock and farming implements at auction.
Theodore Colvin of Knob Creek, near Barrallton, got a good price for his tobacco, averaging 59 cents a pound.
Out at Hebron, Walter Armstrong bought fifteen fat cattle at the Ben Bealmear sale. The editor reported that a son, Gabe Bealmear had purchased the family farm.
Also from Hebron, we learned that Roy Stallings was back from the army and returning to his job as mail carrier. His wife had carried the mail in his absence.
Miss Edith Hancock entertained the high school teachers and their escorts at a party. She and Miss Irene Moredock entertained the group as Miss Moredock sang and Miss Hancock played the piano. Others present included Misses Irene Crutcher, Henel Burkholder, Zora Raymond, Sara Williams, Bertie Manor, and Mrs. S. E. Hancock, along with Messrs Henry Maraman, Harry Combs, Bud Combs, Guy Stansbury, T. C. Carroll, and J. R. Zimmerman.
And Grace McAllister of Bardstown Junction reported losing the family's automobile license plate somewhere between there and Shepherdsville. Anybody seen it?
March 1919
Will Robards' funeral was held at the Hebron Church following his death due to pneumonia following the influenza. He left behind his wife Sarah (Murphy) Robards; their five children, Eleanor, Emmett, Lillian, Virginia, and Charlotte; his parents, John and Linnie (Williams) Robards; three sisters and two brothers.
J. W. Croan and Walter Armstrong purchased the C. D. Lee farm for about $26,000. It contained about 244 acres including at least 75 acres of good bottom land south of Salt River.
C. F. Troutman of Shepherdsville's Troutman Bros. Mammoth Store was elected as president of the Retail Hardware Dealers of Kentucky.
Mack Maraman's daughter Anna was married to Oscar Underwood in late February. The editor mentioned that she had been connected with the newspaper for a number of years.
The flu continued to rage across the county. More than 50 cases were reported in the Clermont community alone. And two of the deaths reported by the paper were that of Mr. and Mrs. Freddie Raymond who left an infant child.
The dentist T. P. Sloan announced that, as he had been discharged from the service, he would be in Shepherdsville at the Trunnell Hotel on Wednesdays and Saturdays.
Malcolm Harmon and Addie Troll were married in early March. Malcolm was one of those who lost loved ones in the 1917 train wreck when his mother, Mattie Jones Harmon was killed. Addie had been a teacher in Louisville for several years, and was a sister to Will Troll, a popular mail carrier.
E. B. Corum of Pitts Point killed an otter that was over five feet long.
Charles Bridwell advertised "the best upland stock farm in Bullitt County" for sale. And if you are interested in buying that farm, Clarence Dawson advertised 15 mules, 10 mares, 75 cattle, and 150 hogs for sale. That ought to get you started.
Sam Ridgway, Rodger Wiggington, Thomas Trunnell, Jerome Monroe, Charles Ashby, Wilson Daniel, and Gabe Summers made up the basketball team for Shepherdsville under the leadership of Dr. and Lindsay Ridgway on a series of games in western Kentucky.
A committee of J. H. Sanders, G. T. Wilson, and C. A. Masden announced that Rev. Banks had accepted a call as pastor of the Shepherdsville Baptist Church.
And the paper bragged on the lawyer Charles Carroll who managed to win a verdict against the railroad for $20,000. It was for a switchman named Louis Horning who was suing for the loss of an arm. Injuries like this were not uncommon in those days.
April 1919
The first issue for April 1919 reported the death of J. M. Stansbury. James moved from Georgia to Bullitt County following the Civil War, and married Nancy Jane Carpenter soon thereafter.
Their first child was Mary Jane, known better as Jennie. She married John Henry Lee, son of Orleans and Mary (Cundiff) Lee.
Next was James W. Stansbury who married Mary Jane Cundiff. The last of their four children was Lounetta who married William Williams. This James was a victim of the 1917 Shepherdsville train wreck.
Next came Emmett Stansbury who married Mabel Katie Bell, daughter of John and Reva (Mobley) Bell. Among their children was Edgar Bryant Stansbury whose ties to WKU are still remembered today.
The final two children of James and Nancy Jane were Henry Augustus Stansbury who married Ida Pearl Gilpin, and Ella Stansbury who married Richard Hays.
In other news, S. L. Hayden, the night telegraph operator at Brooks Station, was held up by an armed masked man. Hayden said he was about 5'9", weighed about 150 pounds, and wore a dark suit and gray cap. If you see him, call the sheriff.
The paper reported that C. F. Troutman had suffered a paralytic stoke on his left side. Charles Fillmore Troutman, Sr. was one of three brothers who operated the Troutman Mammoth Store in Shepherdsville. He had also been cashier for the Bullitt County Bank for many years.
The editor was happy to report that General Wilson was about recovered from his bout with the Spanish flu, and would be back behind the counter at Troutman's store soon. Wilson, a transplant from North Carolina, was married to Letitia Hornbeck. Their son Tommy would later become Bullitt County Court Clerk.
The editor was also pleased to announce that Jimmie Lee was back from the army, and present alongside Jim Hardaway at the Peoples Bank in Shepherdsville.
The four banks in Bullitt County issued their annual reports. R. L. Simmons of the Shepherdsville Peoples Bank reported a total value of $324,525.96. R. M. Hocker of the Lebanon Junction bank reported $216,806.96. Bert Hall of the Mt. Washington Peoples Bank reported $263,732.59. And J. F. Combs of the Bullitt County Bank reported $448,733.95.
Bert Gentry, James Roney, J. E. O'Bryan, Robert Brashear, Embry Deacon, O. D. Hill, Lee Beard, F. T. Harned, Henry Lutes, John Barrall, Tom Terry, J. L. Quick, James Cochrane, Charles Funk, Charles King, Ray Lansford, and John Pound all learned that their names had been called to serve as Bullitt Circuit Court jurors.
The Hebron correspondent reported that Lillian Wiggington had returned from Bowling Green where she was a student; that Miss Birdie Ball had spent a weekend with Miss Howlett at Pitts Point; and that Mrs. Charles Bridwell of Shepherdsville had spent a weekend with her mother, Mrs. Rogers.
She also reported that they had found a chicken nest in the hay loft that contained 52 eggs. Sounds like a "fowl" story to me.
And Mrs. Clara Newman, together with her daughter Ethel and son Arthur were slightly injured when their horse was frightened by an automobile driven by Walter Harshfield on Main Street in Shepherdsville. Their buggy turned over, throwing them to the ground. The editor reported that immediately after the accident, Arthur Newman ordered an automobile.
May 1919
J. E. Magruder, a former county school board member, sold his farm at Lick Skillet to Professor Charles G. Bridwell.
John Smith and Will Jenkins of the Zoneton precinct appeared before the County Court with about $1300 in cash to make a pike from the Preston Street Road toward the Fork Crossing. The county put up matching funds.
The paper reported that a hard freeze in late April killed all the fruit in the county which, it was estimated, would cost Bullitt County growers up to $100,000.
A bit of visiting took place in early May with Sue Maraman visiting Mrs. James Maraman, Susan Crenshaw with Ewing Crenshaw's family, and Frona James visiting her sister, Mrs. Joe Trunnell.
Mr. E. "Junebug" McCormick, the deputy county clerk, visited a "corn" doctor in Louisville and was relieved of four bunions, 21 hard corns, seven soft corns, and three dollars and sixty-nine cents.
Leslie Dexter Herps, a local mail carrier, bought himself a new Ford to help deliver the mail. The editor indicated that Roy Stallings had been delivering that way for some time, and that Will Troll was considering the option.
George Weaver of Spencer County was working for Bert Rouse over by the Bardstown Pike when a mule he was unhitching kicked him in the chest, killing him instantly. He was 35.
Evaline Parrish, daughter of Mr. and Mrs. C. O. Parrish of Mt. Washington, married Dr. Oswald Justice in Texas.
In more Mt. Washington news, Louis Whitledge built a new barn; Lyman Hall sold a sow and her piglets for $60; and the correspondent wrote that "we have a new neighbor on the Mt. Washington telephone line, Ernest Simmons."
Trustee elections were held for various graded schools, with the following chosen: W. N. Griffin and S. B. Simmons at Shepherdsville; Brad Triplett, E. Stansbury, and W. J. Shaw at Bardstown Junction; John R. Hill at Belmont; and George Essex and William Lamb at Lebanon Junction.
James Williams of the Peoples Bank had a new Dodge car, and was expected to do some sparking that summer.
Mrs. Clara Newman and Miss Ethel Newman spent a Wednesday shopping in Louisville.
Professor Charles Daniels arrived from Florida where he had been teaching for two years.
The following members of the Shepherdsville High School Junior Class put on a fine play that was directed by Miss Crutcher: Ruth Smith, Thomas Trunnell, Martha Lee, Gabe Summers, Meta Riley Cooper, Charles Ashby, Theo Combs, Dorsey Hecker, Glacie Orms, Thomas Stallings, Cora Cash, Beula Lee, Johnson Ash, William Conniff, Kate Melton, and Margaret Combs.
Hilery Hardy, who was with the occupational army on the Rhine River for some time, wrote home that he was attending an Agriculture School in France, and hoped to get home soon.
The paper reported that Shepherdsville turned out the largest graduating class ever. The graduates included Katherine Mae Bell, Mary Elizabeth Bell, Carolyn Emma Hackney, Margaret Letitia Hardesty, Mattie Ellen Magruder, Zella Blanche Owens, Mabel Lee Sutton, Ella Myrtle Stansbery, Vivian Morrison Shafer, Mary Madona Stallings, Mary Eliza Weller, Joseph Jourdon Blankenship, Elmer Wilson Daniel, Robert Blaine Rennison, S. H. Ridgway Jr., Floyd S. Weller, and Ernest Rogers Wiggington.
And Deacon Jim Collings tethered his cow out alongside the road to take advantage of the grass growing there, and when old "Sook" had cleaned things up, Jim decided to move her to a fresh spot. According to the paper, "the cow was so overcome by this surprising act of kindness that she reared up, threw her arms around his neck and planted a loving kiss on his rosy cheek." The shocked deacon fell down in a mud hole. The word was that folks offered to pay Jim to repeat the performance, but the cow wouldn't cooperate.
June 1919
The following canvassers were named by school district to conduct a drive to collect funds for the Salvation Army, and for the starving people in Syria and Armenia. We'll break the list up into several paragraphs, alphabetized by school district.
Bardstown Junction - Mrs. Ward, Miss Ethel Newman; Beech Grove - W. G. Thornberry, W. G. Jenkins; Belmont - Robert Purcell, Miss Constance Purcell; Brooks - Ed Quick, Dr and Mrs. R. L. Hackworth; Bullitt's Lick - Ed Mattingly, Tom Mattingly.
Cane Spring - Ewing Crenshaw, Will Shaw, Hansford Harned, Wm. Whitehead; Cedar Glades - Bur Roby, Ed. R. Ash; Cedar Grove - C. E. Crenshaw, Willie Swearingen; Chappell - John L. Quick, Roy Masden.; Clermont - W. F. Knight, Ed Hess; Corinth - Bart King, Charlie Nichols; Culver - L. L. Roby, John Lee.
Edgewood - W. T. Carrithers, Len Taylor; Glenn Ella - A. Davis, H. Trunnell; Greenbriar - R. K. Hall, Will Gentry.; Harned - S. H. Ricketts, J. H. Harned; Hays School House - Frank Harned, W. T. Hill; Hebron - Herman Williams, Mrs. Ella Pope, Mrs. J. R. Holsclaw; Highland - R. B. Ridgway, A. A. McKinley; Hobbs - Jack Clark, C. V. Muir.
Lebanon Junction - W. T. Stephenson, R. M. Hocker, Miss Mary Ray; Mt. Carmel - J. R. Burchiell, Rodney Ricketts, John Dragoo; Mt. Elmira - E. T. Colvin, C. K. Kneisler; Mt. Olivet - C. E. Funk, Richard Moore; Mt. Washington - Revs. Wilhoyte and Peak; Nichols - W. B. Nichols, Miss Eunice Ridgway; Oak Grove - O. H. Masden, Ora Roby, Cleve Masden; Pitts Point - Jesse Dawson, Miss Mary Dawson, H. D. Shafer; Pleasant Grove - Roy Stallings, Tom Bridwell; Pleasant Hill - J. V. Rouse, S. S. Barger, Mr. and Mrs. Smith Harris.
Shepherdsville - J. H. Sanders, C. L. Croan; Solitude, Auxiliary ARC - Mrs. J. V. Rouse, Mrs. A. L. Harris; Sugar Valley - Burr Harris, Polk Bros.; Sunnyside - J. M. Barrall, Richard Miller.; Victory - Mrs. Oral Basham, Miss Fronie James, Lem Swearingen; Whitfield - Sam Wallace, Tom Carlin; and Zion - Crawford Craig, John Greenwell.
J. R. Zimmerman, county chairman for the drive, pointed out how much the Salvation Army had done for our troops serving overseas during the war. He also called on folks to help the unfortunate victims of the war.
A Masonic Banquet was held at the McNeil Lodge in Lebanon Junction. During the conferring of degrees, the Master's chair was occupied by R. M. Hocker, George Bache, T. L. Mobley, Lindsay Ridgway, George I. Rennison, T. C. Carroll and J. R. Zimmerman.
In Mt. Washington, the funeral services of Miss Susie McFarland were held at the Methodist church, lead by her pastor, D. R. Peak, assisted by Rev. Wilhoyte.
A. M. Garr of Shepherdsville had about 1500 feet of good used lumber for sale.
And a cow belonging to Mrs. Fannie Hall gave birth to twin calves. Both were growing nicely.
July 1919
The Hebron correspondent wrote, "The singing of Miss Emma May Wigginton and Inez Kirk at the musicale in Shepherdsville evoked much praise. We are proud of these talented girls of ours."
Fiscal Court voted to call a special election for the purpose of voting on a tax of twenty cents on each $100 of property value to be used to improve the public roads of the county.
We learned that Miss Margaret Hardesty was operated on in Louisville. She had her tonsils removed.
The paper reported that Prof. Charles Daniel, who had been teaching school in the land of alligators and oranges, had come home and was happily located near Mt. Eden.
Robert Ice bought a new heavy truck and advertised that he was ready to do your hauling.
The Pleasant Grove correspondent reported that Robert Grant had purchased a cream separator, that Pleasant Grove Church had a new swinging lamp that gave a brilliant light; that school would begin at Pleasant Grove School in July with Miss Jennie Carpenter teaching; that Thomas and Robert Bridwell had visited their father who was ill; and Robert Hecker had just arrived from overseas, and was looking fine.
The next week, we found this obituary:
Mr. Hayden Bridwell died at the home of his daughter, Mrs. Thomas Alcorn, near Smithville, Monday morning, July 7, 1919. He was 82 years old. He was born and reared in this county having lived on a farm on the Mt. Washington road for a number of years. He was married to Miss Nancy Rayman in early life. He was a member of the Pleasant Grove Baptist Church. He leaves one daughter, Mrs. Thomas Alcorn, four sons, Simon, Thomas, Edward and Robert J. Bridwell, several grandchildren, one sister, Mrs. T. M. Hardy, four brothers, Taylor, George, Thomas and James Bridwell.
In Cedar Creek area news, we learned that Mrs. May Buky Smith, of Portland, Oregon, was spending some time in this vicinity visiting her many friends and schoolmates as this was once her home. Also, Mrs. Arp Harmon and Miss Texia Swearingen were spending a week with the former's daughter, Mrs. William Magruder of Deatsville.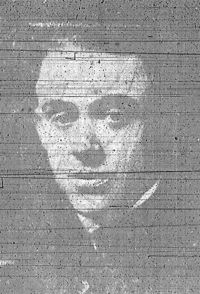 Leyton Ashby
A notice was posted encouraging all former military personal of the county to attend a meeting at the courthouse to organize a chapter of the American Legion.
Folks out on the Mt. Washington Road reported that Misses Erna Schweckendieck, Evelyn Lanyans, Jessie and Ada Harris, Messrs David Owen, Robert Lanyans, Claud and Waldo Gentry were dinner guests of Mr. and Mrs. Albert Fisher.
Robert Grant lost his pocketbook a few days ago which contained over one hundred dollars, but an honest man found it, J. W. Lloyd, and it was returned to the owner.
Bids were received on about 1,000 yards of stone to be crushed and placed upon the road leading from Cedar Creek Bridge near N. H. Miller's store and running east on said road, according to plans and specifications on file at Miller's Store. Committee included W. G. Jenkins, Harry Hesler, and S. G. Thornsberry, treasurer.
And the paper printed a photo of Leyton Ashby, son of Mrs. O. A. Lutes, who had just returned from overseas in the signal corps.
August 1919
The newspaper reported that Roy Masden shot at thieves trying to steal his chickens; but the gun report scared his horse which then ran against a fence and broke its neck. Ouch!
The Pleasant Grove correspondent reported that J. B. Proctor had his new truck and was ready to haul live stock or anything that one had to dispose of. He had made several trips to the city already.
She also reported that, during a thunderstorm, lightning struck a tree at the Pleasant Grove school house and knocked Norma Ridgway down.
The Cedar Creek correspondent reported that Misses Ella Mae Parris, Bertha Engel, Ansilee Barger and Francis Parris, and Messrs. Alf Weller, Roy Shaw, George Parris, and Virgil Roby were visitors of Misses Alleen and Texia Swearingen on a Sunday.
Mrs. Elizabeth Parrish lost her black handbag somewhere between Mr. McAfee's and Mr. Barley Hall's place. If you find it, please return it to Barley, Frank Porter, or at Barnes' store.
Albert Snider declined to run for State Representative against Dr. B. F. Shields because he would not run against anyone who had served his country in the war with Germany.
D. M. Kelley, a farmer and merchant of Mt. Eden, sold a fine calf that weighed 180 lbs. At 19-3/4 cents per pound, it brought $34.65. The editor wanted to know if anyone could beat that.
Mrs. Maggie Welch had some used farming implements, a buggy and a cart for sale.
Miss Margaret Hardesty, Robert Hardesty and Charles Daniel, of Shepherdsville, spent the weekend with Miss Nellie May Scott in the Hebron neighborhood.
The following teachers had charge of the Shepherdsville School that year: J. H. Sanders, Supt; Helen Burkholder, Mary Thompson, Pearl Hickerson, Clara Duvall, Nadine Melton and Bertie Monroe.
The paper reported on the death of Mrs. Tom Pauley who died at her Weaver's Run home August 3. She had been confined to bed with cancer for some time. The former Miss Hallie Phelps, she was laid to rest in the Phelps burying ground.
The Circuit Court Grand Jury members included Joe Welch, Alvin Viers, William Lamb, M. H. Braithwaite, Wayne Harris, James Newman, Roy Masden, James Griffin, Ewing Crenshaw, George Miller, Ed Rhea, and Bev Brashear.
The paper reported that Ed Rodgers of near Mt. Eden was about the only one in the county who had any peaches to sell. The ones he brought to town sold at $3.00 a bushel.
The George W. Maraman & Sons store advertised that they would have about 30 Holstein cows to freshen in September. The Maramans combined a fine farm with a good store in town.
The Hebron correspondent reported that J. W. Brooks, Jr. was kicked in the face by a young mule, but not seriously hurt.
We learned in the Personals column that Mrs. S. H. Ridgway, Willie May Ridgway, Samuel Ridgway, Ruth Dodds Smith, Martha Lee, Beulah Lee, Ursa Funk, Margery Walker, Mr. and Mrs. J. E. Chappell and son all spent a weekend at Mammoth Onyx Cave.
J. A. Barrall, who had been in the saw mill business for over 40 years, sold his mill and retired.
And a notice was printed seeking the whereabouts of John W. or Lucy Evelyn Smith, parents of Frank Smith, deceased soldier, who gave his emergency address as Belmont, Kentucky. The editor had written in an earlier paper that no one seemed to know this family.
September 1919
As September began, the annual county teachers' institute was in session, led by Professor Jack Sanders. The paper listed as many of the participating teachers as it could, including Lillian Spaulding, Christian Armstrong, Lillian Wiggington, Mabel Sutton, Eula Funk, Bertha Wallace, Mattie Funk, Hallie Wise, Edith H. Lee, Jennie Carpenter, Margaret Hardesty, Mary Bell, Grace Griffin, Katherine Griffin, Mary Thompson, Effie Johnson, Pearl Hickerson, Nellie Scott, and Birdie Monroe.
The list continued with Stella Brumley, Nadine Melton, Thelma Lee, Kate Melton, C. Hardesty, Mary Holsclaw, Edith Wise, Katie Ball, A. A. Allison, Evelyn Sutton, Mrs. Allison, Bertha Engle, Lillie Mooney, Alleen Swearingen, Clara Chambers, Ella Stansbury, Grace Gabhert, Varina Mudd, Anna Butler, Edyth Clark, Lillian Thompson, Hallie Magruder, Mayme Stephens, Mary Dawson, Charles Daniels, Blanche Engle, Ruby Perry, Ida Greenwell, Martha Riley, Maggie Wise, Lillian Monroe, Elizabeth Cash, Pearl Lee, Willie M. Ridgway, Helen Burkholder, and perhaps a few others they failed to mention.
Out along the Mt. Washington road, T. J. Owen was building a new barn, work was progressing nicely on Mrs. Bush's new residence on the John Peacock farm; and lightning struck a tree on H. C. Tyler's farm, killing three calves standing beneath it.
The editor lamented Clarence L. Croan's decision to move to Louisville, describing him as a man with boundless energy and industry who was honest, frank, and fair.
The editor delighted in describing what a good time James Hardaway and Bud Combs, two local bankers, must be having in Atlantic City.
The Hebron correspondent praised Rev. McLaughlin's successful meeting at the Hebron church, describing his sermons as "much appreciated." She also mentioned that the Jordan Blankenship family had moved into their new residence recently purchased from W. J. Bell. Finally, she reported that J. D. Robards had built an addition to W. J. Bell's barn.
The county continued to lose good people as Dr. Samuel W. Bates and his wife moved to Louisville. Dr. Bates would become the superintendent of the state tuberculosis hospital before dying in October 1925.
As for Evelyn Woodford Bates, the doctor's daughter, the paper described her as "the quintessence of pure unaffected cleverness and sociability." Evelyn would marry William Lewis Brohm in January, prior to her father's death.
In the Pleasant Grove community, the local Baptist church was talking about building a parsonage. That correspondent also reported that Robert Grant had been appointed overseer on the Bell's Mill road. She said that the road on the east side of the bridge had not been worked on for several years, and was almost impassable.
J. J. Blankenship had seven choice building lots in Shepherdsville for sale.
A certain person living near the Shades school, who will remain nameless, was failing to send his children to school. Sheriff James Croan arrested him and brought him before Judge Bradbury. A jury found him guilty and fined him accordingly. The paper reported that Trustee Ed Rodgers and the teacher, Mrs. Christina Armstrong, had an excellent school there, and the editor encouraged folks to stand by their trustees and see that children went to school.
The paper reported that a "moonlight school" was in progress at Mt. Elmira with a nightly attendance of 14. These schools were held to help adults who wanted to learn how to read and write, skills that been neglected into their youth.
People like Jack Sanders and Ora Roby had built an enthusiasm for education in Shepherdsville particularly, and in the county as a whole, and the local newspaper editor was a big supporter as well. As an example of this enthusiasm, a local School Improvement League was formed in September to support the schools and help them grow. The league officers were Mrs. Ada Ridgway, Miss Pearl Hickerson, Miss Nadine Melton, and Mrs. Mattie Glenn.
And J. Tom and Mattie Foster celebrated their 50th wedding anniversary, having been married in September 1869. The celebration was held at the home of their daughter, Mrs. Lillie Wallace.
October 1919
A marriage of special interest to the teachers and school people of this county at that time was that of Miss Irene Crutcher and Mr. T. C. Carroll which took place in Louisville. The name Irene Carroll ring any bells for you?
The box and pie supper given by Miss Alleen Swearingen Saturday night at Victory Schoolhouse for benefit of Kentucky Orphans Home and school was quite a success, realizing the sum of $70.55.
Joseph Blankenship was driving his machine on the Preston Street Pike near Hebron when the steering gear broke and the machine ran up a bank and turned over. He had his collar bone broken and was considerably bruised. His passenger, Inez Kirk, was also bruised.
An old lady by the name of Nannie Wright, who had been at the Poor Farm for several years, was killed when hit by a train at Bardstown Junction. She was about 75 years old. According to her death certificate, no one knew anything else about her, and she was buried on the Poor Farm.
Mr. and Mrs. Henry Bell were offering for sale 58 acres, including 20 acres of bottom land on Floyd's Fork near Bell's Mill.
Judge C. P. Bradbury sold his fine farm near Shepherdsville to E. H. Mathis. This farm is known as the W. T. Lee Farm and has long been considered one of the county's biggest and best farms.
Howard Hardin and Grace Hall surprised their many friends by getting married October 2nd. They were married in Jeffersonville and left for Mammoth Cave, accompanied by the bride's sister and a brother of the groom. The bride is a daughter of the late Douglas Hall and his widow, Mrs. Kate Hall.
An ice cream supper and country store was held at Hebron School, with proceeds to go to the Orphans Home Fund. Mary E. Bell and Grace E. Griffin were the teachers in charge.
The Honor Roll of Shepherdsville High School included Seniors - Martha Lee, Margaret Combs, and Thomas Stallings; Juniors - Inez Kirk, Beulah Lee, Phyllis Bailey, John Glenn, and Morton Weller; Sophomores - Julia Ashe, Lillian Daugherty, Evelyn Adams, Lena Patterson, Eva Mae Sutton, Mary Buckman, Ruth Crenshaw, Brooks Tyler, Lynton Weller; and Freshmen: Piccola Clark, Alice Pope, Pauline Crenshaw, Lillian Roney, Dorothy Samuels, Ruby Bowman, Lula Mae Deacon, Katherine Nusz, Stanley Muir, Clarence Stansbury, Kenneth Bailey, and Crumbacker Jenkins.
George Rennison, a well known insurance agent of Lebanon Junction, had the misfortune to break his arm. He was cranking a Ford when it backfired and broke his arm.
At the "Tacky Party" held at the high school in Shepherdsville, Deacon James Collings was awarded the grand prize for being the ugliest man in the house. At a penny a vote, he easily defeated Professor Sanders and J. R. Zimmerman for the honor.
And the Hebron correspondent wrote that a very enjoyable occasion was the festival at Hebron School house. The country store was well patronized and $20 was netted. The cake for the ugliest man was awarded Dr. George Kirk, while the doll for the prettiest girl was carried off by Miss Mary Bell, teacher. The writer concluded, "The only fault the writer found was the fact that no prize was offered the ugliest woman, else we might have had a chance."
November 1919
The State Board of Education approved the High School course of study at Belmont and made that school an accredited High School. It was in charge of Prof. Hardesty and Miss Ethel Wise and had the largest attendance it had ever had.
W. L. "Uncle Barley" Hall died on November 1st. He had been a member of Bethel M. E. Church for 53 years, having united there by letter in 1866. He was a faithful attendant at church services while his health permitted. He served as steward and trustee in his church for a number of years. He left a widow, Mrs. Edna Hall, one daughter, Mrs. Louis Mothershead, and three sons, Bert, Hal and Tom Hall.
The Cedar Creek correspondent reported that the heavy rain that fell recently did much damage as Salt River covered nearly all the corn in the bottoms, taking away a large portion and all the pumpkins.
Miss Frona James gave a social in honor of her nieces, the Misses Trunnell, of Shepherdsville. Those present were Misses Alleen Swearingen, Bertha Trunnell, Helen Harris, Hazel Trunnell, Texia Swearingen and Miss Woods, Messrs Milton Clark, Bennie Roby, Willie Hilton, W. E. Dacon, Oscar Hilton, Mr. and Mrs. Lem Swearingen, Mrs. Frank Lee, A. V. Greenwell, Jode Harris and J. D. James.
William Simmons stated that if Morrow won the governor's race he would shave off his mustache. True to his word, his face was now sporting no mustache at all.
William Swearingen lost a fine brood sow that died from eating too many green butterbean hulls.
Ed Rhea, while catching some chickens, fell and broke his right arm.
Dave Crumbacker lost a valuable young mule by getting its neck broken while haltered in a stall.
Willie May Ridgway was called to Louisville on account of the illness of her father, Dr. S. H. Ridgway, who recently had an operation performed on his throat. The Doctor was at the Deaconess Hospital and was doing well.
Later, in the Mt. Eden section, we read, "The friends of Dr. S. H. Ridgway are glad to know he has been able to return home after having his tonsils removed. This section of Bullitt County hasn't a doctor to spare even for a short while."
In the Personal column we read that "Capt. J. H. Linn, of Buchel, spent Friday here." This is the gentleman who built the home on Blue Lick Road known as Dingley Dell.
And the Mt. Washington correspondent wrote, "We have been told there is a stock law in Bullitt County but if our officers around here ever come to town they must surely be suddenly blind, for hogs and cows are seen from early morn until milking time roaming our streets and walking wherever a gate can be found unlatched."
December 1919
Miss Bertha Wallace, teacher at Bullitts Lick, was married to George Albert Harshfield. Bertha was a daughter of James Henry Wallace and his first wife, Cora May Shepherd (daughter of John Henry Shepherd and Mary L. Coffee), who died in December 1904. James Henry Wallace was a son of James Henry and Jane Ellen (Shanklin) Wallace. Albert passed in 1956; Bertha lived until 1987, and was a retired sales clerk fro Levy Bros. in Louisville.
Stepping a generation back in Bertha's line, James Henry Wallace Sr.'s parents were Allen Stewart and Mary E. (Thomas) Wallace; Jane Ellen Shanklin's parents were James and Amanda (Herr) Shanklin; Mary L. Coffee's parents were John and Rachel (Green) Coffey; and John Henry Shepherd's parents were James and Lucinda (Cundiff) Shepherd.
Tom Clark of Brooks had for sale one farm wagon with bed, one 2 horse disc harrow, two double shovel plows, one 2 horse vulcan plow, all in good order.
J. F. Combs and H. H. Combs, President and Cashier of the Bullitt County Bank reported the bank's holdings at $346,675.93. R. M. Hocker and W. M. Heizer, President and Cashier of the Lebanon Junction Bank shared its holdings as $216,435.52. Bert Hall, President, and Stuyler Harris, Asst. Cashier of the Peoples Bank of Mt. Washington reported $238,334.00. And R. L. Simmons, President, and James Williams, Asst. Cashier of the Peoples Bank of Shepherdsville reported $308,505.15.
Harry Wells of Bardstown Junction died December 7th following several months of paralysis. His remains were interred in the Crigler family cemetery. Harry was born on 8 Feb 1865, and married Lydia Crigler in 1880, who survived him along with three children. The editor wrote, "For several years, he was section foreman on the Clermont section, and afterwards was employed by the Old Grandad Distillery at Hobbs. He was a man of great versatility, being able to do almost anything, and was a musician of no mean ability."
At Pleasant Grove, the Proctor truck delivered two calves, one for Robert Grant and one for K. S. Grant and a bunch of hogs for Tillman Ridgway on the city market.
Mrs. Myrtle Hibbs wrote an "In Memoriam" in the memory of Everette and Blanche Armstrong who died a year earlier during the influenza epidemic, and who were buried together in the same grave at Pleasant Grove.
And burglars broke into the Shepherdsville Peoples Bank overnight and pried open the bank vault. Several thousand dollars in stamps and bonds were taken as well as other valuables. It appeared that the robbers had stopped at Gap in Knob and stole a lantern, pick, crowbar and saw from the section house before coming to the bank. The lantern and crowbar were left behind in the bank.
Among those who lost valuables in the robbery included Clarence Holsclaw who lost his father's gold watch; Mrs. O. A. Lutes who lost about $400 worth of jewelry belonging to her mother; Chris Englebrecht who lost over a hundred dollars worth of gold coins; and the daughters of the late William Simmons who lost a lot of jewelry that had belonged to their mother.
---
Copyright 2020 by Charles Hartley, Shepherdsville KY. All rights are reserved. No part of the content of this page may be included in any format in any place without the written permission of the copyright holder.
---