It Happened in 1917
Over the years, Charles Hartley has shared glimpses of what was being printed in The Pioneer News in different months and years. This page includes what was taken from the January through December issues of 1917.
---
January 1917
Mr. E. W. Johnson, who for many years had a shop and general store at Mt. Eden, moved to Salt River, and opened a general blacksmith and repair shop at that place. The paper called him "a fine fellow and a good workman."
William Thomas Lee, prominent citizen, trustee of the Baptist Church, vice-president of the Bullitt County Bank, and a member of the Shepherdsville town board, passed away following a brief bout with pneumonia.
Miss Lena Rivers Ice and Mr. Curran L. Troutwine were married in Louisville on Christmas day. The attendants were Miss Monzelle Dawson and Mr. Jess L. Ice, and the wedding march was rendered by Miss Lee Fletcher. The ceremony was performed by Rev. R. L. Payne.
While in Louisville, one of Shepherdsville's prominent citizens saw "A Daughter of the Gods," which was being shown at the Mary Anderson. He said he enjoyed it very much. The house was crowded with the elite of the city, paying top prices for a chance to see Miss Annette Kellerman, the star, who was very conspicuous by the fine clothes she did not wear.
Twenty-nine splendid boys and girls of the Sugar Valley School taught by Mrs. Dora Harris did not miss a single day in December. They included Marian Rouse, Jack Rouse, Joe Baylor Rouse, Will Rouse, Ruth Tutt Rouse, Marie Rouse, all of Spencer County, and J. W. Tyler, Quincy Ray Tyler, Clarence Graham, Marion Jasper, Mildred Stansbury, Ray Tinsley, Lister Wyatt, Lillian King, Patience Boston, Herman Jones, Darrell Harris, Iverna Crenshaw, Mattie B. Harris, Beatrice Lutes, Markwell Stout, Charles G. Tyler, Mary D. Harris, Helen Harris, Harvey Hubbard, Marvin Hubbard, Willie Griffin, Walter O'Bryan and Priscilla O'Bryan, all of Sugar Valley.
And the paper reported that the recent snow was one of the deepest they had seen, with twelve to fourteen inches in places. Travel was almost blockaded on all the county roads, and trains were running from two to ten hours late around the state.
However, Shepherdsville witnessed a real example of public spirit. As people peered through their windows that morning, their hopes of attending Sunday School and church or anywhere else began to go glimmering. Then, Mr. S. C. Bridwell and sons appeared on the scene. Seemingly oblivious of the chilling wind which must have penetrated their very marrow, they came blithely along riding upon a wooden wedge shaped plow drawn by a stalwart horse and where ever this triumvirate went, the snow was bound to fly. All up and down the main streets and sidewalks, and even up the walks of private residences, these public benefactors came. Time nor cold seemed no object to them. As a result of their labor of love, their fellow towns folks went about their Sunday affairs as little handicapped as possible.
February 1917
James W. Barrall, editor and publisher of The Pioneer News, had been quite ill at home, but was now much better and able to resume his duties.
Curran Troutwine said he was going to organize a "Culture Club" with James Hardaway as instructor. Applicants for membership had to wear sharp-toed shoes and not cough while receiving instructions.
Millard Troutman said all girls chew gum and some stick it up on a wall when not chewing the wad. He said the latter lot was the class he drew the line on kissing.
John A. Shelton announced as a candidate for Bullitt County judge. C. P. Bradbury also announced that he was running for judge. Running for jailer were E. T. Colvin, W. F. Monroe and George Hough. J. W. Croan was running for sheriff. And T. C. Carroll was running for county attorney.
Charles Ray and Mrs. Marie Coleman of Huber Station were married in a quiet ceremony.
Miss Grace Hall and little sister, Ernestine, spent the week end with their sister, Mrs. Stella Owen near Mt. Washington.
W. T. Lee of Rolling Fork section had been in town several times the past week on business. The paper reported that "Mr. Lee is a fine farmer and splendid man."
Several local farmers reported filling their icehouses with ice up to six inches thick during the recent cold spell.
T. L. Nelson of Lebanon Junction lost his bird dog. It is white with red spots. Anyone seen it? There's a reward.
Lena Smith Patterson was sick with the measles. She regretted having to miss school, as she hadn't had to lose any time for about three years.
The paper reported that about 40 cases of measles had been reported locally.
Troutman Brothers advertised that they needed to reduce their stock of furniture. Anyone need some good quality furniture at cut rate prices?
Ida Holsclaw, the Hebron correspondent, wrote "Mr. Jordan Brooks, who purchased the Heise farm has moved his family here. We are glad to hear they are good, religious people, the kind a community needs."
She also mentioned that Paul and Miss Mary Cynthia Holsclaw attended the Halloween party given by the Epworth League of Cooper Memorial Church. Mary Cynthia dressed as a witch and wore a silk shirt and waist with yellow drapery, Greek style decorated in black cats with head dress to match.
And Ed Tyler Jr, while cranking his automobile had the misfortune of getting his arm fractured. He had attended a local basketball game and while cranking his machine preparatory of starting for home, it backfired, breaking his arm. Ouch!
March 1917
J. C. Dickey, a longtime school trustee, announced that he was a candidate for county sheriff. He lived near the Needmore school in the Mt. Washington district.
The school trustees met and selected J. E. Chappell, E. Z. Wiggington, W. J. Shaw, and A. C. Viers to serve as the county school board for the coming year.
Joe Wooldridge announced that he was a candidate for magistrate of the Pine Tavern district.
J. L. Trunnell of Shepherdsville advertised that he had for sale "one good brood mare seven years old, one pair three-year old mules, broke to work, one pair two year old match mules, will sell cheap."
Other candidates running for office included Charles Atcher of Pine Tavern district who was running for county assessor; W. A. Crenshaw of Leaches district for jailor; Lindsay Ridgway for county clerk; M. F. Weller of Leaches district for magistrate; Bert Shepherd of the Knobs for county assessor; Dick Shepherd for constable in Leaches district; W. F. Lee for constable in the Shepherdsville district; R. H. "Bob" Smith, candidate for county attorney; T. W. Hoagland of Lebanon Junction for magistrate of the Pine Tavern district; A. E. Funk, candidate for county judge; Frank Maraman for jailer; and J. R. "Bob" Howell for jailer.
Dr. Sloan, the Lebanon Junction dentist, advertised that he would make regular visits to Shepherdsville on Thursdays and "render first class dental service."
John H. Boes and H. V. Mathis rented Mr. W. T. Lee's farm.
The editor reported, "If you want to know all the latest in courting, just stop by the Peoples Bank and Jim Hardaway can tell you."
C. E. Quick, wife and son, Mrs. Roena Ashby, Clarence Holsclaw, Mr. and Mrs. George Bowman and son, Mr. and Mrs. W. E. Ashby, wife, son and daughter and Miss Mamie Quick of Nazareth were guests of Miss Chrissie Ashby.
Will Gentry, a county magistrate, was ill with the measles.
Mr. Alf Crenshaw was operated on in Louisville for appendicitis.
H. D. Flesch of Belmont advertised that he would repair carpets and rugs, all work guaranteed.
Horace McGee, Frank Parrish, Misses Lounetta Stansbury and Sara Jane Buckman motored to Fern Creek and Jeffersontown one Sunday afternoon.
Lightning struck the schoolhouse last week at Edgewood, doing considerable damage. Fortunately, school had adjourned a few hours earlier. This school was taught by Miss Lounetta Stansbury.
The community was saddened to learn that Mrs. Mahala Horine died at the home of John McDaniel on Briar Creek from a kick by a family horse. She was 92 years old.
Berney Bowman built a new back porch to his residence, and made other improvements which added much to the comfort of his home.
Clarence Stansbury, Dave Barnes, Misses Sara Jane Buckman and Frances McGee motored to Louisville and attended the theatre.
And W. M. Combs was selling fruit trees and plants at reduced prices. He offered a thousand strawberry plants for $2.50. Spring's on the way!
April 1917
Prof. Edward Barrall, a well-known teacher of this county, took the examination for United States entrance to the Navy.
The Shepherdsville Town Board set April 17 as Clean Up Day. All citizens were requested to gather up and remove all brush, tin cans, bottles and like rubbish from their premises. Prizes were awarded to boys gathering the first, second and third largest piles of rubbish. Town Attorney, Tot Carroll, issued numbered cards to children wishing to engage in the contest which were to be placed on each collection.
Mrs. Fronie Samuels and Miss Lillian Thompson spent a Tuesday in New Albany. Mrs. Samuels was called there on account of the death of Mrs. Ernest Canter who was killed in the cyclone there.
Miss Lillian Pitman entertained with a chafing dish party one Friday evening in honor of Miss Mary Jane Trunnell. Those present were Misses Mary Jane Trunnell, Nancye Jeffries and Lillian Pitman, Messrs Jim Lee Williams, Tot Carroll and Guy Stansbury.
A large crowd from all parts of the county were in Shepherdsville attending court and the candidates were so numerous that you could see them on every corner and telling the good people that they would make the best officer the county ever had. Sound familiar?
The school board was in session with a full set of new members including J. E. Chappell, E.Z.Wiggington, W.J. Shaw and A. C. Viers.
The box supper and entertainment given at Glen Ella was well attended and enjoyed by all patrons and friends present. This school was taught by Miss Clara Linn Funk with H. M. Trunnell as trustee.
The musical given by the Red Men's Brass Band was a decided success and was one of the best things ever started in this town. The success of this undertaking was largely due to the efforts of Nat Maraman and Millard Troutman and had among its members such splendid school boys as John Glenn, Charles Lee Bradbury, Roscoe Tucker, Samuel Ridgway, Hardin Bros., Troutman Bros., and several old heads.
W. P. Swearingen of Shepherdsville was selling a Studebaker wagon, good as new.
From the personals column we learned that Mrs. Mallie Smith, of Mt. Washington, spent a Sunday and Monday with her daughter, Mrs. Ada Sanders; that W. F. Queen, Bert Hall, Bud McGee and several others of Mt. Washington were in Shepherdsville; and Fred Harshfield, of Mt. Eden, spent a Monday in town.
Also, Misses Maggie Hardesty, Lola Ashby, and Mr. Charles Ashby spent Sunday with Chrissie Ashby; and C. W. and John Samuels, of Louisville, spent Thursday as guests of Mrs. Fronie Samuels.
Mr. and Mrs. T. J. Daniels of Bardstown Junction, who spent the winter in Florida, returned to their home in April.
At Barrallton, Miss Hazel McNutt had been sick with measles, but she was getting along nicely now, and would be able to take up her school work again.
Miss Elnora Bridwell and sister purchased a splendid new "Maxwell" touring car.
At Hebron, John L. Whitledge fell at his home and broke his right arm just below the shoulder. Floyd Jenkins, passing, gave first aid and went for Dr. Holsclaw who set the broken bone. Floyd took Mr. Whitledge to his home and in the evening Mr. Crumbacker had him come to his home to remain until he recovers. Mr. Whitledge had been feeble all winter, and he lived alone.
And Talmage Lloyd had a new buggy and it got broken the first time it was used. His mule ran away with his father, mother and himself all in the buggy, no one was hurt. The editor wrote, "Talmage, you must not drive that mule when you go to take your girl to church, for she would feel afraid to go."
May 1917
The Shepherdsville High School closed its session May 21 with the following class: Buren Hardin, Ralph Henderson, Roy Childers, Laura Daniels, Thelma Lee, Lucille Wooldridge, Willie Chickering, Lula Cook, Lula Ashby and Mary Kirk.
Misses Nettye and Lena Belle Shepherd and Anna Gruner, Messrs. Tommie Smith, Louis Marcell and Carl Rachett all motored out to R. C. Shepherd's, the guests of Miss Essie Shepherd and attended the dance at the Fraternal Hall and reported an enjoyable time.
Horace McGee and Miss Lounette Stansbury motored to the city Sunday afternoon.
Mr. and Mrs. Styron Parrish and baby, of Nelsonville, KY; Mr. and Mrs. Bud Newton and baby; Mr. and Mrs. J. D. Edwards and baby, Mrs. J. W. Edwards and Miss Cleo Hill, of Boston, KY; Messrs. John and Russell Parrish, Nelsonville; Jodie Edwards of Boston, KY; and Mrs. Elvira Dobbyns, Lebanon Junction were all guests at the Silver Anniversary celebration in honor of Mr. and Mrs. D. B. Monroe, near Lebanon Junction.
Mr. Edward Barrall and Dr. Paulley went down the Creek on a Sunday to call on their best girls, but Dr. Paulley was very much disappointed to find that his best girl had gone visiting.
The following is a list of registers who were appointed to serve on June l5th, l9l7 for the selective draft under Presidential Proclamation: Dan Gober, Sim Mans, John Pendleton, John Barrall, S. G. Thornbury, Jim Pope, Bert Hall, J. C. Drake, Chas. Bridwell, Will Swearingen, P. L. Dawson, Virgil Duvall, W. Jenkins, C. W. Newman, T. L. Coakley, C. A. Hill, Jasper Pearl, J. D. Harned, W. F. Joyce, J. E. Chappell, W. T. Morrow, O. L. Roby.
Mr. Loyal Funk started to see his best girl and ran his machine in a ditch and could not get it out, so he said, "walking was not crowded," so he walked the rest of the way.
Miss Josie Barrall was at the Deaconess Hospital last week and had her tonsils removed by Dr. Wm. C. White, the well known specialist.
Mrs. Amanda Bowman, Mrs. George Bowman and son, Misses Lula Ashby, Christiana Skinner and Margaret Hardesty and Mr. Charles Daniels spent Sunday afternoon with Mrs. Roena Ashby and family.
And a plea for help: "Lost - A little Jersey cow, 3 or 4 years old, strayed or stolen from our farm near Belmont, Saturday night, May 19, l9l7. Anyone finding her, please notify us. We will come for her and pay charges. G. W. Hardy, Lebanon Junction."
June 1917
High Schools in the county granted diplomas to the largest class of students ever in one year. The students included Georgia Whittinghill, Mayme Myers, Theodora Westerfield, Lula Cook, Lula Ashby, Mary Kirk, Willie Chickering, Lucille Wooldridge, Laura Daniels, Thelma Lee, Roy Childers, Ralph Henderson, and Buren Hardin.
T. L. Coakley, William Raney, Chester Hill, George Collings, Press Beauchamp, J. W. Etherton, Marion Starks, J. H. Lee, Harve McCubbins and O. T. Lee were ordained as deacons at the Belmont Baptist Church.
C. F. Troutman Sr and wife spent a Sunday in the city, and on account of the heavy storm spent Sunday night there rather than face the heavy winds which reached cyclonic velocity.
John Robert Hoagland, age 11 years, son of Mr. and Mrs. J. W. Hoagland of Bardstown Junction, was killed May 28, at about 4:25 p.m. by a freight train. The little fellow was walking on the north track when he was struck, dying instantly. His death would lead to a court case that brought his father to Shepherdsville aboard that fatal train crash in December.
Mrs. Lottie Brown McCullom and daughter, and Mr. and Mrs. Ewell Welch and sons, Hubert and Joe, were guests of Mr. and Mrs. Sarah O'Brien and Miss Maud O'Brien Sunday at the O'Brien Hotel.
Miss Lorena Robinson, remembered here as an excellent high school teacher, received her A.B. degree from the Louisville University where she had been taking special courses for several years.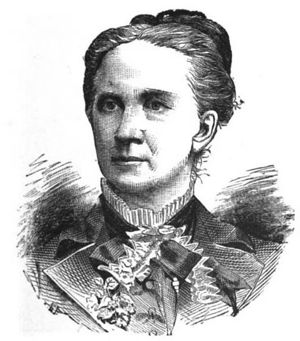 Engraving of Lockwood, ca. 1883
Misses Lula Ashby and Margaret Hardesty and Messrs Robert Hardesty, Earl Armstrong and Fred Quick were guests of Miss Gussie Quick one Sunday.
The paper reported that Belva Lockwood, the only woman who was ever a candidate for President of the United States died, aged 86. She was a candidate in l884 and again in 1888 and was the first woman ever admitted to practice as a lawyer before the United States Supreme Court.
J. R. Ball built an addition to the residence of B. F. Pope, in Shepherdsville.
W. A. Cook, who had charge of the Poor Farm, was in the newspaper office with some of the finest wheat seen that year.
Main Street from the river to the town limits was given a good coat of oil, with the hope that this would settle the dust.
Miss Violetta Roby, Messrs Howard Hardin of Gap-in-Knob, Orval Bridwell and Robert Hall, of Pleasant Grove, and Mr. and Mrs. Charles Ratliff spent a Sunday with J. A. Roby and family.
Vivian M. Shafer of Shepherdsville had three Shetland ponies for sale, one perfectly safe for a woman or child to drive.
Miss Tea Hays and Miss Peachie Thompson, teachers the past year at Belmont were in Shepherdsville, making a final report for that school for year ending June 30, l9l7.
In the Personals column, we read that Mrs. J. W. Clem was visiting friends at Belmont; that Mrs. Frances Bradbury, Mrs. Annette Carpenter and daughter, Jennie spent a Sunday with Mr. and Mrs. J. G. Armstrong; Mrs. Annette Carpenter visited her daughter, Mrs. Halla Armstrong; Mrs. Katie Slaughter and children visited Mr. and Mrs. George Shepherd; Miss Willie Mae Ridgway left for Mt. Vernon to visit Miss Blanch Crawford; Mrs. Nannie Gross spent a day at Brooks, the guest of Mrs. Barbara McElroy; Mr. and Mrs. Oscar Kulmer and daughter visited relatives near Cedar Grove; and Miss Margaret Combs was the guest of Mary Palmer Combs.
And Joe Welch, of Belmont, was in Shepherdsville on business. He was on the bachelor list and was looking for some good woman to take him off.
July 1917
Claud Smith found a basket with dinner and silverware on the Preston Street Pike on July 4, near the Little Flock Church. He said the owner could have it back by paying for the newspaper ad.
Ora L. Roby announced that he was seeking another term as county school superintendent.
The County School Board selected Miss Mary Jane Trunnell, of Bardstown Junction and Miss Pearl Laswell, of Belmont, to be substitute teachers for the coming school year.
In the Personals column we read that Miss May LaHue visited her mother for a few weeks; Mrs. John Harshfield has been the guest of Mrs. C. L. Croan; Miss Mary Elizabeth Bell, of Hubers, was the guest of the Misses Jeffries; Mrs. Ferguson and Miss Sue Pope visited their niece in New Castle; Miss Catherine Rouse spent a Sunday with Miss Martha McCormick; Rev. Prather and wife were guests of Mr. and Mrs. C. R. Smith; Mrs. Mattie Rennison was a guest of the Misses Hecker; Mrs. Henry Miller, of Lebanon Junction, was the guest of Mrs. Lula Monroe; Mr. and Mrs. Frank Monroe were guests of Mrs. Phelps; and Mrs. Harrie Miller, of Lebanon Junction, was the guest of Mrs. Frank Monroe. Lots of hospitable folks!
Miss Mary Kirk, of Hebron, returned from a visit to her school mate and friend, Miss Willie Chickering of Cupio.
Mr. and Mrs. P. L. Bradley and Miss Verna Miller, of Louisville, and R.A. Miller, of Detroit spent the 4th with their father, Edward Miller and family, near Belmont and celebrated Mr. Miller's 60th birthday anniversary. Mr. Miller received from his children a handsome rocking chair for a birthday present and all spent a most pleasant day.
Lindsay Ridgway, Clerk of the Bullitt County Court, announced that the following names would appear on the next election ballot.
For the Democratic Party, running for Representative were John R. Buckman, S. G. Thornberry, W. H. Hays, J. C. Drake, and J. W. Barrall; for County Judge - John A. Shelton, A. E. Funk, O. W. Pearl, C. P. Bradbury, Leroy Daniel, and W. W. Stallings; for County Attorney - R. H. Smith and T. C. Carroll; for Sheriff - A. L. Roby and J. W. Croan; for Jailer - E. T. Colvin, C. L. Troutwine, J. W. Clem, J. C. Dickey, J. R. Howell, W. F. Monroe, George Hough, and W. A. Crenshaw; for Assessor - Bert Shepherd, Preston Parish, and James S. Ridgway; for Coroner - J. H. Shafer and G. W. Kirk; for Surveyor - W. C. Herps and Chas. G. Bridwell, for Justice of Peace of District 1 - R. H. Miller, Richard Moore, C. R. Smith and J. A. Barrall; for Justice Peace No. 2 - W. A. Gentry and W. T. Carrithers, for Justice Peace No. 3 - M. F. Weller, J. H. Bolton, W. M. Swearingen and A. V. Greenwell; for Justice Peace No. 4 - T. W. Hoagland, Ben H. Cundiff, J. L. Kelly and J. C. Wooldridge; for Constable No. 1 - W. F. Lee and John Burris.
On the Republican Party side, Lawrence Baize and Dr. J. H. Hicks were running for the Senate.
Mr. Robert Davis sold his store at Belmont to W. W. Davis, the well-known merchant. Mr. Davis has been in the store business there before and his many friends were glad to see him back again.
And Mr. Clarence Holsclaw passed through with a load of peaches on his new truck. This was the first load and would bring a fancy price. Peach cobbler anyone?
August 1917
The new school building at Hebron would be ready for Sept. 1st. The work was in charge of Rennison and Triplett of Bardstown Junction. The school would be taught by Miss Nadine Melton and Miss Stanley Wise.
The congregation of the Shepherdsville Baptist Church extended a call to the Rev. Hubert Haywood of Louisville. The church had been without a pastor since the Rev. H. C. Combs resigned to accept a pastorate at Hazard.
In the Pleasant Grove area, Herman Owen and family were guests of Joe Dickey and family; George Armstrong, wife and son visited relatives near Lebanon Junction; "Uncle" Tillman Ridgway and son, Bert, were in the city the past week with lambs; and also Mrs. Elbert Bass and children spent a Friday night with Mrs. Fannie Armstrong near Pitts Point.
At Cupio, several of the young folks of Cupio attended the ice cream supper at Salem Baptist Church. Also, Mesdames Lillian Key and Ollie Tierney and daughter, Julia, spent a Saturday night with Mrs. Annie Nicholson.
The Bullitt County School Board selected Miss Laura Daniels as the primary teacher at Mt. Washington for the coming year. Professor Chas. Daniels was selected as principal and Miss Sara Jane Buckman was first assistant.
Miss Willie May Ridgway had been ill, and her school at Glenn Ella had been in the charge of Miss Mary Jane Trunnell, one of the regular substitute teachers.
Miss Lula Cook, a bright and enthusiastic young teacher, who had charge of the school at Shades, gave a school picnic in the form of a County Fair, at Glenn Meadows.
The Circuit Court convened, and the following men were selected as jurors:
Grand Jury - J. M. Cundiff, D. B. Straney, Price Smith, W. G. Deacon, Will Burns, J. H. Lee, L. H. Holsclaw, Rufus Hall, H. H. Hibbs, Lowell Hall, Andy Mann. and J. L. Greenwell.
Petit Jury - H. J. Greenwell, J. V. Bell, Howard Maraman, Ambrose Bumgardner, Frank Mathis, G. W. Adams, S. N. Brooks, Thomas Close, R. H. Armstrong, J. L. Turney, J. D. Buckman, Frank Monroe, John Boots, Otis Porter, F. H. Kulmer, H. J. Greenwell, Malcolm Harmon, George Herps, B. H. Croan, W. L. Jones, R. C. Horine, Geo. Armstrong, M. H. Harris, and O. S. Burch.
In the August Democratic primary, the following candidates were chosen: Representative - S. G. Thornberry; County Judge - C. P. Bradbury; County Attorney - T. C. Carroll; Sheriff - J. W. Croan; Jailer - W. F. Monroe; Assessor - Bert Shepherd; Coroner - J. H. Shafer; Surveyor - Chas. G. Bridwell; Magistrates Results - Shepherdsville District #1 - R. H. Miller; Mt. Washington District #2 - W. T. Carrithers; Leaches District #3 - M. F. Weller; Pine Tavern District #4 - J. C. Wooldridge.
J. C. Atcher purchased the stock and goods of Ivan Cosbey, another merchant at Pitts Point and continued to supply the good people there with the necessities of life.
And canning proved dangerous at Pitts Point. Mrs. Henry Masden suffered a very severe and painful cut of the hand while canning peaches. The jar broke while she was tightening the top, and the piece of glass cut the palmar artery and a gash two inches long in the hand. And Mrs. Buck Close, while canning berries, cut her arm very badly when a glass jar broke. Stitches were necessary to close the wound.
September 1917
Mrs. Mary Elizabeth Richardson Brooks, widow of Shep W. Brooks, passed away 19 Aug l9l7. They were married 26 Dec l855, and lived more than 50 years together. To them were born l3 children, ll of them surviving: Mrs. Mary Price, Okolona; Mrs. Mattie Ridgway, city; Mrs. Richard Priest, Indianapolis; Mrs. W. J. Bell, Miss Irene Brooks; Chas. and Ben Brooks of Indiana; Joe, John, Clarence, and Tom Brooks. Her remains were interred in Hebron Cemetery, and the pall bearers were six grandsons, Lieut. Arch Priest, Preston Ridgway, Logan and Jesse Brooks, Charles and Clarence Priest. Mary Elizabeth was born 8 Jan 1838 in Harrison County IN to Thomas and Martha (Warner) Richardson.
Mr. F. O. Carrithers, aged 83 years, one of the wealthiest and most prominent farmers of Bullitt County, died at his home near Mt. Washington, September 3rd. He was born in Indiana, but came to this county where he spent the greater part of his life. He left the following children: Charles and Alfred of Louisville, Will, George, and Adam Carrithers of Mt. Washington and two daughters. Mrs. John F. McClure and Mrs. Charles Fisher of Mt. Washington.
The first ten young men from Bullitt County left for Camp Taylor - the place of mobilization for Kentucky drafted men. They included George J. Stephens, Dudley Spangenberg, Richard J. Metcalfe, Robert Browning, Bert Jones, William Hopewell, Edward Stillwell, George E. Simmons, James P. Lee, and James L. Williams.
The second contingent from Bullitt County included Clemmens Manning, Thomas. J. Tyler, Irving D. Snelling, Frank W. Field, Elmer Samuels, William G. Lee, Orren W. Roby, Rufus H. Alcorn, John Salmon, William H. Masden, Bert T. Quick, Hugo Crenshaw, Roy W. Applegate, and John. W. Wade.
W. M. Logsdon of Clermont advertised that he had a new ton and one-half truck and could haul sheep, hogs, or anything else. You could contact him at Murphy, Barber & Co. at Clermont.
Joe Dickey and wife, Will Gentry and wife, Herman Owen and wife, T. H. Wise and wife, Miss Wava Dickey, little Misses Ina Fern Gentry, Leola Owen, Ruby Dickey and Master G. C. Owen were guests of Mr. and Mrs. George Armstrong.
Miss Janie Chappell, a former teacher of this county and a daughter of J. E. Chappell of the County School Board was recently married to Mr. Roy Masden, a well known young farmer of the Hays' Flat section. Miss Verna Snawder and Mr. Vernon Holsclaw were also married at the same time and place.
Miss Lillian Miller gave a party in honor of Miss Edna Millett, Saturday evening, Sept. lst. It was a lawn party and held on the spacious lawn of Mr. O. Scott. Miss Lillian was assisted in receiving by Miss Mary Scott and the two pretty visitors, Misses Edna Millett and Aline Bush of the city. Dainty refreshments were served.
Dr. S. H. Ridgway, Miss Bertha Trunnell and Miss Willie May Ridgway were in Louisville Sunday, visiting Miss Maggie Ridgway, who was operated on and who is improving very satisfactorily.
And S. B. Simmons placed a warning in the paper. It said, "To the people using Paraquet Water. If my gates are found open any more, I will close the place to the public, and no one will be allowed in the grounds." It seems that the water was still popular, years after the Paroquet Springs Spa closed.
October 1917
The third quota of young men from Bullitt County for the army included Frank Kelley, Rufus Alcorn, Horrie Thompson, Will Holtzhauser, Willie Glasgow, Frank Rhodes, Clay Porter, George Hawkins, Herbert Funk, and Walter C. Boyd.
Election officers for the 1917 November election were selected. They are listed here by precinct in this order: judge, judge, sheriff, clerk. For Shepherdsville No. 1, Herbert Lee, C. C. Daugherty, J. H. Miller, O.P. Means; for Cupio No. 2, Ernest Funk, Owen Demarsh, John Marcum, Charles Applegate; for Zoneton No. 3, Charles McKinzie, J. W. Pope, Gabe Bealmear, Josh Gore; for Mt. Washington No. 4, R. E. McAfee, W. H. McFarland, John Clark, W. D. Ellaby; for Leaches No. 5, Jonce Clark, Will Shaw, A. J. Roby, Charles Troll; for Clermont No. 6, George Perkins, Dick Clark, Ed Vittitoe, J. M. Dawson; for Lebanon Junction No. 7, Bev Brashear, Andy Mann, John Samuels, John Collings; for Belmont No. 8, D. Bumgardner, T. L. Coakley, Harve McCubbins, Chester Hill; for Pitts Point No. 9, Leslie Ice, S. P. Smith, Bob Armstrong, W. H. Cundiff; for Griffin No. 10, Buck Close, Roy Masden, Charles Rodgers, Lee Beard; and for Shepherdsville No. 11, J. W. Thompson, S. C. Bridwell, Henry Hamilton, W. T. Morrow.
The Mt. Washington correspondent reported that Miss Lulie Swearingen visited Mrs. Charles Samuels at Cox's Creek and attended the revival at New Salem. Mr. and Mrs. M. G. Boston and family of Dry Ridge were guests of Mr. and Mrs. Alex Hardy. Miss Sara Jane Buckman spent a weekend with her parents in Shepherdsville. And Mr. and Mrs. John Long sold their grocery in Louisville and bought the house and land on which the creamery was formerly located on the Louisville Pike.
From the Pleasant Grove correspondent we learned that Everett Armstrong bought an automobile. Mrs. Jane Hall of Bethel spent a day with Mrs. Joe Dickey. Mrs. James Simmons spent a day with her mother, Mrs. J. D. Hough, who was not well. Mrs. Eunice Orms and daughter spent a day with her mother, Mrs. Tillman Ridgway. And Miss Bertha Bleemel spent the weekend with Misses Bernice and Lillian Lloyd.
From Mt. Eden we learned that Mr. and Mrs. John Chambers and daughter, Mrs. Maggie Wise, spent a day with Mrs. Margaret Foster. And Mrs. Chris Barrall and son Sam and sister spent a weekend with Mrs. Thomas Barrall.
In School News, Miss Gussie Quick was given the school at Sunny Side near Barrallton; Mary Jane Trunnell, the regular substitute for division one, had been teaching at Corinth; and Miss Neil Cummings resigned her teaching position at Hays to teach in Louisville. Miss Pearl Lashwell took her place.
In the Personals column we found that the many friends of Mr. and Mrs. O. W. Pearl welcomed them back into the community; J. W. Croan who had typhoid fever was some better; John T. Crigler was home for a week from the navy; and F. G. Thomas painted Hilary Dawson's residence in Pitts Point. Anyone looking for a good painter?
November 1917
Miss Willie May Ridgway, the popular teacher at Glenn Ella, purchased a new machine. Also, Miss Mary Dawson, teacher at Pitts Point bought one too from a shipment to the Gatton Garage. Others who purchased a Ford from Gatton included Dr. Ridgway, A. C. Viers, W. W. Davis, Robert Ridgway, and Thomas Close.
Neill Brooks and Dick Pope of the Hebron area spent a few days with (lady) friends at Glendale, the Lincoln farm, and Mammoth Cave.
Stanley Wise, Stella Brumley, Zella Owens, Charles Daniel, Sara Jane Buckman, Laura Daniel, Mary E. Bell, Edna Starks, Gussie Quick, Willie Chickering, and Sylvia Phelps all attended the last teachers' meeting at the new high school in Mt. Washington.
The residents of Colesburg and Lebanon Junction were making an effort to have a bridge constructed over Rolling Fork River at the farm of William Fowler about three miles north of Colesburg.
John Hulswitt advertised that he had returned to his blacksmith shop after a bout with typhoid fever, and was hopeful his patrons and friends would bring him their business.
At Bardstown Junction, Mrs. George Duke and daughter Virginia returned home after a visit with relatives in Louisville. And Dr. and Mrs. J. G. Dodds had returned from a visit to relatives in Ohio.
Judge Frank Daugherty of Nelson County delivered an address at the courthouse in Shepherdsville in the interest of the Democratic Party.
Bullitt County draftees at Camp Zachary Taylor were among those quarantined following an outbreak of measles there.
In the general election, W. F. Monroe, the Democrat, defeated the Republican James Roney by 327 votes for jailer. There were no Republican challengers for any of the other local races. For the Democrats, C. P. Bradbury was county judge, T. C. Carroll was county attorney, Lindsay Ridgway was county clerk, James Croan was sheriff, Ora L. Roby was school superintendent, Bert Shepherd was assessor, and Dr. J. H. Shafer was coroner.
J. David Buckman, who ran the Electric Light, Ice and Water Company in Shepherdsville, was able to get the lights back on after several months out.
Myrtle Crenshaw, teacher at Sugar Valley, was ill for a time, and Lounette Stansbury taught in her place.
Dr. David Smith, a local veterinarian, advertised his services in the paper.
And S. B. Simmons lost his black female pup that went by the name Vick. He offered a five dollar reward. Here Vick, here Vick ...
December 1917
Rev. Herbert Haywood of the Shepherdsville Baptist Church performed the wedding ceremony for Michael J. Smith and Clara Carpenter early Thanksgiving morning at the church. Rev. Haywood wrote the wedding announcement for the first December paper.
A. E. Funk, Jr., son of Judge Funk, was commissioned a second lieutenant following his training at Fort Benjamin Harrison near Indianapolis.
Mrs. Bess Maraman was in charge of a musical entertainment at the Masonic Temple for the benefit of St. Aloysius of which Father Bertello was pastor. Due to the severe snow storm, it had to be postponed to a later date.
In the personals column we learned that Will Nusz sold a mule to Clarence Dawson; Miss Viva Roby of the Leaches district spent a day in Shepherdsville; that Will Carrithers of Mt. Washington was in town for a day; and that J. Weatherford, who had been the telegraph operator at Bardstown Junction for more than a year, was transferred to Shepherdsville to work the second shift. He was also a jeweler, and moved his business to Shepherdsville.
We also learned that C. P. Bradbury bought the W. T. Lee farm. Bradbury was Lee's son-in-law.
J. R. Cunningham was ordained at the Hebron church by Dr. Charles Hemphill, president of the Presbyterian Seminary.
The Hebron correspondent reported that Miss Nadine Melton spent the holiday with Miss Stanley Wise at Stithton in Hardin County; that Dr. C. L. Cooper had a new Ford car; that Sam Gentry had moved to the farm of Mrs. Kate Scott; and that Gober Cochran had moved to Shepherdsville to work for O. A. Lutes.
Sam Fox was still busy painting, this time the roof of the new school house in Mt. Washington.
They were drilling for oil on James Miller's place down at Bullitt's Lick.
Miss Bertha Trunnell, teacher at Beech Grove, near Zoneton, was called to her Aunt Frona James' bedside in Leaches.
The December 14th issue of The Pioneer News reported that the worst snow storm in Kentucky's recorded history had dumped 17 inches on snow on the area, and the temperature had dropped to 14 below for a time. Winds of 40 mph had drifted the snow in places to a depth of from 5 to 15 feet.
And on the evening of December 20th, the worst train wreck in Kentucky's history occurred at Shepherdsville when the express train crashed into the rear of the local accommodation train, smashing two passenger cars, and ultimately taking the lives of 49 people.
---
Copyright 2018 by Charles Hartley, Shepherdsville KY. All rights are reserved. No part of the content of this page may be included in any format in any place without the written permission of the copyright holder.
---