It Happened in December 1885
Over the years, Charles Hartley has shared glimpses of what was being printed in The Pioneer News in different months and years. This page includes what was taken from the December issue of 1885, the only issue we have for that year.
---
December 1885
We managed to find a single issue on microfilm for The Bullitt Pioneer, dated December 3rd, 1885. It was very hard to read, but here is some of what we found.
Some of the public officials included J. F. Combs, Circuit Court Clerk, who lived in Shepherdsville; E. W. Hall, Master Commissioner, also Shepherdsville; H. C. Bowman, Jailer, Shepherdsville; William Dawson Jr., Sheriff, who lived in Cane Springs; J. H. Rogers, Deputy Sheriff, Zoneton; W. F Parrish, Deputy Sheriff, Mt. Washington; James F. Smith, County Court Judge, Shepherdsville; F. W. Hall, County Court Clerk, Shepherdsville; and Charles Carroll, County Attorney, Shepherdsville.
The County Magistrates were W. H. Ellaby, Mt. Washington; O. H. Bolton, Leaches; A. F. Brooks, Shepherdsville; and J. H. Hoskins, Pine Tavern.
In the Bardstown Junction news column, we learned that James Lee and Emma Carpenter were married at the bride's parent's home by Rev. S. L. Lee of Louisville; that Wathen Hays of Louisville spent a weekend with his grandfather, W. H. Hays; that John Barbour of Louisville was in the community on a hunting trip; and Mrs. H. L. Mooney had returned from a trip to visit her daughter in Nelsonville.
In Lebanon Junction news, Ben Anderson, son of Burch Anderson, was sick. Earl Johnson, son of Dr. Johnson, visited his father. And H. C. Cockerell, who had attended a commercial school in Louisville, said he planned to start a newspaper at Greensburg in January.
The Mt. Washington news correspondent wrote that J. B. Wootten and Smith Harris were building a veranda for Dr. Hobbs; that Mrs. Alive Harris and little girl were visiting her mother, Mrs. Eliza Beauchamp in Chaplin; and that C. J. Barnes and wife spent a week with her sister, Mrs. John Reed of Wilsonville.
And J. L. O'Brian advertised that he was opening a new store on the north corner of the public square in Shepherdsville. He would sell dry goods and fresh groceries.
And among other things, we found that, in an interesting advertisement, Troutman Bros. & Co. of Shepherdsville posted that a member of their firm had been accused of being an "offensive partisan" by the Postmaster General, and that the post office had been removed from their store. However, they would still continue to sell stamps and postcards.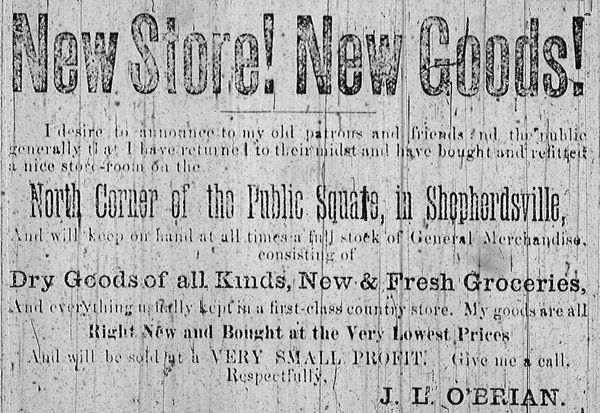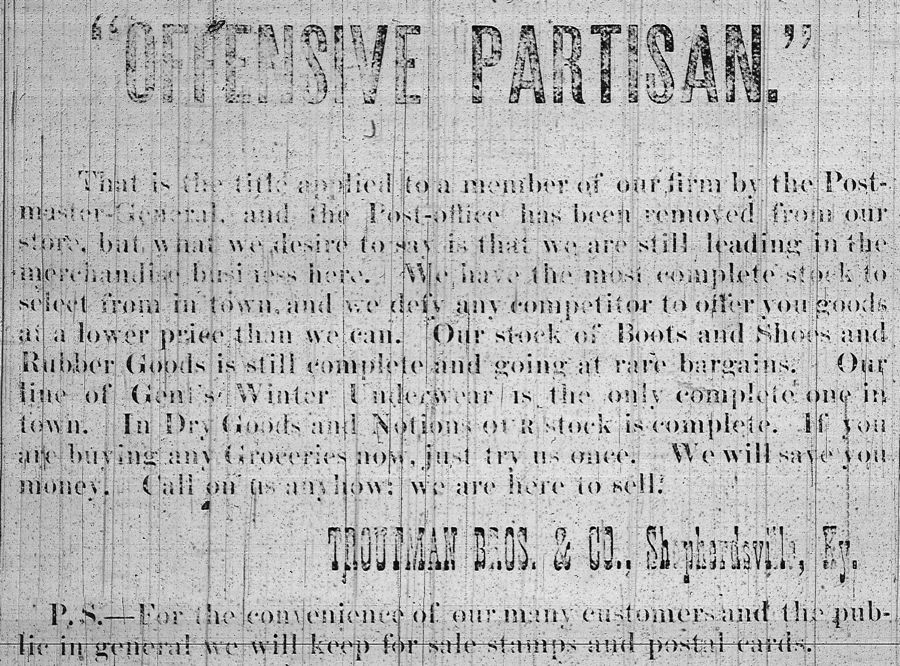 ---
Copyright 2018 by Charles Hartley, Shepherdsville KY. All rights are reserved. No part of the content of this page may be included in any format in any place without the written permission of the copyright holder.
---