Weathers Cemetery (African American)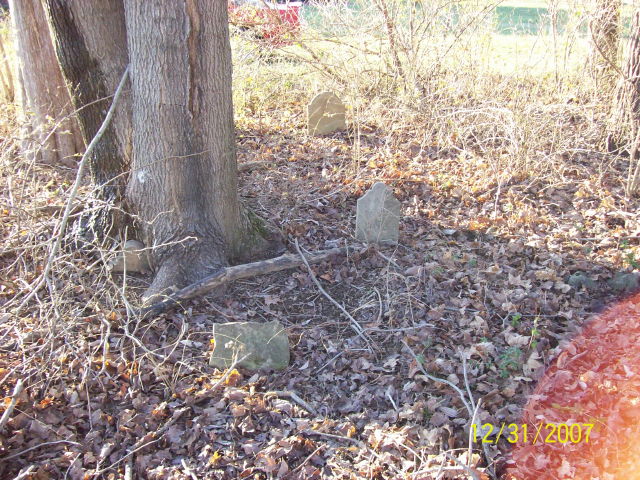 Weathers Cemetery(African American) - Location: 3816 East Hebron Lane, Shepherdsville,KY (N 38 2.8900 W 85 39.6800); Elevation: 527 feet; Date Visited: 12/31/2007; Available Pictures= 20 [Cem #265]
Below is an image insert from Google showing the location of this Bullitt County cemetery. You can use the arrows in the upper left corner to move the image, or use the plus and minus signs to zoom in or out. You may also put the cursor on the map and drag the image to where you want it. Click on the marker to get cemetery details.
Burials:
I visited the cemetery on December 31, 2007 and found only the following remaining:
3 blank tombstones
5 fieldstones
The following list was provided to Mary L. Sabetti and Doris Qwen July 15, 1985 by Robert Taylor at that time owner of the property and a descendent of those buried in this cemetery. Mr. Taylor stated that there were no tombstones, just field stones. (Source: Xerox copy of list of names on file at the Ridgeway Library, Bullitt County Kentucky)
Note: I have added birth and death deates to the list provided by Robert Taylor. These dates where taken from offical Kentucky Death Certificates.
Laura Borox
Died: September 16, 1934
Tom Borox
Died: May 17, 1933
Buck Hayes
Charity Johnson

Walter Johnson
Died: January 18, 1912
Note: According to Ken Bailey there were some African Americans from Nelson County buried in this cemetery. I believe that this man may be one of those indivduals.
Alec Owens

Florence Owens
Died: February 8, 1934
Gilbert Samuels
Died: January 1, 1941
Mary Samuels
Mamie Sloan
Melvin Taylor
B: May 17, 1918
D: February 19, 1935
Burial Place: Blank
Note: His parents were Charlie and Lily (Weathers) Taylor owners of this cemetery
Charity Weathers
Charlie Weathers
Emma Weathers
Infant Weathers
(Total of 10 infant weathers)
John Weathers
Died: February 24, 1956
Molly (Mollie Ann) Weathers
Born: Februray 12, 1884
Died: July 21, 1951
Raymond Weathers
Robert Weathers
Samuel Weathers
Born: July 19, 1900
Died: February 3, 1911
2 Unknown Graves
Note: Additional burials for this cemetery found through researching official Kentucky Death Certificates.
Mamie Rogers
Died: July 30, 1938
Source: Hardy Close Funeral Home Records
Lula Lizzie Sloan
Born: December 25, 1899
Died: June 8, 1924
Sallie Sloan
Died: January 20, 1921
Thomas Rogers
B: February 21, 1866
D: February 20, 1936
Burial Place: Hebron/Weather Graveyard
Mary Samuels Hays
D: August 4, 1942
Will Redman
B: April 15, 1878
D: August 1, 1951