Henry Crist Grave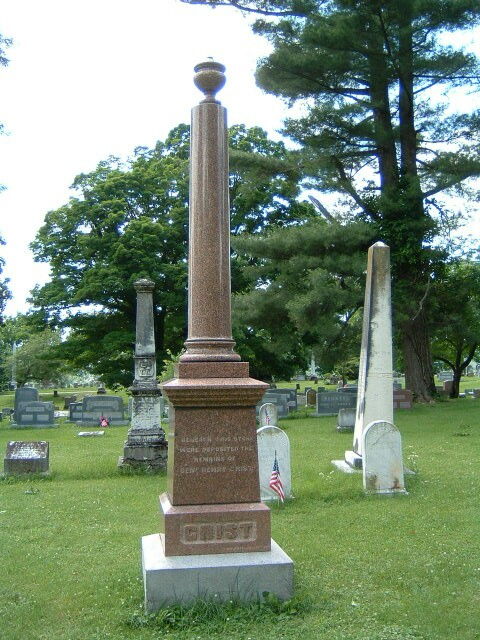 This photo was taken by Steve Dunn, and is used here with his kind permission.
According to History of the Frankfort Cemetery by Lewis Franklin Johnson (Frankfort: Roberts Printing Company, 1921, page 29), "Beneath this stone were deposited the remains of General Henry Crist, a pioneer soldier and statesman. Born in Hanover County, Va., in 1764. He emigrated to the west while young, and shared in the dangers, hardships and privations of the first settlement of Kentucky, as the history of his adopted State attests. He departed this life in September, 1844. The State of Kentucky erected this monument to his memory."
Henry Crist died on September 26, 1844 in Bullitt County. According to a letter written by Leonard Maraman, Hugo Maraman stated that he was buried on his farm in the orchard on Maraman Lane on Highway 1604 (Deatsville Road) in Bullitt County there he laid at rest for 25 years. In 1869 The Kentucky General Assembly voted to move his remains to the Frankfort Cemetery in Frankfort, Kentucky. His remains arrived in Frankfort on February 3, 1869 and the interment took place on February 5, 1869.
We learn more about his memorial in the Frankfort Cemetery from the following resolution passed by the Kentucky General Assembly in 1870:
---
No. 14.
RESOLUTION in relation to General Henry Crist.
WHEREAS, Under a joint resolution of the General Assembly of the Commonwealth of Kentucky, approved March 9, 1668, the Governor of this State was directed to have a suitable monument to the memory of General Henry Crist erected over his remains in the cemetery, near Frankfort, which duty the Governor, in his message, informs us has been performed; but the constitutional provision requiring the vote by yeas and nays on the journal of each house, for every appropriation of money, not having been complied with, and the Auditor, in the discharge of his official duty, having on that account declined to audit tho warrant drawn for the expenses incurred thereby; therefore, be it
Resolved by the General Assembly of the Commonwealth of Kentucky:
That the Auditor of the State draw his warrant upon the Treasurer in favor of Muldoon, Bullitt & Co., for twelve hundred and fifty dollars, for monument, erected over the remains of General Henry Crist.
Approved January 19, 1870.
---
Below is an image insert from Google showing the location of the entrance to this cemetery. You can use the arrows in the upper left corner to move the image, or use the plus and minus signs to zoom in or out. You may also put the cursor on the map and drag the image to where you want it. Click on the marker to get cemetery details.