Wynhoop to Moore and Brooks, 12,231 Acres
On 5 Sep 1807, a deed for 12,231 acres from Joseph Wynhoop of Philadelphia to James Francis Moore and Joseph Brooks was entered in the Jefferson County deed book. The tract lay in what is now northwestern Bullitt County, but was still a part of Jefferson County at that time. The original survey and deed to this tract is available on another page.
An image of this deed is shown below. A transcription follows.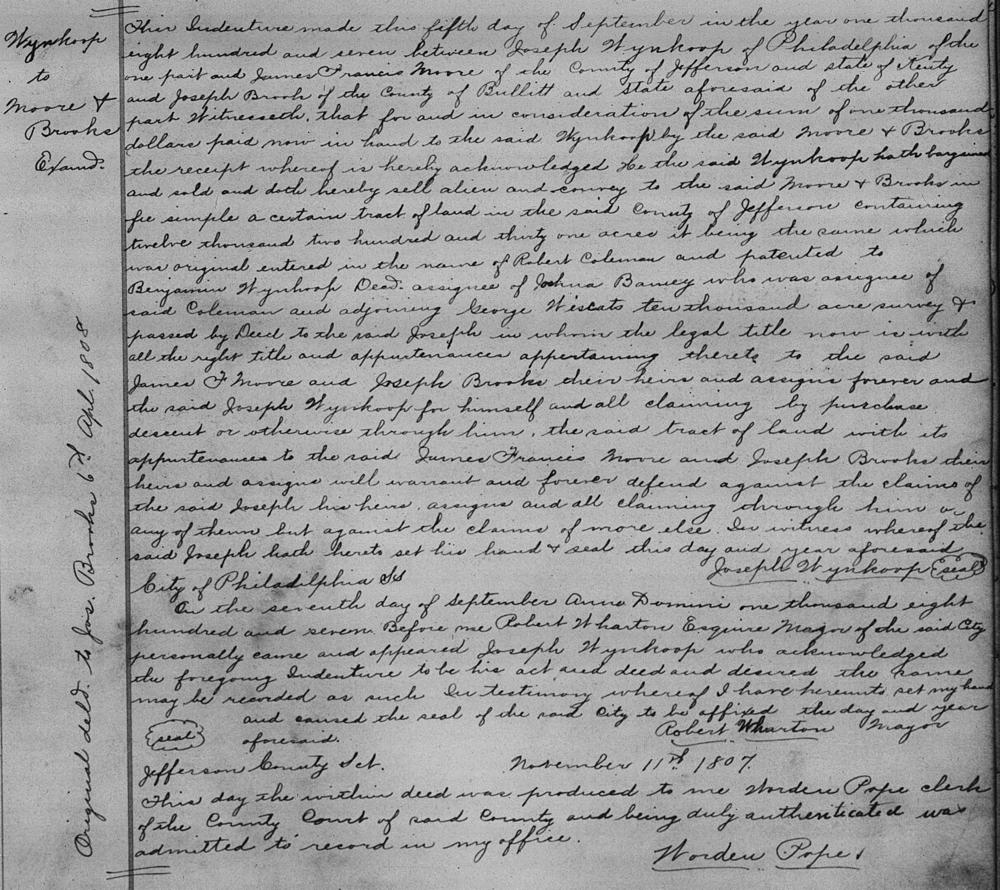 Jefferson County Deed Book 8, page 211
This indenture made this fifth day of September in the year one thousand eight hundred and seven between Joseph Wynhoop pf Philadelphia of the one part and James Francis Moore of the county of Jefferson and state of Kentucky and Joseph Brooks of the county of Bullitt and state aforesaid of the other part. Witnesseth that for and in consideration of the sum of one thousand dollars paid now in hand to the said Wynhoop by the said Moore & Brooks, the receipt whereof is hereby acknowledged, he the said Wynhoop hath bargained and sold and doth hereby sell, alien and convey to the said Moore & Brooks in fee simple a certain tract of land in the said county of Jefferson containing twelve thousand two hundred and thirty one acres, it being the same which was original entered in the name of Robert Coleman and patented to Benjamin Wynhoop dec'd, assignee of Joshua Barney who was assignee of said Coleman, and adjoining George Wiscat's ten thousand acre survey & passed by deed to the said Joseph in whom the legal title now is with all the right, title and appurtenances appertaining thereto to the said James F. Moore and Joseph Brooks, their heirs and assigns forever, and the said Joseph Wynhoop for himself and all claiming by purchase, descent or otherwise through him the said tract of land with its appurtenances to the said James Francis Moore and Joseph Brooks, their heirs and assigns, will warrant and forever defend against the claims of the said Joseph, his heirs, assigns and all claiming through him or any of them, but against the claims of more else. In witness whereof the said Joseph hath hereto set his hand & seal this day and year aforesaid. (signed) Joseph Wynhoof
City of Philadelphia Sct
On the seventh day of September anno domini one thousand eight hundred and seven before me Robert Wharton Esquire, Mayor of the said city, personally came and appeared Joseph Wynhoop who acknowledged the foregoing indenture to be his act and deed and desired the same may be recorded as such. In testimony whereof I have hereunto set my hand and caused the seal of the said city to be affixed the day and year aforesaid. (signed) Robert Wharton
Jefferson County Sct
November 11th 1807
This day the within deed was produced t ome Worden Pope, clerk of the county court of said county, and being duly authenticated was admitted to record in my office. (signed) Worden Pope
---
If you, the reader, have an interest in any particular part of our county history, and wish to contribute to this effort, use the form on our Contact Us page to send us your comments about this, or any Bullitt County History page. We welcome your comments and suggestions. If you feel that we have misspoken at any point, please feel free to point this out to us.